All he wants for Christmas… Is a full head of thick natural-looking hair!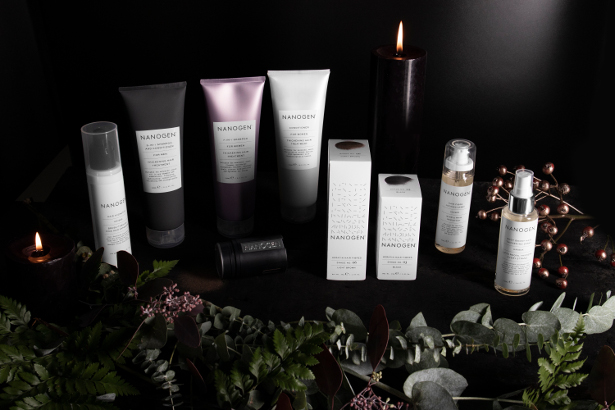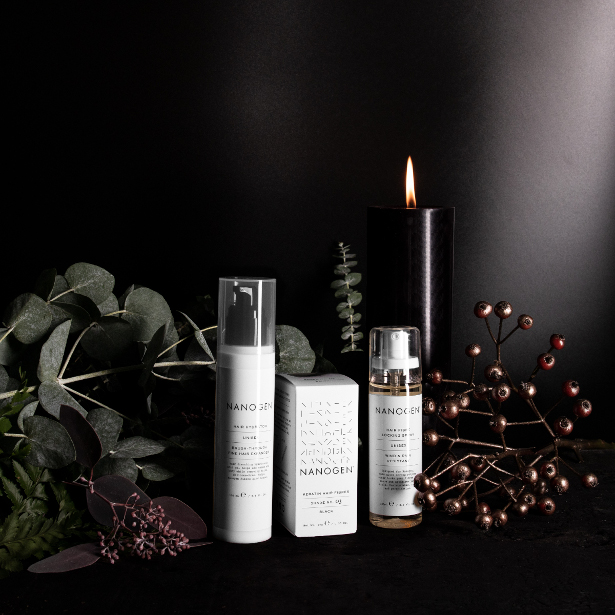 Nanogen, a luxury range of hair thickening and treatment products – featuring the scientifically proven Keratin Hair Fibres range – reveals the Prep, Conceal & Lock collection to give him the gift of full head of thicker, fuller hair this Christmas. So for those looking to give either a loved one the confidence of a hair volume-boost, or perhaps you're prepping your grooming regime for the festive season, the Nanogen Prep, Conceal & Lock collection delivers the perfect gift of natural-looking hair.
FACEBOOK | INSTAGRAM | YOUTUBE
With the Nanogen Prep, Conceal & Lock collection a full head of thick, natural-looking hair is now no longer the preserve of the blessed. The Nanogen Prep, Conceal & Lock collection includes:
Step One. Prep with Nanogen Hair Hydrator Unisex. RRP £12.50 / 100ml

Step Two. Conceal with Nanogen Keratin Hair Fibres. RRP £18.95 / 15g & £29.95 / 30g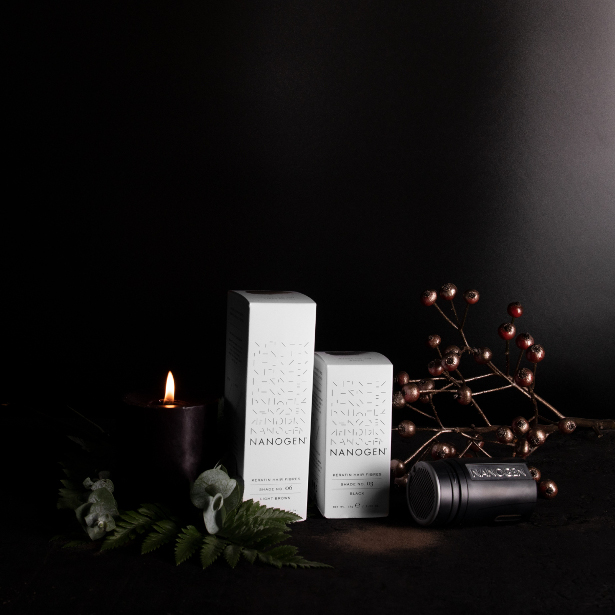 Step Three. Lock with Nanogen Hair Fibre Locking Spray Unisex. RRP £11.95 / 100ml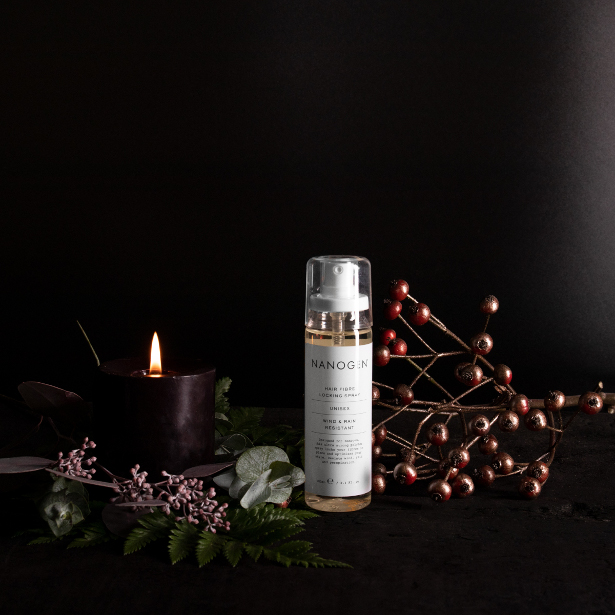 Step one. [Prep]
Prep with Nanogen Hair Hydrator Unisex RRP £12.50 / 100ml Nanogen's hyaluronic acid gel adds visible density to fine hair and provides the first step to your hair fibre application. It is non-sticky and lightweight to leave hair feeling supple, soft, moisturised and helps to reduce frizz after first use. Ingredients: Free from parabens, silicone and SLS, this lightweight gel contains a nourishing trio of ingredients, which work in sync to inject long-lasting hydration into each individual hair strand. Scalp Saviour: Hyaluronic Acid brings intense hydration to the hair follicle and scalp leaving it visibly plumped and Green Tea Extract helps protect against pollution and supports hair growth. Hair Benefits: Keratin proteins rich in Amino Acid Cysteine maintain the hair's strength and Panthenol locks in hair and scalp moisture for shine and luminosity. Other hair density boosters include thickening polymers which help to add thickness to individual hair strands while altering their electrostatic charge to encourage extra volume to the hair. Effortless Styling for Short Hair: Hair Hydrator makes the perfect alternative to traditional waxes, pomades and gels, which may clog up the follicle and suffocate the root preventing hair growth. Swap them out for Nanogen Hair Hydrator, which actively thickens and adds extra body without weighing the hair down and feeds it with the essential nutrients it needs to grow. Perfect Base: Nanogen Hair Hydrator is the ideal base for Nanogen's Keratin Hair Fibres, making it the perfect first step in your fibre application routine. Unique thickening polymers leave a strong positive charge on the hair, which bind even stronger to the negatively charged end of our fibres. Application: Apply to towel dried or slightly damp hair. Run through the the hair and leave in for about one minute. Then brush through until smooth from root to tip. For ultimate thickness, blow dry your hair to amplify the results. Style hair as normal and follow with Nanogen's Keratin Hair Fibres.
Step two. [Conceal]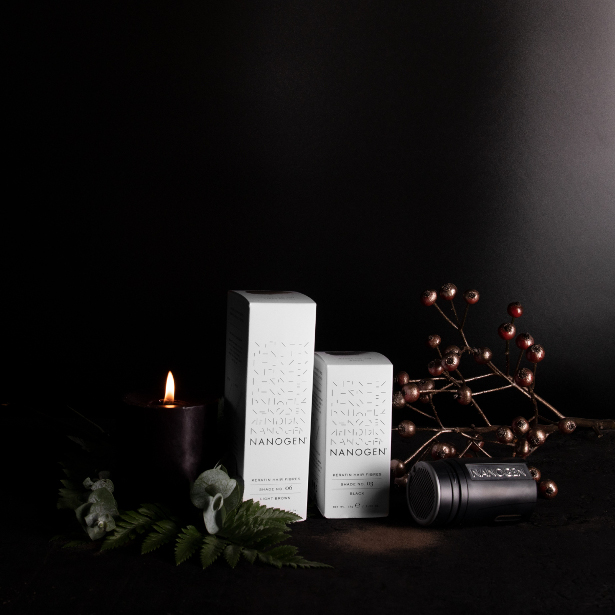 Conceal with Nanogen Keratin Hair Fibres RRP £18.95 / 15g & £29.95 / 30g. Nanogen's Thickening Keratin Hair Fibres are the perfect way to add fullness and thickness to fine or thinning hair, and they effectively conceal early signs of hair loss. The patented Kinetic™ technology ensures the fibres stay in place 'all party-long'. Nanogen's fibres can be applied in seconds to conceal and thicken any thinning areas on the crown or hairline. Ingredients: Nanogen Fibres are made of the finest grade 100% natural keratin. Keratin's celluar structure is shared with human hair this ensures the fibres blend naturally to your hair. Our fibres have a unique coating that binds the fibres into the hair. Available in a comprehensive range of 10 natural shades to either use alone or blend with other colours for the perfect match. The genius of Nanogen Fibres is the electrostatic charge – 400% stronger¹ than the leading competitor due to Nanogen's patented Kinetic™ technology. The fibres are dipolar, meaning they possess both negative and positive electrostatic charges and once released they sprinkle on hair and one end of the fibre is magnetically attracted to the hair shaft. The result is the formation of a 'fir-tree-like' structure around each hair shaft resulting in a maximum thickening effect. The fibres will hold in place until shampooed out. Application: Fibres can also be used to create volume on any hair type, style or texture. Towel dry damp hair, apply Nanogen Hair Hydrator, style the hair as you normally would and then sprinkle the fibres on lightly to areas where coverage or additional fullness is wanted. Blend the fibres by gently tapping them with your fingertips. Start with little and add layers until you have reached the desired coverage and volume.
1 Proven in independent study, see www.nanogen.com/proof
Step three. [Lock]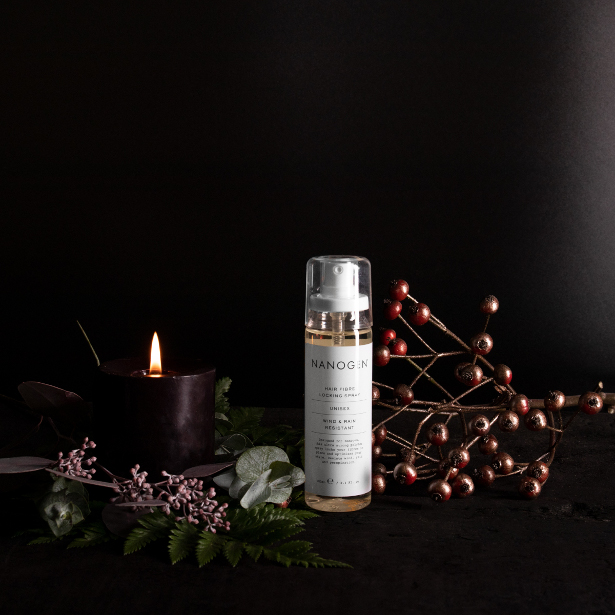 Lock with Nanogen Hair Fibre Locking Spray Unisex RRP £11.95 / 100ml Nanogen's Hair Fibre Locking Spray is the perfect partner specially formulated to hold Nanogen's Keratin Hair Fibres in place and provide impressive, long-lasting resistance to any wind or rain challenges you might face on the way to the Christmas party – or the perspiration you may experience as you dance the night away! Ingredients: For extra staying-power to last you throughout the evening, Nanogen's Hair Fibre Locking Spray gives confidence both en-route to the party, come rain or wind – and then throughout the night. With translucent shine enhancers and UV filters, this hardworking spray also helps protect colour from sun damage and delivers an unrivalled natural looking finish with every use. The tried and tested spray system has been carefully selected for its wide and gentle spray application that won't dislodge the perfect fibre pattern when applying. Application: After applying Nanogen Keratin Hair Fibres, apply a few sprays of this ultra-strong hold polymer spray and leave to dry. You can now leave for the Christmas party safe in the knowledge that clinical tests using 'double sprays' showed that 90% of the Nanogen Keratin Fibres remained in place even after five minutes' immersion in water – so your hair will now definitely be Christmas-party-proof!