NOW IN EUROPE ON AMAZON > Chassis For Men "Man Care For Down There" chassisformen.com (ON AMAZON) Premium Powder #1 men's powder on Amazon US!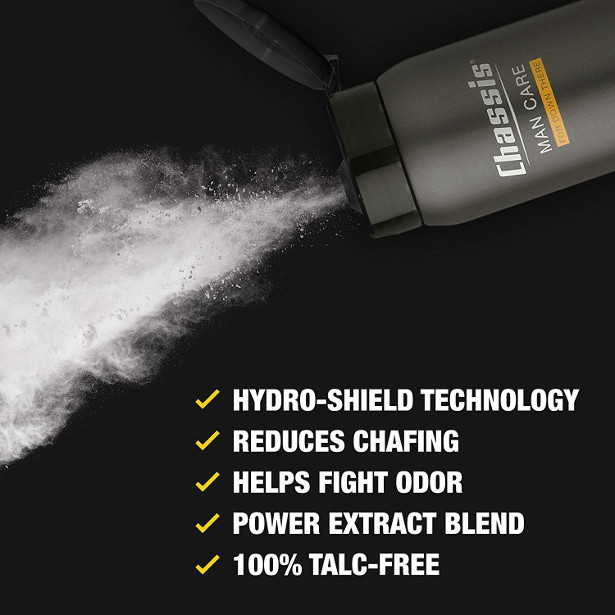 Buy on Amazon >>  www.amazon.com/gp/product/B0167J6UVK
TWITTER | FACEBOOK | YOUTUBE | INSTAGRAM
Chassis is a high end, premium men's care brand. Their tag line says it all, Man Care For Down There. This line of premium products are designed to keep guys fresh, smelling good, comfortable, and chafe free down there so they can reach their full potential. Their Premium Powder is the #1 men's powder on Amazon US. They just launched on Amazon Europe earlier this year and are expanding to Amazon Australia!
The world's finest body powder fights sweat, odor and chafing with Power Extracts
Highly acclaimed Chassis Premium Powder keeps working all day with Hydro-Shield technology
Soothes and cools irritated skin without talc, aluminum, parabens or menthol
A little goes a long way: Most men experience 4+ months of daily usage per bottle
Now available in Original Fresh scent or Unscented varieties
Available at:-
Canada: https://amzn.to/2NMDuI5
United Kingdom: https://amzn.to/2L5AxES
Germany: https://amzn.to/2JgUW4T
Italy: https://amzn.to/2AdfufD
France: https://amzn.to/2LKG4Rw
Man Care for Down There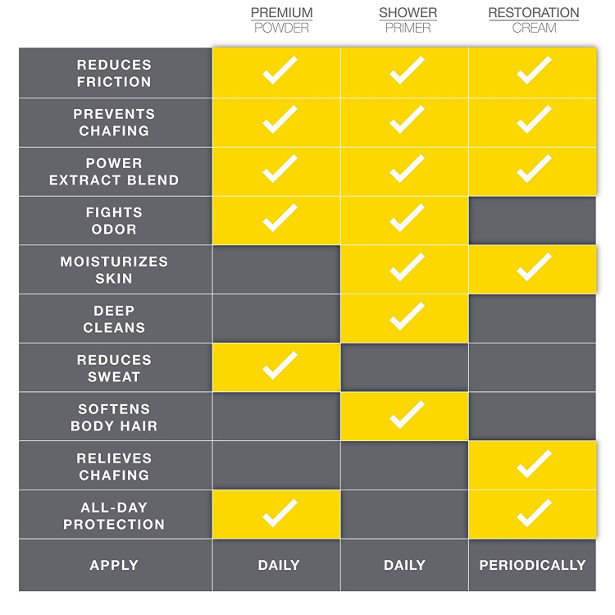 Featuring Hydro-Shield technology, Chassis Premium Body Powder provides all-day protection against sweat, chafing and odor. The proprietary Power Extract Blend conditions the skin and provides extra protection against heat and activity. Its unique pinpoint cap dispenses powder with less mess. The powder is fine and ultra-soft, a premium product where a little goes a long way.
Thousands of men wake their senses every morning with Chassis. Unlike medicated powders and baby powders, Chassis features a clean, fresh scent that compliments every man's lifestyle. The scent isn't overpowering and won't interfere with other fragrances. Best of all, it doesn't smell like a nursery or physical therapy clinic.
Chassis guys also experience a subtle cooling action that lasts longer than anything else available. (Depending on the amount used and the skin's sensitivity, some users actually report a cooling effect that lasts an hour or longer.)
An Integral Part of Your Man Care Regimen
Most importantly, Chassis men feel dry, friction-free and under control, all-day long. Just like starting your day with a quality deodorant, Chassis will leave you with extra confidence. The confidence that comes from staying dry with Hydro-Shield technology. The confidence that comes from staying odor-free with baking soda. The confidence that comes from staying comfortable with the power extract blend. And the confidence that problematic ingredients like talc and parabens aren't a part of your routine.
Infused with hops, pumpkin seed and oatmeal extracts, Chassis Premium Powder is revolutionizing men's body powder.
If you're ready to become a Chassis guy, also consider our other products, the 5-in-1 Shower Primer and Extreme Cream, both of which complement the Premium Powder.