NumbersAlive! turns math education on its head by developing abstract concepts from math- making activities to improve numerical literacy for all learners. they have several toys to choose from! www.numbersalive.org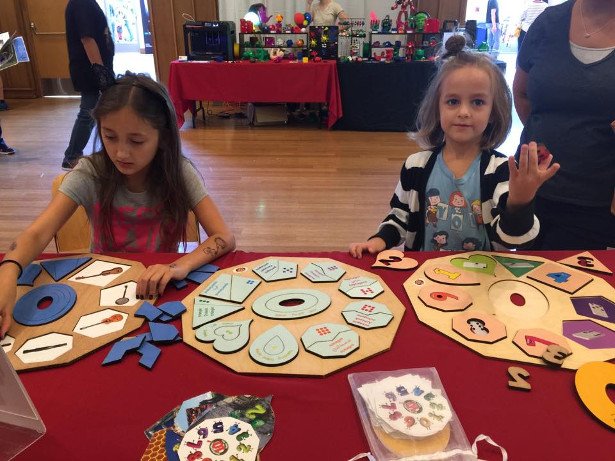 FACEBOOK | TWITTER | LINKEDIN | INSTAGRAM | YOUTUBE | PINTEREST
Roll Count Move! A fabric (washable in cold water dodecahedron (12 equilateral pentagons) made into a ball. 12 equilateral pentagon cards can be taped together to create a solid dodecahedron if interested in a DYI project. See photo below,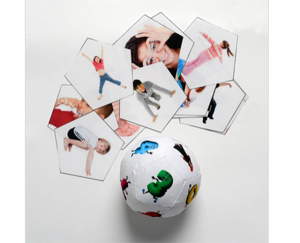 Great to teach numbers and counting for young family members and give all members some fun activities to do together.
One beginning way to play: roll the ball (numbers 0-10 and free space of The Numbers Lady). Then draw a card and do the physical activity on the drawn equilateral pentagon card the number of times as the number that is on top of the dodecahedron ball. If the ball shows the Numbers Lady you can make your own rule as to any limits to set on the size of the number the "roller" can require all players to do the activity. Activities range from funky/fun from making funny face to exercise like situps. Available only from the NumbersAlive! Amazon site and website: numbersalive.org $20.00
Puzzling polygons for family (not for kids alone due to sharpness of the pieces). The is the MS – adult version of our Number Linx puzzles for prek-5th grade. There are four puzzles of 6 pieces each. The goal is to create an equilaterial polygon of the 6 polygons of the same number of sides (i.e.., make a red equilateral hexagon of 6 sides of 6 non-equilateral red hexagons). The three other puzzles are yellow pentagons (5 –sided polygons), blue quadrilaterals (4-sided polygons) and green triangles (3-sided polygons). At any time you can show off your creative designs by creating "tangram" like pictures using all colors.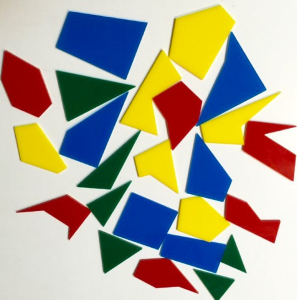 Two are quite difficult and great to tantalize adults! See some folks working on them at maker faires.
Laser cut in USA. Available only from NumbersAlive! on Amazon and our website: numbersalive.org. $30.00

Number Linx memory and game cards—70 cards of 7 series of 10 each cut into shapes of equilateral polygons (3-sided to 9-sided) plush oval for 0 with 0 points, teardrop of 1 point for 1 and heart of 2 points for 2. Series of 10 are animals with number links (starfish in the pentagon card), domino dot counts, funky shapes, American sign language, stringed instruments with the number of strings as the number of points on the shape, and two DYI blank cards to make your own series. Play any kind of memory game by putting upside down on the table (very difficult if use all 70 cards at once) and any card game where two or more players must match the shape or series or draw another card. Traditional card games with shape and pattern learning.
Picture of the cards are shown how they fit into the Number game board but the cards can be played separately without the large entire "trophy-winning" patented educational system. Available only from our website: numbersalive.org. $35.00
NumbersAlive!
NumbersAlive.org