Oct 1st! International Coffee Day! Check out these great brands and enjoy your coffee!!!! Very Best Wishes!
Rokit Pods who have just the right stuff to fuel your day.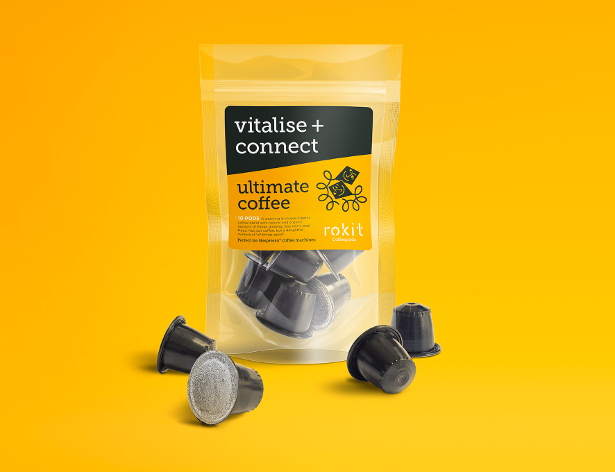 Each pod is created using only nutritious, organic ingredients and is simple to use. Just pop your pod in your Nespresso Machine at home or in the office for a delicious Superfood Coffee – they also do Organic Matcha and Yerba Mate.

COFFEE CONFUSION: OVER HALF OF COFFEE DRINKERS DON'T KNOW A MOCHA FROM A MACCHIATO

·Three in five coffee drinkers can't tell the difference between popular coffee types
·Third have avoided trendy or intimidating coffee shops
·The KRUPS 'Coffee Confidence' quiz marks International Coffee Day (01.10), but how many cups can you name?
Talking confidently about wine was once considered the skill to have, but nowadays the pressure is on to know your cappuccinofrom your cortado, which proves a struggle for over half of the nation's coffee drinkers (57%).
New research by KRUPS coffee machines, commissioned for International Coffee Day (01.10), found despite the UK's recent coffee culture boom, the experience of ordering and enjoying coffee is daunting for many.
In a test of their coffee knowledge, many failed to correctly name some of the world's most famous coffee exports. Only a third (35%) could accurately describe Italy's short and strong espresso, while less than a quarter (23%) knew that a latteis an espresso shot topped up with steamed milk. Less than one in 10 could explain what newer arrivals, piccoloand lungo, are.
Even the nation's favourite coffees were a challenge; cappuccinoand Americanoare among the country's top choices, but less than half (48%) can accurately describe the chocolate-topped coffee, while just over a quarter (27%) know that an Americanois an espresso made with extra hot water. When it comes to pronouncing coffee names, one in five admit to fumbling over a macchiato.
This lack of coffee knowledge may be a factor for half (49%) who say they find coffee culture confusing. Whether it's talk of bean origin, foam art or people working and socialising around caffeine, a further third (35%) confess that they've avoided certain coffee shops because they're too trendy or intimidating.
In response to the findings, KRUPS has created the 'Coffee Confidence' quiz and guide, to test the nation's knowledge and explain how different coffees are made, to give Brits the confidence to try something new, from cold brewthrough to a frappuccino.
On average, British coffee lovers get through nearly 120m1cups of coffee everyday with a latte the most popular choice. Residents in the East Midlands drink the most daily (2.7 cups), with those in the North West and South East sticking to just two cups.
Over half of takeaway coffee drinkers (54%) have seen their daily coffee-to-go increase in price in the past three years, with more than 6m reusable cups bought since chains started charging more for takeaways. The investment of a bean-to-cup coffee machine means environmentally-friendly barista-style drinks from just 5p per cup.
Caroline Ross, Marketing Manager for KRUPS, said: "There's no sign of the popularity of coffee slowing down, with more types and ways to enjoy it than ever before. We believe that coffee doesn't need to be confusing or intimidating, which is why KRUPS has created the 'Coffee Confidence' guide to boost people's coffee knowledge and remove some of pretentiousness that coffee culture has sparked.
"More help is on hand with the KRUPS bean-to-cup range. You don't need to say the names or know what goes into them. KRUPS gives you effortless barista-style from just 5p per cup."
Coffee drinkers' top 10 favourite coffees
1.Latte (37%)
2. Cappuccino (36%)
3.= Americano/Flat white (23%)
5. Filter coffee (19%)
6. Espresso (13%)
7. Mocha (12%)
8. Frappuccino (6%)
9. Macchiato (5%)
10. French press (cafetière) (4%)
Brands for International Coffee Day – Conker Cold Brew Coffee Liqueur and Jimmy's Iced Coffee.
5 Facts You Might Not Know About Coffee
Coffee is the most popular drink worldwide with around two billion cups consumed every day
Reliant on the caffeine spike a morning brew offers to face the day ahead, the BCA has revealed that the UK's coffee consumption has soared to 95 million cups a day in 2018, up from 70 million in 2008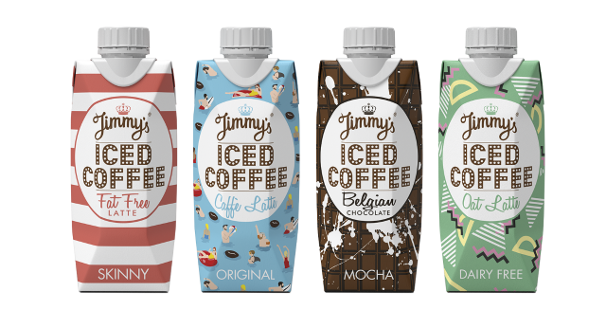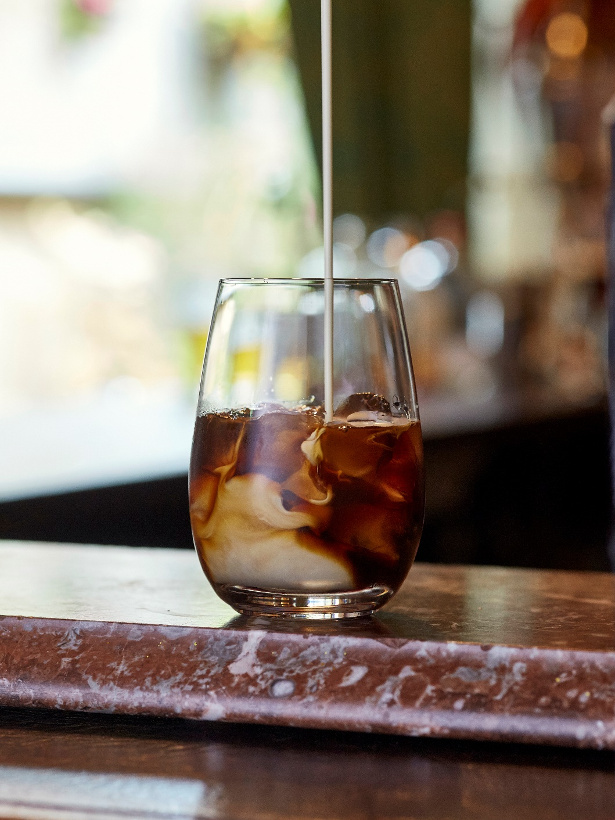 Generally, coffee is grown within 1,000 miles of the equator, from the Tropic of Cancer in the north, to the Tropic of Capricorn in the south
It takes 42 coffee beans to make an espresso
Kopi Luwak is the world's most expensive coffee, as it is produced from coffee beans which have been digested by Indonesian cat-like animals. It is usually called 'cat poop coffee'
Coffee Cocktail Idea: Dorset White Russian Cocktail
Ingredients:
1 shot of Black Cow Vodka
1 shot of Conker Spirit's Cold Brew Coffee Liqueur
1 carton of Jimmy's Iced Coffee Original (330ml)
Ice
Method:
Fill your glass with ice.
Pour over the Conker Spirit's Cold Brew Coffee Liqueur.
Add the Black Cow Vodka.
Finish off with the Jimmy's Iced Coffee.
Give it a stir and taste the awesomeness.
Make another one!
TIP: If you would like a dairy free version – try Jimmy's Iced Coffee Dairy Free made with oat milk!
Make an 'IRL' investment in friendship this World Coffee Day
Global 'Meet With A Poem' initiative enables people to re-connect using poetry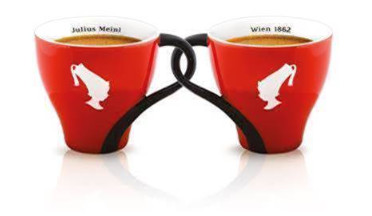 London, September 2018: In a bid to help people harbour meaningful connections in an increasingly digital world, Viennese coffee roasters Julius Meinl is encouraging people to invest in their friendships with its annual Meet With A Poem initiative.
Taking place in over 25 countries on World Coffee Day (October 1st), consumers are invited to meet a friend over a coffee or tea and rekindle their friendship using poetry as a creative outlet for expression.
With communication now defined by swipes and clicks, our friendships are taking a toll, existing primarily on apps and networking sites. We make plans, share news and allow our conversations to exist on-screen without meeting in-person for months at a time, embracing the easy intimacy of short messages that construct the illusion of a strong social network.
Yet online communication often leaves us feeling isolated, with screen time dramatically affecting how we experience human connection. Now, we are beginning to see a dramatic shift away from a culture that standardises always-on connectivity and with this comes an awareness to schedule real-time catch-ups with friends.
Julius Meinl's unique scheme is encouraging people to come together and bring more poetry into the world, by using tea or coffee as the fuel to ignite more poetic and creative moments in life.
The Meet With A Poem initiative aims to help bring people together "in real life" (IRL). The idea is simple, on World Coffee Day, those who take their friendship offline and meet in coffee houses can claim a 2-for-1 coffee at Julius Meinl locations- all in exchange for co-writing a story or poem explaining how they met. Consumers are invited to share a photo of their poem on social media to be in with the chance of having their poem turned into a song.
Julius Meinl's global ambassador, platinum-selling singer-songwriter and coffee lover, JP Cooper knows the importance of written communication to express oneself – drawing parallels with song writing and poetry: "It's no secret that social media gives us a false sense of connectedness, encouraging us to communicate in half-written sentences and emoticons.
"It is easy to lose sight of the power of language when we communicate on WhatsApp or by text, and I hope that the initiative will help more people to favour real world friendship and realise that language- verbal or written- has the ability to build stronger, more heart-felt connections."
For this next campaign, JP Cooper will be partnering with his long-term friend and music producer, Hannah V, the session musician behind major powerhouses such a Rihanna, Jessie J and Jason Derulo. Together, they advocate poetry as an outlet for creative expression and connection.
Speaking on her involvement, Hannah said: "Working in the music industry, I've learnt a lot about the benefits of experimenting with different forms of creative expression. Each artist has their unique approach to song-writing but I have always been inspired by JP's use of poetry in his writing process."
Julius Meinl's CEO Marcel Löffler said: "Julius Meinl has a rich history of inspiring writers the world over. With this year's Meet With A Poem initiative, we want to encourage more people than ever before to try their hand at writing poetry, with coffee and tea serving as the creative fuel. In doing so, we hope to prove that poetry has the ability to reconnect friends, and that it can be used as a tool for expression."
To find out how you can take part, visit www.meinlcoffee.com/MWP2018. Follow the social conversations using #MeetWithAPoem and #PoetryForChange.
Stokes Tea & Coffee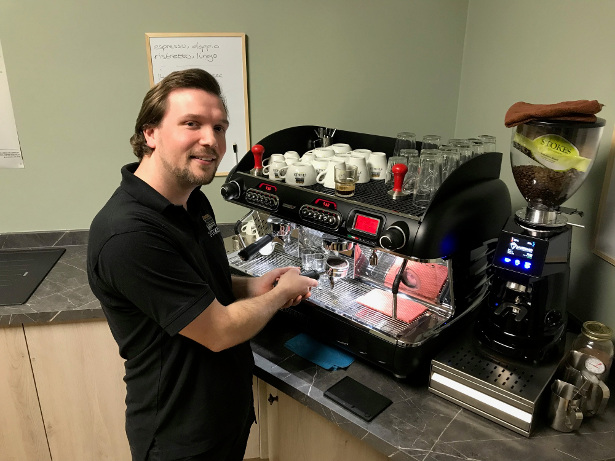 They are based in Lincoln with three cafes in the city centre but they also sell their coffee online and to restaurants/hotels/bars etc. across the country. They also offer barista training courses in their HQ.
COCO collides with art

Edinburgh based craft chocolatier launches inspirational new collection. COCO's new collection of 12 chocolate bars features unique flavour combinations, single origin ethical chocolate and bespoke artworks by independent artists. Each chocolate bar is enveloped in an artwork. COCO is as passionate about art as ethical high-quality chocolate.
NEW COLLECTION
Cold Brew Coffee dark chocolate
Colombian Dark 61%
Colombian Milk 40%
Earl Grey Tea dark chocolate
Gin & Tonic dark chocolate
Isle of Skye Sea Salt dark chocolate
Isle of Skye Sea Salt milk chocolate
Lavender milk chocolate
Orange milk chocolate
Passion Fruit & Honeycomb dark chocolate
Rhubarb & Ginger milk chocolate
Salted Caramel milk new chocolate
ARTWORK
COCO is passionate supporter of artists and was delighted to collaborate with 4 talented artists from Berlin to Glasgow on designs. COCO team has produced videos of each artists telling the story of each design and artist behind it. 4 artists behind the new collection are:
Stephen Smith / Neasden Control Centre is an award-winning illustrator & graphic artist. His work is known for its multi-disciplined process led hand drawn style within graphic composition.
www.neasdencontrolcentre.com
Palefroi is Damien Tran and Marion Jdanoff, two french artists currently based in Berlin.
They work at the crossroads of printmaking, illustration, publishing and applied arts.
palefroi.net/
Rachael Hood is Edinburgh-based GSA graduate. Her work takes inspiration from cultural, geographic and socio-economic influences.
rachael-hood.com/
Mari Campistron is an illustrator based in Glasgow. Her risograph print work combines colours, drawings and existing imagery to convey stories.
www.maricampistron.com
OUR CHOCOLATE
We only source chocolate from Colombia from plantations we visit on annual basis, assuring the highest standard of ethics as well as highest quality of cocoa beans. Challenging industry norms, we begin making our chocolate at origin before passionately transforming it in Edinburgh. As a result, more wealth remains within developing economies.
We are proud to be:
1. Palm oil free
2. Vegan (all dark chocolates), Vegetarian (everything else)
3. Origin made
4. Supporting artists
About COCO
COCO is a chocolate brand and manufacturer founded in 2004. We are based in Edinburgh, Scotland where our small team of visionary chocolatiers have free rein to create unique flavour combinations that deliver extraordinary experiences. From our workshops and boutiques in Edinburgh, to our retail partners across the world, COCO will change the perception of chocolate forever.
QUOTE
Calum Haggerty, Director of COCO
'We are delighted to be launching our new collection of 12 bars that not only combine unique flavours with the highest quality ethical chocolate but also bold artworks by independent artists. We are as passionate about contemporary art as ethical chocolate. To be able to support artists as well as challenge the industry to produce chocolate more ethically is what drives our work.'
www.instagram.com/cocochocolatier , www.facebook.com/cocochocolatierUK
www.twitter.com/cocochocolatier
Celebrate the BREWTIFUL life with an espresso cup – available in all four of The Velvet Cake Company stores: https://www.thevelvetcakeco.com/stores/

Celebrate International Coffee Day with Rombouts' organic and Fairtrade coffee.

Millennials are leading the love for coffee in the UK, expecting the same good-quality and consistency in their cup no matter whether at home or out and about. Family-owned Belgian coffee roasters Rombouts is all about delivering that great tasting and consistently-good coffee with a strong selection of hero products whether you consider yourself a coffee connoisseur or just need your early morning caffeine fix to be on point. Because let's face it, in modern life you need good coffee to get you through the day. Here are Rombouts' top coffee products to try:
*Newly Launched*, Rombouts' Xpress'OH coffee pod machine is a game changer for those impossible-to-wake-up mornings, offering a simple button solution to feeling human again. Plus, there's a full range of delicious and biodegradable coffee pods. Machine and pods both available from the Rombouts website; RRP £119.95 for the Xpress-OH.
Launched in 1958, Rombouts' One Cup Filters were a staple in hairdressers and housewives' kitchens throughout the swinging 60s, steadily growing in popularity throughout the decades. Skip forward to modern day and the famous One Cup Filters have a new look and new interest from millennial coffee lovers thanks to their superior taste, easily achieved one cup at a time. The range has every taste covered, featuring Original, Italian Style, Colombian and Decaffeinated coffees – each with their own unique taste. Available from major retailers including Ocado and Tesco, RRP £2.70 for a pack of ten.
Because everyone likes to know that they're helping to make the world a better place whilst also enjoying a delicious-tasting product. Rombouts' Single Origin ground coffees do that and more, adding a little touch of the exotic to your everyday coffee. Try the medium bodied Cuba Single Origin with complex notes of caramel and cacao or the Laos Single Origin, a well-rounded Fairtrade, organic coffee with hints of chocolate, nuts and peaches. Available at Co-op and Ocado, RRP £3.99, 227g pack. Also, worth noting that Rombouts has extended its range of Fairtrade and organic premium quality coffees with new offerings; Rombouts water decaffeinated coffee; "Déca Aqua" and "Bio & Fairtrade". Both available in whole bean and ground formats from the Rombouts website.
All products are also available to buy from http://www.rombouts.com/uk/. Follow Rombouts Coffee on Facebook
THE BEST CUPPA JAVA FOR A COFFEE LOVER
Trends for coffee lovers

All year round coffee remains the most popular beverage in the world, with more than 400 billion cups consumed each year, but the 1st of October is an even more special day for coffee lovers as it marks International Coffee Day.
The roasts are getting lighter, pallets more discerning and morning coffees are even getting colder. Caffeine and decaf lovers alike are enjoying their cuppas in more ways than ever before, but for the trendsetter, here are five trends are leading the way in 2018.
Sweetness: A sense of occasion
Although South Africans have traditionally enjoyed their coffee sweet and creamy, we see a breakaway culture developing among the more discerning coffee drinkers, opting for less milk and sugar-based drinks, because they want to experience the coffee without disguising it with additives like milk, sugar and syrups. This trend is led by speciality coffee shops as well as a certain segment of consumers who are more health-conscious around sugar. The growth in the popularity of banting (or paleo) diets also contributes to this trend.
On the contrary, the introduction of popular American coffee retailers, who traditionally still operate in the segment of the market where syrups and other indulgent toppings make a huge portion of their sales, has made way for the less discerning coffee drinkers. These are usually the younger generation, who enjoy indulgent drinks and the convenience of these retailers.
Traceability: Origin to cup experience
More than ever, people want to know what they are drinking – drawing unique flavour experiences and notes from the coffee's origin. Single origin's flavour depicts its genesis, by possessing characteristics of that specific area where the particular coffee was grown. In 2018 and beyond, we'll see people connect their preference to the origin that brings with it a great variety of tastes to experience. People will increasingly choose the perfect tones for their beloved beverage, based on the coffee's origin.
Brewing: On the rocks
Cold coffee hit us about a year ago, and it is fast becoming one of the favourites. With more speciality coffee shops offering this chilled variation, the popularity is continuously growing, with no sign of slowing down.
There are many different ways of creating and serving cold coffee. Like nitro coffee, which is coffee that is nitrogen-infused and served like beer, offered by smaller boutique roasters. A more popular, and readily available option, is the slow cold-brewed coffee, which takes about 24 hours to make and can be enjoyed with ice or even syrup. Although cold coffee does not need to be
cold brewed, the slow, cold-brewed variety is smoother, extracts a lot of flavour, and gives a unique and widely celebrated taste.
Convenience: Variety on demand
Traditional ways of doing just about anything are swiftly phasing out, and making coffee is no exception. South Africans are increasingly moving towards using coffee machines at home. The latest machines give the versatility to play around with different beans and varieties, like the Saeco PicoBaristo Super-Automatic Espresso coffee machine, which allows one to choose from a wide choice of specialties at one touch.
The café culture is also growing exponentially. People want convenience, but quality is key. For the first time, the convenience of making premium coffee at home, will be just short of a requirement, because as your palette becomes more refined, the harder it becomes to drink instant coffee.
Pairing: It's more than the sum of its parts
Pairings bring out different taste experiences, which is a trend across different industries and is now seen spilling over into the coffee industry. Because coffee lovers, just like whiskey fans, have distinct pallets, they are engaging in more coffee pairings to further enhance its flavours. Coffee and chocolate pairing is a favourite one, but we see some interesting items being paired with brews, including fruit, like strawberries and citrus. Another favourite is coffee and whiskey, which brings out the similarities between the two beverages.
South Africa follows the U.S. and U.K. coffee trends – about two years later, but as global society grows closer, the trend lag is expected to drop in the next couple of years. One thing is for sure, coffee will never go out of style.
Happy International Coffee Day!
Article by Philips, in partnership with the South African Coffee Club.
Saeco is a trademark of Royal Philips.
Takeaway coffee: can we pave the way for a greener future?
By PERCOL COFFEE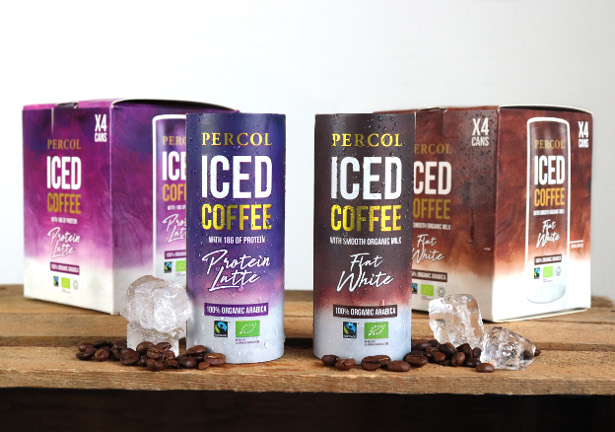 Walk down any UK high street and you're likely to pass all the big coffee giants, sometimes twice or even three times. New coffee shops are cropping up all the time, meaning most of us can feed our caffeine needs within mere moments.
Coffee shops are, of course, convenient and timesaving. Does that mean then the idea of homebrewing a cuppa in the morning has become too time-consuming? Using the kettle to whip up a milky instant now a distant memory? We salute anyone who can make a turmeric latte at home.
Our on-the-go mentality has transformed the way we drink coffee. What was once a polystyrene container for a hot beverage, the takeaway cup has now become something of a fashion accessory; a caffeine comfort blanket to help us tackle the first task of the day.
And while this is good news for the industry – with the average Brit spending more than £2k a year on takeaway coffee, and market news such as Coca-Cola's recent buyout of Costa set to wildly boost its global expansion – it marks very dangerous territory for our planet.
We Brits use and throw away 2.5 billion disposable coffee cups every single year. Over 99% of these will end up in landfill.
How is this happening, since the major coffee chains brand their cups as recyclable, right? Well, yes, and technically they are. But the fact far too often ignored – or rather masked – is that they actually contain a thin layer of plastic, which only three recycling plants in the country are able to process.
As if this was problematic enough, the actual cardboard content is made from virgin materials. New trees have to be cut down to make the cups in the first place. To be precise, 6.5 billion trees, felled every year, to satisfy our global coffee cup needs.
These staggering statistics should act as a call to action. It's time to clean up the high street coffee industry, for good. So what can we do?
For a start: the reusable cup.
From bamboo to cork, glass to silicone, we've seen a wealth of innovative, eco-friendly, and easy-touse varieties emerge onto the scene. And with discounts offered for using one at most coffee shops, their sales are booming.
Our favourite one of the mix has to be the rCUP:
The rCUP has taken 'reusable' to the next level, by creating the world's very first coffee cup made from old coffee cups. What's more, it's fully recyclable. AND designed to last for at least 10 years. Raise your cup to that!
Not only that, but rCUP are working with the industry to increase the value of the disposable cup. The act of turning a once worthless low commodity cup into a new product (in this case the rCUP) stimulates recyclers to invest in infrastructure and hence a sustainable circular economy has been made. The future is round.
But, if we all carried a reusable in the first place then rCUP would have to find another waste material to replace the paper cup. A challenge they are ready and waiting to accept!
With this model of keeping waste materials in use for longer, we rely less on using natural resources and keep the rubbish heap from getting bigger.
And yet, while the reusable cup is a great way to curb our throwaway coffee culture on an individual level, it's also worth looking at the bigger picture.
Our consumption of goods is expanding just as much as our disposal. Did you know that 50% of single-use plastic is used for an average of just 12 minutes??
The truth is, it's going to take a very long time for reusable to completely replace disposable. It's an ideal world in which every coffee drinker will buy a reusable cup and remember to bring it everywhere they go. And in any case, should the burden fall only upon the consumer?
The answer is no. It's also up to the major high street coffee chains, with all the means and resources necessary, to help fix the problem from the source. To take 'disposable' and make it 100% 'green'. To turn takeaway coffee into an ethical, sustainable industry. The good news? Sustainable options are already out there. We just need to get the big brands to implement them.
Here's our low down of the best recyclable and compostable cups:
1. Frugal Cup
What's the point in building more specialised recycling plants for our current disposable cups, when Frugal Cup have found a solution? Made from entirely recycled cardboard, the Frugal Cup can be processed by ANY paper recycling facility in the UK, and then recycled again and again. The solution is this. Time to start using it.
2. reCUP®
The reCUP® is just like a traditional cup in look and feel, apart from one crucial difference – it's engineered to be recycled. The reCUP® uses a material called EarthCoating®, which contains up to 60% less plastic than traditional coatings, and is fully compatible with conventional paper recycling systems. That's how you do it.
3. Vegware
Vegware creates 100% compostable disposable cups: made from plants, not plastic. And with Vegware customers saving over a thousand tonnes of virgin materials a year, this is a real recycling solution for zero waste in the coffee industry.
4. 'I'm a Green Cup'
'I'm a Green Cup' quite simply does what it says on the tin. Made from cardboard and starch, the cup is 100% compostable, and comes with a fully compostable lid to top things off. They've even released a double-walled insulated version, meaning no need for an additional clutch or sleeve. Ace.
With all these choices and many more to boot, there's no excuse.
That's why we're campaigning to enforce the big coffee chains to use eco alternatives by 2020. With 100k signatures, we can lobby for legislative change and push the government to achieve a more sustainable solution in the UK.
Sign and share the petition, and join us in our mission to #CleanUpCoffee!
https://you.38degrees.org.uk/petiti ons/starbucks-costa-caffe-neromake-your-coffee-cups-recyclable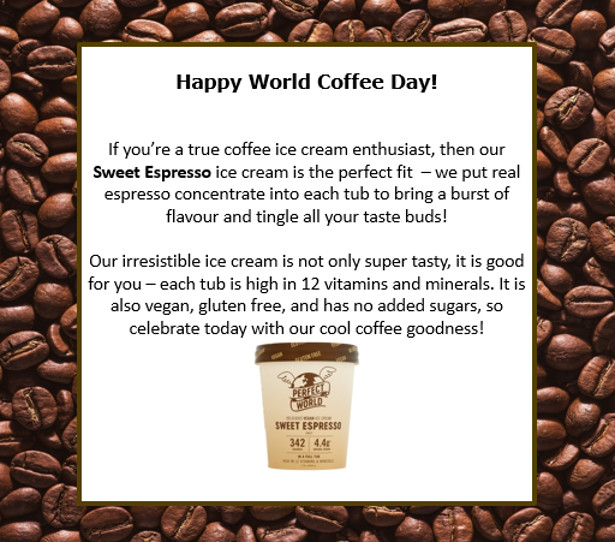 The Golden Pod, Chocolatey New Restaurant Invites You to Coffee Flavored Media Tasting!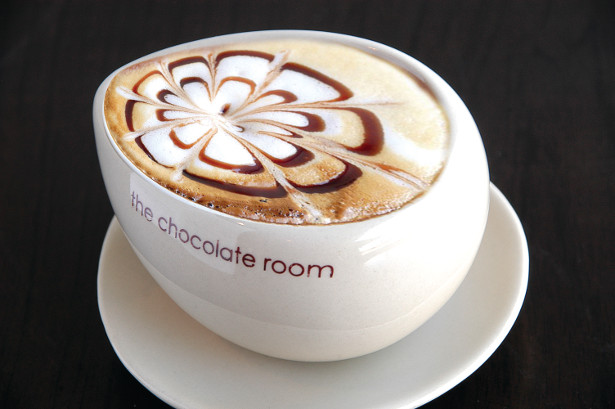 Orlando, Fla.- From triumphant culinary locations in Australia, India, United Kingdom and other countries around the world, the popular coffee and chocolate-flavored sensation The Golden Pod invites YOU to Be Our Guest at an extraordinary media tasting event introducing itself to the United States market.
The scrumptious event is October 18 from 3:30 to 7:30pm at its Orlando location at 7653 International Drive.
Guests will sample a variety of dishes from the restaurant's extensive, decadent menu, shining light on culinary treasures available at The Golden Pod during Disney World's International Food and Wine Festival with a delicious evening right off their grounds.
The Golden Pod surpasses other restaurants by providing customers with a mouthwatering menu that includes hundreds of exclusive recipes, making it the new "go to" spot for a sumptuous meal, cocktails, tasty treats and special events.
One thing is for certain, after you taste the fabulous fare at The Golden Pod, you'll always be craving to come back for more.
TOBY'S ESTATE AND MAKMAK TEAM UP FOR INTERNATIONAL COFFEE DAY

To celebrate International Coffee Day, Toby's Estate Coffee Roasters launches a tasty collaboration with Sydney's leading handmade macaron company, MakMak for the month of October. The unique partnership sees MakMak founder, Carlos Heng, work in collaboration with the Toby's Estate team to create a range of limited-edition macarons, using single origin coffees to bring you a match made in flavour heaven.
The five macarons are made using Toby's Estate's most unique and dynamic single origin coffees, with each macaron being inspired by the distinctive tasting notes of coffees from Costa Rica, Panama, Nicaragua, Myanmar and Colombia.
"This has been one of my favourite projects to have worked on so far, and I'm extremely proud of the recipes I've created as a result. The Toby's Estate coffee roasts and profiles are of such high quality and are bursting with so much flavour, so it was an easy job for me to invent the perfect macaron flavours to match! Myself and Toby's Estate are super excited for the collaboration to roll out and we can't wait for our fans to try them!" says Carlos.
"MakMak shares the same core philosophies as Toby's, in their commitment to sourcing only the highest quality ingredients to develop, create and curate a truly unique flavour driven experience. Starting from a cupping in our Q Lab to baking in the MakMak kitchen, we're excited to bring you this flavour explosion of a collaboration. Be sure to take your time and enjoy each flavour with your favourite coffee." adds Head Roaster, Nich Rae, at Toby's Estate
The creative partnership runs for the month of October. Macarons are priced at $3.50 each or $17.50 for the full pack of five, and are exclusively available at Toby's Estate, Chippendale and MakMak, Surry Hills from 2nd October.
Coffee Profiles and Tasting Notes:
• Made with – EL DIAMANTE (Costa Rica, Anaerobic Black Honey) • Tasting notes – Cinnamon, Buttery, Spiced Fruits, Scones, Christmas Cake
• Made with – DON PACHI (Panama, Natural) • Tasting notes – Jasmine, Tropical Fruits, Pineapple, Melon, Cloves
• Made with – EL DOCTOR (Nicaragua, Natural) • Tasting notes – Cassis, Cinnamon, Tropical Fruits
• Made with – MYAING (Myanmar, Natural) • Tasting notes – Liquorice, Strawberry, Cola, Biscuit, Toffee
• Made with – VARSOVIA (Colombia, Natural) • Tasting notes – Honey, Black Olive, Dark Caramel, Molasses, Apple Cider
Toby's Estate x MakMak Available 2nd October 2018
www.tobysestate.com.au https://shop.makmak.com.au/
Facebook @tobysestateaustralia I Instagram @tobysestatecoffee I Twitter @tobysestate Facebook @MakMakaron I Instagram @makmakmacarons I Twitter @makmakmacarons
'App-y Days to Order on the Go CIBO Espresso NEW App – Register NOW, First Coffee FREE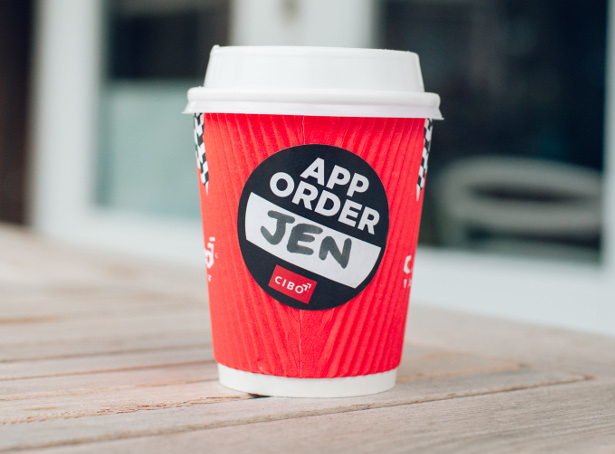 South Australian coffee icon, CIBO Espresso has released a new and improved app, to greater enhance the experience for the coffee connoisseur, add a tasty treat and further reward loyalty.
The CIBO Espresso app is a fast, convenient way to order and pay for your favourite coffee on the go. Add a Protein Ball, a delicious Minja Bar, Banana Bread, Zeppole, Ham & Cheese Croissant or a Plain Croissant to the order for the first time.
Cain Cooke, CIBO Espresso's General Manager said the app is a new and improved version, with fresh features that will enhance the user experience as well as refining the old favourites.
"We have taken on board the feedback from our CIBO coffee community and made changes to the app know-how that'll improve the user experience, even more than that extra shot in your coffee," said Cain Cooke.
"The technology built will now make it easier to customise your coffee and if you buy a coffee using the app every day from Monday to Thursday then Friday's on us!"
"Whilst we know that the release of a new app is not necessarily ground breaking, we believe the new features and enhancements will just further add to our customer coffee experience. CIBO Espresso is always striving to be better and offer an experience in every cup."
There is no need to wait in line when you can order ahead and save time. All first time users will be rewarded with a FREE coffee just for registering through the app, so what have you got lose?
The My CIBO Loyalty is now built into the app (no more red cards required) and means that customers won't ever miss out on collecting MyCIBO points.
The app will reward loyal customers and entice a new audience to join the CIBO family. The perfect Italian espresso is just a few clicks away:
• Order now, select a store and pick up time that suits you, saving your usual order • Locate your nearest store • Exclusive app only rewards as well as managing and track your MyCIBO Points • Collect and Go, ready when you are, to savour the flavour!
Scent of Amazing: Meet Scooter's Coffee's Director of Coffee Bill Kipper
Kipper Travels the World to Find the Best Coffee Cherries for Scooter's Award-Winning Blends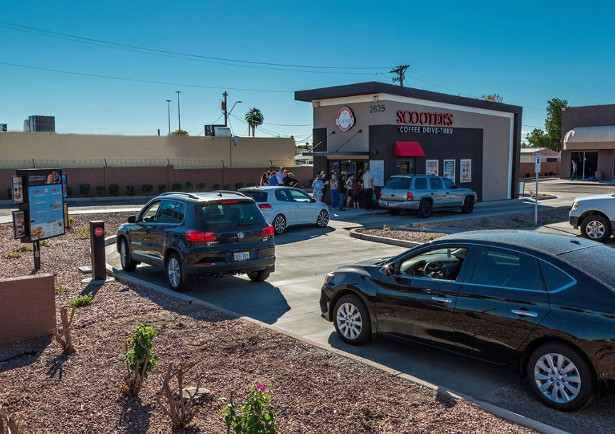 The way Bill Kipper sees it, if you have a drip coffeemaker in your home or office, there's a high probability that you're drinking coffee incorrectly.
Kipper isn't trying to offend you, it's simply he knows t he ins and outs of the world's second-most sought-after commodity better than most. The self-described "coffee snob" gets paid to scrutinize coffee, so his opinion on the subject matter, just like his cup of coffee, will be nothing short of strong.
"In my book, you can't beat black coffee, it's the best," says Kipper. "Flavored coffee disguises the pure taste of coffee."
When it comes to coffee, his resume speaks for itself. Kipper is a husband, father of three children and grandfather to three young granddaughters. Scooter's Coffee is a family affair. Bill is the company's Director of Coffee. His wife is a franchisee, his daughter-in-law works in the accounting department, and his oldest son is the manager of the packaging department. If Kipper's love is measurable, the top tier is reserved for his family. Ever so slightly below, in tier two, would be his love of coffee.
"The more I do, the more I love doing my job," says Kipper, who has been roasting coffee for the last 18 years. "I am grateful for coffee. It's allowed my family and myself to live a comfortable life."
That life comes with some perks (no pun intended), including traveling. Kipper recently returned from his first-ever trip to Brazil. He received a first-hand look at the harvest responsible for the country's heralded coffee and what could be the next source of Scooter's Coffee's drink of choice.
Kipper is quickly racking up the stamps in his passport book. Besides Brazil, Scooter's Coffee tasked Kipper to explore coffee farms in Nicaragua and Guatemala. He has fond memories of his journey to both countries.
"I was treated like I was a lifelong family member during my visit to Guatemala," Kipper recalls. "I discovered farming is more than a family business, it's a legacy. The farm I visited had been i n the family for more than 130 years." Kipper says he wasn't the only recipient of the farm owner's hospitality. "The owner certainly gave back to the workers. He made sure to have doctors and dentists on site. In many instances, that was the lone opportunity for health care for the migrant pickers."
The pickers in Nicaragua gave him a tour of the land that left Kipper nothing short of mesmerized. "The quality of the cherries in Nicaragua was the best I've ever seen," he says. "I've never seen a harvest that red."
"A good cup of coffee starts with the bean. Quality in, quality out," says Kipper. "There are several steps to making a great product. But if you begin with a substandard product, you're setting yourself up for failure."
Kipper is intent on keeping Scooter's Coffee successful through a vigorous and selective process that ensures customers are gettin g the best and most consistent blends. His willingness to embrace technology is a contributing factor as well. Scooter's Coffee is now home to a game-changer within the specialty coffee industry.
"We just installed the largest roaster the manufacturer has ever made," says Kipper. "Coupled with our previous roaster, we are now operating at five times more capacity than this time last year. The new roaster is automated, allowing us to load 20 to 30 thousand pounds of product at a time in our silos while removing some of the manual labor from the process."
Eighteen years in the business has granted Kipper an insight very few in the world have. He'll be the first to tell you the process of becoming an expert in coffee is challenging, and he's still learning to this day. He's also imparting his wisdom to future generations. "I have an apprentice who is quickly learning the ins and outs of the business. You can't learn the art and the science of roasting unless you get your hands dirty and do it."
Kipper appreciates being the Director of Coffee. He's also concerned about the future of the business. He says humans pose the biggest threat. "Natural phenomena, such as rust in plants and monsoons, are going to occur. However, it's the human factor, with the chemicals and the deforestation of the planet, that is destroying areas home to coffee crops. The good news is more people are becoming aware of the importance of the preservation of coffee and the trees responsible for the canopy that allows the beans to thrive."
When it comes to picking beans for Scooter's Coffee, Kipper says the profile is simple. "We like our coffee smooth and rich and buttery. When you leave our stores, you're leaving with a well-rounded, balanced cup of coffee." In the early days, Kipper would devour Scooter' s Coffee's signature drink, Caramelicious®. While that's not the case nowadays, as he prefers his coffee straight black.
For Kipper, there are two regions that stand out above all others when it comes to the world's best provider of coffee beans. "You have to respect Ethiopia, because that is the birthplace of coffee," he says. "For me, I feel Guatemala and Sumatra produce the best coffee beans."
When it comes to enjoying coffee at home, Kipper suggests getting your hands on the Scooter's Coffee single-serve cups. "You can get a quality cup of coffee out of there. I drink that at work when I'm not testing samples." As far as the drip coffeemaker, you can achieve a good cup of coffee as long as you use a metal basket. "I can tell immediately if a paper filter was used," he says. "I don't like that taste one bit. Ninety-nine percent of people won't taste it. The only rea son I taste it is because I taste coffee for a living."
Here's his suggestion for achieving the perfect cup of coffee. "Grind the beans, but don't grind them too fine. Measure the correct amount of filtered water and use a French press. Of course, the most direct way to get a great cup of coffee is to visit Scooter's Coffee. Trust me, I know."
Scooter's Coffee, based in Omaha, Nebraska, is a drive-thru franchise that has been serving world-class coffee for 20 years. It roasts only the finest beans, and it makes that first morning sip convenient and rewarding for its customers across the nation. Scooter's Coffee is quickly approaching 200 locations in 16states and has over 150 franchise commitments to build new stores. Scooter's Coffee specializes in hand-tamped espresso drinks, baked-from-scratch pastries and features its signature drink, the Caramelicious™. Scooter's Coffee also serves a new line of h ot and iced organic teas, single-origin coffee and the original Cold Brew & Cream. This year, one of Scooter's Coffee's drink innovations includes Red Bull Infusions. To find out why Scooter's Coffee is among the best coffee franchises in the nation and to learn more about franchise opportunities, visit our website: https://franchising.scooterscoffee.com