Once in a Lifetime Opportunity as BIC Offers Chance for Iconic Redesign
Design and Shine competition launches
TWITTER | INSTAGRAM | LINKEDIN | YOUTUBE
Europe's leading stationery brand, BIC®, is launching a campaign to give one lucky winner the chance of a lifetime; to design one of the world's most iconic pens, the BIC® 4 Colours®.
The interactive Design and Shine competition, which has been developed to encourage creativity across the UK and Ireland, will be open to anyone over the age of 13 years old this summer. The winning design, which will be chosen through a public vote, will be put into production and the talented winner will also be offered a £3,000 prize to fuel their thirst for design, in whatever form they please.
Bruna Goncalves, BIC UK and Ireland's Product Manager – Stationery, said: "It's rare to have the opportunity to put your stamp on such an iconic product, see it go into production and made available for purchase. There is so much talent out there that deserves recognition and we hope the campaign encourages budding designers of all abilities to get creative.
How it works
Enter from 20th July – 22nd August 2018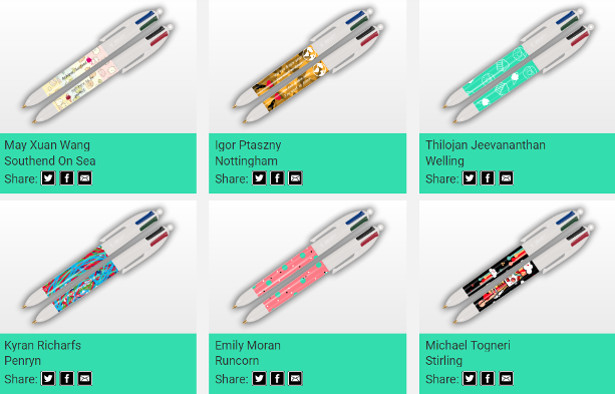 The BIC® Design and Shine competition is open to anyone in the UK and Republic of Ireland over the age of 13. It opens for entries at 00:00 am on Monday 16th July 2018 and closes at 23:59 on Wednesday 22nd August 2018. All entrants need to do is create their own design using the tools available on the BIC Design and Shine website (www.BICDesignandShine.com) or upload an image of their handy artwork to be in with a chance.
Vote from 27th August – 9th September 2018
Once the competition closes on 22nd August, a team of experts will narrow the entries down to a shortlist of the best, which will then be put to a public vote on the BIC® Design and Shine website between Monday 27th August – Sunday 9th September 2018.
Winner announced on 10th September
The winning design will be put into production before it goes on sale on Amazon later this year. The talented Design and Shine champion will also be awarded a £3,000 cash prize to fuel their creative pursuits.
This year's judging panel will be looking out for excellent:
Creativity – Why can't the sky be red or the grass purple? Be original and think outside of the box.
Composition – How well is the space used? What technical ability has been demonstrated? How well do the colours and patterns complement each other?
Suitability – Does the design fit within the dimensions given and have mass appeal?
For full details and terms and conditions on this year's competition and to enter, visit www.BICDesignandShine.com, or email BICDesignandShine@lucre.co.uk