SHOW YOUR LOVE THIS MOTHER'S DAY WITH
THE PERFECT HAMPER FROM ITALIAN DELI DIFORTI
shop.diforti.com or call: 0208 953 5453 for trade customers, call: 0203 876 8690 for private customers.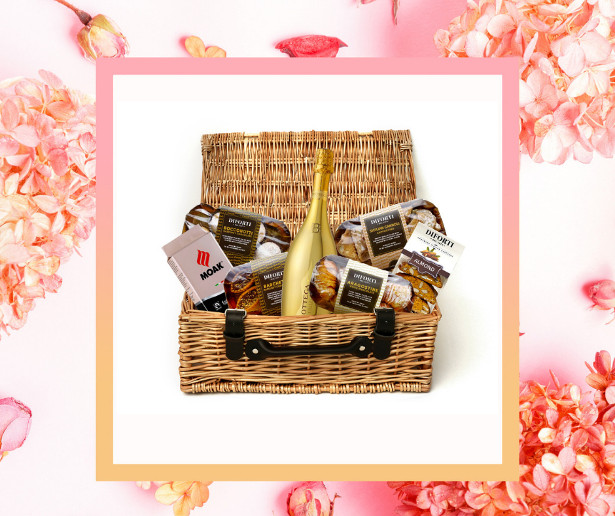 Treat your mum to a taste of Italy, with the ultimate Mother's Day gift from Italian delicatessen Diforti – the special Mother's Day Hamper.
Housed in a beautiful wicker basket, each of the items included in the Mother's Day Hamper have been handpicked by the Difortis, brothers and owners Andrea and Carlo. Filled with rich Moak Arabica Coffee, a selection of mouth-watering and indulgent sweet treats such as the decadent Sicilian Cannoli Filled With Cappuccino Cream, moreish Almond Cantuccini, and a bottle of Bottega Gold Prosecco, there is plenty to delight even the most discerning palette.
Carlo Diforti, Director of Diforti, said: "At Diforti, we have two great loves: food and family, so it probably comes as no surprise that we know plenty about both. All mums deserve to feel special, especially on Mother's Day, which is why we have put together the perfect Mother's Day Hamper, making it easy for you to spoil your Mamma or Nonna."
Diforti's Special Mother's Day Hamper contains:
Bottega Gold Prosecco 75cl
Aragostine Filled With White Chocolate Cream 150g
Bocconotti Filled With Hazelnut Cream 150g
Sicilian Cannoli Filled With Cappuccino Cream 150g
Almond Cantuccini 200g
Barchette With Hazelnut Chocolate 150g
Moak Arabica Coffee 250g
Now priced at just £69.99 including free delivery, ordering your Mother's Day Hamper couldn't be any simpler.
Available until Sunday 31st March, or until stocks last, this superb Mother's Day gift joins the Diforti's sensational collection of hampers, all filled with Italian treats, and available on the website.
Diforti is a family run business which has become synonymous with traditional, quality Italian produce. Founded in 1875 by Michele Diforti, in the picturesque village of Caltanissetta, Sicily, it is now run by great-great-grandsons Carlo and Andrea, who took the helm of Diforti in 2005, and continue to bring a traditional taste of Italy to the UK through the online delicatessen.
Diforti's ethos is based around traditional family values and their Italian heritage, which is at the centre of everything they stock. The brothers hand-pick each offering with specially selected suppliers in order to give their trade and retail customers a truly unique product.
To find out more about Diforti's extensive range of Italian treats visit: shop.diforti.com or call: 0208 953 5453 for trade customers, call: 0203 876 8690 for private customers.