SIMPLY BEYOND ORGANIC SPRAY-ON HERBS
One spray while cooking, perhaps a second before serving, unleashes the full flavor of fresh herbs! www.simplybeyondfoods.com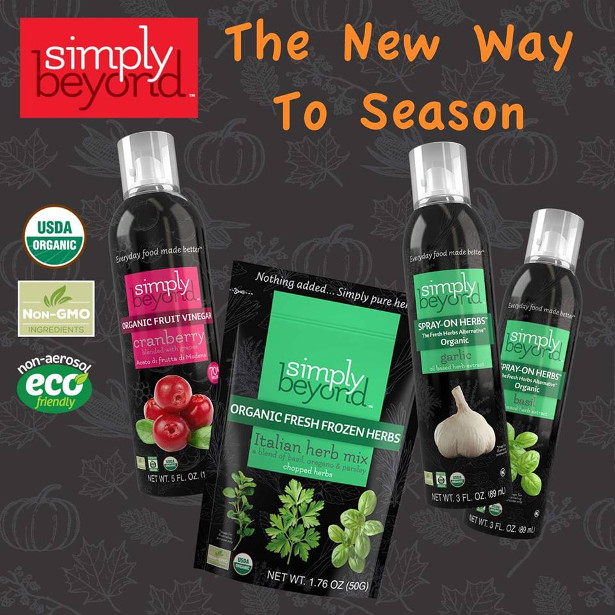 FACEBOOK | TWITTER | PINTEREST | INSTAGRAM | YOUTUBE
What a a unique product which is great as a gift for fathers that are into cooking and grilling
Organic Spray-On Herbs®, The Fresh Herbs Alternative®, made from the pure extract of the plant that are the essential oils, as well as organic fruit vinegars with the convenience of an eco-friendly non-aerosol spray.
Simply Beyond® Herb Garden set, as well as their Grand Collection that features all herbs and vinegars, have been grown in popularity with consumers looking to have the convenience of having fresh herbs available anytime they need them, in a convenient liquid and sprayable form without refrigeration and waste of fresh herbs that spoil in your fridge in just days. Or tasteless dried herbs… One spray while cooking, perhaps a second before serving, unleashes the full flavor of fresh herbs. www.simplybeyondfoods.com/why-simply-beyond/
With the grilling season upon us, Simply Beyond is a great way to marinate meats prior to grilling them (think garlic & rosemary on meats or poultry), adding an extra burst of flavor when it comes off the grill with just a short spritz, seasoning vegetables, or just bringing the convenience of a vinegar spray directly on salads as a convenient oil free dressing alternative.
Theie products are available on their website www.simplybeyondfoods.com as well as www.amazon.com
About Simply Beyond® Spray-On Herbs®
HOW IT'S MADE.
That's simple. Only two ingredients go into making each of Spray-On Herbs®: pure, concentrated herb essential oil, mixed with just Non-GMO organic canola oil as a base. This perfect balance lets the herb extract's natural, clean, intense aroma shine. With no chemicals, preservatives or even air contact (thanks to their innovative non-aerosol spray design), what you get is a year-round, shelf-stable source of fresh herb flavors.
HOW IT TASTES.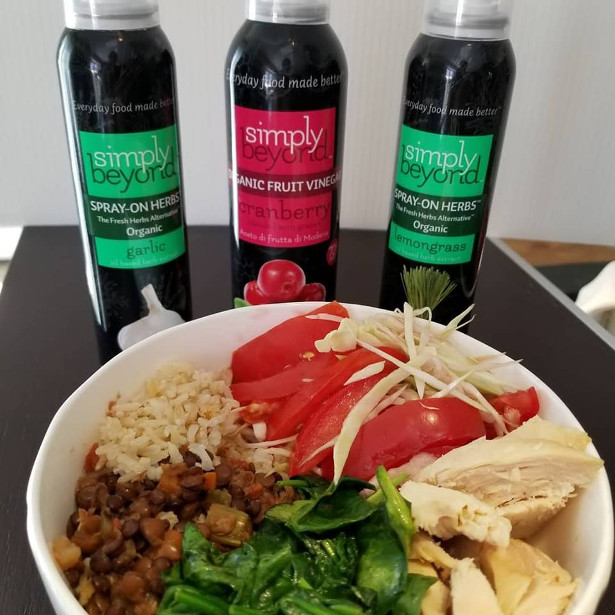 Exactly how you'd imagine the freshest garlic, basil, rosemary, thyme, oregano, cilantro and lemongrass would taste: pungent, earthy, fragrant, woodsy, spicy, floral, and citrusy, but likely better than you've ever tasted. And we've removed the unpleasant textures of some whole herbs, so you can focus on just clean, pure flavor.
HOW IT'S USED.
You'll use Spray-On Herbs® in such a life-changing way, you'll hardly ever miss fresh herbs again. Our herb extracts are flavor-packed, so you can start with just a little, and add more later for extra intensity. Just a quick drizzle or spritz, before, during, or after cooking, and you'll be amazed at how elevated and customized your everyday dishes will be. Grilled meats, seafood, vegetables, pizza, French fries, sauces, stews, salads (as part of the dressing), and popcorn will taste effortlessly, affordably, gourmet..
About Simply Beyond® Organic Vinegars
HOW IT'S MADE.
Our organic fruit vinegars are crafted by the best, with the purest, organic ingredients. Modena is an Italian province renowned for its prized, old-world balsamic vinegars. It is there that our vinegar is crafted in small batches, using the time-tested skill of cooking down organic grape juice until syrupy and complex in flavor. We mix this with just enough organic red wine vinegar and organic pomegranate or cranberry juice to strike the perfect balance of sugar and acidity. Our innovative non-aerosol spray design uses no chemicals, preservatives or even air contact, for a perfectly fresh taste.
HOW IT TASTES.
We'd have to agree with our customers. Our organic fruit vinegars taste so delightful, they will bring a smile to your face. Sweet and sour, fruity and floral, with depth and high notes that will excite your palate. If you're looking for a fresh, clean taste of nature's sweetness, our organic vinegars are exactly the uplifting zing you need.
HOW IT'S USED.
Our organic fruit vinegars are so versatile, you'll find yourself using them anywhere you want a dash of excitement. Add them to savory foods like pork chops or Brussels sprouts, and our vinegars will enhance their natural sweetness. You'll also discover that our vinegar sprays make the best salad dressings: light, even coverage of delicate vegetables, working well even without added oil. Best of all, try some on berries and ice cream, and you'll see how our fruity vinegars stimulate your meals from start to finish.