Fizzique – world's first ever Protein Sparkling Water
What began as a random experiment over 10 years ago, has led to a game-changer in the world of drinkable protein.The first ever Protein Sparkling Water with an unreal taste that is bursting with flavor and protein in every drop. 20g Protein • Zero Carbs • 80 calories – Fizzique is arguably the best protein drink that is refreshing, convenient, and tasty. Perfect for all types of consumers for any time of the day or after an intense workout.
Great tasting with healthy protein bubbles, Fizzique at 10:00 and 2:00 helps slay your slump and curb your appetite, tiding you over so you can eat less. Available in Strawberry Watermelon and Tropical Limon. Fizzique provides delicious, refreshing sparkling water with protein benefits – learn more about www.drinkfizzique.com
Patented in 42 countries
List of Ingredients:
Filtered carbonated water, hydrolyzed whey protein isolate, phosphoric acid, natural flavors, malic acid, citric acid, coffee extract, and sucralose.
Website: https://www.drinkfizzique.com
@drinkfizzique
The Amerigo Milano flat satin mules are backless slippers with textile and rubber sole and a blue satin upper with pointed toe. Comfortable handcrafted summer slip-ons for women with a casual style.
www.amerigomilano.com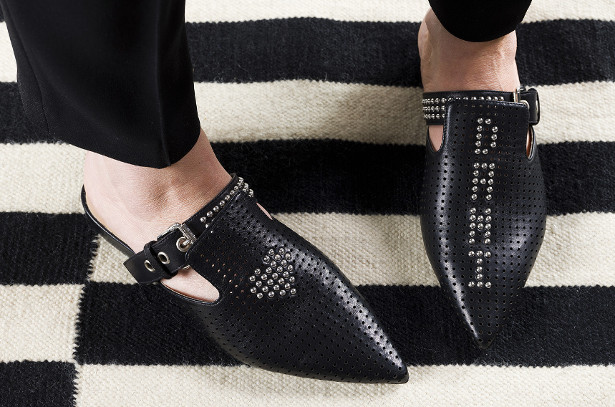 Fashion accessory of the year and the quintessential of feminine color: Love Rose Petal are luxury women's pink slippers made from soft, fine velvet. The upper features the word Love embroidered on top of the front part, where the letter "o" is replaced by a tiny brooch with red and diamond-like inserts. The whole single slipper is individually hand sewn by a skilled shoemaker, who is also in charge of cutting the velvet upper, the layers of the sole and the rubber outsole which allows you to use the loafers indoor and outdoor. The lining is made from Made in Italy haute couture fabric in a powder pink and white striped pattern. Comfort and style are key when it comes to women's footwear, and these velvet pink slippers brilliantly do the job offering gorgeous handcrafted accessories made for you to stand out from the crowd
COOCHY COO CHIC
– Novel Nursery Interiors From Wool Couture –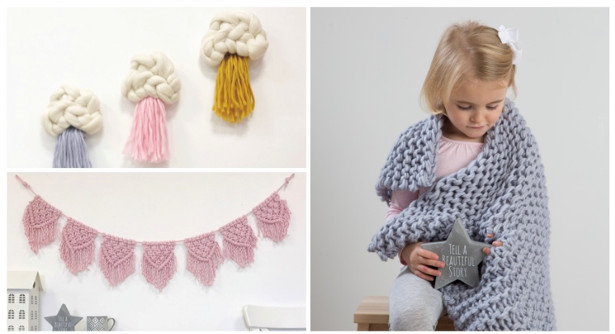 Clockwise: Three Clouds Craft Kit – £19.99 (S) & £29.99 (L), Amias Baby Blanket KnItting Kit – £29.99, Isabella Macrame Bunting DIY Kit – £27.99
Create a nursery that will grow with baby through toddler years and beyond with the help of gorgeous DIY craft kits from the fabulous Wool Couture.
You'll find yourself coochy cooing at the Three Clouds Craft Kit – this super easy beginner project is the perfect wall adornment for someone looking to add that personal touch to a nursery – and with five tassel colour combos to choose from, you'll find yourself on cloud nine when you complete this kit!
Guaranteed to brighten up any nursery, the Isabella Macrame Bunting DIY Kit is available in 10 colours and is a great introduction to the wonderful world of macrame!
Snuggle up with your little one while admiring your own handy work – the Amias Baby Blanket Knitting Kit certainly tells a beautiful story! Aimed at beginners, the kit contains all you need to learn the basic knitting stitches, using the gorgeous 'Cheeky Chunky' pure merino yarn in one of 30 striking colours – to complement any room!
So, if you're after a beautiful nursery with room to grow, then a range of DIY kits to add that personalised touch are available to purchase online at www.woolcouturecompany.com
Keep dreams sweet with the squishy gummy bear night light.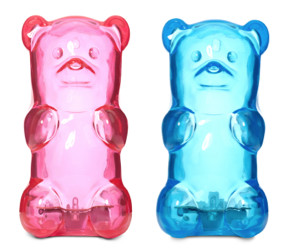 As a charming and entertaining addition to any little one's bedtime routine, choose from
plush pink or blueberry blue and squeeze its tummy to see the little bear light up!
A perfect companion to fight those bedroom monsters, while your little one sleeps tight.
National Theatre Bookshop – shop.nationaltheatre.org.uk
NEW BESPOKE GOLD AND SILVER METALLIC BOOMBOCS
Innovative wireless speaker brand BoomBocs has introduced a metallic limited edition system in gold and silver for the most style conscious and luxurious music lovers.

Meticulously designed, the Deluxe edition has been created to ensure the sound that BoomBocs has spent years perfecting, is not at all compromised. Tiny metal flakes within the paint have been used within the paint to provide the glitter needed to make the BoomBocs stand out from the rest.
Designed in Brixton and handcrafted in England, Boombocs was founded by sound engineer Jonny Williams, who until recently spent most of his career on tour with bands. When he wasn't touring, he decided to use his free time to design a better way to listen to music with a speaker that not only got attention from its original looks, but a sound quality that did justice to his favourite tracks.
BoomBocs pride themselves on being sound experts, so when it comes to what you hear from a wireless speaker system, you can rest assured that they will deliver. The BoomBocs portable speaker system is capable of delivering 200 Watts of pristine audio quality with no distortion, even at high volume. The Class-D amplifier works in conjunction with state-of-the-art wireless technology to ensure what you hear is the best it can be.
Starting from £765.00, the Deluxe BoomBocs systems can be purchased online at: https://boombocs.com/products/boombocs-deluxe-range
THE 12TH ANNUAL GET WILD! SUMMER BENEFIT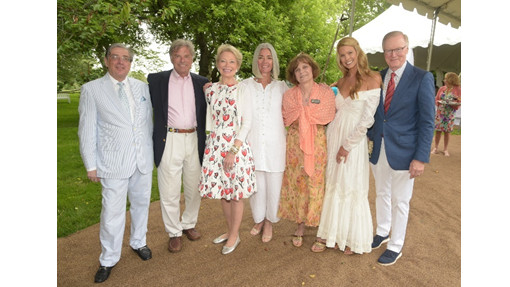 BERNARD CARL, PAUL KEBER, JOAN CARL, SUSAN MCGRAW KEBER, VIRGINIA FRATI, BETH STERN, CHUCK SCARBOROUGH
PHOTO CREDIT: ROB RICH/SOCIETYALLURE.COM
HOSTED BY JOAN AND BERNARD CARL
HONORED
JAY SCHNEIDERMAN, SOUTHAMPTON TOWN SUPERVISOR
SUSAN MCGRAW KEBER, EAST HAMPTON TOWN TRUSTEE
AT
THE LITTLE ORCHARD GARDEN OF JOAN AND BERNARD CARL, SOUTHAMPTON, NY
HONORARY CHAIR: ELLEN AND CHUCK SCARBOROUGH
The Evelyn Alexander Wildlife Rescue Center of the Hamptons celebrated their 12th Annual GET WILD! Summer Gala at Joan and Bernard Carl's Little Orchard Garden on Coopers Neck Lane in Southampton, NY. The event honored Jay Schneiderman, Southampton Town Supervisor and Susan McGraw Keber, East Hampton Town Trustee, and welcomed distinguished guests to celebrate the united efforts to rehabilitate animals and successfully release them back into the wild across Long Island.
"It's important for us to recognize the continued efforts of everyone involved with The Evelyn Alexander Wildlife Rescue Center. The commitment to rehabilitate Long Island's wildlife is a shared passion for us all. We truly thank our honorary chairs Ellen and Chuck Scarborough, hosts Joan and Bernard Carl, benefit co-chairs plus committee, and sponsors," said Director of Development Shelley Berkoski.
The picturesque garden featured live swans in the neighboring Coopers Neck Pond while guests enjoyed The Evelyn Alexander Wildlife Rescue Center rehabilitated birds including; Meep the Great Horned Owl, the Red Tail Hawks Cloud and Sonia, the Eastern Screech Owls Archimedes, and Athena and the Peregrine Falcon named Millennium. Live music from Ludmilla Brazil, along with cocktails and light vegetarian fare were also enjoyed by the evening's attendees.
Notable attendees included: Virginia Frati, Shelley Berkoski, Joan and Bernard Carl, Jay Schneiderman, Susan McGraw Keber, U.S. Secretary of Commerce Wilbur Ross and Hilary Geary, Nicky Hilton, Don Lemon, Ellen and Chuck Scarborough, Henry Buhl, Leslie Alexander, Laura Carlock, Zab Judah, Linda and Benjamin Lambert, Beth Stern, Lynn Scotti, Claudia and Billy Walters, Curtis Sliwa, Nancy Regula, Mai Hallingby, Denise Cuccia, Howard Lorber, Susan Bordeau, Kenneth and Maria Fishel, Tom Samet, Jay Flagg, Carol Nobbs, Séan and Liz Denneny, Susan Tighe, John Broderick, Dorothy Frankel, Missy Hargraves, John Broderick
Benefit Co-Chairs Included: Hilaria And Alec Baldwin, Alexandra And Peter Campbell, Joan And Bernard Carl, Kim Cattral, Brigid Fitzgerald And Michael Katz, Nancy Juvonen And Jimmy Fallon, Linda And Ben Lambert, Beth Stern
Benefit Committee included: Séan Denneny, Ingrid Edelman, Dorothy Frankel, Pat Garrity, Jane Gill, Missy Hargraves, Margot Rowan Horn, Aleksandra Kardwell, Norah Lawlor, Maryann Marston, Hope Marxe, Jill Rappaport, Renee Schlather, Kathy Walsh
This year's GET WILD Summer Gala sponsors included: Leslie Alexander, Ingrid Arneberg and Will Marin, D. Porthault, Douglas Elliman, LLC., Ingrid and Thomas Edelman, Linda and Benjamin Lambert, Wölffer Estate Vineyard; Rosalie Brinton, Frances Jones and Keith Douglas, Howard Marton, Ellen and Chuck Scarborough; Dayton, Ritz & Osborne, Fisher Signs & Shirts, Brigid Fitzgerald and Michael Katz, Maryann Marston, Andrew Sabin Family Foundation, Shinnecock Animal Hospital, Allison Stern, Kathleen Walsh and Gene Bernstein, Claudia and Billy Walters; Tara Allmen, MD, Brook B. Ashforth, BNB Bank, Pat Garrity of the Corcoran Group, Audrey & Martin Gruss Foundation, Robert J.M. Olsaon and Alexander B.V. Johnson, Patricia Preu, Veterinary Clinic of East Hampton; Alfred Geary, Hamptons Employment Agency, Hutchison Landscape Services, Weber & Grahn Air Conditioning and Heating. With special thanks to Hamptons Magazine and Leslie Wine
WHEN: Saturday, June 23rd, 2018
6:00 p.m. – 8:00 p.m.
Live Music, Cocktails and Light Vegetarian Fare; Silent Auction
WHERE: Joan and Bernard Carl's Little Orchard Garden
Coopers Neck Lane, Southampton, NY
To download selected photos, please visit: http://bit.ly/2tuvwvM
To view a full gallery of Rob Rich/SocietyAllure.com images, please visit: https://www.societyallure.com/TheHamptons-2018/The-12th-Annual-Get-Wild-Summer-Benefit-to-benefit-the
To view a full gallery of Lisa Tamburini images, please visit: http://bit.ly/2Kk1u4e
About The Evelyn Alexander Wildlife Rescue Center of The Hamptons:
The Evelyn Alexander Wildlife Rescue Center, Inc., Eastern Long Island's only wildlife hospital, is a not-for-profit corporation dedicated to the rehabilitation of wild animals impacted by encroachment of humans on their habitat. It is a grass roots organization that grew from a few concerned friends to a group of over 3,000 members and supporters. The center is a full-time professional wildlife hospital staffed by licensed rehabilitators, biologists, animal behaviorists and volunteers. Over 300 people have been trained to assist in wildlife rescues. The Evelyn Alexander Wildlife Rescue Center is located on Munn's Pond Park through a cooperative licensing agreement with Suffolk County Department of Parks, Recreation and Conservation. The center is situated on a greenbelt of public land parcels totaling several thousand acres and stretches from Tiana Bay to Peconic Bay located on the eastern end of Long Island, NY. This is a unique and irreplaceable ecosystem consisting of salt and fresh water wetlands, Pine Barrens, deciduous forest and meadowland. Thus, it is the perfect setting for a wildlife rehabilitation center. The hospital is designed exclusively for wild animals. Unlike a veterinary hospital, there are no ambient noises or smells to stress the wildlife that are recovering within. The Wildlife Rescue Center receives more than 10,000 calls each year for information or assistance involving wild animal encounters. The center also provides educational programs to local elementary and secondary schools. Students from local colleges participate in cooperative education programs and internships. The Evelyn Alexander Wildlife Rescue Center annual operating budget exceeds $650,000, almost all of which comes from generous donors.
For more information, visit: www.wildliferescuecenter.org
Express your inner glam and brighten up your dressing table with the eccentric and playful mirror designed by Seletti Wears Toiletpaper.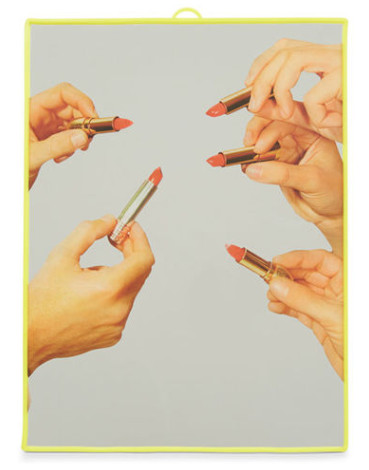 Showcase some humorous aspects from Toiletpaper magazine and add a splash of colour to your decor.
Seletti Wears Toiletpaper, Lipstick Mirror – £35 – Tate Shop – shop.tate.org.uk
Seletti Wears Toiletpaper is a collection of homeware born out of the collaboration between
Maurizio Cattelan and Pierpaolo Ferrari's renowned magazine Toiletpaper and the Italian design company Seletti.
JINGLE ALL THE WAY TO CHRISTMAS TREE'S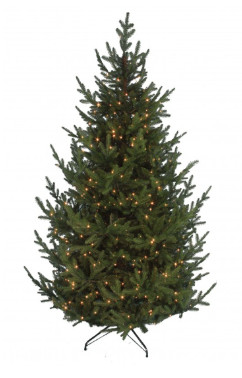 – Find some fantastic deals on Christmas trees this year –
– High-quality Christmas trees that are stylish and affordable –
Purchasing the perfect Christmas tree can be a big decision for families who want to capture Christmas cheer in the home and embrace one of the most special times of the year.
The Christmas tree offers a beautiful festive spectacle so it's important to make the right decision and choose the perfect one. At Christmas Tree World, they have a selection of premium artificial trees which will ooze magic and sparkle for years to come.
The Pre-Lit Ultra Mountain Pine
Brighten up the home with this beautifully lit Pre-Lit Ultra Mountain Pine Christmas tree, perfect for bringing a touch of the festivities indoors.
This tree is a great choice for families who love the natural look of a real Christmas tree, but want to keep decorating quick and simple with built in LED lights.
This model is available in sizes from 4ft to 6ft and comes with attached hinged branches which are easy to assemble.
RRP from £79.79, depending on size.
The Mountain Pine Tree
The realistic Mountain Pine Christmas Tree is a great festive choice, with life-like branches which will be sure to impress the family.
This Christmas tree can be easily decorated with sparkly decorations such as baubles, lights and other striking trinkets to make it extra magical.
With easy to assemble hook-on branches, this affordable tree is available in a range of different sizes, from 4ft to the 14ft option.
RRP from £32.99, depending on size.
The Woodland Pine Tree
If the family is looking for a realistic bushy branched Christmas tree, then look no further than the Woodland Pine. The natural silhouette is a very popular design and gives a real life festive feel to this tree.
It's the perfect platform to decorate with some beautiful ornaments and lighting to help bring the festivities indoors and create an extra special Christmas.
This tree is available in a range of different sizes, from 3ft to the impressive 14ft option.
RRP from £23.99, depending on size.
The Pre-Lit Bianca Pine Tree
Make a bright statement this year and follow the trend with this striking white Pre-Lit Bianca Pine.
This high-quality tree is strung with warm white LED lights embedded into beautiful white branches, which offers a stylish look to festive decorating in the home.
This affordable model is available in a range of sizes from 3ft to 10ft. The hinged branches make this tree easy to set up and allows the festive cheer to quickly spread.
RRP from £59.99, depending on size.
The Black Classic Pencil Tree
Why not be bold this Christmas with The Black Classic Pencil Tree. Designed with elegance in mind, this stylish pencil shaped tree will look fashionable in any home.
Not only is this Christmas tree perfectly on-trend, but it is also a great option for those with smaller indoor living areas and who might be limited on space – especially throughout the hustle and bustle of a busy Christmas.
The delicate branches offer the perfect platform for hanging delicate decorations and will effortlessly complete the look.
This statement tree is available in a range of sizes from 4ft to 8ft.
RRP from £17.99, depending on size.
The Pre-Lit Green Classic Pencil Tree
This stylish Pre-Lit Green Classic Pencil Tree is the perfect choice to help spread Christmas cheer amongst family and friends this year.
The slim fit pencil design is perfect for those with smaller spaces, and it makes decorating an easy task as it is already fitted with LED lighting. Simply hang your favourite ornaments to complete the festive look.
Suitable for all size homes, this magical tree is available in a range of sizes from 4ft. to 8 ft.
RRP from £47.99, depending on size.
The Snowy Alpine Tree
Create your own winter wonderland at home with the realistic Snowy Alpine Tree – perfect for bringing a touch of snow indoors this Christmas.
Flocked with fluffy snow and green branches, this tree looks beautifully real and is a great model to hang your festive decorations and create a truly magical Christmas tree.
This mystical tree is available in a range of sizes from 5ft. to 8 ft.
RRP from £65.99, depending on size.
The Vesuvius Fibre
Optic Tree
The Vesuvius Fibre Optic Tree will certainly make a statement and create a beautiful standalone spectacle in the home.
Adorned with pre-lit colour changing fibres which have seven different colour settings, this tree will bring a beautiful warm glow to any room and will definitely impress friends and family.
Available in a range of sizes from 3ft to 8 ft, this show stopping tree is excellent value for money.
RRP from £35.99, depending on size.
Come Dine With Me By Zangheim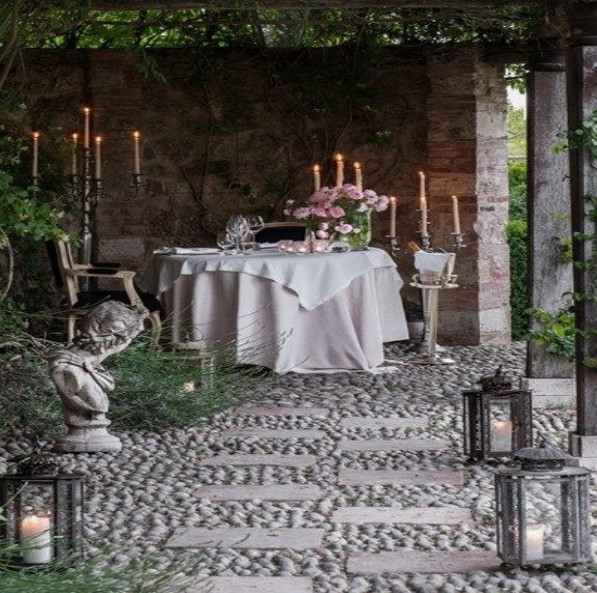 Zangheim's dining room accessories guarantee that your stylish eaterie is the hot topic at the table.
Versace
Le Scale Del Palazzo Verde Dinnerware
Porcelain
From £97.00
Villeroy & Boch
Ella Partially Gold Plated Cutlery
24 piece set
6 x dinner knives
6 x dinner forks
6 x dinner spoons
6 x coffee spoons
1 x cutlery tray
£309.00
Cristallerie De Montbronn
Adagio Gold White Wine Glass
Diameter 6.7cm
Height 18.5cm
Crystal
£143.48
Posh Trading Co.
Double Coaster Silver Leaf in Gold
19.6cm x 9.9cm
Wood, Silver Leaf & Lacquer
£20.00
Zieher
Cloche with wooden saucer and glass inlay
Walnut wood, borosilicate glass
£262.18
Versace
Arabesque Amber Water Goblet
Height 19.5cm
Crystal
£166.00
Zieher
Reef Candleholder
Diameter 10cm
Height 16.5cm
£207.84
Versace
Medusa Madness Oro Tea Glass and Saucer
£113.00
About Zangheim:
Zangheim represents a new generation of online luxury shopping within the dining and living room sector. Zangheim believes the living and dining room serve as the basis to effecting a magical atmosphere within the home. For the founders of Zangheim, having grown up together in a warm environment, dinner was an integral part of every day and a time for the family to come together to enjoy each others company. Zangheim's philosophy and commitment to providing only the finest home accessories will enable our customers to create their own unique environment and experiences. Zangheim we are committed to helping their customers showcase their cuisine, achieving a lasting impression for both family and guests.
UK Artist Gives World No 1, Simona Halep, Limited Edition Portrait Ahead of Wimbledon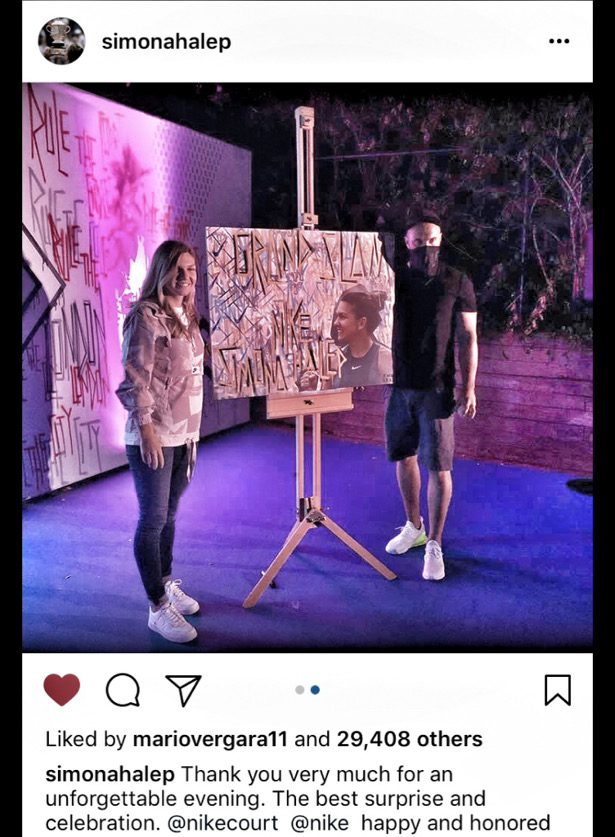 Endless, the London-based artist, was snapped last week handing a one-off portrait to the women's world number one tennis player, Simona Halep. The tennis pro was presented with the portrait as a surprise during her pre-Wimbledon training over the weekend. She also captured the artwork in an Instagram post:
Simona plays her first Wimbledon match tomorrow against Japan's Kurumi Nara.
The Centenary of the Birth of the
Inventor of the Lava Lamp
Falls this coming Wednesday on the 18th of July. Edward Craven Walker (ECW) developed his invention from a design for an egg timer seen in a pub in the Dorset. He launched the first "astro" lava lamp in 1963 and it became an instant hit remaining in continuous British production by the company he founded in Poole, Dorset to this day. (See www.mathmos.com)
Edward Craven Walker (ECW)
A Great British Entrepreneur and Eccentric
ECW, is shown below with his wife and business partner Christine Craven Walker. Besides inventing the lava lamp he was also an enthusiastic naturist. He founded his own naturist camp and made a number of underwater naturist films including one that was shown in Leicester Square. A great lover of fast machines particularly British ones he would come to the factory in Poole, in his Rolls, by speedboat or helicopter.
"If you buy one of my lamps you don't need drugs" ECW
#ECW100
Mathmos 100 Lava Lamp Giveaway
To celebrate the centenary Mathmos are giving away 100 Fireflow lava lamps over the summer. Fireflow is the only candle powered lava lamp available, it is made of precision cast metal and has Mathmos' unique lava formulation perfected by ECW, see here.
We are also inviting people to post images of their vintage lava lamps and lava lamp stories at #ECW100. To enter the giveaway follow Mathmos on social media and look out for our #ECW100 competition post.
Mathmos Fireflow Lava Lamp
Stay on Trend with Sofas by Saxon
If you're keen to keep your home up to date with the latest trends, then a carefully chosen sofa or chair could be just the thing. The industry experts have made their predictions for the seasons ahead and we take a little look at things to come….
Earthy Neutrals and Terracotta Tones
Earthy colours including soft greens such as fern & olive, along with rustic terracotta tones and muted browns are tipped to be popular this Winter. This relaxing palette works well alongside existing grey schemes to help create a cosy and inviting space in which to unwind. 'Martini Olive' included in Pantone's AW18 Colour Palette also fits in well with this look.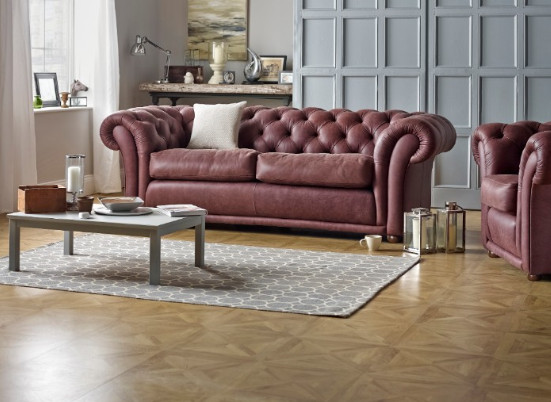 Pure Comfort
Pure Comfort is definitely a trend we can all get on board with and the sumptuous Westminster Sofa is perfect for sinking into after a long day. Shown below in an exquisite Heritage Leather, this soft, luxurious leather is lovingly treated with a combination of oils and waxes, designed to show wear and distress marks. This is just one of nine leather collections offered, each available in a selection of colours.
Rich Colours
As well as the earthy colour palette, at the other end of the scale, rich, bright and bold tones are also set to be a big thing. With minimalism taking a back seat this coming season, we are predicted to get bolder with colour in our homes. Jewel Colours have a timeless appeal and are a great way to introduce this theme.
Textural Interest
Mixing materials in a room is a great way to add depth and interest and a beautiful Velvet Chair or Antique Leather Sofa is the perfect way to achieve this. Beautiful classic deep buttons and hand tacked stud lines also bring another level of style and comfort.
All of the furniture from Sofas by Saxon is made to order by their expert craftspeople in their Lancashire workshop. Customers can choose from over 50 designs and 110 leathers and fabrics, making it easy to design your own piece that's right on trend.
ARRIVE IN STYLE…
With The Silver Cross Balmoral Pram
Silver Cross Balmoral Pram – £1,600 (available in five fabric choices)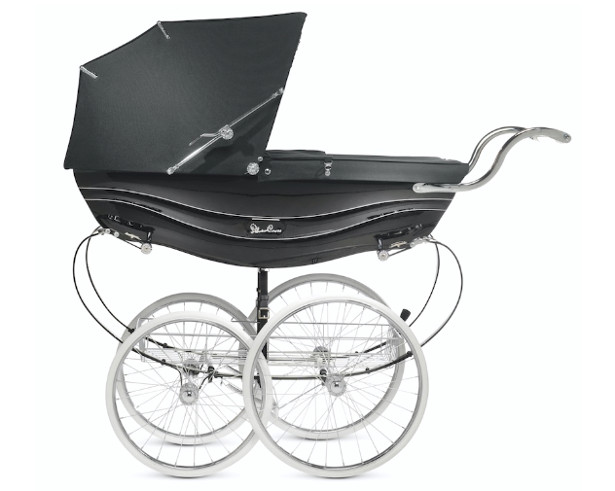 The gorgeous Silver Cross Balmoral pram ensures baby will 'arrive in style' to a christening, wedding or whatever the occasion.
Hand-built in Yorkshire, England using traditional methods, this truly iconic design exudes quality, luxury and craftsmanship synonymous with Silver Cross.
From the polished chrome chassis and spoked wheels, leather suspension straps to the hand stitched fabrics – every part of the Balmoral has been engineered using timeless techniques.
And thanks to the famous Silver Cross C-spring chassis, deep padded mattress and cotton pram liner, the Balmoral is the 'ultimate' in stylish and elegant baby carriages for any newborn.
www.silvercrossbaby.com
NATIONWIDE HELPS BOOST NORTHERN IRELAND HOUSING CAUSES WITH £250,000 AS RESEARCH REVEALS EXTENT OF HIDDEN HOMELESSNESS
· Voting is now open for Nationwide members to vote for local housing projects
· Charities across Northern Ireland will benefit from grants of up to £50,000
· Nationwide research shows one in five people have been affected by homelessness in Northern Ireland
· A quarter see homeless people in their local area at least once a week
Nationwide, the UK's biggest building society, is making £250,000 available to help make a difference in communities across Northern Ireland. Now the Society is urging its members¹ to vote for which projects should receive a grant of up to £50,000, with polling due to close on 20 July 2018.
The Society invited applications for grants for housing projects that have the potential to strengthen communities and help make a difference in local areas, ranging from preventing people from being homeless, helping people into a home and supporting people to remain in their homes.
It comes as new research for Nationwide Building Society[2] shows that just under one in five (17%) people in Northern Ireland have been homeless or have experienced family or close friends without a home of their own.
A quarter of adults in Northern Ireland (24%) see homeless people in their local area at least once a week, while almost one in ten (9%) say they see someone they believe to be homeless in their local area every day.
Nationwide's research also reveals that the vast majority (88%) think homelessness fits the stereotype of sleeping on the street. Others, however, recognise that it's an issue that is not always obvious, with 52 per cent acknowledging that sofa surfing with friends or living temporarily in a B & B (44%) are actually forms of so-called 'hidden homelessness'.
Nationwide now wants its members to have their say on which projects are supported in their local communities, which have been chosen by an appointed local Community Board, which is comprised of members, employees and housing experts.
Members can vote in branch or online for the shortlisted charities, which have applied for a maximum £50,000 grant. The Board and Nationwide branches within the region will also be providing time, contacts and expertise to these charities.
Ian Milligan, Nationwide's Deputy Regional Director, said: "We recognise there is a housing crisis in Northern Ireland, resulting in many people living in unsuitable, insecure or unaffordable accommodation. So, we are delighted to award £250,000 to communities within Northern Ireland to support housing projects and make a real difference.
"It is now down to our members to make a difference to their local communities and tell us exactly where our funding should be focused – after all, our members know their communities better than anyone else."
The shortlist of charities is:
Action for Children Floating Support Service
Community Integration & Befriending Project
East Belfast Housing Lab
Connect Family
Safe at Home
An Inclusive Space for People with Learning Disabilities
Homeless World Cup 2018
Get Active
Tenancy Sustainment
Compassion Housing
Keys to Life
Nationwide members can vote online at www.nationwide.co.uk/communityfundingvoting or at their local Nationwide branch until 20 July.
OFFICIAL TRAILER FOR 'THE HATE U GIVE'
Twentieth Century Fox reveals the trailer for THE HATE U GIVE, the highly anticipated adaptation of Angie Thomas' critically acclaimed New York Times bestseller.
Watch the trailer on YouTube: https://youtu.be/wK_Fegf0XBc
Also available is the first still from the film, which can be found on the THE HATE U GIVE DPK here: https://dpk.thinkjam.com
*Click 20th Century Fox > The Hate U Give to access
THE HATE U GIVE stars Amandla Stenberg, Regina Hall, Russell Hornsby, Lamar Johnson, Issa Rae, Algee Smith, Sabrina Carpenter, with Common and Anthony Mackie. THE HATE U GIVE is released in UK cinemas November 2nd.
Starr Carter is constantly switching between two worlds: the poor, mostly black, neighbourhood where she lives and the rich, mostly white, prep school she attends. The uneasy balance between these worlds is shattered when Starr witnesses the fatal shooting of her childhood best friend Khalil at the hands of a police officer. Now, facing pressures from all sides of the community, Starr must find her voice and stand up for what's right.
For more information on THE HATE U GIVE, contact Sami or Pip at Think Jam:
e: sami.westwood@thinkjam.com / pip.bourdillon@thinkjam.com
t: 0207 324 0088
www.foxpressofficeuk.com
#TheHateUGive
Ultimate Wimbledon Inspired Tennis Holidays & Tips for 2018
With Wimbledon 2018 well and truly under way, the ever-growing fever is tangible, and nobody is immune. Luckily, Health and Fitness Travel, the wellness holiday specialists, has the tried and tested cure, sharing their top tennis training holidays and tips from experts that are guaranteed to inspire you. Whether you're as serious as Andy Murray or simply enjoy working up a sweat before the spa, gain the advantage this summer with an epic sporting holiday. After a morning on the court with expert coaches, ward off tennis elbow through the expertise of professional chiropractors and rejuvenating spa treatments, leaving your body ready to hit the courts again tomorrow. Game, set, match.
Top Tennis Holidays
Portugal: Annabel Croft Tennis at Pine Cliffs Resort
With a philosophy of 'movement and repetition', take your tennis to new heights on this one-week tennis coaching retreat developed by former British No.1, Annabel Croft. Whether you are a skilled tennis player or just starting to consider the sport, enjoy a secluded break, while experiencing the pleasures of learning and improving yourself at the Annabel Croft tennis academy. Facilities boast six high quality tennis courts and qualified trainers who run training and coaching sessions. The tennis programme includes highly paced drills and exercises to enjoy the training while growing in skill yourself.
Health and Fitness Travel (0203 397 8891 healthandfitnesstravel.com) offers 7 nights at Pine Cliffs from £1,840pp or £2,665 for single occupancy. Price includes accommodation, daily breakfast, 5 x group tennis lessons and return private transfers.
Cyprus: Tennis at Aphrodite Hills
Do you fancy yourself as the next Serena Williams or Roger Federer? The Tennis Academy at Aphrodite Hills in Cyprus is the perfect place for tennis enthusiasts of every age to achieve all their sporting goals. Whether you are a beginner or intermediate, the dedicated tennis coaches will help you improve your game and serving skills, that you can later show off in an invigorating match with other dedicated guests. After powering yourself out on the high-quality courts, unwind and soothe your muscles by paying the Retreat spa a visit to enjoy a hot stone, Swedish or therapeutic massage to make you feel relaxed and restored.
Health and Fitness Travel (0203 397 8891 healthandfitnesstravel.com) offers 7 nights at Aphrodite Hills from £1,180pp or £1,665 for single occupancy. Price includes accommodation, daily breakfast, 14 hours of coaching and return private transfers.
Spain: Marbella Club Tennis
Located just a ball toss away from the luxurious Mediterranean hideaway that is Marbella Club, follow in the footsteps of tennis greats like Serena Williams and Boris Becker at Puente Romano Tennis Club. With ten well-equipped courts and a talented team of professional coaches waiting to 'serve' you, there's no better place to perfect your tennis technique. Unleash your competitive side with twice-weekly group tennis tournaments and channel your inner-champion as you put your new-found skills to the test. After a day of serve-and-volley, wind down with a personalised massage and relax in the beachfront Thalasso Spa with breath-taking views across the Med.
Health and Fitness Travel (0203 397 8891 healthandfitnesstravel.com) offers 7 nights at Marbella Club from £2,740pp or £4,940 for single occupancy. Price includes accommodation, daily breakfast, 6 x private tennis lessons and return private transfers.
Thailand: Thanyapura Tennis
Serve it and smash it with the guidance of professional mentors on this tennis holiday at Thanyapura, sheltered beneath the peaceful mountains of Phuket. Train amongst tennis stars and international teams on 6 competition-class courts. Compliment your tennis with a selection of fitness classes including spinning, Kinesis and Pilates. Reap the benefits of a rejuvenating sports massage at the resort spa or indulge in the experience with holistic treatments for an enhanced sense of well-being. Reconnect with your mind, body and soul at this dedicated fitness retreat and return home with a sharper game that will have your opponent's running in circles.
Health and Fitness Travel (0203 397 8891 healthandfitnesstravel.com) offers 7 nights at Thanyapura from £600pp or £750 for single occupancy. Price includes accommodation, full board, 6x private tennis lessons and return private transfers.
St Lucia: BodyHoliday Tennis
Gain the advantage over your tennis game and your fitness levels on this active tennis holiday at BodyHoliday in St Lucia. Set upon the secluded bay of Cariblue, hit the courts for private coaching and group tennis lessons, before testing what you've learnt with a tennis competition between fellow guests. Round out your all-inclusive tennis holiday with a wide range of group fitness classes, land and water sports, including, yoga, Box Fit, mountain biking and kayaking. After an active day, relax at the luxury spa with a choice of daily treatments, including massages, body scrubs and facials.
Health and Fitness Travel (0203 397 8891 healthandfitnesstravel.com) offers 7 nights at BodyHoliday from £1,480pp or £1,580 for single occupancy. Price includes accommodation, all inclusive, 8x tennis lessons and return private transfers.
Antigua: Carlisle Bay Tennis
Add some Vitamin-D to your game as you soak up the sun training in the tropics at Carlisle Bay in the Caribbean. Beneath tropical palm trees, nine courts are a stone's throw away from the turquoise waters edge, including four floodlit courts for cooler evening games. With six private tennis lessons included and optional complimentary clinics, you will have plenty of opportunity to improve your technique under the tuition of professional instructors. In-between games explore on a rainforest hike or take to the tropical waters paddle boarding, before rejuvenating with a deep tissue massage at the award-winning Blue Spa.
Health and Fitness Travel (0203 397 8891 healthandfitnesstravel.com) offers 7 nights at Carlisle Bay from £(please enquire). Price includes accommodation, breakfast, 6x private tennis lessons and return private transfers.
Top Tennis Tips from the Pros
Learn a backhanded backspin
"The backhanded backspin is an indispensable move found in the repertoire of all good tennis players. This shot allows you to defend yourself against powerful punches, attack at the right moment and change the inertia of the game to keep your opponent off balance.
For this, you have to be able to hit the ball well and generate a good swing that does not make it lob too much, nor lose the force necessary to keep your opponent from counter-attacking during the game."
Ramon Campuzano Rojas, Director of Puente Romano Tennis & Fitness Club, Marbella
Fancy footwork
Footwork is a key aspect to success in tennis and how you move on the court is arguably the most important part of the game; a lack of proper footwork makes it nearly impossible to advance to a higher level in the sport. Even if you are lacking in speed, you can still be quick and effective on the court given the correct footwork, not only reaching tough balls, but also getting in an optimal position to hit the best possible shot. Follow these tips to polish up your footwork on the court:
Ready Position
Before you start approaching the ball, players should always begin in the "ready position" with knees and hips bent, legs shoulder width apart and weight equally distributed on both toes. This position allows you to move easily in any direction and should be used when anticipating the opponent's next shot.
Split Step
Once your opponent contacts the ball you should perform a "split step" which consists of a small hop from the ready position towards the direction of the ball. This step will prepare you for your shot and allow for a quicker and more explosive movement to the ball.
Effective Movement
Quick, light, short steps are key to reaching the ball early, since these precise movements are what allow you to get in an ideal position for a good shot. Always stay on your toes and avoid taking long, heavy strides to reach the ball.
Timo Sivapruksa, Head Tennis Coach at Thanyapura Phuket, Thailand
How to instantly raise your game
"It's important to understand the best area to contact the ball. If the ball is too far away, you lose control and balance; if it's too close, you can't swing correctly. Getting the correct place to contact the ball will enable you to hit through the ball better.
Also choosing a suitable racket can make a huge difference; the main thing is to get a decent set of strings with good tension."
Pat Cash, Wimbledon champion 1987
For advice, guidance and booking visit www.healthandfitnesstravel.com or call 0203 397 8891
Summer Sales outpace Black Friday
New data from eCommerce search and navigation experts EmpathyBroker reveal a hot start to the summer sales season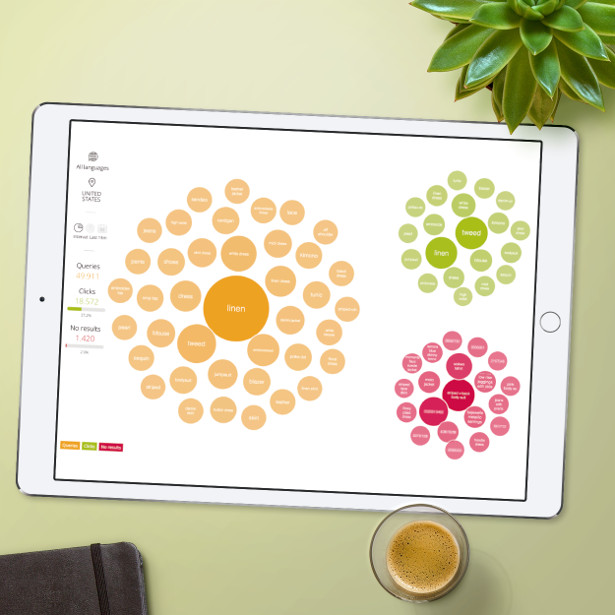 London, UK. Tuesday 3rd July 2018: The 2018 summer sales have got off to a sizzler, with new data showing a massive increase in those searching online for summer clothes and the latest bargains, surpassing the demand seen on Black Friday.
The data, collected and statistically analysed by EmpathyBroker from one of the world's largest fashion retailers, shows that on the first day of the 2018 UK online summer sales searches were 64% higher than the first day of Black Friday in 2017.
The results also compare favourably year-on-year; searches in the first 24 hours of the summer sales were 46% higher in 2018 than in 2017, as the trend for shopping for summer clothes continues to heat up. The first hour of the UK summer sales was also 1,363% higher than the same time a week before with 420,000 searches recorded within the first hour alone on one leading retail site.
As the hot weather continues unabated, the new data showed 'linen' as the UK's most popular search term, followed by 'white dress' and 'embroidered'. Linen was also the most searched for item on similar sites in the US, Germany, Japan, Canada and South Korea.
Angel Maldonado, Founder of eCommerce search and navigation experts EmpathyBroker, said: "Sales periods are times when consumers often demonstrate unique characteristics and display common attributes such as an increase in site searches. It's really important to understand the people behind the queries, to create an online search experience that empathises, understands them and can anticipate their needs.
"By providing a more joyful search and navigation customer journey, and by visualising search and browse data in a multi-dimensional way, retailers can turn plain data into ideas, creating better contexts, human understanding and trustworthiness."
Sales periods can also be some of the busiest shopping days of the year for some retailers, generating high traffic, high buying intent as well as a high emotional sentiment for consumers. They are often also times when consumers are open to engage and interact with the online shop proactively and through a better understanding of customer behaviours stores can enrich user interactions, create longer session durations, improve findability and offer more joyful and meaningful shopping experiences.
KEEP THE KIDS ENTERTAINED WITH A TRIP TO LONDON'S WEST END THIS SUMMER
What families can see, watch, eat and view in the home of entertainment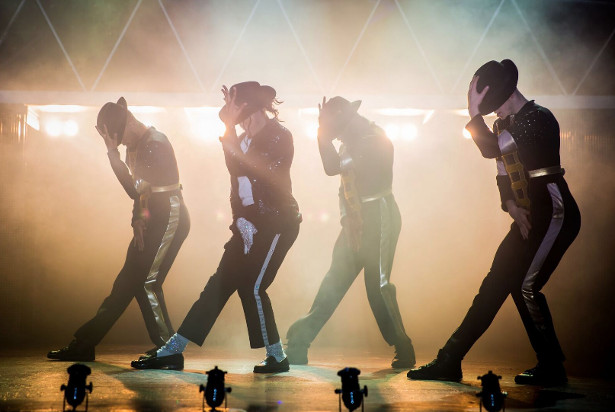 3rd July 2018 : From a day out inspired by king of pop, Michael Jackson, to free West End theatre and the latest cinema blockbusters in sense-tingling 4DX as well as an arty trip to the Royal Academy in Grayson Perry's colourful footsteps to see the 250th Summer Exhibition – London's entertainment capital, the West End has a packed programme for kids this summer including:
A THRILLING DAY OUT PLUS FREE WORKSHOPS
Jackson fans can learn all about the king of pop this summer by visiting The National Portrait Gallery's Michael Jackson On the Wall exhibition.
The exhibition explores the impact Jackson had on some of the leading names in contemporary art and is open daily from now to 21 October, with tickets from £15.50. A special young people's £5 ticket is available for those 25 and under on Fridays, under 12s are free and family tickets are available. For kids the exhibition provides inspiration for two weeks of fun, free, daily art and craft workshops, 13th – 27th August from 11am – 4pm. They can decorate a white glove, learn to moonwalk, pick-up photography skills, paint a portrait, design a t-shirt, print an image or play with clay. All materials provided. Pick up a free ticket, available from the Gallery one hour before entry.
Older youngsters (aged 14 – 21) can book in for practical artist-led workshops including: drawing, painting, sculpture, photography, fashion, film, music, dance, drama and poetry. Sessions are free, find out what's coming up here.
NON- STOP JACKSON HITS AT THE LYRIC THEATRE
Also, at the Lyric Theatre, Thriller Live takes audiences on an electrifying visual and audio journey through Michael Jackson's 45-year musical history with over two hours of non-stop hits from Off the Wall to Smooth Criminal, Beat It, Thriller and more! The perfect end to a thrilling day in the West End. Tickets from £32.
ENJOY THE BIGGEST SUMMER EXHIBITION IN ITS 250TH YEAR
Heaps of culture is on offer at the Royal Academy of Arts' 250th Summer Exhibition, the world's largest open submission contemporary art show– its biggest, brightest and most colourful yet. Grayson Perry RA and his fellow artists have handpicked over 1,300 artworks in an array of mediums, the majority of which are for sale with part of the proceeds contributing to financing the RA Schools. The exhibition extends across the Academy's newly-expanded cultural campus and even spills out into the streets of London's West End, with an installation of over 200 flags designed by Royal Academicians.
On 25 and 27 July and 1, 8, 15 and 17 August from 11am to 1pm there are creative workshop for families (ages 7+) inspired by the Summer Exhibition, offering the chance to explore the galleries together and create a collaborative artwork in response to it. There are also story telling workshops inspired by the works on 3 and 10 August from 11am to 12.30pm. Both workshops cost £15 per adult and £5 per child and are suitable for ages 7+
https://www.royalacademy.org.uk/events/tag/gallery-works
SHOWTIME: FREE THEATRE TICKETS FOR KIDS
Kids Week, the annual London theatre initiative run by Official London Theatre, offers a child aged 16 or under a FREE ticket to participating shows in August when accompanied by a full paying adult. An additional two children can also go for HALF PRICE plus there are no fees to pay!
Families can choose from more than 40 hit shows including the new feel good musical Strictly Ballroom and the heart felt modern day fairy tale, Everybody's Talking About Jamie; plus, the hilarious Comedy About a Bank Robbery. Alongside the performances, children can get involved in a wide range of free events, workshops and activities, with participating shows offering everything from storytelling and backstage tours to cast meet-and-greets and choreography. Kids Week ticket holders can also take advantage of a number of 'Kids Go Free' dining deals. Watch the Kids Week trailer here.
BUILD A SUNDAE AT FORTNUM & MASON
Children (and the young at heart) can create their own work of ice cream perfection in The Parlour restaurant at Fortnum & Mason. They can be as Dahl-esque as they dare, choosing up to three scrumptious flavours from the 22 available including rose ripple, crème caramel, chocolossus and new vegan flavours avocado & lime and chocolate & cashew plus pick from a range of sauces, toppings and sides all from £6.50. Families can then browse Fortnum's famous food halls and gift floors, for a take home treat.
WE'RE GOING ON A BOOK HUNT
While away a wet afternoon book hunting in London's oldest bookshop: Hatchards. This Piccadilly stalwart was established by John Hatchard in 1797 and is bookseller to all the royal households. With 100,000 books in store and an impressive children's section, complete with comfy sofa and book-loving staff on hand to inspire and suggest – even the most reluctant readers will be converted.
SAMPLE SATURDAYS AT LEICESTER SQUARE'S JAPAN CENTRE
Families can immerse themselves in everything Japanese at Leicester Square's Japan Centre every day of the week – what better place to introduce the kids to Sushi, Bento boxes and other Japanese staples? It's also a great place to pick up a manga magazine and Hello Kitty trinkets – or for budding young cooks, a great place to shop for ingredients to make their own noodle dish.
Then on Sample Saturday on 21st July between 11 and 4pm, there will be multiple tasting stations led by the centre's friendly and knowledgeable team, with the chance to taste tea, sake, snacks and more and pick up tips and inspiration to take home. August date to be confirmed too.
NEW 4D SENSES EXPERIENCE AT LEICESTER SQUARE CINEWORLD
Families can totally immerse themselves in the heart of the film action at the new 4DX screen in Leicester Square Cineworld. This thrilling new experience stimulates the senses with an exciting ride of high-tech motion seating and special effects including: wind, fog, lighting, bubbles, water, snow and rain, that work in synchronicity with the action on the screen. Different smells are pumped into the auditorium to complete the experience. This summer's blockbusters include: Skyscraper, Incredibles 2, Ant Man and the Wasp, Mission: Impossible – Fallout and The Meg. Prices from £19.20.
Moments from Cineworld is the largest LEGO Store on the planet, home to a 200,000 brick model of Big Ben and the LEGO Mosaic Maker photo booth which is a nifty machine that creates a personalised LEGO portrait. Look out for LEGO's summer events by checking out stores.LEGO.com. Opposite the LEGO store, is Europe's biggest sweet shop, M&M's World. Large enough to house 100 double decker buses it's home to the world's largest chocolate wall.
HOLLYWOOD TASTER OR A PIZZA PARTY
Film lovers can enjoy a taste of Hollywood at family-friendly Planet Hollywood located just off Leicester Square. Packed full of eye catching movie memorabilia including a Star Wars Stormtrooper Helmet, a pair of Rocky's boots from Rocky III as well as a Bond themed room filled with real movie pieces. In 2018 Planet Hollywood was voted for the third year running as London's Best Child-Friendly restaurant. The menu caters for all tastes with dishes ranging from American classics such as burgers and wings to Italian and Asian plus a dedicated Kids Menu.
Alternatively, refuel at London's hippest pizza joint – Leicester Square's MOD Pizza – where groups of 10 or more can catch up over an hour long pizza making session, feast on a pizza and enjoy a drink for £20 a head. Working alongside a member of the MOD Squad, kids can learn all about MOD and create their very own pizzas.
MOD was born out of a passion for delicious artisan pizza and fresh salad. Every pizza is made on demand using fresh-pressed dough and signature sauces for one super low price, £7.87. Choose from over 30 different toppings, the price remains the same regardless of the number of toppings. Plus, there are vegan, vegetarian and gluten free options too!
For further information on what is happening in Leicester Square and St James consult www.stjameslondon.com and https://www.leicestersquare.london/.
Ari Benjamin Meyers creates film celebrating Liverpool's musical history as a part of the Liverpool Biennial 2018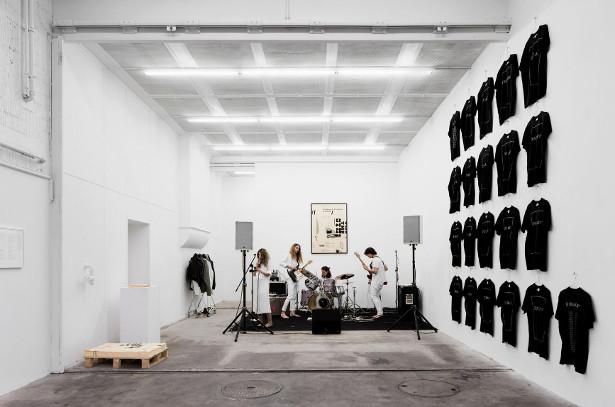 As part of the Liverpool Biennial Arts festival, attracting the best in contemporary art Ari will be creating a especially commisioned art/film/music pieces for the festival.
For the Biennial, Ari Benjamin Meyers has created a series of musical compositions that form the basis for film portraits of four musicians from Liverpool, or with musical ties to the city: Bette Bright (Deaf School), Budgie (Siouxsie and the Banshees/Big in Japan), Ken Owen (Carcass) and Louisa Roach (She Drew The Gun).
The films do not reference the subjects' personal histories directly, but tell Liverpool's musical history, representing its major musical movements while at the same time relating back to the city's industrial past. This is the artist's first film-based work and is presented on the stage of the Playhouse theatre. The four films are played back with varying amounts of overlap to create a meta-composition and a dialogue between the performers.
TRANSYLVANIA'S JAZZ IN THE PARK HITS PEAK STATS WITH ITS BIGGEST EDITION YET
70,000 attendees over 11 days, over 100 acts and more than 7,000 donors to the Jazz In The Park Fund
Cluj-Napoca, Romania, 3rd July 2018 – Jazz In The Park, held in the buzzing Transylvanian capital of Cluj-Napoca, has grown from strength to strength to attract 70,000 attendees over 11 days during its sixth edition. The festival, which wrapped up last Sunday, has become Romania's biggest boutique festival with stages set up all across the city, including Cluj's Central Park, Grigorescu Beach (on the bank of the Someș river), the Hungarian Opera, Art Museum and the city's landfill community of Pata Rât, in addition to specially curated busking performances as part of the Jazz In The Street initiative.
Heavy showers during the first nine days of the festival did not deter music fans away from over 100 performances booked for this edition, featuring big names such as Juan de Marcos (Buena Vista Social Club), Richard Bona or Bill Laurance, together with bands including Nouvelle Vague, The Herbaliser, Forq and Fanfare Ciocârlia.
The city's Central Park also saw its biggest ever attendance with over 20,000 people on Saturday 30th June; of those, over 6,000 revelers danced the night away by the Main Stage for Nouvelle Vague's headline performance. Altogether, all four stages set up in the Central Park attracted a total of 54,000 people throughout the festival.
FAPTE's Alin Vaida, Director of Jazz In The Park, said: "This year's edition was the most challenging one. Not only did we organise 11 festival days across multiple locations, but we also had to see ourselves through some pretty bad weather; this however only brought us greater satisfaction. We managed to overcome all of the difficulties and we welcomed a great public, despite the conditions. This is what encourages us to continue and also makes us immensely happy. My conclusion is always the same: the next edition will be the best."
Over 7,000 donors for the Jazz In The Park Fund
With the help of over 7,000 people, the festival managed to rise €13,200 euro to finance cultural projects.
Jazz In The Park's fund-raiser is an ongoing campaign funded through non-mandatory tickets, which are sold throughout the festival and also online. Those who wish to contribute can still buy non-mandatory tickets to finance the graphic novel Fata Știmei Apelor, the journal An Almost Political Diary, the experimental concert Generique Interactiv, the touristic guide Illustrated Facts About Transylvania and Fotopia Collective. The non-mandatory tickets are available here.
For more information about the festival please visit http://www.jazzinthepark.ro/en/
Facebook: https://www.facebook.com/jazzintheparkromania/
Right 'Pom' Trend!
DIY Pom Pom Kits from Wool Couture

(L-R): Pom Pom Garland Kit (Pastels) – £9.99 & Pom Pom Heart Wreath Kit – £24.99 (full kit)
With Love Island host Caroline Flack entering the villa wearing pom pom adorned heels, and with singer Adele reportedly admitting to fans at her Wembley concert that at the close of the worldwide tour she was making and selling pom poms to fill her time, it's no surprise the fluffy pom pom trend is here to stay – so get crafting with Wool Couture!
Start with an all year-round wreath that will add that special touch to any home. The Pom Pom Heart Wreath Kit – £24.99 (full kit) includes a large wooden wreath frame and epic extreme yarn available in 36 eye-catching colours – definitely not just for Christmas!
It's the small details which make bold statements – and the Pom Pom Garland Kit (Pastels) – £9.99 does just this! Using giant merino yarn, get the kids involved and make your own chunky garland, sew on to cushions or your favourite scarf to give that extra funky embellishment.
Or, why not add a pop of personalisation to your handbag with the super easy Pom Pom Keyring DIY Kit – £4.99. Chose from six colours – one to match every bag!
Got you pom pom crazy? Then a range of fabulous DIY kits are available to purchase online at www.woolcouturecompany.com
Pom Pom Keyring DIY Kit – £4.99
The National Theatre Bookshop is excited to introduce, the cool, minimal and super-practical Canfield B bag from award-winning accessories brand Roka, new to the National Theatre Bookshop.

Brand new to the UK, Roka is known for creative quality, functional bags without compromise on style – the Canfield B is no exception.
Designed for commuters and fashionistas with thoughtful details, the Canfield B bag is padded for extra comfort and built to be tough, durable and ultra lightweight.
An inside zip pocket is designed to store a tablet and work accessories, and there is no need to worry about security as the Roka bag also has a hidden security pocket to keep precious belongings safe during travels.
The bags are fully water resistant as well as kind to the environment, the bags are animal friendly and 100% Vegan.
Available in Military Green, Fluorescent Orange and Teal, the Canfield B bag is a perfect way to show your character and make a bold wardrobe statement.
Roka Backpack – £60 – National Theatre Bookshop – shop.nationaltheatre.org.uk
Work in progress…Led Zeppelin by Led Zeppelin | Published October 2018 | Reel Art Press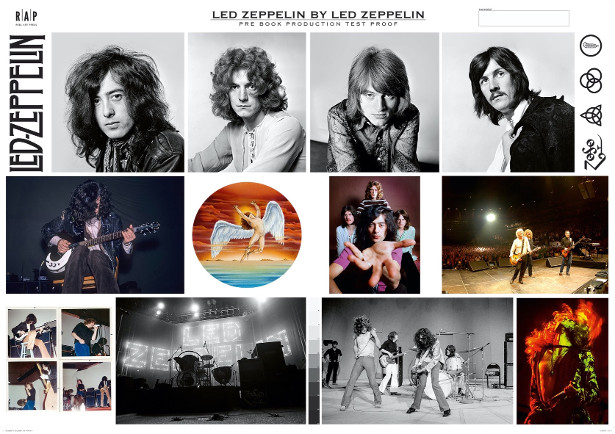 EXCLUSIVE KIMI RÄIKKÖNEN SIGNING
www.mementoexclusives.com
Limited to just 100 worldwide, Kimi will personally sign this exclusive edition at the 2018 Formula 1™ Rolex British Grand Prix in Silverstone this weekend!
Each signed photo will come complete with a certificate of authenticity featuring a photo of the signing.
Add an element of positivity to your dressing table and fill these super cute trinket trays with your best jewels.
Great for earrings, jewellery, loose change or bobbles these trays will look great in any room in your home.
It's Your Time To Shine, so remind yourself to Sparkle, in your Favourite Bling.
Summer in the city at Classic Car Boot Sale, King's Cross, London
18-19 August 2018
A mini festival that celebrates classic vehicles, fashion, design, music and food, all for a fiver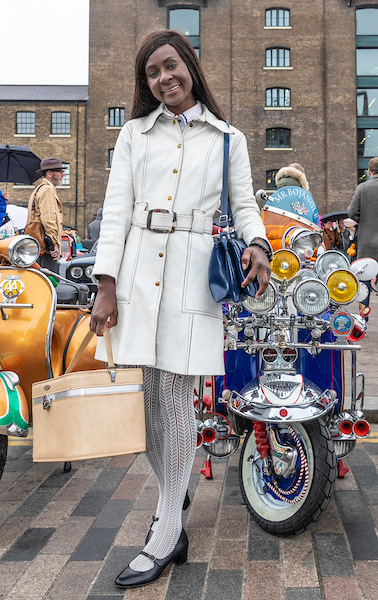 Summer is here and it's time to enjoy all that London has to offer, and what better way than heading down to the Classic Car Boot Sale in Granary Square at King's Cross, on 18-19 August 2018.
This magnificent public space is just a five minute walk from King's Cross station, and for two days, it will be choc-a-block with British design. The event will feature hundreds of traders selling an eclectic selection of prints, jewellery, art, vintage fashion, accessories, homewares, curated designer collections and an excellent food market, all trading from an assortment of classic vehicles.
Classic cars are not the only vehicles that will be on display – there is a special section, Bspoke showcasing historic and custom bikes – and there will be daily ride-ins by local London Mods and Rockers to witness.
The Incredibly Clever Canine Circus will join the Classic Car Boot Sale for the first time with a thrilling participative show and they will also be offering four legged friends and their owners the opportunity to learn tricks from a professional trainer. Meanwhile, crafty fun can be enjoyed with The Culture Cart, who will be running printing workshops from a bike. Plus, keep your eyes peeled for other art activities, special performances and so much more.
There are ample opportunities to enjoy a relaxing lunch and drinks with friends, courtesy of the streetfood market which will be packed with delicious artisan food and craft beer. Make sure to also pay a visit to the fresh produce market to shop for weekly treats and staples.
Throughout the day until sunset, the canalside will be bathed in the very best uplifting tunes thanks to DJs spinning records on top of a London Routemaster Bus, as savvy shoppers grab a bargain and check out the amazing architecture of the square
Classic Car Boot Sale provides a generous nod to nostalgia and embraces designer makers and forward thinking originators. What better way of celebrating British Summertime than with a staycation in London's newest creative district.
The mini family-friendly festival is open from 10am-6pm on both Saturday and Sunday. Entry costs just £5, and for kids under 12 it is free. The Classic Car Bot Sale will spread all the way up from Granary Square, along the canalside and to Lewis Cubitt Square, where you can cool down in the fountains.
Classic Car Boot Sale, Granary Square, King's Cross, London/ 18-19 August 2018.
www.classiccarbootsale.co.uk
FINDINGS FROM VIRGINIA TECH STAR TESTING VALIDATE MIPS SAFETY TECHNOLOGY
——————————————————————————–
The top six STAR ranked helmets all feature MIPS Brain Protection System
Stockholm, Sweden – 28 June 2018
A range of helmets with MIPS technology, the premier brain protection system, has featured prominently in the results of a new helmet rating based on laboratory testing. The test was conducted by Virginia Tech, Department of Biomedical Engineering and Mechanics. The results of the testing were released on June 26th and featured road, mountain and commuter bicycle helmets from the world's top manufacturers.
The list of 30 helmets tested and ranked by Virginia Tech is located here.
"We are proud to see the results of the STAR testing at Virginia Tech. Here, you clearly can see the benefits of helmets with MIPS Brain Protection System (BPS)," says Johan Thiel, CEO of MIPS. "After thousands of hours in research, testing, and development, we are very glad to see all of the work that we've done verified by Virginia Tech".
The testing was the first time that Virginia Tech's STAR rating system was used for bike helmets. The STAR rating system was developed through multiple studies that were funded by Insurance Institute For Highway Safety (an independent, nonprofit scientific and educational organization dedicated to reducing the losses from vehicle crashes). In the test the top six STAR ranked helmets all feature MIPS low friction layer. The leading helmets include models from MIPS brand partners; Bontrager, Bell, Specialized, Louis Garneau and Scott.
"Our goal with these ratings is to give cyclists an evidence-based tool for making informed decisions about how to reduce their risk of injury," said Steve Rowson, director of the Virginia Tech Helmet Lab. Virginia Tech's helmet laboratory is also a leader in testing helmets for team and motor sports.
All of the helmets ranked in the Virginia Tech STAR rankings are available for sale from bicycle specialty shops.
Contact
Greg Fisher, TRUE Communications, greg@truecommunications.com, +1 707 495 3756 (US)
Marcus Lindgren, MIPS, marcus.lindgren@mipsprotection.com, +46 70 111 21 21 (EU)
About MIPS
MIPS specializes in helmet-based safety and protection of the brain.
Based on an ingredient brand model, MIPS Brain Protection System (BPS) is sold to
the global helmet industry. MIPS solutions are patented in all relevant markets
and are based on more than 20 years of research and development together
with the Royal Institute of Technology and the Karolinska Institute in Stockholm, Sweden.
MIPS is the world leader in this field.
The company's headquarters, with 25 employees in research and development,
sales, marketing and administration is located in Stockholm together with the test facility.
For more information, visit mipsprotection.com.
GIFTS INSPIRED BY ROYAL FIGURES FROM THE PAST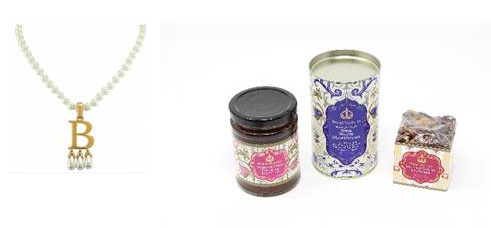 Historic Royal Palaces offers a whole host of gorgeous gifts inspired by iconic royal figures who lived (and sometimes died!) at the palaces in our care, with every purchase supporting the upkeep of these magnificent buildings through the re-investment of profits from sales. Gifts are available online at www.historicroyalpalaces.com and from on-site palace shops.
This summer at the Tower of London, a new play "The Last Days of Anne Boleyn" tells the story of the final days of Henry VIII's infamous second wife. After one of the most controversial courtships in history, during the course of which Henry VIII famously broke with the Catholic Church to marry her and conceive an heir, this twice-daily performance written and directed by Michael Fentiman charts the 17 days leading up to Anne's execution on Tower Green.
New items will be added to the range of "B" initial jewellery and accessories including a ring and earrings. Already popular items will continue to be sold such as the initial necklace available in other initial letters, plus a mug, t-shirt, tote bag and coin purse.
Kensington Palace's popular "Victoria Revealed" exhibition is inspired by the Queen's own journals and features examples of both personal objects and treasures from the Royal Collection in the very rooms where she once lived. The exhibition – which recently welcomed 3 dazzling royal tiaras to the display – gives an intimate account of Queen Victoria's fascinating life, and is supported by a range of perfect presents including stationery, beauty and food items.
QV teacup and saucerThe Royal Victoria collection is a new decorative range that has been exclusively designed for Historic Royal Palaces. Inspiration has been drawn from Kensington Palace, the childhood home of Queen Victoria, and from her small diamond crown now held with the Crown Jewels at the Tower of London. The English fine bone china included in this collection has been made in Staffordshire using traditional methods unchanged for 250 years, and each piece is skillfully hand-finished in 22ct gold.
10 things you didn't know about Porsche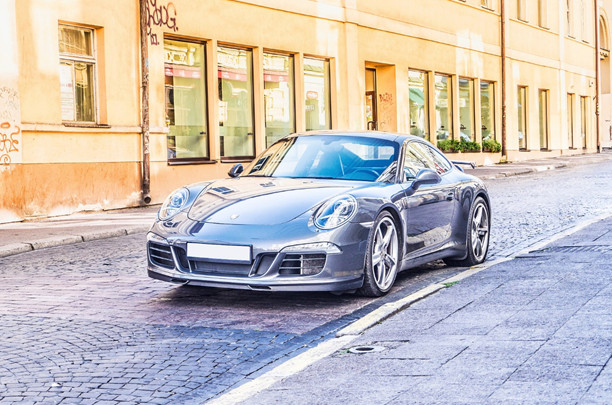 1. Ferdinand Porsche, founder of the company produced one of the world's first hybrid electric vehicle in 1899
In the early days of the 20th century, Ferdinand Porsche, at just 18 years of age started working for Vienna-based coach-builder Lohner-Werke. Within just two years of starting work, Porsche had designed one of the world's first hybrid vehicles.
2. The Porsche 911 is one of the world's longest running sports cars
The Porsche 911 is the iconic sports car that defines the company and shapes it into what it is today. Designed and built in 1963 the Porsche 911 has an implausible history that extends further back than almost any other sports car. The 911 is one of the few vehicles to have been continually produced since the 1960s, having been updated and modified throughout its lifetime but still preserves much of its original design today.
3. The very first VW Beetle was built in Ferdinand's private villa.
Being a designer who fully immersed himself in his work, it isn't surprising that Ferdinand utilised his own home to make one of the world's most iconic cars.
4. Until 1998, all Porsche 911 models used air cooled engines
One distinctive fact about the Porsche 911 is that until recently, it used an air cooled engine. The car's unique cooling conformation gave its engine a sound which differed to any other sports car of that time.
5. The famous Porsche crest was designed on the back of a napkin
One of Porsche's most famous and iconic features is of course its crest featured on the front of all vehicles. The crest is based on the coat of arms of Stuttgart, the capital of Baden-Württemberg and where Porsche has been based for decades. Chief designer, Ferry Porsche, who oversaw the design of many of Porsche's most iconic cars outlined the crest on the back of a napkin whilst brainstorming logo ideas.
6. Porsche used to make tractors
Lamborghini is notorious for making farming machinery, but Porsche manufactured more than 125,000 tractors in the '50s and '60s, and once designed forklift trucks and airplane cockpits.
7. Porsche produced a high-tech racing car called the 959 in the 1980's
Whilst being mostly famous for producing the 911, Porsche also created a large collection of high tech cars over the years. Produced in the 1980s, the 959 is one of its most exceptional and technologically advanced creations.
8. The Porsche 911 was almost the Porsche 901.
Ferdinand originally wanted to call the 911 the 901, but famous car brand Peugeot told them to stop, as traditional Peugeot classification is number-0-number.
9. In 1972, Porsche developed the world's first black chronograph watch.
Back then it was all about functionability, so it copied the gauges in a car. Many of the Porsche watches today can be seen to follow the original design, with even now, many other brands copying Porches classic and timeless designs.
10. Black, white and red are the most popular colours for Porsche cars.
Even though the company will custom paint a car in any colour for a fee, black red and white were always the most popular colour choices for the super cars, and are still chosen today for their iconic look and almost infamous style.
Piece brought to you by the Porsche experts at: http://www.design911.co.uk/
Prolong that beach feeling by bringing the seaside into your home.
Practical and affordable but still fabulous.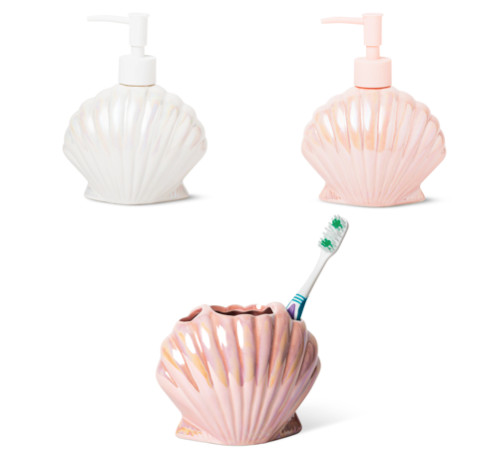 Add a little more glamour to your bathroom with these must-have accessories from Flying Tiger.
Shell Soap Dispenser £4 / Shell Tooth Brush Holder £3
Available from Flying Tiger stores nationwide
Game, Set and 6
Zangheim's unique collection of glassware curated from the finest Crystal glass will have your guests drinking in style.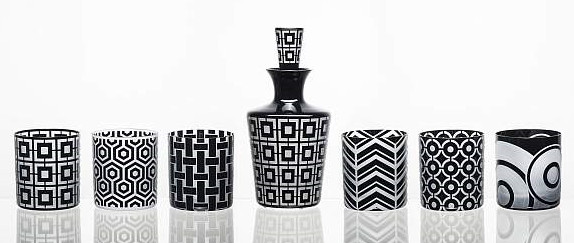 These collections of 6 tumblers/old fashioned sets of Crysal glass make the match from Artisan glassware designer Artel.
Artel
Bugs Painted Single Old Fashioned
Set of 6
Height 9.7cm
100% lead free Crystal, mouth-blown, hand-painted
£360.00
Artel Bugs Painted Single Old FashionedSet of 6 Height 9.7cm
100% lead free Crystal, mouth-blown, hand-painted£360.00
ArtelSafari Double Old FashionedSet of 6 Height 9.7cm
100% lead free Crystal, mouth-blown, hand-painted£481.00 Artel
Safari Double Old Fashioned
Set of 6
Height 9.7cm
100% lead free Crystal, mouth-blown, hand-painted
£481.00
Artel
Golden Age of Yachting Tumber
Set of 6
Height 12.5cm
100% lead free Crystal, mouth-blown, hand-painted
£581.00
ArtelGolden Age of Yachting TumberSet of 6 Height 12.5cm
100% lead free Crystal, mouth-blown, hand-painted£581.00
Artel Graphic Collection TumblerSet of 6 Height 12.5cm
100% lead free Crystal, mouth-blown, hand-painted£581.00 Artel
Graphic Collection Tumbler
Set of 6
Height 12.5cm
100% lead free Crystal, mouth-blown, hand-painted
£581.00
Nearly 10 Years Later…"Joe the Plumber" Father of Four, Has New Mission to Save Kids Lives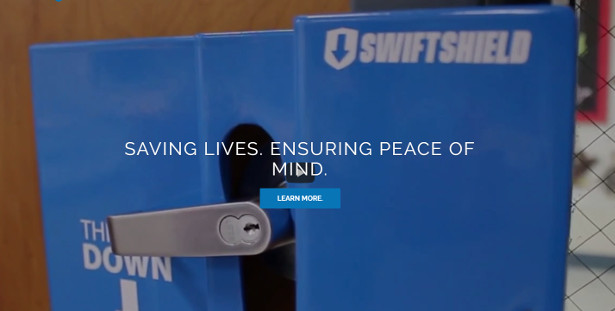 In 2008 Samuel Wurzelbacher a.k.a "Joe the Plumber," gained national attention after a very publicized front-yard confrontation with Presidential running candidate Barack Obama.
Nearly 10 years later, Wurzelbacher is back in the spotlight with a new mission, one unlike his past politically charged efforts stating, "This is a 180 degree new chapter in my story."
As a father of four, Wurzelbacher was deeply touched by the tragic loss of 15-year-old Christian Garcia, who died while holding the classroom door closed during the Santa Fe High School shooting. Killed by gunshots through the door, his heroic efforts helped to save the lives of fellow classmates.
Turning his energy, passion, and efforts towards helping to save students like Garcia from barricading doors with their lives, Wurzelbacher is reaching out to schools with a new device called SwiftShield. Designed to quickly lock down a classroom or office within seconds, it is the fastest, easiest, and most cost-effective way to do so.
Swiftshield has already reached out to the Santa Fe School system with a new nationwide initiative called "S.O.S." or "Shield Our Schools," offering to provide the device free to all their schools.
Special reception in presence of HRH The Princess Royal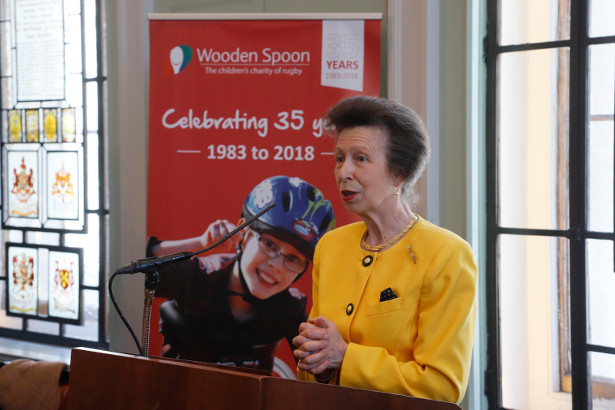 Wooden Spoon, the children's charity of rugby, hosted a special royal reception at Trinity House on 27 June 2018 to celebrate its 35th anniversary in the presence of Patron, HRH The Princess Royal.
The reception was attended by many of the charity's Founders, including Founder and Life President Peter Scott MBE and his wife Sheila. The event was an amazing opportunity to celebrate the achievements of the last 35 years and thank all those, who have, and who continue to make a tangible difference to Wooden Spoon and its beneficiaries across the UK and Ireland.
Peter commented; "We did not set out to launch a charity but decided that whilst we were having fun we should continue to raise money together. So here we are 35 years on, having raised over £24 million and helped thousands of children and we are still having fun."
HRH The Princess Royal addressed those attending, which included five of the six original founders, highlighting their achievements as well as those of the inspirational fundraisers present.
The Princess became Patron of Wooden Spoon in 1997 and since then Her Royal Highness has visited numerous schemes across the country supported by the charity.
Each year Wooden Spoon funds around 70 projects which in 2017-18 helped more than 150,000 children and young people with disabilities or facing disadvantage. Since the charity's founding in 1983, more than £24 million has been distributed to in excess of 650 projects helping more than 1 million beneficiaries.
Rugby gives us a purpose for making a positive difference in children and young people's lives through programmes like HITZ – which focuses on improving the skills of teenagers who are currently not in education or employment – wheelchair rugby and tag rugby festivals.
Whilst we funded 71 projects in the past year, that represents only one in four of the projects requests received. With numbers of UK disadvantaged children anticipated to reach an all time high, we need your help more than ever. One in twelve children in the UK has a disability1 and 3.7 million children are living in poverty2.
Sarah Webb, Chief Executive Officer at Wooden Spoon, said: "It was an honour to welcome HRH The Princess Royal to the event. We're extremely grateful for her backing over the years, helping Wooden Spoon launch many projects, always giving her time so generously in order to support us. We look forward to the next 35 years of helping children and young people across the UK and Ireland with disabilities or facing disadvantage."
Please get involved and together we can change children's lives through the power of rugby. Find out how you can help at woodenspoon.org.uk
Memento Exclusives
www.mementoexclusives.com
Exclusively available under our licence with Mercedes-Benz Grand Prix Limited.
Lewis Hamilton 2013 Debut Race Suit: Mercedes-AMG Petronas Motorsport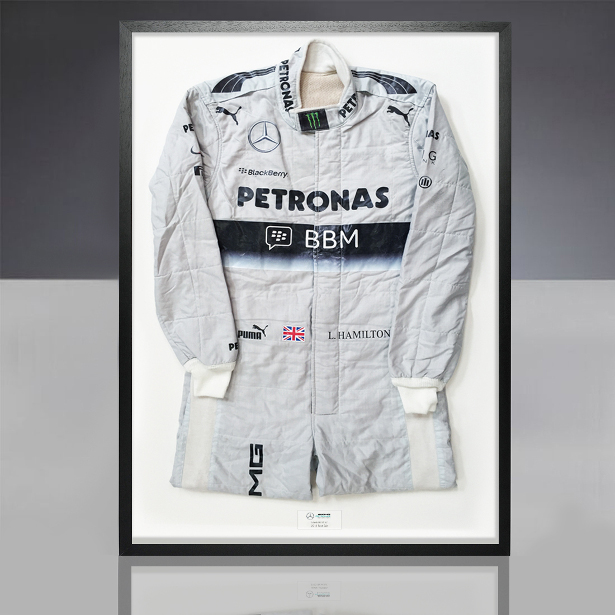 13th Annual Hannaford Swim Challenge
Sunday, July 15, 2018
9 AM – 2 PM
Bernardsville Community Pool
Please bring a chair
Find out more at :- www.kevinhannaford.org/news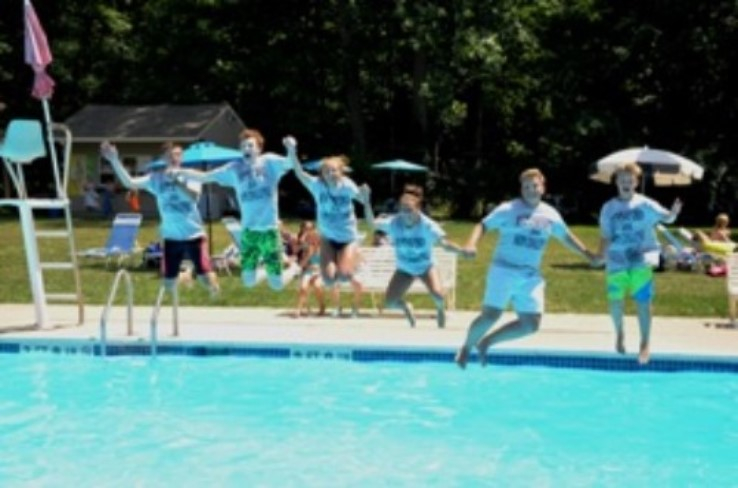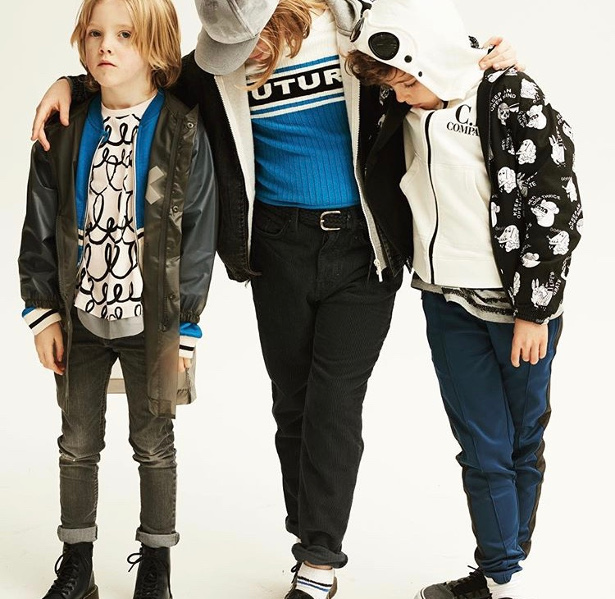 'Glinski Brothers'
Molo and Isossy Children for The New Story
Photographer: Piotr Motyka
Styling: Kate Van Der Hage