INSTAGRAM | FACEBOOK | TWITTER | PINTEREST | YOUTUBE | BLOG
RESIDENCE
Get scented. Ted has united sartorial style with his appreciation for sophisticated scents to create the indulgent new Residence home fragrance collection.
Blending impeccable style and unique fragrances, Ted Baker Residence is inspired by an on-trend palette of handpicked homewares in hues of indulgent burgundy, pretty pink and elegant grey, designed to fit perfectly into any residence. Inspired by exotic fragrances from Ted's travels around the globe, each carefully crafted scent is housed in a luxurious, weighted glass vessel in three contemporary colours and fragrances.
BERGAMOT & CASSIS Perfectly at home in the living room. Fruity and playful, in a stunning nude pink shade, this fruity floral scent fuses notes of sparkling bergamot and cassis, with delicate rose and opulent vanilla.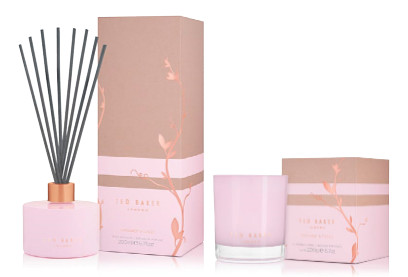 PINK PEPPER & CEDARWOOD Perfectly at home in the bedroom. Sophisticated and bold in a rich burgundy hue, this warm spicy scent seductively combines warm fruit notes of plum and pomegranate, with spices and woody undertones.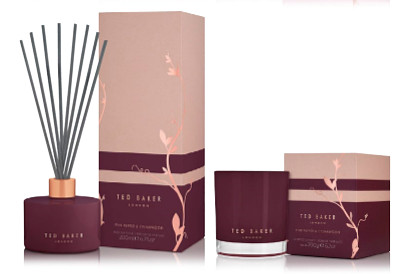 FIG & OLIVE BLOSSOM Perfectly at home in the kitchen. Warm and fresh in an elegant deep grey tone, this green floral scent blends notes of luxurious fig and soft olive blossom, with fragrant geranium and rich amber.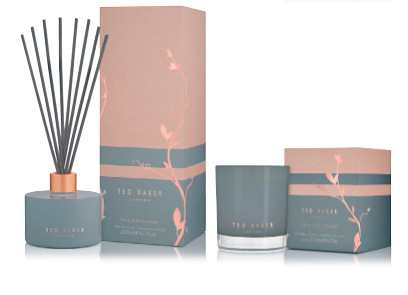 The Ted Baker Residence Candles (£28) and Reed Diffusers (£34) are in John Lewis and Ted Baker stores.