Lex-GO! & World of Rugby Top Trumps !
YOUTUBE | TWITTER | FACEBOOK | LINKEDIN | INSTAGRAM
Lex-GO! 
· Fast paced educational word game
· Great family game – suitable for all ages 8+
· Perfect travel game – all tiles pack into a neat canvas pouch
· Part of the globally renowned Waddington's Number 1 travel game family
Get ready – shout 'Lex Go' and race against other players to get rid of all your tiles by creating words Lex-GO! is one 'L' of a super-fast word game. Race against other players to get rid of all your playing card tiles by creating words, swapping letters and even attacking other players' words. This game comes in a cool, portable bag which makes it the perfect game for on-the-go and any holiday! Lex-GO! is great fun for any age, including the whole family. Available at www.winningmoves.co.uk
World of Rugby Top Trumps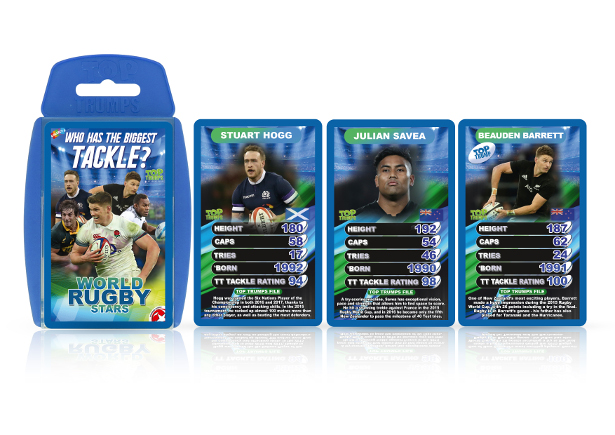 (Available on Amazon.co.uk through Champion Toys)
· Entertaining educational card game loved for bringing your favourite Rugby players to life
· Play Top Trumps anytime, anywhere, with as many people as you like
· Find out the year England's Owen Farrell was born, how many caps New Zealand's Sonny Bill Williams made and the number of caps Australia's Michael Hooper has in this edition of Top Trumps – World Rugby Stars
· Easy-to-carry plastic case means there are no limits on gameplay
· Prepare to outsmart your opponents, discover new and exciting facts and duel your way to becoming the Top Trump
To be a true Rugby fan you need to get yourself a pack of the Top Trumps World Rugby Stars 2018! Bursting with facts and stats of all your favourite players like Barrett, Sexton, Farrell and Halfpenny. This is the ultimate game to play with a friend and find out who will be awarded the Top Trump and who the champion of champions of the Rugby World is! Available on Amazon through Champion Toys.