WORLD'S NO.1 CHILDREN'S MUSIC BRAND "KIDZ BOP"COUNTS DOWN TO FIRST-EVER HEADLINE U.K. LIVE SHOW ON 20 APRIL 2019 AT THE EVENTIM APOLLO IN LONDON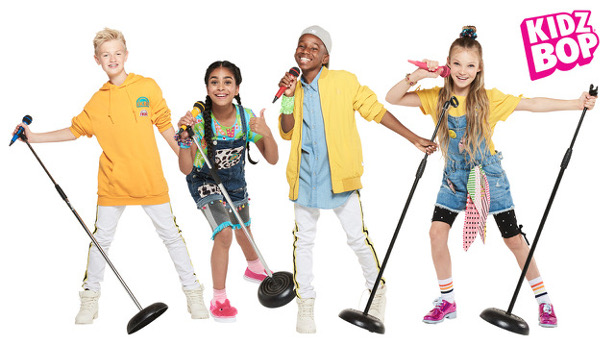 INSTAGRAM | YOUTUBE | TWITTER | FACEBOOK
First time U.S. and British KIDZ BOP Kids have performed together live, bringing today's biggest hits "sung by kids for kids" to the capital
The ultimate family-friendly concert event is one of the hottest tickets in town for children this Easter holidays
Chris Grarron who work Ariana Grande and Justin Bieber heads-up the production of the interactive tour that will leave audiences amazed with its lavish set, costumes and choreography
Only three artists in history—The Beatles, The Rolling Stones, and Barbra Streisand—have had more Top 10 albums on the Billboard 200 Chart than KIDZ BOP
KIDZ BOP, the world-leading children's music brand, are kicking off their KIDZ BOP World Tour 2019 in London this Easter. The U.S. KIDZ BOP Kids will be joining the British KIDZ BOP Kids for their first-ever headline show in the capital city. The KIDZ BOP Kids will be performing some of today's biggest hits "sung by kids for kids," live at the Eventim Apollo, Hammersmith, on Saturday 20th April 2019.
The brand-new show is an interactive live concert experience for the whole family with all-new set design, costumes, exciting choreography, and a stack of special surprises. This year, KIDZ BOP has partnered with talented production manager Chris Gratton to help produce the KIDZ BOP World Tour 2019. Gratton will be using his experience of working with artists including Ariana Grande and Justin Bieber, to bring a dazzling live show that shares the KIDZ BOP World Tour 2019 with fans around the world.
KIDZ BOP connects with kids and families through its best-selling albums, music videos, consumer products and live tours. KIDZ BOP is the N0.1 music brand for kids, featuring today's biggest hits "sung by kids for kids." In the U.S., KIDZ BOP has sold over 20 million albums and generated over 2.7 billion streams since the family-friendly music brand debuted in 2001. The best-selling series has had 24 Top 10 debuts on the Billboard 200 Chart; only three artists in history—The Beatles, The Rolling Stones, and Barbra Streisand—have had more Top 10 albums. Celebrity fans of KIDZ BOP include Nicole Kidman, Victoria Beckham and Stacey Solomon.
The British version of KIDZ BOP was launched in Spring 2017 by UMOD (Universal Music on Demand) and has proved to be one of the biggest UK music breakthrough acts, finding success with its four UK album releases to date surpassing over 200,000 sales. All have debuted in the UK Official Album Chart, including two UK Top 10 albums. In total KIDZ BOP have spent a combined 24 weeks in the official Charts top 40 since launch in March 2017
2018 was an outstanding year for the British KIDZ BOP Kids. Supported by national TV and digital advertising campaigns, the KIDZ BOP Kids appeared and performed on popular kids' TV shows (CBBC's landmark Blue Peter, CITV's Scrambled!) as well as staple breakfast show, Good Morning Britain.
Summer 2018 saw the KIDZ BOP Kids perform live across the UK – from sold-out performances at UK's biggest indoor kids' festival, Kidtropolis, to an opening act run for the Harlem Globetrotters, including a performance at the O2 Arena in London. The kids rounded off the summer on a high note with a three-day run at the CBBC Summer Social in Liverpool. The year was capped off with the KIDZ BOP Kids opening the BAFTA Children's Awards 2018 at the Roundhouse, London.
2019 is already proving to be another successful year with the KIDZ BOP 2019 album surpassing 45,000 copies sold with three consecutive weeks in the Official Album Charts Top 40, plus the announcement of their first headline show and an appearance on BBC Radio 2 for Comic Relief.