ROAM Homegrown, manufacturer of artisan selfcare products and curated gift boxes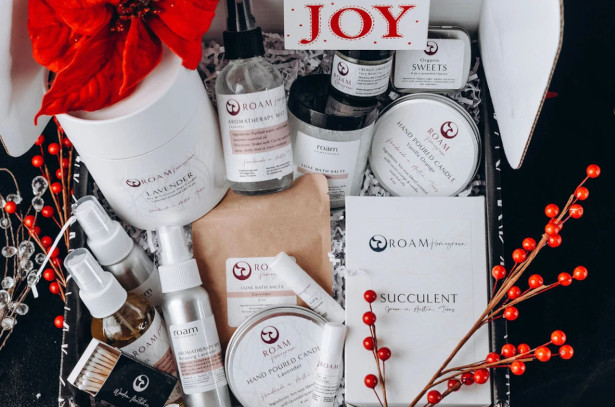 ROAM was founded by a mom of two, committed to non-toxic, clean living, and the idea that we could all benefit from selfcare rituals and practice. All luxurious products contain simple ingredients and 100% pure essential oils.
ROAM produces a variety of special gift boxes I thought would be a great idea for the holidays! Although the "Tranquility Spa Gift Box" is the most popular, their "Spa Experience", "Sanctuary", "Yoga" and "Mindful Moments" are great options, as well, in addition to many others! You can check them all out here.
roamhomegrown.com
KADOO, is a curated gift box company in NYC (www.kadoonyc.com) and they have items that are perfect for grandparents.
Exclusive Reader Discount
>> For the month of Nov and Dec: 10% off with code: INTOUCHRUGBY
KADOO is a female-founded gift box company that passionately believes in the thoughtfulness of gifting. They design well-curated gift boxes containing products that emphasize on artisan-made, sustainable, organic, and natural ingredients. The company sources globally with a focus on local makers and women-owned businesses. Beyond the products and its origins, KADOO adopts the concept of Japanese Furoshiki fabric wrapping to spread awareness on reducing paper waste and promoting reusability.
Here are just some of their beautifully curated products:
1. The Festivity $80
These tasty treats gift box filled with sweet and salty selection for the entire family.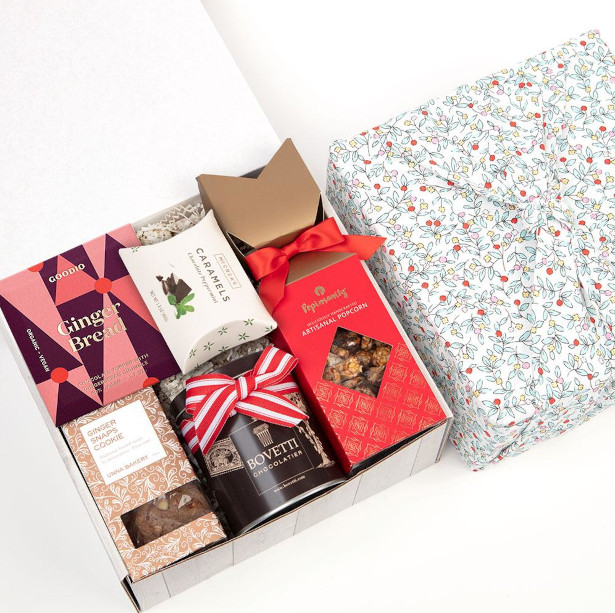 2. The Holiday Treats $90
A remote holiday party got sweeter with this epicurean selection to compliment a virtual happy hour with friends and colleagues.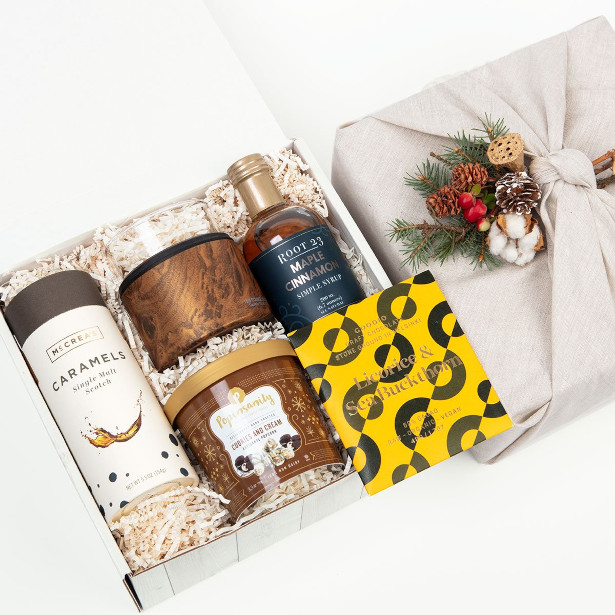 3. Desk Essentials: $65
Celebrate those most important to your business with unique gifts. Great gift for employee appreciation and client's gifting.
KADOO also offers custom branding or personalizing the gift especially for corporate gifting.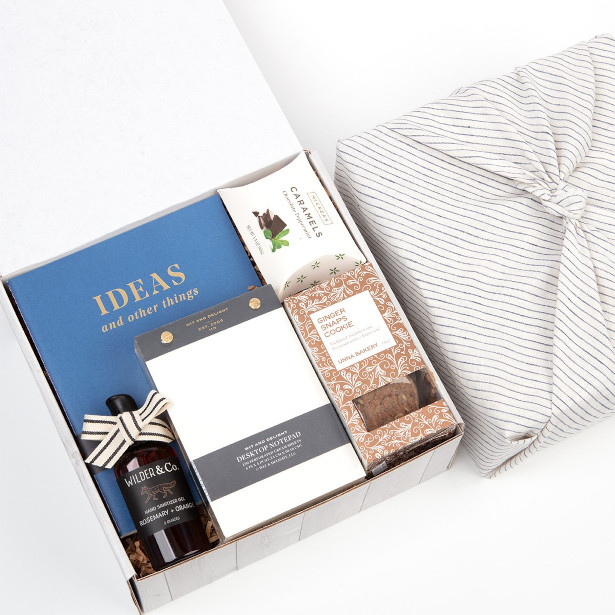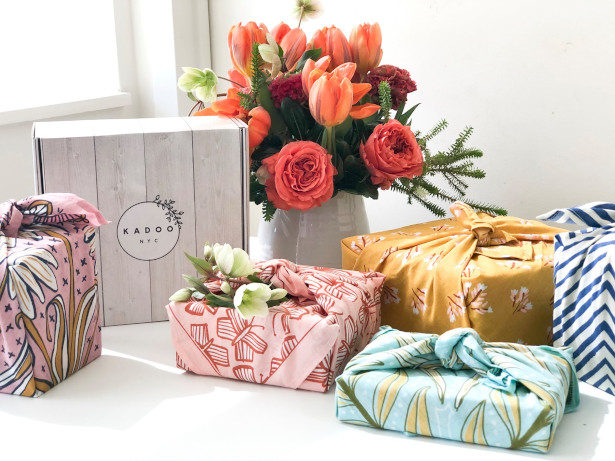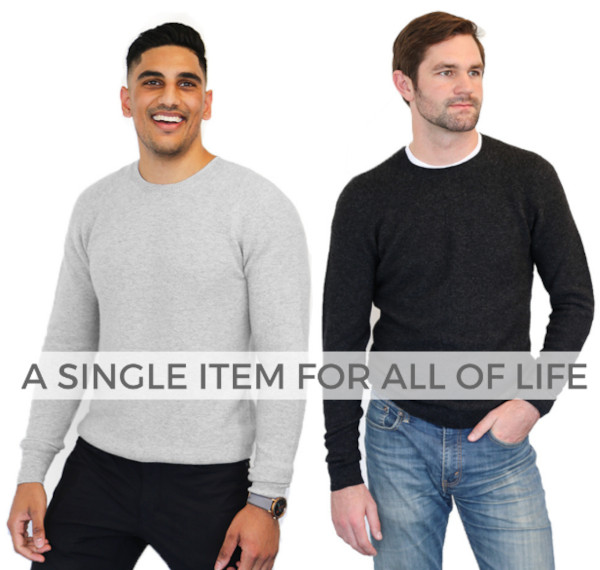 Oliver Charles – A single item for all of life. The greatest personal companion sweater out there. From the boardroom to Netflix comfy bedroom, Our sweaters are reliable, comforting, and reactively appropriate to any situation. Each sweater is 3D-knit in Brooklyn, NY, from the soft, versatile underbelly fiber of high elevation Tibetan yak called khullu ("coo-loo"). Not only is khullu warmer and more breathable than lambswool and cashmere, but it's also world-renowned for its antimicrobial properties, meaning it doesn't trap odor like cotton and synthetic materials.
Our sweaters come in 3 versatile colors, appropriate for all occasions.
Charcoal: $160
Light Grey: $160
Navy Blue: $160
Get the last sweater you'll ever need at https://bit.ly/YourSweater.
GIFT A LITTLE AUSTIN SWAGGER THIS HOLIDAY SEASON
Artisan boots and flip-flops from Alvies.com are the only two pairs of footwear those with an "Austin state of mind" will ever need, no matter where one lives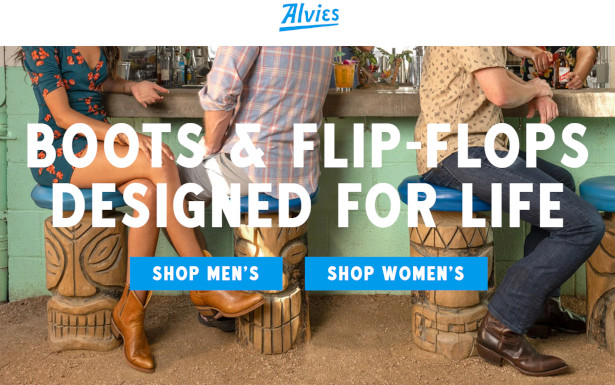 WHO: Alvies, an Austin-based brand of mens and womens top-quality boots and flip flops that are handcrafted for long-lasting comfort, using supple high quality leather in the bootmaking capital of the world, León, Mexico.
WHAT: Beautiful built-to-last, Fast Break-In Fit™ boots and flip flops that provide a "don't overthink it" one-or-the-other approach. They arrive in a custom box with bespoke internal wrapping and compartments for both pairs of footwear, perfect for a holiday unboxing experience.
WHERE: Order from anywhere in the world at www.alvies.com.
WHY: "We are on a mission to make boots and flip flops the footwear of choice by making them so comfortable yet stylish, that people will insist on wearing them every day," said Alvie Faulkenbery, IV, co-founder and CEO of Alvies. "Our goal is for our customers to spend less on shoes and more on life while showing a little Austin swagger, whether in our hometown or anywhere around the globe."
ABOUT: Alvies started six years ago when Alvie and Clay Sexton started selling boots and flip flops out of an Airstream originally called Rickshaw around Austin as a way to celebrate the city and the approachable, easygoing state of mind of its population. Inspired by inheriting 13 pairs of his namesake grandfather's super worn-in boots, Alvie focused on comfort by literally building a boot from the inside out, starting from the soles and working up. He and his team developed an original product that gives a more comfortable, well-worn feel quicker than any boot on the market today.
WHO WILL LOVE THEM: Alvies are for those who appreciate timeless style and versatile footwear they can wear anywhere to look fashionable, yet low maintenance. "Alvies were designed to make anyone a boots and flip flops person, but built-to-last craftsmanship breaks the vicious two-year cycle of shoe buying," said Alvie.
Dad's Great Advice for Teens, an Amazon Bestseller (www.amazon.com/dp/1735180408). The perfect giuft, particularly for teens and their parents.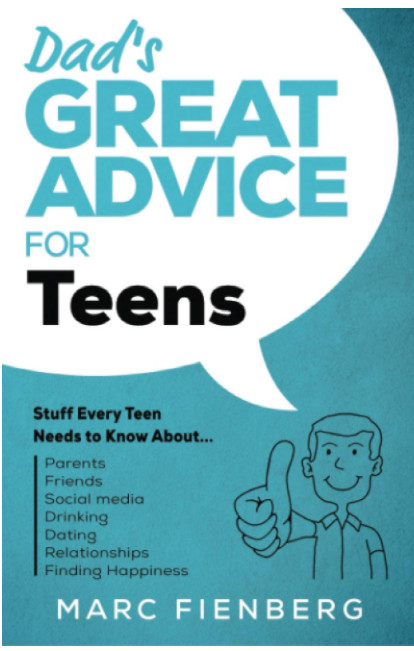 Dad's Great Advice for Teens is the perfect gift to help a teenager get happy, be successful, and make good decisions. (But it's also an amazing gift for any parent trying to connect more with their kid.)
What kind of crazy father actually advises teens to…
Ignore their parents (if what their parents want doesn't mesh with what they want)
Do dumb, risky things (as long as they're not really dumb things)
Ignore everything their boyfriend/girlfriend says (and focus on what they do)
Fail at their endeavors (rather than not trying at all out of fear)
Dump their friends (if they aren't the type of people they want to become)
Don't do the "smart" thing (if their gut tells them to go in a different direction)
Drink, vape, and do drugs (in a smart, disciplined way, and only if they're determined to not wait)
Have sex (only when their heart and brain tell them they're ready)
Not strive for success (in the way others want them to, but rather, define success on their own terms)
Limit the number of friends they have (so they can build deeper friendships with the friends they do have)
Dad's Great Advice for Teens talks to teens on their own level without being preachy or unrealistic, but doesn't pull any punches. The book includes 25 short pieces of Great Advice, filled with humor, wisdom, and inspirational quotes, to keep the attention of even the most distracted teen. It's the perfect self-help survival and success guide for teens looking to build positive habits and get an edge up, and it's a great gift from Dad, Mom, or anybody.
Guittard Chocolate Company launch baking chips into Waitrose stores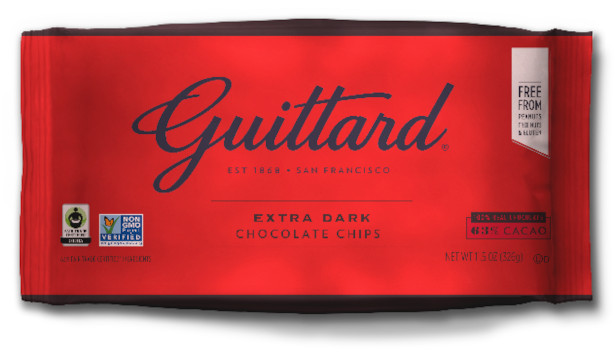 San Francisco Bay Area chocolate maker, Guittard Chocolate Company, is launching its celebrated, honourably sourced, Fairtrade certified chocolate chips into Waitrose stores for the first time. Designed for baking, the sustainable chocolate company has been expertly crafting its chocolate since 1868 using traditional French methods.
A favourite of the baking and chocolate world, it is the preferred chocolate of GBBO winner Edd Kimber, Paul A Young, Benjamin Ebuehi and Lily Vanili along with having been the chocolate of choice for the recent Bakers Against Racism bake sale. The listing marks the first time British consumers will be able to buy the premium chocolate from a supermarket.
The two Fairtrade certified launch varieties are the incredibly popular 31% cocoa Milk Chocolate Maxi, the extra-large milk chip delivers smooth and creamy dairy notes with a classic chocolate flavour. Guittard were the first company to launch milk chocolate chips into the US market in the early 1950s. The 63% cocoa Extra Dark Chocolate Chips are an innovative extra intense chip with subtle notes of vanilla, perfect for a rich chocolate hit the delivers every time.
Founded in San Francisco in 1868, the Guittard Chocolate Company remains the oldest continuously family-owned and operated chocolate making business in the United States. Today, it's run by the 4th generation Guittard President, CEO and Chocolate Maker Gary, who is joined by his daughter Amy and nephew Clark. Under them, Guittard continues to raise the bar with their passion for honourable sourcing, crafting the highest quality chocolate, providing the best service, and setting new standards for the industry, an approach that is illustrated by their mission to Cultivate Better™.
At the heart of the Guittard ethic is a belief in combining tradition and adventurous innovation, in a way that not only cares for the environment but also looks after constructive relationships with their extended family of customers, co-workers, farmers and suppliers.
With a passion for promoting the sustainability of the cocoa growing regions and the wellbeing of cocoa workers, Guittard's uncompromising attitude towards sourcing and dedication to building and nurturing relationships with their growers are hallmarks of Guittard's "quality from the ground up" approach. Through its Cultivate Better Cocoa, it engages with cooperatives and development partners to create comprehensive programs that boost primary income streams by collaborating with farmers to improve and protect the unique flavour profiles of their cocoa. The premiums it receives are directly allocated to supporting farm-level quality and flavour investments, gender equality, income diversification, health, nutrition, and agroforestry initiatives.
So bake the best brownies, create cracking cookies and master some marvellous muffins with sustainable and delicious chocolate as favoured by bakers across the globe by choosing Guittard next time you're at Waitrose.
www.guittard.com
ABOUT GUITTARD CHOCOLATE COMPANY: As the oldest continuously family-owned and operated chocolate company in the United States, Guittard Chocolate Company, now under the fourth and fifth generation of family management, continues to grow with the same innovative spirit and commitment to sustainability that has made it one of the world's most respected makers and suppliers of premium chocolate over the past 150+ years. For more information, please visit us online at www.Guittard.com or @GuittardChocolate.
Paw-fect presents from leading British accessories brand, Radley www.radley.co.uk .
After the year we have all had, we all deserve a treat! 2020 may not be the year we thought it would be but Christmas offers up the chance for us to make December memorable for all the right reasons.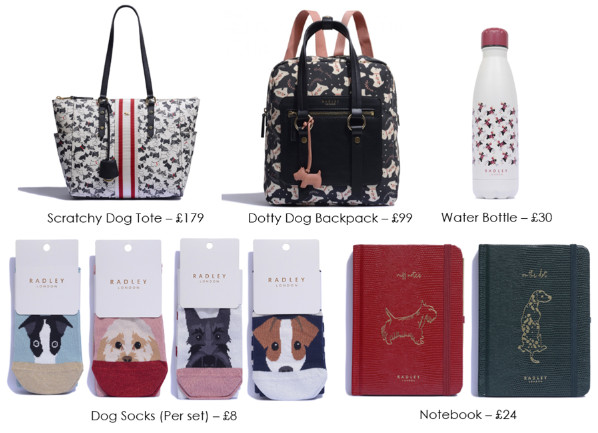 Here's our curation of the perfect gifts for every woman in your life – guaranteed to get their style tails wagging!
For The Dog Lover
We have got the ultimate picks for the person who's obsessed with their pup. From little fun stocking fillers including cute sock sets – to our quirky but practical backpack, perfect for all those dog walks.
For The Fashionista
For the woman who is always ahead of the trends, then these fashion forward styles are the perfect gift to invest in. Expertly combining premium craftmanship with incredible, runway ready design, these bag picks are guaranteed to make any style maven smile on Christmas day.
For The Eco Warrior
Sustainability has become something we're all striving for. For the women in your life who are leading the way when it comes to leader a greener life, then we've got you covered. Radley's new fully sustainable collection 'Finsbury Park' – checks every box. A thoughtful gift that also gives back. For a stocking filler, our cute shopping totes are a supermarket essential and are perfect for helping you to be more sustainable every day.
For The Glamorous One
For the special woman who not only loves to shine but brightens up your life, we've got some gorgeous picks for that someone extra special. These glitzy and statement pieces will add some sparkle to any Christmas day outfit. We all need some glitter after a year of gloom!
New gin created during lockdown
to raise funds for UK hospitality industry
New not-for-profit gin brand, Hospitality Gin, created to support UK hospitality industry throughout the Covid-19 pandemic.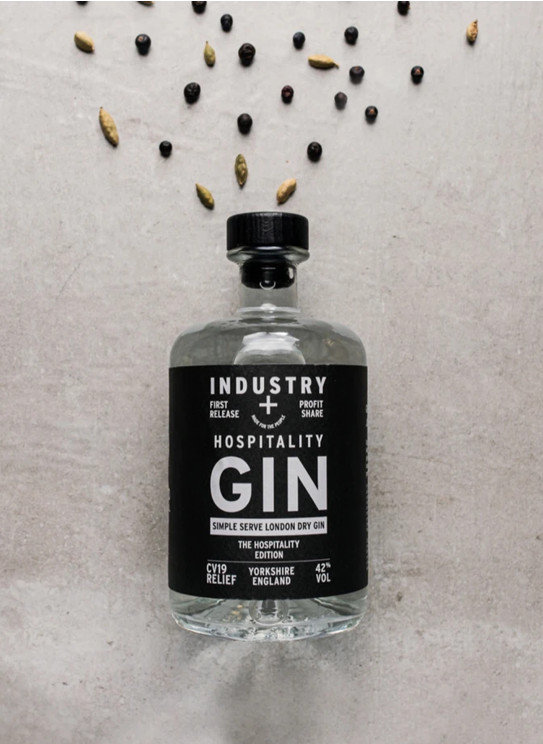 The hospitality industry has been among the hardest hit by the pandemic, with only 11% of businesses able to operate normally during lockdown.
All profits benefit the UK's hospitality industry and workers via The Drinks Trust and Hospitality Action, with plans to set up a dedicated fund.
When Covid-19 began to affect the hospitality industry in the UK, Tom Lord, an industry veteran based in Sheffield, set out to create a not-for-profit spirit to help. The result is a London dry gin perfect for simple serves, that also supports hospitality workers that have lost their livelihoods.
The wider hospitality industry employs more than 3 million workers in the UK, making it the third-largest industry in the country. It raised £39 billion in taxation in 2017 . During lockdown, just 11% of hospitality businesses were able to operate normally .
More recently, the UK government has implemented a potentially devastating 10pm curfew for pubs, bars and restaurants. A #CANCELTHECURFEW campaign has since been set up, but the need to support the industry is greater than ever.
Working fast to provide assistance as soon as possible, Lord ordered the first bottles of Hospitality Gin just two weeks after having the idea. He teamed up with Cooper King Distillery in North Yorkshire, and set up a crowdfunder in mid-May to sell the initial bottles. Within weeks he'd sold out of the initial batch, followed by a second. Hospitality Gin is now on its third batch, with wider availability via various wholesalers and bars.
"I'd been looking for ways to help the people that needed it most when the idea for Hospitality Gin hit me. I'd been advising as many people as possible on the best next steps for their personal situations, but at the end of the day, I'm not an employment lawyer," he says.
"Most important was a managing a quick turnaround time to get the money to those who needed it as quickly as possible. That and having a cracking gin of course!"
The main recipients of proceeds from Hospitality Gin are The Drinks Trust and Hospitality Action, although other causes are considered too, and Lord intends to set up a dedicated fund. Between them, The Drinks Trust and Hospitality Action have given over £750,000 in grants to hospitality staff who have lost out due to COVID-19.
The pandemic affected Lord from the outset. He had been working on two potential businesses, and received a small business loan just before lockdown. As he'd not left his previous job yet, he was eligible to be furloughed, but was all too aware of how the situation was affecting his industry.
"I went from working on two businesses to being unable to work. It was a frustrating time. Luckily I had a small business loan land just before the pandemic hit."
Lord is one of the admins of Facebook group Sheffield Bartending Community, which has over 4,500 members. When Covid-19 hit, he not only helped to disseminate information to this community, but brought together admins of other similar groups in the UK.
Hospitality Gin is available direct from the brand's website for £37 per bottle, as well as from a number of wholesalers, including Master of Malt and Hammonds of Knutsford.
Kids Sleeping Peacefully on Christmas Eve?
You Need Some Magic for That!
www.saskiasfloweressences.com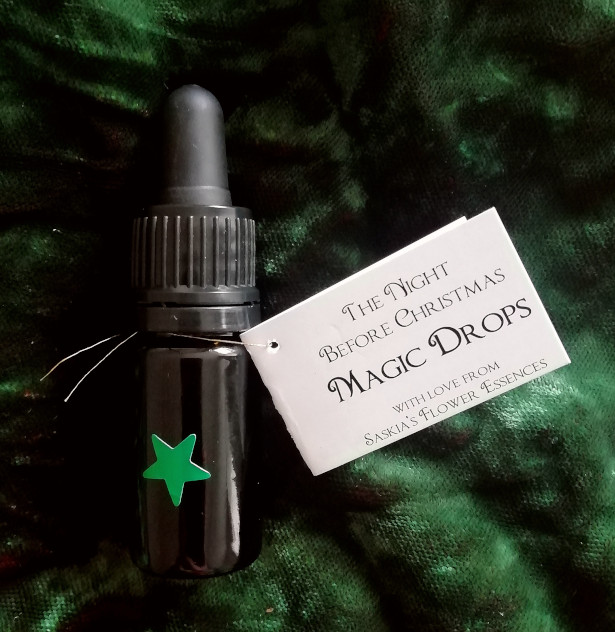 Imagine having Magic Drops that would get your children to sleep without a fuss on Christmas Eve….
Saskia's Flower Essences has got the perfect, natural solution.
Their 'Night Before Christmas Magic Drops' were designed specifically to calm and relax small (and big) children, grandchildren, nieces, nephews and friends who get over excited on Christmas Eve (or any other day for that matter).
Containing pure calming lemon balm flower water made in Somerset with flower essences added, these drops that are taken under the tongue are completely safe, natural and very effective.
One mother couldn't believe that her children didn't wake up until 6 am (unheard of) last Christmas morning after going to bed without a fuss.
These little bottles of flower magic contain the same essences as Saskia's Easy Sleep Spray which are:
White Chestnut – for stopping thoughts going round and round and round;
Red Chestnut – for not worrying about other people and things you can't control;
Wild Garlic -to stop you feeling scared that Santa won't come;
Speedwell -for slowing right down;
Oak – for knowing it is best to rest and recharge because tomorrow is going to be even better if you aren't tired;
Cherry Plum – gentle calming;
Dandelion seed – for drifting off into fairy land
————
Saskia's Flower Essences is the first company in the UK to have a shop just selling their own essences directly to the public.
The label produces a range of 46 single essences, 8 combination essences aimed at helping with the issues of modern life and 3 essence sprays.
They have won internationally and nationally acclaimed awards for several of their combinations including The Beauty Shortlist Mama and Baby Awards Best Flower Essence for their 'Calm and Confident'(link) and 'New Mums Survival Kit'(link)
Find out more here
Christmas gifts from Salter, Revamp Professional and HoMedics
Top housewares brand, Salter, have gifts for the eco-conscious cook; Revamp Professional's new range is ideal for the beauty queen in your life; and leading well-being brand, HoMedics, has the ultimate self-care gift.
Salter Eco Reusable Stainless Steel Straws (Set of 8) – RRP £9.99
Available from: salterhousewares.co.uk, Amazon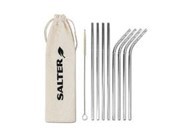 This set of reusable stainless steel straws includes 4 straight straws and 4 curved straws for ease of use with either hot or cold drinks. To keep both the stainless steel straws and environment clean, a sisal fibre cleaning brush is included. Help to reduce single use plastics by taking the straws with you when you're on the go, in the linen drawstring bag.
Bamboo Electric Kitchen Scale – RRP £39.99
Available from: salterhousewares.co.uk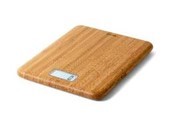 This scale is crafted from eco-friendly bamboo and uses a USB rechargeable battery instead of disposable batteries. 2.5 hours' worth of charge will provide up to 6 months of use. In addition to being kinder to the environment, this scale has handy functions such as 'Add & Weigh' so you can add multiple ingredients into one bowl, and the 'Aquatronic' feature which allows you to accurately measure liquids.
Revamp Progloss™ Deepform Ceramic Straightening Brush – RRP £99.99
Available from: revamphair.com, Amazon, Boots
This is a super easy to use, lightweight tool which allows you to transform your hair with just a few strokes. This brush can be used to detangle and create volume at the roots, to shape hair around the face or to achieve a poker straight style. The product heats up ultra-fast and has a temperature range of 130⁰C to 210⁰C. The brush also has a powerful ionic jet just below the brush head which helps to create glossier and less-damaged hair.
Revamp Progloss™ Hollywood Curl Automatic Rotating Hair Curler – RRP £99.99
Available from: revamphair.com, Amazon, Boots, Argos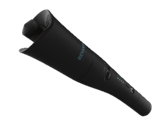 This is a really lightweight, compact product which takes the hassle out of creating perfect curls. This tool gives you the option to rotate in either a left or right direction, depending on whether you prefer an inward curl or an outward curl. This product heats up ultra-fast to four temperature settings, making it suitable for all types of natural hair including afro hair.
HoMedics Physio Massage Gun – RRP £129.99
Available from: homedics.co.uk, Amazon, Argos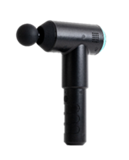 The Physio Massage Gun is designed to help ease muscle tension and promote recovery. The massage gun includes three attachments to customise your massage and target every muscle. What's more, the product can be used on-the-go due to its rechargeable nature, lightweight design and handy storage bag, making it ideal for workouts outside of your home.
GET READY FOR SKI SEASON WITH EQUIPMENT FROM DECATHLON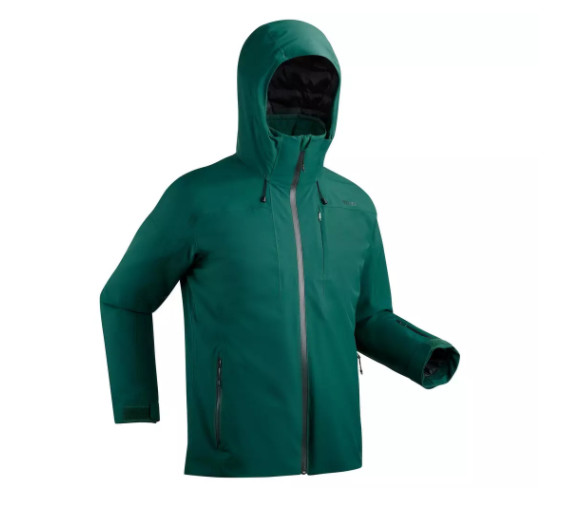 – Be prepared for the slopes with high quality apparel from Decathlon –
– Quality products available including ski jackets, helmets and gloves –
It's the time of year to don your skis and hit the slopes for a much-deserved winter break.
Whether you're heading to the Alps or the Scottish Highlands, make sure you're fully prepared for your ski adventure this year with all the latest apparel from Decathlon.
The impressive range of ski wear from Decathlon will keep you dry and warm while you practice your skills.
From well insulated, high quality ski jackets in a range of colours to suit your style, to high tech helmets that will keep you protected while you make your way down the slopes, the one stop ski shop at Decathlon has everything you need.
Jackets
PISTE SKI JACKET 500 – £64.99
This jacket has been designed with a hybrid of down and recycled wadding to keep the wearer snug. Featuring a high collar, it ensures skiers stay warm and are protected from the cold air as they venture down the slopes.
Thanks to the inner waterproof layer of membrane and taped seams, this jacket stops moisture from seeping in and what's more, the outer fabric is water repellent to prevent it from absorbing water and subsequently weighing skiers down while perfecting runs.
A ventilation strip on the back allows airflow to the body to prevent overheating and will wick moisture away if the sun does make an appearance on the slopes.
The Piste Ski Jacket 500 is available for men and women, and comes in four colourways.
FREERIDE SKI JACKET FR500 – £99.99
For skiers who like to explore the mountains, this freeride ski jacket will allow plenty of movement while keeping the wearer warm. The lose fit and stretch fabric follows skiers' movements as opposed to hindering them as they navigate the slopes.
The 3D mesh on the back helps provide ventilation, effectively wicking moisture away and stopping the wearer from getting too warm. Meanwhile, the taped seams and inner waterproof membrane put a stop to any water entering the jacket.
With the ability to tighten the wrists, the bottom of the jacket and snow skirt, wearers of this ski jacket can be sure that no snow will be getting in on long days out.
What's more, this ski jacket features Recco® system technology for added safety and easy spotting in the event of an avalanche.
Available in four colourways for women and five colourways for men.
FR900 JACKET – £149.99
Frequent skiers will rate this new freeride ski jacket. Featuring three large ventilation zips, including one on the front for quick access, getting too warm while tackling tough passes won't be an issue.
If skiers do get caught out when it starts to snow, the taped seams and highly waterproof membrane, as well as the adjustable cuffs, high collar and 3D adjustable hood, will stop any water from entering.
A wide fit with preformed sleeves, this jacket is ideal for intensive freeride use as it allows a full range of movement.
The jacket is available in two colourways for men and two colourways for women.
Trousers
DOWNHILL SKI TROUSERS 500 – £49.99
Skiers will be ready for anything in these thermal trousers. Designed with water repellent fabric on the outside and a waterproof inner membrane, the wearer can take comfort knowing their lower half is protected from the elements, no matter how many slips and spills in the snow they experience.
The trousers are warm thanks to the recycled wadding used for insulation, however they remain breathable due to the vents on the inner leg that can be opened via a zip, to prevent overheating.
Additionally, the Velcro straps on the waistband mean the trousers can be adjusted to ensure the perfect fit, leaving skiers to focus on their slope performance.
Available in two colourways for both men and women.
FREERIDE SKI TROUSERS FR500 – £69.99
Designed for intermediate freeriders, these trousers come with an elasticated waist and adjustable rib tab to ensure the perfect fit and prevent skiers getting distracted.
Featuring a waterproof inner membrane layer, taped seams, and waterproof zip, melted snow is prevented from soaking through to the body, keeping the wearer dry, while wadding protects the wearer from cold air.
Two large zipped air vents help to regulate temperature while the durable fabric, reinforced at the ankles, ensures these ski trousers have a long life, preventing them from ripping or showing signs of wear after rigorous weeks of skiing.
What's more, the trousers feature Recco® system technology for added safety and making them easy to spot in the event of an avalanche.
These ski trousers are available for men and women.
FR900 SKI TROUSERS – £129.99
Advanced skiers will love hitting the slopes in these ski trousers. Designed for experienced freeriders, they provide maximum protection without sacrificing comfort. The stretchy waistband and braces, as opposed to a tightening tab, and preformed knees, mean these trousers ensure ease of freedom of movement for the wearer.
The highly waterproof membrane facilitates moisture wicking so that skiers don't get too hot as they navigate the mountains while the ventilation zips help air flow around skier's bottom half.
With reinforced hems at the ankles essential for freeriding, the trousers won't tear if they get caught on the sharp edges of skis.
Available for men and women in a range of colourways.
Accessories
WEDZE ADULT M DOWNHILL SKI HELMET PST 500 – PINK – £24.99
A ski helmet is an essential piece of kit to stay safe while out on the slopes. With a hard-outer shell and inner shock absorbing lining, this helmet will keep skier's heads protected from impact.
Additionally, the helmet features a dial which allows the wearer to adjust the size for a perfect fit, ensuring there is no movement even if the wearer falls.
A well-ventilated liner is fitted for comfort, featuring 6 holes and channels to ensure moisture management, keeping heads perspiration-free.
SKI-P GL500 GLOVES – £17.99
Keep hands warm while practising with these wadded gloves. Featuring a fur lining and elastic wrist tightening, they'll certainly keep out the cold and stop any snow from creeping in.
The polyurethane coated palm ensures skiers have a good grip on poles, while the thumb and index finger are reinforced so that they'll last season after season.
Ideal for a range of weather conditions, these gloves have been treated so that they are water repellent, keeping hands dry during a long day on the slopes.
Decathlon sells a wide range of ski and snowboard equipment and apparel for all ages, genders, and abilities. Visit the Decathlon Ski Shop for more information and to buy.
Decathlon has 45 stores in the UK and sells a variety of sports equipment, clothing and accessories perfect for those want to get active or maximise their performance.
For more information, visit www.decathlon.co.uk
Dantoy Lead The Way With Sugarcane Toys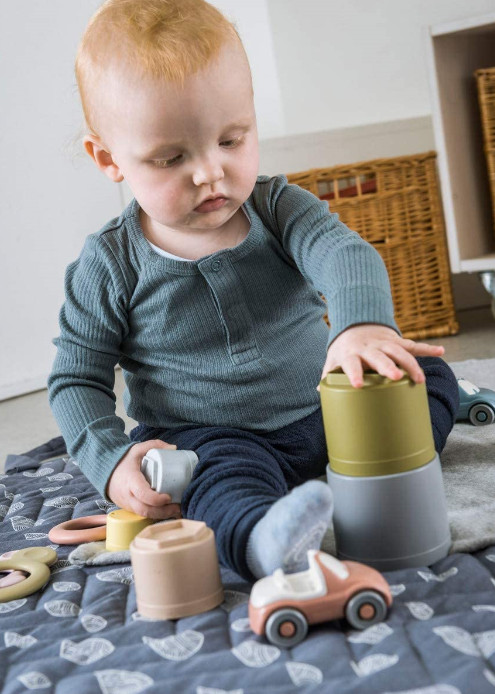 Dantoy's brand-new "I'm Green" line of bioplastic products, their bioplastic is made of at least 90% sugarcane, a sustainable raw material, and their bioplastic is 100% recyclable.
Dantoy leads the way with their bioplastics. The manufacture of bioplastics reduces carbon emissions. The sugarcane is cultivated on controlled, pesticide-free plantations in central and southern Brazil. The sugarcane is harvested every 6 – 12 months. Bioplastic made of sugarcane is a 100% sustainable raw material.
Traditional plastic is made from crude oil, whilst dantoy "I'm Green" PE (bioplastic) is made from at least 90% sugarcane (ethanol). Ethanol, a form of alcohol, is extracted from sugarcane, after which it is used to make bioplastic.
The sugarcane used for dantoy bioplastics grows in plantations in the southern and central regions of Brazil, more than 2,500 km from the Amazon region. The enlargement of areas for cultivating sugarcane is managed by "Sugarcane Agroecological Zoning", formed by Brazil's federal government. The harvested sugarcane is conveyed by train for further processing, which is more eco-friendly than being transported by lorries.
Sugarcane can be harvested several times a year. New sugarcane plants are planted every five to seven years. The fields are harvested every six to twelve months enabling them to be classified as a sustainable raw material. Sugarcane absorbs carbon dioxide from the air, thereby minimising the greenhouse effect. For the manufacture of bioplastic, the carbon emissions accounts are positive from the budding of the plant until it is manufactured into bioplastic. For each kilo of manufactured bioplastic, 3.09 kg of carbon dioxide are removed from the atmosphere.
Dantoy's packaging is all made from recycled cardboard. Their toys are made to last and are approved for contact with foods, microwave safe, dishwasher safe, frost-proof and contains no toxins.
Dantoy's range of bio toys includes the Stacking Cups. These play cups are multi-functional toys. They stimulate children's awareness of colours and shape. Bio play cups an be used as cookie cutters in modelling fly or dough. They are stackable, buildable – and delightful to knock down. For indoor and outdoor play. Bio play cups are made of bioplastic (90% sugarcane). They carry the Nordic Swan Ecolabel and do not contain harmful substances such a phthalates, perfume, BPA or endocrine-disruptive substances. In a palette of gorgeous muted tonal colours and packed in a recycled cardboard box. Suitable from 6 months
Dantoy believe that people should buy less, buy well. That is why their toys are only made with sustainable products. We can all be eco-friendly and by choosing brands who care will make a little difference.
The Dantoy Bio-Toy 7 Stacking Cups £20 from Amazon.
City E-Bike – Shop, Commute and Meet Up in Style
Pedal and power combine for the perfect journey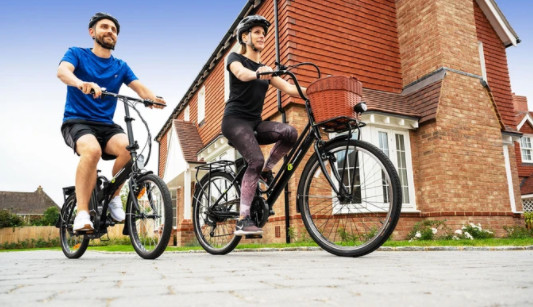 2020: Combine the classic design of a step-through basket bike with fabulous power that lets you travel up to 35 miles in one journey and you get the E-Trends City E-Bike. Created by a team who are passionate about the nostalgic design of a traditional bike, whilst subtly including the benefits of an E-bike without compromising on style.
City is thoughtfully designed to be adaptable; whether you want to pop to the local shops, meet up with friends, commute to work or enjoy a long weekend ride with the family, the City e-bike is the perfect choice for you from our range. With a 2-year warranty, this step-through, unisex design includes 26" wheels with double wall aluminium rims, a front carrier, basket and rear pannier for those essential items on your trip.
Making the City your ideal ride is easy, with 6-speed Shimano gears you can change up or down to suit your speed or terrain. Take control and make your journey even more comfortable with the adjustable handlebars and adjustable sprung saddle. Staying safe is no problem with the LED front and rear lights and front and rear mud guards to reduce splash back, so you can arrive at your destination safely and in style! Whether you are enjoying the weekend on two wheels or making your way into work, the City bike is the perfect choice for the style conscious cyclist.
The E-Trends City bike is available from £1100* order by 18th December for Christmas Delivery. Visit www.e-trends.co.uk
E-Trends City Bike Features
Adjustable handlebars
Adjustable sprung saddle
Front and rear mud guards
LED front and rear lights
6-speed Shimano gears with R:6S thumb shifter & derailleur
Front V-brakes and rear drum brake
17.7-inch steel frame
26-inch wheels with double wall aluminium rims
Suitable for riders up to 120kgs / 264 lbs
Dimensions 184cm x 66cm x 112cm / 72.5″ x 26″ x 44.5″
Total weight 29.5 kg / 65 lbs
Includes front carrier, basket, and rear pannier
36V*10AH Lithium ion removable/lockable battery
Recharge time of 5-6 hours
250W motor
3 Pedal power-assist modes and 6km/h pushing mode
LED battery level indicator
Range of 30-35 miles / 48-56 km (dependent on terrain, style of riding, weight carried and level of assist)
Assistance provided up to 15.5 mph / 25 kmh
Battery warranty: 2 Years / 700 charges (battery must be fully charged at least once a month).
*Delivery to Highlands of Scotland or Channel Islands (£19.99 supplement)

Paxton & Whitfield's Cheese Knives – Set of Two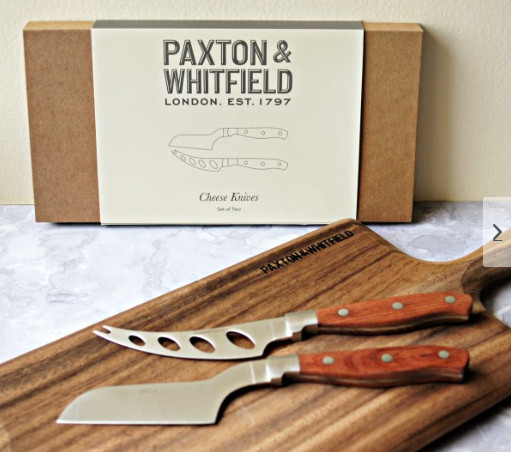 Cheese Knives – Set of Two (£39.00) – A set of two cheese knives with full tang* stainless steel blades and riveted rosewood handles. The soft cheese knife has holes in the blade to ease cutting through the stickiest of cheeses. The all-purpose cheese knife has a stepped blade to help cut through all styles of cheese for a clean cut. The words Paxton & Whitfield are etched on both blades and they come presented in a Paxton & Whitfield presentation box.
www.paxtonandwhitfield.co.uk/shop/homewares/cheese-knives-knife-sets/paxtons-cheese-knives-set-of-two?c=26
SPOKE LONDON – GIVE THE GIFT OF FLAWLESS FIT THIS CHRISTMAS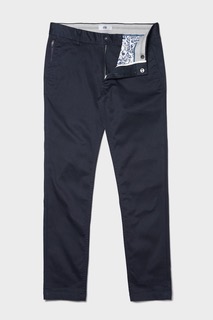 A flawless-fit (where bespoke tailoring meets ready-to-wear) with quality, detail and a bulletproof 200-day returns policy, SPOKE's legendary legwear is the go-to Christmas gift this year.
SPOKE makes gifting for husband, lover, friend, brother, dad – or me-to-me – simple. Finding their fit is easy with the online Fit Finder that can be completed in under 60 seconds, and with each trouser cut in 200+ sizes you will find their perfect pair this Christmas. www.spoke-london.com
Choose from:
£135 READY FOR ANYTHING BULLETPROOFS
Perfect for cyclists, dog walkers and those who relish the outdoors, the water repellent BULLETPROOFS are ready for anything. Made of a technical, yet breathable fabric, which repels water and stretches in two directions, it's a cyclists true friend with discreet hi-vis trim features; and reflective piping in the roll-up leg hem. There's even a drop-down reflective flash in the back pocket. Available in dark navy and graphite, Bulletproofs cost £135.
cidD1BE7F7D-CC06-48B2-AD5F-044365C8E179
£79 EVERYDAY HEROES
Also, incredibly gift-worthy is the classic and super soft £79 HEROES chino. This everyday smart-casual hybrid, available in seven colours, is cut from peachy-feel cotton with added stretch for comfort. SPOKE's Heroes cost £79 and come with a 365-day guarantee.
£110 WORK FROM HOME FRIDAYS
With dress-down Friday the new every day, SPOKE's modern drawstring chino is a comfortable collision of loungewear and office wear. This modern chino features a flexible waistband and subtle hidden drawstring. Available in five colour palettes, FRIDAYS cost £110.
£99 SANTA STRIDES
Coming soon complete with dial up Santa fun, are a new, tailored pair of SANTA strides – available in festive red with detachable white fleece turn-up and a waistband to accommodate any sized Santa.
£12.99 FESTIVE FACEMASKS
Finally, Christmas 2020 wouldn't be complete with a £12.99 festive facemask – that's Secret Santa sorted!
For the full line-up of Christmas gift ideas, which also includes a boxed three-pack plain t-shirt set for £95 and gift-cards, visit www.spoke-london.com
About Spoke
SPOKE is a new kind of menswear brand focused on legs, and fit. There is little in this life worse than a poorly fitting pair of trousers – and seven years ago they set out to banish them forever.
Half a million pairs sold later, they cut their strides in over 200 sizes, custom finished to order for a flawless fit. Of course, only one pair is your perfect fit, so they built an online fit finder, with a machine learning algorithm, to help men find their size – and not a fitting room in sight. It wouldn't be very 2020, would it?
SPOKE stock a range of products – from casual drawstring chinos, to Italian wool slacks via their bestselling stretch-cotton Sharps. They've recently added premium denim, and swim shorts too.
NEW launch from leading British accessories brand, Radley London that's guaranteed to get you feeling festive.
Introducing the 'Little Drummer Dog' Picture Bag – the newest limited-edition design from the collectible collection. Having become a fast favourite with brand fans, the picture bag epitomises the creativity and craftsmanship that underpins everything Radley does.
A picture containing indoor, table, photo, sitting
Description automatically generated
A highlight of the season, the new 'Little Drummer Dog' design features an intricate applique scene inspired by the famous ballet, The Nutcracker. Scottie Dog, Radley takes centre stage as the Toy Soldier, proudly overseeing the Christmas preparations alongside other favourite seasonal characters, including the Sugar Plum Fairy and the Mouse King.
Every picture bag brings Radley's expert level of craftsmanship and attention to detail to the forefront. Screen printing is used to apply precise layers of paint before appliqué is added by hand to create dimension and texture within each scene.
The perfect gift to get you in the festive spirit or as a present for the person in your life who has a cheeky sense of fun, the NEW picture bag is guaranteed to be treasured long after the festive season is over. You can also treat yourself to the matching matinee purse, which is adorned with the same fun, festive scene in miniature.
The NEW Little Drummer Dog Picture Bag costs £279 with the matching matinee purse at £99. Both available from www.radley.co.uk and Radley stores nationwide.
Demijohn, the liquid deli
www.demijohn.co.uk
The Demijohn News – New Christmas Baubles
3 new Christmas bauble sets to get creative with
~ Our new Christmas Bauble sets ~
New Christmas Baubles
There has been a bit of creative activity at Demijohn HQ over the last week, leading to some new sets of stunning environmentally friendly Christmas Baubles for one thing.
We now have 3 fabulous new sets to choose from. Our More than Gin Baubles (set of 6), 12 Apothekers of Christmas (set of 12), both of which are intended as Christmas Baubles, and our larger Advent Apotheker Set (set of 24) which is primarily designed as a unique drinkable Advent Calendar for grown ups!
Our beautiful small 40ml Apotheker bottles of liqueurs can all be hung on your Christmas tree, used to decorate your table or added to a Christmas wreath. The only limit is your own creative imagination!
Our proud York shop team with their award!
We have been nominated for an award!
A huge pat on the back goes to our York shop Staff for their combined efforts in us being shortlisted as Independent Retailer of the Year 2020, in the Garbutt & Elliott Yorkshire Food & Drink Awards. We were chosen from a list of 150 entries, so it is wonderful to be recognised for many hours of dedicated hard work.
Havaianas sock collection for Christmas!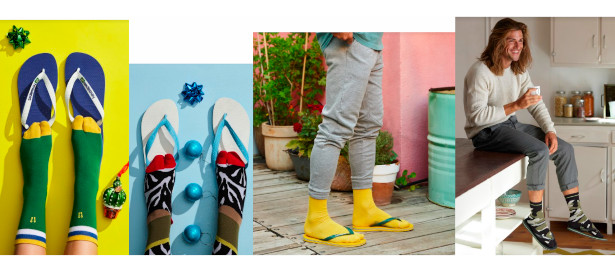 They're ultra-comfortable and developed with each toe encased separately (like a glove to your foot).
Your husband/ boyfriend/ brother can now wear his flip flop and socks in comfort! 😉
This quirky take on a classic stocking filler is also under £10 with the socks priced at £8.95 in a range of colours.
www.havaianas-store.com/en/havaianas-socks-brasil/4145803.html?dwvar_4145803_color=NAVY%20BLUE&cgid=Socks
CELEBRATE CHRISTMAS WITH A TASTE OF THE COAST FROM FISHERS GIN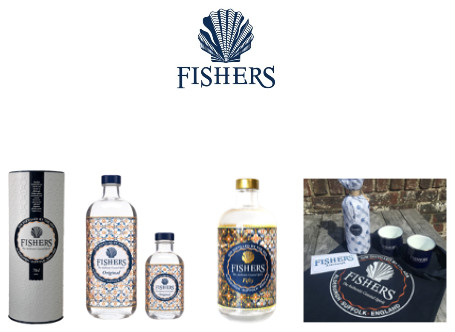 This Christmas treat a gin connoisseur to Fishers Gin. Distilled between the sea and the salt marshes in Aldeburgh, Suffolk; Fishers infuses foraged local herbs and shoreline botanicals to capture the wild and forgotten flavours of the English coast.
Fishers Gin Original 70cl Gift Tin (£42.95) and 20cl (£14.95)
Robust and natural with savoury, aromatic and herbaceous notes, Fishers uses a variety of locally foraged plants such as: bog myrtle; sea purslane; rock samphire; spignel; and wood avens, to create the signature flavour for its "Original" London Dry Gin. The beautiful bottle is inspired by the fishing nets and brightly coloured fishing boats of the village and is presented in a stylish gift tin (£42.95), whilst for stocking fillers, the 20cl bottle is guaranteed to make you the best secret Santa in town.
Limited-Edition Christmas Specials
Fishers Fifty 50cl (£39.95)
Fishers Fifty limited-edition is made from the first batches of gin at the new Fishers Distillery on Aldeburgh beach. Using a higher proportion of native botanicals, this stronger 50% ABV gin has an intense herbaceous and savoury flavour, lending itself perfectly to a martini.
Fishers Gift Set (£49.95)
A 70cl bottle of gift-wrapped Fishers Gin "Original", two enamel mugs, and a tote bag with your own personalised message.
Distillery Tour (£30 per person)
For experience-seekers, give the gift of a tour and gin-tasting at the new beachside Fishers Distillery – the closest distillery to the sea in the UK.
Fishers' full range of products, including navy enamel mugs, dog bowls and a 100% organic cotton T-shirt, made in collaboration with local surf shop Kachina, are available to purchase online via the Fishers Gin shop.
Fishers Gin – Celebrate with a true expression of the English coast this Christmas.
Fishers Gin, Crag Path, Aldeburgh, Suffolk, IP15 5BT
www.fishersgin.com
T: @Fishers_Gin / I: @fishersgin / F: @fishersgin
Stuck for sporty stocking fillers? Give the gift of Olympic-quality energy this Christmas… www.revviesenergy.co.uk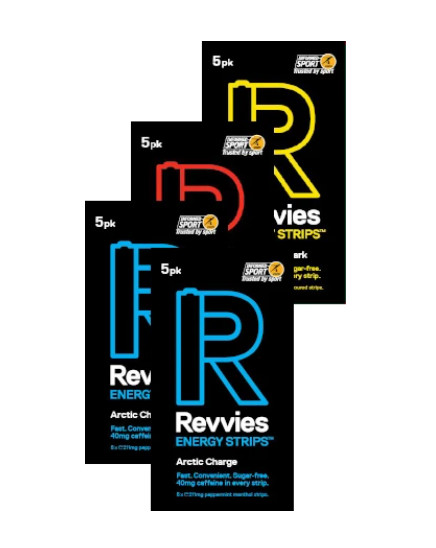 Sugar-free, vegan and gluten-free, Revvies Energy Strips get to work in just 5-10 minutes
Co-Founder of Revvies, John Nolan-Neylan, discusses the benefits over energy drinks and what makes them the perfect stocking filler for the sports lover in your life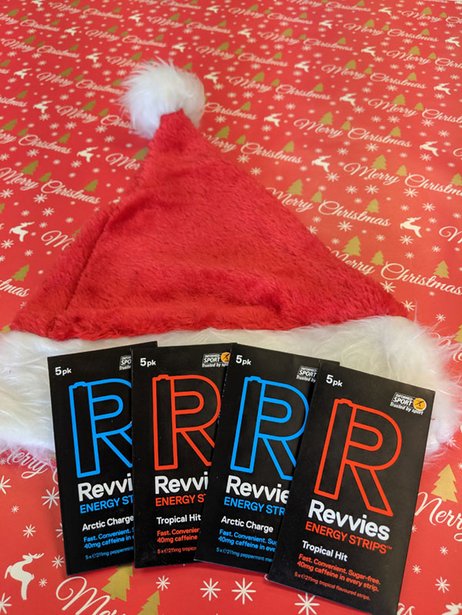 Christmas shopping, at least in physical shops, has been put on hold for this month as non-essential retailers close their doors once more. So if you are struggling to find the perfect present for your particularly sporty family and friends, the gift of energy may be what you are looking for.
Over 80% of the world's population consumes at least one caffeinated product each day, to mask fatigue, increase alertness and improve focus and concentration. It is also a proven way to boost performance in the gym, on a run or during any physical activity. At every level of sport and exercise, caffeine offers a helping hand to get started or go further.
Now, the caffeine delivery system used by some of the top names in international sports, from the UK's top female marathon runners – including this year's champion Natasha Cockram – to some of Australia's top sports teams, is available to buy through the UK Amazon store.
The energy strips, which contain either 40mg or 100mg of caffeine in each serving – roughly equivalent to either a cup of tea or coffee respectively, are sugar-free, vegan and gluten-free. The strips dissolve on the tongue and take effect in 5-10 minutes without being as hard on the stomach as caffeine pills or gels.
10 packs of five strips are available from Amazon in two flavours for £25 while five packs of five are available for £13.50.
John Nolan-Neylan, Co-Founder of Revvies:
"This Christmas is sure to be like no other. The past year has seen the UK adapt to many changes brought about by Covid, with people's health and fitness really front of mind. If you are running out of gift ideas this Christmas, whether your loved ones are Sunday League football stars, the next Chris Froome or even the next Tiger Woods, Revvies Energy Strips are ideal for giving the gift of energy to boost their performance.
Revvies Energy Strips are fast, convenient and sugar-free, and have been used by elite athletes and professional teams all over the world, so we are proud to be able to offer the same, high-quality supplements to the average runner, gym-goer or shift worker looking to optimise their performance or ensure that they make the right decision when they're otherwise exhausted.
No other caffeine delivery system is as easy to digest, low calorie and fast-working at the same time; an all-round perfect gift for those people that want to take their sport to new heights."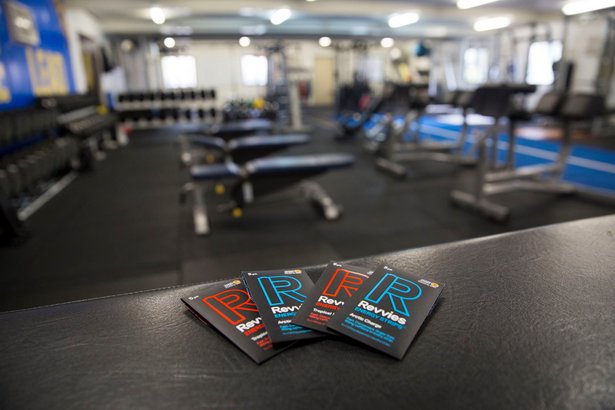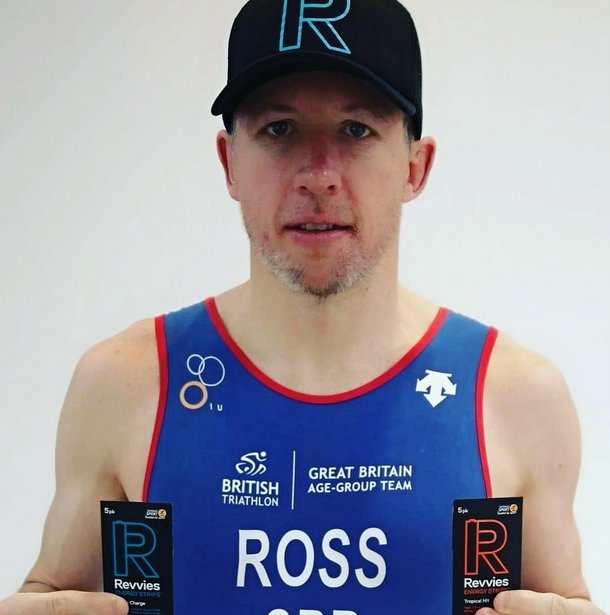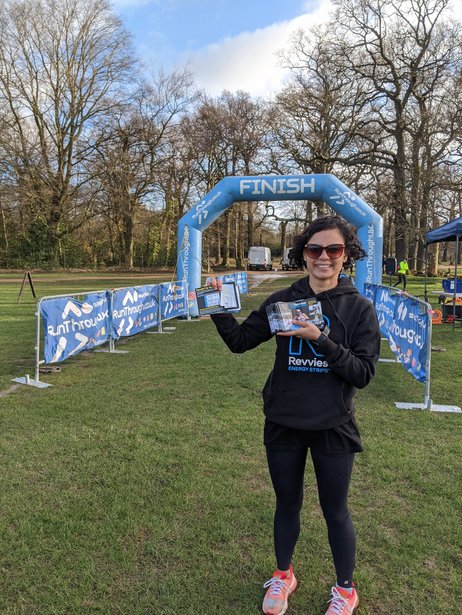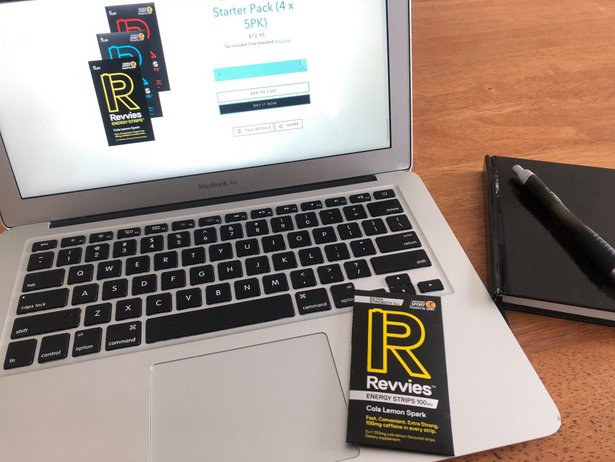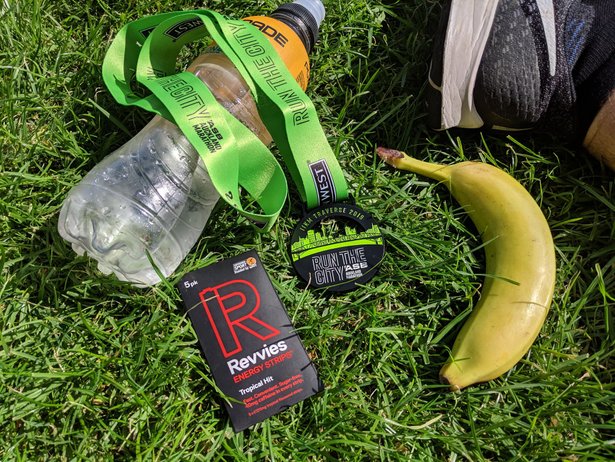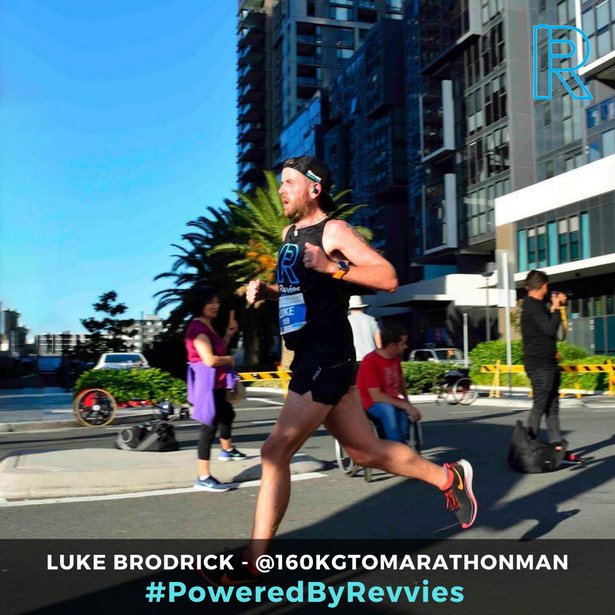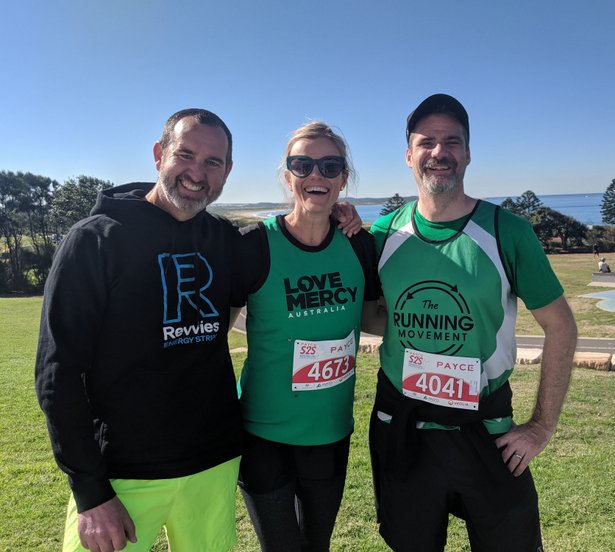 ZZ Totz is all about getting kids creative, using gifts their imaginations and playing through our make-it-yourself puppet kits.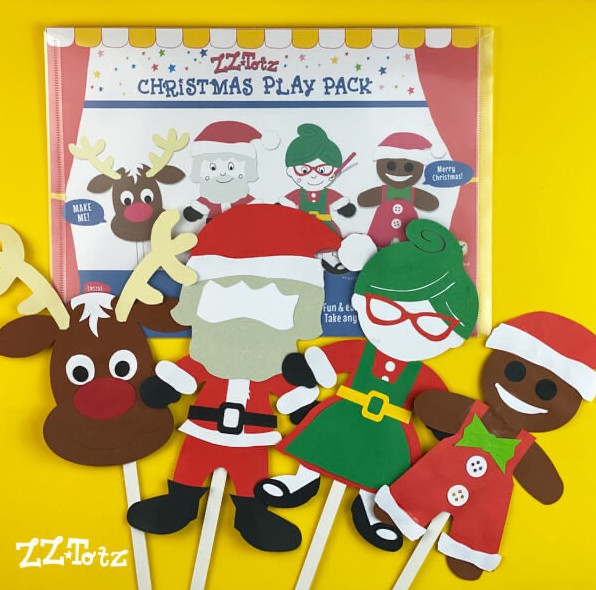 Designed for some fuss free craft time – our Christmas Play Packs have everything included for kids to make their own Santa, Mrs Claus, Rudolph and the Gingerbread Man. We've even included a mess mat!
No bells, no whistles and definitely no batteries – just hours of fun and play!
zztotz.com.au
LOOKING FOR A DIFFERENT CHRISTMAS GIFT?
CBD Oil is the ultimate healthy gift for grown-ups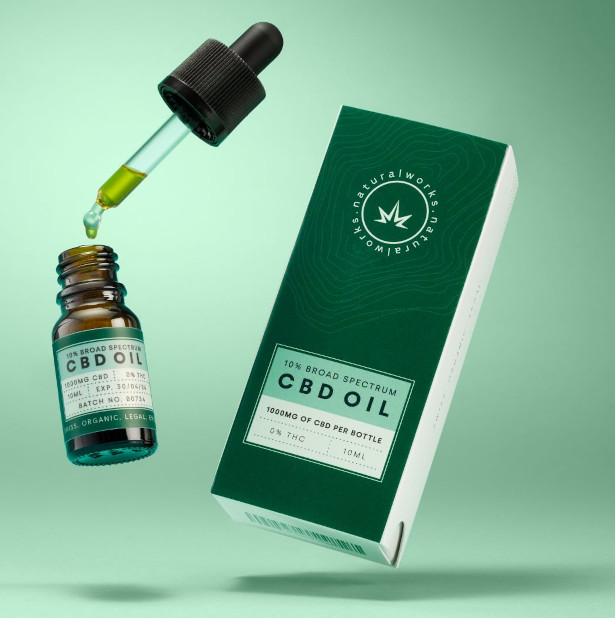 Each year, more and more of us are turning to CBD oil for help in improving our health and well-being – that's because CBD oil has shown great potential in helping with various, often age-related, ailments such as chronic pain management, insomnia , anxiety , depression, PTSD, improving gut health and alleviating some inflammatory conditions such as arthritis .
New CBD brand, NaturalWorks stands for 100% organic, vegan and gluten-free CBD products – grown, lab-tested and certified in Switzerland.
NEW NaturalWorks Broad Spectrum CBD Oil
Straight from the source, this multi-purpose CBD oil is THC-free, GMO-free, pesticide-free and heavy metal free – and 100% pure plant. It can be taken as simple drops or mixed into drinks and food for its many health benefits – making it the ultimate healthy Christmas gift for grown-ups.
Regular RRP is £40.00 and available to buy from the NaturalWorks.com web-site. Shipping to the UK is FREE on all orders.
SPECIAL UK LAUNCH OFFER
NEW NaturalWorks Broad Spectrum CBD Oil can be purchased online for £30.00 for 30 days. Please use the code: 30FOR30. Offer is valid until midnight on 3 November 2020.
Launched in 2000, Maurice Lacroix's PONTOS is returning to the forefront to fittingly celebrate its 20th anniversary. Specially for the occasion, a variety of sizeable pieces are joining the collection. The characteristically PONTOS details, finishes, contrasts and taut lines celebrate a vision of watchmaking where understated refinement reigns supreme.
PONTOS CHRONOGRAPH MONOPUSHER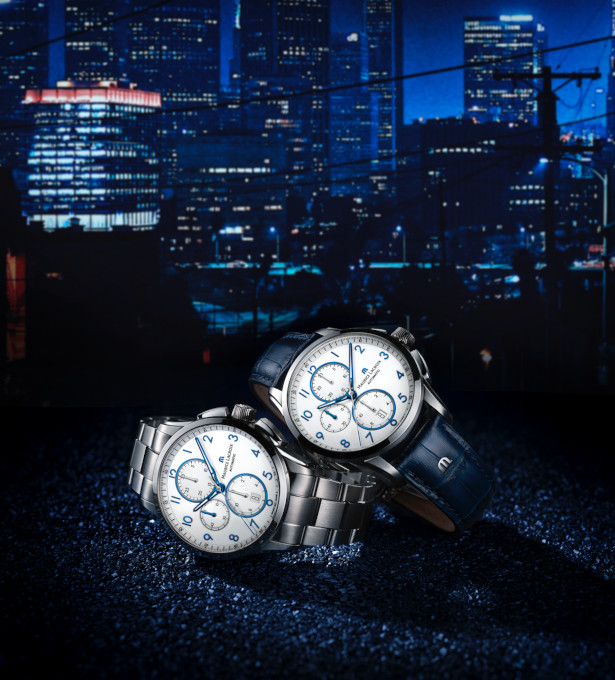 The PONTOS Chronograph Monopusher is a limited edition of 500 pieces and plays on impressions with initially unsuspected depth. Here, the ML166 automatic monopusher chronograph calibre is used as a historical reference to the development of complications as well as for its aesthetic benefits. Its single pusher creates asymmetry and breaks with common expectations of chronographs.
PONTOS CHRONOGRAPH
Two versions of the PONTOS Chronograph have arrived, blending modernity and timeless style as always. Inside the PONTOS steel case with a larger diameter of 43 mm, the ML112 automatic chronograph calibre gives PONTOS a whole new dimension. The dial is available as a lacquered white or sunray-brushed grey version, where the hour markers take the form of applied Arabic numerals for the first time.
PONTOS DAY-DATE
The PONTOS Day-Date – the first model from the PONTOS range to have been redesigned in 2017 – is joined by two new versions. Yet the design details of this 41 mm model remain unchanged, with triangular hour-markers, a sunken minute circle, cut-outs in the dial at 6 o'clock and 12 o'clock that highlight the date and the day respectively, and slightly trapezoidal hands with a rigorous design. Maurice Lacroix has also built on these foundations with an unlimited edition that presents a bronze case and a green dial.
SANS MATIN are a new footwear label; designed in London and handmade in Medellin, Colombia. The brand offers a range of luxurious, versatile and stylish sneakers for both men and women.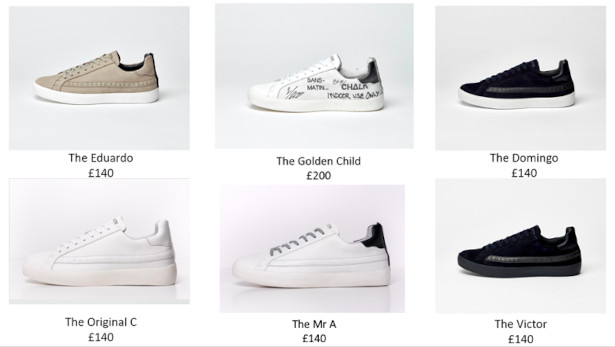 Developed by cousins Charly and Lockie Cunningham, the initial brand idea came about during the founders five-month backpacking trip around South America, where after a muddy trek and subsequent search for a new pair of sneakers, the SANS MATIN story was born.
SANS MATIN footwear is created for people searching for; original, comfortable and affordable sneakers that are carefully designed to suit every environment; from the office in London, to a bar in New York, to a local restaurant in Medellin.
You can find the full menswear collection below, including two limited edition styles; The Golden Child £200 and the new Mr A £140.
Silent Nights this Christmas with AVEENO® and JOHNSON'S® Baby
With the excitement of Father Christmas visiting, make sure that your little one settles down into a calm and relaxing bedtime routine with the AVEENO® Baby CALMING COMFORT® and JOHNSON'S® Baby Bedtime range this Christmas.
AVEENO® Baby CALMING COMFORT®
AVEENO® Baby understands the power of a good nights' sleep at all ages, and we all know a tired baby is not a happy baby, which can also lead to lost sleep for parents; something that is especially needed during the festive season! The CALMING COMFORT® range, made up of a Bath & Wash and Moisturising Lotion, has been specifically designed to create a step-by-step routine from bath to bed to help relax baby and deliver a peaceful sleep for the whole family.
Gentle enough for everyday use, the CALMING COMFORT® range has been carefully created for delicate baby skin, containing soothing natural oat extract, alongside soft aromas of vanilla and the relaxing scent of lavender to help calm babies at bedtime. For a complete bedtime routine, clinically proven to help babies sleep better, begin at bathtime with the AVEENO Baby Calming Comfort™ Bedtime Bath & Wash, follow with a relaxing massage using AVEENO Baby CalmingComfort™ Bedtime Lotion and finish with some quiet time.
JOHNSON'S® Bedtime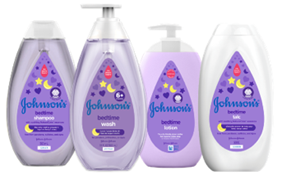 JOHNSON'S® understands that Christmas is not the only time to create memorable moments, but everyday bath time too. Ensuring to create the happiest of memories for both parent and child, the JOHNSON'S® Bedtime NaturalCalmTM fragrance is centered around soft floral and powdery notes to help soothe baby before bed. JOHNSON'S® understands how special bedtime is to parents and their little ones, and want to ensure it's as calm as possible with the help of their known and loved scents.
Sticking to a bedtime routine as best you can even when you're not home – perhaps when staying with family over the festive season – can make it easier for your baby to settle down to the land of nod. The JOHNSON'S® 3-Step Routine incorporates bath time and baby massage, two key rituals that help engage your baby's sense of smell and touch while strengthening your bond and preparing baby for a good night's sleep with quiet time.
The AVEENO® Baby CALMING COMFORT® BEDTIME® range can be found online at Boots.com from £5.99 RRP
The JOHNSON'S® Bedtime range can also be found online at Boots.com from £3.00 RRP
VO5 have recently collaborated with Singer and former TOWIE star Jasmin Walia*, to create the 5 trendiest Christmas hair looks of 2020 to get you ready for any virtual Christmas parties on Zoom and Teams this year.
On the partnership with VO5, Jasmin Walia says: "Whilst Christmas may not be the same this year, that doesn't mean we can't celebrate with a bit of glitz and glam. I've collaborated with VO5 to bring you my top 5 festive hairstyles that are super easy to re-create and will get you Christmas Ready in VO5."
*About Jasmin Walia
On a professional front, Jasmin's career has been soaring globally and her journey to international acclaim is certainly a story to follow. From TOWIE to Bollywood, Jasmin Walia has made waves in both India and the UK after her single Bom Diggy with fellow British singer, Zack Knight, garnered over 780 million views on YouTube and hit number 1 in both India's Pop Chart and the UK Official Asian Chart – making it the biggest British Asian song of the last 5 years.
Following her global success, Jasmin also became the first British Indian Female singer-songwriter to be featured on the Times Square Billboard in New York City for her latest single, 'Want Some' (A Virgin EMI release), and even performed at Nick Jonas and Priyanka Chopra's wedding. She is now determined to be a role-model in the mainstream music industry, which is heavily lacking in British-Asian artists, and wants to inspire more young Asian girls to pursue a career in music and entertainment.
HOW TO COPY
Retro High Pony
Give a festive twist to the style that has been rocked by some of the biggest celebrity style icons this year, the Retro High Pony.
Start by sectioning off a small front segment of hair that naturally frames your face. This will be your retro swooping fringe, so secure it out of the way for now.
Using a comb or paddle brush, pull the rest of your hair up into a high ponytail and secure with a hairband, using VO5's Mega Hold Styling Gel (RRP: £3.29) on your roots to give you a slicked down effect.
Now brush down the front section of your hair, positioning around your face and securing behind your ear with hairpins.
Make sure your ponytail is straight, and finish off with a spritz VO5 Tame & Shine Spray (RRP: £4.39) to add some shine to the lengths.
Add in some festive accessories and prepare to swoosh your way through the festive celebrations
Sleek Sparkles
Diamanté additions bring some Christmas cheer to one of the most luxurious runways looks of 2020.
Start by applying a healthy dose of VO5's Mega Hold Styling Mousse (£3.49) to clean towel dried hair, running from root to tip throughout. Next, spritz VO5 Heat Protect Spray (RRP: £4.39) through your ends and blow dry, using a paddle hairbrush to smoothen hair down. If you need to, run a hair straightener through your ends to create a super sleek effect.
Then brush your hair back away from your face, combing VO5 Wet Look Styling Gel (£3.29) throughout your roots to provide hold and achieve a wet effect.
If you want a super shiny effect, run some VO5 Invisibly Light Hair Oil (RRP: £4.39) through your ends, and finish off with some festive sparkles for the ultimate Christmas glam.
The Festive Twist
A fun take on a super simple style, The Festive Twist will make you the talk of the town (or Teams) this Christmas.
Starting with wavy or straight hair, spritz in some VO5 Tame & Shine Spray (RRP: £4.39) to give your hair a natural shine.
Then take two strands of hair from either side of your face. Twist each strand round on itself to create a messy rope effect and secure at the back of your head with hairpins. Sprinkle on a dash of VO5's Instant Volume Root Boost Powder (RRP: £4.39) and massage into the twisted strands, to create volume and texture.
Then add in some festive accessories such as baubles or clips to give it a Christmassy twist, and spritz with VO5's Flexible Hold Hairspray (RRP: £3.59) to hold your style in place, without the usual hairspray crunch.
Ice Queen Roots
You can never have too much glitter at Christmas. So why not embody Ice Queen realness this festive season.
If working with straight hair, apply VO5 Heat Protect Spray (RRP: £4.39) to your ends and straighten to create a slicked effect.
If you're lucky enough to have naturally curly or coily hair, apply some VO5's Curl Defining Mousse (RRP: £4.39) to emphasise and define your natural curls.
Pull the top section of your hair up into your favourite half up half down look: a ponytail, bun, or detailed braid, and secure with a hairband.
Next apply VO5's Mega Hold Gel Spray (RRP: £3.49) to your roots and add in a healthy sprinkling of your favourite glitter. To really achieve the Ice Queen look, opt for a silver or holographic mixed size glitter, to cover your roots and hairband. Don't be afraid to add in a little more Gel Spray to hold in place if necessary.
And you're done! Get ready to sleigh your festive celebrations.
Angelic Halo
This angelic look will make you talk of the manger this festive season.
Fasten your hair into a low ponytail. If you have shorter hair fasten just below the crown of your head, and for those with longer hair position your pony further down, towards the nape of your neck.
Plait the length of your ponytail as far down as you can, and secure with a small clear hair elastic. Then sprinkle VO5's Instant Volume Root Boost Powder (RRP: £4.39) onto the braid and gently tease sections out with your fingers.
Next wrap the braid around itself to create a halo around your head. Those with longer hair can wrap this around their hairline, but for those with shorter hair try creating a more compact halo around the crown of your head, and secure in place with hairpins.
Add in a spritz of VO5's Flexible Hold Hairspray (RRP: £3.59) to keep your halo intact, and weave in some festive sprigs or decorations to create a Christmassy effect.
Prepare to become the real Christmas Star with this angelic look.
TOO MUCH TURKEY THIS CHRISTMAS?
SIT BACK AND RELAX WITH A TASTY TAKEAWAY TREAT OVER THE HOLIDAYS
Foodhub is offering 10% off* on all orders placed on Monday 28th to Wednesday 30th December.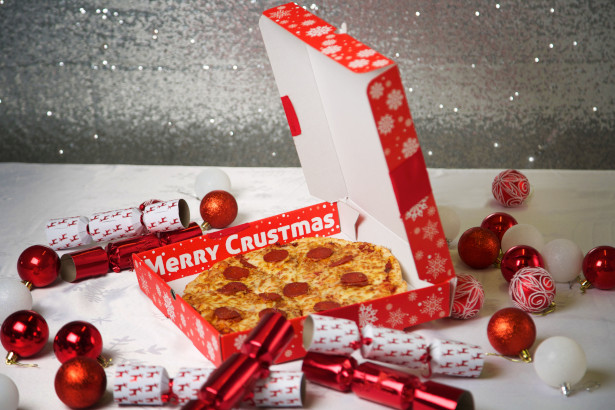 As Christmas Day draws to a close and stomachs are filled with never-ending turkey and all the trimmings, mix things up with a yummy takeaway treat instead.
Customers can choose from a huge range of international cuisines such as; Chinese, Indian or piping hot pizza – Foodhub has the perfect receipe.
To add an extra slice of festive fun over the holiday period, Foodhub has produced a limited edition musical pizza-box that plays a special seasonal Christmas jingle when the lid is opened. Anyone who orders a pizza from Foodhub over the festive time stands a chance of having their pizza delivered in one of the special musical boxes**.
A discount of 10% will be provided to all orders on Foodhub, simply input code TTT2020 and enjoy a tasty treat at your feet!
*offer valid from Monday 28th – Wednesday 30th December
** whilst stocks last
Terms & Conditions
· 10% off all orders placed via the Foodhub app/website
· No minimum order (restaurants may provide their own minimum order value)
· £4 maximum redemption
· One use per customer
· Full terms – foodhub.co.uk
Sweet Christmas
& Happy New Year
Biscotti di Natale alle Mandorle
~ Christmas Almond Cookies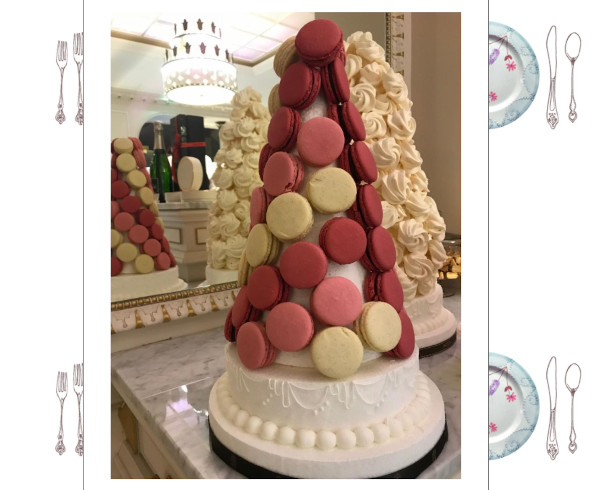 Give the gift of cooking to family and friends and celebrate with something simple and sweet. This delicious recipe pairs perfectly with Prosecco, Vin Santo or cappuccino!
Happy Christmas and wishing everyone a healthy New Year!
Buon Natale
Lauren
Ingredients
3 Egg Yolks
200 g / 2 cups White almonds ground finely or almond flour – always blanched
200 g / 1 cup Sugar
1 Tsp Honey
1 Tsp of Vanilla
Preparation
Whip egg yolks with sugar until the color becomes light, almost white. Add almonds, add vamoòòa extract and honey and mix well.
Line cookie sheet with parchment paper. Keep a small bowl with water to wet your hands frequently so the mixture doesn't stick. Shape into balls about 1-in round. It is important that the cookies are relatively the same size, so they bake evenly.
Bake in a preheated oven at 160 ° C or about 325 ° F until golden, about 15-17 minutes – rotating pans and keeping your eyes on the cookies – until golden.
Allow to cool on cookie sheet and serve. Serve on a beautiful Christmas platter.
Cooking Vacations
www.Cooking-Vacations.com
Lauren@Cooking-Vacations.com
DISCOVER MAGNET'S STUNNING NEW RANGE OF KITCHEN COLOURS THIS WINTER
KITCHEN RETAILER LAUNCHES NEW COLOURWAYS FOR DECEMBER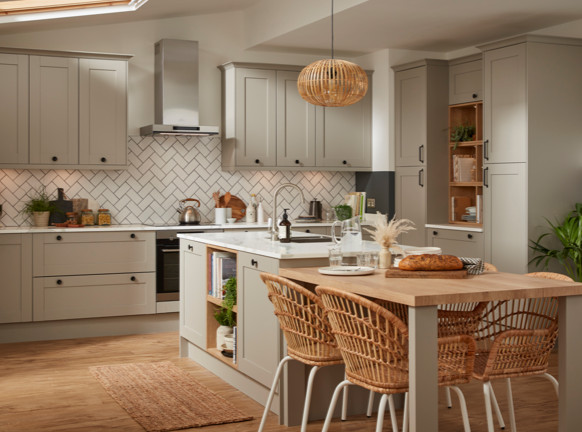 Magnet has launched a brand-new selection of kitchen colourways this winter, offering a beautifully curated selection of designs. Whether you prefer a sleek, contemporary space or a charming, traditional style, these refined, on-trend shades offer versatility to suit any style or space – and create a haven for you and your family this winter.
Pebble
Our newest neutral, Pebble is a beautifully understated shade that reimagines classic neutral tones and harmonises with the growing trend for warmer matts – particularly in painted-effect finishes and soft furnishings. Alongside the continued trend of grey interiors, there's an emerging trend for warmer, more inviting shades, such as Pebble, Truffle Oil and Cashmere. The simplicity of Pebble brings endless adaptability to your own, personal kitchen styling – pairing particularly effortlessly with natural elements and luxe modern accents – so that every Pebble kitchen is bespoke to you and your family.
Tatton Pebble
From £2,340*
Tatton Pebble is the most affordable of Magnet's Shaker style kitchens and comes complete with a smooth, matt finish which is perfectly blended with Pebble's muted tones. For a luxurious feel, opt for a Minerva Calcutta White worktop to create an opulent, yet understated home. This carefully curated design is only enhanced by the panelled doors and smooth, painted-effect finish featuring across the Tatton range.
Tribeca Pebble
From £2,752*
Tribeca Pebble exudes sophisticated charm through the clean lines of its Shaker style doors, which creates an understated modern feel without sacrificing traditional features and timeless elegance. The versatility of this kitchen and the mellow undertones of the Pebble colourway, means that customers can tailor the design to suit their own personal style through their choice of accessories and accents. Similarly to Tatton, Tribeca Pebble comes complete with a smooth matt finish.
Dove Grey
Muted palettes continue to prove popular in the home as they enable layered spaces to look sleek, rather than cluttered. Magnet's bespoke Dove Grey shade is a minimal, calming tone which creates an airy elegance in any space. The simplicity of this colourway creates a breathable room and will beautifully fill a kitchen of any size.
Winchester Dove Grey
From £2,626*
Winchester Dove Grey is the perfect modern country design with Shaker style doors and a subtle woodgrain texture. The bespoke Dove Grey shade is cool toned to give your home a wintery feel, yet light enough to create an airy atmosphere in the summer months, meaning your kitchen will be functional and fashionable all year round. The new Dove Grey colourway has reimagined Magnet's best-selling Winchester range and looks particularly stunning in a dual toned kitchen. Pair with mixed metallic accessories and marble accents to create the ultimate on-trend yet traditional kitchen.
Nova Grey
Nova Gloss Grey
From £2,068*
Nova Gloss Grey is a new addition to the Nova range, offering Magnet's most affordable slab door kitchen in an exciting new high-gloss option. The Gloss Grey colourway can be perfectly paired with gold accents and matching accessories, as well as statement tiling and bold pops of colour. Produced using 16mm cut and edged board, this kitchen can be coupled with warm greys, cool whites and accents of marble to create a tailored look.
Whether you're looking for classic farmhouse charm or ultra-modern sophistication, the Magnet Winter Sale has an extensive collection of striking designs to suit you and your family.
*Pricing based on 8 model R2A furniture only
ANGELIC GIFTS FOR JEWELLERY LOVERS THIS CHRISTMAS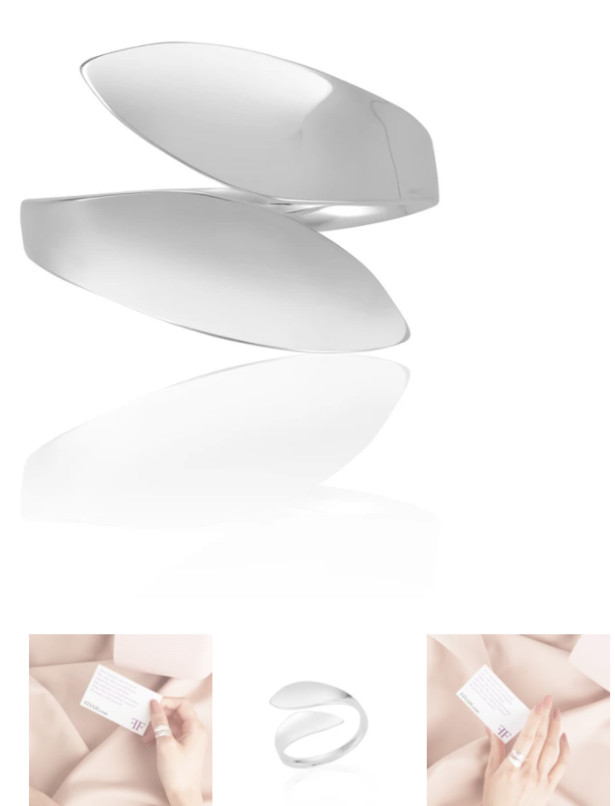 Leave a meaningful gift under the Christmas tree with a piece of jewellery from FIYAH
FIYAH's range of rings are adjustable to ensure a perfect fit
Available in silver, gold and rose gold
Picking the perfect gift for loved ones at Christmas can be a challenge, but a beautiful and meaningful piece of jewellery never goes amiss. A delightful present to find under the Christmas tree this year, FIYAH's collection of angelic and nature-inspired jewellery is designed to create a lasting impression.
With a stunning range of rings, bracelets, and necklaces available, FIYAH's unique pieces feature precious metals and gemstones, designed to create and embrace positive energy, making them an ideal gift for those you care about to unwrap on Christmas day.
Adjustable Wave Ring – £29
Adjustable Wave RingCrafted from sterling silver and inspired by the water, this ring's beauty lies within its simplicity.
The wave ring signifies healing, cleansing and purifying for the wearer making it a special gift to give some you love this Christmas.
Cleverly designed to wrap around the finger, the ring is easily adjustable so the buyer need not worry about size when ordering online.
Adjustable Crystal Feather RingAdjustable Crystal Feather Ring – £39 – £45
Help loved ones banish negative energy this Christmas with the adjustable sterling silver crystal feather ring.
The gemstone combined with the silver feather design makes this ring a meaningful gift that represents healing and angelic protection.
What's more, the ring is adjustable so that it provides the perfect fit for every wearer and is available in silver, gold and rose gold.
silver feather ring, adjustable plume ringAdjustable Plume Ring – £39 – £45
Feathers are synonymous with love, guidance and support and receiving this feather ring under the Christmas tree will certainly help loved ones to feel supported in their life choices.
A beautiful present to receive, gifting a loved one this ring will give them more than just a piece of jewellery to enjoy.
Fully adjustable to fit any finger, the ring is made from sterling silver and is available in three colour ways, silver, gold and rose gold, to suit all tastes.
The plume ring is also available in 9ct gold (£179) and 18ct gold (£399).
Adjustable Protection RingAdjustable Protection Ring – £35- £39
What better way to show you care than presenting your loved one with this protection ring on Christmas morning.
Guardian angels bring love and protection, and this ring will help give the recipient the feeling of validation and comfort in their day-to-day life.
The wearer is sure to feel safe and happy upon receiving this gift with its ethereal significance, and with an adjustable band picking the right size won't be an issue. The Adjustable protection ring is also available in silver, gold and rose gold.
Dual Plume Earrings – £39 – £45
Dual Plume Earrings – Fiyah Jewellery – 2Feathers represent love, new beginnings and protection from evil – making these earrings the perfect Christmas gift for those you care about this year.
The dual plume feather earrings are an elegant choice for anyone who likes a stylish piece with added meaning and can be matched with the adjustable plume ring for a coordinated style.
Available in both silver and gold, these earrings will be a welcome gift under the Christmas tree.
Plume Pendant – Fiyah Jewellery – 1Dual Plume Pendant – £29
Effortlessly elegant, this feather pendant will provide meaning and protection from the angels for the wearer.
Available in silver, gold and rose gold, this piece is ideal for anyone looking to add an additional layer of significance to their look this Christmas.
silver feather bangle, plume banglePlume Bangle – £69 – £75
Completing the plume feather range, the bangle follows the same beautiful feather design.
Reminding the wearer angels are nearby, protecting and guiding them, loved ones will be touched by the significance of receiving this bracelet.
Like the rings, this bracelet can be adjusted to fit the wearer and is available in silver, gold and rose gold.
FIYAH produces a range of gold and silver bracelets, necklaces and rings, designed to create a lasting impression. The FIYAH collection is available to buy at www.fiyah.com with prices starting at £19.
NOT A BAD HACK THAT!
JAMES HASKELL LAUNCHES NEW CLICK & SERVE FUNCTION ON MY McDONALD'S APP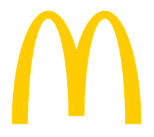 · James Haskell launches new My McDonald's App function to help people 'hack' Drive-thru queues
· Click & Serve will allow people to order their meal, drive to a restaurant, park in a Click & Serve bay and have their food delivered directly to their car
· Click to view the video content here: https://www.youtube.com/watch?v=MuF0pzuoDfo
· Download the My McDonald's App here: spr.ly/MyMcDonaldsApp
Thursday 17th December – McDonald's is excited to launch a brand-new function on the My McDonald's App – Click & Serve.
McDonald's has partnered with England rugby legend and I'm a Celeb… star, James Haskell, to promote the latest app 'hack' which helps people avoid queueing for their favourite meals.
In the tongue-in-cheek video, James is caught off-camera having a heated discussion with the Director after being told he's been asked to promote the new 'hack' because his name sounds a bit like hack-sell…
Despite appearing distinctly 'underwhelmed' with the idea, James pulls it together and communicates the app's new function with ease after some gentle persuading.
Continuing the tradition of openly poking fun at the way brands often partner with celebrities to promote new services, the video sees James trying his best to explain the highly tenuous connection between his name and the idea behind Click & Serve.
Set in a McDonald's car park, Hack-sell, sorry, Haskell, talks to camera from his car window as he explains how easy it is to use the new service demonstrated as his food is effortlessly delivered to his Click & Serve parking bay after placing his order via the app.
James Haskell said: "I've always had a lot of respect for McDonald's, but this latest idea is a bit of a joke. My name doesn't even sound like Hack-sell, but to be honest I'm glad it's me doing it rather than some of the other rugby players they've worked with in the past… They're in safe hands here.
It's sad because this Click & Serve function is actually really good. I'm sure people will find it incredibly useful if they want to avoid the Drive-thru queues, plus it's great for a contact-free ordering experience. Just a shame they couldn't think of a better idea to promote it."
To try Click & Serve out for yourself and 'hack' the queues, simply place your order via the My McDonald's App, drive to your local restaurant and park in the designated parking bays.
Within the app you can complete their order by entering your bay number and your food will be freshly prepared and delivered to your car window.
As well as contact-free ordering and payment via the app, whilst delivering the food, employees will be wearing a face covering & gloves whilst the food and drinks will be in takeaway bags on a tray to minimise any contact.
Click & Serve will be available in 970 Drive-Thrus across the UK and Ireland. Download the My McDonald's app and get queue hacking now! spr.ly/MyMcDonaldsApp
A Recipe for Success – The Ultimate Guide for Your Baking Business
www.gracestevens.co.za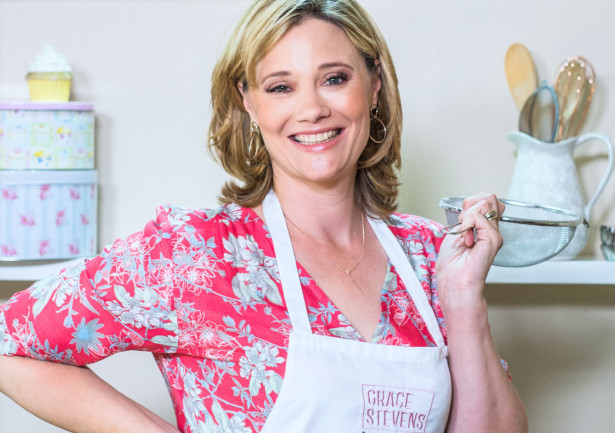 Thinking about taking your hobby from confectionary side hustle to a full-time baking business? The romantic idea that you will spend your days only baking perfect cookies is far from the reality of what it takes to run a profitable baking business.
Cookbook author, business owner and baking aficionado Grace Stevens shares her most valuable insights into what you need to do to begin your baking business.
Set informed goals
Every great cake begins with an amazing recipe. In business, your recipe should start with researching your target market, examining your competition, and setting clear, achievable goals to help you stay disciplined on the path to your sweetest business dreams.
Play to your strengths
Embrace the elements that make your creations extraordinary and play to your strengths as a baker and businessperson. Offering something unique, delicious, and reliable to your customers will keep your creativity flowing and ensure you get your financial piece of the pie.
Listen to your customers
Your customers can be your biggest advocates and having a great reputation can even save you money on marketing. Being mindful of your patron's ideas, inputs and even criticisms will help you build a loyal base of return customers and pull in new business.
Ask for assistance
Identifying what is not your strong point and learning to ask for help in the right places is extremely important for your confidence, as well as the growth and sustainability of your business.
5 top tips on pricing that you never even thought about:
1. When selling your masterful creations be mindful of expenses like packaging, consumables, ingredients, your time and your technical skill level.
2. Marketing for the launch of your start-up and for the long term is important to cost into every sale.
3. Certain markets, such as wedding cakes, may have a seasonal swing to them and it is important to budget to diversify your products and save for the slower months accordingly.
4. Identify exactly what each of your recipes cost as if you had to buy all your ingredients and equipment tomorrow. Even the best equipment has a lifespan so it is important to plan to improve, expand and replace your essential equipment as needed.
5. Have a contingency plan. Adding a small amount onto each of your successful orders will ensure that you have the budget to remake an unsuccessful order without running at a loss. The number of re-bakes will be unique to your skill level and should decrease as you become more experienced.
Perhaps the most important pearl of wisdom that Grace shares is that you need to know your worth and stick to it. The value you assign to your creations is pivotal to both the health of your business and your professional confidence.
If you plan carefully, never follow a half-baked idea, are mindful of your finances and never undervalue your skills or the products they allow you to produce, you should be sifting your way to success in record time.
Looking ahead to 2021 with a sustainable mindset,check outr this exciting new ethical and sustainable clothing brand called Kanula, which has recently launched this year.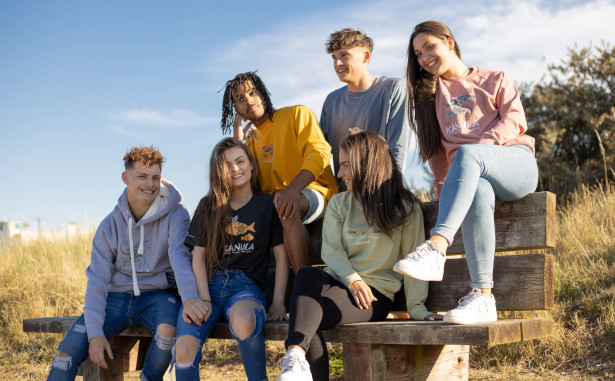 With a focus on helping to protect the planet and inspired by the nesting beaches of sea turtles in Skiathos, Kanula produces high-quality clothing for both adults and children made from beautiful soft fabrics. Using no plastic waste materials which often result in polluting the oceans and harming sea life, Kanula is proud to offer slow fashion with fast delivery.
For each purchase, Kanula donates 8% to the Sea Turtle Conservancy – also making their garments a lovely gift that you can really feel good about giving.
First ever 3D printed camera Bauble created to protect presents from naughty peepers

WITH the festive season in full swing, a member of the SmartLab team at Neos, has found the perfect solution to help Brits stay off Santa's naughty list, and not miss magical moments with family this Christmas.
James Sargent, Head of Customer Support at Neos, has created a 3D printed bauble, to host the Neos' flagship smart camera. Aside from being the smartest addition to any tree this December – the bauble was designed to blend into tree decorations and might also stop little one's fingers from opening presents before the big day, or even catch pets in the act when they're destroying decorations.
James said, "During lockdown the nation has turned to arts and crafts, baking and, for tech gurus like me, 3D printing.
"I found myself inspired by our flagship camera, and our Neos customers, who are always using their smart cameras to capture wonder things. For example, last Christmas, we saw so many people reenacting Father Christmas through their smart cameras to add an extra layer of magic for their children. I'll be able to take it a step further this year! The Smart Xmas Bauble could be the perfect way for me to ensure little fingers – and big ones! – don't try and open any presents before the 25th. I'll also be using it to capture magical moments during the day – my close family's faces when they open their presents – to share with loved ones who can't be with us this year.
"During a year that's seen so many families apart we've seen our customers turn to their Neos SmartCams for all kinds of things including keeping an eye on elderly family members or keeping their properties safe whilst they have relocated for lockdown. As long as family members have access to the camera through the Neos app, they're able to stay connected, even if they can't be there physically."
Matt Poll co-founder and CEO, Neos, said, "We're proud of James' innovation and creative smart thinking. As the UK's first ever connected home insurance specialist, we advocate tech for all and are thrilled James has found our culture, one where he can foster both innovation and creativity. It's fantastic that James has got the flare – and skills – to create this festive product for himself and his family."
Research from Neos discovered some 68% people leave their property without property locking up. A fifth of us don't check if the windows are closed before leaving the house and a further 13% don't even lock their front door.
Matt Poll, co-founder and CEO, Neos concluded, "We know how much the nation is overjoyed to be able to come together to celebrate Christmas and we don't want them to come home to any property issues. We're urging them to not run the risk and to make sure their homes are secure – all year round – before heading away."
Targeted at anyone from pet owners to parents – even small business owners – and with a variety of uses inside the home, Neos' products are designed to be flexible for everyone's needs. The inspiration behind the bauble – the Neos SmartCam – is a nifty, pocket-sized indoor camera that allows customers to keep an eye on their home through the Neos app on their smartphone, no matter where in the world they are.
With Christmas around the corner, The Black Mask Company (founded by boxer-turned-businessman David Haye) has today announced the latest addition to its collection – The Black Mask Crystal Edition.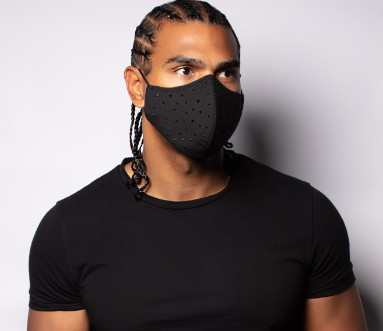 The new design is targeted at fashionistas looking to step into the New Year and stand out from the crowd. Priced at £24.99 and subtly frosted with black Swarovski crystals.
High-res images can be downloaded here – if you're interested in receiving product for review – please do reply with the best delivery address (note: this will be immediately deleted once delivery has been arranged).
The Crystal Edition provides the ultimate last-minute stocking-filler to wrap-up 2020 and is available to pre-order from theblackmaskcompany.com.
Key specs include:
Frosted with Black Swarovski Crystals
Sleek and stylish design handmade with 100% eco-friendly cotton
Three-layer and reusable
Sweat absorbent and UV resistant
Priced at £24.99 including gift packaging for all orders of pack sizes 3 and over
The Black Mask Company was launched by former World Heavyweight Champion David Haye earlier this year as the UK went into lockdown. Haye, the CEO and Founder said:
"2020 has been a unique year where we have been forced to adapt. The Black Mask Company was founded to offer a face mask solution which didn't compromise style, making these changes easier for us and more sustainable for our planet.
The launch of the limited run Crystal Edition Mask is perfectly timed for Christmas and New Year celebrations. Handmade with Swarovski Crystals it is a premium mask which is both subtle and eye catching. I wanted to create something which went from day to night and would appeal to men, women and children, working with a British designer I proud to launch this latest addition to The Black Mask Company collection.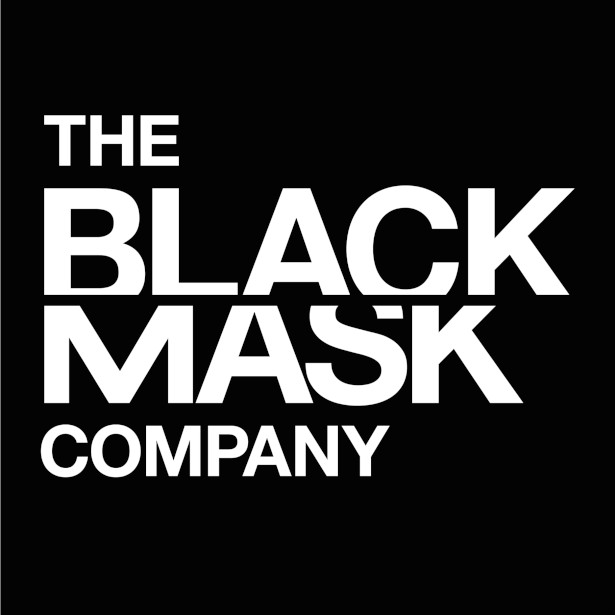 The Black Mask Company brings you a bespoke mask utilising "Nano Silver" technology specifically for COVID-19. From David Haye (ex-World Heavyweight Boxer turned Businessman) . www.theblackmaskcompany.com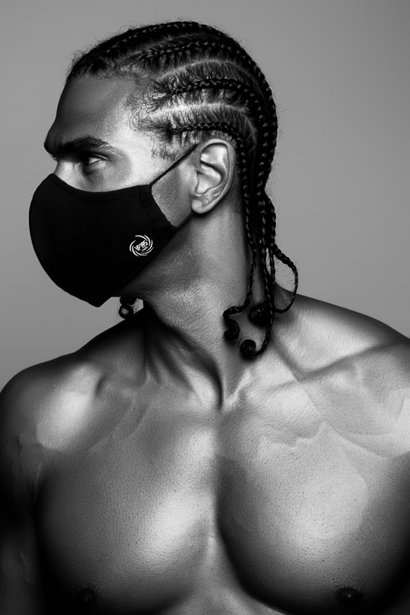 David Haye (ex-World Heavyweight Boxer turned Businessman) launched his line of face masks this year to support in the fight against Covid.
The Black Mask Company launched earlier this year as the UK went into lockdown, the mask is eco-friendly and 30 times washable with the intent to limit the impact of single use plastic face masks on the environment, as 129 billion disposables face masks are being discarded into the environment monthly.
Priced at £12.50 per mask the masks are available in both black and grey and in a range of sizes which can all be purchased at theblackmaskcompany.com.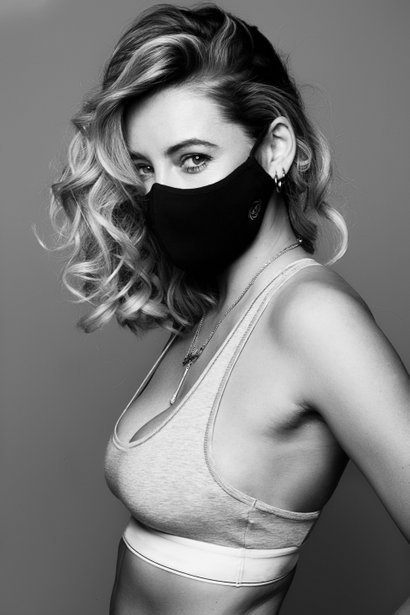 For those getting ahead of the Christmas shopping, the product and packaging provides a perfect stocking-filler this year – the mask is purposely sleek, stylish and sweat-proof to encourage a younger audience to wear masks, as they have seemed to be the slowest adopters.
The VP195 Face mask from The Black Mask Company:
• 3-layer, anti-bacterial, anti-microbial, anti-viral
• Certified to 93.7% filtration
• UV resistant
• Sweat absorbent
• Handmade with 100% eco-friendly cotton
• 30x washable
• Available in black
• RRP from £12.50
• To buy visit theblackmaskcompany.com
• Available in five sizes
• Kids (2-5)
• Youth (6-12)
• Small Adult/Teen
• Adult
• XL
In January 2020 in response to COVID-19, the Vietnam's Government science & technology engineers created a bespoke mask utilising "Nano Silver" technology specifically for COVID-19.
In March 2020 the Minister of Public Security held a press conference, announcing and praising a 'state of the art' 3-layer mask, developed exclusively for all Vietnamese police departments and Government officials.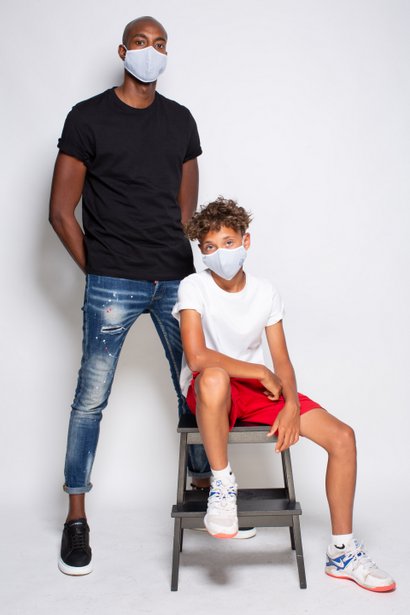 Vietnam is a global leader in the fight against COVID-19, with not one fatality despite a population of over 95 million. In April 91% of Vietnamese wore a face masks daily vs 16% in the UK (Source: IPSOS)
The Black Mask Company was created to bring the VP195 face mask to the UK. Manufactured in accordance with the 'Vietnamese Ministry of Health' technical standards. Approved by the Bureau of Accreditation Vietnam which is a member of the 'International Accreditation Forum' (World Association of Conformity Assessment Accreditation Bodies).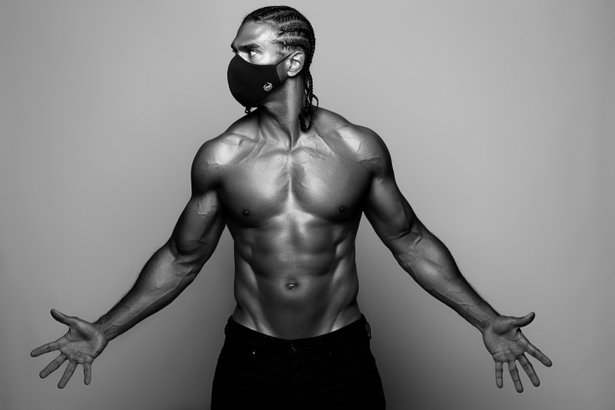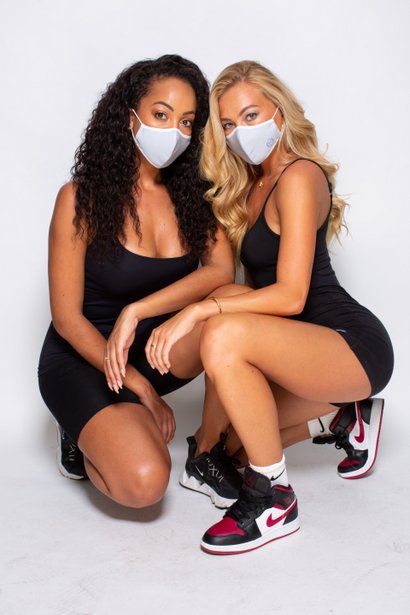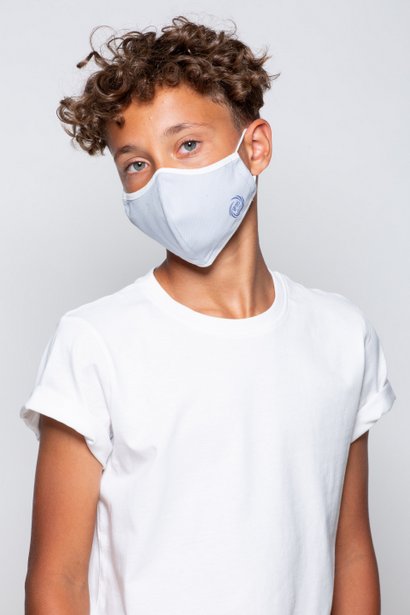 NAOMI CAMPBELL
WELCOMES
ELSA MAJIMBO
ON YOUTUBE EXCLUSIVE SERIES
"NO FILTER WITH NAOMI"
LIVESTREAM SERIES ON "BEING NAOMI"
YOUTUBE CHANNEL TODAY AT 3PM ET
NEW YORK, NY — International supermodel, activist and philanthropist Naomi Campbell welcomes Kenya-based social media sensation Elsa Majimbo for a fun and entertaining conversation on conversation on "No Filter with Naomi" – a limited-time series under her highly popular "Being Naomi" YouTube channel. With more than 500,000 views, the web series has invited fans to #stayhome during this unprecedented era to save lives and has focused on intimate conversations conquering multiple topics between Naomi and a diverse collection of her friends, including a variety of designers, musicians, actors, beauty gurus and media personalities.
The series debuted on April 6th and has since featured guests Wizkid, Mariah Carey, Chelsea Handler, Cameron Diaz, Lenny Kravitz, Whoopi Goldberg, James, Charles, Charlamagne Tha God, Mary J. Blige, Gabrielle Union, Kate Hudson, Cynthia Erivo, Cindy Crawford, Marc Jacobs, Nicole Richie, Ashley Graham, Pierpaolo Piccoli, Lee Daniels, Christy Turlington, Adut Akech, Sharon Stone, Paris Hilton, Serena Williams and Venus Williams, Karlie Kloss, Anna Wintour, and Sean "Diddy" Combs.
The "No Filter with Naomi" series returned after hiatus on June 23rd and featured a select group of episodes focused on impactful conversations dedicated to #BlackLivesMatter, social justice issues, racial and human inequalities. These critical conversations, reflective of our times, included featured guests: Opal Tometi, Rev. Al Sharpton, Alphonso Reed, Cleo Wade, Bethann Hardison, Tyler Mitchell, Indya Moore, Chase Strangio and Tori Cooper.
WHO: International Supermodel, Activist and Philanthropist, Naomi Campbel
About Naomi Campbell
Naomi Campbell was born in London, England and discovered as a fashion model at age 15. Throughout her career, she's fronted the covers of over 1000 magazines, been featured in campaigns for celebrated houses including Burberry, Prada, Dolce & Gabbana, Marc Jacobs, and Louis Vuitton, and walked iconic shows for Chanel, Azzedine Alaia, Christian Dior, and Versace. Beyond her work in the fashion & entertainment industries, Campbell has used her celebrity for an array of fundraising and non-profit initiatives across the globe. Environmentalism, as well as Human Rights and Global Health, as it specifically pertains to women and children, have been critical sectors of Campbell's work. She has also formed her own non-profit, Fashion For Relief, a charitable organization founded in 2005 that has raised funds for various environmental and humanitarian causes. It holds events in association with the London-based non-profit organization CARE. Today, Campbell is undoubtedly solidifying her place as a cultural innovator- using her incredible platform and success for positive change across industries around the world.
PuroQuiet Active Noise Cancelling Bluetooth headphone – discounted from £79.99 to £69.99 on Amazon.co.uk
Available in pink, grey and blue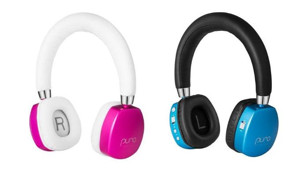 The PuroQuiet was developed by a father who realised his 10 year old daughter had sustained Noise-Induced Hearing Loss from listening to music too loud, for too long. Finding no one was addressing this issue adequately, the family set about designing and developing the highest-quality, studio-grade, volume limiting to 85 decibels children's headphone whilst still at an affordable price.
Made from high-quality aluminium, with plush noise-isolating ear-pads, the latest Bluetooth profiles for CD-like quality wireless audio, a highly sensitive microphone for taking calls or gaming with friends and up to 16-hours of active battery life the PuroQuiet headphones certainly deliver on audio quality and style. In addition to the sleek new design, the PuroQuiet headphones have an active noise cancellation feature found on high-end headphones that suppress ambient noise levels and provides a superior listening experience in even the loudest of environments. It blocks out daily noise and background sounds up to 22 dB, complemented by 82% noise isolation.
Featured in numerous publications including CNET, scoring 8 out of 10, Reviewed.com calling them a 'must buy for every parent' and chosen as the "Best Kids Headphones" in the NYTimes Wirecutter
The PuroGamer Volume Limiting Gaming Headphones – discounted from £39.99 to £34.99 on Amazon.co.uk
The PuroGamer headphones are designed specifically for gaming with a slick design, high quality audio through both sound and an omnidirectional, noise cancelling microphone. They are also volume limited to 85dB to ensure that there is no damage to gamers' hearing health when there are explosions or other noises in gameplay. Featuring a 7.1 surround sound technology, the headphones allow gamers to immerse themselves into the world of their games and the 50mm graphene driver and response equaliser provides a balanced and safe sound. Additionally, the headphones have 82% ambient noise isolation at 1kHz to shut the rest of the world out. The Puro Balanced Frequency Response Curve also allows the PuroGamer's to sound great even at lower listening levels and the game dialogue and sound effects to be heard clearly against the full spectrum of audio.
As featured in Expert Reviews Best Gaming headsets, Pocket-Lint's Best PC gaming headsets and iMore
Puro Sound Lab's JuniorJams Studio Quality, Volume Limiting Bluetooth Children's Headphones – discounted from £49.99 to £44.99 from Amazon
Puro Sound Lab's JuniorJams Bluetooth headphones for kids have been designed to give high quality performance and comfort at an affordable price. Featuring noise isolation and superior sound quality with effective volume limiting, they allow children to shut the world out and focus on their music or show without distraction or damage to their hearing health. The ultra-comfortable protein leather ear cushion also keeps them comfortable whilst they listen and still offers 87% ambient noise isolation. Using the Puro Sound Labs' Balanced Response Curve allows them to give better bass, treble and vocal clarity without the need to turn the volume up. Limiting to 85dB means that they will be at no risk. Up to 22 hours of playback, they can last a long trip so are perfect for taking when travelling and the daisy-chain feature means they can link up with another pair so there's no more fighting over a tablet.
PuroBasic Volume Limiting Wired Headphones for Children – discounted from £19.99 to £14.99 on Amazon
Available in Blue, Green, Red and Pink.
The PuroBasic on-ear wired headphones promote healthy ears by limiting volume to 85 dB (the maximum safe listening level as recommended by many organisations, including the Hearing Health Foundation, OSHA, and the World Health Foundation) and ensure that kids don't turn their volume too high. The PuroBasics also implement the patent pending Puro Balanced Response Curve that optimises sound quality at lower volume levels, meaning all aspects of the audio can be heard without needing to turn the volume up.
The PuroBasics also feature a lightweight but durable build with ergonomic, super-soft vegan leather earcups and adjustable headband to suit different head sizes and shapes. The universal 3.5 mm audio cable allows for connection in all audio devices and are perfect for use at home or school. A foldable frame and soft carry case make the Basics portable and perfect to store in a backpack and the four vibrant colours mean there is an option for boys and girls. The PuroBasics are backed up by Puro Sound's 1-year warranty meaning you have safer, premium audio guaranteed.
THEN AND NOW: THE ULTIMATE TECH GIFTS TO BUY FOR TECH FANS – BY AGE GROUP

Tamagotchis are recommended for Generation Z, Game Boys for Millennials and Etch A Sketches for Generation X
Consumer spending experts launch Retro Tech report
In a year which will see many drawing on nostalgia from Christmases gone by in order to make this 25th December pop, money.co.uk has released a list of the ultimate presents to buy technology fans, according to their age, which will take them right back to their beloved childhood Christmases.
The research commissioned by money.co.uk*, has revealed the gadgets each age misses the most from times gone by – and how much these memorable gifts will set the gifter back.
Those looking to provide Generation Z-ers with festive nostalgia should look to everyone's beloved first digital pet, 1997's Tamagotchi.
The data shows that 16-24 year olds miss this humble device the most missed.
The egg-shaped Japanese digital pets remained hugely popular throughout the late 90s and 2000s and were owned by more than 1 in 3 adults now aged between 16-24 (38%).
A Tamagotchi is likely to set gifters back by just £26 – which is not a huge increase on the original 1997 RRP of £14.
For those gift shopping for the younger Millennial who has everything, the classic Gameboy is a safe bet.
The 1989 handheld console came up top in the list of tech those aged 25-34 miss the most – with more than 1 in every 2 (51%) of this age group surveyed having owned this device at some point.
However, this gift is better saved for someone extra special, as they currently retail for £192 on eBay – an eyewatering increase on the original retail price of £67.40.
The retro tech gift most likely to raise a smile on Christmas Day amongst the older Millennials and younger Generation Xers surveyed is the comparatively low-tech Etch a Sketch.
Almost half 49% of this age group claim to have owned one of the then-innovative mechanical drawing toys when they were younger.
What's more, this makes for an affordable stocking filler at just £20 when bought on eBay today.
The iconic Commodore 64 is the key to putting a twinkle in the eye of older Generation Xers on Christmas Day according to the data.
More than 1 in 4 of this group (26%) owned a Commodore 64 and 1 in 5 (19%) say they still feel nostalgic towards this ground-breaking gaming computer.
Compared to the original RRP of £399 – equivalent to £1,418 today – this early computer is available on eBay for a comparatively bargainous £72.
Salman Haqqi, personal finance expert at money.co.uk comments: "It's fun to look back at some of the iconic tech through the ages and to see how the costs of these items have changed since their launch date.
"It's also interesting to see how much people were willing to spend on some of these pioneering pieces of tech and how far we've come in terms of the advancement of the technology and the variety of devices that are now available at much more affordable prices.
"Most of the nation's favourite pieces of retro tech have depreciated in value over time as we'd expect, however there are a few standout items such as the iconic Gameboy that have since become collector's items and now surpass their initial launch cost, with inflation applied."
The Perfect Retro Gadget Gifts for Tech Fans
Age Group
Device
% of age group that owned one
UK launch
Original RRP
Cost with inflation
Today's eBay Price
16-24 yrs
Tamagotchi
38%
1997
£14
£25.65
£26
25-34 yrs
Gameboy
51%
1989
£67.40
£168.80
£192
35-44 yrs
Etch a Sketch
49%
1960
£2.31
£53.55
£20
44-55 yrs
Commodore 64
26%
1982
£399
£1,418
£72
To help you save on new technology this gifting season, discover money.co.uk's great range of 0% purchase credit cards that provide long interest-free periods with low APR. For more information, visit: https://www.money.co.uk/credit-cards/0-purchases-credit-cards.htm.
To celebrate the nation's favourite retro gadgets, money.co.uk has created a visual timeline featuring some of the most iconic tech launches of the last century, their launch dates, original cost at the time of launch, costs with inflation applied and resale costs. To view the timeline, visit: www.money.co.uk/guides/retro-tech
With Big Ben set to chime again in 2021, we thought we would tell you 5 amazing facts about the iconic London Landmark we bet you didn't know…
1. Big Ben is not the official name of the famous landmark…
It was originally called the Clock Tower, but in 2012 it was renamed the Elizabeth Tower to commemorate the Queen's Diamond Jubilee.
2. Big Ben chimed for the first time on 11th July, 1859.
3. Big Ben is 96m tall and the bell itself weighs a whopping 13.7 tonnes!
4. A special light above the clock faces is illuminated when parliament is in session.
5. In August 2017, Big Ben fell silent for the first time in a decade and it was not set to regularly chime again for some time due to construction works.
Big Ben Products – Houses of Parliament Shop.png
Visit the Houses of Parliament shop online shop now to buy the fabulous Big Ben products for your London-loving family member or friend!
—
Big Ben Rubber Duck – £6.95 • Big Ben Cufflinks – £24 • Big Ben Umbrella – £24.95 • Big Ben Charm Keyring – £4.95 • Big Ben Mint Tin – £2.95 • Big Ben Shot Glass – £1 • 3D Big Ben Puzzle – £9.95
Houses of Parliament Shop – shop.parliament.uk
Out with the Auld Lang Syne, in with the new: Queen's I Want to Break Free revealed as top song to see out 2020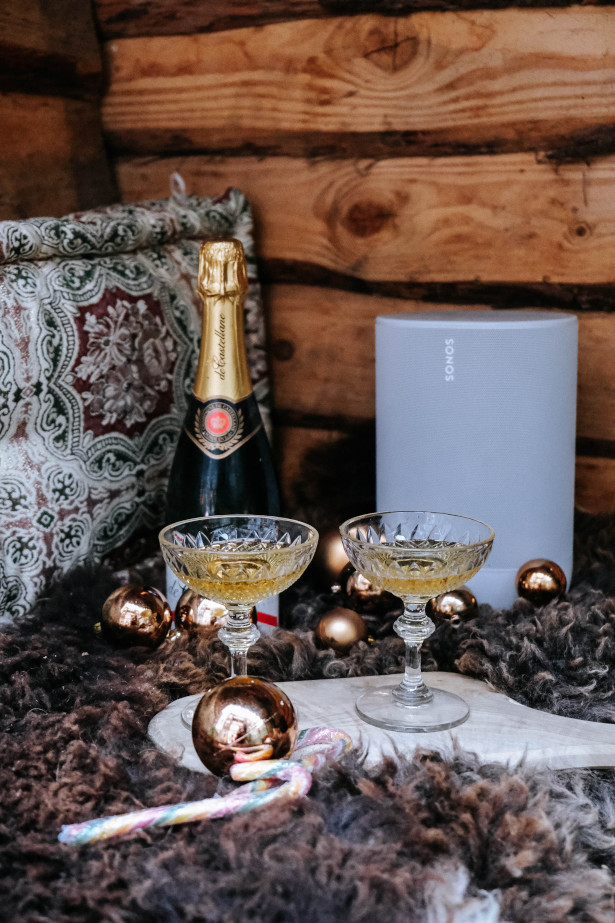 Queen's I Want to Break Free (32%), The Killers' Mr Brightside (22%) and Journey's Don't Stop Believin' (20%) are the top three songs Brits will choose to play whilst seeing out 2020
Nearly two thirds of Brits (62%) admit to looking forward to spending New Year's Eve at home, despite a year of lockdowns
Half feel it's more important than ever to celebrate the New Year, rising to 57% of 18 to 24 year old's across the continent
84% of Brits would rather listen to their own choice of music at home than a DJ in a club
1 in 3 (29%) admit they've hooked up with someone at a party because they share the same taste in music
After a year which, for many, has been spent restricted to our homes, Queen's I Want to Break Free has fittingly been selected by Brits as the anthem to see out 2020, according to new research from the world's leading sound experience company, Sonos. Other popular songs we'll be listening to when the clock strikes 12 this New Year's Eve include The Killers' Mr Brightside (22%) and Journey's Don't Stop Believin' (20%).
Following the lockdown restrictions of 2020, it might seem people are itching to 'break free', however, a new European-wide study by Sonos, which explores how we are adapting to celebrate the New Year, suggests we are happier than we might care to admit to stay at home – with 62% saying they're looking forward to spending New Year's at home, feeling less pressured to go out and socialise.
Whilst we're all longing for the restrictions to end, the research shows Brits' enduring love of celebrating at home, with 87% of people preferring to serve their own cocktails to queuing at a bar, and a whopping 84% preferring to play their own tunes at home than listening to a DJ in a club. Feeling freer to let go in the comfort of their own home, 75% prefer singing along to their favourite songs in private and 78% prefer dancing on their own tables rather than at a bar.
Although lockdown has transformed many of our routines, music remains vital, with 78% saying music lifts their spirits and nearly two thirds (61%) revealing a good playlist makes or breaks a party. Music also remains a firm favourite for fueling romance, with nearly 1 in 3 (29%) admitting to hooking up with someone at a party because they shared the same taste in music.
Of those staying at home this New Year's Eve, a third (33%) will be watching the countdown on TV, 27% will binge-watch movies, 20% will listen to their favourite music and dance. Pop wins the battle of the genres for music played on New Year's Eve, with half (51%) admitting to choosing pop music as the soundtrack of their New Year's Eve, followed by Dance (31%) and Rock (28%). For those planning to host a dinner party, respondents said that their ideal guests would be, Dolly Parton ranked as the nation's favourite, followed by Ricky Gervais (20%) and Lady Gaga (18%). Hauke Egermann, Professor at University of York's Psychology Group, who researches the psychological effects of music at the University of York, says that music has been a crucial social tool for withstanding the mess 2020 has thrown at us.
"Music creates experiences that are appropriate to the current situation, but that are linked back to our past experiences, our experience of other times which we might miss at the moment. We've done a bit of research, during the first lockdown in the spring, into how listening to nostalgic music is associated with increased well-being: using music as a tool helps people to feel well and cope with their situation", said Hauke Egermann.
Our research mirrors these findings, with four out of five people agreeing that listening to music lifts their spirits. The specific detail varies across countries though: 49% of Poles plan to listen to more positive tunes in 2021, while for 36% of Spaniards singing along with friends is the key factor in their enjoyment.
Brian Beck, Global Director of Music at Sonos said of the findings: "What really shines through is the importance of music for lifting people's spirits – a great playlist curated with our favorite songs that fit the mood is a must-have for New Year's celebrations, wherever we are, whoever we are with and whatever we end up doing this year".
In time for New Year's celebrations, two new pop-up stations will be launching later this month on Sonos Radio's free tier to provide listeners with the perfect music for their New Year's festivities. Since launching in April, Sonos Radio's original programming has quickly become a fan favourite, giving listeners unrestricted access to up-and-coming artists and industry-leading musicians through interviews and hand-curated mixes that showcase the stories and passions behind the music.
*in a survey of 1,500 people in the UK by Opinium
Sonos (Nasdaq: SONO) is one of the world's leading sound experience brands. As the inventor of multi-room wireless home audio, Sonos innovation helps the world listen better by giving people access to the content they love and allowing them to control it however and wherever they choose. Known for delivering an unparalleled sound experience, thoughtful design aesthetic, simplicity of use, and an open platform, Sonos makes the breadth of audio content available to anyone. Sonos is headquartered in Santa Barbara, California. Learn more at www.sonos.com.
How to clean up after Christmas
Helpful tips to restore your house and prepare for the New Year
www.lupetechnology.com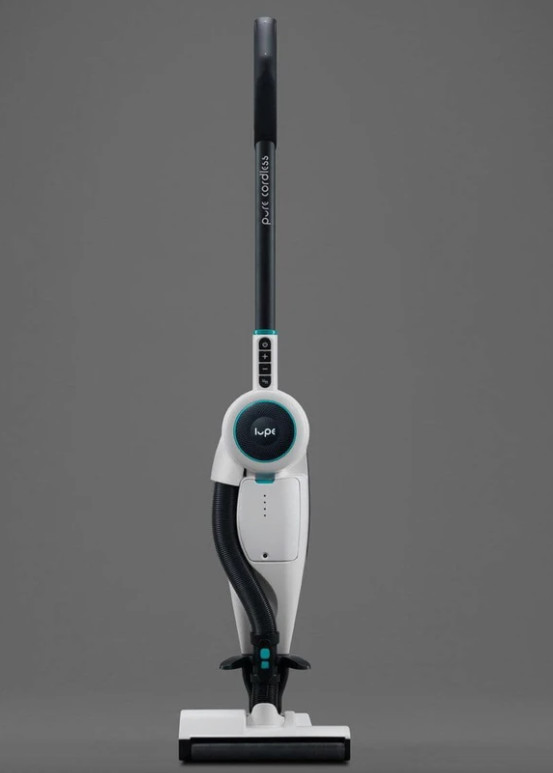 Introducing the Lupe Pure Cordless, created by an aeronautical engineer and industrial designer who met on their first day at Dyson
•Capturing 99.99% of ALL microscopic dust particles
•Twice the suction and four times the battery life of the market leading competitor
•Built to tackle £50bn in annual electrical appliance waste
As we enter the run-up to Christmas, the focus is on festive food, presents and decorations, but what about the aftermath of a perfect Christmas? Vacuum cleaner start-up brand, Lupe Technology, has compiled a list of their best tips and tricks to help you restore your house after a busy Christmas.
Tips to clean your house after Christmas.
1. Organise your decorations. It's all too easy to rush taking down your decorations and stuff them in any old box, any which way. However, taking time to properly organise and put away your decorations can make the world of difference when it comes to putting them up next year.
2. Invest in a high power vacuum cleaner. If you favour real pine over plastic trees then it is very worthwhile to invest in a good vacuum cleaner that is equipped to hoover up pine needles almost every day! The Lupe Pure Cordless has has twice the suction of the market leading competitor so you can rest assured that it will not be missing any dirt.
3. Check your house for red wine and champagne stains. For many, Christmas is a great time to open a bottle of red or indulge in some festive fizz however all too often spillages can occur. It's best to address any spills the moment they happen and clean them by diluting the area with water, sponging up any leftover moisture then mix a table spoon of dish soap with warm water and work the mixture in with a sponge or soft bristled brush. Add vinegar if the stain is red wine and your carpets should turn out as good as new!
4. Deep clean your kitchen. With the end of Christmas comes the end of the year, so what better time to deep clean your kitchen after a hectic festive period in preparation for the New Year? Start by cleaning your oven and organising the baking tray cupboard and finish with disinfecting the surfaces to ensure a pristine kitchen.
About Lupe Technology:
Lupe Technology, a vacuum cleaner start-up brand created by two former lead Dyson engineers, has unveiled data indicating that 20% of Brits now feel that their carpet is the largest health hazard in the home due to it being the hardest to clean. In light of this research, it's clear that it's time for new technology to be developed in order for us to raise the standard of our home hygiene.
Over the past six years, the Lupe team, led by founders and Pablo and Lucas, have tested and designed the Pure Cordless to be everything the cordless vacuum should be: lightweight, manoeuvrable, long-lasting and powerful. Featuring nearly double the useful suction of the leading competitor their patented suction intensifier technology results in outstanding performance of one hour run time and 100% deep down dirt removal. Utilising a premium washable HEPA filter, the Pure Cordless captures 99.99% of all fine dust and allergens.
In addition to excellent performance, the Lupe Pure Cordless is also kind to the environment. At a time where global warming is reaching crisis point, Lupe is mindful that by creating new things, their products produce a carbon footprint. To try and counteract this, Lupe will offset carbon for the lifecycle of each Lupe Pure Cordless sold, with the aim of becoming carbon negative during 2023.
Bringing these elements together has created a game changing product that is kinder to the planet with long service life; the Pure Cordless was designed with sustainability at its very core.
Pablo Montero, co-founder of Lupe, commented on the launch: "The Pure Cordless is the domestic appliance designed not just to shake-up the vacuum market but the entire home technology arena. We have strived to make a product as reliable and long-lasting as possible and hope consumers understand our mission to make technology stand the test of time. We want to help keep appliances out of landfill and perform as well as they did on day one for longer."
Lucas Horne, co-founder of Lupe, commented: "When designing the Pure Cordless, we had two core values; class-leading performance and longevity. The launch today represents the realisation of this and six years of hard work to make the best possible cordless vacuum available today while thinking about our environmental footprint. This is a product that has been designed to change our attitudes towards consumable electronics and home appliances. "
The Lupe Cordless is available nationwide through Lupe's online store and Amazon.
Demonstration models are available for short-term tests. Please contact me to arrange delivery.
GIVE THE GIFT OF TRAVEL THIS CHRISTMAS… FOR UNDER £30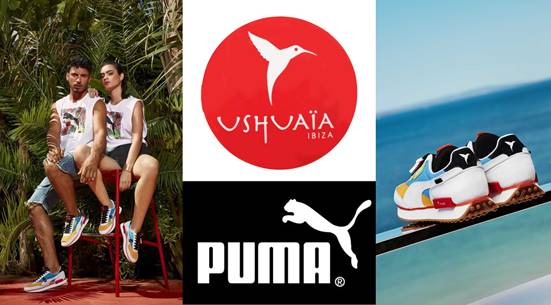 Travel is one of the most meaningful gifts you can give. Memories, moments, and experiences that last a lifetime. As for giving the gift of travel? Bidroom has you covered, and all without breaking the bank.
Bidroom is a membership-based, online travel club for travel lovers, offering exclusive hotel savings of up to 25% compared to other booking platforms – it is the gift that keeps on giving. Bidroom wants everyone to travel more, that is why their membership offers savings on everything from hotel rooms to travel extras, so members can travel more for less, all whilst supporting the travel and hospitality industry.
A Bidroom membership allows direct access to the better hotel deals in over 100 countries. With up to 50% off on car rentals, travel insurance and more, free hotel perks, such as room upgrades and welcome drinks, and discounts on additional travel services like luggage storage and city tours, travellers can save as much as £250 over three weekend trips per year in a European city!
From only £29 for a year's membership, you are giving that lucky someone a year's worth of money saving offerings to be used as much or as little as their heart desires. Annual membership £29 from www.bidroom.com.
ENJOY THE GIFT OF GIVING – THE LATA FOUNDATION CREATES CHRISTMAS DONATION VOUCHERS FROM £5.00
Christmas is a time for giving and there has never been a time when the communities in Latin America that rely so heavily on tourism need your help. To help raise funds for essential causes, the LATA Foundation has created a collection of Christmas gift certificates to suit every budget. For example, £5 will cover a pair of ballet shoes for a child attending Projeto Vidançar; a dance school for underprivileged children from one of Brazil's favelas. Or for bigger budgets, £100 would cover one month's worth of PPE equipment for five Mayan midwives operating in remote areas of Guatemala.
So whether you are struggling for a £5 Secret Santa idea or a larger gift for that difficult-to-buy family member, the LATA Foundation has a whole range of brilliant gift certificate options.
Price: From £5.00 – £100.
Available from latafoundation.org/lata-foundation-christmas-gifts/
GIVE THE TRAVEL GIFT THAT GIVES TWICE –
TOURSBYLOCALS EGIFT CARD
Those who want to find the perfect Christmas gift for curious and discerning travellers should not look further than an eGift Card from ToursByLocals as it does not expire. The world's leading online marketplace for private tours, ToursByLocals provides travel-enthusiasts with highly curated and personalised private tour experiences in 188 countries worldwide.
Give a gift that gives twice. Whether your loved ones are dreaming of visiting Italy, Australia or anywhere in between, a ToursByLocals eGift Card gives them a truly memorable, once-in-a-lifetime, private travel experience with a purpose. Valid for any tour on the website and available in several currencies, 100% of the net proceeds from every eGift Card sold (until the end of 2020) go towards the Guide Relief Fund. This provides financial support and stability to the ToursByLocals guides at this time of global crisis.
And that is the secret of the company's recipe for success: its exceptional, one-of-a-kind guides. Only the cream of the crop can become a ToursByLocals guide, and their offering spans private city tours and shore excursions to culinary, art and history-focused tours, to outdoor adventures.
GET YOUR HANDS ON THE HOTTEST USHUAÏA IBIZA COLLECTION FROM PUMA AND BRING IBIZA TO YOU THIS NEW YEAR
Ushuaïa Ibiza Beach Hotel has teamed up with sports company PUMA once again to give an official summer look to a limited edition collection of tees and Future Rider sneakers and bring Ibiza vibes to fans during the winter season.
The collection includes two models that represent the spirit of Ushuaïa Ibiza by day and by night. The first is inspired by the architecture of the most famous tower on the island and showcases vibrant and intense summer and tropical colours, expressed on lightweight tees, tank tops and sneaker silhouettes, which take cues from the 1980s. The floral inspired graphic assortment pays tribute to the iconic artwork on The Ushuaïa Tower. The comfortable materials and colourful, laid-back style make the collection a must-have this year. The second model is made for the dance floor, with a unique design and comfort so that the most committed clubbers can enjoy each event with a look inspired by The Ushuaïa Experience.
These are available to buy at Foot Locker and via the Ushuaïa Store here. Prices start from £80 for the sneakers and from £22 for the tees.
SILENT NIGHT'S SLEEP FOR POOCHES AFTER 'PAWFECT' FESTIVE NIGHT AT THE PICTURES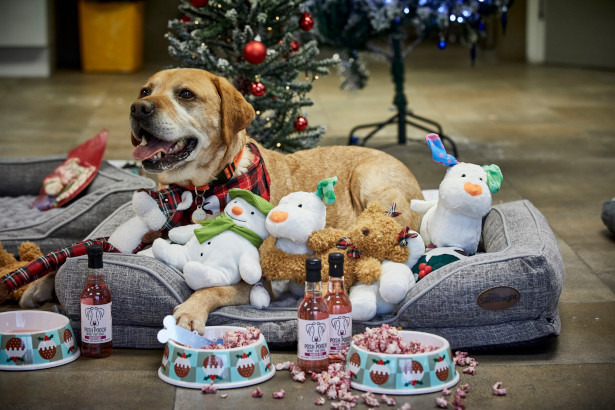 Silentnight Pet Beds celebrates partnership with Manchester and Cheshire Dogs Home with a sleepover screening of The Snowman and the Snowdog for some of the charity's four legged residents
Partnership sees Silentnight Pet Beds gift their range to the Home as and when required as the official sleep partner for the charity
Silentnight Pet Beds use the same trusted technology as Silentnight's human sleep products; meaning the rescued pooches are able to enjoy enhanced comfort and quality of sleep while waiting to meet their new forever family
Pooches at Manchester and Cheshire Dogs Home were treated to a cinema sleepover, courtesy of Silentnight Pet Beds, to celebrate the expert sleep brand and charity partnering throughout 2021.
Four legged residents, including Betty and Poppy the Pomeranians, Alania the dachshund, Babs the greyhound, Rocky the beagle, Sammy the Labrador and Olive the whippet, snuggled up for their Silentnight Pet Beds-backed sleepover, where they enjoyed snacking on dog-friendly popcorn and 'pawsecco' – all while watching every canine's favourite Christmas film, The Snowman and the Snowdog. Although, as with many a sleepover, the snacks and making mischief proved much more popular than the movie!
Silentnight Pet Beds' partnership means the charity has access to its range of pet beds whenever required throughout the year to ensure its residents get the best night's sleep possible.
A spokesperson for Silentnight Pet Beds, Hayley Chaytor, said: "Sleep is an essential part of pets' lives – and the residents of Manchester and Cheshire Dogs Homes need it more than most, particularly if they come from difficult backgrounds or have sadly been previously abandoned.
"With over seven decades of experience in creating sleep havens for humans, we wanted to make sure that our Pet Beds cater to the ideal night's slumber for the nation's four legged sleepers too – and we're proud that these products will now provide sleep solutions for the fantastic Manchester and Cheshire Dogs Home, whose staff and volunteers work tirelessly to support the recovery and rehoming of abandoned pooches."
Silentnight's revolutionary range of Pet Beds cater to both cats and dogs, whatever their individual needs. The range comprises of three collections – Ultrabounce, Airmax and Orthopaedic – and each uses the same trusted technology as Silentnight's human bedding and are available in sizes small, medium and large.
The technology works well for all four-legged friends but is especially relevant for residents at Manchester and Cheshire Dogs Home, where the dogs often have issues with their joints or mobility due to their lives pre-rescue. For example, retired or abandoned racing greyhounds often have issues such as hip dysplasia due to over exercise and will find that the features used within the make-up of the Orthopaedic beds can greatly improve their comfort levels and quality of sleep.
Silentnight's versatile Pet Bed range is available from a wide range of retailers, including Silentnight, Amazon, Argos, Very and Sleepy People.
50% off this festive season at the Natural History Museum Shop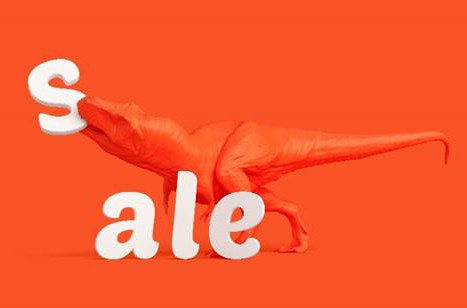 The Natural History Museum Shop is offering a huge 50% discounts off selected ranges including homeware, adult and kid's clothing, and toys from 21 December and throughout January while stocks last. Purchases will support the Natural History Museum's work to reconnect with nature and protect our planet's future.
For more information and to purchase, visit: www.nhmshop.co.uk.
The Natural History Museum is both a world-leading science research centre and the most visited natural history museum in Europe. With a vision of a future in which both people and the planet thrive, it is uniquely positioned to be a powerful champion for balancing humanity's needs with those of the natural world.
It is custodian of one of the world's most important scientific collections comprising over 80 million specimens. The scale of this collection enables researchers from all over the world to document how species have and continue to respond to environmental changes – which is vital in helping predict what might happen in the future and informing future policies and plans to help the planet.
The Museum's 300 scientists continue to represent one of the largest groups in the world studying and enabling research into every aspect of the natural world. Their science is contributing critical data to help the global fight to save the future of the planet from the major threats of climate change and biodiversity loss through to finding solutions such as the sustainable extraction of natural resources.
The Museum uses its enormous global reach and influence to meet its mission to create advocates for the planet – to inform, inspire and empower everyone to make a difference for nature. We welcome over five million visitors each year, our digital output reaches hundreds of thousands of people in over 200 countries each month and our touring exhibitions have been seen by around 30 million people in the last 10 years.
Beelivery launches new scheduled service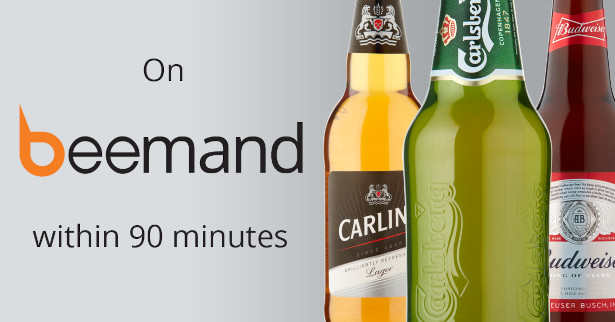 Beelivery, the UK's largest 'on-demand' grocery delivery service, has launched a new scheduled service called Beelivery Today, which complements their existing revolutionary super speedy 60-minute delivery service.
The new scheduled service will allow customers to get same-day grocery deliveries at a time that is convenient to them, whether this be after work or the school run.
The launch of the new, expanded service also comes with the launch of a fresh new website and app, which includes the option to choose either Beelivery Now (on-demand service) or the new scheduled service, Beelivery Today.
Customers can select to shop for groceries to be delivered almost immediately or later in the day.
Beelivery confirmed that they will offer the lowest UK prices on staples such as milk, bread, eggs and cheese when customers choose to order with Beelivery Today.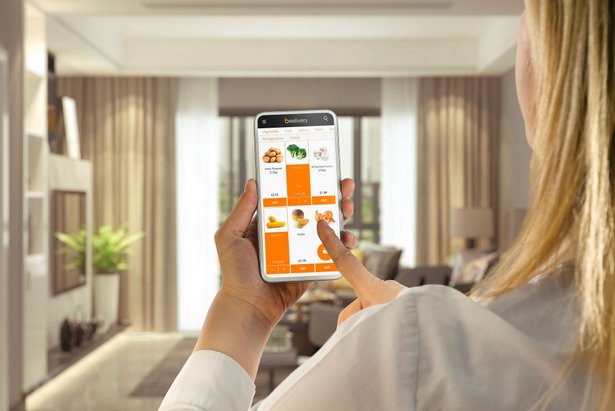 There is a £50 minimum order charge for Beelivery Today, compared with the £12 minimum order charge for Beelivery Now.
Paul Gott, Chief Operating Officer for Beelivery said: "The launch of Beelivery Today means an even greater choice for our customers throughout the UK. Offering people an on-demand service as well as a scheduled, same-day delivery offers the best of both worlds."
Lee Parkinson, Co-Founder and CEO of Beelivery added: "We are thrilled to be offering our customers an option to schedule a delivery of their chosen products. It gives customers the flexibility to schedule a delivery time when they know they will be home. Our service operates 24 hours a day, 7 days a week, 365 days a year."
Chairman and Co-founder Yazan Bin Mohammad said "The new service is a testament to the success Beelivery has demonstrated to date and is indicative of our continued and ambitious growth prospects in the coming months."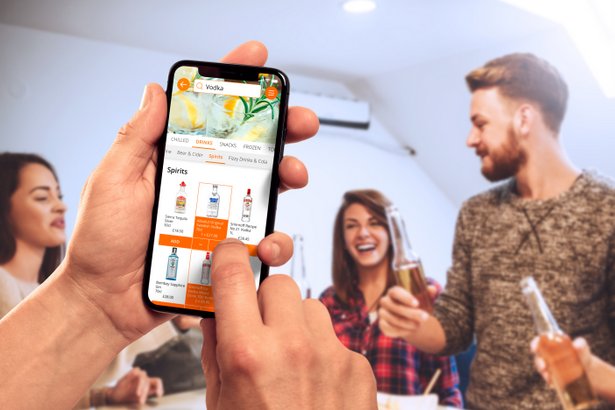 The Beelivery network, which includes more than 20,000 drivers, has the largest geographical reach in the UK compared to other grocery delivery services like Ocado and Sainsburys. The company says that 63% of towns have populations of less than 20,000 people and many of these towns do not have any grocery delivery service available to them. Beelivery plugs this gap for these members of the public, offering people in more rural areas access to the service.
To begin your order, type your postcode in the search box on the homepage or in the app, and the type of service you require (Now or Today). You will then be directed through to the product order page where you can select which products you want, choose when you want the order delivered and then click 'Checkout'.
After paying for the order, you will be given a 4-digit PIN code (it will also be emailed to you). You will need to give this PIN to the Beelivery driver when they bring your order.
Beelivery offers a wide range of products from fresh and frozen meal staples such as meat, fish, bakery items, pantry items, vegetables and fruit, to snacks and alcohol, and home cleaning products.
For more information, visit: www.beelivery.com