Must-have items of the season from Google.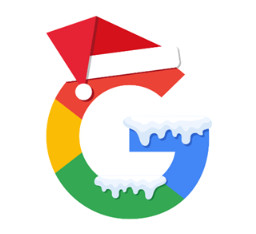 Google Pixel 3 and Pixel 3 XL
Worried about your battery running out whilst taking blurry pictures of your family over Christmas dinner? Fear no more with Google's third generation phone, Google Pixel 3 and Pixel 3 XL. A device that offers outstanding image quality in any light, selfie taking with just a smile, and unlimited storage on Google Photos. Plus, with a 184% wide lens, you never have to miss anyone out of the family selfie again. It also offers 7 hours of battery life from just 15 minutes of charge, which means you won't miss a single moment this year!
Price: Pixel 3 (5.5" screen) is £739 (64GB), and £839 (128GB) and Pixel 3 XL (6.3" screen) at £869 (64 GB) and £969 (128GB)
Availability: Pixel 3, and Pixel 3 XL are available for pre-order now and available in store from 1 November onwards. Get yours from Google Store as well as retailers including Carphone Warehouse, EE, Vodafone, O2, Three, Sky Mobile, John Lewis & Partners, and Mobile Phones Direct
Colours: Just Black, Clearly White, Not Pink
Google Pixel Stand
Google's latest Pixel accessory Pixel Stand, offers super-fast, wireless charging, the forever-helpful Google Assistant and the perfect resting dock to keep your phone out of harm's way, making Christmas stress a thing of the past. Wake up the right way on Christmas day with Pixel Stand's Sunrise Alarm, which slowly brightens your Pixel 3 screen in warm sunrise colours before your alarm goes off, naturally easing you awake. Then blast your favourite Christmas playlist, out of Pixel's forward facing speakers to really get into the festival spirit.
Price: £69.00
Availability: Pixel Stand is available to pre-order now and is available from 1 November onwards from the Google Store, Carphone Warehouse, O2, Vodafone, Three, EE, John Lewis & Partners, and Sky Mobile
Colours: Clearly White
Google Home Hub
Whether you want to play festive tunes, watch YouTube tutorials on how to make mince pies, or find out whether it will be a white Christmas Google Home Hub is the perfect gift for the whole family this Christmas. Home Hub can connect up to six people to an account at one time, so everyone can access their own personal playlists, own schedule, and more. Simply say "Ok Google… Let's play trivia" and embark on endless hours of festive fun.
Price: £139.00
Availability: Google Home Hub is available from the Google Store, Currys PC World, Maplin, John Lewis & Partners, and Argos from 22 October
Colours: Chalk, Charcoal, Sand, and Aqua
Google Pixel Slate and Pixel Slate Keyboard
Spoil that special someone in your life with the brand new Google Pixel Slate and Pixel Slate Keyboard this December. For life at work and at play, Google have bought the power and productivity of a desktop to a gorgeous tablet, which is perfect travelling between families this Christmas. This Chrome OS device is both a powerful workstation at the office and a home theatre you can hold in your hands, ideal for getting lost in your favourite festive movies.
Price: Pixel Slate starts at £549
Availability: Pixel Slate and Pixel Slate Keyboard will be available from the Google Store and other major retailers towards the end of November
Colour: Midnight Blue
Google Chromecast
Turn your TV into a smart TV this Christmas with Google's third generation Chromecast, which opens up a world of entertainment for everybody from Netflix, to iPlayer, Spotify, and Google Play Music. The device now offers a stronger Wi-fi connection, excellent streaming in 1080p at 60 frames per second, and support for Live Albums from Google Photos. So binge away on box sets, catch up on all your festive favourites or build the perfect seasonal playlist for your Christmas party.
Price: £30.00
Availability: Google Chromecast is on sale on the Google Store, Dixon's, John Lewis, Argos, Maplin, and Tesco
Colours: Charcoal (all retailers above), Chalk (Gstore exclusive)
Google Home Max
This premium smart speaker is our best-sounding, most impactful Google Home yet, and is as radically helpful as our other Google Home family of products that are packed with the power of the Google Assistant. With features such as Smart Sound, a new audio experience powered by AI and speakers 20 times more powerful than the original Google Home, Home Max is the perfect addition to the festive Christmas party season.
Price: £399.00
Availability: Google Home Max on sale on the Google Store and exclusively at John Lewis & Partners
Google Home Mini (Aqua)
Whether you prefer belting out Christmas carols or a subtle foot tap to popular seasonal tunes, get in the Christmas mood, with Google Home Mini. Powered by the Google Assistant, Home Mini can answer all of your Christmas questions, from snow forecast to how many calories are there are in a mince pie! You can also connect it to your TV to stream favourite festive flicks. Available in three colours, this sleek, smooth 360-degree speaker is only £49 so you won't go over your Christmas budget either!
Price: £49.00
Availability: Google Home Mini is available online and in store from Google Store, Curry's PC World, Maplin, John Lewis, Argos, EE, and Carphone Warehouse
Colours: Charcoal, Chalk, Coral, and Aqua
NORTHERN IRELAND MORTGAGE MARKET CONTINUES TO SHOW STEADY GROWTH IN THIRD QUARTER OF 2018
Key data highlights:
There were 2,700 new first-time buyer mortgages completed in Northern Ireland in the third quarter of 2018, some 3.8 per cent more than in the same quarter of 2017. The £0.28bn of new lending was 7.7 per cent more year-on-year. The average Northern Ireland first-time buyer is 30 and has a gross household income of £33,000.
There were 1,800 new homemover mortgages completed in Northern Ireland in the third quarter of 2018, some 5.9 per cent more than in the same quarter of 2017. The £0.24bn of new lending in the quarter was 4.3 per cent more year-on-year. The average Northern Ireland homemover is 39 and has a gross household income of £48,000.
There were 2,200 new homeowner remortgages in Northern Ireland completed in the third quarter, some 4.8 per cent more than in the same quarter a year earlier. The £0.24bn of remortgaging in the third quarter was 9.1 per cent more year-on-year.
Commenting on the data, Derek Wilson, chair of UK Finance's Northern Ireland Mortgage Committee, said:
"The Northern Ireland mortgage market continues to show steady growth in house purchase activity.
"Lending to first-time buyers remains the largest sector by value, as borrowers take advantage of what continues to be the most affordable region in the UK.
"These figures underline the importance of boosting housing supply to meet this growing demand."
Exquisite Festive Gifts from Carrol Boyes
Tis' the season to spoil!

After an eventful year, there has never been a more opportune time to unwind, treat and celebrate one's loved ones than the festive season. The latest product ranges from celebrated local designer brand Carrol Boyes make for perfect year-end gifting solutions.
Chocolates
Well-known homeware designer Carrol Boyes has extended the brand into chocolate! Beauty and confection meet in the all-new Carrol Boyes chocolates, which include milk- and dark-chocolate varieties. Each chocolate features a signature Carrol Boyes design!
Chocolate lovers can now savour the Carrol Boyes lifestyle too, sharing in this delicious treat over a festive meal with friends or family. Carrol Boyes chocolates are available in all Carrol Boyes retail stores and online via www.carrolboyes.com.
Price: R99.00
Champagne
Celebrate the season's festivities with an iconic Champagne from the award-winning Carrol Boyes Wines range. Made in France, this genuine Champagne celebrates quality, style, excellence and authenticity.
A celebration of matured chardonnay grown in the prestigious Grand and Premier Cru vineyards of Champagne, this Champagne consists of 100% Chardonnay and is made in partnership with Charbaut. The grapes are carefully selected and picked when perfectly ripe, then immediately pressed and patiently matured for 11 years on the lees.
The Carrol Boyes Champagne is available online via www.carrolboyeswines.com and at the Carrol Boyes stores in Somerset West and Canal Walk, Cape Town.
Price: R1,500.00
Carrol Boyes collaboration with The Joinery: Tote bag and pouch
The perfect gift for the eco warrior in your life! Carrol Boyes has recognised the importance of sustainable initiatives in mitigating damage to the environment and has partnered with The Joinery to create a range of unique, handmade tote bags and pouches. The Joinery's focus is on finding innovative solutions to environmental and community issues through design: "We create local, sustainable products made from recycled plastic bottles, hemp and responsible fabrics as a way to positively contribute."
This recent partnership with Carrol Boyes has resulted in a beautiful and collectable range of bags. Each handmade tote and pouch bag is made from recycled plastic bottles otherwise destined for the landfill. A total of 7 000 bottles was used for the creation of 1 000 totes and 1 000 pouch bags for the Carrol Boyes and The Joinery collaboration.
The decorative multipurpose tote is perfect for everyday use – for daily grocery shopping, on-board plane travel, or beach days… The pouch bag is ideal for small makeup or stationery items, or to keep chargers safe.
Bags and pouches are available from Carrol Boyes stores and online at www.carrolboyes.com.
Price: Tote bag, R795.00
Pouch, R495.00
The Bath, Body & Home range
Inspired by the human form and the natural world around us, Carrol Boyes proudly presents the Ethereal range of bath, body and home products. These fragrances are grounded in nature yet inspired by the intangible.
Our emotional connection to a provocative scent is stronger than our ability to recall a visual stimulus. Carrol Boyes believes that scent plays an important role in establishing an inviting and memorable interior. Rich base notes of vanilla, musk and sandalwood are carefully balanced by lively top notes of jasmine, lavender and orange.
The range comprises a variety of body, bath and room products, including hand wash, hand lotion, room spray, room diffuser, fragrance sachets (to scent your drawers, linen cupboards, car or suitcase) and a luxury soap bar. None of the products are tested on animals.
Ethereal is available online via carrolboyes.com and in Carrol Boyes stores nationwide.
Price:
500ml Hand Wash, R299
500ml Hand Lotion, R299
200ml Room Spray, R289
200ml Room Diffuser, R599
100ml Luxury Fragrance Sachet, R99
200g Luxury Fragranced Soap Bar, R99
From burgers to bull dogs, candy canes to converse and fish to flying pigs, Flying Tiger have every type of bauble you've ever dreamed of… and more!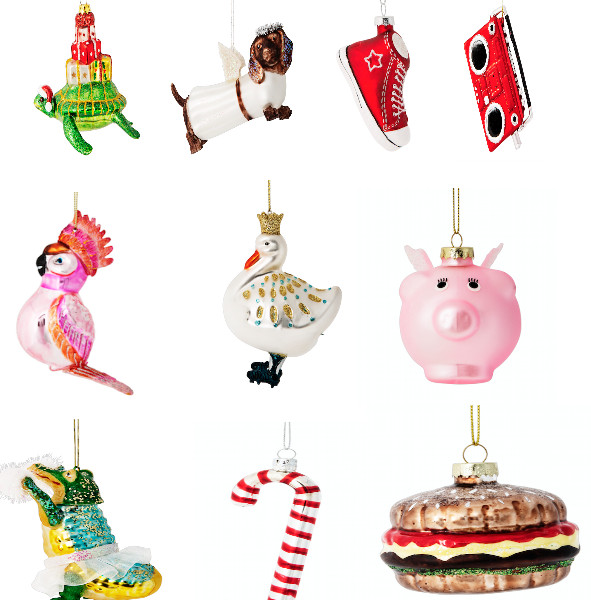 All £2 from Flying Tiger stores nationwide.
Find your nearest store at uk.flyingtiger.com
Last minute Christmas gifts for gin lovers
Give loved ones an experience they won't forget this Christmas with the City of London Distillery.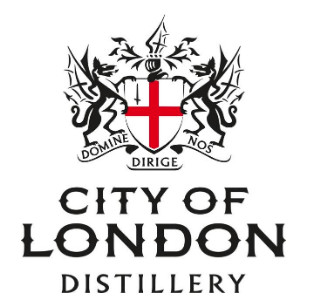 Christmas is just a few weeks away but, don't panic, the City of London Distillery has created a series of bespoke gift experiences for discerning sippers. Learn about the history of London's gin production and create your own bespoke gin in the only gin distillery in the Square Mile.
This Christmas give the gin lover in your life the ultimate experience – creating their own bespoke gin. The two-hour Gin Lab Experience lets gin fans create their own bespoke 70cl gin for just £125. Gin lovers can learn about the distilling process, botanicals and then create and distil their own recipe. The final stage will be to bottle it into one of the City of London Distillery's iconic bottles, shaped like the dome of St Paul's Cathedral, and create a personalised label. All this will be enjoyed while sipping a signature G&T from the City of London Distillery Bar. Gin fans will get to take home a full 70cl bottle of their special gin and receive a £5 off voucher for a further bottle of gin.
Or why not download a gift voucher for a Distillery Tour and Gin Tasting? The lucky recipient will get to explore the history of London's affiliation with gin production, learn about the distilling process and try three signature gins all for £25.
These experience are the perfect solution for those last-minute Christmas present emergencies as gift vouchers can be downloaded from the City of London Distillery website. There's no excuse not to give a gift friends and family will love this Christmas.
Gin lovers would also be delighted to receive the City of London Gin Taster Gift Set. The box features five 5cl gins for £30 – Old Tom Gin, Christopher Wren, City of London Dry Gin, Sloe Gin and Square Mile and. For delivery in time for Christmas this can be purchased online until Friday December 21st.
For more information visit https://www.cityoflondondistillery.com/.
The Perfect Christmas Gift
DEBRETT'S was founded in London in 1769 by John Debrett with the first edition of The New Peerage. DEBRETT'S is now recognised globally and has grown into a professional coaching company, publisher and authority on modern etiquette.
The DEBRETT'S luxurious leather-bound A5 notebooks are available in a range of classic colours and contain a delightful, 16-page almanac; which includes tips and advice regarding the manner of modern etiquette conundrums. These range from run-downs of dress codes, a manual for modern communication and acts as a means to demystify you through any number of baffling social situations.
Each DEBRETT'S notebook has its own special theme including "Manners Maketh Man", "Happily Ever After", "Thinking Ink" and "Fashion Rocks and Dress Rules".
With notebooks that cater to everyone, they are the perfect gift for your loved ones this Christmas!
The notebooks are available to buy on the Debrett's website. Their Instagram is also the perfect way to keep up to date with their new releases and is great source for etiquette tips and inspiration.
Prices start from: £30
Instagram: @debretts1769
www.debretts.com
Jack Daniel's Tennessee Whiskey Legacy Edition – £22 RRP (usually £30)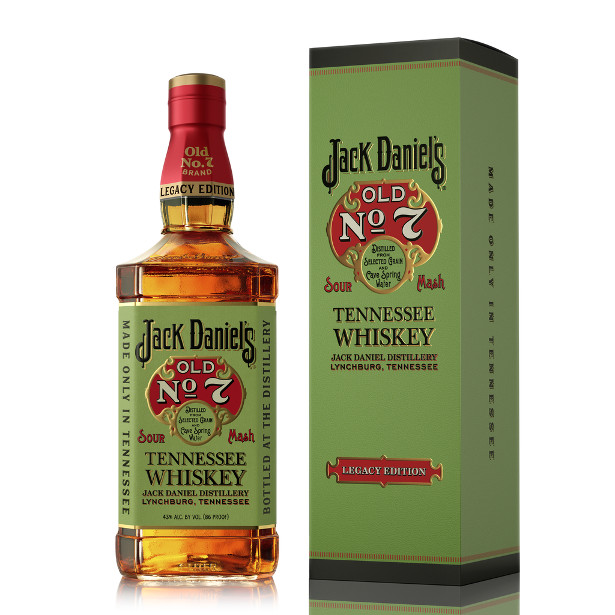 Jack Daniel's is launching a Legacy Edition Bottle of its iconic Jack Daniel's Tennessee Whiskey, to celebrate a rich history of fine sippin' whiskey lasting over 150 years. The bottle is the first in a series of limited editions bringing back a piece of Jack Daniel's colorful beginnings; a label with an unexpected shade of green and an eye-catching gold trim, as a nod to the slightly mysterious history of Jack Daniel's Tennessee Whiskey in Lynchburg, Tennessee.
The Legacy Edition bottle is currently on offer for £22 until 2nd January 2019
220 FASHION STORES JOIN THE ONE4ALL SCHEME AHEAD OF CHRISTMAS
Superdry, Jack Wills and Banana Republic launch partnerships with One4all
One4all Gift Cards can now be redeemed in a further 220 more stores nationwide, as it has announced partnerships with three new high profile fashion retailers.
Leading fashion brand, Superdry, which fuses vintage American and Japanese-inspired graphics with British Style, has announced it is now accepting the UK's leading multi-retailer gift card, the One4all.
It joins Heritage-inspired British lifestyle brand, Jack Wills, as well as Banana Republic, which sells American clothing and accessories, both of which have also just announced partnerships with the gift card provider.
The three global fashion retailers join a host of fashion and lifestyle brands currently accepting the One4all Gift Card, including Primark, H&M, River Island, New Look, TK Maxx, Fat Face, Debenhams and Marks and Spencer.
Recipients will now have the option to spend their One4all Gift Cards in Superdry and Jack Wills UK stores, as well as online with Banana Republic through their UK website.
The addition of 130 Superdry stores, plus 90 from Jack Wills, adds an extra 220 stores to the existing One4all offering, which sees the gift card redeemable in more than 55,000 UK stores.
David Walsh, Group Retail Director at One4all Gift Cards, said: "One4all Gift Card recipients will now be able to use their gift cards to buy a whole host of new clothing, accessories, bath and beauty products. Fashion retailers have always been well received by our customers and Superdry, Jack Wills, Banana Republic will only add to the amount of choice they have when deciding where to spend their One4all gift cards."
Neil Hooper, Business Systems Manager at Superdry, said: "We look forward to working closely with One4all this coming year and are very excited that many more customers will have the option of spending their gift cards with us this Christmas. People regularly receive gift cards for stores they don't frequent, which is why the amount of choice the One4all gift card offers is so incredible."
The One4all Gift Card is the market-leading, multi-retailer gift card, popular for the choice it offers customers. Gift cards are available to buy from Post Offices nationwide or online, and can be loaded with anything from £10 to £400.
It is currently accepted in store and online at more than 55,000 outlets across the UK including M&S, Topshop, Debenhams, Pizza Express, Argos, Currys and John Lewis.
For more information visit https://www.one4all.com/
KITCHEN TAPS THAT DARE TO BE DIFFERENT

Move over bold colours and minimal design, there is a new trend on the kitchen catwalk and it comes in the form of the unusually designed tap.
Choose a style or finish that breaks from the norm and an instant style update is made, transforming the entire kitchen and turning one of its busiest areas into a focal point.
Think finishes other than chrome, such as the Althia Single Lever in a tempting choice of Rose Gold, Urban Copper, Brushed Nickel, Graphite or Matt Black, any of which strike up perfect harmony with some of the hottest trends in kitchen sinks, from ceramic or composite to ever-faithful stainless steel.
Lanza is equally as striking, mixing grey and chrome and providing instant filtered water literally on tap. And no industrial styled kitchen should be without Axial, a pot filler that will be a life-saver for any keen chef while striking a very modern pose.
Prices are from £179 for Althia, £549 for Lanza and £279 for the Axial Pot Filler.
Have the rice-est Christmas tree in town and spread the Christmas soy with the sushi bauble from the National Theatre Bookshop.
You'll be on a roll this Christmas with a bauble that looks good enough to eat!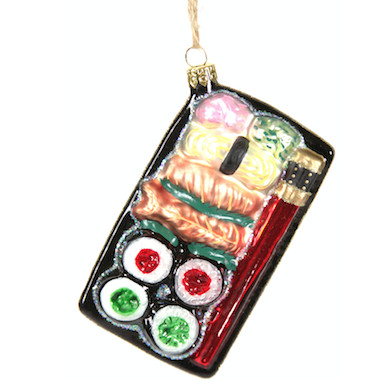 Sushi Bauble- £16
National Theatre Bookshop – shop.nationaltheatre.org.uk
Clever Sofas for Family Life
As much as we all love family life, there's no denying it's usually messy and a little chaotic! Make sure your Sofa's up to the job with these ingenious solutions from Lovely Sofas.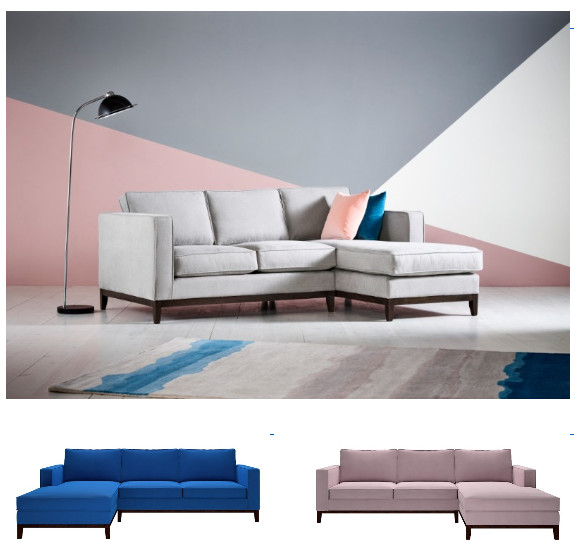 Lily Large Corner Sofa shown in Amalfi Dove Clever Velvet, Amalfi Royal Blue Clever Velvet and Amalfi Lilac Clever Velvet, priced from £2395.00
There's plenty of room for everyone to snuggle up on the gorgeous Lily Sofa, with her comfortable low back and inviting deep plush cushions. Practicality meets style with an elegant chaise end, perfect for resting your feet on after a hectic day chasing everyone around. Choose from small, medium or large and opt for right-hand or left-hand facing, depending on your space.
Linda Large Sofa in Amalfi Buttercup from £1695.00, Ava Large Sofa in Dark Blue Clever Velvet from £1695.00, George Large Sofa in Amalfi Pillarbox Red Clever Velvet from £1495.00
Lovely Sofas offer customers a huge range of beautiful fabrics to choose from and their Clever Velvets and Clever Wools are perfect for busy homes. Clever Velvet offers the same luxurious finish as traditional cotton velvet but comes with brilliant stain resistance – ideal for little chocolatey fingers or those unavoidable spilt milk accidents. Incredibly durable, it also doesn't mark like it's more traditional counterpart, the result being a luxuriously beautiful and soft sofa that will remain that way whatever life throws at it!
Victoria Medium Sofa in Dolly Dew Clever Wool, from £1495.00
For those who prefer the wool look but perhaps feel children and pets mean they wouldn't dare choose it, Clever Wool could be the perfect solution. With the look and feel of traditional wool, Clever Wool is much more hardwearing and affordable. Wonderfully soft and cosy, this amazing fabric offers all of the loveliness of wool but in a more practical form.
So however hectic you're home is, you can have a sofa that's both sensible and stylish this Winter!
Join the festive fun this winter at the Royal Opera House
© ROH, 2015. Photographed by Tristram Kenton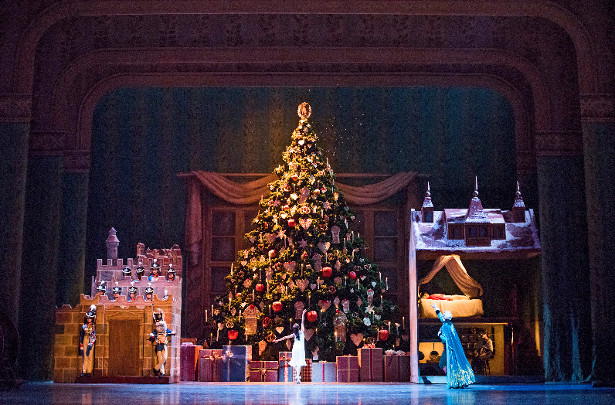 Celebrate Christmas in style at the Royal Opera House, where for the first time in its history the Convent Garden theatre will be transformed and open for the public to enjoy a truly festive season.
From Saturday 1 December, visitors can enjoy the spectacular festive decorations and designs across the front of house spaces. Inspired by the fairy-tale world of The Royal Opera's new production of Hansel and Gretel, the enticing Christmas displays feature the flora and fauna of a mysterious German forest. The decorations will also echo The Nutcracker's magical Kingdom of Sweets, with snowflakes and nutcrackers to be found across the building.
Now open every day from 10am, the Royal Opera House invites audiences of all ages to experience a delightful series of festive events, including immersive experiences and free live recitals, a celebration of Cinema in the brand new Linbury Theatre, and magical performances from The Royal Opera and The Royal Ballet on the main stage.
The Royal Ballet's festive season begins on Monday 3 December, with Peter Wright's magical production of The Nutcracker returning to the Royal Opera House main stage, and screened live in the Linbury Theatre and in cinemas across the UK and internationally. With enchanting stagecraft, sparkling set designs and accompanied by Tchaikovsky's illustrious score, The Nutcracker is a festive masterpiece which follows Clara and Hans-Peter on their journey through the Kingdom of the Sweets. Complete with shimmering snowflakes, this festive adventure also features the iconic Dance of the Sugar Plum Fairy and a host of captivating characters. From Tuesday 18 December The Royal Ballet will also present a series of three one-act works by 20th century choreography greats.
Seasonal delights continue on Thursday 13 December, when The Royal Opera present a stunning new production of Humperdinck's Hansel and Gretel, an exquisite operatic adaptation of the well-known Brothers Grimm fairy tale. Director and designer Antony McDonald crafts a picture-book production to bring this darkly enchanting story to vivid life, marking 125 years since the opera's premiere. Humperdinck's score combines irresistibly catchy folksongs with a lyrical overture and orchestral interludes that are marvels of rich, late-Romantic orchestration.
Marking the opening of the Linbury Theatre – the West End's newest and most intimate theatre – the Royal Opera House celebrates ten years of its Live Cinema Season with screening of great operas and ballets. Beginning with a live broadcast of The Nutcracker on Monday 3 December, the Cinema Festival features 21 titles, with 11 family-friendly weekend matinees free to attend for children aged 5-15. Family favourites include Cendrillon (Sunday 16 December) and ballets The Winter's Tale (Sunday 23 December) and Romeo and Juliet (Sunday 29 December).
A wonderful programme of events taking place across the Royal Opera House complete the festive Season, with something on offer for everyone. On Sunday 9 December, members of the Jette Parker Young Artists Programme host the annual Christmas carol sing-a-long, and on Sunday 16 December The Nutcracker Family Sunday transports the whole family to the Sugar Plum Fairy's Kingdom of Sweets, with a range of exciting and creative activities. The regular programme of lunchtime recitals, tea dances and workshops (including Dance with The Royal Ballet, Sing at the Royal Opera House and Opera Dots), provide plenty of opportunities for visitors to enjoy the transformed festive surroundings of the Royal Opera House and experience something new.
From Monday 3 December to Sunday 9 December the Royal Opera House will offer a free millionaire's shortbread with every tea and coffee purchased in the Royal Opera House café, and a 10% discount in the shop to all customers presenting a National Lottery ticket. Coinciding with the launch of the Royal Opera House's festive Season, these offers form part of the Arts Council of England's #ThanksToYou campaign, which recognises the contribution National Lottery players make to support Arts organisations across the country.
HOT LOOKS FOR COLD DAYS!
From Muddy Puddles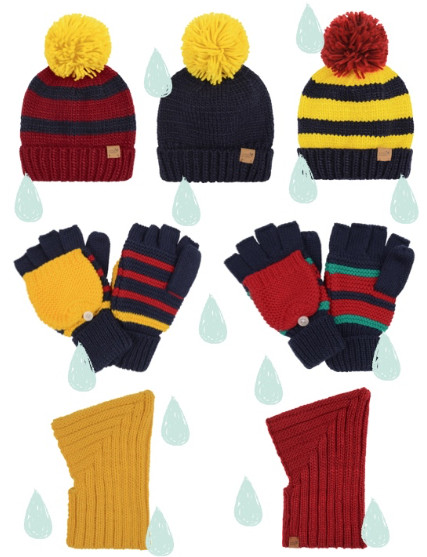 Knitted Bobble Hat – £16 (various colours available)
Knitted Trapper Mittens – £18 (navy red stripe or navy yellow stripe)
Knitted Balaclava – £20 (mustard or yellow)
Keep kids looking stylish while staying toasty warm this winter with gorgeous woolies from Muddy Puddles.
Fun and super warm, the Knitted Bobble Hat is this winters must-have. Made from soft and cosy Icelandic fabric with contrasting pom poms, it's the ultimate winter accessory designed to keep your muddy little ones happy and snuggly.
Don't forget, keep those little hands extra warm and protected with the super cute Knitted Trapper Mittens – with their handy fold over finger warmers, these gorgeous mittens can be worn fingerless on those warmer days!
And, the classic one size fits all, super cosy Knitted Balaclava is perfect for keeping little necks and heads warm in the winter chill.
www.muddypuddles.com
Reese's unveil new Christmas Collection for 2018 and its bigger and better than before
Exclusive Chocolate & Peanut Butter Christmas Collection
Chocoholics will be delighted to know that Reese's is releasing a new range of chocolate and peanut butter goodies in time for Christmas this year, and it's bigger and better than before.
Riding on the sell-out success of 2017, 3 new exciting items have been added to the range and 4 current classics, have been updated and expanded upon leaving shoppers to go nutty for this Christmas.
NEW for 2018
Reese's Half Pound Peanut Butter Cups
Ding, dong merrily on high! Fans of the classic sized Peanut Butter Cups Christmases will come at once this year due to the NEW half-pound Resse's Peanut Butter Cups. Available in a 2 pack, Reese's fans can expect all the great chocolate and peanut butter taste but in a giant portion!
RRP: £6.99
Reese's Lovers 7 Pack Selection Box
A selection pack perfect for Reese's lovers this full-sized bar pack contains Reese's classic Peanut Butter Cups, a Reese's stuffed with Reese's Pieces bar, white and dark chocolate Peanut Butter Cups bars, Reese's Nutbar and Reese's Sticks AND a Reese's Peanut Butter Big Cup.
RRP: £4.99
Current Classics
Reese's Snowman
In need of a perfect stocking filler or secret Santa gift idea? Then give a friend or colleague a Reese's Snowman. 100% filled with Reese's peanut butter, gifting this giant frosty fella (he weighs 141g!) will make you look like one cool dude this Yule.
RRP: £3.50
Reese's Christmas Tree
A great little funsize Christmas Tree shaped treat available in two sizes, so you can fill your little or larger Reese's craving. Enjoy throughout the season when you need a hit of Reese's chocolate and peanut butter deliciousness.
RRP: £60p (34g) and RRP: £1.00 (68g)
Reese's 4 Pack Selection Box
The ultimate stocking filler that's sure to delight adults, kids and existing fans of Reese's alike. With four Peanut Butter Cup bars to choose from – including Reese's classic Peanut Butter Cups, a Reese's stuffed with Reese's Pieces bar, as well as white and dark chocolate Peanut Butter Cups bars.
RRP: £3.50
Reese's awesome Christmas Collection will be hitting the shelves this September and will be available from Tesco, Asda, Morrison's, Sainsbury's and other good high street retailers.
CHRISTMAS GIFTS YULE LOVE TO GIVE
PERSONALISED PRESENTS FOR EVERYONE ON YOUR LIST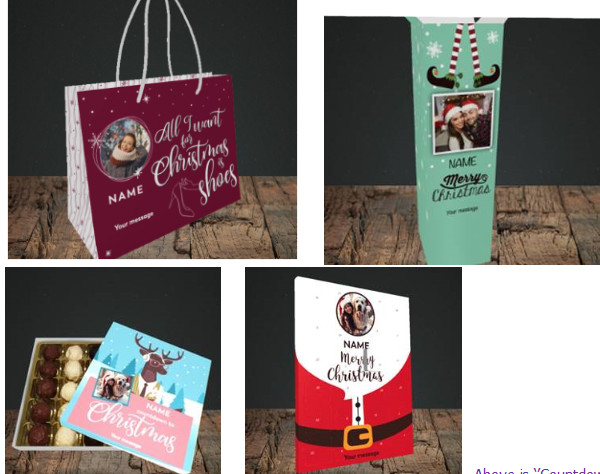 Christmas gifting is about to get a lot more fun! Discover gifts that are guaranteed to make jaws drop and smiles widen! Vanilla Reindeer's vast range of funky personalised presents and packaging are so simple to create, and hilarious to gift.
The boffins at Vanilla Reindeer are using the latest tech so that you can now add your own favourite photos and fun messages to give your gifts a unique Christmas sparkle.
The fabulous selection of personalised packaging is unlike anything you'll see this season! Choose from 5 gift bag sizes in 36 fun designs with festive crackers such as ''You're the stuffing to my turkey'' and ''All I want for Christmas is shoes''. For those wine lovers in your life Vanilla Reindeer also have customisable bottle boxes in 14 festive designs perfect for those silly selfies and mugshots. Bottle boxes give an extra festive twist to alcohol gifts, designed to fit champagne, wine and spirits. Personalised gift bags and bottle boxes start from *£5.99 up to *£8.99.
Pictured on the left is the medium gift bag and bottle box (below).
Above is ''Countdown Christmas'' 25 choc box and ''Santa'' standard advent calendar.
As well as personalised packaging Vanilla Reindeer has a wow-worthy selection of irresistible gifts. Choose from three sizes and styles of stunning chocolate truffle gift boxes, containing Intense Dark, Smooth Milk, White Lemon, Sweet Mandarin, and Dark Mango and Passionfruit. These personalised truffle boxes range from *£11.99 up to *£18.99.
Not forgetting the special grown-ups in your life, Vanilla Reindeer has a selection of alcoholic beverages, including gin, prosecco plus exclusive wine options you won't find on the high street, so skip the queues and order direct from Vanilla Reindeer's website.
What truly is the icing on the cake is how quick and easy creating these personalised gifts really is. Simply choose a fun design, upload your best giggle-worthy photos and voila!
If you weren't feeling festive enough already, it's time to discover the NEW range of personalised Advent Calendars! With 22 fun styles and themes there is something for absolutely everyone. Vanilla Reindeer's Advent Calendars are available from *£11.99 for the Standard option up to *£22.99 for Truffles.
UK based Vanilla Reindeer is the NEW personalisation brand and was launched to offer a wide range of fully personalised products that combines contemporary design flair with the very latest in digital print technology, providing you with a user-friendly, one-stop service that's guaranteed to delight all those special people in your life.
To ease you through the silly season, Vanilla Reindeer provide Royal Mail 1st Class standard delivery, Royal Mail Tracked 24, Royal Mail Special Delivery and Royal Mail Special delivery Saturday, so there's no need for any last gasp Christmas shopping. Don't forget cut-off for Christmas orders is Tuesday 18th December for Standard and Wednesday 19th December for Special Delivery.
*All prices exclude postage.
For more information visit https://www.vanillareindeer.com/
Get ready for the most iconic present of 2018…
A Donald Trump rubber duck!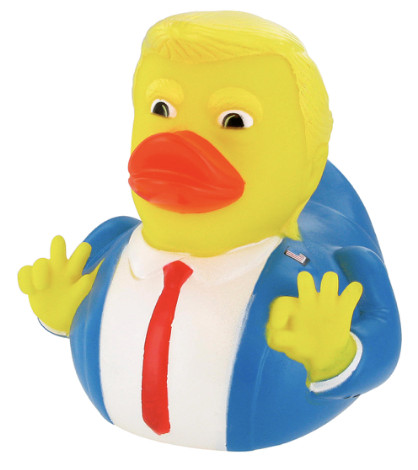 Promises to make bath time great again this Christmas.
Your gift definitely won't be out-trumped!
image.png
Donald Trump Rubber Duck – £5.99
British Museum – britishmuseumshoponline.org – 10% off on Museum Shop Sunday with the code MUSEUM10
Following its huge success last year, which saw hundreds of cultural destinations come together to create a shopping experience with a difference, Museum Shop Sunday will take place again on Sunday 25th November 2018, supported by the Association for Cultural Enterprises (ACE). For more information, see here: https://acenterprises.org.uk/museum-shop-sunday-2018
Visitors can expect to take part in all kinds of activities including demonstrations by local craftspeople, food and drink tastings and creative workshops, alongside many offers and exciting finds!
TRACKER SUPPORTS LAUNCH OF THE RGS DRIVE SAFE PROGRAMME
AS KEY TELEMATICS PARTNER
Helping young drivers boost their knowledge and confidence on the road across the UK
www.TRACKER.co.uk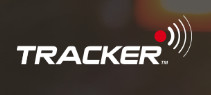 RGS Drive Safe has launched a graduated learning scheme designed to help young drivers build their knowledge and apply it to their driving. TRACKER (part of the Tantalum Corporation) is the chosen telematics partner supporting RGS Drive Safe scheme. As one of the partners, TRACKER joins other brands at the special launch event, which takes place on 28th November 2018 at Ballykinler Army Camp, Northern Ireland.
Safety for younger drivers is crucial as drivers aged 16-19 are a third more likely to die in a crash than drivers aged 40-49, and one in four 18-24 year olds (23%) crash within two years of passing their driving test.[1] RGS Drive Safe will conduct a number of lessons within its driver training centres, which are equipped with full road structure, for safe practicing. Pupils will learn basic skills such as how to control and position a car correctly at junctions, as well as learning how to deal with different types of hazards, especially when driving in a built up area.
RGS Drive Safe Scheme has the support of 10 insurance brokers within Northern Ireland, all part of the Provincewide Group to ensure safer roads for the younger generation, and the scheme is being rolled out across different areas of the UK. RGS Drive Safe has a team of hand-picked instructors, ensuring it delivers quality training in Northern Ireland and the mainland UK.
Sean Brown, Owner of RGS and a former advanced driving instructor of the Northern Ireland Police Service, says, "Over the last two years I have looked at the problems facing many young drivers who attend our driver correctional training course. Most of their problems stem from a poor level of instruction during their learning period, with many not even being able to read a road ahead. As a result, I am launching our graduated learning scheme, Drive Safe.
"We aim to target pupils who are around six months away from their 17th birthday. This way, once they have completed their Drive Safe training, they will be ready to start out more confidently on the open roads with their instructors."
Once pupils have passed their tests, RGS will offer them a number of great deals on different services from participating partners. TRACKER is the chosen provider for telematics for the RGS Drive Safe Scheme, not only helping to reduce insurance premiums, but also providing telematics information such as a driving performance score, helping young drivers focus on improving their driving behaviour.
Greig Hilton, Managing Director of TRACKER, comments, "We are delighted to be a key partner for the RGS Drive Safe scheme. Our telematics solution will help young drivers build on the strong foundations delivered by the scheme. With accurate data on their driving behaviour, young motorists will be able to make positive changes to the way they drive, keeping them safer and helping reduce their insurance premiums. Drive Safe is an important scheme that brings together, the insurance and the motor industry to help create a generation of safer drivers."
Provincewide Ltd, Northern Ireland's largest Independent Insurance Broker Association, is the exclusive insurance partner supporting the RGS Drive Safe scheme. Paul Matthews, one of the Directors of Provincewide, comments "The Provincewide brokers are delighted to be involved with RGS Drive Safe, improving road safety, reducing accidents and driving down motor insurance costs within Northern Ireland."
[1] BRAKE: http://www.brake.org.uk/slower-speeds-save-lives/15-facts-a-resources/facts/488-young-drivers-the-hard-facts
The Ultimate Secret Santa Is Here – Turn The Temperature Up This Christmas With The Dreamboys 2019 Calendar!

The UK's most successful male strip group, The Dreamboys are back with their 2019 calendar, the perfect gift to get pulses racing this season.
Renowned for their atmospheric shows bringing together high energy dance routines, challenging choreography, incredibly toned physiques and larger-than-life personalities, it's no surprise The Dreamboys have stolen the hearts of millions of fans worldwide.
The 2019 calendar featuring Dreamboys favourites like Ex On The Beach's Rogan O'Connor, TV star Jake Quickenden and Choreographer Jordan Darrell is the ULTIMATE gift for fans of the group, with every month bound to get you hot under the collar, no matter what the weather.
Want to tease your work colleagues with the cheekiest Secret Santa around? The 2019 calendar filled with muscles and cheeky charm is the perfect present for your office bestie.
£12.99 from https://shop.dreamboys.co.uk/dreamboys-2019-calendar.html
Rooftop Moulin Rogue inspired WigWam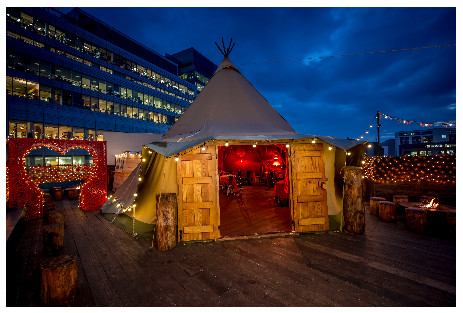 The amazing Giles Abott, The UK's only professional blind storyteller will be joining us in the red velvet drapped WigWam on Sunday 2nd December for a night of seductive storytelling. With cheese, wine and hot cocktails on offer its the perfect Winter date night
Sign up for free tickets here https://queen-of-hoxton.eventcube.io/events/15151/storytelling-on-the-rooftop
"Moulin Bleu"
It's the early 20th Century, it's Paris, Surrealism is all the rage and the wildest nightspot in town is the Moulin Bleu – quite the avant garde!. The host is fabulously wealthy, the guests are beautiful, decadent and liberated. The music is wild, the clothes are to die for, the champagne and absinthe seem to gush from springs and the host (who is fabulously wealthy) is gloriously stylish – do you know, he even has a blue beard?!
Now, is this the sort of person you'd like to take an interest in your daughter? Because he is interested….
If you're interested to hear more come to the Queen Of Hoxton, a stylish, dazzlingly decorated night spot in Central London and hear master storyteller Giles Abbott tell you the story of the Moulin Bleu.
Tickets – free!
Premiership rugby club scoops national Dementia Friendly Award
A leading rugby union club has won an Alzheimer's Society Dementia Friendly Award in recognition of their efforts to tackle dementia.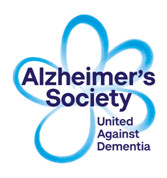 Worcester Warriors were celebrating success at a prestigious awards ceremony that took place in London on Thursday 22 November, hosted by Alzheimer's Society Ambassador Angela Rippon.
The Gallagher Premiership outfit was named 'Dementia Friendly Organisation of the Year – Small & Medium' for their pioneering efforts to ensure people affected by dementia remain active members of their community – and continue to enjoy the delights of rugby after a diagnosis.
The accolade recognises a range of ground-breaking dementia initiatives introduced at the Warriors' Sixways home. These include a Tackling Dementia Sports Café, a safe place on matchdays for vulnerable people to watch the side in action and Warriors Disability and Inclusion Lead Simon Northcott's appointment as the club's first Dementia Friends Champion.
First team star Darren Barry has become the Warriors' ambassador for Tackling Dementia and is one of 130 people at the club who have signed up to the Dementia Friends awareness programme alongside staff and young Warriors ambassadors.
Commenting on the award, Simon said: "We're absolutely amazed to have won but I really should dedicate our award to rugby fans who are affected by dementia. We're so proud and this is great recognition for everybody that we work with, both within in the club and externally.
"But more importantly it's great for all the people who are living with dementia that turn up every week, because without them we wouldn't be doing what we are doing so I want to say thanks to those guys.
"It's massively significant for us to include people within the community that have developed dementia because these guys have all got brilliant back stories and rugby is one of them."
There are 850,000 people living with dementia in the UK – a number set to rise to 1 million by 2021. Someone develops the condition every three minutes – but too many are facing it alone without adequate support. People with dementia have the right to live the life they want and continue to do the things they enjoy like watching rugby – but often they don't feel included in their communities and face isolation.
This Alzheimer's Society's 2018 Dementia Friendly Awards aim to address this issue by recognising, celebrating and promoting the inspirational achievements of those uniting to make a real difference to people living with dementia by ensuring they feel included and involved in their community.
Alzheimer's Society Chief Executive Jeremy Hughes paid tribute to the Midlands club. He said:
"This year's Awards celebrate individuals, organisations and communities which form part of a dementia movement that will transform the lives of people with dementia forever – by challenging misunderstandings, changing attitudes and inspiring action.
"There are already more than 2.7 million Alzheimer's Society Dementia Friends and over 400 Dementia Friendly Communities changing the way people think, talk and act about dementia so people affected feel included in their community.
"The Warriors' success is testament to their tremendous dementia-friendly work and demonstrates how all of society can unite against dementia. Their sterling efforts to help people with dementia remain active members of their community just go to show Worcester Warriors are a class act on and off the field of play."
Commenting on the Awards, Caroline Dinenage, Minister for Care, who attended the ceremony, said: "All the finalists in this year's Alzheimer's Society Dementia Friendly Awards are doing their bit to improve the lives of people with dementia – from whole communities to inspiring young people and others who truly embody the principles of a Dementia Champion.
"I was hugely impressed by everyone's creativity and resolve in ensuring people with dementia are not left behind and remain valued members of our communities.
"They set an inspiring example for us all and remind me that we cannot meet this Government's ambition to make this the best country in the world to live with dementia without people like them."
Winners celebrating alongside the Warriors were: Handmade for Dementia (Trailblazer); Wolverhampton Dementia Action Alliance (Dementia Friendly Community – City or county); Blaby District Dementia Action Alliance (Dementia Friendly Community – Rural area, Village or Town); Oasis Academy, Isle of Sheppey, (Youth Organisation); Daisy Coles (Inspiring Young Person); Sarah Williams-Martin (Dementia Friends Champion); Touchstone BME Dementia Service (Championing Diversity Award); Welsh Ambulance Services NHS Trust (Dementia Friendly Organisation – Large); Charlie Phillips (Outstanding Contribution). More details can be found at alzheimers.org.uk/dementiafriendlyawards.