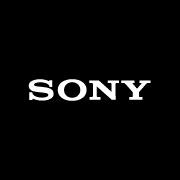 Spread the festive feeling with a gift from Sony
Treat your nearest and dearest to the latest gadgets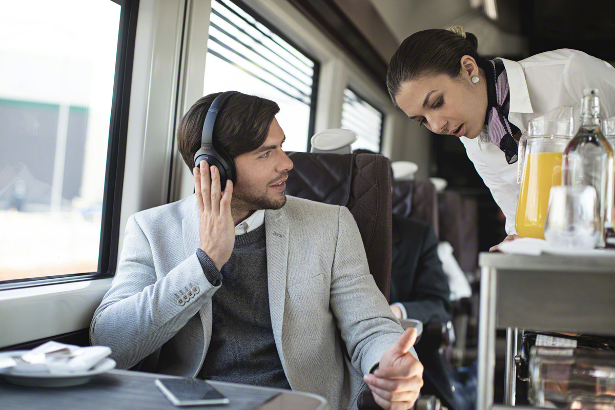 PINTEREST | TWITTER | YOUTUBE | GOOGLE+ | FACEBOOK
The tree is up, the food is prepared and the stockings are waiting to be filled.
Christmas is just around the corner and it's time to draw up a wish list for Santa Claus. This festive season, Sony has an amazing range of gifts for family and friends.
Enjoy Christmas ballads with the latest noise cancelling headphones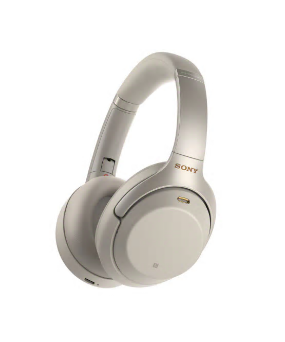 Treat your loved ones this Christmas with a pair of headphones from Sony's 1000X range. Perfect for those who want to turn up the Christmas tunes and block out the noise around them, the 1000X series boasts industry leading noise-cancelling performance and are available in a range of styles. The latest addition is the award winning over-ear WH-1000XM3 headphones that feature a newly developed HD Noise Cancelling Processor QN1, which offers exceptional performance and can cancel out background sound such as street noise and human voices. Perfect for anyone flying home for Christmas, with 'Quick Attention' mode you can order a round of gins from the air steward just by placing the palm of your hand on the outside of the headphone to place the order without taking them off. For those after something a little more discreet the WF-1000X model is a comfortable truly wireless headphone, in a minimal design and has Atmospheric Pressure Optimising, a feature that analyses the atmospheric pressure of your surroundings and then optimises your headphones' noise cancelling performance, also perfect for when jet setting off for Christmas.
Take the festive party anywhere with EXTRA BASS speakers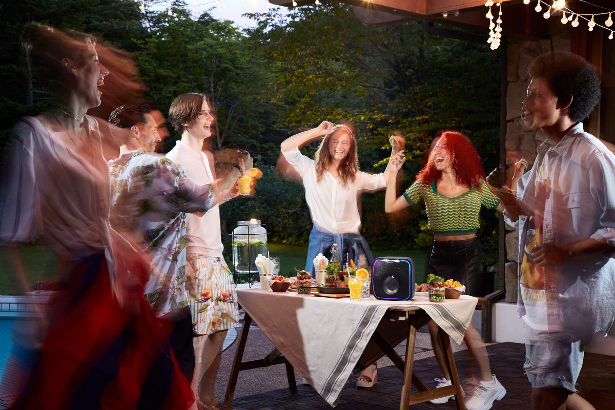 Take the party with you with the SRS-XB501G EXTRA BASS wireless speaker.
Whether you're staying at home this Christmas or heading to sunnier climes, this Bluetooth speaker is light and portable so can be taken with you to any Christmas party. The LIVE SOUND mode allows you to experience your favourite Christmas hits as if you were seeing the artists live, built-in Google Assistant makes it easier than ever to switch up your soundtrack and Chromecast allows you to sync up multiple speakers, creating an immense sound experience that's sure to get everyone in the festive spirit. With powerful sound and multi-coloured line lights, you will be able to bring the party with you, wherever you go this Christmas holiday.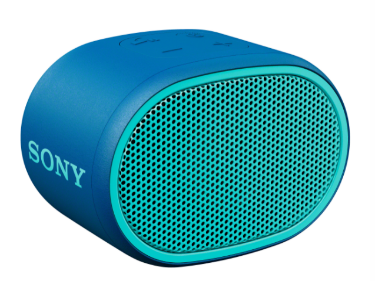 For those looking for a stocking filler that delivers big sound in a compact body, the SRS-XB01 speaker is the perfect gift. The compact speaker, with water-resistant design, is ideal for anyone who wants to take festive tunes with them wherever they go. With EXTRA BASS sound and available in a range of bold colours including red, yellow, green and blue as well as white and black, the speaker is a fun and affordable gift for any music lover.
In-ear headphones, the perfect stocking filler for fitness fans
Sony's new WF-SP900 headphones are the perfect gift for sporty friends, and with January right around the corner, these headphones will give you the motivation you need to get moving after Christmas. With IPX5/8 rating, the earbuds allow you can swim in the pool or the sea up to 2m depth. The WF-SP900 headphones also feature 4GB of internal memory, so are able to play music with no device needed- there really is no excuse to skip your new year workout!
Bring a splash of colour to Christmas with these bright and colourful headphones
For fashion-conscious friends, the WH-H900N wireless headphones are the perfect pick this Christmas. These Bluetooth headphones come in a range of festive colours, including Twilight Red, Pale Gold and Horizon Green, and are great for matching to outfits and accessories. Boasting an impressive battery life of up to 28 hours, they are a must-have for anyone who likes to listen to music in style, whilst on the move.
Capture every moment of your festive holiday adventure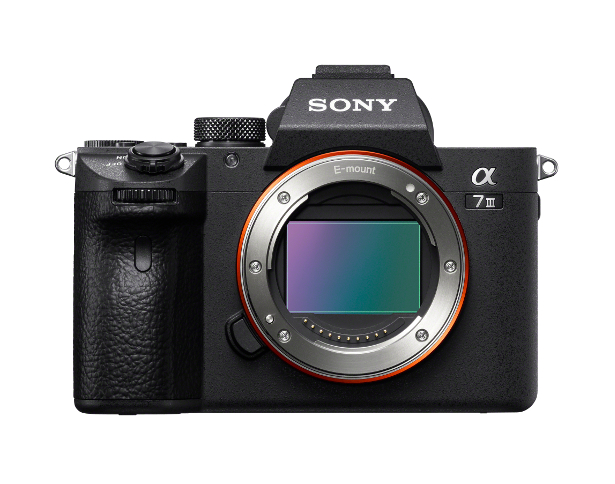 Whether travelling to see family or jetting off into the winter sun – the new DSC-HX99 and DSC-HX95 are the ideal cameras for you. Designed to be taken on adventures, both models fit easily into a pocket or purse but offer high zoom capabilities ranging from 24mm at the wide end up to 720mm super-telephoto. This allows you to capture your experiences from a range of perspectives and distances, with great image quality guaranteed. Also offering internal 4K movie recording, a tiltable LCD screen and high-speed continuous shooting at up to 10 fps with a buffer limit of up to 155 images, these cameras are a sure to be a Christmas hit.
Never miss a moment this festive season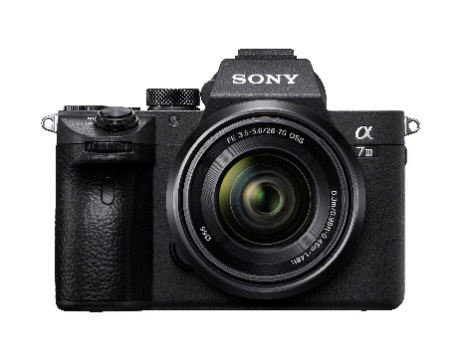 Spoil your loved ones this Christmas with the ultimate all-round full-frame camera, the α7 III. This interchangeable lens mirrorless camera offers continuous shooting at up to 10 fps, a 24.2MP back-illuminated Exmor R™ CMOS image sensor and wide ISO range of 100 – 51,200. Silent shooting and Eye-Autofocus means you can capture the joy, love and laughter of those around you without disturbing the celebrations, making it the go-to camera for preserving Christmas memories for years to come.
Take the ultimate Christmas family photo with an advanced lens
Make a big impression by pairing the α7 III with the SEL2470GM for the perfect festive portrait or snapshots of your Christmas family gathering. Excellent for everyday shooting or event photography, the standard zoom G Master lens features some of the most advanced lens technologies on the market today. The standard zoom lens is dust and moisture resistant and boasts 9-bladed aperture for beautiful background defocus and Nano AR coating to prevent flare and ghosting.
Enjoy your favourite festive entertainment in 4K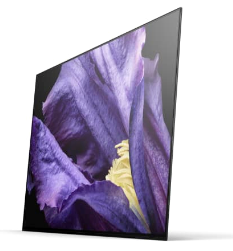 Impress the entire family this year, with either of Sony's latest TV triumphs, the magnificent Sony BRAVIA OLED AF9 or the stunning Sony BRAVIA LCD ZF9. which sit at the top of Sony's TV range known as the MASTER Series. Available in 55" and 65" screen sizes, classic Christmas films on the AF9 will glisten and glimmer in 4K HDR picture quality, producing deep blacks, stunning whites and rich, realistic colour. Breath-taking sound will come directly from the TV screen, all thanks to Sony's innovative Acoustic Surface Audio+™. By removing its need for speakers, the attractive One Slate concept design ensures family and friends focus solely on the picture. The wonderful ZF9 is another jaw-dropping slice of Sony's sleek design credentials and technology abilities. Available in screen sizes 65" and 75", this fabulous model offers 4K HDR picture quality and comes equipped with X-Motion Clarity for class-leading blur-free motion. Both models come equipped with the newly developed X1 Ultimate Picture and are based on Android TV™, and by using the Google Assistant all you need to do is simply ask your TV what you want to find, letting you explore a world of movies, music, photos, games, search, apps and more.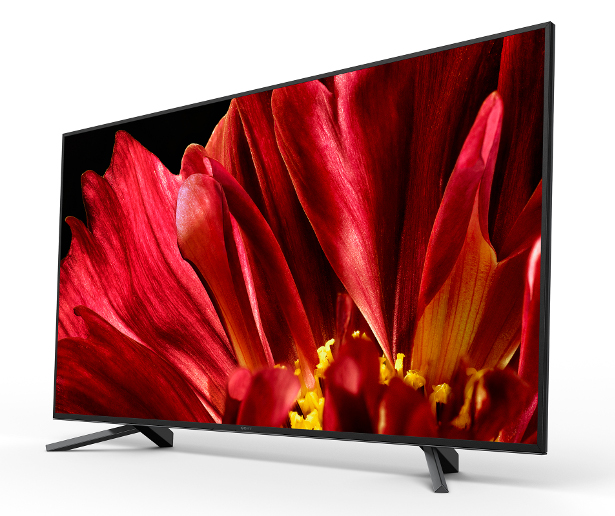 Treat the family to an at-home cinema experience this Christmas Day
Rival the cinema experience with Sony's HT-ZF9 soundbar at home! Bring the fantastic sound of the movies to your living room this festive season with the world's first Dolby Atmos soundbar with virtual surround sound. Producing three-dimensional sound, courtesy of Sony's new Vertical Surround Engine, you'll be able to delight in all your Christmas favourites. And with Dolby Atmos and DTS:X™ technology on board, the soundbar is qualified to totally excite viewers in the thrills and chills from all around the living room.
From incredible audio to sleek design, with this stunning soundbar
For those with smaller living spaces who don't want to compromise on sound quality, the Sony HT-SF200 compact soundbar is the ideal gift this Christmas. With deep bass and a wide surround sound field from a built-in subwoofer, audio is improved dramatically thanks to S-Force PRO Front Surround technology. Merrymakers can belt out hit Christmas songs with friends or create a feeling of cinematic ambience whilst entertaining this year, and all fitting neatly into any living space or style.
Replay old favourites with stunning picture quality
Complement your Blu-ray collection with Sony's nifty UBP-X700 4K Ultra HD Blu-ray Player. With support for HDR formats: HDR10 and Dolby Vision™, this Blu-ray player delivers seamless picture quality with a wider range of colour, contrast and brightness, offering you access to a world of 4K streaming services at this harmonious time of year.
Customise your look this party season at the touch of a button
The perfect gift for those who like to stand out from the crowd, the new FES Watch U, powered by Sony stylishly combines technology and fashion to allow users to customise their watch to their outfit. Using advanced e-Paper technology, fashion-lovers can upload designs and photographs to both the watch face and strap at the touch of a button, using the FES Closet app. Available in both sleek silver and carbon black, switching up your watch design to suit your style and personality for party season has never been simpler.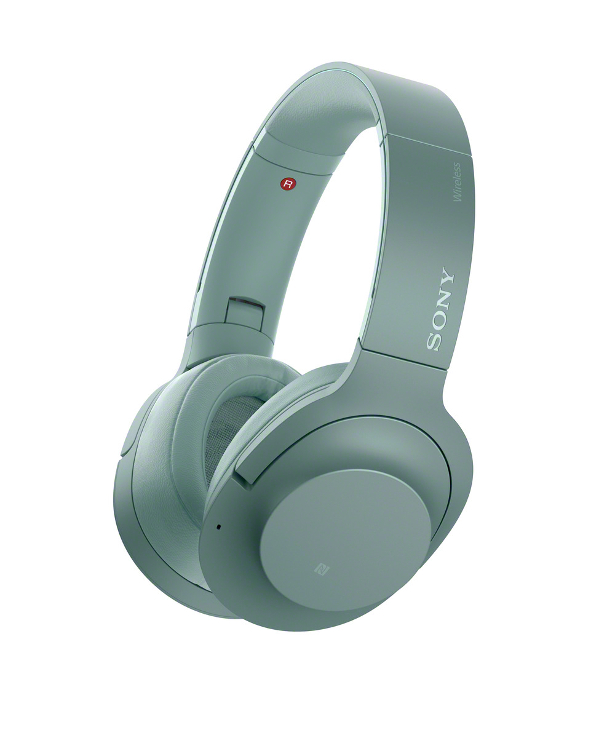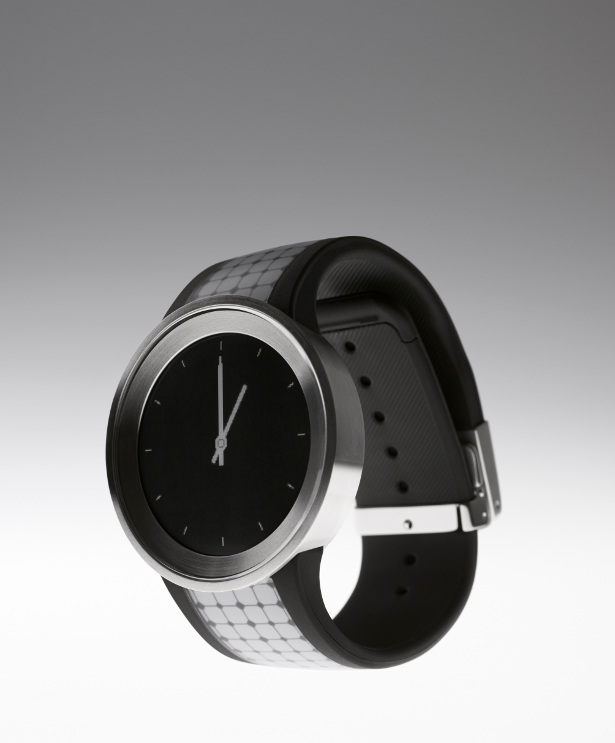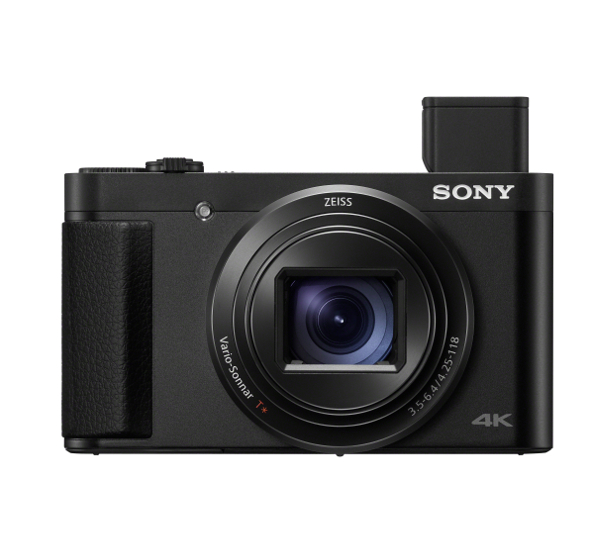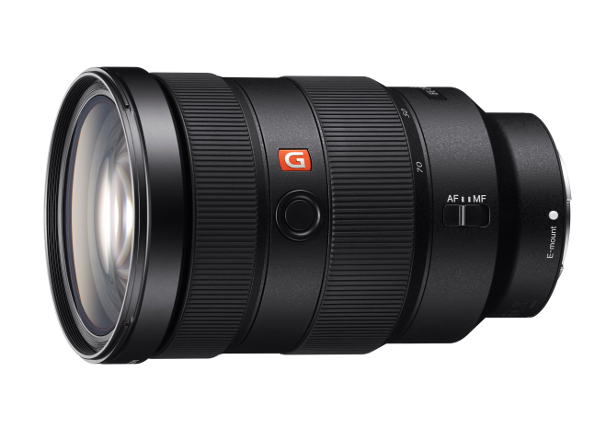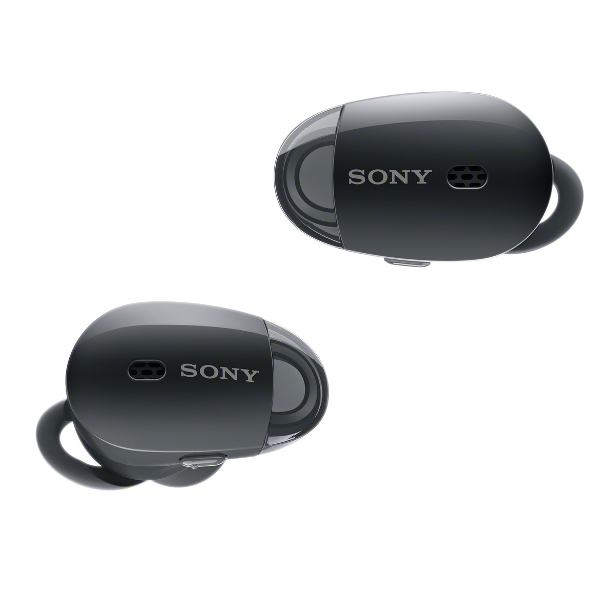 Workaholics Wish List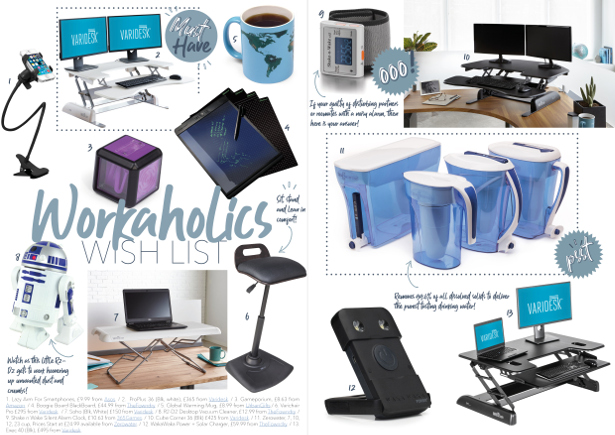 1. Lazy Arm For Smartphones, £9.99 from ASOS.
Here to give you a helping hand in the office, this funky and functionally flexible Smartphone holder can be clipped onto your desktop. Perfect for making hands free calls, video messages and sending emails, the list goes on.
2. Pro Plus 36, £365.00 from Varidesk.
Take your work space to the next level with the Pro Plus sit standing desk. This two tiered design is ideal for dual monitor setup's allowing the separation of your laptop and monitors from your keyboard, mouse and other accessories. Using a spring loaded boost with 11 different height settings, no assembly or installation is required. Your Pro Plus sits comfortably on top of your current desktop, it couldn't be easier!
3. Gameporium, £8.63 from Amazon.
Fidget until your heart's content with the Gameporium, perfect for anyone who can't keep their hands still in the office. Jam packed with multiple games of balance, tilt, gravity defiance and mazes, it's miniature size makes it small enough to fit in your pocket and keep you busy when feeling stressed, bored or anxious.
4. Boogie Board Blackboard, £44.99 from TheFowndry.
Write, sketch, plan and design all at your fingertips with the Boogie Board Blackboard, the inkless pen with paperless paper featuring Liquid Crystal Paper. Write on anything from lines, grids, photographs or digital screens, ideal for designers and copywriters it's just like writing on the real thing but without the excessive reams of paper.
5. Global Warming Mug, £8.99 from UrbanGifts.
Continue to spread the global warming message during your tea break with this rather topical Global Warming Mug. Depicting a physical map of the world with space for 300ml of your favourite brew. Combining heat-sensitive technology and satellite imagery, as the water levels rise watch as parts of the map begin to blot out, revealing the potential effects of global warming on the earth.
6. Varichair Pro, £295.00 from Varidesk.
Designed to engage your leg, back and core muscles, the Varichair Pro combines a bent plywood base and wide cushioned seat for added comfort. Giving you the freedom to move throughout your day, letting you stay active even while sitting or leaning at your desk. It's the easy-to-use way to get more flexibility from your workday.
7. Soho, £150.00 from Varidesk.
The Soho compact standing desk solution lets you reep the benefits of a height-adjustable desk in the tightest of office spaces. Designed for those who work exclusively on a laptop, tablet or have limited workspace, here provides the solution with the same sturdy, height-adjustable design.
8. R2-D2 Desktop Vacuum Cleaner, £12.99 from TheFowndry.
Nobody likes a messy work station, the force is certainly strong with that one! This R2-D2 miniature pootles its way around your workspace hoovering up dust, crumbs and stray hairs as you go. A great office toy and handy to keep the dark forces of grubbiness at bay.
9. Shake N Wake Silent Alarm Clock, £13.03 from 365Games.
If you know someone guilty of waking up the whole house with those disruptive morning alarms then this wearable silent alarm clock is sure to be the answer. Strap it to your wrist or place it under your pillow and it'll shake and vibrate to wake you up, meanwhile the backlit LED display guarantees that it's easy to check the time even in the dark.
10. Cube Corner 36, £425.00 from Varidesk.
It's time to revert from the mundane day to day life behind your desk, and give the gift that shows you care. The perfect fit for most standard sized cubicle systems or modular spaces, the Cube Corner offers generous wide working space allowing you to work while sitting or standing at your desk.
11. Zerowater (7, 10, 12, 23 cup), from £24.99 from ZeroWater.
Stay hydrated throughout the day with the Zero Water Filtration Jug. As the only water filter that delivers the equivalent to purified bottled water in your own space. Developed with a pour-through system that aims to deliver the best filtration possible with it's premium five-stage ion exchange technology, this filter removes virtually all total dissolved solids (TDS).
12. WakaWaka Power + Solar Charger, £59.99 from TheFowndry.
For all those desktop gadgets, power up with the WakaWaka Power + Solar Charger. The small, lightweight portable power supply and LED torch with built-in solar panel to occupy one full side of the device. The two gasketed USB ports – one micro and the other full-size is an added bonus to charge your smartphone, camera and other devices ensuring your all juiced up!
13. Exec 40, £495.00 from Varidesk.
It's out with the stagnant way of working, and time to swap it for a new wave of thinking that both the body and mind will thank you for with the Exec 40! Perfectly suited for those taller users accommodating people 6'1" and taller, the two-tiered design gives you a spacious upper display area for your laptop, monitor, or even dual-monitor setup, while the lower slide out tray has plenty of room for a full-sized keyboard, mouse and much more.
Big Yellow Self Storage backs Cambridge University RUFC
for third successive season
Support from the UK's favourite self-storage provider will go towards helping The Blues achieve their season aim of beating old rivals Oxford
Big Yellow Self Storage is proud to announce it has extended its sponsorship of Cambridge University Rugby Union Football Club (CURUFC) for a third consecutive season. As the main title sponsor of CURUFC, Big Yellow will provide support and financial backing for the 2018/2019 season, which kicked off last month with notable wins against Loughborough and Welsh Academicals.
Donations from Big Yellow, who operate a network of 96 storage facilities across the UK including a site in Cambridge behind Homebase off Newmarket Road, will help towards the further development and running of CURUFC's coaching programmes – in particular the employment of dedicated strength and conditioning coaches.
Commenting on the announcement, Big Yellow CEO and Co-Founder James Gibson says: "As a company Big Yellow prides itself on providing help and support to the many customers we cater for each day. This ethos extends out to the wider community around us and we're pleased to offer backing to a wide range of charities and local initiatives, including sporting
programmes such as Cambridge University RUFC. It goes without saying we're all huge rugby fans at Big Yellow and we're looking forward to cheering on CURUFC for the forthcoming season and sharing in their continued success."
As one of the founding members of the Rugby Football Union in 1871/72, CURUFC has seen significant success over the years, and boasts the accolade of having more internationally capped players wear its famous light blue jersey than for any other club.
The development of specialist strength and conditioning coaches, which wouldn't have been possible without Big Yellow's sponsorship, has already born fruit for CURUFC in the form of a double victory at Twickenham over arch rivals Oxford in the Varsity match last year.
With Big Yellow's continued support, CURUFC hopes to repeat the success of last year by beating Oxford at the annual meeting on 6th December this year, especially in the Women's fixture as they celebrate the 30th anniversary of the Women's first Varsity Match in 1988.
Commenting on the sponsorship, Jeremy Macklin, in charge of fundraising at Cambridge University RUFC, says: "We are absolutely delighted to be supported once again by Big Yellow Self Storage. They have been our partners for three consecutive years, and thanks to their help we have been able to improve radically the strength and conditioning programmes across both the Women's and the Men's sections of the club.
"The support Big Yellow provide has been unwavering over the past two seasons and we've seen dramatic improvements year on year, in terms of players' acceleration, endurance and brute strength. The intensity of the Varsity match surprises even hardened professional rugby players, but with Big Yellow's support we know we already have an advantage over the old enemy."
Add a Scandi wheel of wonder to your Christmas table with Leksands crispbreads

Shelve your standard sized crackers and bring out the big guns with Leksands crispbreads. These Great Taste award-winning 30cm wheels are guaranteed to add a snap of drama to your cracking spread this Christmas and transport your table to a Scandinavian tasting sensation.
Leksands Christmas Crispbreads take their traditional, family rye and wheat recipe and add a festive kick. The addition of warming spices such as aniseed, fennel and coriander make this crispbread full of unmistakable yuletide essence. Pile on your favourite cheeses from across the globe and impress your friends with an insta-worthy edible base to their post-supper snack.
Up the luxe this winter and bring out the Leksands Mountain Sourdough crispbreads. Served in Michelin starred restaurants, this crisper and thinner crispbread is perfect for special occasions. Baked using sourdough with malt and linseed it has a deeply satisfying bite. Once you tear open the luxurious packaging and set it down you're bound to keep going back for more and more.
Leksands have been making their crispbreads in Sweden for eight generations, over 100 years, all using family recipes, sourcing rye and wheat flour from within 100km of the bakery and using their own spring for water. They're an excellent source of fibre and have a low GI with just 38cals per serving. So, add a little Scandi snap to your cheeseboards and Christmas tables with delicious Leksands crispbreads.
The Leksands range of gourmet crispbreads is exclusively distributed in the UK and ROI by Scandinavian Kitchen Ltd, UK's leading distributor of Scandinavian foods.

GET YOUR PARTY FACES ON THIS CHRISTMAS!! www.mask-arade.com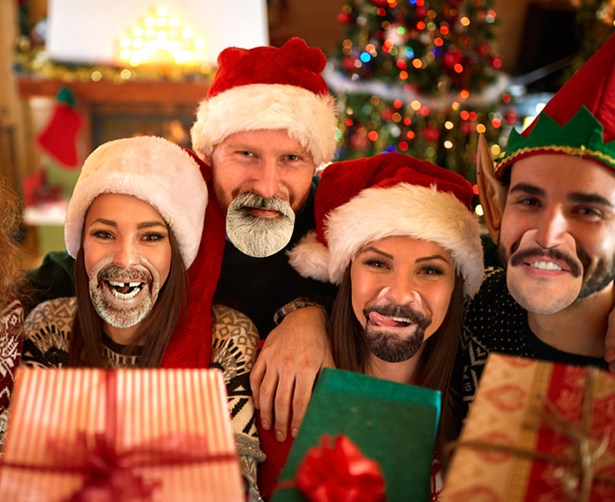 INSTAGRAM | FLICKR | GOOGLE+ | TWITTER | FACEBOOK
GET YOUR PARTY FACES ON THIS CHRISTMAS!
These brand new Party Faces make any party into a funny faced giggle fest! Each pack (RRP £4.95), comes with at least 10 hilarious designs made from comfortable card that slip cleverly onto your face and will leave you in hysterics! Simply slip on a pair of Bugalugs, Goggle Eyes or Chinless Wonders for an unforgettable party experience!
Pop on a pair of the big eared Bugalugs and fall about laughing! There are two packs to choose from which are filled with ears from scary ogres to magical elves, furry puppy dogs and hipsters with giant piercings! Bring these along to your next party and share with your friends for the funniest pictures.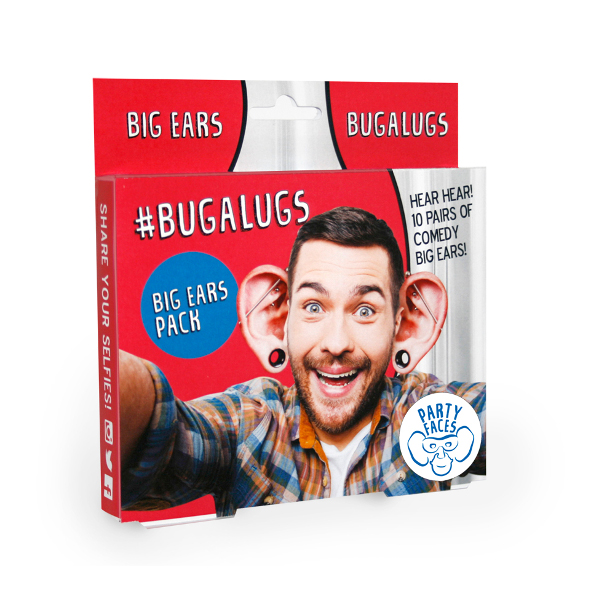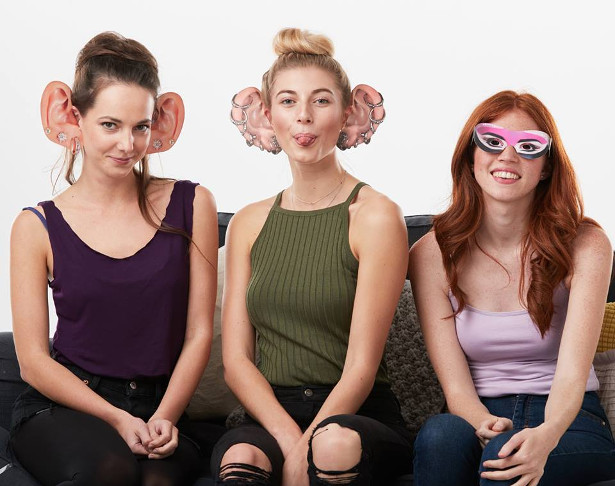 Goggle Eyes are a sight for sore eyes! For those wanting a macho look, the Guys Pack is ideal as it's filled with bushy brows and manly stares. The Baby Face pack is perfect for those wanting to reclaim their youth and you can prepare to freak out and get weird with the Freaky Pack! Find your inner flamboyant flair inside the Carnival Pack and become a total Goddess with the Glamour Pack.
The hilarious face-changing Chinless Wonders are the perfect party props! Contort those chins and create ridiculous expressions with the Pull a Face Pack! Want to know what your Grandma looks like with a nose ring or a funky goatee?? Then the Hipster and Beardy Packs are the answer! The Gobfull Pack contains mouths filled with sweets, gold teeth and cheeky tongues, and sass queens will go nuts for the Colourful Pack with every lipstick imaginable! Try all the Chinless Wonders and share the photos with your friends!
Challenge your friends for the funniest selfies and share on social media using the #getyourpartyfaceson hashtag!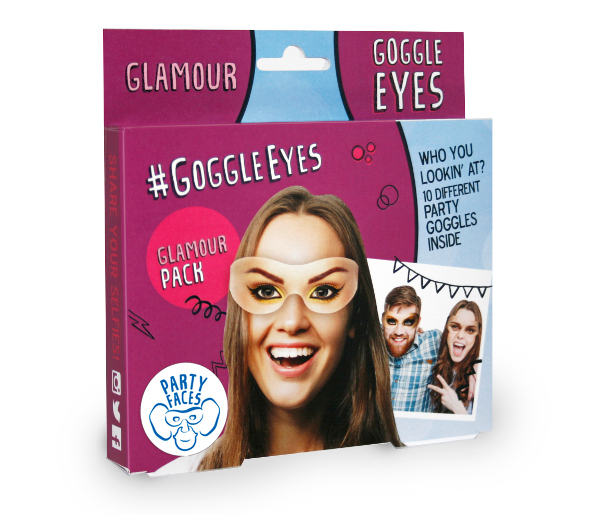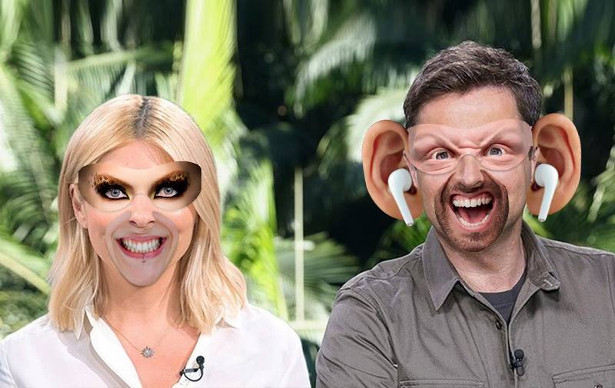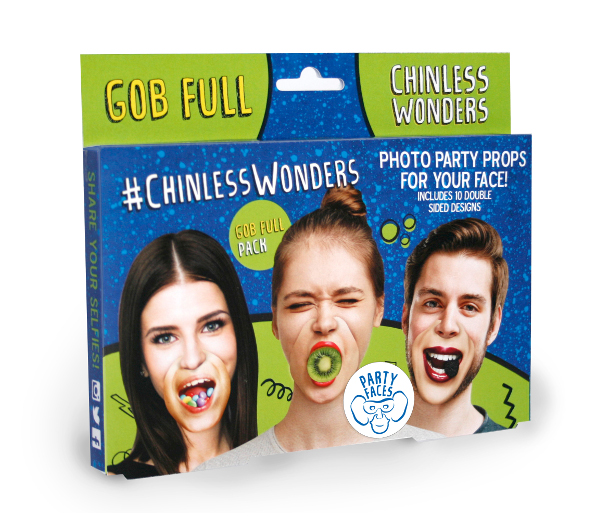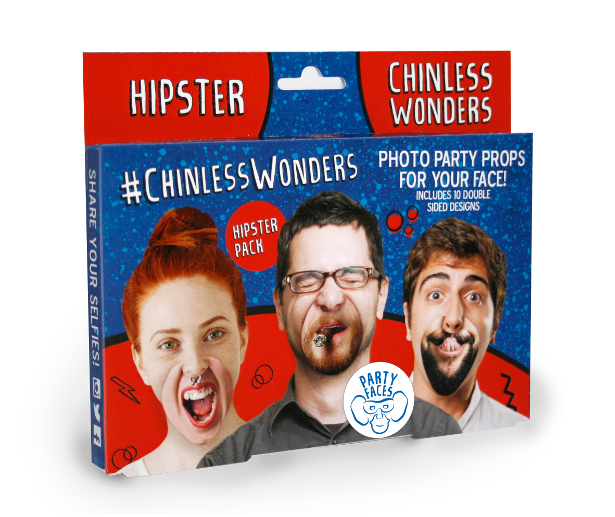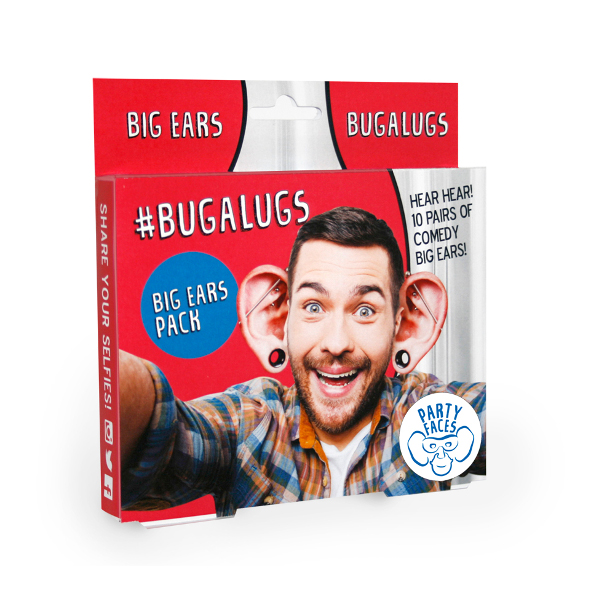 Create a classic country Christmas look, add modern and elegant sparkle or introduce fun festive touches with the new 2018 Christmas trends, exclusive to Tesco. www.tesco.com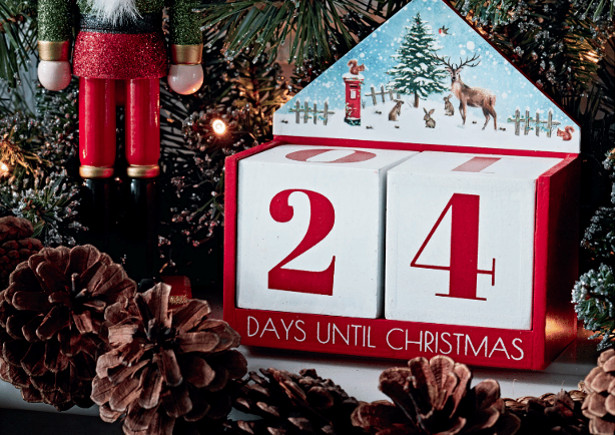 FACEBOOK | TWITTER | YOUUTBE | PINTEREST | INSTAGRAM
Create a classic country Christmas look, add modern and elegant sparkle or introduce fun festive touches with the new 2018 Christmas trends, exclusive to Tesco.Get your home ready for Christmas and create your perfect festive look with the stylishChristmas trends from Tesco: Christmas in the Cotswolds, Iced Metallics and Make it Merry.From the hand-drawn motifs inspired by the countryside within the Christmas in the Cotswolds trend, to the sophisticated style and glitter textures of Iced Metallics or playful characters and designs offered by Make it Merry, Tesco has something for all tastes this festive season.
Christmas in the Cotswolds. Bring the charm of the English countryside inside with the Christmas in the Cotswolds collection. Touches of glass, felt, hessian and wood offer a mixture of seasonal textures to update and add cosy, festive style to your living space. With classic hues of red, green and gold, and intricate designs featuring hand-drawn motifs of cottages, birds and snow laden landscapes, Christmas in the Cotswolds achieves a timeless festive look to add to year-on-year with over 60 Christmas pieces in the range.
Glass Postbox Hanging Decoration, £4.00 and Glass Telephone Box Hanging Decoration, £4.00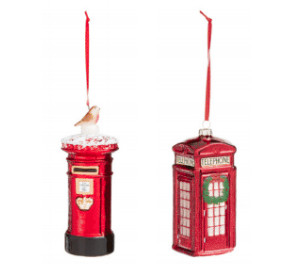 An elegant glass postbox bauble topped with snow, featuring a perching robin and finished with painted metallic detailing, this decoration brings a quintessentially British touch to any Christmas tree. Pair it with the matching Glass Telephone Box decoration to create a classic look with hues of festive red.
Christmas Mouse Hanging Decoration, £3.50 and Robin Decoration (2 pack), £2.50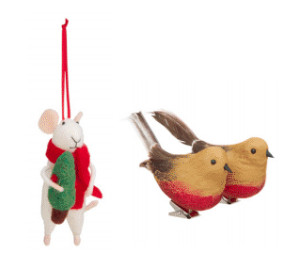 This charming woollen woodland-inspired mouse decoration comes clutching a small Christmas tree and features a delicately stitched smile and red felt scarf. Pair the Christmas Mouse Hanging Decoration with other miniature woodland animals from the collection, such as the Christmas Robin Decoration, to bring a touch of countryside character to your Christmas tree.
Red Berry Wreath, £10.00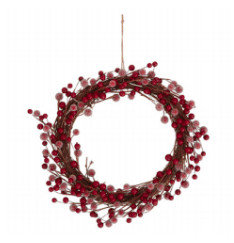 Create a rustic country-inspired style statement with this Red Berry Wreath. A classic circular shape of intertwined branches abundant with frosted winter berries, this statement piece can be displayed either outside your home to offer your guests a warm welcome or hung above your mantelpiece to achieve a cosy festive look.
Glitter Christmas Pudding Decoration (3 pack), £2.00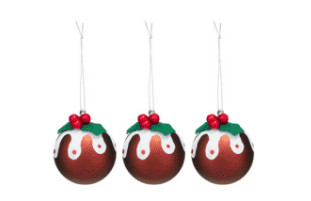 Add a fun, festive touch to your Christmas tree with The Glitter Christmas Pudding Decorations. The baubles, which look like miniature Christmas puddings and are sold as a pack of three, feature a traditional felt holly and red berry topping with a sparkling glitter finish.
Christmas Cottage Card (10 Pack), £2.50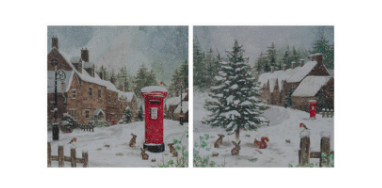 Deliver your season's greetings in these Cotswolds-inspired Christmas cards, available exclusively at Tesco. Each pack of ten cards features glitter-finished illustrations of a snowy Cotswolds village scene, complete with Christmas robins, woodland creatures and a quintessentially British postbox.
Iced Metallics Create a sophisticated seasonal look this Christmas with the Iced Metallics trend from Tesco. Featuring an array of iridescent glitter-finished pieces in a colour palette of bright white, silver and champagne gold hues, this trend is perfect for those looking to introduce modern glamour to their homes this season.
Iced Metallics Wooden Advent Calendar, £15.00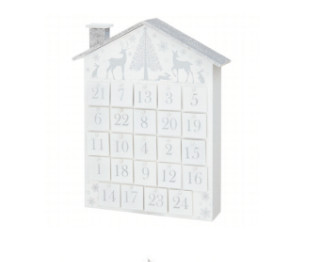 This Iced Metallics Wooden Advent Calendar boasts 24 small drawers which can be filled with daily surprises for the lead up to Christmas Day. Shaped like a small house and featuring hand-decorated sparkling glitter festive illustrations, this sophistacted alternative to a disposable advent calendar can be used for years to come.
Glitter Unicorn Hanging Decoration, £1.50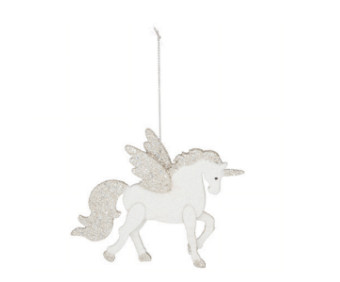 Make a statement with this on-trend glitter unicorn hanging decoration,which is crafted from wood and embellished with a dusting of shimmeringchampagne glitter. Paired with hues of gold and silver, this enchanting hanging ornament helps to create a modern seasonal look.
Faux Fur Stocking, £8.00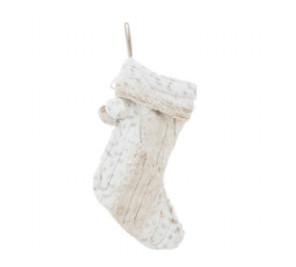 This luxuriously soft stocking is made from faux fur and is completed with a pair of pom-poms. Big enough to fill with several seasonal treats, hang it on your mantelpiece for a stylish alternative to the traditional Christmas stocking.
Glittered Stag Room Decoration, £5.00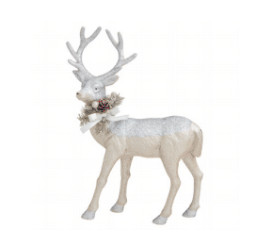 This sparkling stag ornament is dusted in champagne gold glitter and wears a luxury festive garland around its neck. Place it on a mantelpiece or window sill this Christmas to introduce a touch of elegant glamour to your seasonal style.
Glitter Snowflake Medium Bag, £1.50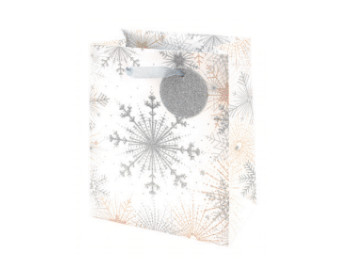 Deliver your loved ones' festive gifts in a Tesco Glitter Snowflake Medium Bag. Featuring shimmering snowflakes, and completed with a glitter-finished gift tag that won't drop, and elegant organza ribbon handle, this luxury gift bag is sure to add festive sparkle under the Christmas tree this year.
Make it Merry
Make it Merry is the cheerful Christmas trend fit for all the family. With a focus on colourful pieces featuring modern, hand-illustrated Christmas characters, Make it Merry brings a fun and playful twist to home decorations and wrapping, and is perfect for adding decorative touches to your children's bedroom this festive season.
Christmas Eve Box, £4.00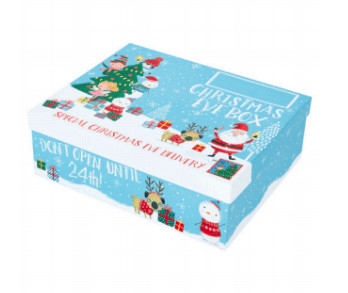 Begin a new festive tradition with the Christmas Eve Box, designed exclusively in-house at Tesco. Decorated with illustrations featuring fun, festive characters, such as Santa, snowmen and a reindeer-loving pug, the box offers a new way of building excitement for your little ones the night before the big day. Large enough to hold a selection of treats, the box also comes with stickers to personalise it with your child's name
Tinsel Nutcracker Room Decoration, £4.00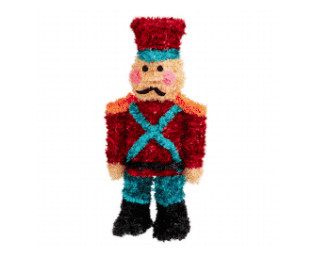 This large Tinsel Nutcracker Room Decoration is made from metallic tinsels in a bright reds, blues and oranges. A fun alternative to traditional festive figurines, this playful piece adds a colourful and festive feel to any room.
Dachshund Fimo Hanging Decoration, £2.50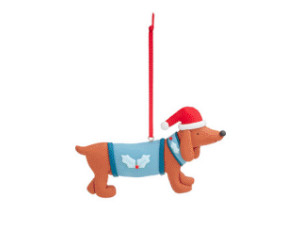 Achieve a playful seasonal statement with this Dachshundornament. This hanging decoration is crafted from clay and can be mix-and-matched with other characters from the Make it Merry range to create a fun and modern seasonal look
Make it Merry Large Bag (33cm x 26.5cm), £2.00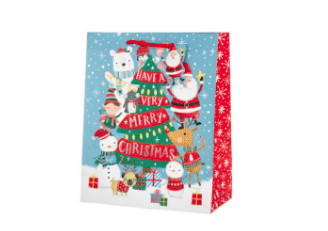 Watch your children's eyes light up with this large, colourful gift bag featuring a host of hand-drawn Christmas characters. Large enough to fill with a selection of festive treats, big or small, this fun bag is a great way to kick off present-giving.
Merry Christmas Photo Frame Hanging Decoration (6.5cm x4.5cm), £2.00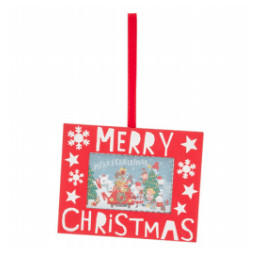 Make your Christmas tree truly personal this year with the Tesco Merry Christmas Photo Frame Hanging Decoration. Designed to fit a small photo, create a talking point by filling these playful frames with pictures of your favourite festive moments or loved ones.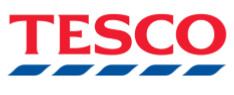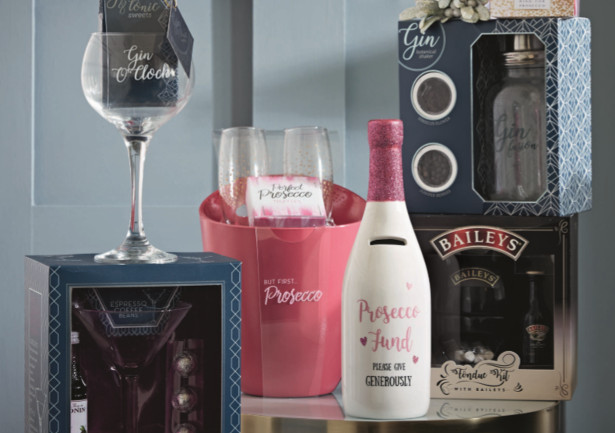 FACEBOOK | TWITTER | YOUUTBE | PINTEREST | INSTAGRAM
Tesco has some great gifts for the whole family this year, including grooming sets, games and food & drink items. All the products are under £20 and are available in Tesco stores now.
Treat your loved ones to a selection of thoughtful, fun and affordable gifts this Christmas from Tesco – all for under £20
Whether you're shopping for the ultimate foodie, cocktail connoisseur or quiz master, Tesco has a selection of fun, practical and thoughtful gifts, as well as stocking fillers under £10, for all the family – whatever your budget.
Gifts for her
Peony Hot Water Bottle, £10.00 Featuring a soft and shaggy faux fur cover, with a bold pink velvet bow, this Peony Hot Water Bottle is a gift for those who love a cosy night in.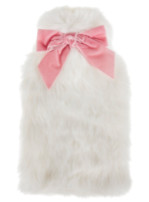 Espresso Martini Set, £12.00 Including a stylish martini glass, chocolate-flavoured syrup, decorative coffee beans and chocolate truffles, gift the Espresso Martini Set to cocktail masters and coffee lovers alike. Allow them to impress their guests and show off their skills with the on-trend Espresso Martini Set.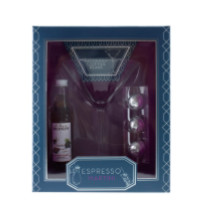 Prosecco Flutes, Bucket & Truffles Set, £15.00 Kick off the festive celebrations with the Prosecco Flutes, Bucket & Truffles Set – designed with fizz-lovers in mind. Each set contains a hot pink ice bucket, a pair of glass flutes decorated with gold metallic bubbles and prosecco-flavoured chocolate truffles.

Unicorn Travel Mug and Earmuffs, £10.00 A fun and on-trend unicorn print ceramic travel mug with anti-spill lid for those who like to drink on the go. This set comes complete with a pair of playful earmuffs featuring a rainbow print headband and soft, fluffy turquoise ear muffs to keep cosy during the colder months.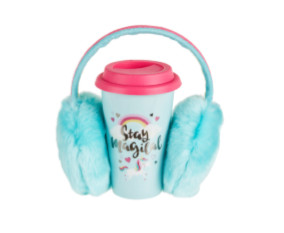 Calcot Manor The Ultimate Spa Collection, £20.00 This selection of seven beauty treats contains a combination of body wash, body scrub, salts and balms in a variety of calming and invigorating fragrances such as Orange & Wild Rose and Papaya & Lemon. Packaged up in a stylish floral gift box, give the Ultimate Spa Collection to those who deserve some pampering this Christmas.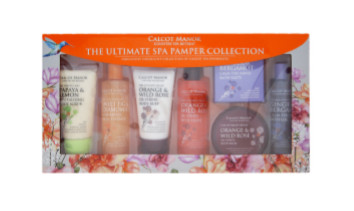 Gifts for him
World Food Garlic Lovers Set, £15.00 Treat their taste buds with this World Food Garlic Lovers Set, which contains garlic-infused oil, sea salt and dried garlic flakes, as well as a garlic-shaped ceramic storer to keep fresh garlic at its best.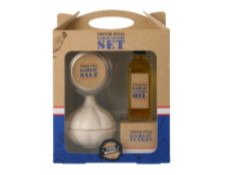 The Ultimate Quiz Master, £8.00 The Ultimate Quiz Master set contains everything you need to test your knowledge. The set includes 300 questions, team sheets, Quizmaster hat, score pads and instructions, covering topics such as world history, music, sport and film for hours of competitive fun.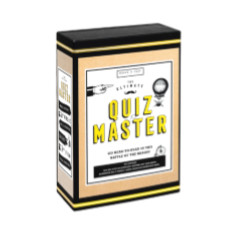 Multi-angle Screwdriver, £10.00 The Multi-angle Screwdriver is an upgrade for any DIY-lovers toolkit. Containing an assortment of 12 steel attachments and with an ergonomic and adjustable head, this is a must-have tool for any jackof-all-trades this Christmas.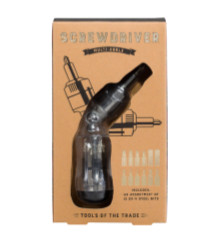 Mr Gentry Ultimate Grooming Collection, £12.00 A luxurious set of pampering essentials such as shaving gel, moisturising lotion and muscle soak, fragranced with sandalwood, amber and tonka bean aromas, the Mr Gentry Ultimate Grooming Collection should be gifted to those looking for worthy additions to their grooming regime.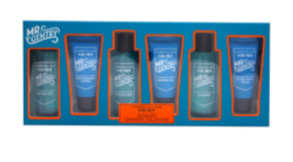 Cocktail Gin Botanical Gift Set, £10.00 The Cocktail Gin Botanical Gift Set is a gift for gin-lovers. Each set contains a glass mason jar as well as dried hibiscus flowers and juniper berries to create your own botanical infusions at home.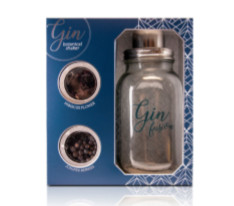 Stocking fillers
Table Tennis, £6.00 The Table Tennis set features a colourful retro design, is easy to assemble and can be used on any table for a quick game of ping pong for all the family. The set includes two wooden table tennis paddles, one ball and a net with suction cups.
I'll Be Ready In A Prosecco Plaque, £6.00 Decorated with stylish cascading gold confetti, the I'll Be Ready In A Prosecco Plaque is a gift for prosecco lovers. With an elegant pink frame and decorative hot pink ribbon handle, the plaque can be hung in the kitchen to kick off the festivities.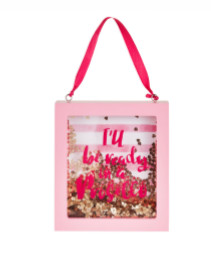 Battle of the Brains, £5.00 Containing over 200 multi-category questions, dice and simple instructions, this quick fire trivia game will provide family entertainment for ages 8 and above. Teams can take turns answering questions on everything from films and music, to science and art for hours of endless fun.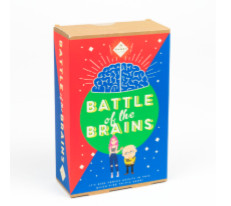 Peony Notebook Set and Pen, £8.00 A stylish stationery set for those who need to take notes on-the-go, the Peony Notebook Set and Pen contains an elegant gold ballpoint pen and two notebooks with textured gold covers.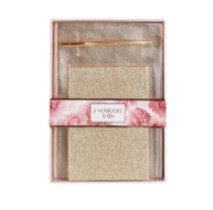 Gin Glass and G&T Sweets, £8.00 A trendy gift for gin lovers, each set contains a stylish gin goblet featuring a playful Gin O'clock slogan and gin & tonic flavoured sweets.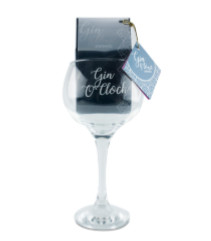 DODDIE WEIR MY NAME'5 DODDIE
The Autobiography
The extraordinary, life-affirming autobiography of rugby legend Doddie Weir.
Packed with anecdotes and from his playing career and a life well lived, it's also the poignant story of the challenges he now faces following his MND diagnosis.
Publication date: 25/10/2018 | Format: Hardback | ISBN: 978 1 78530 224 4 | Price: £20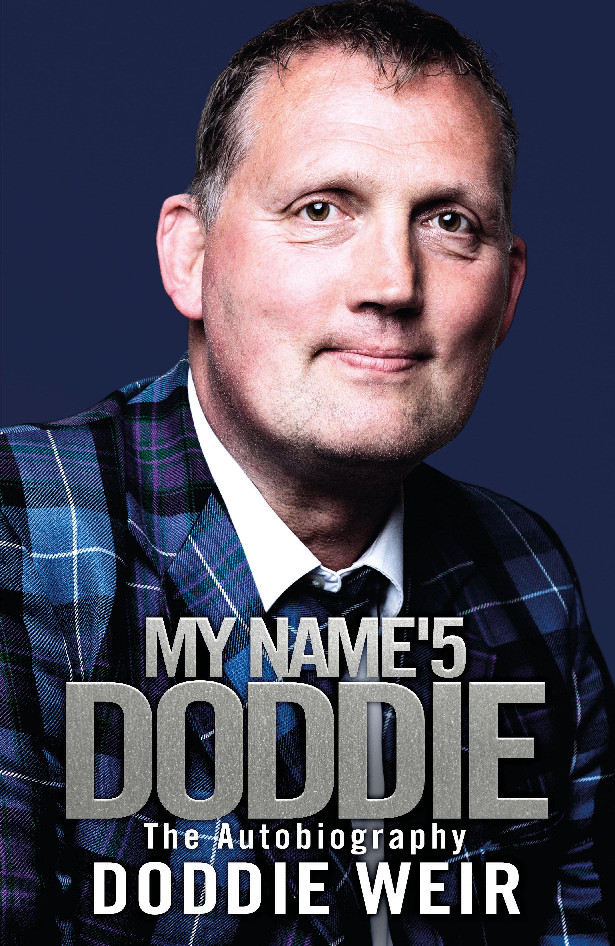 There has never been anyone quite like Doddie Weir. As truthful and immensely entertaining as the man himself, My Name'5 Doddie is a humbling, courageous and very funny celebration of a remarkable life being lived to the max. Known for his sportsmanship, infectious sense of humour and boundless energy, Bill McLaren's famous description that Doddie was "on the charge like a mad giraffe" sums up the charisma and prowess of a player who was irresistible to watch. In his rugby career, this giant of Scottish rugby made the Scotland number 5 jersey absolutely his own. Following his debut against Argentina in 1990, Doddie won 61 caps for his country, toured South Africa with the British & Irish Lions and was the first recipient of the Famous Grouse Scotland Player of the Five Nations award in 1997. At club level, he played with distinction for Stewart's Melville, Melrose, Newcastle Falcons and Borders until he retired in 2005. Now, at the age of 48, Doddie is facing an entirely different challenge: Motor Neuron Disease. In November 2017, 67,000 fans at Murrayfield stood in unison to support Doddie as he brought out the match ball for Scotland's autumn international fixture with the All Blacks, with his three teenage sons at his side. Since then Doddie has worked tirelessly – often in his signature "explosion in a paint factory" tartan suits – to raise funds and awareness for his charitable My Name'5 Doddie Foundation, which provides money for MND research and makes grants available to MND sufferers to help them live as full a life as possible.
Co-author Stewart Weir is a former sports reporter at the Evening Times, chief sportswriter at the Scottish Mirror, and Head of Sport at the Herald & Times Group. He was also deputy editor for official publications at the 2014 Commonwealth Games. Stewart has also worked extensively in PR, for governing bodies, and, individual clients such as Sir Chris Hoy, Stephen Hendry and Ronnie O'Sullivan. He is also a regular on talkSPORT

Supertreats deliciously creamy carob treats, that taste just as yummy as milk chocolate but are much better for you.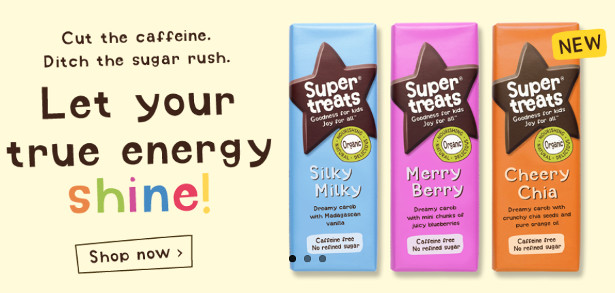 FACEBOOK | TWITTER | INSTAGRAM
"This is the best carob we've ever tasted" – Daniel Rodriguez, Associate Regional Grocery Buyer, Whole Foods Market UK
"Stunningly good! I was blown away by the wonderful flavour…!" Denise, London
"Possibly the World's Best Remedy for Chocolate Addiction" Mr T White, UK
Instead of cocoa, Supertreats bars are made from superfood carob and sweetened with low GI coconut blossom nectar. In addition to being refined sugar free and caffeine free (unlike milk, dark or raw chocolate), our bars are 100% natural, organic and ethically produced too, making them the perfect healthier Christmas treat/gift for the whole family.
Supertreats bars are stocked in a growing number of leading retailers in the UK, such as Whole Foods Market, Ocado and Amazon. UK RRP: £1.99.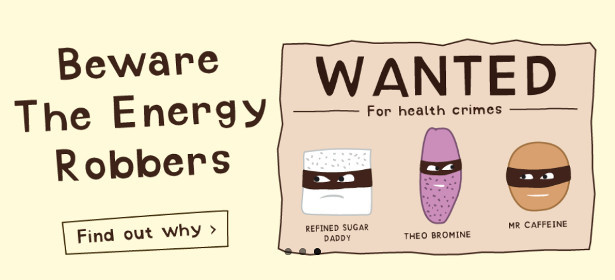 Awesome!! Check Out these Adorable Little Fashion Items For Your Lovable Pets & Animals! They're so lovely!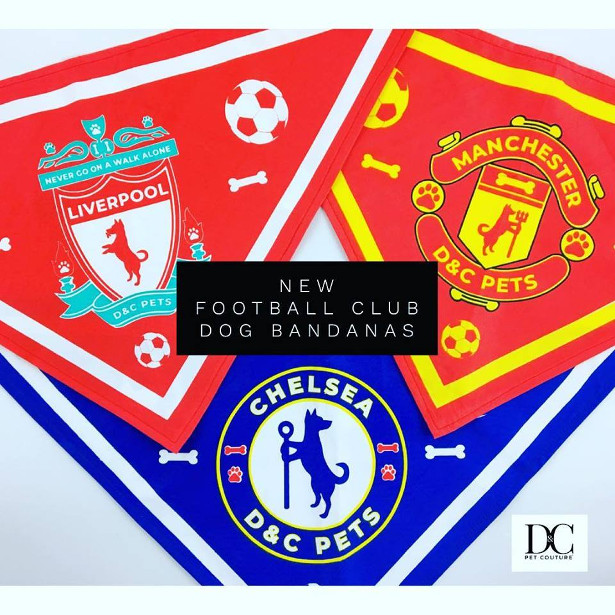 INSTAGRAM | FACEBOOK | TWITTER
Exclusive Designer Clothing & Accessories for Dogs and Cats.
D&C Pet Couture
Add swag to their wag with our stylish range of pet clothing and fashion accessories. From scarves and bandanas, to collars and leads, you know that your dog or cat will look perfectly groomed, because D&C Pets always walk in style.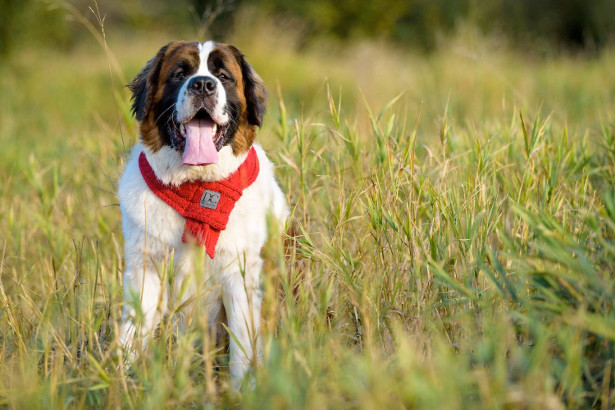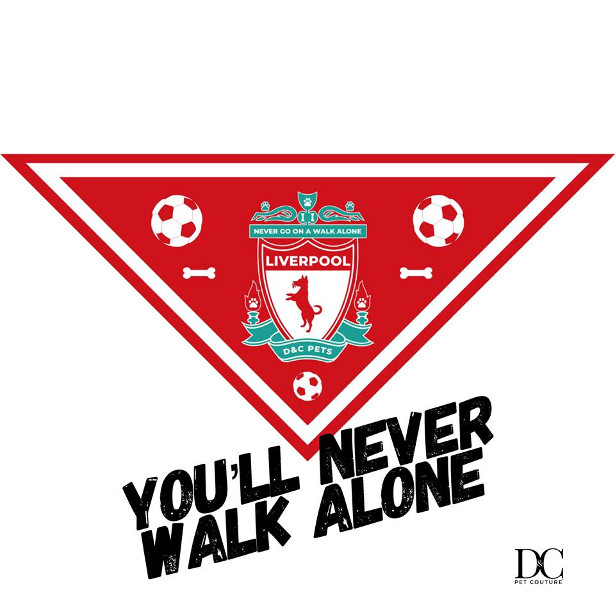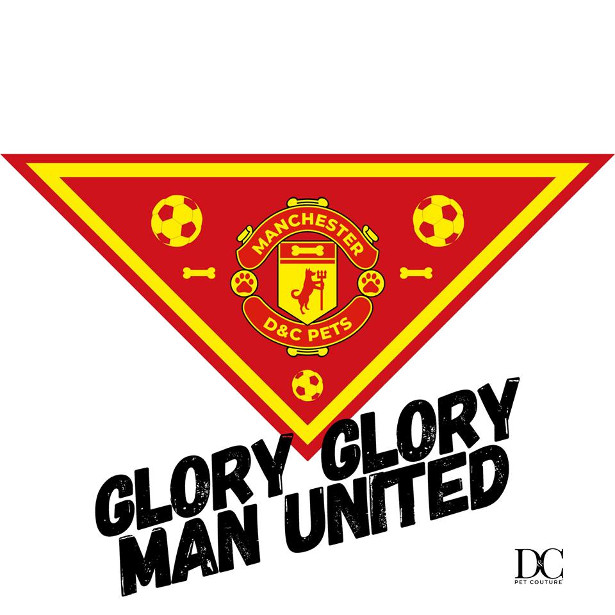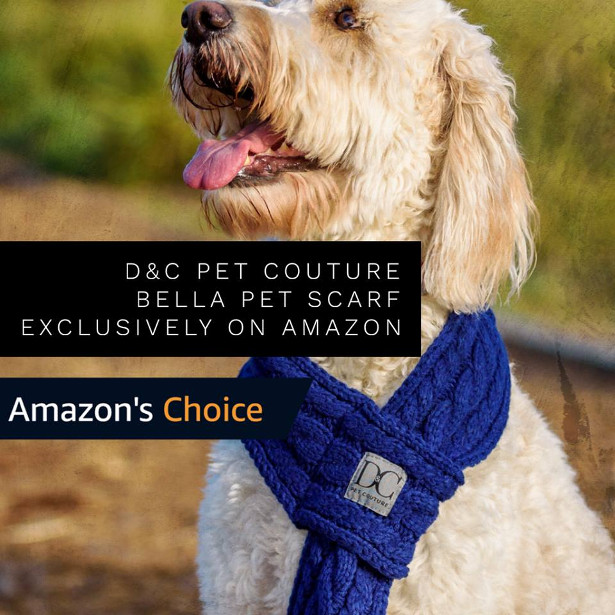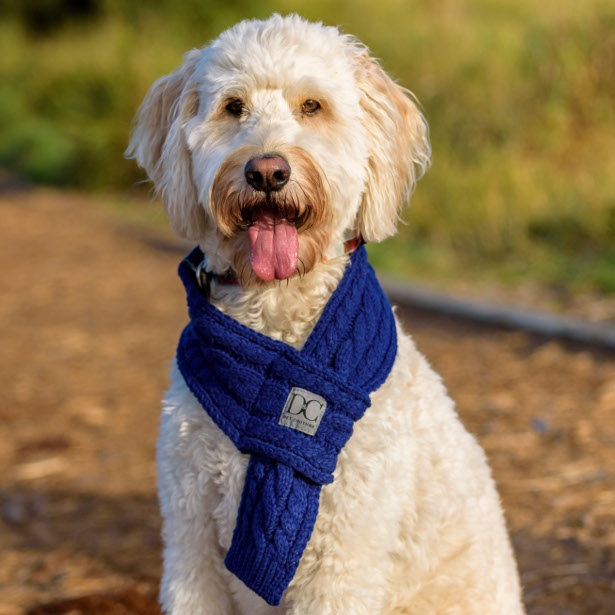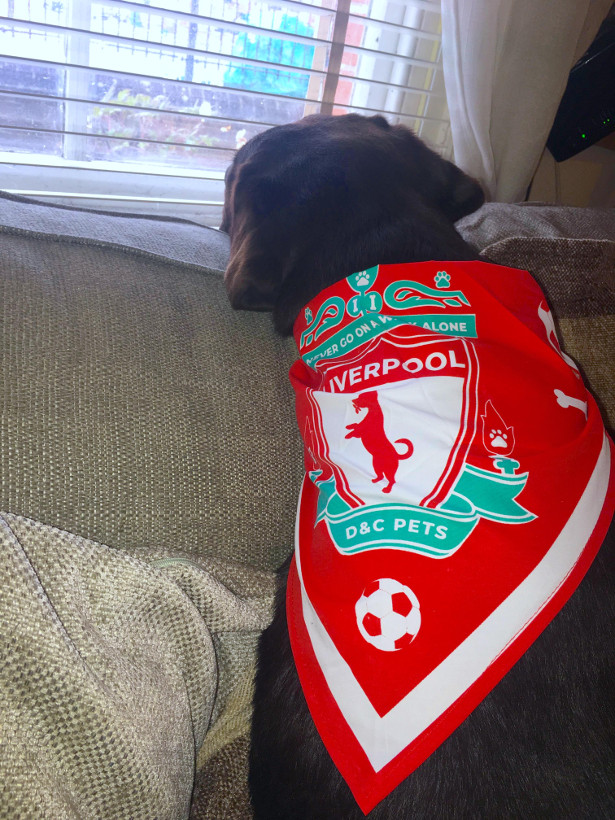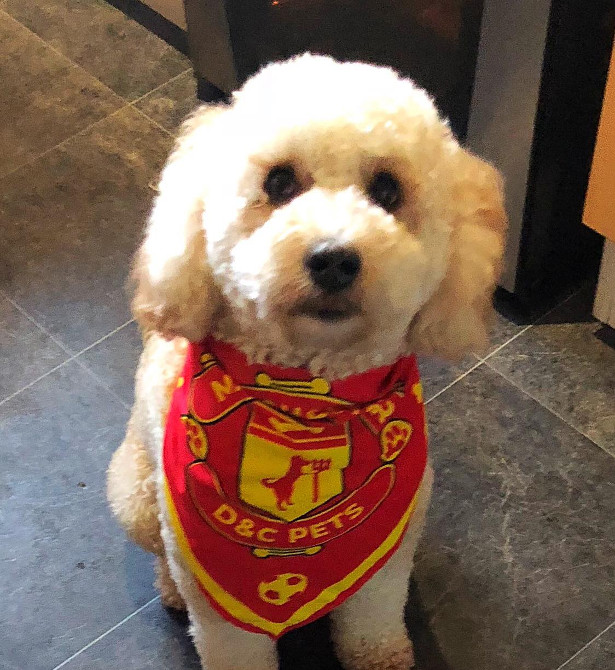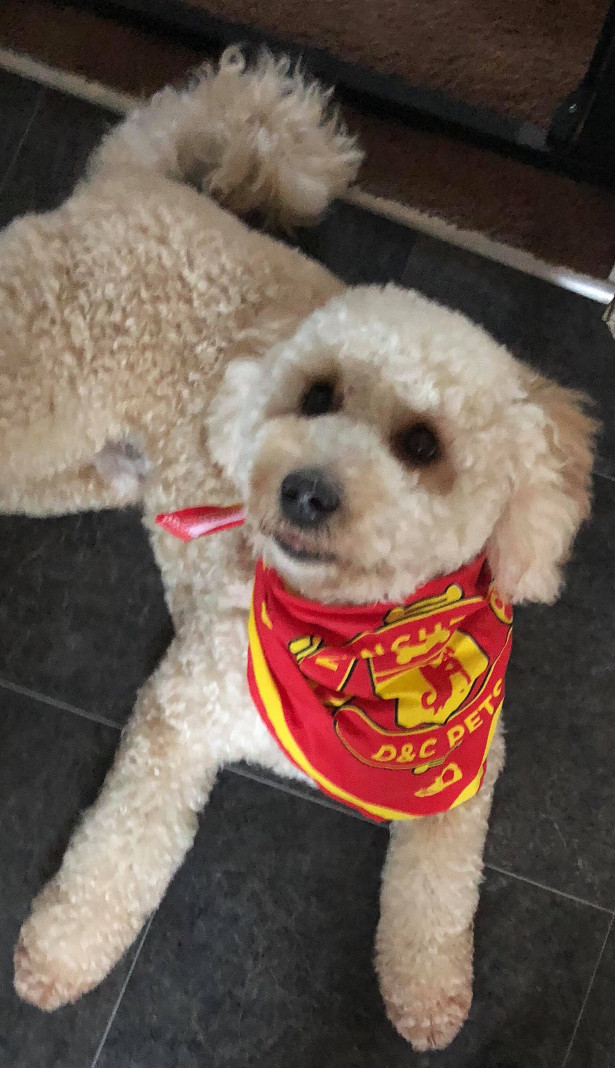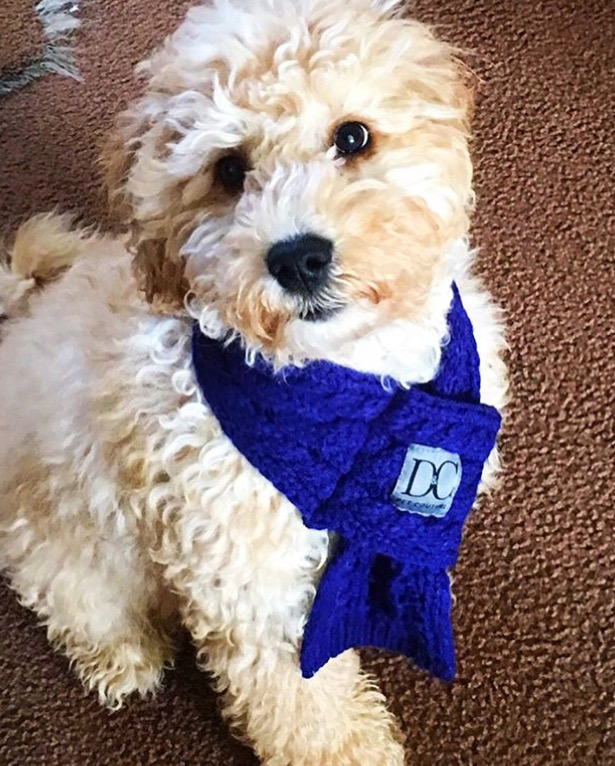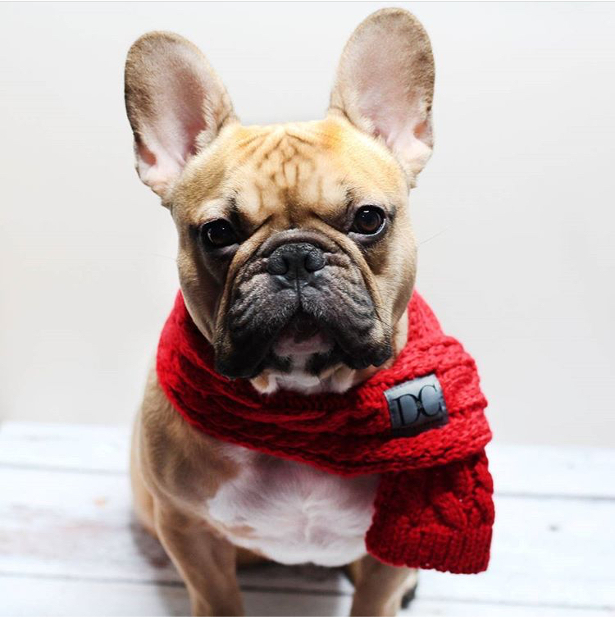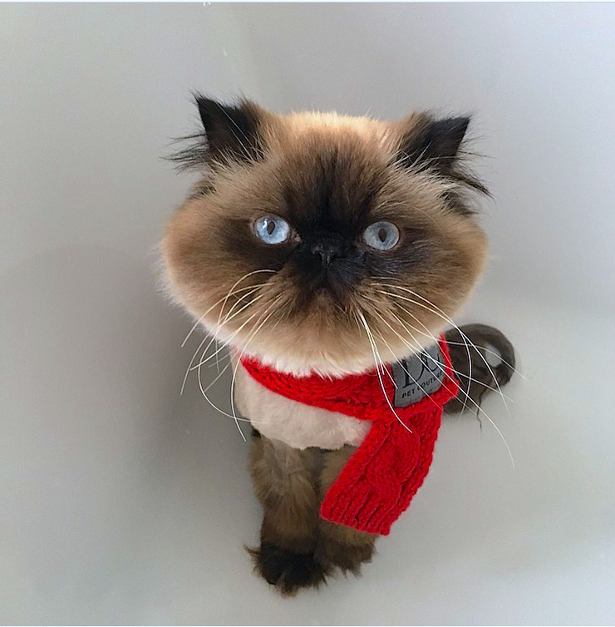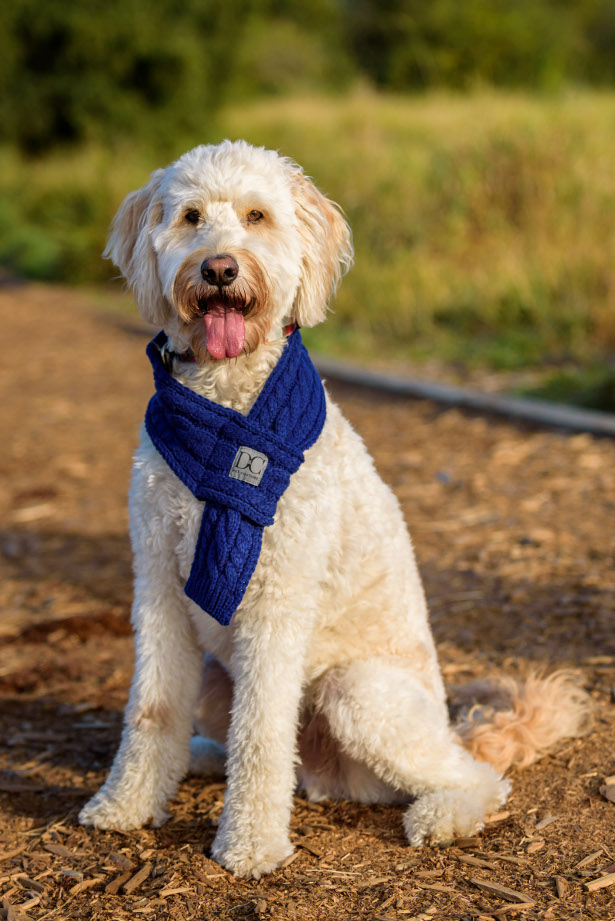 Dollars and Sense: How We Misthink Money and How to Spend Smarter
We think of money as numbers, values, and amounts, but when it comes down to it, when we actually use our money, we engage our hearts more than Cover artour heads. Emotions play a powerful role in shaping our financial behavior, often making us our own worst enemies as we try to save, access value, and spend responsibly. In Dollars and Sense (HarperCollins), bestselling author and behavioral economist Dan Ariely teams up with financial comedian and writer Jeff Kreisler to challenge many of our most basic assumptions about the precarious relationship between our brains and our money. In doing so, they undermine many of personal finance's most sacred beliefs and explain how we can override some of our own instincts to make better financial choices. Paperback will be available for the holidays.
Chelsea Peers NYC and Kodak – perfect for your Christmas gift guides and product roundups, there's something for everyone!
For the man in your life…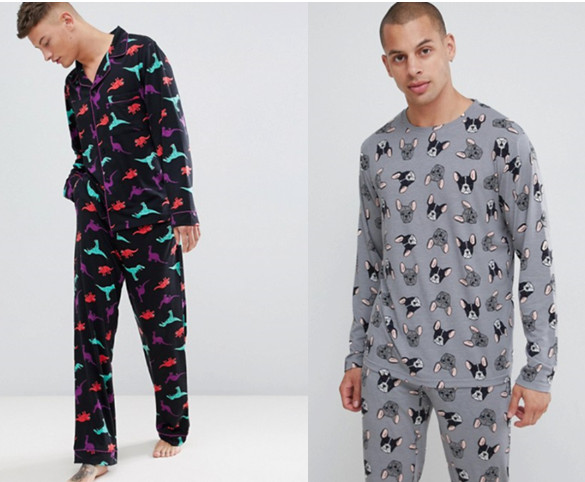 Chelsea Peers NYC have recently launched a menswear pyjama/loungewear range just in time for Christmas. The collection combines their signature quirky prints with super-soft fabrics – now available for everyone! Please see below for images. We would love to send some your way! The range is available at ASOS and Next online and ranges from £30-40.
From Kodak – we think that the Print Dock (RRP £129.99) and Mini 2 (RRP £89.99) would make perfect gifts for the guy who has everything. Compatible with any iOS/Android device, don't just lock your memories away in your phone, print them for all to see! Kodak products available at Argos, Very.co.uk and Currys.
For your lovely lady…
Perfect for any woman in your life, whatever her age, Chelsea Peers NYC has an amazing range of pyjama sets, dressing gowns, and gift sets to suit any budget. Best sellers include the foil-printed pyjamas which come in a range of tropical and more traditional designs (starting at £25), as well as "The Snuggle Is Real" eye mask and hot water bottle gift set which retails for £18.
Make them wink for millennial pink… Kodak has relaunched its super-popular Printomatic instant print camera in new colours including millennial pink and turquoise ready for the festive season. The camera produces water, tear and smudge-proof prints all for £89.99 (available at Very.co.uk and Currys). If your more of a selfie-snapper… The Kodak Mini Shot prints crisp prints wirelessly from your mobile – combining the camera power of the Printomatic and printing power of the Mini 2 – also available in millennial pink!

For the Teens who want it all…
Get their heads out of their phones and let them watch and play on the big screen, wall, or any surface! Kodak' s Pocket Wireless Pico Projector can wirelessly connect to any mobile device for seamless screen mirroring, so the whole family can join in the fun! Perfect for sleepovers! RRP £249.99
To give them to something to wear whilst watching… Chelsea Peers NYC has a unicorn range that is perfect for the teenagers in your life! The range, which includes an eye mask and hot water bottle gift set, dressing gown, cosy pyjama set and loungewear unicorn print set. (£18-45) Please see images below.
Snuggle up with a cute Cuddle Sofa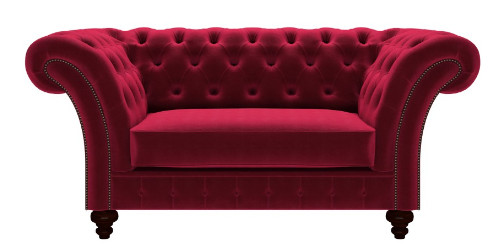 1.5 Seater Sofas, Love Seats, Snuggle Sofas…whatever you call them, these lovely little sofas are perfect for injecting a little bit of Winter romance
Grosvenor 1.5 Seater Sofa shown here in Knightsbridge Velvet, Colour: Maraschino
After a long day in the cold, nothing beats snuggling up with a loved one in front of an open fire and a luxury love seat from Sofas by Saxon is the perfect place to do it. These intimate sofas provide just enough space for two, and with 23 beautiful designs to choose from, it's easy to find one to fit your own personal interior style.
Hampton 1.5 Seater Sofa in Hand finished Antique Leather, Colour: Antique Red
You can feel the love in every stitch as each seat has been hand crafted by the company's experienced team of expert upholsterers. This is all done right here in the UK and with such care and attention given to each and every piece, the resulting furniture is not only beautiful but of the very highest quality too.
Connaught 1.5 Seater Sofa in Herringbone Wool, Colour: Paprika
Choose from a great range of stylish fabrics or supple leathers to add the personal touch to your Cuddle Sofa. If you can't find one you like, the Sofas by Saxon team can even help you source your own. So, whether it's relaxing together with the Sunday Papers or nestling down to enjoy a good film, these comforting sofas are sure to add to the experience.
Forget gold, frankincense and myrrh: this Christmas it's all about Cheese!
The Snowdonia Cheese Company launch a range of festive gift packs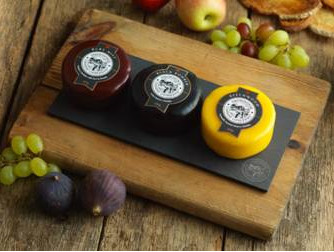 With the festive season just around the corner, Snowdonia Cheese Company has introduced the ultimate festive selection packs for all of the cheese lovers out there.
So, if you find yourself deliberating over what presents to buy this Christmas (or simply want to indulge yourself), then look no further as there's a festive gift pack to suit all foodies.
The Slate Board Trio: Snowdonia Cheese Company Black Bomber, Ruby Mist & Beechwood Gift Pack
RRP £15.60
Introducing the slate board trio featuring Snowdonia Cheese Company's extra mature Black Bomber, a port and brandy Ruby Mist and a naturally smoked Beechwood, this mouth-watering assortment of cheeses make the ideal stocking filler for any cheese lovers in your life.
The three cheeses come wrapped alongside a branded cheese slate board too – making it as impressive on the eye as it is on the mouth. Now all you have to worry about is whether your gift pack recipient will be happy to share.
Boxed Duo: The Snowdonia Cheese Company Black Bomber& Red Storm Festive Gift Set
RRP £8.85
It's the most wonderful time of the year, or at least it will be as soon as you're tucking into this delicious duo from the Snowdonia Cheese Company. Snowdonia's Black Bomber and Red Storm team up to give you a festive burst of flavour this Christmas. This duo pack comes beautifully presented in a branded gift box too so you won't need to splash out on wrapping paper.
Chutney Duo: The Snowdonia Cheese Company Black Bomber& Orchard Apple Chutney Gift Pack
RRP £8.35
Just like Christmas pudding and brandy sauce, the Snowdonia Cheese Company's Black Bomber and Apple Cheese Chutney belong together. This famously moreish pair are the perfect festive gift for foodie friends and family alike…and for yourself too of course, don't forget to add it to your own Christmas list.
If you fancy giving the gift of cheese this Christmas, Snowdonia Cheese Company is available nationally in the Deli Counter of Waitrose and Selfridges and from over 3,000 independent farm shops, delicatessen and cheese mongers. Alternatively, you can purchase online at www.snowdoniacheese.co.uk
"No Slade = no Oasis. It's as simple as that."
Noel Gallagher
SO HERE IT IS
How the boy from Wolverhampton rocked the world with Slade
The Autobiography by Dave Hill
18th October 2018 | PB £8.99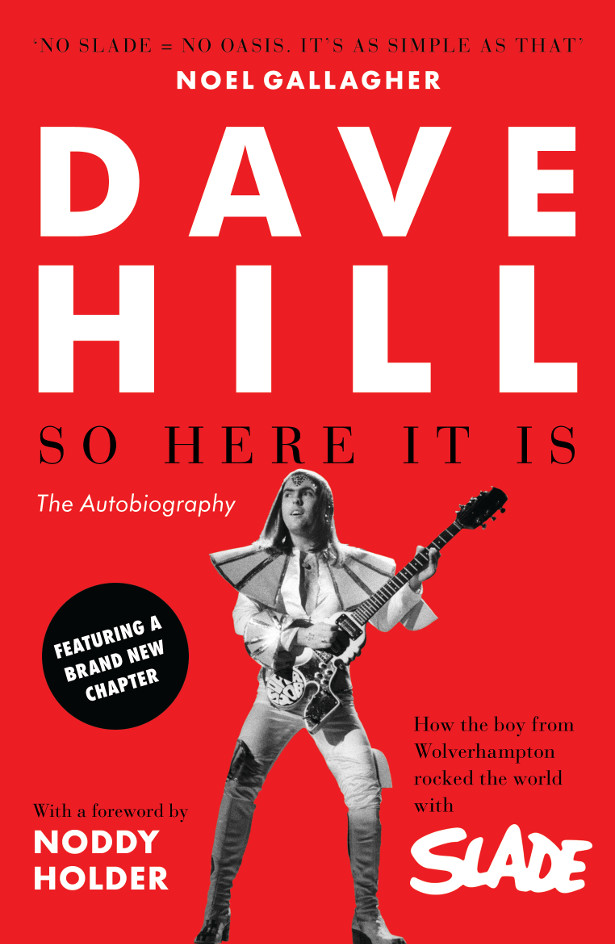 • Featuring a foreword from Noddy Holder and an afterword by Noel Gallagher
• Slade own Christmas with their classic anthem, 'Merry Xmas Everybody', which has sold over a million copies and charted every year since 1973
• Packed with never-before-seen photos from Dave's personal collection, plus a brand new chapter
With six consecutive number one singles and the smash hit 'Merry Xmas Everybody', Slade were unstoppable. Now, the man whose outlandish costumes and unmistakable hairstyle made Slade one of the definitive acts of the Glam Rock era tells his story.
But there's more to Dave's life than rock 'n' roll and good times. So Here It Is also covers the band's painful break-up, Dave's subsequent battle with depression, and his recovery from the stroke that threatened to cut short his performing career.
If you've ever wondered what it feels like to be a working-class lad from the Midlands suddenly confronted by unimaginable fame, So Here It Is is the definitive account, told with heart and humour and filled with never-before-seen photos.
About Dave Hill
Dave Hill was born in a castle in Devon and moved with his parents to Wolverhampton when he was a year old. As a teenager he taught himself to play guitar and in 1966 formed the band Slade.
After the break-up of the original band, Dave eventually reformed Slade, and twenty-five years later they are still regularly touring the world, playing to hundreds of thousands of fans. Dave married his wife Jan in 1973, and they have three children and six grandchildren. They still live in Wolverhampton.
Dave tours extensively with Slade but will be available for interviews and events around publication.
Great Ormond Street Hospital Children's Charity.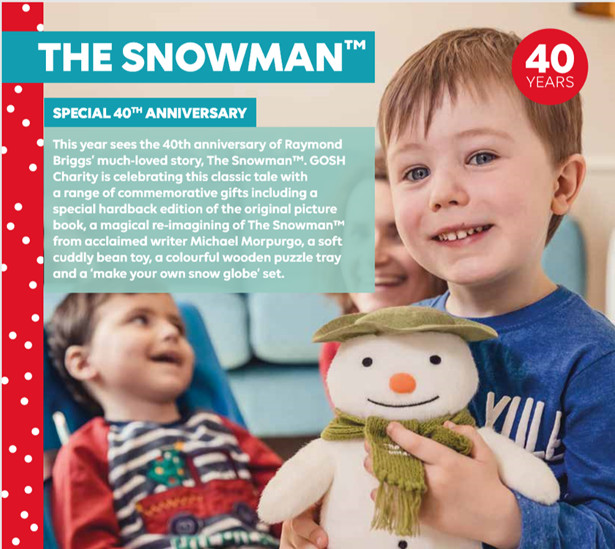 The range includes beautiful Greetings Cards, ideas for Stocking Fillers and Children's Toys, and we also have a brand new, special range to celebrate the 40th anniversary of the much-loved Christmas classic story, 'The Snowman'.
The full range of gifts are available from gosh.org/shop and 100% of the profits from sales will go to Great Ormond Street Hospital Children's Charity to help support families this Christmas.
For families at Great Ormond Street Hospital, time together is very precious.
A Gift For You! Get a free taste pack of Flyte via the website! Yes! Free taster pack! Flyte (1x Green Mango and 1x Red Berries) a box and Flyte merch. > www.flytedrink.com (you pay the postage £3.90!)
FREE FLYTE TASTER PACK
2 x Full-size bottles of Flyte (RRP: £5.00)
Postage: £3.90
Via the website: www.flytedrink.com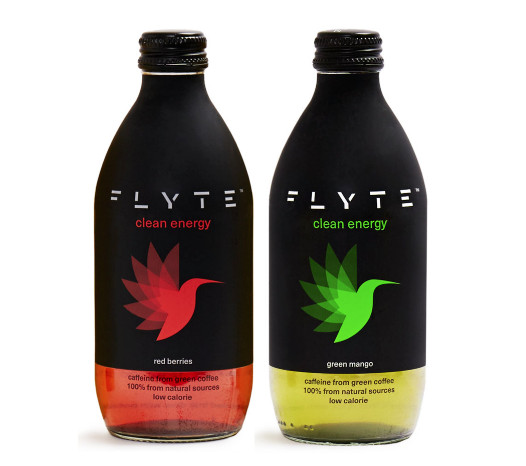 FLYTE: POSITIVE ENERGY DRINKS MADE FROM INGREDIENTS SOURCED ENTIRELY FROM NATURE
NEW ORGANIC CAFFEINE RANGE DELIVERS CLEAN ENERGY FREE FROM ADDED SUGAR
Flyte (www.flytedrink.com) is an innovative British brand, which produces a revolutionary range of lightly sparkling and healthier positive energy drinks made from ingredients sourced entirely from nature.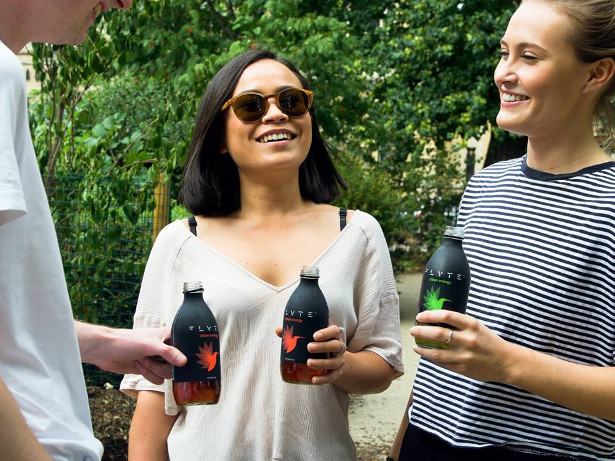 Designed to help people live life to the full, every bottle has less than 40 calories, is non-GMO, free from added sugar or artificial sweeteners and created with powerful natural ingredients, including Organic Caffeine from green coffee and Maca Root, to give uncompromising clean energy from the get-go.
Flyte is the first energy drink of its kind. It delivers a great taste and a burst of clean energy without having a negative impact to the body, avoiding wired highs and sugar crashes; containing powerful natural active ingredients that work together to deliver clean energy without the crash. Each bottle has:
o A double shot of Organic Caffeine, harnessed from pure and anti-oxidant rich unprocessed, unroasted green coffee beans.
o Maca Root is high in antioxidants, Vitamin C, copper and iron to aid focus and concentration. It has been used for thousands of years in South America.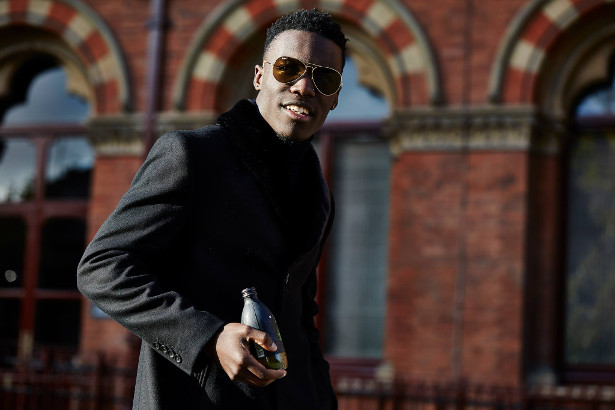 o Schizandra is a super berry that helps with blood oxygenation to reduced muscle aches and pains, overcome fatigue and encourage fast recovery post-exercise. Native to Asia and North America.
Flyte is available in two delicious and refreshing varieties, Green Mango and Red Berries. Every bottle is made from water, fruit juice, natural actives and vitamins. Suitable for vegetarians, Flyte is fortified with Vitamin B & C and sweetened naturally just from pressed fruit juice and stevia plant leaves.
Flyte delivers a natural energy boost so each day can be lived to its uncompromised full. The perfect pick-me-up when a slump hits, a bottle can be enjoyed at elevenses to bring focus to the day and then again in the afternoon to make the most of the evening. In the night, it is ideal to serve when entertaining or can be enjoyed as a delicious alternative to alcohol when out socialising with friends and family.
Flyte helps consumers live life to the full and is perfect to enjoy pre and even better, post-workout. Not only is the range energising, highly refreshing and thirst quenching, it is made with the super berry Schizandra, that supports blood oxygenation, providing a faster recovery to fatigued muscles.
Flyte is available in two varieties: Green Mango and Red Berries with an RRP of £2.50 per 330ml bottle.
Find Flyte at: www.flytedrink.com
Facebook: @flytedrink
Twitter: @flytedrink
Instagram: @flytedrink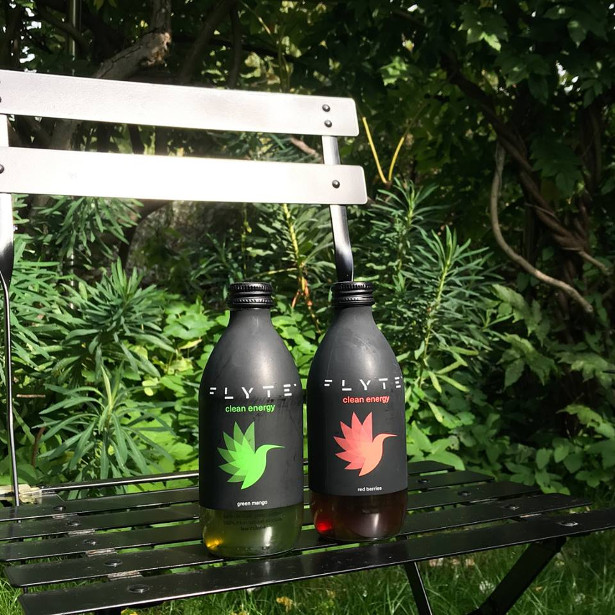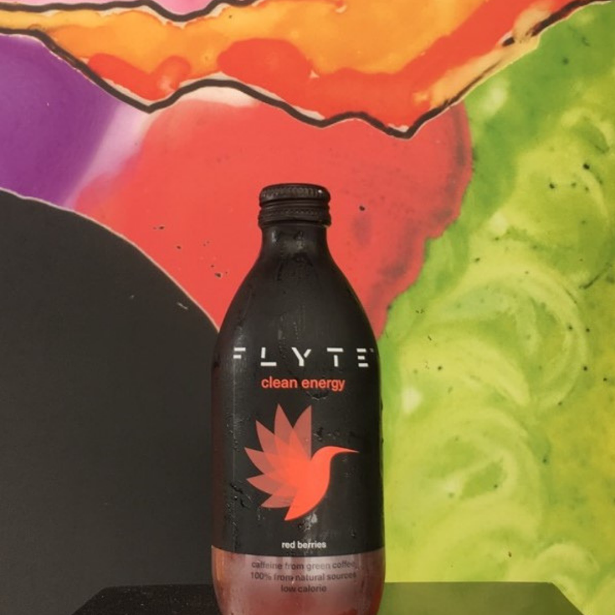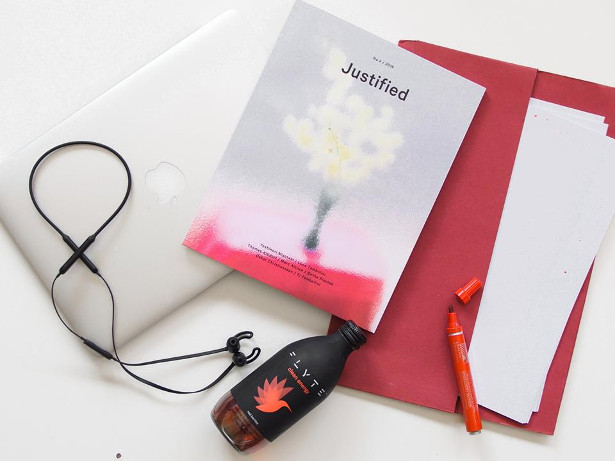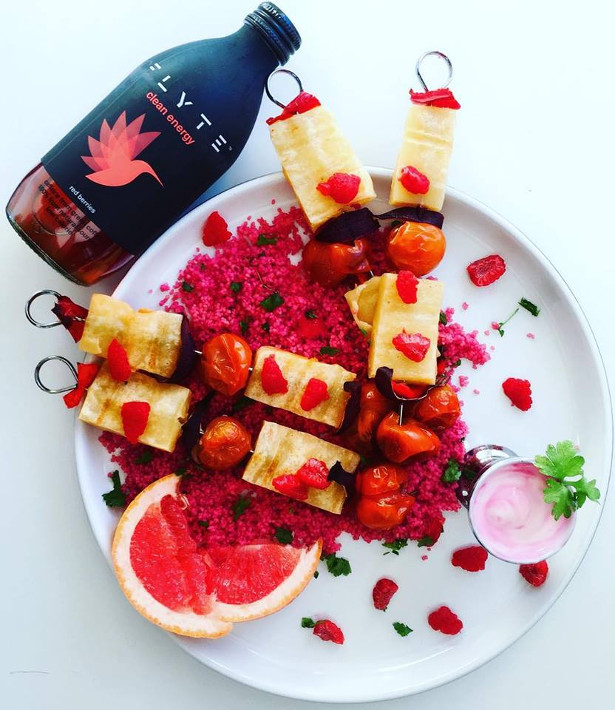 Sky Sports announce Betfred Super League fixtures for 2019
Forget the fireworks, rugby league is back with a bang on Sky Sports.
2019 is packed with nearly 200 live games from all areas of the sport including the Betfred Super League, Championship, Challenge Cup and NRL.
The Betfred Super League season kicks off on Thursday 31 January, with reigning champions Wigan playing early season favourites St. Helens in the first ever traditional opening night derby.
Then on Friday night, it's the Hull derby, before we head over to Warrington to see the 2018 Grand Finalists take on the most successful club of the Super League era, Leeds Rhinos, at home on 2 February.
Sky Sports will show three Betfred Super League matches per week for the first five rounds, with newly promoted London Broncos at home to Castleford in round three.
By round four, every club will have featured on Sky Sports, and by round seven each will have been visited at home by our cameras.
The season will no doubt throw up some big sporting moments in the Dacia Magic Weekend, State of Origin and the World Club Challenge. And it all culminates in the Grand Finals from both the Betfred Super League and NRL in October.
The Betfred Super League is on Sky Sports Action and Sky Sports Arena. You can also see every try with Day, Week, Mobile and Month Passes on streaming service NOW TV.
Sky Sports' Betfred Super League Fixtures
Selections from round 24 to be confirmed later in the season.
Round 1
Thursday 31 January
St Helens
v
Wigan Warriors
1945
Friday 1 February
Hull Kingston Rovers
v
Hull FC
1945
Saturday 2 February
Warrington Wolves
v
Leeds Rhinos
1700
Round 2
Thursday 7 February
Hull FC
v
Castleford Tigers
1945
Friday 8 February
Wigan Warriors
v
Leeds Rhinos
1945
Saturday 9 February
Catalans Dragons
v
Huddersfield Giants
1700
World Cup Challenge
Sunday 17 February
Wigan
v
Roosters
1900
Round 3
Thursday 21 February
Wakefield Trinity
v
Catalans Dragons
1945
Friday 22 February
St Helens
v
Leeds Rhinos
1945
Saturday 23 February
London Broncos
v
Castleford Tigers
1700
Round 4
Thursday 28 February
Salford Red Devils
v
St Helens
1945
Friday 1 March
Leeds Rhinos
v
Wakefield Trinity
1945
Saturday 2 March
Catalans Dragons
v
Warrington Wolves
1700
Round 5
Thursday 7 March
Warrington
v
Castleford Tigers
1945
Friday 8 March
Wigan Warriors
v
Huddersfield Giants
1945
Saturday 9 March
Catalans Dragons
v
Salford Red Devils
1700
Round 6
Thursday 14 March
Huddersfield Giants
v
St Helens
1945
Friday 15 March
Warrington Wolves
v
Wigan Warriors
1945
Round 7
Thursday 21 March
Wakefield Trinity
v
Warrington Wolves
1945
Friday 22 March
Castleford Tigers
v
St Helens
1945
Saturday 23 March
Catalans Dragons
v
Leeds Rhinos
1700
Round 8
Thursday 28 March
Leeds Rhinos
v
Castleford Tigers
1945
Friday 29 March
Hull FC
v
Warrington Wolves
1945
Round 9
Thursday 4 April
Hull Kingston Rovers
v
Leeds Rhinos
1945
Friday 5 April
Castleford Tigers
v
Wigan Warriors
1945
Saturday 6 April
Catalans Dragons
v
St Helens
1700
Round 10
Thursday 11 April
Huddersfield Giants
v
Castleford Tigers
1945
Friday 12 April
St Helens
v
Warrington Wolves
1945
Saturday 13 April
Catalans Dragons
v
Hull FC
1700
Round 11
Thursday 18 April
Castleford Tigers
v
Wakefield Trinity
1945
Good Friday (19 April)
Hull FC
v
Hull Kingston Rovers
TBA
Good Friday (19 April)
Wigan Warriors
v
St Helens
TBA
Round 12
Easter Monday (22 April)
Catalans Dragons
v
Castleford Tigers
TBA
Round 13
Saturday 27 April
Wigan Warriors
v
Castleford Tigers
1700
Round 14
Thursday 2 May
Wigan Warriors
v
London Broncos
1945
Friday 3 May
TBA
v
TBA
1945
Round 15
Thursday 16 May
Leeds Rhinos
v
Castleford Tigers
1945
Friday 17 May
TBA
v
TBA
1945
Saturday 18 May
Catalans Dragons
v
Wigan Warriors
1700
Round 17
Thursday 6 June
Warrington Wolves
v
Catalans Dragons
1945
Friday 7 June
TBA
v
TBA
1945
Round 18
Thursday 13 June
Castleford Tigers
v
Hull FC
1945
Friday 14 June
TBA
v
TBA
1945
Saturday 15 June
Catalans Dragons
v
London Broncos
1700
Round 19
Thursday 20 June
London Broncos
v
Hull Kingston Rovers
1945
Friday 21 June
TBA
v
TBA
1945
Saturday 22 June
Catalans Dragons
v
Hull FC
1700
Round 20
Thursday 27 June
Hull Kingston Rovers
v
Hull FC
1945
Friday 29 June
TBA
v
TBA
1945
Round 21
Thursday 4 July
Salford Red Devils
v
Huddersfield Giants
1945
Friday 5 July
TBA
v
TBA
1945
Saturday 6 July
Catalans Dragons
v
Wakefield Trinity
1700
Round 22
Thursday 11 July
Hull FC
v
London Broncos
1945
Friday 12 July
TBA
v
TBA
1945
Round 23
Thursday 18 July
Wigan Warriors
v
Wakefield Trinity
1945
Friday 19 July
TBA
v
TBA
1945
Round 24
Thursday 1 August
TBA
v
TBA
1945
Friday 2 August
TBA
v
TBA
1945
Saturday 3 August
Catalans Dragons
v
Warrington Wolves
1700
Round 25
Thursday 8 August
TBA
v
TBA
1945
Friday 9 August
TBA
v
TBA
1945
Round 26
Thursday 15 August
TBA
v
TBA
1945
Friday 16 August
TBA
v
TBA
1945
Saturday 17 August
Catalans Dragons
v
London Broncos
1700
Round 27
Thursday 29 August
TBA
v
TBA
1945
Friday 30 August
TBA
v
TBA
1945
Saturday 31 August
Catalans Dragons
v
Hull Kingston Rovers
1700
Round 28
Thursday 5 September
TBA
v
TBA
1945
Friday 6 September
TBA
v
TBA
1945
Round 29
Thursday 12 September
TBA
v
TBA
1945
Friday 13 September
TBA
v
TBA
1945
Grand Finals
Sunday 6 October
NRL
Saturday 12 October
Betfred Super League
Christmas Jumper Passes the Fashion Test with Flying Colours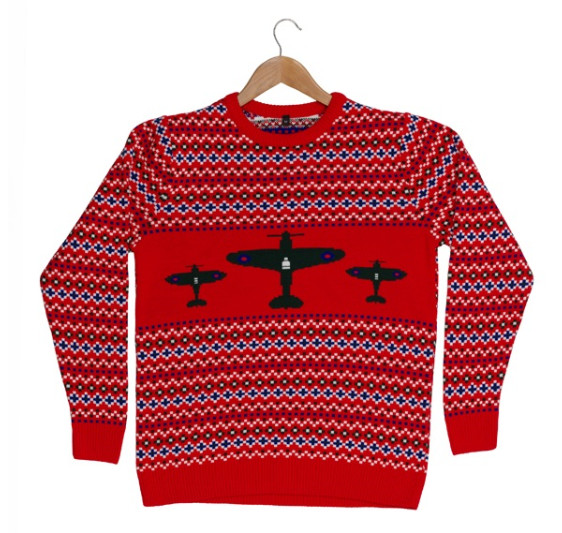 Get your Christmas off to a flying start with the exclusive Christmas jumper from Imperial War Museums shop.
With a brand new design for 2018, this festive essential features the iconic Spitfire along with a classic repeat Fairisle style pattern.
The perfect gift for any aviation enthusiast and mini aviation enthusiast too, with a matching version available for kids.
Adults Spitfire Christmas Jumper – £35.00 – Imperial War Museum Shop – www.iwmshop.org.jpg
Adult Spitfire Christmas Jumper £35.00
Imperial War Museums shop
www.iwmshop.org.uk

 GTS has recently launched a product called Actisound which non-invasively treats Plantar Fasciitis – a chronic condition which affects many rugby players, for instance Jamie George suffered from it. The treatment is revolutionary for rugby players, as it is non-invasive and has next to no recovery time, ensuring players can get back on the pitch as soon as possible.
Brand new & exclusive art accessories from Tate Shop!
Tate Shop are delighted to announce an exciting new partnership with Here design agency and Seawhite with the launch of an exclusive art accessories collection.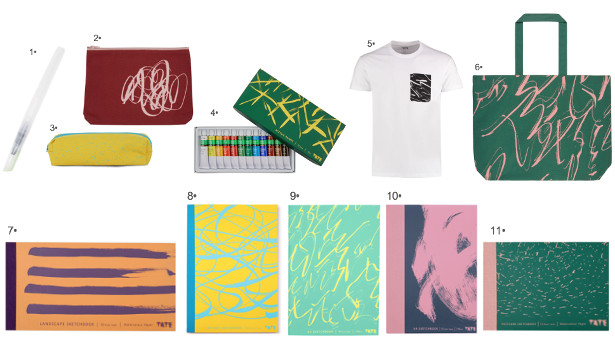 The collaboration results are a range of accessories including an acrylic paint set and a paintbrush pen ready to be filled with water and used when inspiration strikes.
There is also a striking Tate pouch perfect for use with the beautifully designed sketchbooks, all compact enough to fit in a satchel or handbag for the on-the-go artist.
Mixing contemporary design with the top quality materials you'd expect from Tate Shop, they're ideal gifts for artists of all ages, from students to professionals.
Credits & Prices 1-11:
• 1. Water Paintbrush – £3.50 • 2. Tate Art Materials Pouch – £12
• 3. Tate Art Materials Pencil Case – £12 • 4. Tate Acrylic Paint Set – £8
• 5. Tate Art Materials White T-Shirt – £25 • 6. Tate Art Materials Large Tote Bag – £30
• 7. Tate A5 Landscape Dark Green & Yellow Sketchbook – £7 • 8. Tate Kids A4 Yellow & Blue Sketchbook – £8
• 9. Tate A4 Green & Yellow Sketchbook – £5 • 10. Tate A4 Hardback Sketchbook Blue & Pink – £10
• 11. Tate Postcard Dark Green & Pink Sketchbook – £5
Luxury Wish List
1 Walli Smart Wallet, £89.99 from TheFowndry.
Do you know someone guilty of misplacing their wallet on a daily basis? Here lies the solution, it's Walli The Smart Wallet! A smart high tech way to ensure your cash and cards are safe. Conveniently connected to your mobile device at all times, an alert will sound if your wallet gets left behind. Each Walli includes 6 card slots, 2 cash pockets and a hidden coin pocket. Made from 100% genuine leather with wrapped edges this wallet isn't just super smart but beautifully crafted too.
2 Morpher Flat Folding Helmet, £109.99 from TheFowndry.
For those who love the freedom of the open road on two wheels check out this ingenious, lightweight flat-folding cycling helmet. Available in black, red, white, sliver and spotty print this handy helmet can be conveniently stashed in a bag, backpack or briefcase and is just as safe as your traditional helmet with a magnetic clasp for added comfort. It's time to take to the open road.
3 Star Wars Darth Vader Portable Bluetooth Speaker, £149.99 from TheFowndry.
Mighty and marvellous this Star Wars Darth Vader Bluetooth Speaker is a near life size version of the real thing! The perfect gift for any Star Wars fan, watch as those eyes begin to glow. Pair with your mobile device for wireless music playback, or use the additional AUX cable to connect with wired devices, not to mention the freedom to make hands free calls from Darth Vader too!
4 Stain Blue Glass Silk Scarf, £95.00 from GeorginaDee.
Add a touch of opulence to your wardrobe with this beautifully crafted satin silk scarf from Georgina Dee. This bold stain glass print will add a splash of colour from the striking use of vivid blue and purple tones, adding a certain edge and sophistication to any outfit, smart or casual.
5 WonderWoof Activity Tracker For Dogs, £99.99 from TheFowndry.
A gift for not only the owner but the pooch too, this super-cute activity monitor, fitness tracker and social network is sure to keep your ball of fluff in shape. Determining how much activity is healthy according to your dog's age, weight and breed. Check out the fabulous design, it's your pooches smart doggie bowtie, which certainly beats your average dog collar!
6 Blend Watch, £169.99 from TheFowndry.
Tell the time with a mesmerising mix of colour and theory with the Blend Watch. Beautiful yet functional this technicolour ticker is the minimalist wristwatch with maximum style. Incorporating the additive colour theory, watch as a pair of revolving, transparent, primary coloured discs reveal the hours and minutes at the points where they intersect in complementary contrasting colours.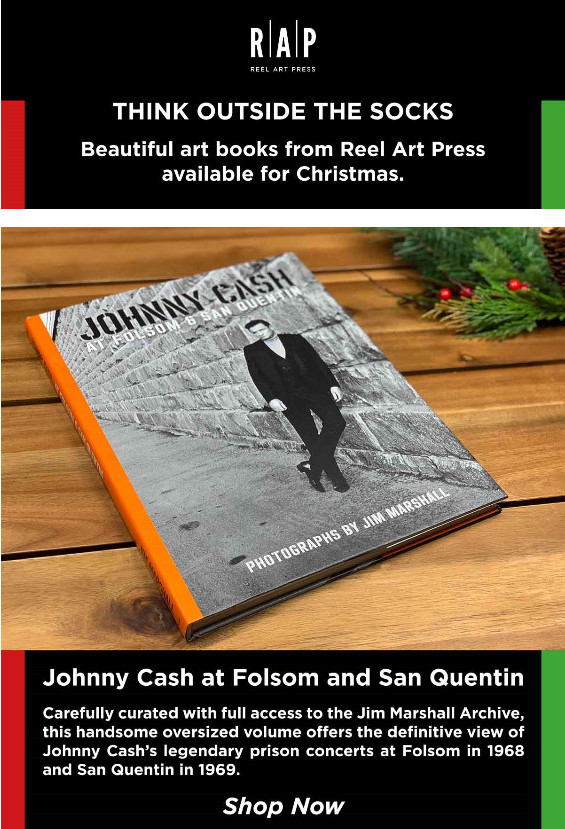 PRACTICALLY PERFECT IN EVERY WAY!
Nostalgic Doll's Prams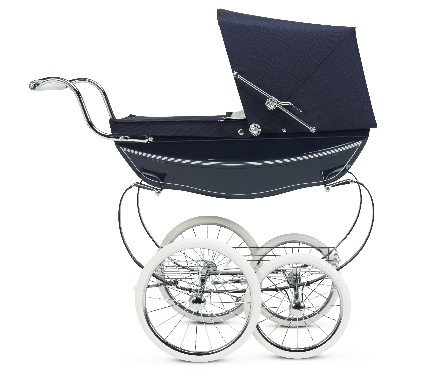 Silver Cross Doll's Prams start from £300
A magical nanny and a vintage-style doll's pram – what little one's dreams are made of this Christmas!
Practically perfect in every way, the mini-replica of the famous nanny's Balmoral Silver Cross pram is as iconic as the quintessentially British babysitter, who is returning to the big screen this festive season – with both enjoying a resurgence in popularity.
Predicted by buyers at Harrods to be one of this year's best-selling Christmas toys, the doll's pram is a timeless classic that's perfect for imaginative play.
Handmade by skilled craftsmen and women in Yorkshire, using only the highest quality materials, every doll's pram has the special Silver Cross hallmark of quality and attention to detail.
Each doll's pram has a hand-stitched hood and apron, stunning polished chrome-spoked wheels and the famous Silver Cross C-Spring suspension.
And for one lucky person, Silver Cross is offering the chance to win a fantastic £2,000 to cover the cost of Christmas when purchasing a classic Doll's Pram*.
Top designers make limited edition feminist T-shirts for Amnesty and Everpress collaboration on women's rights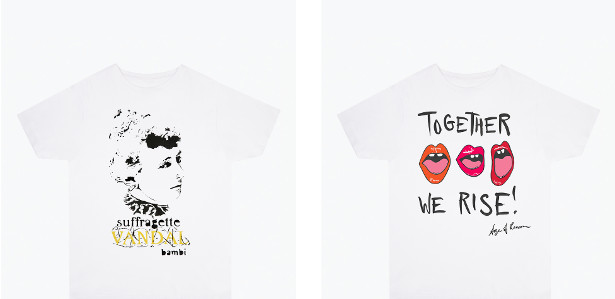 Amnesty International and Everpress have teamed up to launch 'Rebellion', a new range of limited-edition T-shirts to celebrate the powerful movements for women's rights and to raise awareness of the everyday struggles of gender inequality.
Nine T-shirts have been produced and designed by leading and emerging women and non-binary artists, including street artist Bambi, street mural duo Nomad Clan, Alice Skinner, Leyla Reynolds and Age of Reason. They have all used their unique perspectives and interpretations of the theme to create nine feminist T-shirt designs.
The T-shirts are available to purchase online from tomorrow (7 November) for three weeks only – until Monday 26 November – with 50% of the profits going to Amnesty. Each T-shirt will retail at £25.
The 'Rebellion' T-shirt project is part of Amnesty's Write for Rights campaign, which is supporting women human rights defenders who are currently in jail, or suffering harassment or persecution, including women affected by Northern Ireland's restrictive abortion law and those who have been victims of online abuse. The nine artists – who all use art as a form of activism and protest – took inspiration for their designs from these women or from their own experiences and passions.
Kate Allen, Director of Amnesty UK, said: "Sexual harassment, the denial of reproductive freedoms and gender-based online violence are just a few of the abuses women, trans and non-binary people face every single day. But around the world people are rising for their rights.
"The movement for gender justice and equality is strong, powerful, brave, courageous and determined. We're delighted to be collaborating with Everpress and this exciting group of artists to create a range of T-shirts so that people can wear their rebellion, protest or statement with pride."
The nine designers are Ali Mapletoft (Age of Reason), Alice Skinner, Bambi, Camilla Perkins, Hazel Mead, Jacob V Joyce, Leyla Reynolds, Margarita Rebolledo Hernández and Nomad Clan.
Bambi, who based her design on suffragette Emily Davison, said: ''The suffragette Emily Davison is my hero. Davison was a woman of almost unimaginable courage who repeatedly ran the gravest personal risks in pursuit of the campaign for women's votes.''
Hazel Mead, who based her design of the work of online violence campaigner Seyi Akiwowo, said: "The issue of online violence was something that I hadn't seen tackled much before so this subject matter intrigued me. …I wanted it to be a message about holding social media companies to account."
Ali Mapletoft, the designer behind Age of Reason, said: "I'm inspired by memories of the women from my childhood. Every woman has a voice, and it's though using our voices that we rise."
Jacob V Joyce, said of their 'The Future is Queer' design: "I hope it will resonate with the same urgency as Angela Davis' quote 'you have to act as if it were possible to radically transform the world, and you have to do it all the time'."
Camilla Perkins, whose 'My Choice' design was inspired by Amnesty's campaign for abortion rights in Northern Ireland, said: "It shocks me that even in 2018 in Northern Ireland the human rights of women are being breached by not allowing them safe and free access to abortion services."
GIVE THE GIFT OF TRAVEL THIS CHRISTMAS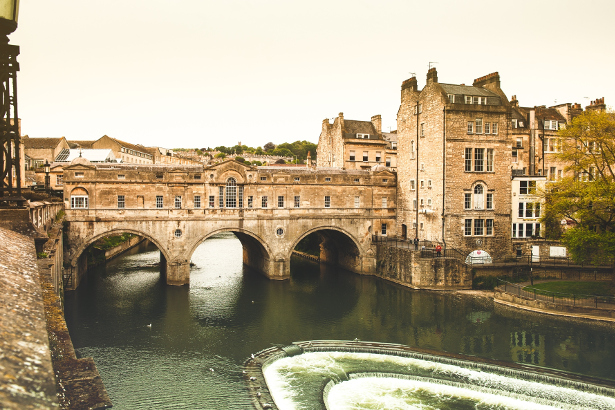 This Christmas give your loved ones the gift of travel with a Rabbie's tour voucher and memories to last a lifetime. A voucher is their passport to anything from a one day outing to discover Bath, Avebury and Lacock Village to a three day break around Isle of Wight and the Southern Coast, and longer tours to discover Devon & Cornwall and more.
Available at values between £10 and £500, the tour vouchers can be redeemed on any Rabbie's trip departing from London, Manchester, Edinburgh, Glasgow, Inverness, Aberdeen, and Dublin.
So, instead of novelty socks and a box of chocolates, give something truly memorable to friends and family. There's a tour for every taste: for the whisky enthusiasts, the voucher can be used on a distillery tour, nature lovers can go on a visit to the stunning coastlines of the scenic Scottish Islands, and literature fans will be blown away with a trip to the home of Shakespeare.
The gift vouchers can be personalised and sent by email – perfect for last-minute shoppers and dear ones that live further afield.
Rabbie's ethical small group tours range from one to 17 days and take guests off the beaten track with an experienced driver-guide. Passengers can meet the locals, enjoy extended time off the bus, choose their own accommodation, pick the attractions they wish to visit, and experience the best, yet undiscovered, locations in UK and Ireland.
For more information visit: https://rabbies-trail-burners-ltd.vouchercart.com/4352/rabbies-tours-gift-voucher

All Your Trampoline Needs! Have Fun & Get Fit by making your kids Christmas Present Dreams Come True! Trampolines are great for fitness and so much fun! >>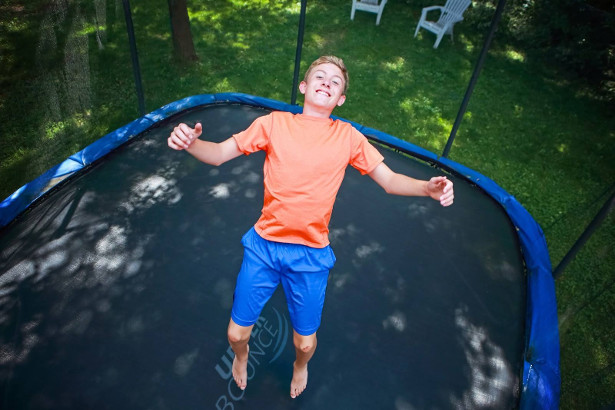 Upper Bounce is one of the leading trampoline manufacturers. They strive to deliver a quality product that everyone in the family can enjoy.
Study after study has shown that adults and children are experiencing epidemic proportions of obesity. There are many new and ongoing programs in schools advocating the reduction of sugar and sugared drinks, as well as fatty foods. Furthermore, baby boomers who are approaching retirement age are being told by the medical establishment, and constantly made aware, that being sedentary is very detrimental to health. They are being encouraged to exercise even a few hours a week, as it will have a very positive effect on both their physical and mental wellbeing.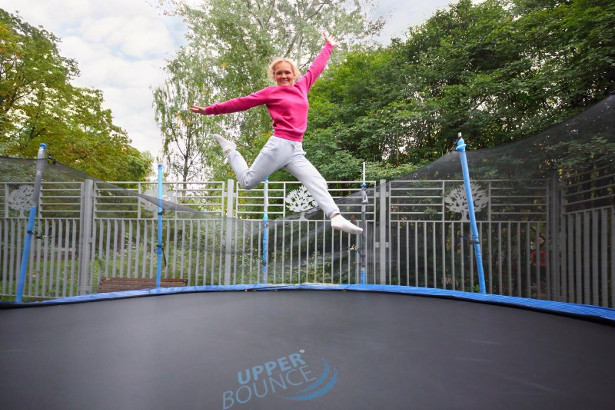 A trampoline is one of the most effective ways of enjoying healthy body movement and low impact exercise. Bouncing on a trampoline engages all your body muscles, without placing stress on any specific part of your body. Additionally, the entire family – from your small kids all the way to grandpa — can enjoy a trampoline. One key concern in the use of a trampoline is safety consideration: The way the trampoline is built makes a big difference in the safety and enjoyment of your trampoline.
Upper Bounce doesn't skimp on the quality of raw materials during the manufacture of their trampolines. Their trampoline mats and safety enclosures are strong and durable, and the frame's components are constructed with safety of the consumer in mind, and built to last for years to come. So put away your smartphone and go bounce!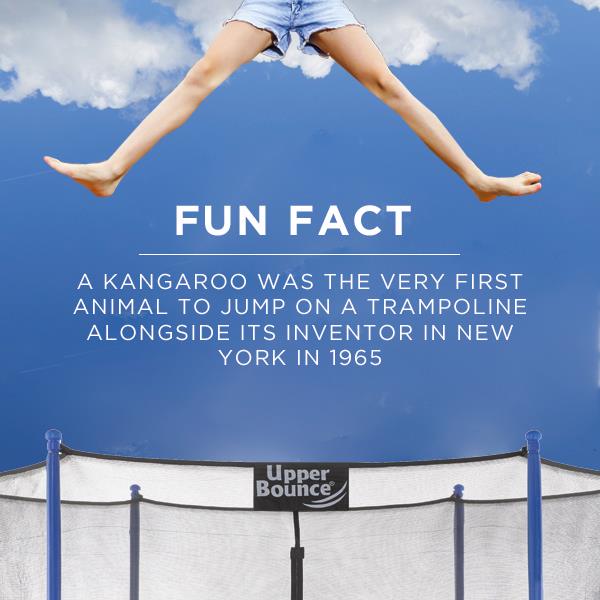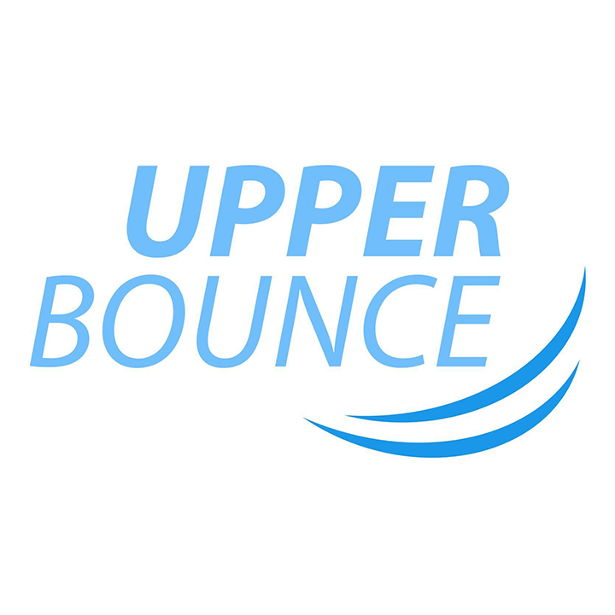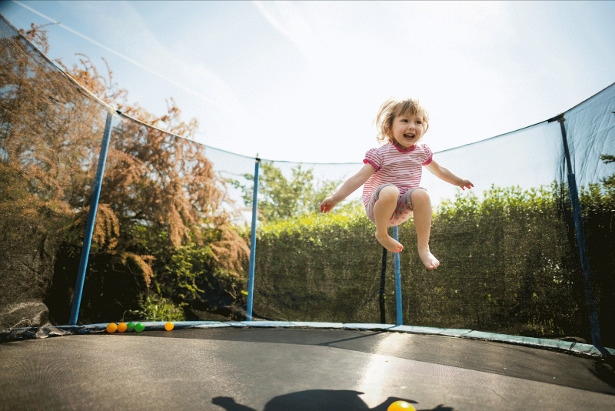 Somers Family MustKetch Variety: Original, Smoke, Zesty – 3 Bottle Pack on Amazon!
A unique blend of mustard, ketchup and spices that make it extra craveable. Ideal for hotdogs, bratwurst, chicken, hamburgers, french fries and more.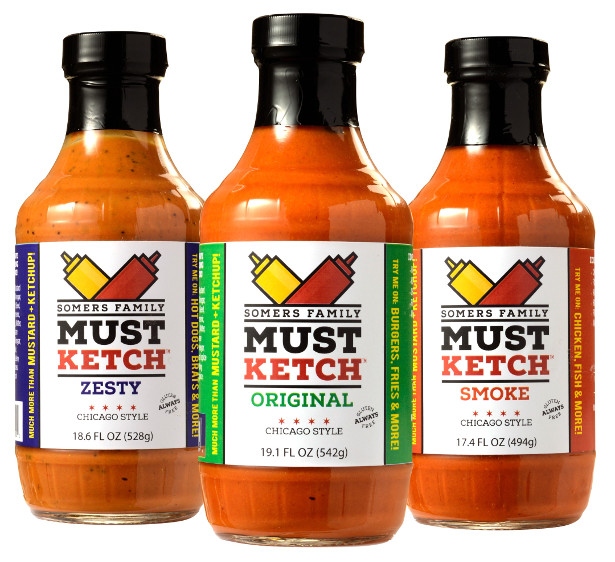 With Somers Family MustKetch you don't have to choose between mustard and ketchup – have both! But MustKetch is more than just mustard and ketchup – it's a whole new kind of condiment. Using a unique blend of natural ingredients in each flavor, MustKetch is extra cravable. Available in three flavors: Original (mustard, ketchup and a little something extra), Zesty (like Original but with a little extra zip), and Smoke (Smoky with spicy, peppery undertones). Use MustKetch with your favorite foods like French fries, eggs, and of course, hot dogs and hamburgers!
Available in 3-bottle variety pack on Amazon for $27.98
https://www.amazon.com/Somers-Family-MustKetch-Variety-Original/dp/B076VVQLDF/ref=sr_1_1_a_it?ie=UTF8&qid=1541174288&sr=8-1&keywords=mustketch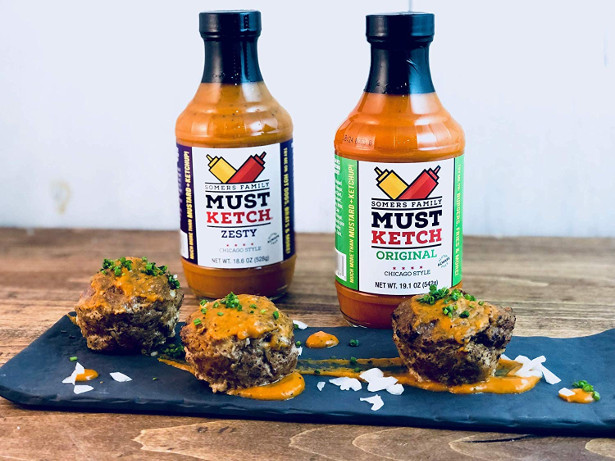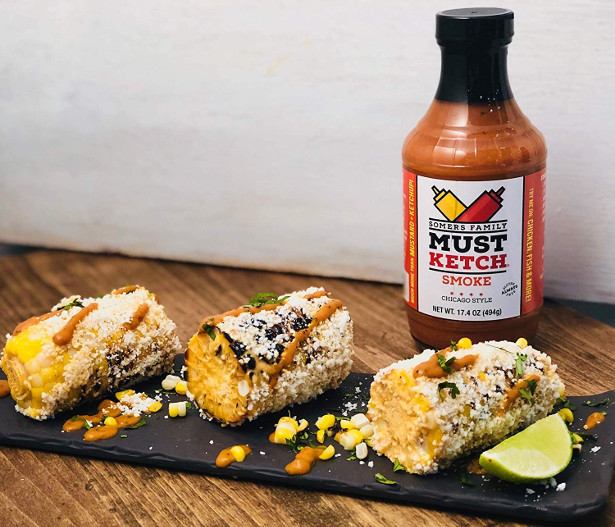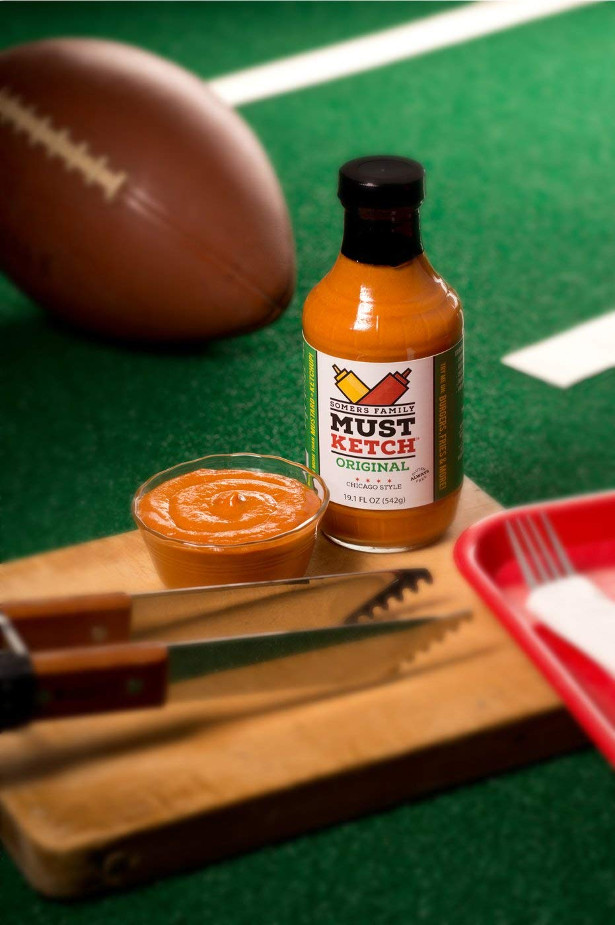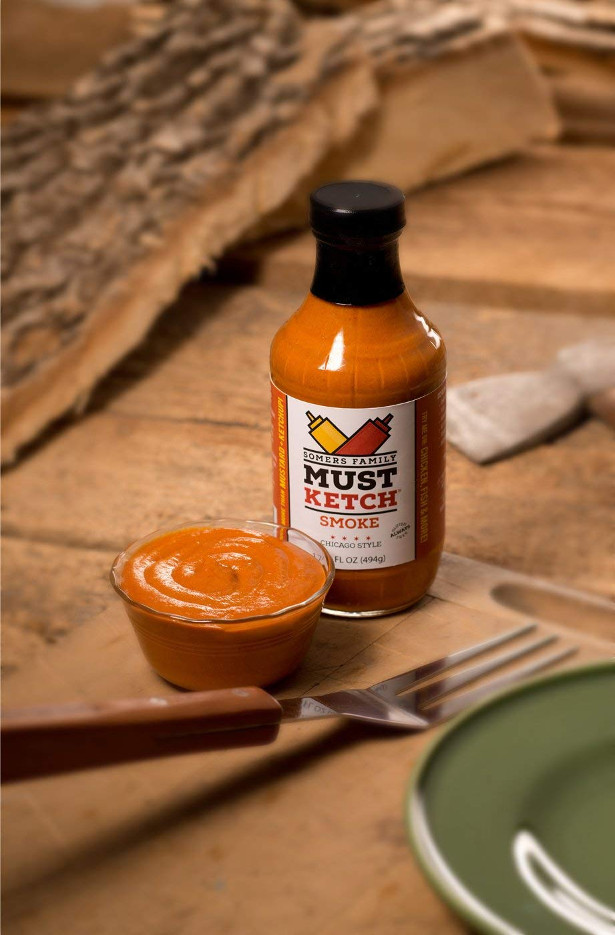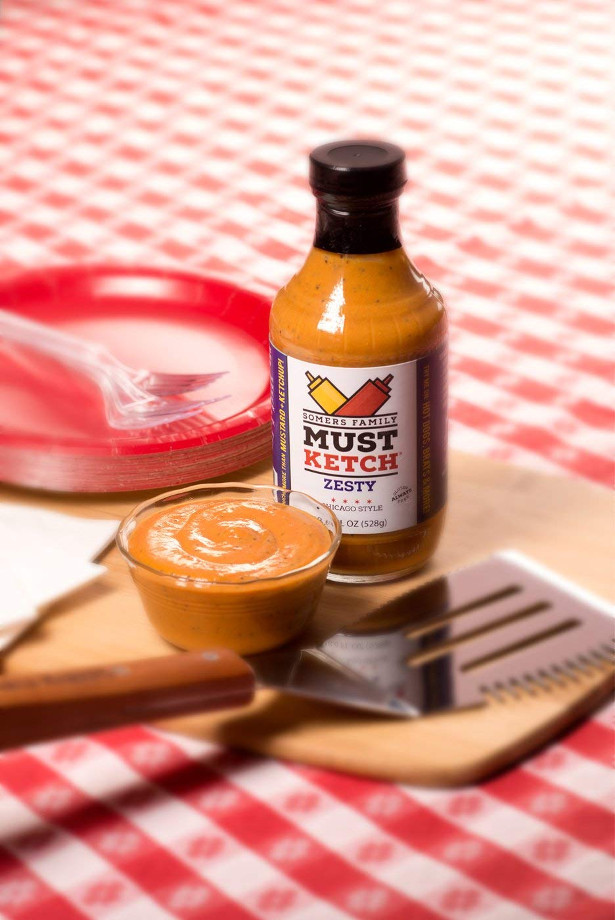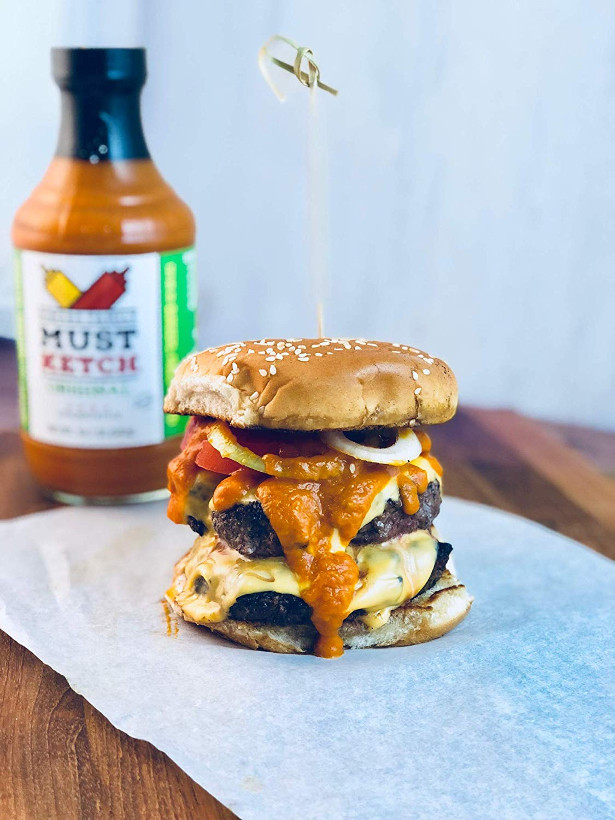 For that extra special Christmas present the relationship specialist MyDateNight.com.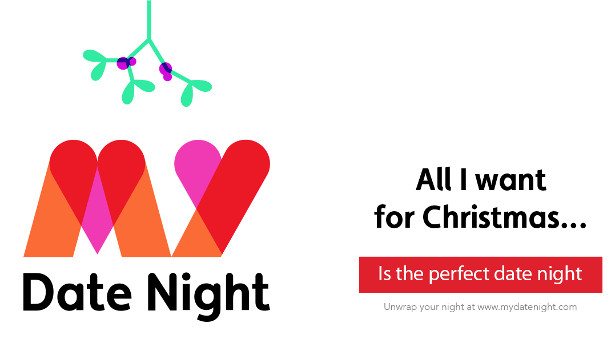 An experience makes a much more enjoyable and memorable gift. The sophisticated platform MyDateNight.com tailors date nights to every couple's preferences, from budget friendly eat, drink & dance ideas, to elaborate theatre breaks and VIP experiences. MyDateNight.com works with thousands of venues across London and nationwide to offer experiences for all tastes and budgets.
So Why Gift a Date Night?
Recent research conducted by Populus on behalf of the MyDateNight.com has revealed that — 4 in 5 (80%) of respondents with children aged under the age of 18 agree that their last date night made them feel closer to their partner, significantly more than the 7 in 10 (71%) either without any children or without any children aged under 18 years old. Those with children aged under 5 (83%) were the most likely to feel closer to their partner as a result of their most recent date night.