Add SIXPAD training to your's or their daily routine. www.sixpad.uk
FACEBOOK | TWITTER | INSTAGRAM | YOUTUBE
SIXPAD EMS (Electronic Muscle Stimulation) wearable.
Add SIXPAD training to your daily routine.
ABOUT EMS Technology
– SIXPAD is an EMS (Electrical Muscle Stimulation) training device that delivers electrical stimulation directly to the muscles causing them to contract and relax exactly as they would during exercise.
– The SIXPAD product range uses an electrical frequency of 20Hz. Muscle fibres react differently to the strength of the electrical current and the duration and frequency of the electrical impulses. Japanese research shows that 20Hz is the optimum frequency for EMS training because when frequencies that exceed 20Hz are applied the muscles quickly tire.
– Each SIXPAD is programmed to deliver a comprehensive 23-minute workout to be worn once a day. The product automatically cycles from warm-up to cool-down. The program progressively increases exercise intensity in stages as time elapses, and automatically stops when the program is completed.
– If worn every day, and used as part of a healthy, balanced lifestyle, SIXPAD can develop and tone muscle, while it can build core strength and keep muscles engaged for longer.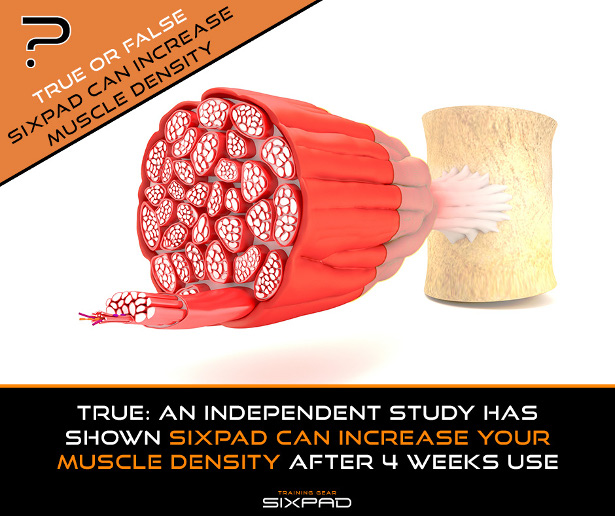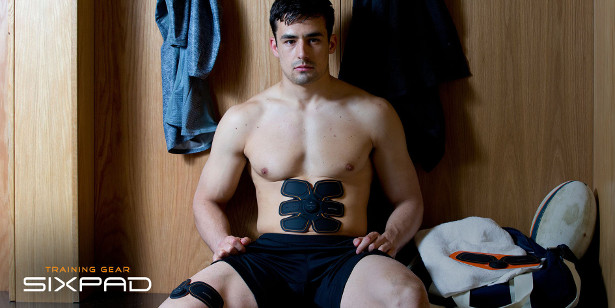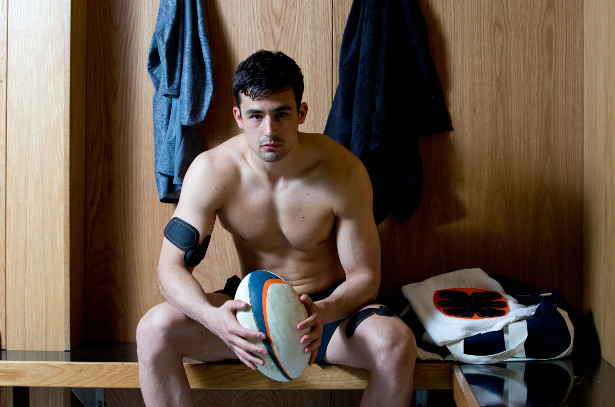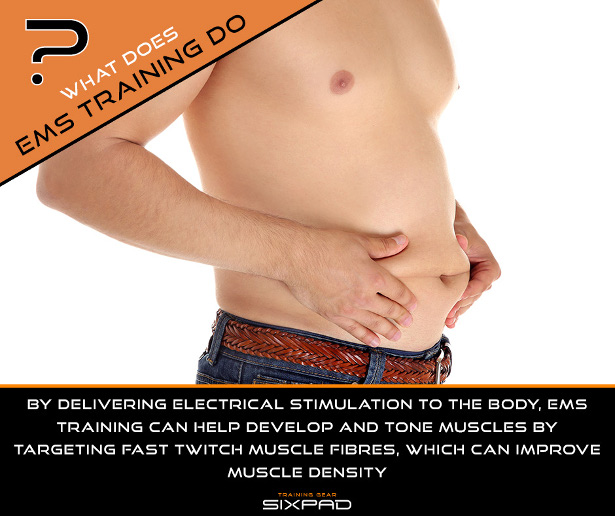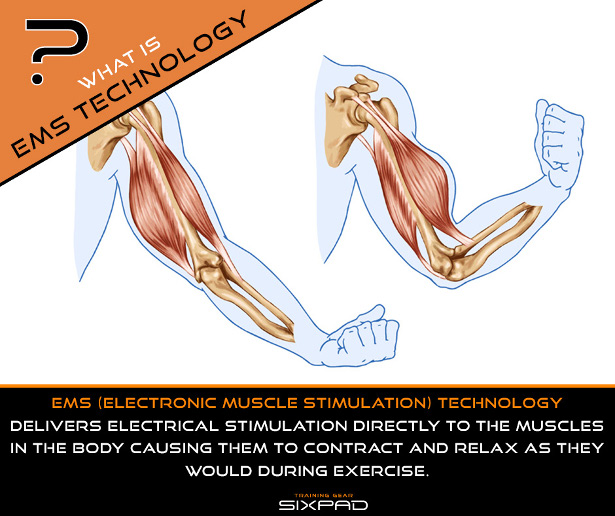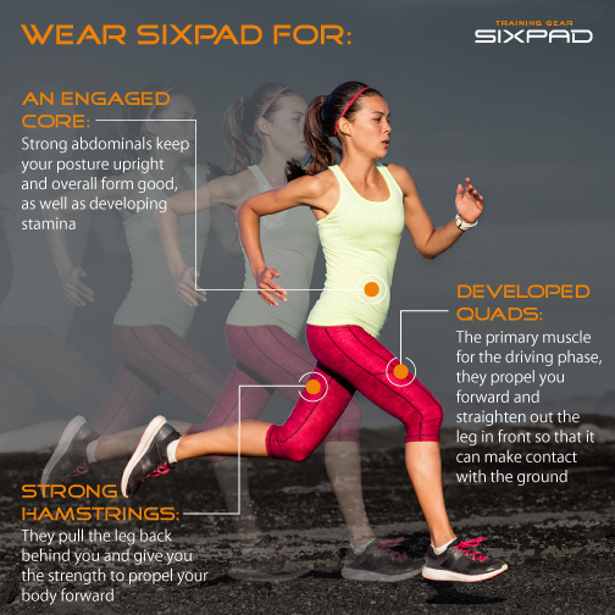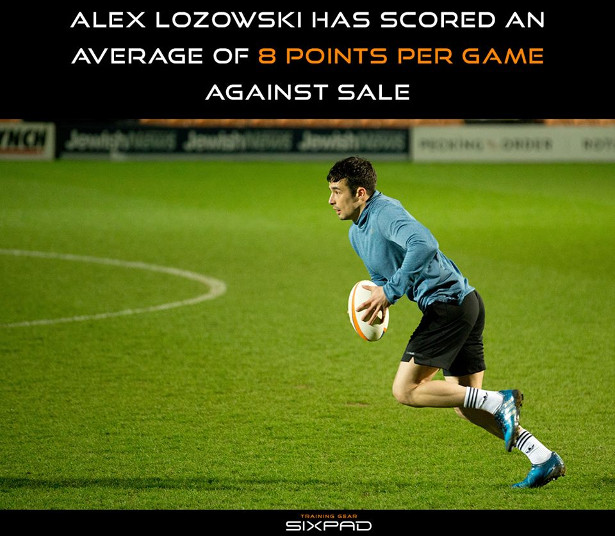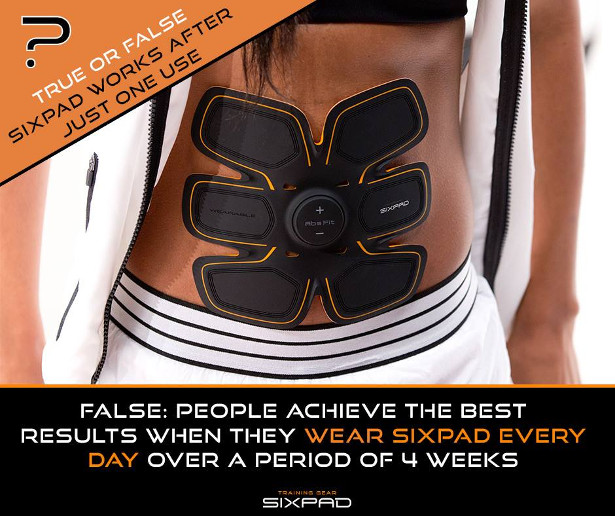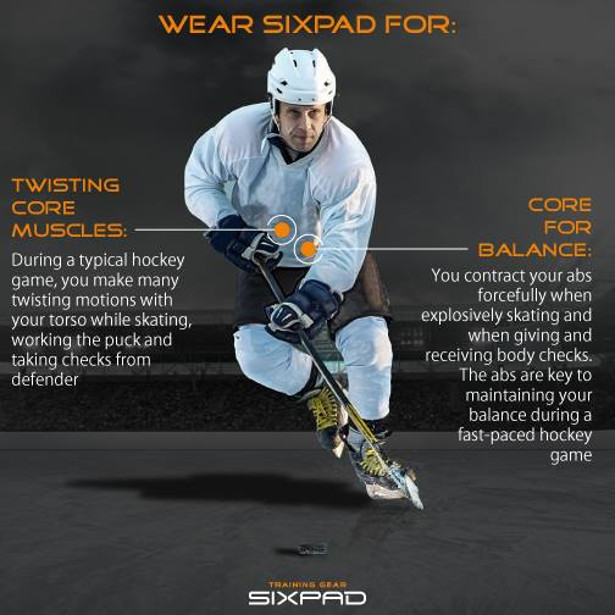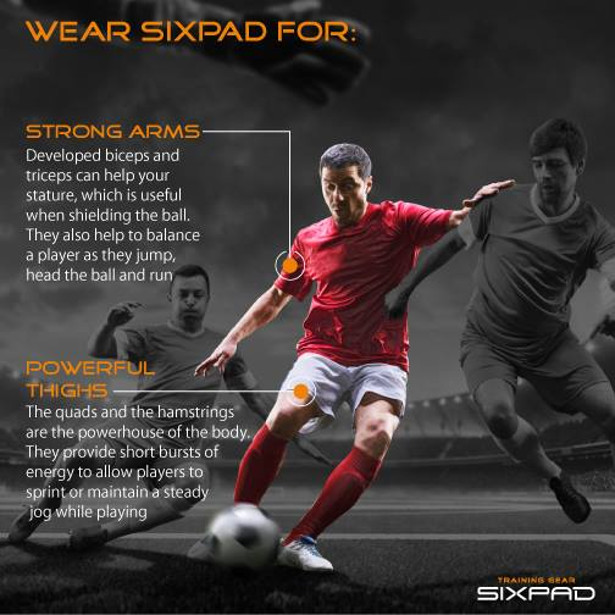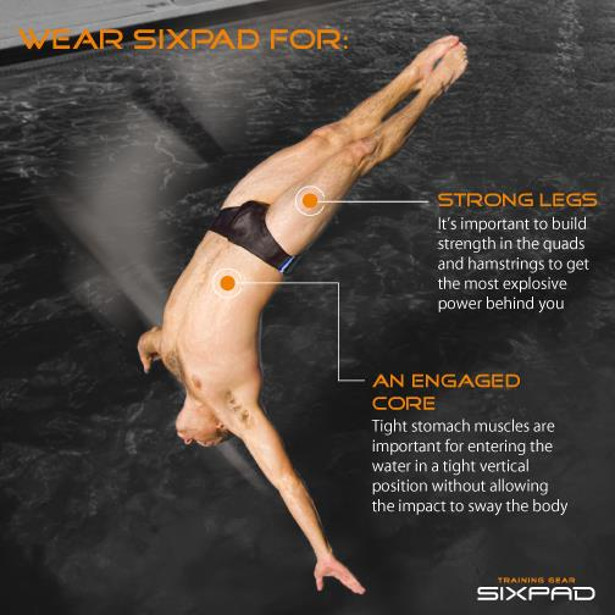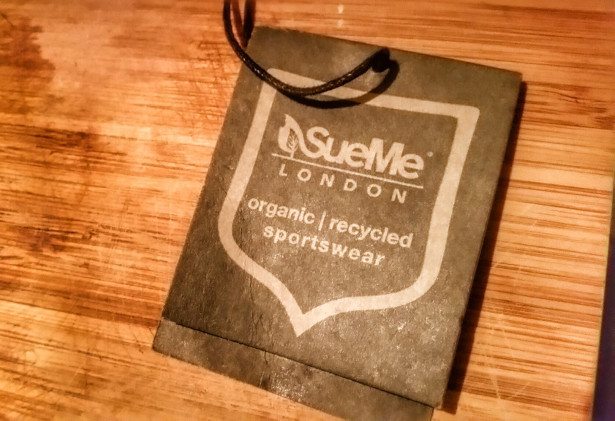 FACEBOOK | TWITTER | INSTAGRAM
SueMe: Sustainable and stylish sports performance underwear from SueMe, the responsibly sourced sportswear brand. Available in a variety of colours and designs, each pair of SueMe performance underwear is packaged in a recycled box and delivered with a free packet of beech birch and wild meadow flower seeds to help users 'give something back' and further connect with nature, whilst replenishing the earth that SueMe underwear is grown from. https://sueme.com/
Prices Range from £20-£46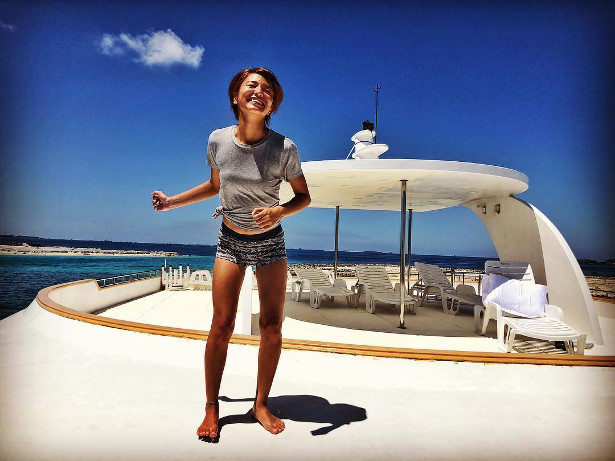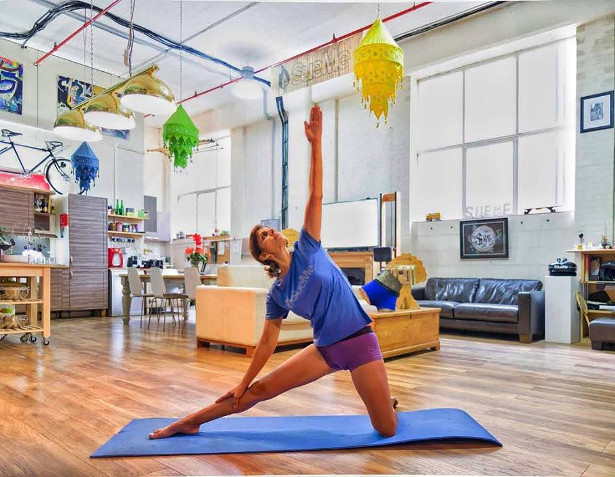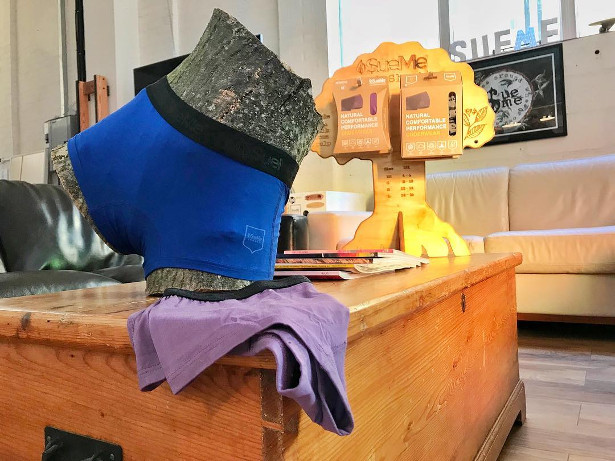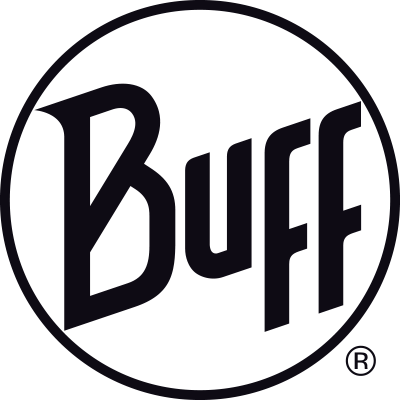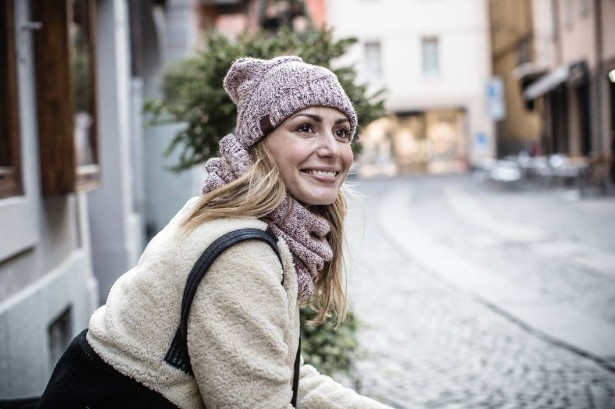 FACEBOOK | TWITTER | INSTAGRAM
BUFF Lifestyle: Top quality winter bobble hats from leading sports head and neckwear brand Buff. Available in a wide variety of colours and styles, the Buff range has something for everyone and will protect your loved ones from the elements this winter in comfort and style. www.buffwear.co.uk
Prices range from £20-£45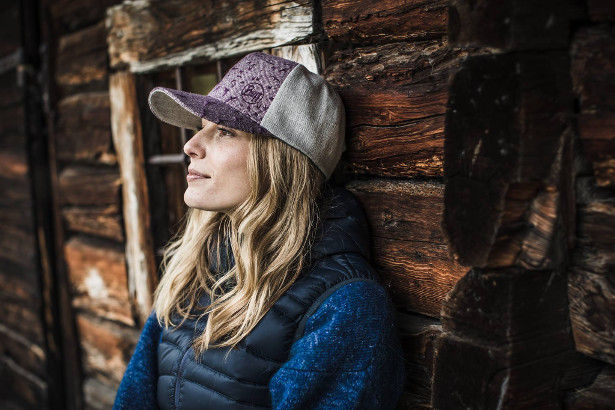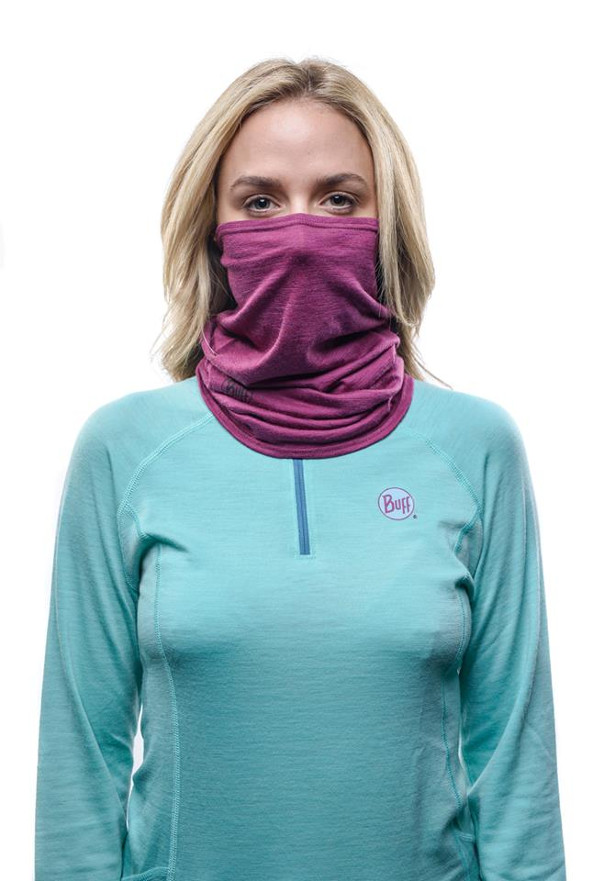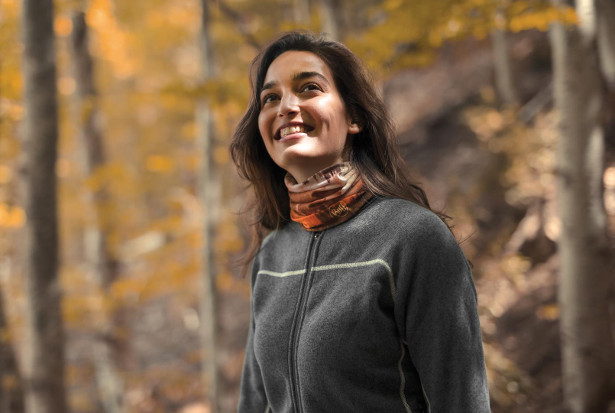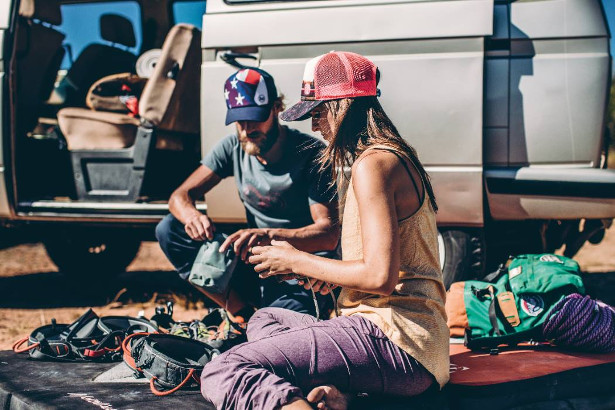 Such high Quality, its great for party cooking, but will last a lifetime! The Ozeri Professional Series 10" Ceramic Earth Fry Pan, Hand Cast and Made in Germany (PROFESSIONAL SERIES) ON AMAZON!
Buy now at :- www.amazon.com/Ozeri-Professional-Ceramic-Earth-Germany/dp/B07BFL94M1

Individually hand-cast in Germany and quadruple sealed with a professional ceramic coating that is 100% free of APEO, PFOA, NMP, NEP and BPA.
Achieves non-stick perfection without risk of exposure to controversial per fluorinated chemicals.
Boasts a 4-ply ceramic coating hardened for scratch resistance and Lifetime performance.
Features a durable aluminum core treated with a magnetized anise 430 layer for use with induction stoves.
Oven safe to 260 C / 500 F, with a comfortable heat-resistant under-coated handle. 100 % hand-cast and made in Germany.
Individually hand-cast in Germany for unyielding quality and craftsmanship, Ozeri proudly presents its Professional Series 10" Ceramic Earth Fry Pan. Quadruple sealed, the Professional Series Ceramic Earth Fry Pan utilizes a 4-Ply ceramic coating that is hardened to perfection for scratch resistance and lifetime performance. Belonging to Ozeri's Professional Series, the Ceramic Earth Fry Pan was developed with the uncompromising goal of the safest and healthiest cooking, and utilizes an environmentally conscious coating that delivers long-lasting performance and non-stick perfection. This special coating exceeds all European Union guidelines for safe cooking and is absolutely free of APEO and PFOA, and the lesser known chemicals NMP, NEP, and BPA. Conventional pans often made with the aid of PFOA (PerFluoroOctanoic Acid), a potential carcinogen which the EPA has classified as a 'persistent pollutant of the environment', and APEO (Alkylphenol ethoxylates), which are under restricted use in Germany due to concerns about their poor biodegradability and toxicity.

With the Ceramic Earth Fry Pan, no such chemicals are ever released. The Ceramic Earth Fry Pan utilizes an inert coating that is also free of the potentially harmful chemicals NMP (N-Methyl-2-pyrrolidone) and NEP (N-ethyl-2-pyrrolidone). The Ozeri Professional Series Ceramic Earth Fry Pan is exemplary in its German craftsmanship and inductive technology, bringing you the finest that Germany has to offer. Durable and scratch-resistant, the Ceramic Earth Fry Pan boasts a durable 9 mm aluminum core treated with a magnetized AISI 430 layer for use with rapid heat-transfer induction stoves, allowing this pan to achieve cooking temperatures with less energy and time. Oven safe to 260 C / 500 F, and 100% hand-cast and made in Germany. Your satisfaction is guaranteed.
Party Time! Ozeri Zippy Patented Mixer, 4 Qt Popcorn and Snack Maker! On Amazon! Its so easy to use this affordable device!
Buy On amazon :- www.amazon.com/Ozeri-ZY5-4Q-BLK-Zippy-Patented-Popcorn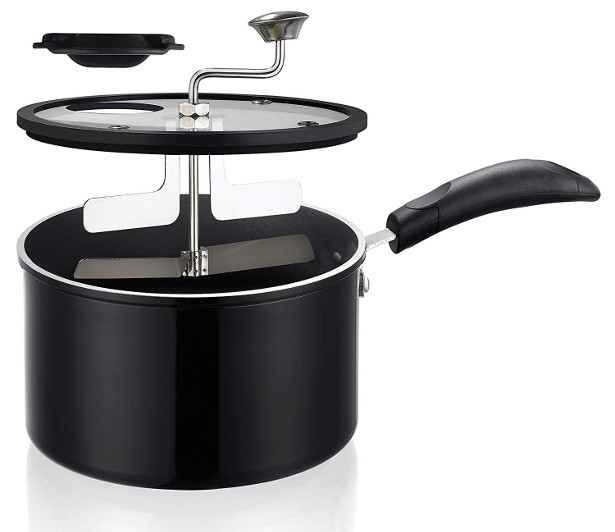 Create the lightest and fluffiest flavored popcorn, savory roasted nut mixes, or invent your own snacks within minutes.
Features a top-mounted patented tumbling mechanism that mixes and coats popcorn effortlessly, while ensuring that each kernel pops without burning.
4 Qt pot made of high quality aluminum with a PFOA-free non-stick interior; includes a non-slip silicone-rimmed and vented tempered glass lid, with a flavor port to easily add toppings.
Durably made and oven-safe up to 350 degrees Fahrenheit (177 C); completely dishwasher-safe for easy cleaning.
Eliminates burning and requires far less oil than traditional popcorn makers; puts you in control of your ingredients for the healthiest snacks.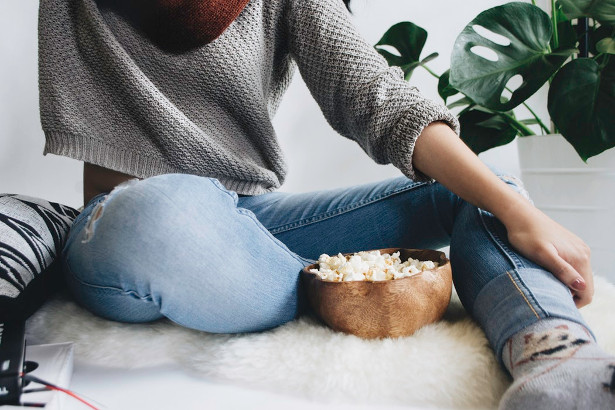 Presenting the New Ozeri Zippy Pop Stovetop Popcorn and Snack Maker, in Color – the stovetop popcorn and snack maker bringing family and friends together around homemade goodness, from fluffy popcorn creations to sweet or savory roasted nuts and snacks. The Zippy utilizes a patented top-mounted tumbler which features a unique stationary baffle and propeller arms to rotate and perfectly coat each kernel or snack with your favorite delicious seasonings or toppings. The patented and unrivaled stirring mechanism completely eliminates burning, and ensures that each kernel pops to perfection, for savory and better than movie-theater popcorn within minutes. The Zippy's 4 Qt pot is durably made of high quality aluminum, and is oven-safe up to 350 degrees Fahrenheit (177 C). The Ozeri Zippy Popcorn and Snack Maker includes a non-slip silicone-rimmed and vented tempered glass lid, with a specially designed flavor port to easily add ingredients for exciting recipes such as candy-bar popcorn, chili lime popcorn, toasted coconut cashews, classic party mixes, or your own gourmet snack inventions. The Zippy requires less oil than traditional popcorn makers and puts you in control of your ingredients so you can carefully craft the healthiest snacks. In addition, by simply removing the tumbler, the Zippy Pop doubles as a high-quality 4 Quart pot. Boasting a PFOA-free nonstick interior, the patented Ozeri Zippy Pop Stovetop Popcorn and Snack Maker is a breeze to clean, completely dishwasher-safe, and backed by Ozeri's no-hassle warranty.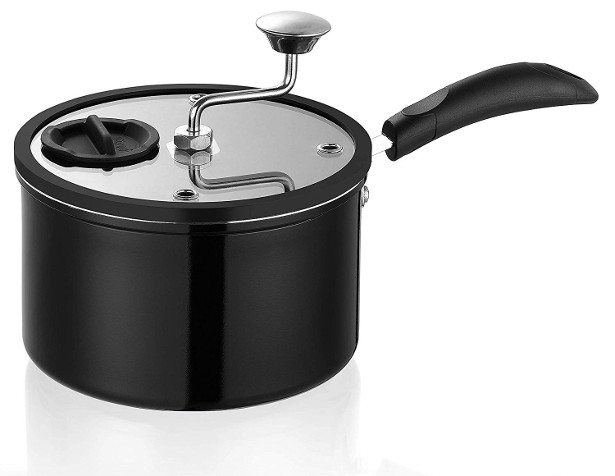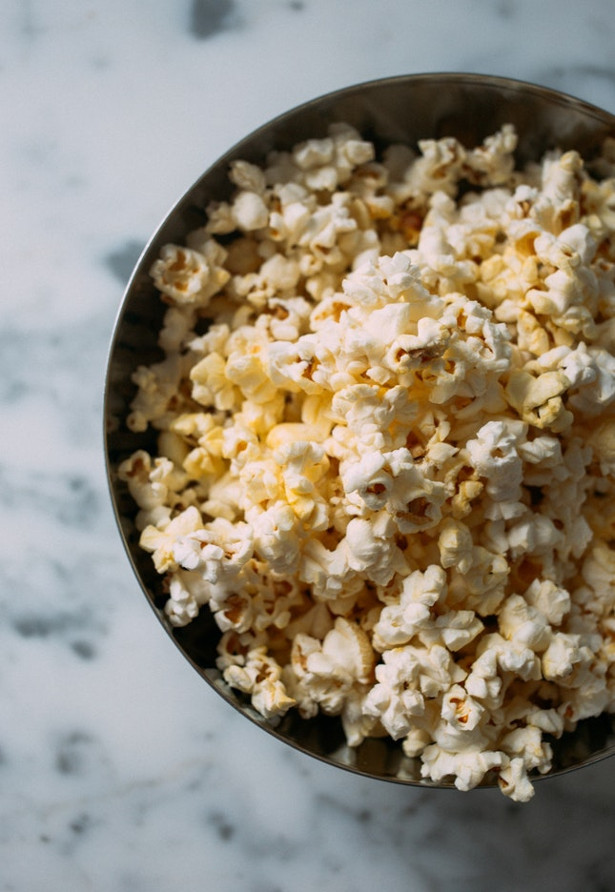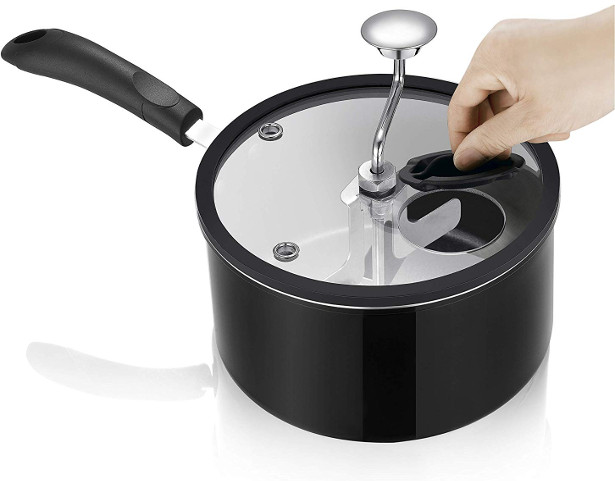 'My Little Sudocrem'
New! 'My Little Sudocrem'… multi-purpose, super portable and effective! It's skin healing on-the-go to be used anytime, anywhere!
Fans of Sudocrem have known for a long time, that their products work on everything from chaffing to sunburn. No wonder Sudocrem's been likened to the "Swiss army knife of skincare" because their products are multi-purpose, highly-portable and effective. And, loved by everyone from babies to teenagers, runners to cyclists, mountaineers to urban explorers and everyone in between.
To celebrate its 87th birthday, Sudocrem decided to create a dinky, super portable new product called 'My Little Sudocrem'. As skincare products go it doesn't get much cuter than this! It can be used to soothe dry patches of skin, help to reduce redness and gently moisturise. It's skin healing on-the-go to be used anytime, anywhere. With all the multi-functionality of Sudocrem Skin Care Cream in a pocket-sized 22g grey pot, it's convenient, costs just £2.99 and there's no mention of babies' bottoms.
Distinctive, Like No Other, Cadello
With an Asian and Italian heritage, a smooth recipe that took more than three years to develop and the inspiration that arose from Venetian masked balls, the amazing drink of Cadello. A brand unlike any other that you have ever seen before, its premium drink is set to define a category of its own.
Cadello serves up a spirit as magnificent as the wealthy merchants of Venice and masked balls that came to be the inspiration behind this brand. Providing a distinct and singular experience, this drink is crafted with eight carefully selected ingredients which unveil flavours of coffee, chocolate, star anise and vanilla, with hints of caramel, hazelnut, mint and toffee. The ingredients are infused in grain alcohol and then distilled separately, before being carefully blended into French Oak barrels with coffee beans, to age into a spirit that encapsulates the perfect depth, complexity and smoothness.
Cadello is perfectly smooth and can be simply enjoyed on its own to allow a full sensory experience of the flavours mentioned above. A drink that is pleasing at any time of the day, Cadello works well as an aperitivo, digestivo and a delicious addition to any cocktail. Fashioned by top bartenders around the globe.
It works well as a Cadellotini, Cadello's very own spin on the much-loved Martini. This cocktail was created by Goethe Bar in Zurich and includes Cadello, Vodka, Frangelico, Cherry Liqueur and Espresso. Cadello also tastes, super well combined with fresh lemon juice, Tio Pepe Dry Sherry Fino and Ginger Syrup to create the Fizzy Fiddler. A cocktail created by award-winning bartender Chloé Merz-Salyer.
Cadello is available from Honest Grapes for £30. For more information visit Cadello

Introducing Gregory's Tree Blueberry & Raspberry Double Fruit Twist Bars! @ Food Matters Live this year!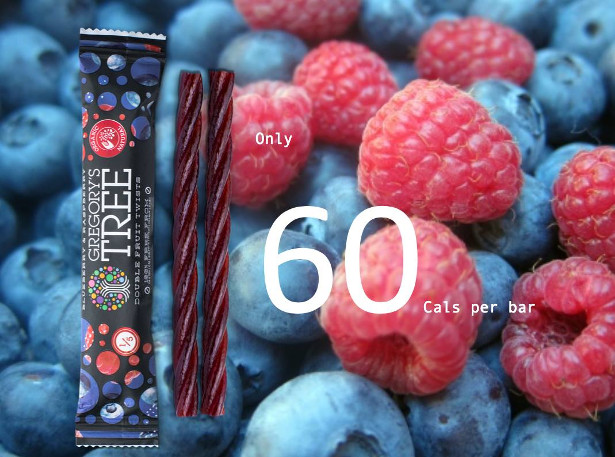 FACEBOOK | TWITTER | INSTAGRAM
Introducing Gregory's Tree Blueberry & Raspberry Double Fruit Twist Bars
Each Gregory's Tree Blueberry & Raspberry Double Fruit Twist Bar bursts with fruity flavour because each are made from pure organic fruit, which is gently heated, pulped and twisted.
There is no added sugar just natural and tasty sweetness!
Gregory's Tree – the ideal healthy treat!
100% Gluten Free
Gregory's Tree Blueberry & Raspberry Double Fruit Twists are great tasting, organic, gluten free snack bars. This amazing new snacking alternative helps you Beat The Dip® and is only 60 calories per bar.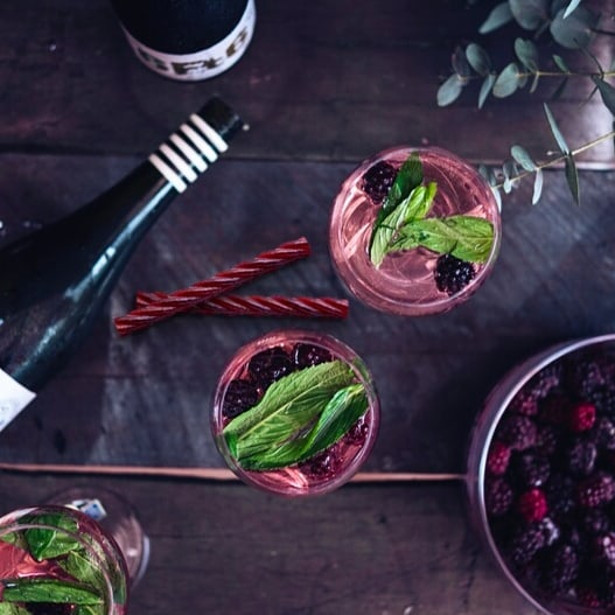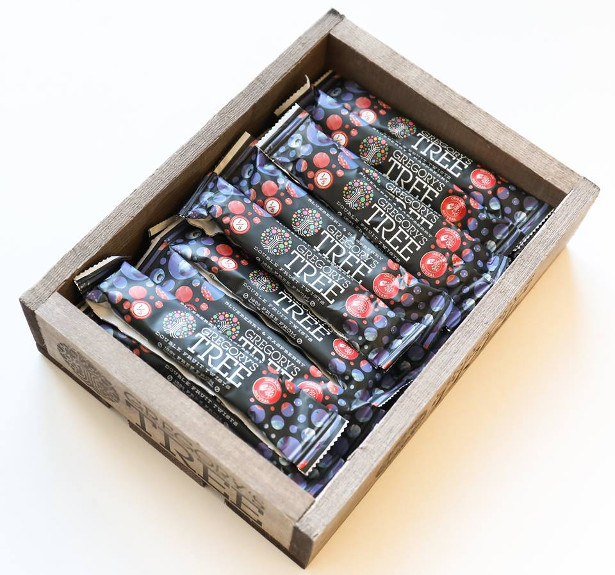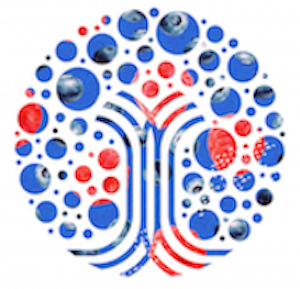 Winter Sports Service at The Centre for Health & Human Performance (CHHP)
The winter sports season is almost upon us and the ski service at CHHP aims to provide the best possible care for ski and snowboard related conditions.
Whether it is the prehab and rehab of ACL injury or the recovery from a fall on the snow, the team can ensure an optimal recovery, with the help of experts Rob Madden and James Vickers.
Experienced snow-sport physiotherapists Rob Madden and James Vickers run the Ski and Snowboard Clinic at CHHP and both specialise in snow related injuries, including specific prehab or rehab from surgery. They also run tailored pre-season conditioning programs aimed at reducing injuries and improving performance on the snow. The Ski and Snowboard Clinic works closely with the Major Challenges Clinic, run by Professor Greg Whyte OBE, which is aimed at optimising performance at high altitude.
If you are looking to increase your performance in the mountains, then this is also in the mindset of the team at the Centre for Health and Human Performance.
The team at Specialist Altitude Medicine is also available at CHHP.
Services Available:
o Pre-season conditioning
o Pre-surgical rehabilitation (Prehab)
· Snow-Sports Injury Clinics
CHHP Overview:
The Centre for Health and Human Performance at 76 Harley Street opened its doors in 2007, as a new concept in fully integrated specialist services, directly accessible to anyone. All under one roof, the centre combines the very latest in Specialist Medicine, Human Performance, Sport and Exercise Medicine, Physiotherapy and Sport Science. Unlike many practices, CHHP not only work as individuals in their fields of expertise but also combine their knowledge, working together as a 'multi-disciplinary team'.
CHHP provide a concierge level of care for all our clients, in a completely private, welcoming environment, coordinating all aspects of care for those who are critically ill, right through to helping elite athletes achieve their career goals and celebrities succeed in extreme charity challenges. Most importantly, CHHP's team approach aims to improve fitness, health and resilience, wherever you are starting from, to get more out of life for longer.
Chemmy Alcott
Description: Macintosh HD:Users:milliepughe:Desktop:Chemmy 3.JPG Description: Macintosh HD:Users:milliepughe:Desktop:Chemmy Alcott.JPG
4 x Winter Olympian, a career high ranking of 8th in the World, 7 x British National Overall Champion and the only British female skier to ever win a run in a World Cup, Chemmy Alcott is widely regarded as one of Britain's greatest ever skiers.
In a time where competing at a Winter Olympics was unusual for a British athlete, Chemmy defied the odds and pioneered a skiing movement that has inspired a generation. Since retiring from competing on the world stage after The Sochi Olympics in 2014, Chemmy has immersed herself in the world of TV & media, where she now presents for the BBC on Ski Sunday and commentates on the World Cup Ski Series for Eurosport amongst being a guest on many other show.
Rowan Cheshire
cid:1B746330-5AA8-40B8-BC95-D47069EEFAE6 cid:7604B84F-CAB3-4F45-9B78-F83785DD9F38 cid:F8DBE819-854E-4A0E-86F5-B468638D9716
Team GB freestyle skier Rowan Cheshire burst onto the international scene in 2014, when she became the first British woman to win a Halfpipe Gold medal at World Cup level at only 18 years old. In the process, she quickly established herself as one of the most exciting prospects across all Winter sport. Still only 21, Rowan is widely regarded to be the future face of British Winter Sport, as she looks to become the first British skier ever to win a medal at the Winter Olympics.
Top Tips for Injury prevention in skiing
As knee and ligament damage are the most common injuries to acquire when skiing it's important to hit the gym and prepare your body for the slopes. This will help prevent injury and also allow you to have the fitness to ski longer and on more challenging terrain.
I'd recommend warm ups being focused on single leg stability movements, such as single leg hops and hops on and off a box, in different directions. This will help build power and strength in the legs and build stability around the knees.
Including balancing exercises are important to increase core stability and prepare your legs and also prevent injury. You can perform great single leg balance exercises on a bosu ball, by balancing on the flat side while trying to stay as stable as possible. Adding movements to this is a great progression.
Skiing involves your full body, so making sure you work out all the major muscle groups is very important.
You need to rest properly, skiing can be a very taxing sport and if you push it and ski when you're too tired you could be putting yourself at risk of injury. Stretching and keeping your body fuelled well, will aid in the recovery process.
Being out in the snowy mountains and in that cold environment can often bring on illnesses such as a cold. This can bring a downer on the trip but also put you at risk of injury if you decided to power through and ski anyways (as you aren't as focused and clear headed). Making sure you're consuming enough healthy food and getting your vitamins and minerals and not consuming alcohol will help fight those bugs. Also make sure you're prepared with enough layers, and I always recommended taking a few hand/body warmers.
Celebrate Christmas in style with these three festive, crimson cocktails from Malfy Gin and Black Cow Vodka.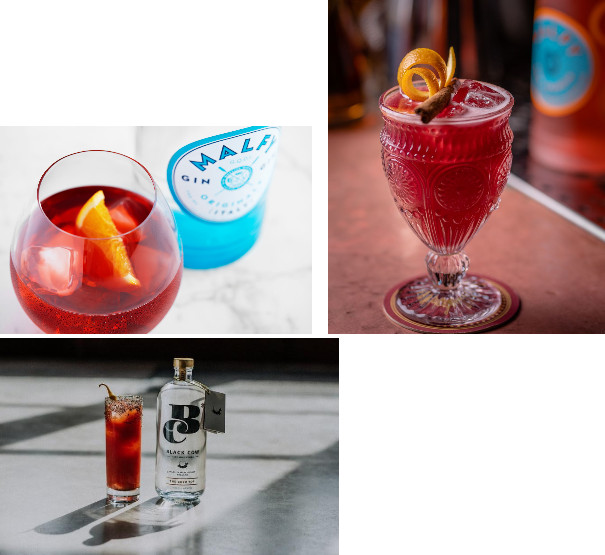 Malfy Negroni Originale Malfy 1968 Sangria Cocktail, photo credit Black Cow Bloody Cow
Anthony Parks, Whitechapel
Malfy Negroni Originale
Mix 1 part Malfy Originale Gin with 1 part Campari and 1 part Rosso Vermouth
Serve in tumbler filled with ice and a large slice of orange.
Malfy 1968 Sangria Cocktail – (made with Malfy con Arancia which is distilled with Sicilian blood oranges)
50 ml Malfy con Arancia
15 ml Vermouth
5 ml lemon juice
half tsp orange marmalade
25 ml Cinnamon Liqueur
5 ml Italian Bergamot Liqueur
Shake all ingredients, strain over ice and top with Orange soda. Garnish with cinnamon and orange peel
Bloody Cow
50 ml Black Cow
25 ml sweet sherry
Top up with tomato juice, good splash of Lea Perrins and Tabasco. Add a dash of celery salt and black pepper. Squeeze a few drops of lemon juice and serve in a hi ball glass over ice
Christmas bubbles and celebrations
The perfect Champagne Flute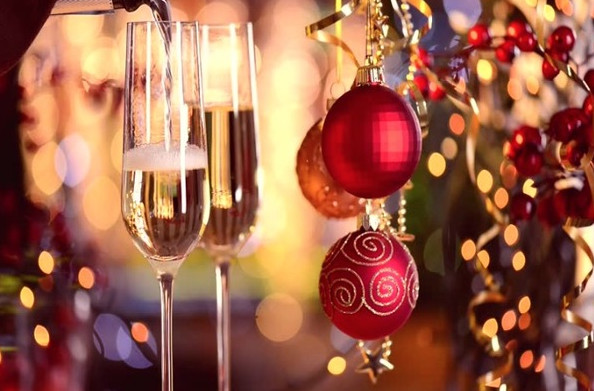 Christmas is nearly here and it's time to celebrate. You're thinking about prepping the food, decorated the house and started to shop for your Christmas gifts. Now it's time for the fizz…
Champagne flutes are popular because they showcase tiny, rising bubbles perfectly – the enduring and visualised appeal of sparkling wine's power to refresh. … It is also much harder to spill your precious bubbles in a flute, while its serving size is ideal for parties.
Versace Medusa D'Or Champagne Flutes (2); £432.
Christallerie De Montbronn Spiccato, Crystal; £205. Rosenthal Estelle, Glass; £64.
Zieher Vaganza Platin, Crystal; £90. Zieher Vaganza Gold, Crystal; £90.
Versace Arabesque Amber, Glass; £166. Versace Arabesque, Glass; £126.
Villeroy & Boch Maxima Spiral, Crystal; £30. Rosenthal Divino Glossy, Glass; £40.
Stockist details:
Zangheim
www.zangheim.com
HARRY JUDD, ASTON MERRYGOLD AND LOUIS SMITH MBE ARE JOINED BY JAY MCGUINESS
IN THE ULTIMATE STRICTLY BOYBAND
AS THEY SIGN UP FOR A 16 WEEK LONDON ENGAGEMENT AT
THE GARRICK THEATRE FROM THE 7TH FEBRUARY 2019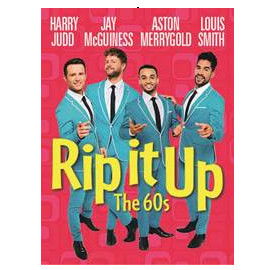 The ultimate Strictly boy band of dance bring their spectacular show to London's West End next February. A huge success for the Strictly celebrities, Rip it Up – The 60's brings the decade smashing into the 21st century through an explosion of song, dance, acrobatics and amazing visuals to celebrate the most revolutionary cultural period ever in its first ever West End run, opening at the Garrick Theatre for four months from the 7th February 2019.
Following a highly successful 2018 UK wide tour, McFly's Harry Judd, JLS's Aston Merrygold and Olympic gymnast Louis Smith, will be joined in London by The Wanted's Jay McGuinness and are paired alongside an incredible cast of dancers, singers and the Rip it Up live band to entertain with a psychedelic mix of music, style, culture, and fashion. With Aston and Jay singing, Harry on drums, and Louis performing the amazing gymnastic feats that made him one of our most successful Olympians, at the beating heart of the show is the fab four's phenomenal dancing talent.
Following the hugely successful 2017 tour Rip It Up – The 50s Jay McGuiness returns to the Rip It Up family and joins Louis Smith, Aston Merrigold and Harry Judd in the West End next spring making up an awesome foursome. Formerly one fifth of The Wanted who celebrated worldwide success with hits such as All Time Low and Glad You Came, Jay stole the hearts of the nation as he took to the dancefloor with professional partner Aliona Vilani to become the 13th champion of Strictly Come Dancing in 2015.
Jay says: "I'm really looking forward to joining the cast as the undoubtedly best-looking member! Louis, Aston and Harry put on an amazing show touring with the 60's and I'm so grateful to be joining them. I can't wait for me and the lads to sit right in the middle of the West End and Rip. It. Up".
Drummer Harry Judd was part of the worldwide pop phenomenon McFly and McBusted, with 7 number one singles, 19 top 10 singles, 2 number one albums, a bestselling book and a BRIT Award. He has played countless sell-out arena tours, toured the world with One Direction and starred in Hollywood film 'Just My Luck'. Having won the Children in Need special edition of Strictly Come Dancing in 2008 with professional Ola Jordan, he went on to win the 2011 season of Strictly with Aliona Vilani and the 2015 Strictly Christmas special with Joanne Clifton making him Strictly Come Dancing's 'Champion of Champions'.
Harry says: "I love to dance. Along with playing in a band, there's no better feeling than being on stage dancing. I was brought up listening to '60s music by my parents, which has made the whole show even more special to be a part of. Aston and Louis are both incredible performers, so I am looking forward to taking the show to the West End stage, and to welcoming Jay to the group"
Pop star Aston Merrygold has sold over 6 million records in the UK and over 10 million worldwide and is the recipient of Two BRIT Awards and 5 MOBO's as part of the hugely successful boy band JLS, who rose to fame as runners-up on the X Factor in 2008. A contestant in 2017 on BBC1's Strictly Come Dancing with professional Janette Manrara, his shock exit in week 6 by the judges caused public outrage and he was dubbed 'The People's Champion'. Aston continues to release music as a solo artist, his last single 'Precious' featured Shy Carter (Meghan Trainor, Jason Derulo, Charlie Puth, Faith Hill, Tim McGraw) and Grammy Award-winning beat boxer Rhazel. His debut single 'Get Stupid' was an international hit and his EP was released in 2017 along with a sell-out UK tour.
Aston says: "It was so exciting to join the cast of Rip It Up on the 2018 UK tour. I felt like I had some unfinished business when it came to dance, and it's been amazing to work with familiar faces. I've loved putting my own spin on some classic 60s moments and can't wait to show that to a West End audience!"
Louis shot to fame in 2008 when he put British Gymnastics on the map by winning a Bronze medal in the pommel horse at the Beijing Olympics, the first Olympic medal for a British gymnast in 100 years. The British sporting superstar counts 4 Olympic medals from 3 separate Olympic Games amongst his career highlights, most recently winning a Silver Medal in the Rio De Janeiro Olympic Games in 2016. Having secured his position as one of Britain's most successful artistic gymnasts, Louis has subsequently enjoyed an ever-rising TV and stage profile. Earlier today Louis announced his retirement from the world of gymnastics. Please find attached his supporting statement.
Following the London 2012 Olympic Games, Louis took part in and won, that year's Strictly Come Dancing, lifting the coveted Glitterball trophy with his professional dance partner Flavia Cacace. He also won the Strictly Christmas special in 2014 with his professional dance partner Aliona Vilani.
Of today's announcement Louis says:
"'I'm over the moon to be joining the cast for Rip It Up again, and especially now in the West End. Being a part of the tour was incredible. To be amongst such talented people and receive the response that we did every night is something I never took for granted and now I'm just so excited to take things up another gear and put on a show worthy of the West End. I've always loved performing and having the opportunity to better myself as a performer, so this opportunity couldn't be better suited for me."
Undoubtedly one of the most energetic shows to ever hit the West End stage, just watching will leave you exhausted! No other show provides such a fantastic window into the musical magic of the 60's, with a state-of-the-art screen featuring era-defining footage and celebrity contributions all adding to the host of visual delights.
Dance the night away to British legends such as The Beatles, The Rolling Stones, The Who, and American superstars such as The Beach Boys, The Byrds, The Doors, and The Mamas & The Papas. Listen to music from Mersey Beat, Motown and Mod to West Coast and Woodstock. Mixed in with a bit of Dusty Springfield, Burt Bacharach, Elvis Presley and Bob Dylan with soul classics from Aretha Franklin, James Brown and Motown legends Marvin Gaye, Stevie Wonder and The Supremes.
Rip It Up celebrates some of the most iconic sounds, sights and events from the tumultuous period which transformed the 20th Century. The 60s are back with a bang!
For tickets visit: www.ripituptheshow.com
www.RipItUpTheShow.com | @RipItUpTheShow | facebook.com/RipItUpTheShow
Twist It!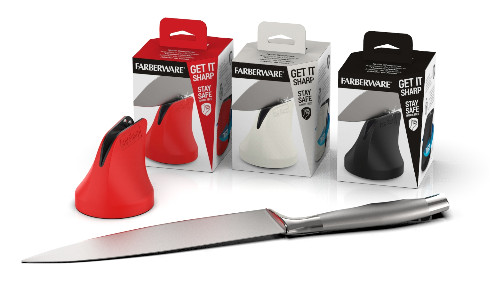 There is no need to have a professional on the job when it comes to sharping your kitchen knifes, as the new AnySharp Twist is sure to make light work of even the bluntest knifes. You may be familiar with its sister the Pro, AnySharp's current best seller. Keeping the Pro's lasting kitchen tricks, but with a fresh new, modern look. Just like it's name you can certainly admire the curved silhouette of this latest model.
Whether you're slicing meat, dicing vegetables or carving the Christmas roast turkey with the AnySharp Twist cutting is made effortless every time, working it's magic on even hardened steel and serrated knives. Remember! With the PowerGrip suction cup safely in place, by attaching your AnySharp Twist securely to any smooth surface or worktop there is no need for your hands to be anywhere near those sharp blades, perfect for those a little prone to accidents.
Did you know? The optimum angle for sharpening a good quality steel knife is 20 degrees? Which is why the Twist is pre set to the same angle to allow for an optimum edge every time, leaving you with a professional finish in minutes.
A striking design for styling a modern kitchen, choose from colours; black, cream or red to complement your aesthetic. But for those who would rather keep the gadgets and gizmos at bay, because of its compact and lightweight design your AnySharp Twist can be gone in a flash conveniently stored away in any drawer, cupboard or toolbox.
Top Tip! Just like many of us the AnySharp Twist doesn't work so well under pressure, so keep those strokes light handed at all times.
The Anysharp Twist is available to buy online from Amazon for £14.99.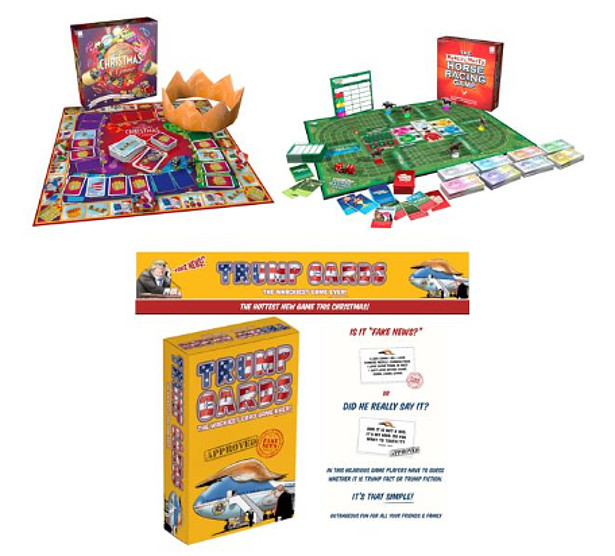 Trump Cards from Kick Ass Games – Can you spot fake news? – Available for £16 from Amazon and WHSmith's
Is it "fake news, folks!" …or did he REALLY say it? Trump Cards is the hilarious new game where players have to guess Trump fact from fiction. Read a quote and decide if you think Trump really said it or not. Use your Approved card if you think it's a real quote or, if you think it's fiction, then slap down your Fake News card. It's that simple! Guaranteed to bring laughs, surprises and, of course, a whole load of fake news! For 2-10 players and ages 12 to adult.
Contents:
300 Trump cards, 10 Fake News cards, 10 Approved cards, Writing pad, Pencil, Rules sheet
The Really Nasty Horse Racing Game – Available to buy from Debenhams for £22
Families can enjoy a 'day at the races' when playing this devious family board game. Just as in a real race meeting, players race their horses around the board to win at all costs. Be devious, bet your own horse or someone else's but don't tell anyone who you've bet on. For 2 to 6 players or teams and ages 12 to adult.
The object of the Really Nasty Horse Racing Game is to win the most money at the race meeting by getting your horse placed first, second or third in a race or by placing bets on winning horses. There is also a set of mischief cards to help you create havoc with the other horses and riders in the race.
The Very Merry Christmas Game – Available to buy from John Lewis for £20.00
The Very Merry Christmas Game is the Family Game of Presents, Crackers, Christmas Songs… and Sprouts!
Move around the board collecting presents (present cards) to put in your stocking. Presents have a value depending on whether they're nice… or naff.
Presents can also be given to other players – particularly the bad ones! You can take other players' gifts off them and this is decided on the pull of a cracker.
All players' presents are placed face down in the stocking so nobody knows what they've got but there are opportunities to take a sneaky look to find out which ones to get rid of and which ones to keep. Land on the singing space and you have to sing a verse from a Christmas song or carol to avoid losing one of your gifts!
Watch out for the two dreaded sprout cards as they could have a bad effect and make you lose out… The player with the best presents at the end of the game is the winner. All the joys of Christmas in this one box!
For 2 to 4 Players or Teams, Ages 8 to Adult
Kiddies Kingdom, the online baby store where you'll find everything you need for your baby, toddler or child. www.kiddies-kingdom.com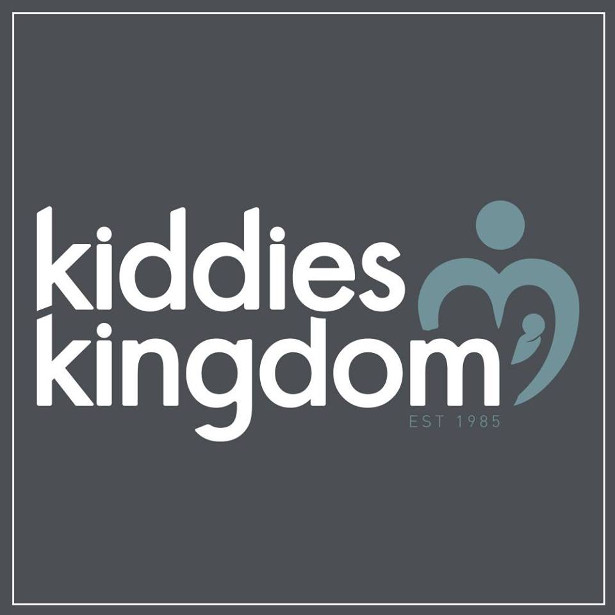 FACEBOOK | TWITTER | INSTAGRAM | YOUTUBE
Kiddies Kingdom are a one-stop shop for all high quality nursery essentials!
They have a fantastic range of toys that make great gifts.
Here are four of the 1000s of items we have picked out but it is essential to thoroughly search their online sales pages!
Musical Stack & Ball Game-Elephant (New)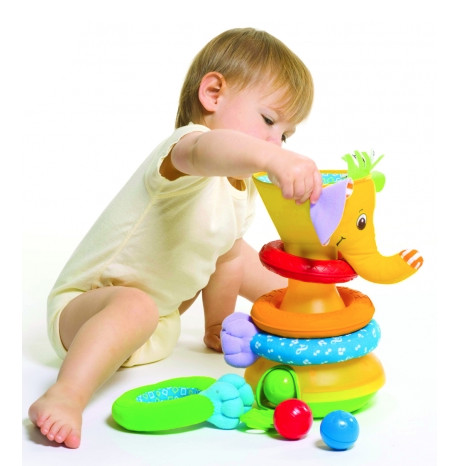 Chicco Sam The Mole Pop Up Toy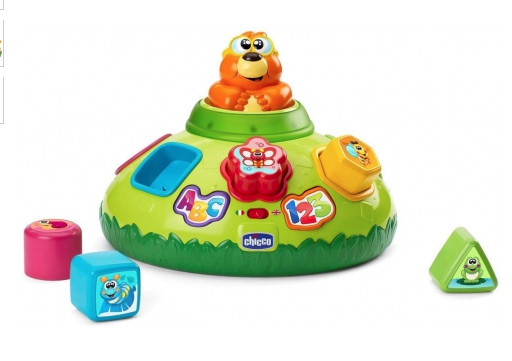 Chicco Fit & Fun 3in1 Balance skate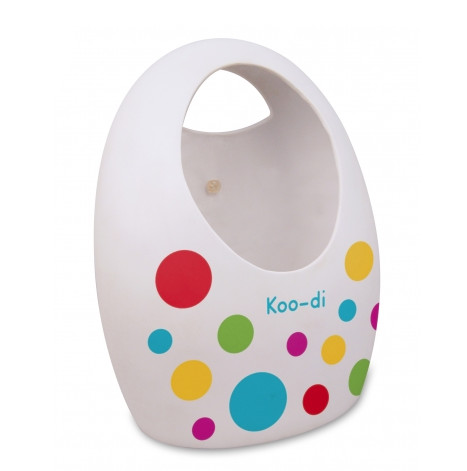 Kiddies Kingdom, the online baby store where you'll find everything you need for your baby, toddler or child.
Kiddies Kingdom was previously known as the Nappy Factory, it started operating in the early 1980's by its current MD Mr Hanif Patel. With very few baby suppliers around, the nappy factory found a gap in the market place and managed to establish themselves very quickly. At that time we were a wholesaler of nappies thus known as the 'Nappy Factory'. Our products were distributed to many local retailers and we were the prime source for the nappy rounds in Batley and Dewsbury.
Having been established for such a long time we pride to be one of the biggest independent retailers of baby products in the UK, both online and on the high street. Our vast range of products are displayed on our online catalogue which is constantly expanding.
We have huge stocks in our warehouses so please buy with confidence. An addition to this we offer a speedy next-day delivery on most of our products.
With over 30 years of establishment, knowledge and experience we can get hold of virtually any brand in the industry!
Reasons to shop with us online
**Price Match Guarantee**- Offering you the best prices around.
**100% Secure shopping**- Letting you know you're in safe hands.
**Call-backs Available**- We know its sometimes easier speaking to someone, and don't worry we'll give you a call.
**Free Next-Day Delivery**- Your goods delivered to your doorstep the
next day.
Products
Baby Bags, Baby Carriers,Baby Furniture Sets, Bathing, Bed Guards, Bedding, Bouncers/Rockers, Buggy Boards, Car Accessories, Car Seats, Carrycots, Childrens Furniture, Cotbeds, Cots, Cribs, Doorway Bouncers, Baby Feeding, Fireguards, Funpods, Baby Gifts, Highchairs, Maternity Pillows, Baby Mattresses, Monitors, Moses Baskets, Nappies, Nightlights, Nursing/Glider Chairs, Playgyms/Activity Centres, Potty Training, Prams, Pushchairs & Buggies, Pushchair Accessories, Ride On Toys, Safety Gates, Sleeping Bags, Swings, Toddler Beds & Bunks, Toys, Travel Cots/Playpens, Travel systems, Walkers & Much More!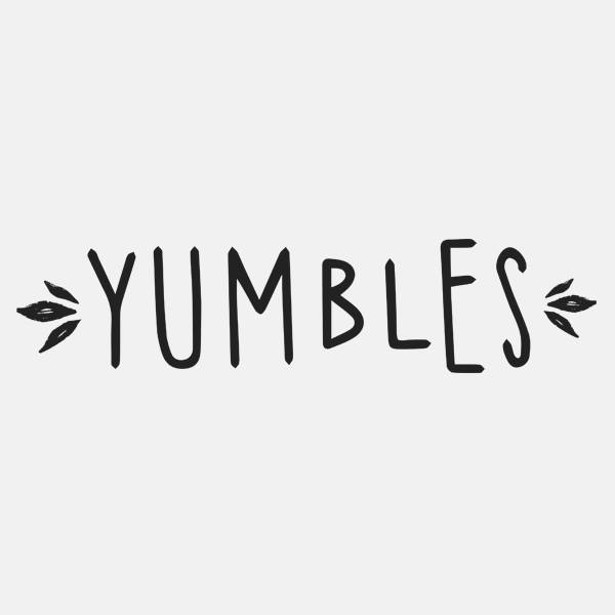 Do you love to bake! Yumbles is the UK's top marketplace for the most exceptional, all-natural food from the very best small-batch artisan producers! www.yumbles.com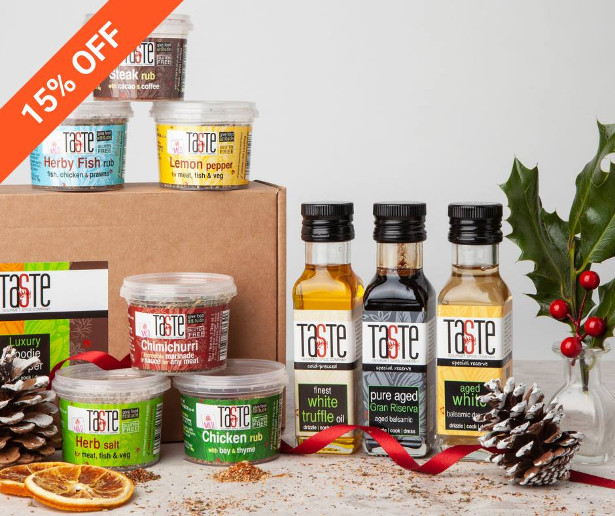 Eat, Enjoy, Thrive. The UK's top marketplace for the most exceptional, all-natural food from the very best small-batch artisan producers. We don't compromise on flavour, and we don't compromise on quality.
Yumbles.com – the biggest online marketplace for artisan food & gifts with hand-picked produce from more than 500 small-batch makers
Good Website Awards: Food & Drink Website of the Year 2014
Products
Healthy sweets and cakes, Foodie gifts, 1000+ delicious hampers
Free-from foods, Hand-made and 100% natural cakes and bakes, Anything unique from small-batch British sellers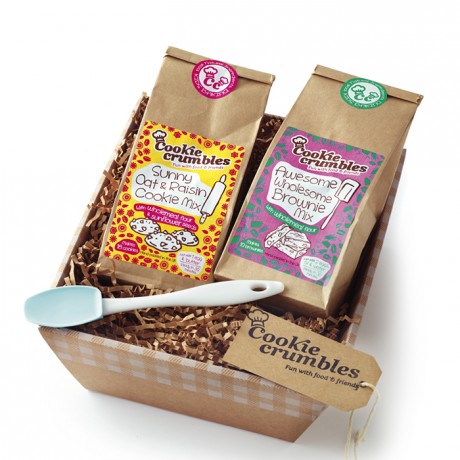 Tremendous Marshmallow Toasting Kit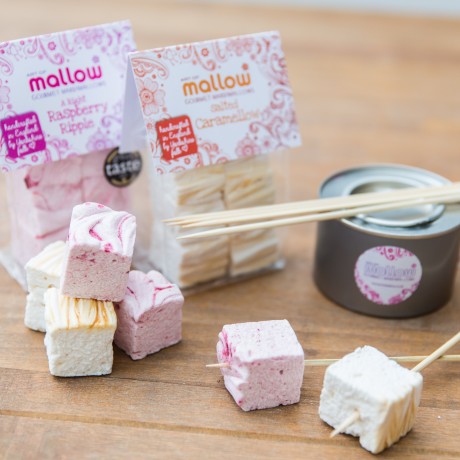 Personalised Chocolate Stocking Filler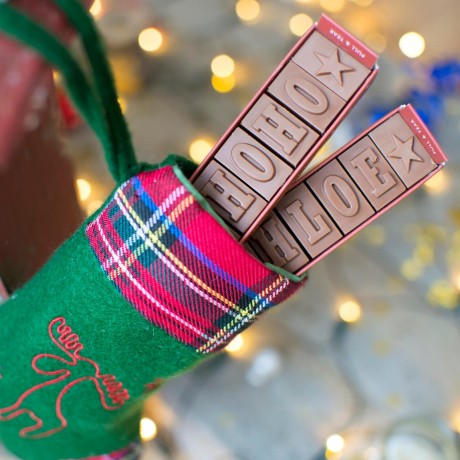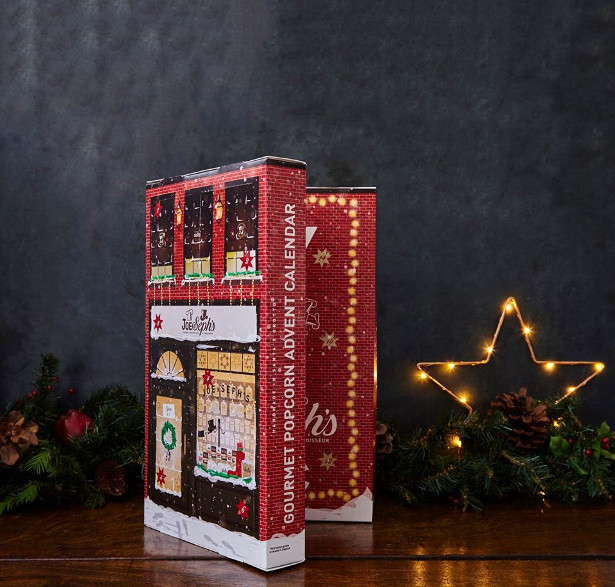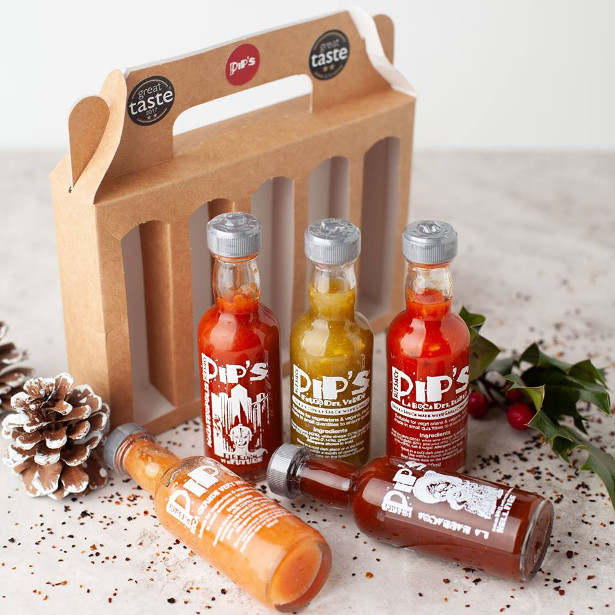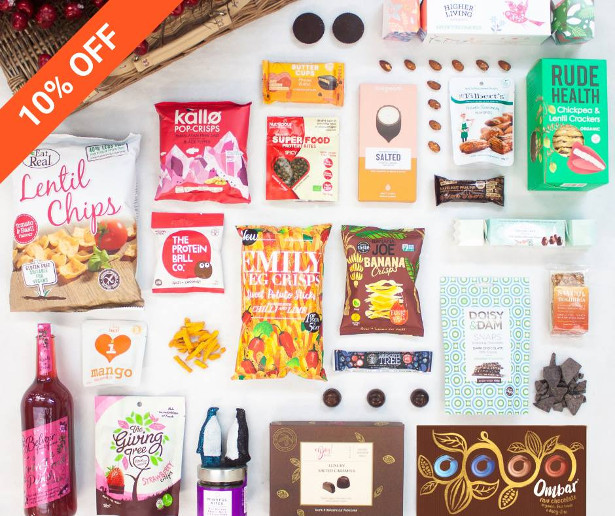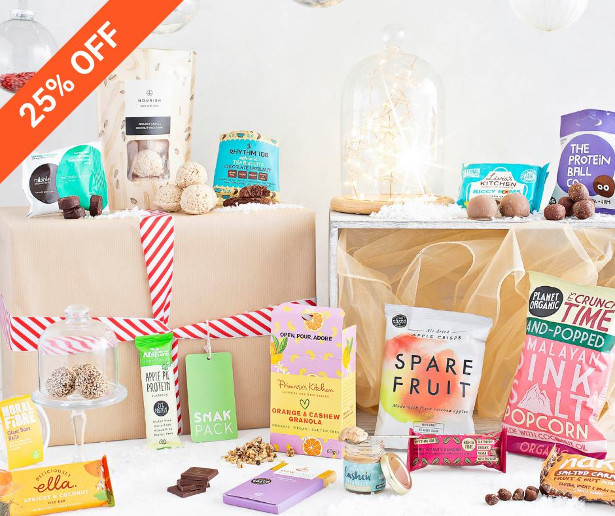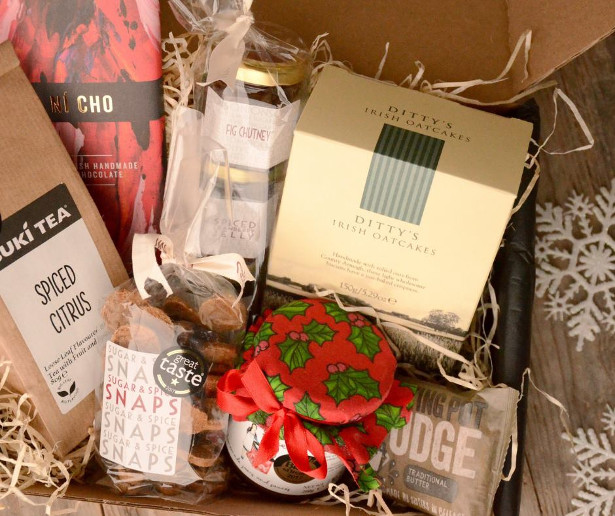 SKI LIKE A PRO…
With Muddy Puddles Ski Kit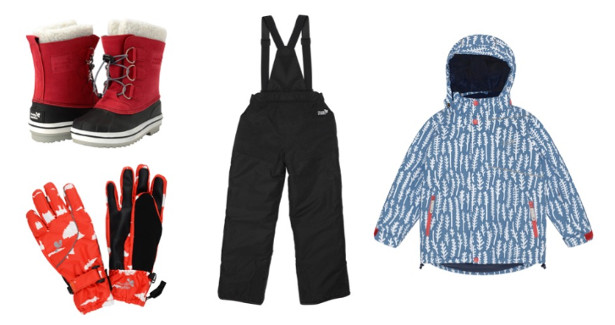 Whether for skiing or off-piste, Muddy Puddles has all this season's best kit for your little one.
With choices from funky insulated and waterproof Blizzard Jackets for the style-conscious kid through to tween, All-in-One Scampsuits for the toddler, Thermal Base Layers to keep warm under those jackets and Salopettes, and not forgetting matching gloves, snow boots, neck warmers and balaclavas to stay one snowplough ahead of the rest!
For all the essential ski kit, log on to Muddy Puddles Ski and get the AW18/19 look…
www.muddypuddles.com
Lifestyle Wish List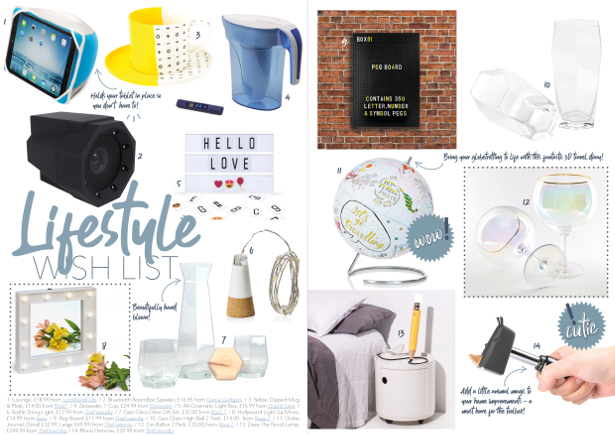 1 iLounge, £18.99 from LostWorldGifts.
For any couch potatoes out there the iLounge has your name written all over it. The pillow that holds your tablet in place, so you don't have to! With its unique and ergonomic design, this tablet holder can be used anytime, anywhere. Compatible with most tablets, the iLounge is the perfect accessory to keep you and your tablet comfortable!
2 Bluetooth BoomBox Speaker, £16.95 from Genie Gadgets.
Pump up the volume and get those festive tunes playing this Christmas with the Boombox Bluetooth Speaker! Boasting 3W of powerful sound, this portable and lightweight speaker enables you to wirelessly listen to your favorite tracks, wherever you are. With a built in rechargeable battery lasting a whopping 6 hours, the BoomBox is compatible with most smartphones and Bluetooth audio devices, let the Christmas parties commence.
3 Dipped Yellow Mug & Plate, £14.00 from Root7.
Dare to dip? Check out these fabulous Dipped Mug & Plate sets from Root 7, available in a selection of 4 complementary pastel tones of pink, blue, green or yellow. As each set comes with a matching saucer there is no better excuse for a biscuit or two with your favorite brew. Crafted from hand finished high-grade ceramic enjoy the 1980s Memphis inspired design to brighten up your kitchen space.
4 Zero Water Filtration Jug (7 Cup), £24.99 from ZeroWater.
If you are fed up of stale, lifeless tap water but hate forking out for bottled water on a weekly basis, a simple Zero Water Filtration Jug is the answer! Cultivating first rate execution in affordability, design, practicality and usage. The Zero Water Filtration Jug fits easily into your household fridge so a refreshing thirst quenching glass of filtered water is no longer reserved for the office world as it fits seamlessly into your kitchen fridge too.
5 A4 Cinematic Light Box, £15.99 from Digital Save.
Set your name in lights with the A4 Cinematic Lightbox. Jam packed with 90 characters, letters and symbols to really put your own stamp on it. Just flick the switch and watch your slogan glow in a wonderfully retro soft, warm yellow light.
6 Bottle String Light, £12.99 from TheFowndry.
Light up your life and create a beautiful glowing light display out of any unwanted empty bottles with 95cm of Rechargeable Bottle String Lights. To get started simply charge the cork shaped bottle light, wind in the wire, twist on, and let the 15 twinkling LEDs enhance any Christmas party you are hosting this season.
7 Geo Glass Clear Gift Set, £32.00 from Root7.
The hand blown carafe with Acacia wood stopper and two tumbler glasses makes the perfect gift from me to you. Inspired by the terrarium trend, the thick hand blown glass provides some substance and weighty to the design, meanwhile the clear cut edges help to accentuate the gorgeous shape of this carafe. Great for infusing water, wine or a fruity cocktails, become the hostess with the mostess, as its the season for socialising.
8 Hollywood Light Up Mirror, £14.99 from ASOS.
The key to perfect make-up is amazing lighting, right? With 12 LED bulbs, this HollyWood Mirror provides you with just that, to achieve a flawless, glowing look ready for the upcoming Christmas parties. Simply mount the mirror onto your wall or stand up on your dressing table, then ta-dar a touch of Hollywood glamour instantly fills your room.
9 Peg Board, £11.99 from TheFowndry.
The Peg Board is your chance to own a little slice of retro style. Complete with 350 letters, symbols and numbers this old school message board is a great way to display the household chores, tonight's menu, shopping lists, reminders and more! All beautifully presented in nostalgic shades of yellow and white.
10 Geo Glass High Ball (2 Pack), £14.00 from Root 7.
For anyone who takes great pride in there home, particularly beautiful glassware these hand-blown high ball glasses are a must! Offering a modern and minimalistic twist to your everyday drink set, we recommend they are just perfect for serving up a craft beer or fruity cider.
11 Globe Journal, (Small £32.99, Large £69.99) from TheFowndry.
Got some exciting travel plans coming up next year or know someone that does? Record your journey from start to finish with this awesome Globe Journal. Customise a visual log of your adventures by colouring in the continents and plot the parts of the world you want see next. The exercise pad layout makes it easy to doodle, draw and decorate till your hearts content. Pens, pencils and markers at the ready, throw the rule book out the window and great creative!
12 Gin Balloon (2 Pack), £20.00 from Root 7.
Airing fines and style it's time to really appreciate the highly sophisticated large Gin Balloon Glasses, as they draw you back into the 1920s. Combining the quality rainbow tinted borosilicate glass with shining gold accents, which beautifully glistens in the sunlight. Each glass is hand blown to add a splash of individuality to every set. Gin at the ready it's time to enjoy your favorite concoctions.
13 Drew The Pencil Lamp, £249.99 from TheFowndry.
Looking for the 'write' lamp? Want some 'LED' in your pencil? Drew The Pencil Lamp is a beautifully crafted dimmable lamp that is sure to add the wow factor to any home lover. Constructed from a solid timber body, with a polished brass ferrule and gold embossed branding, Drew can be switched on and adjusted by a simple twist of the body – from a soft ambient light to a luminous 25w glow.
14 Rhino Hammer, £29.99 from TheFowndry.
Add a little animal magic to your home improvements with the gorgeous Rhino Hammer. Not just your humble hammer, exhibiting excellent matters of form and function, it's hammer time! The body / storage dock and handle are all made completely of rust-resistant lightweight aluminium, meanwhile its hammering head from stainless steel. When removed from the stand, the handle extends and rotates to snap in place, revealing a carbon steel neck. The rubber ears complete the aesthetic and help soften the look.
Let's maki this Christmas special.
Forget the turkey… it's all about sushi this Christmas!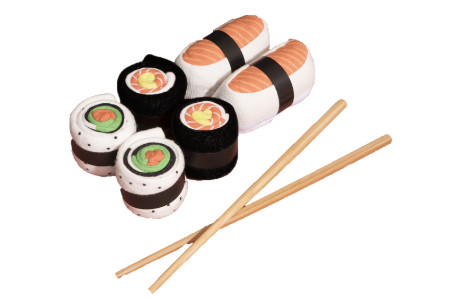 With 3 sushi sock rolls tried into one gift, they are soy awesome and the perfect stocking filler from the Centre Of Chinese Contemporary Art.
The Salmon Nigiri, Maki Salmon Roll & Maki Californian Roll are o-fish-ally the coolest socks in town.
(Chopsticks not included..)
Salmon Lover Sushi Socks – set of 3 pairs for £25
Available from the Centre Of Chinese Contemporary Art shop – Manchester
Following its huge success last year, which saw hundreds of cultural destinations come together to create a shopping experience with a difference, Museum Shop Sunday will take place again on Sunday 25th November 2018, supported by the Association for Cultural Enterprises (ACE). For more information, see here: https://acenterprises.org.uk/museum-shop-sunday-2018
Visitors can expect to take part in all kinds of activities including, demonstrations by local craftspeople, food and drink tastings and creative workshops, alongside many offers and exciting finds!
Lifeplan Unveils New Branding and Proposition
'For everybody, everyday'
The Vitamin and Mineral Supplements brand launches new website, logo and branded product range
November: Lifeplan, one of the UK's leading manufacturers of vitamin and mineral supplements, has revealed a major brand refresh, launched via a newwebsite which hosts an updated brand logo and product packaging design.
Lifeplan, which earlier this year received £500,000 backing from the Midlands Engine Investment Fund (MEIF), has unveiled a brand-new strapline, 'for everybody, everyday'. The new positioning and fresh branding has been evolved in order to continue the strong growth of Lifeplan's brand identity. The growing health and wellness industry is forecasted to uplift by 8.6% over the next five years, with sales values expected to hit £457 million in 2021.
For the first time in 20 years, Lifeplan's brand logo has been updated and simplified to become a recognisable marque of the company's quality, across multiple platforms and products to target a wide range of audiences
Lifeplan.co.uk has been redesigned as a destination for inspiration and advice, as well as transaction
The new strapline 'for everybody, everyday' embodies the Lifeplan's vision to become the vitamin and mineral supplements partner for everyone at every stage of life. Where anyone can easily obtain the best nutritional supplements, to help them improve and maintain a healthy, balanced lifestyle
Product packaging has taken on a new colour and illustration-focused design, to allow customers to easily identify supplement groups and will be rolled out over the next few months
Sarah Brockhurst, Lifeplan's Marketing Manager commented, "At Lifeplan, we spot industry trends and drive them forward with our innovative products, but as such an established name in the market with the valued trust of our customers, we've not necessarily put the innovation of our own brand first, until now. For over 35 years we've made the highest quality vitamin and mineral supplements for customers worldwide, making them accessible across multiple channels to ensure those seeking support for their health can do so easily."
"However, the market is growing, consumers are far more health conscious and taking vitamin and mineral supplements is much more mainstream. We're excited to see how Lifeplan's new inspirational and lifestyle-led branding will help encourage everybody to make the best decisions for their health, every day."
Explore Lifeplan's new website, as well as its first new product to launch with the new branding, Lifeplan Apple Cider Vinegar Complex. https://www.lifeplan.co.uk/
Fill Your Home With Christmas & New Years Accessories To Suprise Your Guests!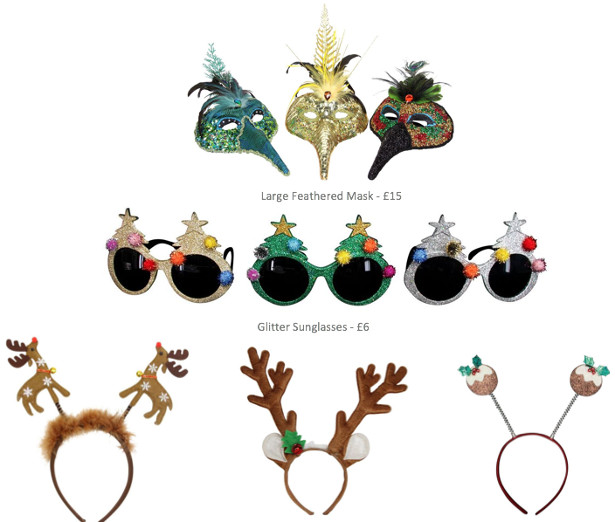 Stuck for Party Ideas?
From Masquerade feathered masks, groovy & funky party sunglasses to Christmas Pudding headbands…
Make insta worthy moments this festive season with eye-catching party accessories from the National Theatre Bookshop.
image.png
All available from National Theatre Bookshop – shop.nationaltheatre.org.uk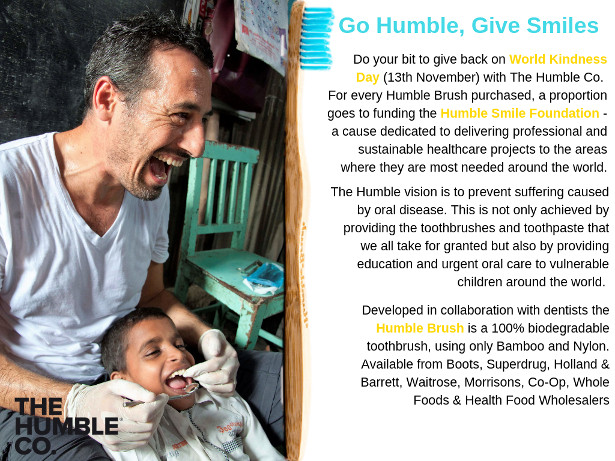 BRITISH LIBRARY MEMBERSHIP: A GIFT THAT GIVES BACK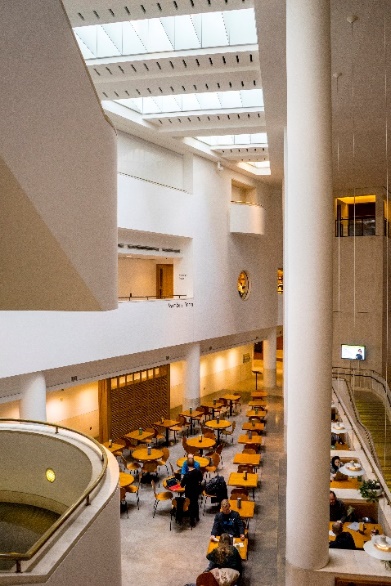 Help to conserve the British Library's collections for future generations by treating your loved ones to at truly special Christmas gift.
A close up of a building
Description generated with high confidenceThis Christmas, support The British Library by giving your loved ones a gift that is sure to create lasting memories during and beyond the festive season, available from just £80 per year from www.bl.uk/membership*.
The annual membership scheme allows individuals to experience everything the Library has to offer, from five-star exhibitions to high-profile talks and events, alongside a wide range of other exciting benefits. Showcasing brilliant literary, historical, scientific and artistic works from all over the globe and every age of written civilisation, Europe's largest library holds over 150 million items and boasts historical pieces dating back as far as 2000 BC.
'A Member of the British Library is a Member of the most
inclusive club in the world'
Stephen Fry
A close up of a piece of paper
Description generated with high confidenceWith something for everyone, the British Library is home to Leonardo da Vinci's sketches, the world famed Magna Carta and more. By purchasing membership, visitors can also have access to unique exhibitions such as the 'Anglo-Saxon Kingdoms: Art, Word War' exhibition taking place 19th October 2018 – 12th February 2019 and the upcoming 'Writing: Making Your Mark' exhibition, which is taking place 26th April – 29th August 2019.
British Library members will also have access to a range of special events such as the 'Conservation Demonstration' which is taking place on 1st March 2019, 10.30am – 12.30pm. Attendees at this one-of-a-kind event will be introduced to the fascinating world
of the British Library Conservation team through practical demonstrations, and presentations. Members will gain an insight into the work carried out behind the scenes to protect one of the most significant library collections in the world.
The benefits don't end there, along with soaking up the fantastic culture and history presented at the Library, membership benefits also include access to the exclusive Members' Room – which doubles up as a work space for those looking for an inspiring alternative office to work, relax and meet people in, as well as entry for Members and friends to the Knowledge Centre Bar.
Additionally, members can enjoy priority booking for the British Library's exciting line up of talks and performances and are entitled to a 20% discount in the public restaurants, cafes and shops. Membership funds also help to provide the vital support that the British Library needs to be able to care for their amazing collections for generations to come.
A person sitting on a chair
Description generated with very high confidenceThe full list of benefits includes:
· Free entry for you and a guest to British Library exhibitions
· Priority booking for the cultural events season
· Four free event tickets per year
· Exclusive access for you and a guest to the daytime Members' Room, overlooking the King's Library
· Entry for you and three guests to the Knowledge Centre Bar, with food and drink every weeknight from 18.00 – 22.00
· Listings guides sent direct so you're always up to date with what's on
· 20% off in our public restaurants, cafés and shops
Jockey Releases Microfiber Air for Men
Practical Comfort That Fits Everyday Needs And Beyond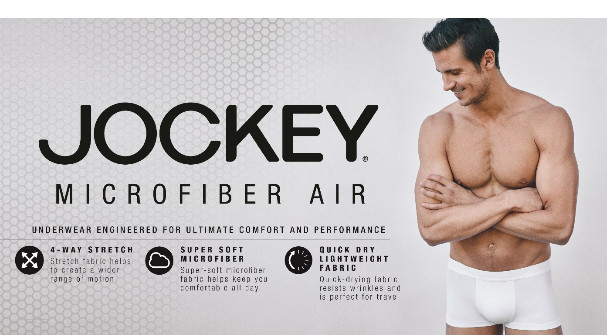 Comfort and practicality should go hand-in-hand. In the fast-paced world we live in there's always joy to be found in efficiency, especially for those who spend most of their time on-the-go.
Microfiber Air, not only covers all of the basics of comfort and quality, but goes beyond that to offer more to men. This super soft microfiber collection features a 4-way stretch fabric, and its lightweight and breathable qualities mean it doesn't wrinkle or need to be ironed, plus its dry time is super-fast too.
Pair superior breathability with an extra soft microfiber waistband that lays so seamlessly, you'll forget that it's even there.
Microfiber Air is available in 2-pack briefs, trunks and boxer trunks, in solid core colours: white, black and deep navy.
Microfiber Air is specifically tailored to fit your everyday needs, so that you can spend your time focusing on the important things.
The next time you're packing your suitcase or reaching for that first layer to start your day, enjoy the comfort of Microfiber Air, courtesy of the underwear experts at Jockey.
2Pack Briefs now available to buy now from £18.00
2Pack Trunks now available to buy now from £22.00
2Pack Boxer Trunks now available to buy now from £26.00 here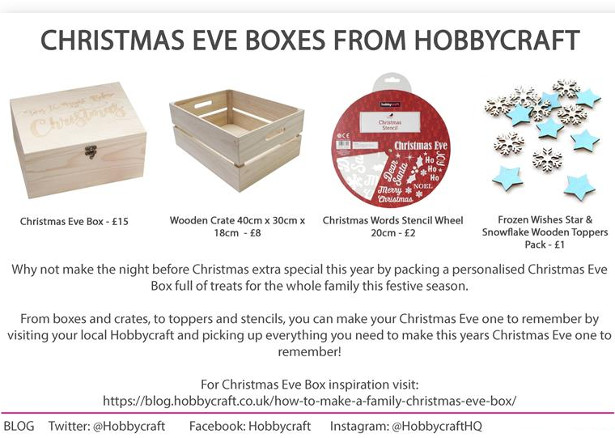 THE OSMONDS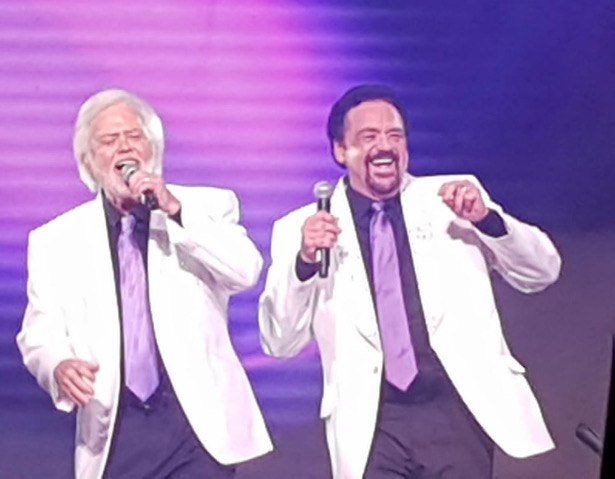 ANNOUNCE THE ROCKIN' CHRISTMAS TOUR AND
'VERY MERRY ROCKIN' GOOD CHRISTMAS' ALBUM
TOURING FROM NOVEMBER 2018
IN THEIR SIXTH DECADE PERFORMING AS THE OSMONDS
200 ALBUMS RELEASED COLLECTIVELY AND INDIVIDUALLY
100 MILLION ALBUMS SOLD WORLDWIDE
59 GOLD AND PLATINUM RECORDS
Beloved and iconic artists The Osmonds return to the UK with their latest album, and wish you a 'Very Merry Rockin' Christmas'! Taking in 18 dates, the tour kicks off in Blackpool on November 16 and culminates at the Isle of Wight's Shanklin Theatre on December 15, with the Osmonds performing old favourites as well as tracks from their new album of festive classics.
The Osmond Brothers – Alan, Wayne, Merrill and Jay – recorded their debut album in 1963; since that time, and with the addition of Donny, Marie and later Jimmy, the family has released approximately 200 albums, sold over 100 million worldwide, and have 59 gold and platinum records. The Osmonds have never been scared to try new things, and have covered every musical genre from Barbershop to Rock to Gospel to Jazz, as well as recording in eight languages: Swedish, Japanese, Samoan, German, Spanish, French, Latin and of course English.
Their first big hit, 'One Bad Apple', went straight to number 1 in the US Billboard chart and held the top spot for six weeks. In 1972 their smash hit 'Crazy Horses' reached number 14 in the US Billboard Hot 100 and number 2 in the UK singles chart. The Osmonds have written a majority of their biggest hits – including 'Crazy Horses', 'Let Me In', 'Goin' Home' and many more.
The Osmonds have continued to develop their musical talents and abilities, and though Alan and Wayne have now retired, Merrill and Jay continue to perform together – now in their sixth decade performing as a family! Their harmonies are unmatched and they know how to touch the hearts and souls of their fans; with this new album of Christmas favourites they show that the best is yet to come.
The full track listing:
Title: A Very Merry Rockin' Good Christmas
1. A Very Merry Rockin' Good Christmas
2. Winter Wonderland
3. Jingle Bells
4. Santa Claus is Coming to Town
5. Christmas Must Be Tonight
6. Merry Christmas Everyone
7. Run Run Rudolph
8. Last Christmas
9. Christmas Star
10. Sleigh Ride
11. Merry Christmas Everybody
12. Little Drummer Boy
13. Silent Night
Tickets for the tour can be purchased from www.merrillosmond.com
12 days before Christmas couldn't come soon enough!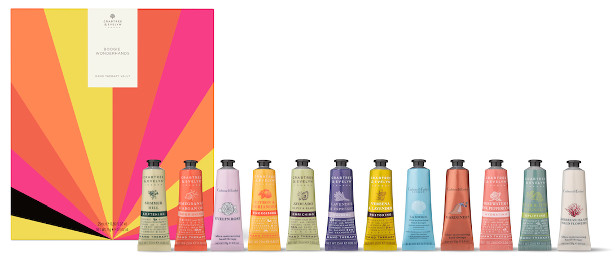 Unlock Crabtree & Evelyn's Hand Therapy Vault and enjoy a new scent each day for the count-down to Christmas…
With intensely moisturising award-winning hand creams to set you up for the year ahead, keep hydrated with the ultimate Hand Therapy collection.
Restore, hydrate, soothe, energise and everything in between, the Boogie Wonderhands gift set is the perfect Christmas surprise for all Crabtree & Evelyn lovers.
Boogie Wonderhands Hand Therapy Vault – £72
Crabtree & Evelyn – www.crabtree-evelyn.com/uk/en
NOW That's What I Call NOW– 5CD – THE BIGGEST NOW ALBUM IN HISTORY
NOW MUSIC continues to celebrate their pop reign with a very special release NOW THAT'S WHAT I CALL NOW, a five-disc album, with 100 pop classics. The most trusted curators of pop have now selected just one track from the 100 NOW albums, taking you on a nostalgic pop journey over four decades.
Carefully selected by the ultimate playlist creators, NOW That's What I Call NOW is the definitive soundtrack to the past 35 years going back to 1983 with Culture Club's Karma Chameleon, to Wham!'s Wake Me Up Before You Go-Go in 1984, the song of the summer of 1989 Soul II Soul's Back To Life (However Do You Want Me), the band with more tracks than any other band in the first ten NOW album's UB40 and their track Kingston Town, into the 90's with M People's Moving On Up, classic Texas track, Say What You Want, Fatboy Slim's anthem, Praise You, Justin Timberlake's the ultimate break up track Cry Me A River, Amy Winehouse's REHAB, The Black Eyed Peas I Gotta Feeling, Nelly Furtado's Maneater, One Direction's debut single What Makes You Beautiful, Little Mix's Shout Out To My Ex and to 2018 Shotgun by George Ezra.
Steve Pritchard co-Managing Director NOW Music says "Following on from hitting that magical Now 100, NOW That's What I Call NOW is a 35-year celebratory romp through 4 decades of pop music. It has taken us a long time to select, what we think are, the biggest and most evocative tracks from each of the numbered NOW's to create this historical playlist of pop classics."
NOW That's What I Call NOW is available in physical and digital format and on the NOW app.
From the original curators of pop music comes the NOW Music App, the only app with the most current chart toppers to the nostalgic superstars of the past four decades to the hottest breakthrough artists of 2018, and everything in-between. For only £4.99 a month with no contract and no adverts the NOW Music App is the easiest and most enjoyable way to access music on your mobile. With every NOW album at the tip of your fingers, access to artists back catalogues, playlists for every theme and activity and completely free access to Freemium – NOW's very own radio station – it's the easiest way to consume pop music for all the family.
TRACK LIST
1. Culture Club – Karma Chameleon
2. Frankie Goes To Hollywood – Relax
3. Wham! – Wake Me Up Before You Go-Go
4. Ray Parker Jr. – Ghostbusters (from "Ghostbusters")
5. Simple Minds – Don't You (Forget About Me)
6. Eurythmics – There Must Be An Angel (Playing With My Heart)
7. Bananarama – Venus
8. RUN-DMC feat. Aerosmith – Walk This Way
9. Europe – The Final Countdown
10. T'Pau – China In Your Hand
11. Kylie Minogue – I Should Be So Lucky
12. Tiffany – I Think We're Alone Now
13. Erasure – A Little Respect
14. Fine Young Cannibals – She Drives Me Crazy
15. Soul II Soul – Back To Life
16. Technotronic – Pump Up The Jam
17. UB40 – Kingston Town
18. The Beautiful South – A Little Time
19. Bill Medley & Jennifer Warnes – (I've Had) The Time Of My Life
20. James – Sit Down
21. Shakespeare's Sister – Stay
22. Snap! – Rhythm Is A Dancer
23. Charles & Eddie – Would I Lie To You
24. Lenny Kravitz – Are You Gonna Go My Way
25. Gabrielle – Dreams
26. Haddaway – What Is Love
27. M People – Moving On Up
28. Let Loose – Crazy For You
29. Whigfield – Saturday Night
30. Rednex – Cotton Eye Joe
31. Ini Kamoze – Here Comes The Hotstepper
32. The Original – I Luv U Baby
33. Oasis – Don't Look Back In Anger
34. Robert Miles – Children
35. Deep Blue Something – Breakfast At Tiffany's
36. Texas – Say What You Want
37. Hanson – MMMBop
38. Spice Girls – Spice Up Your Life
39. Natalie Imbruglia – Torn
40. Eagle-Eye Cherry – Save Tonight
41. Boyzone – No Matter What
42. Fatboy Slim – Praise You
43. New Radicals – You Get What You Give
44. Eiffel 65 – Blue (Da Ba Dee)
45. Craig David – Fill Me In
46. Mary Mary – Shackles (Praise You)
47. Robbie Williams – Rock DJ
48. Shaggy feat. Ricardo "RikRok" Ducent – It Wasn't Me
49. S Club 7 – Don't Stop Movin'
50. Destiny's Child – Bootylicious
51. Daniel Bedingfield – Gotta Get Thru This
52. Ronan Keating – If Tomorrow Never Comes
53. Busted – What I Go To School For
54. t.A.T.u. – All The Things She Said
55. Justin Timberlake – Cry Me A River
56. Rachel Stevens – Sweet Dreams My LA Ex
57. Britney Spears – Toxic
58. The Shapeshifters – Lola's Theme
59. Maroon 5 – She Will Be Loved
60. Stereophonics – Dakota
61. Akon – Lonely
62. Sugababes – Push The Button
63. Corinne Bailey Rae – Put Your Records On
64. Nelly Furtado – Maneater
65. Amy Winehouse – Rehab
66. MIKA – Grace Kelly
67. Take That – Shine
68. Leona Lewis – Bleeding Love
69. Timbaland feat. OneRepublic – Apologize
70. Dizzee Rascal feat. Calvin Harris & Chrome – Dance Wiv Me
71. P!nk – So What
72. The Killers – Human
73. Lady Gaga – Poker Face
74. The Black Eyed Peas – I Gotta Feeling
75. Alicia Keys – Empire State Of Mind (Part II) Broken Down
76. Katy Perry feat. Snoop Dog – California Gurls
77. Taio Cruz – Dynamite
78. Jessie J – Price Tag
79. Jennifer Lopez – On The Floor
80. One Direction – What Makes You Beautiful
81. Kelly Clarkson – Stronger (What Doesn't Kill You)
82. Carly Rae Jepsen – Call Me Maybe
83. PSY – Gangnam Style (강남스타일)
84. Bastille – Pompeii
85. Robin Thicke feat. T.I. & Pharrell – Blurred Lines
86. Avicii – Wake Me Up
87. Pharrell Williams – Happy (from "Despicable Me 2")
88. Paloma Faith – Only Love Can Hurt Like This
89. Sam Smith – I'm Not the Only One
90. James Bay – Hold Back The River
91. OMI – Cheerleader (Felix Jaehn Remix)
92. Justin Bieber – What Do You Mean?
93. Shawn Mendes – Stitches
94. Sia feat. Sean Paul – Cheap Thrills
95. Little Mix – Shout Out To My Ex
96. Rag'n'Bone Man – Human
97. Calvin Harris feat. Pharrell Williams, Katy Perry & Big Sean – Feels
98. Camila Cabello feat. Young Thug – Havana
99. Post Malone feat. Ty Dolla $ign – Psycho
100. George Ezra – Shotgun
RRP: Under £15.00
Cat no: CDNNNOW75
Barcode: 0190758792927

GRAB CHRISTMAS BY THE BAUBLES WITH THE ORIGINAL GIN BAUBLES
This year's crop of Pickering's Gin Baubles is the biggest ever!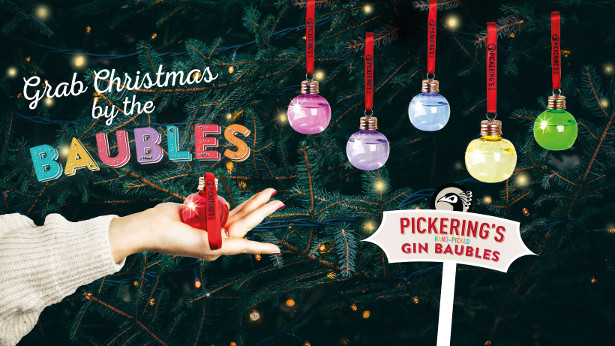 TWITTER | FACEBOOK | INSTAGRAM
Fill your festive season with mirth and merry as the must-have Christmas decoration (and gift) is now on sale. Pickering's, the Edinburgh distillery and purveyors of Christmas cheer, has crafted over a million gin-filled baubles ready for the tree-mendous demands heading their way.
Gin fans across the country can now deck their trees with baubles of merry, marking the start of the festive season with a fun twist – mixing up the traditions of gold, red and tinsel with a burst of gin-filled fun.
The original gin baubles are now ripe and ready for customers to bring the novelty back at Christmas – move over Christmas jumpers and sandwiches – Pickering's Gin Baubles are the novelty tradition of Christmastime. The team of elves at the Edinburgh distillery have been working around the clock for the third year running to meet demand – with a bumper crop making their way to the USA and even Australia and New Zealand
Available in a rainbow of colours, the gin-filled baubles come in pink, blue, purple, yellow, red and green with a rose gold screw lid and a silk red ribbon, sure to add a splash of Christmas joy to trees and households across the country.
First produced as a fun offering at a Christmas fair in 2014, the first proper production run in 2015 sold out in just a few days. The following year, Pickering's Gin Baubles made headlines after selling out in just 82 seconds. The elves produced almost a million baubles last year to meet demand and the 2018 crop the biggest ever with over 1.2 million produced.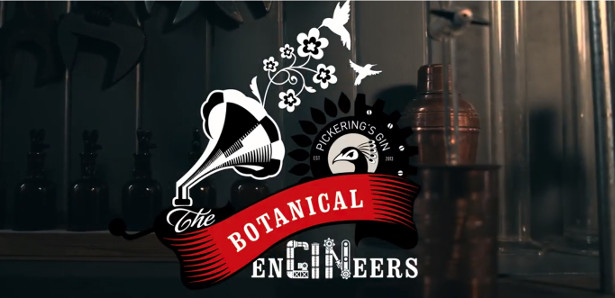 Matthew Gammell, co-founder of Pickering's Gin commented: "We've always had a 'make it yourself' attitude to Pickering's. From setting up our distillery in the Edinburgh Vet School in 2013, to filling 20 thousand Pickering's Gin Baubles a day on-site in 2017, everything we do is in the name of bringing our own brand of botanical engineering with a wink and a smile to fans of the spirit. As we go into our third year of selling our gin baubles, we're thrilled to bring the Original and Best Gin Baubles to the UK and beyond"
Marcus Pickering, co-founder added: "We are constantly bowled over by the popularity of our gin baubles. Back in 2014, we sold a hundred as a bit of fun for our local Christmas fair and now we are sending boatloads across the Pond and even to Australia and New Zealand. By putting gin into a Christmas decoration, I think we really tapped into that fun, festive side of Christmas – they make people smile when they receive them and you can even have a party when you're taking the tree down."
Sure to sell out fast once again, pick yours up from Pickering's, Selfridges, John Lewis, 31dover.com and over 200+ retailers across the country.
Pickering's Gin Baubles are retailed in a gift pack containing six differently coloured plastic baubles, each containing 50ml of Pickering's Gin (RRP: £30.00).
THE MYSTERY OF THE MISSING COCKEREL – RUGBY LEAGUE WORLD CUP TROPHY RETURNED TO ITS FORMER GLORY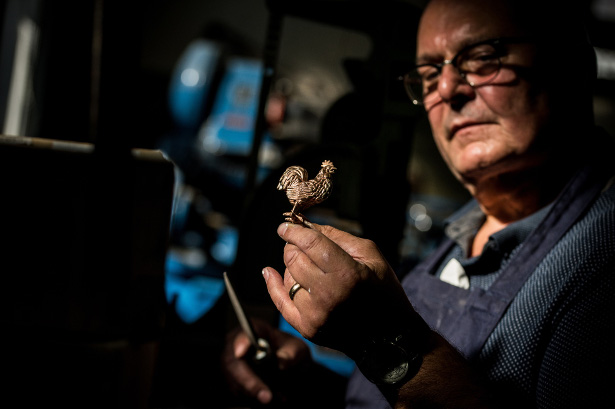 – Master craftsmen at Thomas Fattorini commissioned to create a replica cockerel which has been missing from Paul Barrière cup since 1968
– Trophy was famously stolen in 1970, and found in 1990
– A new addition – a GPS device – will allow the cup to be tracked at all times by security and fans alike
For Immediate release
Images attached and further library of images plus video content available to download via links below
November 9th
It's a sporting mystery that dates back decades – but 48 years after it was famously stolen, the Rugby League World Cup trophy has at last been returned to its full former glory.
Today, at the Rugby League International Federation Annual Congress, the final missing piece from the Paul Barrière cup has been unveiled – a cockerel that originally adorned the top of it. The location of the cockerel has been a mystery since it was last seen before the 1968 Rugby League World Cup, which took place in Australia and New Zealand.
The original trophy was commissioned by French Fédération Française de Rugby à XIII president Paul Barrière to be used at the inaugural Rugby League World Cup in 1954. It was used in four tournaments, before being stolen whilst on display at a Bradford hotel during the competition in 1970.
The trophy was found in 1990 by Bradford resident Stephen Uttley and his wife Elizabeth in a ditch near a rugby club in Bingley, West Yorkshire.
Ahead of the next Rugby League World Cup which will take place in England in 2021, the tournament organisers have commissioned the master craftsmen at the Royal Warrant holding Thomas Fattorini to recreate the cockerel. Fattorini is a 191-year-old family run business who also designed and created the Rugby League Challenge Cup and the FA Cup. A member of the Fattorini family was actually part of the breakaway from Rugby Union in the late 1800's, which resulted in the birth of Rugby League.
Originally produced at a cost of eight million francs, the 2ft 6in high Paul Barrière cup, which weighs 25kg, now looks exactly as it would have at the first Rugby League World Cup in 1954. However, one key difference ahead of 2021, which aims to be the most digitally connected Rugby League World Cup ever, is the addition of a GPS tracker. This will allow its movements to be tracked at all times and will also enable fans to follow the trophy's progress around the world via www.RLWC2021.com/trophytracker
The new cockerel was revealed today by award winning grand illusionist Sean Alexander. A video can be downloaded here of the unveil. https://we.tl/t-Y6pqxToYuv
Jon Dutton, Chief Executive of RLWC 2021, said: "We're absolutely delighted to have worked with the team at Fattorini to return the Paul Barrière Cup to its full former glory incorporating the original design. As a Rugby League fan this is a very proud moment that we want people to share in and enjoy.
"However, we're not taking any chances with the Cup and our new cockerel this time. We've incorporated a GPS tracker – a device they obviously didn't have available to them in the 70s. We may never know where the World Cup went during its two missing decades, but we will always know where it is going forward. Fans can too, by keeping a close eye on the tracking website – we shall be avoiding ditches at the side of the road!"
Professor Tony Collins, a sports and social historian and author specialising in Rugby League, added: "It's been wonderful to see the Rugby League World Cup trophy unveiled today, as it was originally imagined. The story of the loss of the trophy back in 1970 is one I've told for many years so having this new cockerel fitted is the perfect ending. Perhaps seeing the new cockerel will prompt someone to realise they unknowingly have the original on their mantelpiece, and one of the greatest sporting mysteries of all time will finally be solved!"
To follow the Paul Barrière Cup on its travels ahead of RLWC 2021, please visit www.RLWC2021.com/trophytracker
Ever wished for the perfect hangover cure, to unlock your deepest desires or to find true love?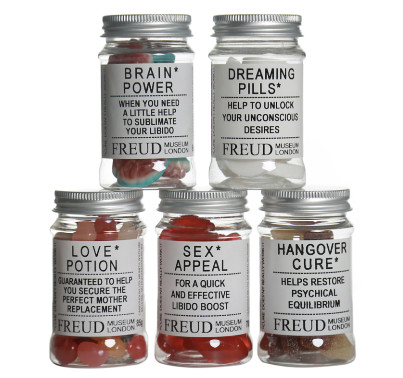 Well we can't promise you that, but we can promise you some yummy sweets!
Inspired by Freud's rescue tips, head over to the Freud Museum to find the perfect gift to cure the madness this Christmas
Rescue Jars – £3.90 each – Freud Museum – shop.freud.org.uk
Following its huge success last year, which saw hundreds of cultural destinations come together to create a shopping experience with a difference, Museum Shop Sunday will take place again on Sunday 25th November 2018, supported by the Association for Cultural Enterprises (ACE). For more information, see here: https://acenterprises.org.uk/museum-shop-sunday-2018
Visitors can expect to take part in all kinds of activities including, demonstrations by local craftspeople, food and drink tastings and creative workshops, alongside many offers and exciting finds!
Foodie Delight Wish List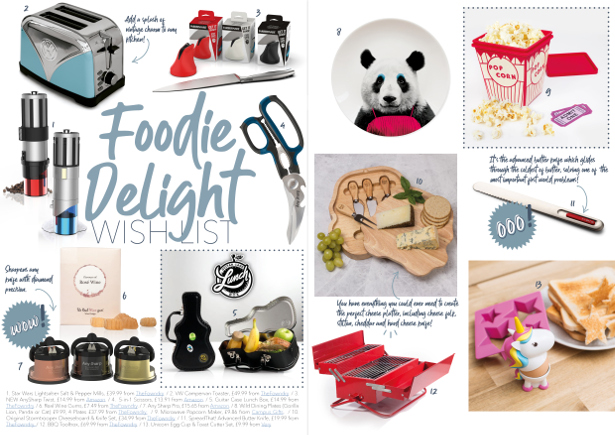 1/ Star Wars™ Lightsaber Salt and Pepper Mills, £39.99 from TheFowndry.
Update your kitchen condiments from a certain dark force looming with the Star Wars™ Lightsaber Salt and Pepper Mills. Powered by a set of 4 AA batteries, these stainless steel and ABS plastic mills have a high-quality ceramic mechanism that can be easily adjusted for a fine or coarse grind and in true faux 'Saber fashion, a guide light switches on automatically when you press the dispense button.
2/ VW Camper Van Toaster, £49.99 from TheFowndry.
Ever thought of owning your own VW Campervan but never quite got that far? Well here is the next best thing! Inspired by the classic style of everyone's favourite Volkswagen™ RV this officially licensed two-slice toaster has variable heat settings and is a great way to add a splash of vintage charm to any kitchen.
3/ The AnySharp Twist, £14.99 from Amazon.
You may be familiar with its sister the Anysharp Pro but check out the newest model, the AnySharp Twist. Keeping the Pro's lasting kitchen tricks, but with a fresh new, modern look. Just like its name you can certainly admire the curved silhouette of this latest model. A striking design for styling a modern kitchen, choose from colours; black, cream or red to complement your aesthetic.
4/ The AnySharp 5 IN 1 Scissors, £13.91 from Amazon.
Wave goodbye to your average pair of scissors, presenting the AnySharp 5 in 1 Scissors. Now here is a pair you can rely on! Make light work of many tasks it's the world's smartest scissors. With a superior tempered steel blades, from opening bottles, cracking nuts, crushing garlic or even cutting meat from the bone, these scissors can do it all.
5/ The Guitar Case Lunch Box, £14.99 from TheFowndry.
For any budding musicians out there upgrade your lunch box with this handy sandwich tin designed to look just like a pint sized guitar case. As well as being a cool box for a packed lunch, what's more it's also a handy tin for snacks, keepsakes, concert stubs, stage makeup and more. Make it your own with the set of ten stickers included – the perfect decoration for any well-travelled music case.
6/ Real Wine Gums, £7.49 from TheFowndry.
Enjoy the rich, complex and downright deliciously boozy flavour of these tasty sweets made from, you heard it 'edible wine!' Choose from 4 delicious vino flavours – earthy, floral, botanical and fruity or mix it up and try them all. Nevertheless since these treats are totally alcohol, gluten, fat, nut, gelatin, and lactose free, they can be enjoyed by absolutely everyone.
7/ The AnySharp Pro, £15.42 from Amazon.
At the forefront of any traditional Christmas dinner is the succulent roast turkey so with the appending festive celebrations soon to be underway ensure you avoid blunt carving knives in the kitchen and get a slice of the AnySharp Pro. Safer, easier and quicker than ever before just 3 to 4 light strokes and your knife is restored in a matter of seconds.
8/ Wild Dinner Plates, (each plate £9.99) (4 plate set £37.99) from TheFowndry.
Enjoy the wilder side of life and come face to face with nature over dinner with these totally wacky Wild Dining Plates. But not just any animals, have you ever eaten from a plate which has a gorilla in a tux, a panda in a pink summer dress or a lion in aviators before? Well now you can! Sure to become the talking point at any dinner party.
9/ Microwave Popcorn Maker, £9.86 from Campus Gifts.
Who said popcorn was just for the cinema? With the Microwave Popcorn Maker this doesn't have to be the case. Make delicious and healthy home-made popcorn in the comfort of your own home with this nifty container! Place in the microwave and listen for that popping, then in just 3 minutes time your sweet treat is ready, no oil or butter needed, simple!
10/ The Original Stormtrooper Cheeseboard, £34.99 from TheFowndry.
No dinner party is complete without a cracking good cheeseboard right? Well check out with this stunningly designed Original Stormtrooper Cheeseboard. All that's missing is some sharp Stilton, oozing Brie and crumbling Cheddar then your guests are sure to be impressed! Featuring space-saving storage for a Stilton, Cheddar, hard cheese knife and cheese fork. What's more they are also all included in this set!
11/ The SpreadTHAT! Advanced Butter Knife, £19.99 from TheFowndry.
With its brilliantly simple design, the SpreadTHAT! Advanced Butter Knife has just jumped straight to the top of your Christmas list for first world problem solvers. The nifty little gadget you never knew you needed until today! This designer spreader glides through cold butter and makes spreading it on toast an absolute doddle. Jams, spreads, peanut butter, cheeses, yeast extracts, beef extracts, you name it this butter-melting knife will make short work of them all!
12/ BBQ Toolbox, £69.99 from TheFowndry.
Encased within a stylish red tool box, the BBQ Toolbox is perfect for outdoor dinning. Once open, the BBQ Toolbox doesn't just unfold a grilling space but with its clever toolbox design there is space for food prep too. One side features an open shelf for herbs, spices and utensils, whilst the other side offers a wire rack warming tray – handy for keeping food heated if you are cooking multiple rounds of food.
13/ Unicorn Egg Cup & Toast Cutter, £9.99 from Very.
Forget egg and soldiers – it's time for an upgrade! Add some magic to your eggy breakfast, lunch or supper with this adorable Unicorn Egg Cup and Toast Cutter Set, then you're sure to crack a smile on those cold winter morning. After all there is nothing better than cutting your toast into starry shapes followed by dipping them into your eggs, sat rather comfortably upon a Unicorn throne.
GIFT BEAUTY LOVERS WITH REVLON'S LATEST PRO COLLECTION RANGE FOR BEAUTIFULLY GLOSSY HAIR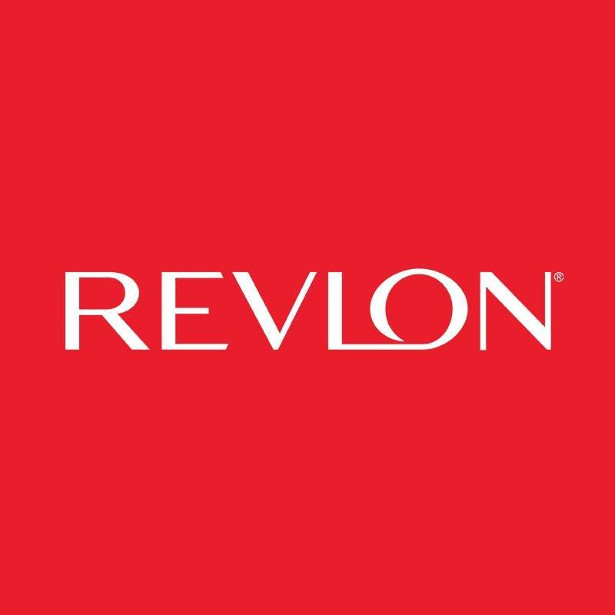 Give the gift of beautifully styled healthy-looking hair this Christmas with Revlon's must-have PRO COLLECTION range. Featuring the Salon 360 Surround™ AC Hair Dryer, Salon Straight Copper Smooth™ Styler and Salon One-Step Straight and Shine™ XL Heated Brush, the new range is the perfect gift to pop under the Christmas tree for those with medium-long hair wanting to achieve fast professional results.
Reinvent how you dry your hair
Revlon® Salon 360 Surround™ AC Hair Dryer – £119.99
The Revlon® Salon 360 Surround™ AC Hair Dryer, which was designed with long, naturally straight hair in mind, redefines traditional drying and styling with its two modes offering ultimate flexibility for maximum versatility in just one tool. With its powerful dual air jets, which quickly dry front and back sections of hair in the 360° mode, the Revlon® Salon 360 Surround™ AC Hair Dryer delivers 70%1 more hair drying coverage for results 60% faster2. Thanks to the precise angle of the airflow, which mirrors the technique used by hairdressers in salons to dry hair, locks are left naturally smooth while hair cuticles are sealed for less frizz and increased shine. Not only is this perfect for prepping hair ahead of straightening, but the 360° mode is also a great way to preserve natural curls by slowing down the speed.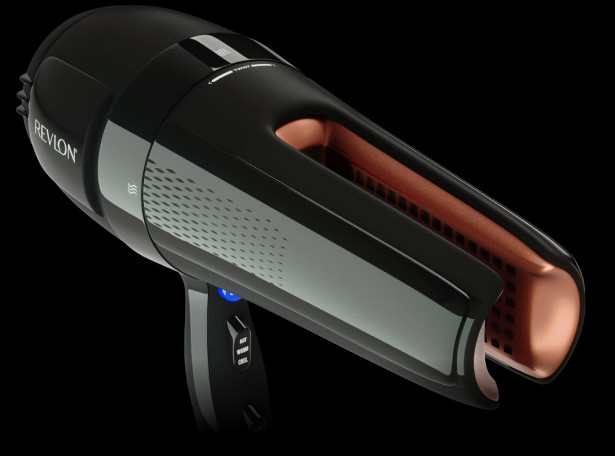 KEY FEATURES/ BENEFITS:
With a simple twist of the nozzle vents you can quickly and easily switch from the 360° mode to the classic mode
The contoured air outlet delivers directional airflow for precise root styling and drying without the need for additional attachments
Ionic technology and 2X ceramic coating protects hair from over-styling and ensures even heat distribution for shiny, manageable locks
High-endurance AC motor for increased longevity
Three heat and two speed settings, including a cold shot to help lock in styles giving you the freedom to choose the right setting for your hair type
Ergonomic design and extra-long salon length cord
Experience the ultimate salon style for smooth, glossy locks
Revlon® Salon Straight Copper Smooth™ Styler – £79.99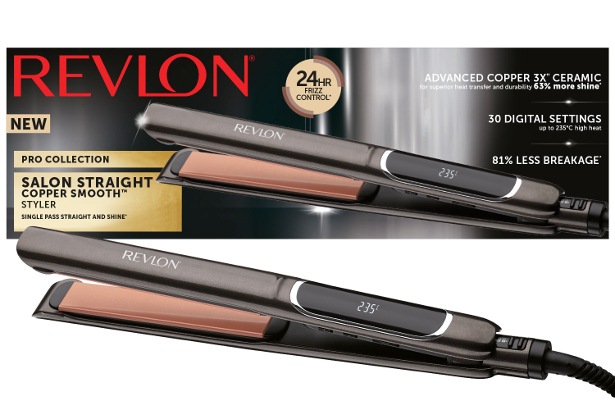 The Revlon® Salon Straight Copper Smooth™ Styler delivers the ultimate in salon performance for a long-lasting, reduced frizz, straight and shiny style. With its 10 second fast heat-up³ and extra-long 125mm rounded floating plates, you can achieve beautifully sleek results in no time, including flips and waves, while the slim design allows you to get close to the roots.
KEY FEATURES/ BENEFITS:
Advanced copper 3X ceramic technology is gentle on hair providing 63% more shine4, 81% less breakage3 and helps to control the fading of coloured hair5 for healthier looking locks
Copper plates help to control frizz for 24 hours4, delivering faster styling, fewer hot spots
30 variable settings of up to 235°C providing ultimate freedom when it comes to styling your hair type
Inbuilt Smart Memory recalls last heat setting
Extra-long tangle-free swivel cord
Touch up hair for smooth, frizz-free results
Revlon® Salon One-Step Straight and Shine™ XL Heated Brush – £69.99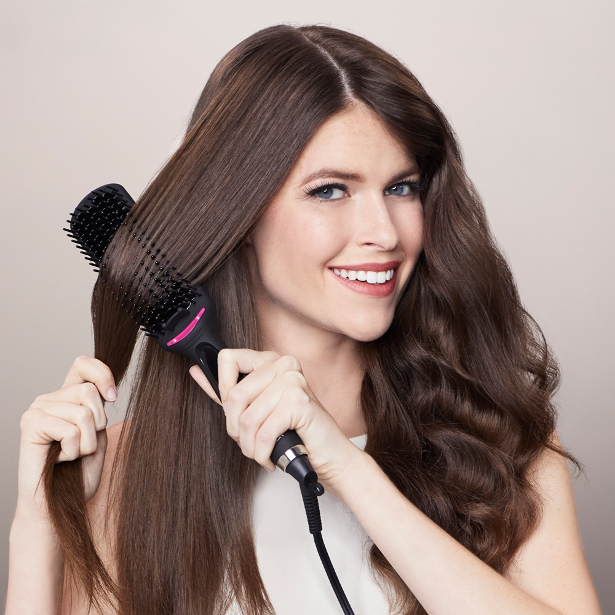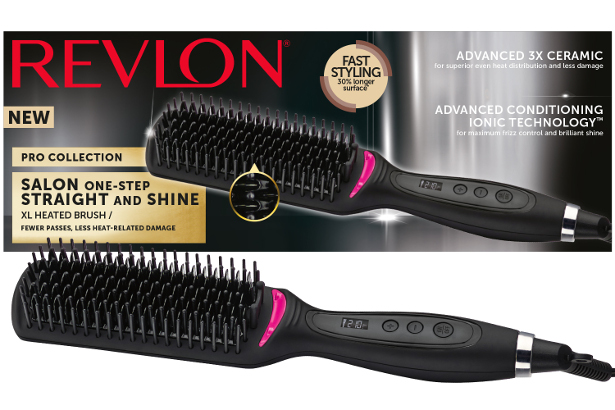 The Salon One-Step Straight and Shine™ XL Heated Brush is a cutting-edge hair straightening tool that blends the convenience of a hair brush and a straightener into one to reduce frizz and minimise styling time for faster salon results at home. The Salon One-Step Straight and Shine™ XL Heated Brush is the perfect option for styling alone or using as part of the three-step routine for second day touch up.
KEY FEATURES/ BENEFITS:
30% longer surface6 for faster results and fewer passes
Multi-dimensional combs and detangling bristles to gently glide through your hair and reach those hard to style areas such as the back of your head and roots
Advanced 3X ceramic coating ensures heat is evenly distributed for less damage
Conditioning ionic technology controls frizz for beautifully glossy locks
Curved ribbed exterior helps to guide hair to create relaxed waves and curls
10 heat settings and smart memory offers complete flexibility for all hair types
AVAILABILITY: Revlon's® new PRO COLLECTION range is available now at Boots and Amazon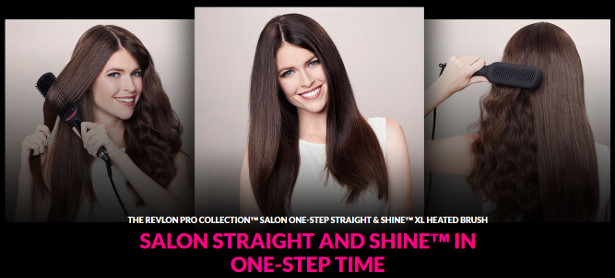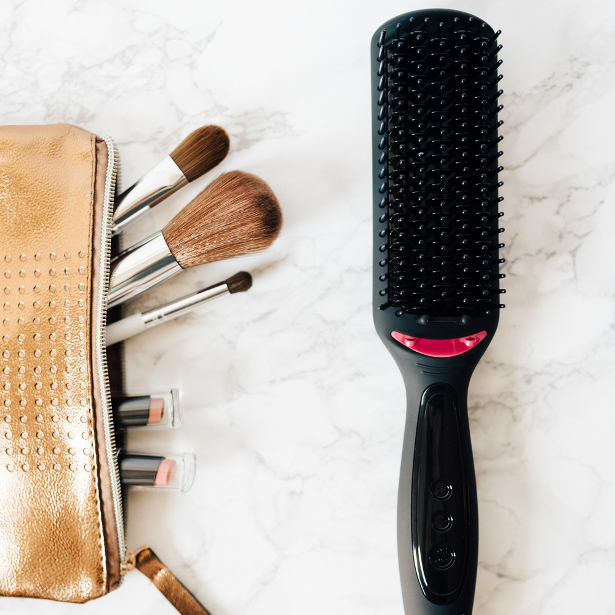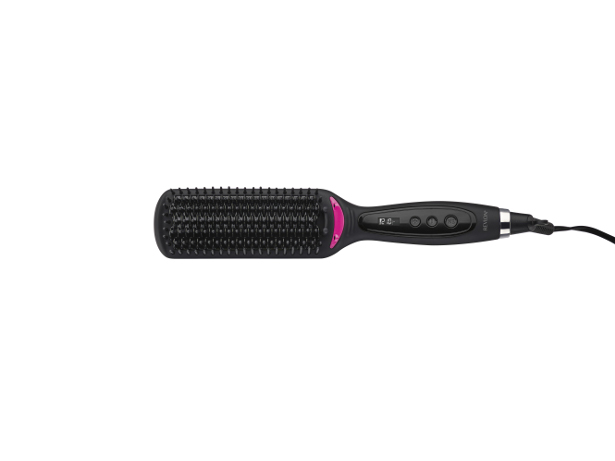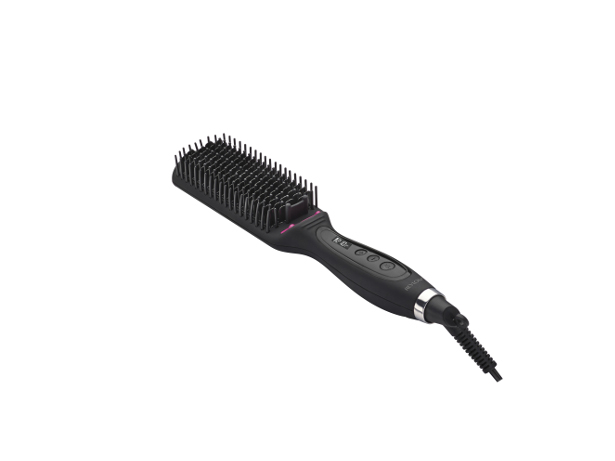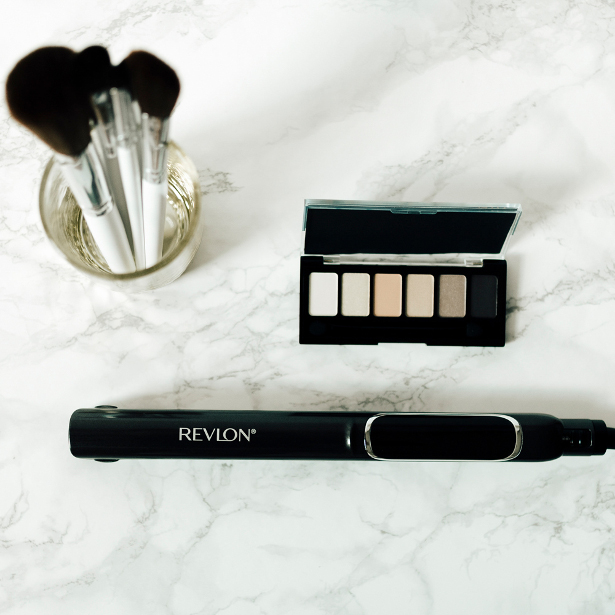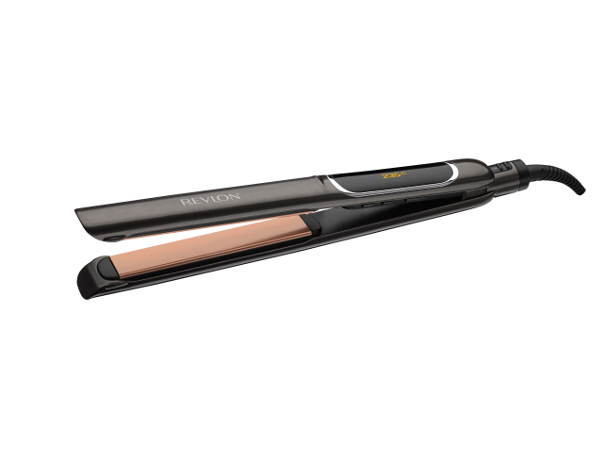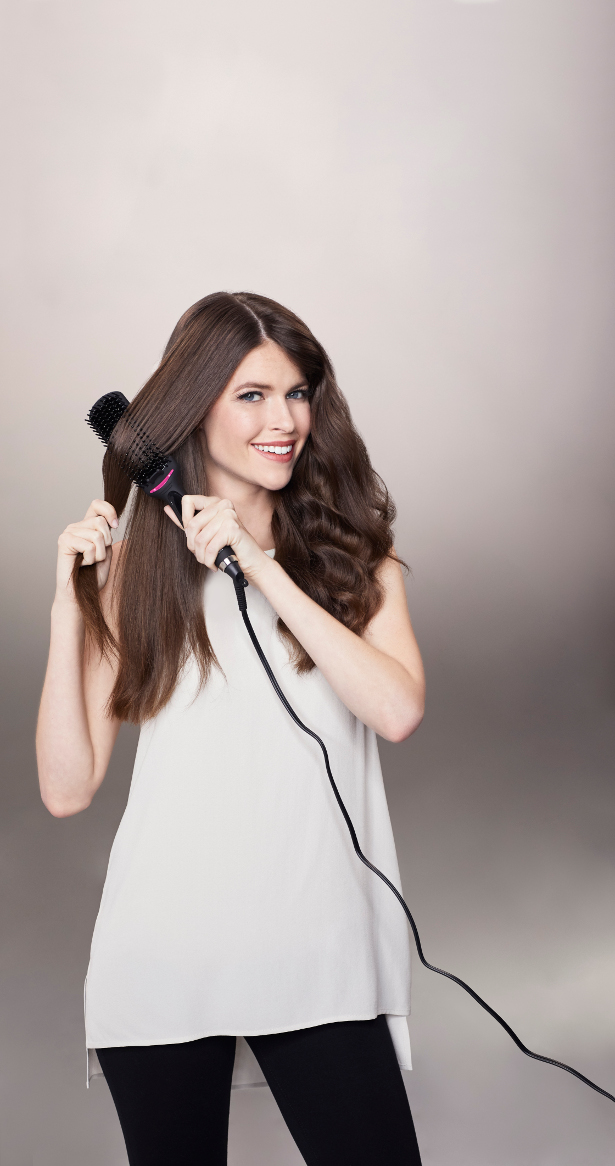 Get ready to impress your guests…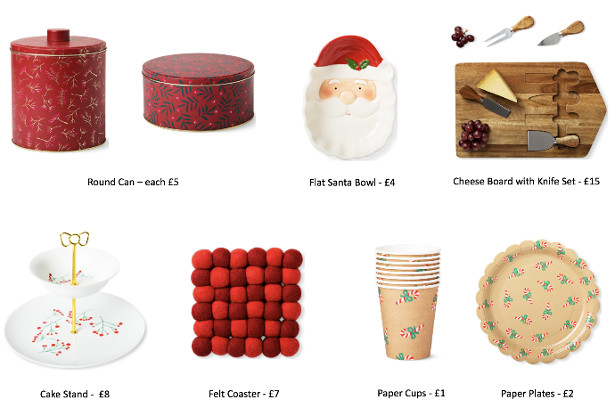 You will definitely be hosting the best dinner party with Flying Tiger Copenhagen's Christmas Dining collection!
Cover your table with festive fun and bring the party alive!
Perfect for Christmas and beyond.
Available from Flying Tiger Stores Nationwide
uk.flyingtiger.com
Sharks stars meet 94-year-old Manchester war hero, George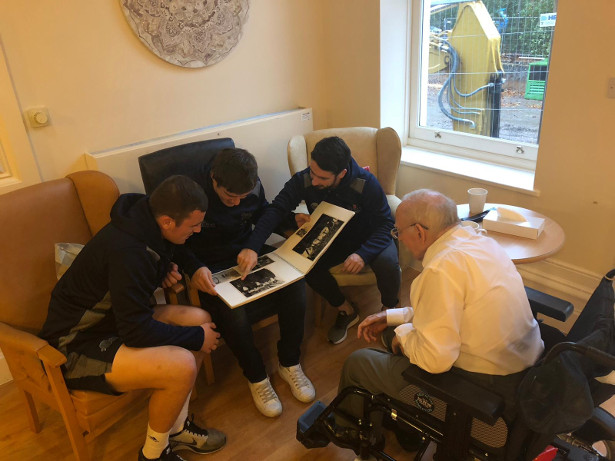 Ahead of the 100-year anniversary of the end of WWI, AJ MacGinty, and Curtis Langdon visited Broughton House in Salford to sit down with George, who fought for his country in WWII
The link-up was part of the ground-breaking Sharks Forces programme being delivered by the club's Community Trust to support veterans or ex-forces personnel in the North West
Two first-team stars from Sale Sharks spent an afternoon with some of Manchester's military veterans – including a 94-year old WWII hero – as part of a ground-breaking community programme supporting ex-forces personnel across the region.
Fly-half AJ MacGinty and hooker Curtis Langdon visited Broughton House – a nursing home for elderly military veterans in Salford, after the club's Community Trust established a new link-up with the charity.
Through its Sharks Forces programme, the Trust invited eight veterans living at Broughton House along to watch Sale take on Saracens at the AJ Bell Stadium last weekend.
That group included 94-year-old George Simms – a former Royal Marine who was born in Gorton and fought in WWII, surviving the D-Day battle despite being wounded twice, and later being awarded the French Legion of Honour for his actions on Sword Beach – the highest gallantry award to be issued.
At the Sale game, George met MacGinty and Langdon for the first time and made them promise to come and visit him at Broughton House soon after.
And the players kept their word as they dropped in to see George along with Trust coach Craig Monaghan, who leads the Sharks Forces programme and is a military veteran himself, having served in Afghanistan.
Craig said: "The lads really enjoyed spending time with some of the veterans at Broughton House and especially meeting up with George again.
"He's got a brilliant personality with some amazing stories to tell, and he made a big impression on me and the players when he came to the Saracens game.
"Curtis Langdon's dad was also a Royal Marine, so I know he found it fascinating to listen to George and hear more about what life in the forces is like.
"With the work we're doing as part of Sharks Forces in partnership with the Royal British Legion, this link-up felt like a natural extension of the programme and it's been fantastic to meet someone like George already."
Rhys Edwards, Fundraising and Marketing Manager at Broughton House, said: "Building a relationship with a club as prestigious as Sale Sharks is huge for us here at Broughton House, and our residents are really excited to see what the partnership will bring!
"Attending games and meeting players means the world to our residents, which is evident from the photos taken both at the game and here at Broughton House.
"We're at an important time in our 102-year history, as we begin our £14m redevelopment to become the North West's first Veteran Care Village, and we look forward to the club joining us on this journey."
As part of the new link-up between Sale Sharks Community Trust and Broughton House, Craig has committed to someone visiting the care home once a week through the Sharks Forces programme, and Sale Sharks will also host an event for the home's military veterans once a month.
Sharks Forces was established almost two years ago in association with the Royal British Legion and has been helping military veterans build confidence and skills to help them return to normal civilian life, as well as helping many to find employment.
"Sharks Forces has been growing and growing and we're helping more people all the time, but it isn't just about helping veterans or ex-forces personnel who have difficulty transitioning back to civilian life or encounter problems later down the line," added Craig.
"It's a project designed to build a military community and support network for veterans, which is why working with Broughton House is fantastic for the programme.
"I'm really proud that we've managed to build this relationship already, especially at this time of year as November is always a tough month for military veterans.
"It's even more so this year as we mark 100-years since the end of WWI, but I'm hoping we can continue to expand the reach of the programme and help even more people in the future."
On Remembrance Sunday, HMS Belfast was open for free to Service Personnel and Veterans who showed ID. 

To mark 100 years since the end of conflict in WW1, IWM shop has launched its special, commemorative collection featuring the exact ceramic poppies that were made famous from the installation at the Tower of London, 'Blood Swept Lands and Seas of Red' by artist Paul Cummins and designer Tom Piper. IWM shop's official Remembrance range has been produced in partnership with the artist Paul Cummins MBE, Halycon Gallery, Historic Royal Palaces, 14-18 NOW and Imperial War Museums.