First aphrodisiac crisps set to raise temperatures this Valentine's Day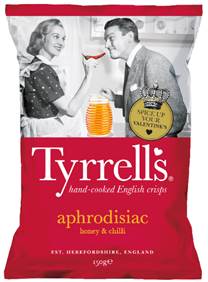 FACEBOOK | INSTAGRAM | TWITTER
Tyrrells' new Honey and Chilli hand cooked potato crisps are a match
made in heaven
Premium crisp brand Tyrrells launch first aphrodisiac flavoured pack
Honey and Chilli available from mid-January (for a limited period only) in selected independent retailers
Fans can also win packs, date night essentials, plus the top prize of a chef coming to cook you a romantic meal for two in your own home, via Tyrrells' social media
____________
Looking to spice up Valentine's Day? Premium hand-cooked English crisp brand Tyrrells is launching limited edition, Honey and Chilli, set to get pulses racing on February 14th, the most stimulating day of the year.
Tyrrells' latest addition combines mellow, sweet honey with the fiery spice of chilli – guaranteeing to heat up any date night! Full of aphrodisiac properties, both honey and chilli can have provocative effects on the body – the first tinkering with hormone levels while the latter triggers nerve endings on the tongue – releasing endorphins and increasing heart rate.
We are all destined to fall in love at first bite!
Bestowing this 'passionate' addition with some extra love, Tyrrells will also be running competitions on social media. Followers will have a chance to win a bundle of tantalising crisps along with a selection of date night essentials, including wine, candles and a specially created treasure hunt game.
Sarah Lawson, Tyrrells Marketing Manager, said: "At Tyrrells, we're always looking for ways to introduce new and different additions that bring our unique and often quirk personality to life. Our new Honey and Chilli variety has an extra special place in our hearts as it is the first crisp with aphrodisiac properties that's ever been created!"
Tyrrells' potato crisps are made in small batches from locally grown, seasonal varieties of potatoes at Tyrrells Court Farm in Herefordshire. Hand-cooked and seasoned to perfection with the finest, specially selected ingredients, the crisps boast a unique curl, signature crunch and superlative taste.