Floats and beach towels to make you stand out of the crowd on holiday! Giant Blankets! From > www.menkind.co.uk
TWITTER | INSTAGRAM | FACEBOOK | YOUTUBE
Burger Beach Blanket
Giant Burger Beach Blanket was £24.99 now £21.75
It's a giant beach blanket… shaped like a burger!
By far the tastiest way to tan
Ultra-soft, absorbent material doubles as a towel
Perfect for days at the beach, picnics, festivals, and much more!
Measures approx. 5 foot wide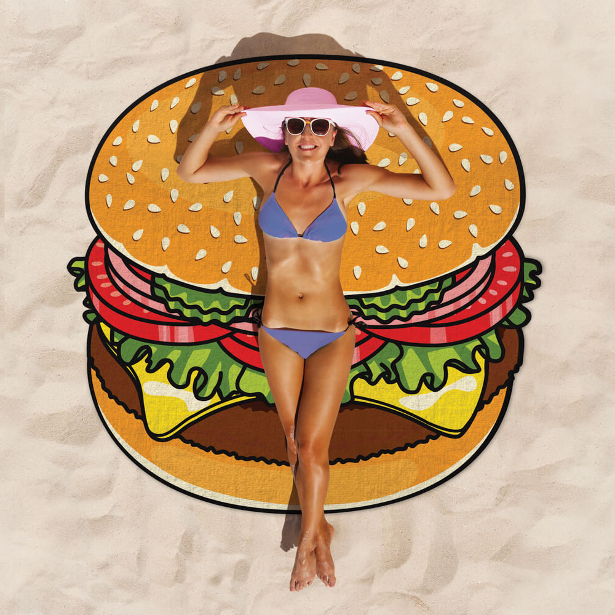 Toasty buns, the sounds of sizzling, red tomato skin (sometimes), and just all-round deliciousness… Yes, days out in the sun have a lot in common with burgers! So, why not bring the two together in a fantastic feast of flavours? We think burgers and the beach were born to be together, which is why we're more excited than a fast-food mascot to bring you this giant burger beach blanket!
Sink your teeth into this huge beach blanket, made to look like a mouth-watering burger! It is made of ultra-soft fabric, which is also absorbent, so you can use it as a towel, too! But, if you'd rather sit and cook in the sun, this 5-foot wide burger has sufficient space for you to spread out better than a huge dollop of secret sauce.
This burger blanket comes packaged in a very handy carrier bag, which makes it very easy to take-away with you! And, you can also use the bag as a beach tote, putting all of your toppings (and bottomings) in there, too!
When the sun's out, you just want to have fun. And, it doesn't get more fun than a giant, burger-shaped beach blanket! So, take a huge bite out of summer and get your burger blanket today!
www.menkind.co.uk/giant-burger-beach-blanket
Price: £21.75
Giant His and Hers Microfiber Beach Towel
Description: It's a double beach towel with his and hers sides…
… except the 'hers' side is notably bigger!
This beach towel brings a sense of humour to the sand
Made of soft microfiber in black and white
Measures approx. 152 cm x 152 cm
We have double beds, so why not double towels? Oh, that's right, because some of us don't know where the middle is and end up hogging valuable real estate! We're just joking… or are we? Yes, we're joking… in the same way that a couple jokes when they're actually having a thinly-veiled public argument. No, for real, we're joking in the same way that this His and Hers Beach Towel is!
Double the width of a regular beach towel, this his and hers towel pokes gentle fun at the endless 'war of the sides'. It splits the towel into 'her side' and 'his side', though her side is slightly bigger than his… But, like we said, the fun is gentle! How gentle? Almost as gentle as the soft microfiber that the towel is made from!
Are you ready to take the battle of the sexes to the beach? Of course you are! And, now the lines aren't blurred anymore – they're clear black and white, just like this towel! So, for a little bit of fun in the sun, get your His and Hers Microfiber Beach Towel today!
www.menkind.co.uk/giant-his-and-hers-microfiber-beach-towel
Price: £19.99
Giant Ice Pop Beach Towel
Description: It's a huge beach blanket, shaped like an ice pop!
Super-soft but tough as well
Perfect for the seaside, festivals, picnics, and much more!
This blanket is n-ice and summery
Measures approx. 5 feet long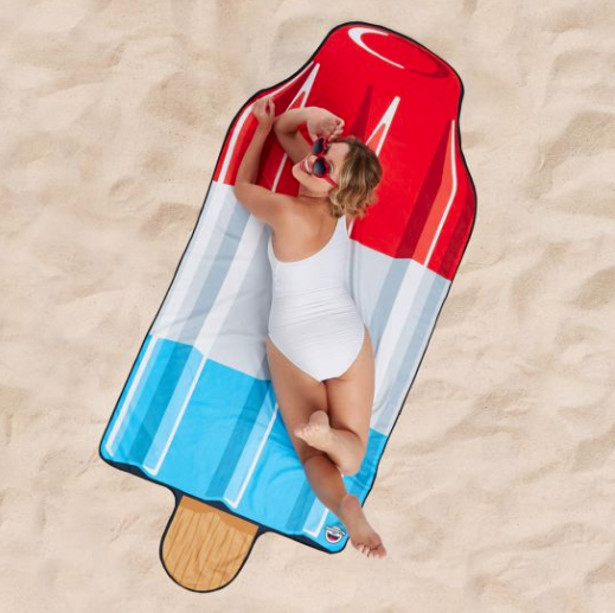 When the sun's out, everyone races for the beach or the local park, and prime positions can be a bit of a feeding frenzy. But, there's one way to guarantee you'll always have the coolest spot on the beach… by getting this gigantic ice pop beach blanket!
What's cooler than being cool? Ice cold! And that's exactly what you'll be as you soak up the fun this summer on this giant beach blanket. It's shaped like a cartoon ice lolly, so your summer spirit will get a boost just by looking at it. And, being 5 feet long, you'll have more than enough room to chill out without touching the burning sand!
This beach blanket comes with its very own storage pouch, which makes transporting it easy. And, it doubles as a beach tote bag, so you don't have to look like a pack mule as you make for the seaside. Just put everything you need in the one bag!
Summer is supposed to be sweet and sticky, so there's no better way to celebrate it than with a sweet-and-sticky-treat-shaped blanket! Bring lolly-palooza to local shores this summer with this oh-so-cool ice pop beach blanket!
www.menkind.co.uk/giant-ice-pop-beach-blanket
Price: £24.99
Giant Pink Flamingo Pool Float
Giant Pink Flamingo was £29.99 now £19.99
Description: Utterly awesome Giant Pink Flamingo
Add a touch of retro kitsch to your summer
Great fun for your holiday in the sun
Measures over four feet when inflated
Made from durable multi colour vinyl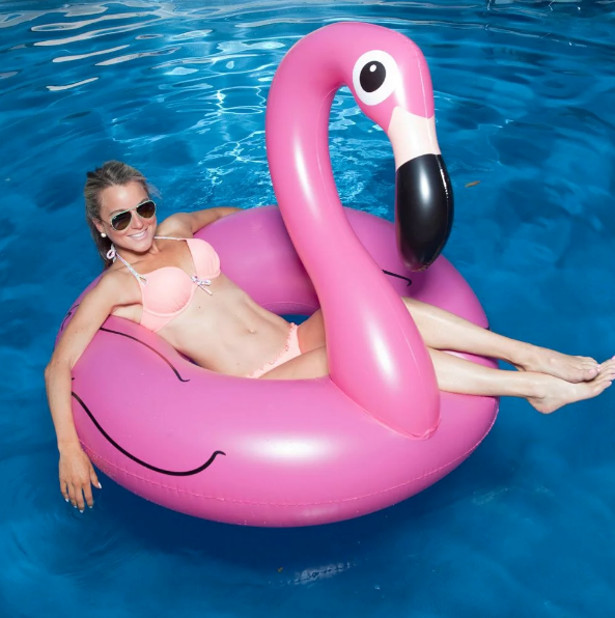 Bring a tropical touch to your holiday this year and be tickled pinked by a sprinkling of old school vintage glamour!
We all need a touch of fun in our lives, as sometimes there's just too much sensible and not enough silly in the world! Luckily we have just the thing to banish the grey days with this gorgeous Giant Pink Flamingo Pool Float!
Perfect for the pool, the beach or just chilling in the paddling pool in your back garden, this incredibly kitsch retro styled Flamingo Float is sure to brighten up your summer. And adding a big, inflatable touch of glamour to your life has never been easier, as this sassy bird is no shrinking violet!
Over four foot wide and made with durable extra-think vinyl, you can waste away the hot sunny days in complete comfort. So banish your boring ring floats, forget your sandy old lilo and kick back with the awesome hot pink holiday accessory!
www.menkind.co.uk/gigantic-pink-flamingo-pool-float
Price: £19.99
Gigantic Pizza Pool Float
Gigantic Pizza Pool Float was £29.99 now £19.99
Description: Perfect vinyl pizza slice pool float
Great for relaxing on holiday
A super fun addition poolside
Over five feet long for extra comfort
Can hold any weight up to 200 lbs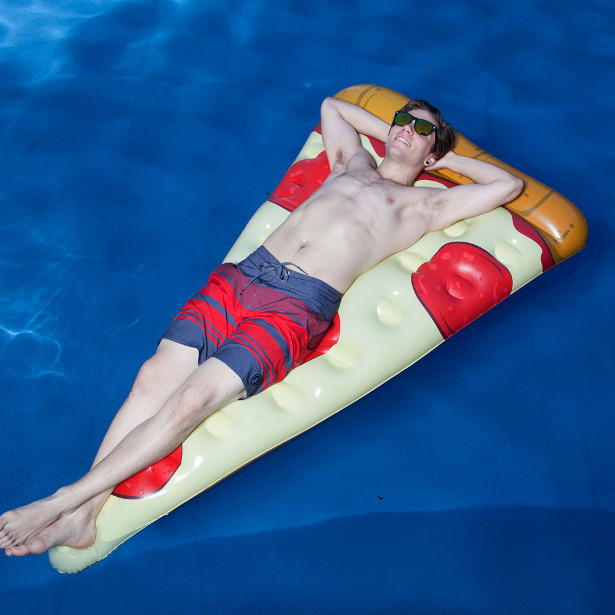 Going away on holiday is the highlight of the year for most of us. Kicking back in the sunshine with your shades, putting on your fancy swimwear and sipping on an ice cold drink… paradise.
There's only one thing that can make your holiday even more blissful, you guessed it – pizza! Grab a tasty slice of everyone's favourite Italian treat and sit back and relax with this awesome Gigantic Pizza Pool Float.
This fabulous float is bound to get an envious look poolside with its super fun pepperoni design that's a witty addition to any pool party. This delicious inflatable snack is over five foot long, so plenty of room to get comfy during those hot sunny days. We recommend grabbing a real slice of pizza when you get peckish though, as this durable vinyl float is great for keeping you bobbing in the pool but isn't very tasty! Super flat and compact once deflated, this float is perfectly portioned to fit in your suitcase too!
www.menkind.co.uk/gigantic-pizza-pool-float
Price: £19.99