FOR THE ACTIVE MUM: AfterShokz Trekz Air
TWITTER | FACEBOOK | YOUTUBE | INSTAGRAM
For the mums that are always on the move; whether this be running, cycling or walking, AfterShokz Trekz Air headphones offer safety, comfortability and style. Inspired by the demands of elite and aspiring athletes, Trekz Airs are the ultimate bone conduction sport headphones. An OpenFitTM design promises uncompromised situational awareness and extended comfort, meaning she can tune in to music or a call without tuning out the world around her. Six hours of music and calls finally provides enough boost to get users through a long workout, flight or marathon call.
AfterShokz chases performance with new Trekz Air
wireless bone conduction headphones
The ultimate headphones for athletes will change the way they listen.
AfterShokz, the bone conduction headphone brand known for prioritising situational awareness and comfort through its unique open ear design, today announced its next generation of wireless bone conduction headphones, Trekz Air. Trekz Air are the ultimate sport headphones inspired by the demands of elite and aspiring athletes. These new wireless headphones wrap powerful features in a functional, flexible and featherweight design, ignoring the limits set by traditional sport headphones.
"Building on our Trekz product line was a natural next step for AfterShokz after the incredible success we've had with our first Trekz model, Trekz Titanium," said Kim Fassetta, CMO of AfterShokz. "Our team spent a lot of time perfecting the overall design and functionality of Trekz Air, improving on every aspect of the headphones from the fit to the sound."
Designed to withstand the rigorous training of elite athletes, Trekz Air are 20% lighter than Trekz Titanium, weighing in at just 1.04oz. This is possible based on its full titanium wraparound that provides infinite flexibility, a secure fit and the ultimate level of comfort.
Trekz Air features: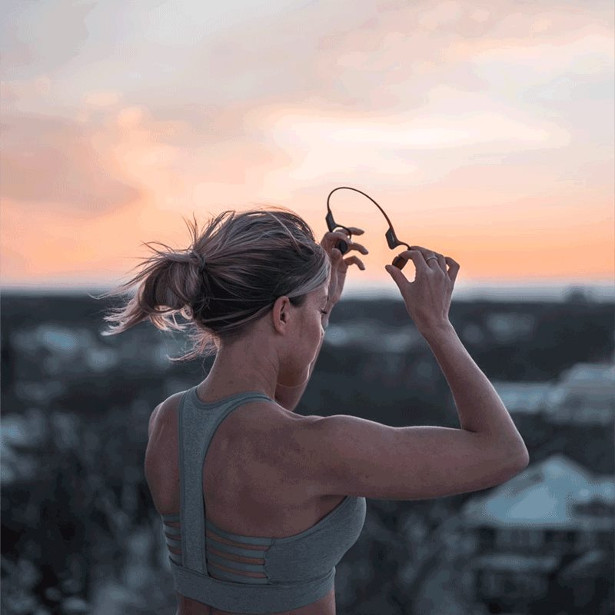 Full titanium frame and wraparound band:

The backbone of the industrial design is a premium titanium frame and wraparound band, an element chosen not only for its strength and durability, but also for its infinite flexibility, which will deliver maximum comfort, portability and universal fit.
OpenFit™ design:

Promising uncompromised situational awareness and extended comfort in a revolutionary open ear design. That means you can tune in to your music or a call without tuning out the world around you — vital for staying safe and alert as you move through the day.
PremiumPitch+

™

sound:

Bone conduction audio has earned its bad reputation due to a blend of natural sound leakage and weak bass. PremiumPitch+™ technology optimises the sound and includes additional features like LeakSlayer™ technology, which eliminates sound leakage almost entirely.
Sweat resistant:

Built to power through daily sweat sessions and wicked weather. IP55 rated to repel sweat, moisture and dust.
Six hours of music and calls:

A single charge will reliably deliver at least six hours of music play and talk time. You can charge fully in 1.5 hours, but a quick 15-minute charge provides enough boost to get you through a long workout or marathon call.
Dual noise canceling mics:

Precisely placed dual noise canceling microphones exclude surrounding noise, effectively enhancing speech for crystal clear calls.
Voice prompts:

Audrey Says™ seamlessly guide you through power, pair, play and talk, and everything in between.
Notable improvements over the previous model, Trekz Titanium:
Reduced sound leakage

Improved dual noise canceling mics

New antenna for improved Bluetooth connection

Resigned bone conduction transducers deliver more bass
Trekz Air uses bone conduction technology to transmit audio waves to the inner ears through the skull, bypassing the eardrums completely. Place them on your cheekbones, just in front of your ears. This leaves your ear canals open, allowing you to remain alert and aware of ambient sounds, teammates, coaches, training partners and more while you enjoy your music. Bluetooth® connectivity gives you the ability to be free of wires and make and receive phone calls. 
Trekz Air are available in four of the season's hottest colours: Midnight Blue, Forest Green, Slate Gray and Sunset Pink.
About AfterShokz
AfterShokz brings patented bone conduction technology, initially developed for military special operations and law enforcement by Voxtech in 2001, to sport and Bluetooth® headphones designed and priced for everyday use. Through a suite of proprietary audio technologies and a completely open ear design, AfterShokz headphones deliver premium stereo sound and a promise of safety and comfort that is second to none. Since its inception in 2011, the company has been committed to innovating unconventionally and making situational awareness a priority. Learn more about how the brand inspires users to #beopen at aftershokz.co.uk.