Glen Moray launches ground-breaking Cider Cask Project Whisky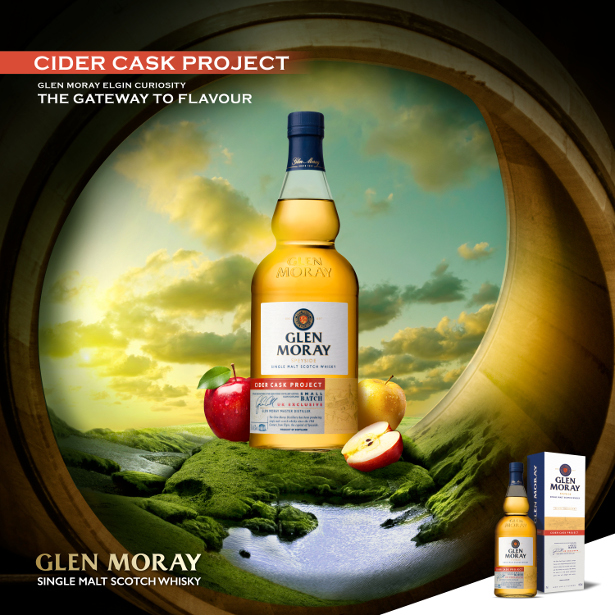 Glen Moray Distillery is excited to announce the launch of its Glen Moray Cider Cask Project, a small batch single malt whisky expression exclusive to the UK. This is the first release from the new Glen Moray Elgin Curiosity Range embracing Master Distiller, Graham Coull's passion for experimentation and his desire to push boundaries in the world of whisky. Marketed as 'The Gateway to Flavour' the new Glen Moray Curiosity Range will see the production of single malt whiskies which are 'bold with complex aromas and exciting flavours.'
Glen Moray's Cider Cask Project, the first of the range, is a collaboration between Thistly Cross Cider, one of Scotland's most highly awarded cider brands and Glen Moray Distillery. The partnership began five years ago when Graham Coull first tasted Thistly Cross Cider and saw the potential for a fruitful collaboration. Glen Moray loaned the cider makers some of their single malt whisky casks to create their Thistly Cross Whisky Cask Cider which is now distributed in over 20 countries worldwide. In return, Graham wanted to see what their vintage cider could bring to the whisky.
"For me the inspiration was simple. When I first tasted the Whisky Cask Cider it was immediately obvious that the whisky flavours complemented the cider flavours perfectly. The logical next step for me was to see what the cider could bring to the whisky," says Coull.
The Whisky Cider casks were returned home to Elgin from Thistly Cross, coming full circle to be filled once again with Glen Moray Single Malt at the distillery. After careful monitoring, and what Graham considered the perfect maturation length, the exclusive small batch whisky was bottled. The result is Glen Moray's Cider Cask Project which is an incredibly light and fresh whisky with caramelized apple notes from the cider casks which mix perfectly with the intense vanilla flavours found in all Glen Moray Single Malt Whiskies.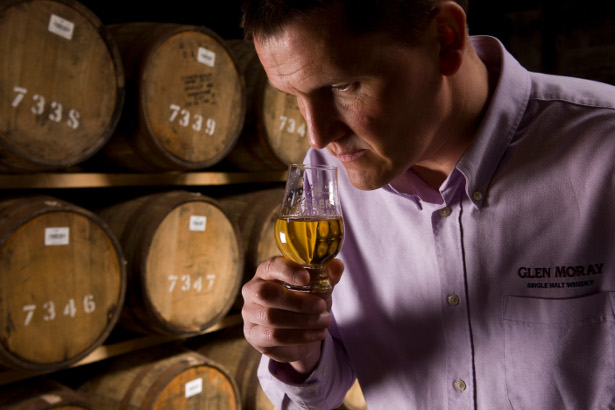 Peter Stuart, Cidermaker at Thistly Cross Cider says: "We are absolutely delighted that the generosity and support offered by Graham Coull is about to be rewarded by the release of Glen Moray's Cider Cask Project. The whisky casks 'loaned' by Glen Moray, have allowed Thistly Cross to take 'our' Whisky Cask Cider worldwide. It is one of our best-selling variants which is perfectly finished by the Speyside characteristics of Glen Moray. A true story of Scottish hospitality and sharing."
Graham Coull adds: "We are all very excited at Glen Moray Distillery about the launch of Glen Moray's Cider Cask Project Whisky and The Elgin Curiosity Range. As Master Distiller of this historic distillery, I am keen to constantly evolve and create new whiskies which showcase the quality and breadth of whiskies which we can produce, reinforcing our message that Glen Moray is The Gateway to Flavour.
"Glen Moray is delighted to be working hand in hand with the award winning Thistly Cross Cider to produce a delicious whisky which has been created through craftsmanship and honours the history of cider and whisky production in Scotland."
Tasting Notes:
Colour: Polished gold
Nose: Toffee apple and candy floss. Reminiscent of a fairground.
Taste: Incredibly light and fresh. Summer fruits accompanied by vanilla ice cream sprinkled with toasted oats.
Finish: Smooth and satisfying. Carmelised apple laced with spice mixed with vanilla fudge, slowly melting on the tongue.
RRP: £54.99
ABV: 46.3% non-chill-filtered
Stockist: Exclusively available from The Whisky Exchange until the end of October and from November from all good specialist retailers.