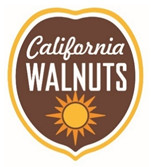 Keep calm and eat a strawberry
With British berry season upon us here are some gorgeous recipes from California walnuts which make the most of the lovely British cherries, blackberries, raspberries, and strawberries available at the moment!
We've got a fab selection below – please find methods for the Strawberry Tartlets, porridge with raspberries and blackberries, chocolate walnut dipped strawberry ice pops, walnut chia bowl, goats' cheese, griddled cherry and gremolata toast, and blackberry quick bread.
California Walnut and Strawberry Tartlets
Preparation time: 30 mins
Serves: 6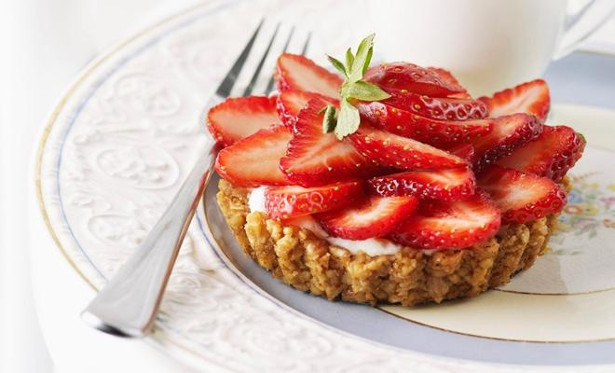 You'll need:
1-1/2 cups California walnut pieces
2 tbsp butter, softened
1 tbsp maple syrup
1 tbsp brown sugar
1 cup strawberries, diced
2 tbsp Grand Marnier liqueur
1/2 cup double cream, whipped
6 large strawberries
Method
1. Preheat oven 190°C
2. In a food processor, pulse together walnuts, butter, maple syrup and brown sugar until crumbly. Divide mixture among six 3inch nonstick tart shell moulds pressing into bases evenly.
3. Bake for 13 to 15 minutes until fragrant and golden brown. Let cool and remove from moulds.
4. In a medium bowl, combine strawberries with liqueur and spoon ¼ cup into the base of each tart.
5. Pipe or spoon ¼ cup of whipped cream onto one tart. With a knife, slice a side off a large strawberry and press a 1-inch diameter maple leaf cookie cutter into the strawberry to form a maple leaf. Place the maple leaf shaped strawberry on tartlet.
6. Repeat with remaining three tarts.
7. Serve immediately.
California Walnut Porridge with Raspberries and Blackberries
Preparation time: 20 mins (plus overnight to soak the walnuts)
Serves: 4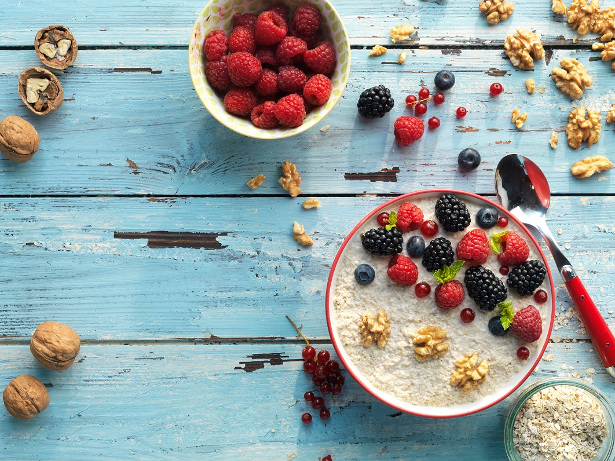 You'll need:
For the walnut drink:
120g California walnuts
3 cups water
1 tablespoon honey
1 tablespoon vanilla extract
1 pinch of salt
For the porridge:
1L of walnut drink
250g oats
100g blackberries
100g raspberries
40g honey (optional)
Handful of California walnuts to decorate
Method
1. Place the walnuts in a bowl and cover with water. Leave at room temperature for 12 hours to soften.
2. Drain the walnuts and rinse well. Combine the walnuts with 3 cups water, vanilla extract, honey and salt in the jug of the blender. Mix until creamy – for at least two minutes. Strain if you want a more liquid drink.
3. To make the porridge, cover the oats with the walnut drink and leave for 15 minutes to soak, so that the oats can soften.
4. Wash and drain the raspberries and blackberries.
5. Serve in a bowl and decorate with the berries and walnuts, and drizzle over the honey if using.
Chocolate Walnut Dipped Strawberry Ice Pops
Preparation time: 15 mins (plus 4 hours freezing time)
Serves: 9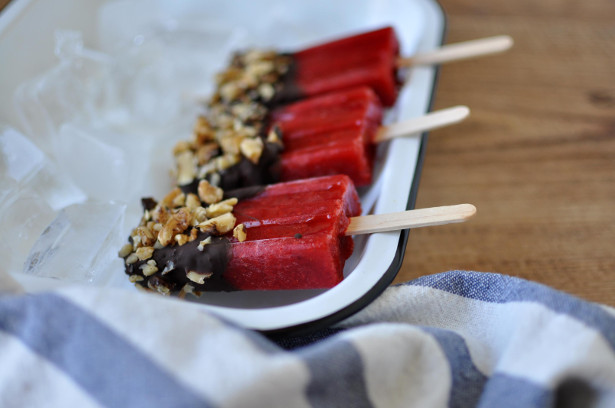 You'll need:
For the ice pops:
3 cups strawberries, halved and stems removed
2 tablespoons honey
1/2 cup water
For the dip and garnish:
1 cup semi-sweet chocolate chips
2 tablespoons coconut oil
1/2 cup California walnuts, finely or roughly chopped
Method
1. Combine the strawberries, honey, and water in a blender. Puree until smooth, then pour into ice lolly moulds and freeze for at least 4 hours.
2. To make the chocolate dip, combine the chocolate chips and coconut oil in a heat-proof bowl and place over a simmering saucepan of water. Stir until melted, then remove from the heat. Place the chopped walnuts onto a plate.
3. Run the ice lolly mould under warm water and remove one pop from the mould.
4. Quickly dip it in the chocolate dip, then immediately dip in the chopped walnuts.
5. Set on a plate to harden, then work your way through the other pops. They can be eaten immediately, or refrozen.
Chocolate, Strawberry and Walnut Chia Bowl
Prep time: 10 mins (plus 1 hour for chilling)
Serves: 4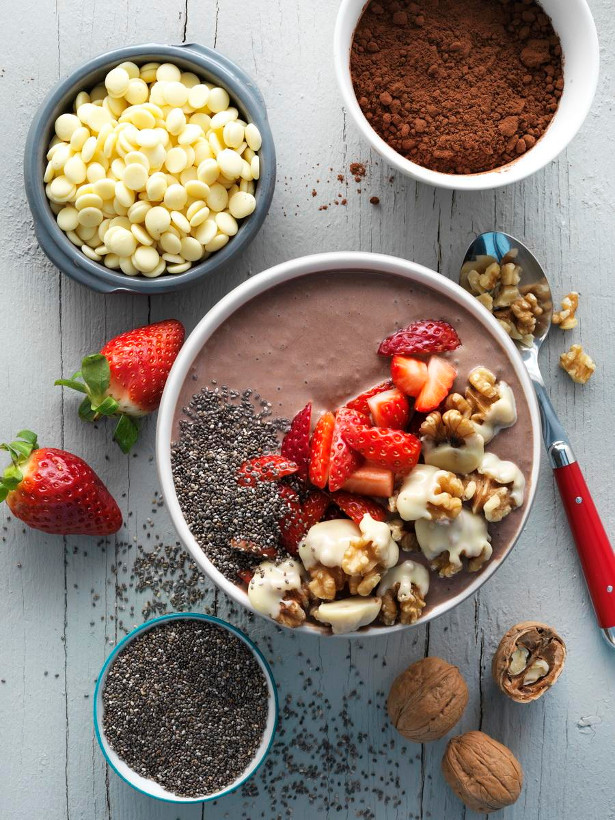 You'll need:
For the chia mixture:
980g plant-based alternative yogurt
4 tbsp cocoa powder
4 tbsp chia seeds
For the garnish:
60g California walnuts
75g chocolate (of your choice)
12 strawberries
Method
1. First, break the chocolate into pieces, place into a glass or heatproof plastic bowl, then place the bowl over a pan of simmering water. Stir until the chocolate is fully melted, making sure not to get any water into the bowl.
2. Individually dip each walnut into the chocolate so it is half coated, then place to one side on a sheet of baking paper to cool. Repeat until you've coated all the walnuts.
3. Next, mix the cocoa powder into the plant-based alternative to yogurt, add the chia seeds and mix well. Pour into 4 bowls and refrigerate for at least an hour.
4. When the chia mixture is chilled, wash the strawberries, remove the core and cut into small pieces.
5. Garnish the chia bowl with the chocolate-covered walnuts and strawberries to serve.
Goats' Cheese, Griddled Cherry and Gremolata Toast
With the tang of goats' cheese, the sweetness of cherries, and the smooth creaminess of California walnuts, get your gremolata on and upgrade your toast! Ideal for an easy starter, or a fancy lunch.
Preparation time: 15 mins
Serves: 4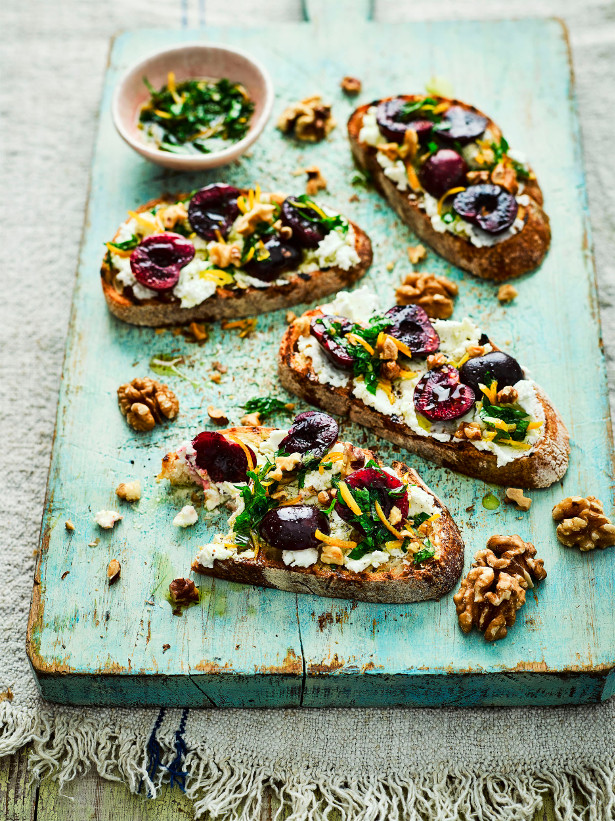 You'll need:
Small bunch flat leaf parsley, roughly chopped
Zest of 1 orange
1 small clove of garlic, minced
2 tbsp extra virgin olive oil
A pinch of salt and pepper
100g cherries, cut in half and destoned
8 slices of sourdough bread
120g soft goats' cheese
60g California walnuts, toasted and roughly chopped
Method
1. To make the gremolata, mix together the parsley, orange zest, garlic and extra virgin olive oil, and season to taste.
2. Heat a griddle pan until searing hot, then place the cherries in cut side down. Sear for 2 minutes.
3. Lightly toast the bread until golden brown and spread each slice with the goats' cheese. Top each toast with the cherries and gremolata and finish with a sprinkle of walnuts to serve.
Walnut Blackberry Quick Bread
Preparation time: 1 hour 30 mins
Serves: 16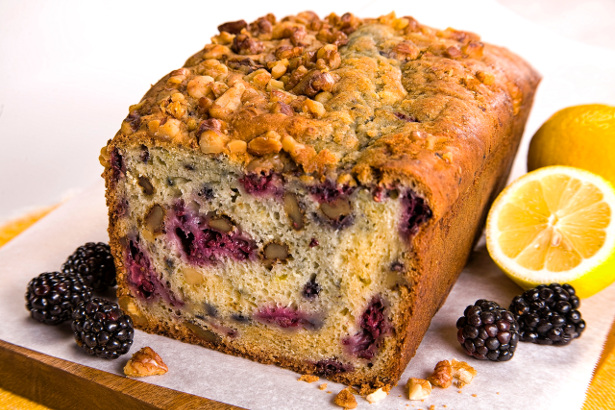 You'll need:
1 1/4 cups sugar
1 cup skimmed milk
1/2 cup vegetable oil
2 tsp vanilla extract
6oz container of lemon yogurt
1 egg
Finely grated zest of 1 lemon
3 cups flour
2 1/2 tsp baking powder
1/2 tsp baking soda
1 cup chopped California walnuts
6-oz fresh blackberries, coarsely chopped
Method
1. Preheat oven to 180°C and grease a 9 x 5 x 3-inch loaf pan.
2. Whisk together the sugar, milk, oil, vanilla extract, yogurt, egg and lemon zest in a large bowl.
3. Stir together dry ingredients and 3/4 of the walnuts and add to bowl, stirring until dry ingredients are just combined being careful not to over mix.
4. Carefully fold in blackberries and pour into the prepared loaf tin; sprinkle with remaining walnuts.
5. Bake for 1 hour and 20 minutes or until a toothpick inserted into the center comes out clean.