Rafi Nova Launches Sensory-Friendly Mask
Designed in Partnership with Easterseals Southern California…
Fashion brand Rafi Nova teams up with leading disability service provider Easterseals Southern California to create face coverings for those with sensory sensitivities.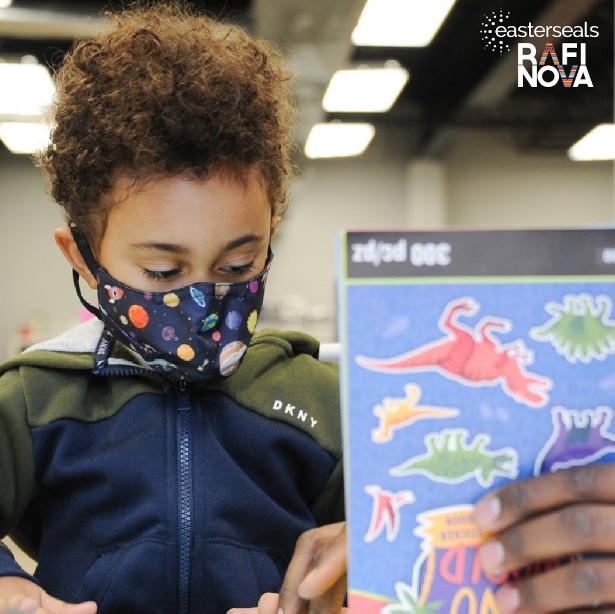 (Boston, MA — February 8, 2021) Socially conscious lifestyle brand Rafi Nova, pioneer of the clear Smile Face Mask, and Easterseals Southern California (ESSC) announce the Sensory- Friendly Mask launch. The
premier New England mask maker partnered with the leading disabilities services provider to design a mask for people with sensory sensitivities.
For individuals with autism and other sensory processing challenges, mask-wearing presents a challenge. Sensory sensitive systems struggle to process, organize, and respond to input. A face covering introduces multiple new stimuli, including the fabric's sensation, the pressure of tight elastic bands, and the heat and moisture from breath inside the mask.
Per the Autism Society, Autism Spectrum Disorder (ASD) is the fastest-growing developmental disorder U.S. with 3.5 million+ individuals on the spectrum in the United States. According to the CDC, about one-in-54 children has been identified with ASD and 500,000 autistic individuals are transitioning to adulthood.
As part of the design process, the two organizations united and worked with ESSC's therapists to develop a mask with reduced stimuli, testing multiple prototypes until both therapists and individuals with sensory sensitivity approved of the final version. The result is a mask that promises comfort and function.
The mask is soft, structured, safe, secure, and comes with a social story:
● Soft – 100% Mulberry silk lining reduces friction, and adjustable jersey knit straps clasp behind the head instead of pinching the ears.
● Structured – Minimal design and limited seaming.
● Secure – Adjustable nose bridge ensures the perfect fit and decreases glasses fogging.
● Safe – Special construction lifts the mask off the mouth, and highly breathable cotton is used on the exterior.
● Social story – Visual storytelling helps children understand mask-wearing is a necessity.
"Masks must be comfortable and functional for everyone. It's that simple," said Rafi Nova CEO Marissa Goldstein. Earlier this year, the company pioneered transparent masks with their "Smile Mask" launch to
restore visual cues to masked communication. In partnership with ESSC, the Sensory-Friendly Mask represents the next generation of the company's inclusive face coverings designed to protect and reconnect communities.
Easterseals is an indispensable resource for people with disabilities and their families. Each year more than 1.5 million people benefit from Easterseals services across a network of affiliates in communities
nationwide. ESSC assists more than 13,000 people in SoCal each year. Dr. Paula Pompa-Craven, Vice-President of Autism Services for ESSC, commented "There's little in the marketplace to accommodate people with sensory sensitivities. This soft mask is an outstanding option not only for the autism community but for all children and adults who I believe will find it uniquely comfortable."
The Sensory-Friendly Mask retails for $16 Adults / 14 Childrens and is available at RafiNova.com. The mask has an antibacterial layer and is reusable and machine washable. When not on the face, the mask can safely remain on the person and not get lost or fall on the ground thanks to an extra strap feature that fastens it behind the neck. A portion of each Sensory-Friendly Mask purchase will be donated to Easterseals to support their work as an indispensable resource for individuals with disabilities.
Follow us at:
@RafiNova_go
@EastersealsSoCal
#SensoryFriendlyMask