TED BAKER LONDON. SPARK A POSITIVE REACTION.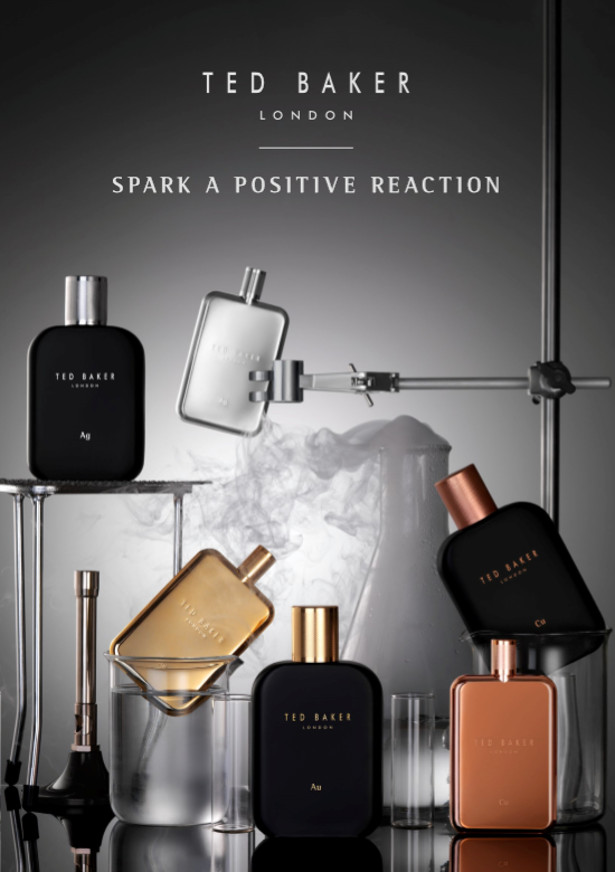 INSTAGRAM | FACEBOOK | TWITTER | PINTEREST | YOUTUBE | BLOG
SPARK A POSITIVE REACTION
Combining a fascination for the alchemy of aroma with the world's most sought-after elements, Ted's Tonics collection of fine fragrances for men is available in Ag (Silver), Au (Gold) and Cu (Copper). Each distinguished Tonics fragrance is available in three unique editions: • 100ml bottle with a stylish matte black finish and metallic detailing • 25ml Travel Tonic in a slimline portable flask • 50ml refill bottle designed to top up the 25ml Travel Tonics
Ag
A signature scent for the man who knows how to make an entrance, Ag (Silver) ensures a lasting impression. Melting from notes of bergamot and violet leaf to an earthy heart of leather and warm cedarwood, this dramatic and distinctive scent captures the essence of refinement.
Au
The last word in masculinity, Au (Gold) is for the immaculate modern-day man who believes the devil is in the detail. Notes of bergamot and clove deepen to a dazzling heart of jasmine and a base of musk and vanilla. Supremely invigorating, this scent is a mark of distinction for any collection.
Cu
This dynamic and striking Cu (Copper) scent suits the discerning gent with an eye for style and a taste for sophistication. A unique fragrance that is smooth and spicy, it captures the attention with a rich blend of zingy grapefruit and smoky pepper, contrasted with base notes of patchouli.
Ted's Tonics collection is available from selected Ted Baker stores and online at tedbaker.com, priced £40 each (100ml), £28 (25ml) and £30 for the 50ml refill bottle.