Why not spice up February 14th with Encona's Carolina Reaper Chilli Sauce – the perfect gift for fiery lovers.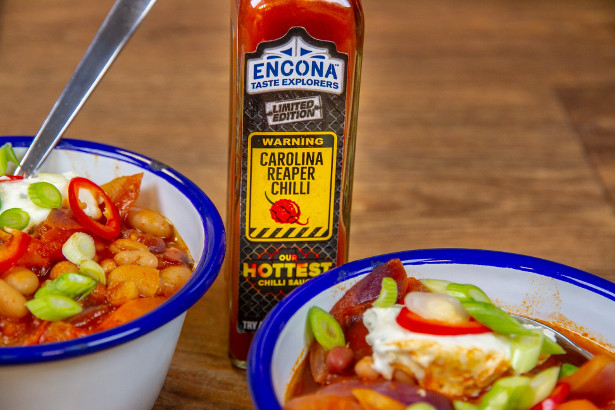 FACEBOOK | TWITTER | YOUTUBE | PINTEREST
The sauce, which features the world's hottest chilli, will certainly spice up your date, and is the perfect gift for any hot food fanatics.
Encona Carolina Reaper Sauce
RRP: £1.59
Stockists: Tesco, Iceland
The astonishingly hot and fruity sauce contains the Carolina Reaper chilli blended with tomatoes, garlic, cumin and orange to give a well-rounded flavour.
The Carolina Reaper chilli, is more than 25 times hotter than the piri piri chilli.
· According to the Guinness Book of World Records, The Carolina Reaper, which originates from South Carolina, is officially the world's hottest chilli pepper – even matching weapons-grade pepper spray!
Perfect as a marinade to create your own hot wing challenge or for supercharging soups and one-pot dishes by adding a few drops whilst cooking.