Bonne Maman Autumn recipes! TEAR AND SHARE BRIOCHE! COSY DRINKS! APRICOT & ORANGE MUESLI MUFFINS! >> www.bonnemaman.co.uk
COSY DRINKS
(SERVES 2)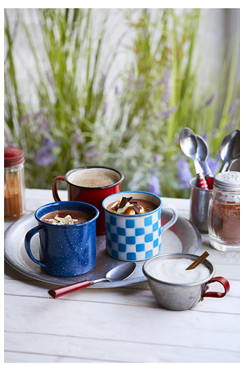 Hot caramel chocolate
Ingredients:
450ml semi-skimmed milk
4 tbsp Bonne Maman Salted
caramel
100g milk chocolate, roughly
chopped
2 tbsp instant malted chocolate
milk drink powder (such as Horlicks)
1 tbsp cornflour
Pinch of ground cinnamon
Method:
1. Pour the milk and caramel into a saucepan and bring almost to the boil over a medium heat, stirring. Take the pan off the heat, add the chocolate and leave until melted.
2. Meanwhile, mix together the malted milk powder, cornflour and cinnamon.
3. Whisk the powder mix into the hot chocolate mlk, put the pan back on the heat, bring to boil and whisk until smooth, thick and creamy. Pour into warm mugs or heatproof glasses.
4. Top with a spoonful of cream, some flakes of chocolate and salted caramel/
Spiced hot chocolate
Ingredients:
1 tbsp cornflour
450ml milk
2 tbsp Bonne Maman Bitter
Orange Marmalade
2.5cm piece of fresh ginger,
peeled and sliced
10g good- quality dark chocolate
(70%) roughly chopped
Method:
1. Mix the cornflour to a smooth paste with 2 tbsp of the milk. Put all the ingredients into a small saucepan and heat gently, whisking all the time until the chocolate is melted.
2. Bring to boil, whisking and bubble gently for 2-3 minutes until thickened. Strain into two warm mugs. Whip with a milk frother, if you have one, and add some chocolate stars and a dusting of cocoa powder.
Hot hazelnut drink
(SERVES 2)
Ingredients:
1 tbsp cornflour
450ml milk
3 tbsp Bonne Maman
Hazelnut Praline Caramel
Method:
1. Mix the cornflour to a smooth paste with 2 tbsp of the milk. Put all the ingredients into a small saucepan and heat gently, whisking all the time.
2. Bring to boil, whisking, and simmer gently 2-3 minutes until thickened. Pour into two warm mugs. Top with nutmeg or cinnamon.
Caramel chai
Ingredients:
2 chai tea bags
2 tbsp Bonne Maman Salted
Caramel
300ml hot frothed milk
Method:
1. Make a small pot of chai tea.
2. Spoon the caramel into two mugs. Pour over the chai and stir to melt the caramel. Top with hot frothed milk and add cinnamon sticks to stir.
APRICOT & ORANGE MUESLI MUFFINS
(SERVES 4)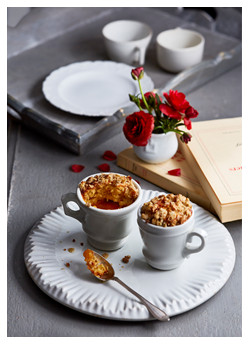 Ingredients:
• 40g butter, softened, plus extra for greasing
• 40g light soft-brown sugar
• 65g Bonne Maman Tangy Mandarin Marmalade
• 1 zest of an orange
• 50g plain flour
• 1/2 tsp baking powder
• 50ml buttermilk or sour milk
• 4 tbsp Bonne Maman Apricot Compote
For the crumble:
• 30g untoasted muesli
• 15g butter
• 1 tbsp plain flour
Method:
1. Heat the oven to 180ºC/ fan 160ºC/ gas mark 4.
2. Cream together the butter, sugar, marmalade and orange zest until smooth. Gradually beat in the ground almonds, followed by the egg.
3. Fold in the flour and baking powder, and lastly stir in the buttermilk (or sour milk).
4. Spoon the compote into the bottom of two greased heatproof cups before gently adding the muffin mixture. Put the cups in a shallow roasting tin, then pour enough boilng water into the tin to come halfway up the sides of the cups.
5. Rub together the crumble ingredients and press lightly on top of the muffin mixture.
6. Bake the muffins for 15-25 minutes depending on the size of your cups or until a skewer into the centre comes out clean.
Cooking tips:
1. The mixture will make 4 x 150ml capacity cups or 2 x 300ml cups.
2. You could also try Bonne Maman Cherry or Rhubarb Compote in the muffins.
TEAR AND SHARE BRIOCHE
(SERVES 10-12)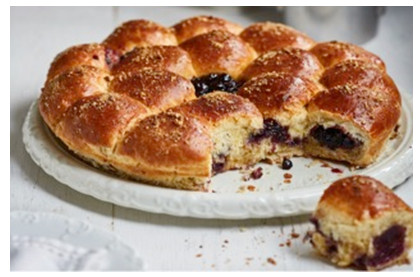 Ingredients:
7g sachet fast-action dried yeast
25g golden caster sugar
300g strong white-bread flour, plus extra for dusting
Grated rind of 1 large orange or 2 small lemons
1 ½ tsp sea salt
50ml warm milk
3 large free-range eggs, beaten, plus extra for glazing
225g unsalted butter, cubed and very soft
1 jar Bonne Maman conserve (370g) – choose your favourite!
1 tbsp ground hazelnuts or flaked almonds
Method:
1. Mix the yeast, sugar flour, citrus rind and 1 tsp of salt in the bowl of an electric mixer with a dough hook. Make a well in the centre and pour in the milk and eggs.
2. Mix on a slow speed for 2 minutes, then on a medium speed for a further 3-4 minutes, until you have a soft, glossy and elastic dough.
3. Add the softened butter, a little at a time, and continue to mix for a further 4-5 minutes, scraping down the bowl from time to time to ensure that the butter is thoroughly incorporated. The dough will be very soft.
4. Tip the dough into an oiled plastic bowl, cover with oiled clingfilm and chill for 24 hours until it has firmed up.
5. On a lightly floured surface, divide the dough into 18 equal pieces, about 40g each. Working one at a time, roll each piece into a circle with a 10cm diameter. Spoon a teaspoon of conserve into the centre of each one. Bring up the sides and pinch together, then roll into a ball.
6. Piece 6 of the balls in a circle, seam side down, around a small, greased ramekin or ball of foil. Place the remaining 12 ball in an outer circle. Cover with oiled clingfilm an leave to prove for 2 hours until puffy.
7. Heat the oven to 190ºC fan/ 170ºC/ gas mark 5. Once the dough has puffed up, brush with a little egg, sprinkle with the remaining salt and nuts, then bake for about 20 minutes, until golden. Cover with foil and continue cooking for a further 10-15 minutes.
8. Serve warm with your favourite Bonne Maman conserve in the centre of the brioche for dipping.
Cook tips:
The cooked brioche can be made ahead and frozen. To use, wrap the frozen brioche in foil and reheat in a hot oven for about 12-20 minutes.