COWBOY BARBECUE
Fire & Smoke from the Original Texas Vaqueros
Amazon link – https://www.amazon.com/Cowboy-Barbecue-Smoke-Original-Vaqueros/dp/1682681424/ref=asap_bc?ie=UTF8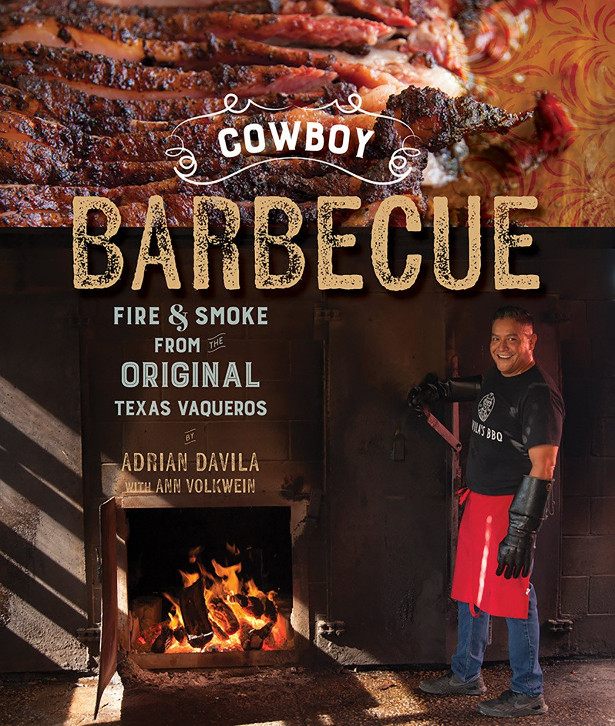 Chef and restaurateur Adrian Davila celebrates traditions of Latin America and Texas, taking inspiration from the vaquero lifestyle and his own family history. For three generations, Davila's BBQ in Seguin, Texas, has infused classic brisket, ribs, and sausage with Latin flavors. Davila goes beyond standard grilling in this guide, offering techniques for smoking, cooking directly on the embers, underground, on a spit, and more. This book will be sure to step up dad's barbecue game.
In COWBOY BARBECUE: Fire & Smoke from the Original Texas Vaqueros [The Countryman Press; April 24, 2018; $24.95 Trade Paperback], award-winning third-generation pitmaster Adrian Davila shares the secrets for authentic Texas barbecue with a uniquely Latin twist.
Davila owns and operates Davila's BBQ in Seguin Texas—a neighborhood institution since 1959. At Davila's, the signature dishes, such as mesquite smoked lamb ribs, trace their culinary roots back to the vaqueros, the Latin cattle herders who once roamed the plains of Texas and Mexico. These resourceful cowboys may have been the first "pitmasters"—they dug actual pits to slow-smoke whole animals into tender succulence, and infused the local ingredients with the pungent, bright flavors of the Iberian Peninsula.
Today, Davila keeps the tradition of the vaqueros alive in his restaurant and in the pages of his debut cookbook. Readers will learn how to slow-smoke a perfect brisket, how to master quick-and-hot asado-style grilling, and how to turn inexpensive cuts of meat into crave-worthy tacos. More intrepid barbecue aficionados can try their hand at authentic barbacoa—slow-smoking a beef head or lamb wrapped in maguey leaves in a traditional-style underground pit.
But even home cooks who aren't ready to master the smoke pit can taste the earthy and bright flavors of vaquero cooking in easy, everyday recipes like Griddle Corn Cakes, Frijoles Refritos, and Vaquero Chili Con Carne. These are Davila's grandmother's beloved recipes—when the restaurant
was opened in 1959, she moved her family right into the back room of the two-room building and began cooking them for her customers as well.
COWBOY BARBECUE highlights the flavors and stories of the Tejano community—from the simple, everyday cooking to the celebratory feasts that bring family and friends together. Ambitious but unpretentious, it is an essential for any lover of barbecue
About the Authors: Adrian Davila is a third-generation barbecue master at Davila's BBQ in Seguin, Texas. He won first place on Food Network's BBQ Blitz "Texas Takedown" and has appeared on The Kitchen, BBQ Kids Champion, American Grilled and Texas Monthly, and Food Republic and Readers Digest.
Ann Volkwein is a best-selling cookbook author. Her books include The Arthur Avenue Cookbook; Chinatown New York; Diners, Drive-ins, and Dives (with Guy Fieri); and Country Cooking from a Redneck Kitchen (with Francine Bryson). She lives in Austin, Texas.
TITLE: Cowboy Barbecue: Fire & Smoke from the Original Texas Vaqueros
AUTHOR: Adrian Davila, with Ann Volkwein
ISBN: 978-1-68286-142-8
PRICE: $24.95
PAGES: 208