'Guy's Guide to Eating Well' Healthy Man's Cookbook Debuts Ahead of Father's Day
Bestselling cookbook author Holly Clegg partners with men's wellness expert to deliver men's wellness bible
On Amazon :- www.amazon.com/gp/product/0999626507/ref=as_li_tl?ie=UTF8&camp=1789&creative=9325&creativeASIN=0999626507&linkCode=as2&tag=wwwhollyclegg-20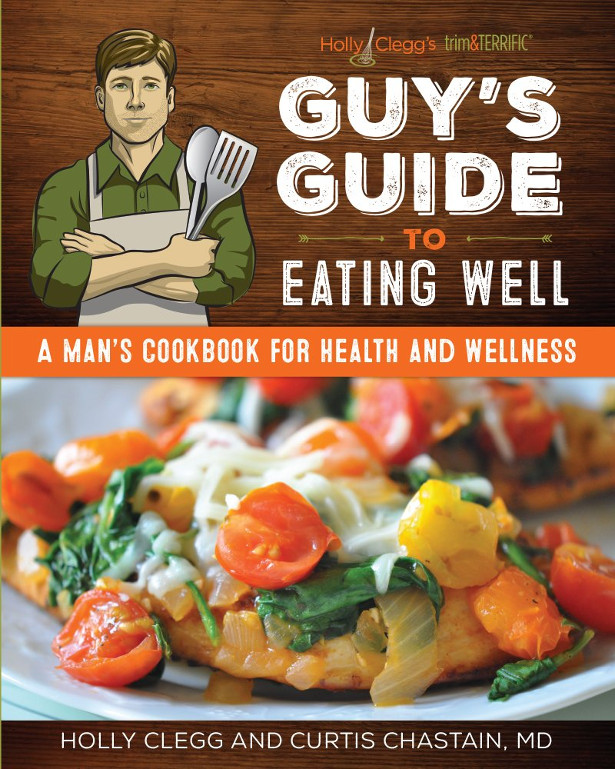 BATON ROUGE, LOUISIANA, MAY 1, 2018 – Holly Clegg, bestselling author of the trim&TERRIFIC and Eating Well cookbook series, just announced the debut of her latest wellness cookbook. The trim&TERRIFIC Guy's Guide to Eating Well: A Man's Cookbook for Health and Wellness (ISBN: 978-0999626504, $24.95) has been launched just ahead of Father's Day, promising gift for anyone.
For Guy's Guide to Eating Well, Clegg joined forces with men's wellness expert Dr. Curtis Chastain to merge backgrounds in the culinary arts and preventative medicine. Clegg brought her full culinary expertise to the table for the creation of the new healthy man cookbook, and Dr. Chastain brought his knowledge of preventing common men's health issues, such as heart attacks and cancer, before they begin. GuysGuide_Clegg_FrontCover_72dpi_1000px"Healthy food has gotten a bad reputation of being difficult to prepare and not very appetizing," said Dr. Chastain. "In this book, we want our guys to see that health and healthy eating can go hand-in-hand."
Clegg, a health culinary expert who has sold more than 1.5 million easy healthy cookbooks, is thrilled to deliver a man's wellness bible complete with more than 150 recipes with images, reference information, and tips. Clegg, who has plenty of male family members, recognizes that men cook for relaxation, necessity, or just to command the grill, but they aren't always sure of how to make meals that are both healthy and delicious. For that reason, she wanted to give men a bit of culinary guidance by partnering with Dr. Chastain to deliver a full men's wellness cookbook.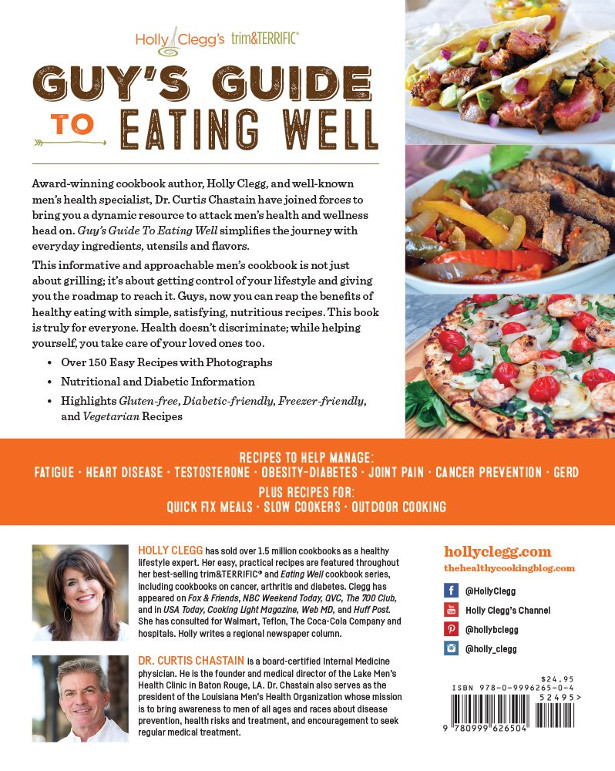 Inside Guy's Guide to Eating Well, the cookbook highlights vegetarian recipes, freezer-friendly meals, diabetic-friendly recipes that meet ADA guidelines, and gluten-free recipes. In the healthy men's cookbook, the preface discusses the concept of preventative medicine, and subsequent chapters discuss men's health issues such as chronic fatigue, heart disease, obesity and diabetes, GERD, and arthritis. Men can find easy to make recipes including quick fix meals and crock pot cooking recipes, as well as grilling and hunting tips.
While focusing on meals that are health-oriented, Clegg and Dr. Chastain have created an in-depth reference for realistic men's recipes that offer mouth-watering options such as Chicken Parmesan Sliders, Best Beer Salmon, Beef Macho Nachos, Grilled Shrimp Margherita Pizza and Peanut Butter Cookies.
Guy's Guide to Eating Well is launching just ahead of Father's Day, making it the perfect gift for any man who finds himself in the kitchen or at the grill from time to time. Even kitchen warriors can learn from the information compiled in the new men's cookbook. Guy's Guide to Eating Well is now available on Amazon, and it will debut in stores in May 2018.
About Holly Clegg
Holly Clegg is a culinary expert, author, and blogger. Her easy healthy cookbooks, including the trim&TERRIFIC® and Eating Well series, have sold 1.5+ million copies, and she has been featured on Fox & Friends, NBC Weekend Today, USA Today, Web MD, Huff Post, and several other media outlets for her expertise. In addition, Holly has consulted for Walmart, Teflon, The Coca-Cola Company, and numerous hospitals across the U.S. She is also a columnist and corporate wellness consultant; her newspaper column, Well Done, is available for syndication.