Did you know that dandruff affects about half of the adult population?
FACEBOOK | TWITTER | PINTEREST | INSTAGRAM | YOUTUBE
 It usually peaks in severity around age 20 and becomes less prevalent above age 50. Philip Kingsley was a pioneer in recognising that a healthy scalp environment is key to maintaining healthy hair. Philip Kingsley's scalp treatments address all scalp issues and are exfoliating, stimulating, and soothing to leave scalps calm and refreshed. Used regularly they encourage strong, lustrous hair.
Trichologist Anabel Kingsley recommends "using a weekly scalp mask to help remove dead skin cells and improve suppleness." The new Philip Kingsley Flaky/Itchy Scalp Mask is formulated with anti-fungal Piroctone Olamine, exfoliating Salicylic Acid and antioxidant-rich Green Tea Extract to calm the scalp whilst tackling the root causes of dandruff to keep flakes at bay.
Flaky/Itchy Scalp Mask
£19, philipkingsley.co.uk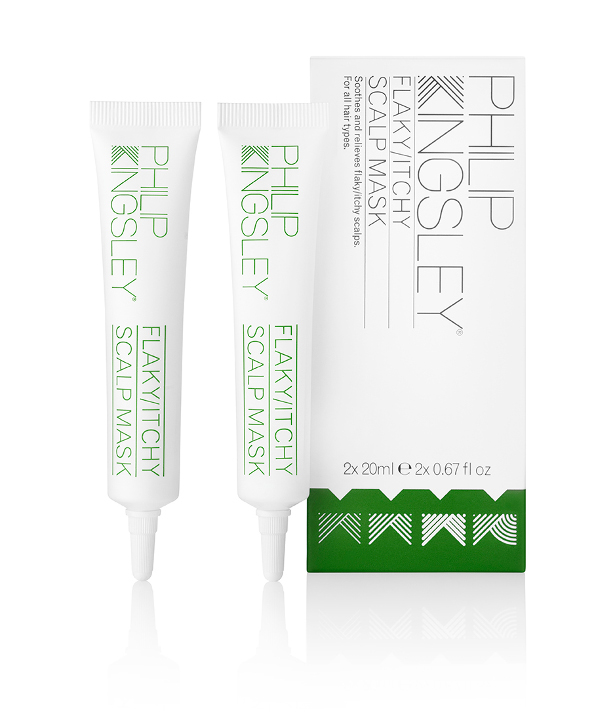 Anabel goes on to say: "Ignoring the problem can also make scalp symptoms worse. Like the skin on your face, your scalp needs daily treatment with targeted topical products when problems occur. If you have a Flaky/Itchy Scalp, I recommend our Flaky Itchy Scalp Regime. It contains an anti-microbial shampoo and toner, as well as a weekly intensive scalp mask.
Flaky/Itchy Regime Kit
£30, philipkingsley.co.uk