Reinberger Nut Butter:
Our obsession with nut butter has been a lifelong journey. Nut butters have sustained us on transcontinental bike treks, marathon rowing sessions on the Schuylkill River, "sick day" mountain hikes in the Green Mountains, steep and deep days in the powder, and yes, even tedious days on the job.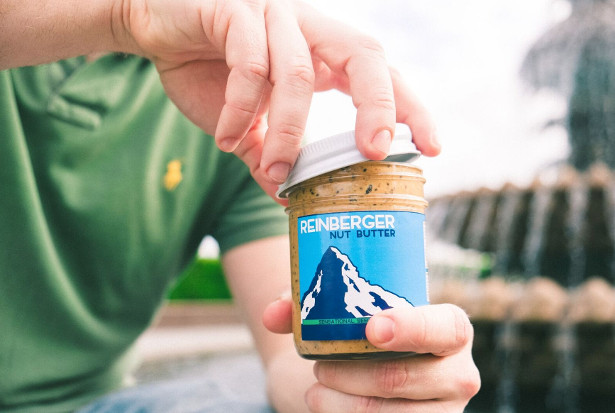 After spending so much time with the stuff, we naturally started to think of ways to make our favorite human fuel even better. Thus, one night after practice, Reinberger Nut Butter was born.
We've carefully curated a range of foodstuffs to complement and accentuate our nut butter. While the focus is, and always will be, on producing excellent nut butter, our objective extends far beyond that noble goal.
Our mission is for our product to accompany you on your journeys to come. We want to make the shortlist of essentials that fit into the pack before your next excursion, whether it's Walden Pond, a transatlantic voyage, or a leisurely picnic. And because we believe that the best inspiration always comes from nature, Reinberger is deeply committed to environmental and social responsibility, and we always seek the most ecologically sound options for our foods, packaging, and shipping.For more information, please visit www.reinbergernb.com

Portable backyard fitness room tornado shelter
Pitch Contents: Biggest reason people do not have a fitness room in their home is lack of space. The portable 8 ton safedome is delivered ready for use and it can save your life! Where will you go when the wind blows?
www.safedomes.com
The men-ü Shave Facial Essentials kit has everything you need to put an end to bad, patchy shaves and leave men with healthy, smooth skin – every time.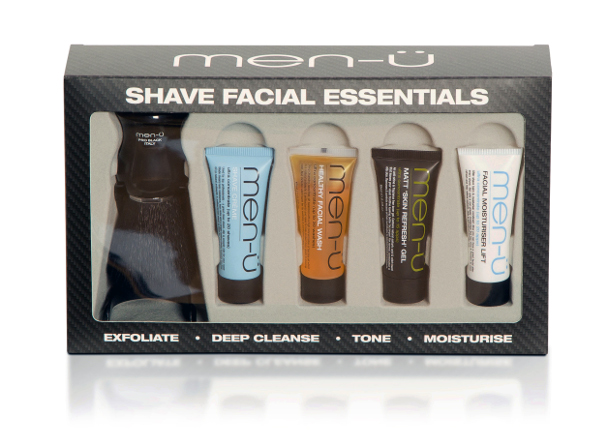 The set contains the PRO BLACK Shaving Brush, the man-made bristles offering improved hygiene and crème distribution compared to badger hair brushes that absorb more product.
The men-ü Healthy Facial Wash, Matt 'Skin Refresh' Gel, and Facial Moisturiser Lift, cleanse, tone and moisturise to complete the shaving process.
men-ü Creative Director, Lloyd Hughes, shares his four stages of the ultimate shave:
Exfoliate
When a man shaves, the process of the razor passing over the skin is great exfoliation, removing up to two layers of dead skin cells. A man should shave after warming the skin when the pores are open. It is the combination of open pores, loose dead skin cells, as well as the dirty shave crème and loose hair that blocks the pores causing spots and breakouts. Selecting the right shave crème with the right active ingredients that are going to make a difference is imperative. men-ü shave crème contains an ingredient called dimethacone which offers the greatest degree of slip, allowing the razor to glide over the skin causing the least amount of irritation.
Deep cleanse
Following this exfoliation process the skin then needs to be deep cleansed. men-ü Heathy Facial Wash' main ingredients are tea tree oil and witch hazel. Combined these act as an anti-inflammatory, an anti-septic and an anti-bacterial, addressing all the issues associated with post shave skin. Most importantly these ingredients ensure pores have a deep cleanse following exfoliation. Close the pores after deep cleansing by using cold water.
Tone
Men have more active sebaceous glands than women, which means more oil is secreted onto the skin. This leaves men with oilier skin, great for keeping wrinkles at bay but it also blocks the pores. Natural salicylic acid helps to remove the layer of oil, leaving the skin a matt finish whilst toning and tightening. This adds a layer of protection from the many elements and activities as well as preparing the skin for the next shave.
Condition
Moisture loss needs to be replenished on a regular basis. Choosing the right moisturiser helps to maintain the matt, talcum powder feel the skin thrives on.
The kit costs £29.95 via www.men-ü.co.uk
A perfect gift for every occasion, these shave kits and straight razors help ensure a shave and facial hair free from annoying irritation, bumps and cuts.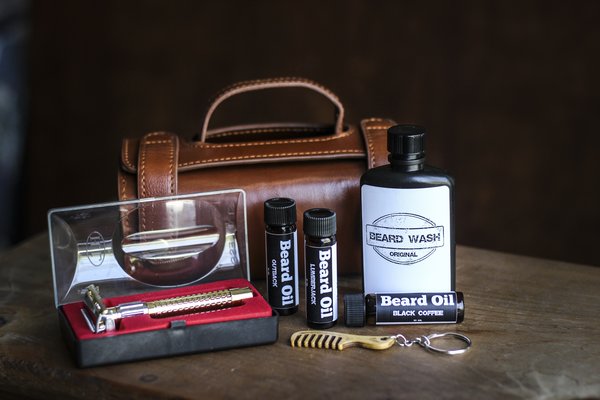 This kit is great for carrying along with you when traveling to keep you looking fresh and tailored all through the day. Keep your favorite products in the leather case for convenience. $72.99
www.danasbathandbody.com/mens-products/

HJ Hall. Legendary Socks for a legendary dad! www.hj.co.uk
for all occasions, events & activities!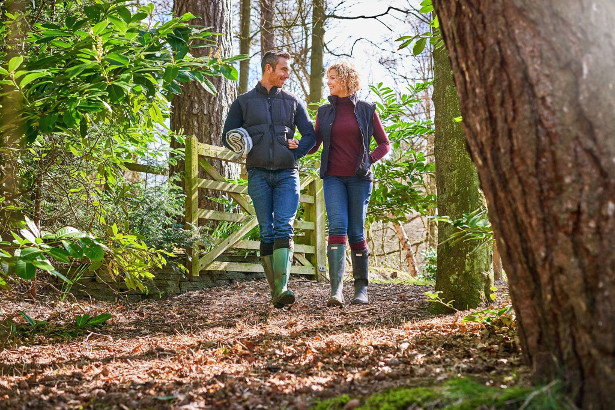 The Sock Specialists since 1882. Home of the legendary Softop™ non-elastic sock.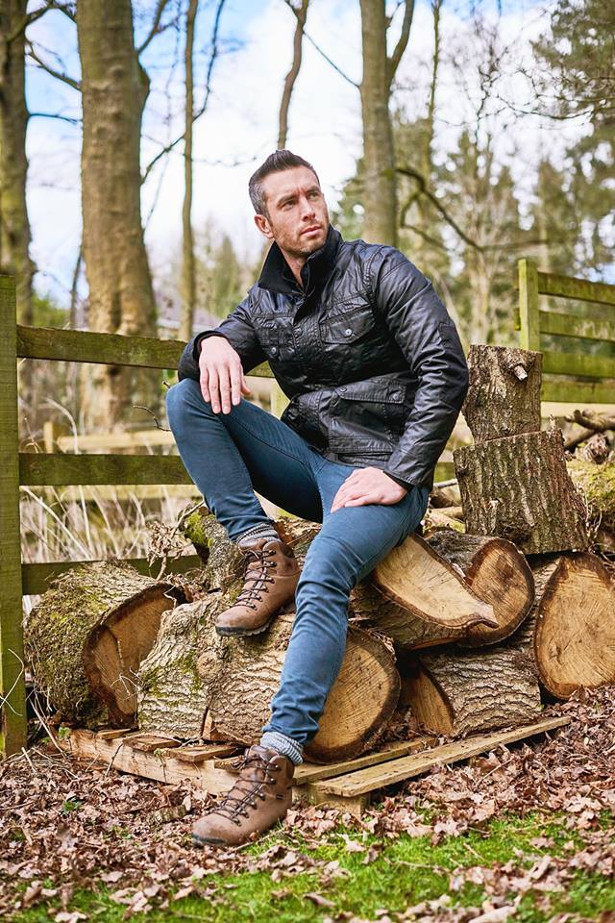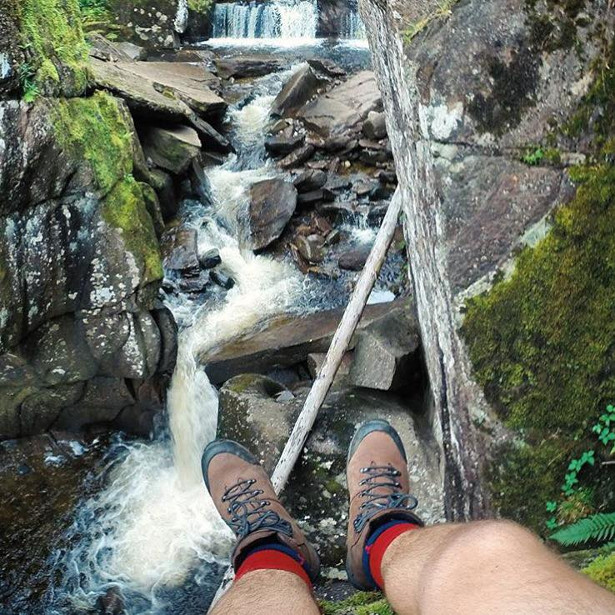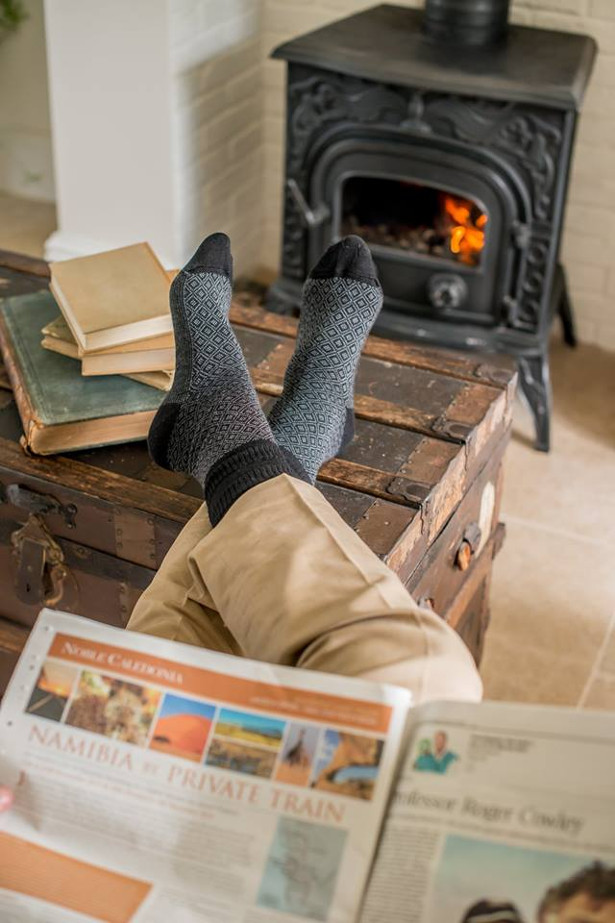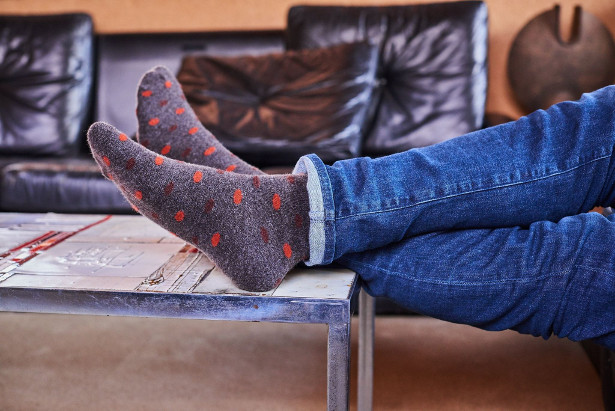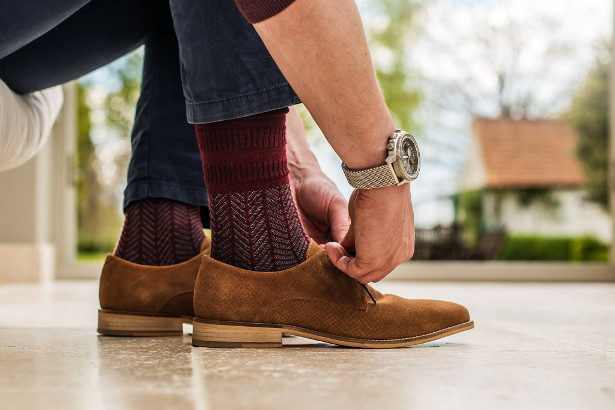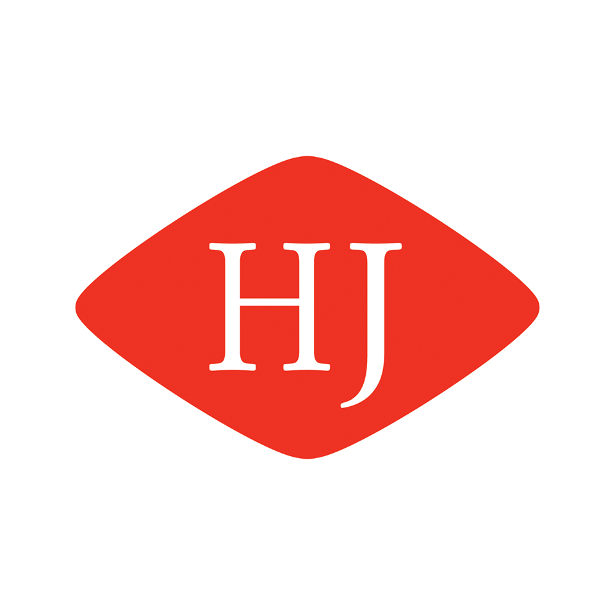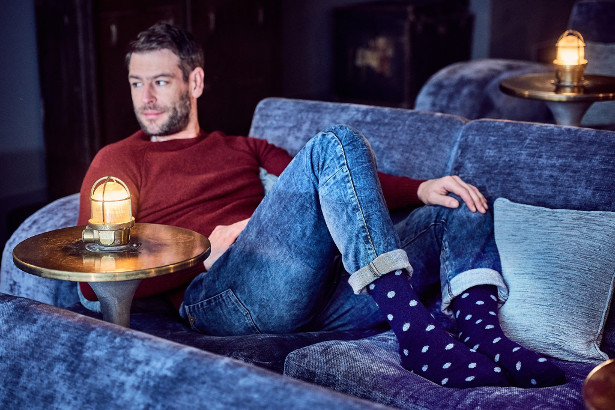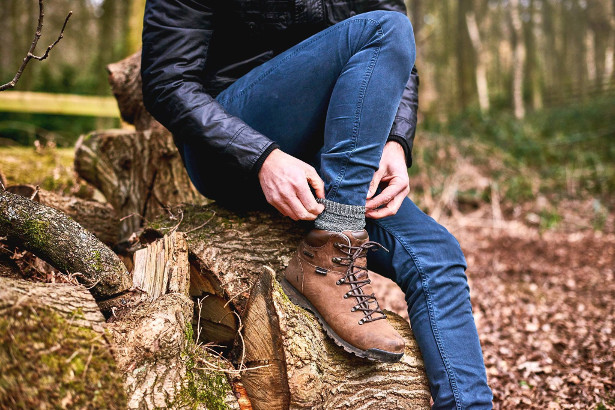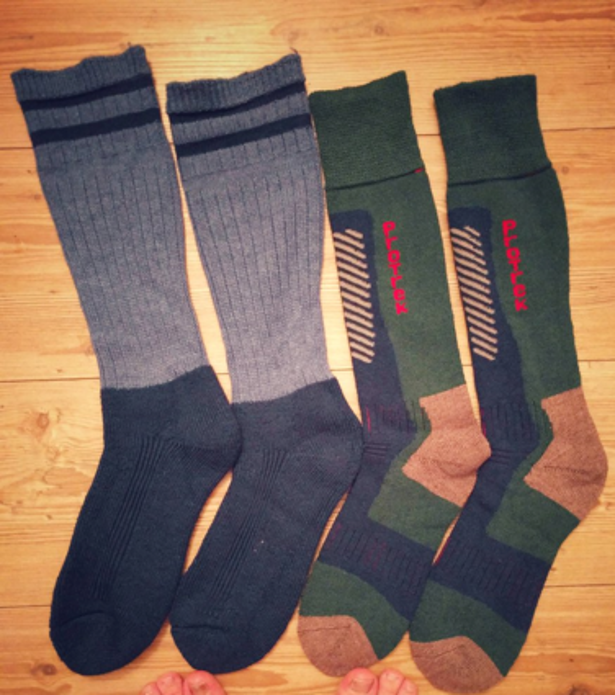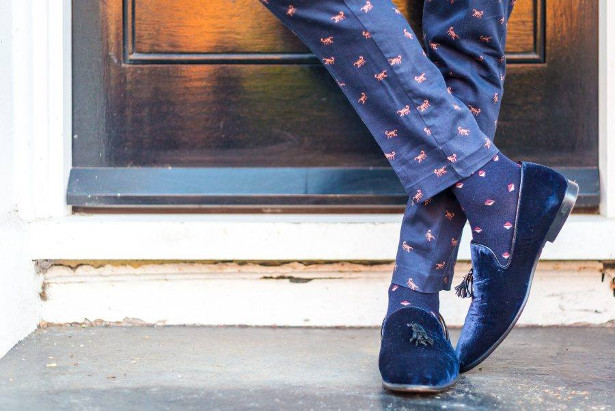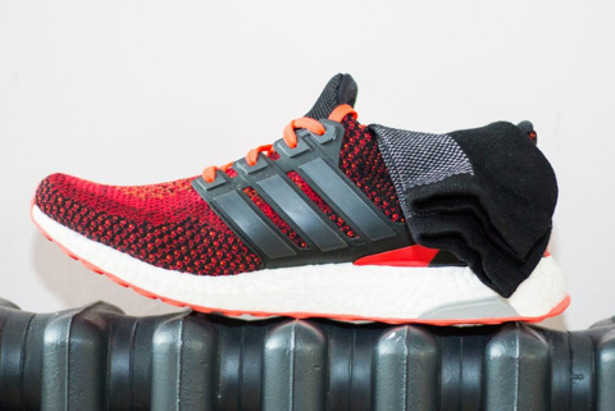 adidas paycr
Offering a fresh, new aviator design with a choice of 18 different colour combinations, the paycr is both practical as it is fashionable. adidas has equipped its latest unisex model with a selection of cleverly thought out features; made from an ultra-lightweight material called SPX, the pacyr provides and ensures optimum comfort and fit for every wearer. Additional features such as the nose pads and a traction grip system makes sure the frames stay still during exercise and, it goes without saying, is sweat resistant.

In addition, adidas also offers another sports frame perfect for the warmer months and outdoor sports: the jaysor.
Offering an iconic wrap-around design, the jaysor collection refreshes the notion of traditional sports frames Always at the forefront of innovation, the frames' lenses come complete with 8 Base Vision Advantage which guarantees perfect sight in all weathers. In addition, adidas' class-leading features such as a quick release hinge and sweat resistant double-snap nose pads ensures functionality for everyone, from the first timer to the professional athlete.
Design is always at the forefront of adidas' minds – with 10 different colourways to choose from, a distinct sense of style is guaranteed.
Father's Day is fast approaching (Sunday 17th June) and here's a last minute gift for a music loving dad.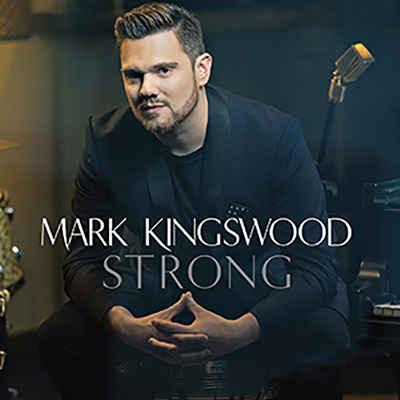 Mark Kingswood has been hailed as the British Michael Buble because he's got a breath-taking voice as smooth as silk. His new album Strong is out now and has 12 amazing new tracks.
Think classic crooners like Sinatra, Tony Bennett and of course Buble rolled into one and you get the sort of sound that Mark Kingswood can produce.
So if the old man likes any of those names it's the perfect Father's Day gift and will arrive in time for this Sunday if it's bought by Friday afternoon.
It's available in every format including CD for dad's (over 50) who still actually like a physical copy of their music £6.50 available online @ :- www.markkingswood.com/store/
HONOUR THE FIRST MAN IN YOUR LIFE WITH SCOTTISH LEADER
Don't let a chance go by: celebrate your dad on Father's Day (17 June) with a luxuriously rich, smooth, sweet and smoky blended Scotch from the famous Scottish Leader whisky distillery, headed up by female master blender Dr Kirstie McCallum.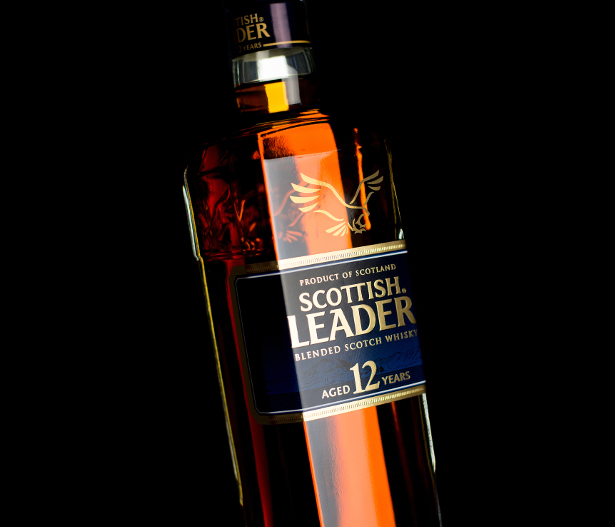 Scottish Leader 12-year-old whisky, the flagship of the internationally renowned collection, was recently awarded a prestigious gold medal by the World Whiskies Awards in the UK, during a first round tasting.
It's crafted using a bespoke blend of the finest unpeated Highland and Speyside malts, combined with Scottish grains for a smooth, approachable style. The majority of the Highland and Speyside malts selected are matured in American oak casks which contribute toward the rich oak and vanilla characteristics, and the fruity, floral elegance.
Says Dr McCallum: "It's not the first time this impressive spirit was recognised, having earned gold at both the 2016 and 2017 editions of the International Spirits Challenge (ISC), and a gold outstanding medal at the 2015 International Wine & Spirit Competition; it truly features outstanding quality, flavour and skill. Our team is celebrating this acknowledgment. It really means a lot to this dynamic brand that stands for the richer possibilities, brought on by taking a new perspective."
Scottish Leader 12-year-old tasting notes:
Colour: Deep copper gold
Nose: Aromatic, with well-balanced aromas of sherry, orange, nutmeg, candied fruits and toffee apple
Taste: Rich, nutty, full and creamy with silky black fruit flavours, white pepper and sweet oak
Finish: Mellow, gently spicy and lingering
Find out more about Scottish Leader by visiting its website: www.scottishleader.com.
Prep like a boss with the launch of Prep and Rep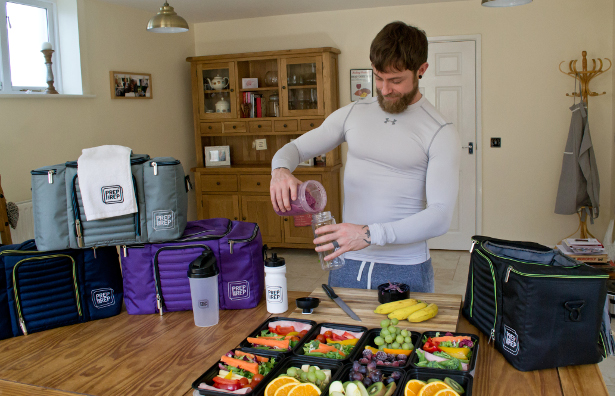 Preparing your lunches and meals for the week has now become the norm for millions of people worldwide and its celebrities such as the Body Coach (Joe Wicks) who have paved the way for this movement. The Prep and Rep bag has been designed to appeal to this very market and for those busy individuals such as fitness professionals and the health conscious who need to ensure their meals are prepared and stored ahead of a busy day in the workplace.
The Prep and Rep bag has been purposely designed to the highest quality, with dishwasher safe products including four food containers, smoothie bottle, water bottle, a gym towel and a free protein shaker. This product is perfect for on the go people who want to fuel their bodies and minds with good quality pre-prepared food.
The Prep and Rep bag comes in a choice of four colours and includes handy utensil and supplement pockets, with quality zip and compartments which won't collapse when empty.
Prep and Rep is run by three women all trying to juggle careers, gym and fitness plans, home lives whilst trying to make healthy and sensible diet decisions and giving the convenience aisles and fast food outlets a wide berth.
Debra Stuart, CEO of Prep and Rep said: "Meal prepping is an efficient way to ensure you eat the right foods and stay on track for weight loss or general health and fitness goals even when you are pressed for time. The point of meal prep is to make life easier for you during the week. And that's why we created Prep and Rep – to help make ease the pressures of making healthy choices. The Prep and Rep bag is lightweight and stylish and keeps your food and drinks cool all day. We have had a considerable amount of positive feedback and are already developing product extensions to launch later this year."
Prep and Rep can be purchased via www.prepandrep.co.uk for a launch price of £69.99 (RRP £129.99) and you will receive a free protein shaker with your first order.

 Top Gifts for Father… The Man Box & The Tie Fix Gift Set ! www.jane.com/men
PINTEREST | TWITTER | FACEBOOK | GOOGLE+ | INSTAGRAM | SNAPCHAT
The Man Box: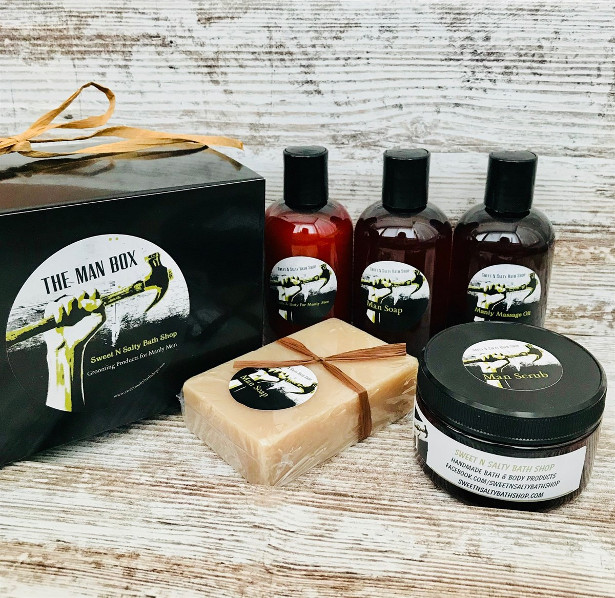 Does your man need to up his grooming game but you just aren't sure how to tell him? Give the gift of The Man Box from Jane.com for Father's Day! The perfect gift for all the men in your life who take extra pride in their grooming or need to step it up a notch. This box is for all types of men. The Man Box comes in a perfectly wrapped gift box that includes all the Men's Bath & Body essentials you could ever want or need.
-4 oz. Stud Body Wash
-4 oz. Manly Man Scrub
-4 oz. The Perfect Man Lotion
-4 oz. Sore Muscle Massage Oil
-4 oz. Bay Rum Soap
All this at the price of $27.99 from a trusted Jane seller, The Sweet N' Salty Bath Shop.
The Tie Fix Gift Set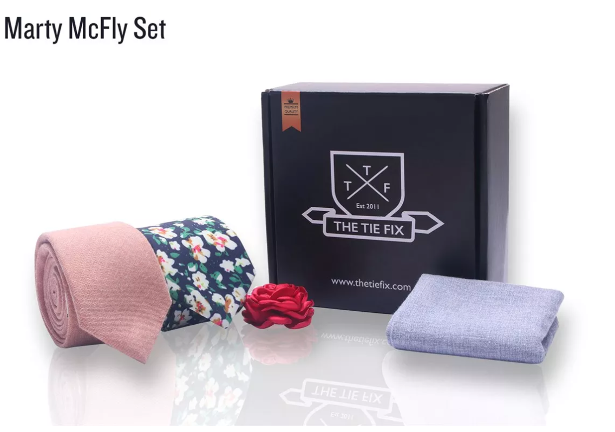 Not sure what to give your Father this year? Give him the gift of ties with the Tie Fix Gift Set from Jane.com. Each gift set includes two standard length ties made from cotton along with two tie accessories. These tie gift sets come in 5 different options making it easy to find the perfect tie set that your Father will bound to love and wear. Stylish, affordable and easy this is the perfect gift for all the Dad's or special men in your life. Our personal favorite is the Marty McFly Set.
Whiskers Laces is a distinctive shoelaces brand for otherwise boring shoe holes.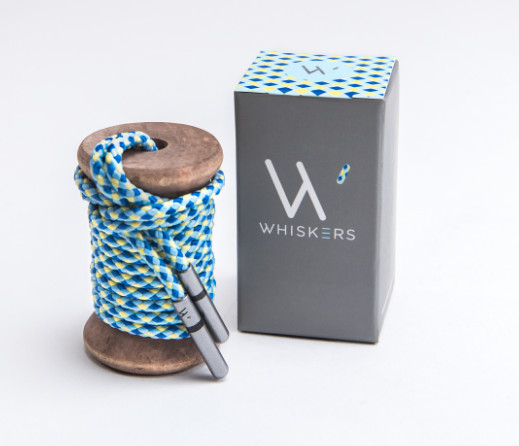 The colored shoelaces are held together by premium aglets that bring sophistication to their quirky sense. They also come wrapped around a wooden spool, which adds charm to the packaging of the product. Whiskers come in many colors and fit all shoe holes, they're perfect fathers day gifts for all men with style or men' that need to amp up their style. $14.99 across the board, with many styles to choose from. https://www.whiskerslaces.com/collections/laces

Life-like chocolate fossils are in demand this Father's Day …
Surprise Dad with a chocolate fossil hunt and hope he gets the joke!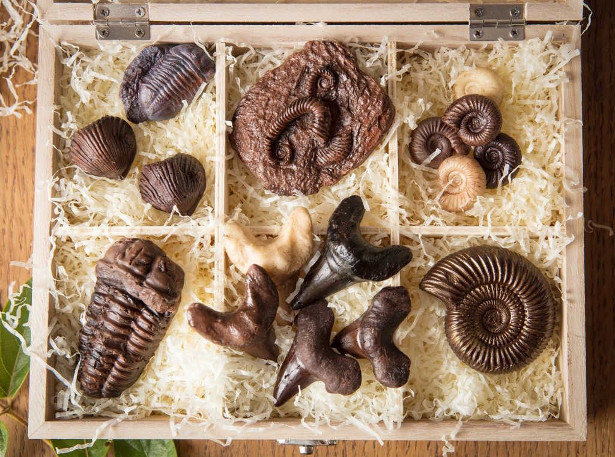 FACEBOOK | TWITTER | INSTAGRAM | PINTEREST
These realistic fossils are more than just a gift, they are an excuse for him to play and learn with the children too
Give Dad an excuse to go hunting with the kids this Father's Day. Create your own chocolate fossil hunt and Dad-osaurus-Rex. The children will love hunting down these cretaceous confections and they'll learn about fossils on the way. The chocolates come with notes about each fossil and the box can be personalised with dad's name.
He won't believe he can eat them at first but these are crafted from quality chocolate, modelled from realfossils and approved of by palaeontologists. So once he has been convinced they aren't real you can get to biting into those sharks teeth!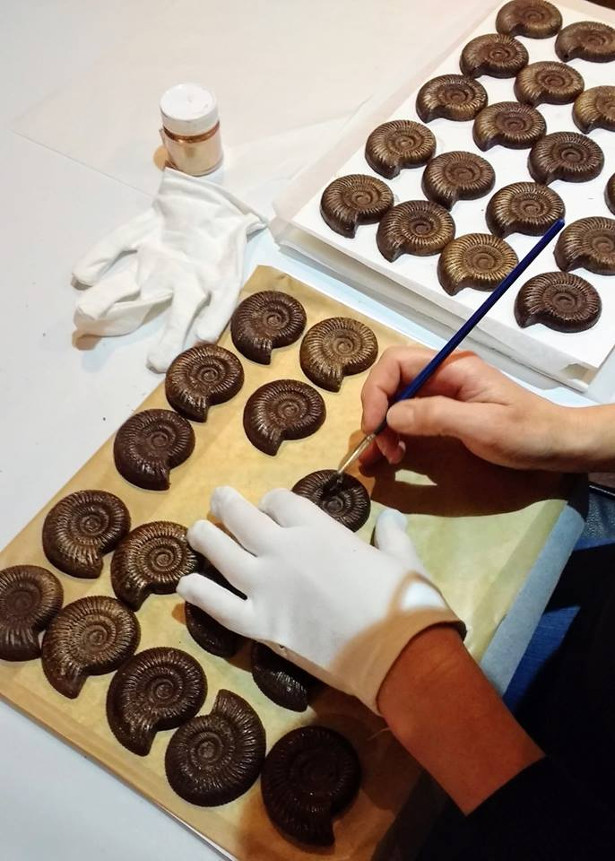 With the Jurassic World film being released so close to Father's Day the huge T Rex Tooth replica is getting popular in store so be quick before they go extinct! Universal Films have even enquired about getting them in for the launch.
According to surveys, 9 out of 10 people love chocolate – (there was no such data available for socks or grooming kits at the time of writing).
COMPANY BIO
Sarah is a classically trained sculptor who turned her skills to food and was soon in hot demand with PR agencies for her lifelike cake creations. With clients like Hello Kitty, The Odeon & Hamleys, she was making show-stopping food art such as an edible Severed Head that oozed fruit blood and shocked guests on TheJonathan Ross Show. Also an Alien face Hugger from pâté and pretzels for SEGA Games.
After a life-changing move from London to the Essex countryside she decided to create a prêt-à-porter range of food-art available to all.
The Edible Museum – "an online store providing unique chocolate gifts for interesting people", was born.
The store inspires avid fans, one of whom even used her chocolate human heart to propose with on Valentine's Day.
Sarah is currently working alongside The Wildlife Trust London to create her Stag Beetle chocolate in conjunction with their annual stag-watch campaign. She is also designing chocolate brains for neuroscientists.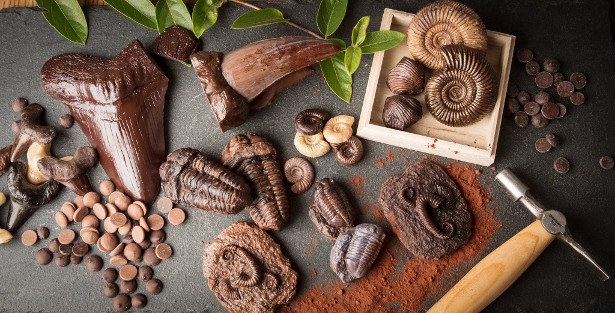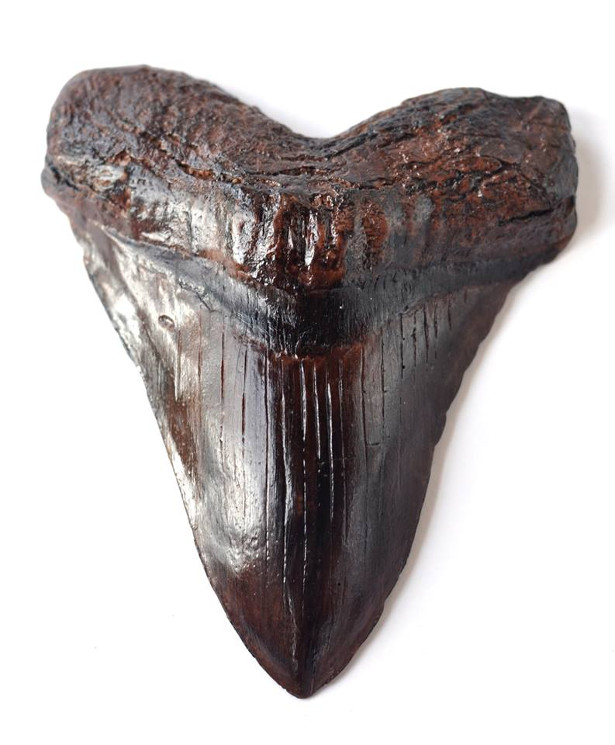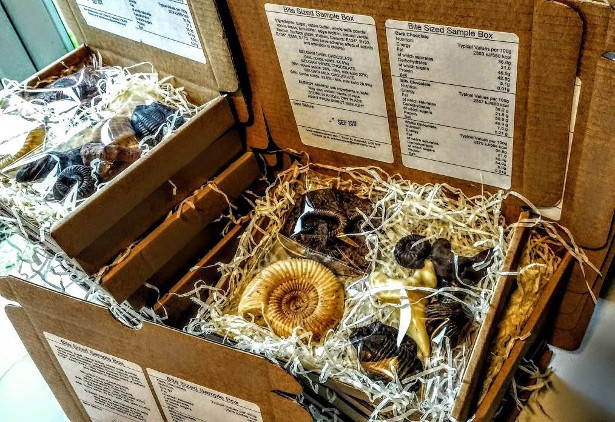 Souvenir Italia
Nome del prodotto: Portachiavi Fuori Serie Italy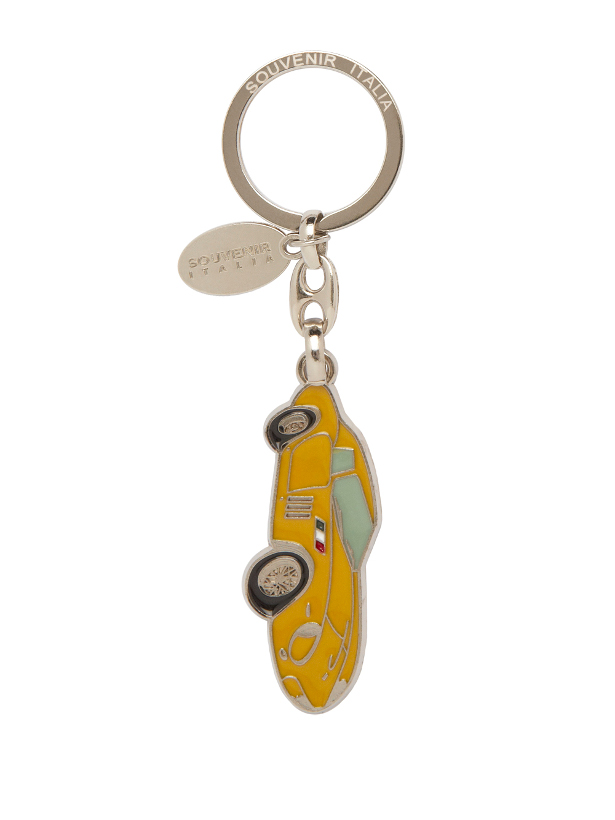 Descrizione: Portachiavi metallo smaltato Fuori Serie Italy con targhetta ovale colore giallo misura: h 54 mm
Confezione: blister cartoncino
Peso: gr. 19
Prezzo: €3.50
Azienda: Souvenir Italia
Brand: Souvenir Italia
Telefono: 335 79 87 591
Sito di riferimento per i lettori: www.souveniritalia.com
Lasko 2018 Fans for Father's Day
Lasko $80 Utility Fan: For the dad, that's a homemade mechanic and always finds odd jobs around the home, this utility fan is the perfect way to say "thanks, Dad." Equipped with high-velocity air stream for drying, exhausting, and cooling surfaces; a three-prong grounded plug for convenience; and patented safety fuse technology—this fan is ideal for use in garages, workshops, basements, and sheds to help dad get the job done.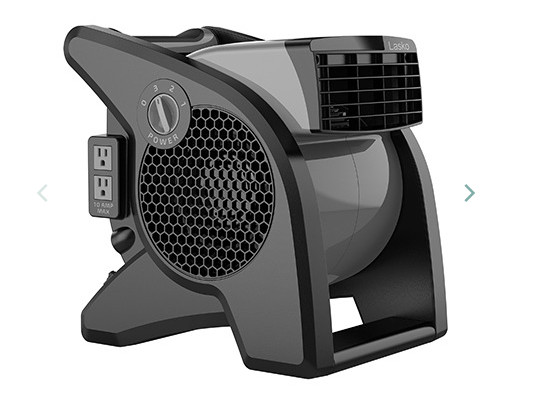 Lasko $30 Air Circulator Fan: For the frugal dad that's always looking for ways to cut back…give him the gift of savings with this powerful wind machine! This unit's three high-performance speeds gives dad control of the temperature; the pivoting head allows cool air to reach all directions of spaces and rooms; the convenient built-in carry handle makes it easy for dad to take to his bedroom or man cave and living spaces. In addition to these perks, this until is energy-efficient—saving dad money on bills.
MËNAJI special offer for Grads & Dads all month long!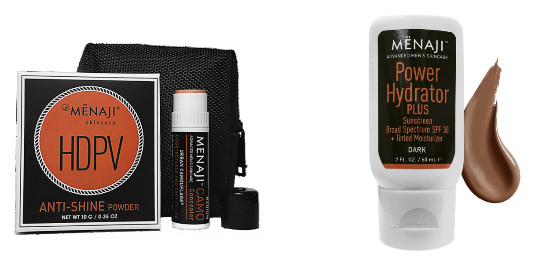 As the leader in men's healthy skincare, we are always here for you.
Our top two selling ​cosmetic
products in a small, light-weight, ballistic material kit bag. Undetectable problem solving skincare that gets the work done and no one knows!
Available in 3 shades, Power Hydrator PLUS ​keeps your skin
moisturized, protected from the sun, and looking great while on the beach, golfing, or hanging outside!
RIBEYE FILMS IS PLEASED TO SHARE THE FIRST OFFICIAL TRAILER AND POSTER FOR THE GHOST FROM DIRECTOR GARRICK HAMM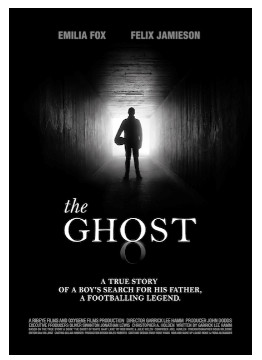 ​
From Director Garrick Hamm (Retrospective, The Man Who Married Himself, Cast Offs) and starring Emilia Fox (The Pianist, Dorian Gray), THE GHOST is a true story of a boy's search for his father, a footballing legend.
Showcasing authentic 70's styling and costumes,THE GHOST is Garrick Hamm's third film with Emilia Fox.
Featuring Felix Jamieson in his very first role as the young Rob White as he unveils his late father's legendary past, THE GHOST is one of several incredible short films directed by Garrick Hamm.
Snakehive
The Snakehive Vintage and Pastel collection are now available with bespoke embossed personalisation, just for £5 – Make it extra special by adding your Father's initials in a gold, silver or natural emboss.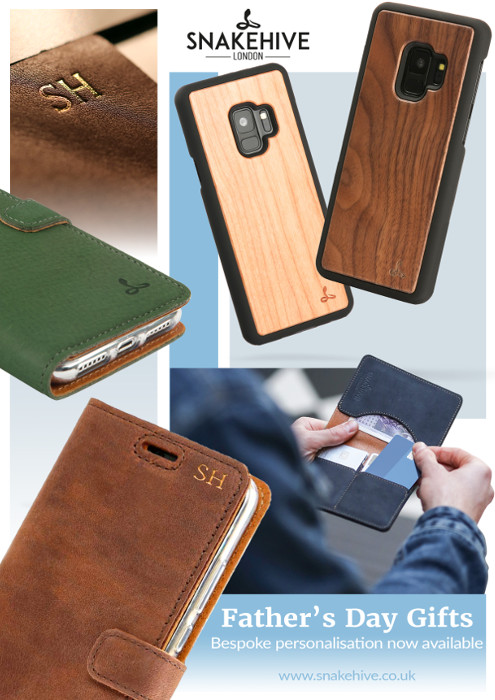 The Snakehive Bifold and Vintage leather wallet are designed in-house in the UK and hand-crafted in Europe to meet the very highest standards. The Nubuck Leather used is a top grain material that has been carefully sanded to give it a soft suede texture. It is resistant to wear and is therefore the perfect material for the durability and protection of your phone. With so many phone cases now on the market, see through the slew of poor quality plastics and choose this beacon of British craftsmanship. Available in variety of colourways and phone model sizes.
If leather's not for you, then jump into the "wilderness" with these unique hard wearing natural wooden phone cases – for another luxury alternative. The case is made of natural wood with a secure rubberised matt phone holder to give your phone protection and a smart and stylish finish. Available in a variety of wooden finishes and phone model sizes.
Snakehive Vintage Leather Wallet £24.95 www.snakehive.co.uk/collections/vintage
Snakehive Vintage Leather Bifold Wallet £29.95 www.snakehive.co.uk/collections/vintage-leather-bifold-wallets
Snakehive Wilderness Wood Case from £14.95 www.snakehive.co.uk/collections/wilderness
Tefal launches its first food storage collection – for every occasion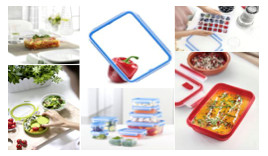 · Four innovative ranges: MasterSeal Fresh, To Go, Micro and Glass
· 100% leak proof, 100% hygienic, 100% BPA-free
· 30-year product guarantee
Leading household brand Tefal has launched its first collection of food storage containers in the UK, designed to keep food fresher for longer and make storing, serving and moving food easier than ever.
The range consists of four collections – Fresh, To Go, Micro and Glass – and all four feature a unique freshness seal. The Fresh range boasts a scientifically-verified seal, approved by the Institute for Sustainable Food and Nutritional Sciences, which guarantees to keep contents two times fresher than the food's original packaging.
Each container is 100% leak proof, enabling safe transportation when on the go, is 100% hygienic, with no gaps for germs even after multiple washes, as well as 100% BPA-free certified, meaning products contain no harmful chemicals and are even suitable for baby food.
Tefal MasterSeal – Fresh
Keep food fresher for longer
The Tefal MasterSeal Fresh range is the most versatile and can be used for food storage in cupboards, the fridge or the freezer and to take food on the go. The plastic containers have a bright blue seal built right into the lid, blocking odours and germs. They are microwave and dishwasher safe, frost resistant and come with a 30-year guarantee. The range includes rectangle, square and round boxes in various sizes as well as a 3 and 5 piece set, a mixing jug and an ice cube tray.
Tefal MasterSeal – To Go
Carry your food on the go and leak-free
The Tefal MasterSeal To Go range is ideal for those that take their lunch to work. Selected boxes in this range are built with clever removable inserts so you can separate different foods until it's time to eat, such as the innovative salad bowl with compartments for leaves, proteins and a dressing. They are microwave and dishwasher safe, frost resistant and come with a 30-year guarantee. The range consists of lunch, brunch, snack and sandwich boxes as well as a yoghurt box and salad bowl – all with unique inserts.
Tefal MasterSeal – Micro
Take your food with you and heat on the go
The Tefal MasterSeal Micro range features a selection of plastic red containers, designed in this colour to
avoid food discolouration which can spoil clear containers. The lid is equipped with an integrated valve for safe and efficient microwave use so you can heat your food without the need to remove the lid. Also equipped with the unique freshness seal, the range is dishwasher and freezer friendly and comes with a 30-year guarantee.
Tefal MasterSeal – Glass
4-in-1 food storage: cook, serve, store and transport
The Tefal MasterSeal Glass range is made with an extra temperature-resistant borosilicate glass base resistant to discolouration and is microwave and oven proof up to 420 degrees (without the MasterSeal freshness lid). Its impressive crystal-clear glass saves the washing up as not only can you cook in these, you can also serve straight to the table, store for later or take to work. The range is freezer and dishwasher safe and comes with a 30-year guarantee. The range comes in various square and rectangle sizes.
Masterseal Fresh
RRP
Stockists
0.55L Rectangle
£3.50
Amazon, Home&Cook
1L Rectangle
£4.50
Amazon, Home&Cook, House of Fraser
1.2L Rectangle
£6.00
Amazon, Home&Cook, House of Fraser, Debenhams
1.6L Rectangle
£6.00
Amazon, Home&Cook, Debenhams
2.3L Rectangle
£8.00
Amazon, Home&Cook, House of Fraser, Debenhams
2.6L Rectangle
£10.00
Amazon, Home&Cook
3.7L Rectangle
£11.00
Amazon, House of Fraser
8.2L Rectangle
£18.00
Amazon
0.25L Square
£3.00
Amazon, Home&Cook
0.85L Square
£5.50
Amazon, Home&Cook, House of Fraser, Debenhams
0.15L Round
£3.00
Amazon, Home&Cook
0.85L Round
£5.50
Amazon, Home&Cook
3PCS (0.55L, 1L, 2.3L)
£14.00
Amazon, House of Fraser
5PCS (0.15L, 0.25L, 0.55L, 1L, 3.7L)
£22.00
Amazon, Home&Cook, Debenhams
0.35L Round
£3.00
Amazon
0.5L Mixing Jug
£5.00
Amazon, Home&Cook
Icebox
£11.00
Amazon, Home&Cook
Masterseal To Go
RRP
Stockists
Salad bowl (round) 1L
£7.00
Amazon, Home&Cook, House of Fraser, Debenhams
Lunchbox (rectangle) 1.2L
£13.00
Amazon
Brunchbox (rectangle) 1.2L
£8.00
Amazon
Snack 1.2L with inserts
£9.00
Amazon, House of Fraser, Debenhams
Snack 1L with inserts
£7.00
Amazon, Home&Cook, House of Fraser
Snack 0.55L with inserts
£5.00
Amazon, Home&Cook, Debenhams
Yoghurt box (rectangle) 0.6L
£6.00
Amazon, Home&Cook, Debenhams
Sandwich box (square) 0.85L
£5.50
Amazon, House of Fraser, Debenhams
Masterseal Micro
RRP
Stockists
1.2L Rectangle with inserts
£9.00
Amazon, Home&Cook
1.2L Rectangle
£7.00
Amazon
1L Rectangle with inserts
£7.00
Amazon
1L Rectangle
£6.00
Amazon, Home&Cook
0.55L Rectangle
£5.00
Amazon
0.8L Rectangle
£5.50
Amazon
Masterseal Glass
RRP
Stockists
0.2L Square
£4.50
Amazon
0.5L Square
£8.00
Amazon
0.9L Square
£10.00
Amazon, House of Fraser, Debenhams
0.7L Rectangle
£9.00
Amazon
1.3L Rectangle
£12.00
Amazon, Home&Cook, House of Fraser, Debenhams
2L Rectangle
£16.00
Amazon, Home&Cook, House of Fraser, Debenhams, Sainsbury's
3L Rectangle
£22.00
Amazon, Home&Cook, House of Fraser, Debenhams, Sainsbury's
Father's day is rolling round again! Be prepared this year and get a gift that he will actually love and cherish.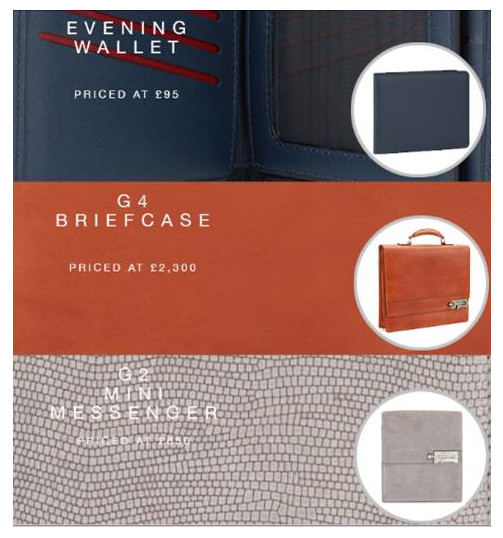 Whether your dad is the minimalist, the traditionalist or the anything goes. Treat him to a mini messenger for his iPad, briefcase for his meeting notes so as he can look slick in the board room or a new wallet that isn't faded or bursting at the seams with old receipts and business cards.
The Gladstone London range fuses contemporary aesthetic and functionality with the lost designs and craftsmanship of the 1920s era of 'London Made'. All of their products are handcrafted in a small Italian factory near Lake Como to a level of quality only matched by the most renowned super brands.
Machete is one of the most versatile tools you'll ever find. From backyard cleaning to trail clearing, gardening to bush craft, this tool is performing like a boss!
It has a long history of evolution which is really amazing. Each machete is designed, keeping in mind, to serve best for some specific types of work. So before buying any product you must specify what types of work you need the machete for. Because it's a bitter truth that no single machete can perform effectively for all sorts of work. Saying that it's obvious, finding the best machetes is not an easy task.
www.justmachete.com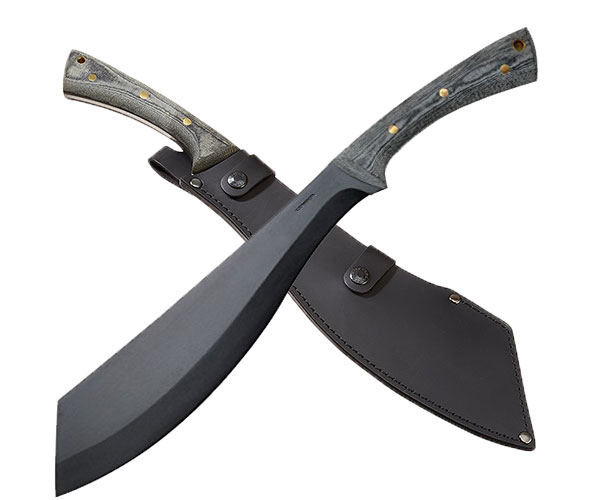 Don't panic! It's not that much difficult if you know where to look for. There are some wonderful places where you will get the best product ideas and the best reviews which will help you to find the perfect tool you deserve. One such place is the justmachete.com where you will find all about machete and its accessories. Also, you will get necessary tips on how to use a machete safely, types of machetes, how to sharpen a machete on this website. Let's now talk about their no. one tool from the best machetes list:
Condor Tool & Knife, Warlock Machete:
· The finest quality cutlery and tools
· 66 sculpted vents
· Replaceable soft pads
· 12 ½-Inch blade
· 5mm-1075 high carbon steel
· Epoxy black powder coating blade finish
· Micarta handle
· Leather black sheath
Every other machete has uniqueness in their respective field whilst this tough piece of gear is an all-rounder. You can easily go out for hiking, hunting or camping with this machete. You get what you pay for; this phrase couldn't be truer for this Warlock machete.
Get Sauce dis a relatively new food company based in Cape Town.
Offering artisan sauces, condiments and spreads that contain zero added preservatives. Each bottle is handmade.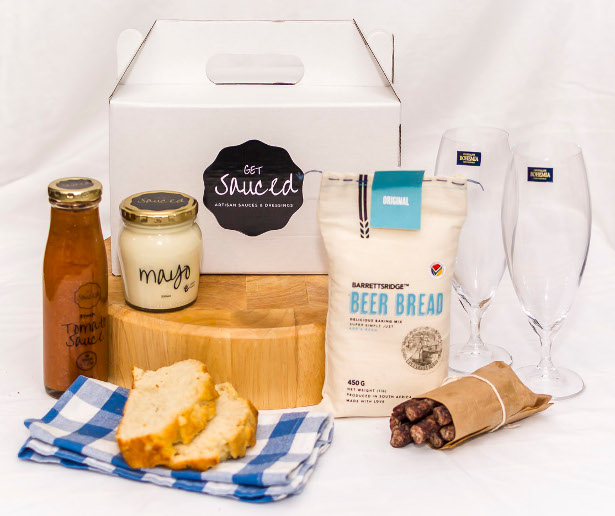 They are offering a unique Father's Day Hamper which includes a bottle of our famous slow cooked Tomato Sauce, banting-friendly Mayo, Barrett's Ridge Beer Bread, 100g of grass-fed free-range droe wors from Zuikerboschfontein as well as two elegant beer glasses. All that is left to do is to pop in a bottle or two of your dad's favourite beer. Available for R300. To place your order please email us at orders@getsauced.co.za before 13 June. Deliveries will take place on Friday 15 June. We can deliver nationwide but there will be a courier fee involved.
Facebook: @getsaucedsa
Instagram: @getsauced_sa
Raleigh, the iconic British cycling brand, has raised the bar with the launch of a brand new collection of e-bikes, Motus.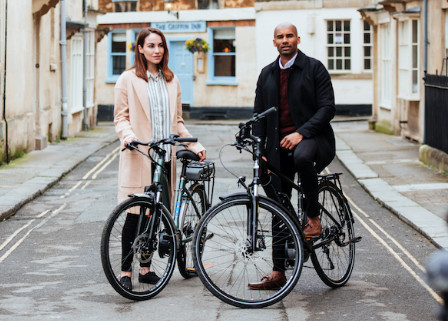 A leader of electric bikes, Raleigh has built upon its extensive experience and expertise to create a range that delivers for cyclists new and old.
Fitbit Versa is the brand's lightest smartwatch offering a comfortable design and a new dashboard that simplifies how you access your health and fitness data. Advanced health and fitness features like 24/7 heart rate tracking, onscreen workouts and automatic sleep stages tracking meet smart features like wallet-free payments and on-device music. Versa is available now on the Fitbit website.
(RRP $299.95)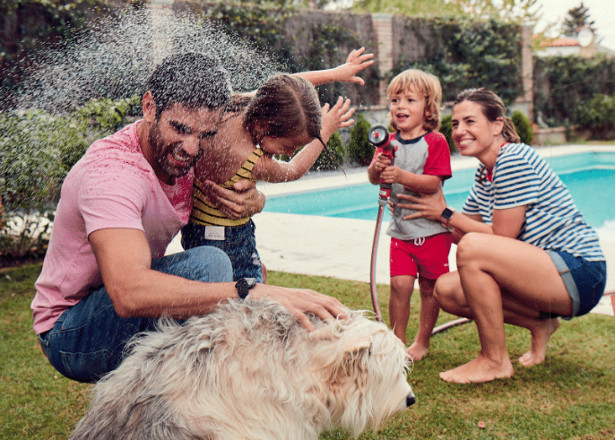 Fitbit Flyer is Fitbit's first ever pair of Bluetooth headphones, connecting straight to your phone/Ionic. Flyers have a long battery life, are sweat proof, and are fully adjustable for a custom fit. Flyer s are available now on the Fitbit website.
(RRP $199.95)
Fitbit Aria 2 is Fitbit's revamped smart scale, connecting straight to your smartphone and tracking your fitness progress. The Aria 2 presents all of your data in an easily readable format and can have up to eight registered users. Aria 2 is available now on the Fitbit website.
(RRP $199.95)
COSMIQ+ Has Only Two Buttons, But All of the Freedom
Entry-Level Price, Beginner Friendliness, Advanced Attitude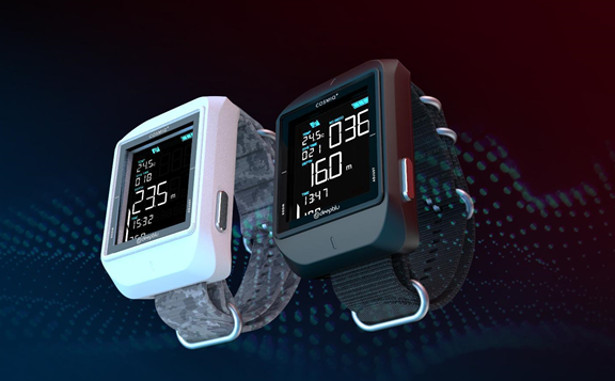 TAIPEI, Mayl 2018 – Since its leap onto the scene with the COSMIQ dive computer, Deepblu has strived to provide the best tech possible to the highest number of divers. COSMIQ+, the most recent model of their flagship computer, is a refresh of the COSMIQ, building on all of its existing features, including a 2.2-inch LCD display, rechargeable lithium-ion battery, free firmware upgrades, and a bottom timer setting.
Starting at $399 USD, this tool is more accessible than most on the market, but also gives more than others in its class. With it, divers are able to seamlessly connect to Deepblu's eponymous in-house app, from which you can upload dive logs, memories, photos, videos, and other unique items that help divers share their experiences with the world around them. Truly being involved, in touch, and boasting a little about your trips is fun for everyone. With over 300,000 dive logs, Deepblu has more unique user data on diving than any other diving app in the world.
The computer has two color schemes, reflecting night and day, Noir and Lumin, and COSMIQ+ is available in a total of 5 different colors. The classic Noir line is available in Cosmic Black and Lava Red, and is delivered in a sleek black carrying case. The Lumin line comes in three colors—Lilac Purple, Steel Grey, and Ocean Blue. The freshly minted 2018 line also offers the choice of camo straps.
The dive computer aims to provide great features at an affordable price, and with Bluetooth connectivity it's far ahead of competitors in its class. The lithium-ion battery allows divers to enjoy their trip without the hassle and worry of having to change a battery or seek out a new one. This allows divers to get in the water and keep going. With the option of joining the online community, the COSMIQ+ is also a great tool for discovering dive buddies, finding new places to take an adventure, and creating new experiences.
With a constant stream of new ideas evolving via their in-house team, Deepblu is always coming up with new ways to discover your next dive. Their most recent venture is Planet Deepblu, a tool that allows divers to seek dive spots on a global map, find and interact with dive businesses, and book their next dive experience without leaving the comfort of home. The adventure is yours. Dive on.
···
About Deepblu, Inc.: Deepblu, Inc. is the company behind the COSMIQ+ Dive Computer, the Deepblu online community for divers, and Planet Deepblu, where divers can discover, plan, and book their next dive. Deepblu, Inc. is a team of divers and technology enthusiasts whose goal is to use technology and the power of the internet to revolutionize the diving community and lifestyle.
About the COSMIQ+ Dive Computer: The COSMIQ+ is the trendiest dive computer and the only one in its segment to boast Blue-Tooth technology to synchronize digital dive logs with the cloud. Since its launch in April 2016, it has won many awards for its ease of use, clarity and unique design.
Spinnerette Portable USB Turntable in Red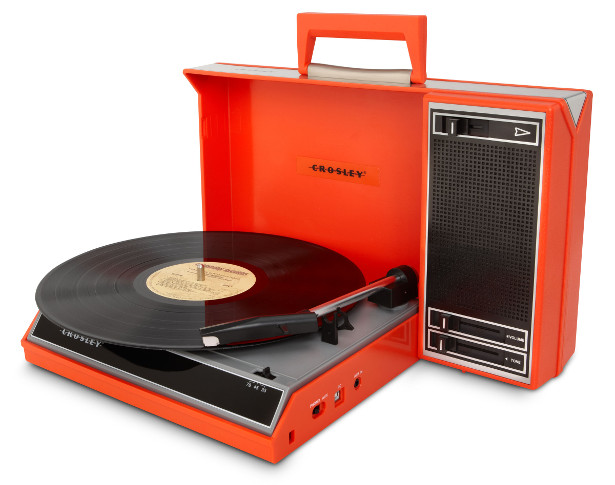 America got its first taste of rock n roll in the 1950's and skyrocket record sales followed. The introduction of the portable turntable was before the end of the decade. The portable turntable allowed for rock n rolling practically anywhere. The Crosley Spinnerette was designed with the classic 50's look in mind but engineered with the most recent technology. Upon first look you may not realize this 50's style turntable is equipped with a USB connection compatible with PC or Mac and a portable audio outlet for your mp3 player. Weather you choose to play 33 1/3, 45 or 78 RPM records this turntable is sure to keep you rockin' where ever you may be. Available at Houzz.com. $129.95
The opening of Jurassic World: Fallen Kingdom next month is certain to set sales of dinosaur-themed toys stampeding!
Dinosaurs are ALWAYS popular with kids, according to Chris Byrne a.k.a. The Toy Guy and Editorial Director of TTPM. And they'll get a souped-up shot in the arm across the board this summer with all the frenzy surrounding the 3rd installment of this mega franchise.
Check out these awesome toys!
Dino Glove-A-Bubbles (Zing) –Kids can slip this dino-shaped 'animal themed' gloves on their hands, dip it into the portable pouch of bubble solution, wave their hands and make hundreds of bubbles with just a wave of their hands! Check out the fun on this video.
Glove-A-Bubbles (Zing)
Churn out oodles and oodles of BUBBLES with just the wave of your hand with Glove-A-Bubbles, new from Zing! Get ready to wave and play! Kids simply remove the bubble pouch from the glove and pour one of the two bubble solutions into the pouch. Dip the glove into the bubble pouch. Wave your glove back and forth and watch tons of delightful bubbles form instantly, right before your eyes. Never ending bubbles for never ending fun! Glove-A-Bubbles come with one glove and two packs of bubble solution. The pouch is also re-sealable and refillable. Glove-A-Bubbles come in eight different animal-themed gloves, including lion, alligator, hippopotamus, elephant, dinosaur, panda, bunny and monkey. There's a Glove-A-Bubble for everyone!
For ages 3+. Available: Now.
US: $2.99 US Retailers: Walmart, Target, Sam's Club
CA: $3.99 CA Retailers: Walmart Canada, Amazon, Mastermind Toys, Indigo.
Splattosaurus (EPOCH) -Kids mold their very own clay dinosaur players to move around the board. As each player takes their turn and advances to the next space, they cross their fingers hoping no one lands on the same spot as them. There's not enough room for two dinosaurs on one space. When another dinosaur enters the same spot players can SPLAT their opponents into extinction. Get the dinosaur home safely to win! For ages 4+. Available now. US: $14.95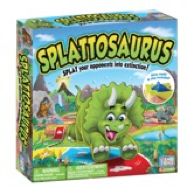 Stikbot Dinos (Zing): The wildly popular stop-motion animation toy and app now features dinosaurs! This lets kids make Stikbot-themed animation shorts – maybe even their own Jurassic Park movie!!!
Stikbot Mega Dinos (Zing)
Be prepared for double the dino action with Stikbot Mega Dinos! These massive beasts, double the size of the regular dinos, are sure to steal the show! Stikbot Mega Dinos are available in multiple colors.
For ages 4+. Available April 2018.
US: $9.99 US Retailers: Walmart Exclusive.
CA: $11.99 CA Retailers: Walmart, Indigo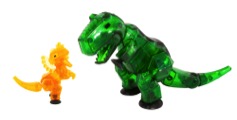 Stikbot Dino Eggs (Zing)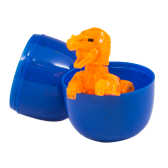 Travel back in time to the Jurassic Age with Stikbot Dino Eggs, new from Zing! There are six different dinos of varying rarity, ready to growl, chomp and hunt in your next stop motion animation. With over 320 million views on YouTube, Stikbot continues to turn kids into creative stop-motion animation moviemakers, letting their imagination run wild. Introducing, "Dino Planet," a brand new weekly original series on Stikbot Central that will begin in May. It's based on three Stikbot dinos living in dangerous Jurassic time-period (with some futuristic tech thrown in). This new YouTube series joins other Stikbot shows, "Stikcraft," "Off the Grid," "The Botcheler," "The Stikbot Show," "Stikbot Murder Mystery" as well as "What the Bot," a fan inspired series. Lots of hip content!
Stikbot Pets are easy-to-pose animal-styled figures, built with suction cup hands and feet, which can stick to almost any flat surface. With the free Stikbot Studio app, available on iOS and Android, kids can snap individual photos and stitch them together into a film, complete with built-in music and sound effect options. Users can share their creations using #Stikbot and see what others are making all over the world!
For ages 4+. Available April 2018.
US: $4.99 US Retailers: Target, Amazon, Walmart (Single packs only)
CA: $5.99 CA Retailers: Walmart, Indigo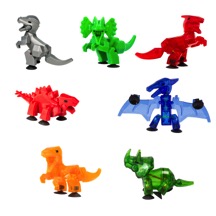 PLAYMOBIL The Explorers: Hidden Temple with T-Rex (9429): Join the Explorers as they embark on a new adventure on Dino Island with the Hidden Temple with T-Rex. Once you discover the temple, use the ancient structure as your research base before heading out to explore the island with the help of the secret map. Simply rub the map to reveal a hidden path where X marks the spot! When back at the base, protect the team from the unfriendly T-Rex or enemy explorers with the functioning laser gun (batteries included)! The working temple gate also helps keep unwanted visitors out. Beware of that T-Rex! His movable arms, legs, and jaw allow for realistic motion and make him one intimidating dino! Use the functioning pulley to bring needed equipment up to the top floor. Kids can also use the included UV flashlight (1 x AAA battery required) to reveal cool glow-in-the dark features, such as with the ruin's crystal eyes, jungle plant, and more! Set also includes the full Explorers team – Nick, Emma, and Will, their pet dog Sammy, T-Rex, laptop, camera, gold statue, microscope, backpacks, storage containers, hiking equipment, and lots of other accessories.
Available: May 2018 Age: 4+ MSRP: $59.99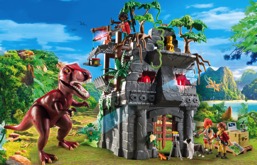 Distilled near Belfast, at the Jawbox Distillery located on a 300-acre 16th-century estate where the grain for the spirit is grown and harvested, Jawbox Gin is perfect for the adventurous, confident and curious gin drinker.
It's named in honour of the deep, boxy Belfast sink which became a focal point in many a kitchen – where most conversations took place. And so it got its own nickname: THE JAWBOX.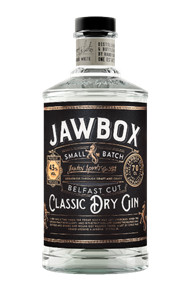 Jawbox is triple-distilled very slowly in traditional copper pot stills and in small batches using a unique combination of botanicals including local Belfast Black Mountain Heather. Jawbox is a classic style juniper-led gin that starts on the palate with citrus and juniper developing into pepper and subtle rootiness.
An excellent tipple for Father's Day is Jawbox's The Perfect Swerve – the original Gin & Ginger Belfast serve, mixed with ginger ale. Belfast has famously created many things, from mighty ships to delicate linens. However, there is another, perhaps less well-known gift the city has given the world: zesty, refreshing ginger ale!
Add cubed ice to a tall glass. Pour in 35ml Jawbox Gin and top with premium ginger ale. Squeeze and drop in a wedge of lime – perfect.
RRP: £30 for a 70cl bottle. ABV: 43%
Available from: Tesco, Marks & Spencer, Sainsbury's, Asda, masterofmalt.com, thewhiskyexchange.com, 31dover.com, drinksupermarket.com and Amazon.
https://www.tesco.com/groceries/en-GB/search?query=jawbox
The Jawbox Gin Ceramic Mug would make the Father's Day gift complete and is available from Amazon for £13.12
HAPPY FATHER'S DAY FROM STIHL
Give dad the gift of professional performance and unbeatable value, with a present from STIHL this Father's Day. Choose from an array of gadgets from chainsaws to pressure washers, ideal for the dad who loves the outdoors.
STIHL RE 98 pressure washer

If dad is outside every Sunday morning cleaning the family car, make his job a little easier by gifting him this high-powered STIHL pressure washer. Supplied with a rotary nozzle, fan jet nozzle and detergent bottle as standard, the RE 98 is perfectly designed for tackling various cleaning jobs. This compact pressure washer is powered by a long lasting and quiet induction motor and the textile mesh hose gives plenty of room for movement, so he can access all areas of the car or patio.
Recommended retail price for the RE 98 is £210 including battery, charger and VAT.
STIHL MSA 140 C-BQ chainsaw
Perfect for a dad who loves power, the MSA 140 C-BQ cordless chainsaw is great for cutting up logs for the fire and tree maintenance jobs around the garden. Boasting a lightweight and perfectly balanced design, the chainsaw delivers precise performance, whilst remaining comfortable to use.
Recommended retail price for the MSA 140 C-BQ is £329 including AK 30 battery, charger and VAT. The MSA 140 C-BQ has an impressive run time of 45 minutes on a single charge, or 180 cuts of a 10cm x10cm piece of timber.
STIHL BGA 56 leaf blower
Dads can say farewell to fallen leaves with the STIHL BGA 56 cordless blower, the perfect solution for keeping any garden, drive and patio clear. The BGA 56 is quiet, powerful and easy to operate, saving precious time spent raking or sweeping. This lightweight cordless blower boasts a streamlined design for both comfortable and effortless work.
Recommended retail price for the BGA 56 is £199 including AK 20 battery, charger and VAT. The BGA 56 can achieve a run time of 20 minutes on a single charge.
STIHL HSA 56 hedge trimmer
With the HSA 56, trimming hedges is no longer a challenging task. Featuring double-sided teardrop shaped blades, the HSA 56 has a high cutting performance that makes light work of pruning small branches around the garden. It's lightweight and cordless design allows for easy operation, without the fear of cutting cables or getting tangled in your hedge.
Recommended retail price for the HSA 56 is £199 including AK 10 battery, charger and VAT. The HSA 56 will run up to 40 minutes on a single charge.
STIHL FSA 56 grass trimmer
Keeping turf looking fresh and tidy is made easy with the FSA 56 grass trimmer. At just 3.3kg, the FSA 56 is super lightweight and extremely quiet. The tool is well-balanced with a height adjustable shaft and changeable handle position that can be altered at the push of a button, making it comfortable for your dad to use and perfect for trimming those awkward to reach edges.
Recommended retail price for the FSA 56 is £199 including AK 10 battery, charger and VAT. The FSA 56 will run up to 20 minutes on a single charge.
The MSA 140 C-BQ, BGA 56, HSA 56 and FSA 56 are all part of the Compact Cordless System which operate using an interchangeable Lithium-Ion battery. The batteries are compatible with all tools within the range, so with one quick swap of the battery, a multitude of gardening tasks can be covered providing additional convenience and value.
These STIHL products are available from over 700 STIHL approved dealerships nationwide, Hilliers stores and selected Dobbies retailers. For more information visit www.stihl.co.uk
About STIHL
STIHL is the No.1 selling petrol chainsaw brand worldwide; renowned for its revolutionary outdoor power equipment. A family-owned business based in Germany; STIHL employs more than 14,000 staff worldwide and sells product in more than 160 countries globally. STIHL is a proud global technology leader and the only petrol chainsaw manufacturer of all three key chainsaw elements – the engine, bar and chain.
STIHL GB is a wholly-owned subsidiary of the global STIHL Group. In Great Britain, STIHL products are available from more than 700 specialist Approved Dealers who offer expert customer service. The cutting-edge STIHL range spans chainsaws, hedge and grass trimmers, multi-tools, pressure washers, construction tools and more. STIHL's VIKING subsidiary meanwhile, is a leading manufacturer of lawn mowers, lawn tractors, robotic mowers and other garden equipment.
STIHL is committed to long-term environmental protection and energy efficiency and as such, STIHL products include advanced, eco-friendly and fuel efficient petrol models. The range also includes low-noise, Lithium-Ion battery powered tools, plus lightweight electric models.
For more information please visit www.stihl.co.uk.
Jekyll & Hide have just launched their new Soho Black range which we think would be perfect for your gift guide.

The leather is matt black in colour with a very smooth texture, very on trend at the moment and is imported from Brazil. The lines and design are simple and yet sophisticated. I would like to offer you the opportunity to feature some of their products as they would align well with your readers. Their latest SOHO BLACK range can be viewed here: gallery.studio488.co.uk/March-2018/Jekyll-and-Hide-Lot-1/n-t75hTM/
Jekyll & Hide, a luxury leather luggage manufactures authentically crafted, genuine leather products. Jekyll & Hide's product portfolio holds a wide range of handbags, wallets, jackets, shoes, tech accessories, belts and shoes to name a few. Their ranges are tailored to the need for a fashion forward, business bag, paying attention to laptop, tablet and document holders, making ideal for the modern woman.
www.jekyllandhide.co.za
Helping Dad keep the right track this Father's Day with the Slendertone Connect Abs .
It's an incredibly useful tool in maintaining a strong core, vital for a healthy lifestyle. Forget the gimmicks of TV adverts and let the science speak for itself.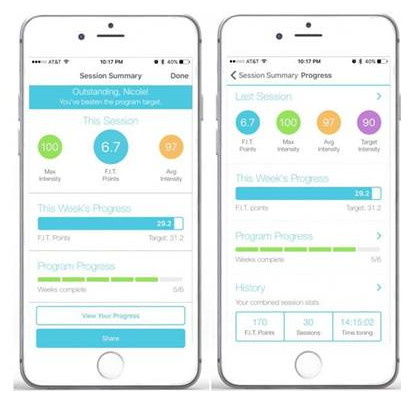 Clinical trials conclude that:
• 100% of users reported firmer and more toned abs from 4 weeks
• 72% reported an increase in abdominal endurance from 4 weeks
• 49% reported an increase in abdominal strength from 4 weeks
• An average waistline reduction of 3.5cm from 8 weeks
• 54% of users felt that their posture had improved from 4 weeks of toning
As you know, this is vital for a healthy lifestyle remaining injury free and protecting your lower back and maintaining muscle mass and we get older.
This Father's Day, bring the value back to holiday by celebrating your dad and giving the best gift of all: convenience.
www.simplehuman.com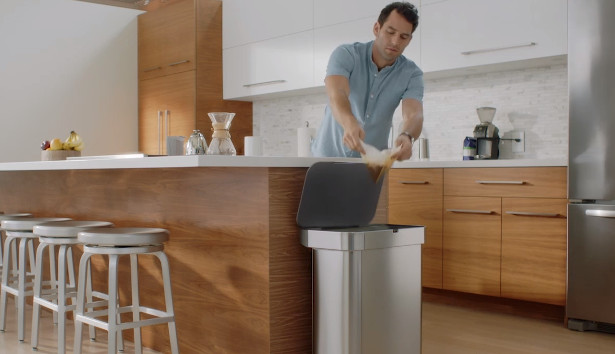 The simplehuman sensor trash can with voice control is the perfect item to show your dad your appreciation. Being a Father is a full-time job and on top of whatever 9-5 pop endures to ensure that you can live comfortable, things can get stressful. So why not make your dad's life easier if you can? With the simplehuman trash can you can do just that! It can be argued that no trash can before this has ever been so thoughtfully and purposefully crafted. With its innovative technology and sleek design, disposing of your trash has never been easier.
Give your Dad a gift that makes tedious tasks simpler, so he has more time to be human.
For the Texas loving Dad
As author Jon Gunther said, "If a man is from Texas, he'll tell you. If he's not, why embarrass him by asking?" If the Dad in your life is a Texan by birth, a Texan by heart or just wants to be a Texan, he will love Texas Standard – clothing designed specifically for the discerning Texas gentleman. The genesis of Texas Standard was pride in the state its founders call home, driven by the belief that Texans deserve quality clothing that represents who they are and where they're from. Despite being a region of its own in many ways, Texas was without a brand of its own – Texas Standard was built to change that. The team at Texas Standard started from square one with a quality-first mindset on a mission to design, develop, and distribute its products in the Lone Star State. Ten percent of Texas Standard's profits are donated to their partner charities. Texas Standard offers free shipping on orders over $50 and free exchanges and returns. www.Texas-Standard.com or on Facebook: https://www.facebook.com/txstandard; Twitter: https://twitter.com/txstandard; or on Instagram: https://www.instagram.com/txstandard/.
Texas Standard's collections include sport shirts, polos, tees and accessories.
Texas Standard Sport Shirts: Not boxy, not too slim – just right. The 100 percent cotton Standard Sport Shirts are bound to be the go-to button-downs for any occasion. Texas Standard engineered the Standard Sport Shirt to look great untucked, but with enough length to stay in place – making it versatile for summer in shorts, business in slacks, and everything in between. MSRP: $84.50
Texas Check Sport Shirt: The Texas Check Sport Shirt is the work-hard-play-hard button down perfect from the office to the outdoors. These made-in-Texas shirts feature the same custom-feel cut as the Standard Sport Shirt, and feature a hidden button-down collar and corner-cut sleeve cuffs. The Texas Checks are made with a super durable, pure cotton fabric, hand sewn by third-generation shirt makers in west Texas. The Texas Check Sport Shirts are not too slim, and never boxy. MSRP: $99.50
Texas Flannel – The Texas Flannel Sport Shirt is the perfect button-down for cooler Texas winds. These made-in-Texas shirts feature the same custom-feel cut as the Standard Sport Shirt, and feature a hidden button-down collar and corner-cut sleeve cuffs. The Texas flannel fabric is a lightweight, super soft, pure cotton that is stitched together by third-generation shirt makers in west Texas. From the ranch-house to the clubhouse, the Texas Flannels are tough to beat. The Texas Flannel Sport Shirts are not too slim, and never boxy. MSRP: $99.50
The Standard Polo – Texas Standard designed the Standard Polo stitch-by-stitch to be the best polo a man will ever have. The Texas Standard polos have the classic pique polo look, featuring pure Pima cotton plus a blend of synthetics that make them softer to the touch and more breathable in the Texas heat. Stay-sharp collars and reinforced construction keep men looking their best for the long haul. MSRP: $74.50
Performance Hybrid Polo – Get the best of both worlds with The Performance Hybrid Polo (PHP) in a variety of colors. Texas Standard took breathability and flexibility of performance fabrics and combined them with the sophisticated, non-revealing look of a traditional cotton shirt. Ultra-soft genuine Pima cotton is blended 60/40 in an interlocking pattern with performance-grade polyester, yielding a perfectly balanced fabric. The PHP's collar is extra tall and reinforced like a button-down shirt, so say goodbye to floppy, lie-flat collars for good. Whether at the stadium, links, or office, this polo is in it to win it. MSRP: $79.50
The Standard Pocket Tee –The Standard Pocket Tee is the classy, comfortable way to go casual. Made from 100 percent Pima Cotton, the Texas Standard Pocket Tees are as soft as it gets, and feature all invisible seams for a refined, dressed up style. MSRP: 34.50
Performance Hybrid Tee – The Performance Hybrid Tee (PHT) was designed for comfort, breathability, and versatility – wears equally well at high-noon in the Texas heat as midnight on a casual night out. The Texas Standard heathered blend of performance grade polyester and pure cotton makes for an incredibly soft wear. The PHT is slightly longer and trimmer than our Standard Pocket Tee, so edge up a size if generally in between. Designed with men in mind, but often permanently borrowed by ladies. MSRP: $28.50
Texas Standard Accessories – The Texas Standard accessories are the quintessential accessories for the True Texan.
Modern Ranger Belt – MSRP: $64.50
Pecos Card Wallet – MSRP: $48.50
Waxed Canvas Utility Case – MSRP: $
Ropelock Sunglass Strap – MSRP: $9.50
Woody Shades – MSRP: $17.50
Texas Standard Flag – MSRP: $44.50
NEW Speidel Pilot Watch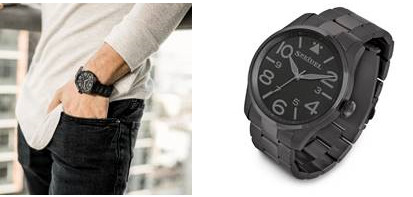 · Time-honored aviator inspired Pilot watch featuring a 42mm IP black stainless steel case
· Water resistant up to 5ATM/50 meters
· 3-hand Japanese quartz movement with easy to read oversized numerals
· Classic upward orientation triangle at 12 O'clock, outer ring with second markers
· Available with a 22mm genuine leather or solid stainless steel band
· SRP $109.99
· Available on Speidel.com, Amazon and at local jewelers
goodnessKNOWS is perfect snack for dad as they are delicious, bite-size snack squares which makes them easy for dad to keep for himself or share with everyone.
www.goodnessknows.com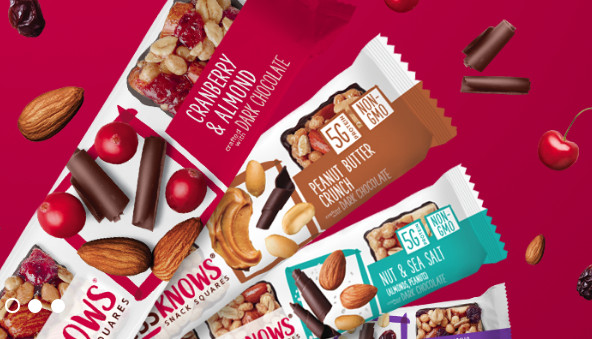 All of the delicious and amazingly satisfying flavors are made with ingredients like real fruit, whole nuts, spices and dark chocolate.
About goodnessKNOWS: goodnessKNOWS® are delicious, bite-size snack squares made with ingredients like real fruit, whole nuts, spices and dark chocolate. With four snackable squares per pack, goodnessKNOWS® takes the guesswork out of portion control – all for 150 calories or less. All of the delicious and amazingly satisfying flavors contain no artificial colors, flavors or sweeteners, are non-GMO and gluten free.
Availability: Purchase on Amazon or at retailers nationwide
Price: $4.99-$6.00 for a 5-ct box; $39.99 for 70-ct bag
Float Therapy for Father's Day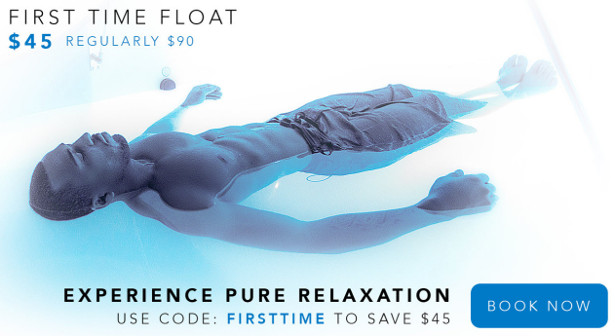 Think outside the box for Father's Day with the gift of float therapy. It's something that fits a variety of interests – from cross fitters to urban professionals. Floating offers clinically-proven results including: Sports Recovery, Stress Relief, Improved Focus and Pain Management.
With locations around the country, Urban Float is leading the charge in bringing the benefits of float therapy mainstream. Gift cards are easy to purchase online and locations are available Four locations are available to the greater Seattle area, including Renton Landing, Fremont, Capitol Hill and Kirkland. Additional franchise locations exist in Dallas, Texas and Vancouver, Washington. www.urbanfloat.com
"Floating has been around for more than 40 years, but as this form of therapy has become more popular among elite athletes and celebrities, the concept has ultimately reached urban professionals, students, parents – really anyone in need of a break from the daily stresses of the fast-paced, digital world," says Urban Float Co-Founder Joe Beaudry.
Whether guests seek pain management, sports recovery, stress relief, improved focus, or to disconnect from a hyper-connected world, Urban Float creates a sanctuary to help improve quality of life. Recently published and peer-reviewed studies have proven why floating can have lasting physical, mental and emotional benefits. You can learn more at www.urbanfloat.com/benefits, or in a recent Time Magazine piece that goes in depth on the topic at www.time.com/floating.
Above & Below H2O Inc.

Backyard man cave, fitness room, storage and safe room
LunarCon@aol.com
Portable 8 ton dome serves many purposes including saving your life
What to give dad for his day? Definitely THE GIFT OF NATURAL.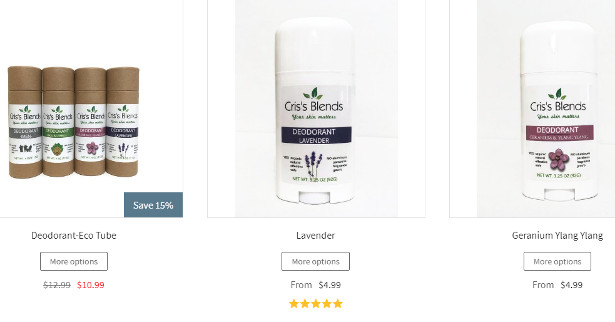 We offer an amazing natural deodorant for men, free of aluminum, toxic chemicals or synthetic fragrances, while enriched with activated charcoal and essential oils. While there are plenty out there that are designed for women, we don't often think of men's skin needing the gentle touch of natural, and our deodorant is perfect for that. We also sell an 'old fashion' shaving kit, which includes a stainless steel shaving bowl, an organic shaving soap in the dish with activated charcoal, and essential oils, and a shaving brush.The perfect fancy and useful gift for dad this year!
Please check us out at crissblends.com
This Father's Day, make sure dad is taking some time to think about himself, and in celebrating him, there's no better time to focus on self-care.
Invisalign®
Dad may have put his kids' needs before his when it comes to correcting their smile, but there's no better time for dad to think about himself too, and it's easier than ever to get the smile he wants, without anyone knowing it's happening. Using the Invisalign® brand, the most technically advanced clear aligner system in the world, dad can fix his smile in a virtually invisible way. Straightening his smile has never been easier, since he won't have to slow down from his daily routine and can eat and drink what he wants since he can remove the aligners to brush and floss. What more is that with treatment times now up to two times faster with weekly aligner changes (at the discretion of the provider), dad can have the smile he's always wanted for refreshed confidence. Go to https://www.invisalign.com/get-started/find-a-doctor to learn more and to find a provider near you.
This ski print is available customized with your own special message, favorite ski resort or chalet name.
This is the perfect personalized gift for the outdoor ski or snowboard Dad! From the family-run Rocket Jack Designs studio in Brighton, their latest handmade range of personalized ski art illustrate the beautiful contrasting lines created by the snowy landscape on a blue sky day – what every ski and snowboard enthusiast wishes for in a mountain experience.
Just $25 at their Etsy shop below:
https://www.etsy.com/ca/listing/559327786/
www.loulouclayton.com
A Special Gift For You
Father's Day Gift Special!
6″x 6″ Custom Pet Portrait of Your Pet
Special $99 Reg $150
(That's more then a 30% Savings!!)
Sign Up Below to Receive Your Pet Portrait Special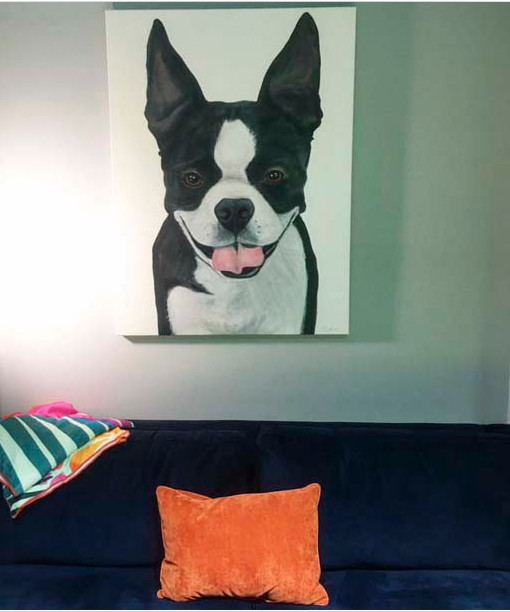 Boston Terrier Wall Decor
Make a statement in your living space…
My Boston Terrier gyclee is printed on canvas & gallery wrapped
The image is hand-enhanced with acrylic paint hand-signed. Above is 30″x40″ & Ready to hang $595
Custom sizes available upon request loulou@claytonpetportraits.com
Upcoming Events
"CRAFTED" Exton, Pa.
Sunday, June10th, 10am-3pm
EagleviewTownCenter.com
Artists, makers craftspeople live music,
demos, a children's crafting studio food & more!
See you on instagram & FB!
Hugs to your 4 legged love!

Swamp Kicks were made for the outdoors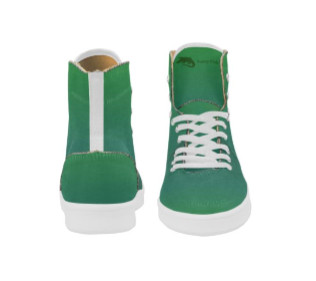 Looking for a great gift for your Dad, Brother or Friend. Created in the swamps of Florida, Swamp Kicks are made for the outdoors. Their innovative designs and rugged construction, endure your toughest workouts while allowing your feet to breathe, so you stay comfortable all day long.
The Company started in Jacksonville Fl. The shoes are made to order, so you get exactly the size you need. They use 3D Printing Technology for bold colors and seamless prints. And they offer global shipping options on every order.
If you are bored with ordinary tennis shoes and are looking for great shoes delivered directly to your door at half the price of designer sneakers, you'll love this brand. Their shoes combine the rich looks of royal tapestry with animal prints, graffiti with textures from pop art, science and nature.
And Swamp Kicks isn't just sneakers, the online store sells travel bags, women's handbags, graphic t-shirts and hoodies, Kids Lunch Boxes and Backpacks. Their Kids Collection is valueprice for parents, so you can combine orders with 2 or more pairs of Sneakers or Sneakers and Kids Backpacks and save on your entire order. Use Rugby18 right now and receive 20% off your purchase through June 30th. Shipping is fast and
reliable and the web store offers a money back guarantee if you are not completely satisfied with your order.
Social Media and Sports Fans are going crazy over these shoes. Swamp Kicks offers select styles in Men's and Women's Big and Tall, up to Size 15 for Men and Size 14 for Women.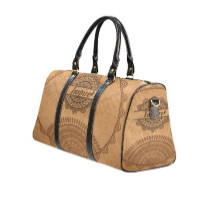 Visit SwampKicks.com now . Use code EXTRA10 at checkout and get an extra $10 off orders $30 or more . E arn more points toward future discounts when you refer your family and friends.