For the 'cool dad'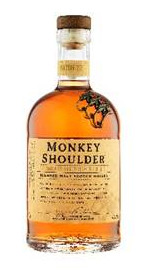 Monkey Shoulder is the perfect gift for the playful, outgoing dad. The UK's top trending whisky (as featured in Drinks International 2019 Annual Brands Report) possesses a cheeky disregard for tradition and, with its 'made for mixing' ethos, is committed to unconventional cocktails – like the Ginger Monkey or the Lazy Old Fashioned. Combining three uniquely different Speyside single malts, this whisky is expertly blended and then married together, creating a versatile and mixable Scotch for a new generation of drinkers.
Monkey Shoulder has a RRP of £27, available at Asda, Sainsbury's, Tesco and Waitrose.
NOW YOU CAN HAVE A PERFECT Father's Day gift! Want to take the guess work out of getting juicy, succulent, cooked to perfection meat from your BBQ?The world's first truly wireless meat thermometer, the MEATER+ is here to help.www.ukstore.meater.com
Want to take the guess work out of getting juicy, succulent, cooked to perfection meat from your BBQ?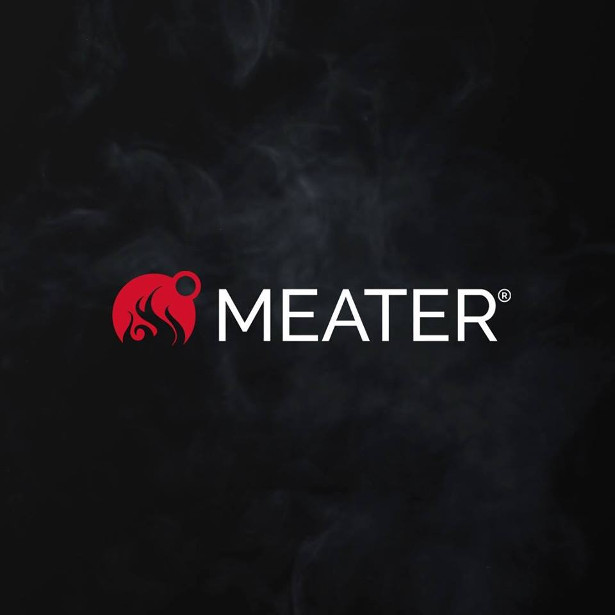 The world's first truly wireless meat thermometer, the MEATER+ is here to help.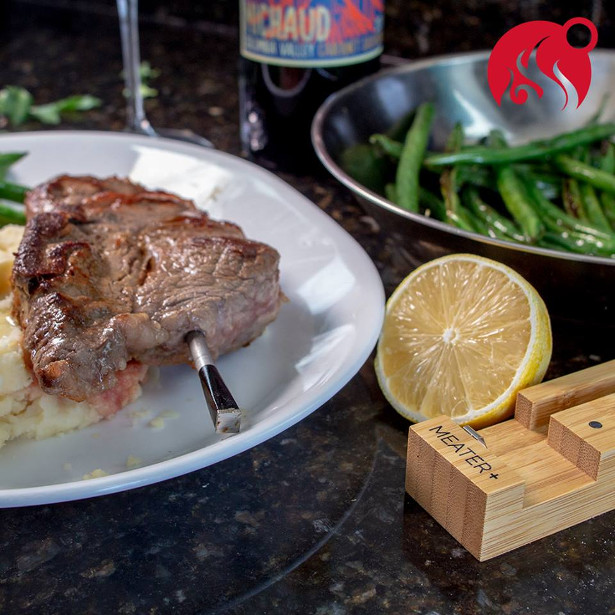 FACEBOOK | INSTAGRAM | YOUTUBE | TWITTER
BBQ season is upon us and we all desire delicious, perfectly cooked meat when entertaining, so why not get help? Take the guess work out of 'getting it right' and use MEATER+ to wow your meat loving guests.
MEATER+ is a simple to setup, simple to use, no wires, no fuss meat thermometer with a smart guided cook system which will ensure tasty, succulent and satisfying results every time.
Be social – this handy cooking tool not only gives you the juicy results you are after, it allows you to step away from the BBQ to go and catch up with your guests, get a well-deserved beer, or to relax in the sun – just connect your MEATER+ to any smartphone or tablet and using a patented technology, MEATER+ provides estimated cooking times, monitors your meat whilst cooking, sends alerts to your device, and lets you know when your meat is cooked to perfection, and ready to enjoy.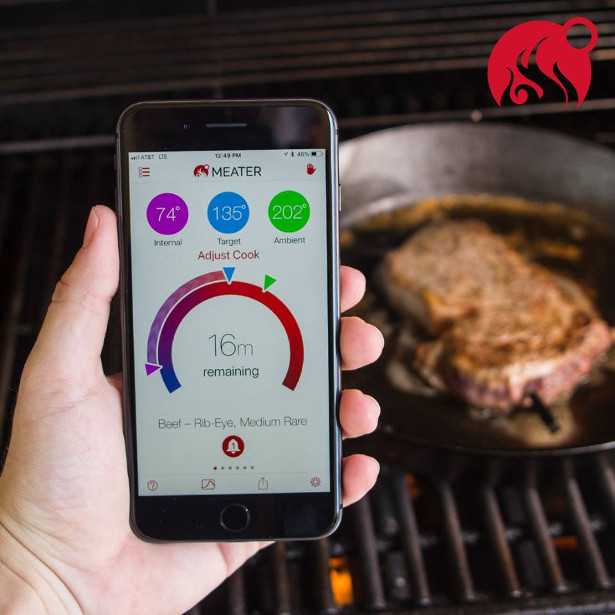 Save money – meat is expensive, so whether you are cooking beef, fish, lamb or pork, allow the MEATER+ to use its dual sensors to monitor the BBQ temperature making sure you never burn and waste your meat again.
Be Safe – Eating undercooked meat is one of the most common causes of food poisoning in the UK. Using a meat thermometer can help take away this risk and ensure that your meat is not only the tastiest it can be but is perfectly safe to eat too.
Whether you are BBQing for yourself, for colleagues, friends or for family, let the MEATER+ help you achieve tasty, succulent, safe results each and every time!
Available to purchase from MEATER, price at £99.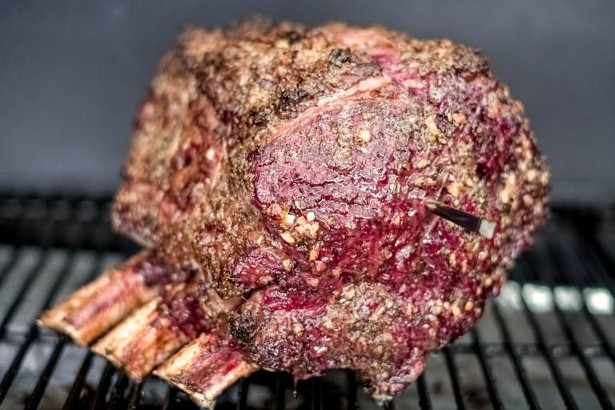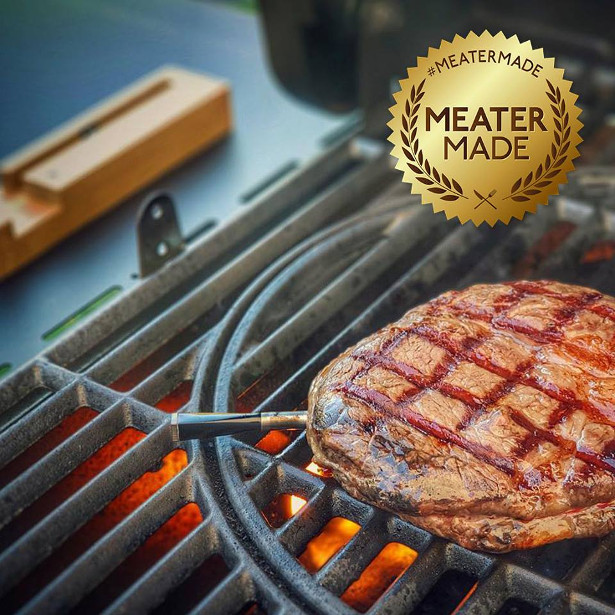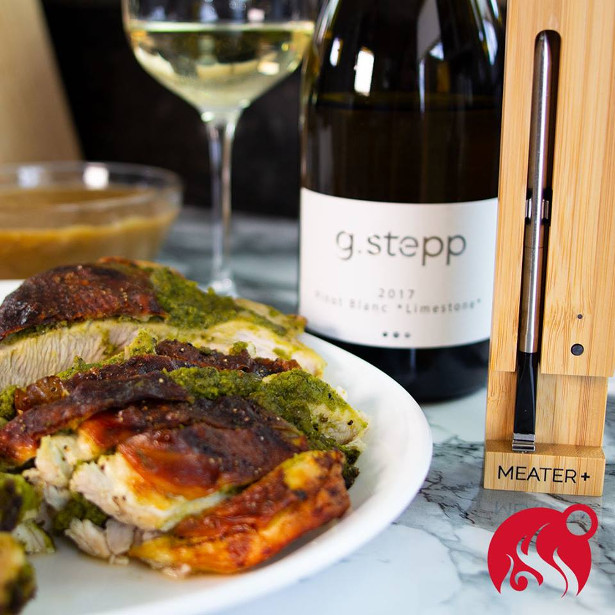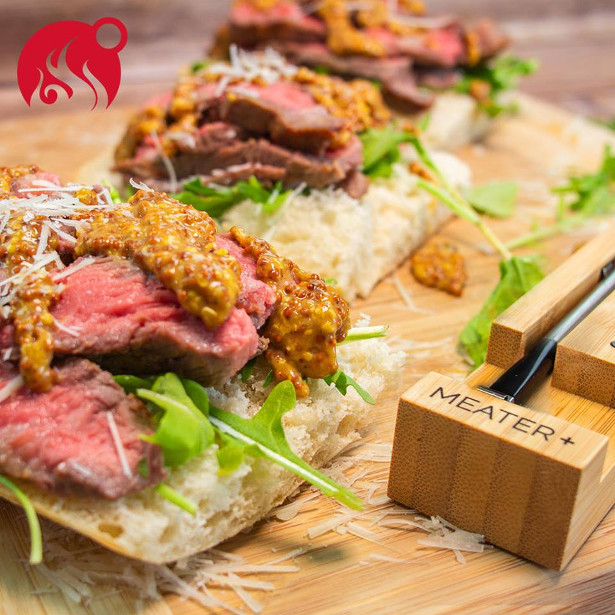 17th May is Submarine Day – celebrate the first submarine launch with a Dark & Stormy cocktail from Spytail Ginger Rum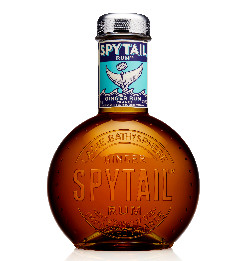 Raise a glass of Spytail Ginger Rum and celebrate the anniversary of the first successful submarine that could be submerged for any considerable distance. The Irish inventor John Philip Howard designed Holland 1V which combined electric and gas engines and was the first submarine to be formally commissioned by the US Navy. Launched on 17 May 1897 in New Jersey it was christened USS Holland.
Spytail is synonymous with submarines and underwater exploration as it's name was discovered by the distillers stamped on an early engineering drawing for a submarine in the local maritime archive. They also discovered that, while submarines wailed along the bottom of the Charente River, ships laden with rum and ginger followed the same route from the Caribbean.
Spytail is a blend of aged Caribbean rums, blended and bottled at a small distillery by La Compagnie Bathysphere in the Cognac Region of France. Bottled in eye-catching glass ware it celebrates the intrigue and mystery surrounding French underwater exploration.
Celebrate this day with a Spytail Dark & Stormy which blends Spytail Ginger Rum with ginger beer served over ice and garnished with a slice of lime juice.
RRP £28.00 for 70 cl ABV 40% Stockists www.amazon.co.uk www.amazon.co.uk/Spytail-17875-Ginger-Rum/dp/B01MYDM0EQ/ref=sr_1_1_a_it?ie=UTF8&qid=1552990149&sr=8-1&keywords=spytail+ginger+rum
facebook.com/spytail @spytailrum www.spytailrum.com
ZIP NOW LONDON IS BACK AND BIGGER THAN EVER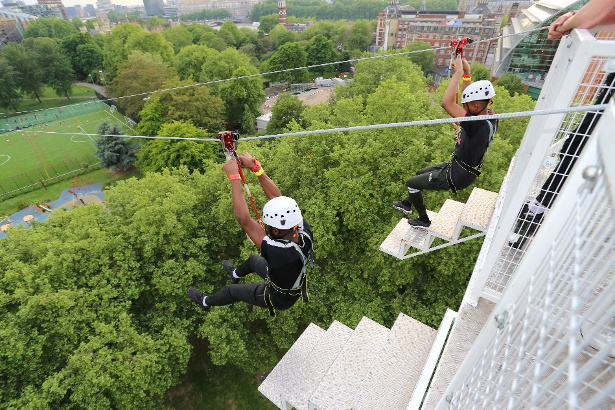 Zip Now London, the biggest and fastest city centre zip wire is returning to the Southbank for its third summer season, opening to the public on the 12th June 2019.
To mark its return, Zip Now London is offering early bird tickets for £27 to this exciting central London activity, which is suitable for friends, families, birthday parties and group events.
Just a few minutes from the London Eye and located in Archbishop's Park, Zip Now London will be bigger than ever with a new fourth parallel line, meaning even more people can experience the thrill of flying at speeds of up to 50kph across the London skyline in pairs, trios or groups of four.
Over 75,000 customers have ridden the zip wire and once again riders will launch from a 35-metre high tower, travelling 225 metres with a stunning backdrop including the London Eye, Houses of Parliament, Big Ben, the Gherkin, Lambeth Palace and The Shard.
Riders will also be able to complete their flight in true adventure-junkie style with the option to add on a free-fall Mega Drop.
Barry Shaverin, Zip Now CEO said: "Zip Now London is back and better than ever offering a huge rush of adrenaline without needing to leave zone one. This year, we've added a fourth line to meet the huge customer demand for people to fly in groups with their friends, families and colleagues."
Zip Now London will be open daily from 12th June until 15th September 2019 with the following opening hours:
Monday to Friday 11.30 to 19.30
Saturday 9.00 to 19.30
Sunday 9.00 to 17.00
To book now visit – www.zip-now.co/london2019
Zip Now London offers complimentary rides for carers, guides and mobility or sight assistants and specific time slots can be ring-fenced for exclusive use of those who may require more time to complete the experience. This can include people with learning disabilities, autism, and both hearing and sight impediments.
Zip Now welcomes riders from eight years old. Riders must be more than 1.2m (3ft 11in) tall, less than 2.1m (6ft 11in) tall and weigh no more than 120 kg.
2018 Fast Facts:
Zip Now London has welcomed 75,000 customers, which means riders:
Travelled along the wires for 6012 miles in total – almost the same distance from London to Sydney.
Climbed the launch tower 75,000 times equalling 2,625,000 metres – the same as climbing Everest 296 times!
Jumped 78,000 metres from the Mega Drop free fall – the height of 251 Shards.
For more information on Zip Now, visit: www.zip-now.co
Donald Russell NEW selection box, the perfect Father's Day meal
Selection box includes: Dry Aged Fillet & Pavé Rump Sharing Box
Serves: 4
Price: £31.50
Available from Monday 13th May from www.donaldrussell.com
Limited edition butterscotch syrup
Coffee syrup brand Monin has just launched a limited edition butterscotch syrup in Sainsburys.
RRP: £3.00
(Iced latte, espresso martini etc.)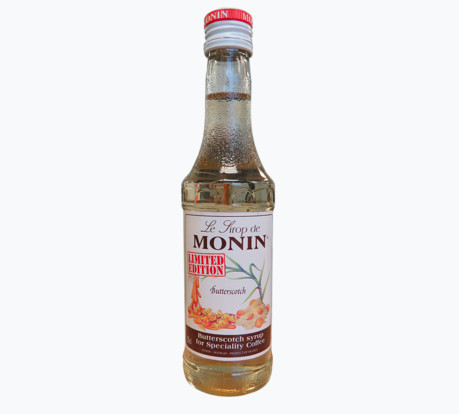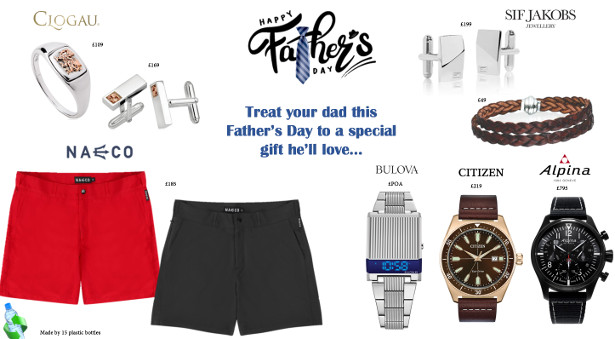 Best of British Beer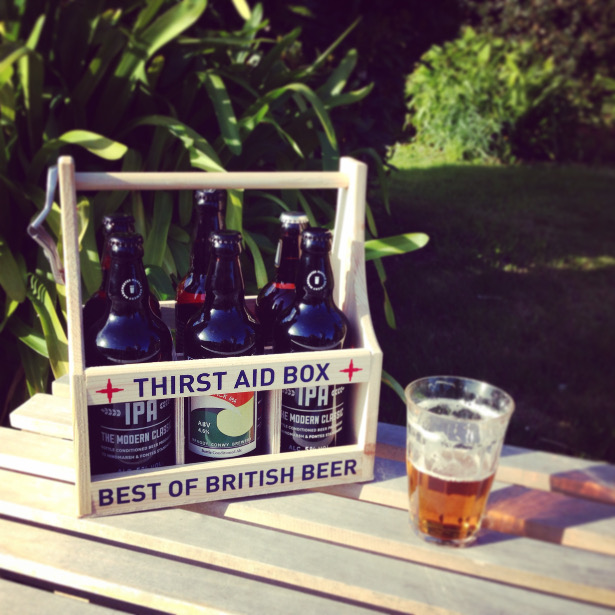 Specialist retailers of quality beers from this country's best independent breweries. Going for 8 years now and all about gifting. Their products range from a 4 bottle craft gift pack
www.bestofbritishbeer.co.uk/beer-gifts/fourbottle-craft-beer-gift-pack.html
to their Beer for a Year club
www.bestofbritishbeer.co.uk/monthly-beer-club.html
They find the smaller gifts around the £20 mark are really popular at Father's Day
INTRODUCING THE PERFECT GIFT FOR FATHER'S DAY BULLET & BONE IS A NEW CONCEPT IN SPORTS SKINCARE FOR ACTIVE MEN SEEKING A COMPETITIVE EDGE.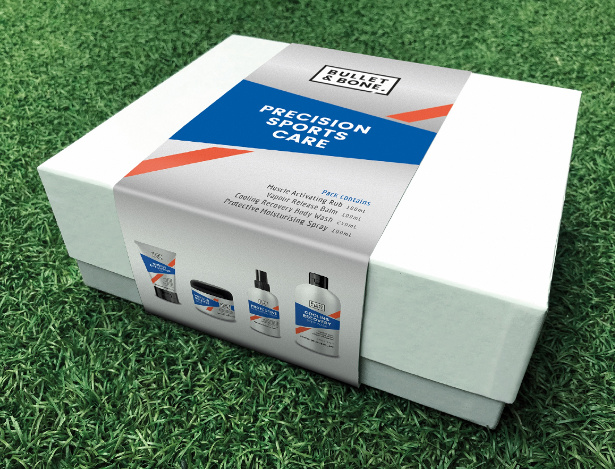 FACEBOOK | TWITTER | INSTAGRAM
This is the perfect gift for any father with an interest in sport or physical activity, regardless of their skill level. The skincare range has been carefully designed to enhance preparation, performance and recovery when active, while simultaneously soothing the skin, through unique combinations of
natural ingredients. The revolutionary products are a great way to treat your dad this Father's Day. Developed, tested and manufactured at state-of-the-art facilities in the UK by a team of experts with over 40 years' experience, this male grooming 'equipment' harnesses the natural efficacy of
ingredients such as Siberian ginseng, geranium and taurine. All products get off the starting block with a trio of active ingredients, unique in combination to Bullet & Bone, in maca extract: offering multi-functional properties that help boost performance, endurance and recovery (while also
performing a barrier function for the skin); magnesium: which aids energy production and muscle rehabilitation and jasmine, to aid alertness and concentration. Further components in the ranges are tailored and engineered to assist with those all-important marginal gains in the gym and maximise performance in competitive sport.
Harnessing active, performance power ingredients, as nature intended, for the face and body,
choose from:
Bullet & Bone Muscle Activating Rub will give muscles and joints an instant kick-start using rapidly absorbed, warming and stimulating ginger, black pepper and willow bark.
Bullet & Bone Vapour Release Balm is the first of its kind to perform functionally and be pleasurable to apply and wear on the skin. The soft wax opens the airwaves with menthol and eucalyptus extracts while jasmine, lemon and coffee beans enhance concentration, alertness and stamina.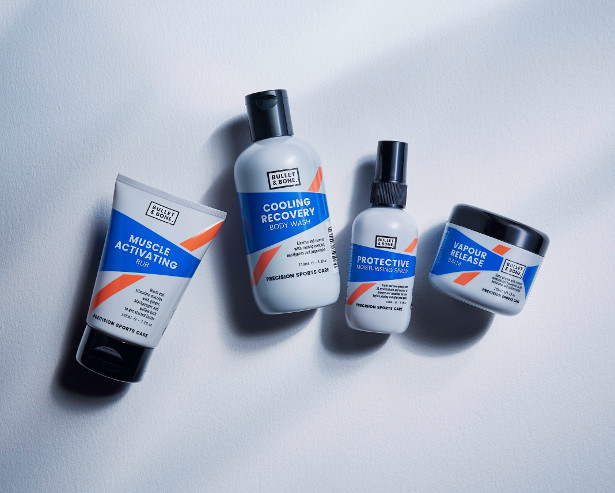 Bullet & Bone Protective Moisturising Spray channels the efficacy of 11 essential oils in a light weight, non-greasy formula that provides protection from the elements and can be reapplied before, during and after being active. It's also lightly fragranced with fresh aloe vera and jasmine to aid
concentration and focus.
After a workout, the Bullet & Bone Cooling Recovery Body Wash will aid cooling down and muscle recovery. Magnesium Sulphate (Epsom salts) aids muscle recovery while menthol, eucalyptus and peppermint alongside essential oils pack a punch to ensure this high performing wash will stop perspiration, revive and ensure you're ready to go.
Bullet & Bone will help ease you into a workout after a long day in the office or maximise performance ahead of competing on track or field. These results-driven products are like no other, combining the benefits of sports science know how and high-performance personal care, each variant is carefully designed and packaged to seamlessly fit in with both your high-octane lifestyle and sports bag.
The innovation was informed by Bullet & Bone's recognition that time poor, active men will invest in the latest sporting equipment, gadgets and food supplements to enhance their sporting prowess, but there's a gap in the market for potent, 'all-in-one' skincare tools that help to warm up, optimise
performance and cool down.
Muscle Activating Rub
Ginger, black pepper, willow bark extract, jasmine and tea tree oil are just some of the potent natural ingredients chosen to warm,
refresh, energise and condition the skin.
Willow bark has been used for centuries for pain relief. Jasmine is proven to stimulate serotonin to enhance focus and concentration.
RRP £12.99
Vapour Release Balm
Menthol, eucalyptus and lemon open the airwaves, peppermint aids stamina and in combination with coffee beans and rosemary prompts alertness – just some of the high-performance ingredients that make this balm pleasant to use and highly effective when active.
RRP £13.99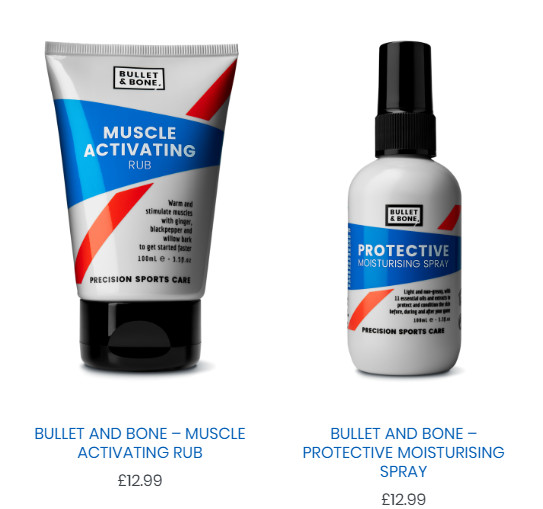 Protective Moisturising Spray
Packed with 11 essential oils, including Taurine to aid skin regeneration, condition and protection plus aloe vera to soothe and condition. Siberian Gingseng improves resistance and provides a barrier function. Concentrated Inca Maca Extract protects the skin from UV, pollution and environmental damage.
RRP £12.99
Cooling Recovery Body Wash
Menthol, eucalyptus, peppermint, moringa seed and magnesium sulphate join forces with further ingredients to ease and boost. Magnesium has a long sporting history as it supports muscle function, promotes the release of energy and helps combat muscle fatigue. While geranium also helps
counter inflammation. Moringo seed extract actively purifies the skin and is an anti-pollutant.
RRP £6.99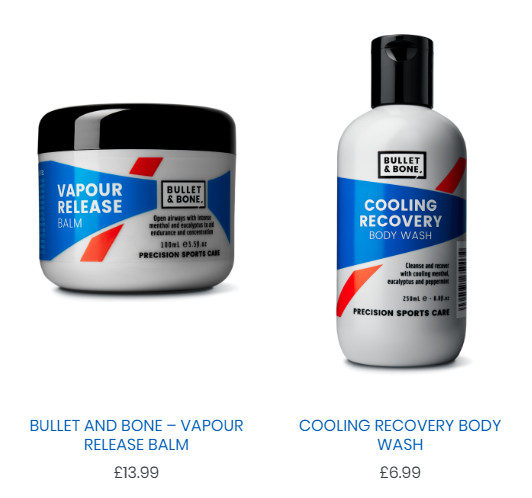 The Bullet & Bone gift set can be purchased exclusively from www.bulletandbone.com and has an RRP of £39.99.
Individual products are available from www.thegroomingclinic.com and Amazon. @bulletandboneuk
OVER 11.5 MILLION DISPOSABLE PODS SAVED FROM LANDFILL YEARLY – BUT MORE TO BE DONE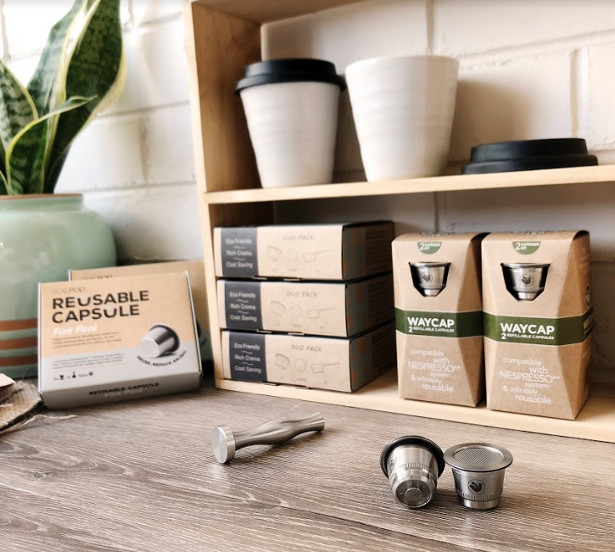 Single use coffee capsules are a convenience that is costing the Earth and our hip pockets. It is estimated that Aussies are consuming a whopping 6 million disposable coffee capsules each day. This statistic indicates the popularity of coffee pod machines across the country, but it also flags a serious contribution to the global landfill issue. There's no question that coffee is a much loved and important daily ritual for many of us, but the environmental impact is becoming one we can no longer ignore. The planet is slowly being suffocated by coffee capsules that take over 500 years to breakdown, all the while releasing toxic carbon emissions. The good news is that there are alternatives to disposable coffee pods. In 2015, Crema Joe took a stand against single-use coffee capsules by offering consumers eco-friendly options for popular pod machines. Made of stainless steel, their leading SealPod capsule is infinitely reusable, which means consumers can now significantly reduce the environmental impact of their coffee pod machine. Since launching, Crema Joe has estimated that their customers are now preventing over 11,500,000 coffee pods from heading to landfill every year. But this pales in comparison to Australia-wide figures for single-use capsules. With over one million Nespresso pod machines in homes across Australia, not to mention other brands, the reality is that over 131 billion pods could still be making their way into landfill each year. Crema Joe founder, Kayla Mossuto says, "Educating consumers on product waste is key". "If everyone with a capsule machine made the switch to reusable coffee pods, our annual impact on landfill could be reduced by 45,896,676 cubic feet. Just to put it in perspective, that's the equivalent of 52 Olympic sized swimming pools every year!" Kayla adds, "There is a lot of 'greenwashing' that goes on in the coffee capsule market. Many are under the misconception that recycling is the answer, but it's simply not." Unfortunately, the majority of coffee capsules are made from non-recyclable composite plastic. And, for those capsules that can be recycled, it is suggested that less than 5% are actually being recycled appropriately. That's because spent capsules can't be tossed into household recycling bins. Our general recycling plants just aren't
equipped to process products so small. Coffee pods must be taken to special drop-off points to be properly recycled. However, it's also important to note that the collection and recycling of coffee pods in itself is energy intensive. The transportation, storage and processing of the pods produces waste and CO2 emissions. "As consumers, we need to take more responsibility for the items we consume and understand the impact it will have for our future, and our children's future." Crema Joe's range of reusable capsules are designed for minimal impact on the environment and our budgets. With reusable capsules, a household could save over $500 per year.
Crema Joe is owned and operated by husband and wife team, Kayla and Piers Mossuto. The pair are on a mission to put an end to single-use coffee pods, as well as run their business with as little environmental impact as possible. From developing minimal, eco-friendly product packaging, repurposing packing materials from other businesses, and sourcing used equipment and furniture for their office, Crema Joe is leading by example in the eCommerce space. To learn more about reusable capsules and reducing your environmental footprint, visit www.cremajoe.com.au
We all love that special relationship between Father & Son; the chip and the old block, the boss and his little helper.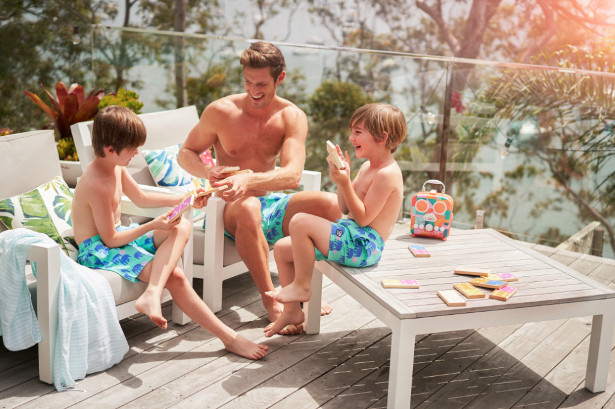 So celebrate this Father's Day with matching swimwear that like them is truly cut from the same cloth.
Tom and Teddy make matching swimwear for men and boys with bold, colourful, stylish prints on durable, super-soft fabric.
Inspired by Australia's beach-life culture, where board shorts need to go from the pool to the BBQ, Tom and Teddy's collections are hardwearing and hardworking. The most recent 'Jungle Generation' range features elephants, butterflies, palms and parrots amongst its bright designs.
Tom and Teddy boardshorts come in sizes S-XXL for men and ages 1-12 for boys. Order online at www.tomandteddy.co.uk before 13th June for Father's Day delivery.
Why not treat him to something a little different this year with our Father's Day Beer Hamper?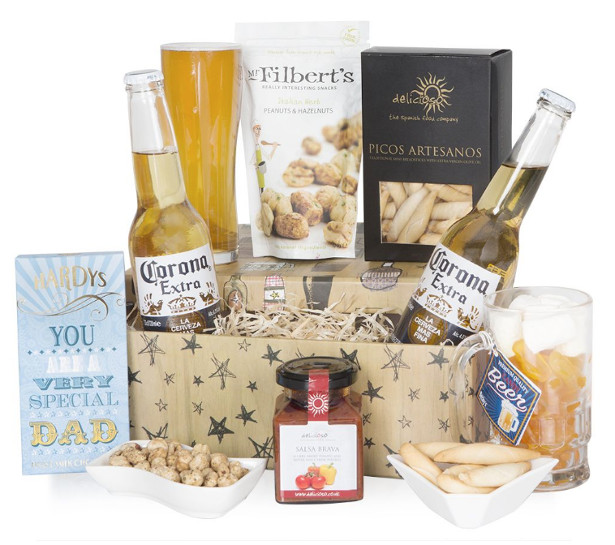 This Corona beer hamper is perfect for dads of all ages and includes two bottles of Corona beer, bar snacks, dip, jelly beer sweets and 'Special Dad' chocolate bar.
Key Features
§ Order Now For Free Delivery Before Father's Day – UK Wide
§ Send To Yourself Or Direct To Recipient – Free Gift Message Included
§ Corona Beer, Special Dad Chocolate, Beer Sweets & More!
§ Thoughtfully Hand Packed In A Stylish Beer Gift Box
§ Free Email Alert When Your Recipient Receives Their Hamper
See more Father's Day hampers available from hamper.com
Product code: EF55
This hamper will earn you 88 Hamper Points.
TouchNote is a personal media app that allows users to create postcards of milestone and monumental moments to share with friends and family worldwide. It's the perfect Father's Day gift for the Dad who wants to have a keepsake of family memories!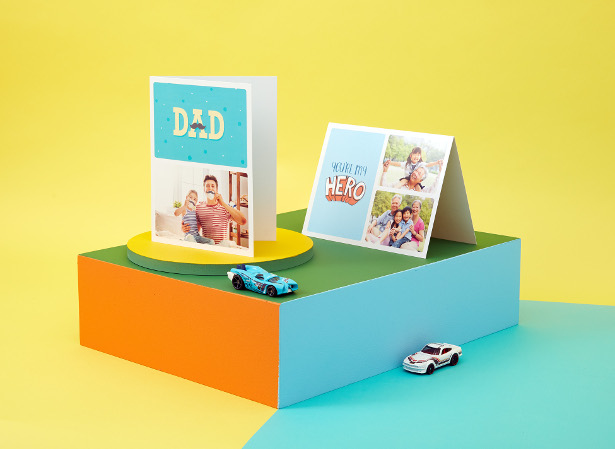 Hunter & Gather Avocado Oil Mayonnaise Variety Pack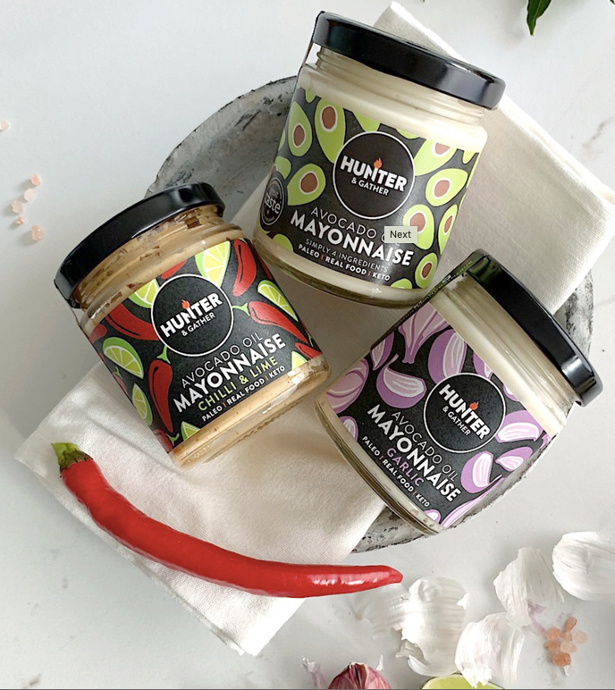 RRP: £13.47 for 3 x 175 ml jars of mayonnaise (including Classic, Garlic and Chilli & Lime varieties)
Available from: https://hunterandgatherfoods.com
Perfect for:
Last minute fathers day gifts
Fathers day gifts under £15
Fathers day gifts for foodie dads / BBQ dad
Fathers day gifts for healthy conscious dads
Fathers day gifts for crossfit/paleo/keto dads (keto and paleo approved products)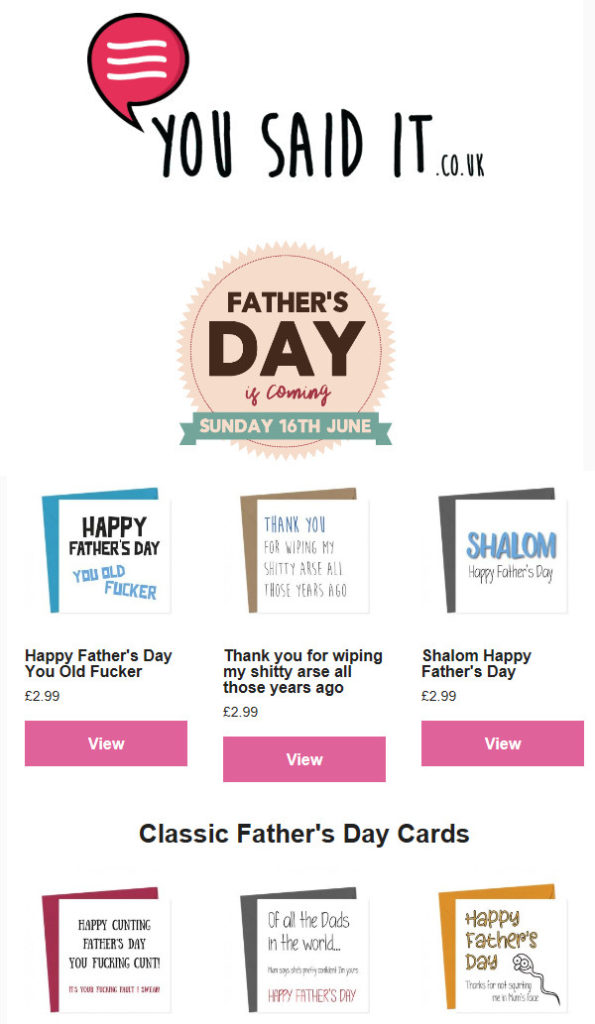 Father's Day gifts for DIY and gardening-mad dads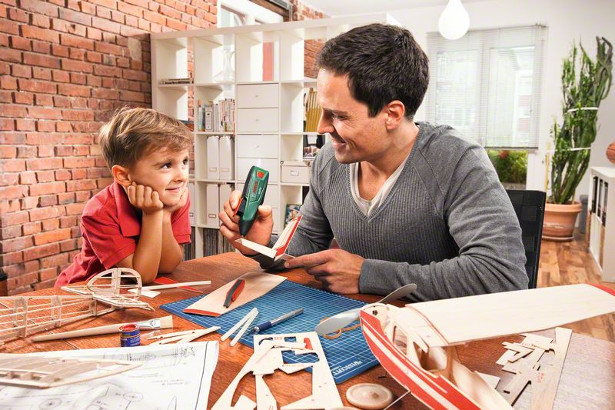 If your dad is at his happiest working on his next craft or DIY project or pottering in the garden, Father's Day is the perfect time to treat him to the latest home and garden tech. For a host of Father's Day inspiration that will feed those practical passions, look no further than Bosch Home & Garden for the best-quality tools and gifts that are guaranteed to please.
Bosch EasyPrune Cordless Secateurs
For quick and easy cutting, the EasyPrune power-assisted secateurs really do provide an effortless cut for branches up to 25mm in diameter. A clean cut ensures healthy plant growth, while a micro USB charger enables quick and easy charging, and the lithium-ion battery technology means the EasyPrune is always ready to go. RRP: £84.99.
Bosch IXO
The lightweight Bosch IXO is the ultimate utility screwdriver. Easy to charge with an ergonomic design and various attachments – from a corkscrew and pepper grinder to a grass and shrub shear – your dad will love this little giant. RRP: £41.99 (Corkscrew adapter sold separately, RRP: £16.99. Spice mill adapter sold separately, RRP: £16.99. Grass and shrub shear adapter sold separately, RRP: £29.99). The full list of adapters can be found here.
Bosch GluePen
The Bosch GluePen cordless hot glue gun is the perfect tool for small repairs, decoration work and arts & crafts. Designed with ergonomics in mind, this cordless glue gun is comfortable, easy to grip and can be used anywhere. Simply insert a glue stick, switch on and start gluing in 15 seconds. An essential for the crafty dad. RRP: £34.99 (charger, 4 glue sticks).
Bosch Indego S+ 400 Robotic Lawnmower
The Bosch Indego range is the robotic lawnmower all tech-loving dads want this Father's Day. Simply charge, and the pre-set Indego S+ 400 cuts within a set perimeter by itself so dad can put his feet up. Make it really special with the series of personalised covers. RRP: £949.99
Bosch Fontus Cordless Outdoor Cleaner
The Bosch Fontus Cordless Outdoor Cleaner features a 15-litre integrated water tank, enabling Dad to clean at home or on the go without access to a mains water or electricity supply. Perfect for giving garden furniture and pots a new lease of life, as well as cleaning bikes boots and more. The Bosch Fontus also benefits from adjustable water pressure and the Bosch Power for ALL charging system, which works with other Bosch Home and Garden tools. Ideal for the dad who loves the great outdoors. RRP: £269.99 (including battery, charger, spray gun, SmartBrush, 4m hose and water filter).