FRANGIPANI ANNOUNCES ITS EXCLUSIVE COLLABORATION WITH THE BLUE MARINE FOUNDATION TO CREATE AWARENESS OF WORLD OCEANS DAY www.frangipani-style.com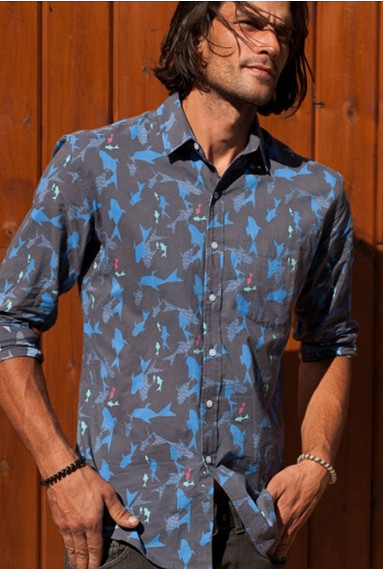 FACEBOOK | TWITTER | INSTAGRAM
Frangipani shirts (www.frangipani-style.com) are delighted to announce their exclusive collaboration with The Blue Marine Foundation. To create awareness of World Oceans Day on the 8th June, Frangipani has teamed up with The Blue Marine Foundation and has created a limited edition shirt.  With 25% of the sales of every Blue Marine shirt going directly to the charity, Frangipani is not only on a mission to redefine the "beach to bar" shirt, but to also create awareness of the protection of the oceans and the overall marine ecosystem and environment. The limited edition Frangipani shirt is called The Big Blue and can be bought online at www.frangipani-style.com .
Frangipani was established by husband & wife team, Ben and Clem Wilmot in 2010. They decided to produce an annual range of 12 men's beach to bar shirts. This is their 4th year of collaboration with Blue Marine Foundation and their commitment to protecting the oceans has led Frangipani to be worn by the Blue Safari Seychelles team (www.bluesafari.com) when they launched their exciting new concept to the world at the renowned travel shown, We Are Africa that took place in Cape Town, South Africa in May.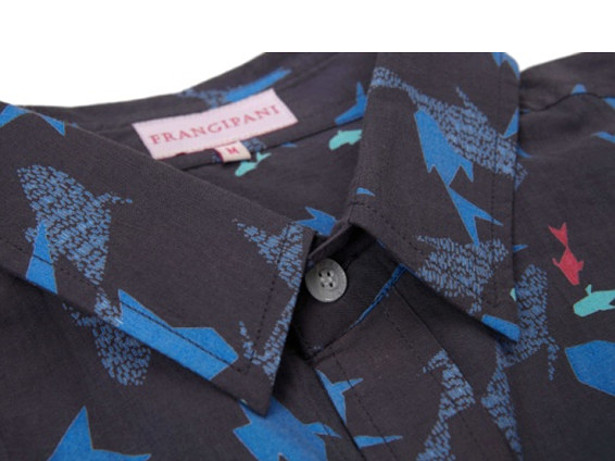 "We are delighted to be working together with Frangipani.  This is our 4th year in working with the brand to create a stylish men's shirt that raises much needed funds to help us create awareness of the necessary steps we need to implement to protect our fragile, aquatic ecosystems." Comments Sara-Jane Skinner  at The Blue Marine Foundation.
"Blue Safari Seychelles is an exciting new concept that enables those who seek adventure to travel to some of the most remote outer islands and atolls in the Seychelles, whilst protecting and preserving the environment and ecosystems. We chose Frangipani as the brand to launch Blue Safari Seychelles, to the world at We Are Africa, due to their involvement with The Blue Marine Foundation." Enthuses Keith Rose-Innes, Managing Director at Blue Safari Seychelles.
Frangipani shirts are made from a rare, delicate but strong Indian cotton which took Ben and Clem three years to source and this cotton is exclusive to Frangipani. The shirts are fitted on the sides but loose around the tummy meaning men can have those beers whilst sailing across the oceans without a care in the world!
With a VIP following including: HRH Prince Harry, Duke of Sussex, rocker and member of the Rolling Stones Ronnie Wood, British actor Rhys Ifans, famed designer Stefano Gabbana, footballer and sports presenter Ian Wright, as well as DJ's across the world, it is clear that Frangipani appeals to all and resulted in Vogue labelling them as 'a name to know in the world of men's shirting'.