SCOTLAND'S CONTEMPORARY SPIRIT ENCAPSULATED IN BOTTLE AND TARTAN
Caorunn Collaborate With Scottish Designer To Champion Craftsmanship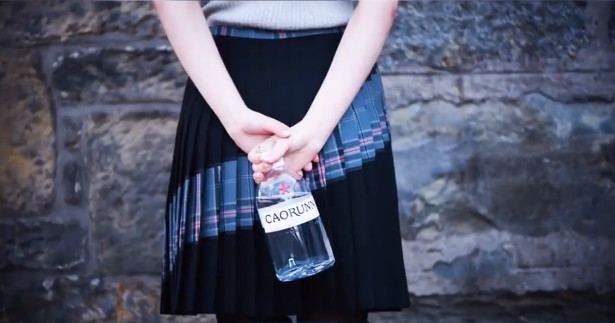 www.siobhanmackenzie.com
FACEBOOK | TWITTER | INSTAGRAM
The premium Scottish gin Caorunn (pronounced "ka-roon") is proud to announce a collaboration with multiple award-winning creator of cutting-edge kilts, Siobhan Mackenzie. Siobhan has created a bespoke kilt, the iconic handcrafted Scottish garment, celebrating Caorunn's contemporary tartan which is officially registered by The Scottish Tartan Authority.
The collaboration will champion Scottish craftsmanship in which designer Siobhan Mackenzie has taken inspiration from the Scottish handcrafted gin Caorunn to create a bespoke kilt.
While the traditional kilt dates to the 1720s, Mackenzie's extremely eye-catching, contemporary stance, sees her contrast multiple fabrics and colours, leading to unexpected style features. Chiming with her ethos, Mackenzie describes Caorunn as a particularly current brand underpinned by a strong sense of Scottish craft.


Siobhan Mackenzie says: 'I was filled with inspiration on how to take the Caorunn tartan forward in a way which emulates the beauty aesthetic form of the Caorunn bottle. Master Distiller, Simon Buley's attention to detail, his commitment to using the highest quality ingredients and the exquisite level of craftsmanship is what makes Caorunn.'
Proudly small batch, handcrafted premium gin distilled in the heart of the Scottish Highlands harnessing pure, natural Scottish water, and is infused with five locally foraged botanicals, being: dandelion, heather, coul bush apple, bog myrtle and rowan berries working in harmony with six traditional gin botanicals.
Caorunn is created personally, in a unique way by Gin Master, Simon Buley. Simon forages local Celtic botanicals on the hills around Balmenach Distillery and expertly oversees the infusion of Caorunn in the world's only working Copper Berry Chamber. The slow infusion of this chamber sets Caorunn apart.
Simon Buley, Caorunn master distiller, says; "The terroir, the process and the people ensure passion, innovation and tradition are poured into every bottle of Caorunn Gin. We are proud others are able to take inspiration in what we do. I strongly believe in championing Scottish craftsmanship and Siobhan is the perfect example of what makes it so special."
The unisex Caorunn kilt is formed of a staple black skirt replete with a swoosh of grey Caorunn tartan running through back pleats, finished with a touch of tartan on the waistband and fringe. 'It can be taken from day to night in a heartbeat,' says Mackenzie. 'The daytime look may be teamed with a cashmere sweater, long riding boots and tights; for the evening, it can be paired with black heels and blouse.' The menswear kilt, meanwhile, may be worn formally with black or grey Argyll kilt jacket
and waistcoat, with black kilt socks and shoes, or casually with boots and a polo shirt or sweater.
Shop the brand at http://www.siobhanmackenzie.com/.