The opening of Jurassic World: Fallen Kingdom next month is certain to set sales of dinosaur-themed toys stampeding!
Dinosaurs are ALWAYS popular with kids, according to Chris Byrne a.k.a. The Toy Guy and Editorial Director of TTPM. And they'll get a souped-up shot in the arm across the board this summer with all the frenzy surrounding the 3rd installment of this mega franchise.
Check out these awesome toys!
Dino Glove-A-Bubbles (Zing) –Kids can slip this dino-shaped 'animal themed' gloves on their hands, dip it into the portable pouch of bubble solution, wave their hands and make hundreds of bubbles with just a wave of their hands! Check out the fun on this video.
Glove-A-Bubbles (Zing)
Churn out oodles and oodles of BUBBLES with just the wave of your hand with Glove-A-Bubbles, new from Zing! Get ready to wave and play! Kids simply remove the bubble pouch from the glove and pour one of the two bubble solutions into the pouch. Dip the glove into the bubble pouch. Wave your glove back and forth and watch tons of delightful bubbles form instantly, right before your eyes. Never ending bubbles for never ending fun! Glove-A-Bubbles come with one glove and two packs of bubble solution. The pouch is also re-sealable and refillable. Glove-A-Bubbles come in eight different animal-themed gloves, including lion, alligator, hippopotamus, elephant, dinosaur, panda, bunny and monkey. There's a Glove-A-Bubble for everyone!
For ages 3+. Available: Now.
US: $2.99 US Retailers: Walmart, Target, Sam's Club
CA: $3.99 CA Retailers: Walmart Canada, Amazon, Mastermind Toys, Indigo.
Splattosaurus (EPOCH) -Kids mold their very own clay dinosaur players to move around the board. As each player takes their turn and advances to the next space, they cross their fingers hoping no one lands on the same spot as them. There's not enough room for two dinosaurs on one space. When another dinosaur enters the same spot players can SPLAT their opponents into extinction. Get the dinosaur home safely to win! For ages 4+. Available now. US: $14.95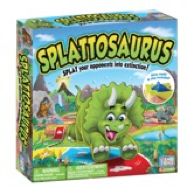 Stikbot Dinos (Zing): The wildly popular stop-motion animation toy and app now features dinosaurs! This lets kids make Stikbot-themed animation shorts – maybe even their own Jurassic Park movie!!!
Stikbot Mega Dinos (Zing)
Be prepared for double the dino action with Stikbot Mega Dinos! These massive beasts, double the size of the regular dinos, are sure to steal the show! Stikbot Mega Dinos are available in multiple colors.
For ages 4+. Available April 2018.
US: $9.99 US Retailers: Walmart Exclusive.
CA: $11.99 CA Retailers: Walmart, Indigo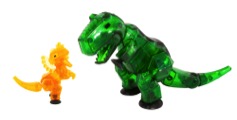 Stikbot Dino Eggs (Zing)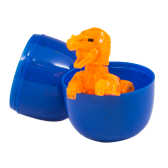 Travel back in time to the Jurassic Age with Stikbot Dino Eggs, new from Zing! There are six different dinos of varying rarity, ready to growl, chomp and hunt in your next stop motion animation. With over 320 million views on YouTube, Stikbot continues to turn kids into creative stop-motion animation moviemakers, letting their imagination run wild. Introducing, "Dino Planet," a brand new weekly original series on Stikbot Central that will begin in May. It's based on three Stikbot dinos living in dangerous Jurassic time-period (with some futuristic tech thrown in). This new YouTube series joins other Stikbot shows, "Stikcraft," "Off the Grid," "The Botcheler," "The Stikbot Show," "Stikbot Murder Mystery" as well as "What the Bot," a fan inspired series. Lots of hip content!
Stikbot Pets are easy-to-pose animal-styled figures, built with suction cup hands and feet, which can stick to almost any flat surface. With the free Stikbot Studio app, available on iOS and Android, kids can snap individual photos and stitch them together into a film, complete with built-in music and sound effect options. Users can share their creations using #Stikbot and see what others are making all over the world!
For ages 4+. Available April 2018.
US: $4.99 US Retailers: Target, Amazon, Walmart (Single packs only)
CA: $5.99 CA Retailers: Walmart, Indigo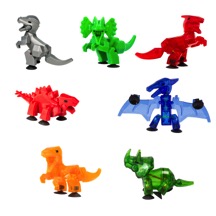 PLAYMOBIL The Explorers: Hidden Temple with T-Rex (9429): Join the Explorers as they embark on a new adventure on Dino Island with the Hidden Temple with T-Rex. Once you discover the temple, use the ancient structure as your research base before heading out to explore the island with the help of the secret map. Simply rub the map to reveal a hidden path where X marks the spot! When back at the base, protect the team from the unfriendly T-Rex or enemy explorers with the functioning laser gun (batteries included)! The working temple gate also helps keep unwanted visitors out. Beware of that T-Rex! His movable arms, legs, and jaw allow for realistic motion and make him one intimidating dino! Use the functioning pulley to bring needed equipment up to the top floor. Kids can also use the included UV flashlight (1 x AAA battery required) to reveal cool glow-in-the dark features, such as with the ruin's crystal eyes, jungle plant, and more! Set also includes the full Explorers team – Nick, Emma, and Will, their pet dog Sammy, T-Rex, laptop, camera, gold statue, microscope, backpacks, storage containers, hiking equipment, and lots of other accessories.
Available: May 2018 Age: 4+ MSRP: $59.99