A bit of a generalisation perhaps but, we all know that many dads like to challenge our olfactory senses in the bathroom department. So, what better gift to give to the King of your 'Throne at Home' this Father's Day than a spritz of Poo Pourri Royal Flush or Poo Pourri Ship Happens – the perfect solution to put a zing and a giggle back into the Father's Day that will leave both you (and him) coming up smelling of roses!
The US Cult-Favourite Original 'Before-You-Go' Toilet Spray Everyone Will Adore – Has Landed in the UK!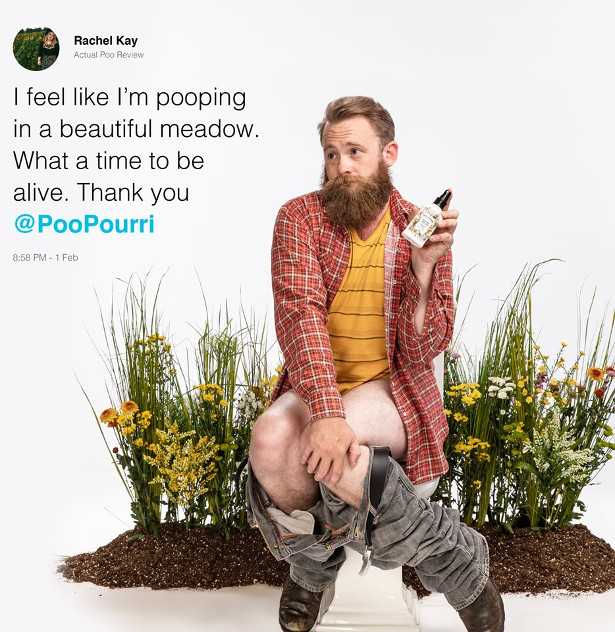 Poo-Pourri is the latest cult-favourite, US product sensation (with over 20,000 five-star reviews), that traps 'number two' odours before they begin. Whether on the move, at work, out for dinner, on a first date, sleep-over or just in your busy family bathroom, Poo-Pourri is a life-enhancing product – spritz the bowl before-you-go and NO-ONE else will ever know!
Beautifully packaged and made from natural (not synthetic) essential oils, Poo-Pourri works like magic, masking the odours that humans often leave in the loo. Available in a collection of six unique fragrances, Poo-Pourri is simple to use and available in two sizes – a 59ml handy portable handbag (and travel friendly) size and a 118ml to grace the shelves of one's throne at home.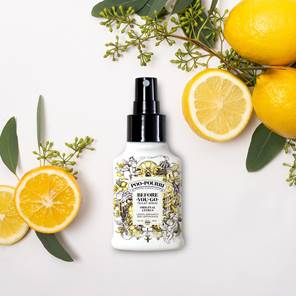 Poo-Pourri's blend of natural essential oils 'seals' poop odour under the water's surface – leaving the loo smelling better than you found it.
We care about your health, your toilet, and this precious world we poop in. That's why we use NO synthetic fragrances, parabens, phthalates, aerosols, alcohol, or formaldehyde—ALL stink-fightin' good stuff and our product is never tested on animals (only stinky humans). All products are also backed with a Stink-Free guarantee because we know you will love the crap out of us, or we will give you a full refund!
Need not to worry about your lovely loo — because Poo-Pourri is made of essential oils and other natural compounds, it is safe for your waste-water system. Think of all the awful bleach and harsh chemicals other folks flush down their precious potties, yuck! In fact, Poo-Pourri contains many of the same elements found in natural household cleaners. Your toilet may even thank you with a "flush yeah!"
How it works: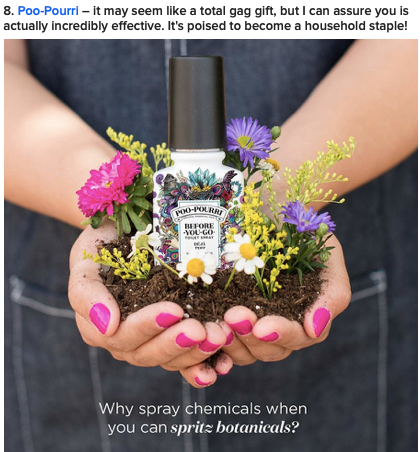 Spritz the bowl before-you-go to create a barrier on the water's surface that traps #2 odours below.
Proceed with your business as usual. All anyone will ever smell is a refreshing blend of natural essential oils.
Invented by spirited entrepreneur, Suzy Batiz, in Dallas, USA, Poo-Pourri is a category creator built on Batiz's commitment to tackling taboo topics and shaping culture by challenging societal norms. Poo-Pourri is the original poop-positive brand that transforms your bathroom experience by liberating you from bathroom odours.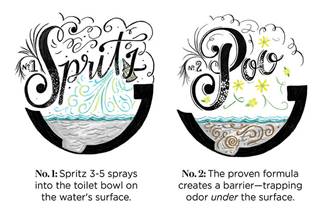 Priced from £7.99 (89ml) and available in larger sizes, Poo-Pourri makes its UK debut via your local Sainsbury's and NEXT retailers, and is also available online at Amazon.co.uk and at PooPourri.co.uk.
The range incudes:
Original Citrus (lemon, bergamot, lemongrass)
Deja Poo (white flowers and citrus)
Ship Happens (coconut, citrus and freesia)
Tropical Hibiscus (hibiscus, apricot and citrus)
Lavender & Vanilla
Royal Flush (eucalyptus and spearmint)
Find out more at www.poopourri.co.uk
Find it in Sainsburys or buy it from Amazon Prime: For under a tenner – Ship Happens – £8.99 for 59ml via Prime here: amzn.to/2R8Qtqr