Put your electronics away and take your family back in time with these quirky and colourful wooden toys!
Whether you're travelling around London on the train, eating biscuits for afternoon tea or taking a trip to the circus, the fun is endless!

BBC Studios unveils a sleigh full of
Christmas gifts for children
BBC Studios has a brilliant array of merchandise that is sure to excite pre-schoolers on Christmas morning. New toys, figurines, plush, apparel, DVDs and more from CBeebies favourites Hey Duggee, Something Special, Sarah & Duck and Go Jetters are available to purchase in time for the festive season.
Hey Duggee
A refreshed version of the ever-popular Woof Woof Duggee Soft Toy (Argos, Amazon, Smyths, RRP £24.99) is available this autumn. Press Duggee's badges to hear music (each badge plays a different piece of music from the CBeebies show) and press his head to hear his famous woofs! Children will have lots of fun playing with the Duggee and The Squirrels Figurine Pack (Amazon, RRP £14.99) complete with a Squirrel Club badge to wear! Hey Duggee fans will also love the Talking Squirrels (Amazon, RRP £9.99) plush toys. These colourful talking soft toys say their signature phrases with a gentle squeeze. There are five adorable characters to collect – Betty, Tag, Norrie, Happy and Roly! In addition, there is a great selection of Hey Duggee books, cute pyjamas available in both adult and child sizes, entertaining DVDs and more. Head to HeyDuggee.com for all things huggable. A-Woof!
Mr Tumble 1Mr Tumble
Little ones can enjoy having fun with Something Special character Mr Tumble this Christmas. Tie a ribbon around the Something Special Mr Tumble Domino Train (Argos, Smyths, RRP £34.99) for happy faces on Christmas morning. Children will love loading the dominoes into the train and watching as Mr Tumble's train lays the domino track ready to be knocked down! Gather around the TV on Christmas morning to watch Something Special – A Magical Christmas DVD (Amazon, RRP £10.20). Go on a learning adventure with the Mr Tumble Learning Pad (Amazon, RRP £17.99). Press the images to hear Mr Tumble ask questions, and play any of the six games to learn about colours, numbers, shapes, letters, characters and musical instruments. There is also the bright and colourful Nursery Rhymes with Mr Tumble plush toy (Argos, RRP £19.99) featuring five well-known nursery rhymes including Incy Wincy Spider, Row Row your Boat and Twinkle Twinkle Little Star. Fans of the much-loved CBeebies show will adore the new Hello Hello Talking Mr Tumble plush toy (Smyths, RRP £9.99) as well.
Sarah & Duck
Personalised Duck & Robot T-ShirtSARAH_AND_DUCK_SNOWBALL_SKATE_DVD_3D
Who needs Santa and Rudolph when you can have Sarah & Duck? There is a quacking selection of bespoke products on the new Sarah & Duck e-gift shop. From Clothing to Clocks, Mugs to Magnets and much more, there is a huge selection and every product on shop.sarahandduck.com can be personalised and is exclusive to the website. Sarah & Duck Snowball Skate And Other Stories (Amazon, RRP £10.20) on DVD is a lovely winter warmer, featuring ten quirky stories that will take littles ones on a visit to an ice rink inside a giant snowball, meet a passing Comet at the observatory and watch the Ribbon Sisters perform with their family circus!
Go Jetters
Go Jetters backpackCBEEBIES_WINTER_COLLECTION_DVD_3DGo Jetters: Little Library
Jet straight to the latest Go Jetters goodies in time for Christmas by visiting GoJetters.com. There you'll find useful backpacks for mini explorers, comfy pyjamas, entertaining books and DVDs and lots more! You can also stay warm this winter with the Go Jetters and all your CBeebies favourites by watching CBeebies Winter Collection on DVD (Amazon, RRP £10.20). Over 2 hours of frosty fun, includes the following episodes Go Jetters: The North Pole, Hey Duggee: The Tinsel Badge, Sarah and Duck: Seacow Snowtrail, Something Special: Snow, Dinopaws: That Thing That Was Cold, Sarah & Duck: Petal Light Picking, Charlie and Lola: How Many More Minutes Until Christmas, Something Special: Christmas, Chuggington: Winter Wonderland.
Strictly Briks, Keep Stacking, Keep Knocking.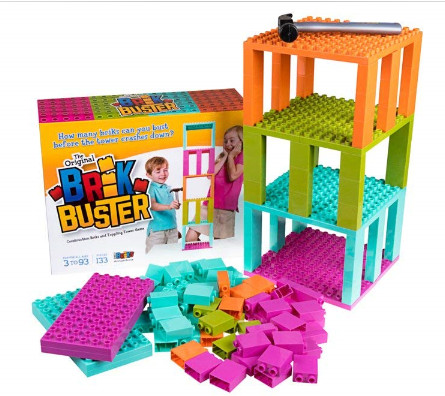 The Original Brik Buster by Strictly Briks was designed by kids as a unique tower toppling game that's fun for the whole family. How many briks can you bust before the tower crashes down?
With 133 Stackable pieces, enough to create a tower 5 stories high. Don't be afraid to try custom designs though. Stack them up with all 133 pieces then challenge a friend to take turns busting them out.
Test your skills with Brik Buster, first you stack them high, then you bust them out. Just don't be the one to knock the tower down and lose. Play by the rules, or make up your own, either way, you'll have hours of creative play as you follow your imagination to new heights. All Strictly Brik products promote creativity and learning through building. Brik Buster won one of three 2017 Eddy Awards for Best Educational Products.
Brik Buster is perfect for the whole family and is meant for two or more players and can be enjoyed by all ages over 3, though one child can practice or play on his/her own as well. Brik Buster works great with groups so it's perfect for family game night! Bring laughter and learning into your home with a fun tower toppling game meant to be enjoyed together. It's unique design works well with other toys including, LEGO, Duplo and Mega Bloks sets.
The Strictly Briks Buster costs £26.99 from Amazon
THE PERFECT FIRST PHONE FOR KIDS THIS CHRISTMAS
Latest monqi smartphone to be available exclusively at Tesco Mobile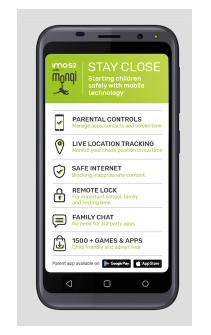 monqi offers the features of a smartphone with a number of built-in, customisable parental controls
The IMO S2 smartphone with monqi operating system will be available on pay as you go and pay monthly, only at Tesco Mobile, from 26th November for just £99, or £12 a month
Tesco Mobile has announced it is launching a new smartphone this Christmas that gives children independence and parents' peace of mind about online safety. The family friendly network will offer the IMO S2 with monqi both in-store and online from 26th November.
/var/folders/gf/1wgwhxzn6yg83dj9rk6s2djr0000gp/T/com.microsoft.Outlook/WebArchiveCopyPasteTempFiles/cid6B24FF72-650F-4B60-AE76-F7ED4E5CED0E
Housed in the IMO S2 smartphone, the monqi operating system offers parents a number of features that allow them to stay involved and in control of their children's first phone.
From the monqi parental app, available on both iOS and Android, parents can access their child's phone to:
Block apps, calls, texts, data usage or the entire phone remotely either manually or during scheduled times or specific locations
Ensure internet safety, thanks to monqi's ability to automatically block all sites and content unsuitable for under 12s
Track where their child is at all times – perfect for preparing children to walk home on their own
monqi will be available on the IMO S2, which offers 5-inch HD display, quad-core chipset, 2GB RAM, 16GB storage, a microSD slot, 13MP rear camera, 5MP front-facing camera and 2,600mAh battery.
Tesco Mobile is offering monqi on a 24-month contract, for £12 per month, with 250 minutes, 5000 texts, 500MB of data and a free lifetime monqi subscription.
monqi will also be available on pay as you go for £99 when purchased with £10 credit.
Customers can register their interest in the new smartphone from 14th November via www.tescomobile.com/monqi and purchase from 26th November both instore and online. Head to www.tescomobile.com for more information.
 
ON! Juniper… fun and innovative bath and body products for kids! >>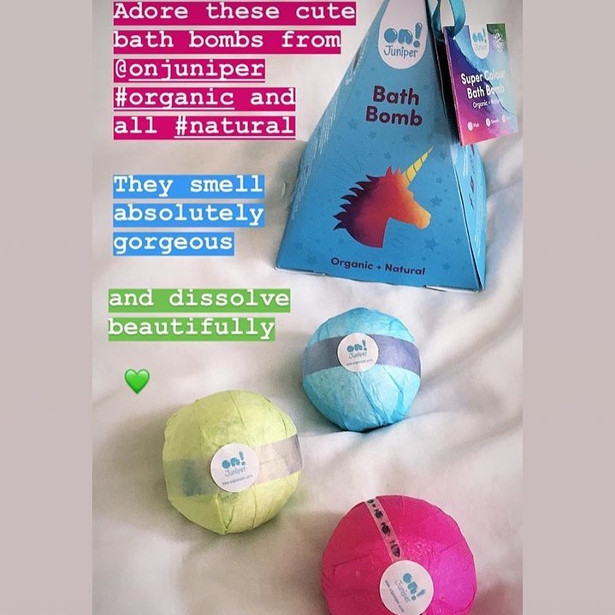 INSTAGRAM | FACEBOOK | PINTEREST | GOOGLE+ | TWITTER | SNAPCHAT
ON! Juniper hand make fun and innovative bath and body products for kids (awards listed at bottom of email) using organic + natural ingredients. Tess Ackland started ON! Juniper after searching for, and not finding, truly organic and natural products for her daughters then aged 5 and 6. Most of the products contained synthetic fragrances, petroleum by-products, artificial colourants….and the list went on.
"I've developed ON! Juniper to be a fun and innovative lifestyle brand that supports kids' development by using ORGANIC + NATURAL ingredients. In providing an organic and natural alternative at competitive price points, we provide kids the opportunity to make empowered choices when it comes to their body and the environment. Within our product formulation and manufacture, we carefully choose ingredients and packaging that does not harm the environment, are economically responsible and respect human rights and well-being."
Pictured below are some of their products.
First Image – ON! Juniper's award-winning lip balm made with 100% organic and natural ingredients. The packaging is new and I'm very excited about it as kids can personalise their purchase. Children can choose the flavour and then choose 1 of 6 mascots to adorn their lip balm tube (all flavours and mascots pictured below).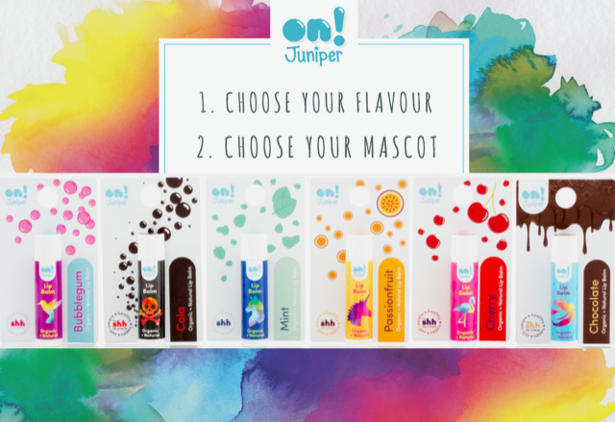 Second Image: ON! Juniper's award-winning Colour Bath Bombs that tints bathwater with a 100% organic and natural colourant. We have bath bombs that tint the water green, pink and blue. Also included in the photo 1 of 3 new packaging options we recently created, just in time for Christmas! The pyramid box below has a picture of a unicorn. We also have a box with a mermaid and another with a wolf.
Comment from one of the judges in the Free-From Skincare Awards,
"Their skin felt soft and moisturised after getting out of the bath. Definitely not a one-off novelty. They couldn't wait to get in and see the fizzing and amazing colour. My daughter used the pink ones and my son loved the dark green effect of the water. The final colours were a lovely surprise and I liked that they didn't leave a lot of residue like some bath bombs. A pleasant surprise, great fun and I would buy them as a treat for the children."
"The ON Juniper Bath Bombs are definitely the most natural bombs I have come across and the only ones I would use again on my children's skin."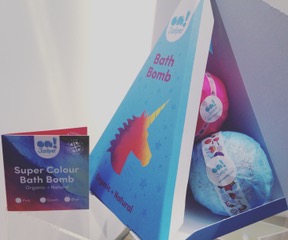 Third Image: ON! Juniper's Bath Bomb with a Hidden Surprise. This bath bomb contains 1 of 6 charms pictured. We also offer bath bombs with a hidden bracelet or puzzle eraser. In 2016 ON! Juniper was granted the IP Design rights for this particular product.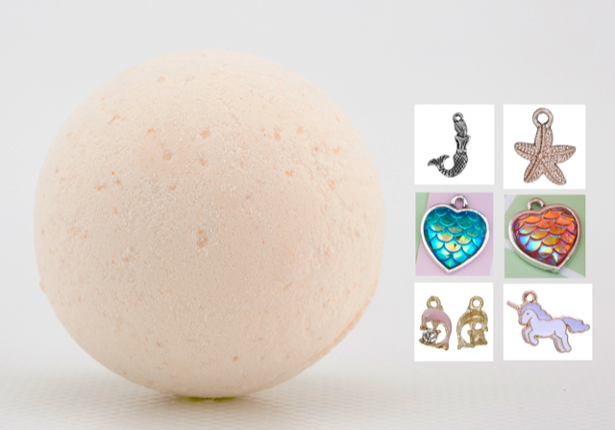 ON! Juniper sells products on their website, www.onjuniper.com, Amazon Handmade (UK) and a growing number of shops in the UK.
Chipolo's range of bluetooth trackers are a colourful and clever way to keep track of all your things, from wallets to luggage and bicycles…even your pets! Perfect for the gadget lover, the teenager who loses everything or as a stocking filler. uk.chipolo.net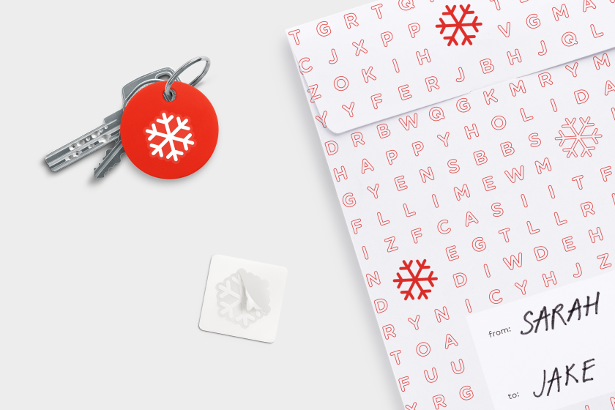 FACEBOOK | INSTAGRAM | PINTEREST | TWITTER | YOUTUBE
Chipolo CHRISTMAS limited edition
Price: £27
Retailer: Online at uk.chipolo.net + free shipping
Description: A limited edition personalised version of the Chipolo CLASSIC. Take advantage of its replaceable battery to keep your tracker going for as long as you like. Now available in six vibrant colours: yellow, red, blue, green black, and white.
Chipolo CLASSIC
Price: £23
Retailer: Online at uk.chipolo.net + free shipping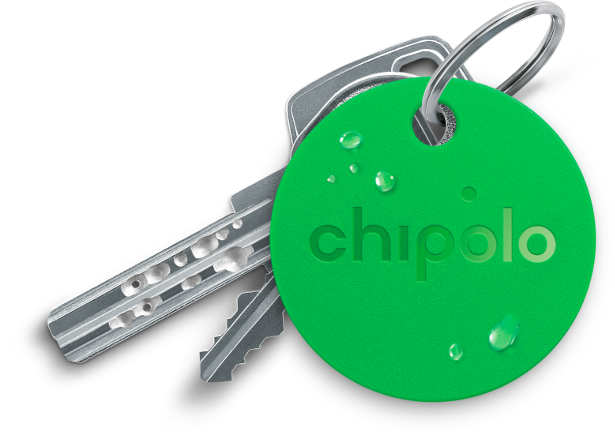 Description: Chipolo CLASSIC is designed to help you keep track of everything, from your phone, keys and wallet to your bike and even your pet. Take advantage of its replaceable battery to keep your tracker going for as long as you like. Now available in six vibrant colours: yellow, red, blue, green black, and white.
Chipolo PLUS
Price: £23
Retailer: Online at uk.chipolo.net + free shipping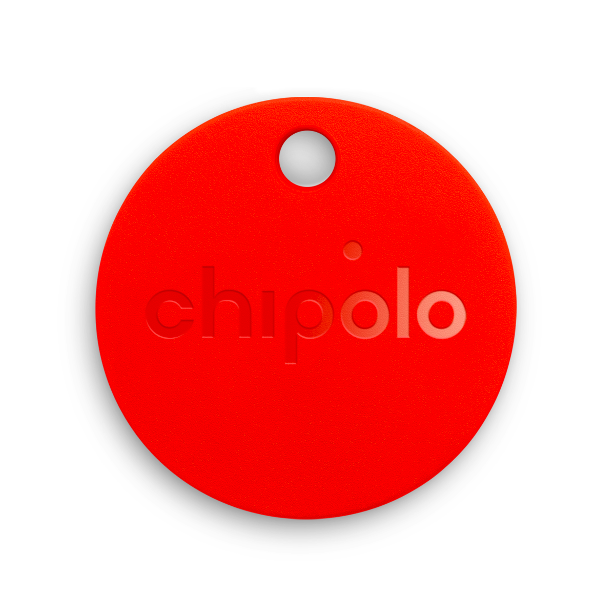 Description: The Chipolo PLUS is water resistant so you can attach it to anything you'd like to track – your phone, wallet, bike, or even your pet! It also comes in a variety of bright colours to suit all tastes and styles, including yellow, red, blue, green black, and white.
Chipolo CARD
Price: £31
Retailer: Online at uk.chipolo.net + free shipping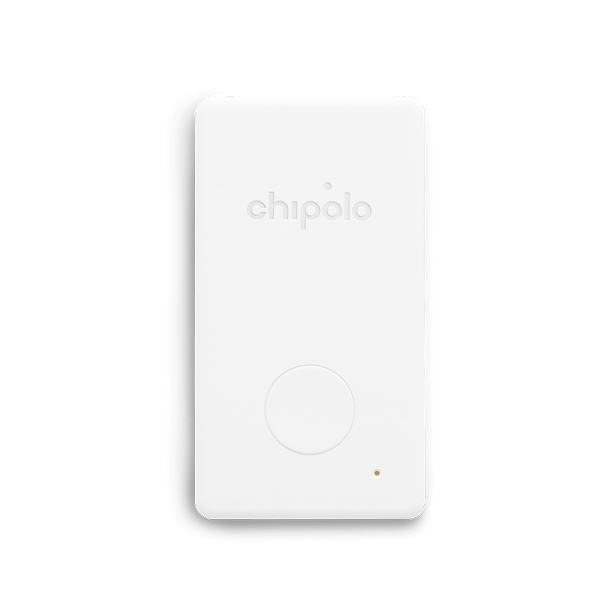 Description: This sleek tracker is so thin it simply slides into your slimline wallet! The Chipolo CARD helps you keep track of your everything from your phone and keys to your wallet and luggage.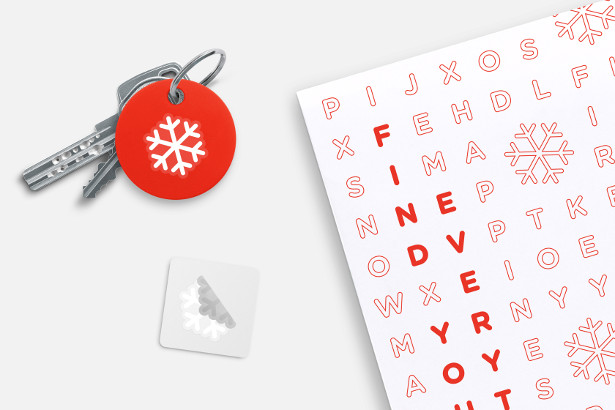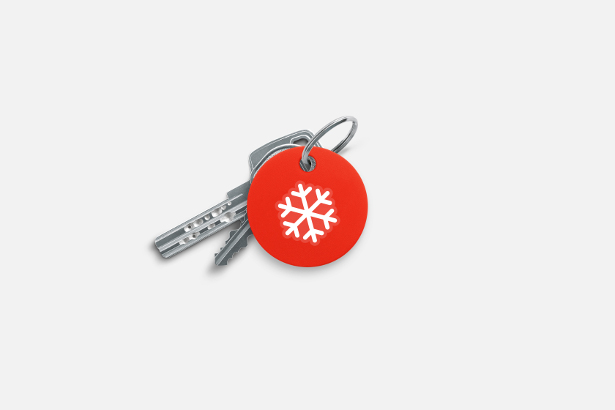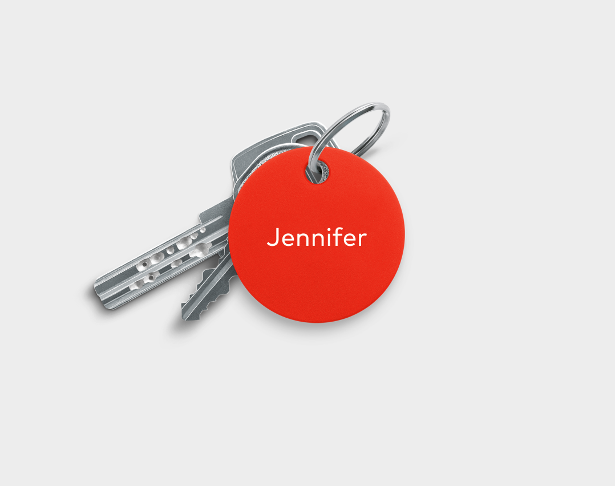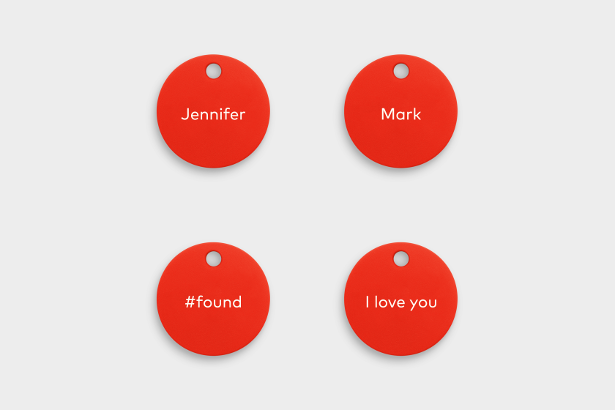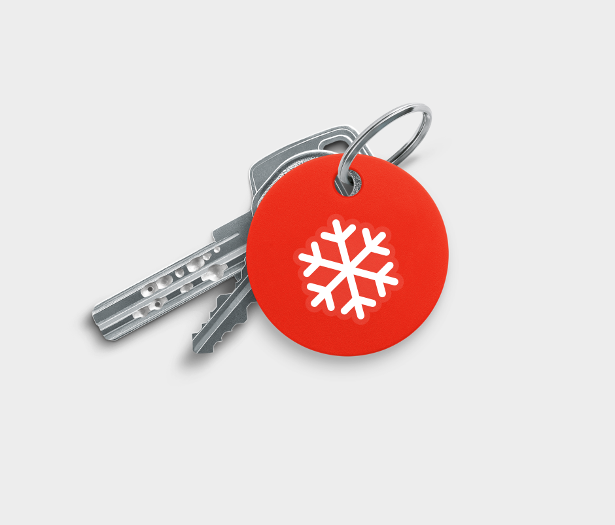 Parrot recently launched the Parrot Mambo FPV, which is available to buy in the UK from Parrot, Amazon, Argos and Currys PC World.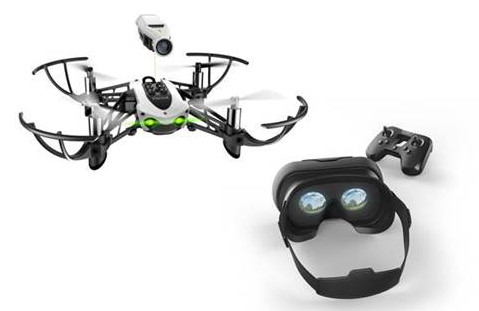 The all new Mambo FPV minidrone offers an unbeatable flying experience. This tiny drone can fit in the palm of your hand, but make no mistake it packs a punch.
Discover the universe of drones by immersing yourself into an FPV flight experience like no other. The Mambo FPV includes an attachable HD FPV camera, and accompanying Parrot Cockpitglasses 2, that will put you in the pilot's seat as an expert drone racer.
Mambo FPV – from £124.24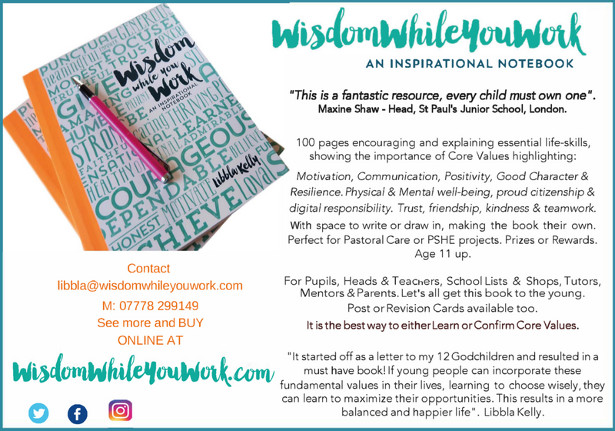 World Animal Protection
www.worldanimalprotectionshop.org.uk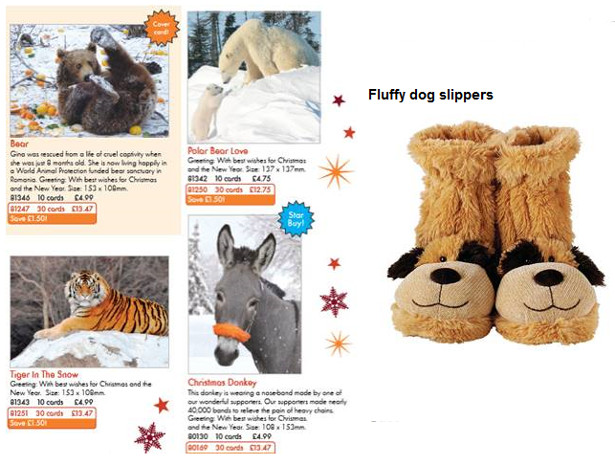 World Animal Protection Christmas cards
Really Wild Gift cards that provide virtual gifts to help animals in need around the world
Fluffy dog slippers
Cast iron bird bath bracket
Pass the parcel sprout
As well as many other gorgeous gifts.
Please see the press release below, images here and Christmas catalogue here.
Christmas gifts give animals a better life in 2018
Gina the rescue bear Christmas card
If you are wondering how to thrill an animal-loving friend or family member this Christmas, World Animal Protection's Christmas catalogue provides some great options. Many of the gifts and cards feature cute and cuddly animals who have benefited from the charity's support. Gorgeous Gina (above) was rescued from a life of cruel neglect when she was only eight months old and is celebrated on a Christmas card.
Really Wild Gifts are 'virtual gifts' that can pay for the rescue of a bear or provide special treats in our bear sanctuaries, such as honey, buffets of food or bear-friendly ice cream. You can also gift the cost of vaccinating a dog against rabies to prevent it from being culled.
World Animal Protection works to end the suffering of animals around the world and has; ended bear dancing in India, Turkey and Greece; more than halved the number of bears being exploited for bear bile in Vietnam; secured the future of the UK National Wildlife Crime Unit; and saved hundreds of thousands of animals from natural disasters.
World Animal Protection Christmas Cards Really Wild Gift cards
A Really Wild Gift card can help end bear baiting for good. £15.00
Fluffy dog slippers
Slip your feet into the ultimate in warm, fluffy comfort,
with these super-cute dog slipper socks.
Fits feet up to women's size 7.
PVC sole with multi-grip for slip resistance. £15.99
Cast iron bird bath bracket
Not only will this attractive and sturdy bracket
show off your hanging basket, it also serves
as a bird bath.
Size 290 x 145 x 260 mm
£14.99
Pass the parcel sprout
Everyone will enjoy this cheery Brussel sprout! A fun version of pass the parcel, ideal for the Christmas dinner table. Pass him around to each person who unpeels a layer to find a forfeit. Contains eight hats, small gifts and forfeit slips. Great fun! £6.99
Shoppers can browse the full range online at the World Animal Protection shop or request a copy in the mail via fundraising@worldanimalprotection.org.uk
Super Mario Party
£49.99 (from 04/10/2018)
Releases: 5th October 2018
www.store.nintendo.co.uk
The original board game style has been kicked up a notch with deeper strategic elements, like specific Dice Blocks for each character. The game also introduces all-new ways to play, including Joy-Con controller enabled minigames, and new modes to enjoy with family and friends.
Mario Party: enjoy the original Mario Party board game experience with new elements like character dice blocks, a party system, and new boards to explore
Partner Party: co-op team battle mode with free grid movement
Online Mariothon: a Mario Party series first! Play through gauntlets of five skill-based minigames online
Toad's Rec Room: A dynamic new play style that pairs up two Nintendo Switch systems for tabletop mode
Busy Things as a child's gift.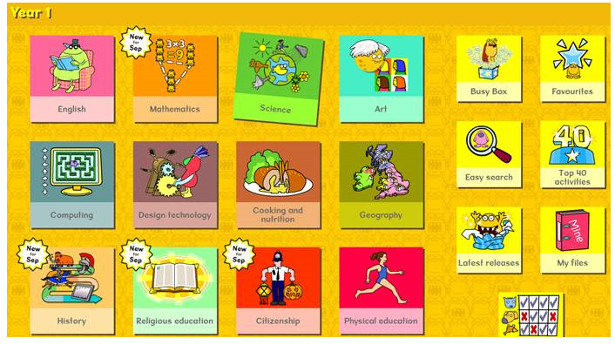 www.busythings.co.uk
Busy Things offers a family gift subscription – £34.99
(Scroll to bottom of the page)
Busy Things is an online subscription resource aimed at children up to age 11. The resource keeps children entertained whilst learning, hosting a range of activities, games, quizzes and tools. The site suits all different types of learning and is regularly updated to stay up to date with the latest curriculum and technology. The family gift subscription gives access for 1 year and can be used on mobile, tablet and desktop.
They also offer a range of gifts on their online shop which would be a great gift for children at Christmas.
These gifts range from £2.99 – £4.99.
GIFTS FOR CHILDREN TO HELP SAVE THE CHILDREN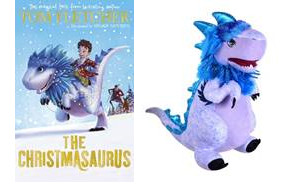 Save the Children has teamed up with WHSmith to support Save the Children's Christmas Jumper Day.
Tom Fletcher has created a limited edition Christmasaurus Book (donating 50p of each sale to StC) together with launching the first ever Christmasaurus cuddly toy (donating £3 of each sale to StC) – the perfect gift for all children!
The Christmasaurus Book
£6.99
The Christmasaurus Cuddly Toy
£14.99
Available exclusively at www.whsmith.co.uk
Everyone knows that Peppa Pig loves Christmas which is why they are teaming up with Save the Children to support the biggest Christmas Jumper Day yet! Peppa Pig has created the Peppa Pig Christmas Puzzle to spoil your children with and £1 of every purchase will be donated to StC!
Peppa Pig Christmas Puzzle
£9.99
Available at www.johnlewis.com/
Gizzu Nano Multi-Purpose Gel Pads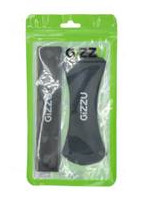 This amazing Nano Gel Pad is the perfect solution for keeping your everyday items close at hand.
Its super sticky and reusable features allow you to stick your phone to the wall for steady video calling, or mount your GPS and dash-cam in your car or anything else really!
HEALTH GIFTS FOR CHRISTMAS: NEW BOOK OFFERS LIFE CHANGING TOOLKIT FOR ECZEMA SUFFERERS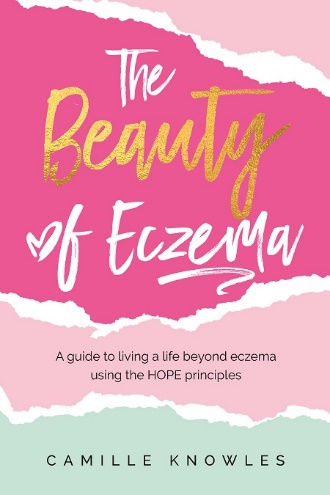 Chances are you know someone with eczema and if you do, the newly launched – The Beauty of Eczema – can help empower and inspire anyone affected by it this Christmas.
The symptoms go beyond red, dry, itchy skin; eczema can disturb sleep, impact relationships and wreak havoc on someone's life, so why not gift The Beauty of Eczema, a new self-help book and life-changing toolkit by certified natural chef and health coach, Camille Knowles, to those impacted by the condition.
The book contains a personal account by chronic sufferer, Camille Knowles (27), as she embarked on a five-year journey to heal her condition with holistic techniques that focus on the mind, body and soul. It includes Camille's HOPE principles, a toolkit which provide a framework for healing, helping sufferers gain control over their condition forever.
The Beauty of Eczema is endorsed by jewellery designer and model, Jade Jagger, who has battled with the skin condition for more than 25 years and Consultant Dermatologist and recognised leading UK eczema expert, Dr Tim Clayton from Manchester.
Buy The Beauty of Eczema at Amazon (£14.99).
An online programme to support and empower sufferers will be launched in the new year. For more information visit www.thebeautyofeczema.com.

Room to Grow, a British Children's bedroom furniture and accessories retailer who's products make great gifts for childrens rooms. www.roomtogrow.co.uk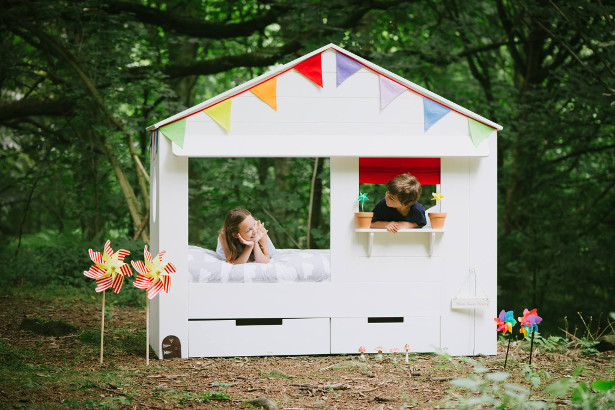 Below are just a few examples of their wonderful produce!
PINTEREST | FACEBOOK | INSTAGRAM
Classic Pedal Car in Yellow (£185.00).
They'll be no stopping your young driver in this stylish classic yellow pedal car. Built from strong steel with a round grille and 4 durable steel wheels with long lasting rubber tyres. Designed for fun and built to last. A wonderful keepsake to pass down through the family. Suitable for ages 3 – 5.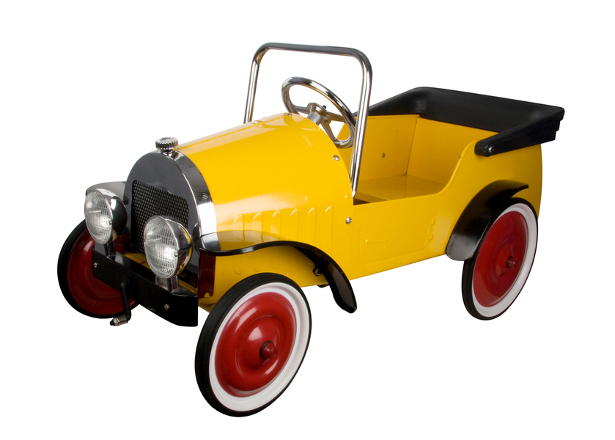 Rex Teepee (£149.99)
A vibrant and fun Teepee, Play Mat & Bunting Set for dinosaur lovers everywhere. The perfect place for dinosaur spotting in your own little den. With gorgeous blues, greens, orange and browns as well as a cheeky dinosaur on the front, this teepee is just wonderful for girls and boys alike. Peep through the window or close the curtains and doors for some chill out time. Super quick to assemble and lightweight to transport. With its own carry bag you can store it away safely.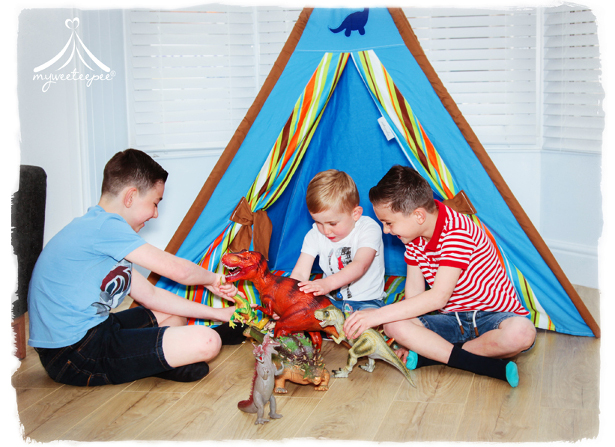 Super cosy snuggle blanket £25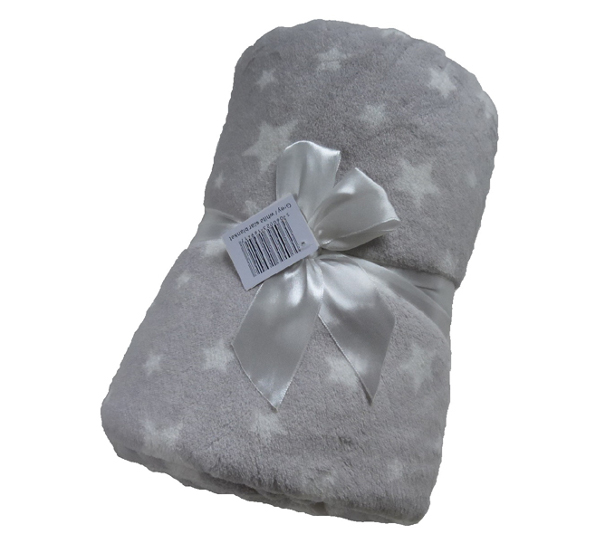 About Room To Grow
Once upon a time parents and their children could never agree on what was best for each of them. The age-old battle raged between the wants of the child against the practical needs identified by the parents. Hunting for beds was no exception, where the child craved space and adventure and the parents demanded functionality and storage. All in all, this led to some very unhappy children together with miserable parents, locked away in a bedroom nightmare.
However help was not too far away …
So it came to pass in the year 1996 that a shining knight appeared with magical key to unlock the nightmare and make everybody happy again. The knight in the guise of Room To Grow provided a range of practical solutions – cleverly designed beds, furniture and accessories that allowed fun, functional and fabulous bedrooms to be created, satisfying even the fussiest of children.
Today, Room To Grow continue to offer real solutions for both parents and children. As a one-stop shop, they help you create practical, yet stylish bedrooms for your children, providing them with their own environment for play and study through ingenious designs and clever space saving features.
They've done the hard work for you by carefully hand-picking the best ranges from the top European manufacturers to help you in your quest to create your child's dream bedroom. Aiming to offer the widest possible choice of high-quality children's bedroom furniture, all satisfying strict European safety regulations. Room To Grow are proud stockists of Stompa, Thuka, Parisot, Gami and Julian Bowen to name but a few. And, to complete your child's room, they are pleased to offer those all-important finishing touches including a wide selection of mattresses, accessories and bedding.
Still need a helping hand or just want to chat your ideas through? Why not contact their experienced staff for expert advice on the full product range whilst they can even help you plan your child's dream bedroom, all completely free of charge. Room To Grow has been creating dreamier bedrooms for 16 years making a lot of happy children and even happier parents.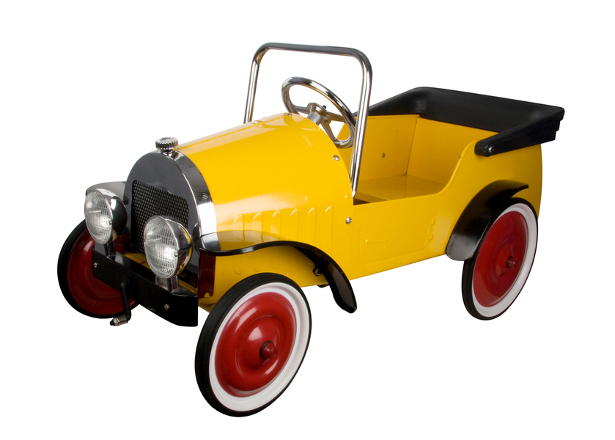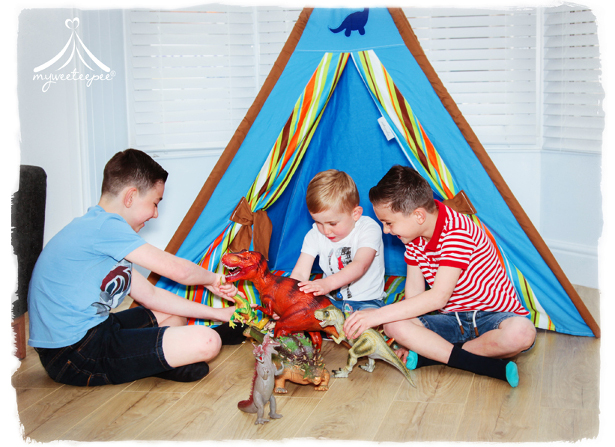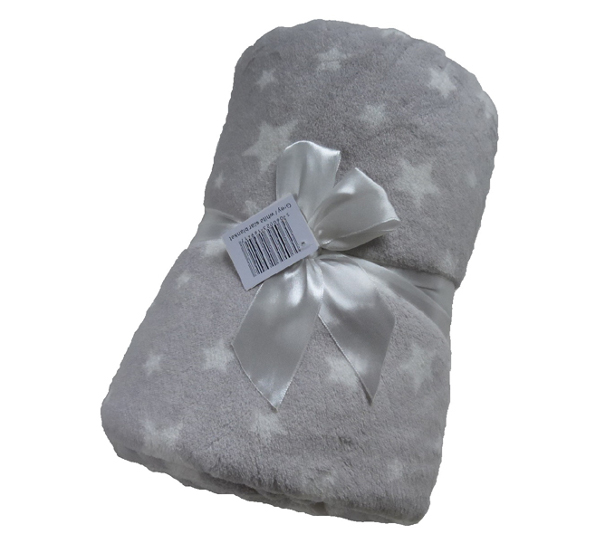 Tile Launches New Hardware and Software Products:
Highest Performing and Longest Lasting Tiles To-Date
Along With Premium Finding Services
New Tile Mate and Pro Boast Longer Range and Replaceable Battery,
Tile Premium Expands Finding Power with Six New Features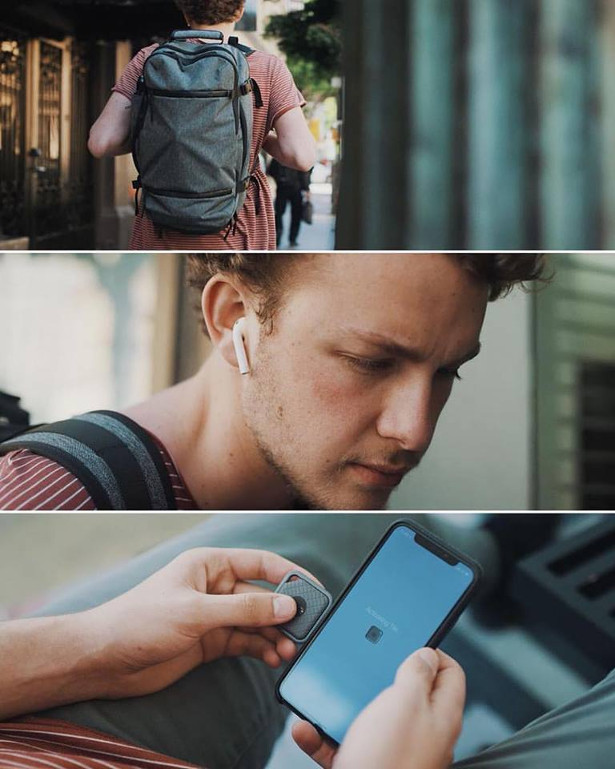 FACEBOOK | TWITTER | INSTAGRAM | YOUTUBE
LONDON -2 OCTOBER, 2018 - Tile, the leading community-powered finding platform, today introduces new models of the popular Tile Mate and Tile Pro. The new versions feature longer range, louder volumes, and replaceable batteries. In further expansions to their finding solutions, the company revealed Tile Premium, a suite of offerings including free battery replacements, smart alerts, 30-day location history, and other exclusive services. Together, the new products and services strengthen Tile's position as the most comprehensive finding solution on the market today.
"At Tile, we're constantly seeking to improve the performance and experience of using our products," said CJ Prober, Chief Executive Officer. "Listening to our customers plays a huge role in our development process, and we've consistently received one request: the desire for a replaceable battery. With the new Mate and Pro, we're excited to introduce our first-ever replaceable battery model and our best-performing Tiles ever."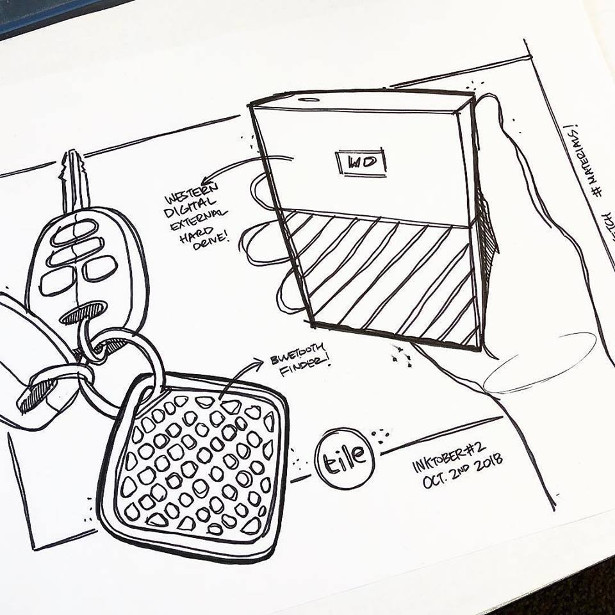 With the new versions of Mate and Pro, customers can keep their favourite Tiles indefinitely, and expect batteries to come with a guaranteed one-year lifespan. To meet Tile standards for usability, reliability and durability, the team spent a year perfecting the entire user experience, including extensive testing on a wide variety of battery doors. Tile also raised the bar for the industry by increasing ring volume and Bluetooth range for both products. Tile Mate boasts a Bluetooth range of 150 feet and Tile Pro offers an unprecedented Bluetooth range of 300 feet.
Tile Mate retails for £19.99 and Tile Pro for £29.99. All products are available today at Tile.com and Amazon, and via major retailers including John Lewis, Dixons and Currys PC World.
For customers looking for added convenience and peace of mind, Tile Premium now offers a selection of new features that deliver an expanded finding and care experience. While all existing features of the app remain free to all customers, Tile Premium unlocks six additional services, including:
● Free Battery Replacements. Premium subscribers are eligible to receive free, automatic battery replacements annually for an unlimited number of Tiles in their account. Batteries are shipped prior to one-year post activation, eliminating the need to search for and purchase replacement batteries.

● Smart Alerts. Tile has always helped customers find their missing items, but now with Smart Alerts, Tile helps Premium subscribers take a proactive approach to keeping track of their belongings. Subscribers can set up alerts to be notified when they leave home without specific Tiled items, saving precious time for today's busy lifestyle. Smart Alerts is launching in Beta.
● Unlimited Sharing. Multiple Tile users can now manage the same Tile device making it easier to track shared items, like the TV remote. All shared users can ring the Tile when within Bluetooth range and view the "Last Place Seen" to help find lost items.
● Location History. Customers can now view the 30-day location history of each of their Tile devices. This is the longest offering of location history available today. The ability to access where a Tile has been enables users to retrace their steps to find lost items.
● Extended Warranty. Premium subscribers will receive extended warranty for a full three years on all new Mate and Pro devices. All Tiles go through rigorous physical stress tests and are built to last well beyond just 1 year. As a Premium subscriber, if your Tile fails within the first three years, Tile will replace it.
● Premium Customer Care. In addition to email and online chat, Premium subscribers can access an exclusive text line with Tile's support team. Customers can text directly through the Tile app for expedited support.
Tile Premium is available for £29.99 annually or £2.99 monthly. All first-time Premium customers can sign up for a one-month trial. Tile Premium customers enjoy the premium features across all the active Tiles in their account, including partner products with Tile capabilities. Customers can sign-up on Tile's website or through the iOS app, with no commitment and the opportunity to cancel at any time. Android versions coming soon.
About Tile
Tile's mission is to build a world where everyone can find everything that matters. With more than 15 million Tiles sold across 230 countries and territories, Tile's community-powered finding platform locates over 4 million unique items every day. The company is based in San Mateo, CA and is backed by Bessemer Venture Partners, GGV Capital and Khosla Ventures. For more information, please visit Tile.com.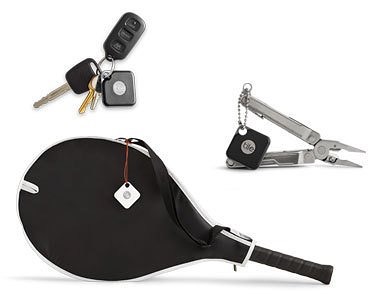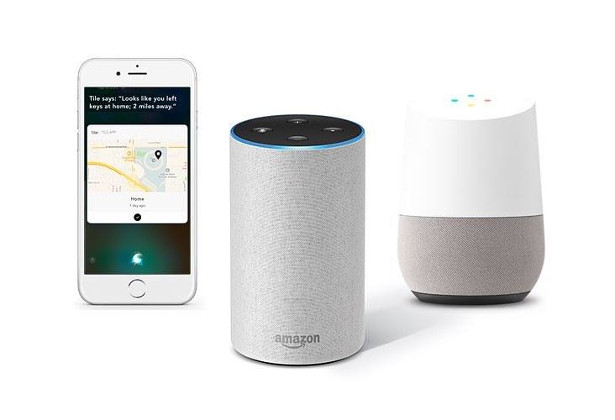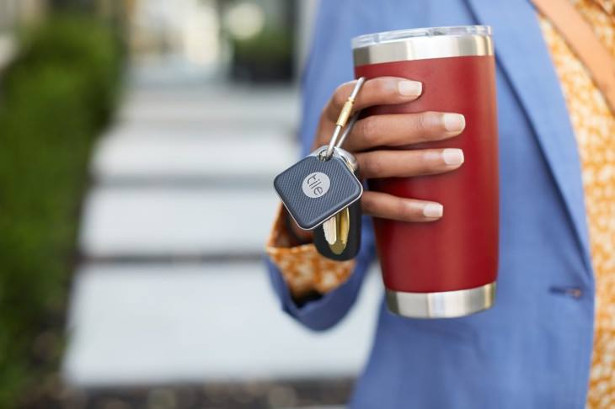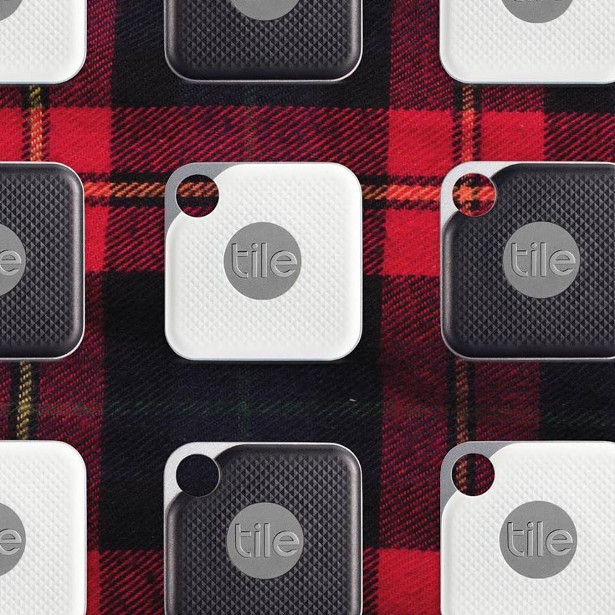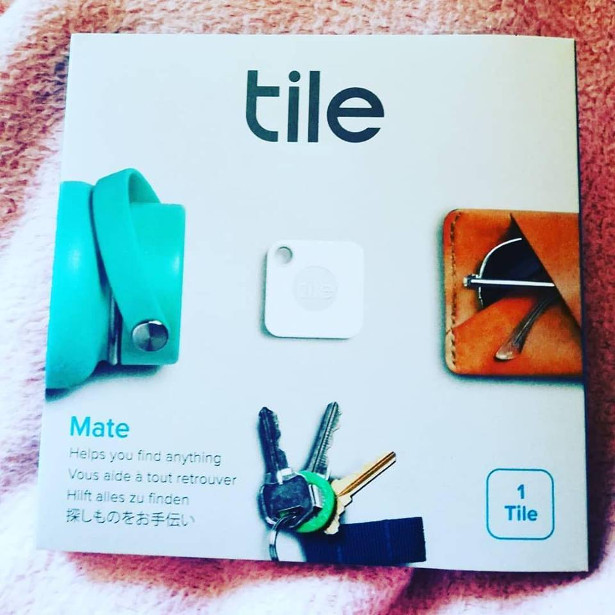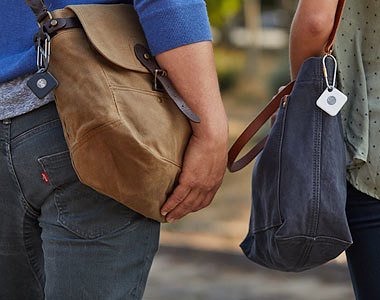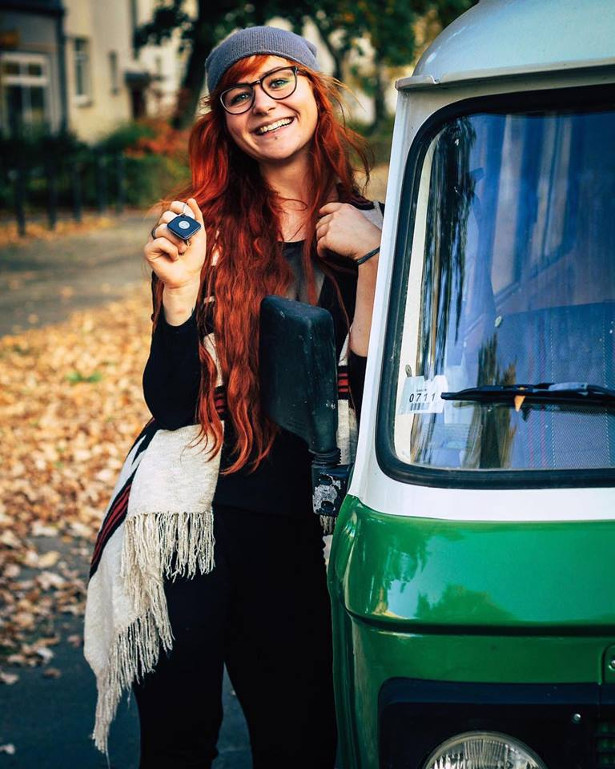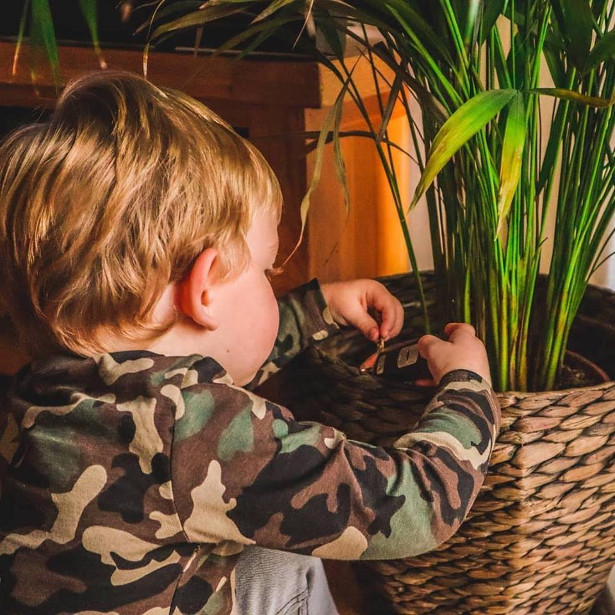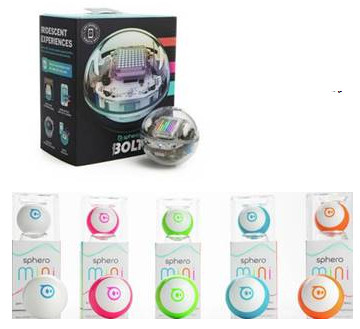 Sphero BOLT – RRP £149.99
Stockists: Sphero.com, Amazon, Apple, Harrods, Selfridges and John Lewis
Sphero BOLT is an app-enabled robotic ball that provides endless opportunities to have fun while learning. Program with the Sphero Edu app, discover community-created activities or just drive and play with the new Sphero Play app. BOLT was built to shine with an animated 8×8 LED Matrix that displays real-time data and advanced sensors like its gyroscope, accelerometer, and infrared communications. Sphero BOLT establishes a striking new way to learn and play.
MiNiHR-3710 – Sphero Mini fileSphero Mini App-Enabled Robotic Ball – RRP £49.99
Stockists: Sphero.com, Amazon UK and Firebox
Sphero Mini packs tons of fun into a tiny, app-enabled robotic ball. Drive using the Sphero Mini app, or with your facial expressions in the wild new Face Drive™ feature. Use Mini as a controller to play different games, or program your robot with the Sphero Edu app. With almost an hour of play time, Sphero Mini is the next big thing.
Can you handle this Jelly, its so… well jiggly, its so much fun, and this jelly is really healthy… it's Naturelly! www.naturelly.co.uk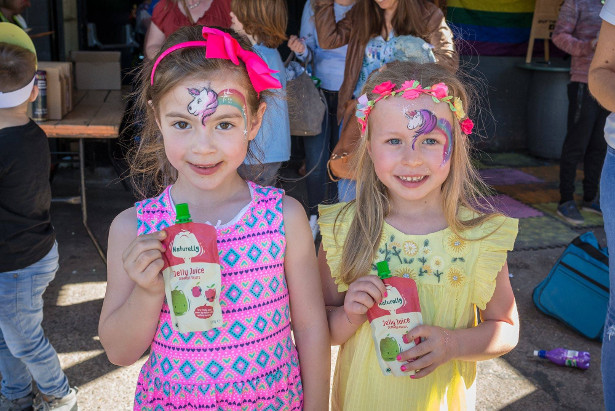 FACEBOOK | TWITTER | YOUTUBE | INSTAGRAM
Naturelly sweet by nature with nothing naughty added. Low in Calories and Rich in Vitamin C. Winner of Loved by Children Awards 2017 and Loved by Parent Awards 2016.
You're ready for this jelly!
Only 5% of naturally occurring fruit sugar (no added sugar or sweeteners)
Only 20 kcal per 120g pot
No added sugar or sweeteners
Made from Organic Fruit Juice
Vegetarian and Vegan approved
No artificial, colours, flavours or preservatives either.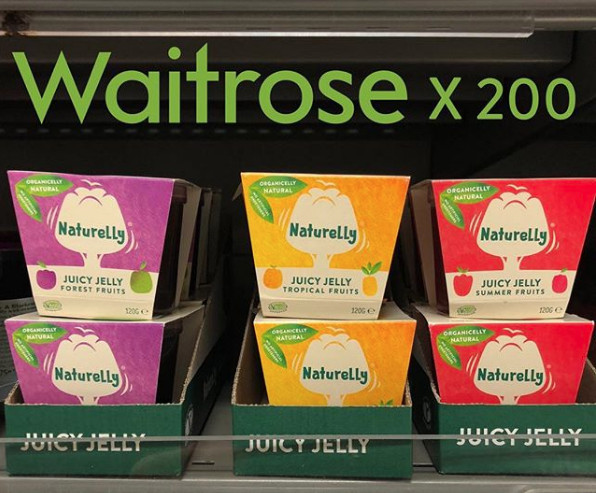 About the Team
Hi, we're Dean and Joanne, the husband and wife team of Naturelly and along with Liam (Dean's brother) and our daughters, we are the Naturelly Family.
Here you can find out all about why we do what we do, what makes us bounce out of bed in the morning and what inspires us to make our fun and healthy, Naturelly – a tasty and healthy snack for kids!
Our girls, just love to dance and play and climb and jump! What better way to encourage their playfulness than through the jiggly jelly fun of Naturelly Juicy Jelly a healthier alternative to sweets and chocolate for kids.
Use Promo Code: Nat20p for 20% off from naturelly.co.uk.
What inspired us to make this wonderful fun and fruity treat?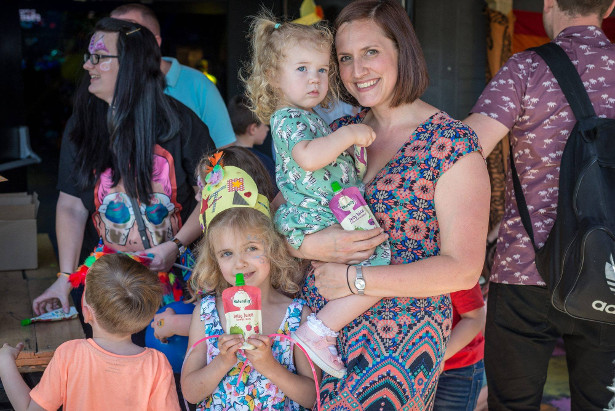 Trying to find healthy snacks was always challenging for us; especially when on days out or picking the girls up from school and nursery. Tears and tantrums would often follow. We needed an on the go refreshment that would fill them up just a little, until dinner time. So, we put all of our crazy brains together to find out the stuff our kids and their friends loved and this led us to the idea of creating Naturelly.
Jelly + Juice, simple! But, how could we make it healthy and not full of sugar?
Well, first of all we discovered this special gelatine free, wibbly jelly made from Lily Plants called Gellan Gum. This clever jelly helps fill little tummies up until meal time with it being a natural dietary fibre and by mixing it with fruit juice it helps stop those cravings for sugary snacks. We also made sure we didn't add any sugar OR sweeteners, OR artificial colours, OR artificial flavours OR artificial preservatives! Being parents ourselves, we only wanted natural ingredients for our little ones. Our juice comes straight from squeezed fruit making Naturelly sweet and healthy by nature with nothing naughty.
Plus, the good news is, it's only 36 kcal and 7g (which is 1.5 teaspoons) of naturally occurring fruit sugars per pouch. Also, as it's a jelly it means less mess in the back of the car on journeys home from school or dance class. Yay!
We really hope you and your little ones enjoy Naturelly as much we all do
(It's okay for Mums and Dad to like them too you know!)
Love
Dean, Joanne and Liam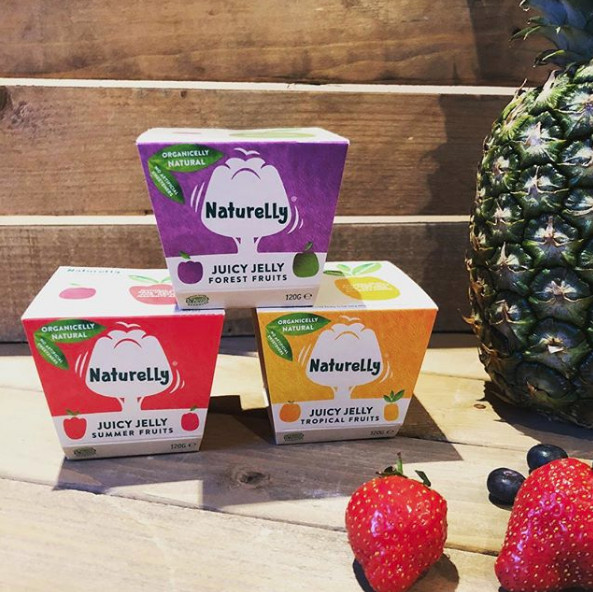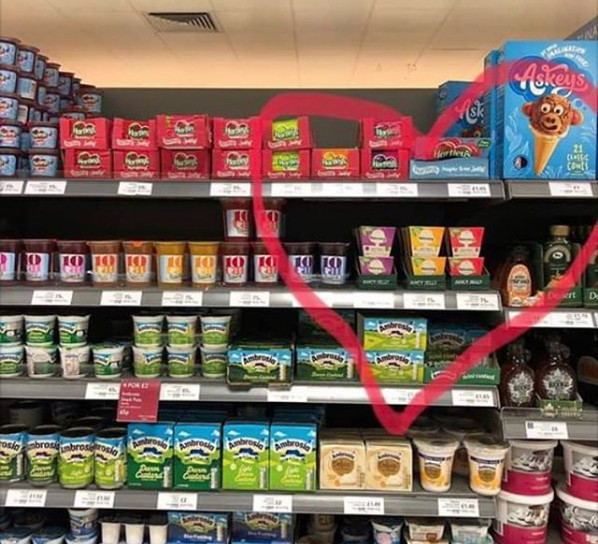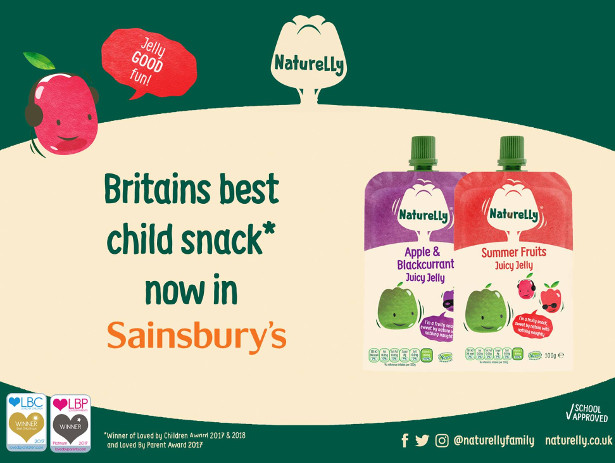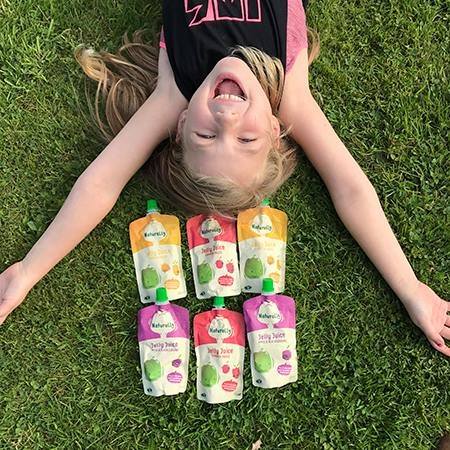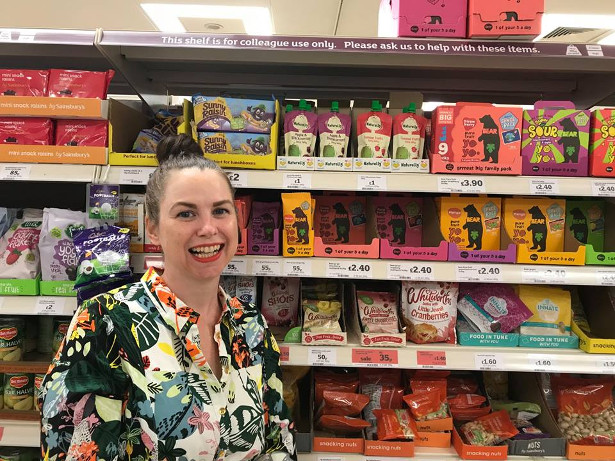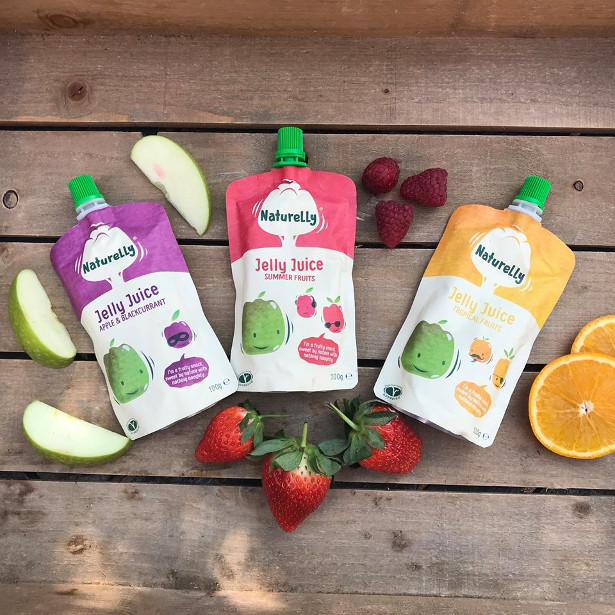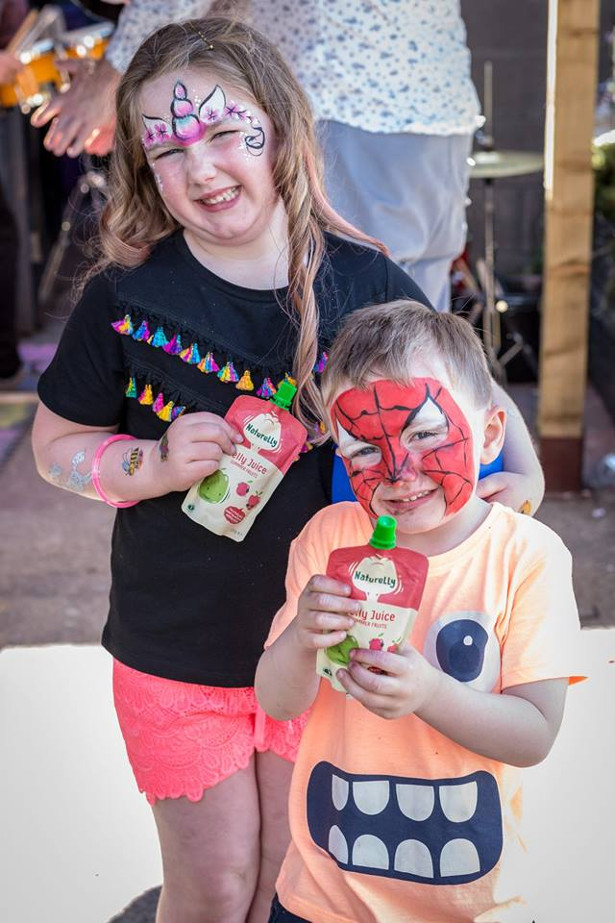 THE PERFECT PRESENT FOR THE YA FAN OR TEEN IN YOUR LIFE?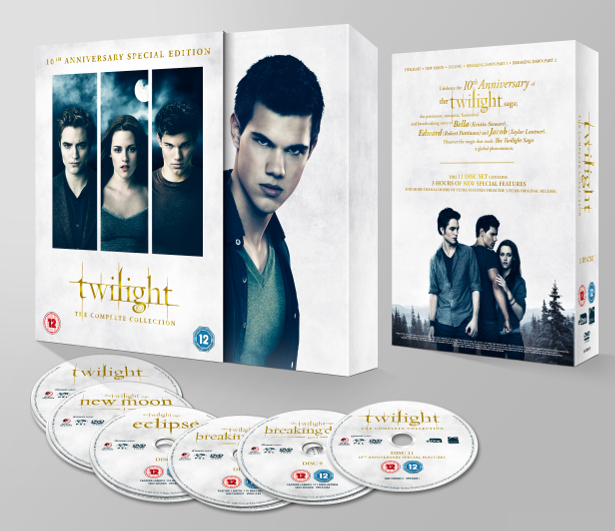 Twilight: The Complete Collection 10th Anniversary Special Edition – out on DVD and Blu-ray this Christmas.
Ideal for fans of the films or someone new to the franchise.
Containing all five films in gorgeous new packaging and hours of extra features, including some brand new extras to celebrate the 10th anniversary of this global phenomenen.
Available from the 5th November as a 6 disc Blu-ray or 11 disc DVD set.
Give Kids the Gift of the Great Outdoors

Did you know that kids today spend only half as much time playing outside as their parents did?* Not only are they missing out on the fresh air, they are also losing out on the many physical and mental benefits of spending time outside such as a boost to their Vitamin D levels, reduced anxiousness, an increased attention span and even improved vision**. Most importantly, they fail to get an appreciation for nature, which is crucial for the future of our planet***.
This festive season, Cape Union Mart is encouraging parents to give their kids the gift of the great outdoors and suggests gearing up little explorers with the following items to help make their outdoor exploits that much more comfortable.
K-Way Ocelot Hoody Softshell Jacket
From R499, available for purchase in-store and online.
The K-Way Ocelot Hoody Softshell Jacket offers 4-way stretch technology that allows kids to move around freely and comfortably. It is also made from windproof and water shedding material and comes with a removable hood and elasticated cuffs to keep the cold out.
K-Way Kids Sprint Shoe
R450, available for purchase in-store and online.
Designed with an EVA moulded mid-sole and polyester spandex upper, the K-Way Kids Sprint Shoe offers a snug fit with excellent grip. The shoe has been designed to be super lightweight – perfect for everyday wear, but also ideal for exploring the outdoors.
K-Way Kids Rambler Daypack
R250, available for purchase in-store and online.
The K-Way Kids Rambler Daypack is ergonomically designed for little backs. Plus, the lightweight material provides a secure fit and has reflective piping for better visibility, ensuring your kids are ready for any adventure.
Cape Union Rascal Chair
R125, available for purchase in-store and online.
With easy foldability and its own carry bag for transportation, the Rascal Chair is a convenient and comfortable camping seat for staring up at the stars – a far better alternative to staring at a screen. It is also available in a wide range of colours.
K-Way Kids Patrol Shoe
R499, available for purchase in-store and online.
Keep your kids' feet safe from obstacles along the trails you take them on with the K-Way Kids Patrol Shoe.
Cuddlebug Pillow
R275, available for purchase in-store and online.
The ever-popular Cuddlebug Pillow, available in a variety of styles and colours, offers kids the utmost in comfort. Perfect for travel, the beach and picnicking, the cute Cuddlebug can be enjoyed almost anywhere.
This festive season, to help ensure that the next generation of little explorers will have somewhere to enjoy their adventures, Cape Union Mart will not only be planting 1,000 trees but matching every Rand that customers donate to fund the planting of even more trees to make a greener future. To be a part of this movement and help give back, simply add R10 or more to your purchase at the checkout in-store or online when buying gifts and gadgets.
Get your little ones to experience more of the outdoors and show them the wonders of this world that they stand to inherit.
For more information, visit www.capeunionmart.co.za.
LEGO GIFTS FOR PETROLHEADSTHIS CHRISTMAS
Stuck for the right gift for your motoring-mad in-laws this Christmas?
LEGO has the perfect petrolheads gift guide, withgifts ranging from a classic James Bond car to the incredible LEGO Technic Bugatti Chiron. LEGO Creator James Bond Aston Martin DB5 -RRP£129.99 (Exclusive at shop.lego.com) Get a license to build with the awesome LEGO® Creator Expert 10262 James Bond™ Aston Martin DB5. This impressive replica model captures the elegance and timeless sophistication of Agent 007's iconic 1964 sports car, and comes with a wealth of authentic details and functioning gadgetry.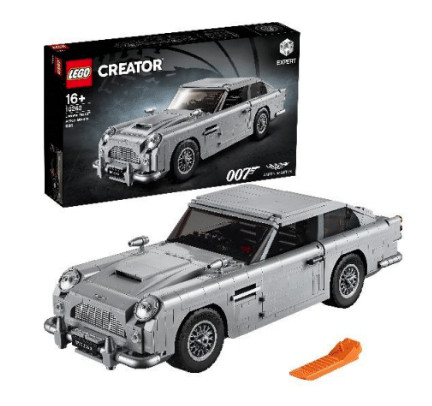 LEGO Technic Mack Anthem –RRP £139.99 (Available at shop.lego.comand Argos) Explore state-of-the-art engineering and design with the LEGO® Technic Mack Anthem truck. Developed in partnership with Mack® Trucks Inc., this authentic replica model comes with an array of realistic technical details and functions, including front-axle steering, rear wheel drive and a 6 cylinder straight engine with working pistons and spinning radiator fan. The detachable trailer has extendable outriggers, working landing legs, synchronized crane arms with side loading capability.
SKIP HOP INTO CHRISTMAS!
Top parenting brand introduces hero products for every budget this festive season!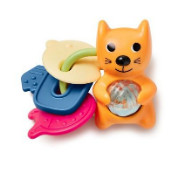 Skip Hop, the innovative lifestyle brand which offers stylish yet functional family products, is excited to reveal its 'must-haves made better' gifts for Christmas 2018! There's something for every budget – from Stocking Fillers to Big Gifts. Find out more at www.skiphop.com.
SKIP HOP IT!… £10 AND UNDER
Zoo Paddle and Go Owl (RRP £9)
Owl is on the move and ready to unwind! Just wind-up the wings and watch owl paddle and float in the tub. Lightweight and easy for little hands to hold, this colourful bath toy is a fun way for little ones to learn cause and effect.
Zoo Smart Serve Plate and Bowl (RRP £10)
The all-in-one solution helps transition toddlers from being fed to feeding independently in one clever little product. Complete with its very own training rim to guide food onto forks and spoons, this three piece set included a divided plate, bowl and detachable training rim. Contain little one's food for minimal mess with each part that fits cleverly into place. With a non-skid rubber bottom, this plate and bowl duo stays where it's put on the table too so to avoid spillages. Microwave and dishwasher safe, it seems that the brand really have thought of everything. Available in Eureka Unicorn, Otis Owl, Marshall Monkey, Brooklyn Bee, Darby Dog and Blossom Butterfly.
Vibrant Village Rattle & Teethe Keys (RRP £6)
Easy to grab, this rattle allows baby to shake and teethe! Everyone's favourite cat has become a rattle for the Vibrant Village collection. The rattle ball even spins in cat's hands for hours of fun for baby (or parents). The brightly coloured ring, keys and shapes are safe and specially designed for teething little ones to soothe their aching gums whilst stimulating their visual senses.
Explore & More Stay Cool Teethers (RRP £6)
Teething can be a difficult time for all of the family, help soothe little gums with this safe silicone covered stainless steel disc. Freezer-safe and BPA-free these sweet little teethers retain the cold longer than silicone alone. Simply cool in cold water in your refrigerator for ultimate cooling comfort. Available in three cute characters, choose this easy to hold design in hedgehog, bee or fox.
SKIP HOP IT!… £25 AND UNDER
Zoo Little Kids Backpack (RRP £20)
Little details and durable materials make this the perfect pack for on-the-go! Easily holds all the supplies your pre-schooler might need for a busy day of "work" and play, and the mesh side pocket adjusts to fit a drink, sippy cup or water bottle. The front pouch is ideal for snacks and includes extra pockets for pencils and other travel necessities. Comfy padded straps go easy on little shoulders!
Farmstand Avocado Stroller Toy Exclusive to John Lewis (RRP £10)
Inspired by the nation's favourite vegetable, the Avocado stroller toy is created for fun on-the-go! This duel sided toy opens up to reveal a sphere rattle 'pit' to keep baby occupied on the move. With Velcro fastening closure for baby's first puzzle, this multi-textured toy is the perfect addition to your stroller.
Vibrant Village Light-Up Dog Piano Exclusive to John Lewis (RRP £18)
Bring out your budding little musicians with this exciting new musical piano! Created in the form of our Vibrant Village sausage dog, watches the keys light-up when little one plays away to their hearts content. Angled for easy use during seated play, the Light-up Dog Piano is perfect for babies who are just starting to sit-up and hone those all-important motor skills.
Bandana Buddies Activity Toys (RRP £16)
Full of textures, patterns and sounds, little hands stay active as baby explores rattles, crinkles and more. This colourful character's soft bandana teether detaches for Mum to wear around her wrist for quick access. Perfect for multi-sensory play, this cute companion is ideal for fun at home or-on-the-go.
SKIP HOP IT!… £50 AND UNDER
Zoo Kids Rolling Luggage (RRP £35)
Cute and portable, little ones will love rolling through the airport or to Grandma's with their own Zoo luggage. Sized perfectly for carry-ons and overnight trips, Zoo luggage is sturdy enough for everyday use or distant journeys. There's even a detachable shoulder strap that adjusts so adults can carry hands-free when little ones get tired.
Moonlight & Melodies Nightlight Soother (RRP £40)
This stylish feathered friend is a natural fit for the modern nursery. Featuring a dimmable nightlight belly that emits a warm glow, it soothes baby with eight gentle melodies and calming nature sounds. An adjustable pivot lens projects a starry nightscape onto any surface so little one can see the luminous sky from his or her favourite sleeping position. Just choose the light and sound combination that's right for your baby and this wise owl will do the rest!
NEW Moonlight & Melodies Hug Me Projection Soother, Age 0+ (RRP £22)
Available in two adorable characters, lamb and bear, this friendly baby soother projects a starry nightscape onto any surface and then transforms into a huggable bedtime friend for your toddler! Simply flip up the pocket to cover the projector belly and enjoy a warm nightlight glow. With four gentle melodies and an auto-off timer, baby will drift off to dreamland in no time.
SKIP HOP IT!… £100 AND UNDER
Unicorn Activity Gym (RRP £40)
Leap into 2019 with this magical mat styled as a unicorn! Let your little one's imagination run free through the soft, rainbow arch. This enchanted activity gym includes four hanging toys to keep baby occupied for hours, all while supporting baby's head with a built in pillow. The comfortable textures allow baby to explore new senses and develop their fine motor skills! From rattling to crinkling, your little one will experience endless joy with the Unicorn Activity Gym.
Vibrant Village Smart Lights Activity Gym Exclusive to John Lewis (RRP £90)
This light up baby gym features black and white graphics with bold colours to stimulate baby's sight as they grow to view a rainbow of colour. The unique, interactive arches play upbeat music along with two light modes: tracking for baby to follow and an amazing light show. This musical baby gym even has fun sounds as baby bats at the four hanging soft toys. Plus, bright and colourful lights illuminate each window to make learning and development fun.
Farmstand Grow & Play Activity Gym Exclusive to John Lewis (RRP £80)
The super cute fruit and veg inspired gym is the ultimate activity toy for baby. Complete with fold-up side panels to create an interactive learning environment for your little one, play features include baby-safe mirror, crinkle leaves, corduroy texture and a pocket to pop carrot in and out of. With five hanging fruit and veg friends and a watermelon tummy time pillow, the arch can be taken away as baby grows and used as a height chart.
SKIP HOP IT… £100 AND OVER
Silver Lining Cloud Baby's View 3-Stage Activity Centre (RRP £135)
Designed in collaboration with a pediatrician, our baby activity center supports a "whole body" approach to play and learning. Easy to assemble, with toys that can be positioned anywhere for baby, it features a 360-degree rotating seat that turns and stretches for bouncing. Our unique Discovery Window lets baby see their feet while they play to learn cause and effect. As baby grows, our activity center converts for easy cruising—ultimately becoming a clean, sturdy table for colouring, playing and more. A modern, clean aesthetic and multiple uses will make this activity center a family favourite!
Explore & More Jumpscape Fold-Away Jumper (RRP £140)
Designed to deliver hours of fun, Skip Hop's Jumper also offers convenient fold-away functionality to save precious space! Featuring a unique light-up Cloud Bouncer Counter to keep track of bounces, baby is rewarded with lights and music when reaching those all-important milestones. Watch your baby swivel, jump and play their way to the next level while being occupied with endless entertainment!
With so many gifts for little ones this Christmas, there's no need to look any further than Skip Hop. They've got the festive season wrapped up for 2018!
Avengers Hero Inventor Kit
Available now for £149.99 from Amazon
Kids become their own Super Heroes by building and customising their high-tech hero gear and unique identity with littleBits electronic blocks.
With their favourite Marvel Avengers, like Iron Man, Black Panther and Shuri, and Ant-Man and the Wasp, kids enter Super Hero training in the app, control their gear with their smart device, give gear new abilities with easy block coding, and use their creativity and STEAM skills to customise their own hero identity and gear to match.
You've met Walk-it Willow, Code-it Cody and Change-it Cho, now meet the fourth Clever Tykes character, Write-it Ryan!
Write-it Ryan inspires creativity, positivity and resourcefulness in children ages 6-9.
Ryan's story is available in print and ebook from Amazon UK/Europe here and Amazon USA here, with free delivery for Prime members and delivery on Monday.
"Captain Steg charged through the sky and gave a deafening "ROOAAARRR!" With all his might he blew the storm clouds away and revealed the hidden zombie wizard fortress…" wrote Ryan.
Ryan's imagination runs wild every time he writes. Scary English teacher Miss Butters sets Ryan a special blog-writing mission but before long, the whole school finds out!
Dad insists Ryan focuses on his science and maths studies; can Ryan manage his time and keep his blog a secret?
Keycraft Global bestselling toys, Nurchums to hatch in SA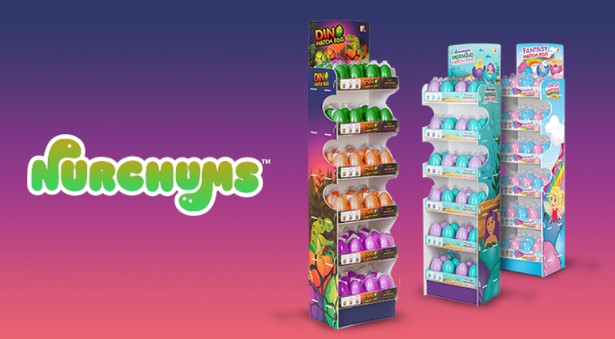 Worldwide, kids are intrigued and delighted by hatching toys. With no signs of the craze abating, there are good reasons why South African parents will welcome the countrywide launch of Nurchums. As a Socio Emotional Learning (SEL) toy line, Nurchums involves kids in nurturing and fostering patience while providing a tangible experience of gaining rewards through delayed gratification.
Many parents feel concerned about their children's screen obsessions, and the compelling, but mindless experience of everything they think they want manifesting at a click on their tablets. By contrast, Nurchams is a toy range that inspires imagination, encourages compassion and engrosses your child in following the simple instructions – just pop the egg in water and watch the toy inside hatch and grow.
Nurchums, manufactured by Keycraft Global and distributed locally by wholesaler, Pollywiggles, are already proven winners in international markets. The attractive, coloured eggs containing themed toys are submerged in water, and after a few days, cracks start to appear in the egg-shells. There's great excitement as the cracks start to widen and your child gets a glimpse of the toy they are helping to hatch. Once free of the egg, returning the toy to fresh water will enable it to grow to its full size, which can take up to 10 days. Out of water, the toy will return to its original size, and it can be put back in water to grow over and over again.
Three Nurchums product lines are available now in South Africa. The orange, green and purple Dinosaur Hatching Eggs respectively, stimulate learning about the popular T-Rex, Triceratops and Stegosaurus as the dinosaur's hatch.
The Nurchums Fantasy Hatching Egg, which introduces your child to the element of surprise, is currently the top-selling toy for Keycraft Globally. Imagination is ignited by the glittering pink and purple eggs because you never know what you might get – it could be a mythical unicorn or an enchanting fairy. Children ardently check their water-submerged eggs hoping to peep through the cracks and discover what's growing. The Nurchums Fantasy theme successfully aligns to the perennial popularity of unicorns, which is at a peak at this time.
Netflix's August release of the live action The Little Mermaid film is sure to fuel demand for Nurchum's latest Mermaid Hatching Eggs. In blue and purple, these eggs hatch charming mermaid toys at the height of a significant, worldwide mermaid trend.
"There's a double bonus that Nurchums offers parents," says Leanne Gordon-Myers, CEO of Pollywiggles, "The toys are not just perfectly on trend and a top-seller internationally but help to foster child development in the real world. It's an opportunity to take time-out from the screen and instant gratification and get hands-on in real time. Every step of the way, children can share in the journey with their new toys as these eggs vividly hatch and grow."
Nurchums are available at Plasticland, Toy Kingdom, TOYS R US, select SPARS and other independent toy shops. They retail at R 89.99 and can also be purchased online at www.takealot.com and www.loot.co.za.
KIDZANIA LONDON CELEBRATES THE 25 DAYS OF CHRISTMAS WITH SPIN MASTER TOYS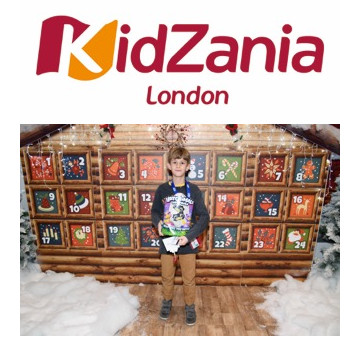 – Giant charity advent calendar returns to KidZania London
– Instant prizes to be won for visitors during December
– A whopping £25k charity donation of toys from Spin Master to help spread the joy of Christmas to children in need
KidZania London, the indoor city run by kids at Westfield London, Shepherd's Bush, is teaming up with Spin Master Toys for the second year in a row to spread a little festive joy to children across the country this Christmas. The giant Spin Master Advent Calendar returns to the city on 1 December 2018, but this time, it's even bigger and better than before.
Each day in December, one lucky child who visits the city will get to open a door on the calendar, which stands pride of place in KidZania's airport. Inside each of the 25 doors is a Spin Master toy to be won instantly.
But the giving doesn't stop there…
This year, the advent calendar is linked to a series of UK charities. Each day, when the door is opened, £1,000 worth of toys will be given to a different charity – a donation totalling £25,000 throughout December – helping to spread the festive joy to children and families in need this Christmas.
The calendar launches on Saturday 1st December and will see a host of celebrities helping to donate the toys and spread word of the good cause. Last year's advent calendar was unwrapped by Saira Khan, Linda Robson and Stacey Solomon, along with their children and Linda's grandchildren, in support of the Alexander Devine Children's Hospice and KidsOut charities.
Along with winning prizes, the event will also give kids the opportunity to enjoy some festive fun, with many exciting real-life activities to try – from learning to be a pilot with British Airways or a radio DJ with Global Radio.
What's more, parents take advantage of KidZania's new Westfield London one-day VIP pass. Children who are aged 8 years and over can be checked in to the city to play, learn and discover in a safe and secure environment, while busy mums and dads hit the centre to do their Christmas shopping! In fact, you can get up to 20% off on participating Westfield London stores when you show them your KidZania London ticket on the day of your visit. It's KidZania's little gift that keeps on giving.
Book your tickets at www.KidZania.co.uk
Grand Gifts By Hape
1. Grand City Station £49.99 from Smyths.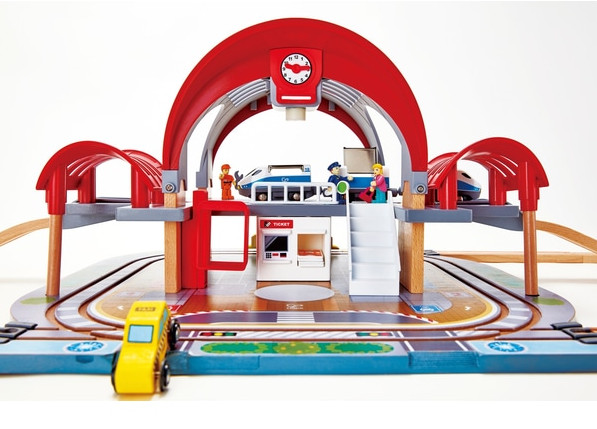 All aboard! The 2-level Hape Grand City Station is the perfect starting point for your little one's adventures. Kids can build their own track and set off on all kinds of imaginary journeys with this 45- piece set. Suitable for ages 3+ years.
2. Doll Family Mansion £179.99 from Argos.
Most children dream of a doll house of their own, and this wonderful Doll Family Mansion, complete with moveable lamps and door bell, is as realistic as it gets. Suitable for ages 3+ years.
3. Medieval Quest Marble Run £119.99 from Argos.
Help the fiery Dragon protect the inhabitants of the castle from the Angry Griffin. The medieval quest is full of engineering, adventure seeking, and family filled fun. Suitable for ages 4+ years.
4. Deluxe Grand Piano £159.99 from Argos.
A 30 key electronic grand piano with a great sound that will enable your child to explore the wonder of music and create their own mini-symphonies. Suitable for ages 3+ years.
5. Four-Stage Rocket Ship £64.99 from Amazon.
Blast off to another world with this four-stage rocket ship complete with planetary Lander! conduct your very own imaginary deep space voyage. Suitable for ages 3+ years.
6. Portable Baby Gym £85.61 from Amazon.
Keep baby entertained on this soft mat no matter where you go. This portable baby gym features a hanging apple, a bee with fluttering wings, and a flower that will delight little hands and eyes – and it doubles as a stylish tote bag. Suitable for ages 0+ Months.
7. Country Critters Play Cube £113.77 from Amazon.
Mazes, shapes, levers, and lots of flying, swimming, and croaking creatures turn this colourful, five-sided activity center into a hub of activity. Suitable for ages 12+ Months.
8. Mighty Mountain Mine £169.99 from Harrods.
Navigate your way around this wooden Mighty Mountain Mine by Hape Toys and enjoy exploring all the way from the very top to deep inside the busy mine. This multi-level play set features a challenging obstacle bridge and an interactive waterfall tunnel which contains a magical secret. Use the crane to load supplies onto the train and begin your thrilling adventure. Suitable for ages 3+ years.
9. Cook 'N' Serve Kitchen from Argos.
A compact kitchen for your little one's culinary creativity, and a pull out counter for serving. This contemporary cabinet kitchen is very easy to assemble. Includes a neat oven with clear door, stovetop, cabinet for storage, rotating dials and sink. Finished in a smart red, black and grey. Sparks the imagination and encourages role play. Suitable for ages 3+ years.
10. Fire Station £79.99 from Smyths.
Get ready for rescue adventures with the Hape Fire Station! This feature packed station is beautifully crafted in wood, with realistic details to bring your stories to life. Suitable for ages 3+ years.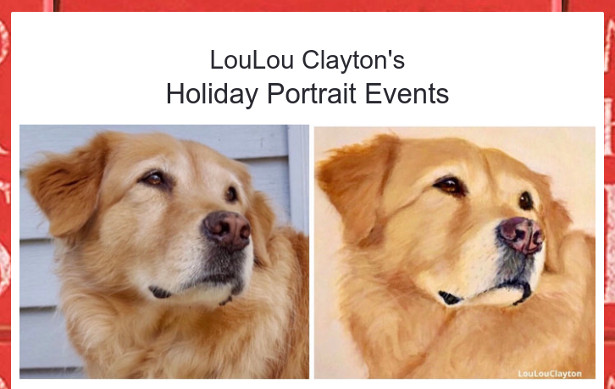 Photo left Painting right
Let the Festivities Begin!
My Holiday Season Event Calendar
I really look forward to meeting you,
answering your commission questions
and sharing our love for our pets.
Pet Portraits make for a very special Holiday gift
Portrait commissions will be open at these events.
Valley Forge Flowers
Thursday, November 1st, 10-3pm
A Beautiful Store – So excited!
503 W. Lancaster Ave. Wayne, Pa.
My Pottery Barn
Ho-Ho-Hope to see you soon!
LouLou
www.claytonpetportraits.com

SEE LITTLE ONES LIGHT UP THIS CHRISTMAS WITH A FIRST WONDER BOX SUBSCRIPTION GIFT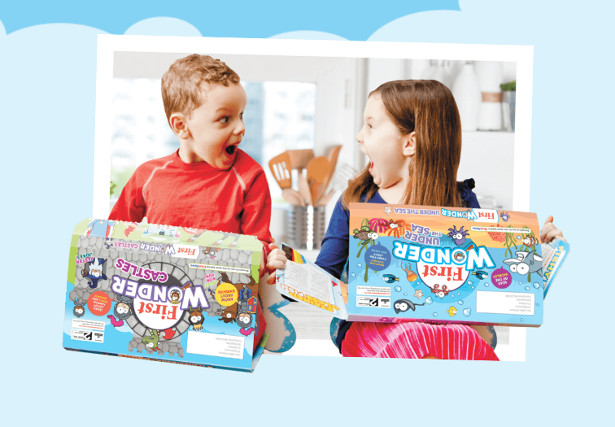 TWITTER | INSTAGRAM | FACEBOOK
This Christmas surprise the little ones in your life with a First Wonder Box subscription from the team behind award-winning children's newspaper, First News. The perfect mix of learning and fun, First Wonder Boxes are a great way to introduce 4-8 year old children to the world around them. Packed with exciting activities on a different theme every fortnight and delivered directly to the child– they can go on an adventure without leaving home. In each box, you'll find a packed 20-page activity book with word searches, crazy facts, jokes, quizzes, drawing challenges, games and puzzles. Plus kids get all the materials they need for creative projects, a themed toy, collectable cards and stickers. And, as if that's not enough, the box itself transforms into a game or activity, too. Everything a young adventurer needs to become an expert in a new topic. First Wonder Boxes have been put together with the help of education experts to ensure that activities support Early Years and Key Stage 1 learning. Themes include Bugs, Under the Sea, Castles, Active Bodies, Dinosaurs, Solar Systems and much more. This Christmas, gift subscriptions are available for 4 boxes (for £24.99), 6 boxes (for £34.99) or 10 boxes (for £55.99) (1 box per fortnight). Orders placed before 19th December will receive a Christmas activity booklet & gift certificate to wrap up and put under the tree. For orders visit: www.firstwonderbox.co.uk/gift Launched this year, parents have been really positive about First Wonder Box and why their children love them: "How nice it is to receive these through the post! The boxes are jam-packed with fun facts and activities – great for our boys who are inquisitive about the world and great for us parents who sometimes find it difficult to tear them away from the TV and their games consoles! Each theme is well thought-out and the balance between learning and play is spot on. We plan to take these on holiday with us instead of magazines as there is so much more on offer. What a great idea these are!" Sarah Turner, aka Unmumsy Mum. (March 2018)
GET KIDS CURIOUS ABOUT THE WORLD THIS CHRISTMAS WITH A FIRST NEWS SUBSCRIPTION GIFT FOR 2019

TWITTER | YOUTUBE | FACEBOOK | INSTAGRAM
If you want to buy the children in your life something to spark their curiosity in the world, look no further than a subscription to children's newspaper First News. The UK's leading children's title*, First News is published weekly and has over two million young readers. It offers 28 pages of news, entertainment, science and sport – covering all major news stories in a way that is engaging and accessible to 7-14 year olds. This Christmas, First News is offering a number of gift subscription options, including a 10 week subscription to First News for just £10 with the chance to add exclusive First News Top Trumps for £4.99 as a gift for under the tree. Subscriptions can also be bought for either 3 months, 4 months, 6-months or one-year and delivery is free of charge. The First News subscription will start on 1st Jan 2019 with the first issue (#655) being delivered during the Christmas season on Friday 4th Jan 2019. Editor Nicky Cox says: "First News provides children with unbiased information about all UK and world news – along with lots of interesting articles about a whole range of subjects from science to music. "In a world of technology, receiving a newspaper through the mail each week is hugely exciting and provides a source of news that children can trust. A First News subscription is literally the present that keeps on giving, delivered to your door every Friday! "Purchasing First News Top Trumps alongside your subscription also provides children with something special to unwrap on Christmas Day."
For more information about the subscription offers available please visit: www.firstnews.co.uk/christmas or call 0330 333 0186

Make Your Real Life Pet A Story Book Star With Petlandia
Heart-warming personalised storybooks – a 'wagnificent' gift for pet lovers this Christmas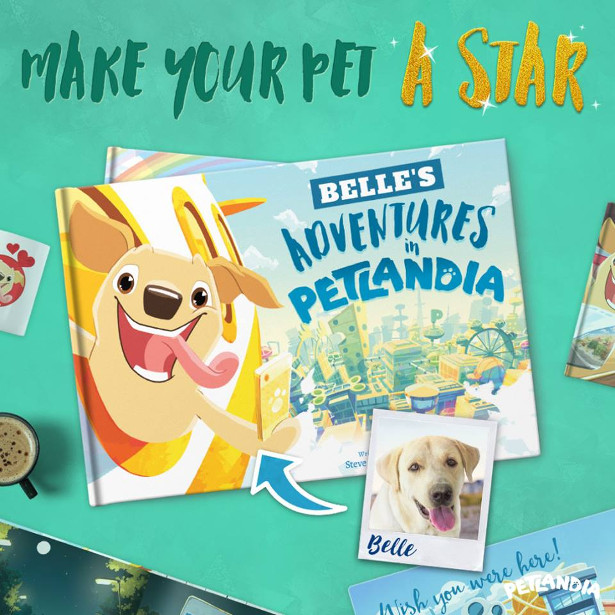 FACEBOOK | TWITTER | INSTAGRAM | TUMBLR | PINTEREST | YOUTUBE
This Christmas, give pet lovers a paw-fect present with Adventures in Petlandia and PetlandiaRoadtrip – hand illustrated storybooks featuring impossibly cute caricatures of their pets. Set in the wonderful world of Petlandia, dog, cat and rabbit fans can see their furry friends in beautifully written and illustrated tails of friendship, fame, loneliness and love, all fully personalised.
Petlandia turns real-life four-legged BFFs into storybook stars, with two fun-filled options to choose from:
Adventures In Petlandia: This heart-warming tale of friendship, fame, loneliness, and love sees your pet (dog, cat or rabbit) jetting off to Hollywoof, a pawsome world of four-legged fun!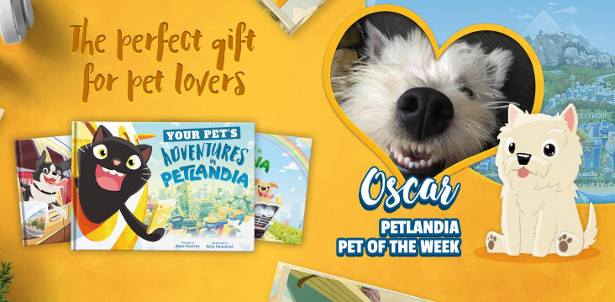 Petlandia Roadtrip: Two dogs embark on a fun-filled and fur-raising road trip across Petlandia. Hilariously heart-warming, this pawsome adventure sees the fuzzy friends going on a road trip from MewYork to Hollywoof via San Franbiscuits and beyond. Fur is ruffled but friendship conquers all!
£19.99 (softback), £27.99 (hardback), www.Petlandia.com, free delivery worldwide.
It's easy to create a personalised Petlandia book, simply:
Head to www.Petlandia.com and create your pet by choosing the pet type (dog/cat/rabbit)
Click 'Create my Pet'
Customise further by choosing its breed and the colour of its eyes and collar so you can ensure the star of the book looks just like your pet
Click 'Send me to Petlandia!' and then 'Create my book' to immediately see the full personalised story of your pet's pawsome adventure
You can even order personalised wrapping paper to gift wrap your book, giving it an extra special touch.
To ensure this pawsome gift arrives in time for Christmas, place your order according to these dates.
Standard Delivery – Order by Midnight Dec 17th
Express Delivery – Order by Midnight Dec 18th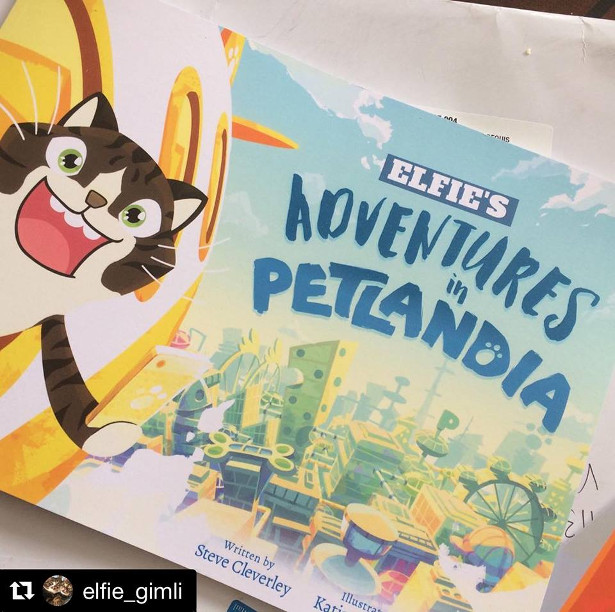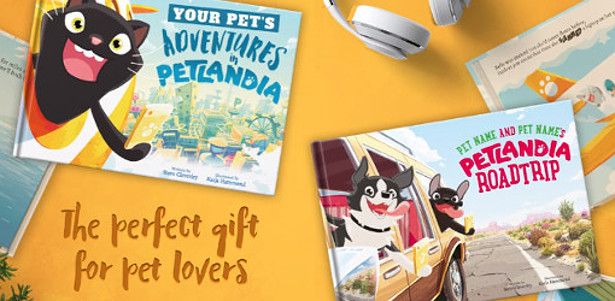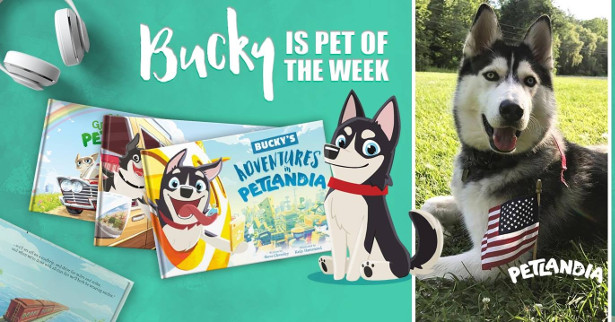 Looking to buy your little one's pyjamas this Christmas, and want the best PJ's in town? Check out Tractor Ted's Blue and Green PJ's.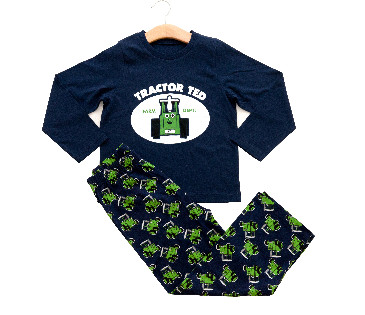 Made from 100% Cotton, these pyjamas are perfect for a late night snuggle and will ensure your cuties get the best nights sleep.
Tractor Ted PJs L:S (Navy), £18.00, Tractor Ted, www.tractorted.co.uk.jpg
All products available from www.tractorted.co.uk
 HURRY! Get your orders in to Lapland for Personalised Letter From Santa for your little ones! He's So busy! But Santa sends his letters before Christmas if he know who to send them to!!  www.laplandmailroom.com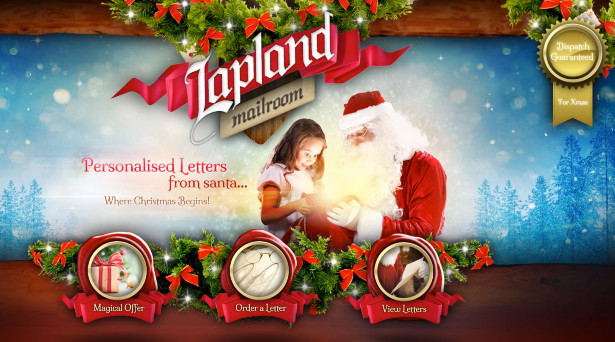 "Its so simple, choose from the pre-loaded letter formats personalise select payment and then the letter arrives on your selected date! The price is so low its easy to do but means so much in its own way, its a little thing, just a letter but for children the idea that it is from Santa is so exciting for them!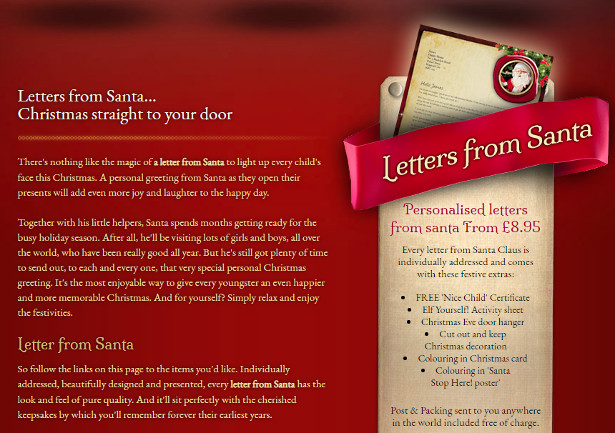 I've used this service so many times and booking so early really makes it my first Christmas item and it just gives that feeling of Christmas but its so far out i actually forgot last year and it was such a surprise for us all when the letter arrived! So so happy with this simple easy to do affordable thing that makes such a difference a children's start to Christmas, their eyes just light up, of course we all remember that that was like!" InTouch rugby Christmas Editor
www.laplandmailroom.com/postal-dates
Find out more and buy at :- www.laplandmailroom.com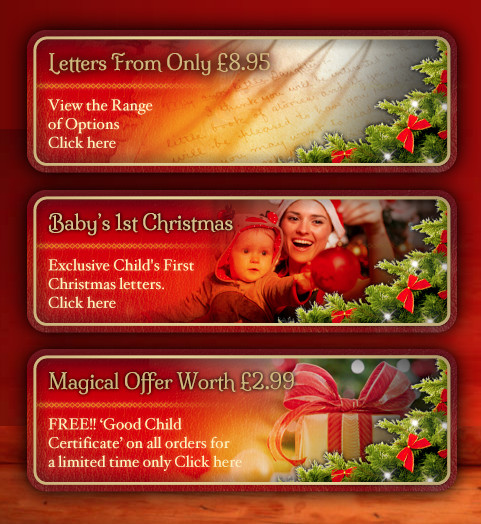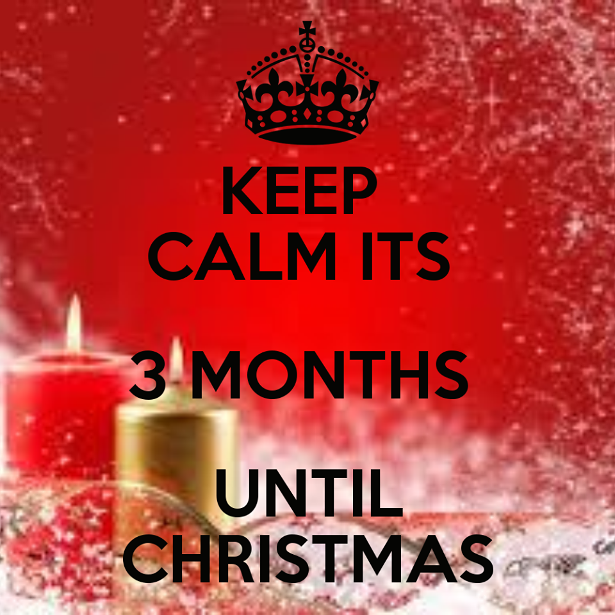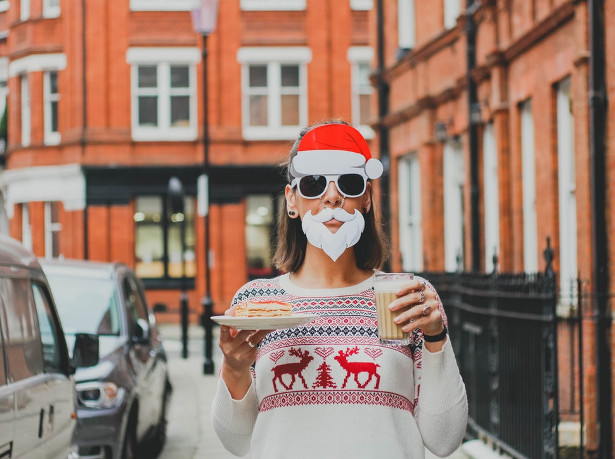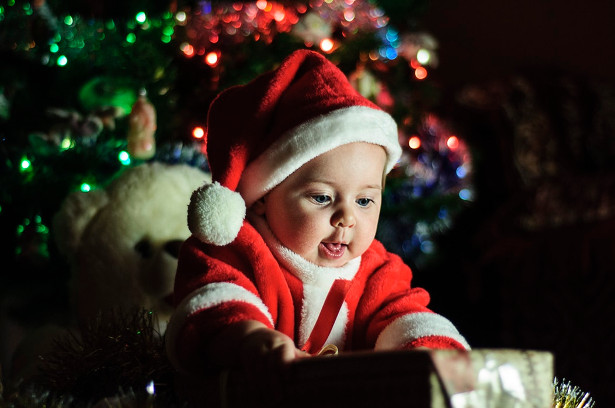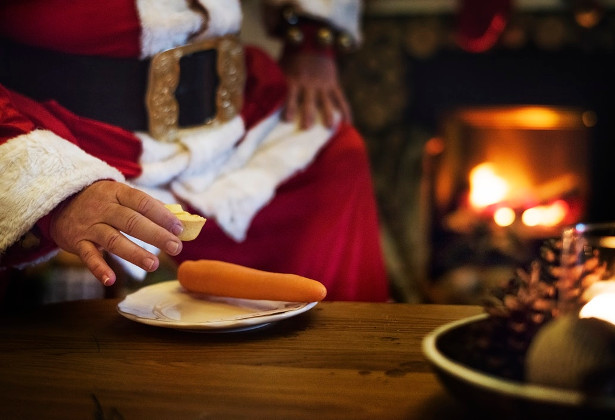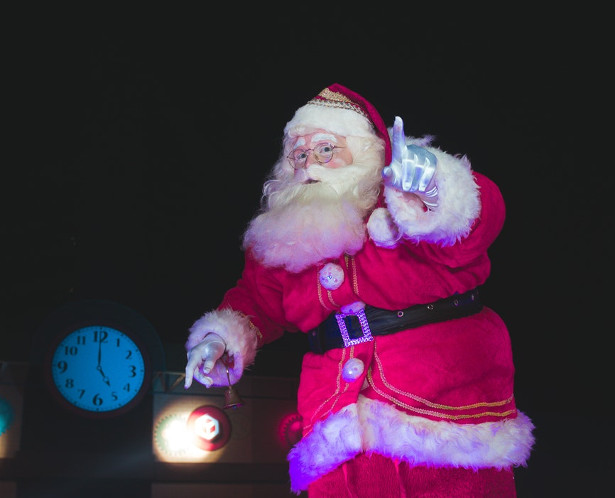 UK Grinch fans offered chance to spend night in his lair – it's a hotel stay like no other!
LateRooms.com partners with top Christmas movie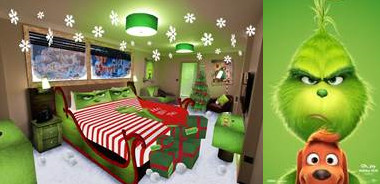 As Britain prepares to go Grinch movie crazy, top hotel booking site LateRooms.com has partnered with Universal Pictures and Illumination to offer one lucky fan and guest a hotel stay like no other – a night in a hotel room magically transformed into the Grinch's lair.
The Grinch animation movie opens in UK cinemas on 9 November and is tipped to be the family Christmas film of 2018. (Over 3 million have already watched the trailer on You Tube https://www.youtube.com/watch?v=Bf6D-i8YpHg ).
With a voice cast that includes Benedict Cumberbatch as the grouchy Grinch on a mission to steal Christmas, and singer Pharrell Williams as the story's narrator, the animation is already receiving rave reviews.
Now, fans of the classic Dr Seuss tale can not only look forward to seeing the funny festive movie, but also enter a Christmas travel competition like no other – the chance to stay in a luxury hotel room, on 20 December, magically transformed into his Mount Crumpet lair.
A talented crew of Grinch elves will take over a suite at the 4* The Strand Palace in the heart of London's West End and completely convert it in authentic Grinch movie style. The magical makeover will include: Whoville style walls, quirky pictures, a spectacular Grinch sleigh bed, green furry carpet, candy cane lighting and even snowflakes falling from the ceiling… the Grinch would hate it! There will even be some funny messages from the Grinch himself, to be revealed. Best of all, winners can tuck into a Grinch-themed room service menu, including Grinch goodies and delights.
The winner and their lucky guest will find some rather special presents from the mean one himself beneath a Grinch-style Christmas tree – who knew he could be so nice!
As part of the experience, the winner will also get tickets to a skating experience at the National History Museum. The Grinch has even arranged for them to ride in style in a horse drawn carriage taking in some Christmas light displays along the way.
The winner will then head back to The Strand Palace to cosy up for the night in their matching Grinch PJs to enjoy some Grinch-themed room service with a special bespoke menu. The next morning the lucky winner and guest will enjoy breakfast before heading to the cinema to see – what else – The Grinch!
So, for an experience of a lifetime simply enter the competition here by answering this question: 'What do you love most about Christmas?'.
Entries please before midnight on 7th December 2018 – go to: https://www.laterooms.com/en/hotel-reservations/grinch-competition
Competition T&Cs available here: https://blog.laterooms.com/the-ultimate-grinch-sleepover-competition-terms-conditions
THE GRINCH arrives in cinemas nationwide on November 9, 2018. www.grinchmovie.com