NEW HEALTH & FITNESS GEAR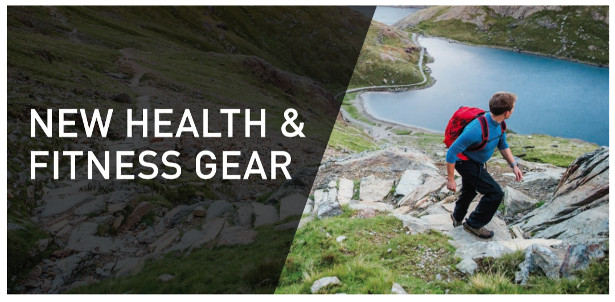 INSTAGRAM | FACEBOOK | TWITTER | YOUTUBE | PINTEREST
Hitting your fitness goals can be tough. Whether your training for a mountainside ultra or just trying to get out on your bike more, Osprey's range of active packs will help you achieve a PB no matter the sport or intensity.

KATARI & KITSUMA♀ HYDRATION
when the name of the game is staying hydrated in a range of activities, Katari and the women's specific Kitsuma are the ideal packs to carry. Combining an integrated hydration bladder with great fit and comfort, these packs help you to push your limits.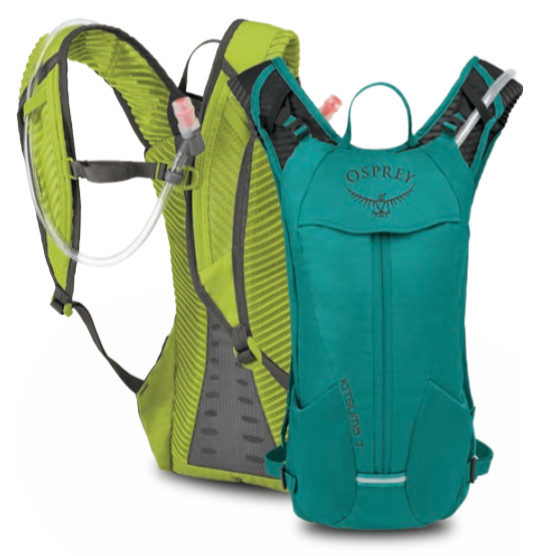 Hydraulics™ LT Reservoir Included
AirScape™ Backpanel
Highly ventilated low profile harness
DURO RUNNING
The Duro series boasts a range of running solutions for both the long and short distance training. With integrated hydration options and discrete pockets, you'll be able to run further and faster for longer.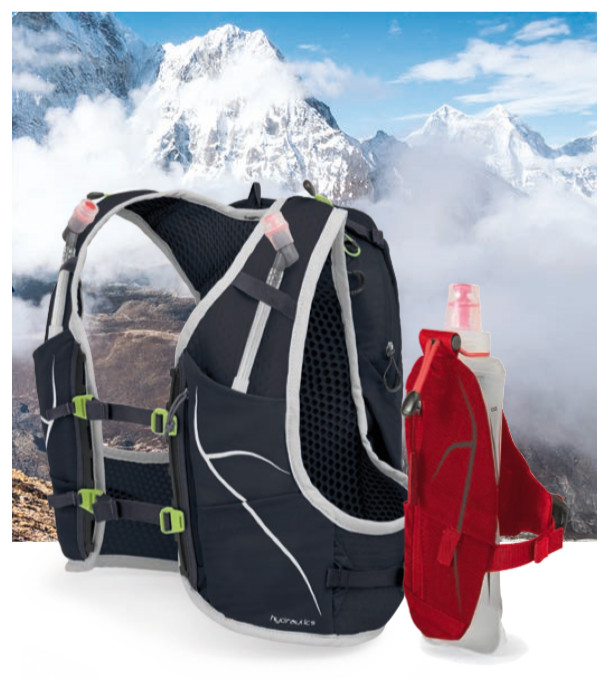 Hydraulics™ included
Vest and waist running solutions
Discrete zippered pockets
From £22
SYNRO & SYLVA♀ MULTI-SPORT
Syncro and the women's specific Sylva are the ideal Multi-Sport packs to wear in warm weather. With a highly ventilated AirSpeed backsystem and lightweight design, you'll be comfortable no matter how hard you push yourself.
AirSpeed™ backsystem
Integrated & detachable high vis raincover
Lidlock hike helmet attachment
From £70


RAPTOR & RAVEN♀ BIKING
Raptor and the women's specific Raven are premium bike hydration packs that will keep you pedalling until sunset. Featuring integrated hydration, a close and stable fit, and a low-profile design this is the biking pack for the dedicated mountain rider.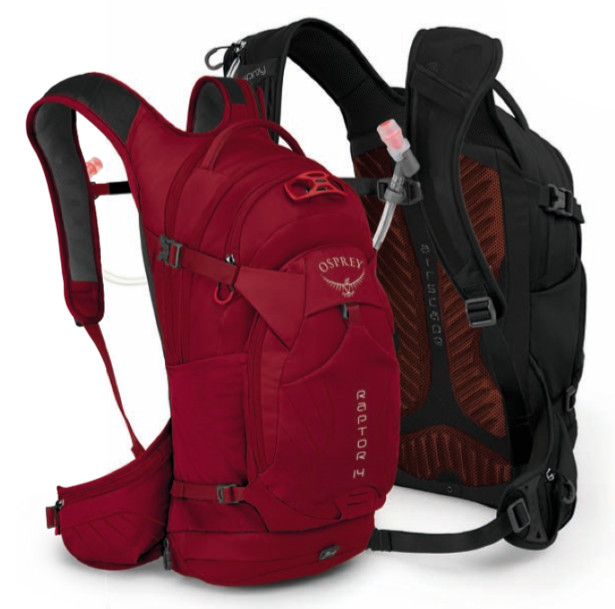 2.5L Hydraulics™ LT reservoir
Biostretch™ hipbelt and harness
Integrated roll-out ToolWrap™
From £110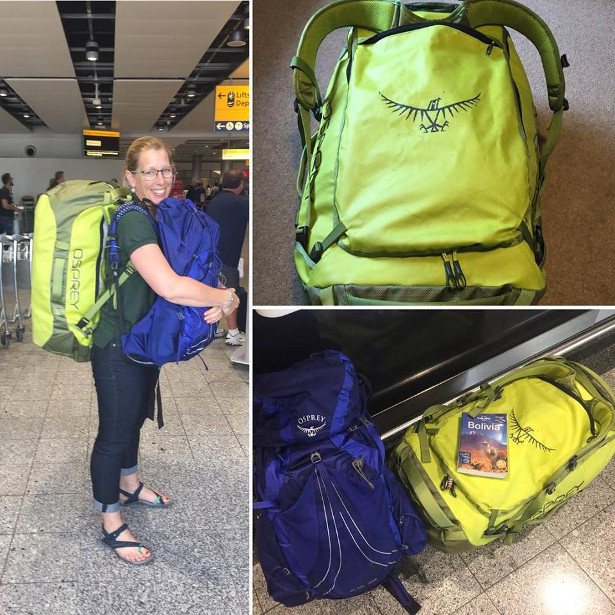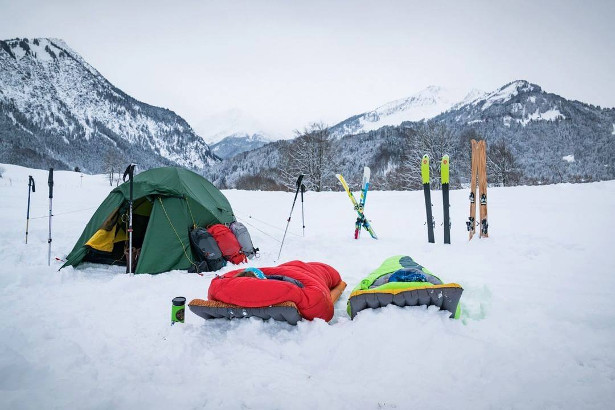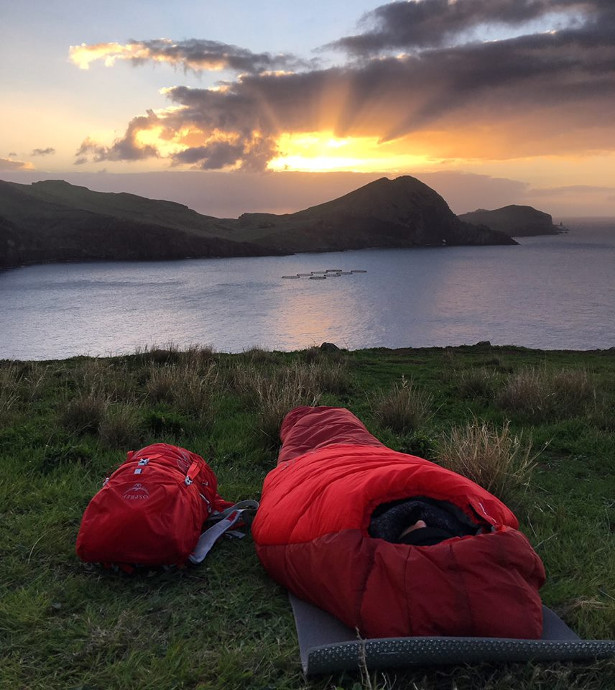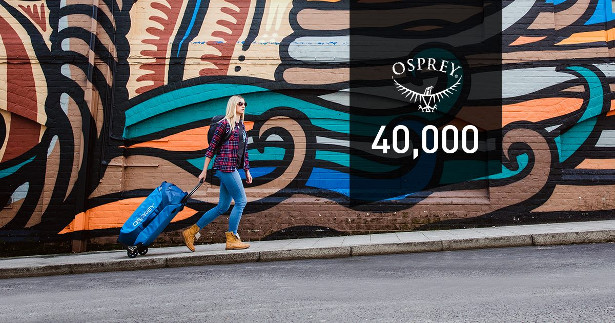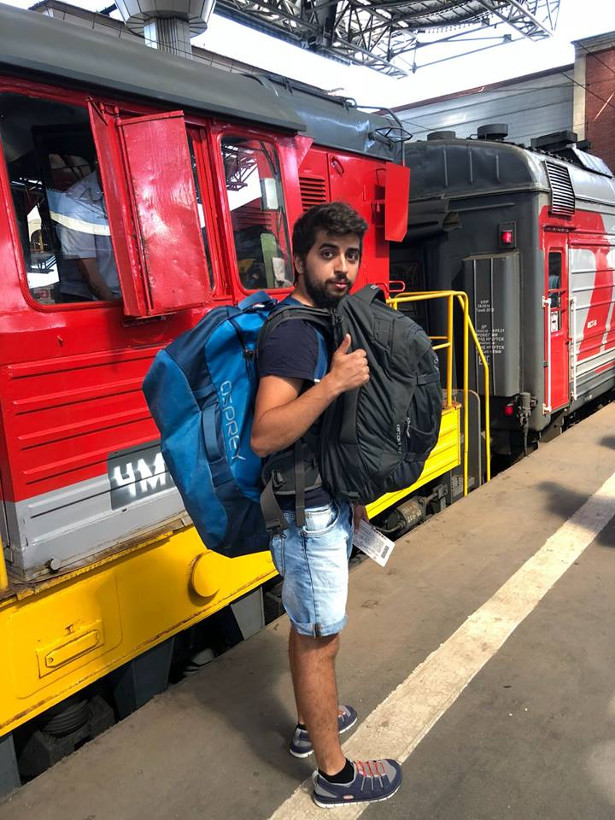 Petrolhead's present perfection: tickets to the London Classic Car Show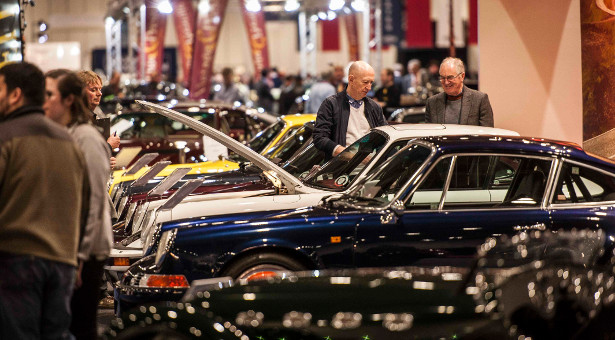 Classic car owners, collectors and enthusiasts will all appreciate tickets to the London Classic Car Show under the Christmas tree this year. Taking place on 14-17 February 2019 at ExCeL London, the show brings together collectors, dealers, manufacturers, suppliers and car clubs under one roof, with a vast collection of vehicles – from eccentric 1920s aero-engined machines to the iconic Mini – and special features to suit all discerning tastes.
One of the show's most popular features is the Grand Avenue, an indoor driving runway where iconic cars are fired up and shown in action. For 2019, the Grand Avenue celebrates 'Firsts', showcasing vehicles that have pioneered new technologies, market niches or styles, whether that was for road or track. There will also be classics that made a designer's name, pioneered a new material or founded manufacturing dynasties.
Jaguar's Director of Design Ian Callum will be honoured with the show's Icon Award and a celebratory exhibition of his work. Acknowledged as one of the world's foremost automotive design talents, Callum's most notable and career-defining cars will be on show, including the Aston Martin DB9, Jaguar I-PACE, F-TYPE and XK and the Ford RS200 rally car.
Presenter, engineer and inventor Edd China is curating an exhibit of exceptional aero engine machines. Known for his own eccentric engineering inventions and presenting TV show Wheeler Dealers, China is passionate about powerful aero-engined machines and was inspired by their outrageous engineering as a child. The display will include the 1923 27-litre V12 Thomas Special, 'Babs', which broke the world land speed record in 1926 at 171.09mph, and the 27-litre Hispano Suiza V12, known as 'Sid' for its characterful hissing after a fast run.
2019 marks the 50th anniversary of the Italian Job and the show will feature a line-up of cars that celebrate the iconic film, including the Lamborghini Miura, Aston Martin DB4 Volante, Jaguar E-Type, Harrington Legionnaire and of course the unforgettable iconic red, white and blue Mini Coopers.
Quentin Willson and Classic Cars magazine pick the smartest classic cars to buy in 2019 in the Smart Buys feature, while Wilson will also give talks in the Supagard Theatre. Returning for 2019 by popular demand, previous editions of the Supagard Theatre have seen famous faces such as Nigel Mansell, Derek Bell, Jacky Ickx, Vicki Butler-Henderson, Sir Stirling Moss and Jonny Smith taking to the stage to discuss a wide variety of topics and give advice on making the best classic investments.
Alongside, the country's leading classic car dealers will showcase rare gems, while a host of clubs will bring along their most cared for classics in the Car Club Square, so there's plenty of opportunity to chat with experts and like-minded owners and enthusiasts.
Advance ticket prices for the London Classic Car Show start from £25 per adult, £20 per child (6-15) and £75 per family (two adults, two children). Entry for children under the age of six years is free. VIP package upgrades are also available, starting at £55 per adult, which include fast track entry, hospitality, show guide and Grandstand access for one Grand Avenue show.
For further information and to book tickets, visit www.thelondonclassiccarshow.co.uk.
KING POWER WHEELCHAIR RUGBY QUAD NATIONS REVEALS INTERNATIONAL TEAMS FOR 2019 TOURNAMENT
Tournament to return to Leicester on March 1st, 2nd 3rd 2019 with Quad Nations sponsored again by King Power – home of Leicester City Football Club.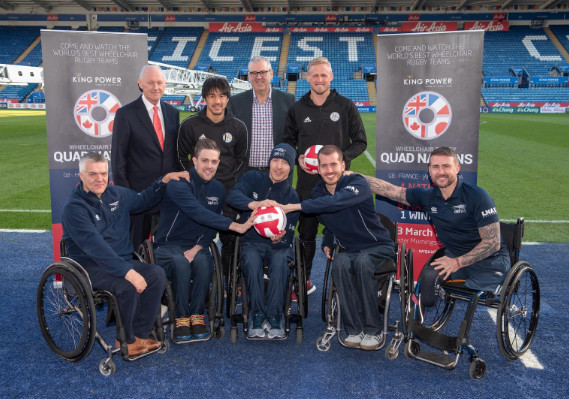 David Pond, CEO of Great Britain Wheelchair Rugby, Martyn Salt, Event Director of WR Quad Nations and Team GB Wheelchair Rugby Players launch 2019 campaign with LCFC players, Shinji Okazaki and Kasper Schmeichel. Photo Credit: Osborne Hollis.
Following the success of the first ever Wheelchair Rugby Quad Nations event in March, it's been revealed that the four nations of France, Canada, Japan and UK will be battling it out for supremacy at next year's tournament.
Also revealed at the tournament's official launch at the King Power Stadium, Thai Duty-Free giant King Power will, once again, be the title sponsor, as part of the continuing legacy of the former Chairman Khun Vichai Srivaddhanaprabha.
Described by spectators and sports commentators as brutal, the supercharged tournament will be held at Leicester's Morningside Arena between Friday 1st March and Sunday 3rd March 2019, bringing together three incredible days of the world's best 'Murderball' teams for this intense, elite-standard competition. Competing, Great Britain will be up against Japan, who won the Gold medal at the World Wheelchair Rugby Championships held in Sydney this summer; Canada who is currently ranked 4th in the world and France ranked 7th.
This will be the second time the tournament has taken place at the Arena, following the success of the inaugural event in March, which saw our home-side battle it out between Australia, Japan and USA and attracted over 5000 supporters.
Fast paced and violent, players compete in specially-designed, manual wheelchairs and must meet a minimum disability criterion, classifiable under the sport classification rules. All competing athletes were either born with physical disabilities, or have suffered illness which has affected their mobility, or else experienced life-changing injuries through accidents, including those serving in the armed forces.
The three-day tournament marks an important performance opportunity for Great Britain ahead of the 2019 European Championships in Denmark where Team GB will defend their title, and ahead of the World Wheelchair Rugby Challenge which will be played alongside the Rugby World Cup in Tokyo in October and involve the top eight teams in the world.
David Pond, CEO of Great Britain Wheelchair Rugby said: "We are delighted to return to Leicester for this fantastic tournament. All teams were overwhelmed by the warmth of the welcome we received by the people of Leicester when we played the first King Power Quad Nations in the city and we are hoping for even bigger crowds this time. We are also really appreciative of King Power who have come forward again to sponsor the event, so a big thank you to them. Spectators will see the game at the very highest level and it's fantastic that World Champions, Japan, will be joining us."
Susan Whelan, Senior Executive Vice President of King Power International and CEO of Leicester City added: "King Power is very proud of its associations to world class sport and to the city of Leicester, so we're honoured to support the Wheelchair Rugby Quad Nations for a second year. The 2018 event drew thousands of people from all over the world to witness some outstanding matches and I'm sure 2019 will be even bigger and better.
"It takes a remarkable level of dedication and commitment to reach an elite standard in any sport, but there is something additional to be admired about athletes with the passion and determination to overcome disability and succeed on the international stage. The tournament will be a great spectacle for the city, which I'm sure will be extremely proud to play host to another world-class sporting event."
The tournament will be sanctioned by the International Wheelchair Rugby Federation (IWRF).
The Wheelchair Rugby Quad Nations tournament will take place 1st – 3rd March 2019 at the Morningside Arena with daytime and evening sessions over three days.
Family tickets and concessions for Schools and Students will also be available. Perfect for Christmas gifts, tickets are on sale via official website.
For more details visit www.wrquadnations.com
CHRISTMAS PRESENT vs CHRISTMAS PAST

Christmas dinner sets the average family back £315
Brits spend £200 a year on festive outings such as ice skating, Christmas panto and visits to Christmas markets
Drinks are the third biggest expense at an average of £140 per adult over Christmas
CHRISTMAS IS supposed to be a time for celebration and enjoyment, but underneath the bright lights and jolly music it can be a financially trying time with many UK families resorting to taking out loans to afford the festivities.
A new survey of 1,001 UK adults carried out by Oaksmore ISA, an FCA-regulated Innovative Finance ISA, has found that even those households that claim to live comfortably throughout the rest of the year will to struggle to cover the stream of Christmas costs this year.
Of those surveyed, 80% admit that Christmas expenses put them under financial strain. This is even true of adults with a household income greater than £100,000 a year, as almost a quarter (24%) of this group also claim to feel the pinch during the Christmas season.
The results revealed the biggest expense during the festive period, aside from gifts, to be Christmas dinner, with the cost of feeding an entire family coming in at an average of £315 per household.
Festive outings were found to be the second biggest expense at Christmas, with the average adult spending a total of £200 on winter activities such as ice skating, Christmas pantomime with the kids, and visits to Christmas markets.
The research also highlighted how much Brits love to drink over the season, as this expense came in third on the list at an average of £140 per person. Travel expenses placed fourth on the list, with the average adult spending £90 visiting family and friends over the festive period. Completing the top five was the Office Christmas party expenses which weighed in at an average of £80.
The research by the innovative finance ISA also found that 60% wish they had planned ahead this year and set aside savings to help cope with the inevitable Christmas expenses.
Reuben Skelton at Oaksmore said: "Planning ahead and investing savings wisely throughout the year can really help families make the most of their finances over Christmas.
"By investing into an Innovative Finance ISA with a decent interest rate Brits could receive impressive returns which over the course of a few years would certainly ease the Christmas burden, or could even cover all expenses.
"Our Innovative Finance ISA has a maximum investment of £20,000 each year, which with 7.5% interest rate over 5 years would generate a return of £7,500, which would certainly make for a merry Christmas. The fund is used for the restoration of Britain's heritage sites so investees also have the satisfaction of directly giving back to their preservation of their country."
Oaksmore is the UK's first Innovative Finance ISA that allows public investors to support heritage projects across the UK. As well as pledging their funds to a good cause with tangible results, investors also benefit from excellent interest rates – currently 7.5%. This is significantly higher than those offered by regular savings accounts and traditional cash ISA's and the minimum investment is just £1,000.
Top 10 biggest Christmas expenses (after gifts):
Christmas Dinner for the whole family (£315)
Festive outings (£200)
Drinks (£140)
Travel (£90)
Office party (£80)
Festive clothes/ party outfit (£70)
Decorations (£50)
Christmas Tree (£50)
Cards (£15)
Office Secret Santa (£10)
More details about the Oaksmore ISA can be found online at https://oaksmore-isa.co.uk
Rain rain go away, please come back another
The perfect products to help kids battle against the elements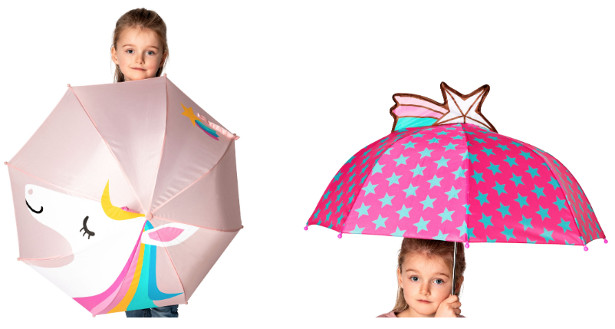 The icy cold rain and bracing southerly breezes have been causing havoc up and down the country this week and threaten to stay with us for some time (although we're still holding out for a rainless snowy Christmas day!)
To help your kids stay warm and dry throughout this wet and blustery spell, we've pulled together a round-up of our best weather resistant products from some of our clients here at Neat PR.
Kids Umbrellas, £5 from Flying Tiger stores nationwide uk.flyingtiger.com
London Bus Waterproof Jacket, £40 from the London Transport Museum Shop www.ltmuseumshop.co.uk
Umbrella, £19 from the London Transport Museum shop ltmuseumshop.co.uk
CHIMP THAT NEEDS A CHRISTMAS MIRACLE
International wildlife charity Born Free is today calling on the public to help them give Simon, a young, orphaned chimpanzee, the best Christmas gift there is – the gift of freedom.
Thought to be just three to four years old, Simon – a western chimpanzee – was born in a national park in southern Guinea-Bissau, West Africa. Sold as a pet, he has been living in a small cage with only a football for company for more than a year but, after a Born Free supporter reported his living conditions, the wildlife charity stepped in and now Simon's owners have finally agreed to let Born Free intervene.
The charity now urgently needs funding from the public to help rescue the adorable chimpanzee and give him a lifetime home at the Sweetwaters Chimpanzee Sanctuary in Kenya, which is a refuge for orphaned and abused chimps from West and Central Africa.
Chris Draper, Head of Animal Welfare & Captivity at Born Free, said:
"Sadly, hundreds of thousands of wild animals worldwide are kept as 'pets' – and this number continues to grow. Wild animals are bought and sold in pet shops, trade fairs, markets, direct from breeders, or online. They may be captive-bred, sourced from zoos and circuses or, like Simon, caught from the wild.
"We are working with the Pan African Sanctuary Alliance to rescue Simon and transport him to Sweetwaters Chimpanzee Sanctuary. The sanctuary is currently home to nearly 40 chimps who have been rescued from appalling conditions.
"At Sweetwaters they are given expert veterinary care and enjoy a life free from harm in vast, natural enclosures in which they can explore, climb and socialise – living the life a chimp should. With the public's help we can fund Simon's rescue, relocation and initial care at Sweetwaters. Any additional funds we raise will be used to help fund the rescue of other chimps in Guinea-Bissau."
For more information or to donate to Simon's fund at Born Free visit www.bornfree.org.uk.
To report a case of animal suffering to Born Free visit https://www.bornfree.org.uk/report-animal-suffering.

Give the gift of unlimited reading this Christmas with Readly digital magazine app
Readly Christmas Special: 2 months for 1.99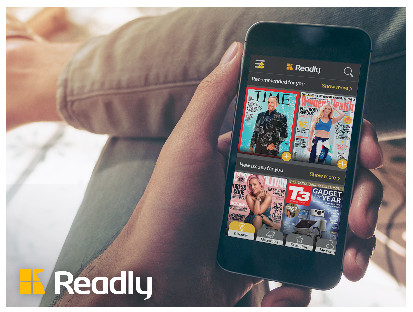 Love reading? Love tech? Whether you're cuddling up on the sofa this Christmas, travelling to see family, on holiday or simply looking for gift ideas, there's an app you can't be without.
Readly digital magazine app provides access to unlimited magazines to read anytime, anywhere, at the click of a button. Whether you're relaxing at home or on the go this Christmas, Readly has over 3000 top titles waiting to be read on your mobile, tablet or laptop.
Read about a new hobby, be inspired, get up to date with news, keep the mind challenged with puzzles or check out what you favourite celebs are up to with the breadth of titles available. There's all the latest issues and back issues too.
Readly has a very special Christmas offer available (until 31st December), the first 2 months for £1.99 and £7.99 thereafter.
Here's the top five reasons to get Readly this Christmas and enjoy it throughout 2019:
Travel light: Wave goodbye to heavy suitcases and airline restrictions. With Readly, you have access to your favorite magazines anytime, anywhere via your smartphone, tablet or laptop. And with no paper, it's environmentally friendly too!
Shut down time: If you want to properly shut down without wi-fi and be undisturbed this season, you can download up to 500 magazines and read them in the offline mode wherever you may be.
Share with the family: Readly gives users five profiles per household, so the entire family can read with their own profiles. Topics such as family, health, lifestyle, sports, business or science – with Readly you have the full choice and children's magazines too.
Unlimited reading: With access to over 650 UK titles and over 3000 magazines in total, you've never going to be short of something to read. Read your favourite titles or try something new, it's up to you. Reading is unlimited so don't hold back!
No hidden costs: No extras or hidden costs. Readly is a subscription app which gives you unlimited access to all its magazines for the monthly fee.
The most read digital magazine titles read by women according to 2017/2018 Readly data were HELLO!, OK!, Heat, Closer and Bella. The top titles read by men were Autocar, T3, Stuff, What Car? And MCN.
Readly is the magazine app to be reading in 2019. For £7.99 a month (£1.99p for the first two months), it is a top Christmas present for yourself or someone else.
Visit www.readly.com to check out our special Christmas offer.
Introducing the NEW Amberley Collection for relaxed living
The new Amberley Collection from The Painted Furniture is as beautiful and charming as the Cotswold village it is named after.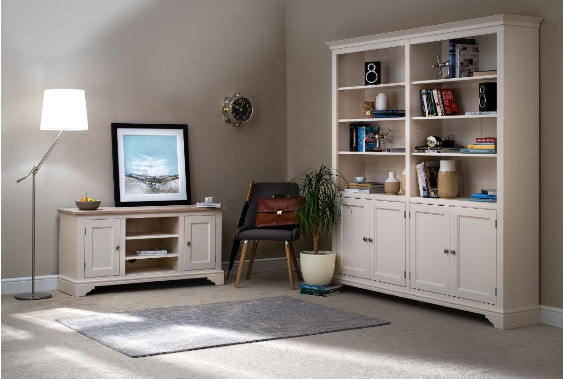 With elegant lines and timeless style, the new Amberley Collection is perfect for creating an organised and relaxed home. Featuring a beautiful selection of sideboards, dressers, media units and bookcases, it's easy to get your house in order this Spring.
Each of these charming pieces is available in a choice of 24 stunning paint colours, and comes with the option of either a painted or wooden finish for the top or display shelving. To further customise your furniture, there is also a great choice of high quality handles, ensuring it blends perfectly with any existing interiors.
The Amberley Collection is handbuilt-to-order in the UK with a host of contemporary features such as soft-close drawer runners fitted as standard. Made to last a lifetime, carcasses and front frames are constructed from solid tulip wood, which is incredibly strong and also gives a great substrate for the paint finish. Solid American Oak was carefully selected for the top sections due to its beautiful natural grain pattern. The result is a beautiful furniture collection finished to an incredibly high standard.
ADDIS: The BIG Spring Clean
Cleaning Solutions: The ADDIS Comfi-grip Iron Scrub AKA MRS HINCHS' BARRY!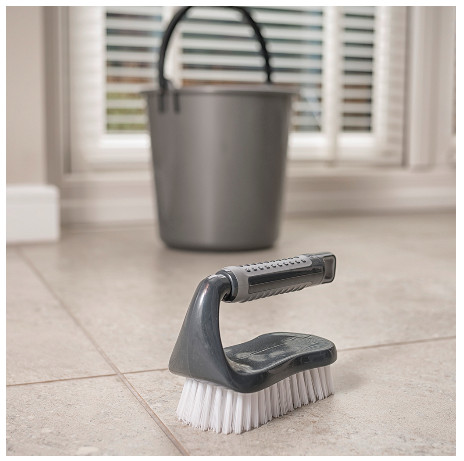 Known simply as 'Barry' to millions of Mrs Hinch fans online, this durable and hard wearing cleaning tool is from the ADDIS comfi-grip range, where every item has been designed with comfort in mind. This great value product with extra strength bristles, also comes with a 2 year guarantee and hooks nicely onto the rim of a bucket after use for easy storage. Instagram star Mrs Hinch uses Barry to clean her rugs and suggests mixing fabric conditioner with water, rubbing in with a cloth and then bringing back to life by buffing with Barry.
£3.99
Cleaning solutions: Superdry Plus Mop
Great for cleaning up pet hair and pesky paw print marks when the four legged friends have just come in from a wet day outside, this is the ultimate mop for fast drying. In one sweep, the Superdry Plus cleans, dries and absorbs all in one! The mop sweeps up everything in its path and when immersed in water, the hair, dirt and dust collected is simply dispersed in the water. The mop head features an antibacterial agent which prolongs the mop life and reduces odours. Ideal for use on ceramic, vinyl and natural stone surfaces for a really deep clean. The Superdry Plus comes with a 3 year guarantee – excluding the mop head – but refills are widely available.
RRP £13.49 – CURRENTLY £7.99 VIA THE RANGE
Cleaning solutions: ADDIS Bathroom wand
This handy mini bathroom mop is perfect for targeting those hard to reach places, cleaning walls and floor tiles effortlessly. The micro-fibres on the head of the wand lift soap scum and water marks to leave a streak free shine. The mop head is also machine washable, hard-wearing for multiple uses and can be used dry to buff & shine surfaces, or wet for a deeper clean.
£8.99
Waste management: 10L roll top mini bin
Ideal for storing discreetly under the sink thanks to it's roll top lid design, this mini version of the ADDIS 25L roll top bin, is easy to clean and designed to last thanks to it's 10 year product guarantee. The product measures: Width 22.5cm x Height 42.5cm x Width 23cm.
£11.99
Kitchen storage: Under the Sink Organiser
A place in the home that often turns into a bit of a dumping ground for carrier bags, cleaning products and anything else to quickly stuff in a cupboard out of sight – especially in City locations where space in the kitchen is at a premium – this innovative under the sink organiser not only means the user can maximise storage space, but also offers an effective management and stock control system of cleaning products. The days of frustratingly rummaging through cupboards trying to find a new bottle of bleach that doesn't exist are officially over. Easy to construct and simple to use with no building tools required, the outer frame is put together first, with the plastic inserts then added to create top and bottom shelves. The best bit of course is that the shelves can be built around the sink piping to maximise available space. The 10 adjustable shelves expand from 46cm – 81cm wide.
RRP: £24.99 CURRENTLY £17 VIA ARGOS.CO.UK
Storage solutions: 30L Unistore box
Also available in a larger 50L version, the Unistore boxes are ideal for storing cleaning products, diy items, bed-linen and seasonal clothing. Unlike most other storage boxes, the ADDIS versions are still made in the UK, so not only are the Unistore boxes durable for long lasting use (these items come with a 10 year guarantee), their minimal carbon footprint means they are also kinder for the environment too!
From £6.99
A wheel-y good idea for a Christmas gift – 5 to 17-year olds can learn to drive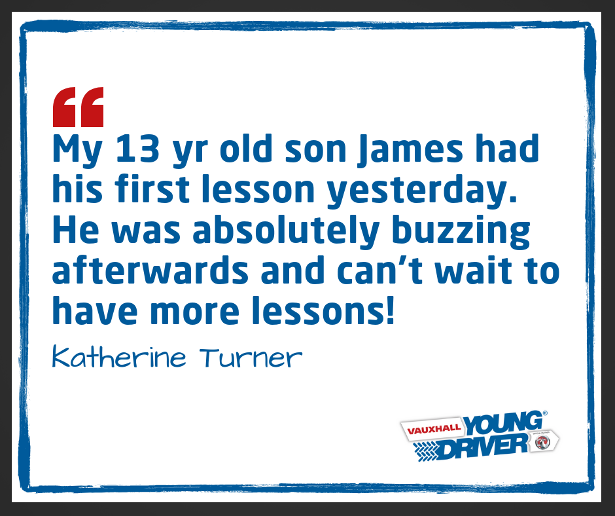 TWITTER | FACEBOOK | INSTAGRAM | YOUTUBE
Every youngster dreams of the things they'll be allowed to do as an adult. Make one dream come true this Christmas by letting them get behind the wheel for real.
Thanks to Young Driver, the country's largest provider of pre-17 driving lessons, children aged five to 17 can have lessons at 60 private venues across the UK.
Ten to 17-year olds can drive a new dual controlled Vauxhall Corsa SRi, with a fully qualified instructor. They'll be taught as they would be at 17, learning how to control the car, navigate road systems and even how to manage manoeuvres such as parallel parking and tight steering. Learners receive a drive diary to chart their progress and can also have a video recording of the lesson. Lessons start at £36.45 and gift vouchers are available.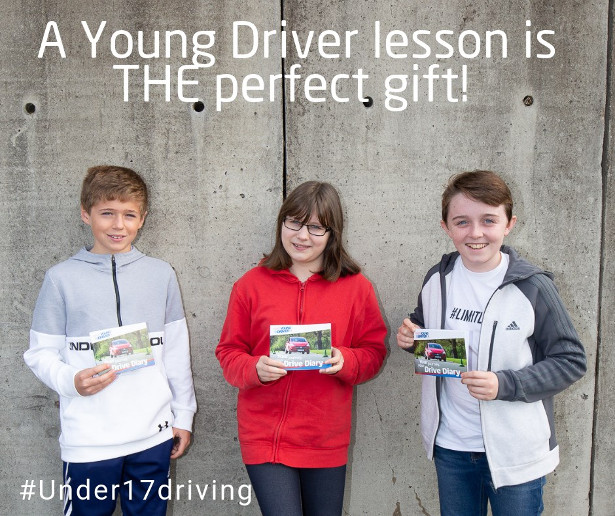 Be chauffeured by your teen in style with the Bentley Young Driver Experience. Ten to 17 year olds can drive a 6.75litre, dual control, luxury Bentley Arnage – and lucky parents can sit in the back in comfort for once! Lessons start from £49.99.
Five to 10-year olds drive the two-seater electric Firefly round a specially designed course, including roundabouts, junctions and steering challenges. All drivers receive their very own personalised driving licence after their lesson. Lessons start at £21.49 and gift vouchers are available.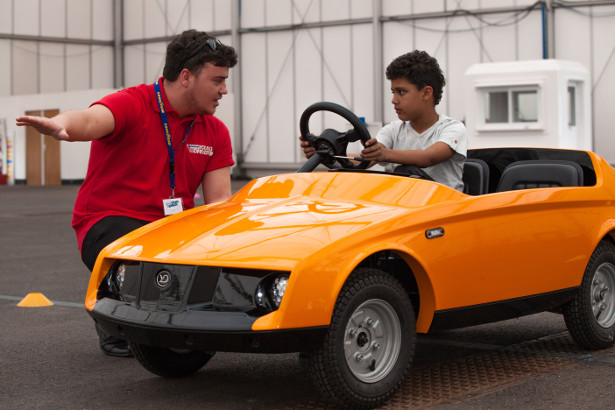 Because early driver tuition has been proven to lower the accident rate for newly qualified drivers by a half, you can also feel reassured that your gift has helped to give them a head start to safer driving.
As a great stocking filler for those aged 16 or over, Young Driver has also just launched the Learn to Drive giftpack for £9.99. The pack includes L plates and access to online learning, such as hazard perception and theory tests, and eBooks, including the Highway Code – perfect for those starting to think about getting on the roads for real.
All items available from www.youngdriver.com or by calling 0844 371 9010.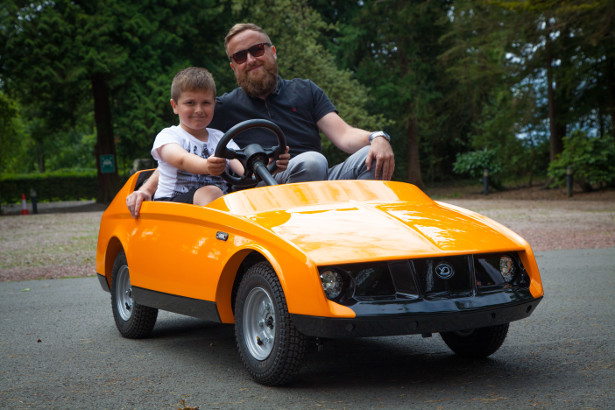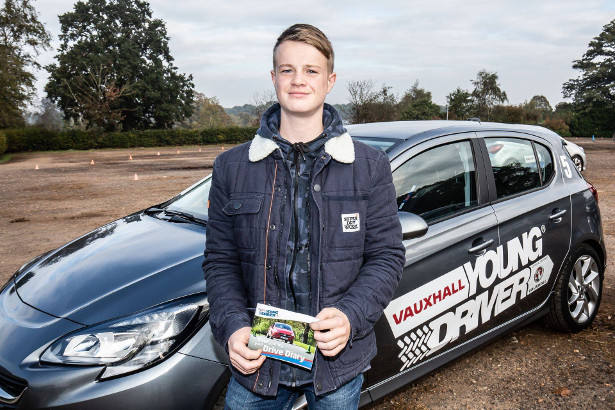 LEARNING EXPERIENCES IN THE HEART OF LONDON
Bored of baking and fed up with Zumba classes? Then fight the January blues by trying something new in London's West End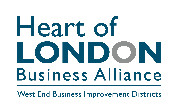 19 December 2018: New Year is the time to take on challenges. So why not learn a new skill? From hanging art like a pro to mastering life drawing or cheese tasting, there's plenty of enriching experiences on offer in London's West End.
Images: https://www.dropbox.com/sh/i83ruekwni0o74z/AACZZaBhtfvSCq-MoYW8Bt_Ia?dl=0
Cheese tasting at the Royals favourite cheesemonger
Master the art of cheese tasting at the royals' favourite cheesemonger Paxton & Whitfield. Partnering with the Academy of Cheese, the specialist shop offers one of the first UK industry recognised cheese training programmes. The course is designed for amateur foodies and professional cheese lovers alike and covers fundamentals like the production process, how to select and present cheese and how to taste 25 classic cheeses, from le gruyere to gorgonzola, like a pro. Level 1 training programme at Paxton and Whitfield is available at £195 on 20th February 15th March, 10th April, 15th May, 21st June, 24th July https://www.paxtonandwhitfield.co.uk/academy-of-cheese​
Learn how to hang art like a pro
Firmdale Hotels is offering art enthusiasts the chance to learn how to collect and successfully hang art in a living space with a guided experience at the Haymarket Hotel.
The walk incudes a guided tour of Firmdale Hotels' Creative Director, Kit Kemp's personally chosen art collection in the hotel, plus an intimate walking tour of some of Mayfair and St James' most prestigious galleries, led by curator Olivia Paterson. The first Art Walk will take place on 19th January and costs £99 per person including an afternoon tea or a three course lunch at Brummus Bar and Restaurant. https://www.firmdalehotels.com/hotels/london/haymarket-hotel/firmdale-art-walks-at-haymarket-hotel/
Create two unique Eau de Parfums on a date worthy of royalty at England's oldest perfume retailer
Couples can enjoy an experience to remember at Britain's oldest family run perfumery, Floris – the only appointed perfumer to Her Majesty The Queen. This "Together" Fragrance customisation includes a welcome glass of Pol Roger champagne with the opportunity to discover the secrets of fragrance creation and the chance to craft two unique 100ml Eau de Parfums with the help of a member of the Floris perfumery team. Ahead of the session participants will receive a gift box and two bottles engraved with their initials, as well as a guide of what to expect from the day's course. And, to add to the memory, the fragrance created is added to Floris's private perfume ledgers dating back nearly 300 years and started by founder Juan Famenias Floris – meaning it is protected for future generations to re-order. The 'Together' Fragrance Customisation is available at £800. https://www.florislondon.com/en_gbp/together-fragrance-customisation
Perfect Life Drawing Skills at the Royal Academy of Arts
The RA's historic Life Room, which has been used by artists since the 1860's, will be the backdrop to a five-week evening course on Life drawing. Classes will be overseen by the artist Andy Pankhurst and will allow participants to work from both male and female life models, with a structured combination of both long and short poses, while using a variety and choice of drawing mediums.
All specialist practical art materials will be provided, as well as refreshments at the beginning of each session, a drinks reception at the end of the final session and an introduction to the RA with particular reference to the works in the Collection. Life drawing: the nude and the ideal; five week practical evening course; £480 Monday 25 February – Monday 25 March, 6.15pm – 9.15pm https://www.royalacademy.org.ukhttps://www.royalacademy.org.uk/event/courses-classes-life-drawing-nude-ideal-feb-2019
Power in Portraiture and Life in Miniature at the National Portrait Gallery
What better place to explore portraiture than in the National Portrait Gallery (NPG)? The gallery's two-day Power in Portraiture weekend workshop led by photographer Rory Lewis, whose portraits are on show there, will investigate the depictions of strength and power, taking inspiration from the art on show and from Rory's own photographs of political and military figures. Using uniformed models, the workshop will teach participants how to use various lighting methods to illuminate subjects in Rory Lewis's style of chiaroscuro.
Weekend Workshop: Power in Portraiture; 23 February – 24 February, 11am – 5pm; £150. https://www.npg.org.uk/whatson/event-root/february/weekend-workshop-23022019
The NPG is also hosting a Life Drawing: Life in Miniature workshop, inspired by the exhibition Elizabethan Treasures: Miniatures by Hilliard and Oliver. The workshop, led by Gayna Pelham, will demonstrate what can be achieved on small scale, drawing in miniature and focusing on Hilliard's wonderfully detailed style.
Life Drawing: Life in Miniature; 22 February; 6.30pm – 8.30pm; £10 https://www.npg.org.uk/whatson/friday-lates/life-drawing-22022019
Sing your heart out whilst doing the dishes with your favourite musical icons.
Don't let your dishes dry on their own!
Feeling under pressure and like you want to break free from the bore of washing up?
Just give some extra time and your drying skills!
So grab one of these fab and funky tea towels from National Theatre Bookshop!
Tea Towel – £12.50 each – National Theatre Bookshop – shop.nationaltheatre.org.uk
BRITS DITCH DVD'S IN FAVOUR OF STREAMING SITES THIS CHRISTMAS
Almost three quarters of Brits will shun DVDs in favour of streaming sites for their Christmas movie viewing
Netflix originals disrupt Christmas traditions, overtaking classics as Brits favourite Christmas movies
Brits will watch an average of six Christmas movies over the festive period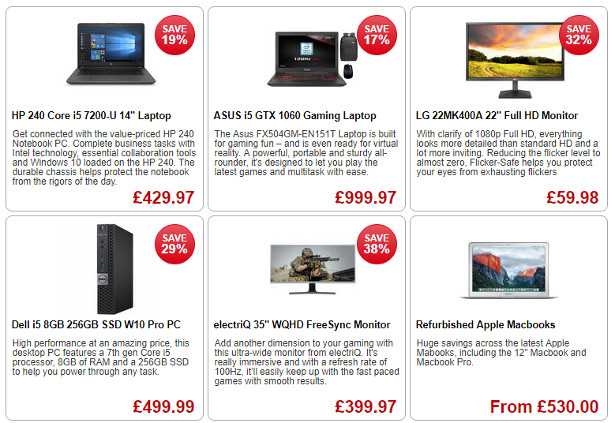 AS THE UK's top 10 favourite Christmas films for 2018 are revealed, streaming sites are disrupting tradition, with the majority of Brits shunning DVDs in favour of streaming sites and two Netflix Originals in the top five this year.
According to a survey of 1,024 UK adults, carried out by LaptopsDirect.co.uk, an incredible 73% of those watching Christmas movies this year said that they'll be getting their festive fix from streaming services such as Netflix, Amazon Prime and Hulu.
This is compared to only 27% who'll be favouring the traditional method of heading out to buy a DVD before snuggling up on the sofa to watch it.
The survey also reveals the UK's top ten favourite Christmas movies, with traditional classic, 'It's a Wonderful Life' remaining the nations favourite, with 71% of people saying this.
This is closely followed by 'Elf' with 68%. Completing the top three is Netflix Original, 'A Christmas Prince', which 55% of those surveyed said was their favourite Christmas movie.
The majority (64%) of people said they traditionally watch their first Christmas movie of the year when putting up their tree, as this is when the festive season begins for them.
This is revealed alongside the news that an incredible 78% of UK residents will watch at least one Christmas movie over the festive period, with the average person watching six Christmas movies this year.
Mark Kelly, marketing manager at LaptopsDirect.co.uk, said: "Given the popularity of streaming services, it's unsurprising that many people will be opting to watch their Christmas films via these service providers, rather than more tradtional methods, however I was surprised that the survey found this would be almost three quarters of Brits in 2018. The advantages of streaming sites are very clear, with the variety of choice and the convenience being a huge bonus over traditional methods.
"Given these findings, it's clear that Brits are still very much in love with the Christmas movie, just that they're adapting their viewing method in line with the times, though I was incredibly surprised to see a couple of Netflix Originals knocking some Christmas Classics off the top spots this year."
Top 10 favourite Christmas movies:
1. It's a Wonderful Life (71%)
2. Elf (68%)
3. A Christmas Prince (55%)
4. Miracle of 34th Street (54%)
5. The Christmas Chronicles (52%)
6. The Snowman (46%)
7. Home Alone (40%)
8. White Christmas (38%)
9. The Grinch (11%)
10.Love Actually (9%)
Laptops Direct is the UK's largest online laptop specialist, selling a wide range
of new and refurbished laptops from leading brands, as well as a wide range of other lifestyle gadgets.
For more information, visit http://www.laptopsdirect.co.uk
Entertainment One UK is pleased to make available the final artwork and two new clips for VICE
From writer and director Adam McKay (The Big Short) and starring Christian Bale, Amy Adams, Steve Carell and Sam Rockwell, VICE is coming to cinemas January 25.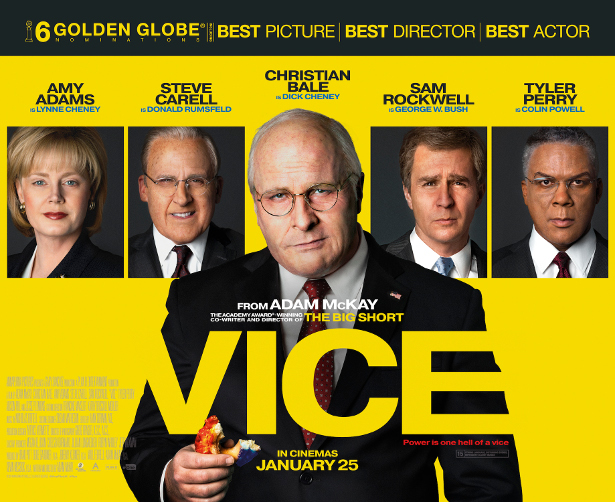 VICE explores the epic story about how a bureaucratic Washington insider quietly became the most powerful man in the world as Vice-President to George W. Bush, reshaping the country and the globe in ways that we still feel today.
VICE has been nominated for 6 Golden Globes including Best Picture, Best Director, Best Screenplay, Best Actor, Best Actress, Best Supporting Actor.
@ViceFilmUK
#VICE
'MUST HAVE' BOXING DAY DEALS FOR KIDS
From Muddy Puddles

Muddy Puddles 'Boxing Day' countdown is on and features unmissable deals.
The online sale starts on Boxing Day at 6am on 26 December, so you can kit your kids out and save up to 50% off kids ski wear, winter coats and accessories.
Muddy Puddles highlights include:
* Blizzard Winter Jacket (Navy Log – as pictured) – 50% off
* EcoSplash Jackets – 30% off
* Puddlestomper Wellies – 30% off
* Scampsuits – 20% off
You can keep on top of all the Muddy Puddles deals for Boxing Day by following Muddy Puddles on Twitter, Facebook and online at Muddy Puddles Sale, or sign up for the newsletter and be the first to know about the great deals as they happen.
www.muddypuddles.com
UK FINANCE APPOINTS RICHARD ROWNTREE AS CHAIR OF MORTGAGES PRODUCT AND SERVICE BOARD
Richard Rowntree, UK Mortgages Director, Bank of Ireland UK, appointed new Chair of UK Finance Mortgages Product and Service Board; Miguel Sard, Managing Director, Santander Mortgages is to step down
Steve Hughes, Chief Executive, Principality Building Society to join incumbent Lloyd Cochrane, Head of Mortgages, RBS, as one of the Product and Service Board's two deputy chairs
UK Finance is the collective voice for the banking and finance industry. Representing more than 250 firms across the industry, it seeks to enhance competitiveness, support customers and facilitate innovation.
UK Finance, the trade organisation representing the banking and finance industry operating in the UK, has today announced the appointment of Bank of Ireland's Richard Rowntree as the new chair of its Mortgages Product and Service. He will replace outgoing Chair Miguel Sard, Managing Director of Mortgages at Santander, in January 2019.
The UK Finance Mortgages Product and Service Board is one of UK Finance's ten specialist sector Boards which brings together senior industry figures to discuss key issues facing the sector. Richard, who was previously of one of the Board's two deputy chairs, is UK Mortgages Director, Bank of Ireland UK, where he is responsible for the Mortgage Business in the UK. He previously held the position of Head of Specialist Banking for Williams and Glyn (RBS) as well as senior mortgage roles with Santander, Lloyds and Halifax. As a result of Richard stepping up to Chair, Steve Hughes, Chief Executive, Principality Building Society, will now sit alongside Lloyd Cochrane, Head of Mortgages, RBS as deputy chair.
Led by CEO Stephen Jones, UK Finance represents more than 250 firms in the UK providing credit, banking, markets and payment-related services. Representing firms covering credit, banking, markets and payment-related services, UK Finance seeks to champion a thriving banking and finance industry, acting always in the best interests of consumers, businesses and wider society. It offers research, policy expertise and advocacy as well as operational and project activity to enhance members' own services where collective activity across the industry is appropriate.
Jackie Bennett, Director of Mortgage Policy, UK Finance, said: "It's set to be another busy year for the Mortgages Product and Service Board particularly with the FCA's final report in to the mortgage market due in the first quarter. Driving an agenda that continues to deliver good outcomes for consumers and raises standards in the sector are key objectives for the Product and Services Board and Richard's extensive experience of the industry will prove invaluable in helping us deliver these. I am also very grateful to Miguel Sard, who Richard succeeds, for his valuable contribution."
Richard Rowntree, UK Mortgages Director at Bank of Ireland, said: "Overall the mortgage market is in a good place and working well for many customers with innovation driving choice in currently under-served market segments. The UK Finance Mortgages Product and Service Board plays an important role in helping deliver positive results for customers across the UK and I look forward to taking on the role of chair."
Steve Hughes, CEO at Principality Building Society, said: "As CEO of a mutual organisation I feel I can bring a different perspective to the Product and Service Board, providing insight and strong support to Richard, Jackie and the Board on the mortgage agenda across the UK."
Minderest has compared 13 online stores that sell toys from the world's best-selling brand, LEGO®.

December, 2018.- What toys will be sold most this Christmas? This is one of the questions asked by many families around this time, and is also echoed in the retail sector, because this trend will affect the evolution of stock and prices. The law of supply and demand tells us that the higher the demand for a product, the higher the price (assuming supply remains unchanged). In the case of toys, is this applicable?
The reality is that every Christmas campaign has its star items, but there are some that remain among the most sought after and desired year after year: A great example are toys from LEGO®. To find out if there is a significant price difference depending on the online point of sale, the price and stock monitoring tool Minderest has carried out a study that will allow us to find out where the products of this brand can be found at the best price.
So, last December 13th, a sample of 222 LEGO toys with stock in Amazon UK and other sellers captured from Google Shopping were analysed: Alza, Roys of Wroxham, John Lewis, Brickshop, Very, IWOOT, Smyths Toys, The Hut, LEGO Shop, Conrad Electronic, Sam Turner & Sons and Fruugo. In the sample, the marketplace prices of some of these companies have been ignored, and only items that are sold in at least 3 of the previous 13 companies have been selected.
For each of the products, the cheapest price found in any of the online stores analysed was obtained. The percentage difference has been calculated with respect to the cheapest price found and each of the stores compared. The results that were obtained are as follows, and it can be confirmed that price differences can exceed 35%. This is the retailer ranking compared to the cheapest merchant found:
Alza.co.uk: 8.52%
Roys of Wroxham: 9.32%
Amazon UK: 10.47%
John Lewis: 10.52%
Brickshop: 12.69%
Very: 13.32%
IWOOT: 14.36%
Smyths Toys: 15.48%
The Hut: 19.55%
Lego Shop: 19.77%
Conrad Electronic UK: 21.24%
Sam Turner & Sons: 22.87%
Fruugo: 35.73%
Gary Thomson, UK Country Manager at Minderest, highlights the importance of comparing prices and not falling for the general, and often erroneous, idea that Amazon is cheapest. "LEGO is always extremely popular at this time of year as both fun and educational toys. Due to this LEGO reaches a very large audience of both children and adults, so making comparisons can help us save a lot of money."
In fact, within Minderest's study you can also see the average difference between the cheapest and the most expensive price found for each of the products, which stands at 27.48%.
"This would be the maximum saving that someone would obtain just by comparing prices," concludes Gary Thomson, who also offers several examples that show the price differences that can be found for the same product. "LEGO Jurassic World 75930 Indoraptor Rampage at Lockwood Estate" is sold on Amazon and Very for £69.99 and at John Lewis, The Hut and Smyth Toys for £99.99. This is a huge price difference which exceeds 40%".
Minderest, experts in price monitoring
Minderest's price and stock monitoring tool has positioned itself internationally as one of the leading solutions in its sector. The technology company closed the year of 2017 with a growth of over 300% compared to the previous two years, and with a 'churn rate' (customer cancellation rate) of less than 5%. By 2018, it plans to maintain similar growth figures while increasing its workforce, which currently comprises 30+ people. Minderest operates in more than 25 countries, and among its more than 200 European customers are 10 of the 25 largest European retailers, including Carrefour, Decathlon, HP, Royal Canin and Leroy Merlin. In 2014 and 2016 the company received awards for the best software solution on the market.
More information at: https://www.minderest.com
Clare Haines, founder of the meteoric eBay-store-to-market-leading lingerieoutletstore.co.uk is urging men to choose practicality over novelty Christmas underwear when buying lingerie for their partners this Christmas.
www.lingerieoutletstore.co.uk/lingerie/bras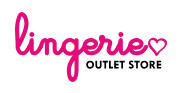 "Christmas Lingerie looks great, but over 80% of women have misfitting bras in 2018. Rather than going for a novelty choice that's only relevant for one month, husbands and boyfriends would be much more in favour if they bought lingerie that their partner could wear comfortably, any day of the year.
"Depending on body shape, there are certain sure-fire hits in terms of bra style.
Balcony bras are a great all-around choice as they offer lift and support in a way that you can wear every day.
For smaller breasts, consider a T-shirt bra or bralette, the latter being increasingly popular for millennials.
For larger or unsupported breasts, a full cup bra is an absolute must.
"Failing to measure one's bra size every six months is a big contributor to the huge amount of ill-fitting bras, but the amount of resources online now means it's easy to do at home. Check out Lingerie Outlet Store's Fitting Room for guides on fitting bras, swimwear and everything else underwear related."
Original Investment Art Specials From Only R2000 A Painting
www.artcurator.co.za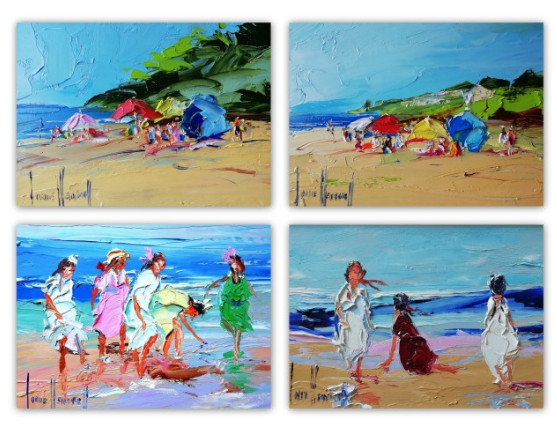 Thorntons adds sumptuous Chocolate Slabs to magical festive range

FACEBOOK | TWITTER | YOUTUBE | INSTAGRAM
'Tis the season to be jolly. So why not treat yourself and your loved ones to the Thorntons festive range, which now includes a new delicious collection of Thorntons Chocolate Slabs.
From decadent dark chocolate, to smooth caramel white chocolate and delicious milk chocolate – there is a Thorntons Chocolate Slab for every sharing and gifting occasion this festive season.
Embellished with tantalising toppings whilst swirled with delicious ingredients, the three Chocolate Slabs are easy to snap and share, making it even easier to pass the love around the Christmas table.
The sensational caramel white chocolate slab is made with smooth caramel white chocolate and is loaded with Thorntons very own special toffee and scattered with sea salt – perfect to seduce the taste buds.
If you are more of a decadent dark chocolate lover, then the dark chocolate with orange slab is for you. Blended with zesty crispy orange pieces and topped with candied orange strips, this slab is deliciously delightful.
For milk chocolate fans, Thorntons has created a milk chocolate and fudge brownie slab which has a smooth and sumptuous caramel flavour, and is topped with brownie crumbs and delicious caramel fudge pieces – a treat perfect for those melt in the mouth moments.
£12.00 (RRP), available to buy in Thorntons Stores and online at www.thorntons.co.uk.
The Chocolate Slabs are part of the wider Thorntons collection of seasonal chocolates and sweet treats, perfect for a delicious dinner party gift, secret santa gifts or stocking fillers.
B'TWIN 500 KIDS' 14-INCH BIKE (3-4.5 YEARS) – UNICORN
Price: Was £79.99, Now: £74.99
www.decathlon.co.uk/14-unicorn-500-kids-bike-id_8371300.html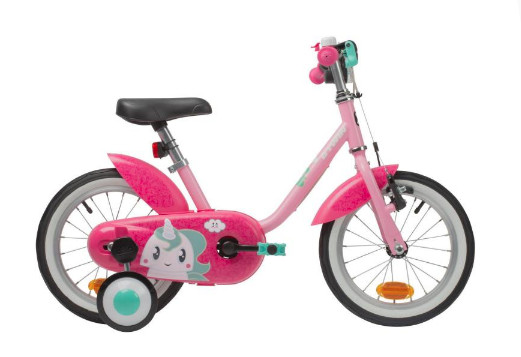 Why is it great: 1, 2, 3, pedal! We've designed this 14″ bike for children aged 3 to 4.5 years, measuring from 90 to 105cm, learning to pedal and cycle like the big kids. With a low step-through, this bike with stabilisers allows your child to learn how to ride at their own pace. It is equipped with a chain guard and mudguards to prevent rubbing and dirt.
SAUSAGE ROLL SINGER LANDS RECORD DEAL…WITH SAUSAGE ROLL MAKER
A self-confessed sausage roll fan, singing about his favourite snack is aiming for the coveted Christmas number one spot, to be announced on Friday.

Mark Hoyle, aka dad blogger LadBaby's rendition of 'We Built this City on Sausage Rolls', inspired bosses at Wall's – the number one sausage roll brand – to sign him up as a 'special envoy' as part of a long-term collaboration.
Mark, from Hemel Hempstead, penned his meaty cover version of Starship's 1985 classic 'We Built this City' as a fun way of raising money for The Trussell Trust, a charity which manages the nationwide network of UK food banks. Since its release in mid-December it has received over 500,000 You tube views and is leading the way to be the Christmas song of 2018.
To support the race to number one and raise more money for the Trussell Trust, Wall's is offering everyone who downloads the single the chance to win a year's supply of sausage rolls. Mark and his son Phoenix have also been presented with unique 'Sausage Roll' suits, to help with their tour of the country raising awareness and driving downloads of the single ahead of Friday.
Commenting on the news, Mark said: "The last few weeks have been absolutely crazy, and I still can't believe the love for the song – it's amazing to think that we're helping people who need it most at this time of year. As a massive fan of the humble sausage roll, it's brilliant that Wall's has reached out and I'm looking forward to doing even more things like this next year!"
Kim Burgess, Head of Markets at Wall's said: "With someone so passionate and dedicated to sharing his enthusiasm for sausage rolls for such a good cause, we're delighted to help LadBaby in any way we can. We are still working through the finer details, but needless to say Mark's wish for a free supply of sausage rolls will definitely be included within this."
The single can be downloaded on iTunes, Spotify and Amazon and for your chance to win a year's supply of sausage rolls, visit the Wall's Pastry Facebook page: https://www.facebook.com/pg/WallsPastry/posts/?ref=page_internal
Property For Sale: Sharks players not included!
Would-be homeowner gets more than he bargained for when viewing an apartment occupied by Premiership Rugby superstars Faf de Klerk, Rob du Preez and Arron Reed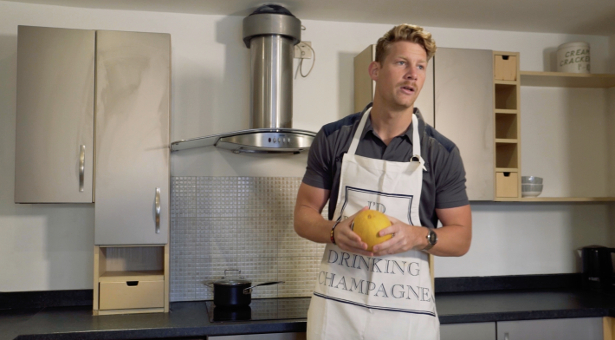 A balcony with a skyline view, spacious open plan living room, two modern bathrooms… and three international rugby superstars?
It might sound like the start of a joke, but that's what one unsuspecting would-be homeowner came up against when viewing an apartment in a new tongue-in-cheek video launched to celebrate the two-year renewal of a partnership between Manchester-based estate agents, homes4u, and Sale Sharks.
Fresh from recent back-to-back games against French side Bordeaux Begles in the Challenge Cup, Sale Sharks stars Faf de Klerk, Rob du Preez and Arron Reed star in the new video, surprising house hunter John.
The video shows the club's first-team stars enjoying some down-time, with scrum half de Klerk watching some classic Premiership Rugby re-runs in the property's open-plan living room.
Rob du Preez, who joined the club at the end of October, is found making the most of the apartment's modern kitchen facilities, whilst academy product Arron Reed appears fresh from the shower in just a towel in an awkward moment for the potential homeowner.
Andrew Mellor, Partner Development Manager at homes4u, said: "We wanted a fun way to celebrate the renewal of a brilliant partnership between Sale Sharks and ourselves. I am delighted the players got stuck in and enjoyed themselves, let's hope they can add a couple of Oscars to the trophy cabinet this season!
"Finding that perfect property for sale in Manchester city centre these days can seem like a daunting task but properties featuring three world rugby superstars are even harder to find! The players have definitely added some curb-appeal to the property and we're expecting it to be snapped up by someone very soon!"
Sale Sharks Commercial Director and former player, Mark Cueto, added: "The lads have been putting in some great performances on the pitch this year and it's good to see that they're translating that into acting now – although they might need a few more classes before they're ready for the big screen!
"In all seriousness, we were really happy to help homes4u promote one of their properties in a quirky way. We really value the support of all of our partners and we're always happy to get involved in things like this with them, so I'm sure Faf and the lads will be back out again soon."
UK WORKERS ARE RISKING GDPR PENALTIES BY FORWARDING WORK EMAILS TO PERSONAL ACCOUNTS

64% of UK workers admitted to breaching rules by forwarding work emails to their personal email accounts in the months following the introduction of GDPR
MANY UK Businesses are risking penalties by failing to adhere to GDPR legislation.
A survey of 1,002 UK workers in full or part-time employment, carried out by technology services provider Probrand.co.uk, has revealed that an incredible 64% of people admitted to having forwarded a customer email to their personal email account in the four months following the introduction of GDPR.
Given that earlier research from the company found that more than half (55%) of all UK based businesses were breaching GDPR laws by not having an official process or protocol for disposing of obsolete IT equipment, this news is perhaps less surprising.
Worryingly, according to the data, 84% of the workers who admitted to forwarding customer emails to their personal accounts didn't feel they were doing anything wrong (as there was no malicious intent behind their actions) despite the fact that this notion of innocence would likely be deemed irrelevant if it came to a legal judgement over whether there had been a breach of GDPR laws.
Matt Royle, marketing director at Probrand comments: "What may seem like an innocent and even helpful action of workers trying to catch up on work out of hours is actually a clear breach of GDPR laws. This is because the worker in question will have unwittingly forwarded sensitive personal customer information and/or their own employer's Intellectual Property to a third party outside of the corporate network.
"Of course, in the vast majority of cases this will have been done with the best intentions, with the employee simply planning to pick up their work at home – but given the amount of publicity around GDPR it is perhaps surprising that more workers (and employers) are not aware of the basics of what is required for GDPR compliance.
Royle went on to add: "…It is clear from these findings that businesses need to do more to educate their employees on the laws surrounding GDPR and data protection. Seemingly innocent actions could have substantial repercussions. A GDPR breach can result in fines that potentially run into the millions – this financial impact along with the knock on effects this can have for businesses, including reputational damage, the loss of customer loyalty and trust, can be hugely damaging for companies in the long term."
Probrand is the UK's first marketplace for business IT, providing IT products, managed IT services and IT solutions. Find out more at Probrand.
WATCH THE OFFICIAL TRAILER FOR
MEN IN BLACK™: INTERNATIONAL
Sony Pictures is pleased to make available the official trailer and poster for F. Gary Gray's action/comedy adventure MEN IN BLACK™: INTERNATIONAL.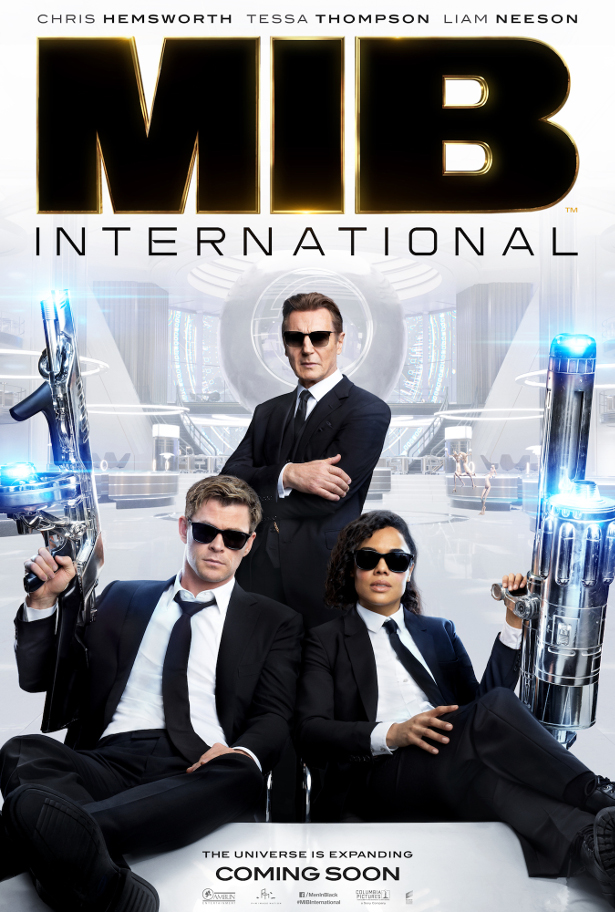 The Men in Black have always protected the Earth from the scum of the universe. In this new adventure, they tackle their biggest, most global threat to date: a mole in the Men in Black organisation.
https://youtu.be/L_fmJvoIfhQ​

Facebook: https://www.facebook.com/watch/?v=2134202336797455
Stills available at hi res here: https://workspace.cimediacloud.com/r/uGdI9YqZQijX
Executive Produced by Steven Spielberg, E. Bennett Walsh and Barry Sonnenfeld, MEN IN BLACK™: INTERNATIONAL boasts an all-star cast featuring Chris Hemsworth, Tessa Thompson, Rebecca Ferguson, Kumail Nanjiani, Rafe Spall, Laurent Bourgeois, Larry Bourgeois with Emma Thompson and Liam Neeson.
MEN IN BLACK™: INTERNATIONAL will open at cinemas across the UK and Ireland June 14, 2019.
FB /MIBmovie
TW @SonyPicturesUK
IG @SonyPicturesUK
#MIBInternational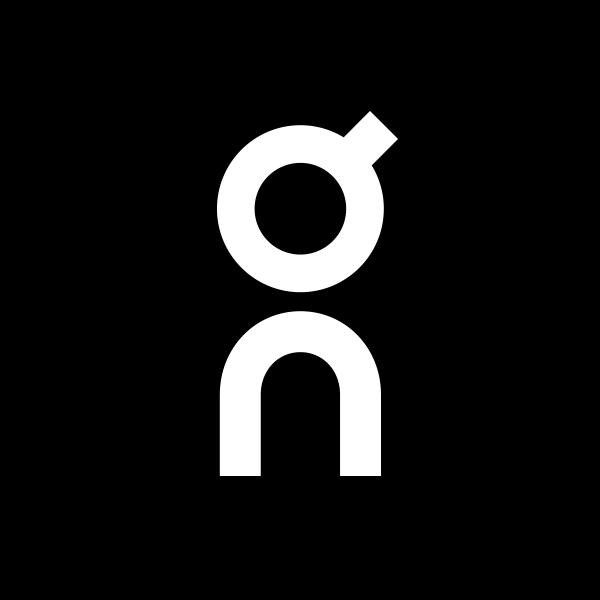 FACEBOOK | TWITTER | INSTAGRAM | STRAVA | YOUTUBE | LINKEDIN
Latest running shoes
Cloudsurfer – £135.00
https://www.on-running.com/en-gb/products/cloudsurfer-jungle-lime-m
Cloudace – £170.00
https://www.on-running.com/en-gb/products/cloudace-mist-stone-m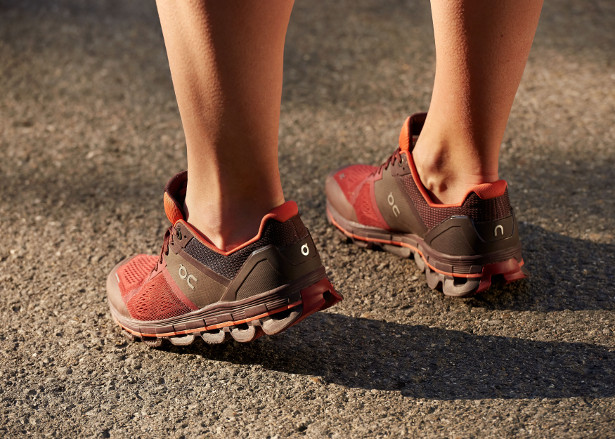 Cloudventure Waterproof – £150.00
https://www.on-running.com/en-gb/products/cloudventure-waterproof-black-graphit-m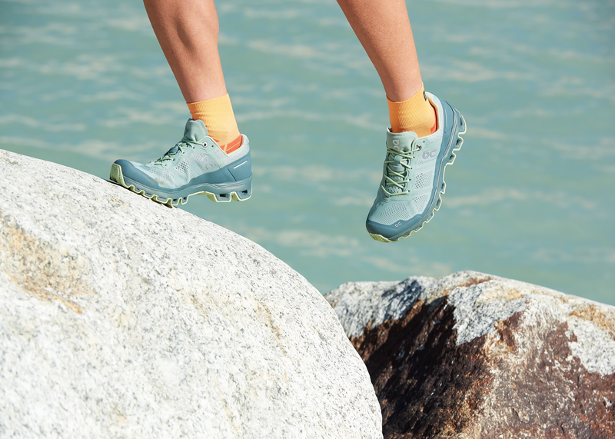 Cloudflyer Waterproof – £155
https://www.on-running.com/en-gb/products/cloudflyer-waterproof-black-lunar-m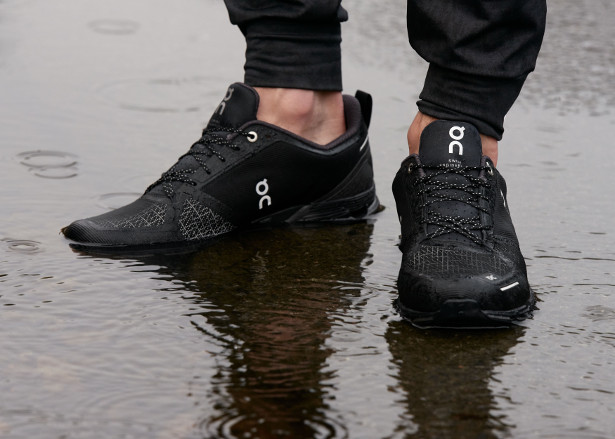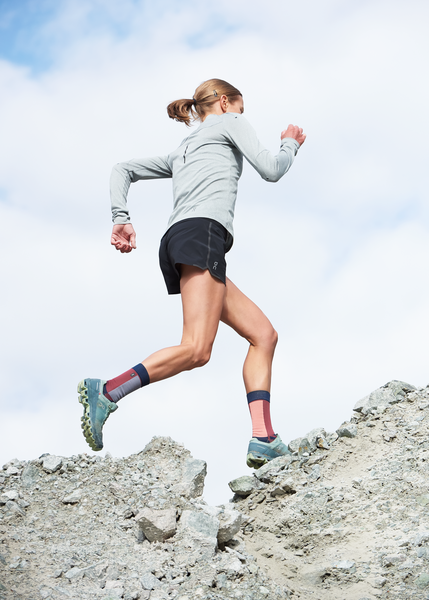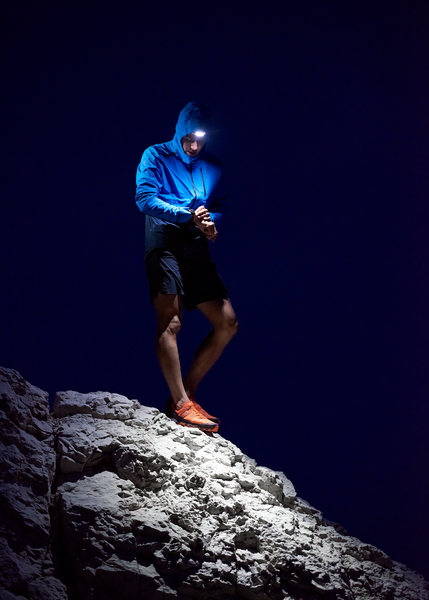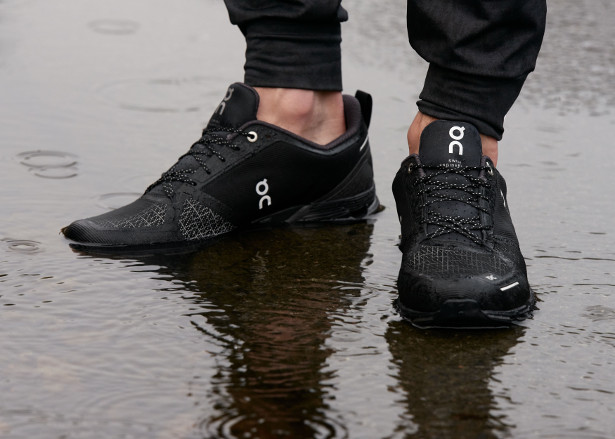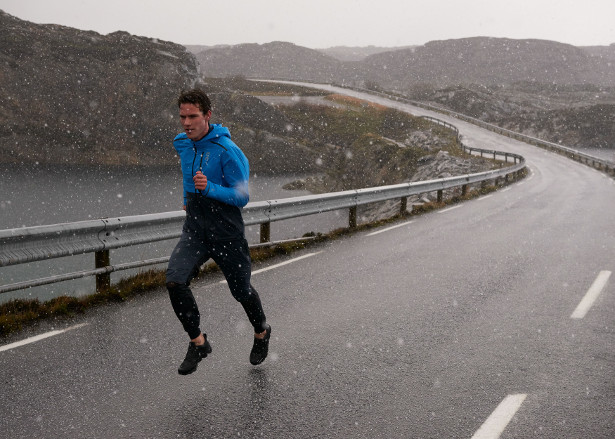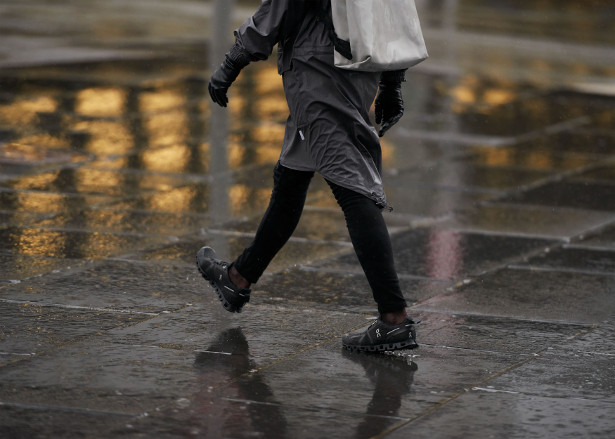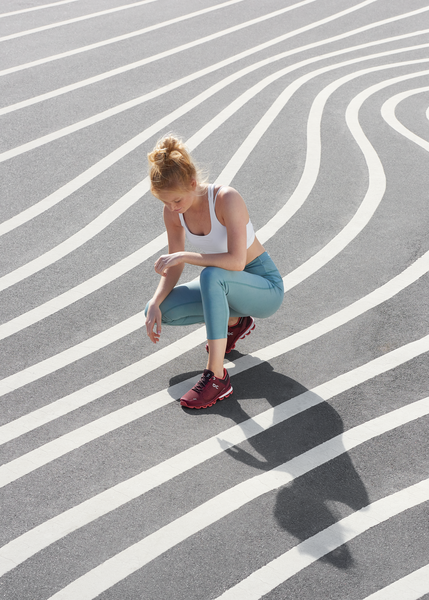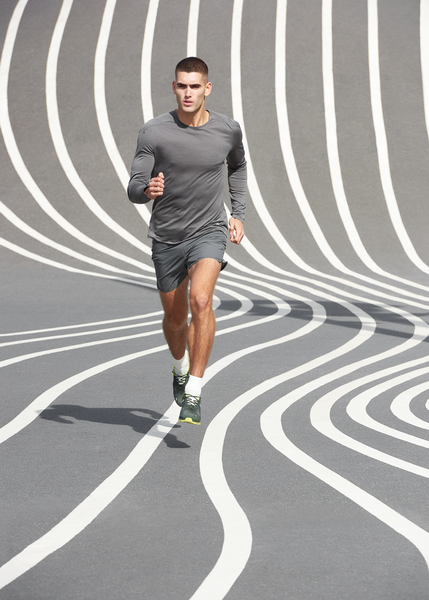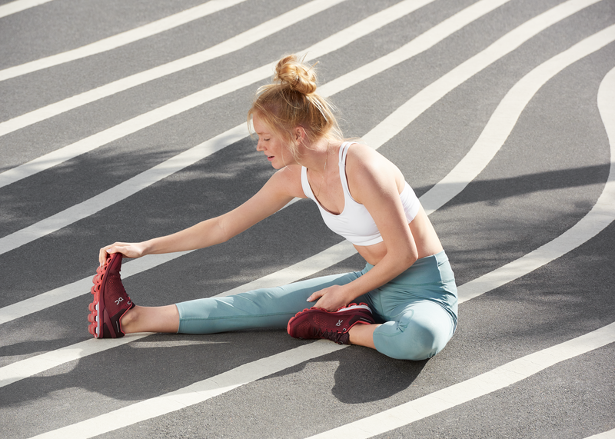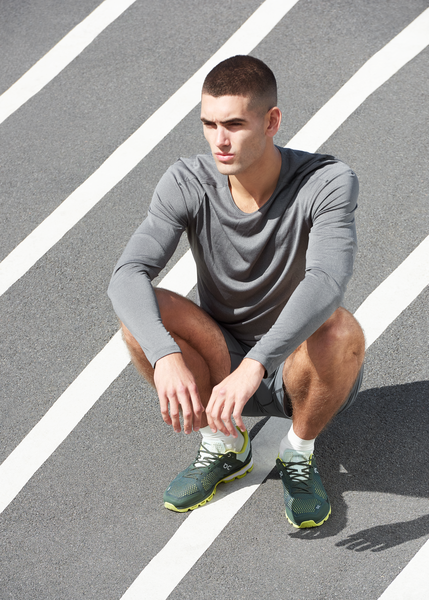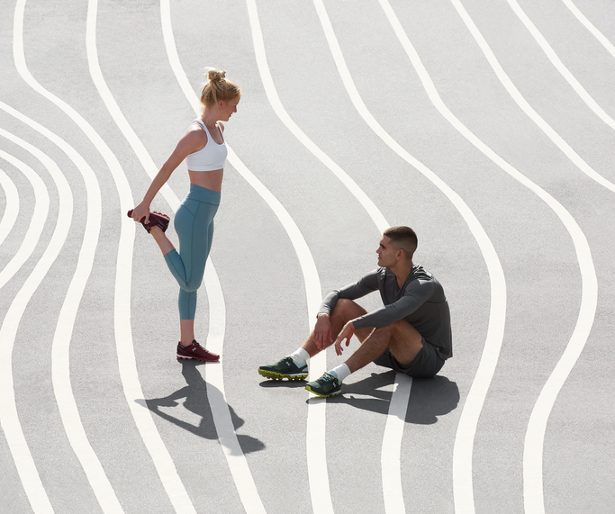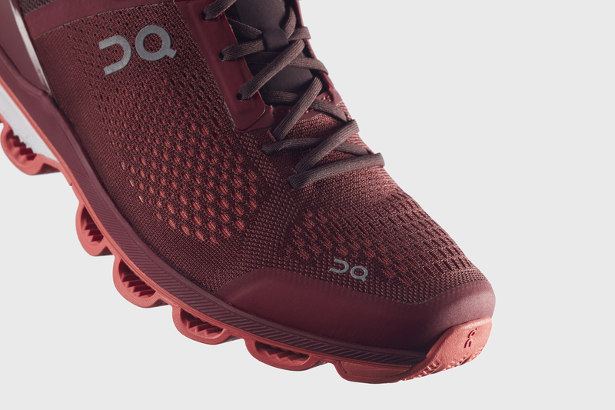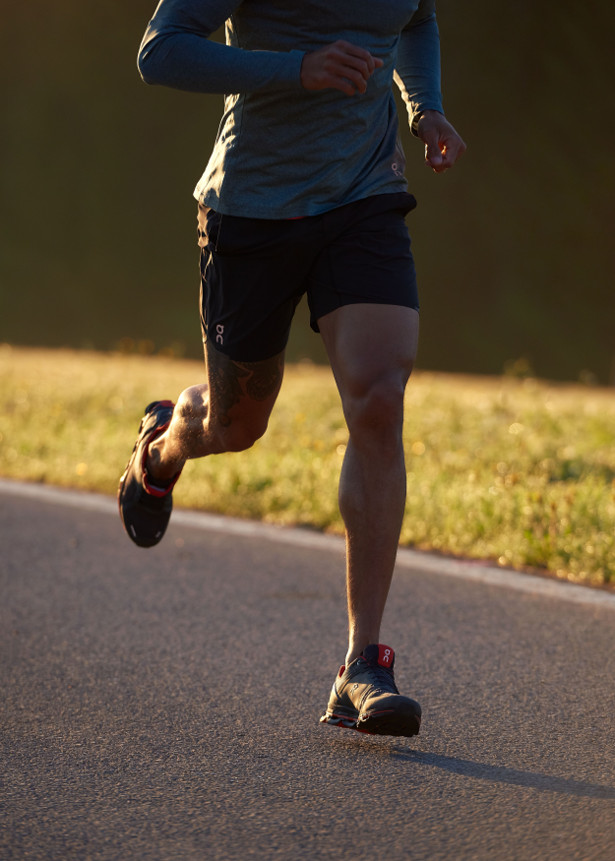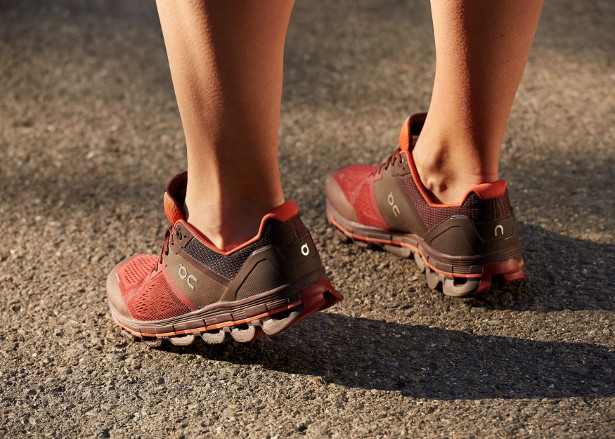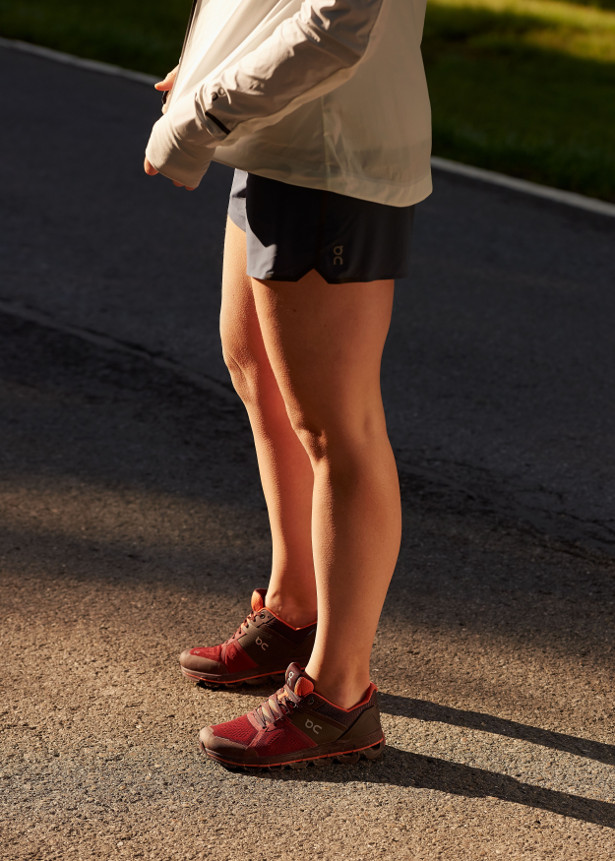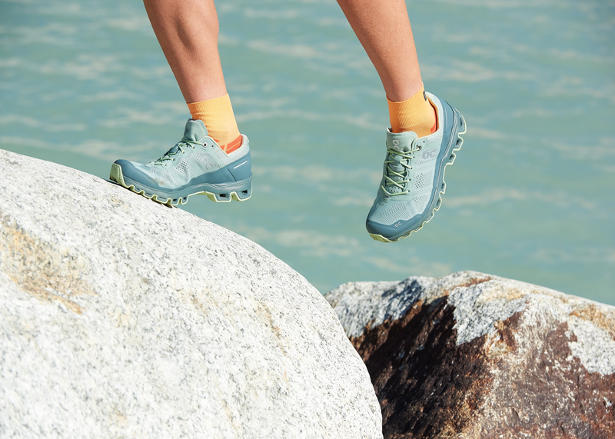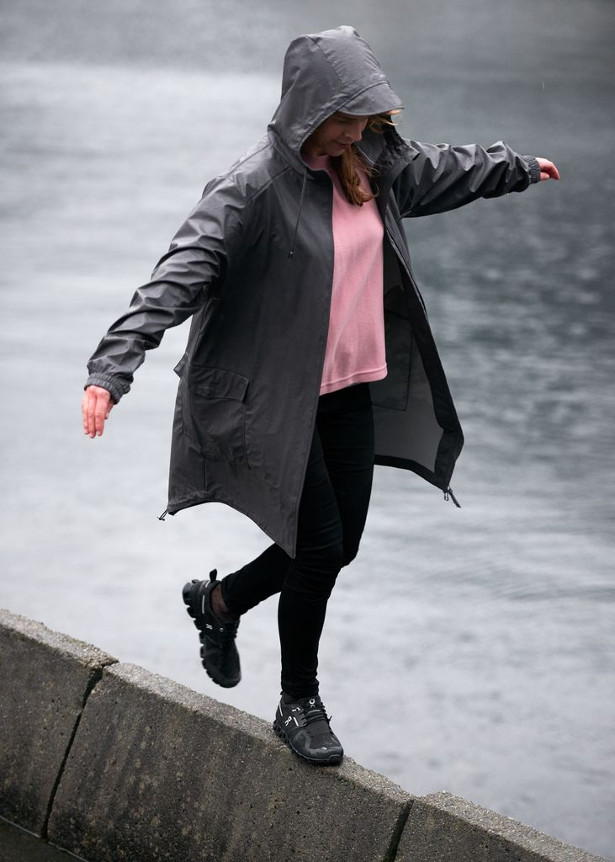 MILLIONS TO IGNORE FAMILIES ON CHRISTMAS DAY… TO CHECK FACEBOOK INSTEAD

Nearly a third of Brits (33.2%) will abandon their families on Christmas Day to spend an hour, on average, scrolling through social media
Almost half (47%) will be glued to their phone during festive family activities such as eating Christmas dinner or playing Christmas games
A further half of Brits (44.5%) plan to hide themselves away and play video games by themselves
Meanwhile, a staggering nine in 10 (86%) intend to plonk themselves in front of the TV on their own, instead of joining in the celebrations
LONDON 21 December 2018 – More than a third of Britons (33.2%) admit they will ignore their family on Christmas Day so they can scroll through social media instead, according to a report by gadget insurer Protect Your Bubble.
At least 22 million hours will be squandered on Facebook, Instagram, Snapchat and other platforms collectively, as Brits fail to shake off their phone addictions on the most family-oriented day of the year.[1]
Nearly half of those surveyed (47%) admitted their phone usage will probably interrupt traditional activities, such as Christmas dinner and watching the Queen's Speech.
Two fifths (44.5%) also said they plan on shying away from family fun and instead intend to play video games by themselves on Christmas Day.
Nearly one in 10 (9%) are expecting to spend more than four hours on their own playing video games.
A staggering nine in 10 (86%) will be stuck in front of the television on December without their family and friends, with over a quarter (27%) planning to do so for more than four hours.
And despite receiving a number of presents earlier in the day, a further one in 10 (10%) intend to carry out more than three hours of online shopping on Christmas Day itself.
James Brown, director of gadget insurance provider Protect Your Bubble, comments: "While technology has brought people closer together than ever before, it can also drive a wedge between family and friends — especially when someone's glued to their phone at the dinner table.
"We shouldn't forget that the reason we value our mobiles, tablets, laptops and computers is that they help us communicate with the ones we love.
"When we lose them we panic because we are suddenly left unable to connect instantly with our friends and family.
"However, nothing can substitute real face-to-face contact, so it is important to take a break from scrolling through your newsfeed while you're celebrating with those closest to you this Christmas."
Shiny new wheels. Treat the kids to a Micro Scooter this Christmas. www.micro-scooters.co.uk
FACEBOOK | INSTAGRAM | YOUTUBE | TWITTER
Maxi Deluxe Green
£129.95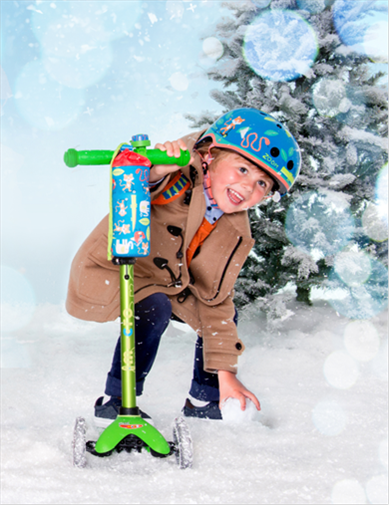 With everything from the MX Trixx Scooter for little dare devils to scooters with personalised decks and LED wheels – plus a large range of co-ordinating scooter accessories – Micro Scooters (www.micro-scooters.co.uk) has the perfect gifts for kids this Christmas!
SCOOTERS
Micro Sprite Teal Stripe
£99.95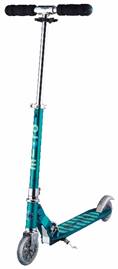 Cruiser Blue, £129.95
Micro Cruiser Blue
£129.95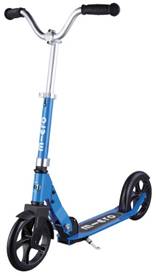 Trixx Ocean Blue, £124.95
Micro MX Trixx Ocean Blue
£124.95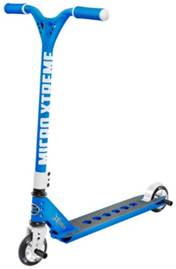 Maxi Micro Deluxe Pink Basket Scooter Set
£139.95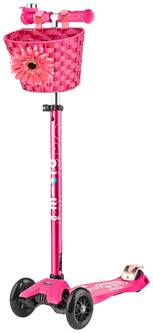 Maxi Deluxe LED Red
£136.96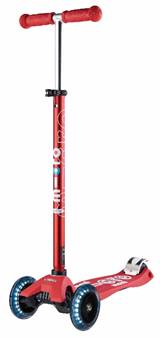 Maxi Deluxe Foldable Berry Red
£144.95
ACCESSORIES
Jungle Bottle Holder
£9.95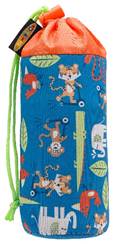 Jungle Range
from £7.95
Jungle Helmet
£27.95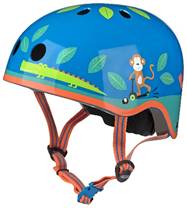 Retro Rocket Helmet,
£27.95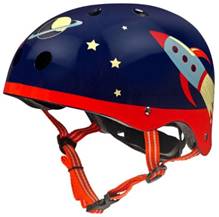 Retro Rocket Lunchbag, £9.95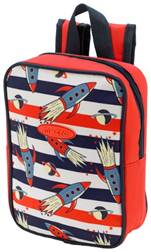 Retro Rocket Bell
£7.95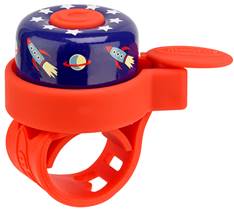 Doodle Dot Lunchbag, £9.95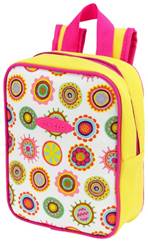 Owl Range, from £6.95

Doodle Dot Helmet, £27.95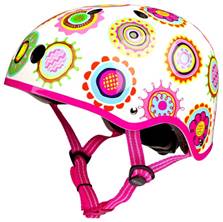 ANTHONY JOSHUA DELIVERS
KNOCK OUT SURPRISE TO SUPER FAN
ON BOXING DAY
Sky VIP releases new video starring World Heavyweight Champion Anthony Joshua, OBE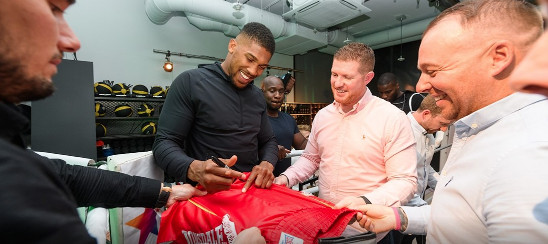 26 December 2018, London: In a fitting celebration of Boxing Day, Sky VIP has released a new mini film starring unified heavyweight champ Anthony Joshua, showing the stunned reactions of boxing fans after unexpectedly finding themselves face to face with him in the ring.
The short clip sees Sky VIP customers taking part in what they believe to be a boxing masterclass with AJ's training team. Throughout the session, AJ himself watches the group's training progress backstage through hidden cameras. However, the boxing champ can't sit on the sidelines for too long and quickly disguises himself as part of his own training team, stepping into the ring to challenge the group and give them the surprise of a lifetime.
AJ mega fan, Kate Hill, is seen rolling with the punches as she spars with what she believes to be one of AJ's team before delivering a knockout blow that sends her mystery opponent flying to the floor, much to the shock of the group. With concern mounting and worried faces all round, AJ delivers the killer moment, revealing himself to the winners. After a few stunned moments, the crowd breaks out into a series of gasps, shrieks and belly laughs as the reality of sparring with their ultimate sporting hero hits home.
The film offers a hugely entertaining blow-by-blow account of the action and captures the priceless, live reactions of the punch-drunk fans as they come face to face with their boxing hero.
AJ commented, ''Today has been a laugh, it's been exciting, and I've met a lot of good people. I've used a lot of energy, done a lot of pads and surprised a lot of people. It's been an amazing day and I've had so much fun seeing the reactions of everyone.''
Kate says of her Sky VIP moment: ''Going head to head with AJ today was one of the best experiences of my life.''
Fellow winner, Marek Regan also couldn't believe his luck, and sums up the experience by saying: 'It's a money can't buy prize. One of the best things we'll ever do in our lives.''
Adam Smith Head of Sky Boxing said: "We've had a lot of fun giving our customers such a special thank you. They were really excited to be here, in London, training with AJ's team and their reactions were phenomenal. The one on one nature of this is so personal I don't think any of them will forget this for a long, long time, and we encourage all our customers to join Sky VIP and find their own incredible experiences. There's plenty more like this happening all the time".
The boxing initiative celebrates the innovative Sky VIP loyalty programme, which rewards customers with a range of tickets, unforgettable experiences, and access to the best Sky tech and service. To join the programme and learn more about the rewards available to Sky customers, head to the My Sky app and select Sky VIP on the home screen. It's really easy.
To watch the video, Head to Sky.com/sky/VIP and our social channels: https://www.sky.com/pages/vip/anthony-joshua-surprised-our-vips
AWAY WITH THE FAIRIES: PARENTS PUT CELEBS IN BEDTIME STORIES IN PLACE OF OUTDATED CHARACTERS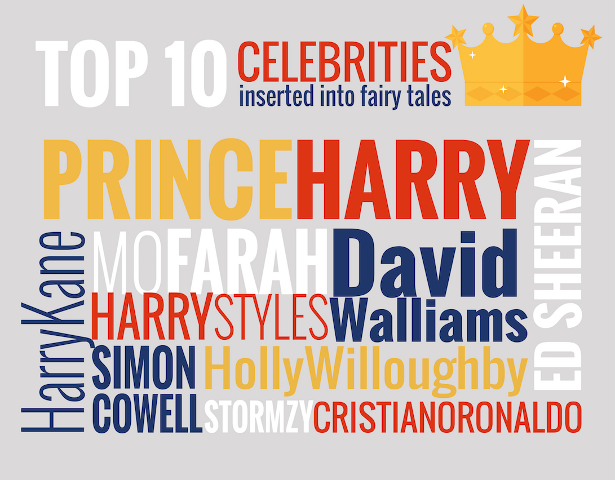 Prince Harry, Ed Sheeran, and David Walliams are the most popular replacements for characters when parents are making them more up to date
One in ten parents are inserting modern day stars into bedtime stories to make them more relatable for their children
Sleeping Beauty was voted as the most outdated fairytale by parents, followed by Rumpelstiltskin, and Hansel and Gretel
More information on the research can be found here: www.cartridgesave.co.uk/printwhatmatters/moderndayfairytales/
One in ten parents are including modern day celebrities into bedtime stories – to make them more relatable for their children.
The top ten stars who are being inserted into classic stories such as Snow White, Jack & The Beanstalk, Rumplestiltskin and The Princess And The Pea include:
Prince Harry
Ed Sheeran
David Walliams
Holly Willoughby
Mo Farah
Harry Kane
Cristiano Ronaldo
Simon Cowell
Harry Styles
Stormzy
One in three parents admits to altering the ending of their children's favourite bedtime stories in some way, according to new research by Cartridge Save.
With most favourite fairytales having been written two centuries ago, their relevance to today's generation of kids is slim – and parents are taking matters into their own hands.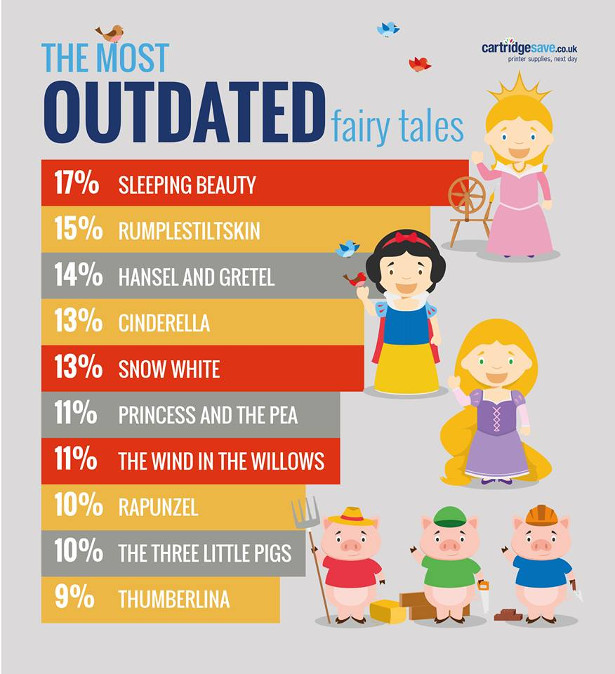 While the moral of the story may be timeless, the characters and settings are in dire need of an update: only 18% of parents believe they are still relevant to modern day life, resulting in one in ten of those surveyed no longer reading fairy tales to their children.
The most outdated fairytales, according to research carried out by cartridgesave.co.uk, are
Sleeping Beauty (17 per cent), Rumpelstiltskin (15 per cent), Hansel And Gretel (14 per cent), Cinderella (13 per cent), Snow White (13 per cent), and The Princess and The Pea (11 per cent).
Delving into the research further, parents feel that parts of these stories need changing as they are worried about what their children might think of the real endings (26 per cent). Some also feel that the morals are wrong (16 per cent) and that they don't represent modern day life anymore (16 per cent).
The themes that mums and dads feel are in need of inclusion in modern-day moral stories for their children include: the importance of being independent (30 per cent), not being pressured to look a certain way (27 per cent), not seeking to live 'happily ever after' (25 per cent), multiculturalism (21 per cent), feminism (18 per cent) and the impact of social media on today's society (13 per cent).
Ian Cowley, managing director of cartridgesave.co.uk, says: "Reading at bedtime is one of the greatest things a parent can do with their child – and it's about time some of the stories were updated.
"We understand why parents may adjust parts of their children's favourite tales and have developed some assets that may help to inspire a new type of bedtime story.
For more information on the research please visit: https://www.cartridgesave.co.uk/printwhatmatters/moderndayfairytales/
Rehab Recovery offers a free helpline dedicated to helping those suffering from drug, alcohol and mental health problems after suffering a bereavement. Rehab Recovery was founded in 2011 by people who overcame drug and alcohol addiction themselves.
www.rehab-recovery.co.uk
WARNER BROS. UK AND DC PRESENT A DOUBLE FEATURE
PREMIERE OF
THE DEATH OF SUPERMAN AND REIGN OF THE SUPERMEN
ON JANUARY 14
On January 14, 2019, Superman returns to the big screen for one night only in a spectacular animated double feature. The action-packed event will include two features; audiences will first see The Death of Superman followed by the brand-new release of Reign of the Supermen.
The two-part film is an animated adaptation of "The Death of Superman," DC's' landmark 1992-93 comic phenomenon, and features an all-star voice cast led by Jerry O'Connell (Carter, Bravo's Play by play, Stand By Me), Rebecca Romijn (X-Men, The Librarians) and Rainn Wilson (The Office, The Meg) as the voices of Superman, Lois Lane and Lex Luthor, respectively.
The potent trio is joined by the DC Universe Movies' returning voices of the Justice League: Jason O'Mara (The Man in High Castle, Terra Nova) as Batman, Rosario Dawson (Sin City, Rent, Daredevil) as Wonder Woman, Shemar Moore (S.W.A.T., Criminal Minds) as Cyborg, Nathan Fillion (Castle, ABC's upcoming The Rookie) as Green Lantern/Hal Jordan, and Christopher Gorham (Covert Affairs, Ugly Betty) as The Flash.
The Death of Superman
An Asteroid hurtles through our atmosphere and with it arrives an unstoppable force known only as Doomsday. With innocent lives threatened and Metropolis under attack, the Justice League rally to meet this otherwordly menace. But when the dust settles, only an epic showdown between superman and Doomsday can decide the fate of the Metropolis and ultimately, planet Earth!
Reign of the Supermen
It's been months since the unfathomable death of Superman, and the world is still shaken when four Super Heroes arrive in Metropolis, all battling to be the reincarnation of the Man of Steel. Even Metropolis isn't big enough for these brawlers, it's only a matter of time until dark forces make their moves from the shadows…
https://youtu.be/kqomRps4D5Y

THE DEATH OF SUPERMAN AND REIGN OF THE SUPERMEN WILL BE IN UK CINEMAS JANUARY 14
REIGN OF THE SUPERMEN WILL ALSO BE AVAILABLE ON DIGITAL DOWNLOAD FROM JANUARY 15, AND BLU-RAY™ AND DVD FROM JANUARY 28
FULL-SIZE 2018 SIGNED REPLICA HELMET
www.mementoexclusives.com
This incredible, Bell Helmets signed 2018 Lewis Hamilton replica arrived in our studio today! The last one available in a strictly limited edition of 18 helmets.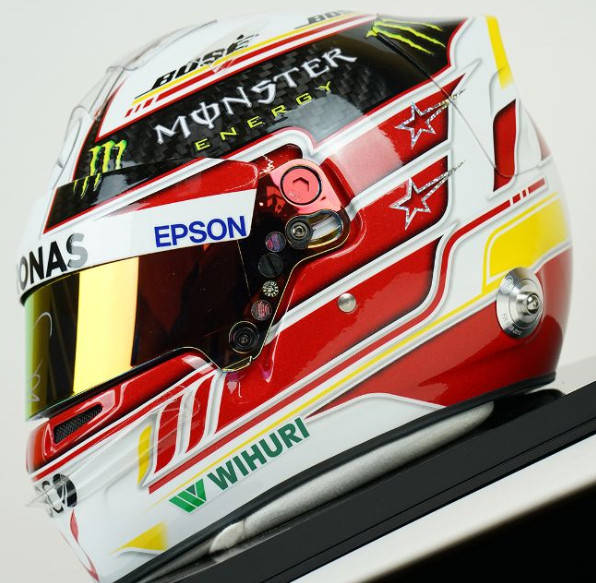 Own the moment.
SIGNED BY LEWIS: JUST ONE AVAILABLE
BOOK! A Dystopian Adventure! Everyone we love, everything we know, is going away… and only an autistic boy can stop it. Francis Moss.
Buy at :- www.amazon.co.uk/Losing-Normal-Francis-Moss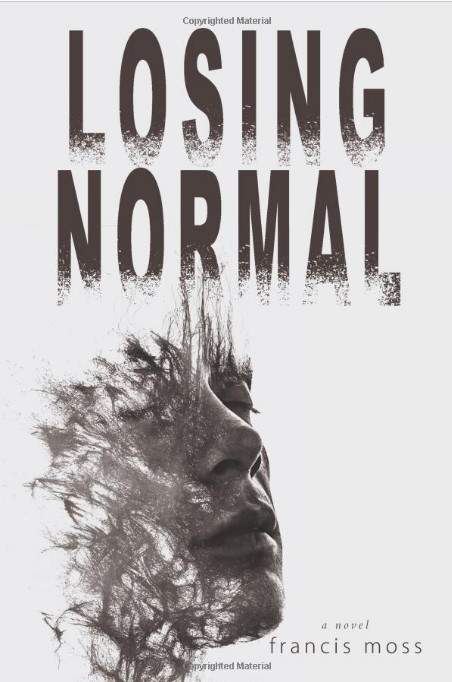 Everyone we love, everything we know, is going away… and only an autistic boy can stop it.
Alex knows exactly how many steps it takes to get from his home to Mason Middle School. This is normal.
Alex knows the answers in AP math before his teacher does, which is also normal.
Alex knows that something bad is coming out of the big screen in his special needs class. It's pushing images into his head, hurting him, making him forget. Alex pushes back, the screen explodes, and nothing is normal any more.
Giant screen televisions appear all over the city. The programming is addictive. People have to watch, but Alex cannot.
Sophie, the sentient machine behind all this, sees the millions and millions of eyeballs glued to her and calls it love. To Sophie, kids like Alex are defective. Defectives are to be fixed…or eliminated.
Available on Amazon: https://www.amazon.com/Losing-Normal-Francis-Moss/dp/1732791023/
$12.95
ISBN-13: 978-1732791022
Tree In A Box is having a sale Thanksgiving thru Cyber Monday. All of their tree kits are 15% off and our Wedding seal kits are 20% off (no coupon code needed!)

  Tree In A Box's line of grow your own tree from seed kits are eco-friendly and packaged in a 2.5″ cube to save space and reduce waste. Their small size means they will easily fit in a Christmas Stocking!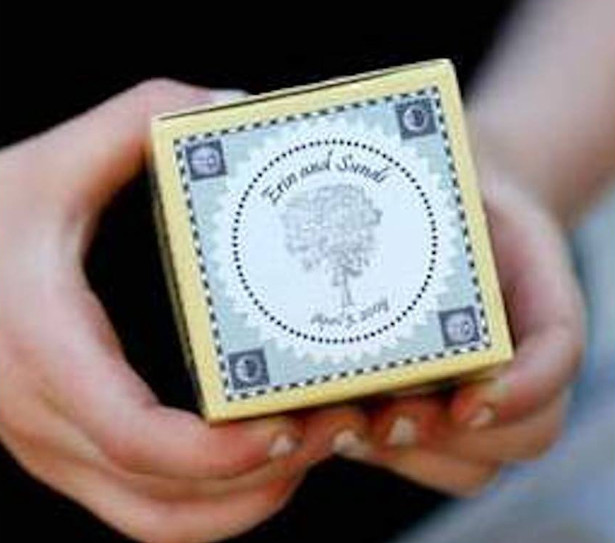 PINTEREST | TWITTER | FACEBOOK | INSTAGRAM
They grow a real live tree! They will grow to full sized trees or a bonsai size tree depending on the size of growing container you keep them in.
Trees clean the air we breathe, which makes it an eco-friendly gift.
Trees make us FEEL good! It is fun to watch them grow and they can be enjoyed for generations to come.
Tree In A Box kits are made in the USA and are available for only $6.00 at www.treeinabox.com.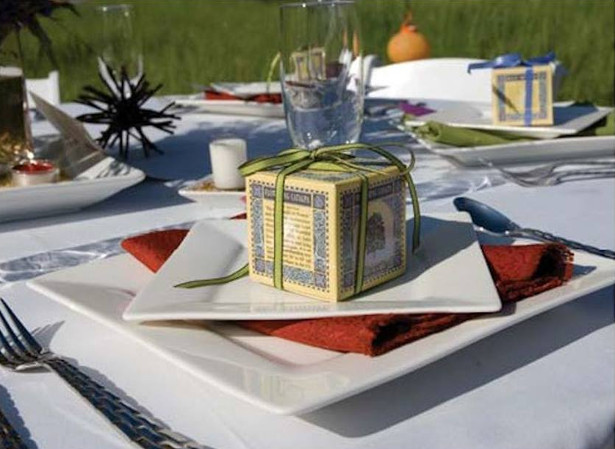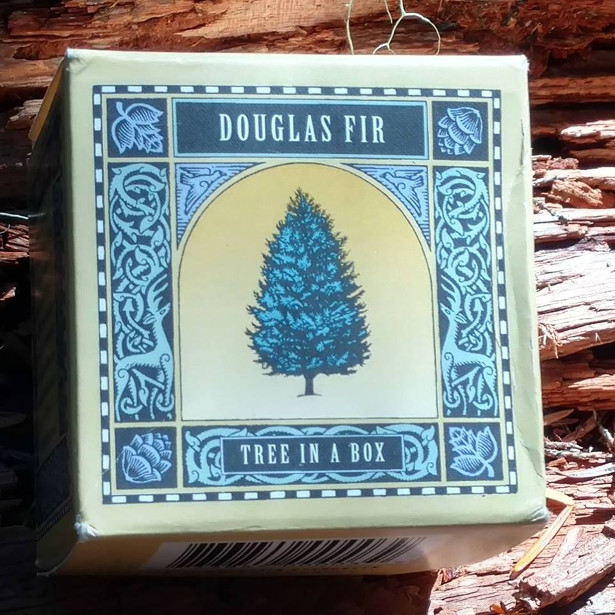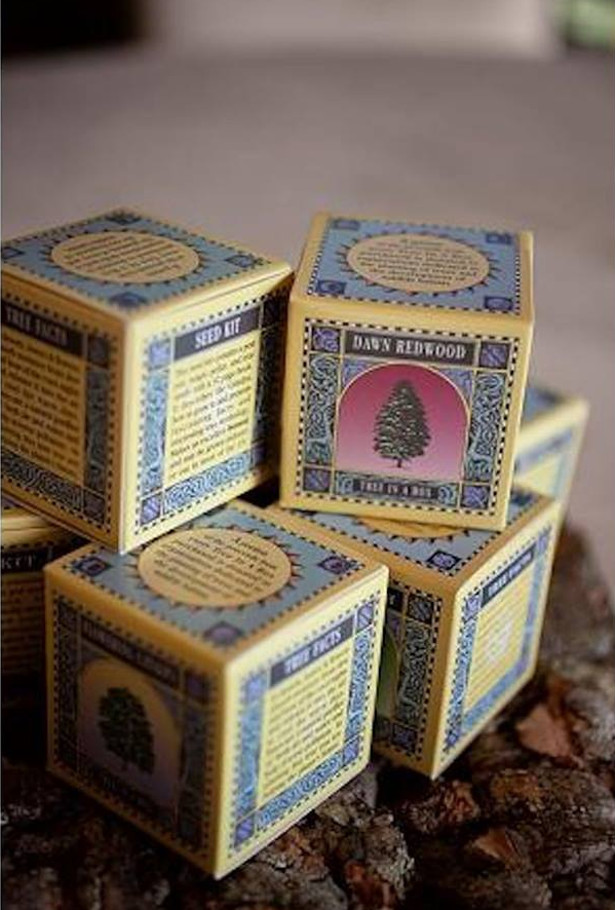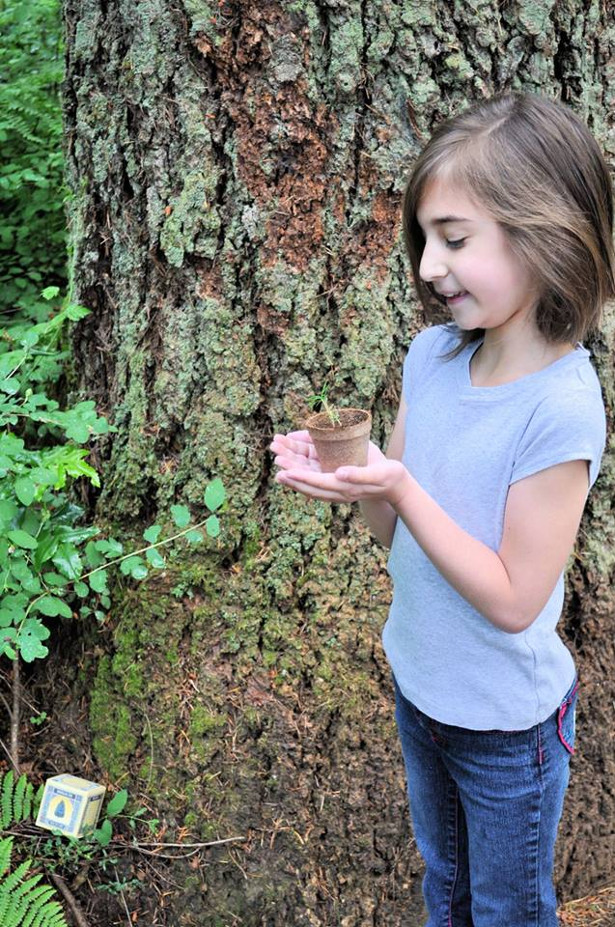 How to Move During the Holidays

https://geteasymove.com/blog/how-often-are-you-moving
Holidays – the very mention of the word makes our hurts flutter with feelings of excitement and happiness. In fact, they are the busiest times of the year given all the shopping, decorating, cooking and overall- the merrymaking with our friends and family. However, what if you have to move during these busy times and that too if that move involves a considerably long distance? Our hearts sink a little during these times considering how overwhelming it can be given all the mall traffic, the never-ending lists of requirements and of course, if the weather conditions are also adverse. However, the good news is, a move during the winter holidays may actually turn out to be a smart thing to do and when planned methodically, it definitely would no longer seem so difficult.
Here are some tips that can prove to be very helpful if you are planning to do the holiday moving –
Book in time
This actually applies to any season of the year that you choose to move in. It is important that you make the bookings in advance. It becomes all the more pertinent during the holidays as the moving companies usually have rather tight schedules during these times and will almost certainly be not able to help you if you inform them just a night before. Their availability remains very limited and if you do not book at least a month ahead, it might actually be a mistake. With them, it is very convenient to get your stuff delivered safely, but as we mentioned, an advance booking is definitely a smart choice.
Again, if you are also up for the DIY apartment moving, keep in mind the heavy traffic on the roads with the numerous X-mas tree deliveries, revelers and of course shoppers.
Plan the Expenses
Who knows it better than us that Holidays turn out to be some of the most expensive days of the year? With the pressure of decoration, foods and gifts, the holidays can be very taxing, economically. Now if amongst all these expenditures, you also have to include your big move, the expenses can skyrocket. So once you have decided that you have to move, make it a point to start saving up as per your budget. This budget would include two things – the cost of the moving company as well the expenses you might have to incur buying new furniture and belongings. Added to this is the amount of money you need to pay your house-owner for the security deposit. All these together would definitely sum up to a sizeable amount and without planned savings, it might become a rather daunting task.
Give the decorations a skip!
You might be fond of putting up decorations. But if you are moving houses, it is smarter idea to do away with the decorations this time. The labor involved in putting the decorations up, maintaining them and putting them down again is a very tedious work and you can give it a skip as decorating the house you are going to dispose is useless. Wait until you move into the new house, settle down and then you can take your time and decorate your new house to your heart's content.
Give the Elaborate Parties a Miss
This might sound cruel given the holidays are here. However, if you have to plan ahead and plan proper, this is a crucial part of the planning. The parties and the labor associated to host these parties, let alone the cooking and after-party cleaning and other works, would be too exhausting if your are also planning to move during this time. Do not worry because you friends and family would certainly understand your plight. Once you are all settled down in the new house, you could have all the time in the world to host parties.
Start Shopping Early
We know moving is stressful and of course we know shopping is also just as stressful. The traffic in the mall is outrageous and the stores remain tightly packed. Now since you have planned a move during the holidays, it would always be a better idea to start shopping early and get your checklists updated. So if your move is scheduled during Christmas, the ideal time to start shopping is late in October or even early November prior to the tremendous rush of the Thanksgiving. If you are not a fan of the crowd, the online stores can come to your rescue. They also have good deals and discounts, which will ease your pain of shopping to some extent. In case you decide to move across the country, you can also consider shipping your stuff to the new address via reliable Craiglist moving companies through their apps like the Easymove App, which will facilitate your move a lot.
Consider Donating to Charity
While packing your stuff before the move, you are bound to come across things, which you might not have used much or might not even use in future. Instead of stuffing and packing these for the new house as well, you may consider donating them to the hapless who will find better use of these things. There are several charities who will take the responsibility to pick these items from your place and deliver them to the needy for free.
Although this does not sound very exciting, it carries the goodwill of the holidays and what's more is that, if you can care to save receipts, you can also avail tax benefits. So it is a win-win situation.
The Last and Foremost
Since you will be moving, if you have kids, it will be a trying time for them. They would have to join new schools in the middle of the year and the adjustment will be tough. You have to help them out during this phase and make sure that all the pertinent documents are kept in safe custody. You will need to produce them at the new school and if in the hassle, they get lost, it will be no less than a nightmare to get the admission in any new school for that matter. Your old school might also be able to suggest ways for transferring the papers safely. As for getting your child prepared for the change, try utilizing the vacation between Christmas and New Year's and let your child take his/her time to adjust.
Apart from all that we have already mentioned regarding apartment moving, also keep in mind the hidden costs, which can also burn a considerable hole in our pockets. There are various issues like delayed delivery, extra fuel costs due to the heavy traffic and longer idling periods and of course the weather, which is in no one's control. No amount of planning can do away with all problems at a time. But just keeping these few small things in mind can go a long way and keep you prepared for exigencies. Stash away some extra money for these emergencies and never again will you be caught off-guard by emergencies. Handle your holiday move like a pro and have a great time settling down in your new house. Let movers worry about your furniture delivery, while you start your life afresh.
Sweet Trees

They are perfect for anyone with a sweet tooth (especially chocolate lovers) and are customisable. You can order online and they deliver straight to your door (international delivery available upon request). Sweet Tree's have bespoke design and have made trees for Aviva, Walt Disney, Transport for London, Schroders, Longines, Chelsea football Club and many more. Sweets as Rugby balls & a star wars Mickey Mouse to train stations nothings impossible!
Please see the Christmas section of our website below:
https://sweettreebybrowns.co.uk/product-category/christmas/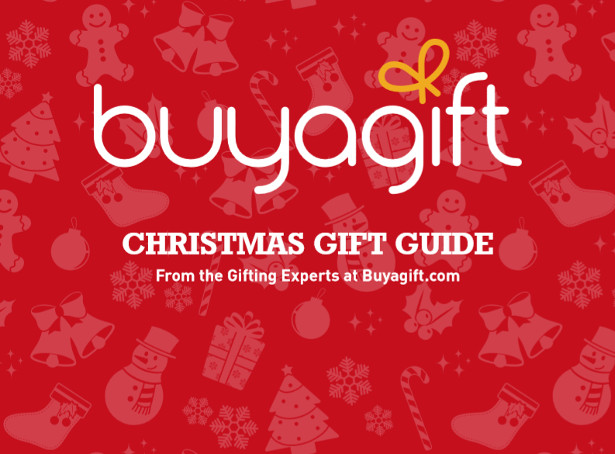 FACEBOOK | TWITTER | INSTAGRAM
This Christmas, gift your loved ones the unexpected. Could they ever imagine the small box under their Christmas tree could contain a weekend getaway or a bungee jumping experience? Treasure the disbelief on their faces while they rip open their presents and become overcome with joy. Buyagift takes gifting to the next level, with over 4500 gifts to choose from we make it impossible to panic over the question "What should I get them?!".
Charbonnel et Walker Chocolate Afternoon Tea for Two at the May Fair Hotel
For an award-winning afternoon tea with a twist look no further than this central London hot spot! The May Fair Hotel has taken the traditional British afternoon tea and added a delicious chocolate injection of flavour. Accompanying a delicious range of sandwiches, will be such tempting treats as doughnuts with chocolate sauce, chocolate scones, tiramisu and flourless chocolate and orange cake, plus a tempting assortment of Charbonnel et Walker truffles, making this signature afternoon tea a sure hit for anyone with decadent tastes!
Was £84 Now £56
Afternoon Tea for Two at Patisserie Valerie with Cake Gift Box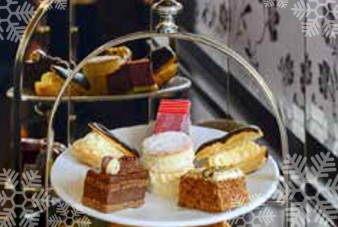 A delicious afternoon tea selection is waiting for you and your guest at Patisserie Valerie. Taking the best of traditional British afternoon tea and adding a chic European twist, Patisserie Valerie will astound you with hand crafted cakes, freshly baked scones smothered in clotted cream and jam, and freshly filled sandwiches bursting with flavour. As well as a full afternoon tea selection you'll receive a £10 voucher allowing you to choose four delicious slices of cake so you can carry on the indulgence at home.
£35
Chocolate Delight Workshop for Two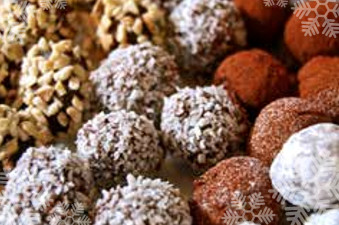 Create your own bespoke truffles, and cover them in the finest Belgian chocolate, with this delicious interactive experience for two. You'll have an informative talk on the fascinating history of everyone's favourite sweet treat, before getting to sample a chocolate fountain. Delicious! Then take part in a workshop to create your very own tasty truffle fillings. You'll then dip your truffles in fine Belgian chocolate and decorate and wrap them as you wish, with your own gorgeous designs. Perhaps the best part of all – you're going to take home the 40-50 chocolates you create, to generously share with friends and family. Or not…
£98
Hotel Chocolat's Children's Chocolate Workshop for Two
A chocolate workshop is a dream come true for any child with a sweet tooth. At Hotel Chocolat's cocoa vaults your children can discover the enticing world of cocoa. A welcome drink will kick off the workshop alongside an introduction to the experience before the real fun begins! They'll be able to get stuck into a memorable chocolate decorating session with the guidance of an expert. Once they've completed their mouth-watering masterpiece, they'll package it up in a beautiful box, ready to take away and feast upon at home!
£40
FOR THE SWEET TOOTHS
Hotel Chocolat's Chocolate Tasting Adventure for Two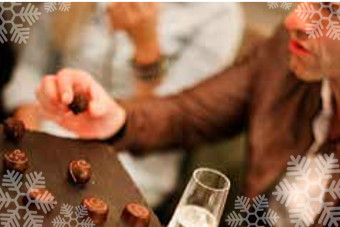 You and your fellow chocolate lover can take your obsession to the next level with a tasting adventure at the renowned Hotel Chocolat. With two great locations to choose from including a rustic underground Cocoa Vault in London's vibrant Covent Garden this is sure to be a day out to remember! With 13 types of chocolate to try you'll learn how to pick out the nuances of the flavour as well as discovering the effects of the creation process on the end product. A glass of prosecco will accompany your tasting treat.
£100
Tree Top Adventure for Two Adults at Go Ape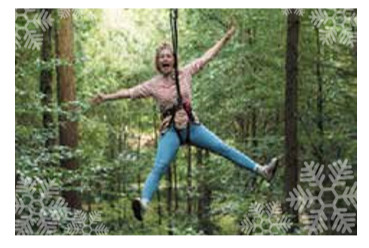 Explore the canopy of some of the UK's most beautiful woodland with this fun-packed Tree Top Adventure. You'll be kitted out with a harness and briefed for safety before taking on an exhilarating range of obstacles, from adrenaline-fuelled zip wires and thrilling Tarzan swings to challenging crossings and tricky tunnels. Every Go Ape site has been thoughtfully situated in a stunning forest location – the ideal setting for an exciting day out you'll never forget.£66
FOR LOVERS OF LONDON
Thames Rockets Powerboating Experience for Two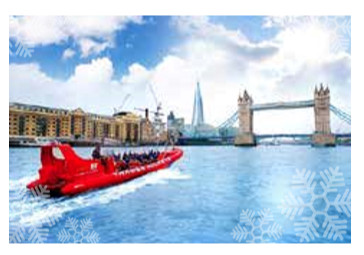 Winner of England's Family Friendly Attraction of the Year 2017, Thames Rockets guarantees an unforgettable day in the capital. Stepping aboard a light and high-speed powerboat, you will receive a unique experience that you will want to relive again and again. Taking you on an adventure down the river, you can sit and admire all the iconic attractions, from the Tate Modern to the London Eye and Canary Wharf. As you glide through the water, you will receive fascinating facts and commentary from your knowledgeable skipper.
£79.90
The Slide at The ArcelorMittal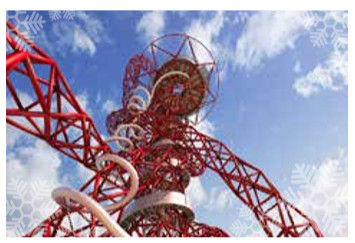 Orbit for Two The ArcelorMittal Orbit is a new addition to London's many tourist attractions. A major icon of the 2012 Olympic Games, it is now home to the world's longest and highest tunnel slide! With this exclusive offer, you and a guest will enjoy entry to the upper viewing platform and external balconies, where you can take in the awesome 360 degree views of the city before plummeting 178m towards the ground! You will be able to see some of the world's most iconic sights as you twist and turn 12 times around the structure before a final 50m dip down to earth!
£33
Bateaux Champagne Afternoon Tea and Thames Cruise for Two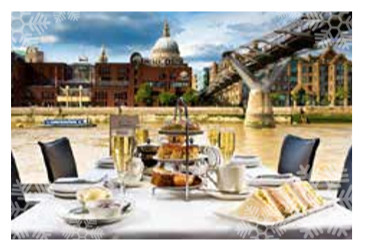 Set sail on the world-famous River Thames and indulge in a scrumptious afternoon tea for two. As you board the breath-taking Harmony cruise boat, you can take in awe-inspiring views of the capital as you tuck into a wonderful selection of dainty finger sandwiches, fluffy scones (with the traditional clotted cream and jam) and mouth-watering pastries, whilst enjoying the sounds of a fantastic pianist. To accompany your food, indulge in glass of champagne and relax. A spectacular way to see London in all its glory without the crowds, you are ensured a memorable day.
The View from The Shard with Luxury Afternoon Tea for Two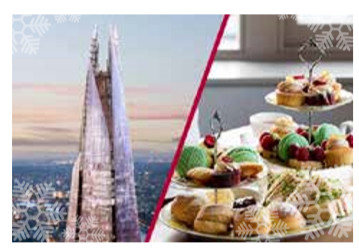 Dominating the iconic London skyline, The View from The Shard is one attraction not to be missed. Offering stunning panoramic views for up to 40 miles around, you'll be able to gaze across the beautiful city from the highest viewing platform in London. Next, you'll enjoy a delectable afternoon tea for two at a luxurious location of your choice. You'll both experience a taste of the high life as you dine on a wonderful afternoon tea feast, topping off this magnificent day out!
Was £123.90 Now £79
Was £92 Now £69
FOR ANIMAL ADORERS
Feed The Big Cats By Hand at Paradise Wildlife Park –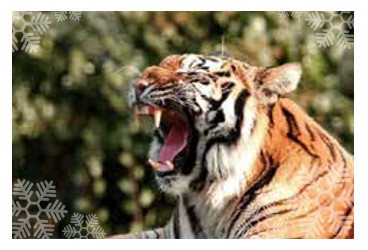 Weekdays An animal enthusiasts dream, this experience will have you getting very well acquainted with the lions and tigers at Paradise Wildlife Park, as you join them for feeding time! You will be safely behind the fence throughout while you hand feed them under the close watchful eye of the big cat handlers. Your voucher also includes entrance to the park, so take the full day to visit all the other animals and attractions.
Keeper for a Day at ZSL London Zoo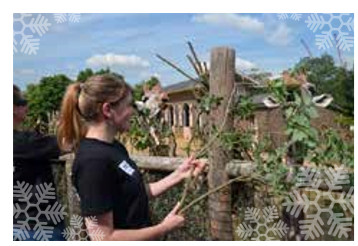 Calling all animal lovers – here's your chance to become a zoo keeper for the day at the famous ZSL London Zoo! Your knowledgeable host keeper and other fellow participants will join you upon arrival for breakfast, before getting ready for an action-packed day with some of the residents of the zoo. You'll assist the host keeper on daily activities including preparing food, mucking out and meeting some of the amazing animals themselves! After working up an appetite, a complimentary lunch and afternoon tea with cake will be provided.
£199 £280
Animal Encounters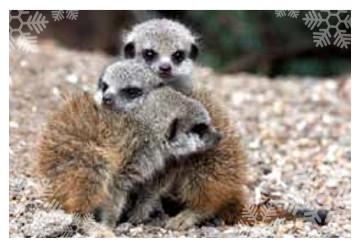 Give someone you love the unique gift of a memorable animal experience. With this Animal Encounter voucher, there's a wide variety of animal experiences available so you'll be spoilt for choice. Those wanting to make some feathered friends could enjoy an Owl or Hawk flying experience, or if you're looking to meet some exotic animals, pick one of the reptile, meerkat, or zoo experiences instead. There are also some fantastic farm experiences to enjoy, including interacting with llamas, grooming ponies and even a deer safari!
Penguin Feeding Experience at Drusillas Zoo Park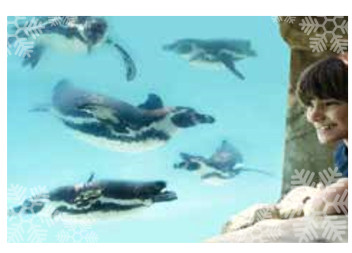 Expect some unique characters, fantastic photo opportunities and unforgettable memories from a Penguin encounter at Drusillas Zoo Park in East Sussex. On arrival you will be greeted by a zoo keeper who will take you to the Penguin enclosure and introduce you to these magnificent creatures. You'll quickly see their individual personalities for yourself as you get up close to the Penguins and are allowed to feed them some tasty treats. Remember your camera, as there will be plenty of photo opportunities to capture this unique experience!
One Hour Horse Riding Experience –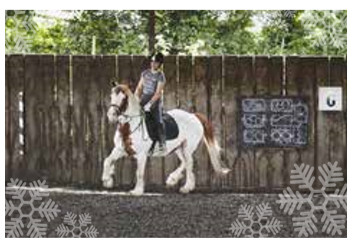 UK Wide Our handpicked horse riding experiences are perfect for novices and experienced riders alike. For those new to riding, you have the option to choose a Riding Centre which introduces you to the basics of halt, walk and trotting, during a fun and informative hour-long session. If you're feeling more confident then at some locations you'll be able to opt for an exhilarating hack through the beautiful British countryside and bridleways, escorted by your seasoned instructor who will ensure you have a safe and enjoyable ride.
Was £59 Now £49
£75
Was £35 Now £29
FOR THE ASPIRING CHEFS
3 Hour Artisan Cheese Making Class at The Smart School of Cookery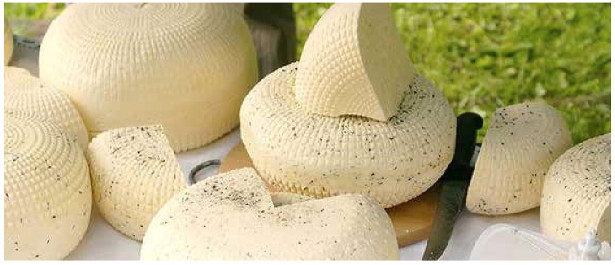 Have Edam good time learning the techniques needed to make a variety of different artisan cheeses. This 3-hour cheese making course will enable you to create delicious varieties from a selection including mozzarella, ricotta, paneer, goats cheese and soft cheese with chives and chilli. These gateway cheeses will inevitably generate cravings for a greater buzz, so you'll also learn the theory behind making hard cheese, as well as how to make bread from some of the by-products.
Was £139 Now £69
Sushi Making Workshop with YO!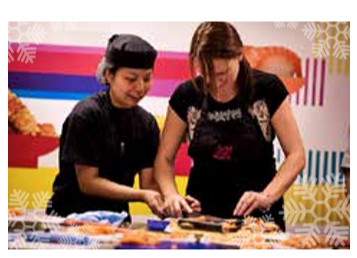 Sushi You'll learn the fine art of sushi making, using rice, fish, seaweed sheets and vegetables in this amazing class. Inside-out Rolls, Maki, Nigiri and Nori will no longer be mysteries when you become an expert in creating your own delicious and healthy sushi. An experienced chef will then demonstrate the techniques that turn fresh ingredients into wonderful sushi. It's not just fish – there are also vegetarian options available to make, for this most versatile and customisable of foods.
Sausage Making Class at Hampstead Butcher and Providore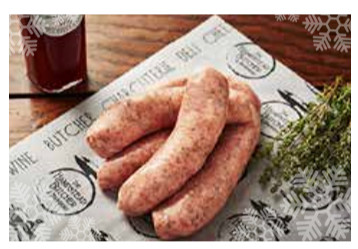 Let the experts at Hampstead Butcher Providore show you how to make the perfect sausages with this 90 minute sausage making class. During your workshop, you'll be under the guidance of the expert sausage maker as you learn butchery skills, prepare the pork and sausage meat and stuff and link the sausages. Choose your own sausage mixture from the daily fresh ingredients and using only the best free-range English pork.
Vietnamese Street Food Class at The Jamie Oliver Cookery School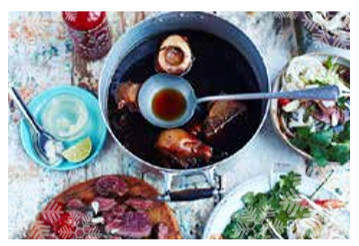 Step into a whole new world of bold, fresh flavours with this Vietnamese culinary expedition at The Jamie Oliver Cookery School. You'll try your hand at such street food classics as beef pho, delicious prawn and vegetable summer rolls and pork balls sandwiched between baby gem leaves. This appetising array of aromatic delights is topped off with a beautifully zingy dipping sauce that will bring your taste buds to life. Take a tantalising taste of the Vietnamese streets back to your kitchen!
S
£45
£30
£95
CALLING ALL THEATRE LOVERS
Upper Circle Theatre Show and 3 Course Meal at a Contemporary London Restaurant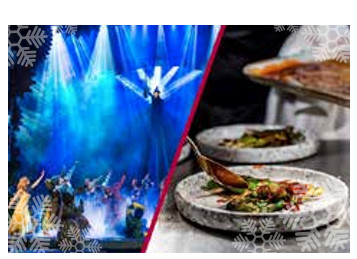 Enjoy a perfect evening in London's West End with this theatre show plus a dining experience for two. Take your pick of hit theatrical favourites such as the terrifying Woman in Black or the enduring Wicked. From fine contemporary Mexican and Peruvian cuisine to classic British cuisine accompanied with wine, the dining options will also leave you spoilt for choice.
Comedy Pass for Two Special Offer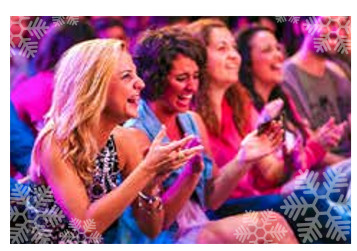 Enjoy a night of laughter at a comedy club near you. These clubs have seen the biggest names in comedy grace their stages. From Jack Dee to Jo Brand, Eddie Izzard to Michael McIntyre, all the greats have played in these legendary auditoriums. Doors open at 7pm and you will be treated to a phenomenal show with up to four comedians gracing the famous stage. Food and drink is available at the bar, which stays open until the early hours so you can continue your party into the night.
Entry for Two Adults and Two Children to Circus Zyair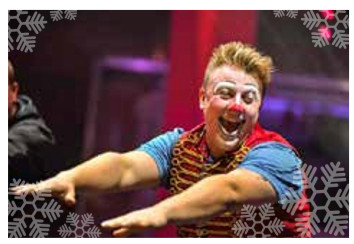 Spoil the family with this circus experience for four! Showcasing a band of incredible, high energy acts from all around the world, Circus Zyair offers an hour and a half of colourful action beneath a climatecontrolled big top. Relax into the comfy seating and soak up the electric atmosphere as acrobats, jugglers, magicians and daredevils fill the tent with music, adrenaline and laughter. It's a dazzling experience for every member of the family!
Three Course Meal with Prosecco and Show Tickets at Proud Embankment It's showtime!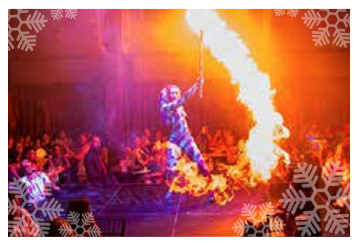 Enjoy a night of glitz and glamour at the Proud Embankment in London. Mark an important occasion in style with a delicious Pan-Asian three course meal and dazzling cabaret show. Celebrate and toast the occasion with a glass of prosecco and prepare to be amazed as the Proud Embankment hosts a variety of shows, from circus nights to classic burlesque. When you imagine your night out, think Moulin-Rouge or Chicago style! Enjoy mid-air acrobatics, daring fire acts, cheeky strip teases and much more. The magnificent two storey building is located beneath Waterloo Bridge, close to the prominent West End of London.
The Magic Hour Show Premium Package for Two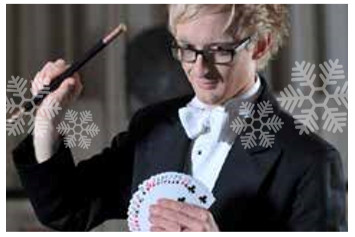 Our Victorian counterparts were avid viewers of parlour magic shows, and now you can jump back in time as you and your guest are amazed by the spellbinding sleight of hand and impossible tricks of The Magic Hour Show. You'll be in premium front row seats for this unbelievable experience, and your 30-page full colour programme will make a fitting souvenir of your authentic Victorian adventure.
£135
£119
£69
Was £32 Now £15
£29
FOR THE AERONAUTICAL DAREDEVILS
Blue Skies Helicopter Tour with Bubbly for Two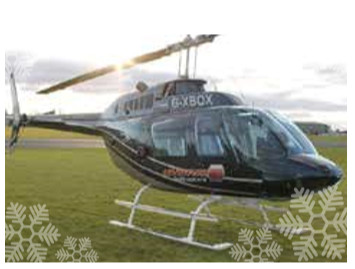 Take to the skies with a loved one during this breathtaking helicopter tour. The two of you will be able to marvel the magnificent countryside below as your pilot points out the local landmarks, all from the dizzying height of 1000 feet. There'll be ample opportunities to take some wonderful photos, so don't forget your camera! Afterwards you can reminisce on your experience and enjoy a glass of bubbly each while you compare who spotted the most landmarks.
Land Away Double Flying Lesson Learn to fly a real aircraft with this fantastic flying lesson experience.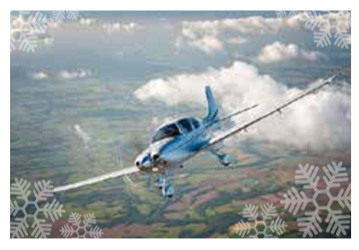 You will be taken up on your first of two 30 minute flights where you will observe as your instructor talks you through piloting the aircraft. Back on solid ground and it's your turn to put your new skills to the test as you finally take the controls for the second of the flights. The instructor will be on hand to guide you as you soar through the clouds at up to 2000ft. Upon landing, you will be de-briefed before being presented with a signed certificate that can be used towards a full pilots licence!
Gliding Discovery Flight Gliding is like no other form of air travel.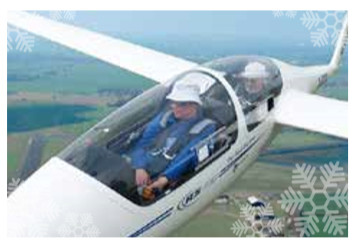 Soaring high above the clouds reaching heights of up to 2000ft you'll feel like a bird, with nothing but the sound of the wind rushing past the cockpit. Although most definitely a thrill ride, it is probably the most tranquil thrill ride you'll ever experience. Upon take-off you are hauled into the air by a powerful plane before you are detached to fly along solo. You will even have the chance to take controls yourself, should you wish.
60 Minute Fighter Pilot Flight Simulator Experience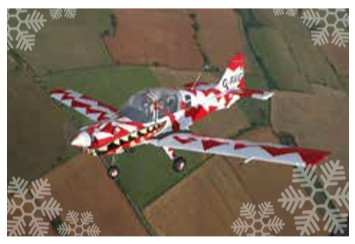 Fly a real fighter plane with the comfort of knowing you are in no danger of crashing – no matter what you do! Made from a real Delfin L29 fight jet, as used by the Romanian Air Force, this simulator has the real look, feel and even smell of what it is like to fly one of these incredible planes. You'll even be kitted up in real genuine RAF issue kit, with Anti G-force pants, helmet and mask putting the finishing touches to the realism of this experience.
Champagne Balloon Flight for Two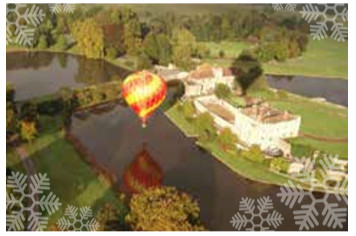 Swap the car for the most magical means of transport, a hot air balloon! You and a friend will reach a height of 2000 feet as you soar over a beautiful location of your choice in the early hours of the morning. Prepare to be amazed by the mesmerising sunrise, valleys, quaint villages and endless fields below. Then it's up, up and away into the serene sky for an hour ride with a glass of champagne.
£65 £129
£69
£239
Was £99 Now £89
Two Night Glamping Experience for Two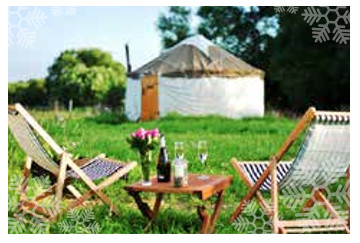 Try the latest craze in staycationing with this flexible two-night glamping package. Love the fresh air and freedom of camping, but don't fancy the mud and rain? Well here's the perfect solution. Whether it's a stylish camping pod, quirky wigwam or sturdy timber tent, you'll be sheltered from anything the British weather can throw at you. With locations in Devon, Cumbria, Herefordshire and rural Scotland, this two night glamping stay is the perfect quirky romantic getaway.
One Night Break for Two at St Ermin's Hotel
Four-star luxury and classy, elegant surroundings combine on this wonderful hotel stay in the heart of Westminster. Located just a minute's walk from St. James's Park, you will experience the 'wow' factor from the get-go, as you enter the hotel through a gorgeous tree-lined courtyard. Inside, the results of a recent £30 million refurbishment are breath-taking: stunning décor, an antique library, state-of-the-art gym and several eating and drinking spaces await, including a Caxton bar, grill and terrace – perfect for the summer months!
Two Night Tree House Escape for Two Find yourself elevated from the ground exposed to the majestic views of birds, greenery and trees. Take the stress out of camping and stay in a luxurious treehouse. The designer unit sleeps two adults and two under 16s, and has comfortable beds, vintage wooden furniture, edgy cushions, tea lights and lanterns. There is an ensuite composting toilet, so no stumbling around the woods in the dark looking for the loo! There are beaches nearby, and with the town of Machynlleth just a short drive away, you're not stranded too far from civilisation if you run out of cornflakes… or beer!
£99
£289
£379
FOR THOSE WHO LIKE TO GET AWAY
Spa Break with Dinner and Private Hot Tub at Three Horseshoes Country Inn
Head to the picturesque countryside of Staffordshire for a relaxing spa retreat designed to soothe your body and mind. You'll be able to make full use of the Mill Wheel spa facilities during your stay and you'll both enjoy a 25 minute Beach Hut treatment. If this taste of relaxation isn't quite enough, you'll receive 20% discount on any other spa treatments you wish to book during your stay, and you can also take a dip in your very own hot tub in your private garden! Your stay includes a delicious three course meal, as well as breakfast before you check out. You'll leave feeling relaxed and thoroughly pampered.
Overnight Murder Mystery Break for Two –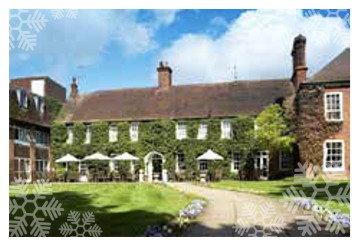 Special Offer Immerse yourself in a murder mystery and put your detective skills to the test with this eerie overnight break. Available at top quality locations nationwide, and with over 100 original plots featuring twists, turns, gory confessions, and stone-cold killers desperate to hide their crimes, your experience is guaranteed to be a riot. As soon as you step through the door you'll find actors mingling with guests, unfolding the story piece by piece over the course of an exciting evening of entertainment. A delicious three course dinner will be served alongside the murder plot, although you may lose your appetite once you learn the deadly motives involved! When the mystery is solved, you can retire to your comfortable room (hopefully nothing goes bump in the night!).
Was £458 Now £229
Was £199 Now £179
Indoor Karting Race for Two –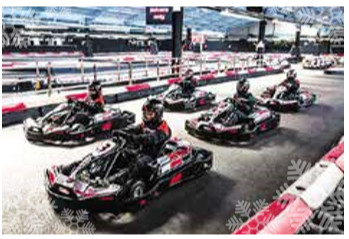 Special Offer You and your fellow speedster can go full throttle with this electrifying go kart racing experience. Choose from a huge range of UK locations, and hit the go kart track for 50 adrenaline pounding laps. You've had the safety briefing, you can smell the rubber, see the go karts lined up waiting for their chance to blast off, the visor comes down, foot on the pedal and finally it's time to go! Do you have what it takes to climb to the top of the podium, holding your winner's trophy high?
Rally Driving Taster Experience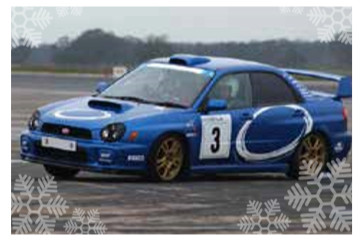 Wet mud, near misses with trees, flying over hills and sharp turns; everything you would expect from rally driving, and now you're in the driving seat! Whatever the weather, you'll be free to throw this high powered machine around the specially constructed "track", putting into practice the techniques your instructor has shown you. So slide, turn and put your foot down; you don't have to pick up the cleaning bill! You will have 5 locations to choose from around the UK, each with their own unique track. Once you have finished your session, you will come away with a certificate to commemorate this action-packed day.
Quad Bike Thrill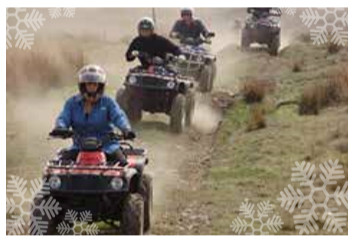 Whether you are a complete beginner or a seasoned quad biker, this fantastic experience will cater to your needs. Whichever course you choose, your dedicated instructor will greet you with an introduction to the vehicles. You'll then get the chance to try the quad bikes in a more relaxed environment on the training course to hone your skills. It's then out onto the more challenging circuit for a rally style session, as you pick up speed and put yourself to the test!
FOR SPEED JUNKIES
Was £99 Now £49 £89
£49
Superhero Driving Blast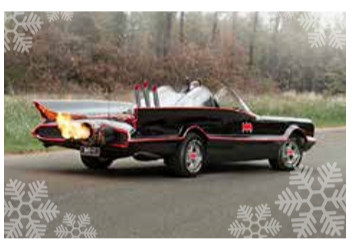 Take the wheel of the very first version of the ultimate superhero car – as driven by Adam West and Burt Ward in the hit 60s TV show. Although the original car was auctioned in 2013 for $4.2 million, this accurate replica includes all the fins, pipes, paintwork and even the flaming exhaust! You'll be able to recreate your own crime-fighting cruise at nine tracks around the UK, driving for three miles as photos and videos of your drive are taken for you to view and/or purchase at the end.
£39
Supercar Thrill with Free High Speed Passenger Ride –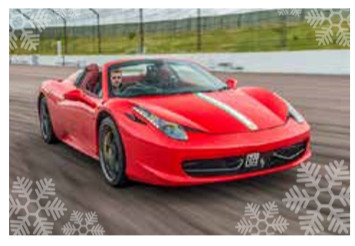 Special Offer Feel the thrill of driving one of the biggest, loudest, fastest names in motoring with this incredible supercar experience. From a stunning Lamborghini Gallardo and a fierce Ferrari to a suave Aston Martin and a nippy Nissan GTR, you'll be simply spoilt for choice. Following a thorough safety briefing, you'll take to the tarmac for six adrenalinefuelled miles in your chosen vehicle. With hundreds of horsepower in your hands, it's a driving experience you'll never forget!
Was £89 Now £49
FOR THE PAMPER QUEENS
One Night Spa Break with Dinner and Wine at Formby Hall Golf Resort and Spa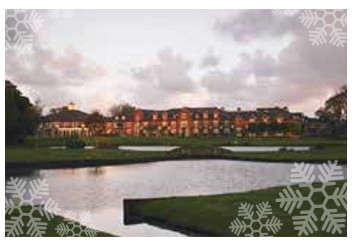 Formby Hall Golf Resort and Spa offers a wonderful setting for an overnight escape. It's time to throw on a fluffy robe and enjoy a little slice of heaven as you revel in two blissful hours in the thermal suite, before taking advantage of unlimited use of the leisure facilities. Take relaxation to the next level with a soothing 25 minute treatment. In the evening, you and your loved one will be served a two course gourmet meal, accompanied by a crisp glass of wine, and on the morning of your departure you'll be treated to a delicious breakfast.
£199
Elemis Spa Day with Facial and Sharing Platter for Two at Bannatyne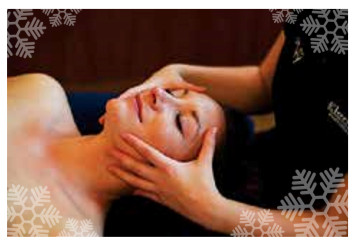 Enjoy a delightful day of relaxation at an opulent Bannatyne Spa. Whether you choose the Kingsford Park or the Bury St. Edmunds location, you are guaranteed an unforgettable and sumptuous experience. During your day, you can enjoy a fabulous Elemis facial that rejuvenates your skin, a delectable glass of Prosecco and a delicious sharing platter. Unwind and let the stresses of every day slip away as you relax in the beautiful spa.
Was £254 Now £159
Relaxation Spa Day with Lunch for Two at Whittlebury Hall In need of a good catch-up with a friend?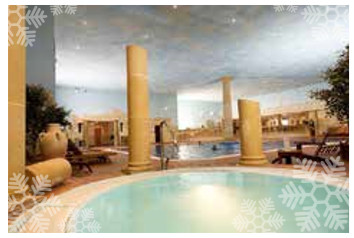 What better way to spend some together than with a gloriously relaxing spa day at a stylish hotel! Located in Northamptonshire, Whittlebury Hall will provide some much-needed pampering for the day, with full use of the leisure club – including the swimming pool, sauna and steam room – and the amazing heat and ice experiences, designed to invigorate the body. From the ice cave to the aromatherapy crystal steam, your skin will be left soft, smooth and hydrated. What's more, a sumptuous two-course buffet lunch is included.
£99
Cut a Long Story Short Ted's Grooming Experience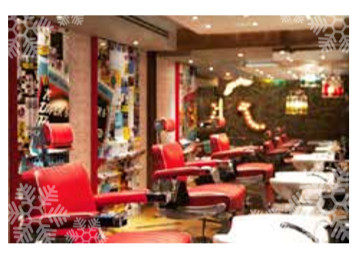 Tidy up the loose ends and cut a long story short with this experience for one at Ted's Grooming Room. Available at London locations, this is a great chance for you or someone you know to smarten up and enjoy a professional haircut and styling session. You'll receive a beer or Turkish coffee upon arrival and relax while an expert barber becomes available. Then sit back and enjoy the sensation of having your hair washed as you discuss your chosen haircut.
£32
2 for 1 Luxury Spa Treat with Prosecco at the 5 Star Athenaeum Hotel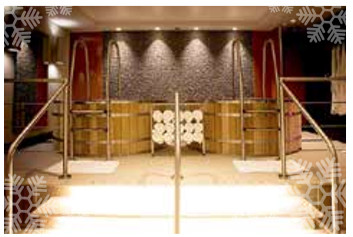 Take advantage of this amazing 2 for 1 offer and treat a loved one to this luxury spa experience at the Athenaeum Hotel in London's Mayfair. You and your guest will get to enjoy use of the Athenaeum's REN spa for an hour, boasting a sauna, steam room and two cedar wood hot tubs. A delicious glass of Prosecco to sip on in the hot tub will only add to your pamper treat. Choose to combine your treats with a 30 minute massage and 30 minute facial, to get the best of both worlds, or opt for the 60 minute treat and enjoy a full hour of stress relieving massage therapy or a luxury facial for healthy, happy skin.
Was £299 Now £149
2 for 1 Spa Day with Four Treatments for Two at Bannatyne Head to your chosen Bannatyne Health Spa for the perfect spa retreat!
Both you and your companion will enjoy a peaceful spa day together at one of the 40 convenient Bannatyne locations across the UK, where you will each enjoy 70 minutes of pampering, with a leg and back massage, facial and OPI manicure or pedicure included to ensure you're feeling de-stressed, refreshed and renewed! The rest of your spa day will be devoted to you, allowing you full access to the spa and leisure facilities.
£109
60 Minute Golf Lesson with a PGA Professional for Two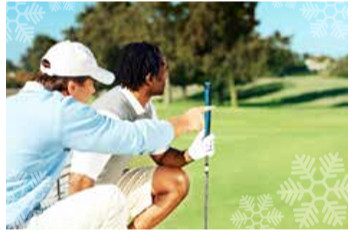 With a full 60 minutes with a PGA professional you'll have no problem making a hole in one! You and your guest will be able to gain expert advice from a professional with years of experience and skill. You'll be able to dramatically improve your golfing technique as well as nurturing your natural skill at the game. Thanks to many brilliant locations across the UK and over 100 PGA professionals ready to teach you everything they know you'll be completely spoilt for choice!
Scuba Diving Experience for Two in Norfolk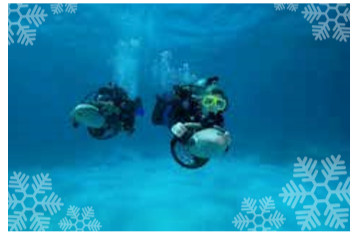 For those keen to take up scuba diving, this is the perfect introduction!
Situated in beautiful Norfolk, this fantastic experience is the ideal opportunity to get to grips with the basics of this wonderful underwater sport. Under the watchful eye of an experienced instructor, you'll learn the tips and techniques necessary for exploring the depths of the ocean. In a safe and controlled environment, this pool-based lesson will familiarise you with the equipment, as well as teaching you breathing skills and safety knowledge, and how to communicate with your fellow-scuba divers whilst paddling beneath the waves.
Wembley Stadium Tour with 3 Course Meal and Glass of Wine at Prezzo for Two
Immerse yourself in the incredible atmosphere of one of the world's most legendary stadiums and discover a world of sporting history with this brilliant guided tour of Wembley Stadium, and follow it up with a mouth-watering Italian meal at popular modern restaurant Prezzo. You'll begin at the stadium, exploring the players' changing rooms, treatment room and the warm up zone before you imagine the trumpets as you step boldly down the tunnel to the pitch! You'll also enjoy the opportunity to get your pictures taken with a replica FA Cup in the Royal Box, before you head over to a nearby Prezzo. There, you'll be able to sample three delicious courses from a set menu that includes pizzas, rich pasta dishes and truly decadent desserts – plus a glass of wine each to toast to your day!
Indoor Surfing Experience for One Want to feel the wind in your hair as you surf 20ft waves in dangerous shark infested waters?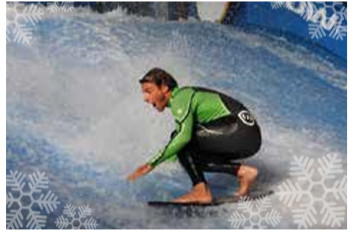 No? Neither do we! Now you can enjoy the thrill of surfing in the safe and controlled environment of the FlowRider machine, located in Bedfordshire. Receive expert guidance from an experienced instructor as you jump onto a specially designed board which skims across the continuous four-inch wave. The edges are fully padded and the sea itself is made of a special soft membrane ride surface, which means no matter how many times you fall you'll walk away without feeling sore! You'll be part of a group of up to 12 and take it in turns to ride the wave.
Adult Wimbledon Tennis Tour for Two A superb and intriguing tour of the world's greatest tennis club is in store for the lucky recipient of this fabulous Wimbledon experience voucher.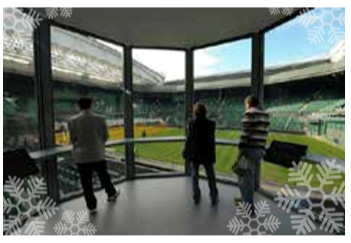 You will be given a behind the scenes tour of the grounds that is second to none, all with fantastic insight from your enthusiastic blue badge guide. You will visit both court number one and centre court, the site of some of the greatest battles in the history of the sport. Your guide will lead you through the beautiful picnic terraces and up to the water gardens with views of London before heading to the marvellous interactive Wimbeldon Tennis Museum.
Zombie Infection Experience for Two Treat the zombie enthusiast in your life to a hair-raising Zombie Infection experience.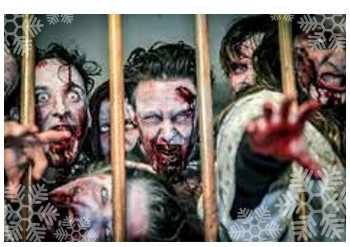 With the entire country descending into panic, it is up to you and the veteran zombie team to secure the last remaining safe spots. It won't be plain sailing, of course. Along the way, you'll encounter flesh-eating zombies, who'll test both your stamina and your mettle. All locations have been chosen for their grandeur and representation of the decay of society, adding authenticity to the story.
Flyboarding Experience The Flyboard is the latest craze in water sports sweeping the world, and now you can try it for yourself.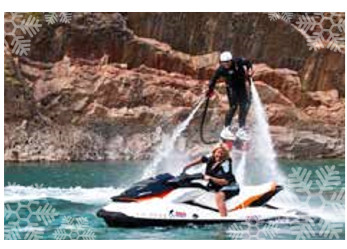 Using water jet propulsion from specially designed boots and hand pads, the personal water craft forces water out under extreme pressure sending you soaring into the air to heights of up to 10 metres. You will then have a full 30 minutes to put what you have learned to the test.
Predator Adventures Seabreacher Experience for One Strap in and hold tight for this whirlwind of a ride!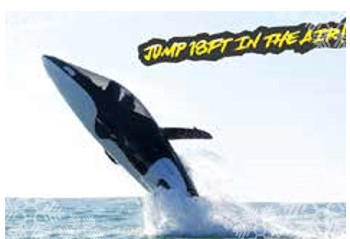 Board the supercharged Seabreacher Watercraft at one of the world's most extreme and revolutionary water sports! These incredibly unique semi-submersible vessels boast a 300HP engine, reaching speeds of up to 60mph on the water's surface and can even dive below at up to 40mph! Not one for the faint hearted, you will leap, roll and dive, turning doughnuts and 90 degrees angle side rolls across the water, as your expert driver takes you on an adrenaline ride on the Thames.
Portsmouth Historic Dockyard Annual Pass for Two A truly memorable day!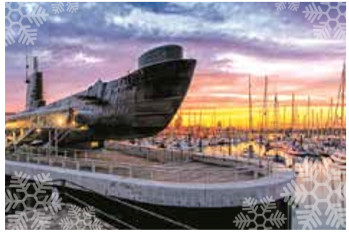 Unlimited access to all the major attractions makes Portsmouth Historic Dockyard the best place to explore our country's naval past. Be wowed by Lord Nelson's flagship HMS Victory, HMS Warrior 1860 – the world's first iron-hulled armoured warship. All this is just the tip of the iceberg, and you'll even get a free ride on the Waterbus to cruise around Portsmouth Harbour!
Aqua Zorbing for Two – Special Offer Want the exhilarating ride of your life?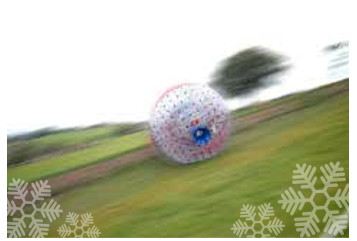 Searching for a water-based thrill but have been to all the waterparks? Aqua zorbing is the answer! Encompassed in a massive 12ft ball half-filled with litres of water, you'll safely bounce down hills next to a friend. The water makes the ride comfortable and that much more fun, so you don't need to be in a harness. This is a brilliant day out for two if you are looking for something a bit different that's active and adventurous.
Bungee Jump Experience – Special Offer Call yourself an adrenaline junkie?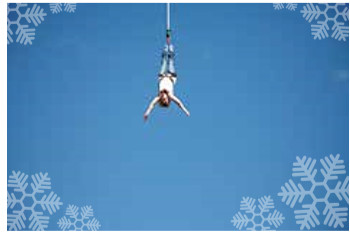 Then get stuck into this amazing bungee jumping experience for one. Take a deep breath, close your eyes and take the leap of a lifetime as you fall towards the ground below. The jump may only take a matter of moments, but those memories that will last a good deal longer! You can even purchase a video or pictures of your experience so you can prove to your mates (and yourself!) that you really did it!
Treat Him – Smartbox by Buyagift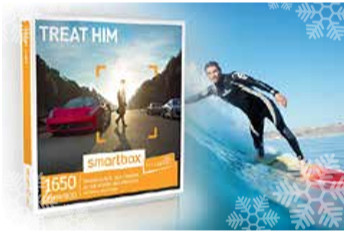 Abandon the oversized coffee mugs or the overpriced aftershaves and give the special man in your life an experience he'll never forget! We've hand-picked the finest selection of over 1650 Tasty Treat, Driving Blast and Adrenaline Adventure experiences to create the perfect gift for any man. Featuring everything from zorbing to supercar driving, gourmet dinners to overnight glamping breaks, we've collected a spectacular selection of experiences to suit every taste. Your voucher is also fully exchangeable so you will have the flexibility to exchange it for something to suit his tastes.
Afternoon Tea with Bubbles – Smartbox by Buyagift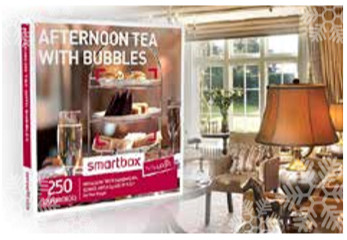 Sumptuous sandwiches, moreish cakes and tantalising homemade scones make for a sweet enough treat, but combine this with a tall glass of fizzing bubbles and you have the ultimate afternoon tea treat. You and your loved one will be able to choose the location to suit you from the many UK wide options. You could relish a taste of the high life at the Hilton, indulge in chocolatey goodness at Hotel Chocolat or enjoy a quaint and traditional experience in a countryside inn.
Dinner Date – Smartbox by Buyagift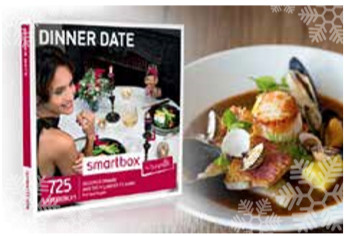 If you delight in enjoying the finer things in life and enjoy indulging in the likes of a quintessentially British afternoon tea or candle-lit dinners at top restaurants, this is the ideal tasty treat for you! Foodlovers need to look no further as we've handpicked a fine selection of over 725 exquisite experiences to choose from, ranging from dining out to wine tasting and brewery tours.
Luxury Pampering – Smartbox by Buyagift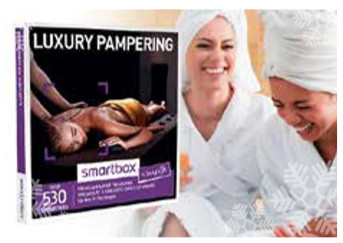 Take a breather and let your hair down for an entire afternoon of bliss and serenity with one of these marvellous pampering experiences across the UK! Venues include everything from local hotspots to national favourites like Bannatyne Health Clubs, Marriot Hotels and Virgin Active. Whether you want a massage, a manicure, a pedicure or a facial, every treatment you could possibly imagine is right at your fingertips!
Charming Escape – Smartbox by Buyagift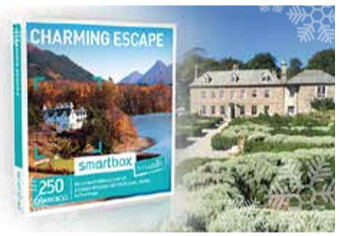 Looking for a relaxing overnight escape that's a little out of the ordinary? We've got something to suit everyone, with incredible selection of over 250 quirky, cute, and traditional one night breaks. Featuring everything from seaside retreats to rural escapes, you are sure to find the perfect break for you. With fantastic breaks in the heart of the stunning English countryside as well as exciting city getaways, this is the ideal gift solution!
Luxury Escape – Smartbox by Buyagift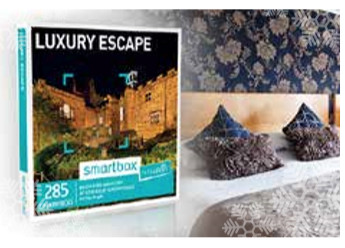 Whatever your idea of a luxury getaway is, we have something perfect for you! Whether you dream of exploring a new and exciting city, immersing yourself in the glorious verdant countryside or fancy a classic seaside break, we've created the ultimate luxury stay package with something for everyone. We've handpicked over 285 truly luxurious one-night breaks for you to enjoy. Treat someone special to a memorable night at one of these fantastic destinations!
Driving Blasts – Smartbox by Buyagift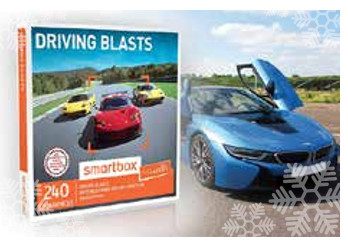 The choices are endless with these high octane driving blasts. You can speed round the track in one of eight fantastic supercars at Blyton Park, take on a 4×4 in Berkshire or sit back and enjoy the fast pace with a high speed passenger ride. No matter where you are you can enjoy the adrenaline pumping driving thrill you've been dreaming about as we've got experiences all over the UK from Devon to Perth and everywhere in between.
Awesome Adventures – Smartbox by Buyagift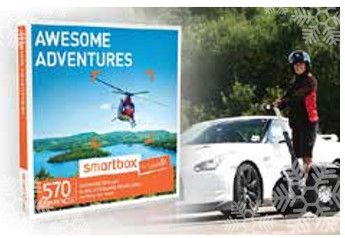 With 570 products to choose from we're sure that you'll find the ultimate adrenaline fuelled experience to get your heart pounding! Our awesome adventures are scattered across the UK so no matter where you're based you're never too far away from your next exciting activity, from the thrill of getting behind the wheel of a supercar to feeling your stomach drop as you take off in a microlight, relishing the wind in your hair as you jump aboard a 60ft racing yacht and every adventure inbetween!
Happy Christmas – Smartbox by Buyagift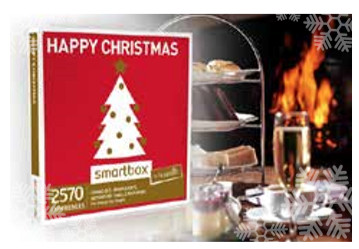 Gift your loved one the ultimate Christmas present, with the choice of 2570 experiences across the UK. Some experiences are for one person, while others like the afternoon teas are for two to enjoy. There are options of adrenaline- fuelled adventures which include scuba diving, zorbing and indoor skydiving, while others may enjoy a more relaxing option such as spa days and papering treatments. There are so many to choose from and there really is something for everyone in this Happy Christmas box.

ARISE COLLECTIVE Kickstarter campaign launching to bring fast fashion to premium designer eyewear >> on http://kck.st/2rbpNta <<
Kickstarter campaign launching to bring fast fashion to premium designer eyewear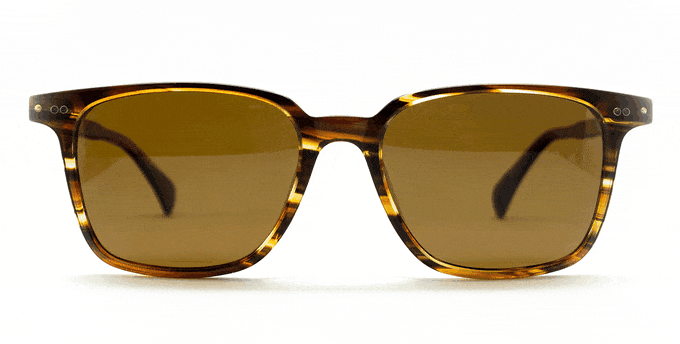 An incredible customised glasses frame + prescription lens offer, Italian design by Australia's leading eyewear innovator.
Sydney, 19/11/2018 – ARISE COLLECTIVE has today revealed a Kickstarter campaign to bring fast fashion to its customers, providing the power to create a fully customisable pair of premium Italian designed eyewear. Launching on 28th November and running for 30 days, the ARISE COLLECTIVE Kickstarter campaign aims to bridge the gap between consumers following trends, and setting them.
The project can be found here: http://kck.st/2rbpNta
In this age of technology and fast paced fashion, more and more consumers are after a fashion brand, and collection, that is adaptable, fashionable, and personal. Arise Collective is bringing customers an amazing eyewear (eyeglasses or sunglasses, prescription or plano) experience at factory direct prices.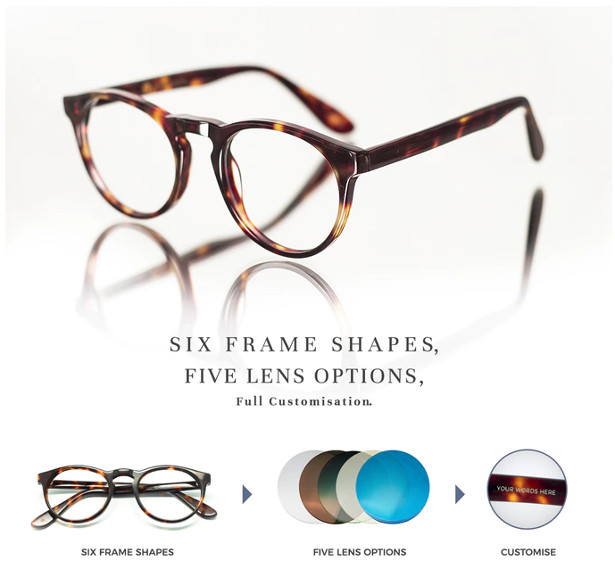 Positioned between an innovative tech start up and fast fashion brand, ARISE COLLECTIVE plans to give its customers the ability to design customisable versions of their products. Started by a serial entrepreneur, a fashion designer and an Italian design team, it began as a platform to harness the full potential of customisable eyewear, at affordable prices.
The Arise Collective team has always believed that there is more to making eyewear than what meets the eye, and that choosing the right pair of glasses and sunglasses is much harder than it needs to be. Different people have different needs. After taking all of this into consideration the Arise Collective team came up with a plan: to create fully customisable eyewear.
"Partnering with leading eyewear retailer visiondirect.com.au we surveyed 200,000 customers to find out exactly what they were looking for. We were able to distinguish some great insights and based on this we created an eyewear collection that is adaptable, fashionable, and personal." – David Menning, co-Founder of Arise Collective.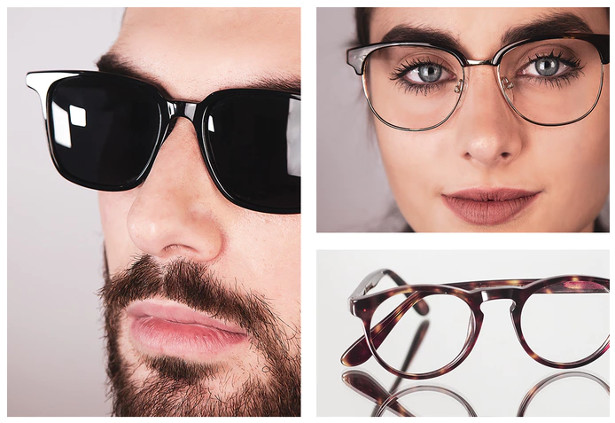 The fully customisable Arise Collective First Collection is available in six frame shapes and five lens options including sought-after round, semi-rimless and metal aviator glasses and sunglasses.
Kickstarter information:
• Fully customisable eyewear
• Personalised inscription on frame
• Limited edition number on frame
• Six iconic frame shapes: Salvario, Aurora, Veneto, Capri, Dante, Asti
• Five premium lens types: Clear, Tinted (sunglasses), Smart Fade, Digital Blue Block, Polarised
• Frames are cut from the highest quality Italian acetate
• All lenses are prescription ready and include prescription at no extra price
• 100% UV protection layer on all lenses
• Anti-scratch coating applied on all lenses
The Arise Collective Kickstarter project will be launched on the 28 th of November and will be running for 30 days.
"We believe everyone should be empowered to express their individuality – so why should you have to see the world through the same lens as everyone else?"
"We designed our six frame shapes to suit our consumers, our collective. These are the shapes that are timeless yet modern, adapted to today's leading design standards. We will be providing an eyeglasses or sunglasses service that caters to each individual's needs. With our factory direct supply chain solution, we are able to offer our customers a huge value proposition – delivering top quality materials and a great personalised service at accessible prices." David Menning, co-Founder of Arise Collective.
….
About Arise Collective: Arise Collective started in April 2017 with the goal of making premium quality eyewear completely personal to each individual. A humble goal, but one that we feel all eyewear users around the world really need, and a service that all the major global eyewear brands have never been able to deliver.
Working with an Italian design team, we partnered with the SmartBuyGlasses Optical Group and their Australian website www.visiondirect.com.au – an established online eyewear retailer, to survey over 200,000 customers. We identified what frame shapes you wanted, and what lens types you needed. This led to the refined method through which we were able to build the brand and bring to market the Arise Collective First Edition collection.
Wood Stickers make the perfect gift!
Wood Stickers-Eco Friendly Stickers Made from Real Wood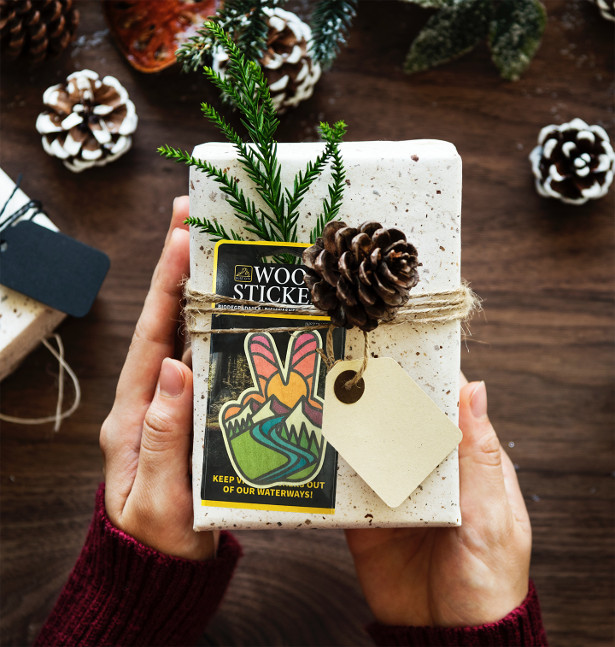 FACEBOOK | TWITTER | INSTAGRAM
Dust City Wood Stickers™ are a premium take on the classic vinyl sticker and make the perfect unique gift for everyone! They are made from real cherry & maple wood, and leave a lasting impression. They are bendable, flexible, dishwasher safe, uv protected, and can be placed on pretty much everything. Dust City Wood Stickers are currently sold in over 1,000 mom & pop gift shops Nationwide!Since our inception, we've always aimed to make our products as eco-friendly as possible. Our founder, Josh Glisan, set out to find a safe and friendly alternative to the ever-popular vinyl sticker. Shortly after starting his research, he began to realize how toxic vinyl stickers actually were to produce and how big a contribution stickers were making to the micro plastic tragedy that is plaguing our waterways currently. For years we've been using vinyl stickers and they have been destroying our environment. Not only are they toxic to produce, but they are non-biodegradable. A vinyl sticker takes between 500-1,500 years to break down.
Vist us at www.WoodStickers.com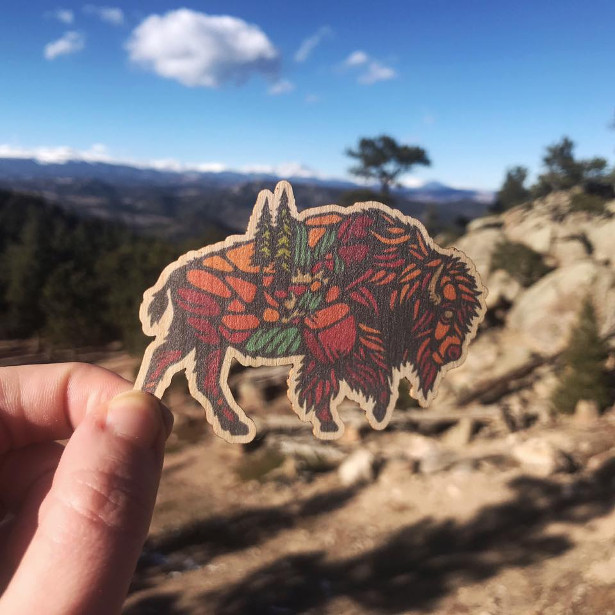 What can you put a Wood Sticker on?Cell phones, tablets and laptopsCars, bikes, or other vehicles Water bottles, coffee mugs, barware Skis and snowboards Books and journals Flower pots and vases Sustainably Sourced Real Wood Many people's first concern about wood stickers is, "What about all that wood?!" Fret not friend, all of our wood stickers are sustainably and ethically sourced. We worked directly with an FSC certified wood supplier to be sure that all of our wood products are up to our tough standards. A close chain of communication between us an our supplier allows us to be sure that every wood sticker we produce is not having a harmful effect on our environment. Our goal is not only to create a healthy earth for today, but also for generations to come!Eco-Friendly Stickers Unlike traditional stickers, our Wood Stickers will fully biodegrade! Vinyl stickers are extremely toxic to produce and even more toxic to consume. When a vinyl sticker breaks down, it leaves behind tiny pieces of micro-plastic that ultimately pollute our land and waterways. When our Wood Stickers break down, they leave behind only wood that can fully biodegrade. But what about my sticker breaking down while in use?! No need to worry, our Wood Stickers will last just as long as a traditional sticker. They can last indefinitely with indoor use and can last up to two years when exposed to the elements of the outdoors or dish washing.Made in the USA From start to finish, our Wood Stickers are made 100% in the United States. This means far less of a carbon foot print is created from the transportation and sourcing of materials. We print, cut, packaging and ship all from our headquarters based in Denver, Colorado. Interested in seeing our operation in person? Let us know! We love to have visitors to the shop.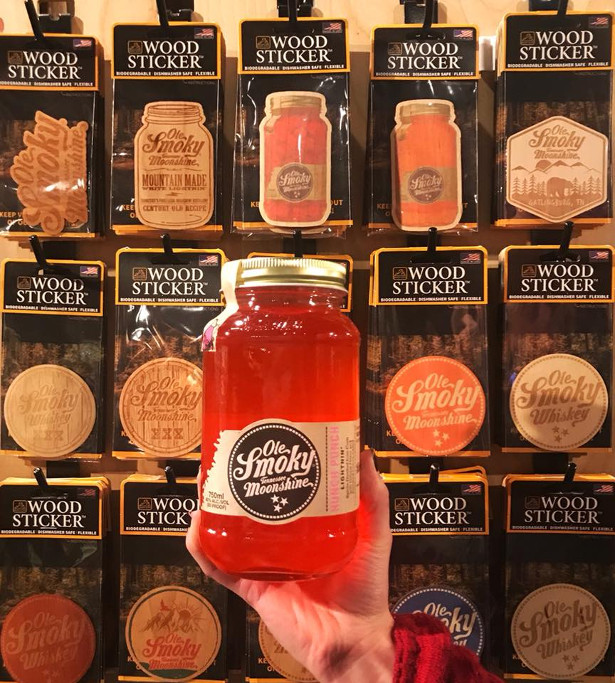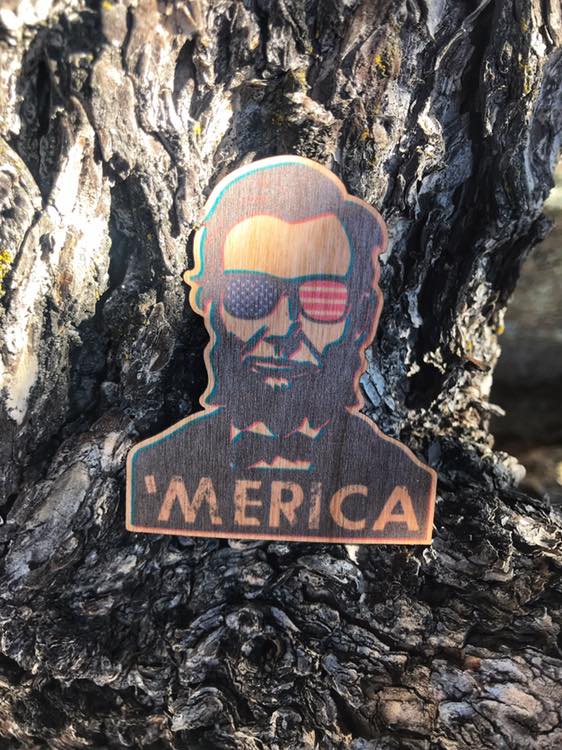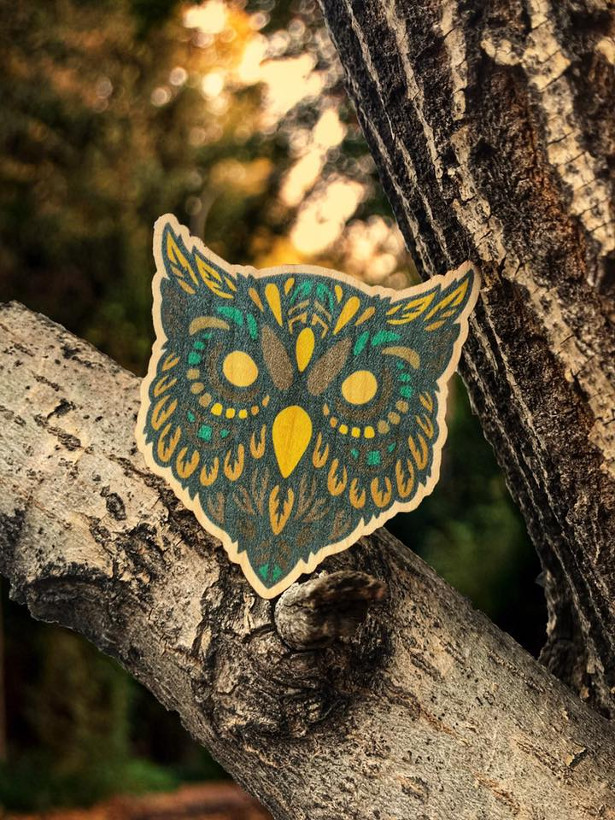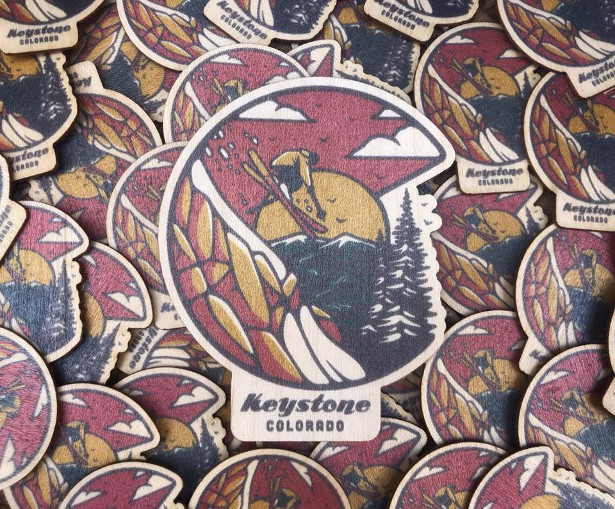 #Ladyhikers – let's get outdoors in 2019!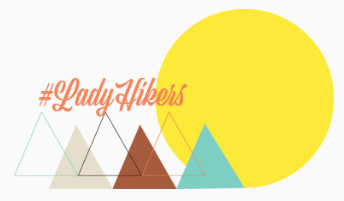 www.ladyhikers.com
https://www.ladyhikers.com/lady-shop/
hello@ladyhikers.com
#LadieHikers are average ladies just trying to add some nature back into our lives. We tend to range in age from 30 – 45+ but have followers and friends on that side of the aisle. Really anyone is welcome but we're going to talk about jobs, mansplainers, periods and strange body happenings. We also tend to fight for equality, protection and conservation of all peoples and natures. If you're not into progressing as a whole over regressing on basic human rights, this probably is not the group for you.
We tend to be working professionals, small business owners, retail workers and entrepreneurs. Some of us have children but many do not. Some of us have thick thighs, carbo-load and exercise 1 – 5 days a week, if we can fit it in the schedule. Some of us are vegans, a lot are veggie besties and some of us still eat meat. But we take a healthier approach to most things. We LOVE the environment.
The perfect holiday treat makes the best gift-Gluten Free Cookie Dough Bites
I am emailing you on behalf of my client, Allie's GF Goodies Homemade Gluten Free Goodness®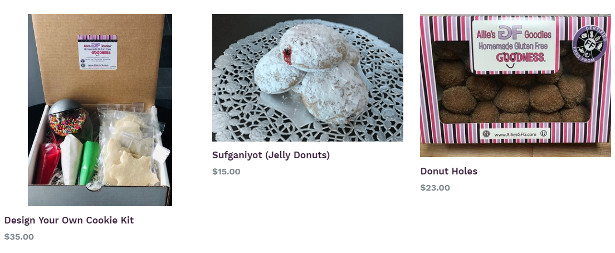 I believe the delicious chocolates and Gluten Free treats from Allie's GF, a NY based, award-winning allergen-free bakery, would
make a perfect gift for anyone who is looking for new and fun flavors to try. In honor of the holidays the bakery just launched Allie's chocolate
cookie dough bites, a gluten free, vegan friendly delight able to satisfy the most demanding sweet tooth.
There is no one more appreciative of a yummy treat than a family member home for the holidays, which is why for only $25 they can e njoy 9 chocolate cookie dough bites in a specially packaged box that fits the dietary needs of everyone on your list!
Buy link: https://bit.ly/2Iz8ytr
For years, Allie's has been a safe haven for those with allergies on Long Island and across the country via mail order.
Owner Allison Luckman understands the concerns parents have when providing their children with treats, fearing that they may contain an allergen. Allie is an expert at living an allergen-free lifestyle and has curated her business to reflect this.
After facing food-intolerances her entire life and sharing them with her children, Allie became AllerTrain Certified. This accreditation assures her expertise in the gluten-free and food allergy world. Please let me know if you would be interested in receiving samples.
Website: www.alliesgfg.com
Dreaming of Christmas!
Buon Natale, Merry Christmas and a very Happy New Year to you and yours from all of us at Cooking Vacations.
www.cooking-vacations.com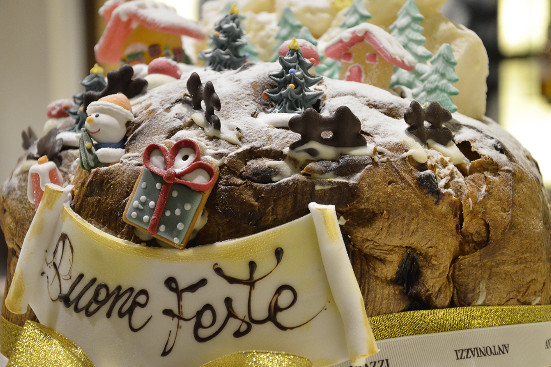 Our kitchen is cozy and warm as we prepare bundles of recipes for Santo Stefano on December 26. Oversized platters of biscotti, zeppole, struffoli, Christmas cakes, and chocolate truffles have been made, glazed and wrapped! Soon we'll be rolling out the home-made pasta and ravioli, and baking and flash-frying calamari, alici, vongole and baccalà. Good food and wine on the table with family and friends together is the very best gift of all.
Congratulations to Cooking Vacations' Gemma!
In addition to celebrating Christmas and New Year, we are celebrating Germaine Stafford's (best known as Gemma) newly released book, The Curious Kilt, A Loch Ness Mystery, on Amazon. Gemma is Scotish, has lived in Italy for over 20 years and is part of the team at Cooking Vacations where she works her magic on guests' reservations, recipe writing and test kitchen cooking, baking and tasting.
When she is not working, gardening, or caring for her better half, precious dogs and kitties, she is writing. She just returned from Scotland where she and her Aunt Gerry co-wrote their first book. This cozy mystery is set on the banks of Loch Ness in Scotland and also includes their delicious Scottish recipes. For a copy of the recipes from the book, Subscribe to Jemima Wallace's newsletter.
Grazie Mille!
Thanks to all our guests, those who visited for the first time and also for those guests who return each year. We are thrilled guests arrived as strangers and departed as fun-loving foodie friends. Most of all, we thank you for cooking, baking, sipping and swirling with us and hope your recipes will be used for the holidays! Peace on Earth!
Buon Natale~
Lauren
Banana Chocolate Muffins and Honey Chocolate
Bread Chocolate Muffins & Quantity:
Recycled old bread, and left over chocolate milk. We already know about bread pudding, or bread crumbs that convert from old bread. But I am going to give you a new idea for old bread to reprocess into bread muffins.
Ingredients
2 cups Bread Crumbs (8 Slices Of Bread, Remove Crust From Bread Before Grating)
2 Cups Flo
4 medium, Extra- Ripe Bananas, Peeled
2 Eggs
1/4 Cup Olive Oil Or 1/4 Cup Shortening Or Lard
1/2 Cup Chocolate Milk
1/4 Cup Brown Sugar
1/2 Tsp. Vanilla
1/2 Tsp. Cinnamon
1/2 Tsp. Nutmeg
1/2 Tsp.Mixed Spice
2 Tsp. Baking Powder
1 Tsp. Baking Soda
1/4 Tsp. Level Salt
3/4 cup Raisin
Method
1. In a large mixing bowl, cream olive oil or (1/4 cup shortening or lard) and sugar together. Add mashed bananas and eggs, and blend well.
2. In a separate bowl, sift flour and add bread crumbs, and other ingredients. Add the other wet ingredients and mixed well stir in raisin until moisted.
3. Fill paper lined or grease muffin cups about 2/3 full.
4. Bake at 350 degrees for 20/30 minutes or until golden brown, tested with a tooth pick, if it comes out clean, it is done.
5. Cool in 5 minutes, and then remove to a wire rack.
A very tasty recipe from left old bread and .left over chocolate milk it is very delicous.
Honey Chocolate
Ingredients:-
3/8 Cup Honey
3 Egg Whites
3/4 Cup Almonds
1/2 Cup Of Cocoa
1 Cup Brown Sugar
1/2 Cup Of Water
1/2 Cup Glucose
Pinch Salt
1/3 Teaspoons Of Vanilla Essence
Method
1. Pour honey in mixing bowl, and add stiffy beaten eggs whites. Continue stirring until the mixture is thick and stiff. Prepare a wet baking sheet pan about 10″ x 15″ and line with parchment baking paper.
2. Cut the nuts into big pieces. Then dissolve the sugar in water, add the glucose, bring to the boi;l toa temperature of 260 F degrees. Then add the vanilla essence, and pour the syrup on to the honey mixture, continue to beat over a pot of boiling water, until it become hard when tested in cold water.
3. Time 30 – 40 minutes; continue to beat until the mixture has reached a stage of firmness. Add the nuts and pour the mixture into the baking sheet pan, press it down. Covered with parchment baking paper, let it stand until cold. Cut up and wrap the pieces in grease proff paper.
These are simple homemade recipes and very delicious. Enjoy it.