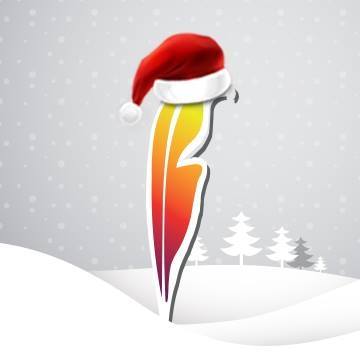 For Him! The Rise and Fall of Roy Weston Genre by Malcolm Keith Needham.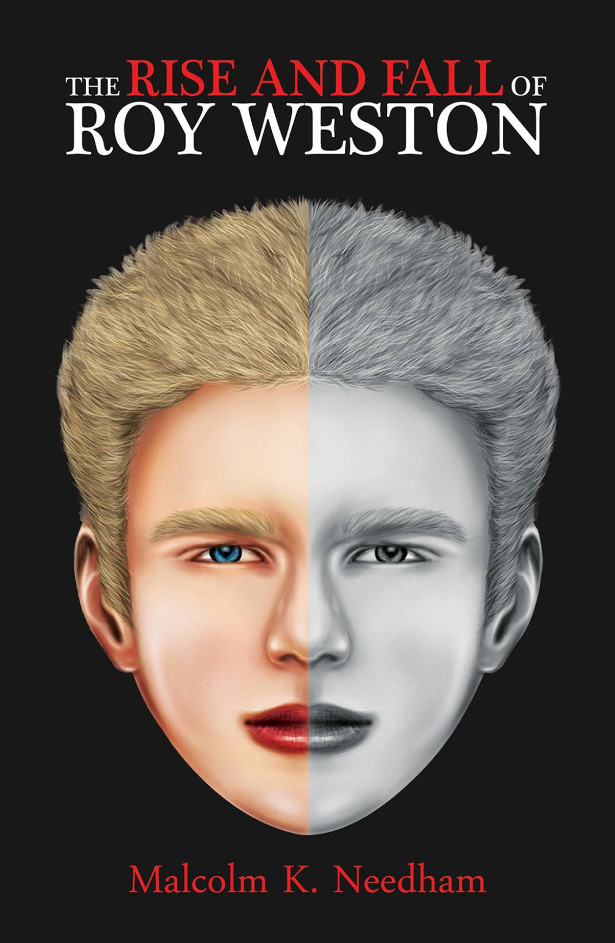 FACEBOOK | TWITTER | YOUTUBE | INSTAGRAM
Roy Weston was born into a wealthy family and raised in a big stone house on a hill overlooking the poor, coal-mining village of Brexley in North Yorkshire, England. Having nearly died of meningitis at the age of three years old, he is bullied by the kids at school until his mother pulls him out of school at the age of ten. His education from that point forward consists of what he learns himself by roaming the streets of the village in the dark and peeping through people's windows. At the age of fourteen, he watches through a window as his football hero, John Finley, attacks a pedophile, meaning to kill him. His friend leaves the building thinking he has done exactly that, but Roy enters afterward, realizes the man is still alive, and finishes the job. And so begins his life of crime.
 
Have a well-engineered Christmas! Tool Up for Christmas with SGS Engineering! 17″ Heavy Duty Tool Box / 26″ Professional 5 Drawer Roller Tool Cabinet / Stainless Mobile Heavy Duty 3-in-1 Tool Box.
FACEBOOK | TWITTER | INSTAGRAM | YOUTUBE
17″ Heavy Duty Tool Box
with Reinforced Carry Handle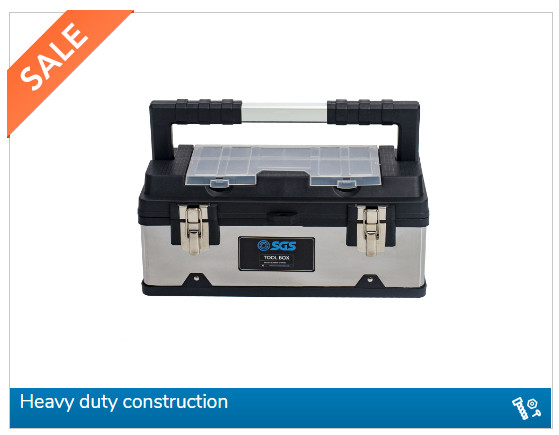 Perfect for DIY beginners and new home owners alike, this good looking, well proportioned toolbox, with plenty of handy compartments, is perfect for storing and carrying your kit.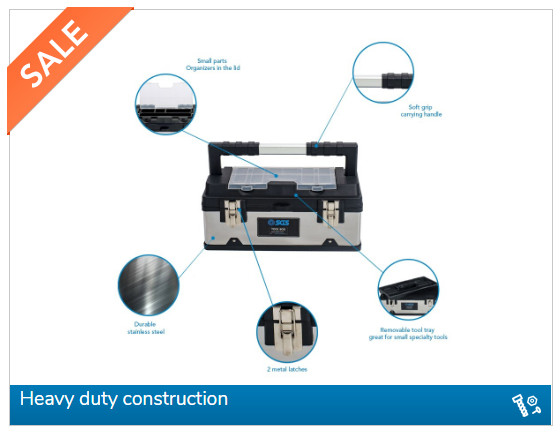 Crafted from stainless steel with a plastic base, this heavy-duty, durable tool box is the ideal combination of durable and light-weight. Featuring strong-metal clatches, space for a padlock and a large, durable soft grip handle, it's secure and easy to carry.
RRP: £18.00 inc. VAT
See more at :- www.sgs-engineering.com/stbp100-heavy-duty-toolbox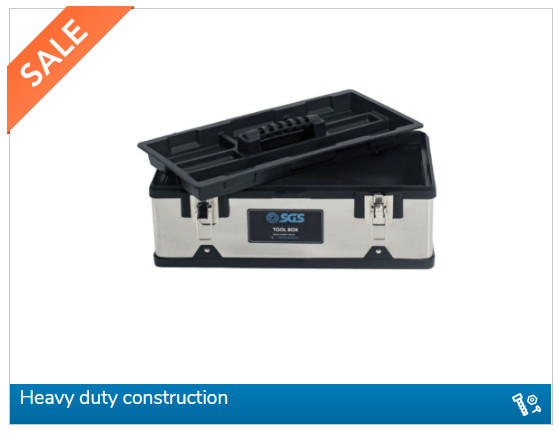 26″ Professional 5 Drawer Roller Tool Cabinet
From Etsy entrepreneurs to serious DIYers, this is the workshop dweller's perfect gift… In fact, it's ideal for anyone who's outgrown their toolbox – or perhaps you just want to drop a little hint for them to be neater.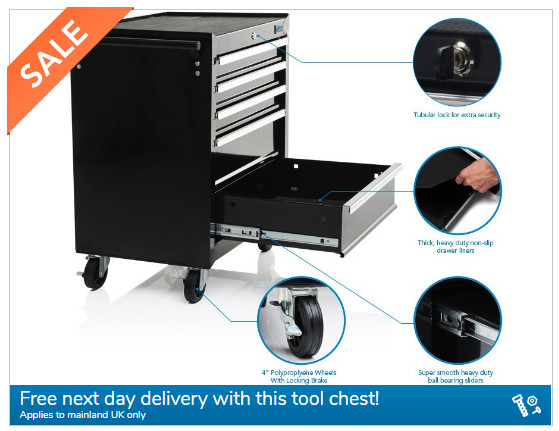 The professional 5 drawer roller cabinet from SGS engineering is ideal for workshop, automotive and garage use. It can hold a myriad of tools, keeping the work space organised, neat and tidy. Thanks to its polypropylene wheels with locking brakes and sliding drawers which click into place when fully extended, essential tools will always be to hand.
RRP: £409.19 inc. VAT
See more at :- www.sgs-engineering.com/professional-5-drawer-roll-away-tool-cabinet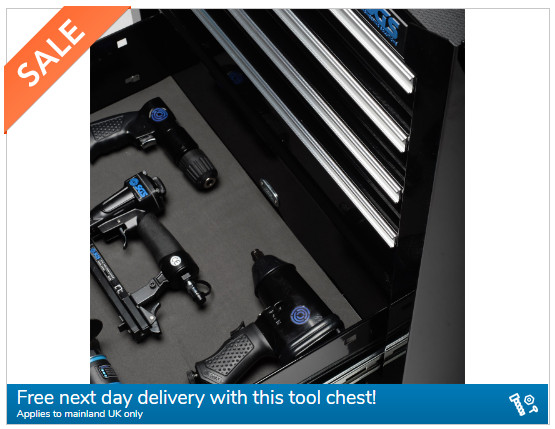 Stainless Mobile Heavy Duty
3-in-1 Tool Box
For anyone who needs to take their kit out on the road. Be it a builder of houses, make-up artist, photographer or model-maker, make their life that little bit easier and sleeker this Christmas.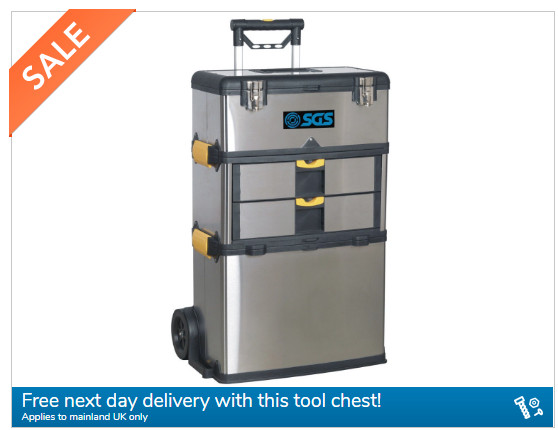 Whether they work from home or on-the-go, this versatile, heavy duty, nobile tool box is a great way to store everything they need to get the job done. The tool chest separates into three units to allow for top notch organisation. Its heavy-duty casing gives peace of mind that the tools-of-their-trade will be safe & secure, even when in transit, and its handle and rear wheels mean no heavy lifting.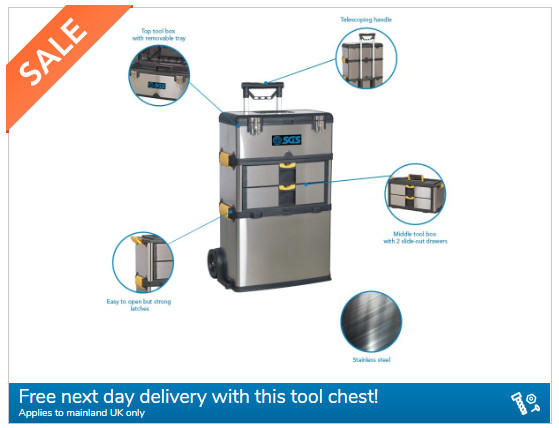 RRP: £155.99 inc. VAT
See more at :- www.sgs-engineering.com/stc500c-mobile-heavy-duty-stainless-3-piece-tool-box
Have a well-engineered Christmas!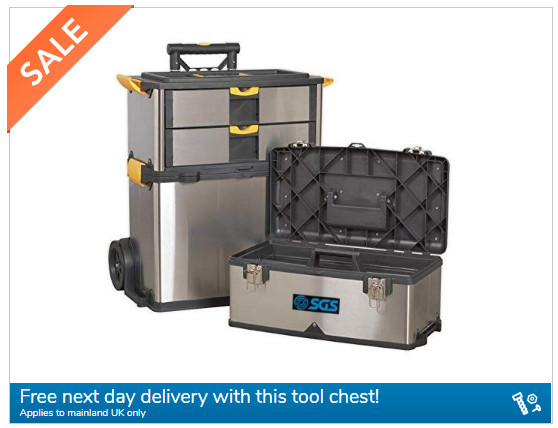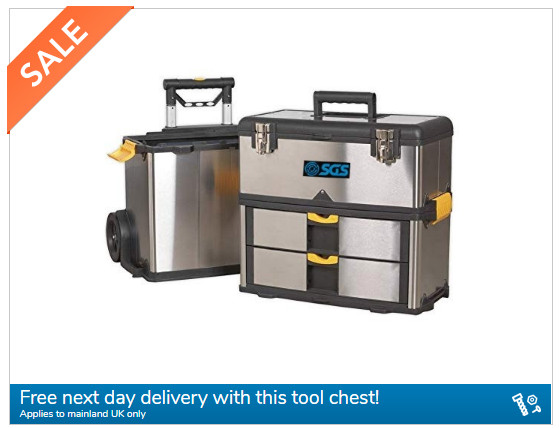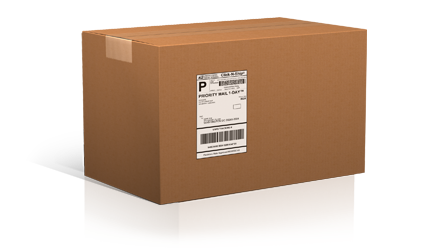 THE PEARL IN THE OYSTER COLLECTION
The Oyster Perpetual Pearlmaster is synonymous with elegance and brilliance. Designed to be gem-set, it exalts Rolex's art of jewelling.
FEATURES
-Classic timeless elegance
– Gracious lines of the case and Pearlmaster bracelet
– Exclusively in 18 ct yellow, white or Everose gold and set with precious stones
– Instantaneous date with Cyclops lens – Rolex-certified Superlative Chronometer
– Manufacture Rolex self-winding mechanical movement, COSC certified – 34 or 39 mm Oyster case, waterproof to a depth of 100 metres (330 feet)
A pearl in the Oyster collection, the Pearlmaster perpetuates with supreme refinement and gently rounded styling the tradition of the emblematic Datejust model. The Pearlmaster, in a case with gracious lines, features the famous calendar in a window with a Cyclops lens for easy reading, and is fitted with a harmoniously contoured Pearlmaster bracelet. The broader bezel lends itself ideally to being gem set. On some models precious stones pave the dials or appear on the case lugs and bracelet links.
DREAM DIALS
The Pearlmaster dials are available in a wide range of colours and materials that blend perfectly with the rest of the watch. The hues are sublime, the beauty of the surfaces expertly rendered. Depending on the version, mother-of-pearl offers a poetic aura of mystery in an interplay of nuances and beguiling reflections. The diamond-paved versions are a picture of elegant sophistication. For their part, the appliques, whether diamonds in gold settings or elegant gold numerals – including some with signature gem-setting – make every reading of the time a pure delight.
GOLD CAST BY ROLEX
The 18 ct yellow, white or Everose gold on a Pearlmaster shines with a special radiance. Rolex has its own foundry and alloys its gold using the purest raw materials. From casting to the shaping and polishing of the gold, everything is carried out with meticulous care to ensure the uncompromising quality of Rolex gold watches. Everose, an exclusive pink gold alloy patented by Rolex, owes its unique hue to its special composition.
THE PEARLMASTER, SUPERLATIVE CHRONOMETER
Like all Rolex watches, each Pearlmaster is certified as a Superlative Chronometer. This exclusive designation attests that it has successfully undergone a series of tests conducted by Rolex in its own laboratories and according to its own criteria, which exceed watchmaking norms and standards. These tests are carried out on the fully assembled watch, in order to guarantee its superlative performance on the wrist. The Superlative Chronometer status is symbolized by the green seal that comes with every Rolex watch and is coupled with an international five-year guarantee.
The precision of every movement – officially certified as a chronometer by COSC (Swiss Official Chronometer Testing Institute) – is, therefore, tested a second time by Rolex after being cased, to ensure that it meets criteria for precision that are far more exacting than those for an official chronometer. The tolerance for the average rate of a Rolex Superlative Chronometer is of the order of -2/+2 seconds per day. Its precision is tested by Rolex using an exclusive methodology that simulates the conditions in which a watch is actually worn and is much more representative of real-life experience.
The Superlative Chronometer certification testing is carried out after casing using state-of-the-art equipment specially developed by Rolex. The entirely automated series of tests also checks the waterproofness, the self-winding capacity and the power reserve of 100 per cent of Rolex watches. These tests systematically complement the qualification testing upstream during development and production that ensures the watches' reliability, robustness, and resistance to magnetic fields and shocks.
THE OYSTER CASE, SYMBOL OF WATERPROOFNESS AND ELEGANCE
The Pearlmaster's peerless grace is equalled by the technical qualities that it has in common with every watch in the Oyster collection. The Oyster case of the Pearlmaster, guaranteed waterproof to a depth of 100 metres (330 feet), is a paragon of robustness and elegance. The characteristically shaped middle case is crafted from a solid block of 18 ct gold. Its case back, edged with fine fluting, is hermetically screwed down with a special tool that allows only Rolex watchmakers to access the movement. The winding crown, fitted with the Twinlock double waterproofness system, screws down securely against the case. The crystal, with a Cyclops lens at 3 o'clock for easy reading of the date, is made of virtually scratchproof sapphire. The waterproof case provides the Pearlmaster's high precision movement with optimal protection.
PERPETUAL CALIBRES 2235, 2236 AND 3235
According to the size, the Pearlmaster is equipped with either calibre 2235 or 2236 (Pearlmaster 34) or calibre 3235 (Pearlmaster 39), self-winding mechanical movements entirely developed and manufactured by Rolex. Their architecture, manufacturing and innovative features make them exceptionally precise and reliable.
The oscillator has a balance wheel with variable inertia regulated extremely precisely with gold Microstella nuts. It is held firmly in place by a height-adjustable traversing bridge enabling very stable positioning to increase shock resistance.
Calibre 3235 features a blue Parachrom hairspring patented and manufactured by Rolex in an exclusive paramagnetic alloy, whilst calibre 2236 incorporates a Syloxi hairspring in silicon also patented and manufactured by the brand. Both hairsprings are insensitive to magnetic fields, offer great stability in the face of temperature variations and remain up to 10 times more precise than a traditional hairspring in case of shocks. In calibres 2235 and 3235, the hairspring is fitted with a Rolex overcoil, guaranteeing its regularity in any position. The geometry of the Syloxi hairspring found calibre 2236 offers the same level of performance. Calibres 2235, 2236 and 3235 are fitted with a self-winding module featuring a Perpetual rotor, which ensures continuous winding of the mainspring by harnessing the movements of the wrist to provide a constant source of energy.
The Pearlmaster's movement will be seen only by certified Rolex watchmakers, yet it is beautifully finished and decorated in keeping with the brand's uncompromising quality standards.
NEW-GENERATION MOVEMENTS
Calibres 2236 and 3235 are new-generation movements entirely developed and manufactured by Rolex for a superlative level of performance. Consummate demonstrations of Rolex technology, they offer fundamental gains in terms of precision, power reserve, resistance to shocks and magnetic fields, convenience and reliability. In these calibres, the oscillator is fitted on the Rolex-designed and –patented high-performance Paraflex shock absorbers, increasing shock resistance by 50 per cent. Calibre 2236 features a paramagnetic nickel-phosphorus escape wheel and has a power reserve of approximately 55 hours.
Calibre 3235 incorporates the Chronergy escapement patented by Rolex, which combines high energy efficiency with great dependability. Made of nickel-phosphorus, it is also insensitive to magnetic interference. Thanks to the barrel architecture and the escapement's superior efficiency, the power reserve of calibre 3235 now extends to approximately 70 hours.
A SENSUOUSLY ROUNDED BRACELET
With its soft lines, the Pearlmaster bracelet gives the watch a highly individual character and offers the wearer maximum comfort. This bracelet, which was created especially for the Pearlmaster, includes ceramic inserts inside the links to enhance its flexibility and longevity. It is fitted with a concealed Crownclasp, which is opened using a Rolex crown-shaped lever, adding to the watch's aesthetic appeal and ease of use. On some models, the Pearlmaster bracelet is also graced with diamonds. A subtle echo of the bezel, the magnificent gem-setting provides the finishing touch to an authentic gem in watchmaking.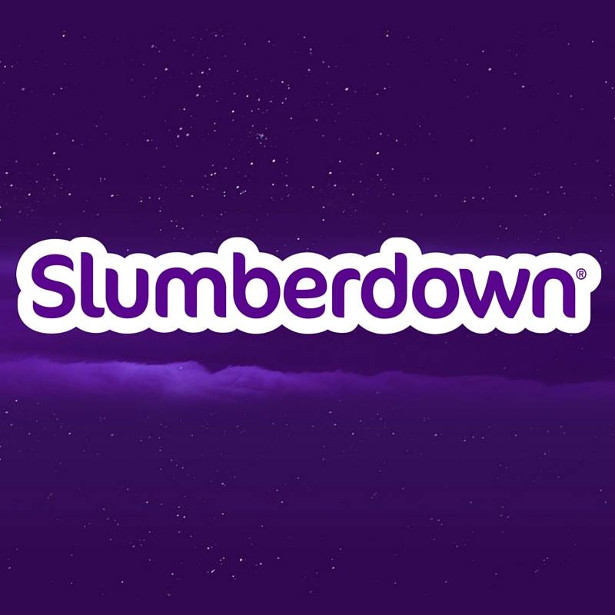 Slumberdown has launched its first range of scented pillows – just in time for Christmas. www.slumberdown.co.uk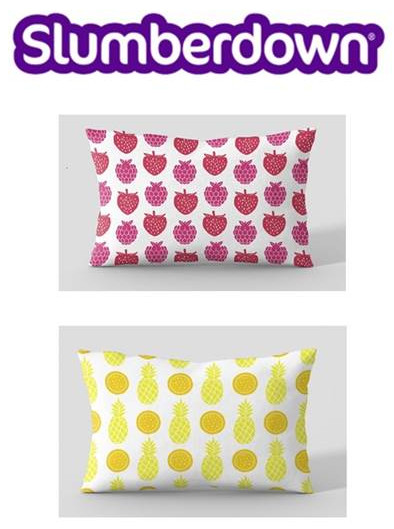 The new pillows come in two fruit-filled scents:
Berry Bliss, A beautiful blend of berries for bedtime and beyond, RRP £10
Tropical Crush, A perfect pairing of pineapple and passionfruit for a little paradise, RRP £10
Infused with subtle scents proven to positively boost your mood, each of our scented pillows helps transform your space into a relaxing haven, creating a happy place where you can unwind day and night. Why not give the gift of a good night's sleep this Christmas?
Available from Amazon.
Crowd Racing
London Knight Crowd.
Crowd Racing offers unique ownership opportunities and experiences, including affordable shares in horses below the usual large costs that are required.
Luxury leather goods brand Thomas Lyte.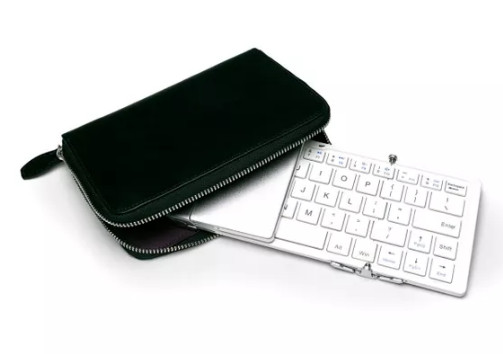 Thomas Lyte is a British luxury leather goods brand, they have a stunning selection of leather goods and accessories, all can be same day personalised as well as beautiful collection of silverware. They also make most of the elite sporting trophies, including the World Cup, ATP Tennis Tour Trophies, The Golden Boot and many more….and are proud Royal Warrant holders. All leather items can be personalised.
Gifts for him:
Personalised Leather Travel Keyboard Case & Wireless keyboard https://www.thomaslyte.com/trifold-keyboard-case-smooth-leather-black/p
Leather Miniature Personalised Leather Travel Speaker case and speaker https://www.thomaslyte.com/bluetooth-wireless-speaker/p
Men's Luxury Travel Games all can be personalised https://www.thomaslyte.com/womens/travel/luxury-games/?O=OrderByScoreDESC
Travel Bags https://www.thomaslyte.com/mens/bags/travel-bags/?O=OrderByScoreDESC
Personalised Travel Wallets https://www.thomaslyte.com/mens/wallets/travel-wallets/?O=OrderByScoreDESC
Debrett's offers a vast selection of gifts – both products and services, for men.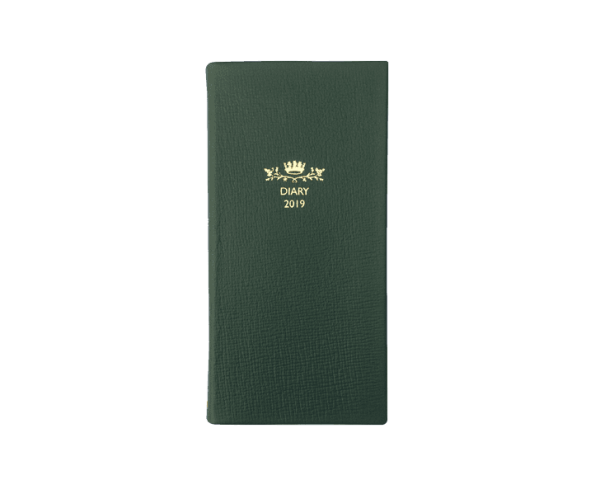 www.debretts.com
https://www.instagram.com/debretts1769/
The company works across different platforms such as bespoke gifts (small leather gifts) as well as the much sought after Debrett's academy. Courses range from interpersonal skills to build confidence, presentation and communication, hosting and entertaining, wedding consultancy and business negotiations.
Specifically for men, Debrett's launched MODERN GENTLEMEN Open Course covering topics such as Shoes and Tailoring, Grooming, Classic Cocktail and Confidence Hacks. The next one is scheduled for January 2019.
A NEW ERA DAWNS FOR BERKELEY SQUARE GIN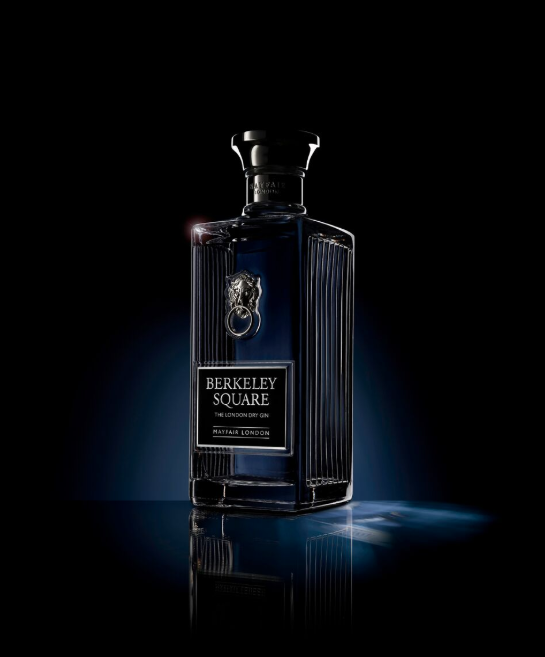 In a world where quality is often sacrificed for cost and speed, there is a new dawn for Berkeley Square London Dry Gin. Standing bold and proud in a striking new look bottle, revealed for the first time in the UK this year, every drop of this award-winning gin is distilled to perfection, resulting in the most refined and smoothest tasting gin possible.
What elevates Berkeley Square Gin above its competitors and lead the way in the luxury gin category is the way in which it is made. The meticulous master distiller first triple distills the base spirit using a small copper still before using the bouquet garni technique, taking the four hero ingredients – kaffir lime leaves, lavender, sage and basil – and delicately hand-wrapping them in a muslin cloth, before steeping the clothed parcel in the base spirit for 48 hours to infuse and impart the herbal flavours and essential oils. The blend of triple distillation and the distinctive infusion process results in a wonderfully delicate and smooth taste that can be enjoyed even sipped neat.
Berkeley Square Gin evokes the timeless style and elegance associated with London's most affluent area, Mayfair, through its design, craftsmanship and handmade detailing. The exquisite bottle is shaped like a glass decanter with a silver engraved stopper that has the mechanics to ensure it is always in union with the neck collar, allowing the product to stand proud in the most exclusive of bars.
The bottle's most prominent feature is the iconic lion head knocker that can also be seen adorned on the majestic doors that surround Berkeley Square. Each lion head embellishment is hand polished and placed on each bottle as the ultimate finishing touch, channeling the craftsmanship and care that goes into making this luxurious quintessential British Gin.
Berkeley Square Gin appeals to those with a taste for the finest quality. It is best is best served on the rocks with a basil leaf or as a classic gin martini, letting the natural botanical flavours speak for themselves and allowing the smoothness and complexity of this refined, luxurious spirit to enthral those lucky enough to try it.
The Montblanc brand is one that people can trust; with a long history of producing fine writing instruments, the Montblanc name is recognised around the world. This is perhaps the most iconic of the Montblanc writing collection; coated in precious black resin and surmounted with the distinctive white star emblem, this pen is a must have for collectors. Browse our full Montblanc Meisterstuck collection today.
https://www.penshop.co.uk/brands/montblanc/montblanc-meisterstuck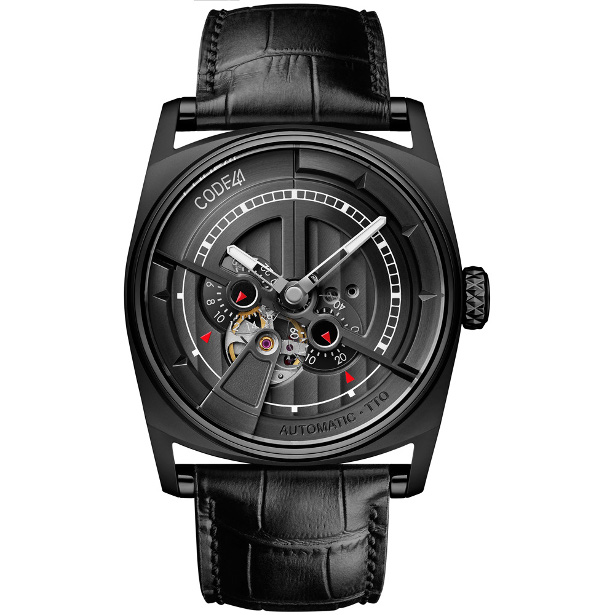 ODE41 – a new Swiss watch brand that are making waves in the watch industry by being completely transparent with their community on origin of parts and production costs. They have a modest 3.5x markup to cover development, retail and marketing compared to the watch industry standard of 8 times production cost.
CODE41 also make the cheapest (and best value for money) carbon forged watches on the market, so you're getting the quality of a Rolex for a 10th of the price.
The company currently offers two bespoke models, the Anomaly-01 and the Anomaly-02, both were designed with the help of the 200,000 strong CODE41 community and feature movements from Japan and Switzerland. Prices start at £592 for the entry level Anomaly 01 and range upwards to £1,589 to the limited forged carbon edition of the Anomaly 02.
Flightgiftcard gives recipients complete freedom to choose from flights from 300 airline partners worldwide to 980 destinations in 70 countries.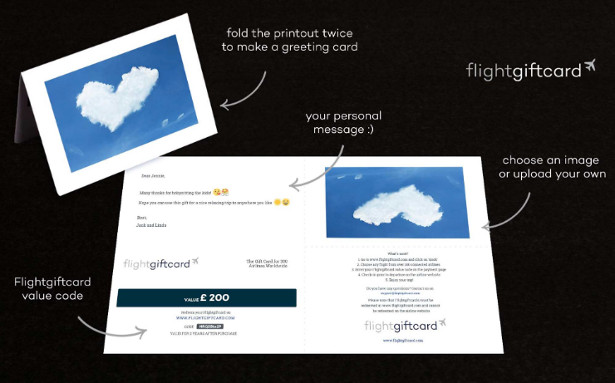 Similar to Flightgiftcard, Hotelgift card can be redeemed by recipient via the Hotelgift card website, where they have the freedom to choose and book from one of 140 of the world's best-known hotel brands.
Christmas 2018 Gifts for Him | Health and Fitness Travel

Adventure in St Lucia: St Lucia Discover Recover
Explore St Lucia on a hiking adventure holiday with an adrenaline-boosting climb of Gros Piton mountain, as you hike to the top for one of the most spectacular views on the island. With a choice of excursions, opt for a 3-hour hike leading into the heart of the rainforest, where you'll discover natural waterfalls and pools. Alternatively, take in a different view of the island during a coastal kayaking tour, jeep explorer safari or jungle biking trip, before returning to your wellness retreat and unwinding in the luxurious spa.
Health and Fitness Travel (0203 397 8891 healthandfitnesstravel.com) offers 10 nights in St Lucia from £2,780pp or £2,300 for single occupancy. Price includes a Discover Recover programme, 7+ nights accommodation on an all-inclusive basis and return transfers.
Fitness in Portugal: Palácio Estoril Fusion Fitness
Unwind in the impressive 5* wellness haven of Palacio Estoril as you satisfy the soul with a game of golf and reap the benefits of the orient-inspired Banyan Tree Spa on a spa and golf holiday. Situated 20 minutes from Lisbon and a stone's throw away from the beautiful Cascais Bay, the Palácio Estoril Fusion Fitness programme will restore your motivation to increase health and fitness levels. Led by a team of fitness and wellness experts, immerse yourself in a world of luxury spa treatments, whilst strengthening your body and mind with yoga and circuit training.
Health and Fitness Travel (0203 397 8891 healthandfitnesstravel.com) offers 7 nights at Palacio Estoril from £1,180pp or £1,650 for single occupancy. Price is all-inclusive, a Fusion fitness programme, return flights and transfers.
Hiking in New Zealand: Aro Ha Wellness Adventure
This well-structured five day all-inclusive healthy break thoroughly utilises the world class facilities at Aro Ha and covers all aspects of fitness, nutrition, lifestyle, physical activity, a healthy mind and restful sleep to achieve optimal wellness. Offering yoga, meditation and strength training classes, as well as hiking and kayaking through the beautiful scenery of New Zealand, and four daily therapeutic massages, this is an opportunity to make real improvements to your total well-being and to take home many skills for life.
Health and Fitness Travel (0203 397 8891 healthandfitnesstravel.com) offers 5 nights at Aro Ha from £2,625pp or £2,815 for single occupancy. Price includes all inclusive, a wellness programme and return transfers.
Boxing in Thailand: Chiva Som Fusion Fitness
Box your way to a fitter you as you tailor-make your ideal fitness escape from a choice of 1-on-1 activities at Chiva Som. An award-winning health and fitness retreat, set on the idyllic coastline of Thailand, experience the latest training techniques, including oxygen power training. Reach your goals with a private Thai boxing session before getting in a full body workout during a group kickboxing class. Continue to build your fitness with everything from TRX suspension training to mountain biking, before stretching out during a relaxing yoga class.
Health and Fitness Travel (0203 397 8891 healthandfitnesstravel.com) offers 7 nights at Chiva Som from £4,905pp or £6,265 for single occupancy. Price includes full board, a Fusion Fitness™ programme, and private transfers.
Meditate in Sri Lanka: Santani Re-balancing Bliss
Situated in the rolling green mountains of Sri Lanka, Santani is an eco-friendly, intimate sanctuary that has a spiritual and relaxed philosophy to take you back to basics. With a luxurious yet minimalistic approach, every guest's experience is unique as you become immersed in the power and energy of nature all around you. Santani's philosophy centres around becoming one with nature and simplicity to encourage a deeper connection with oneself. Each guest's experience is a bespoke journey, catering to their needs to accomplish the release of stress and total feeling of restoration. The minimalistic approach of the sanctuary will leave you with clarity of mind and the ability to focus.
Health and Fitness Travel (0203 397 8891 healthandfitnesstravel.com) offers 7 nights at Santani from £2,615pp or £3,370 for single occupancy. Price includes accommodation, full-board, and return private transfers.
Cooking in Italy: – Borgo Egnazia Fitness
Learn traditional Apulian dishes such as orecchiette with turnip tops, focaccia, and chicory beans, on an unforgettable wellness retreat to Borgo Egnazia. With a philosophy of 'from earth to your plate' this cookery course teaches you the fundamentals of a true Mediterranean diet. Compliment your cooking and explore the beautiful surrounding area around Puglia while toning up and engaging in fun fitness activities. Try an early morning workout outside surrounded by olive trees or a fitness workout at the state-of-the-art fitness centre.
Health and Fitness Travel (0203 397 8891 healthandfitnesstravel.com) offers 7 nights at Borgo from £2,150pp or £2,885 for single occupancy. Price includes breakfast, a fitness programme and return transfers.
Have Yourself a Merry Tradesperson's Christmas with Klein Tools'® Holiday Gift Guide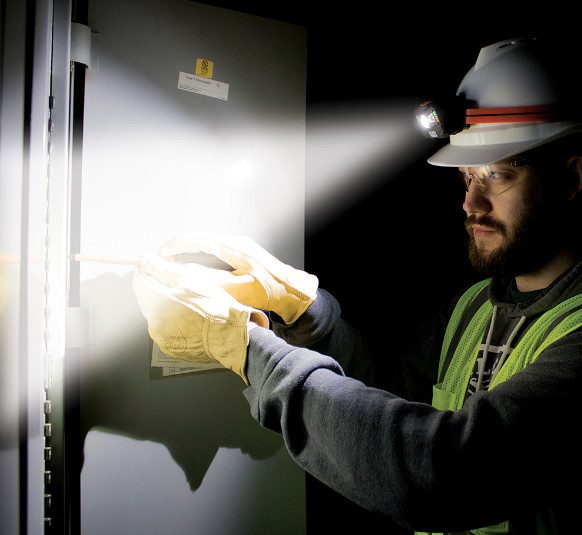 Nov. 13, 2018 (Lincolnshire, Ill.) – Klein Tools (http://www.kleintools.com), for professionals since 1857, understands the struggles associated with finding the perfect holiday gifts for the most important tradespeople in your life. Luckily, the company's holiday elves have made a list – and checked it twice – and it's packed full with the most innovative and efficient gifts perfect for all tradespeople this holiday season. So grab some hot cocoa and settle in for Klein Tools' Annual Holiday Gift Guide, with prices suitable for every budget and jobsite solutions for use across all trades.
Rechargeable Auto-Off Headlamp
Auto-sensing technology turns headlamp off after three minutes in bright light
Light can easily be removed from strap bracket for recharging via USB port
Slim pivoting mount allows up to a 64-degree lighting angle
Silicone strap keeps headlamp secure on a hardhat
7-in-1 Nut Driver
Seven interchangeable sizes with color bands for easy identification
Strong, rare-earth magnets securely hold nuts and bolts in place
Heavy-duty handle with wrench-assist exceeds torque performance of regular nut drivers
Tradesman ProTM Magnetic Wristband
Strong, rare earth magnets keep small parts close at hand
Secure, adjustable hook and loop closure fits most wrist sizes
Contoured shape provides a comfortable fit for all-day use
Hybrid Pliers
Multi-purpose tool strips, crimps and cuts, helping to save time and lighten tool bags
High-leverage design increases cutting power
Wide knurled head grabs and twists wires with ease
Full length, induction-hardened knives cut hard wire
Dual-Range Non-Contact Voltage Tester with Laser Pointer
Provides non-contact determination of AC voltage across various jobsite applications
Dual-range measurement modes detect voltage from 70 to 1000V AC or 12 to 1000V AC
Visual and audible alerts sound at greater frequencies when sensing higher voltages and/or closer proximities
Bright, integrated laser pointer helps identify objects of interest at a distance
For more information, visit www.kleintools.com or contact your local distributor.
FIR Industries.
www.tourmahealth.com

They are the only company today that uses nanometer-sized Tourmaline particles and infuses the particles into fabrics and bond crystals to that fabric. Tourmaline has significant health benefits which include:
· Enhance the flow of Chi Energy
· Reduce Oxidative Stress
· Accelerate Healing
· Reduce Inflammation
· Increase Blood Flow & Blood Oxygen Levels
· Generate New Blood Vessels
Tourmaline is a therapeutic mineral that has been used for millennia in Eastern medicine and around the world, but western societies have only recently started embracing this natural mineral for its numerous health and wellness applications. Numerous modern-day studies have shown that the energies emitted by tourmaline, when absorbed through the body, support overall health and wellness in regards to healing, sleep patterns and detoxification.
The Tourma Miracle Tape – The nanometer sized tourmaline particles that are infused into Tourma Tape are subtle, yet powerful. The tourmaline absorbs body heat and then transmits that energy back into the body in the form of far infrared light. The tourmaline in Tourma Tape also produces negative ions that enhance a more alkaline environment in the body. Alkaline body tissues heal at a more rapid rate. Other benefits of these negative ions, include; scavenging free radicals and reducing inflammation, as well as increasing blood flow and oxygen levels in the bloodstream. All of this encourages accelerated healing and a more rapid recovery from physical activities.
The Tourma Sleeves – Tourma Sleeves (sold as a pair) come in black and can be used on either the arm or the leg. Tourmaline particles have been shown to convert body heat into therapeutic far infrared energy. Tourmaline particles also produce negative ions that enhance a more alkaline environment in the body, which encourages accelerated healing, a more rapid recovery from physical activities and also reduces the oxidative stress.
The Tourma Blanket – Right now, you can get 20% off with discount code TB20 (expires 11/30). This blanket supports sound, deep and restful sleep. Tourmaline increases production of Serotonin Hormone and also increase alpha brain waves. This results in a greater amount of deep and restorative sleep. The Tourmaline particles absorb heat and then convert that heat into Far Infrared Energy, which is then transmitted back into the body. The Tourma Blanket has a comfortable feel and luxurious quality. It is 100% polyester and is soft on the skin. Just-Machine Wash & Tumble Dry.
The Tourma Scarf – Wrap up in Cannoli Cream, Jet Black and Regal Red. They are 12″ wide and 69″ long. Tourma Scarves contain nanometer-sized tourmaline particles. Tourmaline particles have been shown to convert body heat into therapeutic far infrared energy. This far infrared energy is not only therapeutic, but it can help you to keep warm during cold winter days and nights. They also double as a multipurpose wrap, which you can use anywhere on your body that needs some therapeutic energy.
The Tourma Mat for Pets! – The Tourma Mat for pets provides healthy and therapeutic benefits that animals can feel. Pet parents have repeatedly reported a decrease in anxiety during pet transport, improved sleep and an increase in activity level for arthritic pets. We've even heard a Tourma Mat completely stopped one pet from snoring.
CLOTHING ARTS
SECURE TRAVELWEAR
www.clothingarts.com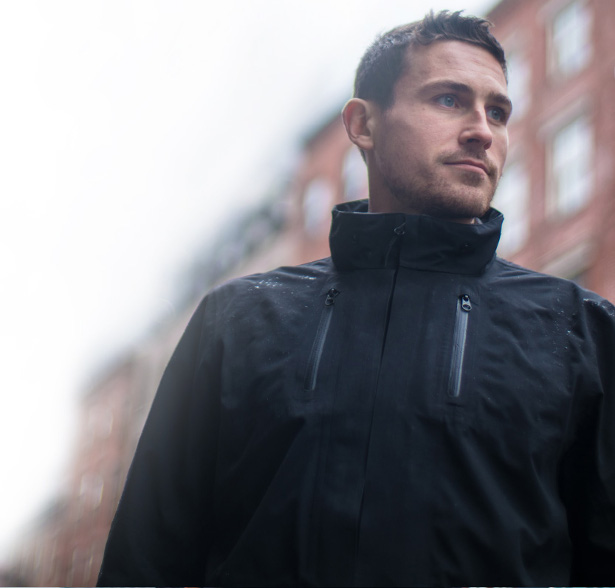 High quality frying pans for cooks:
www.made-to-last.co.uk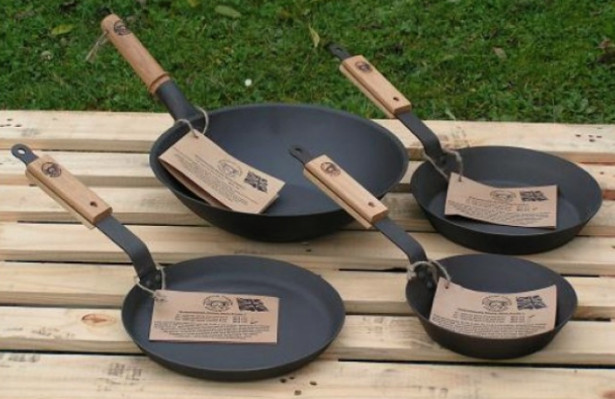 https://www.made-to-last.co.uk/kitchenware/frying-pans
Luxurious duvets to snuggle under:
https://www.made-to-last.co.uk/home-furnishings/sleeping/king-size-duvets
Merino or Lambswool throws:
https://www.made-to-last.co.uk/home-furnishings/comfort/throws-blankets-bedspreads
Some really unique & stylish cushions:
https://www.made-to-last.co.uk/home-furnishings/comfort/cushions
KEEP YOUR BEERS COOL AROUND THE POOL
Non-negotiable, beers must be served cold.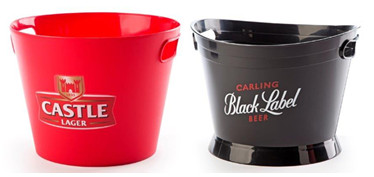 SAB World of Beer has an assortment of branded ice buckets according to your brand preference.
Price: Starting from R120 each (standard Castle Lager or Carling Black Label branded ice buckets)
Nationwide delivery can be arranged at additional cost.
For more information, call (011) 836 4900 or visit www.worldofbeer.co.za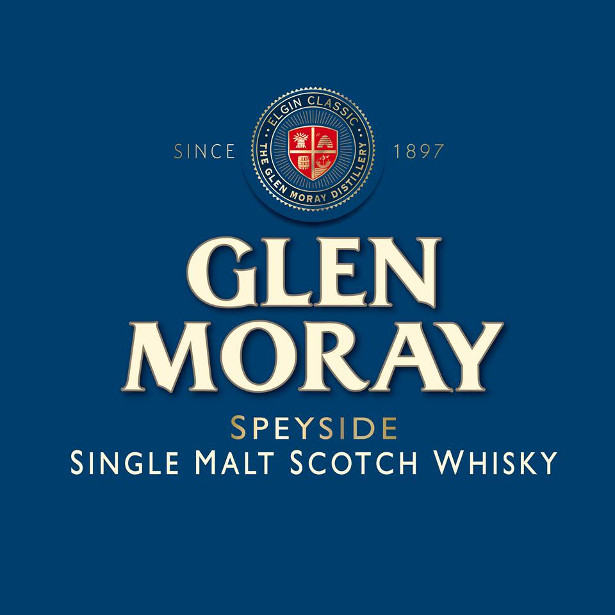 Glen Moray Launch Fired Oak Cask 10-year-old Single Malt
The team at Glen Moray Single Malt Whisky is excited to be launching Glen Moray Fired Oak 10- Year-Old Single Malt Whisky this November as they continue to develop their 'Gateway to Flavour' by adding a bold new expression which is intensely sweet and smooth.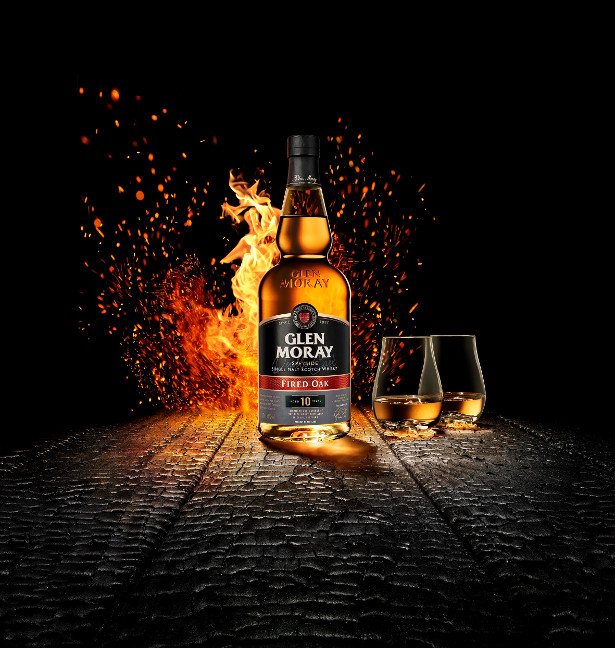 Master Distiller, Graham Coull was inspired to created Glen Moray Fired Oak Single Malt Whisky by the increase in popularity of American Bourbon and the success of the sweeter flavour within the drinks market. One of the key elements for producing American Bourbon is that the spirit has to be aged in a new charred (virgin) oak cask which gives the resulting spirit a sweeter flavour.
Glen Moray Fired Oak is a Single Malt Whisky matured for 10 years in ex-Bourbon casks and finished in heavily charred American Oak casks, resulting in a whisky which is sublimely smooth with intense spice and toasted vanilla flavour.
The attention to detail is imperative. Graham Coull has worked closely with the distillery's cooperage to source the finest new American Oak barrels for finishing, as the consistency and security of the supply of casks is very important.
Graham then selects the precise firing regime to achieve exactly the right level of char to impart intense flavour and colour to the whisky. As Glen Moray's wood finished expressions are growing in popularity, Graham is working at least two years ahead to ensure that the distillery can satisfy the growth in demand.
Graham says: "Fired Oak is all about enhancing flavours rather than adding different character. The Virgin Oak intensifies the existing vanilla and spice flavours which have come from the ex-Bourbon barrels. Two elements are key – quality of cask and timing, both are crucial to obtaining just the right flavour infusion. To create a balance I have selected Virgin Oak casks with differing lengths of finish to ensure that the final whisky is consistent."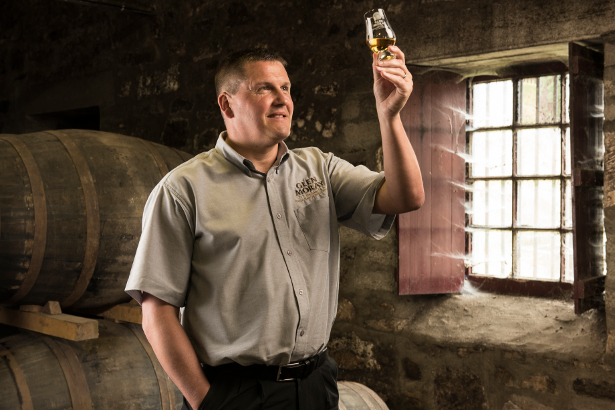 Over the final maturation period, the spirit slowly changes, the colour deepens and the taste profile takes on intense notes of vanilla sweetness and smokiness from the oak. Only when it reaches its peak, after 10 months, is it ready to be bottled and enjoyed.
"Developing this whisky was akin to blowing gently on the embers of a bonfire to bring the flames back to life" enthuses Graham.

Tasting Notes:
Nose: A sweet shop in a glass. Barley sugars, pineapple chunks and butter toffee.
Taste: Blackcurrant jam and chewy liquorice toffee. Pleasantly sweet and spicy with layers of vanilla bark. This whisky is sweeter than the other single malts in Glen Moray's collection.
Finish: Dark chocolate dissolves over the tongue and fades revealing a hint of smokiness and toasted vanilla.
Available soon from: thewhiskyexchange.com, masterofmalt.com, Royal Mile Whiskies, Scotch Whisky Experience, Gordon Macphail, Good Spirits Company and all good whisky specialist retailers.
RRP: £39.99 for a 70cl bottle ABV: 40%
Leboo Life  belt range.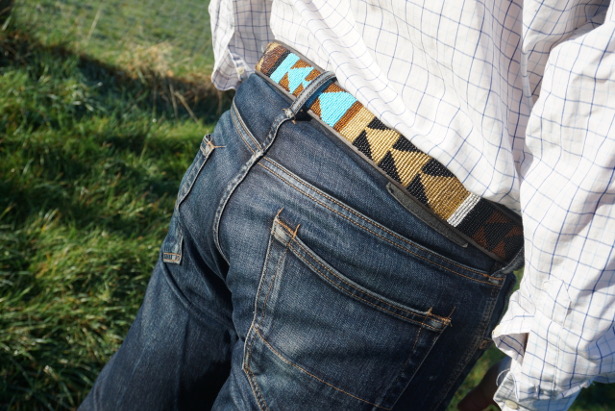 Every single belt is unique and look particularly good on the chaps although are for men and women! The belts are ethically sourced, handmade on the Masai Mara and 20% of profits go to the Tsavo Trust so gifting these belts has a feel good factor too.
Leboo Life can also make special orders of team colours if required.
The website is www.leboolife.com
Ember Ceramic Mug – Black and White
Price: £79.95
About: The ultra-modern Ember Ceramic Mug is perfect for those looking for a truly unique, show-stopping gift. Not only does it give users complete customisation of the temperature of their hot beverage (between 50-62 C), it also integrates with Apple Health, allowing users to track the impact of caffeine consumption on their heart rate and sleep.
Retailers: ember.com, Apple Stores (black only), Amazon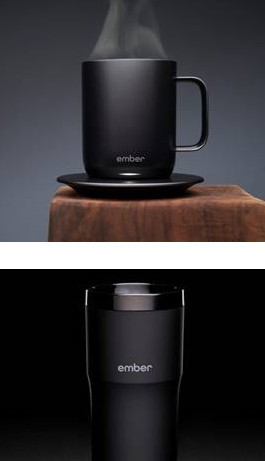 Ember Travel Mug – Black and White
Price: £159.95
About: The newly announced Ember Travel Mug allows users to enjoy a hot beverage at their perfect temperature, wherever they go, in style. Designed to be used on the go, users can adjust the temperature by using the Ember app or via the rotating dial at the base of the mug. It will keep hot beverages at the perfect temperature for approximately two hours on the go, or all day long when used with the included charging coaster.
Retailers: ember.com, Apple Stores (white only), Amazon

Guys love aprons at Christmas! Check out these great aprons for Christmas from artisanal producer Ragged Rose! > www.raggedrose.com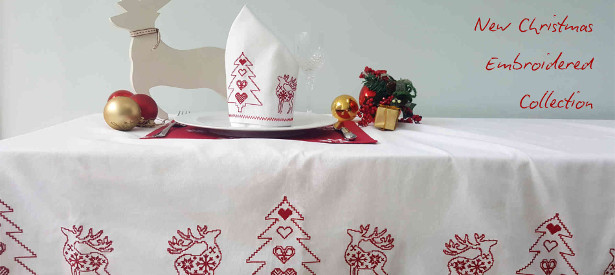 FACEBOOK | TWITTER | GOOGLE+ | INSTAGRAM | PINTEREST
Ragged Rose have  created a signature collection of gifts and homewares, based around a passion for beautiful country garden flowers and love for strong, bold, vibrant colour. The concept has evolved into a collection of completely original hand painted designs all based around a floral story. Each design concentrates on one flower such as the Rose or the Anenome, complimented by colour coordinating plains, in luxurious velvet, and ragged stripes or ditsy prints uniting the whole look. All perfect for Christmas!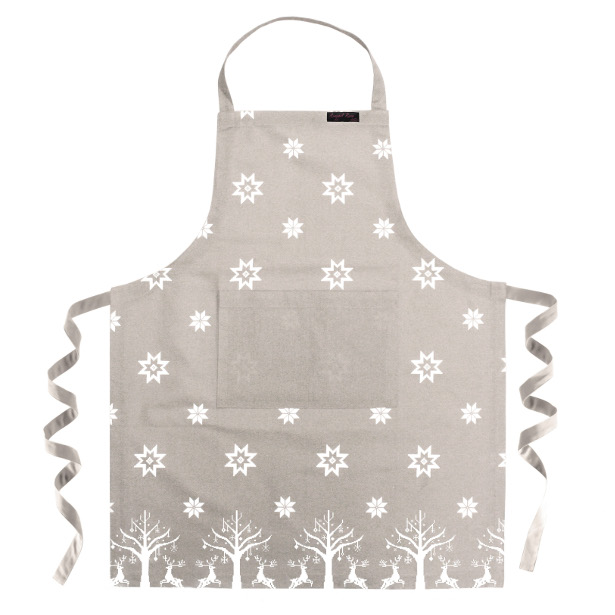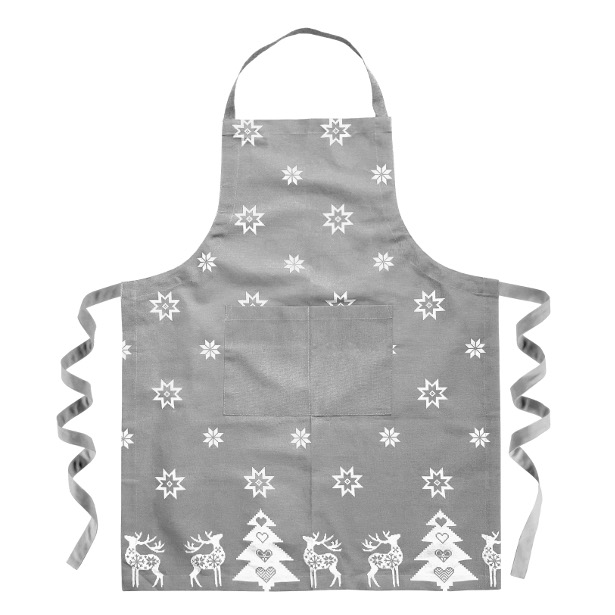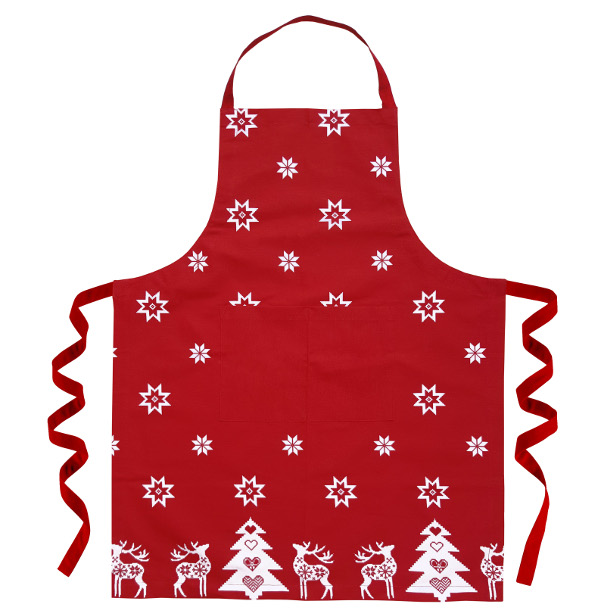 Below is a brief summary of the two producer's wines that make great gifts: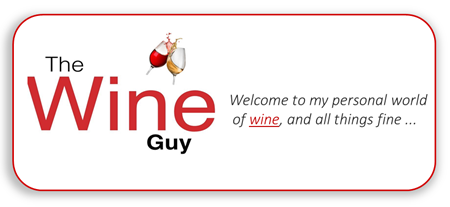 Rascallion Wines – A new brand on the market started by Ross Sleet, who's spent many years in the South African and international wine industries. The brand is made up of two bold ranges, the Vinyl Collection Range and Word Collection ranges, aiming at discerning wine enthusiasts while bucking the trend of producing wines specific to a winery, but rather wines catering for the consumer's palate, focussing on quality and only blends. The range has won numerous awards, as well as a Silver Place in the South African Wine Label Design Awards in 2018 on it's debut.
Linton Park Wines – The oldest estate in the Wellington region of the Western Cape (first farmed back in 1699), steeped in history and boasting numourous awards. The wines are aimed at the middle-to-upper LSM market, however don't break the bank on price, but rather focussing on over delivering in quality. Something unique in this range is the Café Cabernet Sauvignon & Café Malbec which are two of the most popular labels, produced in a style similar to your coffee pinotage, but more refined in style.

Give the Gift of 5.000 mAh ultra-high capacity chargers for mobile devices ! UK 1st >> ttec PowerStones™ Trio Universal Mobile Chargers With Charging Station! www.hellottec.com
 ttec is a leading mobile accessory brand with 70 million products sold worldwide.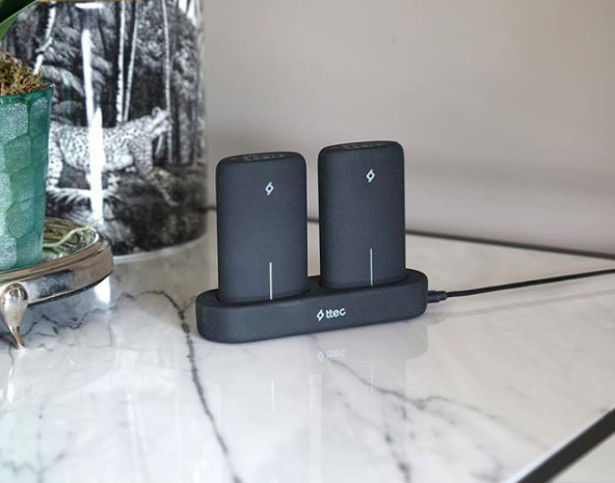 Their first product for the UK is the PowerStones Trio, a universal mobile charger that features two 5,000 mAh ultra-high capacity batteries, which allow two mobile devices to be charged at the same time. If a user is at home, in the office or travelling, the PowerStones Trio keeps them powered up. The two PowerStones are interchangeable — as one is in use, the other can remain in the dock, ready to be swapped out.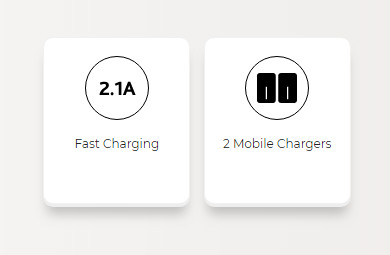 The PowerStones combines a new generation of technology and stylishness, with a cool design and unique texture. The 2.1A output of the wireless charger provides fast charging capability and allows easy monitoring of the battery charge rate, thanks to the LED battery indicator.
Is this potentially the perfect perfect stocking filler!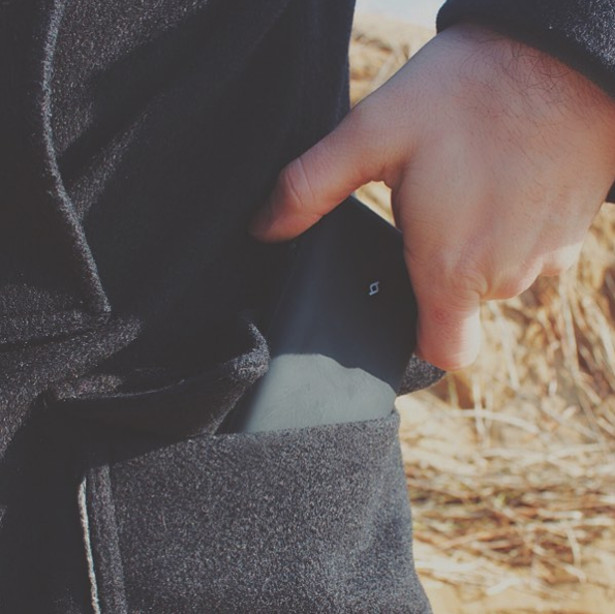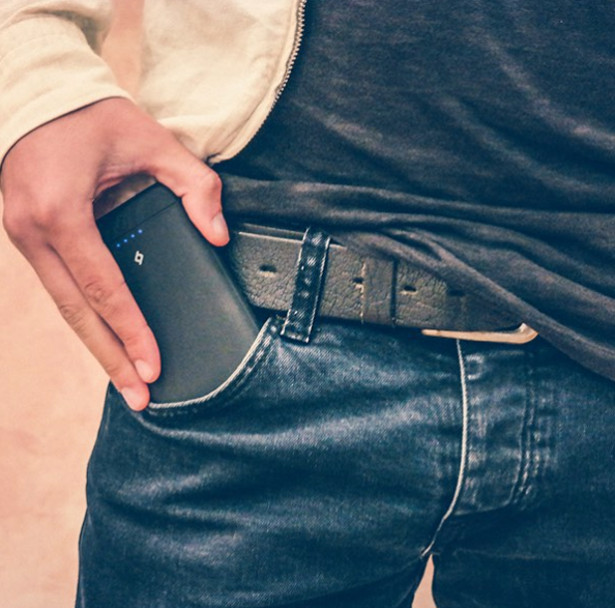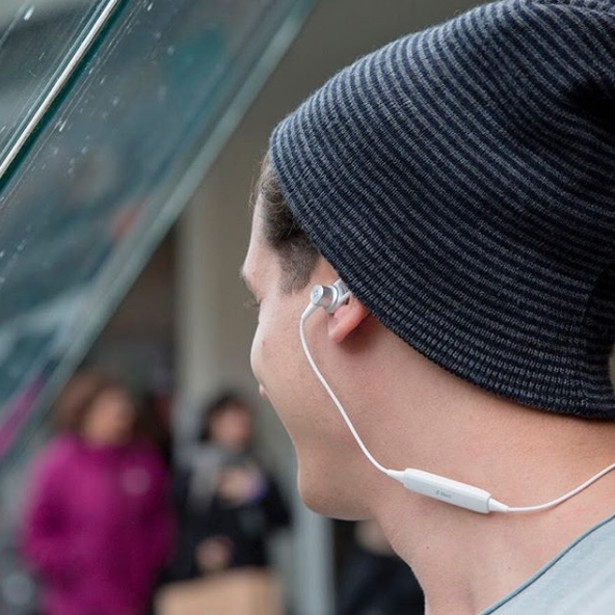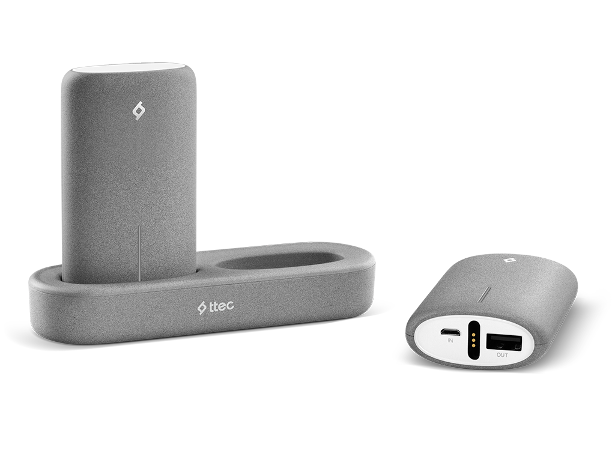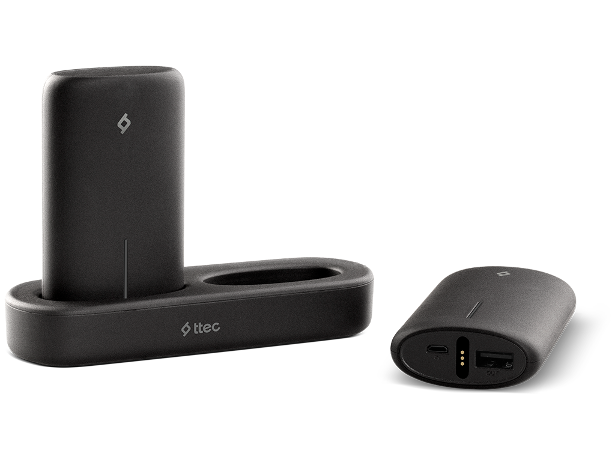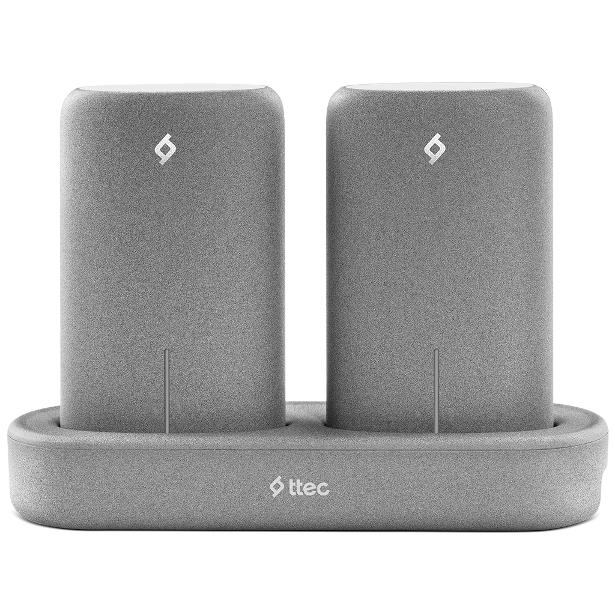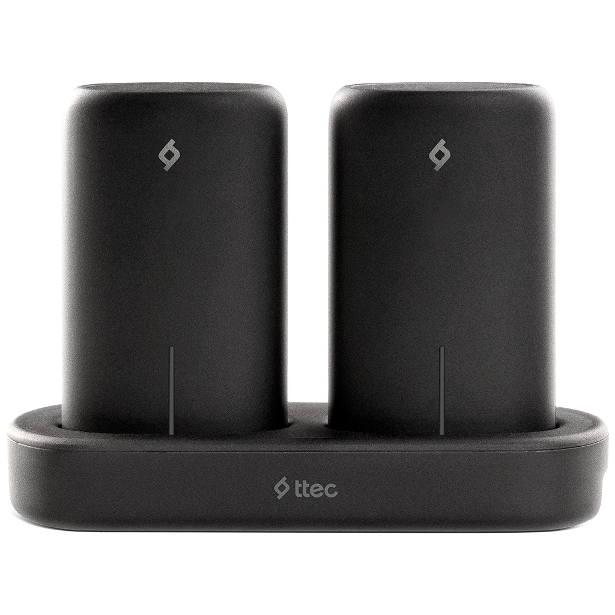 ATLANTIS SKINCARE LAUNCHES LUXURY TRAVEL GIFT SET
LOVINGLY HAND-MADE, NATURAL PRODUCTS, FOR THOSE THAT TAKE A HOLISTIC APPROACH TO LIFE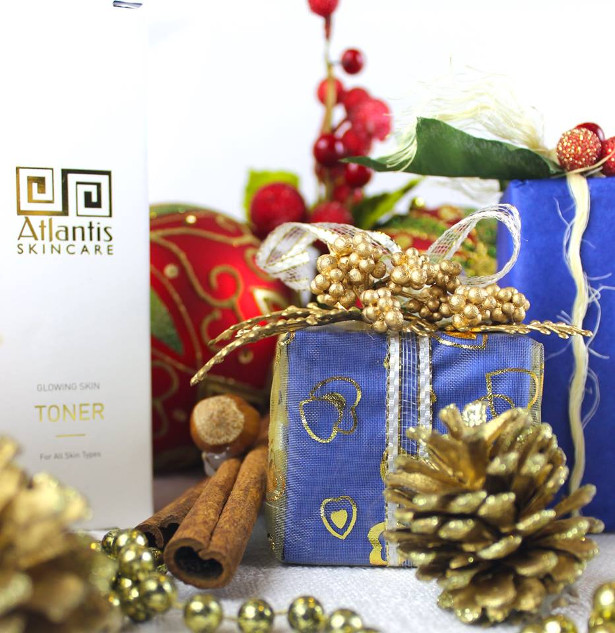 FACEBOOK | YOUTUBE | INSTAGRAM | TWITTER
Atlantis Skincare, the award-winning British natural skincare brand for those that take a holistic approach to life, has just launched a Luxury Travel Set, offering compact, travel-sized luxury skincare, perfect for intrepid travellers or for gifting.
Atlantis Skincare is renowned for offering innovative 'clean' products that transform everyday beauty rituals into deeply therapeutic experiences. The range aims to introduce a mindful approach to beauty, so users truly consider all steps of their regime, alongside the products and ingredients they apply to their skin and body, in order to enhance the process, aid well-being and overall results. The Luxury Travel Set has been launched on the back of customer requests, so they can maintain their skincare regime whilst travelling, or as a starter pack to introduce friends to the Atlantis Skincare range.
Every ingredient and combination is carefully researched and selected for their nutritive properties, offering the finest, high quality all-natural and where possible organically certified formulations. Each product is made freshly on the day the order is placed, by the brand founder, Zane Piese, from a dedicated facility in the Bath countryside. The brand is proud not to test on animals, vegetarian and vegan friendly, it practices sustainable sourcing direct from like-minded, trusted suppliers.
Priced at £54, the Atlantis Skincare Luxury Travel set includes:
Atlantis Skincare Glowing Skin Cleansing Milk (20ml)
Atlantis Skincare Glowing Skin Toner (20ml)
Atlantis Skincare Glowing Skin Day Cream (10ml)
Atlantis Skincare Velvet Skin Night Elixir (10ml)
Atlantis Skincare Eye Cream with Hyaluronic Acid (5ml)
Luxury drawstring bag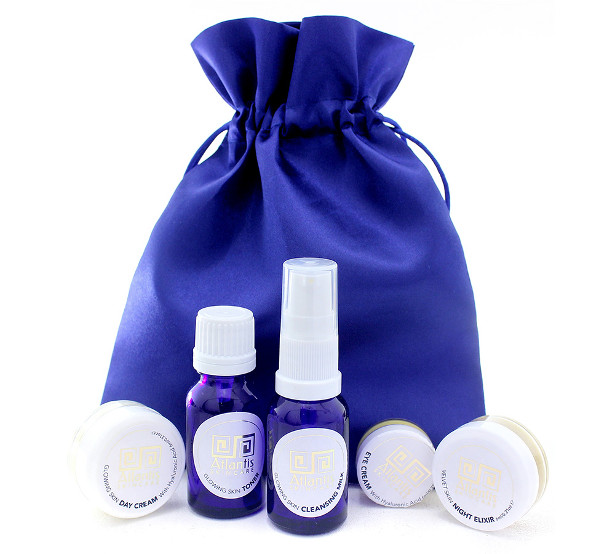 Atlantis Skincare is available from a number of retailers or via www.atlantisskincare.com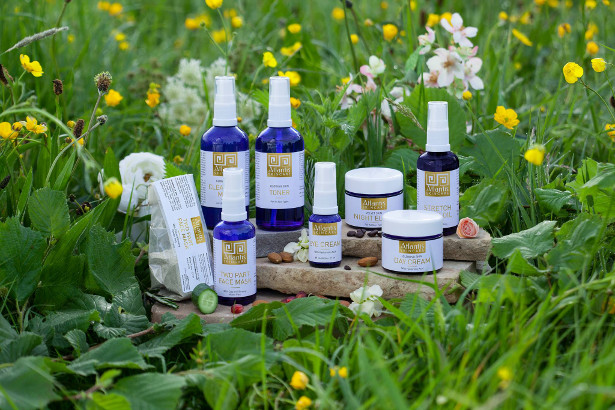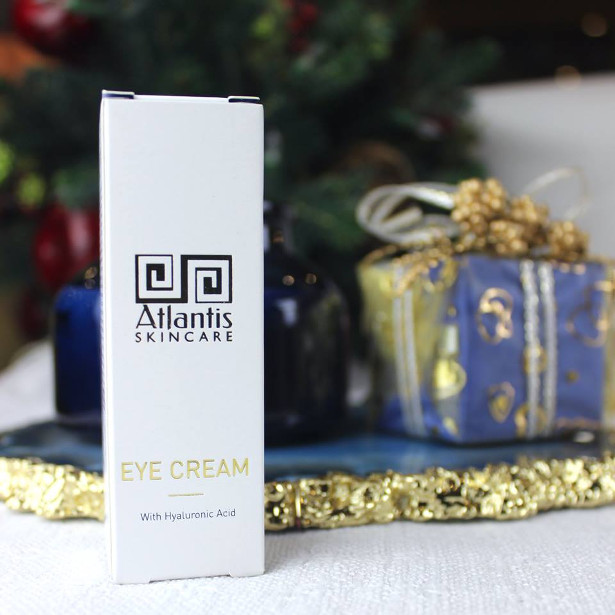 Kids PLANS FOR THE FUTURE ARE OUT OF THIS WORLD
RESEARCH study COMMISSIONED FOR NEW GAME LAUNCH shows children ARE EXCITeD ABOUT THE POSSIBILITY OF space TRAVEL AND LIVING ON OTHER PLANETS
WATCH ASTRONAUT CHRIS HADFIELD COMMENT ON RESEARCH FINDINGS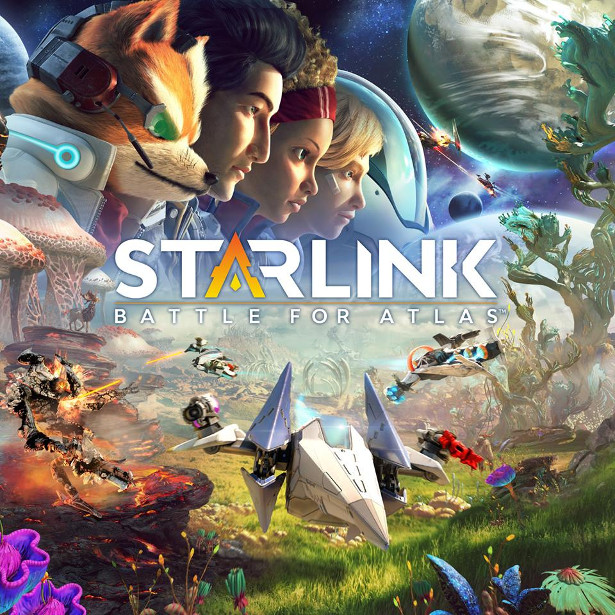 LONDON, UK – October 2018 – In celebration of the launch of Starlink Battle for Atlas, Ubisoft has commissioned new cross-generational research which reveals that almost a third (29%) of centennials believe space travel is the answer to sustainability and population issues on earth.
Both adults (37%) and children (29%) agree that space travel offers a realistic solution to solve the issues of renewable energy on earth. With future gazing Brits believing we could be made to leave the planet because our world has run out of natural resources, almost half (45%) of those surveyed think that it's probable we will one day be made to move to another planet because of overcrowding.
Generations are aligned in their ambitions to experience space travel; 88% of kids and over two thirds (71%) of adults think it will be possible for humans to live on other planets in the future. Statistics show that Centennials remain the most enthused about exploring the solar system; 57% of kids are excited by the concept of space travel.
With this in mind, it's no surprise two fifths (42%) of adults agree that space survival skills should be taught in schools to prepare their children for life on other planets. Here are the top five skills adults think they need to survive on another planet: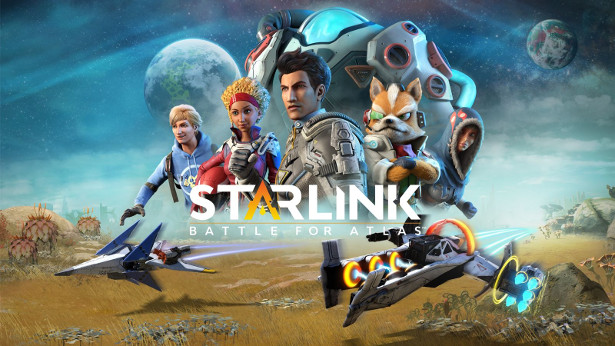 Survival skills (61%)
Understanding of science (47%)
Being able to build structures (46%)
High level of physical fitness (45%)
A full understanding of agriculture (38%)
The research also reveals that British kids fancy a vacation to Venus, with two thirds (63%) agreeing that in the future humans will be able to visit other planets on holiday. Whilst over three quarters (82%) of 8-year old children predict that space travel will be part of their future holiday plans.
To accompany the research findings, Ubisoft have collaborated with Commander Chris Hadfield on a content series of films to be released throughout World Space Week ahead of the game's launch on 16th October. When asked about his own inspiration to pursue a life in the stars, Commander Chris Hadfield commented: "Science fiction encouraged me to pursue a career in space exploration; imagination is crucial to inspire exploration and discovery. If you see someone achieving something you never thought was possible, it becomes probable and the seed of a dream is planted. So many things I've done have been stimulated by creative experience. If something engages you, it changes you and makes you look at the world a little differently.' Finally, teaching children to believe in themselves is vital if they want to achieve something great in technology or space."
Stefan McGarry, Senior PR Manager at Ubisoft, commented: "The team at Ubisoft Toronto have created Starlink: Battle for Atlas so that children and parents can embark on the ultimate adventure with modular starships in order to protect valuable natural resources against alien lifeforms. We've loved working on these videos with Chris Hadfield and think they offer practical advice on the possibilities of real-life space travel for aspiring dreamers. It's also wonderful to hear how excited the next generation are about the possibilities of inhabiting another planet, and their enthusiasm around space exploration, which are all very promising signs for a future in the stars."
Starlink: Battle for Atlas will be released next week on Tuesday, 16th October and will be available on Nintendo Switch, the PlayStation®4 computer entertainment system and Xbox One.

FACEBOOK | PINTEREST | TWITTER | YOUTUBE | GOOGLE+ | INSTAGRAM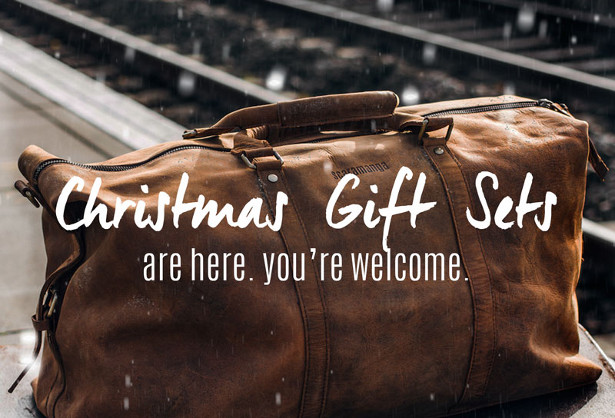 Scaramanga – Leather Barrel Bag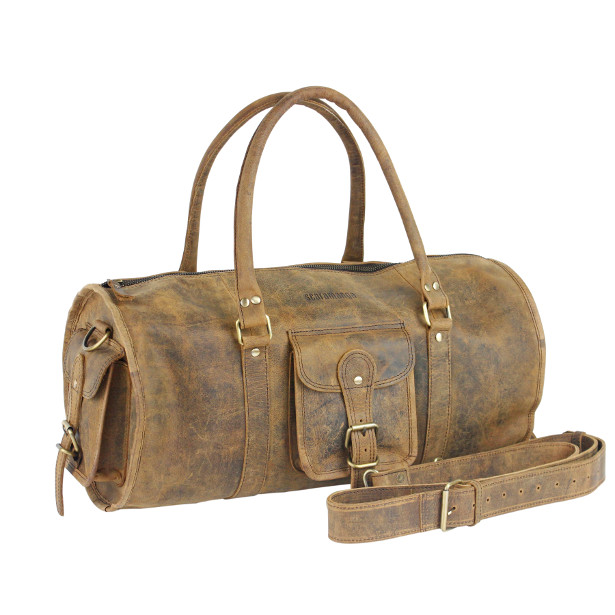 Whether you are looking for a barrel bag for the gym, or a trendy travel bag, The barrel-style bag is the perfect accessory to add to your collection.
Original Hunter Leather
Two long handles
Trendy gym bag
Exterior pocket
Classic grey cotton lining
Leather barrel gym bag size: W45cm x H22cm x D22cm (17.5″ x 8.5″ x 8.5″) Strap: L135cm
A barrel-style gym bag handmade by leather working experts from our best selling original Hunter leather, that ages beautifully and lasts for many years.
The multifunctional leather travel bag features two long handles, allowing you to comfortably wear it over your shoulder. This bag can also allow you to carry it your in your hand. The vintage gym bag features a detachable and adjustable strap, so you can carry heavy loads comfortably.
Additionally, you get an exterior pocket to hold your keys and phone. This is a great way to avoid your phone dropping to the bottom of your bag. Lined with our classic grey cotton lining, this barrel bag is a real beauty!
This sporty leather holdall is well suited for the gym. You can fit all of your gym clothes, with extra room for endless essentials. You can also double this travel bag up as a practical weekend bag. You will find it can easily hold shoes, a couple changes of clothes and personal items.
Like all our leather bags, this leather barrel gym bag is built to last, so you won't need to replace it anytime soon.
If you want to make this a personalised gift for you or someone else, please know that we will emboss a bag tag (free of charge) rather than the actual bag. This is due to the size of the bag. Please proceed with choosing personalisation.Choose from all of the available options and enter your text as usual. Please note that personalisation costs £10-£15, only the bag tag is free.
See more at :- www.scaramangashop.co.uk/leather-barrel-gym-bag
Scaramanga – Leather Messenger Bag Medium 15 Inch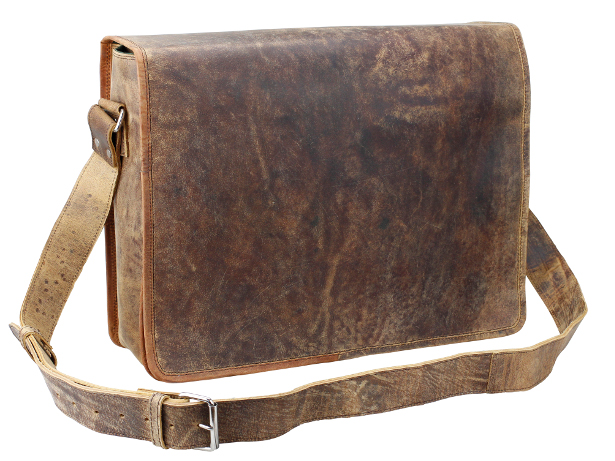 Description: Our 15-inch leather messenger bag is made from our unique distressed buffalo brown leather. Inspired by vintage mailbags and cycle courier bags, our stylish versatile leather men's bag has a perfectly aged leather exterior. Its stylish sturdy construction, with double stitching and tough canvas lining, make them great bags for day-to-day stuff and everything you need to take to work. Perfect for carrying all your stuff around in style.
They can also be used as an overnight travel bag or college book bag. Each is so spacious that you will be able to fit many 15 inch laptops or Macbook Pros and have space for files and lots more. All our leather messenger bags have a unique vintage leather exterior, which adds to their character; so no two bags are ever exactly the same.
Under the flap is the main compartment large enough to hold a laptop or A4 files and folders, with a side zipped pocket and a further pocket at the front of the bag.
All our messenger bags have been updated with our new grey lining, a lovely gender neutral colour that complements the distressed brown leather perfectly.
Adjustable 58" shoulder strap.
Hidden magnetic snap fasteners for easy yet secure opening/closing.
Why not include one of our handy leather accessories: men's leather wallet, leather iPad sleeve/cover, credit card/business card holders, leather bag/luggage tags, leather pencil cases, leather wash bag, leather travel wallet, or a leather journals to your order? They make a perfect bag accessory.
If you want to make this a personalised gift for you or someone else, please know that we will emboss the bottom, centre of the flap.
Medium leather messenger bag: W38cm x H31 x D10 (15″x12″x4″)
*Now updated with Brass Hardware*
Scaramanga handcrafts each leather bag and uses semi-vegetable tanned leather; which may result in variances in texture, colour and shading and natural lines and marks on the leather, which may be individual to each bag. There may be differences in the colour of the lining, style and construction of each bag compared to the bags shown on the website.
See more at :- www.scaramangashop.co.uk/leather-messenger-bag-medium-15-inch
Price: £119.50
Scaramanga – Leather Duffle Bag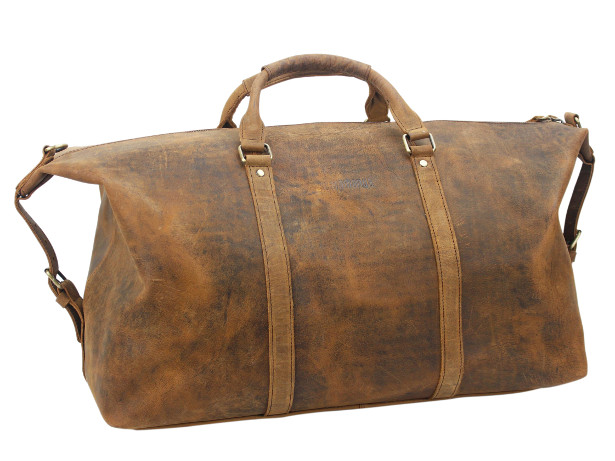 Description: Use our new spacious leather mens duffle bag for your next weekend away or, take it with you as hand luggage for your next long haul adventure. A great gift for the man in your life.
We've designed this new leather mens duffle bag for those who like to travel in style and want a durable travel bag that can carry weight in a comfortable way. This travel bag is fully lined in our smart grey cotton which complements our distressed Hunter leather beautifully. It comes with a padded interior laptop pocket, so it will be safe and secure during your travels. Additionally, it has a long adjustable and detachable shoulder strap. We've finished this leather duffle bag with vintage style brass hardware.
Our new mens duffle bag can be used as hand luggage or as a carry-on bag. It fits most airline specifications, but it's always a good idea to check with your specific airline first before purchasing.
If you want to make this a personalised gift for you or someone else, please know that we will emboss a bag tag (free of charge) rather than the actual bag. This is due to the size of the bag. Please proceed with choosing embossing and choose all the available options and enter your text as usual.
Leather Duffle Bag Measurements: W51 x H30 x D26cm
Make your next holiday easy & stylish by shopping our collection of travel essentials.
The delivery charge given for European and Rest of the World delivery is a standard charge. There will be extra delivery charges for delivery to remote regions of countries or other countries including, but not limited to, Finland, Norway, Switzerland, USA, Singapore and Australia and New Zealand. Please contact us for a price if would like to order a bag and you are from one of these countries.
Scaramanga handcrafts each leather bag and uses semi-vegetable tanned leather; which may result in variances in texture, colour and shading and natural lines and marks on the leather, which may be individual to each bag. There may be differences in the colour of the lining, style and construction of each bag compared to the bags shown on the website.
See more at :- www.scaramangashop.co.uk/leather-duffle-bag-2
Price: £220.00
Scaramanga – Large Leather Backpack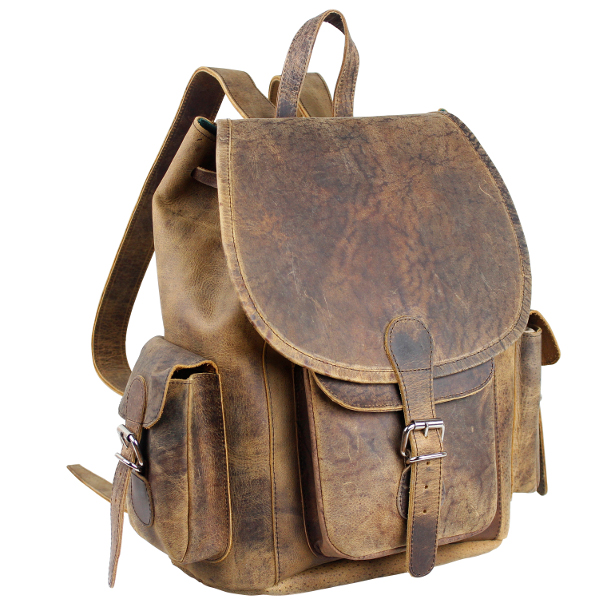 Description: Our boho womens leather backpack is guaranteed to turn heads with its style and splendour. This laid-back ladies leather backpack is this season's must-have accessory. It will take you to work during the week and to the festivals, markets or getaways on the weekends.
• Beautiful everyday bag
• Crafted from distinctive hunter leather
• Thre external pockets
• Fits up to 15-inch laptop
• Two comfortable leather straps
Boho Womens Leather Backpack size: W29cm x H37cm x D16cm (11.5" x 15" x 6"), pocket sizes: 15cm x 4cm x 15cm.
*Current stock has updated brass hardware*
Our ladies leather backpacks are crafted from distinctive Hunter leather. This leather material gives the leather backpack a highly desired vintage look and ages beautifully.
The womens leather backpacks are designed with a large main compartment, which is lined with canvas and has a small internal zipped compartment. There are three external pockets, including one under the straps, two on the sides and one on the front perfect for keys, wallet/purse and smartphone.
The leather ladies backpack is big enough for a 15-inch laptop, books and folders. We have designed this rucksack with busy working life in mind. This bag will allow you to carry it all! Why not add a leather accessory to make this bag even more of a dream come true.
All our ladies leather backpacks have been updated with our new grey lining, a lovely gender neutral colour that complements the distressed brown leather perfectly.
If you would like to personalise this rucksack, we can offer a free embossed bag tag of your choice. Feel free to take a look at our personalisation service on our website now.
Scaramanga handcrafts each ladies backpack and uses semi-vegetable tanned leather. This may result in differences in texture, colour and shading. There is a possibility that there may be small marks individual to the backpacks for women. We think this adds to the individual character of the ladies backpack.
See more at :- www.scaramangashop.co.uk/womens-leather-backpack
Price: £140.00
Scaramanga – The Cityscape Laptop Bag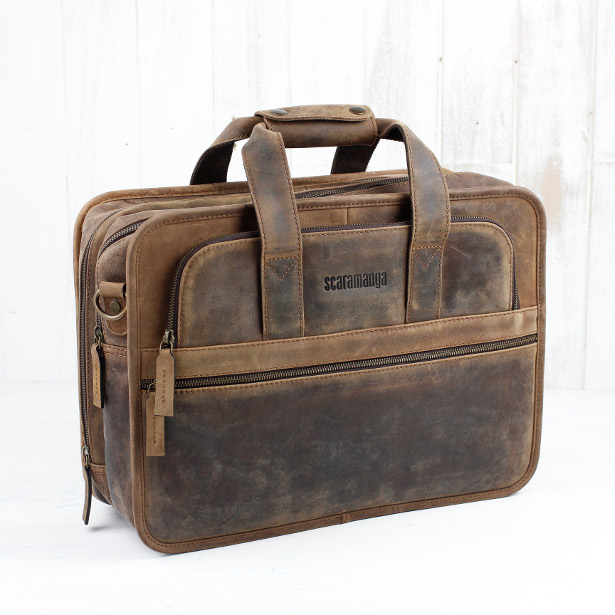 Description: The Cityscape Mens Leather Laptop Bag is the ideal blend of vintage classic style and modern functionality. We've thought of every design detail that will make this the most practical and functional work bag that will second as a great travel bag.
• Modern work bag
• Two large zipped compartments
• Two rounded handles
• Detachable and adjustable shoulder strap
• Padded interiors
Dimensions: W:42cm H:31cm D:18cm
Your work style doesn't have to be plain and uniformed! You can update your style with a unique laptop bag without breaking the rules. The practical and professional design of the briefcase will give you the ideal business look required for working life.
The Scaramanga original Hunter leather gives this mens leather laptop bag it's unique style. The leather brings the travel bag to life, giving you the opportunity to represent your personality perfectly. The small natural lines on the laptop case brings the character to light.
The new Cityscape mens leather laptop bag features two large compartments to keep your overnight clothes and laptop separate. We added padded lining to keep your laptop safe and secure during your daily commute or travel. The design of the lining compliments the leather beautifully and reinforces the professional style of the work bag. One compartment extends out and can easily hold a pair of shoes and a couple changes of clothes – business trip sorted!
You'll find comfort whilst carrying this laptop bag with rounded handles and a long detachable strap. The shoulder strap is padded for extra comfort. The two front zipped compartments are great for storing small essentials such as pens, small files and cables. You can also store your keys in the front pocket to keep them close to hand.
If you are looking for the perfect personalised gift for the man in your life, the Cityscape laptop bag would make the perfect choice. We offer font and colour selections in our personalisation service that you may be interested in. We can also emboss a free bag tag.
See more at :- www.scaramangashop.co.uk/men-s-cityscape-laptop-bag
Price: £230.00
Scaramanga – Grooming And Make Up Roll Organiser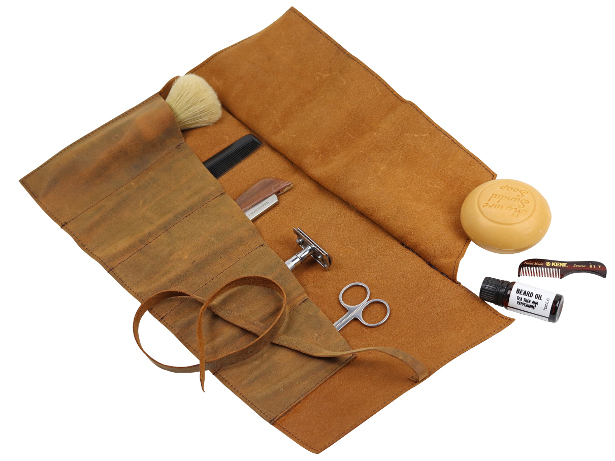 Description: Our leather make up and grooming roll organiser to help you stay organised in a unique & stylish way. The roll opens to reveal five pockets
This leather all in one make up and grooming roll is the item you never knew you needed but now can't live without. Compactly rolled, our new leather organiser is a must have accessory.
Perfect for make up brushes, combes, scissors, straight razors, razor sets and much more.
Leather grooming and make up organiser size: 44cm x 20cm (17′ x 8′) rolled and empty: W21cm x diameter 5cm. Pocket size W5cm x H19cm
Features:
– A leather tie closure for keeping it secure no matter what is inside.
– Fold over cover to keep your stuff securelayed and easy to access.
Materials:
Our original top quality and durable Hunter leather.
Scaramanga handcrafts each leather bag and accessory and uses semi-vegetable tanned leather; which may result in variances in texture, colour and shading and natural lines and marks on the leather, which may be individual to each bag or accessory. There may be differences in the colour of the lining, style and construction of each bag compared to the bags shown on the website.
See more at :- www.scaramangashop.co.uk/grooming-and-make-up-roll-organiser
Price: £42.50
Mens Leather Wallet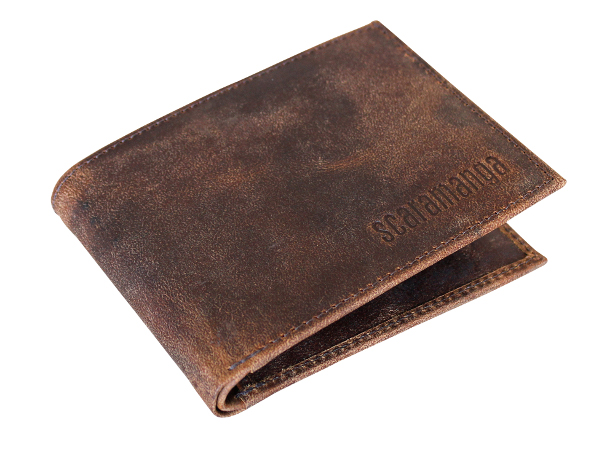 Description: Handmade Men's leather wallet. Each leather wallet has 6 credit card compartments, two side compartments and a bank note compartment. There is also a removable transparent compartment will fit a travel pass or Oyster card or ID card or driving licence.
Each has been made by skilled leather craftsmen made from our unique brown distressed Hunter buffalo leather.
These make fabulous Father's Day gifts or even as groomsmen gifts.
Got a Scaramanga leather satchel? Then you will need one of these.
Men's Leather Wallet Size: W11.5cm x 9 x 1 (4.5" x 3.5" x 0.25")
Off on holiday this year? Try one of our mens leather wallets, guaranteed to hold everything you need for your trip.
See more at :- www.scaramangashop.co.uk/mens-leather-wallet-olgs15025
Price: £25.00
Scaramanga… an original lifestyle. Grooming Essentials.  www.scaramangashop.co.uk
FACEBOOK | PINTEREST | TWITTER | YOUTUBE | GOOGLE+ | INSTAGRAM
Scaramanga – Upcycled Vintage Arcade Cabinet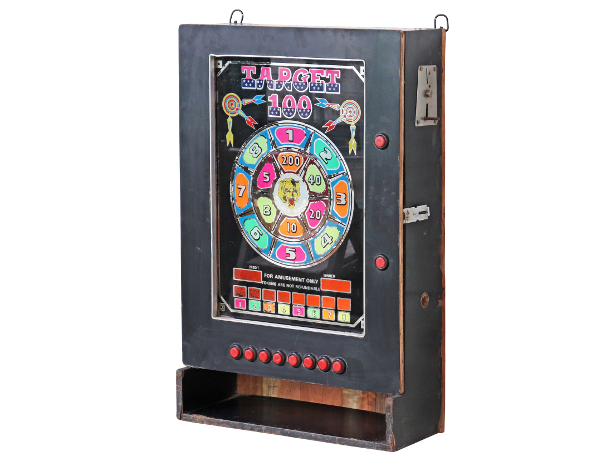 Scaramanga is bringing back some vintage arcade nostalgia with this iconic 'slot machine' which has been innovatively upcycled into a wonderful storage cabinet.
Re-visit the vintage era of pinball and slot machines of the 1960′s to the 70′s with this vintage slot machine cabinet – an old arcade piece with its insides remove and replaced with a shelf.
We imagine that 'Target 100' – the brand name of this machine – was quite a hit in its heyday: flashing lights, hopes of getting rich quick double bonuses, credits and high-pitched electronic noises!
Ideally suited both wall mounting, sat on top of a counter or directly on the floor. At home, we'd recommend for a bathroom, hallway, kitchen or living room mounting.
The original front facade glass is a wonderful piece of arcade artwork. Its push buttons are purely decorative but make a super visual and stimulating conversation piece for a hipster office, cool retail environment or vintage influenced home.
Upcycled Vintage Arcade Cabinet size: W52cm x D20cm x H80cm.
This is an old piece of vintage history, its many minor scuffs and distressed surfaces reflect its long arcade and gaming history.
See more at :- www.scaramangashop.co.uk/upcycled-vintage-arcade-cabinet-cabs31336
Price: £325.00
Wooden Shaving Box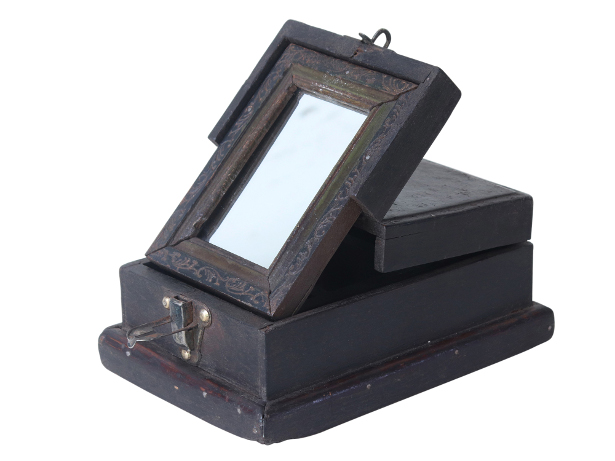 Scaramanga is fortunate enough to source a selection of these unusual lovely vintage shaving boxes which have been designed to look like books.
With embossed decorative designs and subtle colouring on some of the surfaces, they have a wonderful presence and essence.
Once upon a time, these vintage boxes would have been used by to store scissors, razor blades and other tools or the trade. The lid opens to reveal a fold-up mirror and storage compartment.
Each one of Scaramanga's unique old boxes is slightly different – they have been lovingly restored to make them a perfect treasure box with a great t and feel which adds to their appeal – they would make a great jewellery, cufflink or make-up box.
Approximate sizes: W20-23cm x D13-15cm x H6-7cm
As you'll see from the photographs, we have a selection of these boxes available – so the one you receive may differ slightly to the one you can see in the images. Each box is authentic and has historic marks and scuffs that make them unique and add to their character and appeal.
See more at :- www.scaramangashop.co.uk/item/10260/109/Old-Wooden-Chests-Trunks–Boxes/Wooden-Shaving-Box
Price: £42.50
BLACK SHEEP 'SCRUMS DOWN' WITH RUGBY-INSPIRED BEER
The Black Sheep Brewery has been causing scrums in pubs and bars with its rugby-inspired ale, Ram Tackle.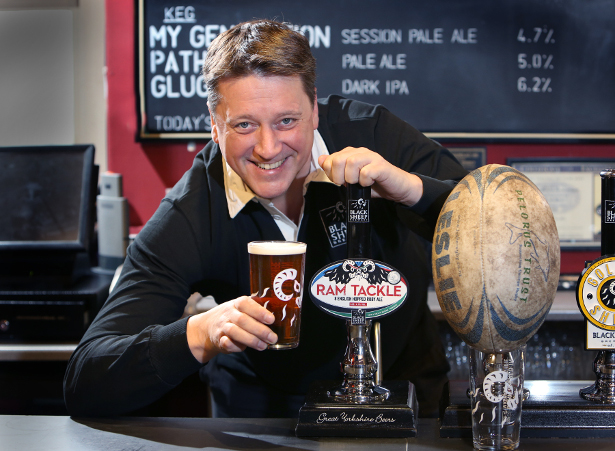 Ram Tackle, a 4.1% ABV ruby ale with its 'pack' of eight different English hops, was first launched in 2017 ahead of the Six Nations championship that year. It also 'kicked off' Black Sheep's 2018 seasonal ale calendar.
Ram Tackle is the third rugby-themed beer created by the Masham-based brewery, following on from Blind Side and Ruckin' Disaster, which were brewed ahead of and after the 2015 Rugby World Cup.
Jo Theakston, Sales and Marketing Director at Black Sheep Brewery, said: "English rugby has enjoyed a welcome resurgence over the last couple of years, following the disastrous World Cup campaign on home soil in 2015. We're massive rugby fans at Black Sheep and have used this enthusiasm for the game to create several rugby-inspired brews.
"Ram Tackle has been well-received, especially over the Six Nations championship earlier in 2018, and Ruckin' Disaster provided some comfort to rugby fans after the last World Cup!"
Jo added: "We have continued to produce a number of award-winning beers and it is a testament to the hard work, creativity and dedication of our brewing team, who were instrumental in producing brands such as Ram Tackle, Blind Side and Ruckin' Disaster."
GL1 Guitalele The Little Guitar with a Big Sound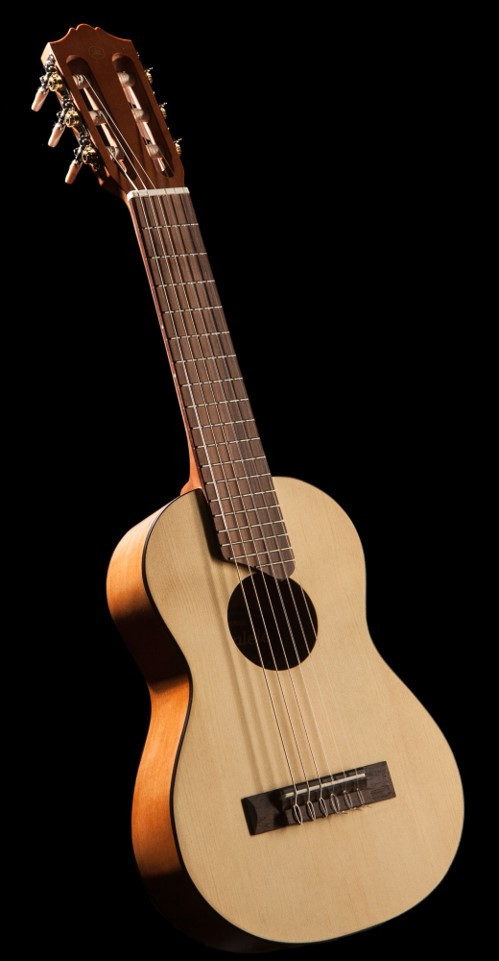 Easy to play and easy to learn, this unique mini guitar-sized like a baritone ukulele is suitable for players of all ages and playing levels. Fun to play with a warm and balanced sound, the Guitalele is expertly scaled down for easy accurate playing and comfort – ideal for little and not so little fingers.
The Guitalele is a good guitar choice for travel and practice. From £69 inc VAT and includes Gigbag" (prices differ by finish)
Available from Yamaha Music London
www.yamahamusiclondon.com

Stocking filler ideas for everyone from Haynes
 Bluffer's Guides are perfect stocking fillers at £6.99 each
The informative pocket-sized books cover everything from etiquette to Brexit
Bluffer's Guides join the fun and witty Haynes Explains series in Haynes Publishing's range of gifting titles
 YOUTUBE | FACEBOOK | TWITTER | PINTEREST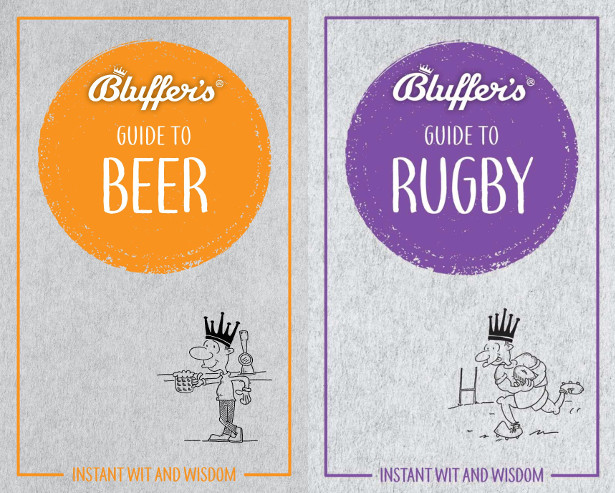 Haynes has made finding the perfect present a breeze with Bluffer's Guides and Haynes Explains – two ranges of fun and informative books that are set to add plenty of sparkling wit to the festive season.
The Bluffer's Guide and Haynes Explains ranges are both pocket-sized and, with a wide choice of topics, make ideal Secret Santa or stocking filler gifts for any age or stage of life.
The books retail at £6.99, the perfect price point to treat friends and family, whatever their interests.
Kindle Editions are also available as an extra surprise for those giving the gift of an eBook reader this Christmas, with both Bluffer's Guides and Haynes Explains titles available for £3.99.
Bluffer's Guides
Bluffer's Guides are a selection of 16 books covering a wide range of topics from sport to booze, and dogs to opera. They are written by experts and offer readers the opportunity to pass off appropriated knowledge as their own.
The Guides provide hard fact masquerading as frivolous observation in one witty, easy read, making them the perfect present for those with a thirst for knowledge.
Titles in the current range include:
Keeping Up Appearances
Bluffer's Guide To Etiquette – William Hanson, £6.99 (www.bluffers.com)
Bluffer's Guide To Jazz – Paul Barnes and Peter Gammond, £6.99 (www.bluffers.com)
Bluffer's Guide To Opera – Keith Hann, £6.99 (www.bluffers.com)
Dinner Party Chat
Bluffer's Guide To Brexit – Boris Starling, £6.99 (www.bluffers.com)
Sport
Bluffer's Guide To Cricket – James Trollope and Nick Yapp, £6.99 (www.bluffers.com)
Bluffer's Guide To Cycling – Rob Ainsley, £6.99 (www.bluffers.com)
Bluffer's Guide To Fishing – Rob Beattie, £6.99 (www.bluffers.com)
Bluffer's Guide To Golf – Adam Ruck, £6.99 (www.bluffers.com)
Bluffer's Guide To Horseracing – David Ashforth, £6.99 (www.bluffers.com)
Bluffer's Guide To Rugby – Steven Gauge, £6.99 (www.bluffers.com)
Bluffer's Guide To Football – Mark Mason, £6.99 (www.bluffers.com)
Bluffer's Guide To Skiing – David Allsop, £6.99 (www.bluffers.com)
Food and Booze
Bluffer's Guide To Beer – Jonathan Goodall, £6.99 (www.bluffers.com)
Bluffer's Guide To Chocolate – Neil Davey, £6.99 (www.bluffers.com)
Bluffer's Guide To Wine – Jonathan Goodall and Harry Eyres, £6.99  (www.bluffers.com)
Business
Bluffer's Guide To Management – John Courtis and Elizabeth B Ratcliffe, £6.99  (www.bluffers.com)
Bluffer's Guide To Social Media – Susie Boniface, £6.99 (www.bluffers.com)
Pet Lovers
Bluffer's Guide To Cats – Vicky Halls, £6.99 (www.bluffers.com)
Bluffer's Guide To Dogs – Simon Whaley, £6.99 (www.bluffers.com)
Aspiring Eggheads
Bluffer's Guide to the Quantum Universe – Jack Klaff, £6.99 (www.bluffers.com)
Haynes Explains
Haynes Explains is a series of 12 titles that offer a witty and irreverent take on many aspects of modern life. Author Boris Starling humorously spins his take on Haynes' inimitable style based on a strip-down and rebuild of a particular 'model'.
Titles in the range include:
Life Stages – the ideal gift for that special someone who is entering a new chapter in their life – whether that's starting a family, buying their first home or retiring.
Haynes Explains: Babies – Boris Starling, £6.99 (www.haynes.com)
Haynes Explains: Pensioners – Boris Starling, £6.99 (www.haynes.com)
Haynes Explains: Marriage – Boris Starling, £6.99 (www.haynes.com)
Haynes Explains: Teenagers – Boris Starling, £6.99 (www.haynes.com)
Haynes Explains: The Home – Boris Starling, £6.99 (www.haynes.com)
Passions – whether they're crazy for the beautiful game, fluffy friends or getting into the festive spirit, Boris Starling's take on British passions will hit the spot!
Haynes Explains: Football – Boris Starling, £6.99 (www.haynes.com)
Haynes Explains: Pets – Boris Starling, £6.99 (www.haynes.com)
Haynes Explains: Christmas – Boris Starling, £6.99 (www.haynes.com)
Nationalities – perfect for those with friends and relatives from over the Channel, or across the Pond.
Haynes Explains: The British – Boris Starling, £6.99 (www.haynes.com)
Haynes Explains: The Americans – Boris Starling, £6.99 (www.haynes.com)
Haynes Explains: The Germans – Boris Starling, £6.99 (www.haynes.com)
Haynes Explains: The French – Boris Starling, £6.99 (www.haynes.com)
Gillette Fusion5 Proshield Razor Limited Edition Gift Pack with Razor Stand (in both Chrome and Black). Exclusive to Boots. www.gillette.co.uk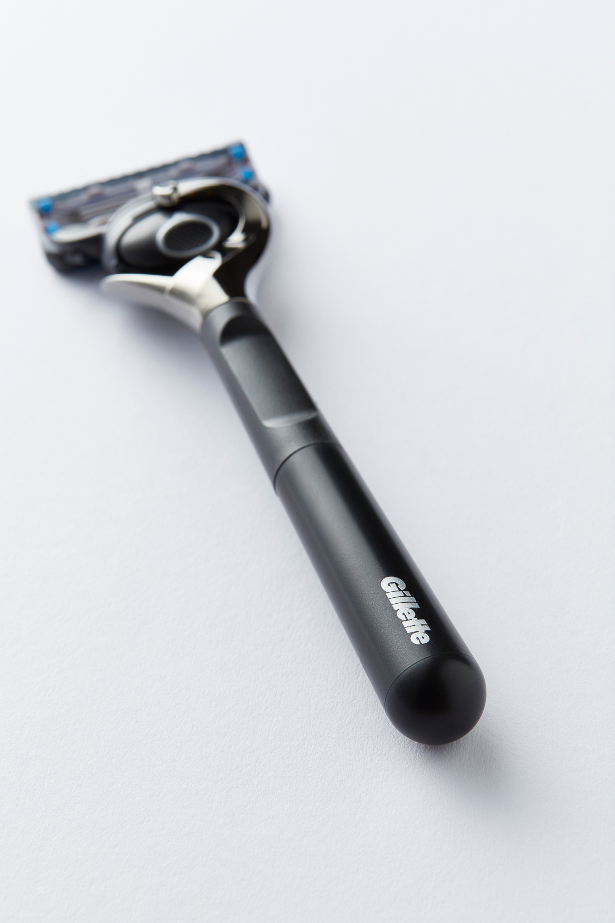 Gillette have three brand new limited edition Fusion5 Proshield Razor Limited Edition Gift Pack with Razor Stand (RRP £19.99) and Fusion5 Proglide Razor Limited Edition Gift Pack with Razor Stand (RRP £19.99) gift sets in both Chrome and Black (exclusive to Boots) which includes for the first time, a stand for the razor – making it an ideal gift for Christmas!
Gillette have introduced the stand to the ProShield and ProGlide series, as a recent survey from Gillette showed 96% of consumers would rather display their razors on the stand to avoid it interacting with other bathroom surfaces.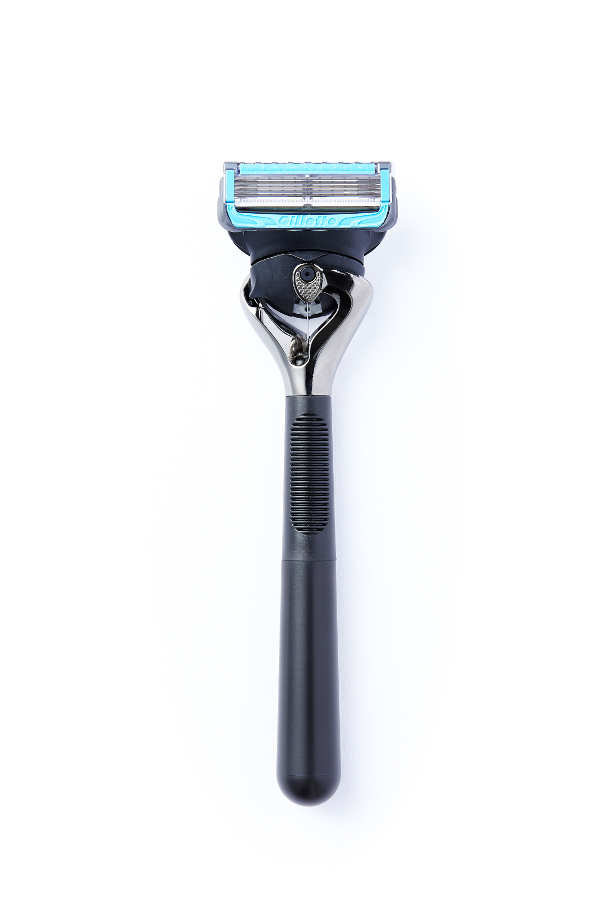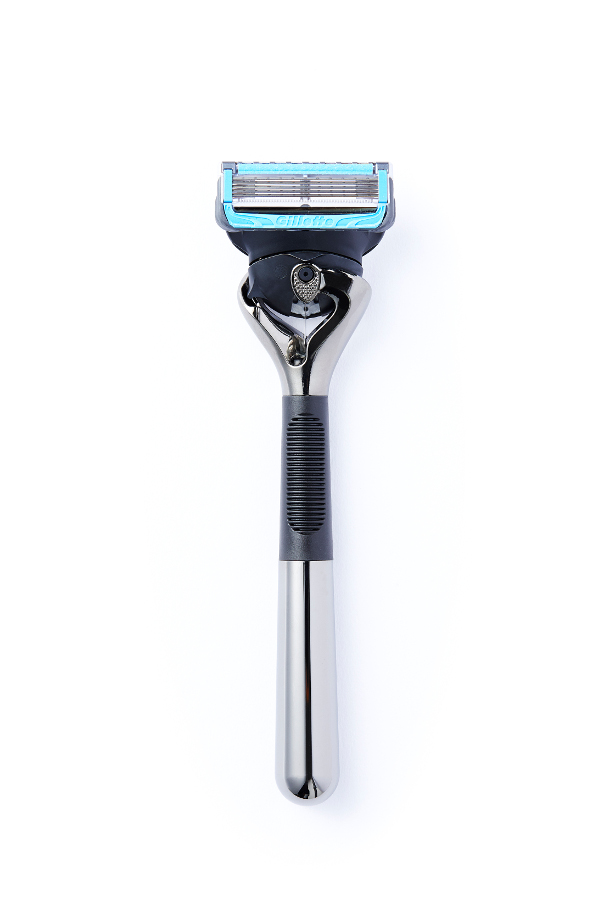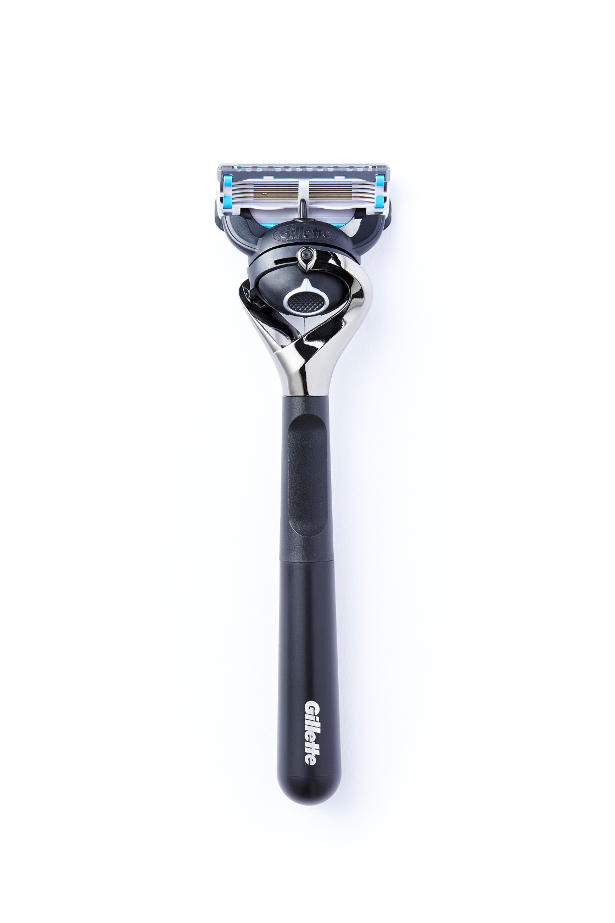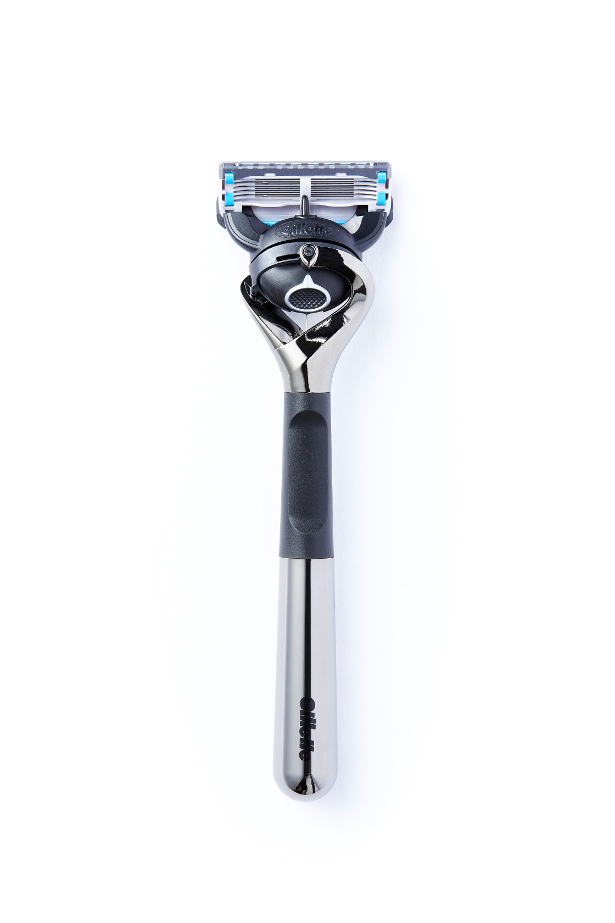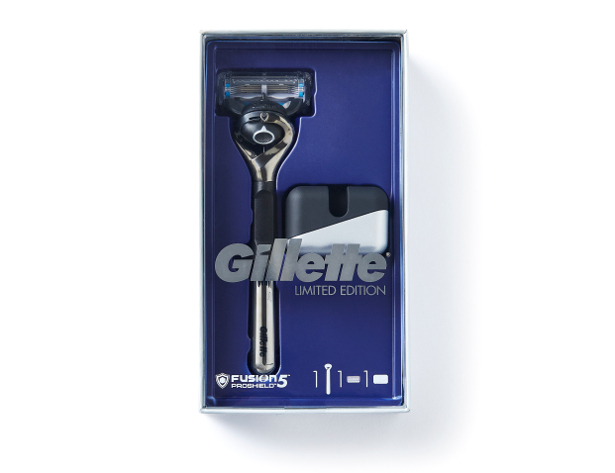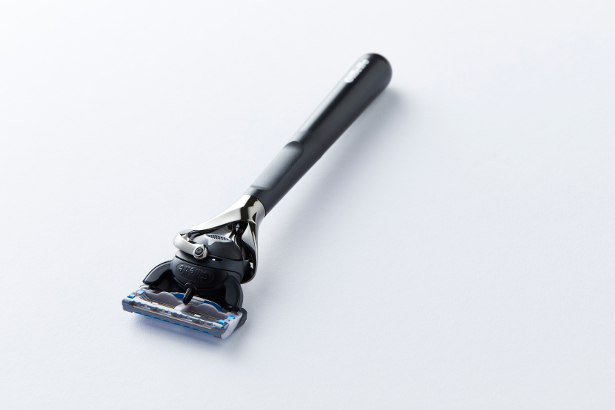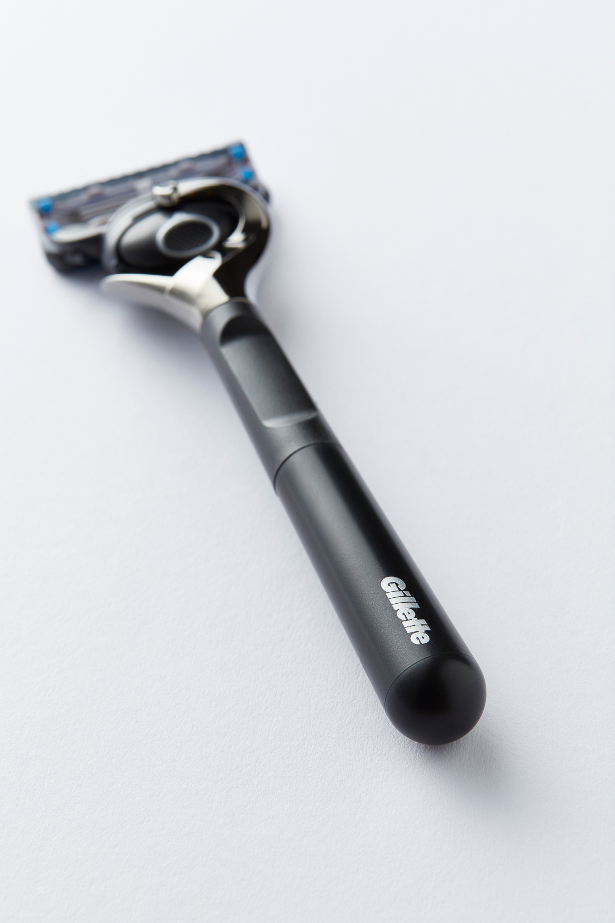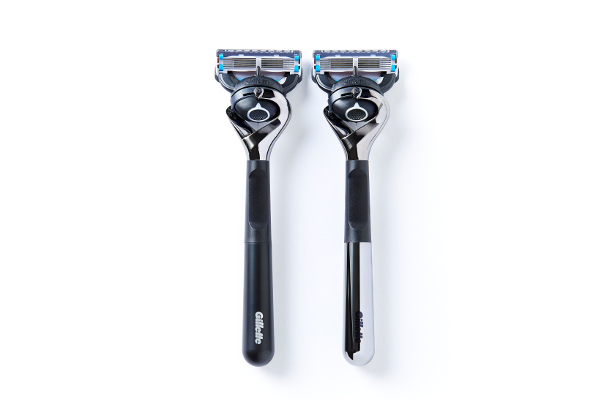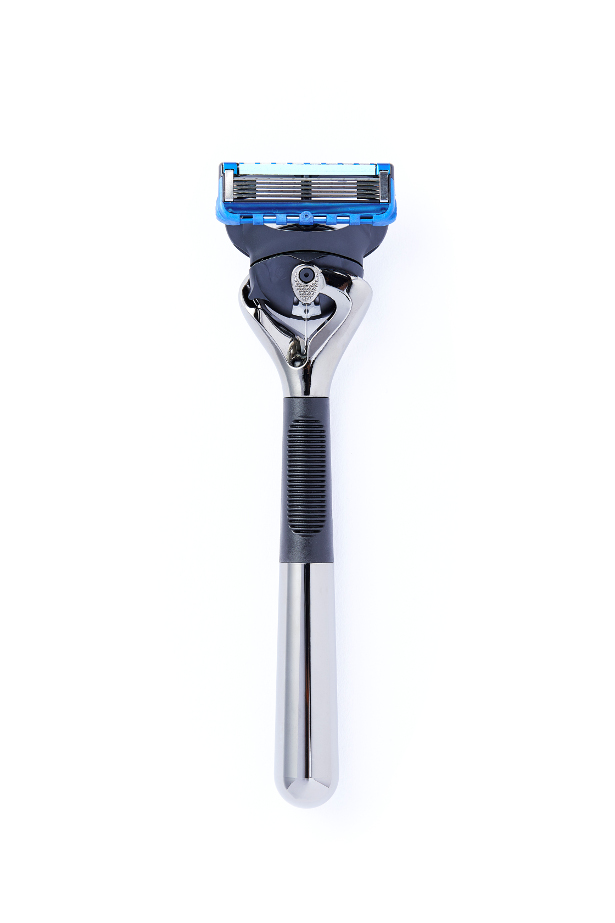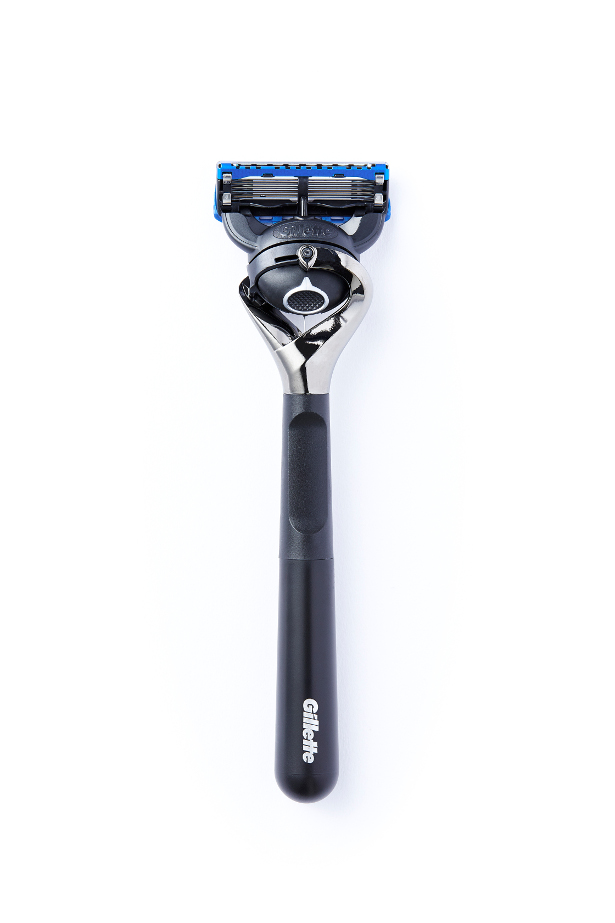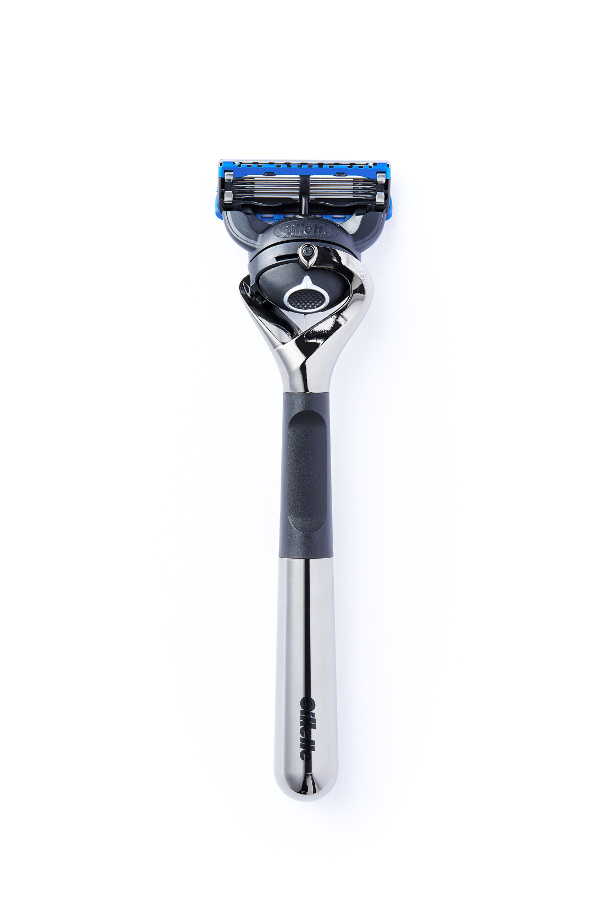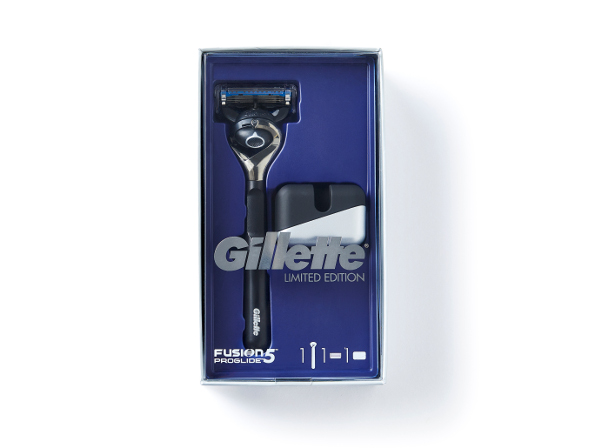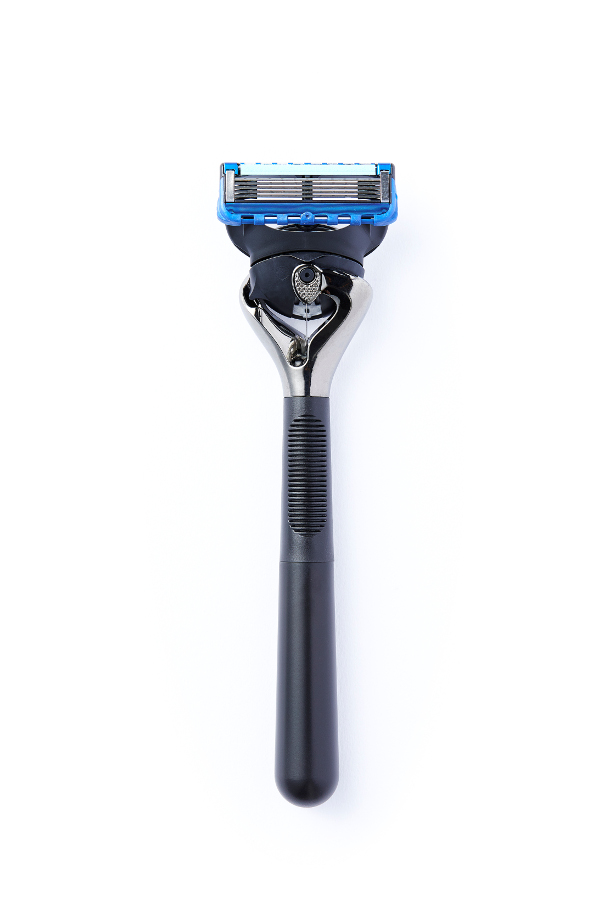 Gillette has a number of brand new razor gift sets that are perfect for Christmas this year.

The limited edition sets include:
Gillette Fusion5 Proshield Razor Limited Edition Gift Pack with Razor Stand (RRP £31.99) – exclusive to Boots.com
Gillette Fusion5 Proglide Limited Edition Gift Pack with Razor Stand (RRP £29.99) – available in Chrome at Amazon.com
Gillette Mach3 Razor Limited Edition Gift Pack with Razor Stand (RRP £26.99) – available in Chrome at Amazon.com
Stocking Fillers – products under £10
Gillette Fusion5 and Travel Case (RRP £7.99) – available at Boots.com
Gillette Mach3 and Travel Case (RRP £5.99) – available at Boots.com

ARE YOU PREPARED TO PROVIDE LIGHT IN EMERGENCY LIGHTING SITUATIONS!!! Check it out >>> This clever Active emergency sensor LED torch and area light is available from Socket Store www.socketstore.co.uk
TWITTER | FACEBOOK | YOUTUBE | PINTEREST | INSTAGRAM
This clever Active emergency sensor LED torch and area light is available from Socket Store, a leading retailer in luxury lighting and electrical accessories. Featuring 20 ultra bright LEDs and with a motion and light sensor, it turns on immediately the user enters the room or garage, before functioning as a normal torch when picked up out of the cradle. With a beam distance of up to 20m and a battery time of 3.5 hours, it's an essential piece of kit that won't leave you in the dark!
Based near Cardiff and retailing globally, family-run Socket Store works in partnership with leading light suppliers to continually refresh and update its extensive collections and react swiftly to emerging trends.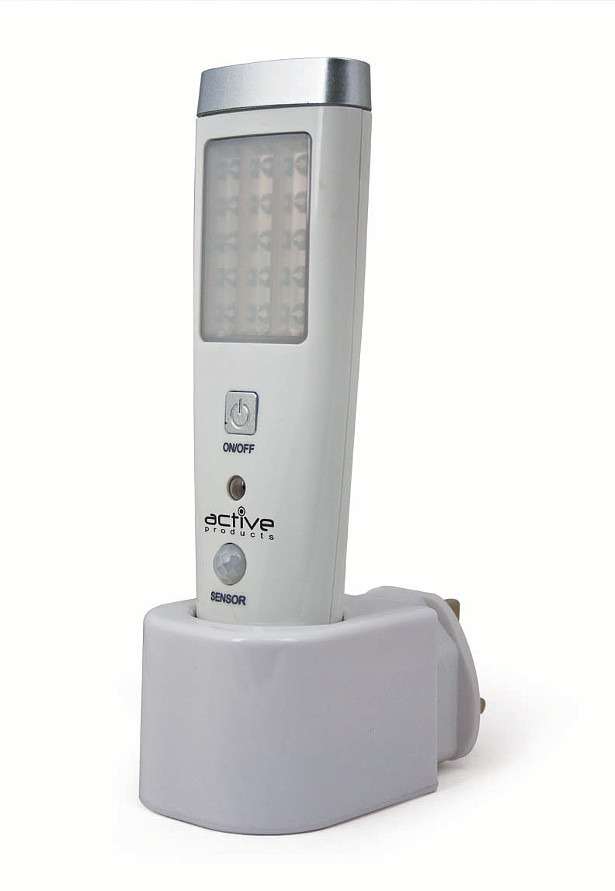 Incredibly well organised and impressively compact, the Dapper Wrapper is perfect for keeping your bigger accessories from becoming a bigger mess.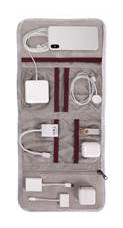 The magnetic closure keeps everything secure and the multiple pockets and storage compartments mean everything is kept ordered and neat. A great gift for techies! RRP £24.95, available from Amazon.co.uk. www.stmgoods.com/collections/myth-collection/dapper-wrapper-storage-accessory

For Him! Morrows Outfitters London, embroidered socks! www.morrowsoutfitters.com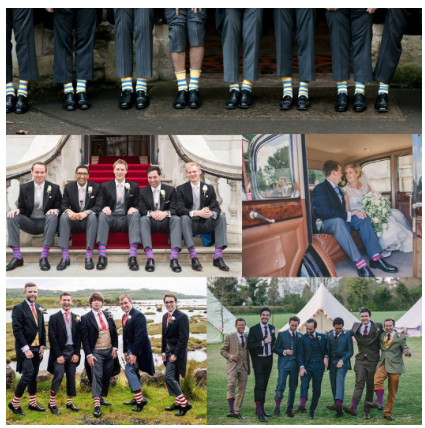 TWITTER | FACEBOOK | INSTAGRAM
It wouldn't be Christmas with out a new pair of socks, and at Morrows Outfitters we believe those socks should come with a story of a local business that's remained in the same family since 1912.
Morrows Outfitters, are an independent fashion retailer based in London. They sell a range of clothing for the everyday gentleman, and they're particularly famous for their (removed embroidered) socks.
Let's take you back to 1912 – Albert Morrow opened his first shop in Liverpool. He was committed to providing high quality products and appreciated the importance of satisfying the needs of his customers. The business flourished for three-quarters of a century.
In 2011 Philip Morrow re-established his great-grandfather's business in London. Philip is the fourth generation selling menswear under the Morrow's name. Every sock sold by Morrow's is designed by Philip Morrow and manufactured in the Midlands – the factory used is a fourth generation business, having been in hosiery industry since 1895. They are one of the few remaining independent hosiery manufacturers in this country.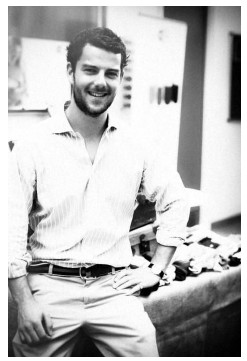 Philip became aware of the trademark for a high quality sock: the 'hand-linked' toe. This is the process of closing the toe seam by matching the stitches on either side of the unfinished sock. These stitches are linked together to provide the wearer with an essentially seamless toe. This is the alternative to machine linking which overlocks the seam and often causes discomfort and irritation when wearing well fitted shoes. All of the socks sold by Morrow's are made using this traditional method which requires considerable skill.
The socks are £14 per pair or £20 monogrammed. They also offer a sock subscription service – new socks delivered to your door each month!
This year the Morrow's Embroidered Wedding Sock service has proved incredibly popular and we're proud to have made it into so many wedding photo albums.
The present aim of the business is to take the best of the past, including business methods and style, and combine it with a contemporary twist.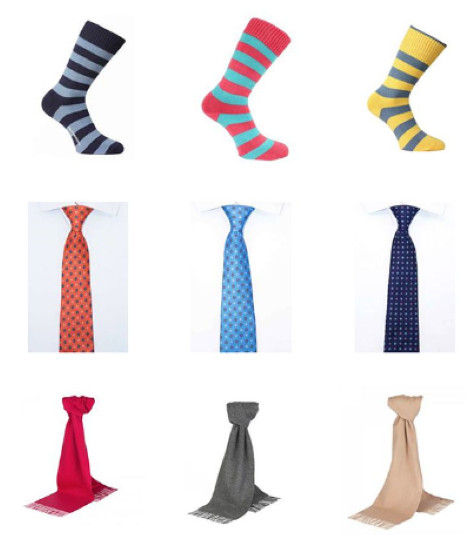 Other products in the Morrows range include cotton shirts, silk ties, leather card holders, cashmere scarves, and braces. Morrows has recently opened its first permanent store on the corner of Lacy Road and Putney High Street. There are They're also opening a number of pop-up Christmas shops around London: Putney Shopping Exchange, Unit 18 – Open now Centre Court, Wimbledon, Unit 223 – Open now Piccadilly Arcade, Unit 12 – Open from 3rd to 31st December You can visit their ​online shop here​.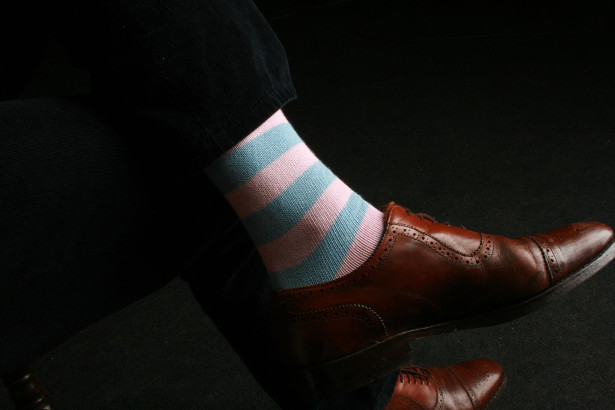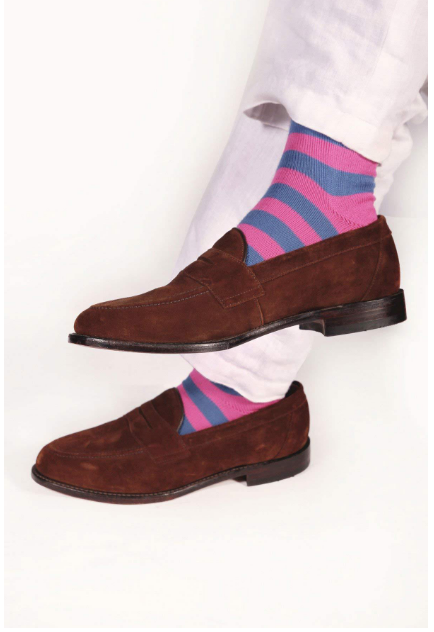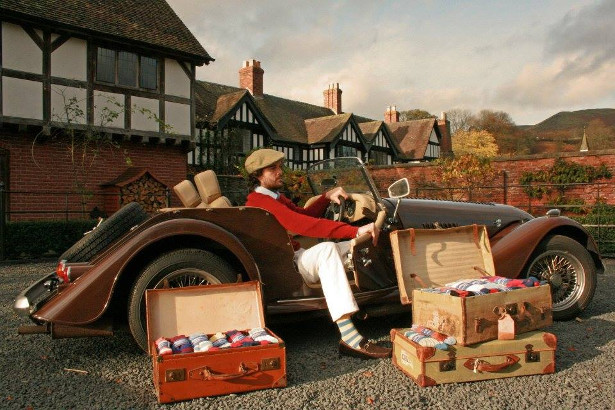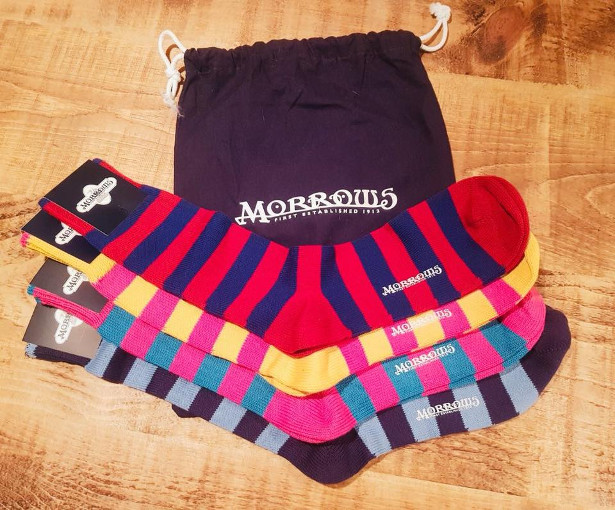 Ok, so Santa is traditionally seen as a larger than life character in more ways than one…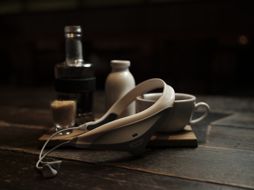 …and many people seem partial to a mince pie or seventeen, which goes some way to explaining why (it's predicted) Brits will pile on a massive 20 million stone (more than a lb each) between December 25 and January 1 this year.
And yet, there are also lots of people who wish they could eat what they want but not begin January far heavier than they began December.
Cue MODIUS… a NEW health-tech wearable weight loss device here to STOP the nation piling on the pounds this Christmas and then having to loosen their work belts a notch (or three) in January, which I thought would be perfect for your gift guide for the girl who has everything but may be looking to lose weight.
This Christmas, enjoy, be merry, be a Modius user! The latest in neuroscience will simply make you want to eat fewer Christmas treats and crave fewer mince pies, therefore keeping waistlines down…. and without the pain of starving yourself when everyone else is having fun. And it's all because your brain controls this stuff, and you can now control it.
Founded in 2015 by Dr Jason McKeown, Neurovalens is the global health-tech company behind Modius. It gently stimulates parts of the brain associated with satiety, hunger and metabolism and is now changing the concept of how we lose weight, and more importantly, keep it off.
Dr. Jason McKeown says: "We see Modius as an entirely new way to target weight loss. Dieting is totally transformed when you help people reduce their appetite and cravings. It actually becomes enjoyable."
About Modius: Modius is made by California/Northern Ireland-based health-tech company, Neurovalens; Modius uses safe, easy, wearable neuro technology to help make weight loss easier.
Modius works by sending a slight, low-level pulse into the brain which targets the area responsible for your desire for food by reducing your appetite and cravings, the user simply needs to eat less!
About Modius: Modius is the first headset from California and Northern Ireland-based health-tech company, Neurovalens and the first in its category to introduce wearable neuro technology to help make weight loss easier.
Modius works by sending a safe low-level pulse into the brain which targets the area responsible for your desire for food by reducing your appetite and cravings, the user simply needs to eat less!
Results both in lab testing and in the real-world show people losing on average 4% body-fat after just three months use.
Since it's launch on Indiegogo late last year Modius now has some impressive customer data.
After more than 350,000 user sessions:
· after 10 weeks the average loss is approximately 9lbs
· the top user has lost 87lbs – over six stone
· the top 100 users have lost 38lbs on average each – more than two and a half stone
· the top 1000 users have lost 14lbs – a stone
· heavier users are losing more weight
· under-30s, over-60s all age groups are reporting weight loss
We are seeing some fantastic real-life results; Julie Tarbox has been using the headset for three months and has lost over three stone!
Supershelf – Floating Bookshelf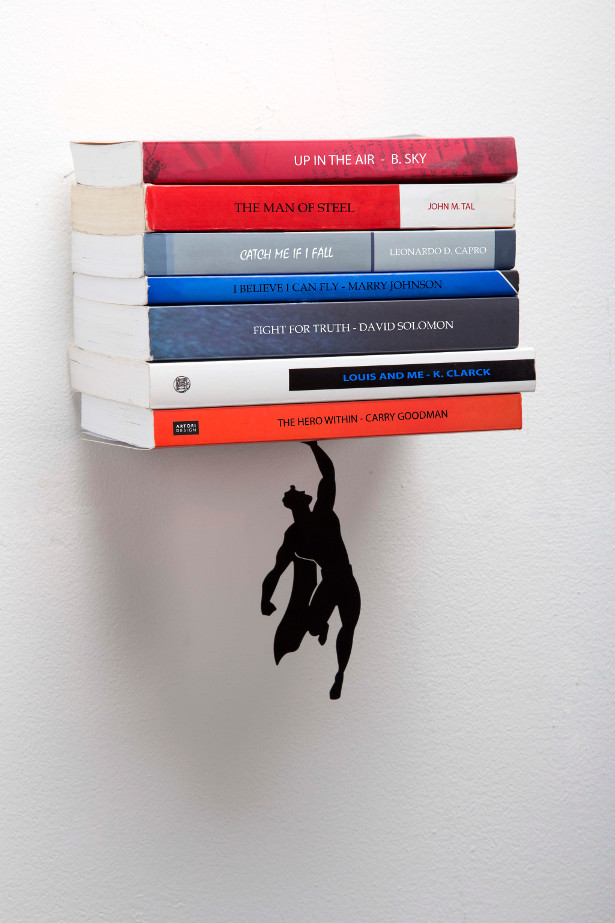 Description: Special bookshelf that gives a feeling it is floating in the air
and the superhero character seems to easily stop the books
from falling.
View product on company website:http://www.animicausa.com/shop/Supershelf-Floating-Bookshelf/tpflypage.tpl.html
Price: $29.99
Press Loft link: http://www.pressloft.com/product.php?pid=1534318&tid=2
Stockist information: www.animicausa.com
Clippa Blackfin-Mini tools clip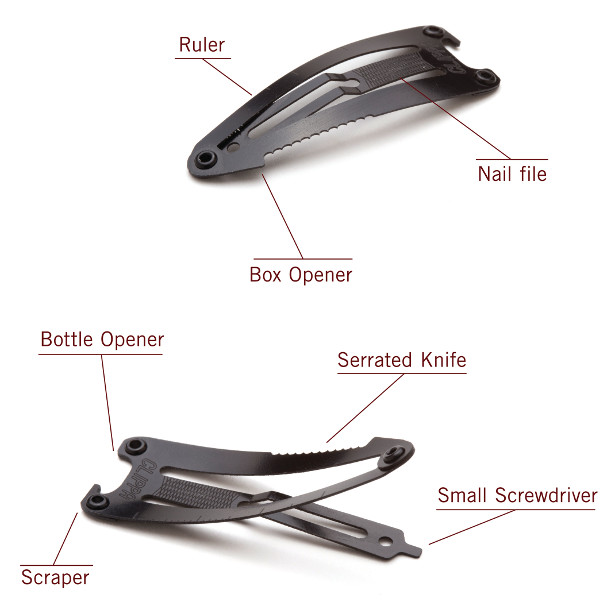 Now it Opens Bottles too!
Bottle opener, scraper, ruler, small screwdriver,nail file,
box opener, serrated knife – all combined in this tiny hair clip!
Made of Metal & steel.
Also available in the Clippa series: The Original Clippa ,
clippa lady
Size:12.5 x 7.3 x 2.1cm / 4.92 x 2.87 x 0.82 in
http://www.animicausa.com/shop/Clippa-Blackfin-Mini-tools-clip/tpflypage.tpl.html
Price: $9.99
www.animicausa.com
Awards winners revealed on celebratory night of great coaching
The winners of the 2018 UK Coaching Awards have been revealed.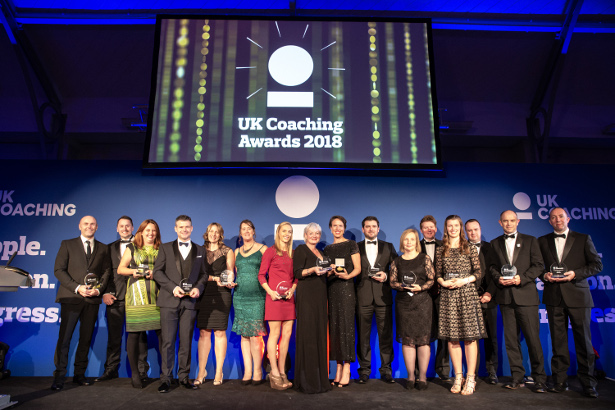 The showpiece annual event, which is seen as one of the most prestigious by the coaching community, took place at The Honourable Artillery Company, London on Thursday 29 November 2018.
This year's event, which saw a record number of nominations, continued UK Coaching's celebration of great coaching, which commenced earlier this year with the UK's first ever Coaching Week.
The winners of the 2018 UK Coaching Awards are:
Awards for coaches
The following categories have been awarded to coaches:
Children's Coach of the Year – supported by sportscotland
Ady Gray (Karate) (Wetherby)
Community Coach of the Year – supported by Sport England
Lee Coulson BEM (Multi-sport) (Aberystwyth)
Disability Coach of the Year
Melanie Timberlake (Multi-sport) (Aylesbury)
Heather Crouch Young Coach of the Year – supported by Youth Sport Trust
Izzy Cottrell (Multi-sport) (Chesterfield)
High Performance Coach of the Year
Matthew Lawrence (Paracanoe) (Nottingham)
Lifetime Achievement Award
Peter Stanley (Athletics) (Loughborough)
Talent Development Coach of the Year
Francesca Lewis (Tennis) (Swansea)
Awards in support of coaches
The following categories have been awarded in support of coaches:
Coach Developer of the Year
Richard Cheetham MBE (Multi-sport) (Winchester)
Coaching Culture Organisation of the Year
British Canoeing (Nottingham)
Coaching for an Active Life Award
Move More Northern Ireland (Northern Ireland)
Transforming Coaching through Technology – supported by Reading Room
Project 500 (Kent)
Great Coaching Moment of the Year
Kris Stafford, Stephen Quinn and Harrison Marshall of Old Otliensians RUFC – 2018 RFU Junior Vase (Rugby Union) (Otley) won the new for 2018 Great Coaching Moment of the Year. Open to a public vote, which concluded on the night of the Awards, the Old Otliensians managed to field of stiff competition from Tracey Neville and Gareth Southgate to take the gong which celebrates a particular moment in time when a coach's support and guidance really paid off.
Following winning the Great Coaching Moment of the Year Award, Old Otliensians Head Coach Kris Stafford said:
"This is unbelievable. It's not just what the three of us have done, or the players, it's the whole of Otley that have got behind us.
"We got the whole town of Otley together for a big day at Twickenham and this is just another piece in that amazing puzzle."
In The Coaching Chain category, Welsh Tour de France winner Geraint Thomas' coaches were recognised for the contribution they've made throughout his life. The winning coaches were Tim Kerrison, Matt Parker, Rod Ellingworth, Darren Tudor and Debbie Wharton.
Also on the night, the head coaches of GB's gold medallists from the PyeongChang 2018 Winter Olympic and Paralympic Games were inducted into UK Coaching's hall of fame.
Amanda Pirie, coach to Menna Fitzpatrick and guide Jennifer Kehoe, who won gold in the alpine skiing women's slalom, and Eric Bernotas, coach to Lizzy Yarnold, who won gold in the women's skeleton, were presented with Mussabini Medals (named after pioneer sports coach Sam Mussabini) to acknowledge their hand in creating GB winter Olympic and Paralympic success.
Emma Atkins, Director of Coaching at UK Coaching said:
"The UK Coaching Awards is a way for the nation to praise the great coaching that takes place, and a chance for us in the coaching sector to reflect and celebrate the effect great coaching has on society.
"We are privileged to be able to recognise more great coaching again, especially, in a year where we've worked hard to help the public understand what great coaching looks like following the launch of the first ever Coaching Week.
"I am also thrilled to see that more women coaches were recognised for their great coaching expertise, which is testament to the hard work and dedication of many partners who work tirelessly to ensure we create a culture in the coaching sector where everyone can thrive.
"I would like to congratulate all of this year's winners – as well as the finalists – for their incredible achievements and for benefiting the lives of so many. Well done"
The UK Coaching Awards is a celebration of great coaching. The best way to access every #GreatCoaching film, interview and podcast we make is to sign-up at www.ukcoaching.org/JoinUs
Active Man Fitness Box! www.bio-synergy.co.uk > Whey Better 750g | Thermogen 120 Capsules | Creatine Plus Strength 125 Capsules | Duel Fuel Shaker.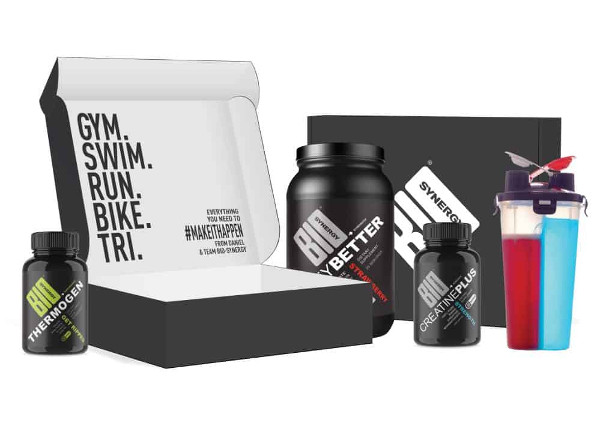 FACEBOOK | TWITTER | GOOGLE | INSTAGRAM | YOUTUBE
If you want to pack on lean muscle, increase your strength and burn fat, this is the stack for you.
Whey Better is the ultimate high protein shake, at over 90% protein per serving there is no better whey and with 6.7g BCAA's it will fuel your muscles after each workout, no matter how tough.
Creatine Plus strength capsules, will allow you to train harder and longer and Thermogen winner of Men's Fitness, gold award will have you shredded in no time.
This really is the ultimate stack for getting in shape and achieving your goals, whether a gym goer or elite athlete.
To ensure that you can take your favourite supplements anywhere, we have also included our amazing Duel Fuel shaker.
So if you want to make it happen choose this multi-award winning stack!