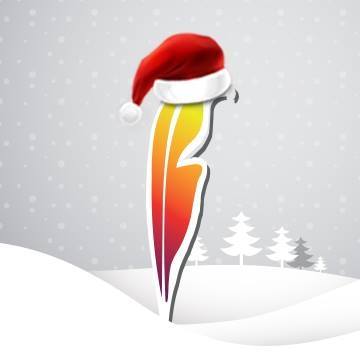 For Him! If It Takes a Lifetime Genre by Bruce Whitehead.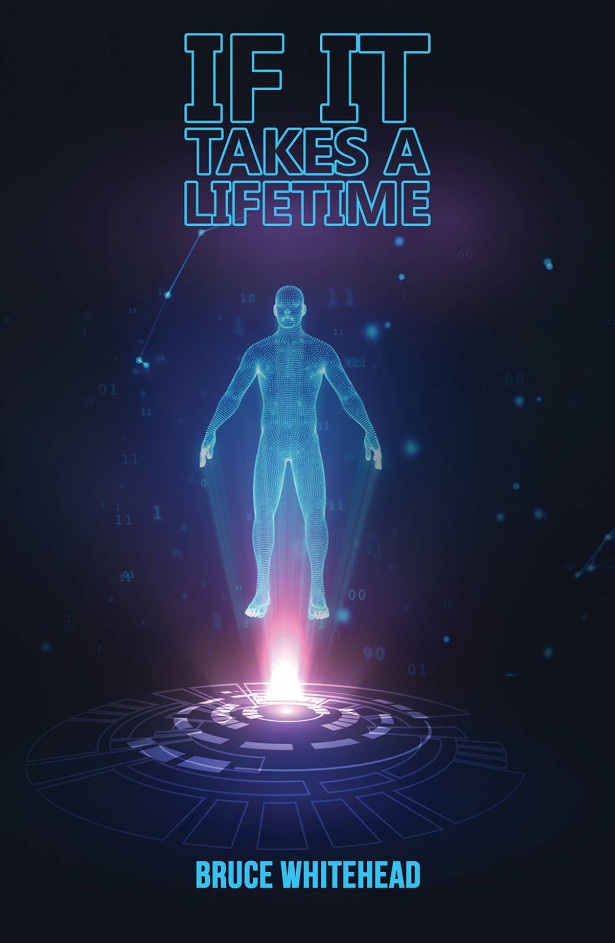 FACEBOOK | TWITTER | YOUTUBE | INSTAGRAM
James Caldwell is trapped inside his own invention…a virtual-reality Sim game. Each time the game resets, he must maneuver his way back to the city in search for the answer…finding an exit door allowing him to escape from this time and space trap. After ten years of searching, James is no closer to the answer, but his list of questions continue to grow and slowly begin interfering with his already difficult existence.
Perfect Christmas guides & a Box Set for everyone! 'Best of the BBC's Box sets' ! >> On Amazon & @ HMV, ASDA, Morrisons, Sainsbury's and Tesco.
'Best of the BBC's Box sets'
There are 10 box sets within the Best of the BBC range across a number of different genres, including: wartime comedy, classic comedy, Ronnie Barker and natural history/David Attenborough plus crime drama. Fawlty Towers, Only Fools and Horses, The Two Ronnies, Porridge, Planet Earth II, Dad's Army and, last but definitely not least, Peaky Blinders. TV gold basically!
As Christmas is all about spending time with family while being snuggled up in doors, enjoying some festive food and the odd sherry or two, the box sets are a brilliant way to gather everyone on the sofa in front of the TV and spend some real quality time together.
All of the box sets are available to buy from Amazon: http://www.amazon.co.uk/BestofBBCBoxsets and also from high street retailer HMV as well as selected supermarket stores including ASDA, Morrisons, Sainsbury's and Tesco.
**Please note, prices may vary depending on retailer**
Peaky Blinders Series 1-4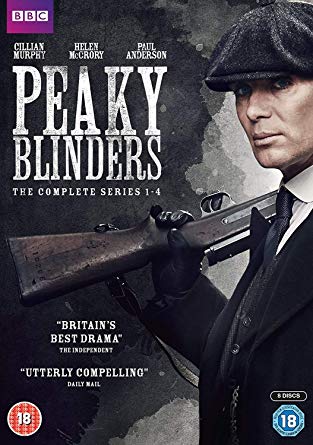 Thomas Shelby (Cillian Murphy – Dunkirk, Inception) heads up one of Birmingham's most feared criminal organisations. But when he sees an opportunity to move up in the world, it becomes clear that his ambition knows no bounds. With a spectacular cast that includes Sam Neill (Jurassic Park), Helen McCrory (Skyfall), Paul Anderson (The Revenant), Annabelle Wallis (Annabelle), Charlotte Riley (Edge of Tomorrow), Noah Taylor (Game of Thrones), Aidan Gillen (Game Of Thrones), Adrien Brody (Grand Budapest Hotel), Paddy Considine (The Bourne Ultimatum) and Tom Hardy (Mad Max: Fury Road), creator Steven Knight's phenomenal vision of a family's odyssey through British society is intense, deeply moving and wildly entertaining.
Series 1 & 2: making Peaky Blinders
Series 3: Origins, Moving up in the world, A day in the life
Series 4: Return to watery lane, the Peaky Blinder world, the shoot out
£56.16 (DVD)
£61.27 (Blu-ray)
Natural History/David Attenborough: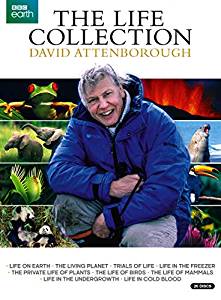 Attenborough The Life Collection
This box set contains all of David Attenborough's 'Life' series – among the greatest and most beautiful nature documentaries even made.
Life on Earth offers a chronological account of the flora and fauna of planet Earth over a period of 3,500 million years.
The Living Planet: An ambitious 12-part documentary that spanned the globe with portraits of each of the major geographical regions that offer a home to life.
Trials of Life: Originally broadcast in 1990, it examines animal behaviour in all its infinite variety and in doing so we are allowed to witness some of the most enchanting animal personalities, as well as some of the most fearsome.
Life in the Freezer reveals incomparable standards of natural history filming to trace Antarctica's seasonal cycle from the long winter months when the formation of ice almost doubles its surface area, to the brief summer when the race to breed really heats up.
The Private Life of Plants: Attenborough takes us through each aspect of plants' lives travelling, growing, flowering, their struggle with other plants and animals, and the ingenious way they adapt to even the harshest of conditions.
The Life of Birds presents a fascinating and exciting view of the world of birds, the largest animal group on earth, in a series of ten fifty-minute episodes.
The Life of Mammals looks at why mammals are the most successful creatures on the planet.
Life in the Undergrowth: Here David shows us not just bugs, beetles and creepy-crawlies, but scorpions and centipedes, mites and mantids, spiders and dragonflies.
£91.90
Planet Earth II
Captured in stunning Ultra-high definition detail, Planet Earth II is an immersive exploration of the jungles, mountains, deserts, islands, grasslands and cities of the world. Journey to the four corners of the globe to discover the extreme forces that shape life in each of these iconic landscapes and the remarkable ways animals manage to overcome the challenges of surviving in the wildest places on Earth. From eye-to-eye encounters with incredible creatures to epic journeys through breath-taking wildernesses, experience the wonder of the natural world as never before.
£59.22
Blue Planet II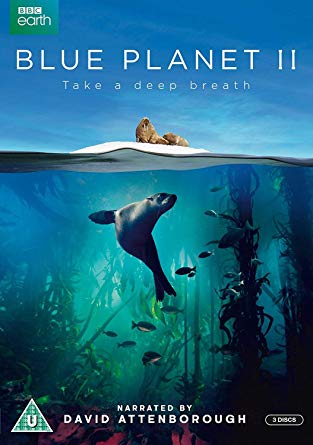 In recent years, our knowledge of what goes on in our Ocean has been transformed. Blue Planet II uses cutting-edge breakthroughs in science and technology to explore new worlds, reveals astonishing creatures and extraordinary new animal behaviours. As we journey through our deep seas, coral reefs, open ocean, green seas and coasts we share these extraordinary new discoveries. But we now know that ocean health is under threat. Never has there been a more crucial time to explore our remotest seas, and to examine what the future will hold for our blue planet.
£25.52
Ronnie Barker:
Porridge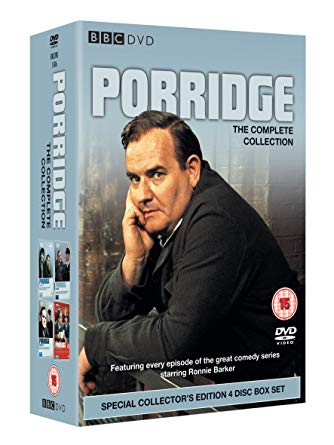 "Norman Stanley Fletcher… you are an habitual criminal who accepts arrest as an occupational hazard and presumably accepts imprisonment in the same casual manner…"
'Fletch', sentenced to a five year stretch at HM Prison Slade in darkest Cumbria, is determined to keep his head down, do his time and not let the b*****s grind him down. But it's not so simple when you're an old lag. His naive cell-mate Lenny Godber needs to learn the ropes, skives
and scams; evil Prison Officer Mr Mackay can't be allowed to run things
his own way and warden Mr Barrowclough is just too weak-willed not to have his good-nature exploited…
"Ronnie Barker will be remembered for Fletcher in Porridge long after everything else he was in has faded from memory."
Daily Express
SERIES 1, SERIES 2, SERIES 3 + two Christmas Specials
£39.14
The Two Ronnie's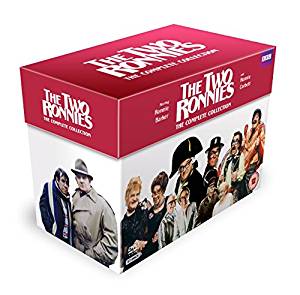 From 1971-87, over 12 series, four Christmas specials and two classic silent films, Ronnie Barker and Ronnie Corbett combined to produce one of the most popular television comedy series ever made.
From their introduction, "And in a packed programme tonight…" to the "Goodnight from him" finale, viewers savoured every moment. The "Four Candles" and "Mastermind" sketches, the Piggy Malone and Charley Farley stories and the hilarious musical numbers have a special place in viewers' hearts, but these series are packed with so many moments
of comic genius.
The collection comprises all 93 episodes from the series, including the four Christmas specials, as well as the two silent films and Corbett's 2010 programme, 'The One Ronnie', which featured special guests including Harry Enfield, Catherine Tate, Miranda Hart, David Walliams and Matt Lucas.
£71.48
Wartime Comedy:
It Ain't Half Hot Mum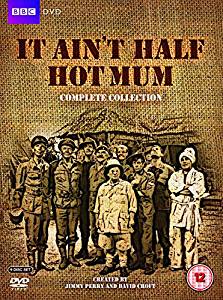 This complete collection contains all eight series of It Ain't Half Hot Mum, the classic BBC comedy series which follows the exploits of a Royal Artillery Concert Party in India (and later, Burma) during the Second World War.
Running from 1974 until 1981, It Ain't Half Hot Mum was one of the most popular comedies on British television. David Croft and Jimmy Perry, writers of Dad's Army, once again established a brilliant group of comic characters including the bombastic, eye-rolling Battery Sergeant Major Williams; Indian Bearer Rangi Ram; drag artist Bombardier 'Gloria' Beaumont; diminutive Gunner 'Lofty' Sugden with a hauntingly beautiful singing voice, and the effete and ineffectual Captain Ashwood.
£59.99
Dad's Army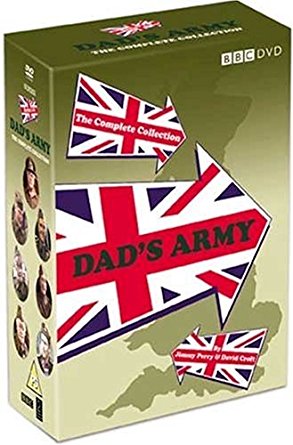 The wartime antics of the Walmington-on-Sea Home Guard were an essential part of the nation's entertainment in the years spanning 1968 to 1977. Captain Mainwaring, Sergeant Wilson, Corporal Jones and Privates Pike, Godfrey, Walker and Frazer would create enough hilarity in their own incompetence and heroic, if misplaced endeavours, but add a vicar, a verger, an overbearing ARP warden – and Pike's mum and the whole thing gelled into a comedy masterpiece. Dad's Army had the lot: class tension; comic characters; farcical situations and hilarious scripts by Jimmy Perry and David Croft and is cherished as one of the nation's favourite situation comedies.
Contains Complete Series One, Three, Four, Five, Six, Seven, Eight, Nine,
The Christmas Specials and all 3 surviving episodes of Series Two.
14
£45.95
Classic Comedy:
Only Fools & Horses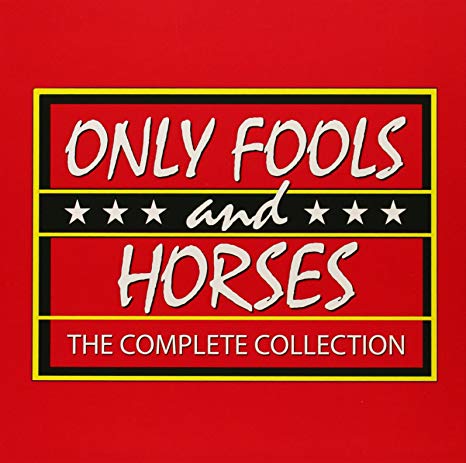 The first ever episode of Only Fools and Horses was broadcast in September 1981. Over seven series and fifteen specials, Del, Rodders and the gang have given us so many precious moments – the chandelier incident, the yuppy bar fall, the Batman and Robin chase – but it is the characters, the storylines and the great scripts that have earned Only Fools and Horses the enduring love of the public. Every "lovely jubbly", every exhaust-smoking trip of the Reliant Robin and every tear-filled twist kept millions of viewers glued. And they are all here – in the complete story of the Trotters of Nelson Mandela House: from the very first scam to the final 'bonjour'.
INCLUDES ALL 7 SERIES AND
15 CHRISTMAS SPECIALS.
Also includes
'The Story of Only Fools and Horses'
behind the scenes special DVD from 2002.
£59.22
Fawlty Towers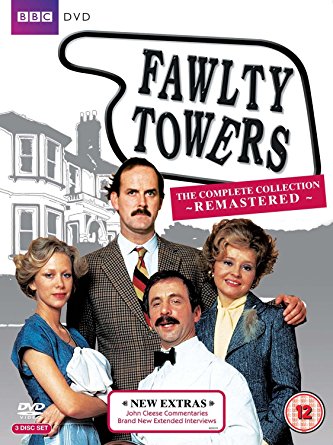 This Special Edition marks the 30th Anniversary of one of the greatest situation comedies British television has ever seen. Every episode of the BAFTA winning sitcom has been fantastically remastered and for the first time ever John Cleese provides audio commentaries on all 12 episodes.
Exclusive commentaries by John Cleese
2009 Extended Interviews
Includes exclusive interview with Connie Booth
Accompanying booklet
Interviews with John Cleese, Prunella Scales and
Andrew Sachs.
Series 1 director's commentary by John Howard Davies
Series 2 director's commentary by Bob Spiers
Artist profiles
Out takes
Torquay Tourist Guide (short documentary film)
Cheap Tatty Review
Audio Description & Navigation Option
£25.52

Gifts for Him! CLUBMAN® PINAUD. Beard & Tattoo Oil + 2-in-1 Beard Conditioner > www.clubman.com & @ Superdrug!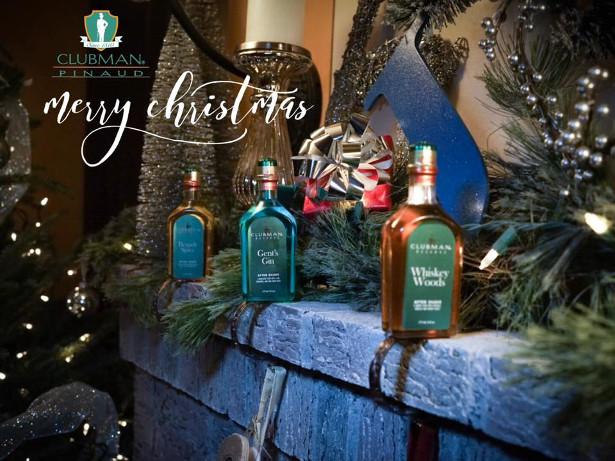 FACEBOOK | PINTEREST | YOUTUBE | INSTAGRAM
Clubman Beard & Tattoo Oil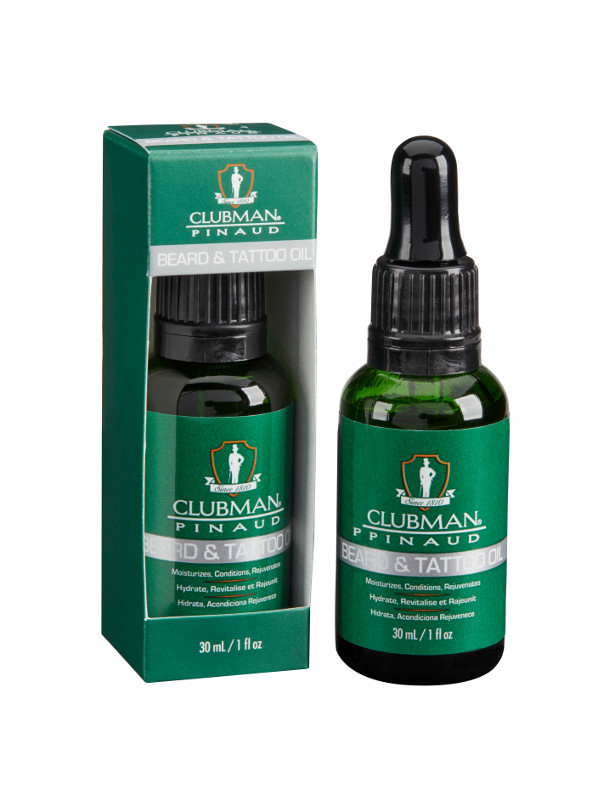 This rejuvenating product contains a unique blend of special oils and conditioners to ensure your beard, tattoo and skin will look and feel their best. Macadamia and Aragan Oil help keep the beard and skin super soft. Vitamin E nourishes the skin, moisturisers and adds shine. You will instantly see the difference in your beard and, when applied to your ink, it instantly rejuvenates the colour and the skin of the tattoo – the depth and clarity will amaze you. Gluten and paraben-free.
£7.95 available at  www.superdrug.com/Mens/Mens-Grooming/Clubman-Beard-and-Tattoo-Oil
Clubman 2-in-1 Beard Conditioner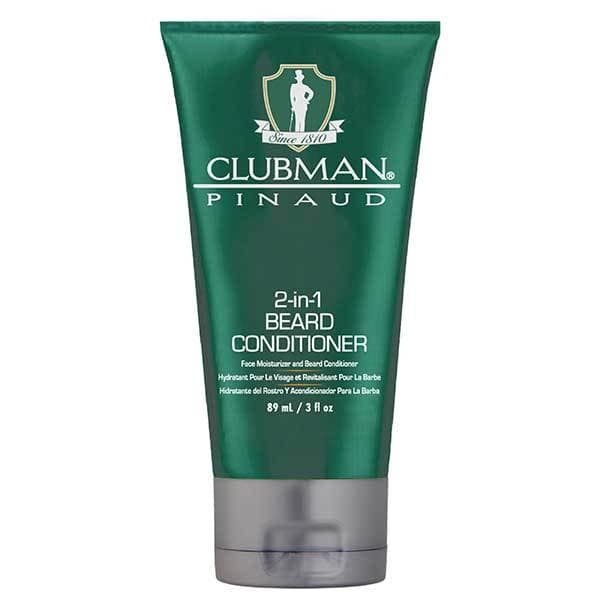 A dual purpose facial moisturiser and beard conditioner which soothes irritated skin and prevents flaking. This light textured product leaves the hair soft and keeps frizz under control. It is ideal for coarse or fine hair and anything inbetween. Easy to distribute and quickly absorbed. Gluten free and paraben-free.
£6.95 available at www.superdrug.com/Mens/Mens-Grooming/Clubman-2-in-1-Beard-Conditioner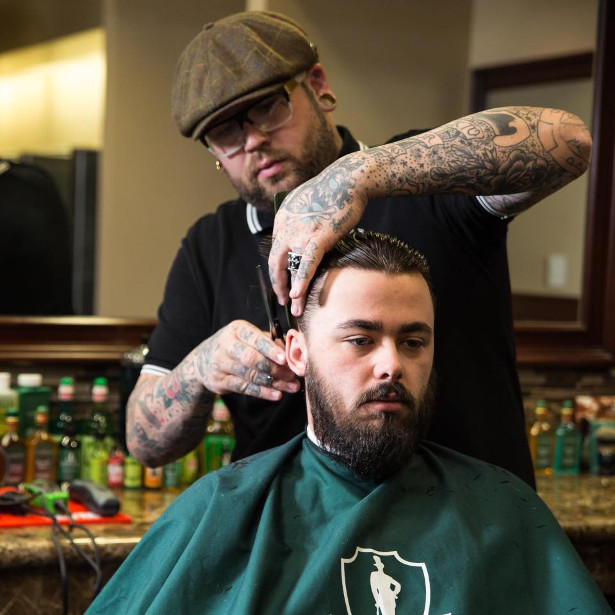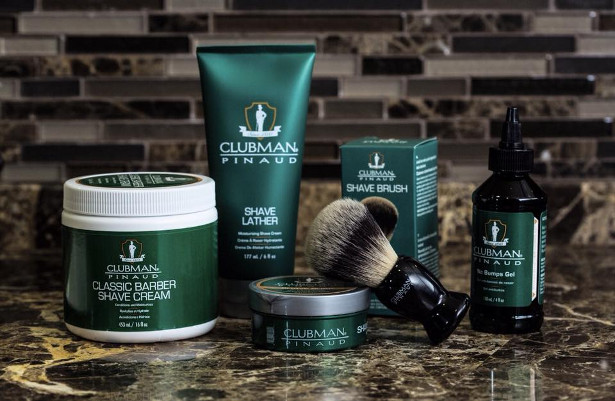 Norwegian lifestyle brand, SWIMS can confidently provide you with the perfect gift for your favourite man on-the-move.
SWIMS is passionate about delivering stylish and functional footwear, outerwear and accessories to guys who embrace the modern good life; whether it be at home, or away.
Motion Wing Tip Boot
200GBP
The perfect gift to keep him looking good through the wet and icy winter.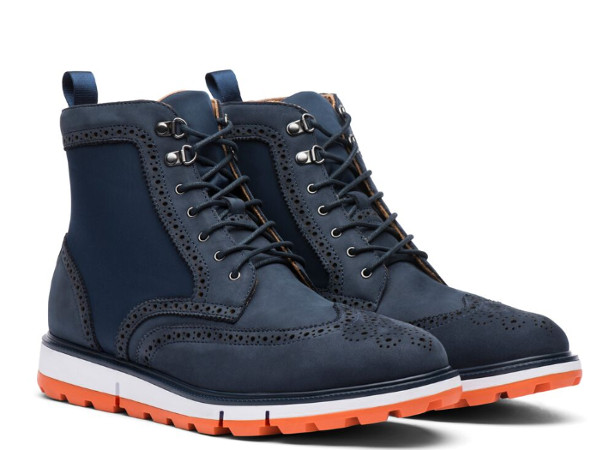 Warm, dry, and effortlessly stylish, this modern take on a practical classic fears no slush with waterproof construction throughout and rugged anti-slip rubber where it counts — and it's surprisingly light and flexible to boot.
Available in Navy, Grey and Orange.
www.swims.com
 Buckle & Seam
www.buckleandseam.com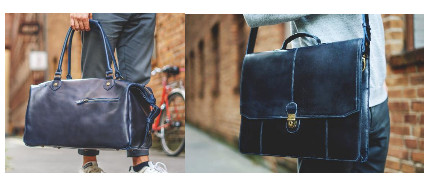 Midnight Blue range
Cali briefcase –20% off NOW at £158.40 (originally £198)
Linwood bag – 20% off NOW at £308.80 (originally £386)
Duffle bag – 20% off NOW at £252 (originally £315)
Brown leather range
Gab phone sleeve – 25% off NOW at £23.25 (originally £31)
Karbon zipped wallet – 15% off NOW at £34 (originally £40)
Cali briefcase – 15% off NOW at £170 (originally £200)
In addition, there are offers on the below when purchasing specific linings:
Linwood bag with blue lining – 15% off NOW at £328.10 (originally £386)
Sierra messenger bag with tropical and boats lining – 20% off NOW at £188 (originally £235)
Cara satchel with planes lining – 20% off NOW £166.40 (originally £208)
NEW Canvas range
Duffle bag –15% off NOW at £199.75 (originally £235)
HTC VIVE AND McLAREN ANNOUNCE RELEASE OF LIMITED EDITION VIVE PRO HEADSET TO GIVE IMMERSIVE EXPERIENCE TO RACE FANS WORLDWIDE
VIVE Pro McLaren Limited Edition headset debuted at racing event in Abu Dhabi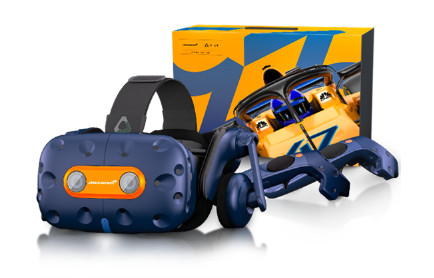 ABU DHABI – 23 November, 2018 – HTC VIVE™ and McLaren Racing today announced the release of a special edition VIVE Pro McLaren Limited Edition headset, the first co-created product since the announcement of the partnership in May, which offers an unparalleled VR racing experience to fans. The headset combines Vive Pro's crisp resolution, audio, and ergonomics to deliver the ultimate VR experience for audiences around the world.
In addition to a unique look and feel, the headset will be paired with the new 'McLaren Garage VR' experience—a Vive Studios release in cooperation with McLaren—as well as a custom version of 'RFactor 2' McLaren Edition VR racing that was designed to operate without any additional driving accessories. McLaren Garage VR experience is a multi-player simulation game where players can be part of the McLaren pit crew, learning how to complete tire adjustments just like crews do in a race. The experience includes the 'Pitstop Challenge', a multiplayer competitive game that allows users to explore McLaren's latest pit garage in room scale, learn to change a car tire, and take other players on a timed tire change challenge. These special edition experiences are available exclusively on VIVEPORT, where current Vive owners can create a free subscription today to access these titles for free. With this partnership, HTC Vive and McLaren are offering customers the most immersive McLaren Racing and track experience from the comfort of their own home through VR.
"Grand Prix auto racing attracts over 500 million fans globally, and we're excited to partner with McLaren to bring a unique perspective to race fans through VR," said Alvin Wang Graylin, China President, HTC. "Through our collaboration, we're combining our best-in-class VR headset with their long heritage of racing expertise to create the most immersive experience for fans across the globe. This is a chance for customers to go beyond being a spectator and feel the excitement of being a McLaren driver or pit crew right from their living rooms."
"It's been brilliant to tap into HTC's technology and work together closely to create this top of the range headset and VR experience, so fans can feel like they are in the heart of the action, at a racetrack with the McLaren Racing team," said Zak Brown, CEO, McLaren Racing. "We think this limited edition Vive Pro headset is hugely exciting for both racing and VR fans alike."
"VR is an incredibly exciting technology that brings fans closer to racing than ever before. The realistic experience provided by the VIVE Pro McLaren Limited Edition headset can be enjoyed by everyone from casual gamers to professional drivers." said Lando Norris, McLaren Racing driver.
The Vive Pro McLaren Limited Edition headset will also include a free six-month subscription on VIVEPORT, where users can exclusively download the McLaren Garage VR experience and customized RFactor2 McLaren Edition racing game, offering users a truly immersive experience into the McLaren racing team. Additionally, it is the official VR device for the McLaren Shadow Project. The finals of the competition will take place at the McLaren Technology Centre on January 14-17, 2019, and all finalists will train and compete using the Vive Pro VR headset.
The VIVE Pro McLaren Limited Edition headset is available starting today in select global markets—including the UK, US, France, Germany, Spain and Italy —and on the HTC Vive e-commerce store (www.vive.com/McLaren) at a MSRP of £1,450 (exact prices will vary by market).
How to Give Gifts that Won't Be Forgotten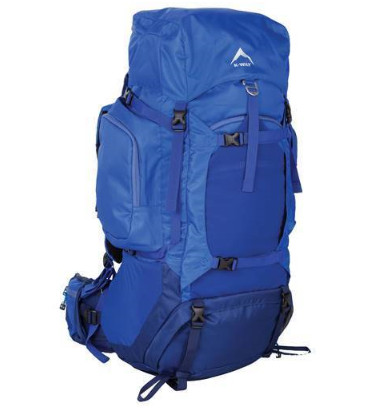 With the festive season fast approaching, it's a good time to start thinking about the gifts you'll be giving. While it's always the thought that counts, you don't want people to be wondering what in the world you were thinking when you got them their gift. Fortunately, Cape Union Mart has some tips on how to give gifts that people won't forget (for the right reasons).
Practical
When you're a kid, practical gifts are the worst, but as you get older you come to appreciate useful gadgets that improve your life. One practical gift that is ideal for almost any recipient from avid adventurers to braai masters is the Kaliber Survival Knife (R699, available for purchase in-store and online). This lightweight tool comes equipped with a comfortable moulded ABS handle and a black oxidised blade coating that prevents corrosion. Plus, it is packaged with a fire starter and a knife sharpener – the utmost in practicality.
141421 (Adventure 60L Backpack) Blue
Another practical present is the K-Way Venture 60L Backpack (R1,599, available for purchase in-store and online). Ideal of course for exploring, this backpack features an Air-vantage Adjustment System that allows you to customise your fit, a rain cover, built-in hydration sleeve and multiple compression straps so you can shrink or expand the pack as required.
136064 (K-Way Men's Explorer Traveller Jacket)
For the outdoorsman in your life, the K-Way Men's Explorer Traveller Jacket (R899 available for purchase in-store and online) is a must. He will stay protected from the elements with this lightweight water-repellent jacket that features UPF40+ protection from the sun, back mesh ventilation system and an elasticated hem and cuffs to prevent cold air from getting in.
130710 (Malkin 10 x 25 Roof Prism Binocular )
Multifunctional
Gifts that can be used in a myriad of ways will keep on giving. For instance, the Malkin 10 x 25 Roof Prism Binocular (R350, available for purchase in-store and online) can be used while bird watching but also during sporting events to get a better view of the action. Complete with an all-new design, this powerful, compact x10 binocular provides greater depth for a pleasurable viewing experience. It also features a 25mm objective diameter, eye cups for eye-glass wearers and a fine focus adjustable ring around each eyepiece to adapt to vision differences between the left and right eye.
133892 (K-Way Women's Tempest Zip-off Trousers)
A pair of trousers that can be turned into shorts is a must-have for spontaneous adventure enthusiasts. The K-Way Tempest Zip-off Trousers (R999, available for purchase in-store and online) offer versatility, practicality and comfort that will take you from hot days to chilly evenings and support you on any adventure – planned or not. These expertly-designed zip-off trousers feature 4-way stretch nylon fabrication, integrated ribbing in the waistband for adjustability, a UPF 30+ finish and cargo pockets for extra storage.
142902 (Suunto 9)
Personal
There's nothing more special than receiving a gift, that's been carefully selected – with your personal preference being top of mind. When purchasing a personal gift, why not go the extra mile and invest in a gadget that will take the recipient on many adventures? The Suunto 9 (R9,999, available for purchase in-store and online) is a multisport GPS that tracks up to 120 hours of exercise activity and can withstand extreme conditions. Equipped with a wrist-based heart rate monitor and barometer, the Suunto is water resistant up to 100m and supports over 80 sport modes. Plus it has 25 hours battery life in Performance mode and up to 120 hours in Ultra mode. Alternatively, there's pieces from the Garmin Fenix 5 Plus Range (priced at between R13,499 and R13,999, available for purchase in-store and online). All the watches are WiFi-enabled and feature GroupTrack, music streaming, trendline popularity routing, advanced navigation sensors and preloaded maps.
142030 (DJI Tello)
Being able to look back on their adventures is also highly personal so think about gifting your loved one with a drone or GoPro. Drone flying has just become that much easier with the DJI Tello (R1,999, available for purchase in-store and online) which features automatic take-off and landing at just a single tap, along with failsafe protection to allow for safe landing even when the connection has been lost. This small and agile drone captures 5MP hi-res images with its electronic image stabilisation feature. Another drone option is the Parrot Anafi (R12,999, available for purchase in-store and online) which offers all the accessories you need to capture high-quality images and videos such as a smart battery, a carrying case, 16GB micro SD card, USB-A to USB-C cable, a mounting tool and eight additional propeller blades.
For those wanting to help loved ones capture all the action of their outdoor pursuits or to snap memories from their travels, the GoPro Fusion (R11,999, available for purchase in-store and online) is a great gift. This 360 degree action camera enables images and videos to be shared straight to any smartphone that has the GoPro app downloaded. It is also waterproof with a built-in extension pole and tripod. What's more, it offers a voice command hands-free function.
With these gift-giving guidelines, you won't go wrong this festive season.
Visit www.capeunionmart.co.za for gifts and gadgets for all.
Wonder whether headwear designer, Kempadoo Millar
The luxury flat-caps are sold in 28 countries around the world. They retail for around £60 – £100.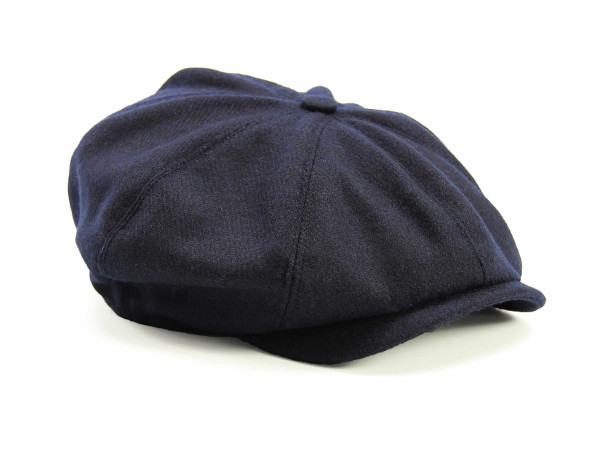 Loyal customers include HRH Prince of Wales, Anthony Joshua and Idris Elba.
The collection features locally woven herringbone tweeds, luxurious Melton wools, vibrant checks and opulent satin linings. The stunning winter colour palette seen across the new range includes rich purples, teal greens and peacock blues.
Operating out of AW Hainsworth's mill in Pudsey, Leeds, Kempadoo Millar headwear is assembled in Castleford by Lawrence and Foster. The brand uses premium fabrics including tweeds by Abraham Moon of Guiseley.
The products can be personalised to the individual which is ideal for gifts.
 www.kempadoo.com
New proudly South African cocoa toothpaste – a proven mighty powerful formula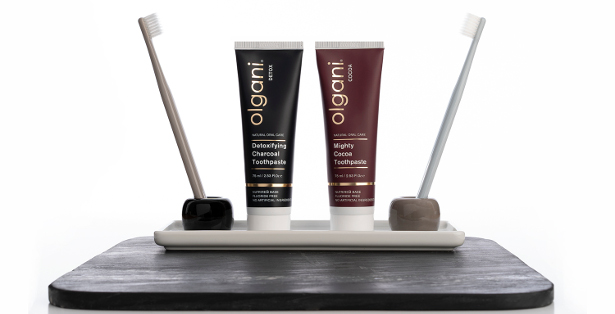 Proudly South African oral care innovator Olgani has a new addition to their outstanding all-natural range – Mighty Cocoa Toothpaste. Made with the antioxidant-rich 'superfood' cacao, the new toothpaste contains Theobromine, a water-insoluble alkaloid of the cacao plant. Cocoa in this form has proven to be more effective than fluoride for treating dental hypersensitivity; it also helps harden tooth enamel – making teeth less susceptible to decay, has anti-bacterial properties that help fight plaque and its well-documented anti-inflammatory properties help prevent gum disease.
The power-packed Mighty Cocoa helps protect and strengthen teeth and gums thanks to:
Cocoa – rich in minerals, vitamins and Theobromine;
Turmeric – boasts antiseptic, analgesic and antibacterial properties; helps reduce staining; proven to help stop tooth pain and prevent infections and abscesses;
Activated charcoal – effectively removes surface stains on teeth for a whiter brighter smile!
Olgani's signature NutrireB blend of mineral-rich rice flour, Himalayan salt, sesame and coconut oil.
Himalayan salt is the mineral rich base of Mighty Cocoa and gives the toothpaste a fresh, salty taste. The nutrients in the salt – calcium, phosphorous, magnesium, silicon, sodium, nickel and iron – are all proven to help strengthen gums, protect against tartar and bad breath, and may even whiten your teeth over time. High in iodine, salt has antibacterial properties and helps neutralize acids in the mouth. Salt makes you salivate, and your saliva creates an antibacterial barrier that protects your enamel. Increased amounts of saliva act like a rinse removing food particles from in between teeth, preventing dental plaque build-up. Salt also helps alkalise saliva which stimulates a natural remineralization of tooth enamel.
Free from glycerine, fluoride and any artificial ingredients, the Olgani Mighty Cocoa Toothpaste is good enough to eat. It's an excellent choice for those who prefer natural toothpaste without fluoride and safe to swallow, so is suitable for adults and children.
The new Mighty Cocoa Toothpaste is the latest in the Olgani Naturals range which includes their Herbal Refreshing Toothpaste; Mineral Rich Evening Toothpaste; Kids Fruity Orange Toothpaste; Detoxifying Charcoal Toothpaste, and also includes Olgani mouth wash and rinsing salts – Sage & Spearmint and Clove & Xylitol.
If you care about what you put into – and onto – your body, choose natural oral care from Olgani, made with love and ingredients that effectively clean your mouth and nourish your body.
The Olgani range is available online from Faithful to Nature and Wellness Warehouse and at selected Dis-Chem, Clicks stores and health shops nationwide for the following recommended selling prices; #OlganiMightyCocoa for approx R115.00.
For more details and a list of stockists view www.olgani.co.za and find them on Facebook as Olgani Naturals and Instagram @olganinaturals – follow that hash tag #OlganiMightyNaturals as it takes the toothpaste market by storm!
Mighty Cocoa Toothpaste ingredients:
Ingredients
Aqua Distillate (Water), Theobroma Cacao (Cocoa), Oryza Sativa (Rice), Himalayan Salt, Cocos Nucifera (Coconut) Shell Activated Charcoal, Glycyrrhiza Glabra (Liquorice), Curcuma Longa (Turmeric)*, Cocos Nucifera (Coconut) Oil*, Mentha Piperita (Peppermint) Oil*, Citrus Sinensis (Sweet Orange) Oil*, Caprylhydroxamic Acid derived from Coconut Oil, Xanthan Gum, Citral**, Limonene**, Linalool**, *Components of essential oils, **Certified organic ingredients
All ingredients from natural origin
Bar code No: 6009834950233
75 ml RSP R115
ADDITIONAL INFORMATION
The Olgani story – "Health is a precious gift you give yourself."
Olgani Naturals founder, Olga Niemkiewicz immigrated to South Africa from Poland in the 1980s with her husband in search of new beginnings.
"I grew up in a country that for political reasons was isolated from modern discoveries in body care products and agriculture, so we had to use what was available naturally. Nowadays you would say, we lived an organic life. And so the use of natural ingredients and wholesome food to protect and maintain health has been an integral part of my life since childhood" says Olga.
In 2004, she was diagnosed with a serious case of periodontal disease, the same problem affecting millions of people worldwide. Her dentist suggested removing the affected areas, however, Olga was not prepared to undergo surgery without a fight. "I knew that the operation would only be a temporary solution, and that the problem would return in a few years."
Delighted with the abundance of natural ingredients and plant variants available in South Africa, Olga set out to remedy her oral health condition using her knowledge of natural remedies, rather than submit to the knife.
She formulated herbal brushing salts and after using them for four months, the amazed dentist confirmed that no operation was necessary. Over the coming years Olga's "salts blend" enjoyed growing acclaim from friends with gum problems and this encouraged her to market it. In 2006 the first Olgani product ‒ Herbal Brushing Salts "Original" appeared on the shelves of selected health stores in Cape Town, followed by a range of salts to suit all ages and problems.
From the beginning Olgani committed to being a brand that cares about the entire human body. "Our products consider each ingredient and what the ingredient does, not only to improve our oral health, but as importantly, its overall health-promoting effect on our body as a whole."
Instead of using glycerine, Olgani applies the principal of "oil pulling", using sesame and coconut oils in their unique signature blend, NutrireB – a vitamin and mineral rich proprietary base of rice flour, sesame oil and sea salt.
If you're looking for an intelligent, all-natural oral health care range that will nourish you as you brush your teeth and leave your mouth clean and fresh, Olgani Naturals is the range for you, and your entire family.
Note: Published studies confirm that gum disease has been linked to health problems like heart attack, stroke and diabetes.
The shoe fits for Sharks with LANX partnership
Luxury English shoe company, LANX, has partnered with Premiership Rugby team, Sale Sharks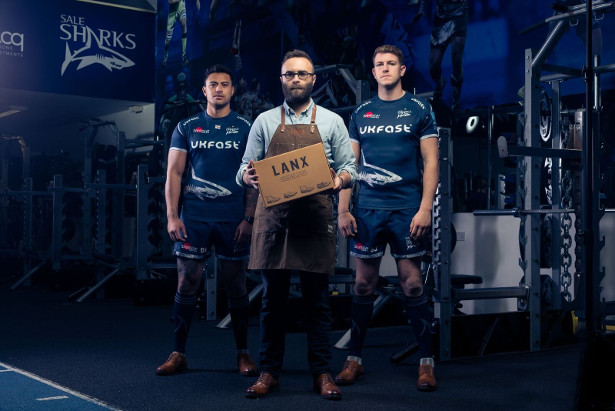 Exclusive bespoke shoes have been produced for the team, featuring an embossed Shark fin on the heal of each shoe
Sale Sharks has paired up with leading English shoe specialists, LANX, in a new season-long partnership, which will see the players sporting the brand's formal footwear.
The Whalley-based company will provide bespoke Sale Sharks footwear for staff and players at the club, having created a limited-edition range of business-casual shoes for the Premiership Rugby side.
Players at the club, which include England internationals Chris Ashton, Denny Solomona and Tom Curry, will wear the formal shoes travelling to and from games, as well as during public appearances throughout the season.
A specialist team of shoe-makers from LANX made paid a visit to the club's training ground in Carrington to host an exclusive fitting, which can be seen online here.
"The new formal footwear has been made with some of the finest leather. On the inner sole and on the bottom of the shoe, the Sale Sharks badge has been embossed into the leather alongside the LANX logo, and a Sharks fin has also been etched into the leather of the heel."
Mark Cueto, Sale Sharks' Commercial Director and former player said: "It's fantastic to have a new partner on board in LANX – an outstanding footwear brand based just down the road from us in Whalley.
"The players and staff will get to show off some of the finest English shoes through this partnership and we're proud to welcome another leading North West business into the Sharks family.
"I've said this before, but as a player looking and feeling your best helps you to excel on the pitch. It breeds confidence and inspires professionalism, so as well as being a great partner for the club, companies like LANX can also play an important role in helping the lads on the pitch."
To help launch the new partnership, LANX will be hosting a pop-up shop at the AJ Bell Stadium as Sale Sharks take on Northampton Saints in a Gallagher Premiership Rugby fixture on Saturday November 24.
Founder of LANX, Marco Vaghetti said, "Our shoes are based on classic designs with a Northern twist and our heritage is really important to us, which is why we're so excited to partner with a club like Sale Sharks.
"With our shoes, we have fused overseas flair with solid British tradition, so having some of Sale's international players showcase them this season is really exciting. We're also excited to be involved in the Business Club and look forward to building stronger links with other brands and people that share our passion for style."
Don't let Christmas cost you an Armor All leg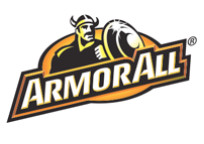 Christmas is fast approaching, and the to-do list is getting smaller as you tick off those big present buys. All that's left are the stocking fillers and secret Santa gifts and, with novelty presents exhausted, it's time to get practical.
Choosing the right gift can be challenging, especially when it comes to practical gifts, however due to Armor All's industry-leading car cleaning wipes, Christmas shopping has just become a lot simpler! Armor All has a wide range of different types of wipes for both interior and exterior cleaning; ideal for in-car or in-home use. The wipes are available in soft packs and a tub format, allowing you to easily transport the product or store in your car boot or garage. Armor All's car cleaning wipes are available from an RRP of £2.40.
Armor All Matt Finish Dashboard Wipes RRP £3.50
Your car will sometimes feel like your second home and, like your home, your car interior can need that pre-Christmas clean. With the Armor All Matt Finish Dashboard Wipes, you can have a clean and fresh smelling car with no added shine in just minutes. Each use will slow down the natural deterioration of surfaces without leaving a greasy residue. The wipes are suitable for vinyl, rubber and plastic surfaces, making this a fail-safe gift for family and friends. Armor All Matt Finish Dashboard Wipes are available online at Halfords or Amazon.
Armor All Leather Wipes RRP £3.20
Armor All's Leather Wipes help clean and condition any leather surface in your life. In addition to being extra strong, these wipes protect your car's precious leather interior. All the components have been specifically chosen to create a sophisticated matt finish while preserving the natural feel and look of your car's leather. These wipes can be found at Halfords or Amazon.
Armor All Express Wash and Wax Wipes RRP £10
With the days getting shorter closer to Christmas, there just isn't enough time for car lovers to clean and care for their vehicles as much as they would like. That's why Armor All's Express Wash and Wax Wipes are the perfect on the go solution for your car cleaning needs. These wipes help you leave your car sparkling like a brand-new bauble before arriving at your loved one's this Christmas. The extra-large, pre-moisturised wipes effortlessly cut through dirt and grime to leave a showroom-level shine. These wipes can be found at Halfords or Amazon.
Triple Pack Tub Wipes RRP £9.99
Armor All's highly effective Triple Tub Wipes allow you to clean the interior of your car with ease! The three separate wipes are designed to clean a range of your car's surfaces, including: plastic, vinyl, carpets, upholstery and glass. The durable material of the wipes enables the cleaned areas to dry quickly, leaving a fragranced, streak-free interior, keeping your car smelling crisp this Christmas. Additionally, the smart twist and lock lid guarantees that moisture is sealed when not in use. These wipes can be found at Amazon.
Armor All 6pc Exterior Car Care Kit RRP £23.99
We know that Christmas can be a crazy time and that your car care can sometimes take a back seat. That's why the Armor All 6-piece Exterior Car Care Kit is the ideal gift. The light and bright, 'grab-and-go' packaging allows for an attractive easy-carry gift. The see-through cut-outs allow for products to be seen from any angle. The kit includes: easy to apply Speed Wax Detailer Spray; Armor All Glass Wipes; Armor All Insect Remover 500ml; Armor All Car Wash 1ltr; Armor All Wheel & Tyre Cleaner 500ml; and Armor All Jumbo Sponge. The handy kit enables you to give your car a thorough Christmas clean! The kit can be found at Amazon.
Menkin Top 10 Gifts For Men…
www.menkind.co.uk
1. Slush Puppie Machine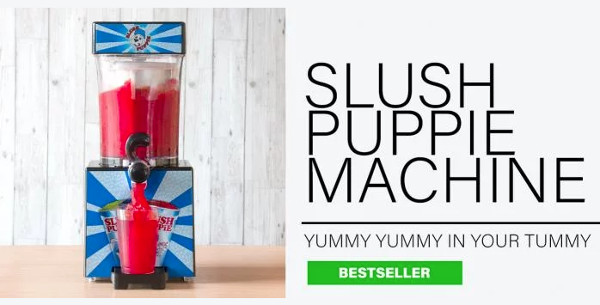 See all ten at :- https://www.menkind.co.uk/top-ten-gifts-for-men
HAPPY CHRISTMAS MOTOR RACING FANS!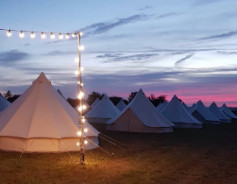 The perfect Christmas present for the petrol head in your life – not to mention any partners who may not want to spend the entire GP weekend at the trackside! New for the 2019 British Grand Prix, the Silverstone Boutique Glamping Hotel is set in stunning countryside just a few miles from the famous GP circuit, with a Mercedes shuttle service for patrons, running 'trackside to hotel' day and night.
The luxuriously sized, lotus style tents, sleeping two or four, are carefully kitted out to provide the best possible comfort as befits a boutique hotel: raised beds and memory foam mattresses with top quality linen and duvets, cushions, lights, lanterns and rugs as standard. There's a toiletry hamper in every tent with eye masks and ear plugs on the pillow to ensure the perfect night's sleep. Even the fully tiled bathrooms are beautiful.
After a day watching the likes of Lewis Hamilton and Daniel Riccardo whizzing around the track, you'll be driven back to the glamping village, where you can pop into the gin bar for a quick snifter before freshening up in one of the many hot clean showers. Maybe, as you stroll down the avenues to the pamper pod (straighteners and dryers always available), you could wave down one of the vintage bikes delivering glasses of ice-cold prosecco around the village, to sip as you get ready for the night ahead. And whilst you are otherwise engaged, the man in your life can visit the groom room where the on-site barber will treat him to a wet shave or even a haircut.
After that you'll both be more than ready to join fellow racegoers in the cocktail bar before enjoying a three-course dinner in the fully waited restaurant. As the summer evening slowly fades to dusk, the nightclub will feature a different band and DJ set every night of the GP weekend. And did we mention the firepits? Just make sure that you don't stay up too late, there is a race to watch – remember?
The Silverstone Boutique Glamping Hotel is providing a three-night package from July 12-15th from £1,320 for a two-four person tent rising to £1,840. Meals and drinks are extra but there will be all inclusive food package options available nearer to the date.
For more information or to book visit www.theboutiqueglampinghotel.com
 
Have a well-engineered Christmas! Tool Up for Christmas with SGS Engineering! 17″ Heavy Duty Tool Box / 26″ Professional 5 Drawer Roller Tool Cabinet / Stainless Mobile Heavy Duty 3-in-1 Tool Box.
FACEBOOK | TWITTER | INSTAGRAM | YOUTUBE
17″ Heavy Duty Tool Box
with Reinforced Carry Handle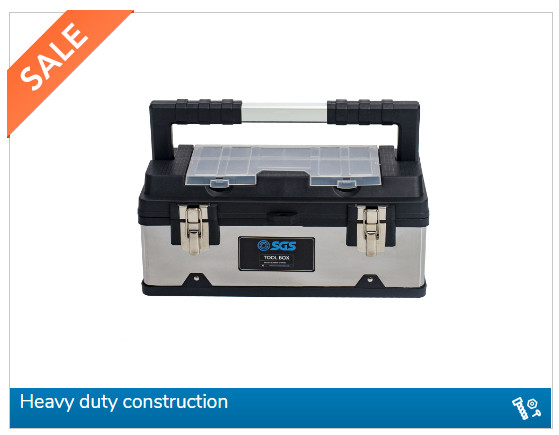 Perfect for DIY beginners and new home owners alike, this good looking, well proportioned toolbox, with plenty of handy compartments, is perfect for storing and carrying your kit.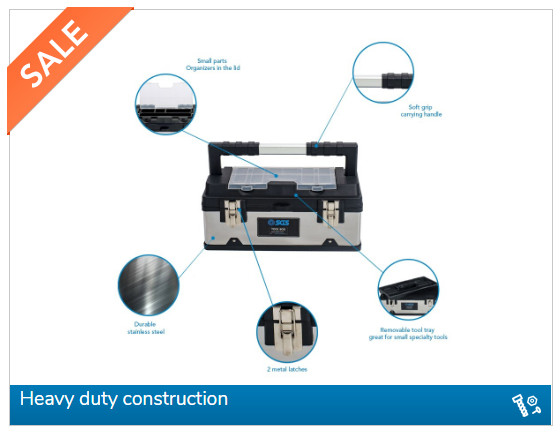 Crafted from stainless steel with a plastic base, this heavy-duty, durable tool box is the ideal combination of durable and light-weight. Featuring strong-metal clatches, space for a padlock and a large, durable soft grip handle, it's secure and easy to carry.
RRP: £18.00 inc. VAT
See more at :- www.sgs-engineering.com/stbp100-heavy-duty-toolbox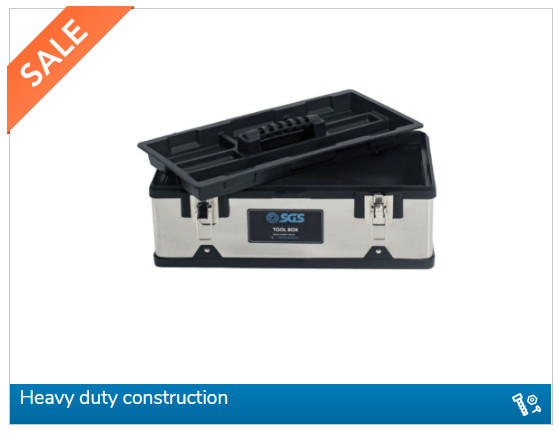 26″ Professional 5 Drawer Roller Tool Cabinet
From Etsy entrepreneurs to serious DIYers, this is the workshop dweller's perfect gift… In fact, it's ideal for anyone who's outgrown their toolbox – or perhaps you just want to drop a little hint for them to be neater.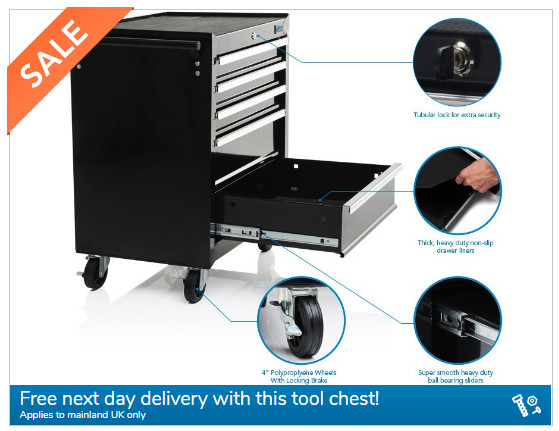 The professional 5 drawer roller cabinet from SGS engineering is ideal for workshop, automotive and garage use. It can hold a myriad of tools, keeping the work space organised, neat and tidy. Thanks to its polypropylene wheels with locking brakes and sliding drawers which click into place when fully extended, essential tools will always be to hand.
RRP: £409.19 inc. VAT
See more at :- www.sgs-engineering.com/professional-5-drawer-roll-away-tool-cabinet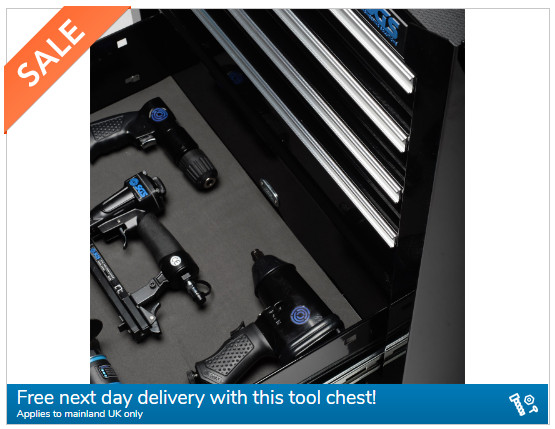 Stainless Mobile Heavy Duty
3-in-1 Tool Box
For anyone who needs to take their kit out on the road. Be it a builder of houses, make-up artist, photographer or model-maker, make their life that little bit easier and sleeker this Christmas.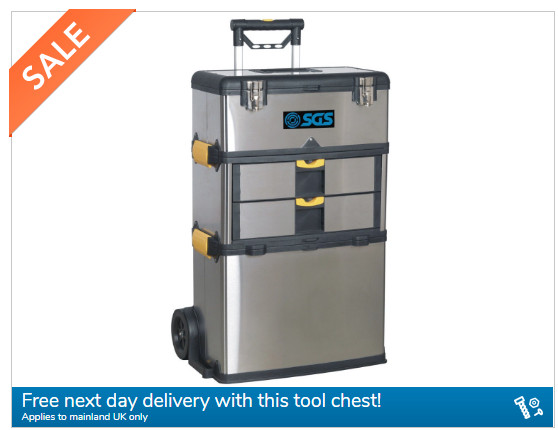 Whether they work from home or on-the-go, this versatile, heavy duty, nobile tool box is a great way to store everything they need to get the job done. The tool chest separates into three units to allow for top notch organisation. Its heavy-duty casing gives peace of mind that the tools-of-their-trade will be safe & secure, even when in transit, and its handle and rear wheels mean no heavy lifting.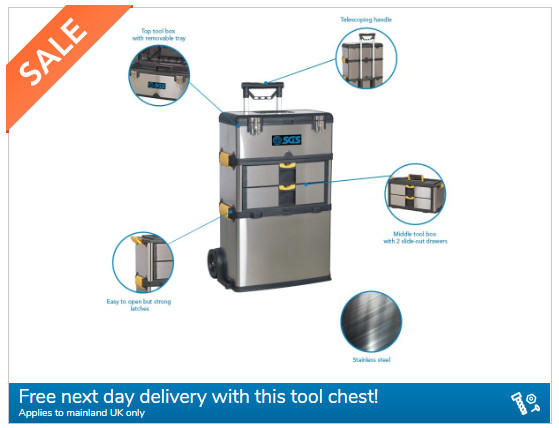 RRP: £155.99 inc. VAT
See more at :- www.sgs-engineering.com/stc500c-mobile-heavy-duty-stainless-3-piece-tool-box
Have a well-engineered Christmas!