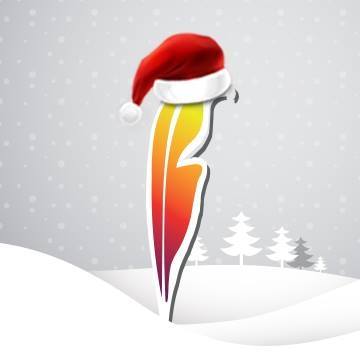 For Him! The Mijas Murderer by Trevor Holman.
FACEBOOK | TWITTER | YOUTUBE | INSTAGRAM
Michael Turner, a successful young crime writer, living in the Algarve on the southern coast of Portugal, discovers his friend has been brutally murdered and suddenly finds himself being asked to solve a real-life murder. He recruits his best friend, Doctor Samantha Clark, and working with Interpol and both the British and Portuguese police, they go undercover together and set about solving what becomes a complex case, taking them from Portugal to the UK, Spain, the Netherlands, Italy, South Africa and the Bahamas. This is the first of the Algarve Crime Thrillers.
STILL TIME!!! Christmas chocolate reindeer noses – box of 9 & rock salt gift set of 3 pots – infused with aromatic rosemary, roasted garlic and spicy red chilli ! >> www.rockingood.co.uk
FACEBOOK | TWITTER | INSTAGRAM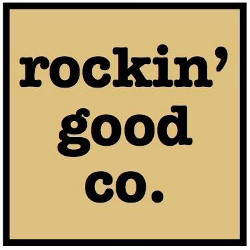 Christmas chocolate reindeer noses – box of 9
£10.00
PLEASE NOTE! If the 3 or 6 gift set of pots and the noses are added to the cart you save £5 on the noses, making them half price! The discount is automatically applied when you checkout!!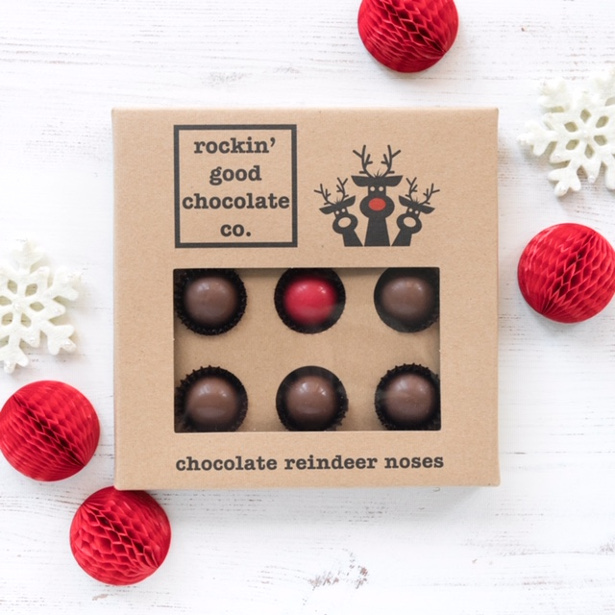 Hand made quality chocolates in a fun, christmas set of 9 reindeer noses.
Our box of reindeer noses has 8 milk chocolates and 1 red coloured white chocolate.
that gives us all of santa's reindeer – Dasher, Dancer, Prancer, Vixen, Comet, Cupid, Donner and Blixen, with Rudolph leading the pack!
All our chocolate is gluten free.
We use only the best ingredients in our rockin' good chocolate range of delicious food.
Our chocolate is always very fresh and has a use by date well after Christmas so it's fine to order early and get organised!
Our marvellous chocolate is made by our partner, Tilly's Treats. every chocolate treat is tempered and moulded in house, making every bite delicious.
Our fun box of reindeer noses would make a great stocking filler or house gift when visiting friends and family over the festive season.
Maybe play the game of "name Santa's reindeer" to see who gets to eat the most noses!!
Please see our other listings for more personalised christmas gifts and much more.
Let's be creative together! get in touch for truly memorable rockin' good gifts!
Welcome to the rock pool!
Tracey and Sam
Rock salt gift set of 3 pots – infused with aromatic rosemary, roasted garlic and spicy red chilli
£18.00
A perfect seasoning alternative and unique foodie gift! our set of 3 best sellers includes aromatic rosemary, roasted garlic and spicy red chilli. each infusions is in a 150g pinch pot and nests in a great gift box with fab recipe ideas on the back.
Rockin' good salt co.'s pinch pots are available as a set of 3 or all 6 of our fabulous infusions.
All of our flavour infusions are suitable for vegetarians and all but the red wine reduction are suitable for vegans.
A great present, this flavour infused seasoning is perfect as a cooking gift for foodies or just those who want to easily jazz up every day dishes. It makes the perfect Christmas food gift and is a great alternative choice.
Our 150g pinch pots makes pinching just the right amount when you're cooking super easy. the pinch pots are stackable and look great next to your hob. individually, the pinch pots are £6 each. here, you get a great gift box, custom made to fit our pots, included in the price!
Our gift box is made using 100% recycled card and has some great recipe ideas printed on the back.
If you'd like a different combination, just let us know by sending a message with your order and choose your three flavours from the following:
aromatic rosemary infusion
roasted garlic infusion
spicy red chilli infusion
umami mushroom infusion
red wine reduction infusion
zesty lemon infusion
Transform everyday dishes into something extra special. here at rockin' good salt co. salts are infused to combine saltiness with amazing flavour mixes. We don't just throw the salt in a bag with an ingredient, we work our magic to give a more intense flavour and a fantastic look too!
Rockin' good salt co. use only the best ingredients and they never use anything artificial. Our rock salt is pure and our infused flavours are all natural and make an amazing present for a foodie or any home cook.
As salt is a preservative, they last a long time, but as with anything the fresher the better. We recommend you use them within 6 months of opening but we're sure you'll use it up way before then!
Welcome to the rock pool!
We're all rockin' good!!
MOMOQ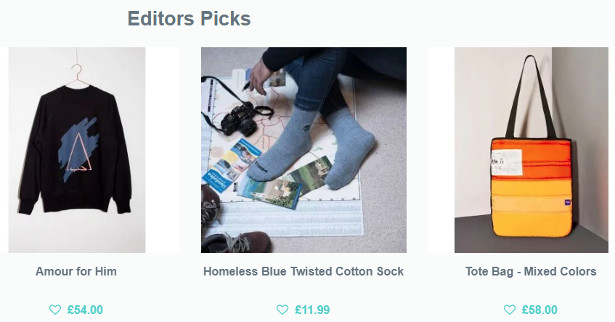 We are an online marketplace for ethical and sustainable fashion that's on a mission to change the fashion industry in the UK. Our Christmas gifts don't just look great, but often have an amazing story behind them – Such as iPad Sleeves made from upcycled refugee life vests (recently featured in GQ), Wallets upcycled from old fire hoses that support UK fire fighter charities, or T shirts that provide schooling to children in Tanzania. Our gifts give back!
At MAMOQ, we are trying to change the way people buy what they wear in a bid to combat the terrible environmental impact that the fashion industry is having on the world. It's no secret that global fast fashion chains encourage the public to buy in an unsustainable way. On top of that they use materials, chemicals and production methods that are disastrous for the environment and they often have little respect for the people that they employ to make their garments.
We want to change that. We want to inform the public about the realities of the industry and encourage them to really think about their purchases. To think firstly whether they need the item at all, and in the instances that they do, we want to lead them towards high quality ethical and sustainable alternatives.
Chivas Blending Kit
RRP: £29.95
Available from: https://www.thewhiskyexchange.com/p/46901/chivas-blend-at-home-kit-6x5cl?utm_source=mailjet&utm_medium=email&utm_campaign=gift-ideas-twe-2018-11-27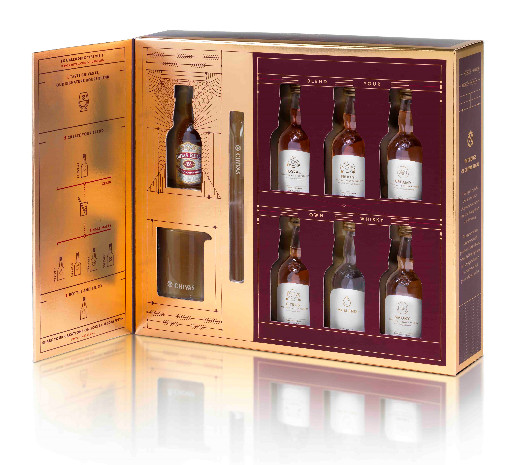 Bakes and Balls produce Bakes for Life: low in sugar but taste great. Balls for Life: protein energy balls packed full of natural goodness.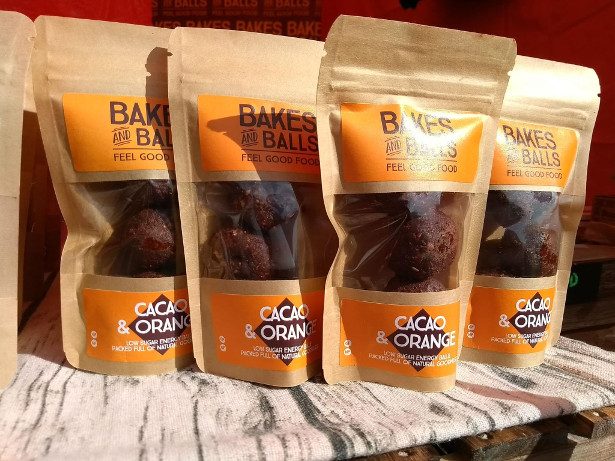 TWITTER | FACEBOOK | INSTAGRAM
Feel Good Food – because healthy food should taste great and do good. Bakes and Balls produce Bakes for Life: low in sugar but taste great. Balls for Life: protein energy balls packed full of natural goodness.
Free From All Allergens; Vegan; Paleo; Diabetic Friendly.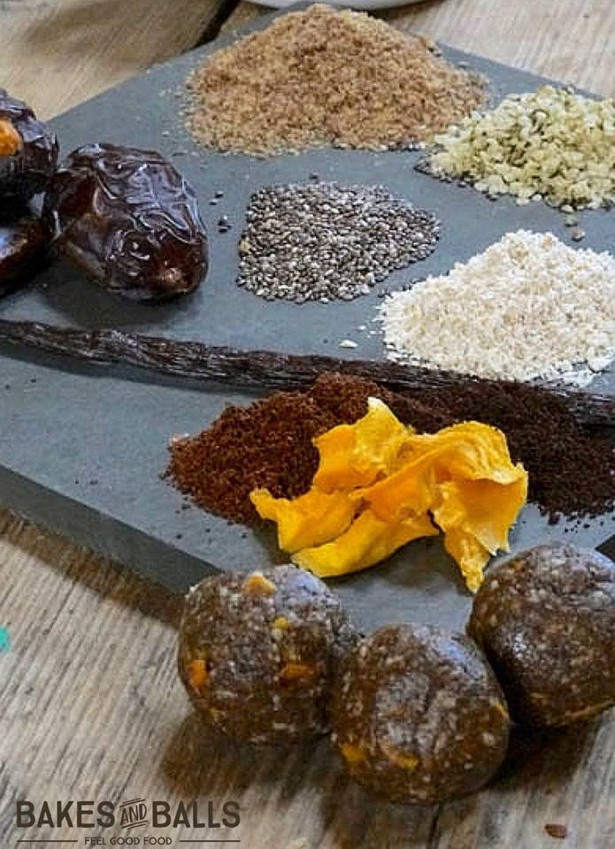 We use socially responsible ingredients including Coconut Oil from @BulaBatiki in Fiji; Coffee from @BufCafe in Rwanda; Cocoa products from @ChocolatMadagascar and flavourings from @SpiceDrops.
Our SuperBall is a Charity Ball with 20p from the sale of each pack going to @DallaglioRW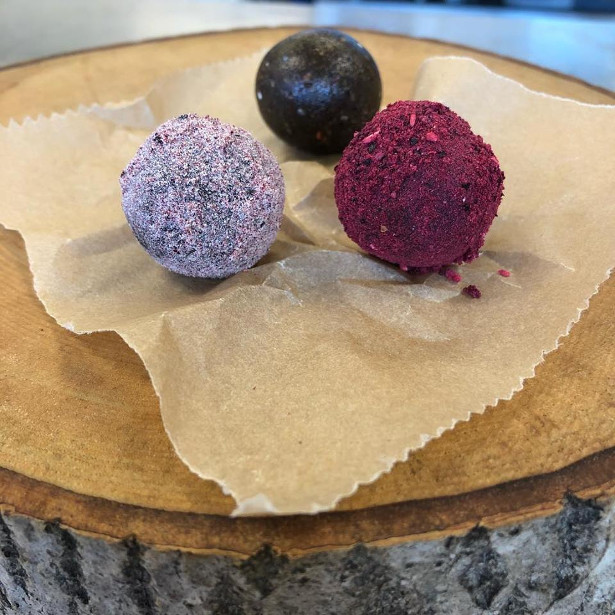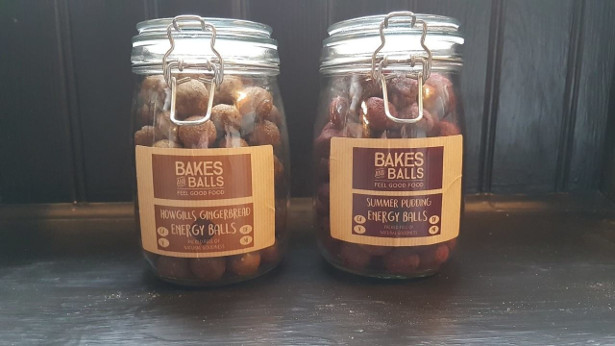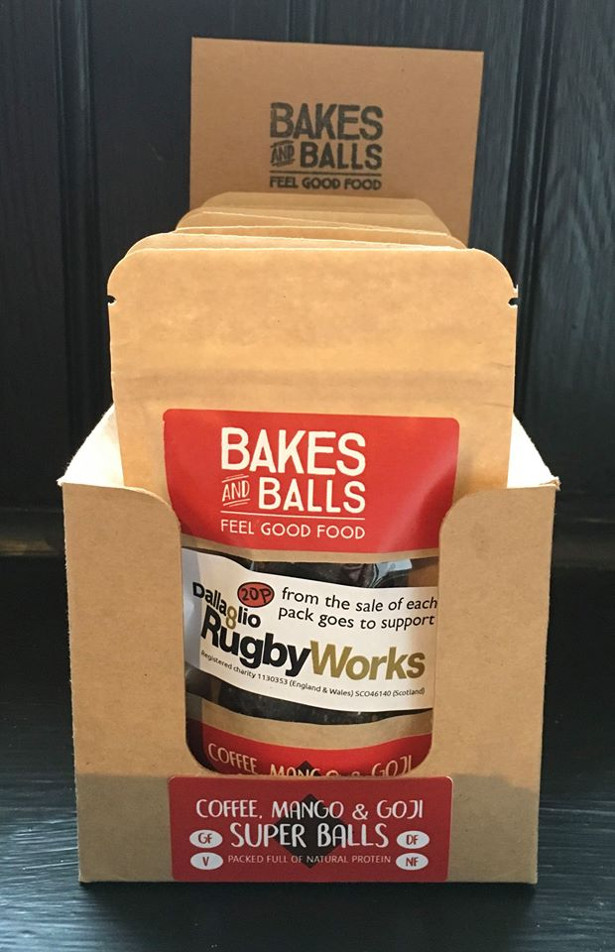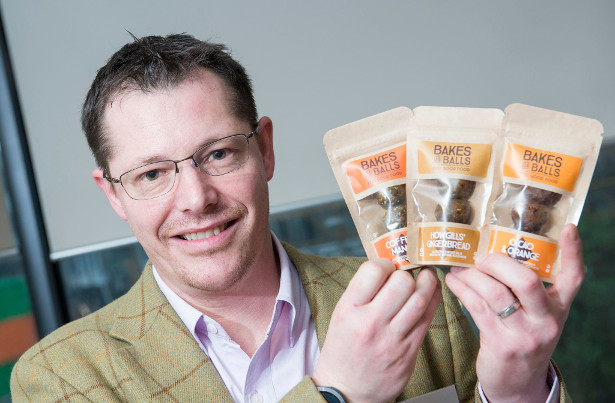 Hand cured bacon from high welfare pigs and despatched from a former tractor shed in rural Hertfordshire by Cure & Simple (www.cureandsimple.com).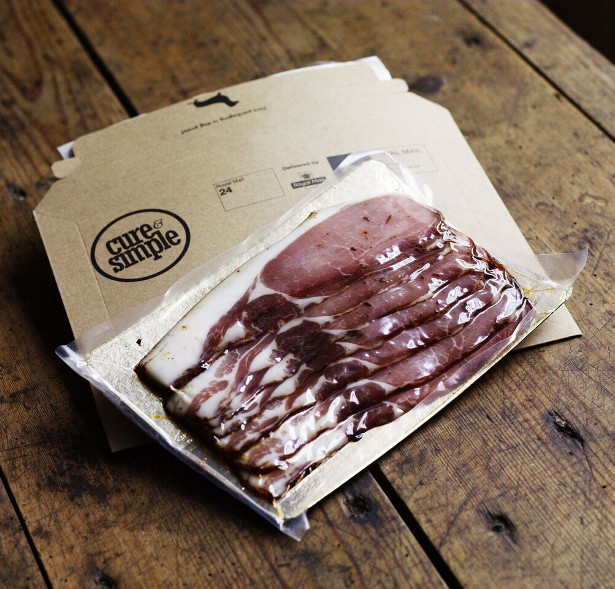 The bacon is sold via subscription and delivered through the door not just too the door in special packaging that will keep it fresh until you are able to pop it in the fridge – it can even be sprayed with a natural dog deterrent if needed!
The latest development – Curiosity Club makes a great gift, the recipient will receive a welcome pack of bacon then a pack a month each with a different cure for twelve months – all for £70! Gift vouchers are also available.
Topgolf Gift Card
This Christmas take a swing at something different and treat the sport fanatic in your family to a Topgolf gift card, you can even buy a £10 card and it makes the perfect Secret Santa gift.
A great day out for all the family, no matter your golfing ability, Topgolf will have you bring out your competitive side in no time! This December, for every Topgolf gift card purchased Topgolf is donating £5 to Rainbow Trust Children's Charity. Buy online at www.topgolf.com/uk/gift-cards/
GIVE THE GIFT OF ADVENTURE THIS CHRISTMAS
THE BEAR GRYLLS ADVENTURE LAUNCHES GIFT VOUCHERS FOR THE PERFECT CHRISTMAS PRESENT
GIFT FOR: Him, her, Mum, Dad, friends, fitness fanatics, hard to buy for
Price: Packages start at £20

https://www.beargryllsadventure.com/birmingham/tickets/gift-vouchers
Say so long to socks for Dad, and extinguish the tradition of candles for Mum, as The Bear Grylls Adventure launches gift vouchers, just in time for Christmas.
The world-first adventure attraction is perfect for anyone with an adventurous streak or for those who like to push themselves out of their comfort zone.
Vouchers can be purchased for one or more of the world-first attraction's headline activities, which replicate some of Bear's incredible adventures: feel the rush of indoor skydiving; climb replica routes inspired by the giant formations of Fontainebleau and El Capitan; dive with sharks; and take on the highest high ropes course in Europe.
Basecamp is included within the headline activity package, and is centred at the heart of the attraction. It consists of four team and individual challenges, equipping thrill seekers with all the skills needed for any adventure:
SURVIVAL MAZE
Navigate the tricky maze under pressure. When the lights go out and the walls are squeezing in, when faced with some terrifying encounters, you find out what you're really made of!
Bear advises: "The best way through your fears is straight through the middle."
ASSAULT COURSE
Channel your inner commando spirit and take on the assault course. This requires adventurers to balance, jump, climb and scramble their way through and always against the clock. This challenge is inspired by the famous royal marines course in Lympstone.
Guests are advised by Bear to push themselves hard: "It is only through adversity that we find what we are capable of – and it is always the struggle that develops our strength."
TARGET ARCHERY
The ultimate adventurer must also possess pin point accuracy under pressure. Following a brief from trained archers, visitors will get to grips with a bow and arrow and put their skills to practice. Use the survivor spirit to get yourself onto the scoreboard and beat Bear's own score.
Bear says: "No target is just practice."
BREAK OUT – ESCAPE ROOMS
Those brave enough will race against time to crack codes, solve puzzles and find their way out of the themed escape room. Use logic and resourcefulness to get out in record time by finding clues and completing mental challenges with your team. This isn't any regular escape room – be prepared for some BG-style surprises if you want to escape!
Bear's hint: "Survival is about making calm, smart decisions under pressure. Get that bit right and the rest will fall into place!"
Tickets to Basecamp will be priced at £20, with combined Basecamp and headline adventure packages starting from £35. If visitors are up for the ultimate challenge, The Bear Grylls Adventure will offer a Go ALL in Pass for just £160 for a full day adventure.
The Bear Grylls Adventure attraction, the home of Earth's greatest challenges, provides the ultimate way to test yourself physically and mentally, located at the NEC in Birmingham. Make sure you give a gift sure to get their heart racing this Christmas!
Visit www.beargryllsadventure.com/tickets for further information and to buy tickets.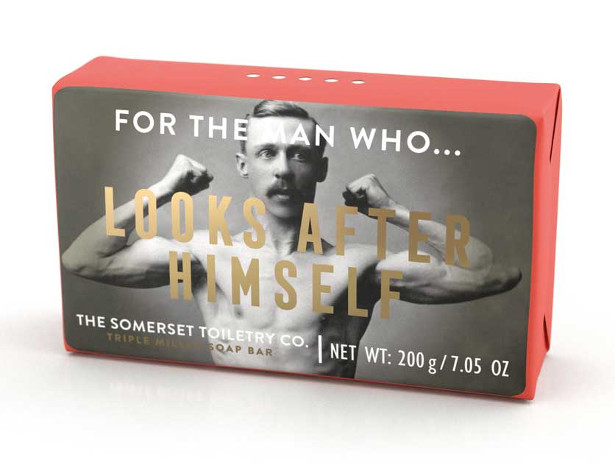 TWITTER | FACEBOOK | PINTEREST | INSTAGRAM
(New customers get 10% off their first order if they sign up to the Somerset Toiletry Co newsletter.)
Luxury soap for the man who either loves his toys, looks after himself or just is pretty cool! Our mens retro soap are triple milled to ensure they are great quality and long lasting. Enriched with shea butter to moisturise your skin.
See more & buy at :- www.thesomersettoiletryco.co.uk/product/mens-retro-soap
These perfect gifts are available in three masculine fragrances. Loves His Toys is scented with Herbaceous Mint, Looks After Himself has a Citrus Spice aroma and Is Pretty Cool has a Tobacco Wood fragrance.
200g / 7.05 oz.
Made in Portugal
None of our products are tested on Animals
Free UK delivery on orders over £30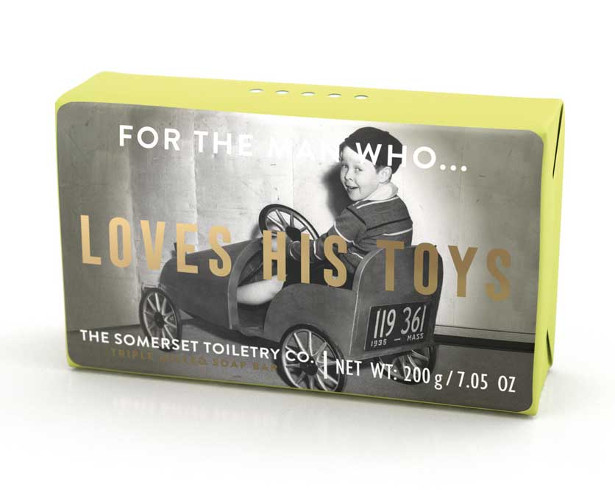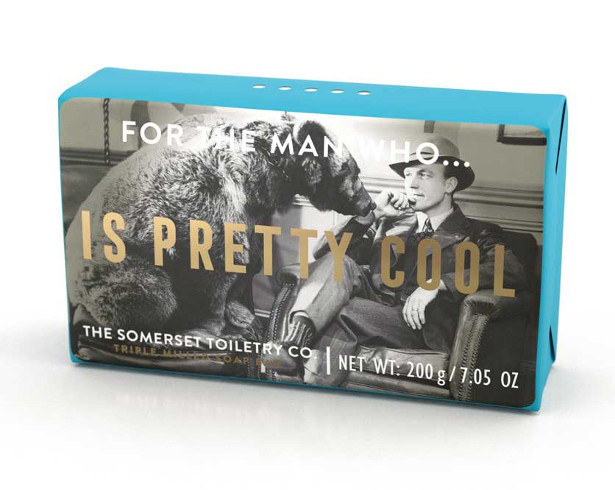 🥊GLOVES OFF🥊
Available On Demand & DVD now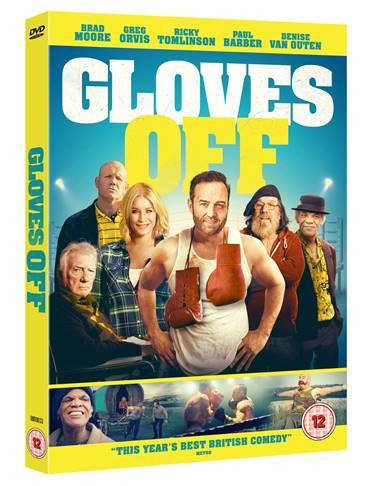 "Classic British cinema…Similar in style to The Full Monty" ★★★★ The Sun
"A feel-good boxing comedy that goes the distance!" ★★★★ Britflicks
"A joyous British comedy that packs a laugh as well as a punch." British Comedy Guide
"Gloves Off is a blast to watch" OC Movie Reviews
★★★★ Daily Star
Starring:
Brad Moore (North v South), Denise Van Outen (Run for your Wife),
Ricky Tomlinson (The Royle Family), Paul Barber (The Full Monty),
Alexei Sayle (The Young Ones), Alan Ford (Snatch) & Sally Dexter (Emmerdale)
iTunes: https://apple.co/2oVSqJH
Amazon: https://amzn.to/2qcPSHW
GLOVES OFF follows Doug (Brad Moore) who, after the sudden death of his trainer during his championship fight, has inherited a crumbling debt-ridden gym, packed with a mixed bag of crazy would-be boxers (Ricky Tomlinson, Paul Barber, Alexei Sayle). He must raise £50,000 fast or risk watching his mentor's legacy re-possessed and transformed into a jumped-up Pilates parlour for stock brokers. Doug agrees to train a gypsy woman's (Denise Van Outen) brother to fight in a £100,000 winner-takes-all bare-knuckle contest against the 'King of The Gypsies'.
Lead actor & co-writer, Brad Moore: "Gloves Off is a piece of entertainment but it also represents to me what people can achieve when they pull together and pride kicks in."
Featuring an all-star British cast including Brad Moore (North V South, Golden Years), Ricky Tomlinson (The Royle Family, Mike Bassett: Manager), Denise Van Outen (Keith Lemon: The Film, Run for Your Wife), Paul Barber (The Full Monty, Only Fools and Horses), Alan Ford (Snatch, Cockneys vs Zombies) and Alexei Sayle (The Young Ones, Indiana Jones and the Last Crusade).
Run Time: 95 Mins
Cert: 12
Cast:
Doug: Brad Moore
Vera: Denise Van Outen
Mick: Ricky Tomlinson
Albert: Paul Barber
Algy: Alexei Sayle
Burt: Alan Ford
Brigette: Sally Dexter
Nosher: Greg Orvis
Donny: Laurie Kynaston
Davros: Gary Cargil
Riz: Kab Silva
Mellissa: Sydney Wade
Big Bill: Adam Fogerty
Paddy: Joe Egan
Giles: Matt Barber
Rupert: Tom Craine

Speck phone, tablet and laptop cases would make the perfect gift for the many people that will be finding brand new & expensive tech under their Christmas trees this year!  www.speckproducts.co.uk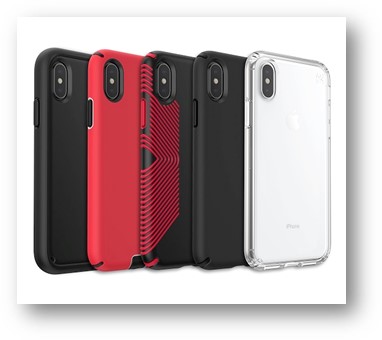 FACEBOOK | TWITTER | PINTEREST | YOUTUBE | INSTAGRAM
Speck phone, tablet and laptop cases would make the perfect gift for the many people that will be finding brand new & expensive tech under their Christmas trees this year! There are plenty of designs and colors to choose from and they will protect your phone from drops of up to 2,5/3 metres depending on the model. Speck also released a brand new product called the GrabTab earlier this month. It's a cool accessory for your phone & something that can be put in a Christmas stocking. These are priced at £6.45 each.
Price: £19 – £25 approx, depending on the model.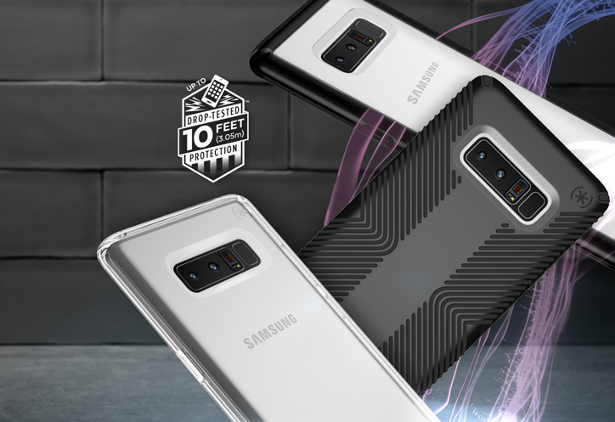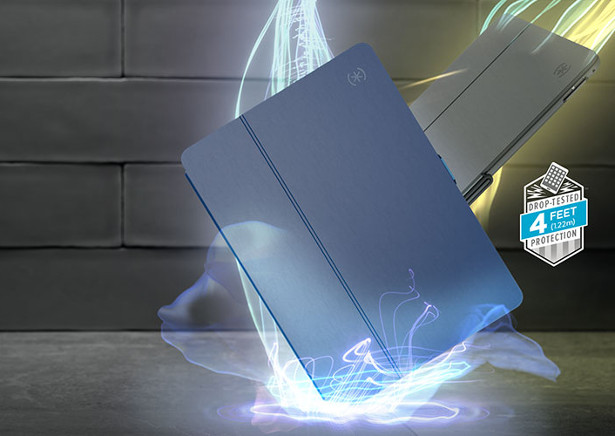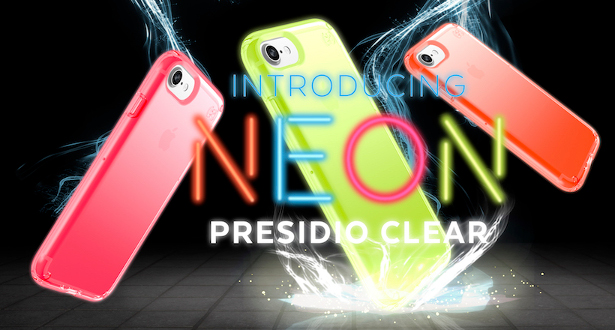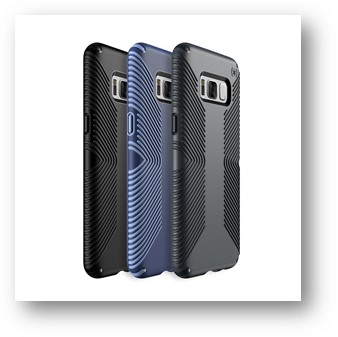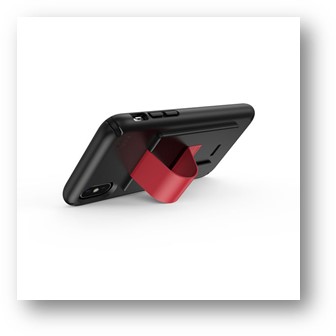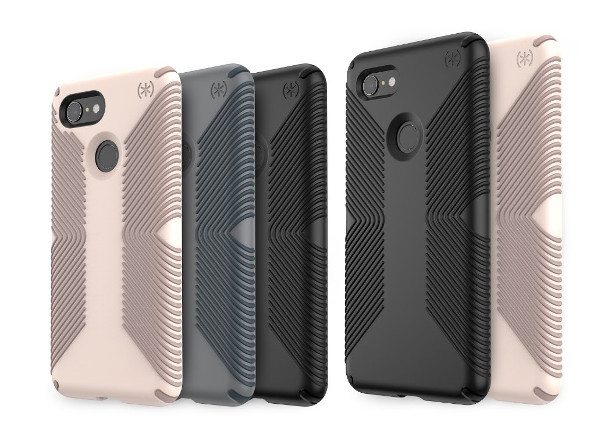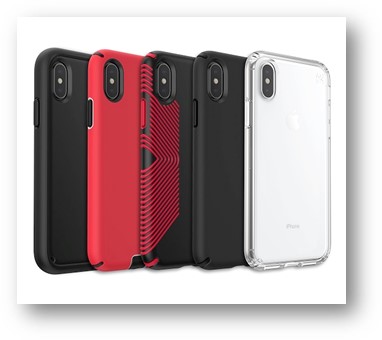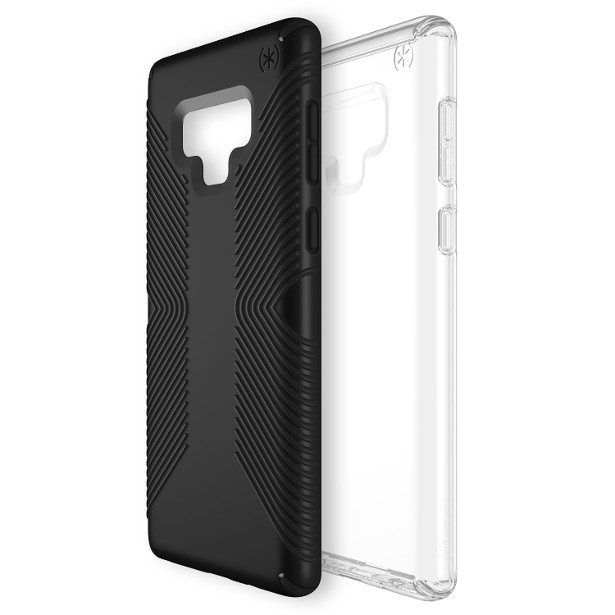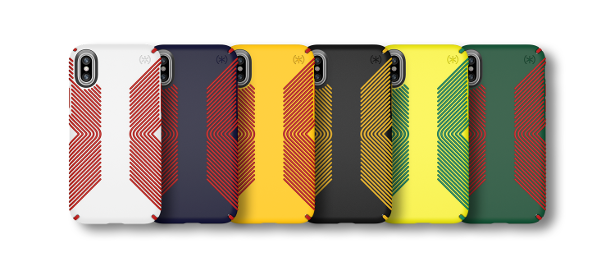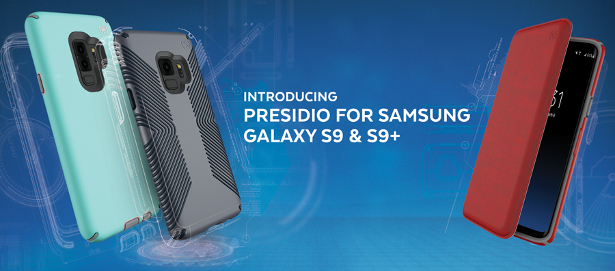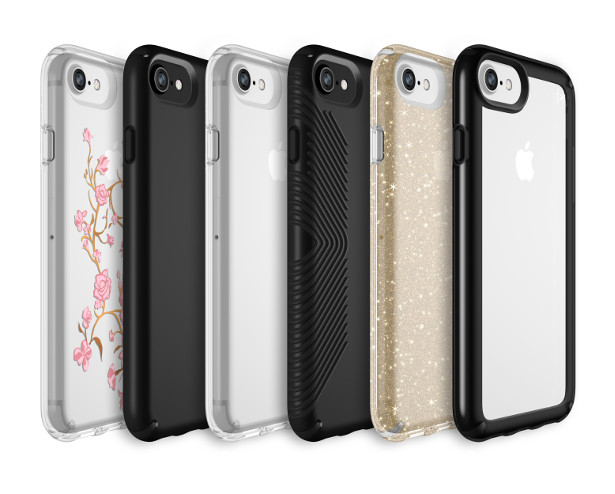 A LEGACY DISTILLED: JACK DANIEL'S TENNESSEE WHISKEY CELEBRATES ITS RICH HISTORY WITH THE LAUNCH OF THE FIRST BOTTLE IN THE NEW LEGACY EDITION SERIES


Jack Daniel's Tennessee Whiskey Legacy Edition Bottle available in Asda stores nationwide
Legacy Edition Bottle to launch on 11th September
Jack Daniel's is launching a Legacy Edition Bottle of its iconic Jack Daniel's Tennessee Whiskey, to celebrate a rich history of fine sippin' whiskey lasting over 150 years.
These days the iconic Jack Daniel's label is as distinctive as the whiskey itself. But while Jack Daniel's Tennessee Whiskey has always been crafted to the same high-quality since 1866, the history of its label hasn't always been so black and white.
The bottle is the first in a series of limited editions bringing back a piece of Jack Daniel's colorful beginnings; a label with an unexpected shade of green and an eye-catching gold trim, as a nod to the slightly mysterious history of Jack Daniel's Tennessee Whiskey in Lynchburg, Tennessee.
Some folks think the green and gold label of the Legacy Edition Bottle dates back to before 1904. That's because ever since, every label on every bottle has carried the gold symbol celebrating the medal Mr. Jack won for his amber whiskey at the 1904 St. Louis World's Fair.
The truth is, no one in Lynchburg is entirely sure. It remains a bit of a mystery to this day. That's because the folk at the distillery have been too busy making whiskey to keep record, ensuring that, every day, each drop of Mr. Jack's sugar maple charcoal mellowed whiskey is the best it can be.
The Jack Daniel's Tennessee Whiskey Legacy Edition Bottle (70cl, 43% ABV) is a nod to Mr. Jack's fine history and one to add to any serious whiskey collection or to give as a gift at an RRP of £30.00.
Nose the glass and you detect soft, ripe fruit with green apple and warm oak. Take a sip and you taste caramel, vanilla and toasted oak with a rich mouthfeel that finishes with a peppery spice. The legacy it leaves is one of toasted oak and warm brown sugar.
The Legacy Edition Bottle will be available in Asda stores nationwide and online at an RRP of £32. It is also available online now at the Jack Store to purchase.
Your friends at Jack Daniel's remind you to drink responsibly.
FOR THE DAPPER MAN – NEW & LINGWOOD DRESSING GOWN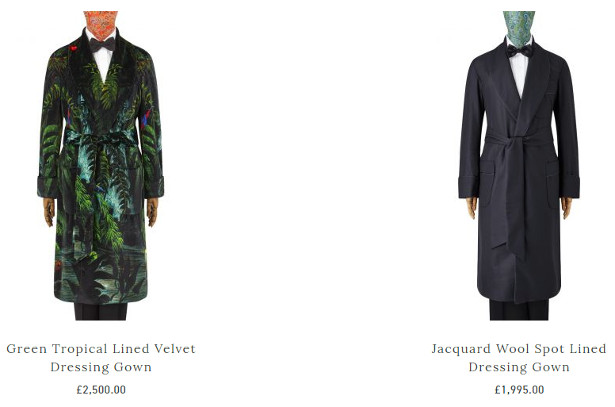 Forget those boring terry towelling robes, bedeck someone special in the finest loungewear with a luxe decorative dressing gown from New & Lingwood. Established in 1865, the outfitter's decorative and signature silk jacquards are expertly woven in Suffolk before skilled tailors complete the precision stitching of the final piece, making for a stunning gift for a stylish gent. https://www.newandlingwood.com/mens-nightwear/mens-dressing-gowns
AN OYSTER MASTERCLASS OR CUFFLINKS FROM WILTON'S
Established in 1742, Wilton's has been shucking oysters for 275 years. It continues to serve the freshest oysters in London by some of the fastest and most knowledgeable "shuckers" in the world. The restaurant's 90-minute master class is the ideal gift for that person who has everything – it busts the myths, extols the benefits and offers the chance to sample a range of oysters from around the British Isles. The class costs £85 and includes a glass of Champagne, a dozen oysters and two glasses of white wine.
Alternatively, why not buy a pair of lobster or caviar silver cufflinks handmade by New & Lingwood – the ultimate quirky gift for the unconventional man. Cost £195. To browse a range of gifts visit http://wiltons.co.uk/gift/
FOR BIBLIOPHILES – A HATCHARD'S SUBSCRIPTION
Perfect for the obsessive book worm, an annual subscription from London's oldest book shop, Hatchards, can be tailored to the reader's interests and chosen from fiction, non-fiction, art, travel, children's or a mix. Following a consultation with one of Hatchards' expert booksellers, a beautifully gift-wrapped hand-picked book will be delivered to the door each month for a year. Prices start from £150. https://www.hatchards.co.uk/subscriptions/
FOR THOSE WHO LOVE A GOOD LAUGH
In the heart of London's West End and offering everything from topical news-based comedy to the very best in improv, The Comedy Store has seen some of the biggest names in comedy grace its stage, as well as serving as a breeding ground for brand new talent. Give the gift of laughter for Christmas with The Comedy Store Gift vouchers, guaranteeing family or friends an unforgettably funny night. https://thecomedystore.co.uk/london/
Scooch products! Unique, multi-functional gifts for this years holidays! Scooch products are perfect for the techy guy in your life! >>  www.scoochcase.com
You can use this custom code ITRUGBY18 to receive 20% off your purchase.
FACEBOOK | INSTAGRAM | YOUTUBE | TWITTER | LINKEDIN | PINTEREST
Priced at $44.99, the Scooch Wingman smartphone case provides functionality features across all your daily needs.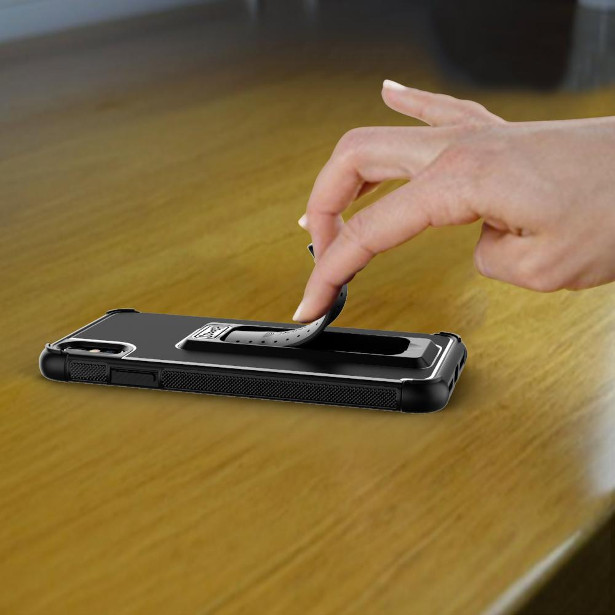 Kick it: View and use your device in landscape and portrait mode with help of the case's unique kickstand.
Protect it: The case can handle 6-foot drops and meets military drop standards.
Mount it: The kickstand can create a hands-free car experience when you insert it into a horizontal air vent while on the road.
Grip it: The kickstand provides a comfortable grip and allows you to reach the highest corners of your phone.
In addition to the Wingman, Scooch also offers the Wingmount a universal magnetic car mount. Not interested in a new case? The Wingback is a universal kickstand accessory that can stick to the back of any phone case. Both make excellent stocking stuffers!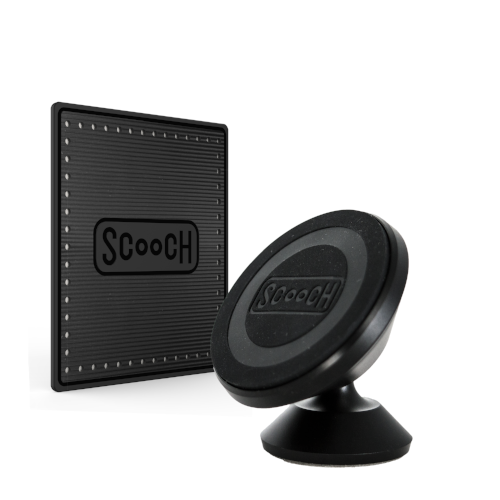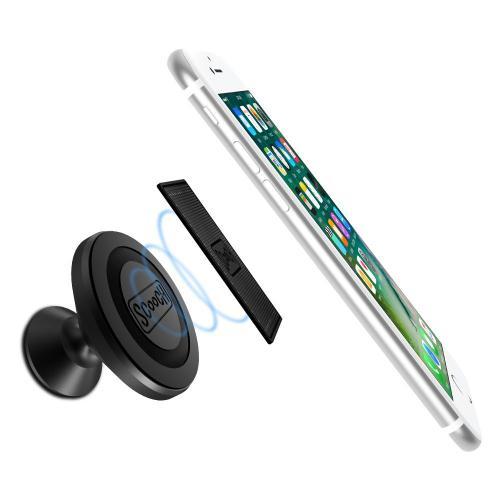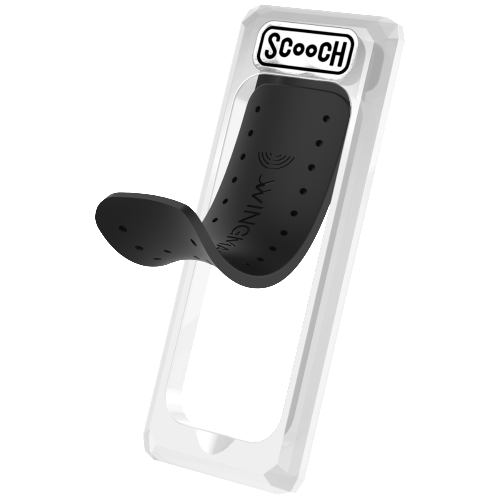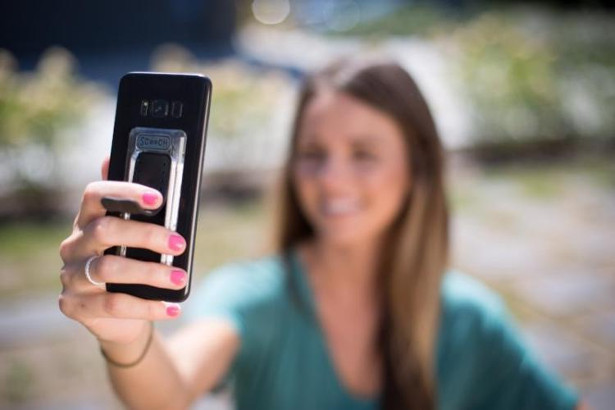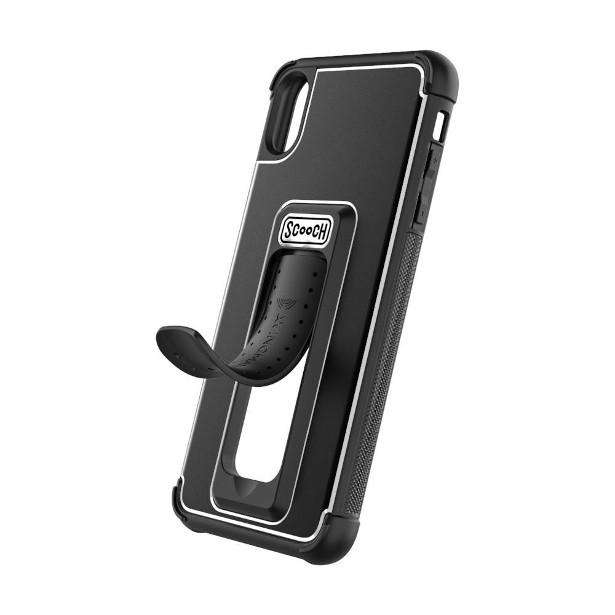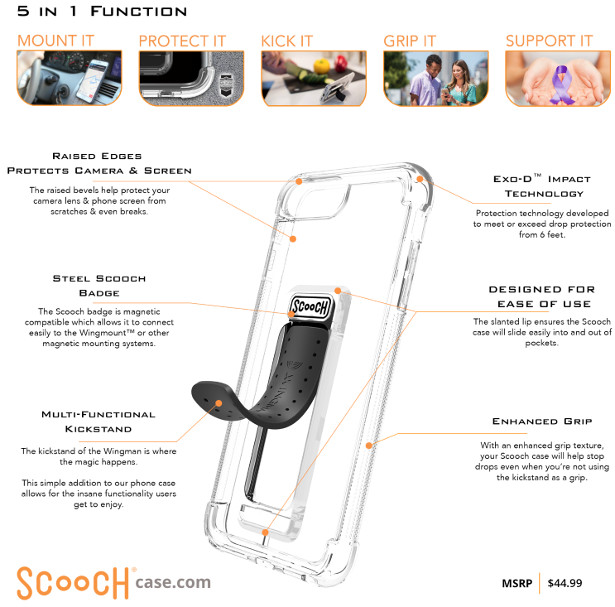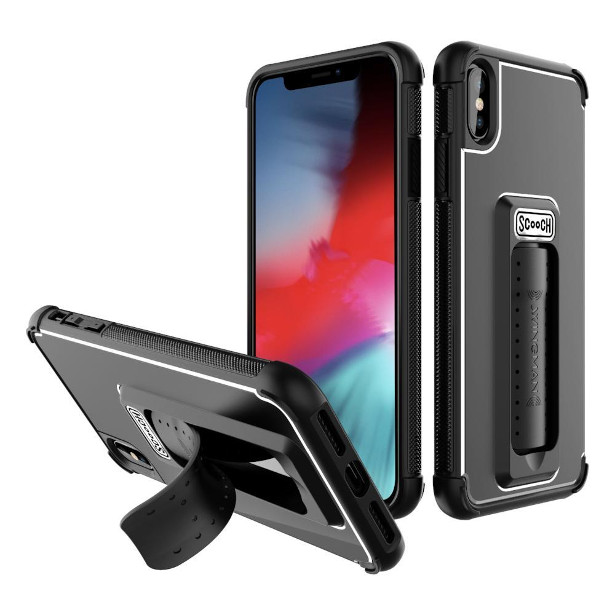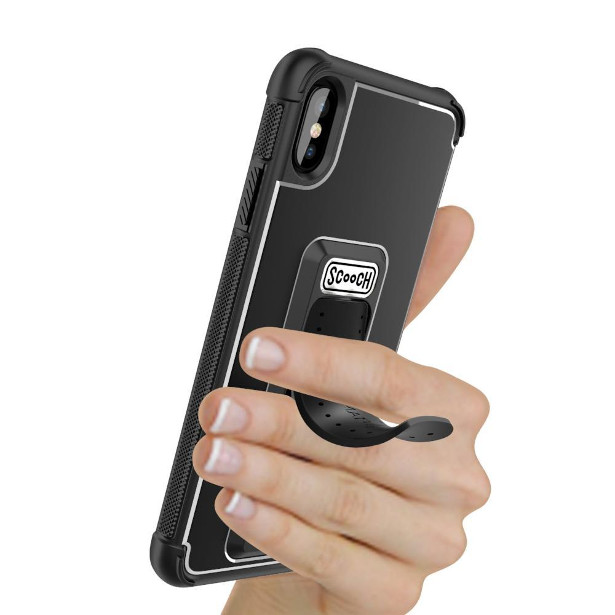 It's going to get Naughty: Trainline celebrates launching coach travel with Naughty Boy world-first
Trainline announces unique collaboration with the producer ahead of dropping 'via M40' – a 2hr 31-minute track mixed with coach sounds from the app's most popular route, London to Birmingham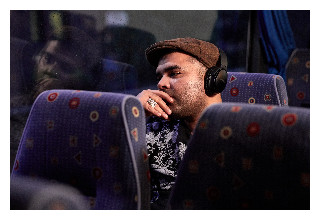 Trainline now does coach travel, the app and Naughty Boy today a world first, in the form of an exclusive track taking creative inspiration from a coach on its travels from London Victoria to Birmingham.
The award-winning producer has crafted the song from sounds recorded in and around the vehicle. From seatbelts clicking and passenger chatter, to toilets flushing and the horn beeping, the otherwise-familiar coach noises have been slickly mixed to create the ultimate tune to keep passengers entertained for the full 151-minute journey.
Dropping on Wednesday 5th December via YouTube, Trainline has also produced a behind the scenes video to document the magic being made from start to finish. Taking everyone on a musical journey, the video sees Naughty Boy tirelessly sourcing the track sounds and inspiration first-hand – stopping at nothing in the pursuit of compiling the perfect set of sounds, before expertly mixing them in his Ealing studio.
The renowned producer invites viewers to see art in motion as he mixes tempos and builds the track from the everyday coach sounds. Music and travel everyone alike can appreciate the artistic process, before heading to YouTube to listen to the track. Naughty Boy took on the one-off project after a series of top-streaming hits, including 'La La La' featuring Sam Smith, 'Runnin' (Lose It All)' featuring Beyoncé, 'Lifted' featuring Emeli Sande and most recently he worked with Cheryl on her 'Love Made Me Do It' track. The talented producer has won several awards and has worked with other popular British artists such as Chipmunk, Wiley, Ed Sheeran and Jess Glynne.
Naughty Boy comments: "via M40 is one of the most outlandish, and creative, tracks I've ever worked on – it's epic! Using a selection of familiar coach sounds, the finalised track has a great beat that everyone will genuinely love – and you'd never guess that I used the sound of the indicators and windscreen wipers for my inspiration. Check it out now on YouTube, I'm really pleased with the final results – trust me, it will have you dancing in the aisles!"
Jon Moore, Chief Product Officer at Trainline comments: "We're so excited to be working with the talented Naughty Boy on this one of a kind track. We wanted to celebrate that Trainline now does coach travel with a treat for our customers – a fun, lively track perfect for any trip."
Booking coach travel with the Trainline app is quick and easy. Book now to save on coach journeys throughout the UK (and Europe too!).
Elico Assoulini, based out of Los Angeles. They provide classic and durable luxurious watches for everyone.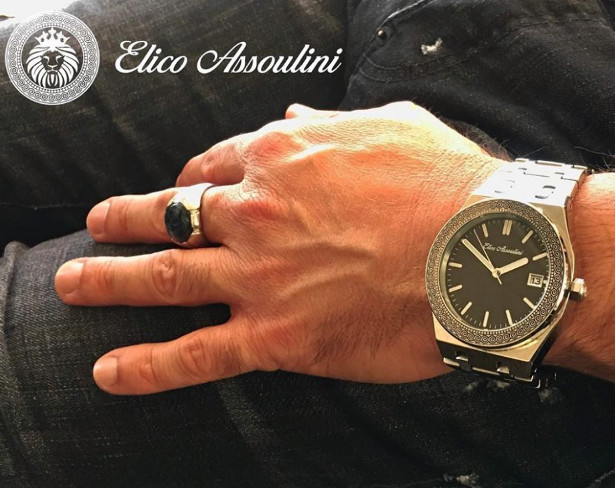 Elico Assoulini was established in 1938 as a watch business in the heart of the most distinguished fashion capitals of the world. In 1938, he began as a leather strap repair company, then Assoulini expanded into the design and production of his own exclusive line. After establishing himself as a prominent watchmaker, he was forced to flee from Italy to Morocco during the invasion of Italy from World War II. Elico made it his mission to take his business and venture with him. He started fashioning and dressing the wealthy and elite in Morocco. The Sultan of Morocco quickly took not ice and requested him to produce custom designs. By the late 1940's, Assoulini extended his line by crafting belts, handbags, and various leather goods.
Unfortunately, Assoulini, passed away at the age of 60. Assoulini gifted his entire business and the expertise to his children. In 1990, his grandson Elico Assoulini, named after his grandfather, opened up a luxury clothing and accessory boutique in Miami, Florida. As his clientele started being pickier he uprooted his brand to Los Angeles. He is now setting up the stage for his sons and building the name even further.
Elico Assoulini, has been featured in the New York Magazine and has started selling his items on his website (www.elicoassoulini.com). Most of his watches can be bought online, as well if one wishes to get a custom designed watch one should fill out a contact form on (https://elicoassoulini. com/contact/) They are throwing an amazing sale through New Years! 30% Off Everything online.
Jump Up Online. Products for Strengthening. Core. Cardio. Yoga. www.jumpuponline.com Experts.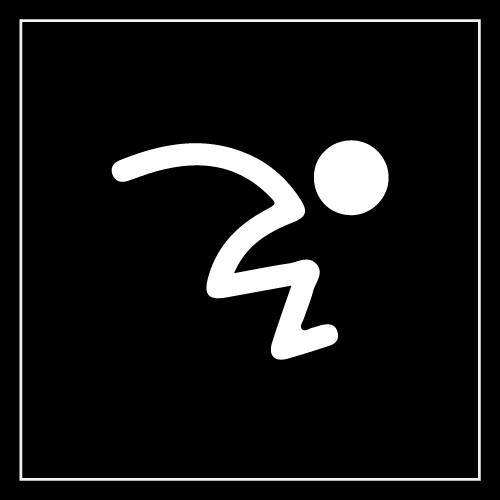 FACEBOOK | INSTAGRAM | TWITTER | PINTEREST | YOUTUBE
Jump Up is an online store providing gym circuit equipment and fitness clothing.
Prep Your January Gym!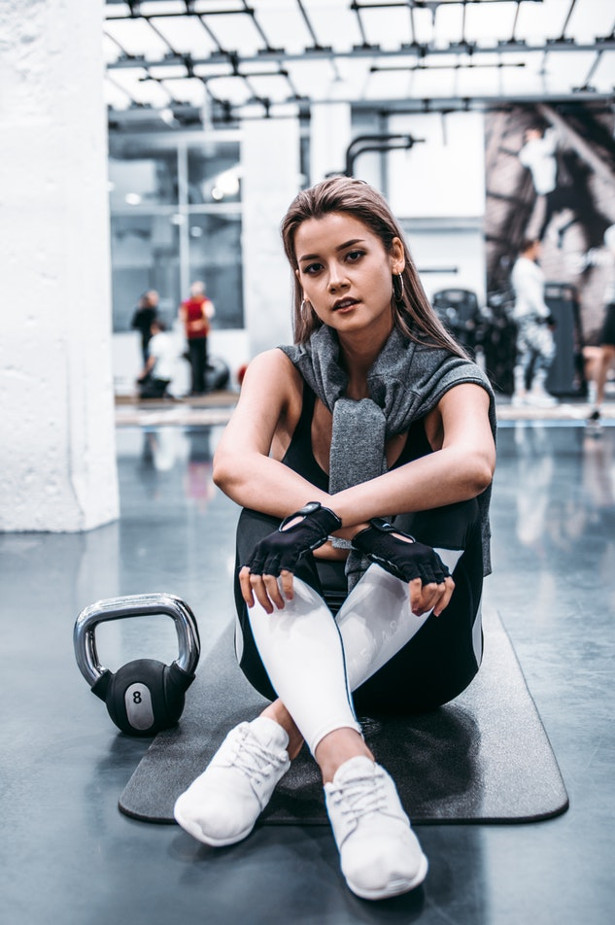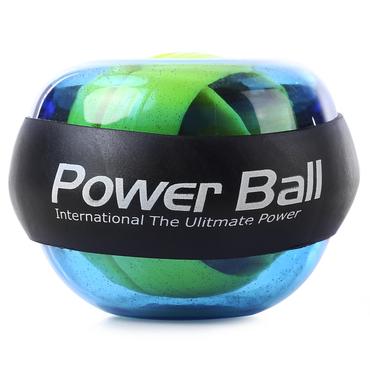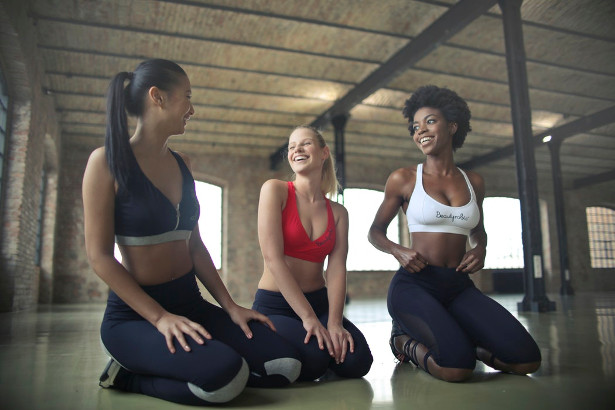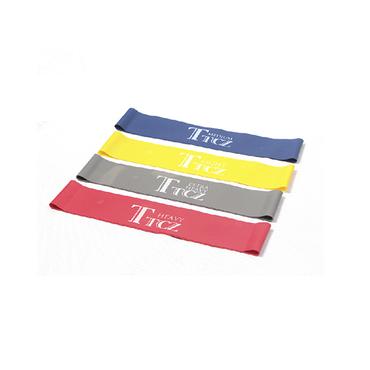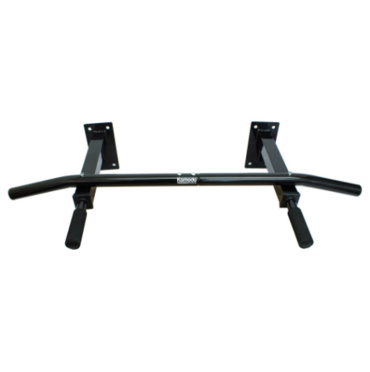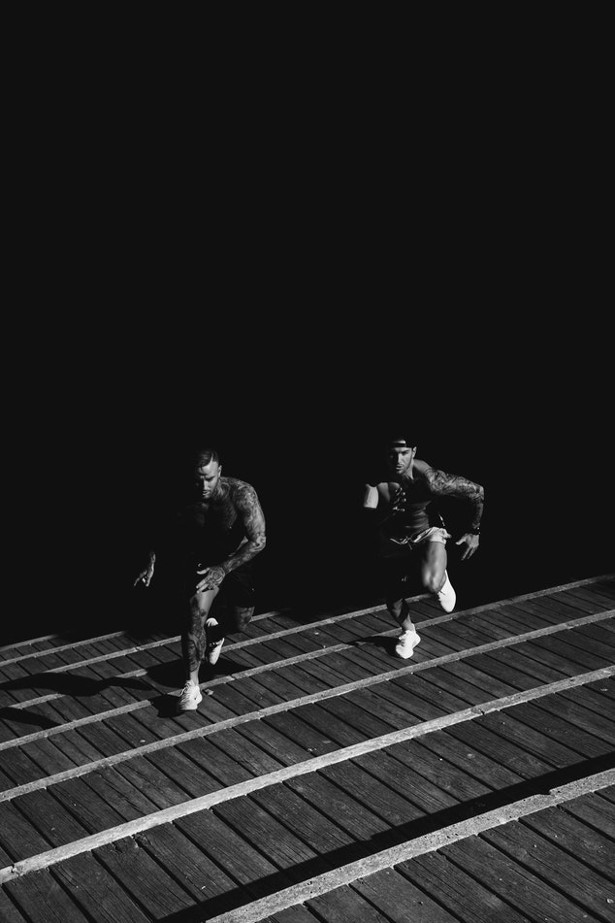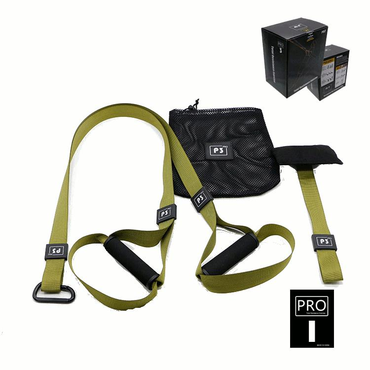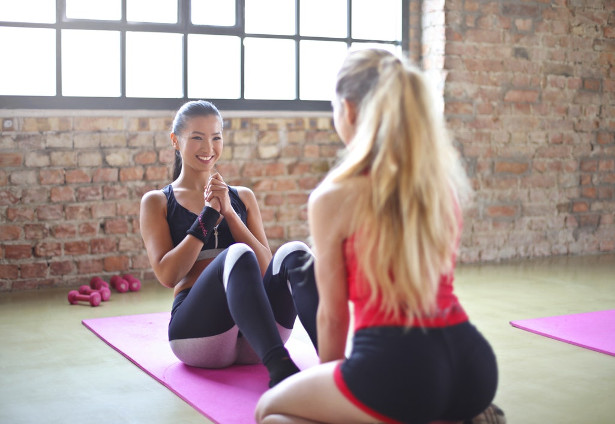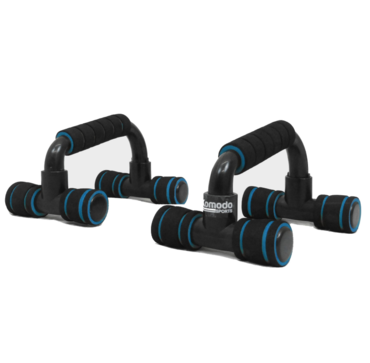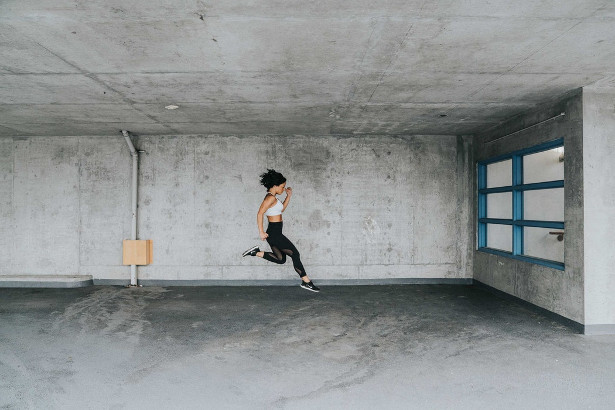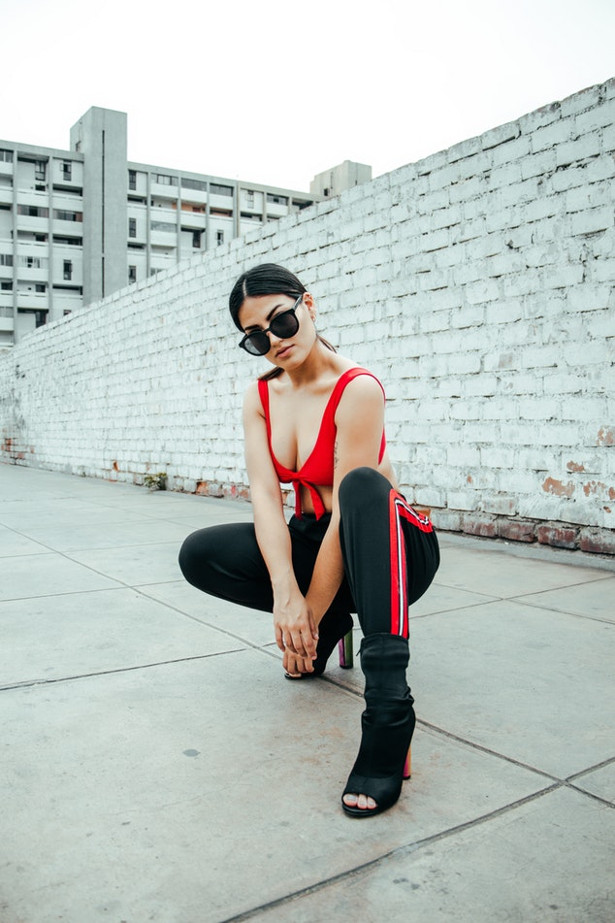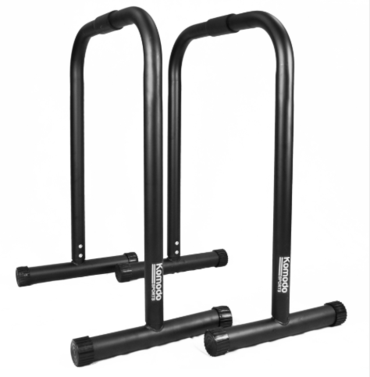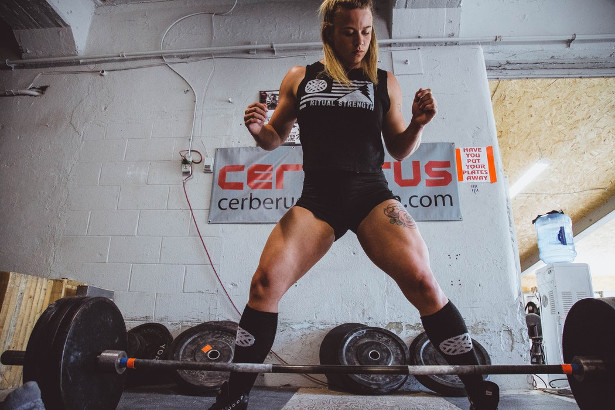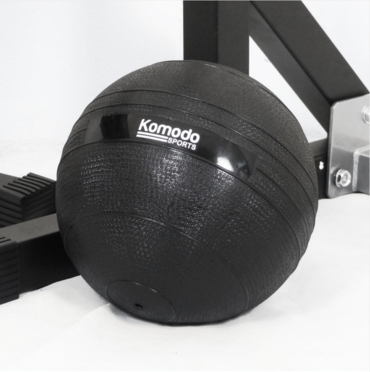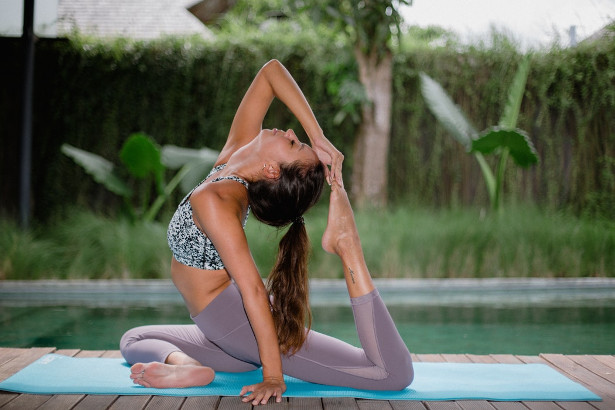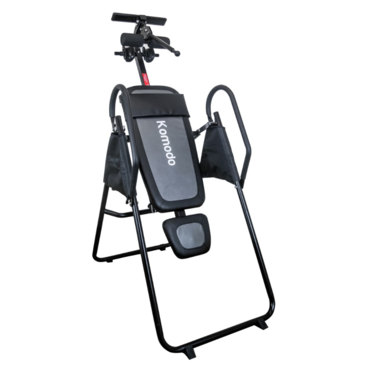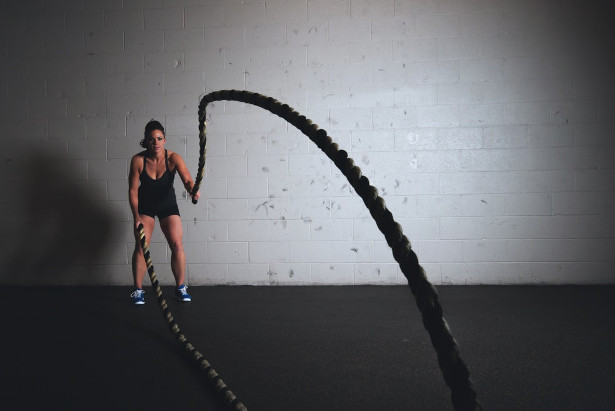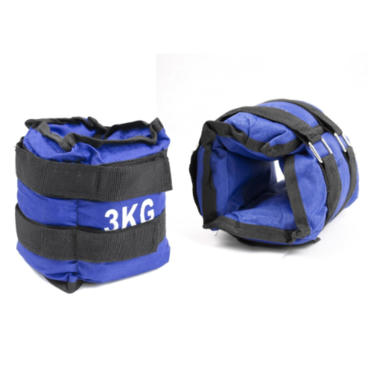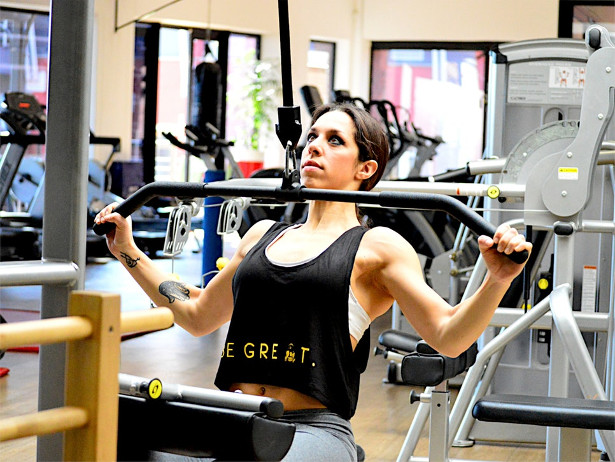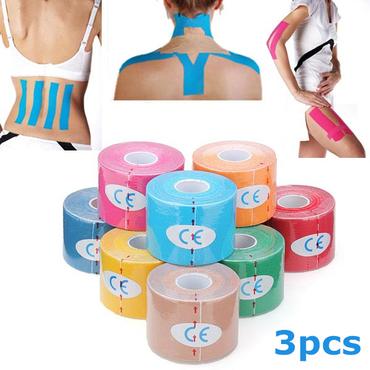 Hill City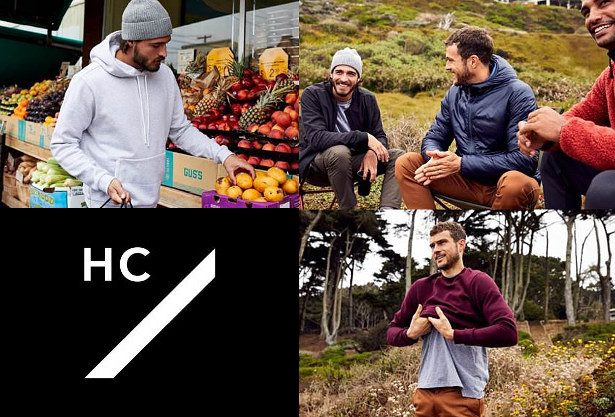 INSTAGRAM | TWITTER | FACEBOOK
Founded by former MLS soccer player Noah Palmer with the mantra "everything on purpose," Hill City embodies simplicity and human-centric designs that require no explanation. The perfect ensemble for any and all cold weather activities, the brand offers logo-light, everyday basics that combine high-quality performance with the versatility of everyday winter essentials. Integrating sustainability throughout many of their products by using high-quality renewable, recycled fiber, Hill City delivers high performance pieces, a clean aesthetic and hidden technical innovation. Each product is designed, tested, and fit to perform and last across a range of conditions without compromising comfort or style. The collection is newly available for purchase on HillCity.com.
Hill City Collection
Everyday Supima Tee
Color: Light Grey Heather
Price: $38.00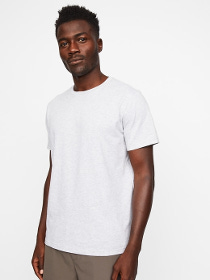 Buy at:- hillcity.gap.com/browse/product.do?cid=1119153&pcid=1115356&vid=1&pid=372457062
– Made of 100% U.S.-grown Supima cotton.
– Manages moisture and dries quickly.
– Retains color.
– Fights odor.
Product: 8" X-Purpose Short
Color: Navy
Price: $58.00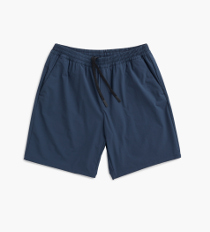 buy at :- hillcity.gap.com/browse/product.do?cid=1121068&pcid=1115354&vid=1&pid=372368002
Product Info:
– Made from 4-way stretch nylon.
– Water-repellent and wrinkle-resistant.
– Available in three lengths.
– Hidden zip pockets to keep your things secure.
Key Winter Styles
Reversible Puffer
$168
Navy | Black | Olive | Red
· Reversible performance jacket with lightweight insulation can be worn two ways
· Notable attributes:
· Made from 100% recycled nylon
· Insulated with 70% recycled PrimaLoft® Silver Eco
· Wind + water-resistant shell
· Elastic binding at the cuffs and hem for extra protection against the elements
Sherpa Lined Workwear Jacket
$168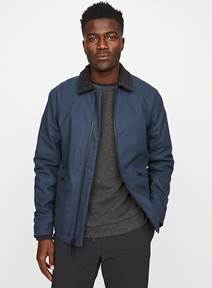 Navy | Black
· Classic fit, everyday jacket perfect for men who are constantly looking for a balance when it comes to office attire and personal style
· Notable attributes:
· Wax-coated outer shell
· Soft, Sherpa lining that extends to the collar
· PrimaLoft® Cross Core insulation made of 35% recycled content that insulates when exposed to moisture
· Includes an elasticized hem and ribbed cuffs to help manage heat loss
· Zipped pockets at the side and interior to store items
Sherpa Jacket
$148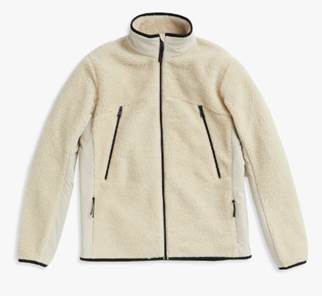 Stone ǀ Black
· Performance high-pile fleece with a lifestyle look great for the trail
· Notable attributes:
· Lined with the finest supima cotton, superior for strength, softness and color retention, and grown in the US
· Moisture management, quick-dry, and anti-odor capabilities
· Ventilating alpine pockets
· Secure zipper storage
· Woven fabric mixing provides abrasion resistance in high impact areas
Thermal Light Full Zip Vest
$128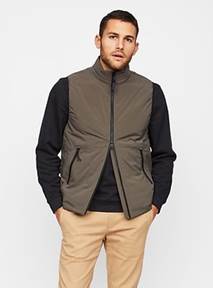 Navy | Black | Dark Olive | Red
· An easily packable, lightweight jacket that regulates temperature when transitioning between climates.
· Notable attributes:
· Water-repellent and windproof stretch nylon exterior
· Breathable, PrimaLoft® Gold Active+ insulation on the interior
· Interior made of 55% post-consumer recycled content and regulates temperature when transitioning between climates
· Insulated pockets to keep your hands warm.
Insulated Wool Shirt
$148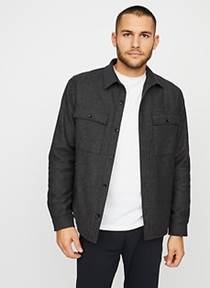 Camel | Charcoal Heather
· Wool-faced fabric shirt with Japanese Octa fleece lining for extra lightweight warmth
· Notable attributes:
· Lightweight warmth with Japanese Octa fleece lining on the interior
· Side hand pockets
· Flap chest pockets
Thermal Light Shirt Jacket
$158
Steel Blue ǀ Olive ǀ Dark Navy
· All-purpose temperature-regulating jacket for the street, commute, hiking and lifestyle
· Notable attributes:
· Stretch, breathable shell and lining
· Primaloft Active Gold Plus insulation to regulate temperature and delay thermal discomfort when transitioning between climates
· Insulated, zip-secure hand pockets
Stocking Stuffers:
Tech Hats
$38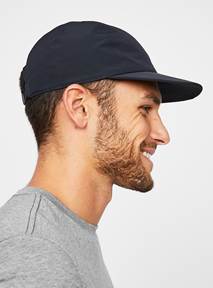 Black | Navy
· Notable attributes:
· 100% recycled nylon
· Six-panel with water-resistant crown
· Plastic snap closure in the back
· Includes packable bill to maintain shape
· One size fits most
Merino Cashmere Beanie
$48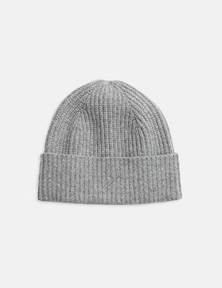 Black | Navy | Grey Heather | Bright Red
· Notable attributes:
· A wool blend of extra fine Merino Wool and Cashmere
· Extra warm + soft
· Includes tonal embroidered flash logo as accent
Performance Socks
$14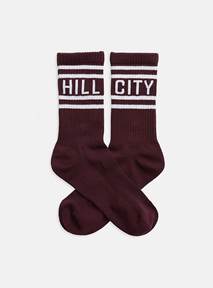 Black I Blue Heather | White | Grey Heather | Burgundy
· Notable attributes:
· Wicks sweat
· Fights odor
· Includes Hill City graphic displayed on the side
· One size fits all
Looking for a gift for a special someone?
Love will actually be in your home this year.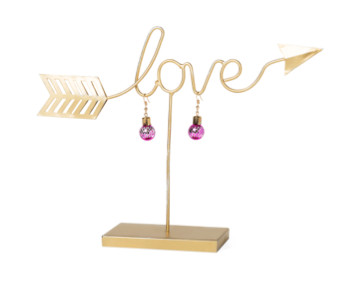 With this gold jewellery holder from Flying Tiger, your gorgeous jewels are sure to stand out.
image.png
Jewellery Stand – £4 – Flying Tiger Stores – uk.flyingtiger.com

The game changing household appliance set to modernize the traditional domestic chore of ironing that doesn't require any ironing board. >> www.amazon.co.uk/dp/B07DWTXSZ6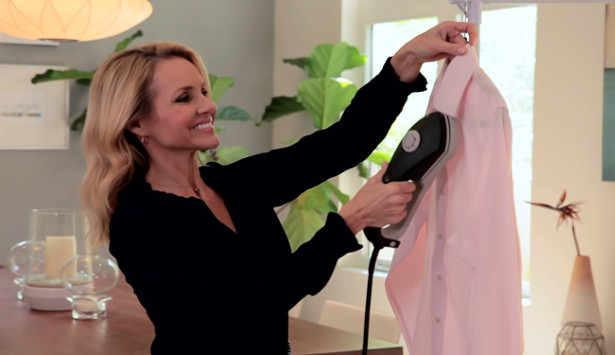 "This is so useful for everybody, order fulfillment is by Amazon! It's SO HANDY!" InTouch Rugby Domestic Chores Editor! >>
Little has been done to change the way that people iron for decades. That is until the EazzyPress came along.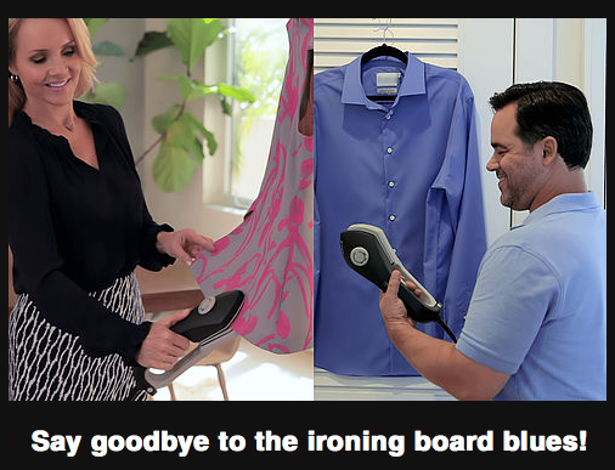 With patented technology, the EazzyPress utilizes Teflon coated plates as well as an ergonomic grip extended handle which allows you to reach right into the centre of all your garments as well as providing completely multi directional operation. Better still, it requires absolutely no ironing board. The EazzyPress is the modern new way to iron, specially designed for single items or smaller batches of ironing where speed, efficiency, convenience and portability are required.
With the EazzyPress all you need is a regular coat hanger and a door. The product is even supplied with an over the door hook for your convenience. From busy Mum's to frequent business travelers, students new to the concept of ironing to professionals who have precious little time in the morning to set up an ironing board, EazzyPress has a multitude of uses and is set to revolutionize the way that people do their occasional, on the spot, or ironing when away from home. Store your EazzyPress in a bedroom drawer, your utility room, caravan or even pack it in a suitcase. If you dislike ironing but you also happen to be one of the 64% who like to wear ironed clothes or are part of the 46% of people who only iron on demand, then the EazzyPress is for you.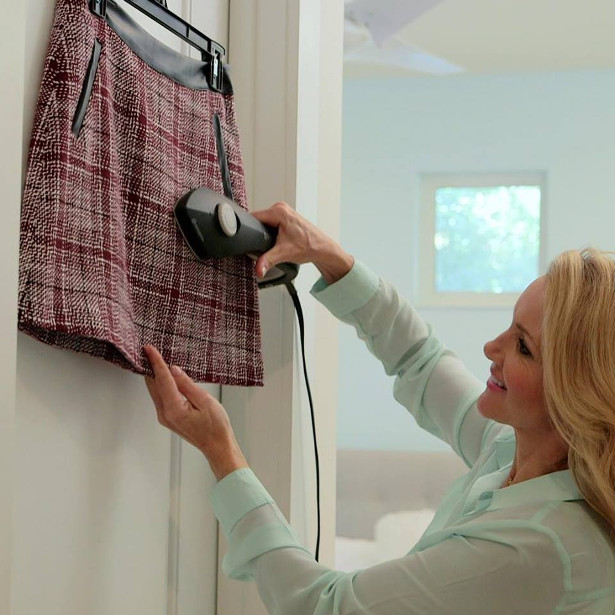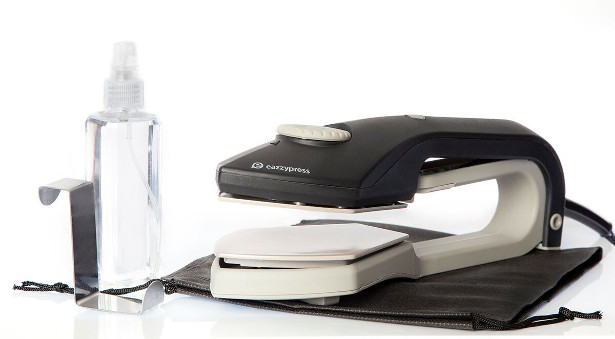 We believe it's nothing short of a game changer and if the early reception from on-line consumers if anything to go by, so too do the British public who have responded favorably already to purchasing a totally new household appliance that so far has had limited exposure or marketing budget put behind it.
What makes the EazzyPress so unique? Several things set the patented EazzyPress apart including the following key features and benefits:
• Ergonomic grip handle – designed to reach into the centre of all your garments
• Heat temperature settings – three distinct and fully adjustable regulated heat settings
• Teflon coated plates – provide even heat distribution for faster ironing results
• Create steam – provided with a water bottle which can be used to create a steam function on more stubborn wrinkles
• No ironing board required – no lengthy or inconvenient set-up
• Quick results – iron both sides at the same time for 50% quicker results
• Convenient – lightweight and compact design
• Portable – the perfect travel companion
• Versatile – works on all kinds of fabrics, not just clothes
Developed, designed and brought to life by Harry Ford the product has full International patents and trademarks in place. Harry recognized there was a gap in the market for a portable and convenient way to iron that would take up limited space in the modern home. Launched via Amazon and its own direct to consumer website in October 2018 it has received a positive consumer reception and robust sales. Are you ready to revolutionize the way that you iron?
For more information and to receive samples, images and video collateral please get in touch today:
Amazon: https://www.amazon.co.uk/dp/B07DWTXSZ6
Email: info@eazzypress.com
Website: https://www.eazzypress.com
Facebook: https://www.facebook.com/EazzyPress/
Instagram: https://www.instagram.com/eazzypress/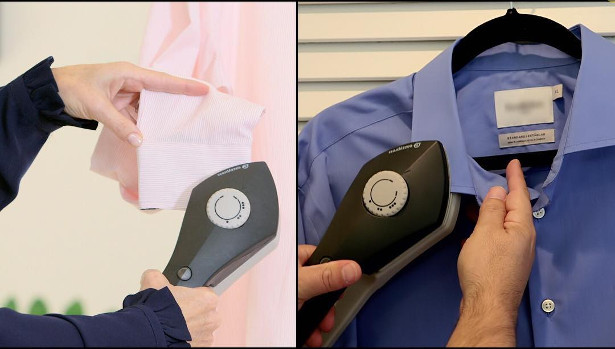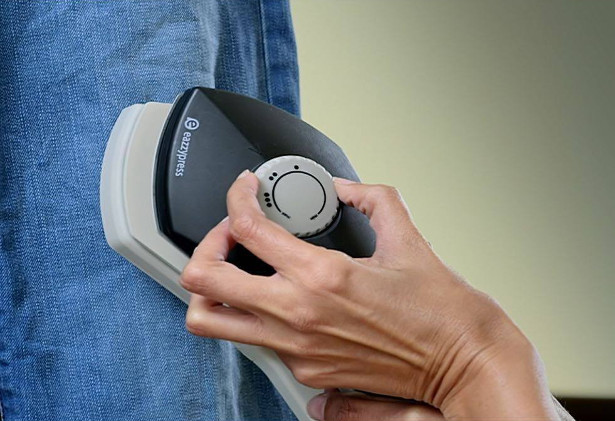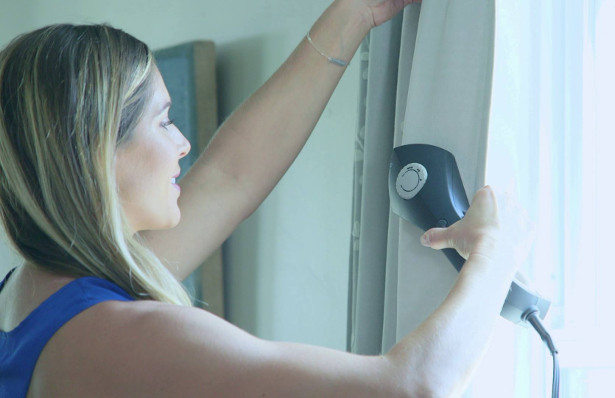 GROOMING GREATNESS GUARANTEED WITH NEW DOLLAR SHAVE CLUB LAUNCHES
Dollar Shave Club expands grooming portfolio with 20 new products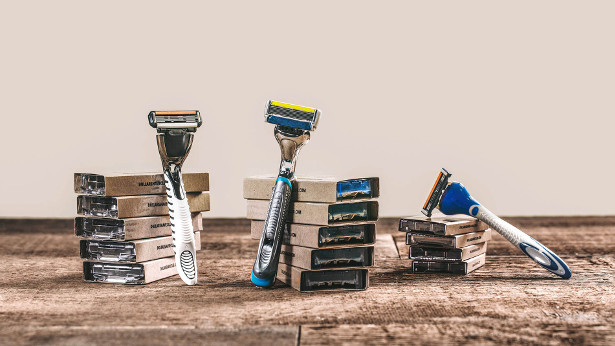 FACEBOOK | TWITTER | INSTAGRAM
First Dollar Shave Club brought convenient, affordable and quality razors to the bathrooms of men across Britain, and now it's introducing 20 new beard, hair, skin and shower essentials which are set to transform your entire grooming routine from head to toe.
Forget the panic when you're faced with a blunt razor on the morning of a work meeting, never again suffer the mad dash to buy hair products en route to a date because you've run out and say goodbye to washing your hair with shower gel when you forget to buy shampoo. Dollar Shave Club has got you covered by delivering all grooming goodies to your door, whenever you need them, at the click of a button.
Dr Carver's – available now!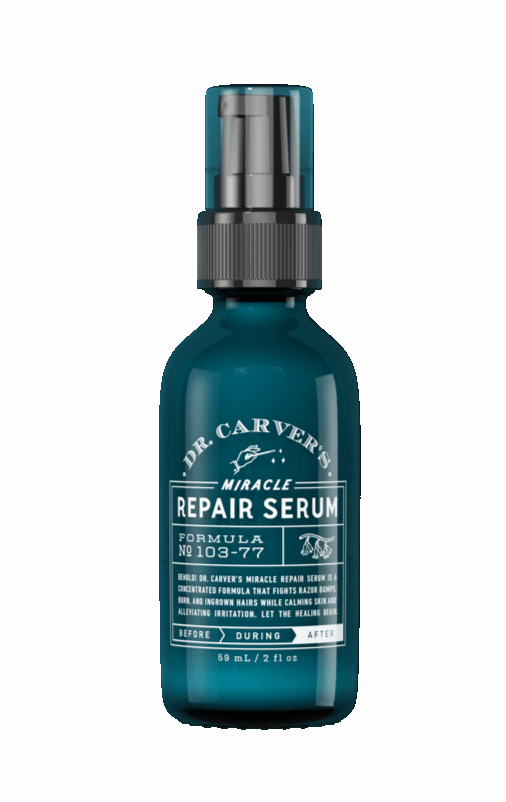 Members already swear by Dollar Shave Club's existing Dr Carver's range including Shave Butter, Prep Scrub and Post Shave Dew, but now we're adding three new products to the mix. The range provides everything you need from start to finish, including a Miracle Repair Serum specially designed to fight ingrown hairs and razor bumps by exfoliating and hydrating, a Pillowy Shave Lather fortified with Coconut Oil, and Softening Beard Oil formulated with a nine-oil blend to keep facial hair smooth and hydrated.
Dr Carver's Miracle Repair Serum (£9.00, 59ml)
Dr Carver's Pillowy Shave Lather (£7.00, 177ml)
Dr Carver's Softening Beard Oil (£7.00, 30ml)
Boogie's – available now!
The search for perfect hair styling products ends here. Members of Dollar Shave Club will now be able to get their hands on the hair-raisingly good Boogie's range. Boogie's has something for everyone; Casual Hair Clay will sculpt the ultimate mohawk, Bold Hair Gel will secure a shiny quiff, and Dream Hair Cream helps to complete a 'natural' look.
Boogie's Bold Hair Gel (£7.00, 163ml) (£5.00, 100ml)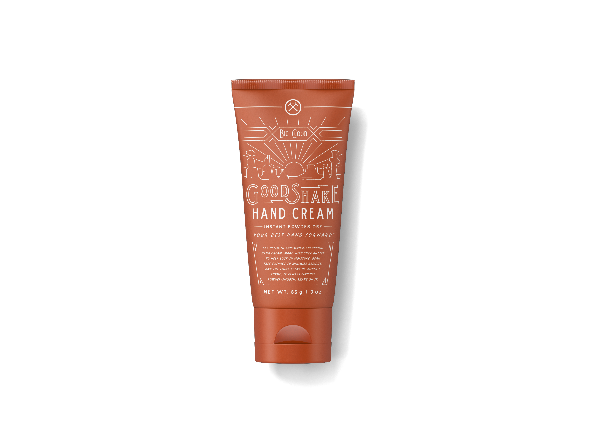 Boogie's Casual Hair Clay (£7.00, 57g)
Boogie's Smart Hair Paste (£7.00, 100ml)
Boogie's True Hair Fibre (£7.00, 57g)
Boogie's Dream Hair Cream (£7.00, 100ml)
Boogie's Pacific Hair Pomade (£7.00, 57g)
Big Cloud – launching 18th December
Whether you're a high-octane adventurer or a low-key wanderer, Dollar Shave Club's Big Cloud range will help to protect your skin from the harsh daily effects of wind, sun and time. Big Shake Hand Cream contains Shea Butter to help avoid palms cracking under the pressure, while Wind Master Lip Balm contains a concoction of sweet almond, jojoba oils, beeswax, candelilla and carnauba waxes for those looking for kissable lips.
Big Cloud Big Shake Hand Cream (£5.00, 88ml)
Big Cloud Wind Master Mint Leaf Lip Balm (£5.00, 2 pack)
Wanderer – launching 13th December
Any shower can clean you, but Wanderer can give you a full cleansing experience. These eight new products promise to cover all bases; Daily Face Cleanser, Awakening Body Cleanser, Calming Body Bars and even the 2-in-1 Shampoo and Conditioner will get you squeaky clean at speed. Formulated with vitamins, premium extracts and honest fragrances, the Wanderer shower routine is sure to cleanse your mind, body and soul.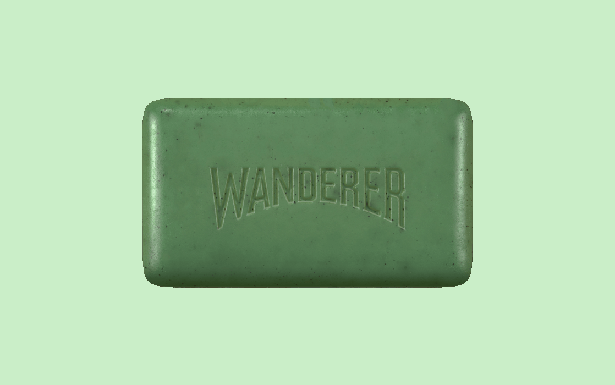 Wanderer Hydrating Body Cleanser Amber & Lavender (£6.00, 296ml)
Wanderer Hydrating Body Cleanser Mint & Cedarwood (£6.00, 296ml)
Wanderer Hydrating Body Bars Amber & Lavender (£3.50, 2 pack)
Wanderer Hydrating Body Bars Mint & Cedarwood (£3.50, 2 pack)
Wanderer Daily Face Cleanser Citrus & Ginger (£3.50, 88ml)
Wanderer 2 in 1 Shampoo and Conditioner Sage & Black Pepper
(£5.00, 296ml)
Wanderer Hydrating Hair and Scalp Shampoo Sage & Black Pepper
(£6.00, 296ml)
Wanderer Hydrating Hair and Scalp Conditioner Sage & Black Pepper
(£6.00, 296ml)
Michael Dubin, CEO of Dollar Shave Club comments, "At Dollar Shave Club our goal is to make the process of buying razors and grooming products as quick and convenient as possible. We've already got Brits using great quality blades, but now we're out to transform grooming routines with our raft of new product launches, guaranteed to help make our members the best version of themselves – at the click of a button. There's never been a better time to join our Club!"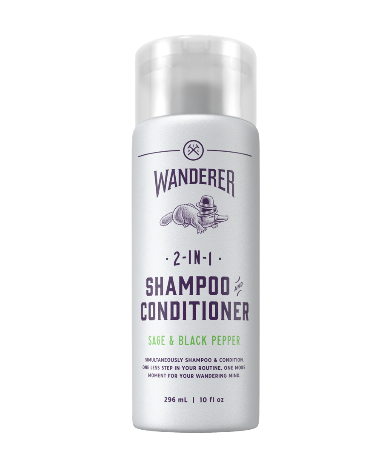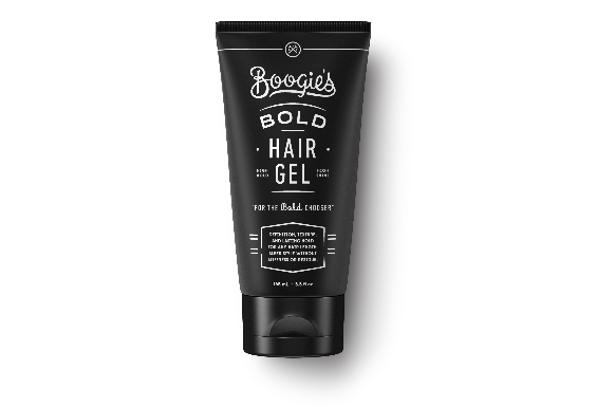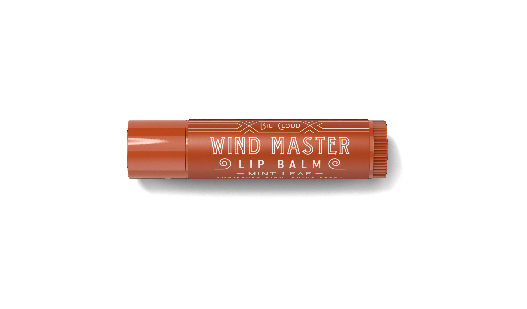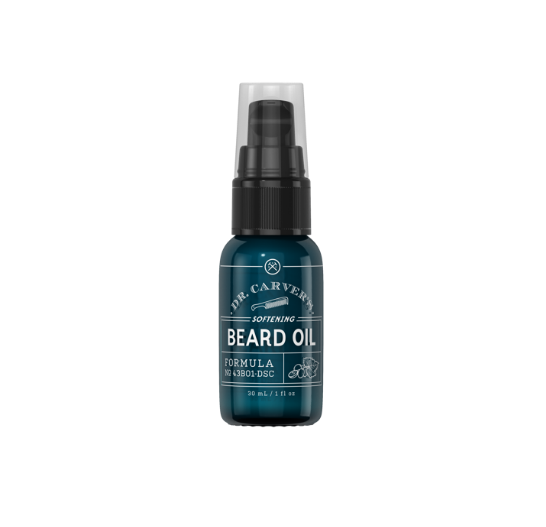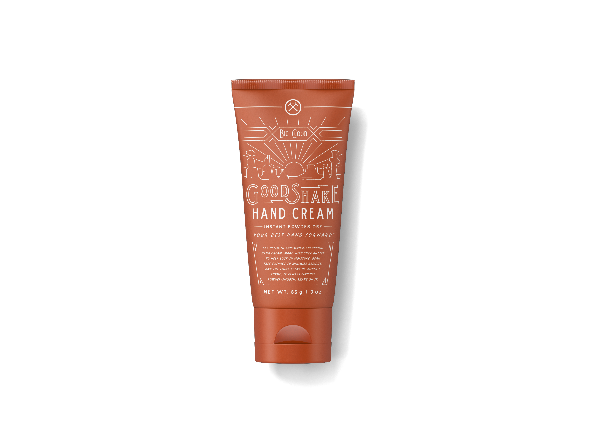 www.rugsociety.eu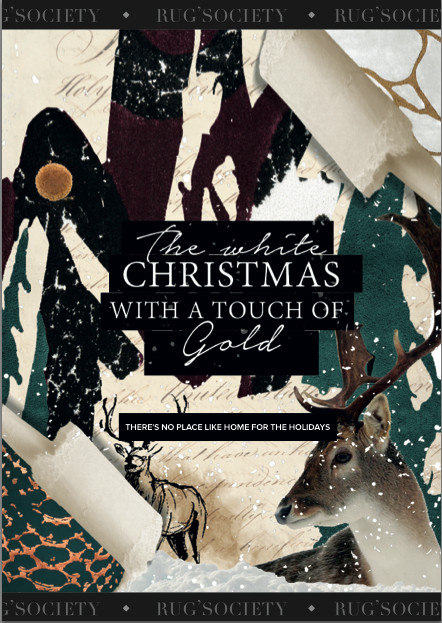 The Funky Iron Company.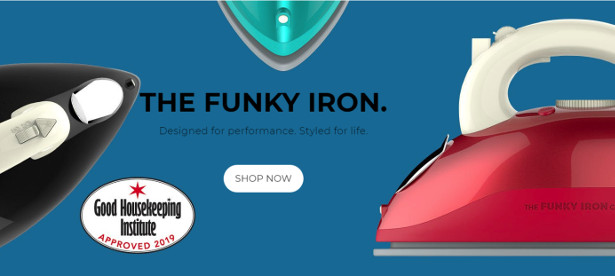 British born, The Funky Iron Company has launched its first product The Funky Iron. Marrying beautiful looks with optimum functionality, the new Funky Iron is designed for performance and styled for life. The chic, retro design was designed in the UK. Key features include: A built-in steam pump to deliver 50 grams per minute of continuous steam, a self-clean facility, auto-off for enhanced safety and anti-calc to prevent scale build up, for an effortless ironing experience.
Joe Sillett, co-founder of The Funky Iron Company commented on the development of the product stating, "We had a very clear idea on how we wanted the Funky Iron to look and worked with leading designers here in the UK to bring our vision to life. We wanted style to meet great performance, and that's certainly what we've achieved according to the 5-star reviews we've received."
The Funky Iron has a unique retro style and comes in three contemporary colours including red, black and turquoise, each with a signature cream coloured handle and flex. The Funky Iron is designed to make the user experience as smooth, efficient and comfortable as possible, with a large 450ml tank so less topping up of water is required, 50 grams per minute of continuous steam and a 3-metre power cord for easy moving.
Make Funky Ironing your new style.
The Funky Iron is available fromwww.thefunkyironcompany.comand Amazon at £69.99
The product has already become a hit with consumers, gaining the Funky Iron 5-star reviews.
★★★★★
"The Funky Iron not only looks great but it is also amazing to use. It is like the Apple of irons! I amvery happy and would recommend to anyone wanting a really good, easy to use, powerful iron."
★★★★★
"I love my Turquoise Funky Iron, not only is it great quality and looks great it does a fantastic job, now making ironing a pleasurable experience!"
★★★★★
"Used for the first time at the weekend. I have to say the balance and glide are great and was really easy to use. The steam function is better than the models I've used previously
(being the Iron Man in the family)."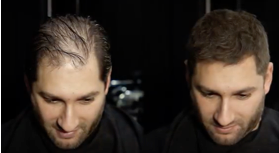 Give the gift of MR. Anti-Dandruff, MR. HAIR FIBRE APPLICATOR and / or MR. HAIR FIBRES for Guys! From MR. Jamie Stevens >> www.mrjamiestevens.com.
FACEBOOK | TWITTER | INSTAGRAM

NEW LAUNCH: MR. ANTI-DANDRUFF SHAMPOO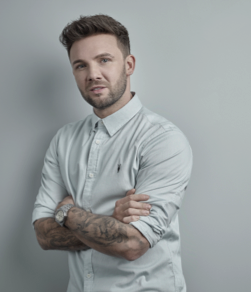 Three-times winner of British Men's Hairdresser of the Year & celebrity favourite Jamie Stevens' best-selling MR. range has been specially developed to help thicken, disguise and style thinning hair.
This game changing men's haircare system draws on the most advanced science and industry innovations to deliver targeted solutions for thinning hair. This NEW shampoo tackles dandruff whilst also actively thickening hair.
MR. ANTI-DANDRUFF SHAMPOO, £12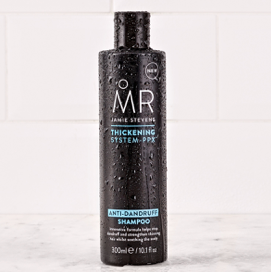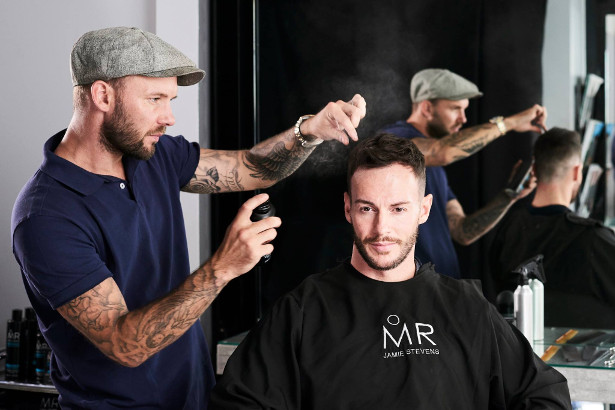 The innovative formula in MR. ANTI-DANDRUFF SHAMPOO cleanses, soothes, removes and prevents further dandruff build up whilst the exclusive System-PPX™ hair thickening complex helps strengthen weak roots and encourages hair renewal.
Combines Piroctone Olamine (an active ingredient that gently treats the scalp infections that can cause dandruff) with Peppermint, Tea Tree, Sage and Menthol extracts in a gentle thickening shampoo to soothe the scalp, helping prevent itchiness and irritation. To promote hair renewal, the unique Pea Peptide & Hexapeptide-11 dual active helps strengthen the skin matrix making hair more resistant to breakage, additionally Alpha-hydroxy acids in both Sugar Cane and Fruit extracts will gently exfoliate the scalp promoting cell renewal whilst antioxidants in Green Tea extracts help protect the scalp.
Stockists: Boots, boots.com and www.mrjamiestevens.com
HAIR LOSS FACT BOX
• One-fifth of all men will experience some sort of hair loss by age 20
• 25% of men start going bald by age 30
• 70% of men at some point in their lives will be affected by male pattern baldness
• In a survey, (One Poll Survey of 2000 men, Sep 2015) men said they'd rather have a small penis, be cheated on by their partner or have their whole internet history made public than lose their hair. A fifth thought that thinning hair would make them look less attractive, and a quarter are worried it makes them look older than they are. Hair loss causes real concern and anxiety for men in the UK.
NEW LAUNCH:
MR. HAIR FIBRE APPLICATOR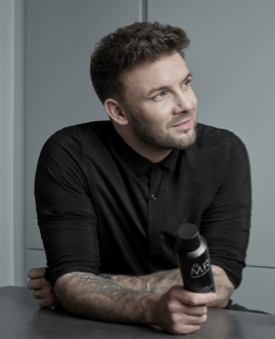 Three-times winner of British Men's Hairdresser of the Year & celebrity favourite Jamie Stevens' best-selling MR. range has been specially developed to help thicken, disguise and style thinning hair.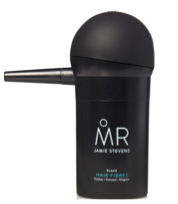 "As someone who has thinning hair, hair loss is a subject close to my heart. For a lot of men, hair loss causes real fear and anxiety and I've seen first-hand the effect hair loss has on men's confidence. That's why I launched MR. DISGUISE SPRAY (£18) and MR. HAIR FIBRES (£18) as part of my range. These hero products help re-build confidence by instantly covering balding areas and adding density for thicker looking hair." Jamie Stevens
MR. Hair Fibres are fast becoming a daily grooming staple for many men, and the NEW MR. HAIR FIBRE APPLICATOR makes applying them even easier.
The statically-charged natural keratin fibres blend perfectly with existing hair to instantly conceal thinning or receding areas and add natural looking fullness to thinning hair. Available in Brown, Dark Brown and Black shades.
NEW MR. HAIR FIBRE APPLICATOR, £10
Designed for ultimate accuracy and precision application of MR. HAIR FIBRES, the specially designed nozzle gives full control over the dosage and dispenses the fibres precisely where needed for even coverage. Useful for all applications however particularly useful for reaching localised thinning areas such as around the hairline, or hard to reach places on the crown. Easy to use,
makes applying hair fibres just part of your normal daily routine.
Stockists: Boots, boots.com and www.mrjamiestevens.com
HAIR LOSS FACT BOX
• One-fifth of all men will experience some sort of hair loss by age 20
• 25% of men start going bald by age 30
• 70% of men at some point in their lives will be affected by male pattern baldness
• In a survey, (One Poll Survey of 2000 men, Sep 2015) men said they'd rather have a small penis, be cheated on by their partner or have their whole internet history made public than lose their hair. A fifth thought that thinning hair would make them look less attractive, and a quarter are worried it makes them look older than they are. Hair loss causes real concern and anxiety for men in the UK.
MR. HAIR FIBRES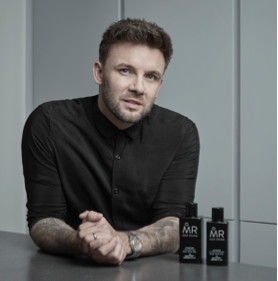 Three-times winner of British Men's Hairdresser of the Year & celebrity favourite Jamie Stevens' best-selling MR. range has been specially developed to help thicken, disguise and style thinning hair.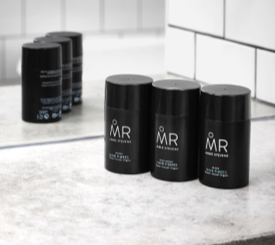 This hero product allows thin hair to look fuller and thicker with just a quick easy application; feedback from customers is that it's nothing short of life-changing. The statically-charged natural keratin fibres blend perfectly with existing hair to instantly conceal thinning or receding areas and add natural looking fullness to thinning hair.
MR. HAIR FIBRES, £18
The perfect product for rebuilding hair density – the statically-charged plant hair fibres with added keratin fibres bond and attach to individual hairs, making each strand look and feel thicker. Available in three different shades, MR. HAIR FIBRES will help to build hairs' density and instantly deliver natural-looking results.
Use alongside the NEW MR. HAIR FIBRE APPLICATOR, designed for great precision and accuracy for full over and even coverage, and MR. STYLE FIX SPRAY to seal and hold the style.
Available in Brown, Dark Brown and Black shades.
Against animal testing
Stockists: Boots, boots.com and www.mrjamiestevens.com
HAIR LOSS FACT BOX
• One-fifth of all men will experience some sort of hair loss by age 20
• 25% of men start going bald by age 30
• 70% of men at some point in their lives will be affected by male pattern baldness
• In a survey, (One Poll Survey of 2000 men, Sep 2015) men said they'd rather have a small penis, be cheated on by their partner or have their whole internet history made public than lose their hair. A fifth thought that thinning hair would make them look less attractive, and a quarter are worried it makes them look older than they are. Hair loss causes real concern and anxiety for men in the UK.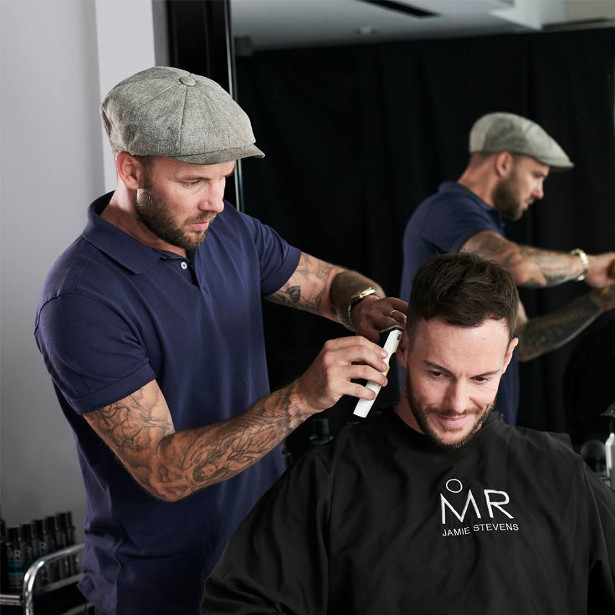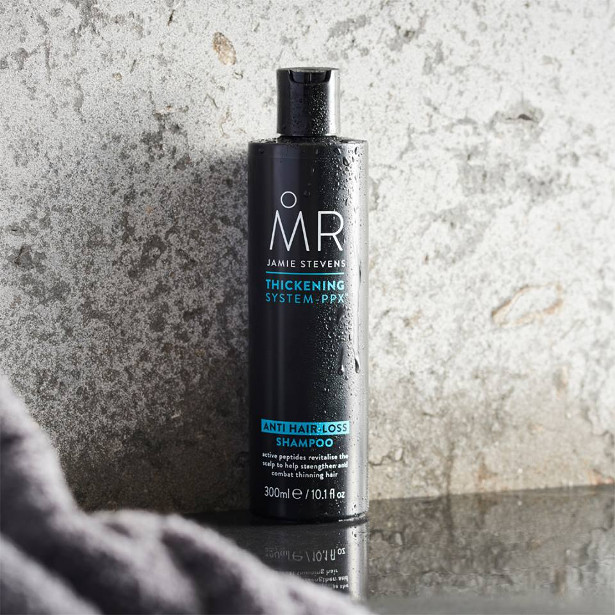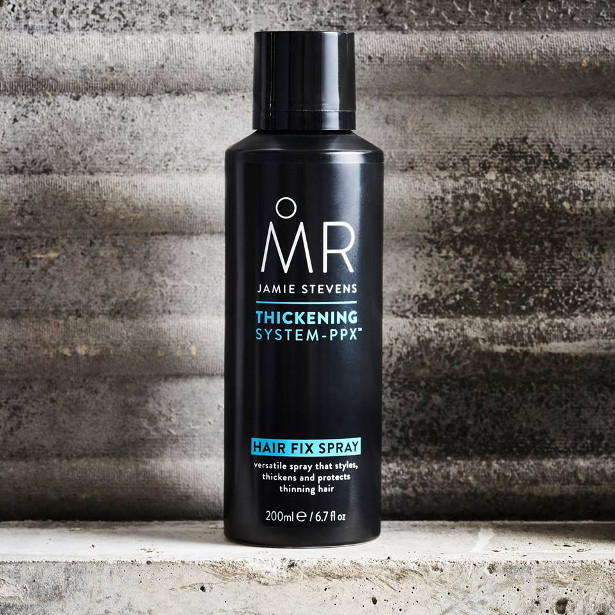 www.thedrop.co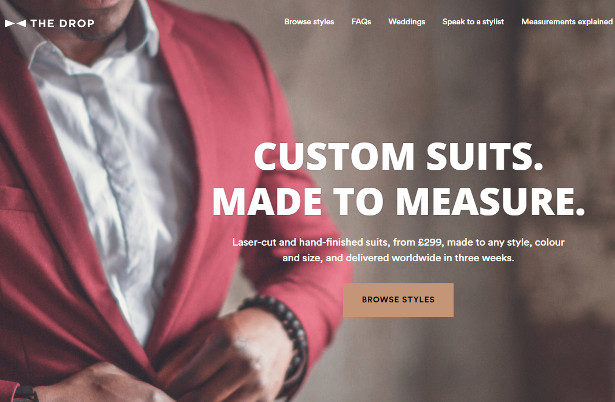 Armillion Bracelet.
www.armillion.com
It's a contactless payment & multi-key device, which fuses functionality, exclusivity and luxury to create the ultimate statement of an elite lifestyle.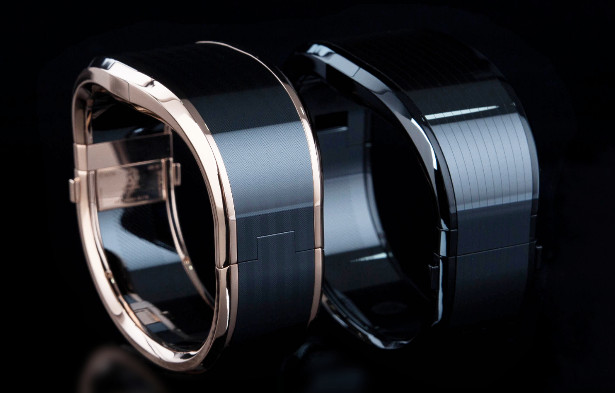 Born out of a combination of cutting-edge technology, Swiss ingenuity and watchmaking design, this is the new benchmark for men's haute joaillerie. The bracelet acts as a key to daily life, allowing the wearer the ease and convenience to make high value payments and even unlock their car.
The RFID technology at the core of the Armillion bracelet not only allows encrypted security access but thanks to a partnership Mastercard©, it also serves as a form of contactless payment for anything up to £200,000
This truly unique product also removes the frustrating issue of limited battery life associated with most wearables and never even requires charging; the bracelet takes its energy from every reader device, each time it's used
Every Armillion bracelet is a piece of wearable art crafted from materials specifically chosen for both their peerless aesthetic and practical qualities. The surface is comprised of a single piece of high-tech ceramic, one of the hardest materials on Earth and extremely scratch resistant, usually only seen on the bezels of high-end watches.
The body of the piece is embellished with a variety of textures and finishes, each more beautifully intricate than the last. Around this is a solid case of precious metal in 18k pink or yellow gold or titanium treated with a diamond-like carbon coating
Armillion also offers a vast array of bespoke possibilities, from rare exotic skins to diamond adornments, allowing clients to turn an exclusive limited edition product into a true one off
With only ten of each model having been produced, the Armillion bracelet is true symbol of exclusivity. To purchase an Armillion is to become part of an incredibly elite club, both metaphorically speaking and literally as with the bracelet comes a year's membership to world's most prestigious luxury concierge service, Quintessentially.
Braun's electric shavers and Multi Grooming Kits are the perfect Christmas gifts for him.
There are some fantastic sales in the run-up to Christmas giving the opportunity to save up to £160 on the perfect gift at Boots from 12th – 18th December! Please see below for details:
Braun Series 7 Electric Shaver, WAS £279.99, NOW £119.99 SAVE £160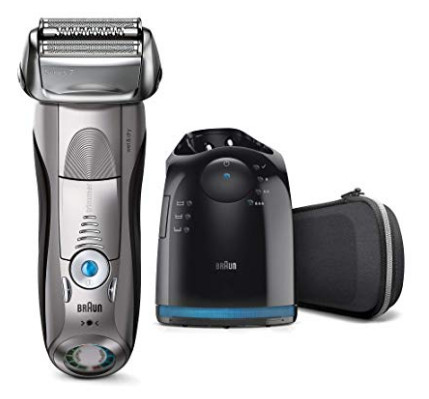 The Braun Series 7 is our smart electric shaver with 4 synchronized shaving elements that shave in one stroke what others do in two*. Innovative Sonic technology and an intelligent AutoSensing motor enables to shave even dense beards with efficiency. The 5 Turbo-/Sensitive-Modes adjust the shaver for extra power and gentleness at a push of a button.
Braun Series 5 5147s Electric Foil Shaver, WAS £200.00, NOW £79.99 SAVE £120
The Braun Series 5 electric shaver gives you efficiency in every stroke, shaving even dense beard and reaching difficult areas. A 100% waterproof razor designed to last up to 7 years, for maximum performance and excellent skin comfort.
Braun Series 9 in Silver, WAS £299.99, NOW £149.99 SAVE £150
Braun Series 9 9299s Wet&Dry Electric Shaver with Charging Stand. The Braun Series 9 shaver is the World's most efficient and comfortable shaver*. Specialized shaving technology captures more hair in every stroke, providing a close, comfortable shave without compromises.
Logic Compact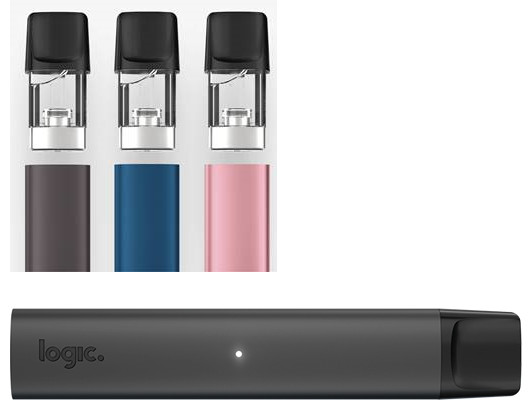 With its modern design, compact, pocket-sized shape, and one-click magnetic charging, Logic Compact is the future of vaping – and retailing at only £17.50, it's the perfect stocking filler for any fashion-mad vaping relative or friend!
Boasting a sleek metallic finish and available in three colours – slate grey, rose gold, and steel blue, assembly couldn't be easier, with pre-filled e-liquid pods that click into place magnetically in one click. This means there are no tanks to fill up, no bits to screw on. Just click in a pod and vape.
For more information on the device please see here: https://logicvapes.co.uk/about-logic-compact/

Give the gift of core strength. Exercising with Pelleres you will burn more calories in a shorter time! www.pelleres.com.au
10% discount code is "intouch10" for the www.pellleres.com.au site.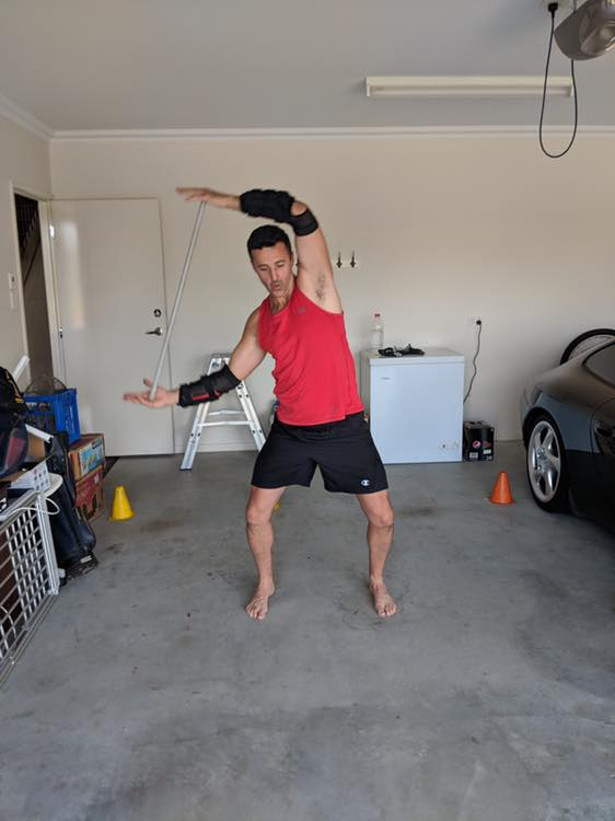 Pelleres are award winning fitness device designed to get to your fitness goals faster. Exercising with Pelleres you will burn more calories in a shorter time, example 21 mins vs 27 mins for 550 calorie burn.
Used by elite athletes the secret is now out!
Pelleres are ideal for functional training. As simple as putting them on and working out, so easy and effective.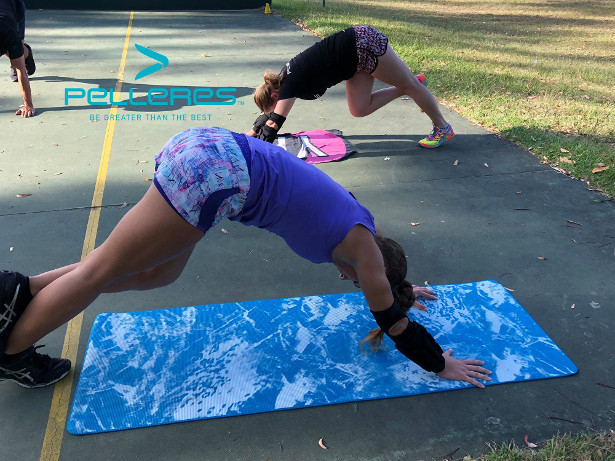 Pelleres are an international award winning core strengthening device. Classified as a functional strength training device, Pelleres' unique patented design "switches" on abdominal muscles
in isolation.
What separates Pelleres from every other product on the market is:
The weight range; scientifically calculated to a resistance level based on muscle activation.
The position of the weight. The "opposite lever" for muscle activation.
Anchoring mechanism. Fast movement patterns with minimal change in position.
Grand Final Technologies are innovators in the sports industry.
We design and manufacture core strengthening systems and devices that help people realise their TRUE ATHLETIC POTENTIAL.
Pelleres are the latest innovation in functional strength training devices.
They are scientifically developed to activate core muscles during exercise. The specific weight and position are key to the effectiveness of Pelleres.
Pelleres™ is the latest innovation in sports technology that was developed in Brisbane, Australia.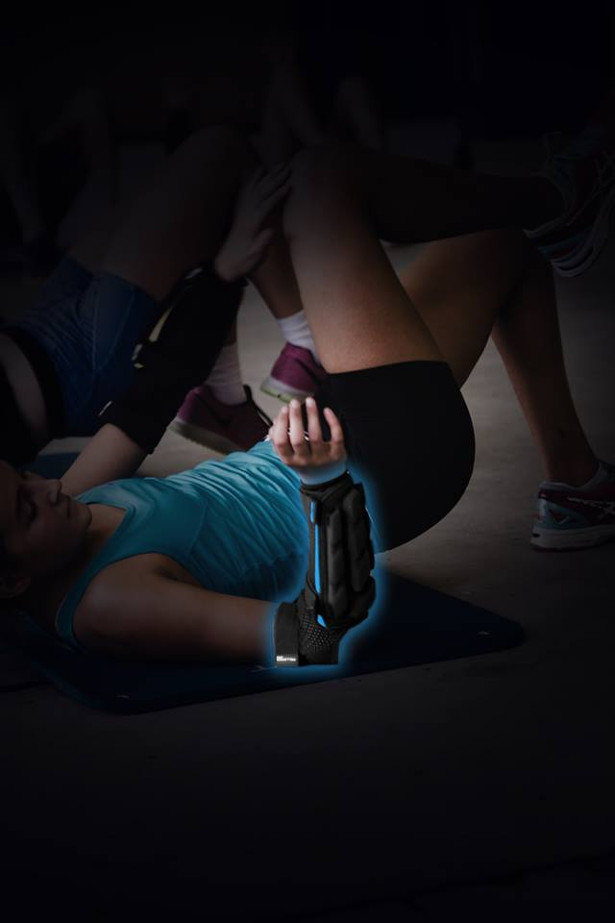 Pelleres™ is a functional strength training device that instantaneously improves your performance. Just by wearing Pelleres™ you can run faster, jump further, throw longer, kick balls harder, and hit things with more power! I know, totally unbelievable but true!
But that's not all, you also will get fitter faster, improve your core strength, and be able to recover from injuries quicker. Back pain? No more with Pelleres™; your back muscles are strengthened, which greatly improves core stability and posture.
How come and why is this so? Good question. Firstly Pelleres™ is based on well accepted principals of resistance, overload, counter balance, and the fundamentals of biomechanics.
How it works. As soon as you put on Pelleres™ you are creating a slight imbalance in your body. And what happens is that all your fine core stabilizers muscles are called into action to restabilize this imbalance. Because the weight added is so light it's not your major muscles groups that have to work harder but instead your fine core stabilizers are called into action. Now because your core is actively engaged (or harder), your body immediately becomes more efficient in its activity and your performance instantaneously improves. It is a well accepted fact that there is a direct correlation between core strength and overall performance.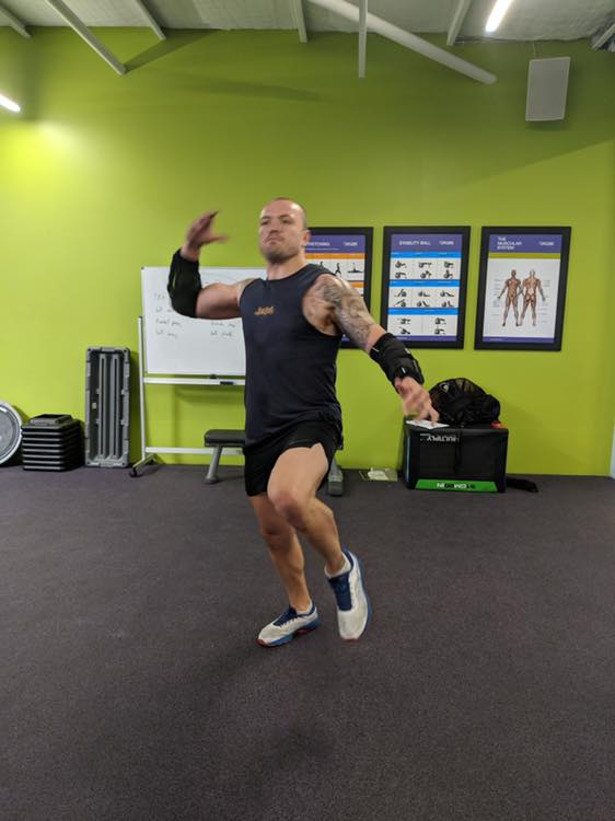 When you wear Pelleres™ all your core and stabilizer muscles are specifically targeted. The light weight targets your fine core stabilizer muscles and because they are working harder they get stronger.
Pelleres™ is based on a breakthrough scientific observation that by positioning slight weight on your forearms your body immediately becomes more efficient. Basically Pelleres™ tricks your body into working better. It's incredible that something so simple can make such a difference!
Yes Pelleres™ are fantastic for athletes and pro sports men & women BUT they are equally beneficial for anyone wanting to improve their health, lose weight, or just get into better shape.
Just by exercising in Pelleres™ you burn more calories without any extra effort. Amazing but true!
Pelleres™ are excellent for rehabilitation. Overcoming any injury? Pelleres™ are excellent for shoulder, back, abdominal, hernia, knee, groin, hamstring, calf, or ankle injuries. They help reprogram or establish "correct" movement patterns.
Go to our website for more information: www.pelleres.com.au
If you are a personal trainer, coach, physiotherapist, Doctor, or chiropractor ask us about incorporating Pelleres™ into your business.
It's incredible that something so simple can make such a difference! Tell us what you think. Post a message or comment; we would love to hear your thoughts on Pelleres™.
Mepi Faoagali
CEO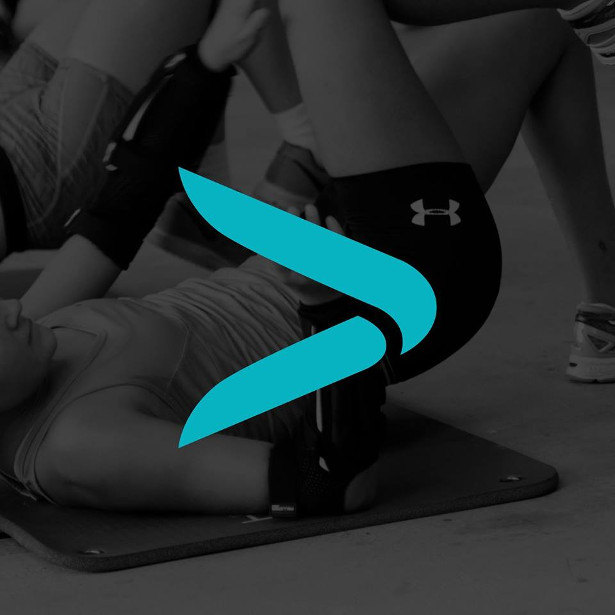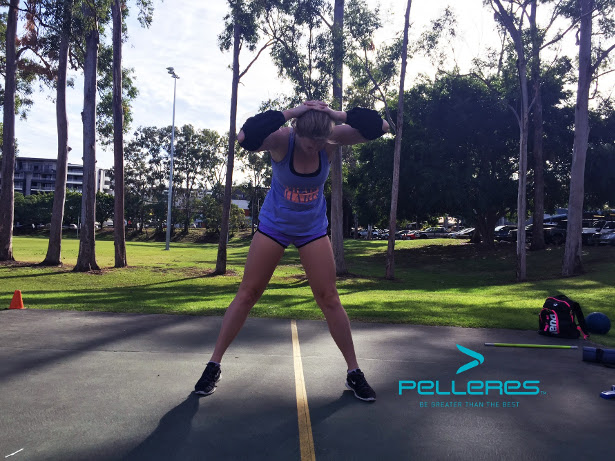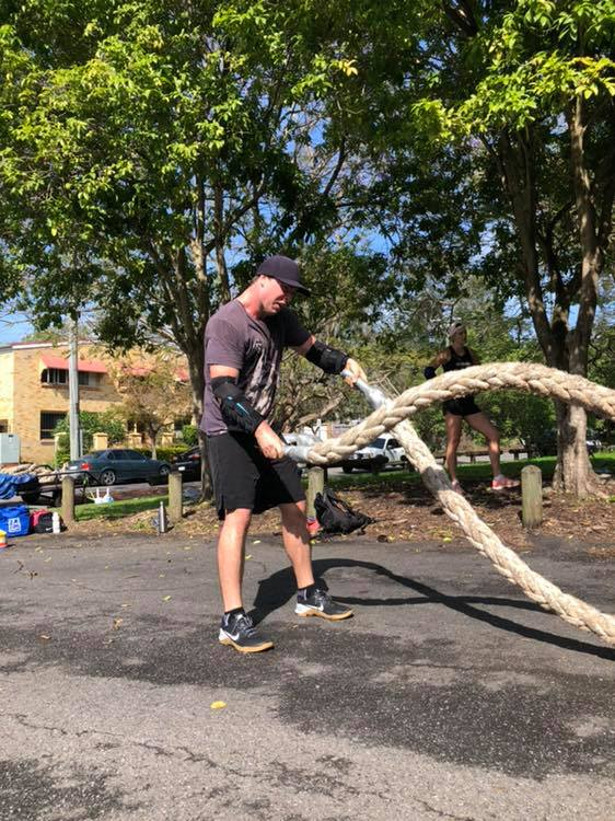 Jeenee Mobile has a great Christmas Gift Idea for every tech man out there.
ZTE 4G WiFi Modem
It's portable so he can take it anywhere; business trips, sport games or wine tasting weekends away.
It's really light, only 75g and really small, no bigger than a mobile phone so its' really handy he can keep it in his back pack, brief case or jacket pocket.
It will allow him to connect up to 32 wifi enabled devices, so he can keep his mates or his kids happy.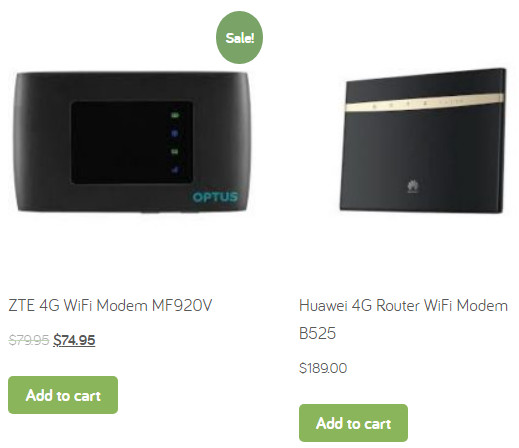 Team it up with a 4G data only Jeenee Mobile SIM and he could have up to 100GB to take everywhere or play Fortnight for a very long time!
The ZTE is currently on sale for $74.95 at Jeenee.org.au (https://www.jeenee.org.au/product-category/hardware/modems/)
And we sell 4G mobile broadband plans from as little $10 per month for 1.5GB up to our mega data plan of 100GB for $65 per month with no contract (+12.37 set-up fee on 1st month)
(https://www.jeenee.org.au/products/data-sims-2/)
We know this is a great gift for a young guy, a dad or a distinguished senior this Christmas.
www.toskaaactive.com
TOSKA Active towels make for the perfect Christmas present! They are perfect for sporty people as they are super-absorbent and quick drying. Perfect for the sweatiest sessions but also for the shower after the gym. Plus they roll up into a small handful so you don't have to worry about them weighing down your bag.
Sartoria Lab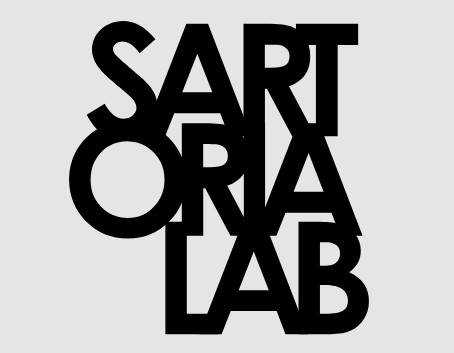 Personal styling and shopping services for men.
All aspects of their wardrobes in particular figuring out what smart casual is!
https://www.sartorialab.co.uk/gift-vouchers-for-men-2/
I
For the Couch Athlete – the Lifestyle Training Short can be taken from couch to coach. Created for maximum comfort, these knee length pants are a convenient addition to any casual wardrobe, whether you're wearing them on a lazy day around the house or running 10km.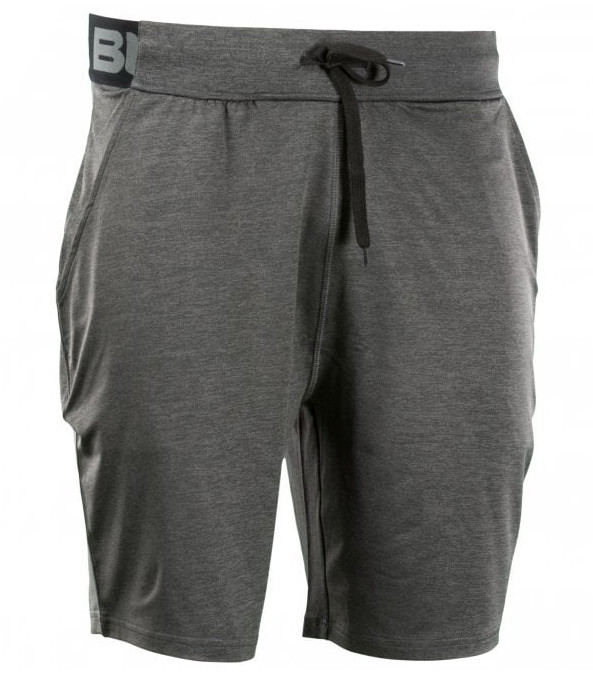 For the Lost Adventurer – the BLK Carbon Pro VII Jacket is perfect for the guy who likes to be ready for anything. Stylish and functional, the lightweight material is streamline and modern with a waterproof finish, making it the perfect item fo r the brother that likes to skate in the rain or husband who loves a fishing trip rain, hail or shine.
Gym or carry on travel bag gift ideas for those with professional careers partaking amateur sports.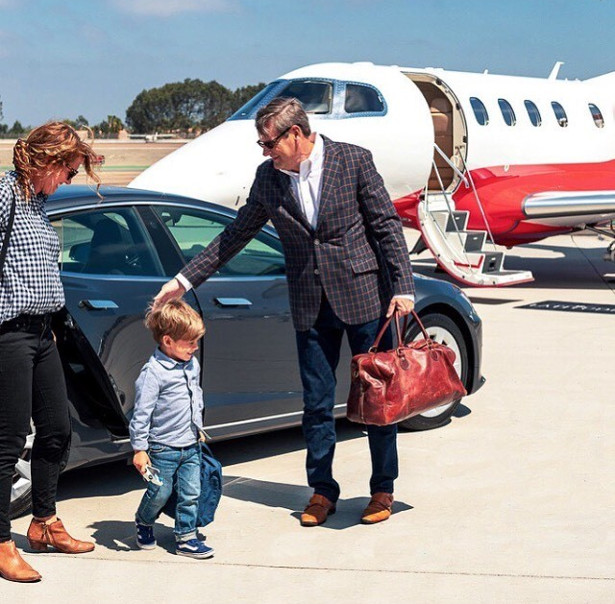 Old Angler specialises in mens leather bags: laptop, messenger, travel, duffle, briefcases and backpacks handcrafted in Florence from certified Italian leather.
What makes us unique is that we custom fit a bag to an individual's leisure, laptop and lifestyle.
Our philosophy is we bring in the new you, in terms of style, sophistication and status.
info@oldangler.com.au
Acme Made.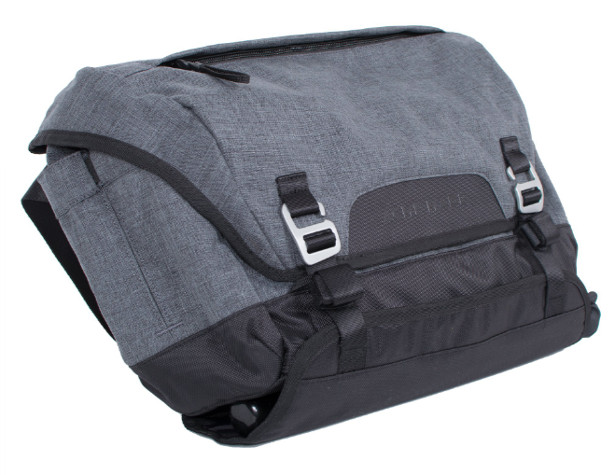 The Acme Made Divisadero Messenger is a modern take on the classic messenger bag. Allowing a special place to carry your umbrella, jacket or newspaper. The Divisadero Messenger is low profile while still having plenty of storage. Offering the security and peace of mind that your devices are protected in our padded and quilted pocket.
Divisadero Messenger: https://www.acmemade.com/collections/lifestyle-bag/products/divisadero-messenger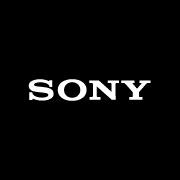 Spread the festive feeling with a gift from Sony
Treat your nearest and dearest to the latest gadgets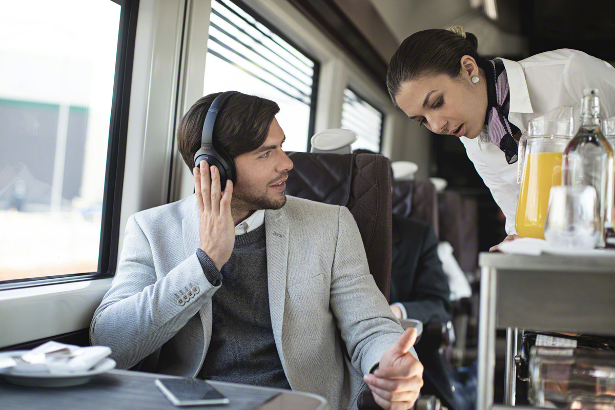 PINTEREST | TWITTER | YOUTUBE | GOOGLE+ | FACEBOOK
The tree is up, the food is prepared and the stockings are waiting to be filled.
Christmas is just around the corner and it's time to draw up a wish list for Santa Claus. This festive season, Sony has an amazing range of gifts for family and friends.
Enjoy Christmas ballads with the latest noise cancelling headphones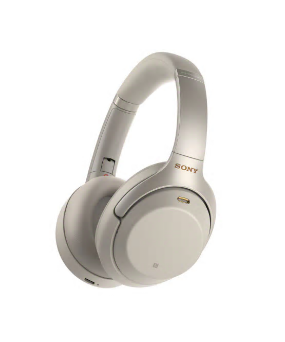 Treat your loved ones this Christmas with a pair of headphones from Sony's 1000X range. Perfect for those who want to turn up the Christmas tunes and block out the noise around them, the 1000X series boasts industry leading noise-cancelling performance and are available in a range of styles. The latest addition is the award winning over-ear WH-1000XM3 headphones that feature a newly developed HD Noise Cancelling Processor QN1, which offers exceptional performance and can cancel out background sound such as street noise and human voices. Perfect for anyone flying home for Christmas, with 'Quick Attention' mode you can order a round of gins from the air steward just by placing the palm of your hand on the outside of the headphone to place the order without taking them off. For those after something a little more discreet the WF-1000X model is a comfortable truly wireless headphone, in a minimal design and has Atmospheric Pressure Optimising, a feature that analyses the atmospheric pressure of your surroundings and then optimises your headphones' noise cancelling performance, also perfect for when jet setting off for Christmas.
Take the festive party anywhere with EXTRA BASS speakers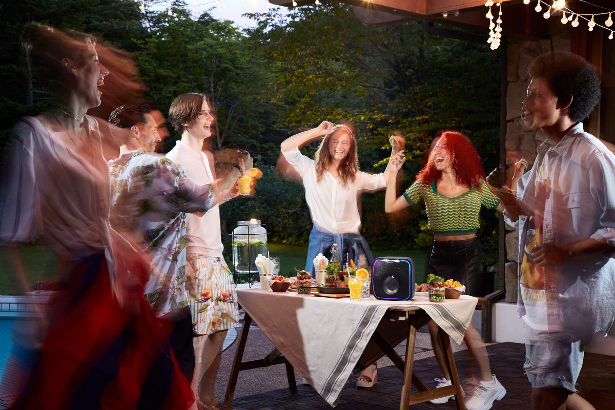 Take the party with you with the SRS-XB501G EXTRA BASS wireless speaker.
Whether you're staying at home this Christmas or heading to sunnier climes, this Bluetooth speaker is light and portable so can be taken with you to any Christmas party. The LIVE SOUND mode allows you to experience your favourite Christmas hits as if you were seeing the artists live, built-in Google Assistant makes it easier than ever to switch up your soundtrack and Chromecast allows you to sync up multiple speakers, creating an immense sound experience that's sure to get everyone in the festive spirit. With powerful sound and multi-coloured line lights, you will be able to bring the party with you, wherever you go this Christmas holiday.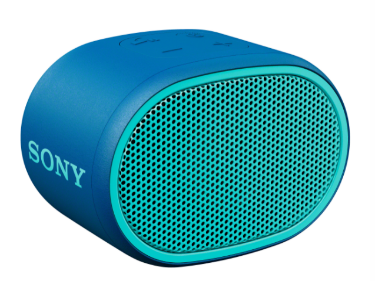 For those looking for a stocking filler that delivers big sound in a compact body, the SRS-XB01 speaker is the perfect gift. The compact speaker, with water-resistant design, is ideal for anyone who wants to take festive tunes with them wherever they go. With EXTRA BASS sound and available in a range of bold colours including red, yellow, green and blue as well as white and black, the speaker is a fun and affordable gift for any music lover.
In-ear headphones, the perfect stocking filler for fitness fans
Sony's new WF-SP900 headphones are the perfect gift for sporty friends, and with January right around the corner, these headphones will give you the motivation you need to get moving after Christmas. With IPX5/8 rating, the earbuds allow you can swim in the pool or the sea up to 2m depth. The WF-SP900 headphones also feature 4GB of internal memory, so are able to play music with no device needed- there really is no excuse to skip your new year workout!
Bring a splash of colour to Christmas with these bright and colourful headphones
For fashion-conscious friends, the WH-H900N wireless headphones are the perfect pick this Christmas. These Bluetooth headphones come in a range of festive colours, including Twilight Red, Pale Gold and Horizon Green, and are great for matching to outfits and accessories. Boasting an impressive battery life of up to 28 hours, they are a must-have for anyone who likes to listen to music in style, whilst on the move.
Capture every moment of your festive holiday adventure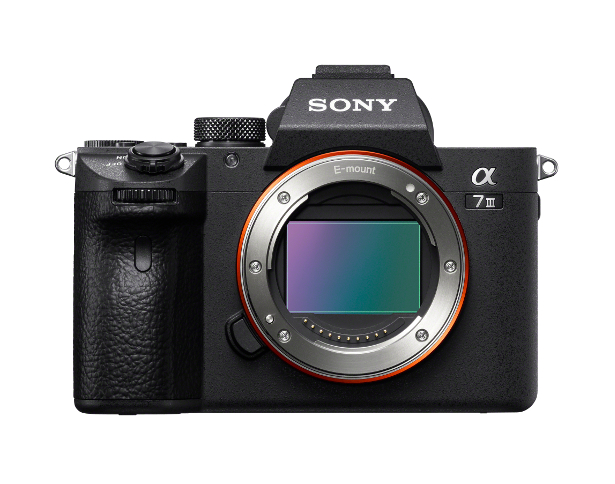 Whether travelling to see family or jetting off into the winter sun – the new DSC-HX99 and DSC-HX95 are the ideal cameras for you. Designed to be taken on adventures, both models fit easily into a pocket or purse but offer high zoom capabilities ranging from 24mm at the wide end up to 720mm super-telephoto. This allows you to capture your experiences from a range of perspectives and distances, with great image quality guaranteed. Also offering internal 4K movie recording, a tiltable LCD screen and high-speed continuous shooting at up to 10 fps with a buffer limit of up to 155 images, these cameras are a sure to be a Christmas hit.
Never miss a moment this festive season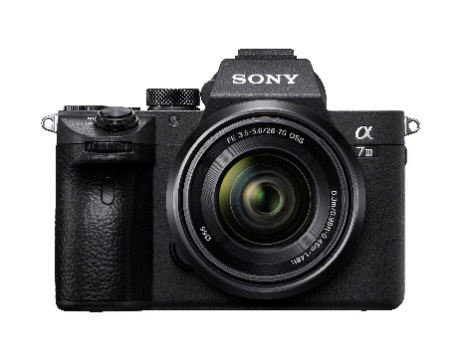 Spoil your loved ones this Christmas with the ultimate all-round full-frame camera, the α7 III. This interchangeable lens mirrorless camera offers continuous shooting at up to 10 fps, a 24.2MP back-illuminated Exmor R™ CMOS image sensor and wide ISO range of 100 – 51,200. Silent shooting and Eye-Autofocus means you can capture the joy, love and laughter of those around you without disturbing the celebrations, making it the go-to camera for preserving Christmas memories for years to come.
Take the ultimate Christmas family photo with an advanced lens
Make a big impression by pairing the α7 III with the SEL2470GM for the perfect festive portrait or snapshots of your Christmas family gathering. Excellent for everyday shooting or event photography, the standard zoom G Master lens features some of the most advanced lens technologies on the market today. The standard zoom lens is dust and moisture resistant and boasts 9-bladed aperture for beautiful background defocus and Nano AR coating to prevent flare and ghosting.
Enjoy your favourite festive entertainment in 4K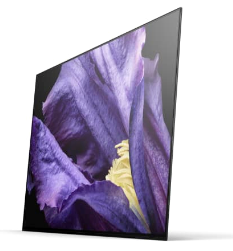 Impress the entire family this year, with either of Sony's latest TV triumphs, the magnificent Sony BRAVIA OLED AF9 or the stunning Sony BRAVIA LCD ZF9. which sit at the top of Sony's TV range known as the MASTER Series. Available in 55" and 65" screen sizes, classic Christmas films on the AF9 will glisten and glimmer in 4K HDR picture quality, producing deep blacks, stunning whites and rich, realistic colour. Breath-taking sound will come directly from the TV screen, all thanks to Sony's innovative Acoustic Surface Audio+™. By removing its need for speakers, the attractive One Slate concept design ensures family and friends focus solely on the picture. The wonderful ZF9 is another jaw-dropping slice of Sony's sleek design credentials and technology abilities. Available in screen sizes 65" and 75", this fabulous model offers 4K HDR picture quality and comes equipped with X-Motion Clarity for class-leading blur-free motion. Both models come equipped with the newly developed X1 Ultimate Picture and are based on Android TV™, and by using the Google Assistant all you need to do is simply ask your TV what you want to find, letting you explore a world of movies, music, photos, games, search, apps and more.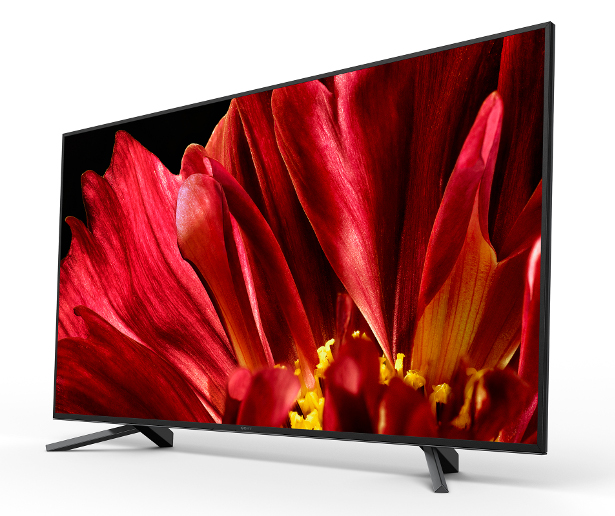 Treat the family to an at-home cinema experience this Christmas Day
Rival the cinema experience with Sony's HT-ZF9 soundbar at home! Bring the fantastic sound of the movies to your living room this festive season with the world's first Dolby Atmos soundbar with virtual surround sound. Producing three-dimensional sound, courtesy of Sony's new Vertical Surround Engine, you'll be able to delight in all your Christmas favourites. And with Dolby Atmos and DTS:X™ technology on board, the soundbar is qualified to totally excite viewers in the thrills and chills from all around the living room.
From incredible audio to sleek design, with this stunning soundbar
For those with smaller living spaces who don't want to compromise on sound quality, the Sony HT-SF200 compact soundbar is the ideal gift this Christmas. With deep bass and a wide surround sound field from a built-in subwoofer, audio is improved dramatically thanks to S-Force PRO Front Surround technology. Merrymakers can belt out hit Christmas songs with friends or create a feeling of cinematic ambience whilst entertaining this year, and all fitting neatly into any living space or style.
Replay old favourites with stunning picture quality
Complement your Blu-ray collection with Sony's nifty UBP-X700 4K Ultra HD Blu-ray Player. With support for HDR formats: HDR10 and Dolby Vision™, this Blu-ray player delivers seamless picture quality with a wider range of colour, contrast and brightness, offering you access to a world of 4K streaming services at this harmonious time of year.
Customise your look this party season at the touch of a button
The perfect gift for those who like to stand out from the crowd, the new FES Watch U, powered by Sony stylishly combines technology and fashion to allow users to customise their watch to their outfit. Using advanced e-Paper technology, fashion-lovers can upload designs and photographs to both the watch face and strap at the touch of a button, using the FES Closet app. Available in both sleek silver and carbon black, switching up your watch design to suit your style and personality for party season has never been simpler.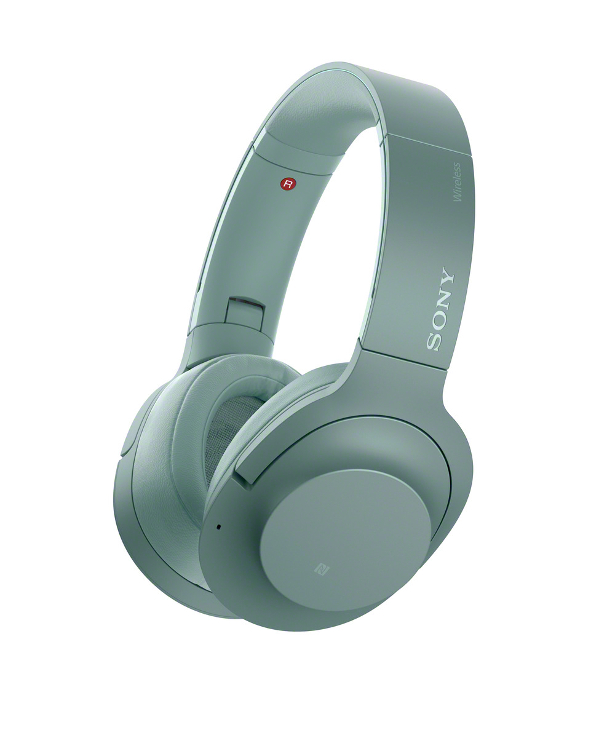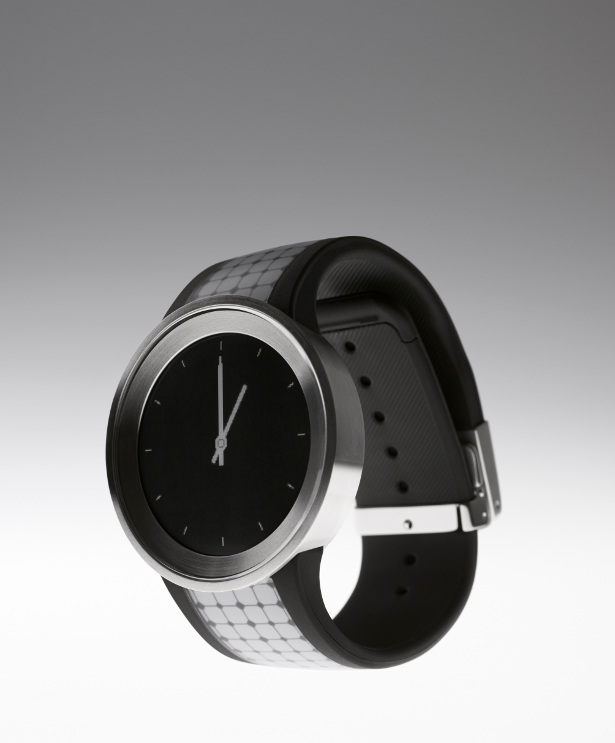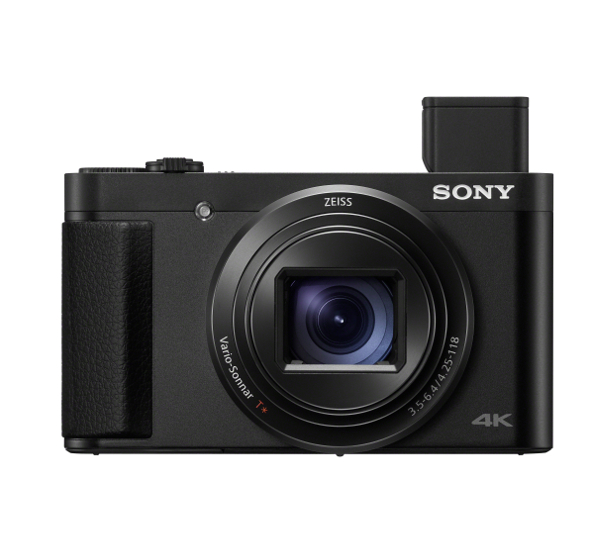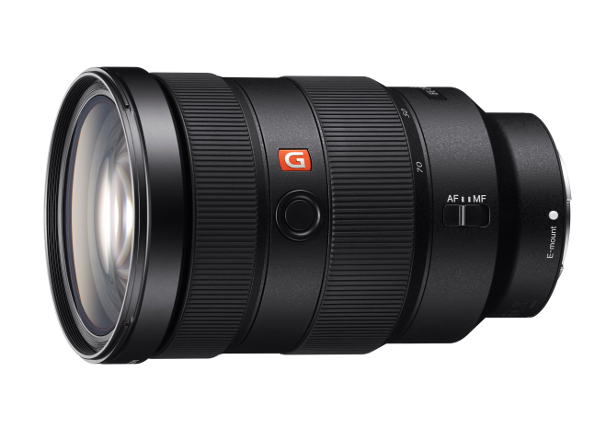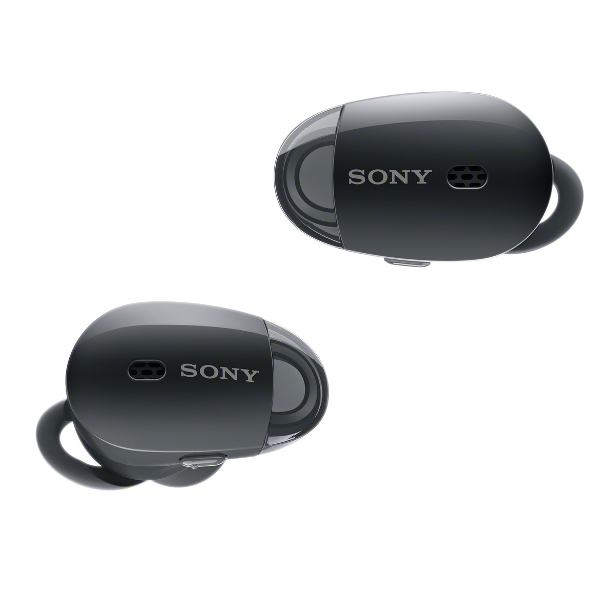 CHRISTMAS GIFT GUIDE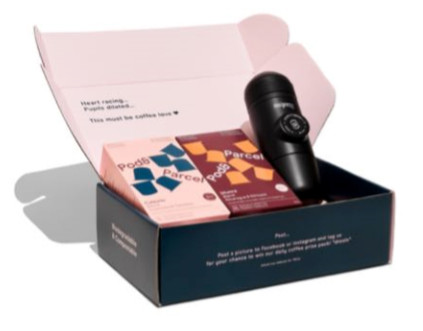 More than 1.1 million Australians would rather give up their mobile phone for a day than miss their morning coffee research has found.
With 2/3 of caffeine aficionados preferring to make their coffee at home, Pod & Parcel have your Christmas gifts sorted.
Australian Made & Melbourne brewed, these biodegradable and compostable coffee pods break down in roughly the same amount of time as an orange peel!
Better still, they use the same quality beans found in specialty cafes, traceable from farm to cup.
Minipresso Gift Pack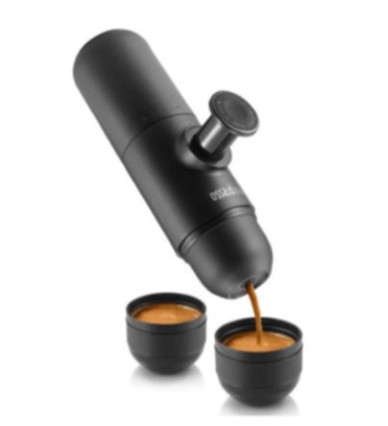 Minipresso with two of our most popular blends (Nespresso® compatible) + Nespresso compatible + Portable + Perfect for camping and travelling + 20 pods included (1 pack of Calexte and 1 pack of Fasoli blends)
RRP: $88AUD Available from specialty coffee stores and online at www.podandparcel.com.au
www.cocktailkit.com.au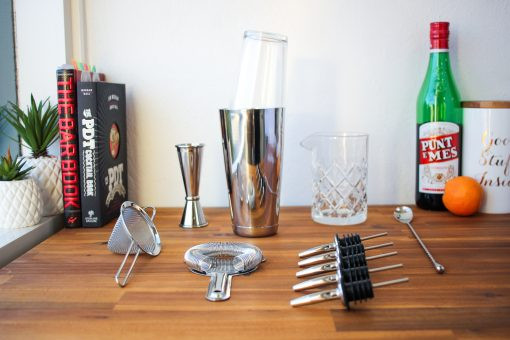 Top selling bartender kit: https://cocktailkit.com.au/product/bartenders-cocktail-bar-kit-boston-shaker/
Gin tasting set: https://cocktailkit.com.au/product/australian-gin-tasting-set/
(back in stock within a week)
Gin advent calendar: https://cocktailkit.com.au/product/aussie-gin-advent-calendar-2nd-edition-2018-24-x-bottles-included/
Negroni set: https://cocktailkit.com.au/product/negroni-cocktail-kit/
DIY Gin Set: https://cocktailkit.com.au/product/premium-gin-making-kit-with-floral-blend-refill/
Beer Advent Calendar!
Featuring 25 different beers to have on the countdown to Christmas it has become a bit of a tradition for many beer drinkers and is a very popular gift for any beer lover.
With thousands sold over the last few years it is the highest rated Beer Advent calendar (8.5 out of 10 two years in a row!).
www.beercartel.com.au/beer-advent-calendar
Some key features:
– 25 different beers from 25 different Australian breweries. Includes a beer to have ON Christmas day
– All the beers included are from 100% Australian independent breweries
– Over 20 different styles of beers, its a real taste sensation.
– Includes 7 one-off exclusively brewed beers never before seen, only available in this years advent calendar
– Christmas themed advent box that keeps the beers hidden for each day and makes the perfect gift
The Beer Advent Calendar is available for purchase either online through our website (we deliver Australia wide) or from our Sydney store (9/87 Reserve Road, Artarmon).
Finding the right present for the men in your life is not a simple task; luckily Schwarzkopf Professional's 3DMEN Christmas pack contains everything that they need.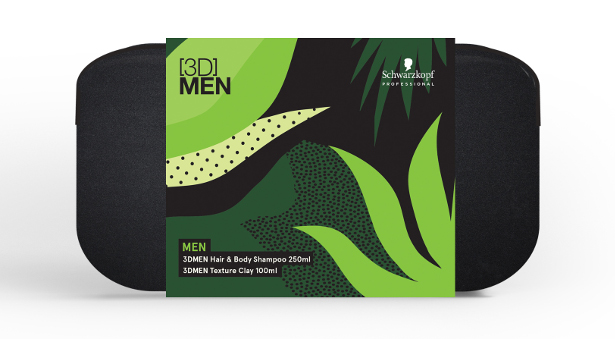 Engineered specifically for men the duo pack includes a Hair & Body Shampoo and Textured Clay Paste that activates the roots, refreshed the scalp and strengthens the hair.
3DMEN Duo Pack
RRP: $29.95
Contiki gift cards – allowing you to give the gift of travel!

The perfect gift for the adventurer, the hard to buy for or the person who has everything. The gift card can also be redeemed on flights, pre/post accommodation and travel insurance, booked through Contiki. After all, the best gift in life are experiences!
https://www.contiki.com/au/en/activity/giftcard
Bulldog Skincare, a purpose designed male specific skin care range, have a fantastic selection of products that are perfect for hands-on, active and outdoorsy guys.
The company has also released a '5 top tips to get your skin through summer' editorial piece to boot.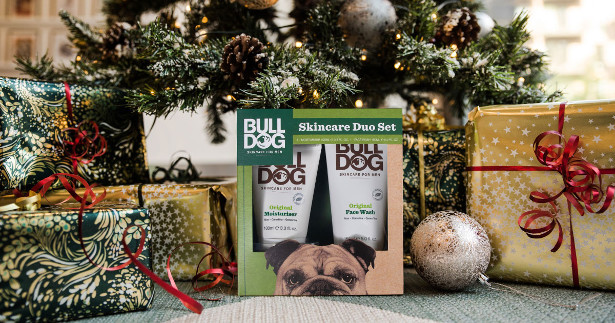 5 Top Tips To Get Your Skin Through Summer
With unbeatable warm weather and long, sunny days, Australia undoubtedly shines in summer. Although it's the season of fun with backyard cricket, beach trips and festivities galore, the activities and sun can quickly take its toll on your skin. To save you looking dry and dull during the fast-approaching Christmas season, Bulldog Skincare For Men has crafted a list of do's an d don'ts:
1. DO wash your face both morning and night. Whether you're at the beach or just getting through a day's work, the sun and humidity will leave you sweating. If you don't remove the sweat, stubborn blemishes can pop up unexpectedly before the next big event. To save yourself from future frustration, use Bulldog Skincare's Original Face Scrub. Not only will it remove the sweat, but also clear the dried and dead skin filling your pores.
2. DON'T forget to drink water. It might sound obvious, but it's easy to forget when you're on the go or in a hurry. If you can, carry a water bottle and aim to drink 2 litres per day. Not only will the water cool you down, but it'll hydrate your skin and cleanse your body of unwanted toxins.
3. DO moisturise your skin. Bulldog Skincare's Original Moisturiser will keep your skin looking fresh, bright and party-ready at a moments noti ce, plus it helps your skin recover from a day in the sun. When applying moisturiser, don't forget to cover your neck—although the skin on your neck is tough, it's prone to wrinkling without proper care.
4. DON'T get sunburnt. Although the Aussie sun is notoriously harsh, a sunburn is easily avoidable. For optimum protection, use SPF30+ sunscreen on a daily basis under your moisturiser. If you're hitting the beach, consider an SPF50+ water-resistant sunscreen to save your skin from going bright red.
5. DO care about the skin you're in. Although long days soaking up the sun and even longer nights out with friends are inevitable, your skin doesn't have to suffer. By incorporating Bulldog Skincare's Age Defence Moisturiser into your routine sooner rather than later, you'll be able to reduce the appearance of frustrating fine lines after 4 weeks.
Being man's best friend, Bulldog Ski ncare For Men is a must-have to prep your skin for the warmer months and the trials and tribulations that come with a little too much Christmas festivity. Bulldog Skincare's products are entirely vegan, cruelty-free, and never contain artificial colours or fragrances, so you can always look and feel your best.
Packed with natural ingredients along with carefully selected man-made ingredients, Bulldog Skincare aims to deliver superb performance at an affordable price, making their products great Christmas gifts too! With a range to suit all skin types (and even guys with beards), you'll be able to find the perfect present for family and friends.
For more information on Bulldog Skincare For Men and to view their product range, please visit au.bulldogskincare.com
The Birth of Bulldog:
The idea for Bulldog Skincare For Men was born whilst Simon Duffy, the founder of Bulldog, was shopping for skincare products and noticed that th ere were no straightforward options that were purpose-built for men. After thorough research and development, Bulldog launched in the UK in 2007. Bulldog started to export from 2010 and is now available in over 20,000 stores in 15 countries, across markets as diverse as South Korea, USA and Australia.
Celebrate the festive season with HyperX! HyperX 2018 Christmas Gift Guide


Looking for great gift ideas to include in your Christmas Gift Guides? HyperX have you covered with gear for any gamer, from the casual to the hardcore gamer through to the pros. Check out what HyperX are putting in this year's stockings:
HyperX Cloud Earbuds HyperX Cloud Earbuds™ are ideal for the Nintendo Switch™ gamer who enjoys taking their game outside.  Optimised for Handheld Mode  In-Line mic for game chat  Immersive in-game audio  $79AUD RRP
HyperX Cloud Gaming Headset for PS4 The HyperX Cloud headset is officially licensed by Sony Interactive Entertainment LLC and designed for the PlayStation®4 systems.  Signature HyperX comfort  Detachable noise-cancellation microphone  Durable aluminium frame  $129AUD RRP
HyperX Alloy FPS RGB The HyperX Alloy FPS RGB™ is a great-looking, high-performance keyboard designed to make sure that both your skills and style are on full display.  RGB backlit keys with radiant lighting effects  Kailh Silver Speed mechanical keyswitches  Compact, ultra-portable design with detachable cable  $189AUD RRP
HyperX Pulsefire FPS Pro The Pulsefire FPS Pro gives your setup a shot of RGB style and the reliable precision you need to hit your shots before your enemy lines up theirs.  Pixart 3389 sensor with native DPI up to 16,000  Comfortable ergonomic design  $189AUD RRP
Freya's Nourishment has now released a men's range "Odin"
Odin, Nordic Chief God, Father of all the Gods and men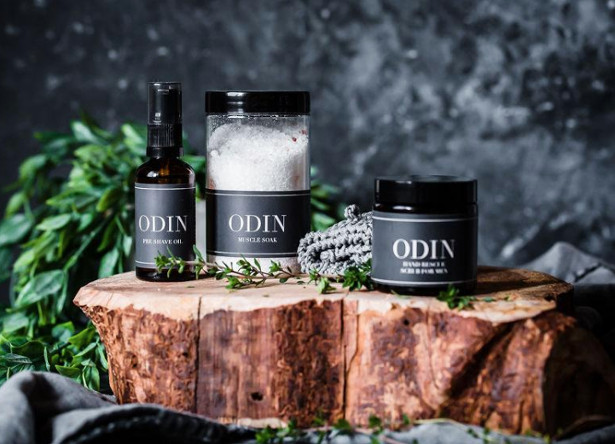 Odin, the God of magic, wit and learning. Of war and death. Of poetry and wisdom
Odin, the husband of Freya. The perfect choice for Freya to have as the man beside her once again
The ladies have been complaining that their husbands keep stealing their Freya products, now the boys have their own. What started as a Limited Edition pack we are proud that the range is now available separately. Using the rich smoky scents of vetiver, neroli, sandalwood, myrrh and black pepper this range has been formulated to nourish the male skin, to ease their aches, pains and stresses. The gift pack includes Hand Rescue – Scrub for Men, Pre Shave Oil, Muscle Soak Bath & Foot Salts and a soft hand knitted face cloth.
www.freyasnourishment.com.au/collections/odin-for-men

Christmas 2018 Gifts Ideas For Tech & Outdoors by Makers Unite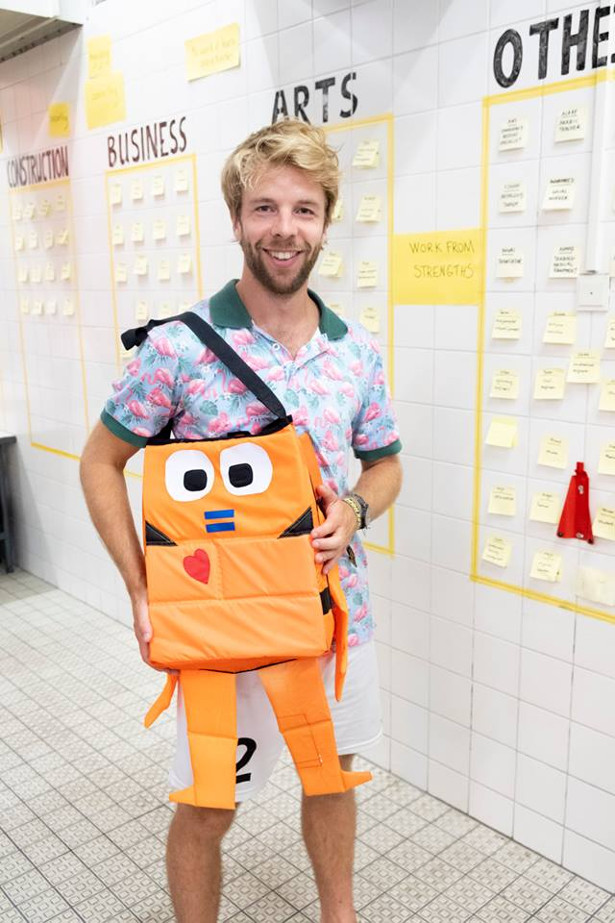 FACEBOOK | INSTAGRAM | LINKEDIN | YOUTUBE
The Makers Unite Collection is 100% social, 100% sustainable, fashionable and sporty, made of durable unique materials.
13 and 15 inch Unique Laptop Sleeves in black/orange/mixed colors
– Made by newcomers in Amsterdam
– Carries his laptop and a positive story
This unique designed laptop sleeve from the MU Collection made a long journey to you. It once was a life jacket, helping people reach safety. Now, upcycled into a unique laptop sleeve, it's helping connect creative newcomers (often with a refugee background) to the job market, leveraging their talents to build a new life in the Netherlands.
Dimensions: 33 x 23 x 2 / 12.99 x 9.05 x 0.78 inches.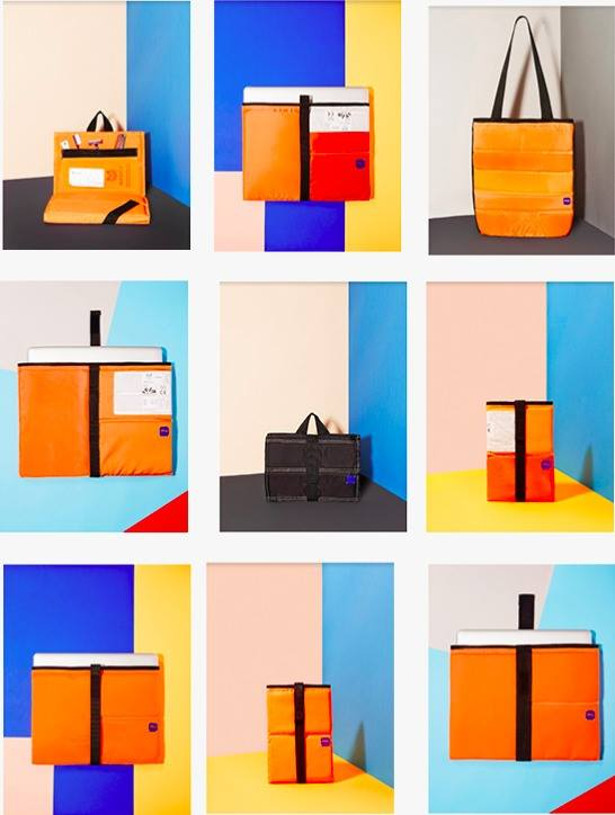 Unique Upcycled Travel Pouches in black/orange/mixed colors
Our travel pouches are designed and produced together with newcomers, refugees and locals in Amsterdam, because of that they carry a powerful positive message of connecting across cultures. The sales of our products provide working opportunities to our participants and fund our social inclusion program.
More About the Travel Pouch
Compact and practical, this travel pouch can be used in several ways. Open it up and things get exciting with its multiple tabs and compartments. It can store and organise your electronic devices and accessories by keeping everything in place with secured pockets and straps. You can also use it as a flat-laying toiletry bag, or as a hanging toiletry bag wherever you're traveling.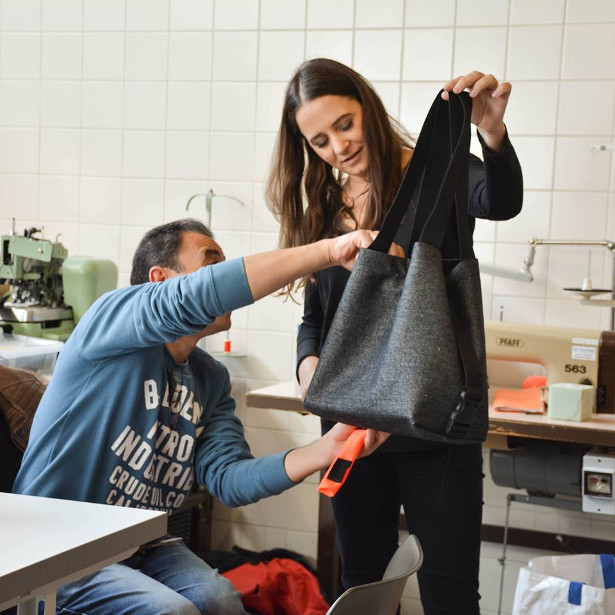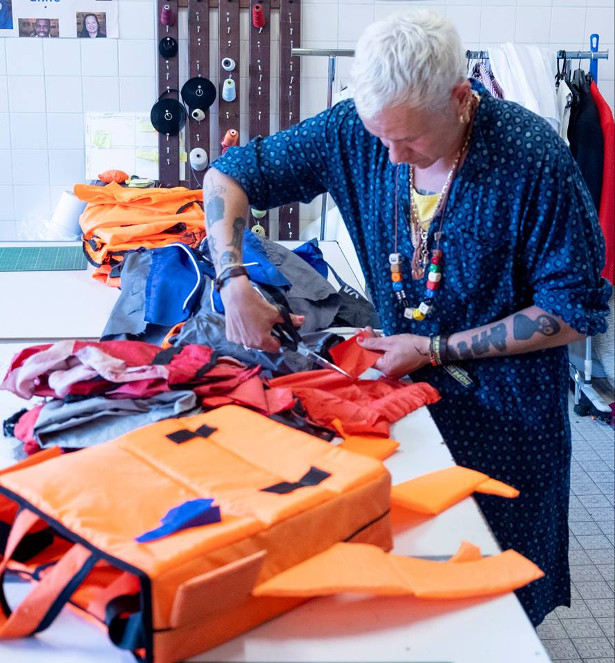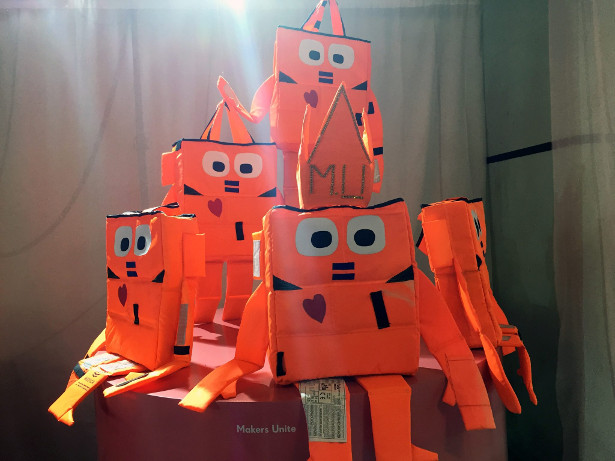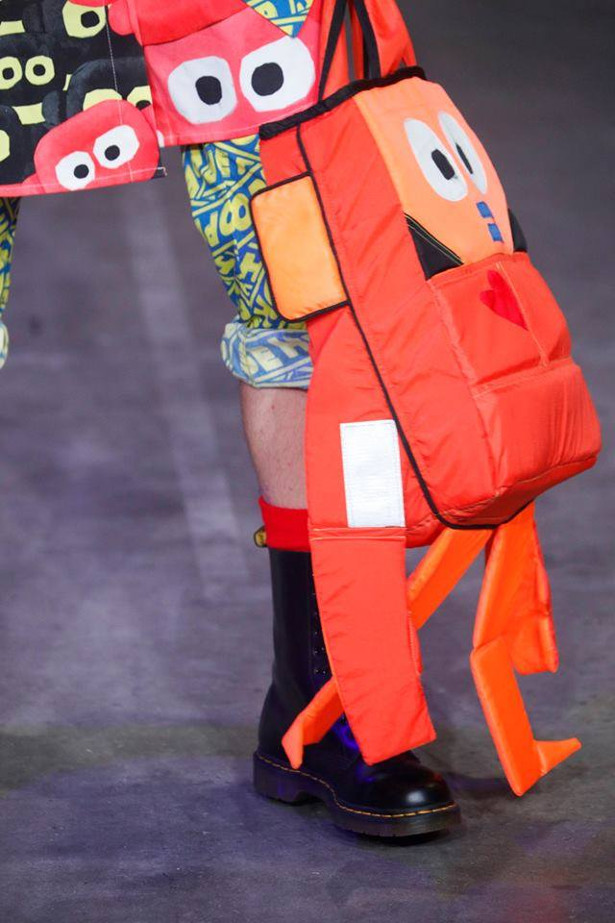 Nuzest… making good nutrition easy for everyone. www.nuzest.co.uk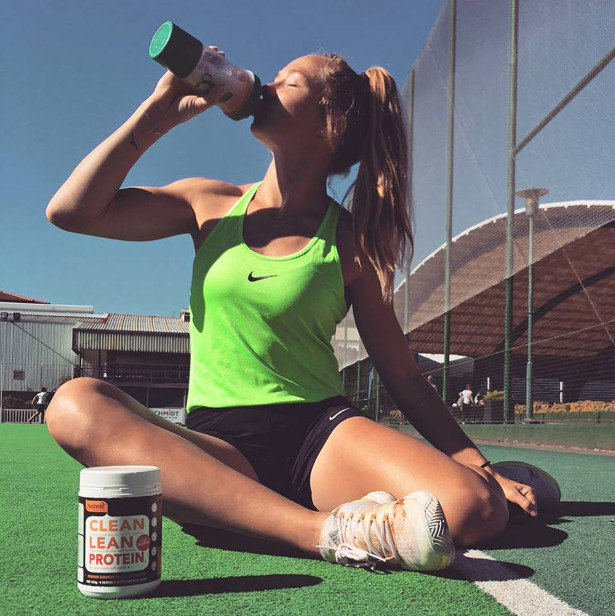 FACEBOOK | TWITTER | INSTAGRAM
At Nuzest we believe in making good nutrition easy for everyone. We only use top quality, responsibly-sourced ingredients. In fact, we like to think that we make the kind of choices you'd make for yourself.
Knowledge about human nutrition is constantly evolving, so coming up with an effective formulation once and letting it run just isn't good enough. We challenge ourselves to continually improve our supplements so that we produce outstanding nutritional products – time after time.
We like to keep things real, so our products are based on real foods that are rich in nutrients and essential vitamins and minerals. Once sourced, these ingredients are carefully handled to retain all of their goodness. You can relax knowing that every batch of Good Green Stuff and Clean Lean Protein is independently tested before it gets to you.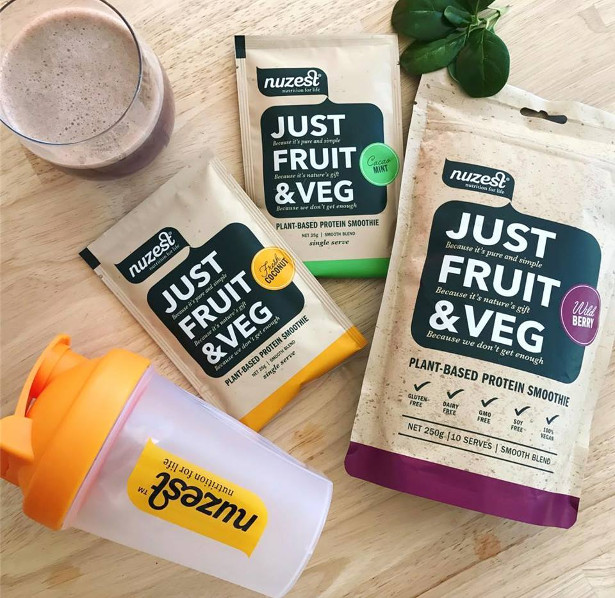 We are the FEEL-GOOD people, because great nutrition is at the heart of feeling good in every respect. Our aim is to make nutrition easy…NATURALLY
Products
Good Green Stuff
Clean Lean Protein
Kids Good Stuff
Quick Vita Kick
Good Green Snack – Multi-Vitamin Bars
Just Fruit & Veg
Clean Lean Protein Bars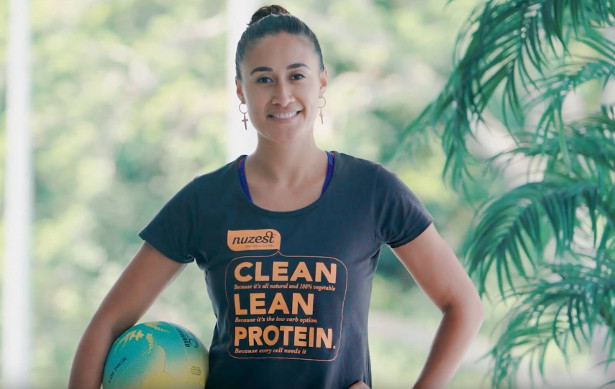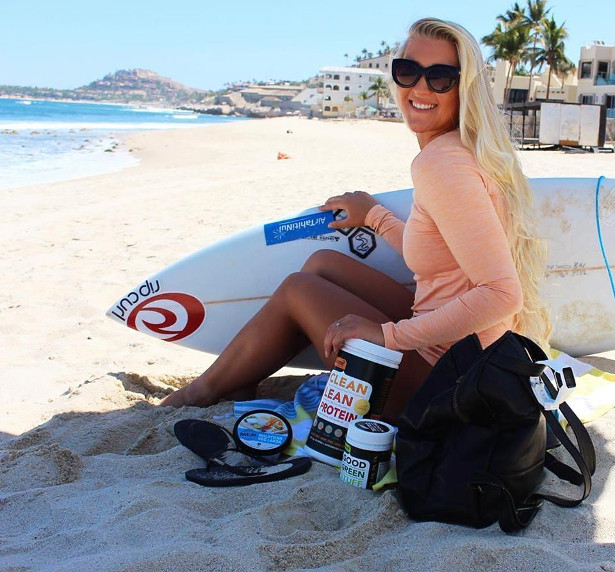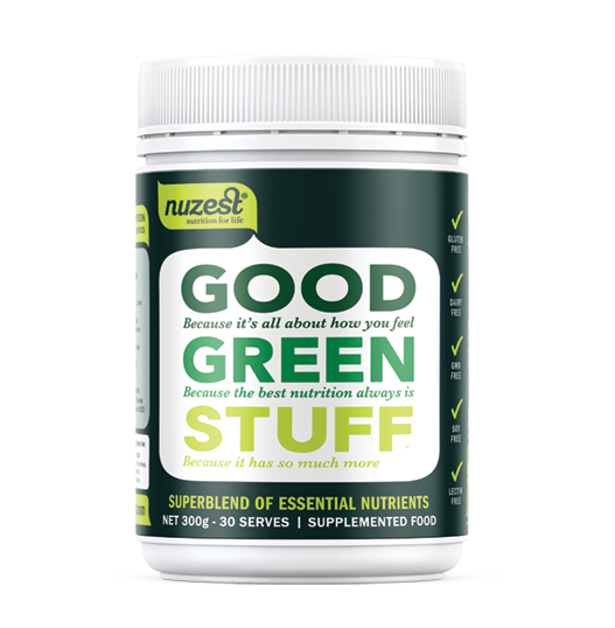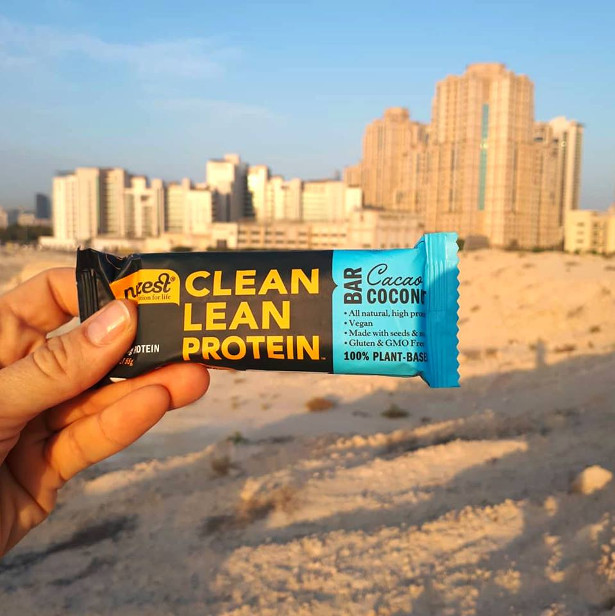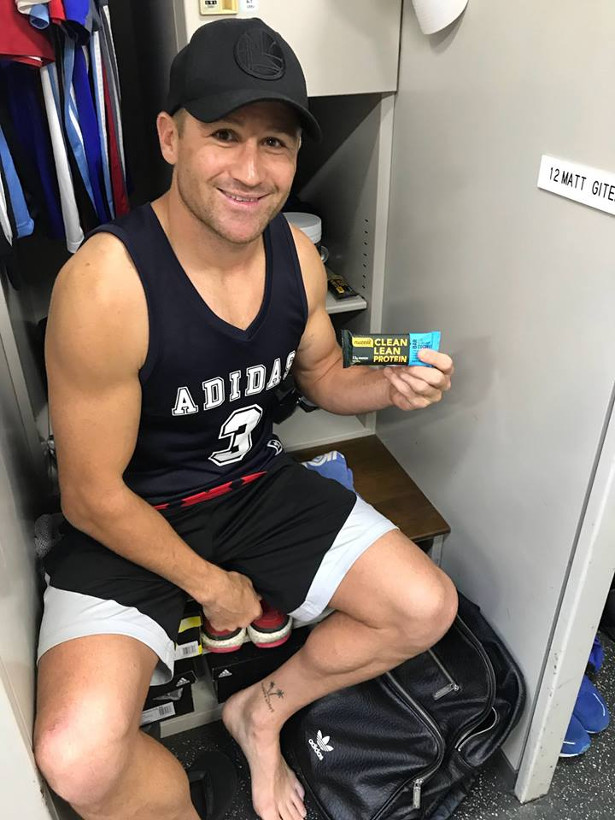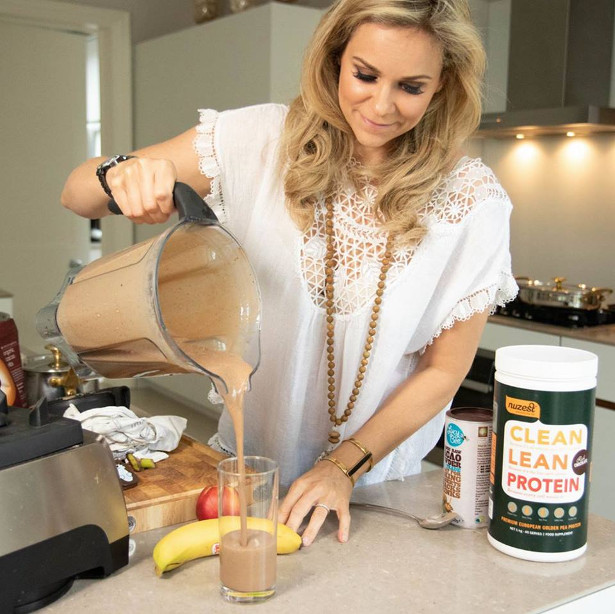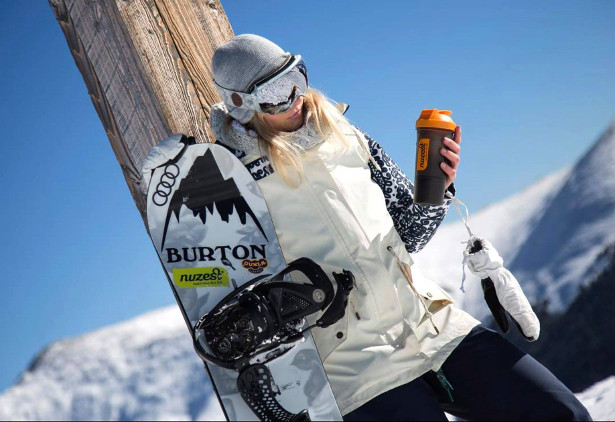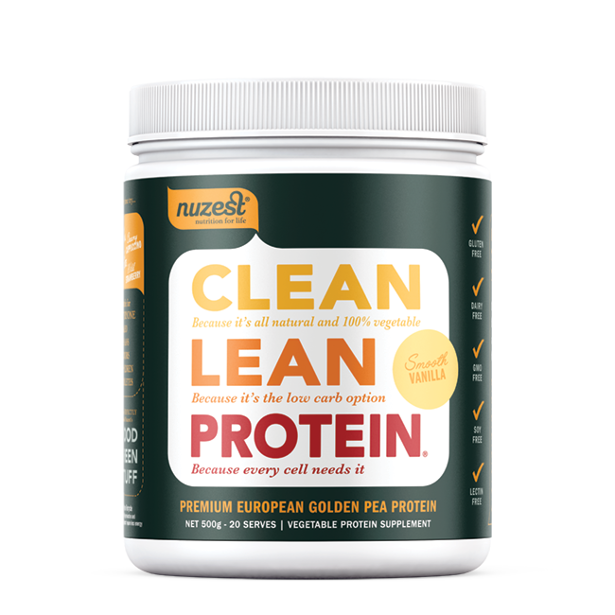 FACEBOOK | PINTEREST | Be | Tumblr | Flickr | BLOG | INSTAGRAM | TWITTER
The philosophy of ​​MyLoview is based on the search for beauty that could exist in the closest places to people – at home, at school and at work.
We love interiors, that is why the basis of our action was the desire to convince the widest possible audience that their surroundings can quickly and easily become beautiful and unique incorporating canvas prints, or framed canvas printe even with an extra external frame, or vintage canvas prints, here you can find more unique canvas prints myloview.com! It is enough to look at them and see the potential in them that will fully bring out our amazing products.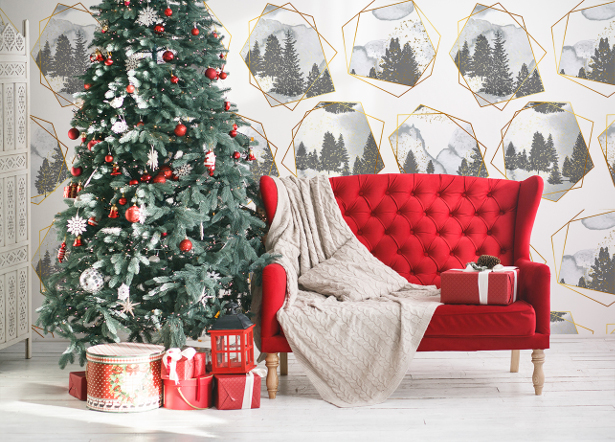 We are a team of experienced professionals, in their activities driven primarily by passion. We follow, we search, we look at global trends in design, but also create our own original designs. You can be sure that thanks to us, your interiors will become truly unique.
Wall mural ▪ Stickers for walls and furniture ▪ Print your photos ▪ Posters ▪ Reproductions
Myloview.com; a young but fast-growing company which produces wall murals, canvas prints, posters, and stickers that can personalize any interior.
 Below are just some ideas! (All can be purchased as murals, canvas prints, posters, and stickers):
• https://myloview.com/canvas-print-vintage-race-car-for-printing-old-school-race-poster-retr-no-515A8CE
• https://myloview.com/wall-mural-crack-in-wall-no-8BD2969
• https://myloview.com/sticker-elegant-gentleman-holding-glass-of-beverage-and-cigar-vintage-no-41C8AF5
• https://myloview.com/canvas-print-vintage-poster-with-shuttle-no-6BC1F33
Finding a perfect gift is not easy these days. If you don't want to risk your present ending on a clutter pile, you should try something unique yet practical. Here's when Myloview comes to rescue with its original wall art. Their products are a perfect choice for everybody who's looking for a gift that will help the modern man reflect his sensibility and personality be means of interior design. You can choose from tons of wall decor ideas that will fit into any man cave – with our custom products, the only limit is your imagination.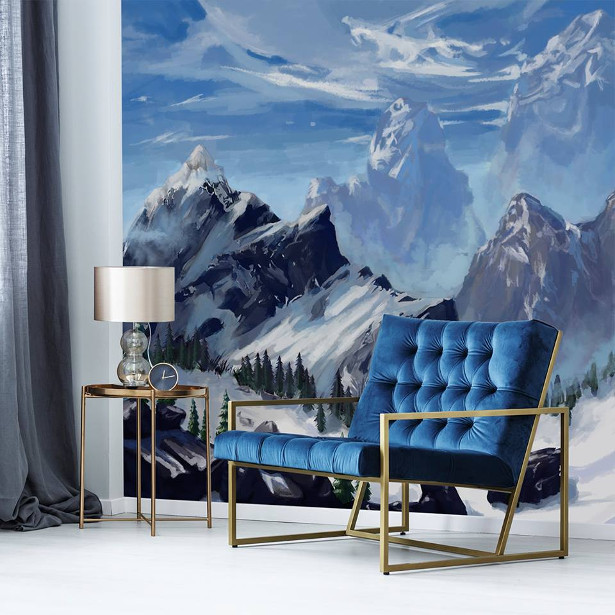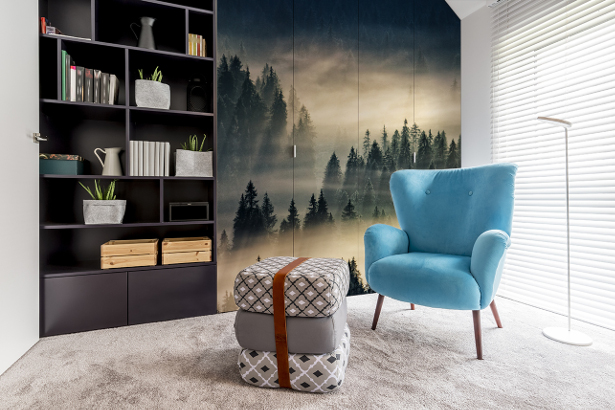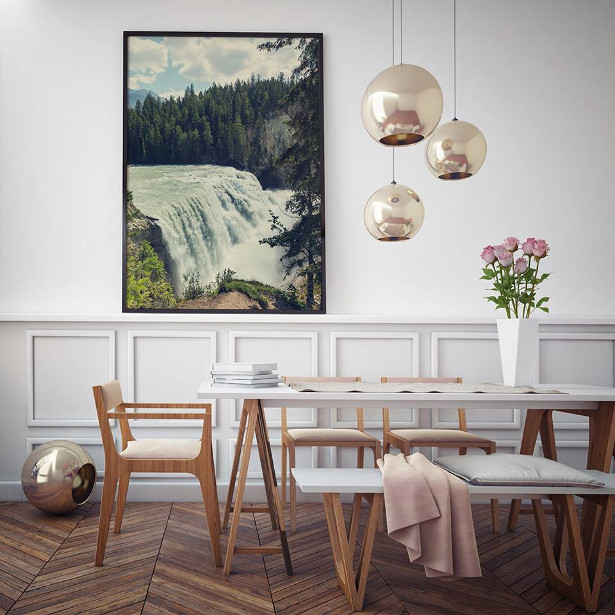 ABBEY ROAD SHOP REVEALS NEW RANGES
FOR CHRISTMAS
LEGENDARY STUDIOS SHOWCASE BESPOKE AND EXCLUSIVE LINES IN STUDIO SHOP PERFECT FOR MUSIC LOVERS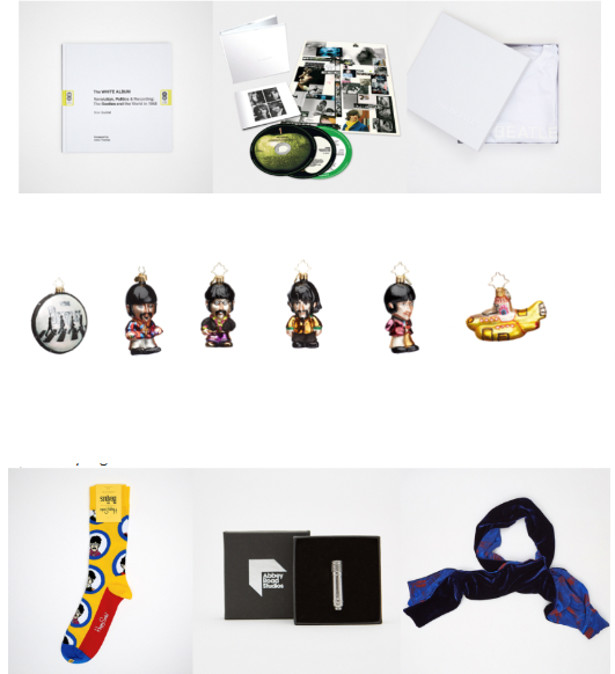 Celebrate the 50th anniversary of The Beatles' landmark 'The White Album' limited edition range, available exclusively at the Abbey Road Shop
Exclusive collectable hand-blown glass and hand-painted decorations, the perfect Christmas gift
Classic vinyl re-mastered at half-speed by Abbey Road's expert engineers for unparalleled sound quality
Gift sets, homeware, tech, instruments and more available at London's most vibrant studio shop
shop.abbeyroad.com
Abbey Road Studios is gearing up for Christmas with a whole host of bespoke, seasonal gifts essential for every music lover. From quirky homeware, boutique decorations, apparel and exclusive Beatles ranges – all incorporating Abbey Road's rich musical history. Available in-store and online at http://shop.abbeyroad.com.
Abbey Road is celebrating the 50th anniversary of The Beatles' iconic 'The White Album' with a brand new premium range exclusive to the Abbey Road Shop created in collaboration with The Beatles. The new luxury range is beautifully presented for gifting including boxed T-shirts, notebooks, stationery and more embracing the minimalist design of the album cover with the highest quality materials and embossed finishes.
For those looking to bring some Fab Four cheer to their homes, there is an exclusive range of intricate mouth-blown and hand-painted Beatles Glass Ornaments. Each decoration is uniquely designed and crafted using a centuries-old process which takes seven days to complete. These delicate ornaments aren't available anywhere else, are highly collectable and are a covetable gift for any Beatles fan.
A brand-new selection of gifts perfect for Christmas has been added, including bespoke silk scarves for men and women, bearing subtle patterns of the studios' most iconic microphones, as well as a specially commissioned exclusive pewter pin based on the Abbey Road and Chandler REDD microphone's unmistakably classic aesthetic. A new range of Beatles socks is available individually or in a special Yellow Submarine inspired 'record sleeve' style gift-box are also now available instore and online.
The top selling 'I Am the Egg Man' and 'I Am The Walrus' egg cups have been redesigned with '60s style psychedelic inscription and for those looking for something really special for the home or a loved one, Abbey Road are proud to present the replica Yesterday Score by Sir George Martin for The Beatles. Limited to 500 copies, this faithful reproduction of Sir George Martin's original orchestral arrangement comes complete with scribbles, pencil notations and an occasional tea stain. The Yesterday hand-bound folio includes a two sheet score and Certificate of Authentication.
Abbey Road stock a large collection of vinyl including the new Beatles 'White Album' box sets and new Chic album 'It's About Time' . There is also a special series of half-speed mastered vinyl, re-mastered by the studios' award-winning engineers. Working at lower speeds with highly modified equipment and from the highest quality original sources, half-speed mastering is the most accurate way to cut a record and reveals a new depth to the recordings. Some remastered classics include Simple Minds, The Rolling Stones, ABBA, The Police, Japan, Cream, Brian Eno and more. With more titles being added all the time, they are a must for music lovers who want to take their listening experience to the next level.
Another addition to the store amongst many more is the bespoke vinyl cleaning set – made with ultra-pure ingredients and featuring professional grade tools, the perfect solution for audiophiles, bedroom listeners, and superstar DJs alike. For music makers looking to add something a little different to their repertoire are the Teenage Engineering pocket operators. Though small in size, the micro synths and drum machines, pack a surprising punch and are an affordable and exceptional addition to any aspiring and versed sequencer's trick box.
There are many more items and exclusive ranges available online (with worldwide shipping) at http://shop.abbeyroad.com and in store. The Abbey Road Shop is right next door at 5 Abbey Rd, London NW8 9AA and is open Mon to Sat 9:30am-6:00pm and 10 am – 6:00pm on Sundays.
Christmas Jumper Day lands
With three days to go until National Christmas Jumper Day, it's time to get ready with a bright and bold Jumper from Imperial War Museums shop.
Featuring a brand new design for 2018, this cosy Christmas essential showcases the iconic Spitfire amongst a classic repeat Fairisle pattern.
With a matching Jumper available for kids, this is the perfect gift for the mini aviation enthusiast and their co-pilot.
Adult Spitfire Christmas Jumper £38.00 and Kids Spitfire Christmas Jumper £25.00
Imperial War Museums shop
www.iwmshop.org.uk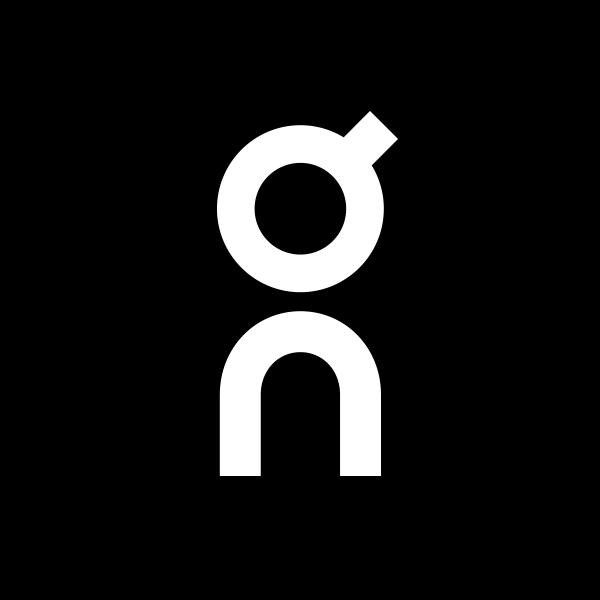 Running t-shirts 
FACEBOOK | TWITTER | INSTAGRAM | STRAVA | YOUTUBE | LINKEDIN
Weather Shirt – £100.00
https://www.on-running.com/en-gb/products/weather-shirt-navy-black-m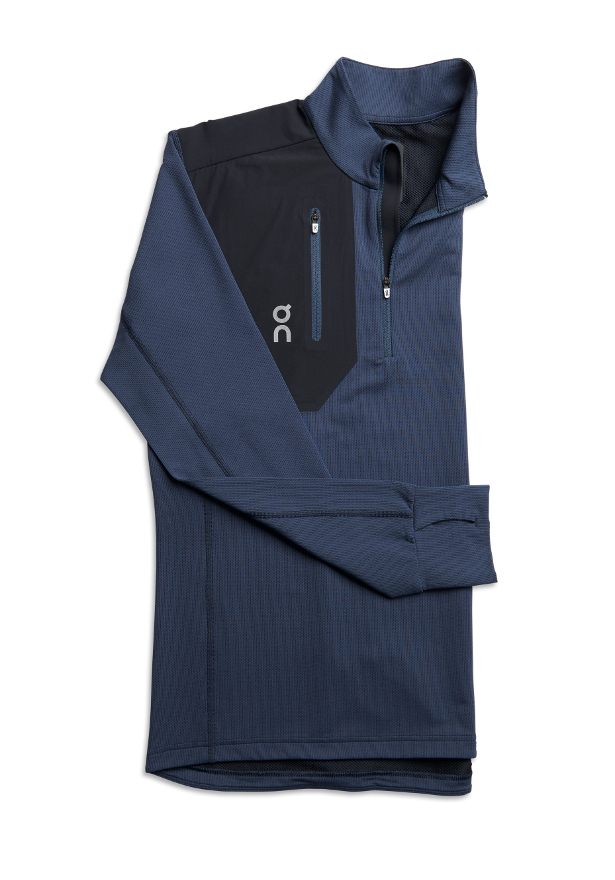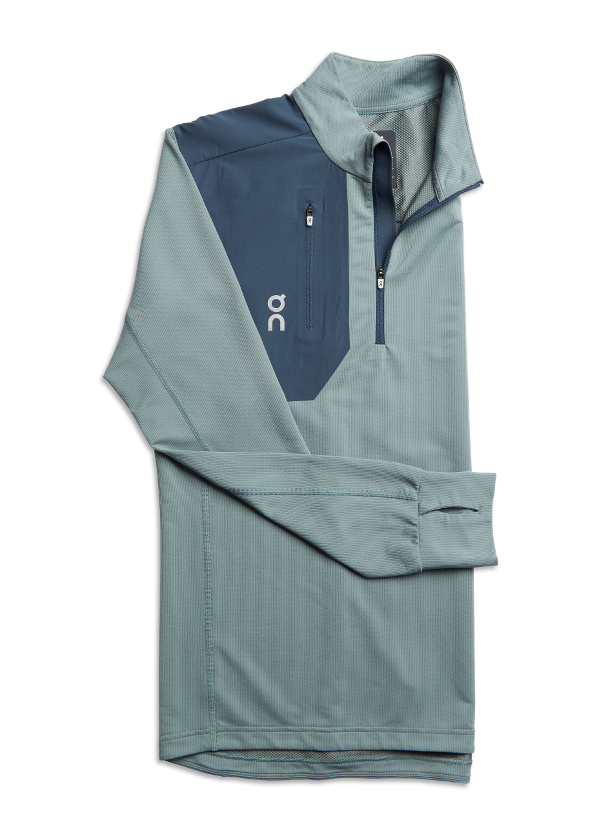 Long-T – £70.00
https://www.on-running.com/en-gb/products/long-t-navy-m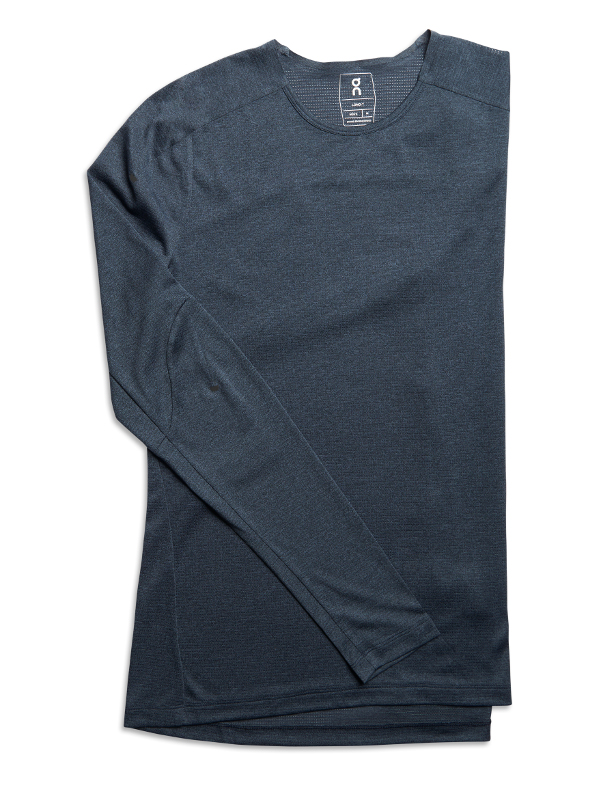 Performance-T – £70.00
https://www.on-running.com/en-gb/products/performance-t-malibu-navy-m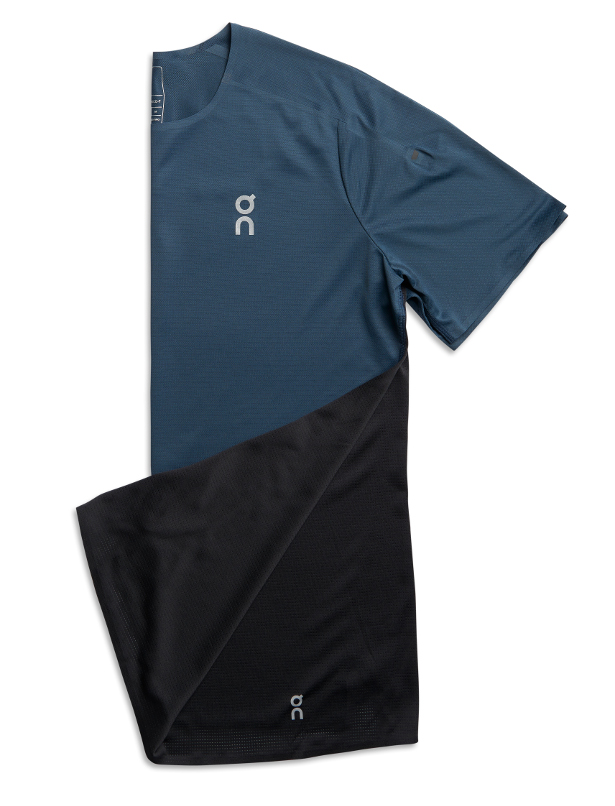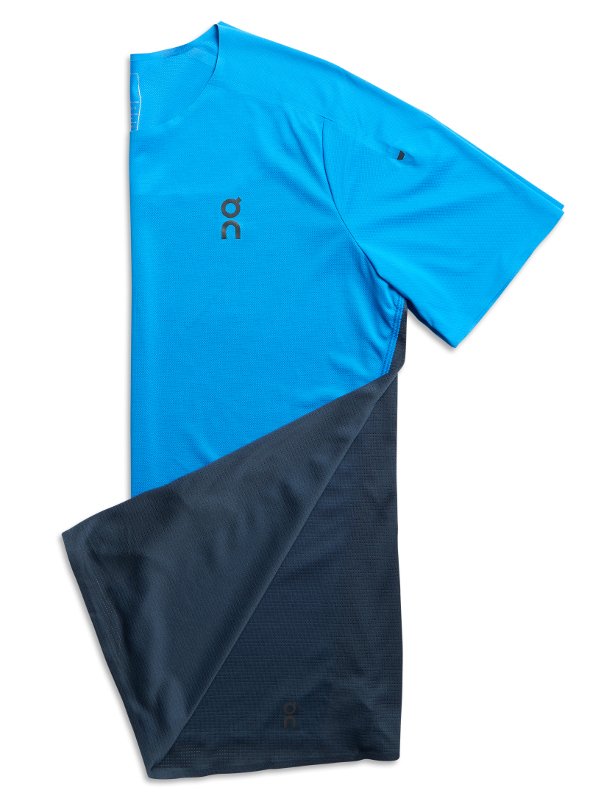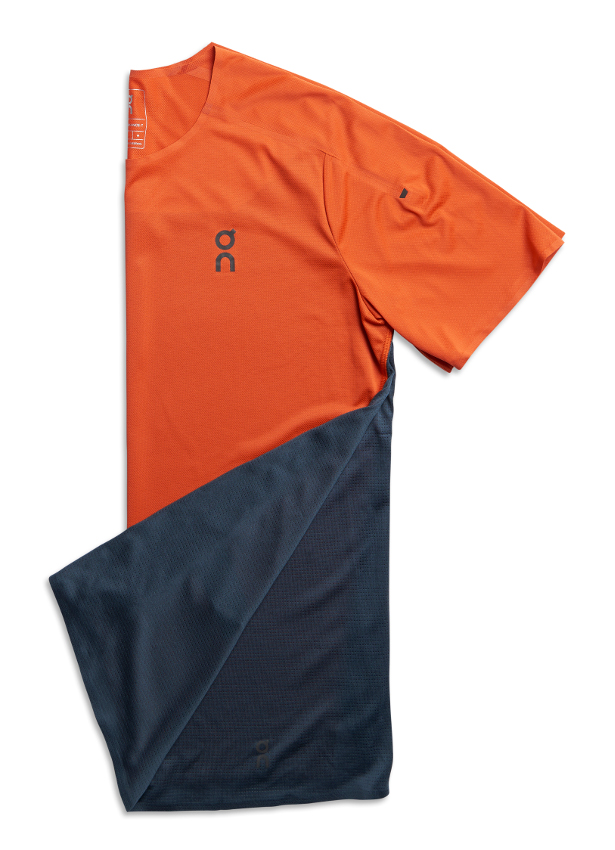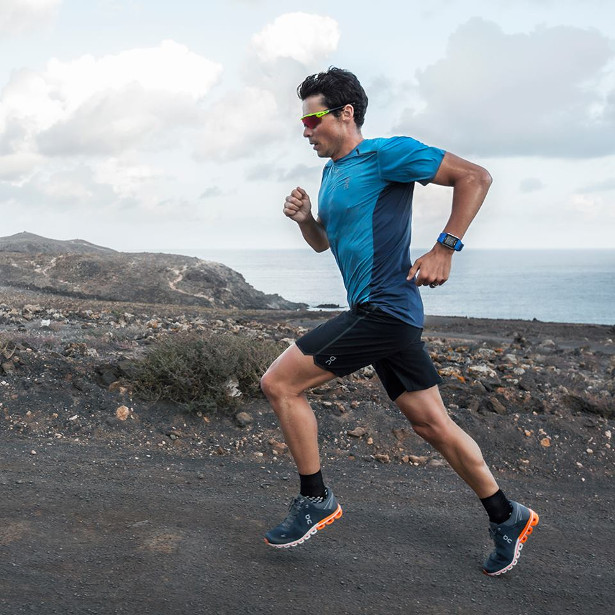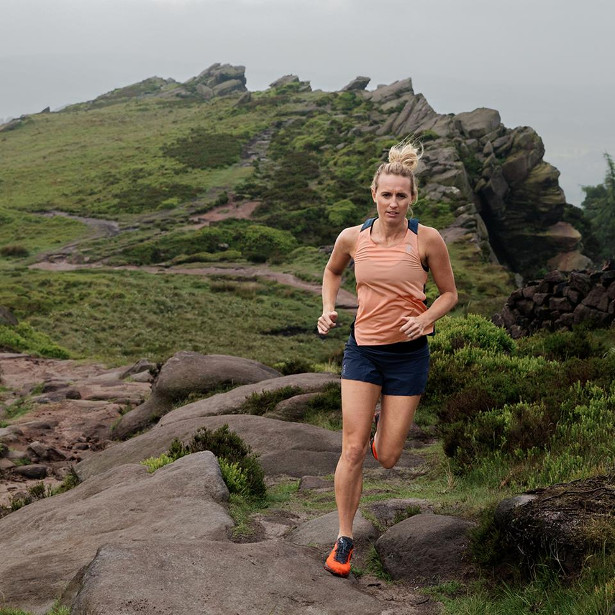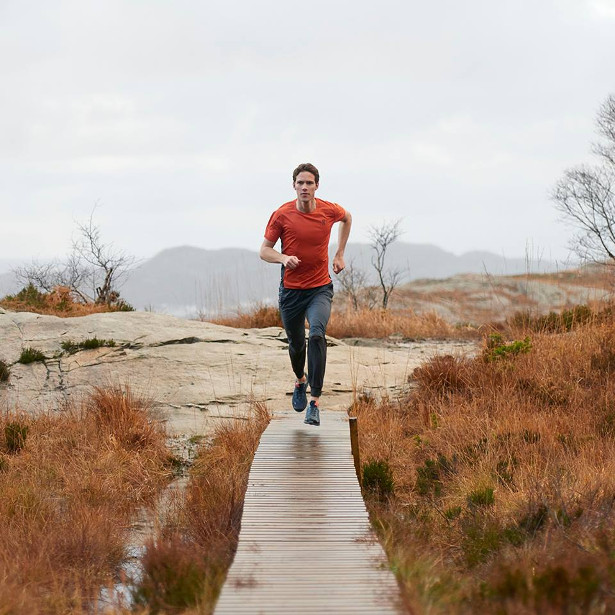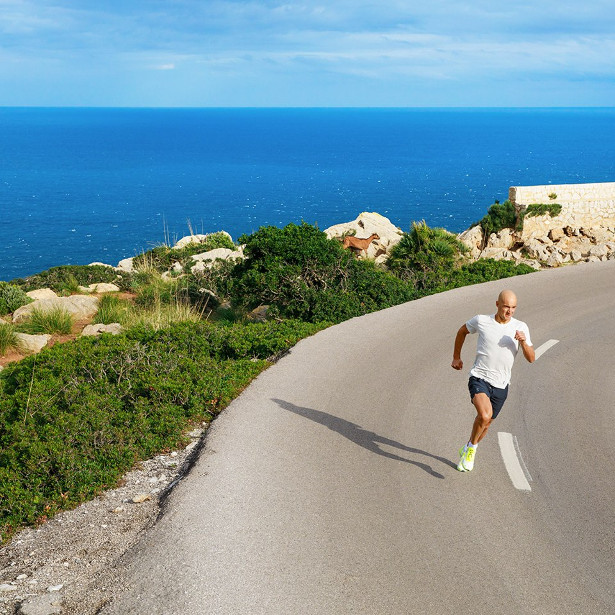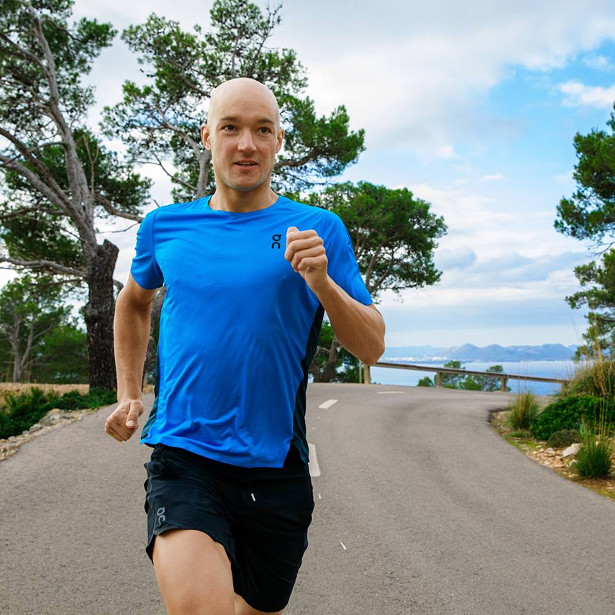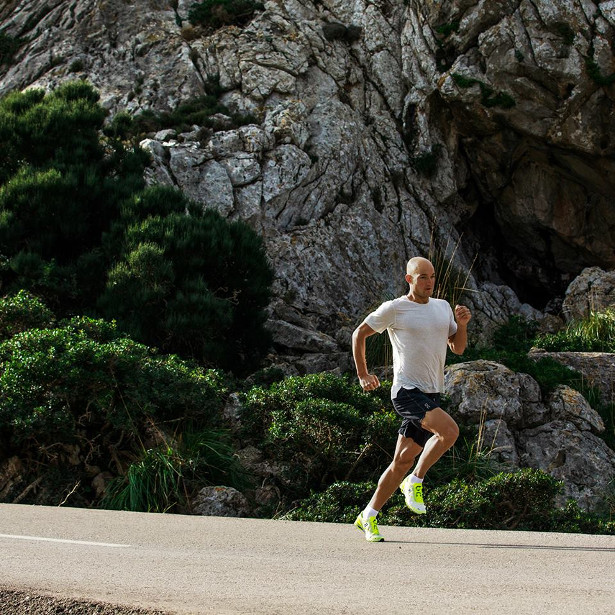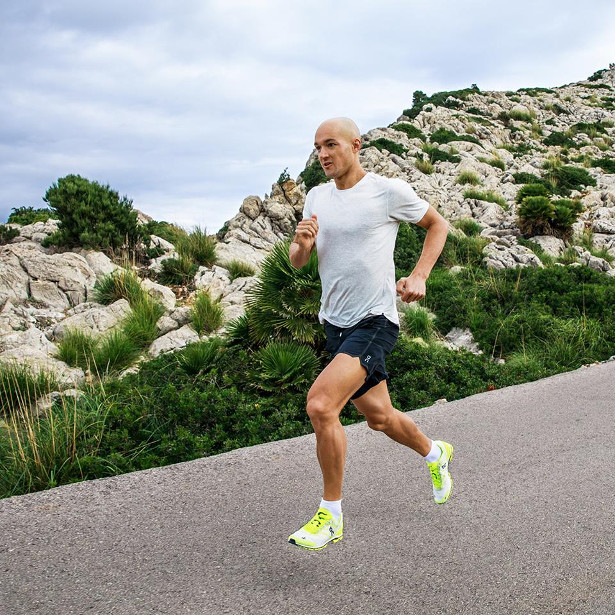 The Ultimate Boy's Toy, Treat him to the perfect set of wheels this Christmas. www.micro-scooters.co.uk
FACEBOOK | INSTAGRAM | YOUTUBE | TWITTER
From the latest electric falcon which has a range of 10km to the ultra-portable Micro Speed – treat him to the perfect set of wheels from Micro Scooters (www.micro-scooters.co.uk) this Christmas.
FOR THE GADGET GURU
Micro Falcon Electric Scooter
£999.95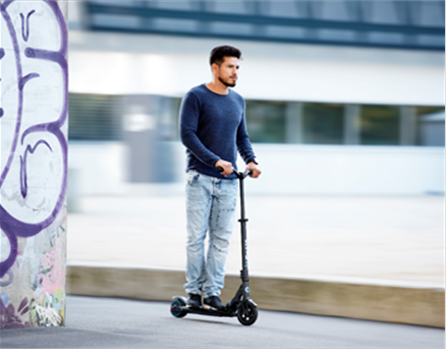 Micro Falcon Electric Scooter
£999.95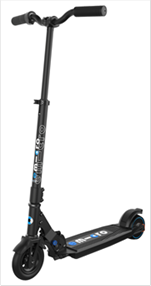 Virtually quicker than any form of public transport
Weight: 7.9kg
Range: 10km
FOR THE CITY SLICKER
Speed Silver
£139.95
Ultra-portable for hop on and hop off journeys
Integrated shock-dampening system for a smoother, bump-free scoot
Weight: 3.8kg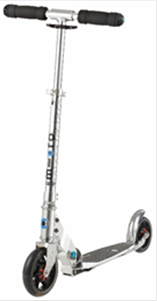 Speed Silver
£139.95
FOR THE SUNDAY SCOOTER
Micro Black
£184.95
Micro Classic Black
£184.95
Kickstand enables the scooter to stand upright by itself
Swiss design and engineering
Folded Dimensions 73 x 12 x 33cm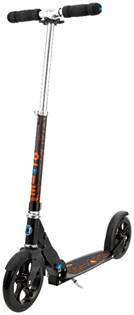 Private Olympic Experience at Lake Placid
A new experience presented by Wings Air Helicopters in partnership with Lake Placid Olympic Sites and Lake Placid Lodge
www.go.wingsair.net

This exhilarating, year round experience begins with a private helicopter flight from Manhattan to Lake Placid, site of the historic 1932 and 1980 Winter Olympics.
Upon arrival you begin your very own Olympic Games with a Torch Relay and Opening Ceremony at the Lake Placid Olympic Venue of your choice. Channel your inner athlete by racing down the bobsled track, curling, skiing Whiteface, skating around the outdoor Olympic Speed Skating Oval or testing your hockey acumen in the 1980 Herb Brooks Arena, where the Miracle On Ice took place. Guests will be timed and scored throughout the Games and medals will be awarded. Tour guide, ground transportation between venues and personalized, keepsake 1980 hockey jerseys are included.
After an action-packed day relax at the rustic Lake Placid Lodge, a Relais and Chateaux property overlooking Lake Placid. Lunch is prepared from local, seasonal ingredients. Overnight guests can enjoy snowshoeing, cross country skiing and a bonfire by the lake with S'Mores nightly. Optional: in-room massage before dinner to rejuvenate tired muscles, athlete meet-and-greet (subject to availability). Offerings vary based on season and length of stay. Recommended minimum age 13. The experience is concluded with a smooth helicopter flight back to Manhattan at sunset or the following day.
The Green Man Gaming Holiday Sale Starts Today
Up to 75% off (plus 12% discount code) on the Best Games of 2018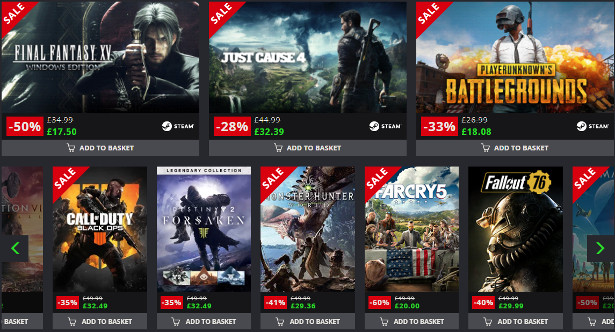 London, UK 18 December 2018 – The Green Man Gaming Holiday Sale starts before Christmas this year, with up to 75% off, for those looking for a bargain for that last minute dash for Christmas gifts.
The sale is live now until 16:00 UTC 10th January 2019.
This year's Holiday Sale highlights the best games of the year with over 1,500 titles at up to 75% off. For an extra saving, Green Man Gaming will be giving customers an additional 12% off all games in the sale with the code GMG12.
2018 has seen a lot of stand out games and the sale aims to celebrate them all. Customers will be able to get some ideas on what to buy based on curated lists including 2018 Bestsellers, Best Reviewed games of the year and Staff Picks.
2018 Bestsellers deals that can't be missed:
Call of Duty Black Ops IIII – was £49.99 now £37.49
Fallout 76 – was £49.99 now £29.99
Shadow of the Tomb Raider – was £44.99 now £22.49
Final Fantasy XV Windows Edition – was £34.99 now £17.49
Hitman 2 – was £44.99 now £31.49
Assassins Creed Odyssey – was £49.99 now £25
Assassins Creed Origins – was £49.99 now £16.49
Just Cause 4 – was £44.99 now £35.99
Far Cry 5 – was £49.99 now £20
Dragon Quest XI Echoes of an Elusive Age – was £39.99 now £23.99
Visit www.greenmangaming.com today to shop the Holiday sale and save big.