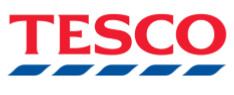 FULL TRADITIONAL FESTIVE FAYRE – HOWEVER YOU CELEBRATE CHRISTMAS, TESCO HAS ALL A HOST NEEDS TO HELP EFFORTLESSLY IMPRESS THEIR GUESTS  www.tesco.com
FACEBOOK | TWITTER | YOUUTBE | PINTEREST | INSTAGRAM
From classic starters with a twist like the Thick Cut Salmon with Cranberry Bucks Fizz Dressing, to mains like the decadent Tesco Finest Golden Goose and the family friendly Tesco Festive Unicorn Cake for dessert, Tesco has made hosting Christmas simple with plenty to impress guests throughout the festive season.
STARTERS
Tesco Finest Scottish Smoked Salmon Thick Cut with a Cranberry Bucks Fizz Sauce, 130g, £5
This starter is a certain crowd pleaser – the thickly cut salmon has been smoked over oak chips, accompanied by cranberry, orange and Prosecco for a burst of flavour. Not just a Christmas Day starter, this salmon dish can be added to a Boxing Day buffet or served with scrambled eggs on Christmas morning.
Tesco Finest Shellfish Coquille Medley, 180g, £8
The Tesco Finest Shellfish Coquille Medley is a mix of scallops and king prawns cooked in white wine and cheese sauce, topped with a cheese and chive ciabatta crumb. Added indulgent extras include a lemon and pink peppercorn butter star that melts over the Medley when baked and a samphire bed to add a salty crunch. The Medley is served in a giant scallop shell to stand out on the Christmas table.
MAINS
Tesco Finest Free Range Narragansett Whole Turkey, 5.26-6.51kg, £9/kg
A heritage breed raised on farms in East Anglia, reared slowly in lush pastures with plenty of freedom to roam and forage. Traditional farming methods, their environment and a varied, nutritious diet makes the meat full-flavoured and naturally self-basting, so it stays wonderfully succulent as it cooks.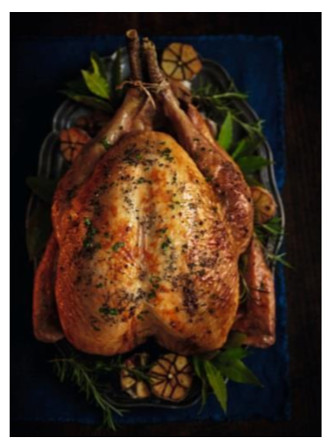 Tesco Finest Venison Rack with a Morello Cherry Sauce, 0.7-1kg, £30/kg
Lean and tender French trimmed venison rack perfectly paired with oak smoked cranberries and a sunflower pumpkin seed crumb to add crunch. Finished with a sweet and tangy Morello cherry glaze.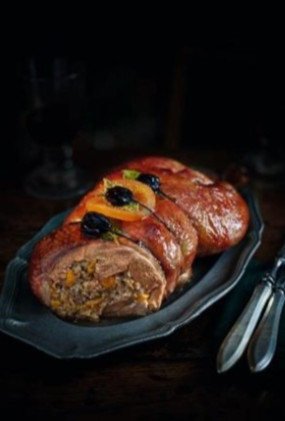 Tesco Finest Easy Carve Duck with Cherry Stuffing and Morello Cherry and Kirsch Glaze, 1.6kg, £18
This tender British duck is hand-cut and prepared by expert butchers from a family-owned business. All the hard work has been done for you – the part deboning process makes the duck easier to carve, and it comes with a stuffing of succulent, outdoor-bred British pork and a medley of cherries.
Tesco Finest Golden Goose, 3-4kg, £12/kg
The perfect luxurious centrepiece for Christmas Day, the goose is paired with a fruity pineapple golden glaze with added shimmer to enhance the flavour and bring extra sparkle to your festive feast. Full of flavour with dark, closetextured meat, succulent free range geese have been raised on a family-run farm in East Anglia. Great care is taken over diet and exercise, resulting in a naturally rich-flavoured bird.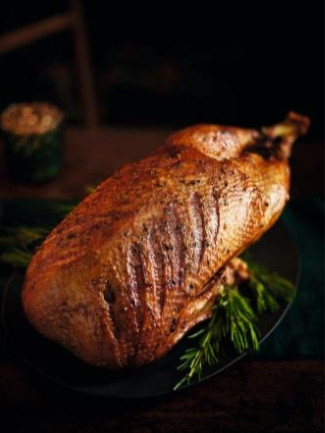 Tesco Crackling Gammon Joint with a Maple & Bourbon Glaze, 2.8kg, £16
This impressive gammon has been partially deboned for effortless easy carving. Once the joint begins to crisp in the oven, brush the maple and bourbon glaze over the top for sweet, sticky crackling to impress loved ones.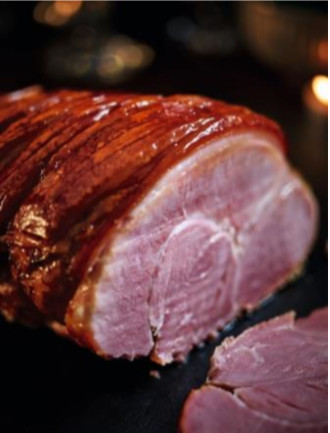 Tesco Easy Carve Lamb Shoulder with Wild Garlic, 1-2kg, £10/kg
Prepared with a wild garlic butter for an intense flavour throughout, this lamb cut is prepared so that it is easier to carve. Slow cook for extra succulence – it will fall apart beautifully. It makes a great alternative to turkey on the Christmas table or party buffet.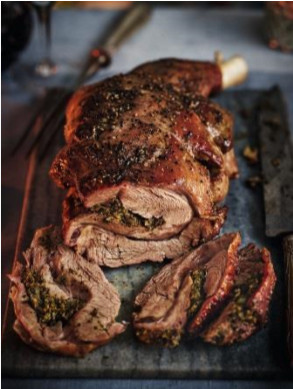 DESSERTS
Tesco Finest Black Forest Meringue Wreath, 467g, £5
Inspired by Black Forest gateaux, this slow-baked chocolate meringue wreath is topped with sharp cherry kirsch, rich chocolate cream and dark chocolate shavings. A striking alternative to a Christmas pudding.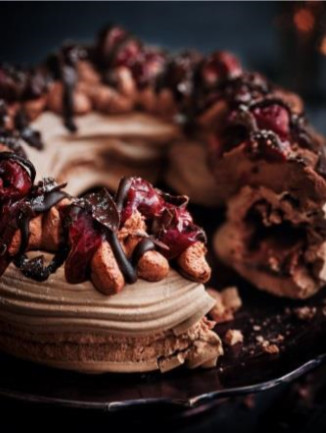 Tesco Festive Unicorn Cake, 885g, £10
A rich, triple-layered chocolate cake with a real 'wow' factor, tapping into the current unicorn trend. Filled and covered with chocolate-flavoured, cookie-crumb frosting, this gorgeous dessert is adorned with edible decorations including a Rudolph-inspired red nose for little (and not so little) unicorn-lovers to enjoy.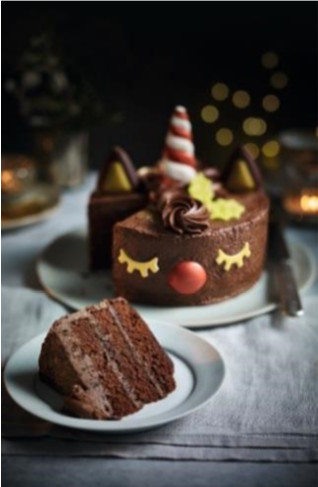 Tesco Finest Sticky Toffee Wreath Torte, 705g, £10
A truly elegant centrepiece. Layers of sticky toffee sponge, laced with sweet date pieces, a rich caramel, indulgent maple mousse and caramel glaze. Hand-decorated with an intricate chocolate wreath and silver-lustred chocolate pine cones for a festive finish.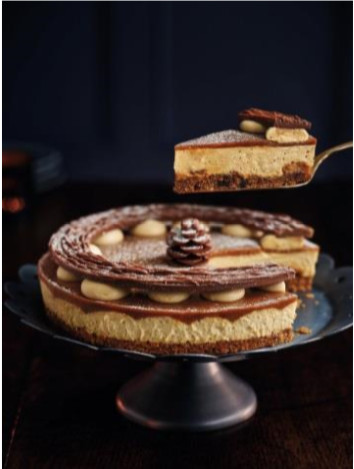 Tesco Snow Globe, 969g, £12
A showstopping family dessert of white cream mountains, dark chocolate trees inspired by the Black Forest and served in a giant snow globe. Other details include white chocolate baubles, shimmery layers of white chocolate mousse, a decadent chocolate sauce, a sweet raspberry compote and a smooth white custard.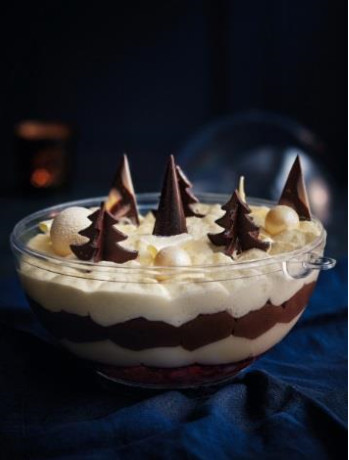 FESTIVE DRINKS
Tesco Finest Amarone Della Valpolicella, 75cl, £18
A classic Italian red with intense, full-bodied flavours of ripe black fruits and sweet spices – great for roasts. Amarone Della Valpolicella is still made today in the traditional artisanal method, which requires naturally-drying the bunches for a few months. The wine is then matured in oak casks to create a very intense wine. It releases rich aromas of ripe cherry and wild red berry, concluding on a note of luscious chocolate. Best if uncorked at least an hour before serving and served at a cool room temperature.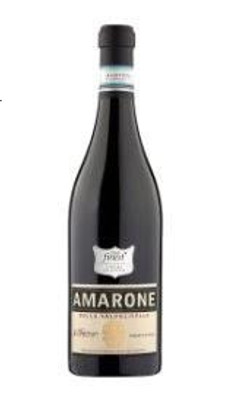 Tesco Finest New Zealand Sauvingnon Blanc Fumé, 75cl, £9
This oak-aged white has a ripe peach and melon-like character, which complements richer foods such as smoked fish and spiced meat.

Tesco Finest Franciacorta, 75cl, £15
Produced in the north of Italy in the same way as Champagne, this lemony fresh fizz will be welcome at every Christmas feast to impress guests.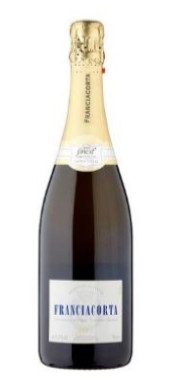 Tesco Finest PX Sherry, 37.5cl, £6
A velvety smooth Sherry from the 180-year-old González Byass family winery in Jerez, Spain. Pedro Ximénez grapes are laid out in the vineyard to dry in the hot sun before pressing and ageing. The resulting nectar is deliciously rich and warming, brimming with raisin and fig flavours. Can be served as a digestif, to accompany a cheese board, with desserts or even poured over Tesco Finest Madagascan Vanilla Ice Cream.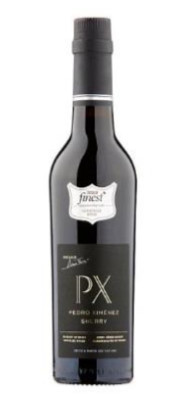 Premier Inn used sentiment analysis of social data from Twitter to pinpoint the places that officially have the happiest New Year's Eve based on what they're saying on the night itself. I've popped the top five below but you can see the full list and more details in the press release. I thought it might work well as New Year's Eve always tends to divide opinion – so this provides a fun list of places in the UK to head to experience an extra 'happy' new year!
Where In The UK Has The Happiest New Year's Eve?
City of Sheffield has been revealed to be the happiest place to celebrate New Year's Eve
Brighton, Exeter and Bath also make up the top five
Results based on percentage of positive New Year's Eve tweets


For many, New Year's Eve is one of the most anticipated nights of the year – a chance to get together with family and friends to celebrate the start of a new year. Towns and cities up and down the country come alive with street parties, special events and the all-important fireworks displays. Many people will travel to enjoy the festivities, with London and Edinburgh being the most famous, but where are the spots in the country that truly do have the happiest New Year's Eve?
Premier Inn has scoured over 30,000 social media posts from New Year's Eve revellers to pinpoint the places that have the happiest New Year. New Year's Eve tweets were analysed by sentiment, to reveal how positively party-goers in cities and towns in the UK were talking about their big night. The results make up a varied mix of places across the country that are home to the happiest celebrations in the UK.
The data revealed that Sheffield is home to the happiest New Year's Eve in the UK, with 96.5% of New Year's tweets talking positively about their evening ringing in the new year. Perhaps surprisingly Edinburgh, one of the world's most well-known places to celebrate, didn't make the top 10 and London only came in at 8th place (with 93.8% of tweets talking about New Year's positively).
Happiest Places To Celebrate New Year's Eve In The UK*
1. Sheffield – 96.5% positive tweets
2. Brighton – 96.2% positive tweets
3. Exeter – 95.9% positive tweets
4. Bath – 95.8% positive tweets
5. Oxford – 95.9% positive tweets
6. Cardiff – 95.2% positive tweets
7. Portsmouth – 94.8% positive tweets
8. London – 93.8% positive tweets
9. Southampton – 93.8% positive tweets
10. Birmingham – 93.8% positive tweets
*Based on data from 31st December 2017
About The Top 5 Happiest Places For New Year's Eve
Sheffield
If you're looking for a vibrant night out this New Year's Eve, Sheffield is a great place to head to. West Street, Carver Street and Division Street are where the main range of bars and clubs are situated but you'll also find lively pubs and restaurants across the whole city. For a refreshing start to the year, The Hathersage Swimming Pool New Year's Dip takes place just outside of Sheffield on the 1st January. The open-air pool might sound daunting but is heated to a pleasant 28 degrees this year.
Brighton
A night out favourite all year round, Brighton is a great coastal hotspot for a more alternative New Year's celebration. Whether you want to ring in 2019 laughing your socks off at a comedy evening or taking in an impressive view of Brighton and the surrounding area whilst on a 'flight' on the British Airways i360 tower, there's all sorts of events planned especially for the big night. A brisk New Year's Day walk can be taken on the nearby South Downs to round off the celebrations the next day.
Exeter
Exeter is perfect for revellers looking for a fun night out coupled with striking nearby scenery and countryside. Enjoy dinner and drinks in the city, the Quayside looks particularly pretty lit up in the evening, and then take in the nearby towns and villages like Sidmouth and
Branscombe on New Year's Day.
Bath
With its rich history and impressive architecture, New Year's Eve in Bath offers a perfect backdrop for the celebrations. For something truly unique, The Roman Baths even become a New Year's party venue hosting a glamourous ball with dinner, drinks and dancing. Equally unique is watching the fireworks at Longleat, a short drive from Bath. The stately home and safari park puts on a memorable fireworks show on the 31st December and 1st January.
Oxford
The perfect location for a slightly more low-key night out, celebrate the end of the year amongst the historic spires and world-famous colleges of Oxford. Take a stroll, or even a punt, along the river to see the breath-taking architecture, then pick yourself a cosy pub to ring 2019 in from – many will have special events or live music.
GO NUTS FOR ALL NATURAL Hi-PRO
Pack the day with clean eating protein power! Whether it's a quick bite before the gym, a post run snack or a healthy boost to smoothies and breakfast cereals, recharge, recover and repair with Hi-PRO peanut butter.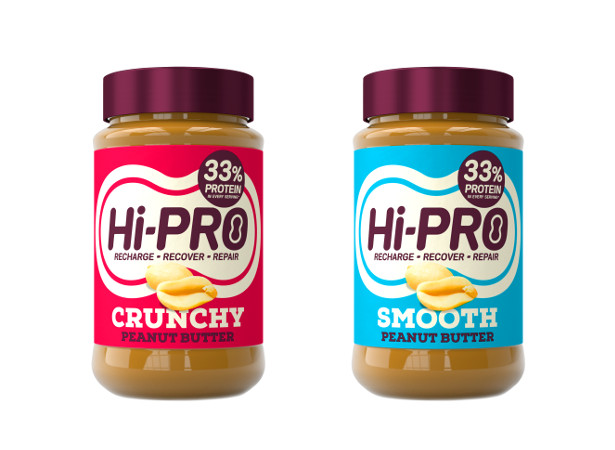 Available in Crunchy and Smooth and with 33% peanut protein in every serving, Hi-PRO is pure nutty goodness for athletes looking for a slow release energy boost.
Suitable for sportspeople at every level, from regular gym-goers, and marathon veterans to newly motivated park runners, Hi-PRO peanut butter is a natural source of fibre, niacin, magnesium, zinc and vitamins B1, B6 and E.
Now with no added palm oil, the new clean Hi-PRO recipe ensures that peanut butter lovers are only getting quality forms of nutrition without anything they don't need.
With no added sugar, artificial sweeteners, salt or whey, the range simply combines whole peanuts and peanut powder to pack a natural protein punch every time.
Hi-PRO Smooth and Crunchy Peanut Butter is available now in Sainsbury's nationwide, priced £2.95.
For healthy serving suggestions, and recipe inspiration, visit www.hipronutrition.co.uk.
CREATE AN AUTHENTIC MATCHA EXPERIENCE AT HOME WITH THE NEW PURE LEAF® TEA RANGE
Pure Leaf launches three new matcha flavours, with flavours to suit seasoned experts and matcha newbies alike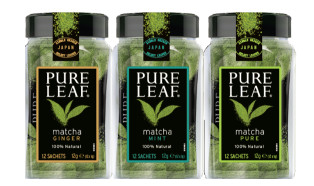 With online searches of matcha tea increasing by over a quarter¹ in the last three years, matcha is making its mark on the nation. To celebrate this growing trend, luxury tea brand Pure Leaf have launched a new range of matcha teas.
Joining Pure Leaf's award winning range, the new expertly crafted matcha teas are available in three variants, perfect for both seasoned experts and those new to matcha to experience, including:
Pure Matcha: 100% matcha, for those looking for a truly traditional matcha experience with a full bodied, smooth and earthy taste
Matcha Mint: Delicately flavoured with a hint of all-natural, micro-ground peppermint leaves for a cool refreshing twist
Matcha Ginger: Pure matcha paired with micro-ground ginger root for a subtle warming ginger kick
Made from shade grown Japanese tea leaves, the new range from Pure Leaf is hand-picked from tea gardens in Kagoshima. The distinctive nature of matcha means that the leaves are finely ground, suspended in liquid to form a tea and then ingested, instead of brewed and discarded. Because the whole leaf is eaten, matcha delivers a much stronger potency than a regular cup of green tea.
What makes Pure Leaf's matcha truly special is the taste. Our tea masters have worked tirelessly to source a matcha leaf that combines the distinctive green tea taste of real Japanese tea leaves, with the smooth taste sensation favoured by British tea lovers – it's the matcha for people who don't like matcha!
Available in pre-portioned wrapped sachets so you can enjoy a perfectly portioned cup of matcha every time without needing to measure and avoids any wastage and over-dosing – helpful for a rare tea that costs more than silver to source! With Pure Leaf's portable little pouches you can enjoy matcha teas and lattes on the go.
There are many ways to enjoy matcha, with the most authentic being to pour a sachet into a cup or bowl with boiling water. Whisk until a froth is formed (Pure Leaf's tea masters recommend whisking in a W shape for a better foam); and an easy alternative to hand whisking is to use an electric whisk or frother for an extra frothy matcha texture.
Enjoyable both hot or cold, with water or with milk, it is the perfect beverage for all seasons and moods. Here are a few other ways to enjoy Pure Leaf's matcha:
Ways to enjoy matcha:
Matcha latte: add a Pure Leaf sachet to a bottle, mix with water or milk, give it a shake and enjoy on the go
Matcha smoothies: mix a Pure Leaf matcha sachet with an apple, banana, pear and any other fruit you fancy for a filling start to the day
Matcha espresso: A quick and easy way to enjoy all the benefits of matcha, without being time consuming, giving you more snooze time in the morning, just add water!
Matcha porridge: for a warming and colourful start to the day, mix a matcha sachet into your breakfast porridge
Matcha iced tea: ready to go in seconds, pour a matcha sachet into milk or water, add some ice and enjoy the refreshing and cool matcha taste
Matcha cookies: give chocolate chip cookies a fun twist with the addition of Pure Leaf matcha powder
Matcha macarons: to elevate your matcha even further, experiment with fun macaron flavours and colours, like lemon or mango
Matcha milkshake, mixed with milk and some delicious creamy ice cream for a tasty dessert or mid afternoon pick me up
Joyce Muendo, Tea & Infusions Master Blender: "matcha is a fast growing trend and Pure Leaf has responded to this with the new Matcha range which offers a delicious, vibrant and unique way to enjoy your tea. With the handy pre-portioned sachets, it's easy to create your favourite insta-friendly matcha lattes at home. Matcha can also be enjoyed in many other ways, such as in cookies, smoothies and cakes – we can't wait to see how our customers experiment and share their brightly coloured creations on social media."
The Pure Leaf collection is served in premium, transparent and reusable jars in both loose leaf and pyramid bag options and comes in a wide range of flavours, including: English Breakfast, Black Tea with Vanilla, Green Tea with Jasmine, Earl Grey, Green Tea with Mint, Black Tea with Berries, Chai and Gunpowder Green Tea.
Partnering with some of the finest tea growers from around the world, Pure Leaf supports sustainable farming practices, as a result tea leaves are sourced from Rainforest Alliance Certified tea estates and selected at the peak of freshness.
Pure Leaf matcha is priced at £8.99* and is available from 22nd October 2018 in Morrisons, Ocado and Amazon.
¹29.4%, Google Trends (16.06.18)
DISCOVER THE TASTES OF THE GLOBE WITH
THREESIXTY˚ COFFEE
Take your taste buds on an adventure of the world with the rich and flavoursome new range from threesixty° Coffee.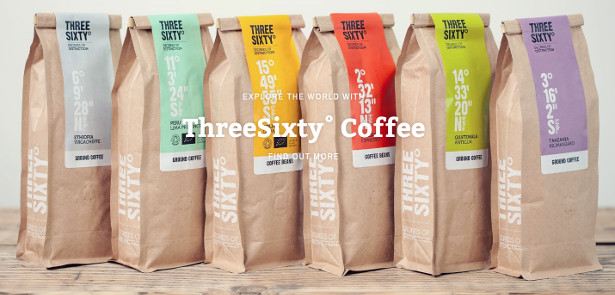 Discover distinct and unique single origin coffees from Cuban, Mexican and Peruvian coffee regions with this bold new collection.
Each of the threesixty° single origins is picked and roasted to showcase its incredible flavour profile.
The three 100% arabica coffees have their own unique profile and distinctive flavour, taking your coffee experience to new heights and adventures.
Enjoy a taste of the Cumanayagua region in Cuba with a full-flavour coffee featuring hints of roasted peanuts and cinder toffee, a caramelised sugar sweetness and perfectly balanced acidity. Trace the co-ordinates on pack to a town in a valley near the Guamuhaya Mountains, renowned for its delicious coffee beans.
Transport yourself to Mexico, with a single-origin coffee rich with silky milk chocolate and vibrant mandarin tones, bringing a sun-kissed feel to your morning routine. The beans come from three farming communities to the west of Tepic and Nayarit, a region dominated by smallholders and famous for its variety of delicious coffee profiles.
Sit back and relax with a certified coffee from Peru and be transported to the beauty of the Vinicunca mountains through its full-bodied taste. Sourced from one of the largest coffee-growing communities in the world with a culture of organic production, this rich coffee with notes of cocoa and hazelnuts will take you off the beaten track.
All of threesixty° coffees are lovingly roasted in the UK and each pack is hand-packed and fully traceable, with precise on-pack map coordinates to help discover each coffee's specific region of origin.
Experience the premium quality coffee of threesixty° and join an adventure through taste.
All products are available from Waitrose and Ocado with an RRP of £5.00. For further information, visit www.threesixtycoffee.co.uk.
Authenticity for all occasions
Often translated as "liqueur" or even plum "wine", umeshu is in fact a traditional drink celebrating a fruit that is unique to Japan.
Traditionally difficult to find in Europe, Umeshu history goes back to around 300 years ago.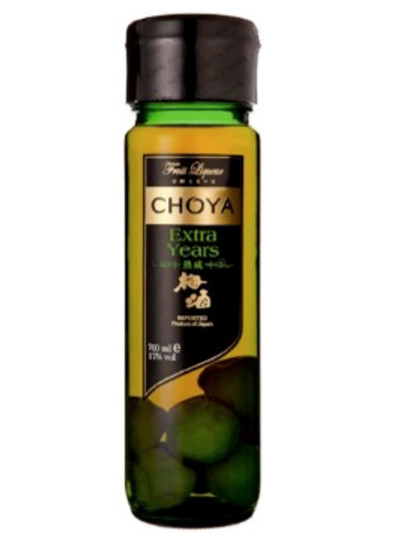 "Japanese traditional drink that evokes apricot, marzipan, almond and Christmas?"
The answer is  CHOYA Umeshu Extra Years 700ml  / made in Japan £42.15 At Japan centre / Japancentre.com
HONKAKU UMESHU: As Japanese wisdom Wabi Sabi teaches to appreciate simplicity, CHOYA is the honkaku (Original method) Umeshu producer and "only" use real premium Nanko Ume fruit, sugar, cane spirit.  CHOYA does not use any artificial additives in any of our products, such as acidulants, flavourings, or colourings.
FLAVOUR: A nice flavour balance is created by ageing the whole fruit with the stone inside by soaking the whole fruit in cane spirit for two years to create a more refined taste. The citric acid in the fruit gives it a pleasant tang and a taste that is sweet and tart with notes of almonds. Simply pour hot water, it brings out the amazing aroma of marzipan to reminds you of mulled wine and brings Christmas spirits.
The uniqueness of CHOYA Umeshu Choya umeshu is incredibly versatile, you will enjoy this elegant drink  – neat, with sparkling water, ice, tonic water, hot water or in cocktails.
You can also enjoy eating the ume fruits or use in the cocktail as a garnish. Alternatively, you can make a delicious fruit cake with them.
About CHOYA CHOYA was founded by the Kondo family in 1914, and at first focused on viticulture. In 1959, the company made the historic decision to start production of Umeshu. Today, CHOYA is the biggest producer of Umeshu in the world.
Britain's International Spirits Challenge Awards    Received World's first Gold Medal in 2016 & 2017, at Britain's International Spirits Challenge, Choya was named liqueur producer of the year.
Are you looking for Christmas gift ideas?  Choya extra years umeshu is an ideal gift for Men & Women, Mum & Dad. Or you should have this drink for all occasions.
With Christmas fast approaching, you might already be able to hear the popping of prosecco corks in the distance.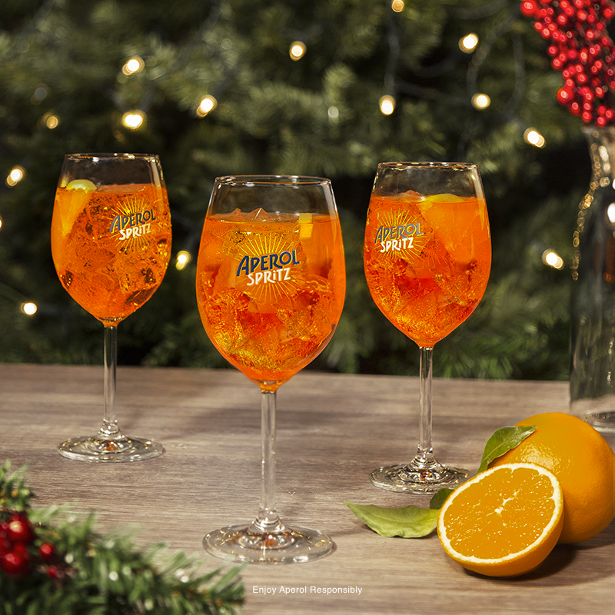 FACEBOOK | INSTAGRAM | TWITTER
This year however why not upgrade your prosecco and add a spritz to your festive celebrations with Aperol. Whether you are looking to impress your guest at your Christmas party or enjoy a delicious cocktail at a spontaneous Christmas drinks, or just fancy mixing up your favorite festive tipple Aperol is the perfect way to begin your evening, all year round.
To make the perfect Aperol Spritz simply follow our 50:50 recipe below:
FILL A WINE GLASS WITH ICE
COMBINE PROSECCO DOC FOLLOWED BY APEROL IN EQUAL PARTS
ADD A SPLASH OF SODA
GARNISH WITH AN FESTIVE BLOOD ORANGE SLICE
Spritz up your festive celebrations with Aperol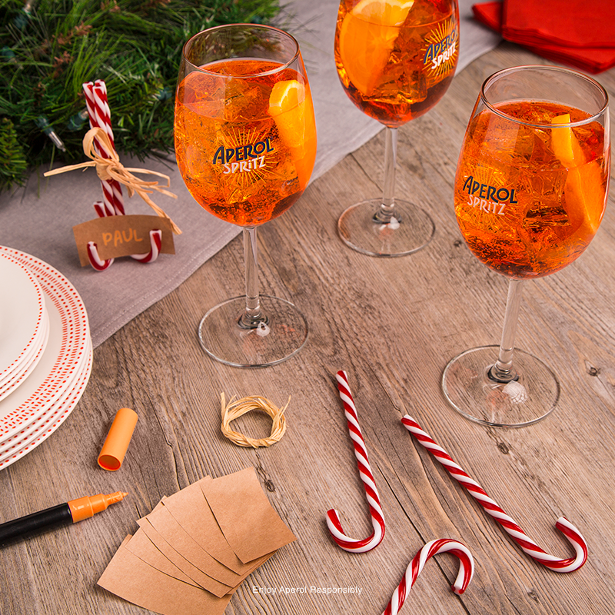 Aperol Spritz – famed for its vibrant orange colour and unique taste – has never been more in vogue. So, this year, put down your glass of mulled wine and instead pimp up your prosecco with a light and refreshing Aperol Spritz: the perfect cocktail to impress your guests this Christmas.
The 'Aperitivo Hour' in Italy is an iconic year-round ritual; defined by its sociability and spontaneity, with Italians regularly enjoying cocktails with family and friends, sharing stories and relaxing together. This sounds like the perfect recipe for Christmas to us, so let's learn a thing or two from our Italian cousins and add a splash of Italian spirit to your festive entertaining this Winter.
Entertaining a crowd? The simplicity of the Aperol Spritz serve makes it easy to recreate, giving you the opportunity to easily wow your guests with Italian Style. Simply follow the equal parts recipe to create the perfect Aperol Spritz at home:
Fill a large wine glass with ice
Combine prosecco followed by Aperol in equal parts (60ml each)
Add a splash of soda
Garnish with a festive blood orange slice
Visit and follow us on: Instagram @AperolSpritzUK, Facebook www.facebook.com/AperolSpritzUK, or Twitter @AperolSritzUK #ItStartsNow.

This is exactly the time of year when getting vital nutrients into your system is vital because so much is going on! >> www.botonique.com/shop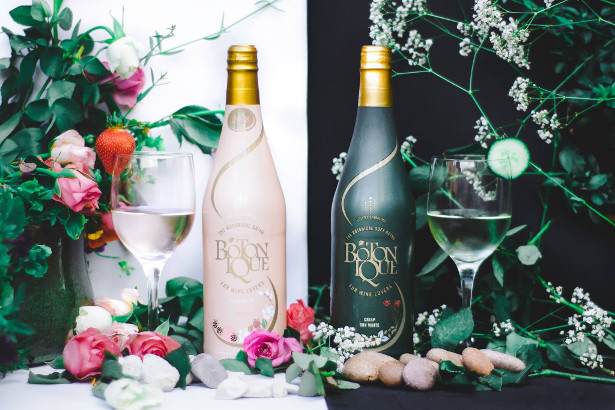 TWITTER | INSTAGRAM | FACEBOOK
The triply healthy alternative to alcohol. Dry & complex, low calorie, full of botanical goodness and nutrients that alcohol depletes.
This is an inspiring alcohol-free brand called Botonique – a unique British-made natural, dry, sparkling non-alcoholic drink alternative for lovers of wine and other sophisticated forms of alcohol.
In addition, it contains the beneficial elements of Prelixir®, a unique blend of vitamins, minerals and amino acids which alcohol is known to deplete. This unique element means that Botonique is able to provide anti-oxidant, anti-inflammatory, alkalising, detoxifying and hydrating benefits.
The drink is available in both original and blush.
Prices starts from £15 and the link to the website is: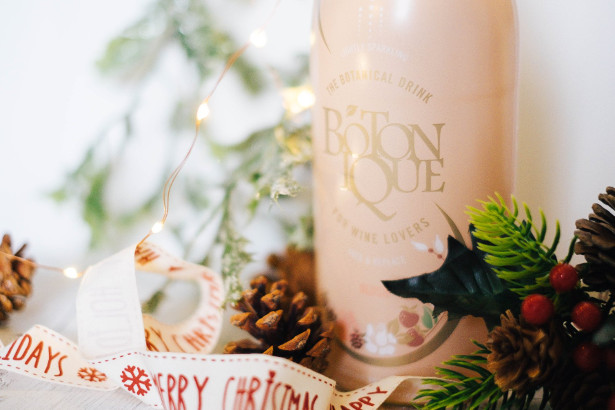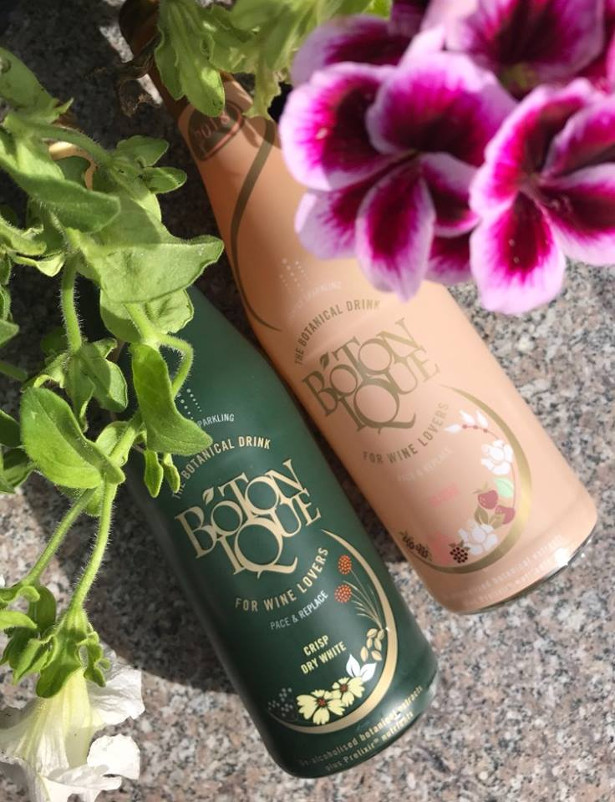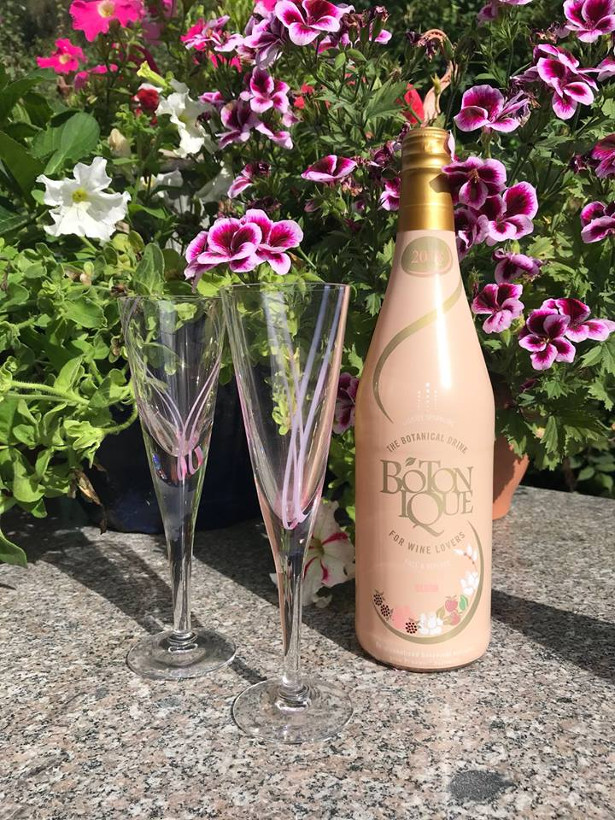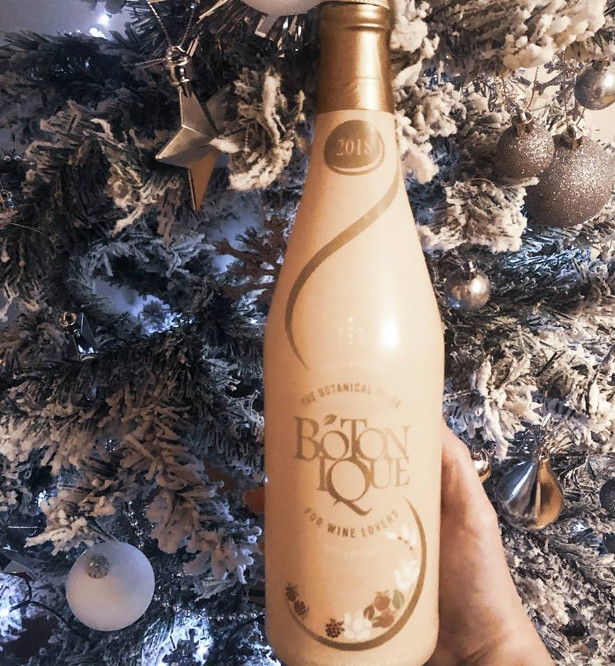 Cinco Jotas 100% jamón ibérico: the ultimate gift for even the most particular foodies this Christmas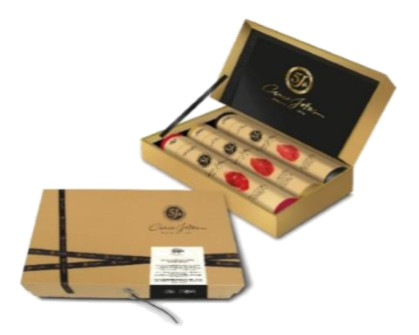 Forget the clichés of chocolates, socks and pyjamas and be the stand-out gift-giver this Christmas by bestowing gourmet Cinco Jotas acorn-fed 100% jamón ibérico on your loved ones. Arguably the most prestigious jamón ibérico, this much-loved delicacy is used by some of the world's most renowned chefs, including José Pizarro.
Created in Jabugo, south-west Spain, using the same authentic process passed down over four generations, and carved by some of the most experienced master carvers in the world, every step is designed to ensure that the maximum flavour and aroma is delivered, making Cinco Jotas acorn-fed 100% jamón ibérico the perfect gift for all foodies with a taste for luxury.
Recommended as part of a healthy Mediterranean diet, Cinco Jotas jamón ibérico is one of the healthiest gourmet pleasures there is, rich in oleic acid, omega 9 and fatty acids that can benefit the cardiovascular system, reduce cholesterol and improve brain and nervous system activity.
From the health-conscious to the hard-to-please, Cinco Jotas has a gift to thrill even the most particular diners this Christmas:
The classic Christmas stocking filler… Cinco Jotas acorn-fed 100% jamón ibérico has the highest Iberian Quality Standard Grade achievable, indicated by its black label. Beautifully packaged, this gourmet delicacy isn't your average stocking filler. Cinco Jotas Discover Gift Box – RRP: £55 Two jamón classics, ready to enjoy: • 2 x 70 g Sliced Acorn-fed 100% Ibérico Ham
For the person with everything… Cinco Jotas' 100% ibérico pigs graze on acorns during the montanera period. Whilst they run and eat, the fattening process is slowed down, improving the fat infiltration in the muscles and contributing to the unique taste and higher quality of meat that even the hardest to please will enjoy.
Cinco Jotas Original Gift Box – RRP: £80 An exclusive gift pack of the unique Cinco Jotas flavours selection: • 70 g x Sliced Acorn-fed 100% Ibérico Ham
• 70 g x Sliced Acorn-fed 100% Ibérico Shoulder Ham • 70 g x Sliced Acorn-fed 100% Ibérico Loin • 70 g x Sliced Acorn-fed 100% Ibérico Presa (Shoulder cut)
For a taste of authentic Spanish luxury… As one of Spain's culinary national treasures, Cinco Jotas acorn-fed 100% jamón ibérico is the leader in the 100% ibérico luxury jamón market in the world, with its farm-to-fork process remaining unchanged since 1879 and the ancestral traditions of four generations creating a product that respects the local culture and artisanal process.
Cinco Jotas Cañas Selection – RRP: £139 Original gift pack including a selection of acorn-fed 100% ibérico cañas. • ½ piece Acorn-fed 100% Ibérico Loin (with paprika) • ½ piece Acorn-fed 100% Ibérico Loin (traditional recipe) • ½ piece Acorn-fed 100% Ibérico Presa (shoulder cut)
For design aficionados… Those with an eye for design will love this Tangram Box, with its stunning design and quirky play on one of the oldest Chinese board games.
New for 2018: Cinco Jotas Tangram Box – RRP: £149 The Cinco Jotas Tangram Gift Box contains one of the oldest Chinese board games, Tangram (a puzzle), with shapes you can use to serve your delicious ham. • 2 x 80 g hand-carved Cinco Jotas Acorn-fed 100% Jamón Ibérico • 2 x 80 g sliced Acorn-fed 100% Ibérico Loin • 2 x 80 g sliced Acorn-fed 100% Ibérico Presa (shoulder cut) • Wooden Tangram board with small pieces that serve as mini plates • Bamboo six-tong set • Two-napkin set
Available from 1 November 2018
For home chefs… The home connoisseur can experiment in the kitchen with this gift pack, including an entire carved ham.
New for 2018: All-in Cinco Jotas Ham Gift Pack – RRP: £689 A whole ham carved by hand in a beautiful, exclusive and practical gift pack that resembles a tool kit, perfect to keep your kitchen implements in at home. • 26 x 80 g hand-carved Cinco Jotas Acorn-fed 100% Jamón Ibérico • 2 x 100 g pack of Cubed Cinco Jotas Jamón • 2 x 300 g pack of Cinco Jotas Bones (ideal for bone broth) • Informative leaflet
Available from 1 November, 2018
For the amateur master carver… Amateur master carvers can put their skills to the test with this Celebration Gift Set. Learn the secrets to slicing Cinco Jotas 100% jamón ibérico the traditional way, by hand, helping to preserve its exceptional quality.
Cinco Jotas Celebration Gift Set – RRP: £800 • Bone-in Acorn-fed 100% Jamón Ibérico • Arcos professional carving knife • ½ piece Cinco Jotas Loin • How-To Guide on carving the jamón
Available from 1 November, 2018
All available online at www.cincojotas.co.uk and in specialist gourmet retailers around the UK, including Harrods.
Introducing the Luxe Lounge at Bourgee www.bourgeeofficial.co.uk on Timberhill.
The ultimate destination to relax and let your hair down with a mixology sensation in hand. Decadent décor collides with a welcoming atmosphere to deliver a bar you'll want to spend the whole night in. With a focus on 'affordable luxury' there is a drinks menu that caters to all tastes and budgets, whether you're after Champagne and bottle service, or a quiet beer and a glass of red.
For cocktail fans…give the impressive mixology menu a once over:
· For the sweet tooth then you should give the Chocolate Daiquiri a whirl. With vodka, Baileys, Frangelico and chocolate syrup this is an indulgent drinks for those who have ditched the calorie counting! It is Christmas after all J
· For those dreaming of sunnier climes, try The Canaries. Midori meets Apple Sours, lemon juice and apple juice, you'll be transported to the beach in no time
· Sophisticated palate? Try a Lychee Mojito bringing together rum, fresh mint, lime, lychee syrup and soda for a thirst quenching, refreshing delight
· Celebrating? Our Miss Bourgee cocktail with vodka, limoncello, lemon juice, sugar syrup and prosecco float makes for the ultimate toast
· Fancy something harder hitting? Then the Blood Moon is for you. Makers Mark, blood orange, sweet vermouth, cherry liqueur and angostura bitters make for the ultimate blend of sweet and sour
Exclusive artisan aprons!
www.thestitchsociety.com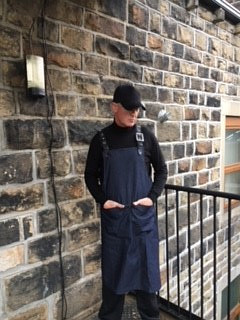 They are not so much aprons as luxurious garments in their own right; all designed and handmade in Yorkshire, from hardwearing fabrics, all sourced in the UK and chosen for their comfort, drape and strength.
For Dairy Free or Vegan him!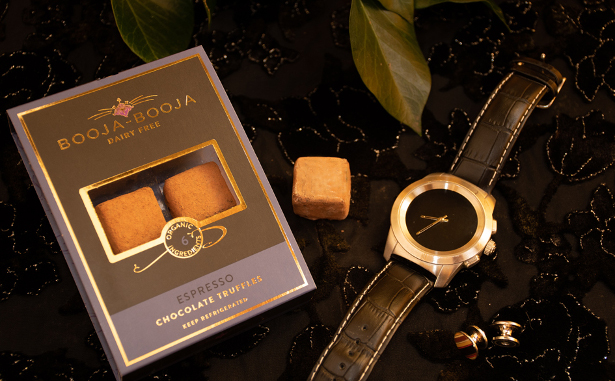 Truffle Selection No 1 featuring Around Midnight Espresso, Chery Cognac, Fine de Champagne and Rum Sozzled Sultana. The perfect gift for the accomplished male in your life, these these unique, soft-touch organic chocolate truffle gift boxes from British boutique chocolatier Booja-Booja are a really lovely chocolate gift. All multi award-winning divinely delicious organic truffles are dairy free, gluten & soya free. 138g, RRP £12.95, available from all good independent health food stockists.
Alternatively, if you're looking for a stocking filler, why not slip a little Six Truffle Treat Pack into the mix. Available in eight different flavours, these organic chocolate truffles are deliciously dark, tantalise the taste buds and are melt-in-the-mouth little mouthfuls of magic. 69g, RRP £3.79, available from all good independent health food stockists.
PRINCESS P: VEGAN SUBSCRIPTION PROSECCO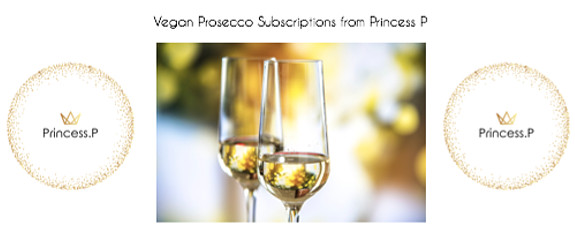 Introducing Princess P for the 2018 party season, a subscription service of high quality, vegan prosecco, direct from the Italian vineyards straight to your door. Available as a one-off order or a monthly subscription, Princess P delivers the finest prosecco – grown, harvested and bottled with love from Italy. Conveniently delivered to any UK address, the monthly boxes include a bottle of organic, vegan friendly prosecco, the ingredients for a seasonal cocktail and a range of accompanying pamper products, inspired by the birthstone of the month
Whether a monthly subscription, a one-off treat or a gorgeous gift box, Princess P provides the perfect present for any Prosecco lover!
Prices start from £31 for a prosecco gift box. Available now from www.princessprosecco.co.uk
The Gift Of Baking
Domino Light / Dark BrownSugar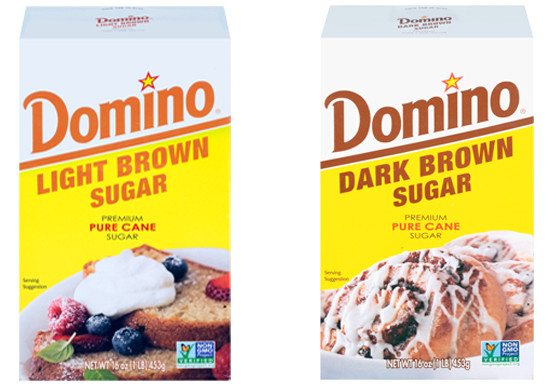 The Gift of Baking— Just like the Holidays, baking brings people of all ages together for celebrations both big and small. Both Domino Light and Dark Brown Sugars create a flavor that's deep, rich and real, while being ideal for baking full-flavored or savory recipes. Domino Brown Sugars are ideal for baking of all kinds— especially cookies, shortbread, spiced cakes, gingerbread, coffee, fudge, chocolate cakes, brownies and crumble toppings. What more could you want this Holiday season? You can never have enough sugar!
Enjoy a fruity Christmas with Heartsease Farm
Are you looking for a fabulous non-alcoholic drink this festive season? Perhaps you are the designated driver and desperately seeking something exciting to drink.
Heartsease Farm is a range of seven premium sparkling pressés made with Welsh spring water from a family farm dating back to the early 20th century.
The award-winning range of sophisticated drinks comes in seven lovely flavours:
Apple & Rhubarb – Carbonated spring water with British apple juice and rhubarb juice.
Elderflower Pressé – Carbonated spring water with elderflower extract.
Traditional Lemonade – A Great Taste Award winner.
Fiery Ginger Beer – A Great Taste Award winner. Judges said it is "well balanced with fresh tangy notes from the lemon and gentle warmth from the ginger with a lingering finish and tingle on the tongue. Truly refreshing."
Strawberry & Mint – Another Great Taste Award winner.
Raspberry Lemonade – Won a Gold Medal award from the British Bottlers Institute.
Blackcurrant Crush – British blackcurrant juice with carbonated spring water.
All are lightly pasteurised to preserve quality, use natural ingredients and real fruit juices. They are available in three fully recyclable sizes: in 330ml and 750ml glass bottles as well as, uniquely, a plastic 425ml PET bottle.
Stockists include Ocado and Morrisons as well as independent farm shops and delis plus pubs and bars nationally and prices start at £1.29.
The Heartsease Farm premium pressé range is part of Radnor Hills, one of the UK's leading soft drinks manufacturers.
Heartsease Farm is the name of the family farm in Powys, mid Wales from where the spring water is sourced. State-of-the-art technology is used to extract the water, which is rich in trace minerals, from below the ground and all products are bottled at source on the farm.
William Watkins, Managing Director of Radnor Hills said: "Our Heartsease Farm range of drinks reflect the heritage of the farm and our passion for great flavours. We use only the best available ingredients from the countryside, blended with our own spring water, to traditional British recipes."
www.radnorhills.co.uk
Facebook: @radnorhills
Twitter: @Heartseasefm
Instagram: Heartsease_Farm
Make sure it's only Santa 'in the red' this Christmas
Christmas is just around the corner, the countdown is on! At this time of year the average household spends around £800 on Christmas, covering the traditional must-haves and trimmings. This can easily push consumers to wake up with a mammoth personal finance hangover on January 1st.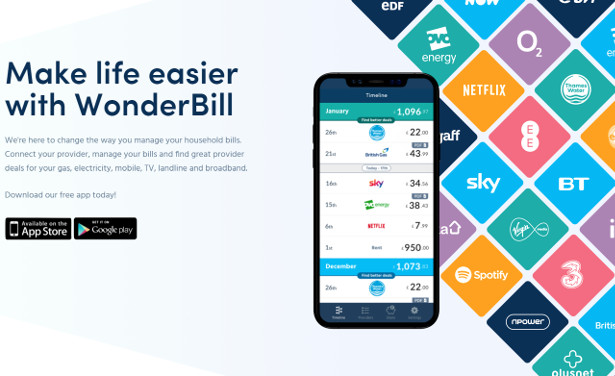 In partnership with WonderBill – a household bill management app – Sarah Willingham shares her top tips on how to avoid getting caught in the red this festive season, and how to start 2019 in good personal finance health.
· Frugal festive fun – It's easy to get caught up in the festivities, and of course you should enjoy the celebrations but thinking savvy can reduce that New Year finance hangover. For that Christmas party outfit, pick an item you could wear several times in the next year, so it doesn't just go to the back of your wardrobe. Thinking about festive food? Well this is the time for deals. Whether that's money off vouchers from supermarket loyalty cards, or taking advantage of bigger order offers online – try and work out what food you need in advance and stick to it. And remember your freezer is your best friend to avoid wastage – you can even freeze milk!
· Bigger and better – It's inevitable, the dishwasher might need replacing, the fridge goes on the blink or your car breaks down at the worst time. We've all been there. Taking time now to put together a contingency plan will pay dividends in those situations. So if you know you may need to upgrade your car in the next year, or you have a holiday that needs to be paid off, then put it in your 2019 budget now.
· Plan, or plan to fail – It sounds SO boring and it's hard to do, but some kind of budget on a monthly basis can really help to understand what you can and can't spend outside of the essentials. The Universal Credit changes coming into play in 2019 are going to be tough for some families, plus there's the general fluctuations of household bills throughout the year – winter always costs that little bit more due to heating bills. Assuming you will be spending the same each month can be a financial recipe for disaster. Look back at your spending for this year, then calculate what you might spend each month in 2019 and budget accordingly.
· Get subscription savvy – We live in a subscription-based world with an abundance of providers to pick from. Often, retailers will offer affiliate deals alongside subscriptions as they are keen to keep us hooked to their services. Make sure you are signed-up for emails to ensure you receive all the affiliate deals and take advantage; sometimes it's possible to consolidate two or three services through one provider, which saves money.
· Switch it up – This is where the quick wins are! ALWAYS check your household bills at the start of the year and see where you can save money by switching. This can be significant. As the majority of household bills are taken via direct debit, it's easy to forget what the actual usage is, and whether you are maximising your subscription, contract and allowance. Utilising apps that help you organise this, by showing usage each month and offering switch deals based on your usage, is certainly the easier route to take as it significantly reduces the life admin!
From Day To Night!
For the well-rounded traveller, or for anyone with a desire to see the Northern Lights but never quite got there, dreams can become a reality with the Northern Lights Mug from Thumbs Up! Certainly one for the kitchen cupboard, dream about your trip to the Northern lights when sipping on your favourite brew.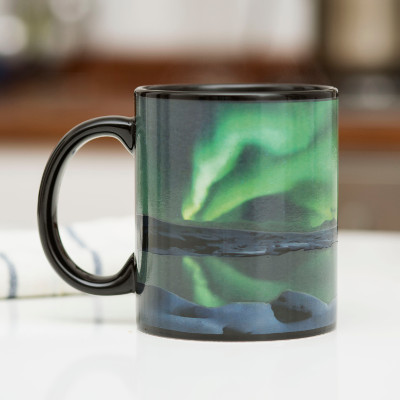 While it may just look like your regular mug using the magic of heat sensitive technology and detailed satellite imagery, you can watch the fantastic colours of the Northern lights appear and begin to glow. As the hot liquid warms the mug, the dark night sky slowly transforms into a bright and colourful picture. But remember, hand wash only if you want to maintain this mug's awesome colour changing abilities.
Enjoy 300ml of your favourite brew time and time again, tea, coffee or hot chocolate. Gone are the days when a humble chipped mug would do. Mugs have become an extension of who we are and how we see the world, so what better example of this then the Northern Lights Mug from ThumbsUp! which does just that. It's the high quality, polished mug which makes the perfect gift for any aspiring globe trotter this festive season or for any new homeowners.
The Northern Lights Mug is available to buy online from ThumbsUp! for £7.99.
The perfect gift for a food lover. At Single Variety Co they specialise in making seriously delicious fruit preserves and chilli jams.
They work directly with farmers to select the very best tasting variety for their products, and they use higher fruit, reduced sugar and only natural ingredients to deliver a really fresh fruity flavour.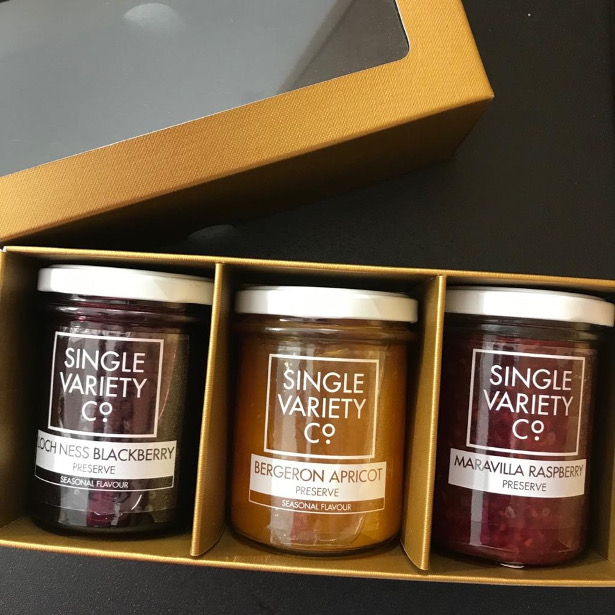 Each of their chilli jams have different heat levels and flavours to suit their customers taste, and they make the perfect condiment and they work particularly well with cheese so perfect for your Christmas cheeseboard.
They have two gift boxes available this year:
– Chilli Jam Gift Box – featuring Anaheim Chilli Jam (mild), Jalapeno Chilli Jam (hot), and Lemon Drop Chilli Jam (super hot)
– Fruit Preserves Gift Box – featuring Ben Starav Blackcurrant Preserve, Maravilla Raspberry Preserve, and King George Blackberry Preserve
Both are available online www.singlevariety.co.uk/shop priced at £20 (including free delivery). Order by 19th December for guaranteed Christmas delivery.
Merchant Gourmet dips into Christmas Meet our new festive dips that are perfect for the party table this Christmas.
www.merchant-gourmet.com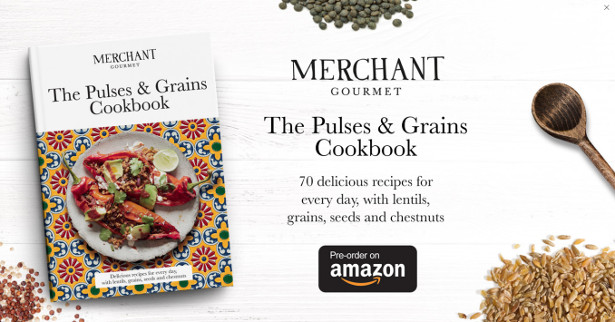 Chestnut and Red Pepper with Sweet & Smoky Paprika A blend of simply roasted chestnuts, red pepper and paprika, this dip has an intense taste and is Christmas with a twist. Puy Lentil with a Hint of Garlic Simply Cooked Puy lentils have been blended with roasted garlic to make a smooth, seriously satisfying dip. Spread on canapes, croutons or a simple slice of sour dough bread.Beluga Lentil with Aromatic Spices Beluga lentils are blended with cumin and cayenne pepper to make a velvety dip, perfect with an array of crunchy vegetable crudités.
When you are mulling over which gin to use for all your party and cocktail serves during the Christmas and New Year Festivities choose Jawbox Small Batch Gin, which recently won The Quality Drinks Award 2018 Best Gin at the Quality Food and Drink Awards.
Jawbox Small Batch Gin RRP: £30 for a 70cl bottle. ABV: 43%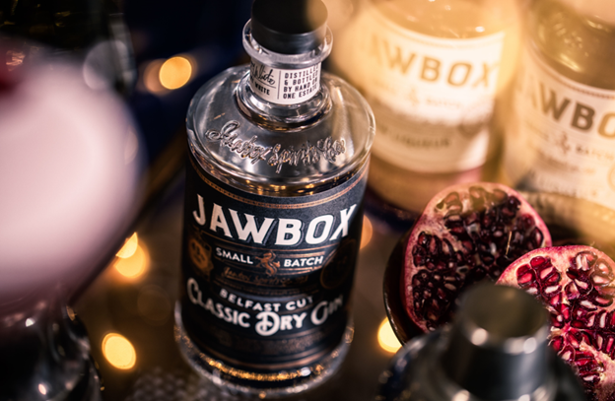 Judged by a panel selected from 400 industry experts you can be sure that you will be serving your guests a gin of the highest quality which is an excellent spirit base for your festive cocktail serves.
Why not try these delicious and easy to make cocktails:
Jawbox Breakfast Martini: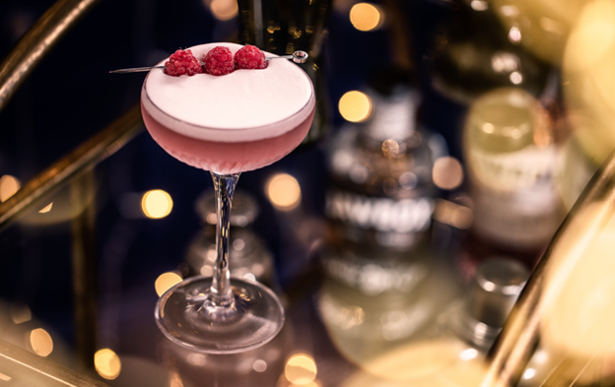 Add 25ml Jawbox Small Batch Gin, 25ml Jawbox Rhubarb and Ginger Gin Liqueur, 10ml lemon juice, 50ml cranberry juice, 1 x egg white, 2 tsp marmalade into a cocktail shaker and dry shake first, add ice and wet shake. Fine strain into a chilled coupe glass. Garnish with either a twist of orange or raspberries on a cocktail stick.
Jawbox Fireside Braemble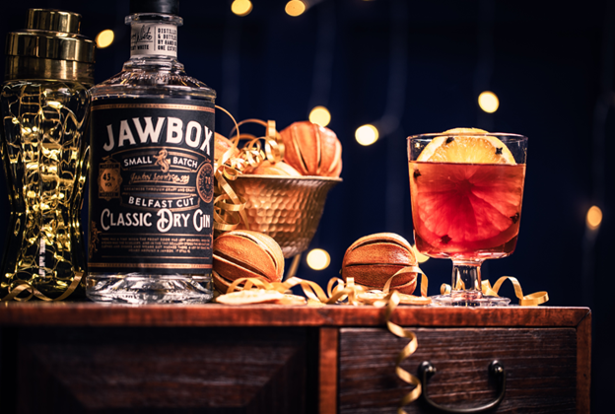 Warm a hot toddy glass and add 35ml Jawbox Small Batch Gin, 15ml Braemble Gin Liqueur, 10ml Rowse Honey with Cinnamon. Add a thumb slice of ginger and gentle muddle with the back of a spoon. Top the glass up with hot water and garnish with a slice of orange studded with cloves.
For a large party serve Jawbox Belfast 75 which is a great serve to see in 2019: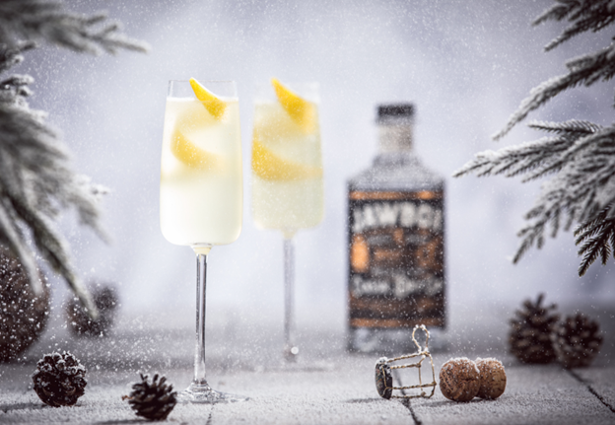 Add to a cocktail shaker 25ml Jawbox Gin, 10ml lemon juice, 10ml sugar syrup and 2 dashes of rhubarb bitters. Shake and double strain into a flute glass. Top the glass up with champagne and garnish with lemon peel.
Jawbox Small Batch Gin RRP: £30 for a 70cl bottle. ABV: 43%
Available from: Tesco, Marks & Spencer, Sainsbury's, Asda, Ocado, masterofmalt.com, thewhiskyexchange.com, 31dover.com, drinksupermarket.com and Amazon.
https://www.sainsburys.co.uk/shop/gb/groceries/jawbox-single-estate-gin-70cl
Jawbox Rhubarb & Ginger Gin Liqueur: RRP £25 for 70cl. ABV: 20%
Available from: Amazon, Ocado, masterofmalt.com, thewhiskyexchange.com, 31dover.com,
distillersdirect.com and drinkfinder.co.uk
https://www.masterofmalt.com/liqueurs/jawbox-spirits-company/jawbox-pineapple-and-ginger-gin-liqueur/?srh=1
Festive Trifle Recipe by Becky Excell at Gluten Free Cuppa Tea
Gluten Free Pineapple and Coconut Trifle
Serves 6-8Prep
Time: 20 mins
Cook Time: 40 mins
Ingredients 250g gluten free Madeira cake Edible gold leaf (optional)
For the coconut custard layer: 1 tin full-fat coconut milk (400g) 4 egg yolks (as fresh as possible) 50g caster sugar 40g cornflour 2 gelatine leaves
For the caramelised gold pineapple layer: 1 435g can Del Monte® Gold Pineapple Chunks (drained)75ml pineapple juice (from the pineapple can)2tbsp lime juice Zest of one lime 200g caster sugar 2tbsp dairy free margarine
For the meringue layer:4 egg whites (as fresh as possible and room temp) 200g caster sugar 100ml water 1/2tsp cream of tartar
Method Firstly, we'll create the sponge layer in our trifle dish. Slice your gluten free Madeira sponge cake into thin finger shapes. Take your 2.5l trifle bowl and fill the bottom with your gluten free Madeira sponge fingers. That's your first layer done!
For your coconut custard, start by pouring your coconut milk into a small saucepan and simmering until all the chunks have melted.Take your gelatine leaves and soak them in a bowl and set aside. We'll need these later.While that's warming, grab a glass bowl and add in your egg yolks, caster sugar and cornflour. Whisk this all together until nice and smooth. Add your now warmed coconut milk. Whisk again until smooth.Now take your glass bowl and place it on top of a large saucepan of gently simmering hot water. Make sure your bowl doesn't touch the water! Keep whisking your mixture until it thickens to look like custard. Keep whisking again until you're left with a nice, smooth consistency. This will take about 15 mins.Remove from the heat and place onto a tea towel. Add your gelatine leaves and whisk in until smooth. Immediately cover the bowl with clingfilm and place in the fridge.
Next up, the caramelised Gold pineapple. Start by melting your dairy free margarine and caster sugar in a large saucepan until the sugar is totally liquid. Then, add your drained Del Monte® Gold pineapple and juice. Keep on mixing at this point, as the caramel will get really sticky!Add your lime juice and zest. Increase the heat a little so that all the lumpy, sticky bits of caramel melt again. You should be left with pineapple in a nice, clear consistent drizzle.
Ok – back to your trifle dish! Add your caramelised Del Monte® Gold pineapple on top of the sponge layer and pour the drizzle all over so the sponge can absorb it. Now for the final layer – the Italian meringue! Start by melting caster sugar and water in a small saucepan on a low heat whilst constantly stirring. Keep this nice and warm while you do the next bit.In a standing mixer, add your egg whites and cream of tartar and mix at a medium speed for 2 minutes. It should be nice and frothy with no lumps from the cream of tartar.After two minutes, pour in your melted sugar and water mixture into your standing mixer while it's mixing. Turn it up to a higher speed for 2-3 minutes.
You should be left with soft, fluffy meringue that doesn't drip when you spoon it.Back to your trifle dish for the last time! Add your fresh raspberries around the edge of your dish, on top of your pineapple layer. Then add your now cooled custard. Give it a stir if it's become a little set.
Then, add your meringue layer on top. You can optionally blowtorch the top for a nice finish and/or add edible gold leaf – it's up to you! The hot water and sugar mixture will cook the meringue so there's no need to do anything else to it.
Enjoy!
This recipe has been created by London-based gluten free recipe creator and vlogger, Gluten Free Cuppa Tea
BALSAMIC PORK WITH APPLES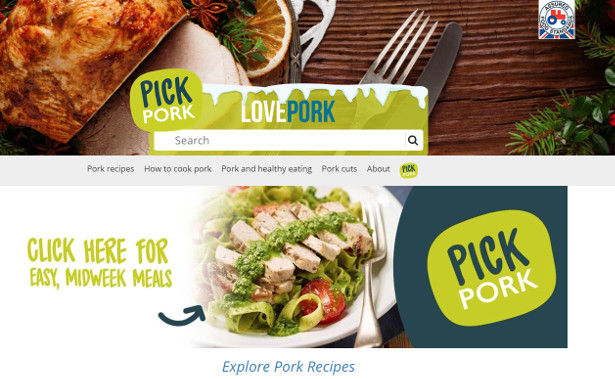 A simple tasty dish using storecupboard ingredients
Serves: 4
Preparation time: 5 minutes
Cooking time: about 16 minutes
For the pork:
4 pork loin steaks or loin medallions
100 ml balsamic vinegar
2 tsp honey
2 tsp freshly chopped thyme leaves or 1 tsp dried thyme
15g unsalted butter
1 tsp oil
2 small red onions, cut into 8 wedges
2 red eating apples, cored and each cut into 8 wedges
Serving suggestions:
Sweet potato mash and green beans or tender stem broccoli
1. Preheat the oven to 180°C/350°F/Gas Mark 4. Place the pork on a board between 2 layers of cling film. Using the base of a small saucepan or rolling pin, bash them all over until 1cm thick.
2. In a shallow dish, mix together the vinegar, honey and herbs, season with a little salt and a good grind of black pepper. Add the pork and turn to coat. Cover and set to one side.
3. Meanwhile, heat the butter and oil in a non-stick ovenproof frying pan. Add the onions and cook for 2-3 minutes, stirring occasionally, then add the apples and cook for 2 minutes, until the apples and onions are starting to caramelise. Remove from the pan.
4. Drain the pork from the marinade and reserve the marinade. Add the pork to the pan and cook in a hot pan for 3 minutes on one side over a medium heat. Turn the pork over, return the onions and apples to the pan and pour over the reserved marinade. Place the pan into the oven on the middle shelf for a further 6-8 minutes, until the meat juices run clear.
5. Divide the pork between 4 plates, serve with sweet potato mash and greens.
Per portion and per 100g
Energy 1079kJ /259kcal 12%RI PER 100G 573kJ 138kcal
Protein 15.5g PER 100G 8.2g.
Fat 16.5g 23% RI MEDIUM PER 100g 8.8g
Of which saturates 6.5g 32% RI HIGH PER 100g 3.4g
Carbohydrate 11.0g PER 100g 5.8g
Of which sugars 10.4g 11% RI MEDIUM PER 100g 5.5g
Fibre 1.0g PER 100g 0.5g
Salt 0.11g 1%RI LOW PER 100g 0.06g
Alternative nutritionals for loin medallions (for website)
Energy 676kJ /161kcal 7%RI PER 100g 398kJ 95kcal
Protein 13.4g PER 100g7.9g.
Fat 6.0g 8% RI MEDIUM PER 100g 3.5g
Of which saturates 2.6g 13% RI LOW PER 100g1.5g
Carbohydrate 12.3g PER 100g 7.2g
Of which sugars 10.4g 11% RI MEDIUM PER 100g 6.1g
Fibre 1.0g PER 100g 0.6g
Salt 0.05g 1%RI LOW PER 100g 0.03g
HARISSA PORK AND PUMPKIN PILAFF
A one-pan dish bursting with flavour and colour
The secret to a pilaff is to use a pan with a tight- fitting lid, then do not be tempted to stir it or peek. The rice should be fluffy.
Serves: 4
Preparation time: 10 minutes
Cooking time: about 25 minutes
4 pork loin medallions, cut into 1.5 cm cubes (or 12 pork fillet medallions or 4 loin steaks, fat removed)
2 tbsp harissa paste
Finely grated zest and juice 1 lemon
1 tbsp olive oil
1 onion, sliced
1 red pepper, deseeded and diced
400 g diced pumpkin or butternut squash
Small knob of butter
300 g basmati rice, rinsed
600 ml hot vegetable stock
to serve:
2 tbsp freshly chopped parsley
25 g toasted flaked almonds
Low fat plain Greek yogurt
1. Mix 1 tbsp of the harissa paste with 2 tbsp of the lemon juice and a good grind of black pepper in a bowl, add the pork and stir to coat. Set aside, whilst you prepare the pilaff.
2. Heat the oil in a shallow casserole dish or large non- stick pan, with a tight-fitting lid. Add the onions, pepper and pumpkin or butternut squash. Fry gently on a medium heat for 3 minutes with the lid on until softened, but not browned.
3. Remove the lid and turn up the heat. Cook for 2-3 minutes, stirring occasionally until the vegetables have coloured a little.
4. Add the butter, stir in the rice and remaining harissa paste, cook for 2 minutes. Pour over the stock, season with a little salt and freshly ground black pepper and stir together.
5. Bring to the boil, reduce the heat to low and cover tightly with the lid. Cook for 10 minutes. Gently stir the pork into the rice. Cover and return to the heat.
6. Cook for a further 8 minutes or until all the stock has been absorbed and the pork, rice and butternut squash are tender. Remove from the heat and leave to stand for a few minutes. Stir in the lemon zest and remaining juice and some of the parsley. Fluff up the rice with a fork.
7. Divide between 4 bowls and garnish with the remaining parsley and almonds. Serve with a dollop of yogurt.
Per portion and per 100g
Energy 1836kJ /433kcal 22%RI PER 100g 373kJ/88kcal
Protein 25.1g PER 100g 5.1g
Fat 7.9g 11% RI LOW PER 100g 1.6g
Of which saturates 2.1g 10% RI LOW PER 100g 0.4g
Carbohydrate 68.2g PER 100g 13.9g
Of which sugars 5.7g 6% RI LOW PER 100g 1.2g
Fibre 2.5g PER 100g 0.5g
Salt 1.6g 26%RI MEDIUM PER 100g 0.3g
Alternative nutritionals for loin steak fat removed (for website)
Energy 2287kJ /544kcal 28%RI PER 100g 451kJ 107kcal
Protein 25.9g PER 100g 5.1g
Fat 20.6g 29% RI MEDIUM PER 100g 4.1g
Of which saturates 6.7g 33% RI HIGH PER 100g 1.3g
Carbohydrate 66.5g PER 100g 13.1g
Of which sugars 5.6g 6% RI LOW PER 100g 1.1g
Fibre 2.5g PER 100g 0.5g
Salt 1.62g 27%RI MEDIUM PER 100g 0.32g
Alternative nutritionals for fillet medallions (for website)
Energy 2225kJ /526kcal 27%RI PER 100g 392kJ 93kcal
Protein 42.2g PER 100g 7.4g
Fat 9.8g 14% RI LOW PER 100g 1.7g
Of which saturates 2.7g 13% RI LOW PER 100g 0.5g
Carbohydrate 69.9g PER 100g 12.3g
Of which sugars 5.7g 6% RI LOW PER 100g 1.Og
Fibre 2.5g PER 100g 0.4g
Salt 1.62g 27%RI LOW PER 100g 0.28g
MISO GLAZED PORK FILLET
A moreish Asian inspired dish created with very little effort
Serves: 4
Preparation time: 10 minutes, plus marinating
Cooking time: 30 minutes
1 lean pork fillet, about 450 g
For the marinade:
2 tbsp white miso paste
2 tbsp honey
2 tbsp Japanese mirin or rice wine vinegar
1 tsp toasted sesame oil
1 tbsp finely grated fresh ginger or 2tsp ginger paste
1 clove garlic, crushed or 1 tsp garlic paste
1 tbsp toasted sesame seeds
Serving suggestion: cooked egg noodles and stir-fry vegetables
1. Mix together all the marinade ingredients in a bowl. Place the pork in a shallow dish, then pour over the marinade and turn to coat. Cover and leave to marinate for at least 10 minutes or overnight in the fridge.
2. Preheat the oven 180°C/350°F/Gas Mark 4. Place the pork in a small roasting tin, pour over the marinade, then roast in the oven for 25-30 minutes, basting occasionally with the marinade, until the pork is caramelised, but still juicy.
3. Remove from the oven and allow to rest for 5 minutes, then cut into slices. Sprinkle with toasted sesame seeds and serve with noodles and stir-fried vegetables, drizzled with any juices from the roasting pan.
Per portion and per 100g
Energy 926kJ /220kcal 11%RI per 100g 637kJ/152kcal
Protein 26.7g per 100g 18.4g
Fat 7.5g 10% RI MEDIUM per 100g 5.2g
Of which saturates 1.4g 7% RI LOW per 100g 1.0g
Carbohydrate 11.2g per 100g 7.7g
Of which sugars 8.1g 9% RI MEDIUMW per 100g 5.6g
Fibre 0.2g per 100g 0.2g
Salt 0.5g 8%RI MEDIUM per 100g 0.33g
ONE PAN PORK AND MUSHROOM FILO PIE
A lovely quick pie, easy to rustle up midweek, and low fat too.
Serves: 4
Preparation time: 5 minutes
Cooking time: 25 minutes
4 pork loin medallions, cut into strips 1cm in thickness (or 12 fillet medallions or 4 loin steaks, fat removed)
25 g butter
250 g chestnut mushrooms, quartered
1 tbsp plain flour
300 ml hot pork or vegetable stock
250 g baby leaf spinach
2 tbsp freshly chopped flat-leaf parsley
3 tbsp low fat crème fraîche
4 sheets filo pastry, cut in half
Spray oil
Serving suggestions:
Baby new potatoes and carrots
1. Preheat the oven 180°C/350°F, Gas Mark 4. Melt the butter in a large non-stick ovenproof frying pan, (about 24 cm) add the mushrooms and cook for 3-4 minutes.
2. Stir in the flour, cook for 1 minute, then gradually pour in the stock, stirring continuously, until the sauce thickens.
3. Simmer for 2-3 minutes.
4. Stir in the pork, spinach, parsley and crème fraîche. Season with salt and freshly ground black pepper. Remove from the heat.
5. Scrunch up the sheets of filo pastry, then arrange over the top of the pork mixture to completely cover. Spray the pastry with the oil, then cook in the oven for 20 minutes until the pastry is golden and the pork is cooked through.
6. Serve with new potatoes and carrots.
Per portion and per 100g
Energy 1353kJ /321kcal 16%RI per 100g 378kJ/90kcal
Protein 24.8g per 100g 6.9g
Fat 10.5g 15% RI LOW per 100g 2.9g
Of which saturates 4.5g 22% RI LOW per 100g 1.3g
Carbohydrate 33.1g per 100g 9.3g
Of which sugars 2.7g 2% RI LOW per 100g 0.7g
Fibre 2.5g per 100g 0.7g
Salt 1.4g 23%RI MEDIUM per 100g 0.4g
Alternative nutritionals for loin steaks fat removed (for website)
Energy 1804kJ /431kcal 22%RI per 100g 484kJ/116kcal
Protein 25.7g per 100g 6.9g
Fat 23.1g 33% RI HIGH per 100g 6.2g
Of which saturates 9.2g 45% RI HIGH per 100g 2.5g
Carbohydrate 31.4g per 100g 8.4g
Of which sugar 2.6g 2% RI LOW per 100g 0.7g
Fibre 2.5g per 100g 0.7g
Salt 1.5g 24%RI MEDIUM per 100g 0.4g
Alternative nutritionals for fillet medallions (for website)
Energy 1742kJ /413kcal 21%RI per 100g 403kJ/96kcal
Protein 41.9g per 100g 9.7g
Fat 12.4g 17% RI LOW per 100g 2.9g
Of which saturates 5.2g 26% RI LOW per 100g 1.2g
Carbohydrate 34.9g per 100g 8.1g
Of which sugars 2.7g 3% RI LOW per 100g 0.6g
Fibre 2.5g per 100g 0.6g
Salt 1.5g 24%RI MEDIUM per 100g 0.34g
PORK WITH PESTO AND PASTA
A light and fresh version of a speedy weekday favourite
Serves: 4
Preparation time: 10 minutes
Cooking time: 20 minutes
4 pork loin medallions or 4 loin steaks, fat removed
Finely grated zest and juice 1 lemon
2 tbsp freshly chopped flat-leaf parsley
2 tsp extra virgin olive oil
350 g dried tagliatelle or pappardelle pasta
16 cherry or baby plum tomatoes, halved
For the pesto:
125 g baby leaf spinach
50g pistachio kernels
2 cloves garlic peeled
25 g freshly grated Parmesan cheese
25 g flat-leaf parsley, stalks removed
4 tsp extra virgin olive oil
1. Preheat the oven to 180°C/350°F/Gas Mark 4. Place the pork on a board between two layers of cling film. Using the base of a small saucepan or rolling pin, bash them all over until they are 1cm thick.
2. In a shallow dish, mix together the lemon zest and juice with the parsley and oil. Season with a little salt and a good grind of black pepper. Add the pork and turn to coat. Cover and leave aside for 10 minutes.
3. Cook the pasta in a large pan of boiling water for about 10 minutes, or according to pack instructions, until just tender. Drain the pasta
(reserving about 200 ml of the pasta cooking water) and return to the pan to keep warm.
4. Meanwhile, heat a large non-stick ovenproof frying pan over a medium heat. Add the pork to the pan and cook for 3 minutes on one side, turn the pork over, add the cherry tomatoes and place the pan straight into the oven on the middle shelf for a further 6 -8 minutes, or until cooked through and the meat juices run clear.
5. To make the pesto, place the spinach, pistachios, garlic, Parmesan and parsley in a food processor, blitz until roughly chopped, then add the olive oil and blitz until smooth. Add 3-4 tbsp of the reserved pasta water or hot water to loosen.
6. Stir most of the pesto through the pasta in the pan, adding a little more of the pasta water to loosen it, if needed, then divide between 4 plates, thickly slice each medallion or loin steak and place on top of the pasta, with the roasted tomatoes. Drizzle with the reserved pesto and serve immediately with a grind of black pepper.
Tip:
If preferred use 2-3 tablespoons of prepared pesto instead.
Per portion and per 100g
Energy 2267kJ /537kcal 28%RI PER 100g 828kJ/196kcal
Protein 28.9g PER 100g 10.6g
Fat 17.2g 24% RI MEDIUM PER 100g 6.3g
Of which saturates 3.6g 18% RI LOW PER 100g 1.3g
Carbohydrate 68.0g. PER 100g 24.8g
Of which sugars 4.8g 5% RI LOW PER 100g 1.8g
Fibre 5.5g PER 100g 2.0g
Salt 0.35g 6%RI LOW PER 100g 0.13g
Alternative nutritionals for loin steaks fat removed (for website)
Energy 2324kJ /551kcal 28%RI per 100g 816kJ/193kcal
Protein 31.4g per 100g 11.0
Fat 17.4g 24% RI MEDIUM per 10g 6.1g
Of which saturates 3.7g 18% RI LOW per 100g 1.3g
Carbohydrate 68.20g per 100g 24.0g
Of which sugars 4.8g 5% RI LOW per 100g 1.7g
Fibre 5.5g per 100g 1.9g
Salt 0.36g 6%RI LOW per 100g 0.13g
QUICK PORK CURRY WITH TURMERIC
A curry doesn't just have to be for a weekend treat, especially when it's this easy!
Serves:4
Preparation time: 5 minutes
Cooking time: 16 minutes
4 pork loin medallions, sliced to the thickness of 1cm (or 12 pork fillet medallions or 4 loin steaks removed of fat)
2 tsp oil
1 onion, sliced
1 tsp each garlic and ginger paste or 1 clove garlic, chopped and 1 tsp grated ginger
1 tsp ground turmeric
2 tsp Madras curry powder
8 curry leaves, optional
400 ml can reduced fat coconut milk
200 g green beans, trimmed and halved
Finely grated zest and juice 1 lime
to serve:
2 x 200 g pouches microwave basmati rice
few toasted cashew nuts
freshly chopped coriander
1. Heat the oil in a medium non-stick pan, add the onion, garlic and ginger and fry gently for 4-5 minutes, until softened.
2. Add the spices and curry leaves,(if using) and cook for a further minute. Add the coconut milk and season with a little salt and freshly ground black pepper. Bring to a simmer and cook for 5 minutes.
3. Add the pork, green beans and stir. Add the lime zest and juice and stir again. Simmer for a further 5-6 minutes or until the pork is cooked through and the beans are tender.
4. Cook the rice according to packet instructions. Divide between 4 plates. Top the curry with a few toasted cashews and fresh coriander.
Per portion and per 100g
Energy 989kJ 236kcal 12%RI per 100g 352kJ/84kcal
Protein 19.6g per 100g.7.0g
Fat 13.8g 19% RI MEDIUM per 100g 4.9g
Of which saturates 7.4g 37% RI HIGH per 100g 2.6g
Carbohydrate 8.9g per 100g 3.2g
Of which sugars 5.1g 5% RI LOW per 100g 1.8g
Fibre 1.7g per 100g 0.6g
Salt 0.3g 5% RI LOW per 100g 0.12g
Alternative nutritionals for fillet medallions (for website)
Energy 1378kJ 328kcal 16%RI per 100g 387kJ/92kcal
Protein 36.7g per 100g 10.3g
Fat 15.6g 22% RI MEDIUM per 100g 4.4g
Of which saturates 8.0g 40% RI HIGH per 100g 2.3g
Carbohydrate 10.6g per 100g 3.0g
Of which sugars 5.1g 5% RI LOW per 100g 1.4g
Fibre 1.7g per 100g 0.5g
Salt 0.4g 6%RI LOW per 100g 0.11g
Alternative nutritionals for loin steak (for website)
Energy 1440kJ 246kcal 17%RI per 100g 487kJ/117kcal
Protein 20.4g per 100g.6.9g
Fat 26.4g 37% RI HIGH per 100g 8.9g
Of which saturates 12.0g 60% RI HIGH per 100g4.1g
Carbohydrate 7.2g per 100g 2.4g
Of which sugars 5.0g 5% RI LOW per 100g 1.7g
Fibre 1.7g per 100g 0.6g
Salt 0.4g 6% RI LOW per 100g 0.13g

The Best Fun and Fizz-tive Bubbles from Aldi this New Year's Eve
YOUTUBE | TWITTER | PINTEREST | FACEBOOK | INSTAGRAM
With party season readily approaching and New Year's Eve just around the corner, there's no better way than to celebrate with a bottle of Aldi bubbles.
The festive range features a mouth-watering selection of sparkling wines including the award-winning Veuve Monsigny Champagne and Aldi's famous Jeroboam of Prosecco, which holds three litres of party-starting bubbly in a show-stopping bottle! Celebrate the most wonderful time of the year with Aldi's new range of sparkling wines, available in stores and online now.
The showstopper:
Giotti Prosecco DOCG Jeroboam (£39.99, 3l)
Available in stores and online from 14th November nationwide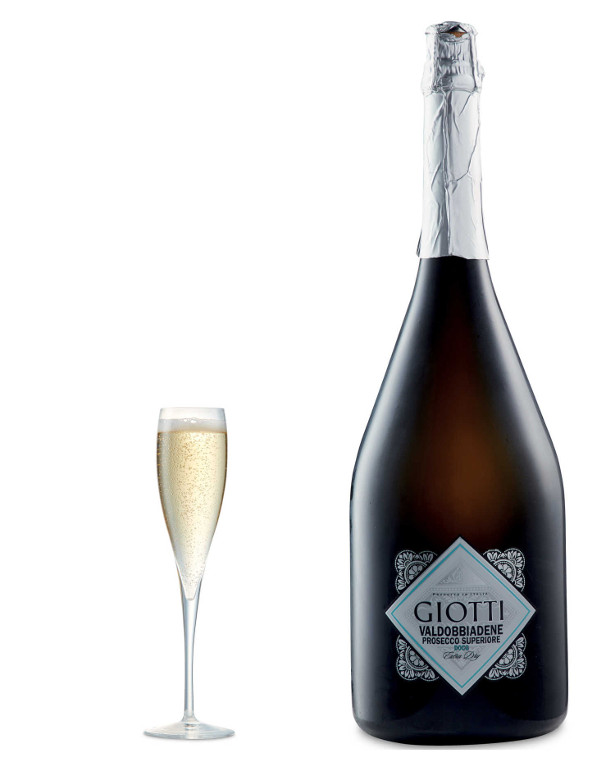 Be everyone's favourite guest this New Year's Eve with this gigantic bottle of premium DOCG prosecco, the equivalent of four regular sized bottles. A beautifully pale straw colour, the aroma is light with hints of fresh citrus fruits and wisteria flower. On the palate, the wine is delicate yet serious, with a refreshing acidity and soft sherbet taste. Aldi's Prosecco Jeroboam is sure to get the Christmas party season started!
The award-winner:
Veuve Monsigny Champagne Brut (£11.49, 75cl)
Available in stores and online nationwide now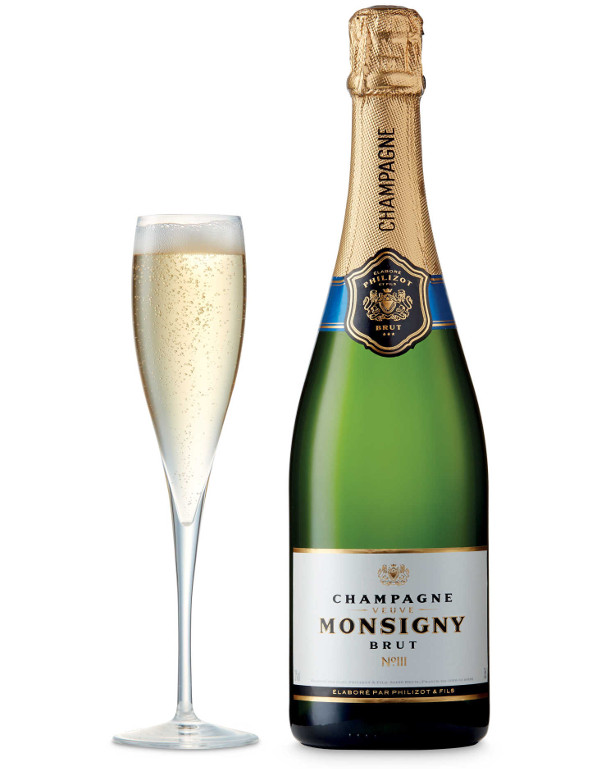 A bestseller and the highly acclaimed award-winning wine from the Champagne house Philizot & Fils, blended from a complex and elegant mix of Chardonnay, Pinot Noir and Pinot Meunier grapes. This wine is carefully aged in cellars to create its unique and beautiful taste. A chilled glass of this fizz should not be missed.
The party-ready prosecco:
Collezione Oro Prosecco DOCG (£8.99, 75cl)
Available in stores and online from 1st October nationwide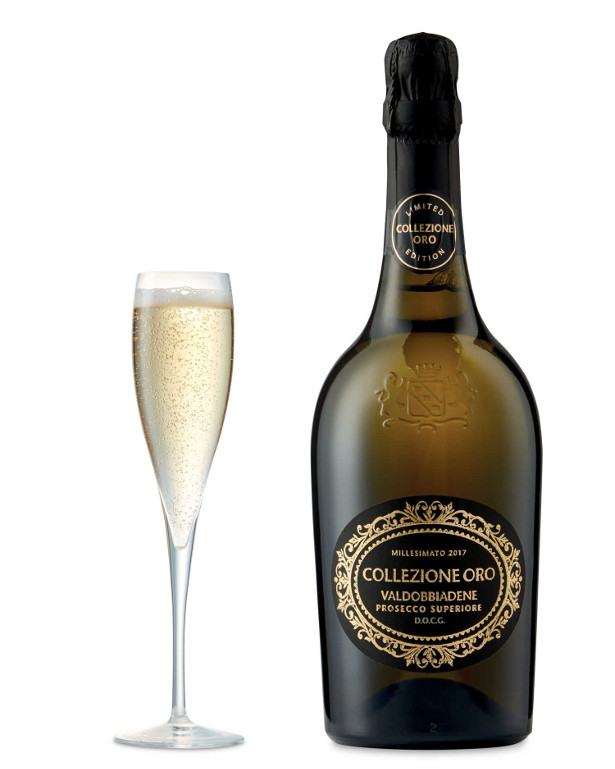 This delicate Italian wine exudes as much style as its homeland, offering drinkers light floral notes of sweet honeysuckle and pink lady apples. Crisp and dry on the palate, pair this prosecco with a lemon cheesecake or any other citrus based pudding for the perfect balance of sweet and sharp flavours.
The vintage vino:
Veuve Monsigny Champagne 2004 (£19.99, 75cl)
Available online now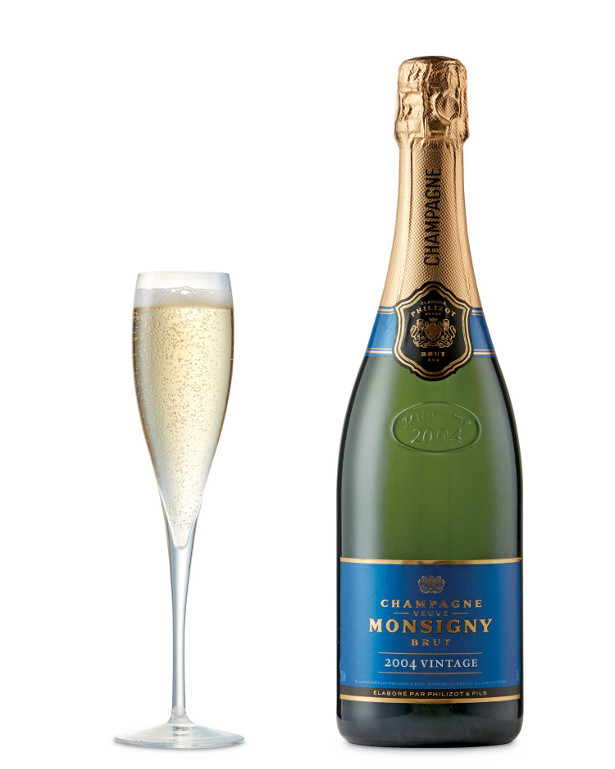 A rich and bready Champagne, this is the perfect tipple for those looking for a more mature wine. Pair those bready notes with the quintessential English dessert bread and butter pudding, or for something a little fruitier, enjoy with an apple strudel for an indulgent treat!
The soft sparkler:
Zero Point Zero White (£2.49, 75cl)
Available online from 1st October nationwide
A great alternative to traditional sparkling wine, ZeroPointZero Sparking White Brut is made with a complex combination of fermented grape juice blended with premium green tea to deliver notes of apple and pear with a pleasing acidity.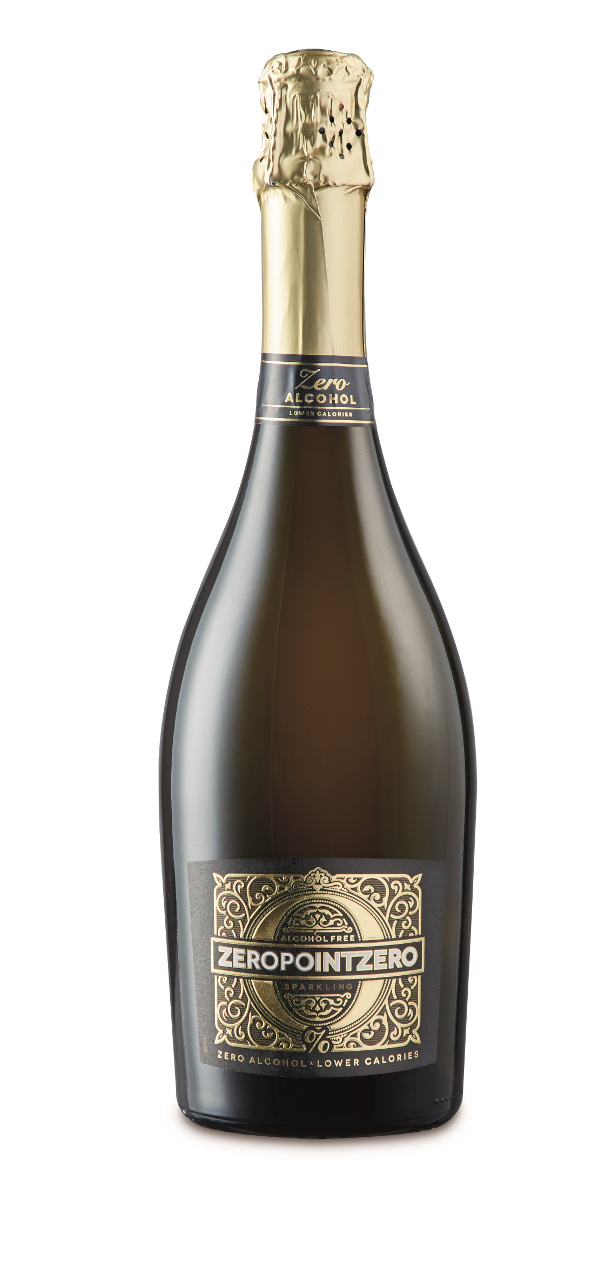 The perfect holiday treat makes the best gift-Gluten Free Cookie Dough Bites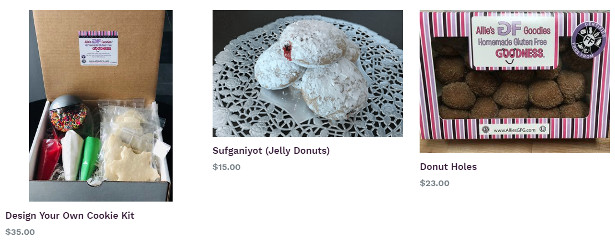 The delicious chocolates and Gluten Free treats from Allie's GF, a NY based, award-winning allergen-free bakery, would
make a perfect gift for anyone who is looking for new and fun flavors to try. In honor of the holidays the bakery just launched Allie's chocolate
cookie dough bites, a gluten free, vegan friendly delight able to satisfy the most demanding sweet tooth.
There is no one more appreciative of a yummy treat than a family member home for the holidays, which is why for only $25 they can enjoy 9 chocolate cookie dough bites in a specially packaged box that fits the dietary needs of everyone on your list!
Buy link: https://bit.ly/2Iz8ytr
For years, Allie's has been a safe haven for those with allergies on Long Island and across the country via mail order.
Owner Allison Luckman understands the concerns parents have when providing their children with treats, fearing that they may contain an allergen. Allie is an expert at living an allergen-free lifestyle and has curated her business to reflect this.
After facing food-intolerances her entire life and sharing them with her children, Allie became AllerTrain Certified. This accreditation assures her expertise in the gluten-free and food allergy world.
www.alliesgfg.com
WELLBOX.CO.ZA MAKES WELLNESS ACCESSIBLE AGAIN
'Wellness' in the modern world is a term that encapsulates many varied ideas, opinions and go-to products that serve as a way for you to prioritize your own health and wellbeing.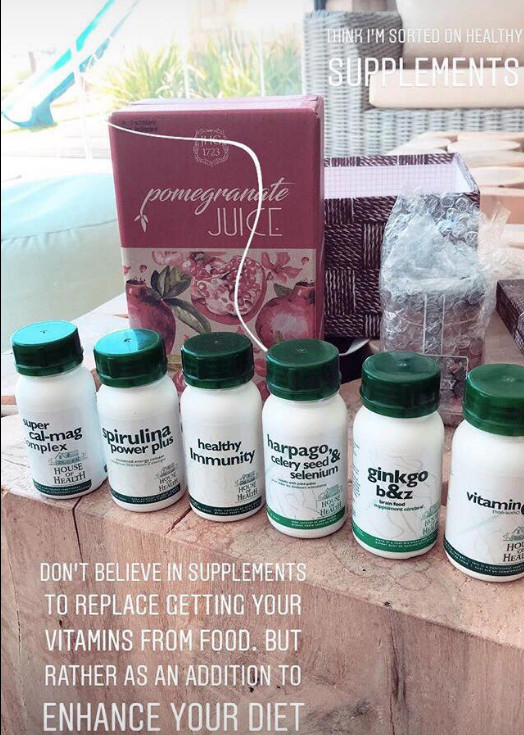 Unfortunately, just eating healthy food today may not be enough to give your body the essential nutrition that it needs. Supplements, vitamins and organic food also tend to come with a high price tag that ends up making a healthier way of life exclusive to those who can afford it.
Wellbox.co.za is a newly launched online platform designed to combat all of the above stigma associated with health. Created by successful entrepreneurs Amy Kleinhans and Leighton Curd, Wellbox.co.za is set to become South Africa's one-stop health shop.
All listed supplements are 100% natural and are made from the highest quality raw materials in a Pharmaceutical Grade, Good Manufacturing Practice (GMP) certified facility, all in line with the Health Products Association of South Africa.
Wellbox is a subscription-based, wellness product and supplement service. Joining is easy and your monthly membership then allows you access to a wide selection of 100% natural supplements and certified products – all at factory prices. Visit the Wellbox shopping portal and purchase as many products as you need, as many times in a month as you want. These products and the subsequent courier fees will then be added to your basket at checkout.
Added benefits are that each of the products available on the site is that they receive Amy Kleinhans' personal stamp of approval. As a beauty queen, former Miss South Africa and mom, she personally selects the products available on the website. Less focus on the aesthetics of packaging and branding behind each product also means that the core product is all that you're actually paying for.
Sign up via the site where you'll then be given your unique membership number and can begin your journey to a safe, affordable and convenient way to live a healthier life.
www.wellbox.co.za – Monthly membership fee: R29 per month – Delivery: Cape Town, Boland, Helderberg, Southern Suburbs and Northern Suburbs areas.
John 'n' Pickle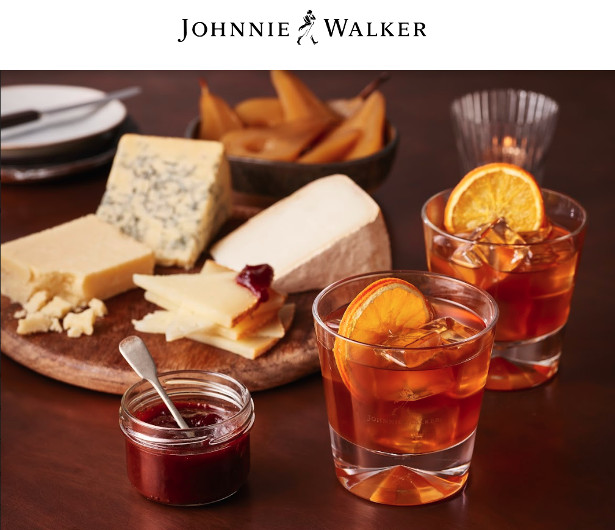 Ingredients
2 tsp caramelised onion chutney
10ml demerara sugar syrup
50ml Johnnie Walker Black [2 units]
2 dash black walnut bitters
1.25ml distilled vinegar
Method
In a glass add the chutney
Add 25 ml Johnnie Walker Black
Add the demerara syrup
Then Add two ice cubes
Stir until ice is half melted
Add the rest of the ingredients
Add more ice
Stir until Mixed
Demerara Syrup
Ingredients
100g demerara sugar
50g hot water
Method
In a jug, add the sugar
Pour over the hot water
Stir until fully dissolved
Expert Psychologist, Rachel Andrew's Top Five Tips To Finding Balance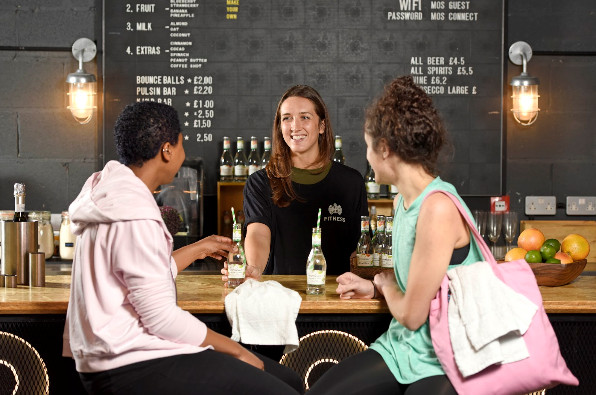 Pace yourself
The initial burst of excitement that is Christmas time gives our bodies a rush of adrenalin. The aim of this is to energise us to be at our best for a short period of time. That level of energy is completely unsustainable over a prolonged period. We need time for our bodies and minds to recuperate in between.
Replace some of your 'shoulds' with 'wants'
'Shoulds' often relate to our sense of responsibility and expectation. List all the things you think you should be doing at Christmas time and in January, and then list all the things you actually want to do. You won't be able to get rid of all your 'shoulds' but try to limit them where you can so your lists are equal.
Recognise your feelings
So many people can feel 'over' Christmas and it's important to know that feeling like this says nothing about you as a person. It does not make you bad, abnormal or miserable. It sounds cliche to say that your feelings are normal and that others feel the same, but this research indicates exactly this. It is comforting to know that many others understand and feel exactly the same.
Challenge your norm
Ask yourself, "What gets in the way of me doing something different?" You may know what you want to do but something still stops you from choosing to do it. It can be difficult and complicated to make changes. If it wasn't, we would be all living the 'christmas lives' we want to. Just knowing what the obstacles are and trying to overcome them step by step can be useful.
Practise saying, "No" and "I can't"
You may choose to offer an explanation or an apology but be confident that you don't need to give one. This isn't something that always comes easily so practise it each day like any new skill.
Rachel Andrew is working with Gordon's Ultra Low to help people find a better balance this December & January and enjoy both months in equal measure.
Enjoy December and January in equal measure
Introducing…the Gordon's Ultra Low Down
Is December leaving you feeling over-indulged and over-socialised? In contrast, is the impending January health kick filling you with dread, or the fear of broken new year's resolutions? To bring more balance – the key word in wellness – to these months of extremes, Gordon's Ultra Low Alcohol G&T flavoured drinks has worked with psychologist Rachel Andrews and events across the country to help the nation enjoy Christmas and January in equal measure with The Gordon's Ultra Low Down.
We all know December is a whirlwind of festive drinks, late nights, last minute shopping, mince pies and multiple Christmas catch-ups. New research* has shown that 60% of the nation are already feeling 'Christmassed out' with jam-packed social calendars meaning more than half of us are thinking up ways we can get out of plans so we can avoid overindulging. 63% are thinking about their January health kick even though a quarter already know that they won't be able to maintain it until the end of January. 83% of the nation say they feel December and January are months of two extremes, with two thirds (67%) claiming they'd feel better and be happier if they could practise moderation and balance in what they eat and drink throughout the year.
From the pressures of events that you feel you 'should' go to, to the feelings of self-remorse at resolutions you can't keep, December and January can be tricky to navigate. Introducing, The Gordon's Ultra Low Down; a series of events to allow everyone, from health-conscious moderators to busy mums and dads juggling family commitments along with their own, to those who just want to try to drink more mindfully, to say cheers this Christmas and January with Gordon's Ultra Low. In addition to this, clinical psychologist, Rachel Andrews has shared her tips to find balance.
Rachel Andrews, Clinical Psychologist comments: We have so many unrealistic expectations about Christmas – idealised images from films, TV and social media – which lead us to think that we should be celebrating Christmas in a certain way. When we can't achieve these ideals, it triggers concern that we aren't 'living our best lives' which can lead to feeling pressured into trying to do everything – which is exhausting and unsustainable.
We need to feel more confident that we can make individual choices about how we want to spend the festive period and the new year to ensure we find a balance that works for us – it doesn't have to be all or nothing. You can moderate your consumption but not your celebrations by saying cheers this Christmas and January with Gordon's Ultra Low'
Gordon's Ultra Low Alcohol G&T flavoured drinks are the go-to, low alcohol alternative to celebrate Christmas and enjoy January. Available in two delicious garnish twists; with a hint of lime and with a hint of grapefruit, Gordon's Ultra Low is available in ASDA, Ocado, Waitrose, either singularly for £1.49 or as a 4-bottle multipack for £4.99. Find out more at https://www.gordonsgin.com
Dr Rachel Andrew
Dr Rachel Andrew is a consultant clinical psychologist who has been working with adults, children and families for over fourteen years. Dr Rachel began her career working in the NHS, before setting up her own company, Time Psychology Ltd. She continues to work in clinical practice, carrying out psychological assessments and interventions across Lancashire.
Dr Rachel is passionate about sharing psychological knowledge and finding innovative ways to do this. She often works with journalists and television companies. She was first seen on screen in Channel 4's BAFTA nominated 'Don't Make Me Angry' in 2004. She now regularly works behind the scenes in television, promoting the emotional health of actors and artistes.
Dr Rachel contributed to the Men's Health Diagnosis feature for two years, and her expertise can be found in publications ranging from The Debrief and The Pool to The Telegraph, Prima, Marie-Claire and The Guardian.
Dr Rachel is married and mum to two young girls. She co-wrote "The Supermum Myth" in 2017; a book to help parents accept "good enough" and stop striving for perfection.
NAUGHTY NEVER TASTED SO NICE….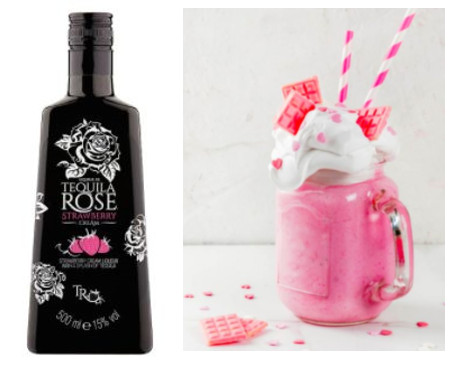 TEQUILA ROSE (500ml) Available NOW in TESCO & SAINSBURY'S stores nationwide: RRP £12
Whether staying in or going out, the smooth, easy taste and insta-worthy pretty pink colour of Tequila Rose is a recipe for fabulous.
Tequila never tasted so good – the silky rich strawberry cream is as versatile as it is delicious. Enjoy in a shot, pour over ice, or mix in everything from killer cocktails to adult milkshakes.
For more information or for delicious cocktail ideas visit: Facebook.com/TequilaRoseUK or Instagram.com/lovetequilarose
For more information, stockists and delicious cocktail recipes visit www.facebook.com/TequilaRoseUK
Tequila Rose RRP: £12 Available at Tesco, Sainsbury's, Amazon, drinksupermarket.com
Cosy up with a rich, jammy yet smooth shiraz this Christmas
Spice up your wine menu this festive season with the jammy, juicy flavours of a medium-sweet shiraz from Jam Shed.

Packed with rich, opulent sweet red berry flavours, balanced with a subtle hint of vanilla and spice; it's Christmas in a bottle.
Curl up by the fire with a glass on a cold winter's night or pair with strong cheese, beef or lamb for a night of festivities.
Jam Shed Shiraz is available from Tesco and Ocado. RRP £7. On promo for £6 in Tesco from 4th December – 26th December 2018.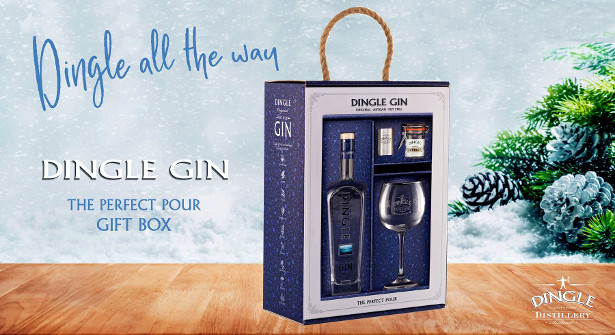 TWITTER | FACEBOOK | INSTAGRAM
The Dingle Whiskey Distillery was crafted and conceived by three independent spirits: Oliver Hughes; Liam La Hart and Peter Mosley. They opened the doors in 2012 to make whiskey and now produce gin and vodka as well.
Dingle Original Gin is produced using the distillery's very own hand crafted 500L copper pot called Oisin. Production in small batches allows the distillery to ensure a greater control of the artisanal craft. The Dingle location for the distillery was chosen for its supply of botanicals that are foraged directly from the beautiful, rugged surrounding coastal areas.
Available: Masters of Malt, Celtic Whiskey Shop and Amazon
RRP: £32.00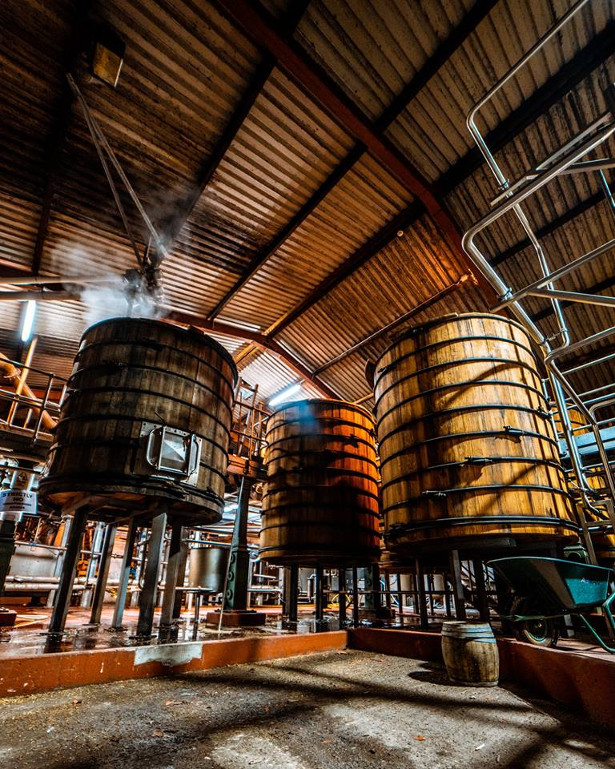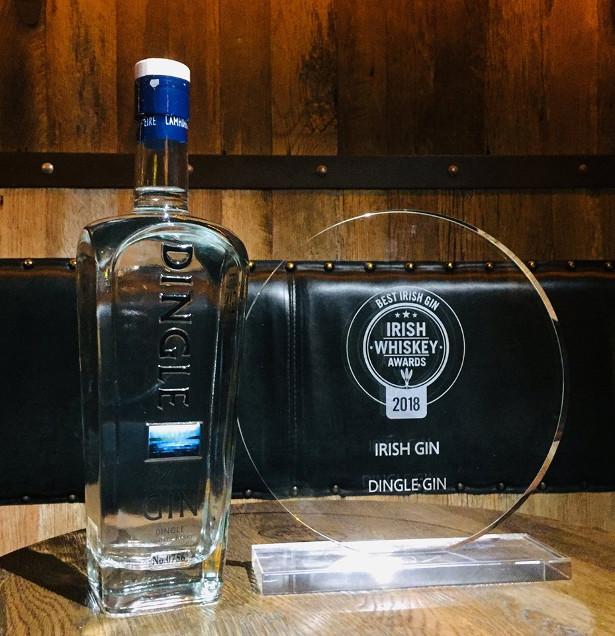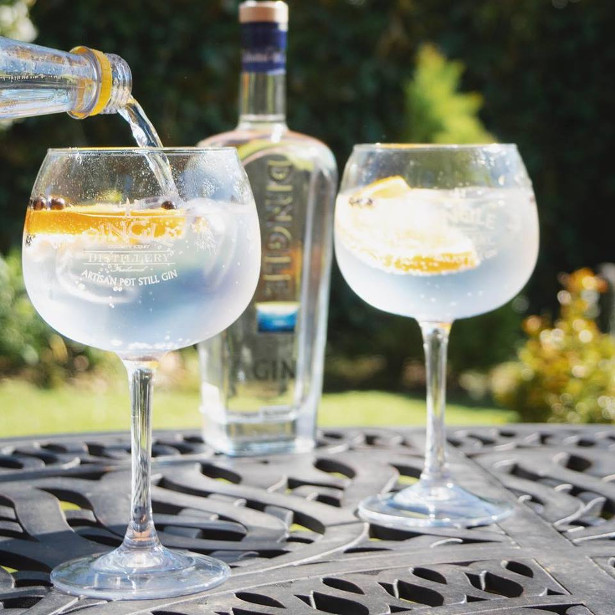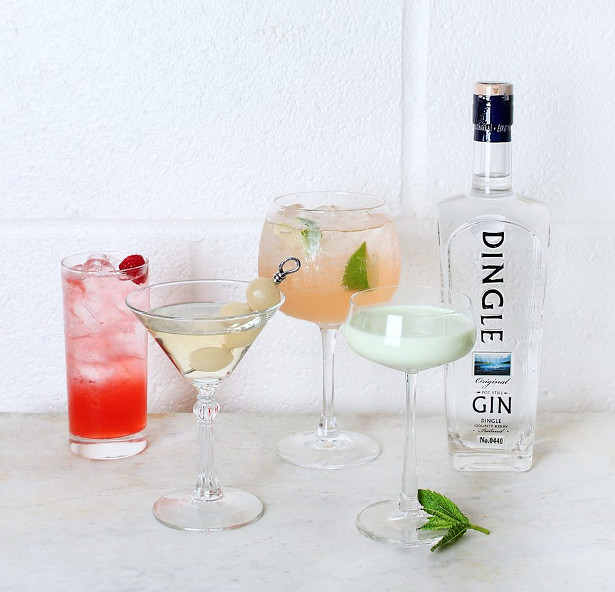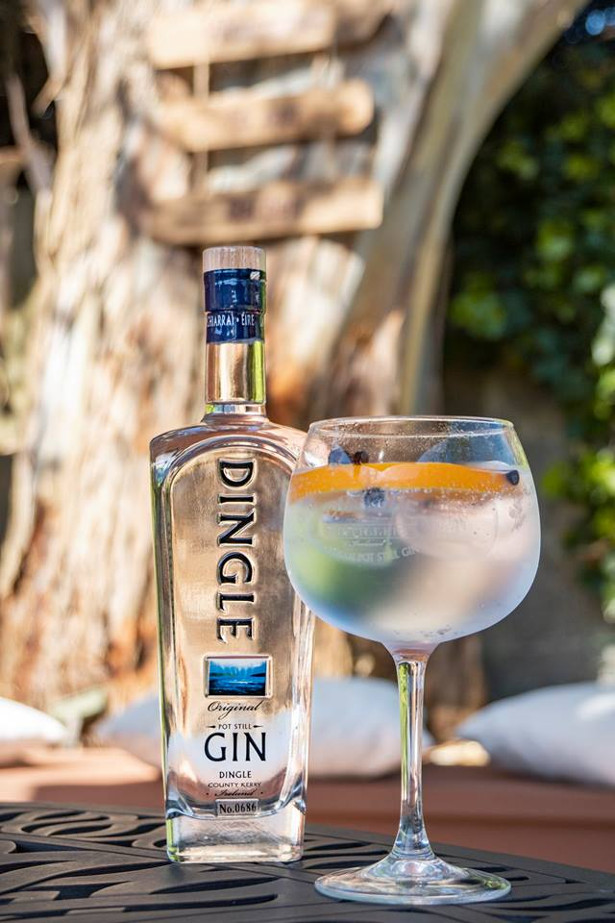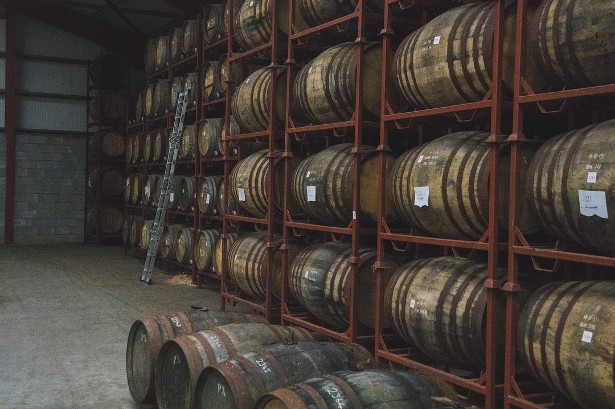 Coole Swan Irish Cream Liqueur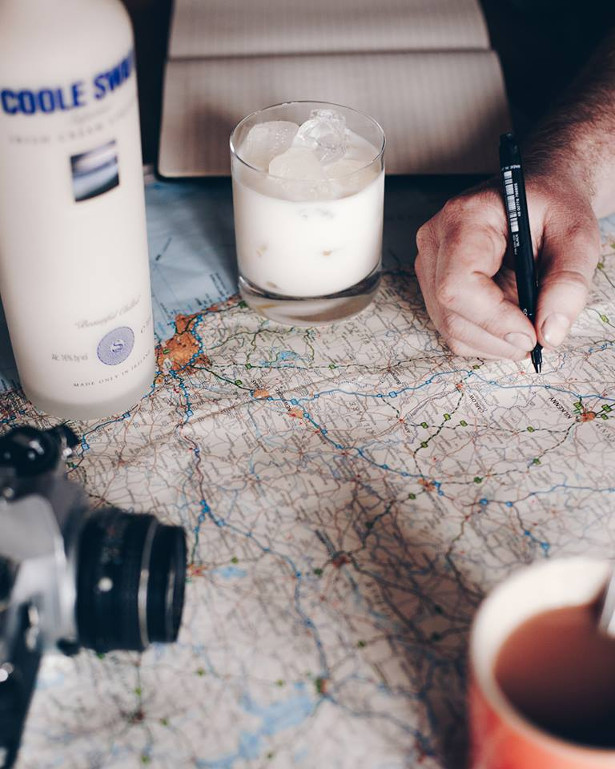 FACEBOOK | TWITTER | INSTAGRAM | YOUTUBE
A scrumptious blend of the best Single Malt Irish Whiskey, Belgian White Chocolate and the most amazing light Dairy Cream straight from the farm.
The blending process known only to the Coole Swan team combines these three simple ingredients to create a rich moreish and unbelievably satisfying drink.
The family behind Coole Swan have a long history of dairy farming and the spirit is still made on the family farm on the Eastern Seaboard of Ireland.
Available: John Lewis
RRP: £22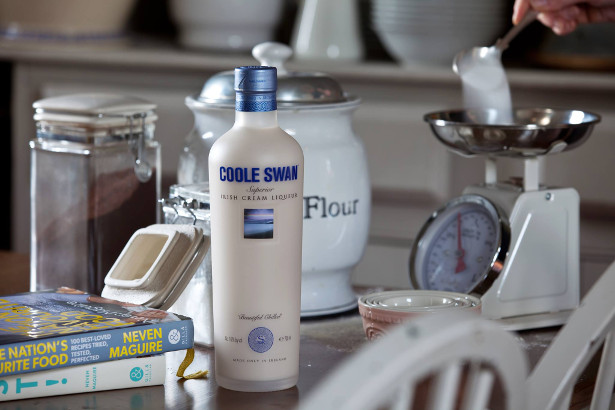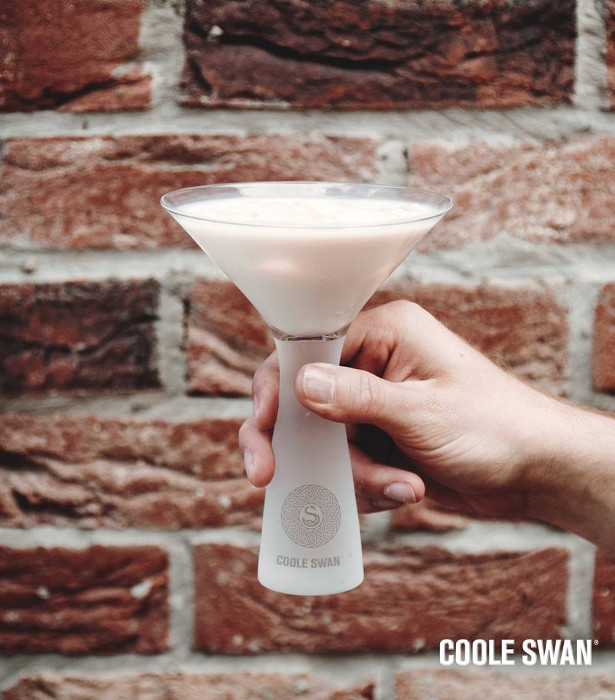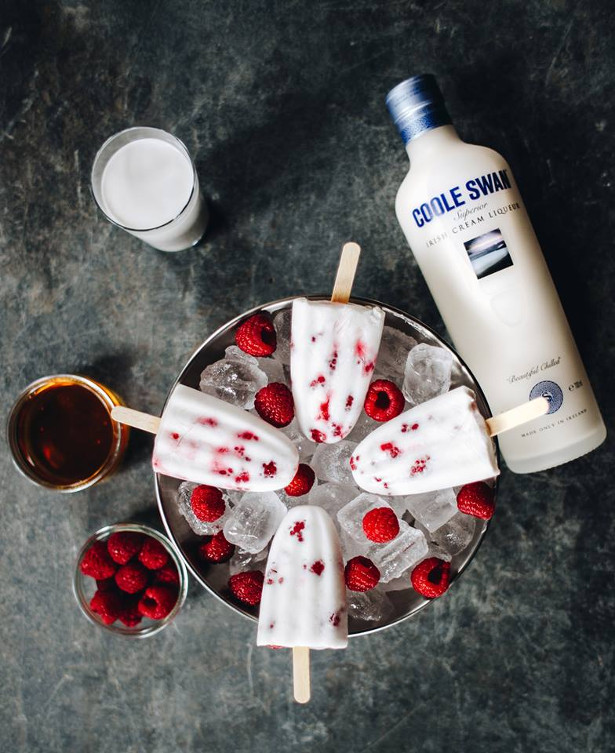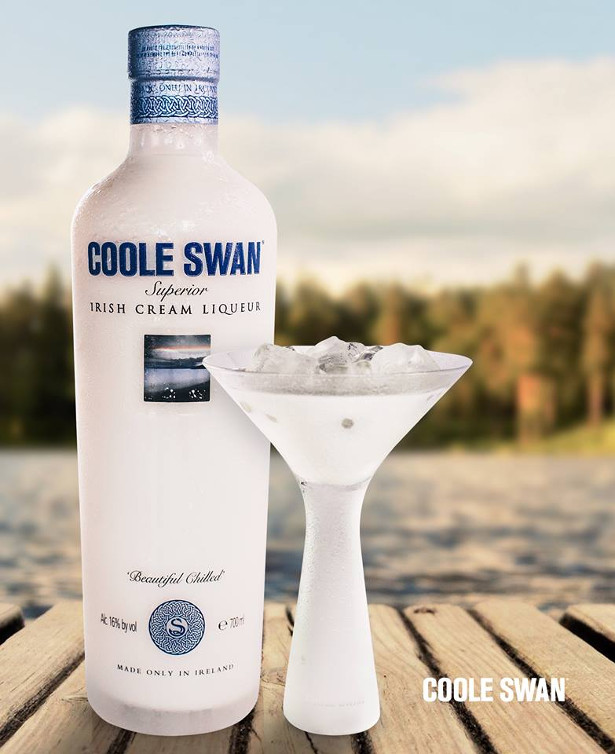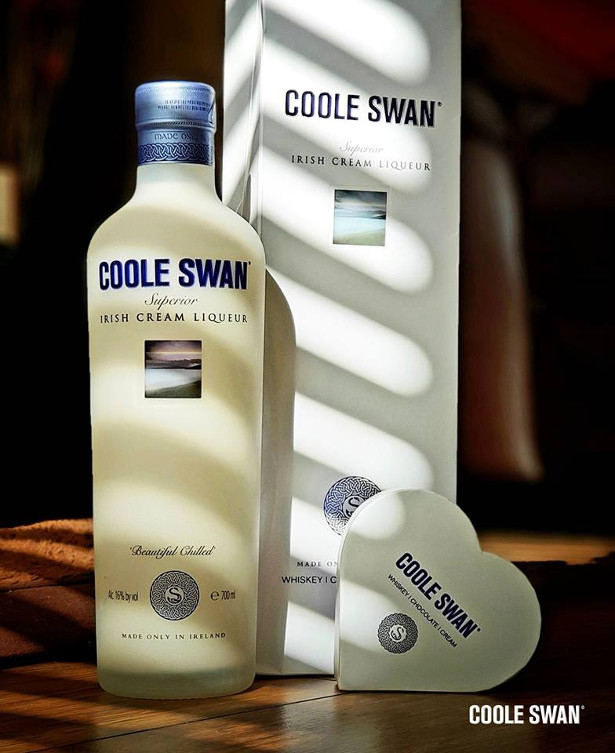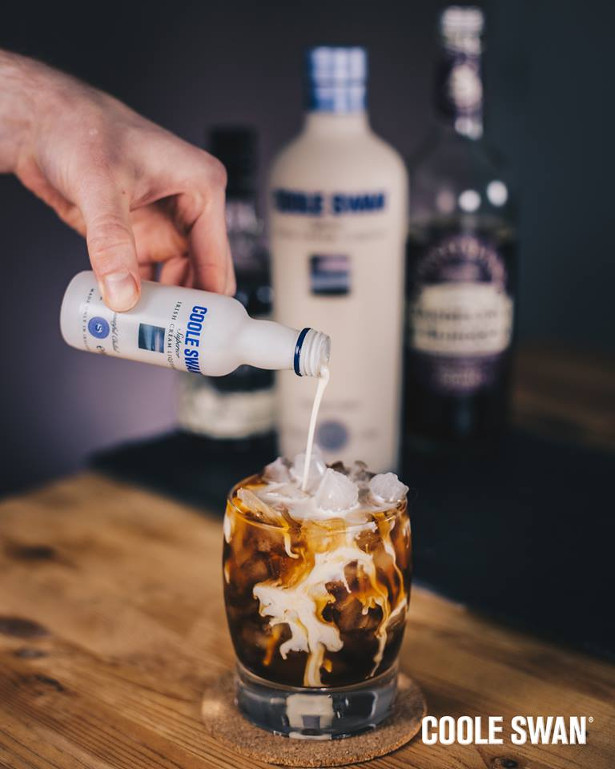 Delicake
Delicake is an Australian innovative no bake premium cakeware container, designed for the convenience of preparing, setting and serving your delicious dessert, vegan, paleo & savoury recipes.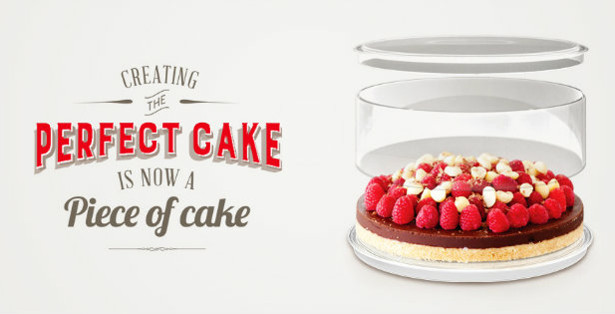 Delicake Masters is an all-in-one solution: taking the home baker and entertainer from fridge to table, saving you time and effort!
You can perfect your recipes, transport easily and present them beautifully to share with your family & friends on any dining table.
Its perfect for any table setting. www.delicake.com.au