Think all things Pinkster on Galentine's Day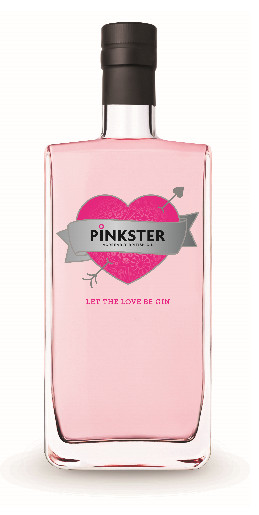 Whether you and your partner are sharing a romantic day together or you are gathering friends for Galentine's Day, Pinkster Gin will add some spark.
Give your partner or best-friend an elegant and sophisticated gift (that you get to enjoy too…)
Pinkster Limited Edition 'Let the love beGin' bottle – the pink gin pioneers like to wear their hearts on their sleeves and the dashing pink love heart on the bottle label is sure to set hearts a flutter. RRP £36.00 available https://www.pinkstergin.com/product/limited-edition-70cl/
Pinkster Valentine Hamper – RRP £55 includes a limited edition 70 cl Pinkster bottle, 2 x hi ball glasses, 1 x Buttermilk fudge, 1 x Boozy berries and 1 x Fever tree tonic – the ideal present for the Gin lover in your life. Available from www.pinkstergin.com
Pinkster 35 cl Gift pack – RRP £28 includes a 35 cl Pinkster bottle and 2 x hi ball glasses – the perfect gift for a Valentine night in. Available from https://www.pinkstergin.com/product/35cl-gift-set/
IF MUSIC BE THE FOOD OF LOVE…
TURN MORE THAN THE RADIO ON THIS VALENTINE'S DAY WITH RETRO GIFTS FROM PURE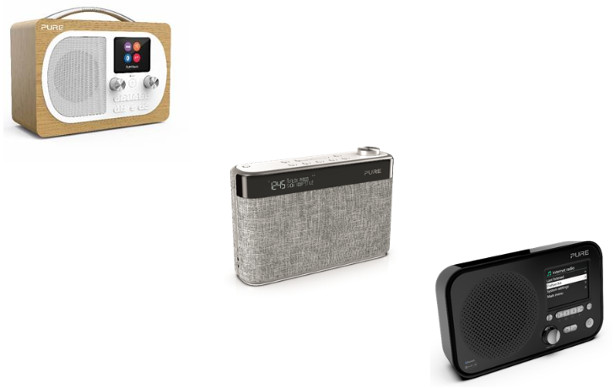 If you plan on treating yourself, a friend or love interest to a gift this Valentine's Day, Pure has February 14th covered. Featuring an assortment of Spotify enabled, Bluetooth and portable sets, all with vintage appeal, the collection is sure to add a touch of old school romance to a sweet picnic in the park or candlelit serenade at home.
GIFTS FOR HIM AND HER
Evoke H4
Enjoy crystal clear digital radio, no matter where you are, this Valentine's Day, with the Evoke H4. With inbuilt Bluetooth streaming, there is no need for a mixtape – simply connect your phone's playlist during a romantic picnic in the park this Valentine's Day.
£149.99 John Lewis
Avalon N5
If your lover is a mid-century modern design lover, the Avalon N5 is the perfect homage to the era. Tactile and compact it includes 40 station pre-sets, as well as Bluetooth compatibility, users can adjust the bass and treble controls for an enhanced personalised listening experience.
£179.99 John Lewis
Elan IR5
Explore the depths of your music tastes via the wider world of internet radio with the Elan IR5. With access to over 25,000 stations, as well as Spotify and Bluetooth, keep the music rolling and the atmosphere right.
£99.99 John Lewis
About Pure
As the world's leading digital radio brand, Pure wants to redefine radio for the modern day by offering a live and on-demand listening experience that can be enjoyed effortlessly, anywhere.
Based at state-of-the art engineering facilities just outside of London, Pure aims to bridge the world of music and radio through a combination of beautifully crafted design, stunning audio quality and seamless connectivity.
Benefitting from its heritage of developing award-winning digital radio products for the home and on the move, all products come with an industry leading three years warranty as standard.
Find out more | www.pure.com
Facebook | facebook.com/Pure
Twitter | twitter.com/Pure_Insider
Instagram | instagram.com/Pure_Insider
First aphrodisiac crisps set to raise temperatures this Valentine's Day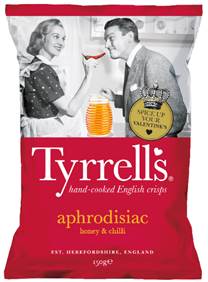 FACEBOOK | INSTAGRAM | TWITTER
Tyrrells' new Honey and Chilli hand cooked potato crisps are a match
made in heaven
Premium crisp brand Tyrrells launch first aphrodisiac flavoured pack
Honey and Chilli available from mid-January (for a limited period only) in selected independent retailers
Fans can also win packs, date night essentials, plus the top prize of a chef coming to cook you a romantic meal for two in your own home, via Tyrrells' social media
____________
Looking to spice up Valentine's Day? Premium hand-cooked English crisp brand Tyrrells is launching limited edition, Honey and Chilli, set to get pulses racing on February 14th, the most stimulating day of the year.
Tyrrells' latest addition combines mellow, sweet honey with the fiery spice of chilli – guaranteeing to heat up any date night! Full of aphrodisiac properties, both honey and chilli can have provocative effects on the body – the first tinkering with hormone levels while the latter triggers nerve endings on the tongue – releasing endorphins and increasing heart rate.
We are all destined to fall in love at first bite!
Bestowing this 'passionate' addition with some extra love, Tyrrells will also be running competitions on social media. Followers will have a chance to win a bundle of tantalising crisps along with a selection of date night essentials, including wine, candles and a specially created treasure hunt game.
Sarah Lawson, Tyrrells Marketing Manager, said: "At Tyrrells, we're always looking for ways to introduce new and different additions that bring our unique and often quirk personality to life. Our new Honey and Chilli variety has an extra special place in our hearts as it is the first crisp with aphrodisiac properties that's ever been created!"
Tyrrells' potato crisps are made in small batches from locally grown, seasonal varieties of potatoes at Tyrrells Court Farm in Herefordshire. Hand-cooked and seasoned to perfection with the finest, specially selected ingredients, the crisps boast a unique curl, signature crunch and superlative taste.
"One of the 50 most romantic holidays on Earth" Daily Telegraph
Unmissable Valentines offer you'll fall in love with…
That's what Britain's Daily Telegraph said about the Hotel de France.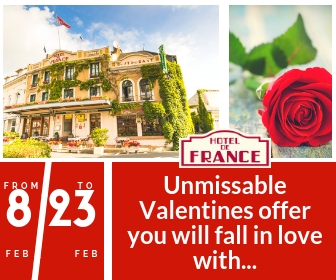 And we're offering an irresistible proposal: a two night stay in a standard room with breakfast and magical Valentine dinner each night FROM ONLY €295 (that's 30% off our standard rate!)
Plus, there'll be a little romantic surprise from us – shhh!
Visit Hotel de France website to know more about that fabulous place : https://www.lhoteldefrance.fr
Offer runs from Friday 8 to Saturday 23 February. Bookings: +00 33 2 43 44 40 16 / bienvenue@lhoteldefrance.fr
Valentine's Day is dedicated to showing that special person in your life what they mean to you.
To help with this, you can get the typical "love gifts" such as flowers, chocolates, stuffed animals, cards, etc., but don't expect the great reaction you're hoping for. You'll probably get a smile, hug and maybe even a stomach ache after you eat some of those chocolates.
Don't get what's expected. You can do better.
This year, surprise your loved one with something unique and from the heart. Songfinch creates one-of-a-kind personalized songs based on your stories and memories making the most emotion-packed gift you can give. The process can take as little as 15 minutes and within 7 days, you'll have a gift that will crown you the "Valentine's Day Gifting Champion."
The process is super simple.
You kick off the process by telling us who the song is for, the occasion and how you would like them to react when they hear it. Next, share your favorite memories, stories and feelings to inspire the lyrical content. Lastly, select your preferred vocalist gender, song's mood and genre to shape the style and tone of the song.
From there, we'll use your selections to hand select the perfect professional musician from our Songwriting Community of over 350 members. Over the next 7 days, your songwriter uses your submission to write, record and mix a radio-quality song that brings everything to life like never before.
Once your song is finished, it lives on a private URL called your Story Homepage. On this page, you can listen to your song, download the MP3, read the lyrics, learn about your Songwriter and easily share your personalized song with family and friends.
With plenty of add-ons including a photo slideshow (included free with Song From Scratch), CDs, 7" custom pressed vinyl records, and sheet music, you can choose the best way to present your new favorite gift.
This year, win Valentine's Day and #GiftBetter with Songfinch.
Use RUGBY20 at checkout for $20 off your Song From Scratch.
Learn more about Songfinch: https://www.songfinch.com/
Not only does this make an incredible Valentine's Day gift, but it also makes a great gift for a birthday, anniversary, wedding, Mother's Day, Father's Day, newborns, memorials, soldier deployments and more.

This Beautiful Jewellery From NUDE Jewellery is a perfect way to say "I Love You" this Valentine's ! >> www.nudejewellery.co.uk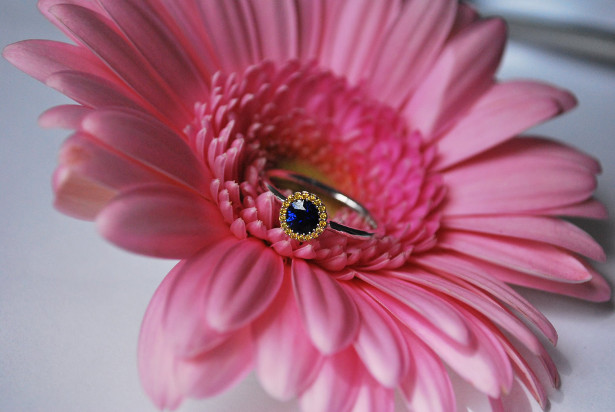 FACEBOOK | INSTAGRAM | TWITTER | PINTEREST
Nude Jewellery was established in 2001 by Nikki Galloway. Originally based in the quaint village-like area of Shepherd's Market, Mayfair, London our boutique quickly became established and celebrated appearances in over 100 publications worldwide including Vogue, International Herald Tribune, The Sunday Times Style, Elle, Evening Standard, Orient Express, Lux, The Sunday Telegraph Stella, and French Vogue.
Nude Jewellery – a celebrity must-stop for unique gems" – Vogue.com
"young & stylish jewellers" – The Evening Standard
With the ever evolving word and becoming well established for creating bespoke jewellery, in 2016 Nude Jewellery moved from it's London base to a studio in Surrey where we continue to create new exclusive collections and beautiful bespoke jewellery.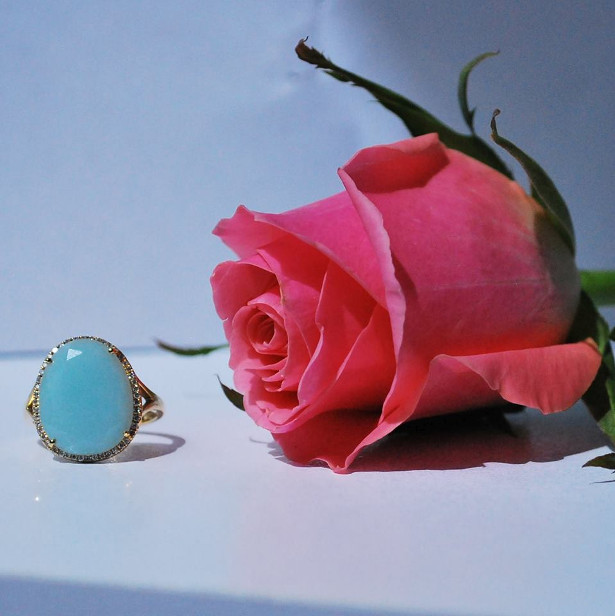 Nikki Galloway holds a BA (Hons) degree in jewellery design from Central St. Martins and an HND from Kent Institute of Art and Design. Nikki has worked on hundred's of bespoke jewellery commissions over the years including for Elle Macpherson and the Sultan of Brunei, she was a British Finalist at the Ayrton Metals Platinum Awards, and has acted as a guest lecturer at Central St. Martins and frequently creates bespoke pieces for clients all over the world.
Listed in Retail Jewellers Inspiring Independents Top 50 – 2014
Shortlisted for "Boutique of the Year" by The UK Jewellery Awards 2013
Listed in Retail Jewellers Inspiring Independents Top 50 – 2012
We are now based in Surrey & London, please contact us by email: info@nudejewellery.co.uk or on 07957 371 254 to arrange an appointment to view the collections or discuss a bespoke order.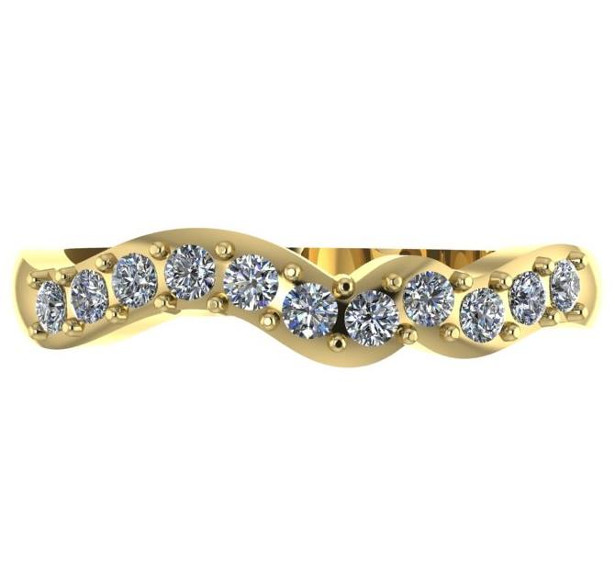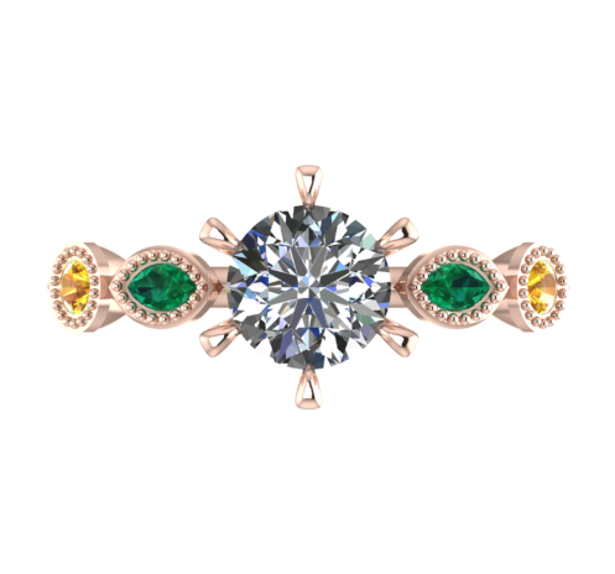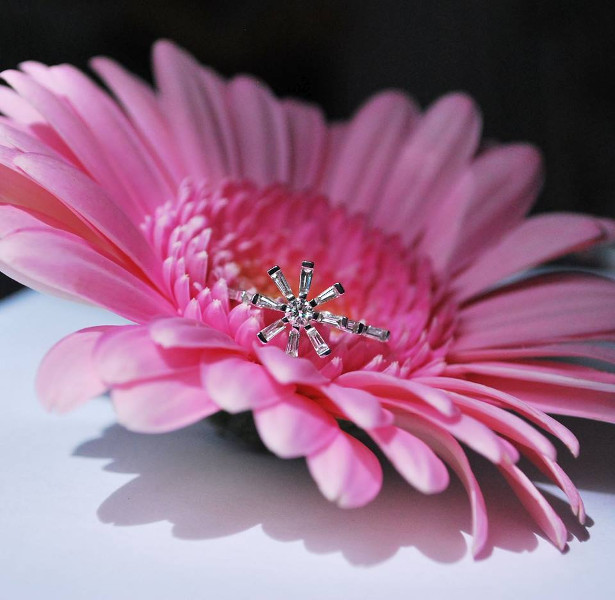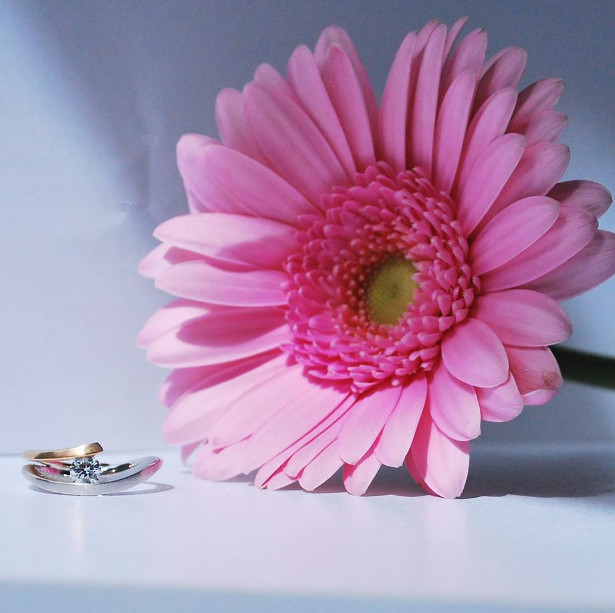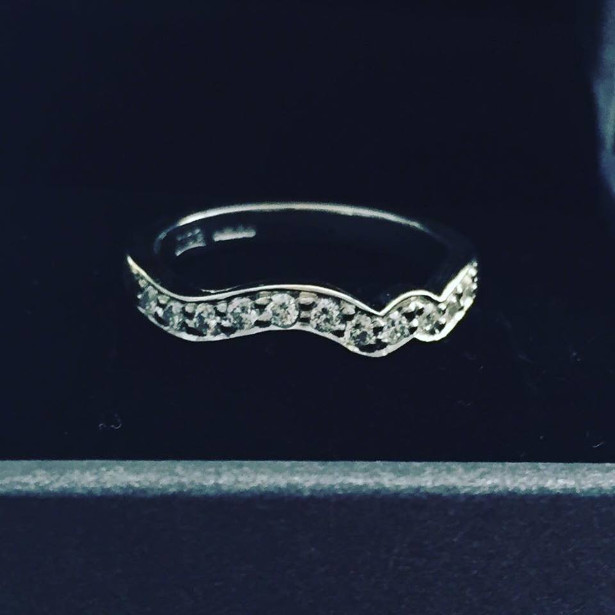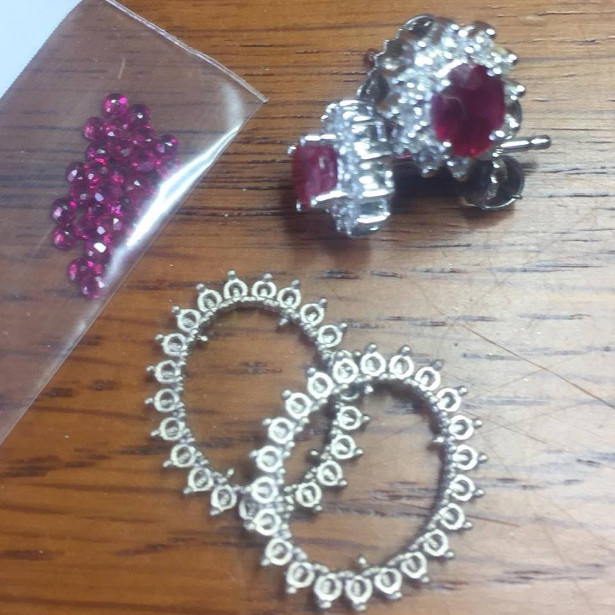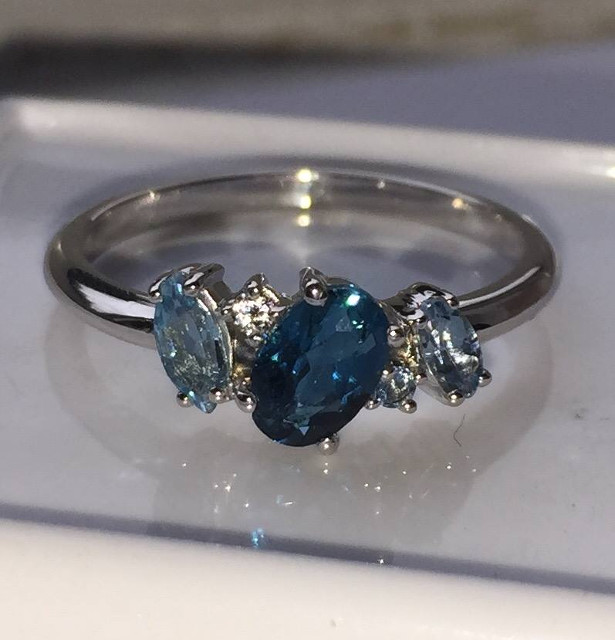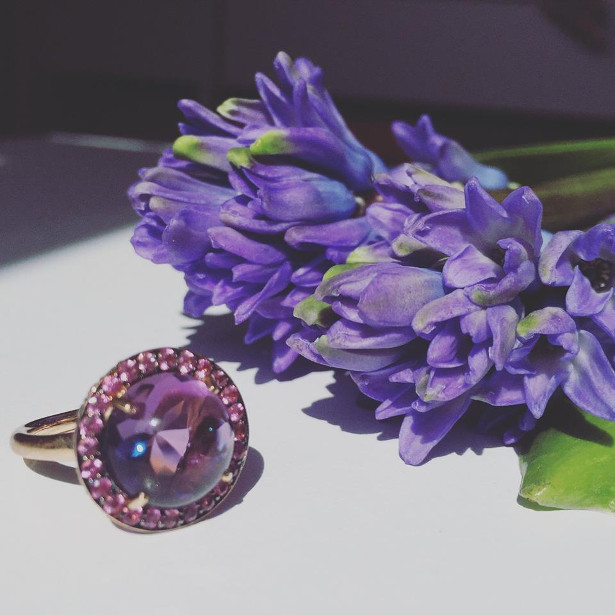 Incorporating the traditional February 14th favourites of flowers and jewellery into a precious, personalised keepsake.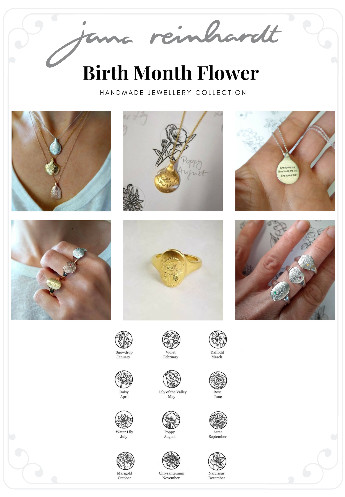 Jana Reinhardt's new birth month flower jewellery let's you tailor-make a necklace or ring, specifically for your Valentine. Simply select their birth month flower, add a favourite gemstone, come up with something cute for us to engrave – et voila – a totally unique, perfectly personalised gift that will win ALL the Valentines Day brownie points:
Price: Ring from £115, Pendant from £119. Available from: www.janareinhardt.com
Did you know that every month has a birth flower? Each flower is said to embody the specific personality traits of those born in that month – a bit like your star sign.
A fascination with this tradition inspired award-winning master goldsmith Jana Reinhardt to create a brand new collection celebrating the Birth Month Flower, on a range of handmade Pendants and Rings – just in time for Valentine's Day and Mother's Day.
To create your one-of-a-kind piece:
1. Choose from three different shapes of pendant and ring
2. Select the appropriate flower for yourself or your Valentine
3. Pick a birthstone, or favourite gem, you would like set into the jewellery
4. Decide on the special secret engraving you'd like added on the reverse of the pendant, or inside the ring.
Product Information:
– handmade to order in the UK, by a small team of goldsmiths
– available in 925 Sterling Silver, 22ct yellow gold vermeil or 18ct rose gold vermeil
– also available in 9 or 18ct solid gold and platinum
– can be set with your choice of gemstone / birthstone
– measures approximately 20mm x 20mm x 3mm depending on style
– brushed finish with shiny engraved lines
My heart goes POM POM for you…

Pom Pom Heart Wreath Kit – £24.99
Bring some love to your room this Valentine's Day with the Pom Pom Heart Wreath DIY Kit from Wool Couture.
Available in 36 colours, the kit is super easy, and the pom pom will be made in no time at all.
So, let your heart go Pom Pom for crafting this Valentine's Day!
www.woolcouturecompany.com
Sequins, palm trees and rose quartz, OH MY!
Dazzle your colleagues or classmates with these exquisite notebooks from National Theatre Bookshop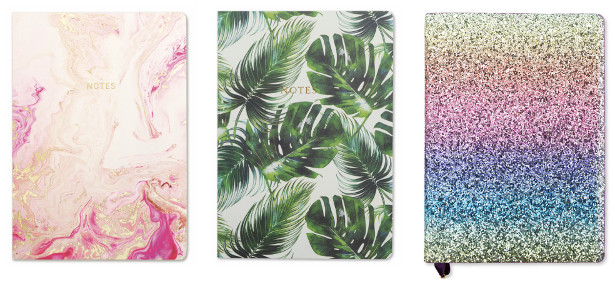 Whether your feeling dreamy, or if you want a touch of paradise or some glitter in your life, these notebooks will help you start the New Year feeling chic and ready!
Notebook – £10 each – National Theatre Bookshop – shop.nationaltheatre.org.uk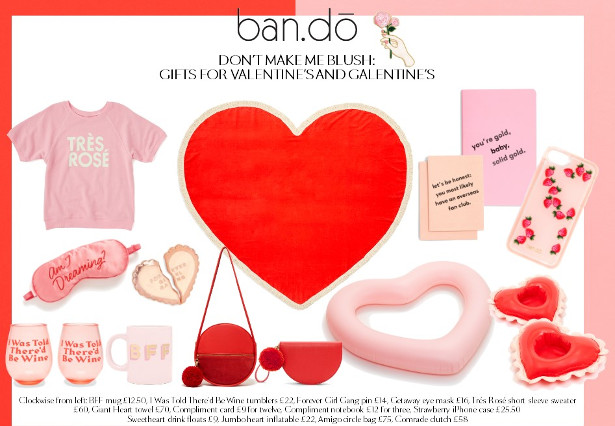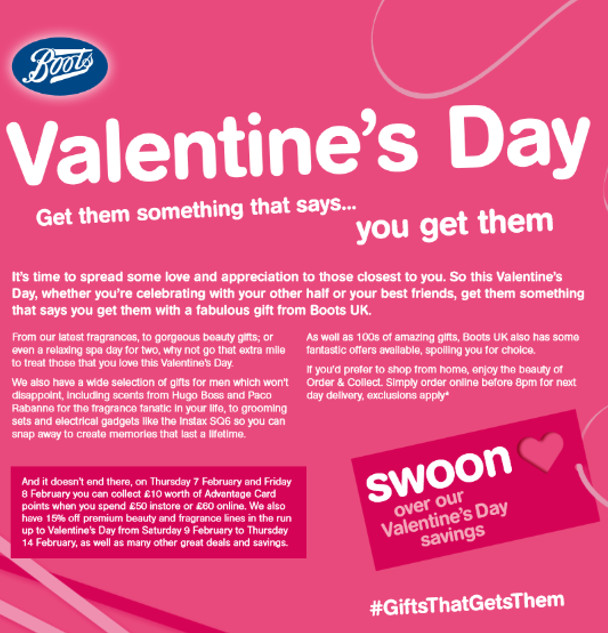 The Boundary Project on Redchurch Street in Shoreditch, will be helping couples celebrate love in a truly romantic landscape with a bespoke dining experience across its multi-tiered venue. Priced at £95.00 per person, the evening will start with canapes and aphrodisiac-based cocktails in the secret low lit subterranean space and bar, The Vault. This will then be followed by a candlelit four course dinner on the venue's enchanting winter rooftop, where couples can enjoy panoramic views of East London. After dinner, guests can either head back down to The Vault for late night drinks or heat up with a hot cocktail, whilst being warmed by an open fire pit, pyramid patio heaters, blankets, sheepskin rugs and heated seats on the terrace.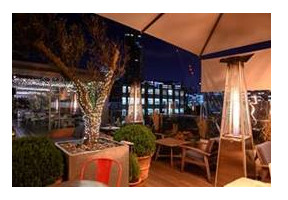 Abuelo, London's first Antipodean-meets-South American coffee house and kitchen located in the heart of Covent Garden, will be the perfect intimate spot to celebrate the occasion with your loved one. Complete with cushions, church candles and arranged with wildflowers, the kitchen will be serving beautifully presented sharing plates, along with 'his & her' cocktails infused with romance. These will include a Dulche Fuego for him and a Pink Senorita for her.
The Varsity Hotel & Spa's panoramic bar and brasserie, SIX, is upgrading each couple's dining experience with a red dessert station, featuring an unlimited range of aphrodisiac filled treats, and cocktails. For just £15 per person, couples will be able to indulge in a variety of treats, whilst overlooking stunning views of Cambridge. These have been designed to be perfectly paired with a range of cocktails, priced at £8.50. Desserts include Champagne Soaked Red Strawberry Cheesecake, Red Velvet Brownies, Red Berry Panna Cotta and Raspberry & Passion Fruit Tar, while cocktails include Hugs & Kisses Martini, Fifty Shades of Red, Russian Kiss and Cupid's Arrow.
SOMETHING NEW FOR YOUR "ONE AND ONLY"…
Looking for something which shows you've gone the extra mile… guaranteed to make jaws drop and smiles widen?! Vanilla Reindeer's vast range of fun personalised gift bags, presents and packaging are simple to create, but lovely to receive.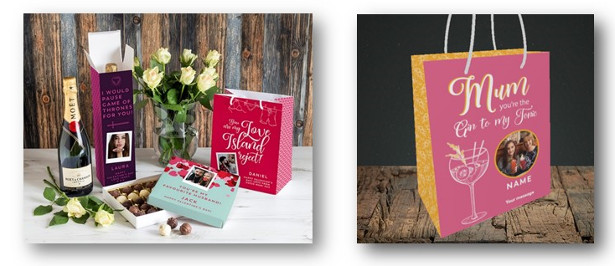 The boffins at Vanilla Reindeer are using the latest tech so that you can now add your own favourite photos and have designs with fun, cheeky messages and prices starting at just £5.99*… what's not to love!
Whether it be for Valentine's Day, Mother's Day or Easter, it's time to pull up your socks and get organised. Vanilla Reindeer can do the hard work for you with plenty of beautiful personalised gift options to show your loved ones just how much you care.
The fabulous selection of personalised packaging offers lots of choice, including everything from gift bags to customisable bottle boxes, all available in plenty of designs perfect for those silly selfies and mugshots.
As well as personalised packaging, Vanilla Reindeer has a wow-worthy selection of irresistible gifts if your Valentine's sweetheart has a sweet tooth. Choose from three sizes and styles of stunning chocolate truffle gift boxes – all personalised containing Intense Dark, Smooth Milk, White Lemon, Sweet Mandarin, and Dark Mango and Passionfruit and starting at *£11.99 up to *£18.99.
For mums that love a good laugh, there are lots of design options that are guaranteed to tickle them. From heart-warming to cheeky, there are plenty of different styles to suit every type of mum.
If you're looking for an extra-special Easter gift, at Vanilla Reindeer you'll find both small and large Easter eggs, as well as a box of six smaller eggs. Simply personalise the product with your photo of choice and the person is bound to be delighted when receiving it on Easter Sunday!
Ideal for the booze lover in your life, Vanilla Reindeer has a selection of alcoholic beverages, including gin, prosecco plus exclusive wine options you won't find on the high street, so skip the queues and order direct. All have fab bottle boxes designed to fit champagne, wine and spirits.
For the first time Vanilla Reindeer also has an exquisite collection of gift sets and toiletries for the one you love!
UK based Vanilla Reindeer is the NEW personalisation brand launched to offer a wide range of fully personalised products that combines contemporary design flair with the very latest in digital print technology, providing you with a user-friendly, one-stop service that's guaranteed to delight the special people in your life.
To ensure your loved one receives the gift in good time…. all items have the option of either Royal Mail 1st Class standard delivery or Royal Mail Tracked 24, Royal Mail Special Delivery and Royal Mail Special delivery Saturday, so there's no need to panic. We also have a special code for 30% off your order – LOVE30.
*All prices exclude postage.
For more information visit https://www.vanillareindeer.com/
Indulge your senses!
Fill your home with natural, leafy and herby scents using candles and diffusers from Fellowstead, available from Royal Opera House shop.
Exploring the link between scent and emotions, each product contains carefully layered fragrances designed to touch the soul.
Beautifully presented in an amber glass bottle or jar,
Fellowstead makes a thoughtful present or decoration for your home.

An ethical collection, built on simple, clean and natural products, using soy wax and paraben-free fragrances.
The full range available from the Royal Opera House shop includes:
Fig Fern + Moss diffuser 150ml – £25
Green Leaves + Oak diffuser 150ml – £25
Cedarwood + Juniper candle 180ml – £18
Orange Peel + Ginger candle 180ml – £18
Teak Clove + Cardamom candle 180ml
Cedarwood + Juniper travel candle 100ml – £8
Orange Peel + Ginger travel candle 100ml – £8
Teak Clove + Cardamom travel candle 100ml – £8
All available from Royal Opera House shop – shop.roh.org.uk
Ladies' EverSwiss 2796-LSS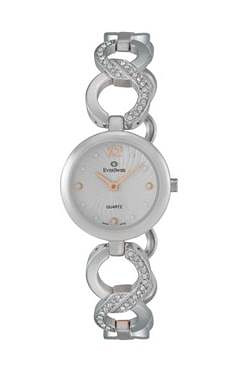 Product code: 2796-LSS
Price: £200
Stockists:
Available from WatchShop.com and The Watch Hut
This sophisticated Swiss made timepiece from EverSwiss features a stainless steel case and bracelet. The link bracelet also features interwoven links with crystals throughout. The white dial features crystals at every hour mark with the 3, 6 and 9 hour crystals surrounded in rose gold to match the hands and the 12 o'clock mark.
The perfect valentine's day gift is some time out of the house for the woman in your life.

A bread course is a fun way to do something for yourself, to spend time with other people and to learn something new. Plus, the lucky recipient of the bread course gets to bake something wonderful for the generous giver in return. The gift voucher is here:
https://www.breadangels.com/buy-a-gift-voucher
Put simply, The Book of Everyone helps people to easily create gifts that carry true emotional value. The easy personalisation platform means you don't have to be a computer whiz to create an amazing book for someone special, stuffed full of curiosities, beautiful designs, inspiring quotes and fun facts. All you need to provide is some information on and anecdotes about who you're creating the book for.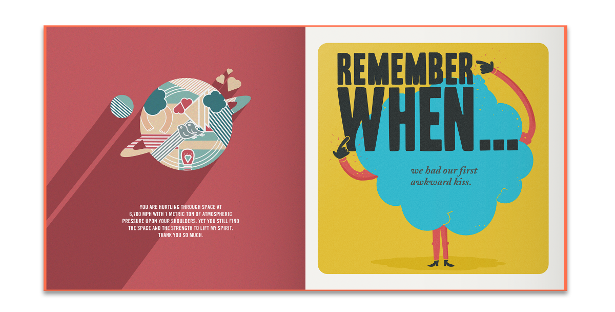 FACEBOOK | TWITTER | INSTAGRAM | PINTEREST
For your partner: A one-of-a-kind personalised book for the one you love, the book of romance includes exquisitely designed personalised moments and messages of romance to celebrate why they are the one for you
£29.99 (hardback)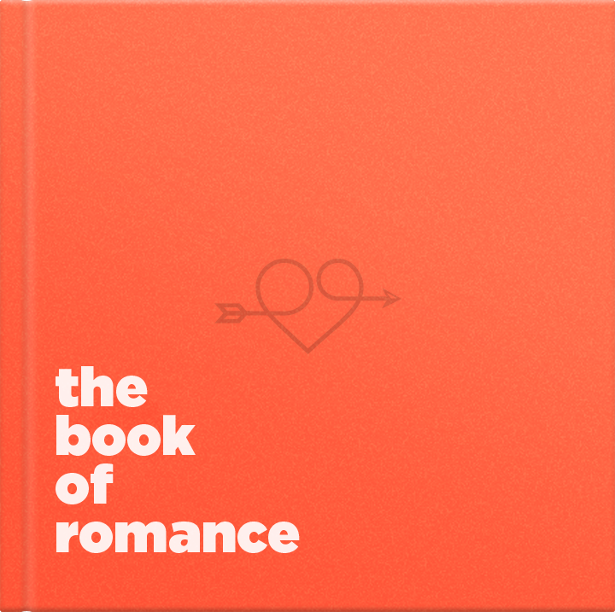 £23.99 (paperback)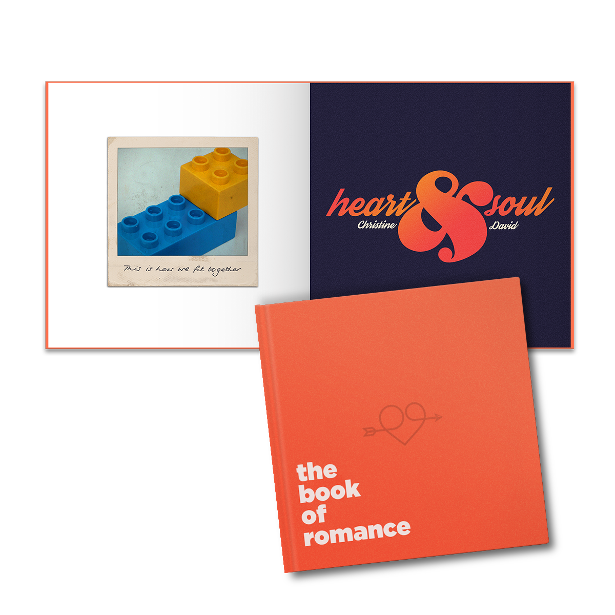 For your true love: A beautifully designed, custom made book, wise(ish) words for true lovers is the perfect way to say "I love you" to whoever makes your knees go weak. You can be sickeningly sentimental, charmingly cheeky, or even a little saucy.
£29.99 (hardback)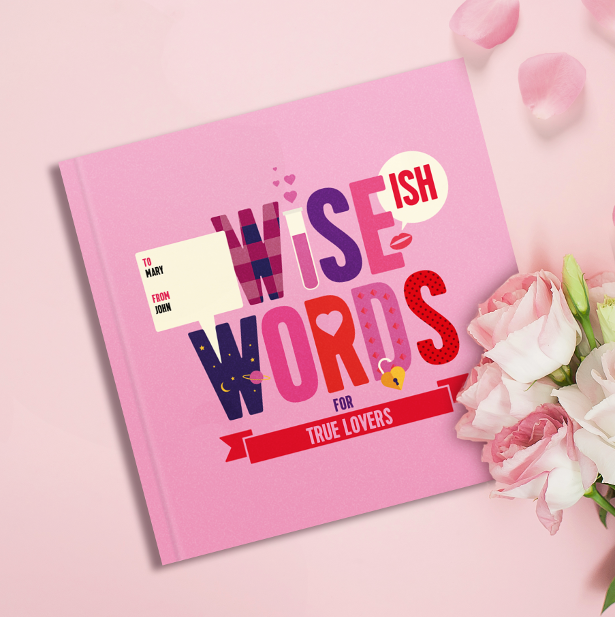 £19.99 (paperback)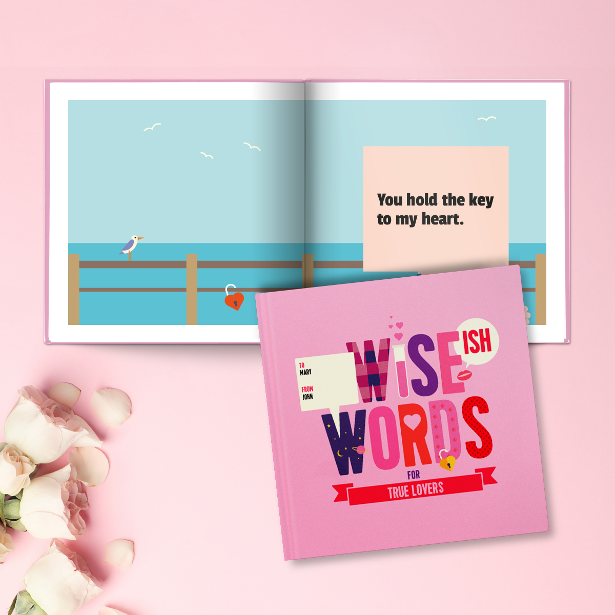 For your best friend: The perfect way to say thank you to the most important women in your life, wise(ish) words for galentine's includes handpicked quotes for celebrating female friendships and unique messages to share your special memories.
£29.99 (hardback)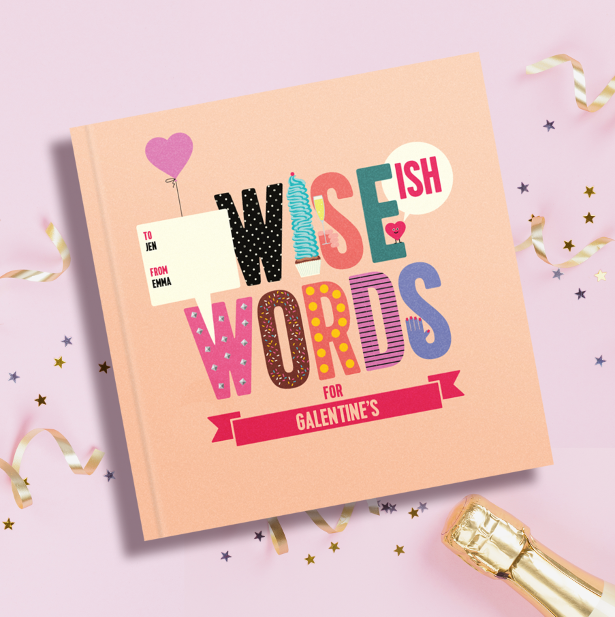 £19.99 (paperback)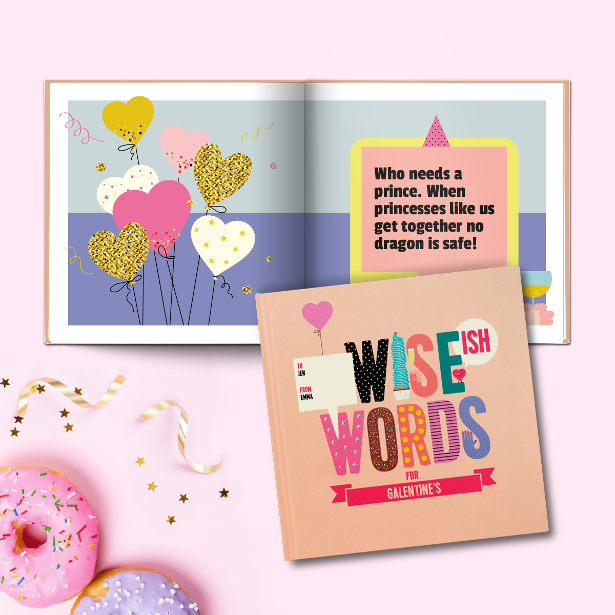 What people say about The Book of Everyone
So far, The Book of Everyone has helped celebrate amazing people with 400,000 personalised books in 175 countries. The Book of Everyone has built an excellent relationship with its customers – the current Trustpilot rating is 9.6 out of 10:
"This is one of the best-personalized book experiences. Family and friends I have purchased this for, are absolutely touched by a book that is personalized and customized especially for them. They love it and can't stop talking about it and can't wait to show everyone. Always a big hit and something they can treasure forever. I'm so happy I came across this hidden gem!"
Maria, Trustpilot review, 2018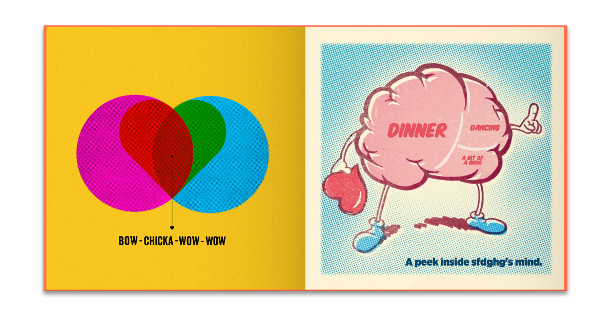 Give your loved one "the world" this Valentine's Day with a gift developed by NASA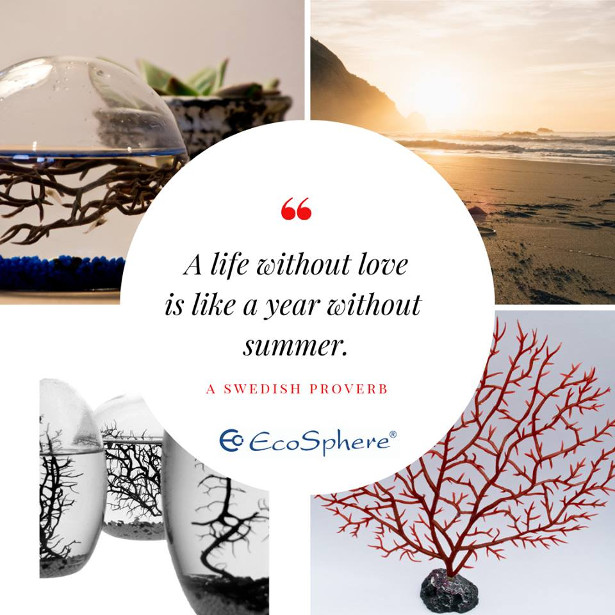 This Valentine's Day, most people will revert to the familiar tactic of buying chocolates, flowers or jewellery, but for those looking for something less mainstream, a gift now exists that allows you to literally give your loved one the world.
Pioneered by NASA, an Ecosphere is a self-contained ecosystem within hand-blown glass; essentially a mini world that you can hold in your hands and display in your home or office – perfect for someone wanting to make a big gesture on an earthly budget.
Originally developed by scientists and NASA as they studied how animal and plant life could be used to sustain humans in space exploration, by comparing open, balanced ecological systems with closed ecosystems, these intriguing little objects, up to 19 centimetres in height depending on the shape you choose, contain small marine shrimp, filtered sea water, algae, micro-organisms, artificial gorgonian (plant) and gravel.

While this might sound like the complete antithesis of a romantic gift, Ecospheres are actually very beautiful, calming to look at and popular with interior designers. And because they're completely sealed, they do not require anything else apart from a source of indirect natural or artificial light to survive. The gorgonian, gravel and glass provide the ecosystem with everything the micro-organisms need to flourish, feed and sustain the life cycle that allows the Ecosphere to function.
This means that, unlike flowers, which may look their best for around a week after you've purchased them, Ecospheres have an average life expectancy of two to three years, although it isn't uncommon for them to survive for over double this length of time. What, then, could be a better gift to show the enduring love for your partner?
Tammy Edwards, Operations Director for Ecosphere, said: "Just as everyone's relationship is unique and special, so too is every Ecosphere. Because we hand cut the gorgonian branch for each individual one and offer a range of shapes and accessories – as well as the option to engrave the sphere – no two Ecospheres are ever the same, making them fantastic, personalised gifts for loved ones this Valentine's Day."
For more information about Ecospheres please visit: www.ecospheres.co.uk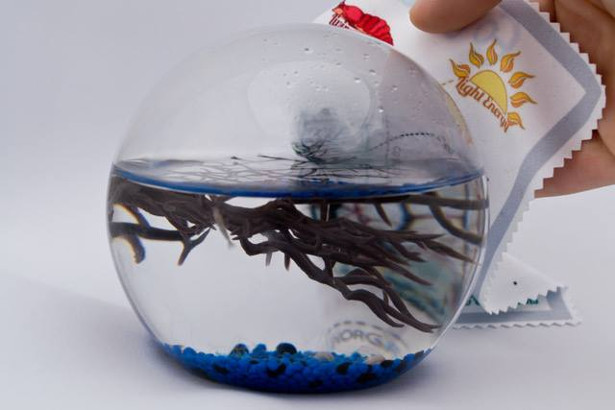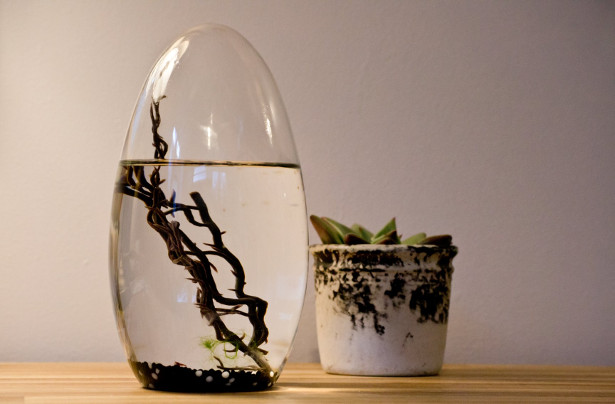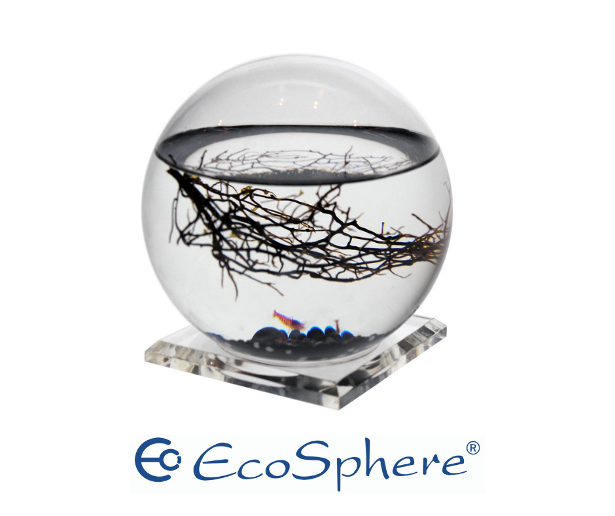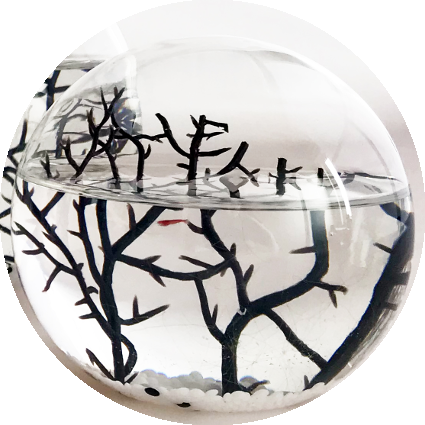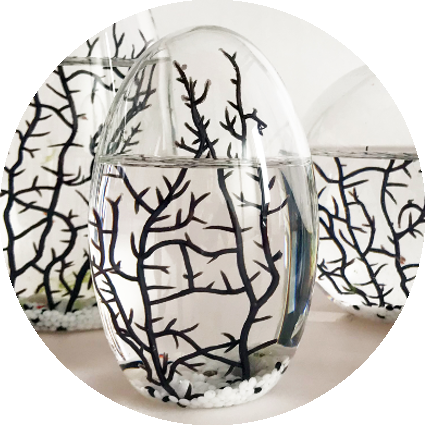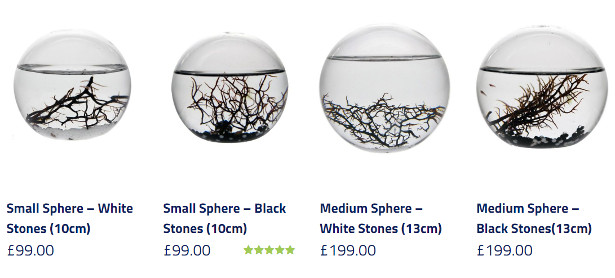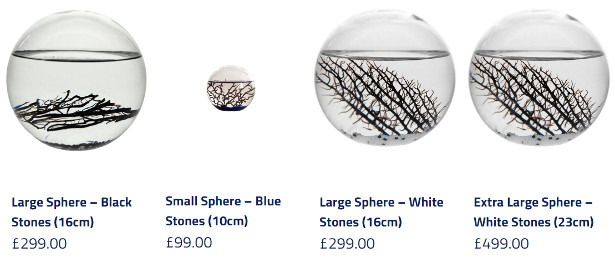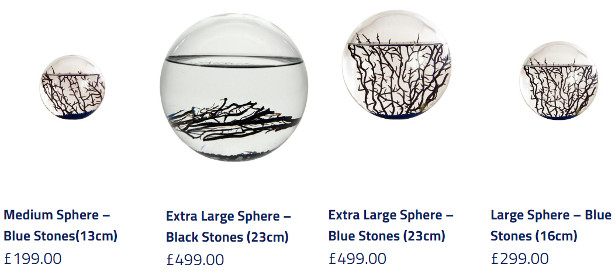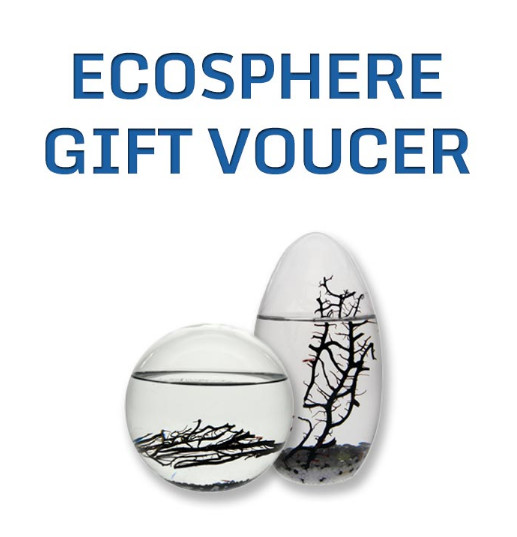 Give the gift of scented love this Valentine's Day with Yardley London Yardley The Collection Available to buy for £25.00 from ​www.boots.com​, ​www.yardleylondon.co.uk​ and ​www.theperfumeshop.com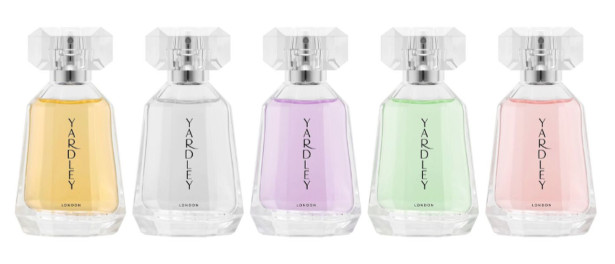 TWITTER | FACEBOOK | INSTAGRAM
Valentine's day is just around the corner, and whether you're looking for the perfect present for a loved one or want to treat yourself, a beautiful fragrance from​YardleyLondonTheCollectionis the perfect way to embrace the ultimate celebration of love.
Inspired by the beauty and allure of glittering gemstones, each scent takes on a varied personality that the Eau de Toilette embodies. With a choice of five beautiful fragrances in​TheCollectionrange, the floral scents and uniquely shaped bottles catch the light and your imagination! All you have to do, is decide which one will you chose?
The Collection: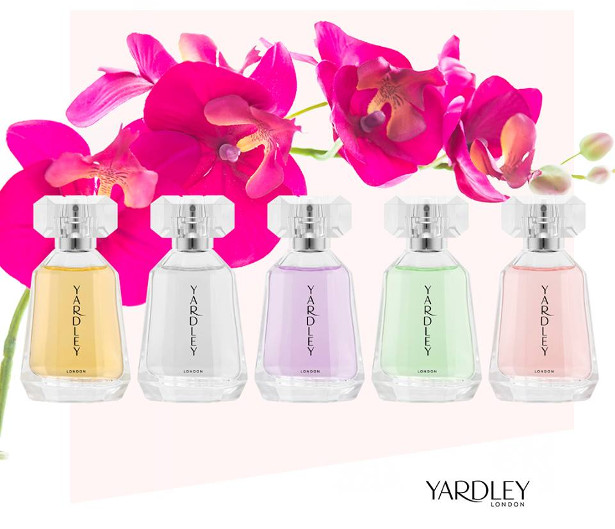 A sophisticated sheer floral fragrance, ​Rosie Ruby encapsulates the sensual beauty of the ruby beginning with fresh, fruity top notes of mandarin, pear, peach and cassis combining a romantic floral heart of peony, rose, orange flower and pink pepper with a sensual woody base.
A fresh and elegant, green floral chypre capturing the stunning beauty of the jade gemstone, ​Flora Jade incorporates fruity, aromatic green top notes of peach, bergamot and galbanum blend with an airy floral bouquet heart of rose, jasmine, ylang-ylang and orris, delicately wrapped up in base notes of patchouli, sandalwood and moss.
An elegant, dewy fresh green floral inspired by the vibrancy of the yellow gemstone,​DaisySapphire​, with a burst of energetic top notes of fresh green leaves and apple and a combination of hyacinth and white rose at its heart, drying down to warm base notes of sandalwood and musk.
A sophisticated, sparkling and uplifting floral bouquet inspired by the astonishing beauty of the diamond with fruity citrus top notes of pear and bergamot, ​PoppyDiamondis enveloped in a sweet, subtle note of honey with an explosive, uplifting and romantic combination at its heart of rose, peony and lily of the valley, with soft, warm base notes of cedar wood, sandalwood and vanilla.
An addictive, intense and feminine floral woody fragrance, ​Lilac Amethyst is inspired by the irresistible beauty of the gemstone, blending pear, lemon and bergamot with basil in the top notes with a sensual heart of fig, peach, black pepper and heliotrope complemented by a warm, woody and spicy amber base.
Available from Boots www.yardleylondon.co.uk @yardleylondonu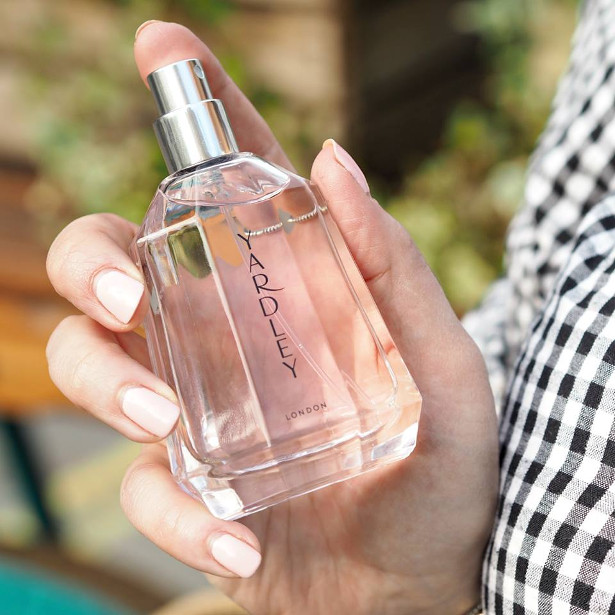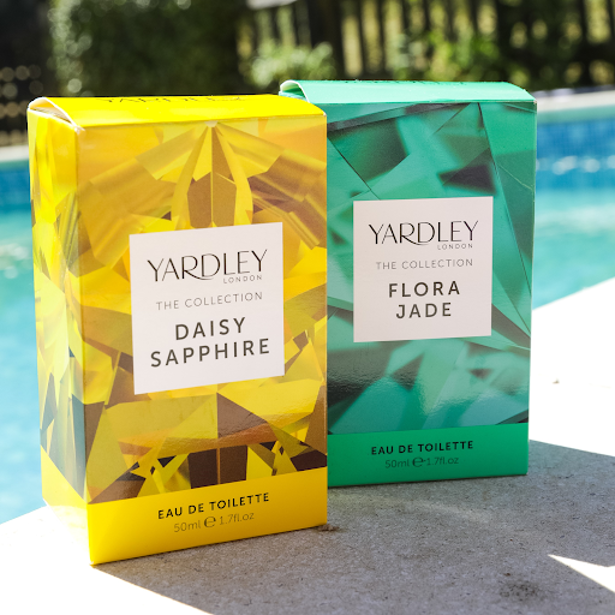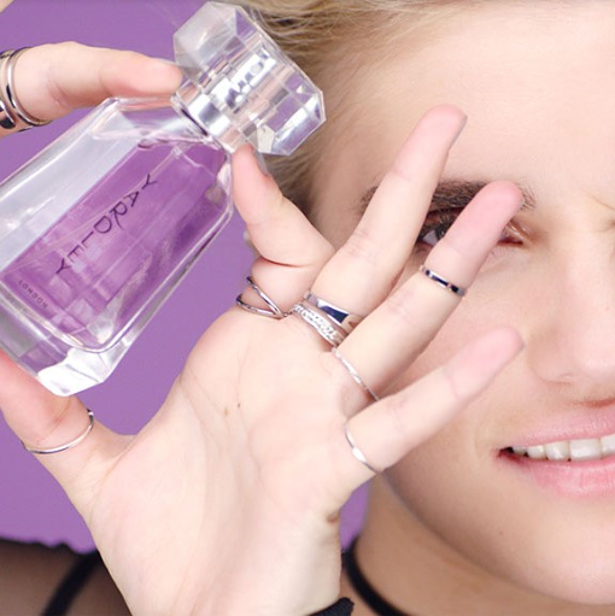 Lovely PERSONALISED Gift boxes?
Heart shaped personalisable trinket boxes.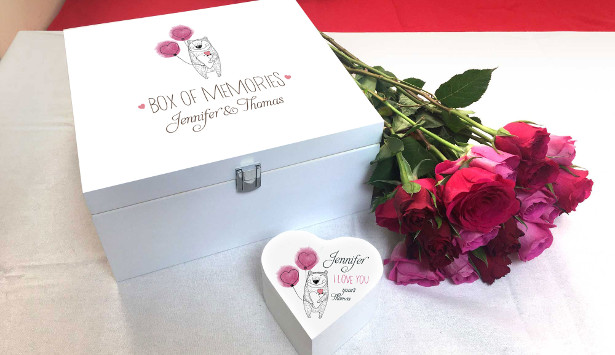 They are made from wood and your readers can pick a design, bespoke it with their names and message and give it to their loved one as a truly personal gift. The heart trinkets are 10 x 10 x 6cm and cost £15 plus P&P.
They are perfect as a sweet little gift to keep some jewellery or trinkets in (or perhaps hide THAT engagement ring in)…
We are having a special offer running until the 4th of February but we also always have offers for our subscribers.
https://essence-gifts.co.uk/special-offer/
www.giftgivingallwrappedup.co.uk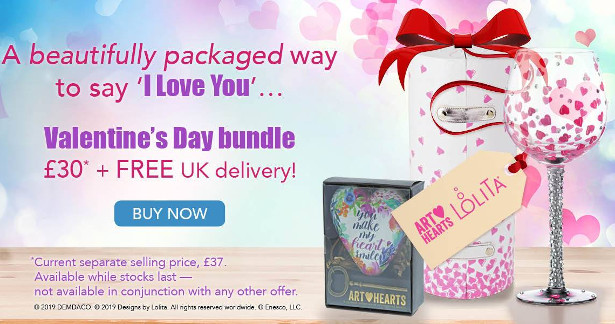 Enesco, is one of the UK's leading gift and homeware companies, holding licenses with some of the biggest name brands, like Disney, Beatrix Potter, Pusheen and Willow Tree to name a few.
Via their consumer-facing website – Gift Giving All Wrapped Up – they bring their customers the best selection of quality giftware to suit all gift-giving needs – from birth to retirement and every life landmark in between, including Valentine's Day.
FertileCheck® Fertility Gel FOR USE WHEN TRYING TO CONCEIVE
Another Great Valentine's Gift Idea! @ BOOTS !
FertileCheck Fertility Gel is currently available at: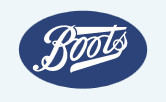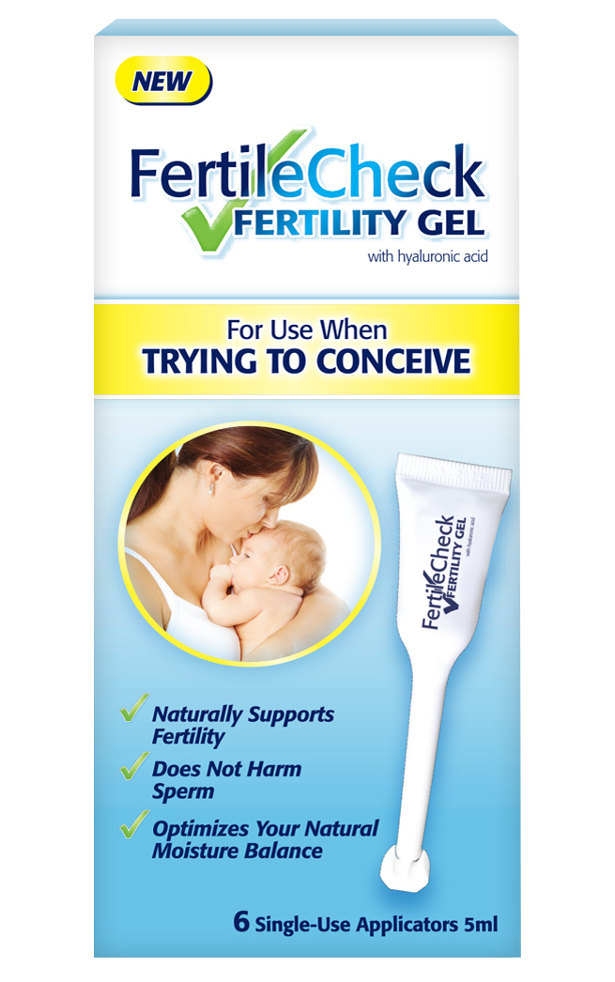 Many couples fail to conceive when they unwittingly use lubricants that are counterproductive to sperm viability and motility. Out of 200 million sperm released in ejaculation, only 200 will make it to the egg! It is essential that optimum conditions be created to prolong sperm life and provide every opportunity for fertilization when a woman is most likely to conceive. FertileCheck Fertility Gel with hyaluronic acid is an advanced lubricant that helps create a sperm-friendly environment in the vagina by optimizing pH levels naturally to improve the chances of conception.
The Science
• Hyaluronic acid (HA) is an important lubricant our bodies produce, which is continually secreted and then sent throughout the bloodstream
• The vagina is a very hostile environment for sperm, and the presence of semen initially triggers an immune reaction. Once pH levels naturally adjust to the semen, HA has an important, positive influence on the viability and motility of sperm to help them fertilize the egg
• Using a fertility gel with an all-natural HA-rich formula enhances and preserves the reproductive environment for a couple trying to conceive. Ingredients in other lubricants can actually create a barrier for sperm
• Ingredients: Aqua, Sodium Chloride, Sodium Hyaluronate, Disodium Phosphate, Methylparaben, Citric Acid. FertileCheck does not contain hormones
• Biocompatibility-tested following EN ISO 10993
• Medical device class IIa / production following EN ISO 9001:2000 and EN ISO 13485:2003
How FertileCheck Compares to Other Gels
The Sperm Motility Index (SMI) is used to measure the performance of all fertility gels, calculated by dividing the percent of progressively motile sperm in a test solution by that in the control solution. Any gels with a value less or equal to 0.75 are predictive of poor-assisted reproduction outcomes and indicate sperm toxicity. Results of clinical trials* show:
• FertileCheck outperformed all other fertility gels currently available in the UK, with a SMI value of 0.99
• FertileCheck is 87% more effective than the previous fertility gel available in major UK retail stores (Replens), which had a SMI value of 0.12
• FertileCheck was directly tested in a 24-hour sperm-survival assay against Zestica, which only had a SMI value of 0.65
KICK V-DAY UP A NOTCH IN 2019 WITH WOOLIES

Let's make Valentine's Day a thing again in 2019 by giving it all the love it deserves! Whether it's a gift for your bae, your Mom, your work husband or yourself – Woolworths has an array of quality gifting ideas just for you and the ones that have your heart.
Gift goals are met in seconds with Woolworths' quality selection of bespoke and authentic items. From lingerie, to foodie gifts, flowers, sleepwear, beauty and more – showing them some love has never been easier.
Treats are a one-way ticket onto everyone's good list and Woolies has all the sweetie goodness you need with an exclusive Giant Cutie Pie, a handcrafted pecan & cashew nut nougat in milk chocolate, pretzels dipped in milk chocolate, a Chuckles character box, a fun pencil with a hollow milk chocolate heart and Valentine's Day Topped Hearts (with pistachio, strawberry and cranberry or cocoa nibs, blueberries, cranberries and strawberry).
And to put your mind at ease, all of the chocolate used is made from responsibly sourced cocoa – spreading even more love by creating better opportunities for farmers, their families and the planet.
Flowers are always a win, and Woolies' impressive selection of cut flowers, bouquets and orchids are a must-have for Valentine's Day. Customise your own bouquet and have it wrapped (in selected stores only) or go online and have an expertly designed floral gift delivered to your love. Our picks include: the Lover's Bunch (12 dozen red roses wrapped in leaves), the Ombre Love (12 roses in three different shades that blend perfectly together) or the Forever (18 red and cerise roses with a hint of variegated greenery).
And if you'd like your gift to live on for years to come, keep your eye out for the dog-shaped novelty succulent, Calandiva in ceramic, the range of mini heart-shaped ferns or go old-school with an adorable Valentine's Day plush toy!
Beauty products and romantic fragrances most definitely have that 'yaaas' factor and Woolies knows just how to make a statement with countless choices for all tastes.
Show him some love with Longmarket Barber's hair wax, beard oil, shaving cream and aftershave balm. And spoil her with a bottle of Elie Saab Signature, Armani Si Passione, Lancome La Vie Est Belle or opt for the Beauty Without Cruelty endorsed WBeauty Heartlight.
Be fierce in your gift choice by selecting one of the many lingerie options on offer. Bonang's Distraction range is a no-brainer, with the Lace Panel Bodysuit as well as the Sparkle Lace and Shimmer Lace duos topping our list.
Making your gift look Instagram-worthy is a non-negotiable, so look no further than Woolies' selection of beautifully printed gift wrap, all created with responsibly sourced paper and eco-friendly ink.
And last but not least, don't forget to treat yourself this Valentine's Day! Indulge in a piece of pearl jewellery (with sustainable fresh water pearls), a Beauty Without Cruelty endorsed WBeauty tinted lip gloss or any indulgent option from the extensive Estee Lauder, Clinique, Clarins, Bobby Brown and Smashbox lines.
All the world needs this V-Day is a little more love – and Woolies has everything you need to make this a vibe! Pop into your favourite Woolworths store countrywide to see the range or visit www.woolworths.co.za to shop online.