Give the Gift Of Breakthrough Health This Christmas! CurraNZ is a breakthrough blackcurrant extract supplement boasting a unique combination of noticeable benefits for health and fitness.  www.curranz.com
FACEBOOK | TWITTER | INSTAGRAM
CurraNZ is a breakthrough blackcurrant extract supplement boasting a unique combination of noticeable benefits for health and fitness.
· Health and wellbeing – contains powerful antioxidants to help 'age proof' the body and helps boosts general wellness by supporting cardiovascular, brain, eye and gut health
Anti-viral – NZ blackcurrants contain more than twice the antioxidant value of blueberries and contain anti-viral properties to help protect your body and boost immunity
· Fat burning – unprecedented fat burning gains of up to 27% during exercise (up to 55% in women)
· Muscle recovery – reduces post-exercise DOMS. Train harder, more frequently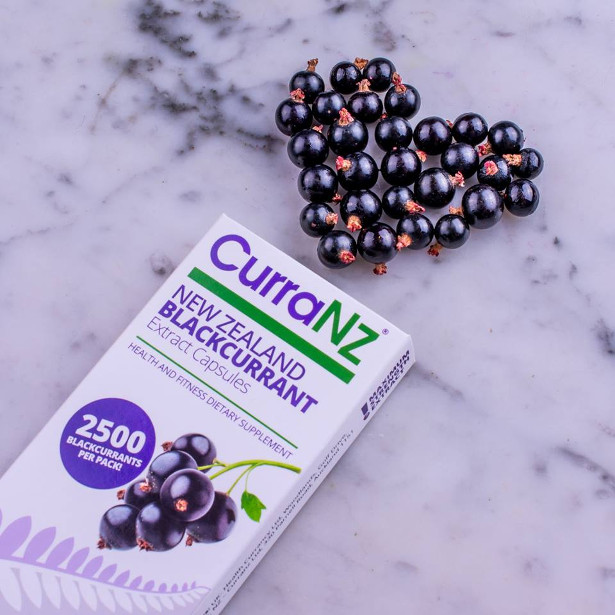 · Performance – supercharges blood flow, resulting in better mus­cle function, reduced fatigue, improved endurance
· 100% natural – the new 'legal' drug-tested intervention accredited with Informed-Sport and used by numerous GB athletes
· A maximum-extract formula – sourced from premium New Zealand Blackcurrants, which offer the highest nutrient density of any berry fruit in the world. Each 30-capsule carton of CurraNZ contains the equivalent 2,500 NZ blackcurrants, that's 85 berries per capsule!
Scientists now recommend that we eat two 'purple' fruit or vegetables in addition to our '5 a day' due to the health benefits that they contain.
Price: £21.75 for 30 capsule carton
Available from: www.curranz.com/products/curranz